I first made these Easy Vegan Tacos with Smoky Cashew Crema during the pandemic. My partner Max was in the mood for tacos and margaritas. Ordinarily, we would just go out to a local Mexican restaurant to satisfy the craving, but, in the circumstances, we decided it would be safer to eat at home. So I had to bring the Taco Tuesday (Saturday) to our house (1-bedroom NYC apartment).
Ordinarily, I would make guacamole and fresh salsa for tacos, but with it being hard to get to the grocery store, I knew I had to get creative with my taco game and rely on my pantry.
Aside from the tortillas, these tacos are made with exclusively pantry ingredients that you likely already have at home, and are easy to customize to your needs.
Looking for more easy and quick taco recipes? Try these 20-Minute Chickpea Tacos!
Why you're going to like this recipe 
Pantry staples. And all ingredients (except the tortillas themselves) are pantry staples (i.e., you might already have all the required ingredients in your pantry).
Budget-friendly. In addition to being a pantry meal, it's budget-friendly!
Weeknight-friendly. If you multitask and cook the refried beans and sauteed onions at the same time, the whole meal takes 30 minutes to make, from start to finish.
Comfort food heaven. Creamy refried beans, sticky sweet onions, and a finger-lickin-good smoky cashew crema…all rolled up in a tortilla! Totally satisfies those comfort food cravings!
Packed with flavor. Despite being a pantry meal, these tacos do not skimp on flavor. The refried beans are packed with spices, garlic, and onions; the onions are sticky and sweet; and the Cashew Crema is slightly spicy, cheesy and smoky in all the best ways possible.
Taco Components
Easy Refried Beans
I love Mexican restaurant-style refried beans, but unfortunately, canned refried beans aren't that tasty. And some varieties are made with lard, so they're not vegan.
Luckily, it's so easy to make your own homemade refried beans. All you need is a can of pinto beans or black beans, a few aromatics, and a mashing instrument.
Tip: You'll need some liquid to mash the beans, and the recipe calls for vegetable broth or water. But you could also use the liquid that canned beans come in. Contrary to popular belief, this goopy liquid is safe to consume – it's just water, salt, and the starch released from the beans.
If you use the canned bean liquid, you might need to supplement with a bit of broth or water, as there might not be quite enough liquid as the recipe calls for.
Not a fan of refried beans? Use these saucy Mexican Black Beans instead.
Sautéed Onions
I wanted to make some Chipotle-style sautéed onions and peppers, but since bell peppers aren't a pantry item, I omitted them. That said, if you have bell peppers at home, throw some bell pepper strips in the mix.
The onions aren't quite caramelized, but they do get nicely browned and soft. To get there, cook them in shimmering oil over medium-high heat and generously season with salt and pepper. Cook for about 5 minutes until a fond appears on the surface of the pan, then start deglazing the pan with a bit of water to prevent burning.
Smoky Cashew Crema
The final main component of these easy vegan tacos is my favorite part: the Smoky Cashew Crema! This stuff is pure gold, and you will want to eat it by the spoon.
A few tips and notes on substitutions.
This recipe is definitely the best with cashews, but if you don't have cashews or are allergic, I've also tried this recipe with hemp seeds and it's quite tasty. The texture isn't as smooth or creamy but the flavor is still great. Sunflower seeds are another option, but just FYI, they will likely discolor the cream.
I use 1/2 cup (120 mL) water so that the texture is very thick and creamy, but if you want it a bit thinner, add a bit more water, up to 3/4 cup (180 mL). Also, if you don't have a powerful blender like a Vitamix, I recommend using a food processor instead.
If you don't have nutritional yeast, omit it. I love adding it because it brings a subtle cheesy flavor but it's still delicious without it.
If you don't have fresh limes but have lemons, lemon juice could also work in a pinch.
If you like things spicy, and have fresh chili peppers on hand, a jalapeño pepper or serrano pepper are a fabulous addition. If you want a slight background heat, remove the seeds, where most of the heat lives. If you like things spicier, use a serrano pepper (or 2 jalapeño peppers) and keep some of the seeds in.
The smokiness comes from the smoked paprika, and I really recommend using it. But if you don't have it, regular paprika is fine (or omit it).
You will likely have leftovers of the Cashew Crema, but trust me, you won't mind because it is extremely delicious.
Even more delicious Mexican inspired vegan fare
Hungry for more Mexican inspired vegan fare? Give these recipes a try:
That's everything you need to know about these Easy Vegan Tacos with Smoky Cashew Crema, so if you give this recipe a try, be sure to tag me on Instagram!
Easy Vegan Tacos with Smoky Cashew Crema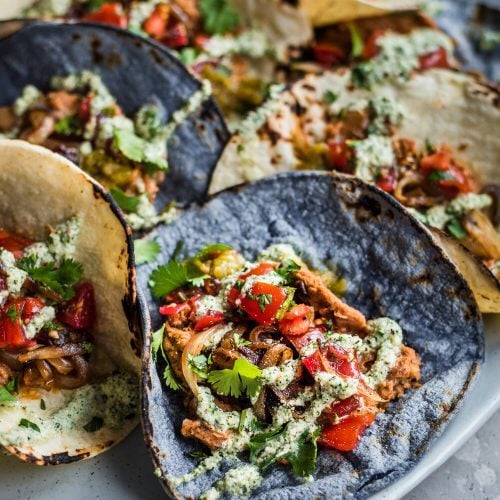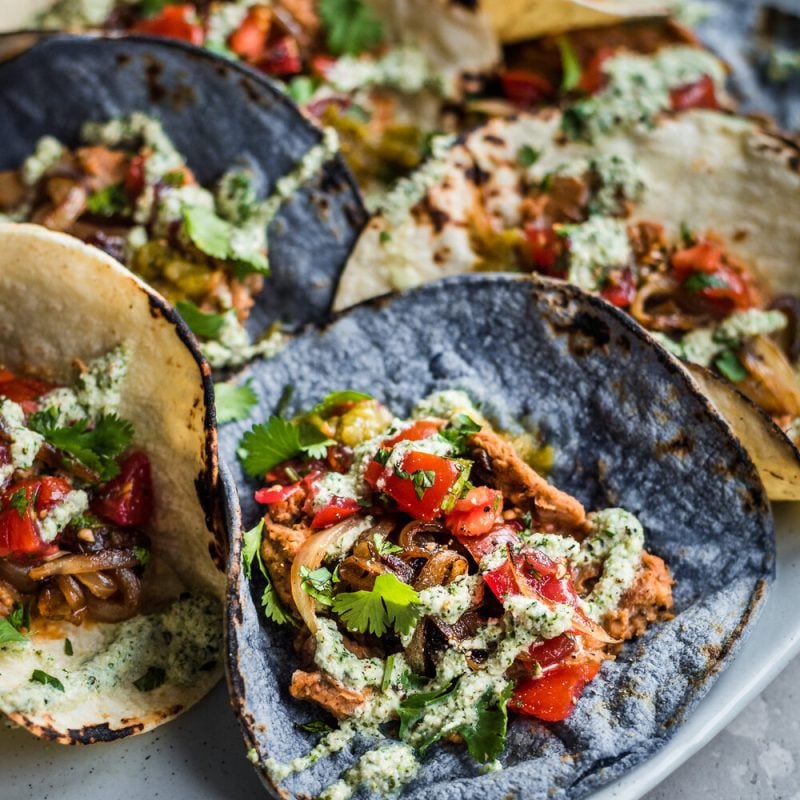 Bring Taco Tuesday home with these Easy Vegan Tacos with Smoky Cashew Crema! Made with all pantry ingredients, these tacos are easy to make and budget-friendly but don't sacrifice on flavor!
Ingredients
Taco Ingredients
Easy Refried Beans,

recipe below

Sautéed Onions,

recipe below

Smoky Cashew Crema,

recipe below

Corn tortillas or tortillas of choice

Salsa of choice

Optional toppings: cilantro,

diced avocado or guacamole, vegan cheese
Easy Refried Beans Ingredients
1

tablespoon

olive oil or a neutral cooking oil

1/2

of a yellow onion,

diced

3

garlic cloves,

minced

1

teaspoon

dried oregano

1

teaspoon

chili powder

1/2

teaspoon

cumin

1

(15-ounce / 440g) can pinto beans or black beans, drained and rinsed

2

bay leaves

2/3

– 1 cup

(160-240 mL) vegetable broth (or water)*

Kosher salt or sea salt to taste

Freshly cracked black pepper to taste

1

tablespoon

fresh lime juice

1

small handful of cilantro

(optional), chopped
Sautéed Onions Ingredients
1

large yellow or red onion,

thinly sliced

1

tablespoon

oil of choice

Kosher salt or sea salt to taste

Freshly cracked black pepper to taste

Water
Smoky Cashew Crema Ingredients
1

cup

(140g) raw cashews**, soaked in water overnight, or in boiling water for 1 hour***

1/2

– 3/4 cup

(120-180 mL) water (depending on desired thickness)

2

cloves

garlic,

roughly chopped

1/2

teaspoon

sea salt + more to taste

Freshly cracked black pepper to taste

2

tablespoons

nutritional yeast

(omit if you don't have it)

Juice from 1 medium juicy lime

1-2

jalapeño peppers,

deseeded and roughly chopped (can sub with a pinch of cayenne pepper, or omit entirely for mild version)

1/4

teaspoon

smoked paprika

1/2

teaspoon

ground cumin
Instructions
Taco Directions
Heat the tortillas. Turn on a gas stove burner and use some tongs to place one tortilla directly over the flame. Flip after 15 seconds or when small brown spots appear, and cook for another 15 seconds. Stack them in a clean kitchen towel or in foil to keep them warm.

Assemble tacos. Top warmed tortillas with Refried Beans, Sauteed Onions, Smoky Cashew Crema, salsa of choice, and any other optional toppings.
Refried Beans Directions
Heat the oil in a large frying pan over medium heat. Once the oil is shimmering, add the onion with a pinch of salt and cook until softened, about 6-7 minutes.

Add the garlic, oregano, chili powder, and cumin and cook for 1 minute, stirring frequently. Add in the drained beans, bay leaves, and broth or water. Cook for 5-10 minutes, or until the beans are warmed through.

Using an immersion blender or a potato masher, mash the beans, but leave some beans whole for texture. If the beans appear dry, add more broth or water as needed to moisten. Continue to cook the beans, stirring often, for 2-4 more minutes.

Season the beans with salt and pepper to taste. Turn off the heat, and stir in the lime juice and cilantro, if using.
Sautéed Onions Directions
Heat a large skillet over medium-high heat with the oil. Once shimmering, add the onions and season generously with salt and pepper. Cook, stirring occasionally, until a light brown fond starts form on the surface of the pan, about 4-5 minutes. Add a few spoons of water to deglaze the pan, and continue cooking until the onions are softened and browned, about 9-10 minutes total.
Smoky Cashew Crema Directions
Drain cashews and pat dry. Add cashews to a high-powered blender or food processor along with all of the remaining ingredients. Blend on high speed until smooth, thick and creamy, scraping down the sides with a silicone spatula as you go. This will take about 2 minutes in a high-powered blender like a Vitamix, or about 4 minutes in a food processor. Taste and adjust for seasonings, adding more jalapeño, lime juice, or salt as needed.
Notes
* See notes on "taco components" about substituting the broth or water with bean liquid.
** If you don't have cashews or are allergic, hemp seeds are a good sub. Sunflower seeds would be the next best sub.
*** If you have a powerful blender like a Vitamix, you can soak for as little as 15 minutes, but I still prefer a full hour.
---
Calories:
243
kcal
|
Carbohydrates:
29
g
|
Protein:
8
g
|
Fat:
12
g
|
Saturated Fat:
2
g
|
Polyunsaturated Fat:
2
g
|
Monounsaturated Fat:
6
g
|
Trans Fat:
1
g
|
Sodium:
246
mg
|
Potassium:
436
mg
|
Fiber:
6
g
|
Sugar:
3
g
|
Vitamin A:
190
IU
|
Vitamin C:
6
mg
|
Calcium:
71
mg
|
Iron:
3
mg