If you love the black beans from your local Mexican restaurant but always end up with underwhelming results at home, these Mexican Black Beans are a must-try.
Trust me when I say canned black beans have never tasted this good before. The texture is deliciously creamy and saucy while the flavor is packed with spice, smoke, and aromatics.
It's one of the most perfect vegan side dishes you can pair with almost anything, from a simple pot of rice to a Chipotle-inspired vegan burrito bowl.
Bonus: all you need are 10 pantry-staple ingredients and 40 minutes!
Table of Contents:
1. Why this recipe works
2. Ingredient notes
3. Step-by-step instructions
4. Tips for making this recipe
5. Frequently Asked Questions
6. How to serve Mexican black beans
7. Recipe Card with Notes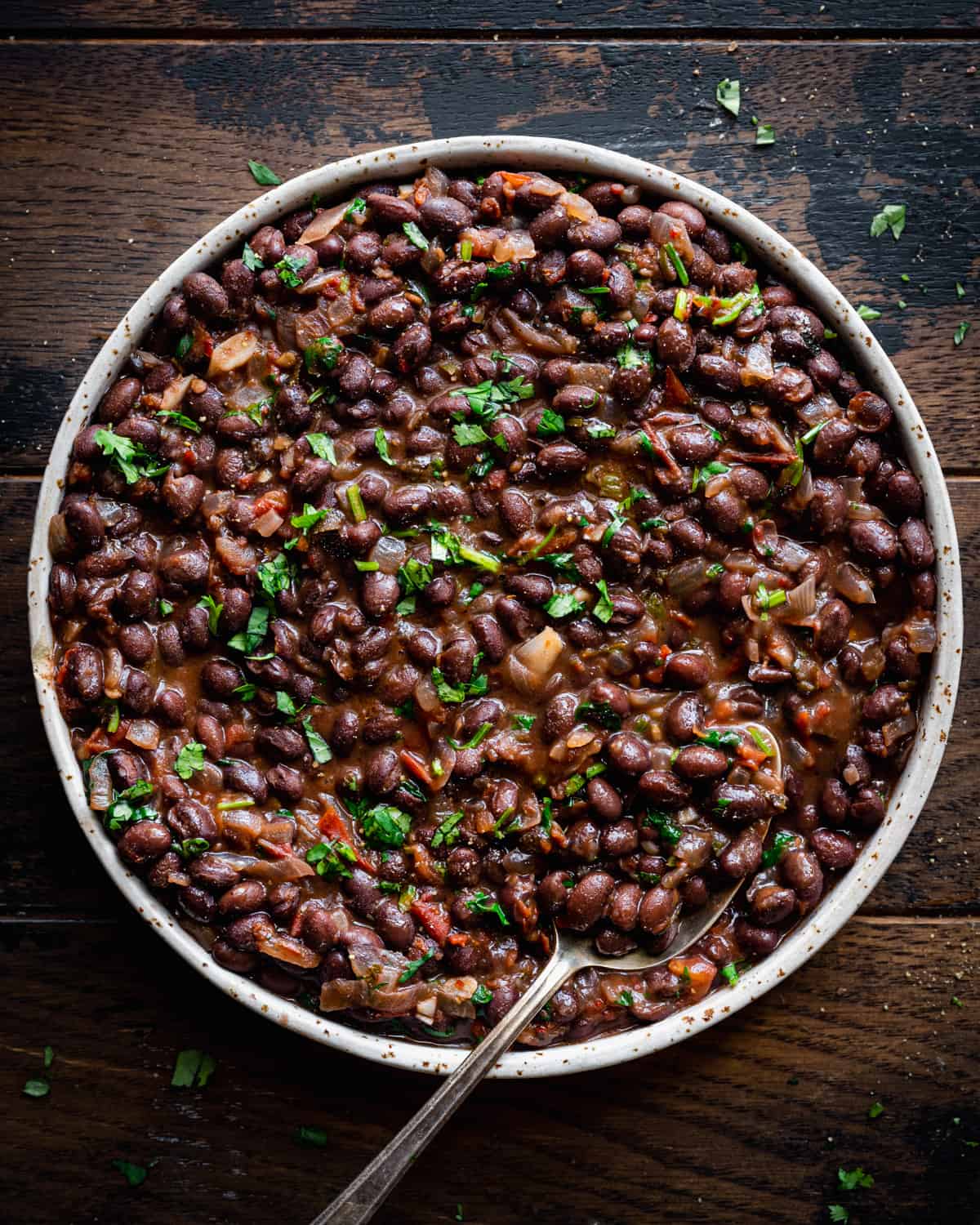 Why this recipe works 
Supercharged with flavor and an unforgettable texture
The baseline of flavor here comes from sofrito, a sauteed mix of aromatics, vegetables, chiles, and spices that makes the backbone of many Latin American and Caribbean dishes.
The sofrito supercharges the canned beans with a warm depth of flavor you'd typically only get from slow-simmered beans. It quickly takes them from 'meh' to 'mind-blowing'.
The texture is a whole other story. The beans are cooked with the starchy liquid from the can, leaving them with a saucy, almost creamy consistency.
PS: The canned liquid from the beans is totally safe to eat. It's just the liquid the beans were cooked in.
To complete, a glug of extra virgin olive oil is poured over the beans. Since beans are pretty much fat-free, the olive oil lends necessary fat and a luxe mouthfeel that's rarely found in dishes made with canned beans.
One bite and you'll never look at a can of beans the same way again!
A handful of wholesome, budget-friendly ingredients
Despite the gourmet-like flavors, this recipe comes together using 10 budget-friendly pantry staples or ingredients you likely already have at home.
And not only is it a crowdpleaser flavor-wise, it's also a nutritional powerhouse and naturally vegan, gluten-free, soy-free, and nut-free.
In just ½ cup of black beans, you get 9g fiber, 7g protein, 8% of your daily iron and potassium needs, and 4% of your daily calcium needs!
Use 'em anywhere
The beans are especially delicious and hearty on a burrito bowl but can be used in so many more dishes! Honestly, they're so good that they may not even make it to the bowl (make sure you have a bag of tortilla chips handy for easy scooping).
Check out the How to Serve Mexican Black Beans section for plenty of serving suggestions.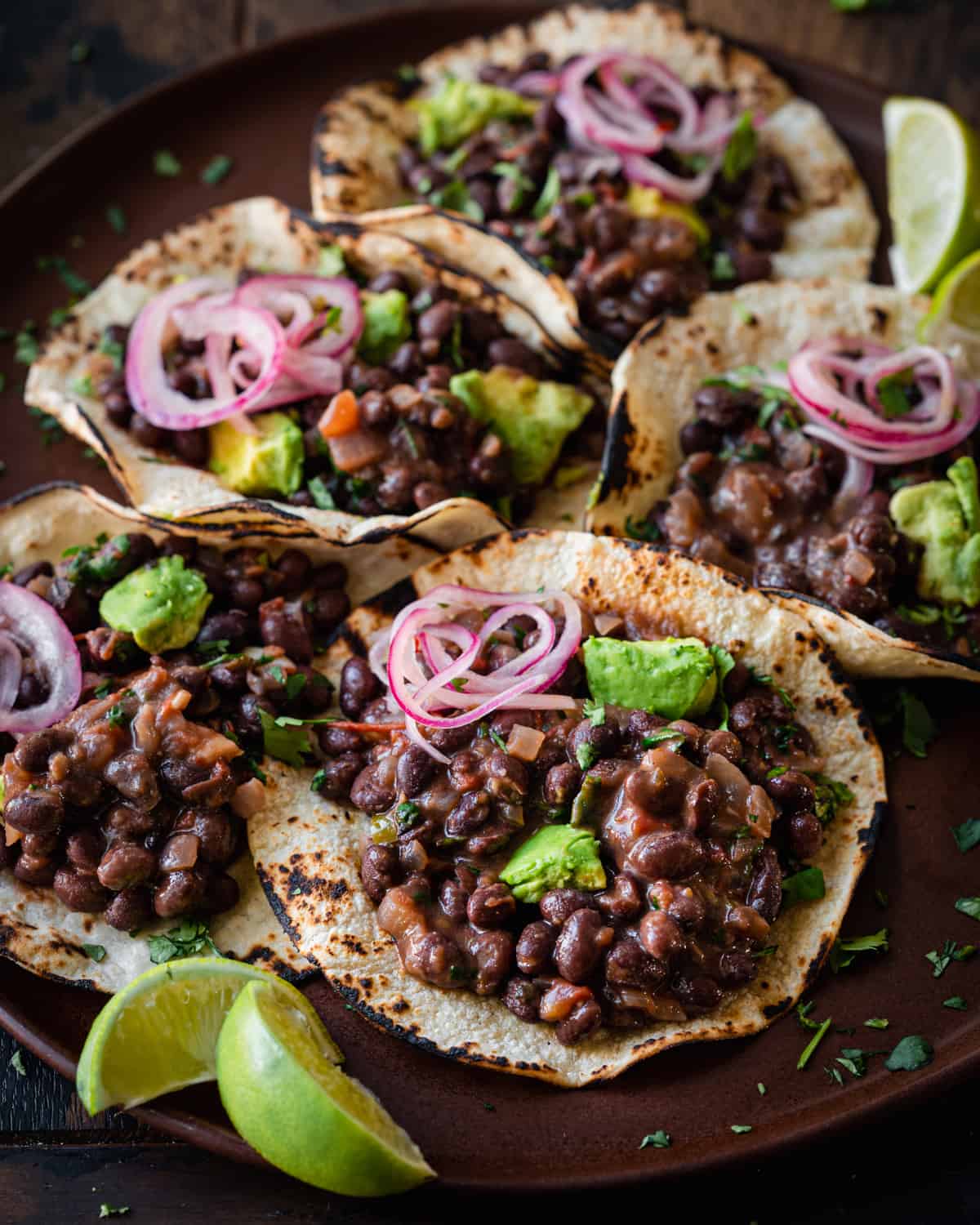 Ingredient notes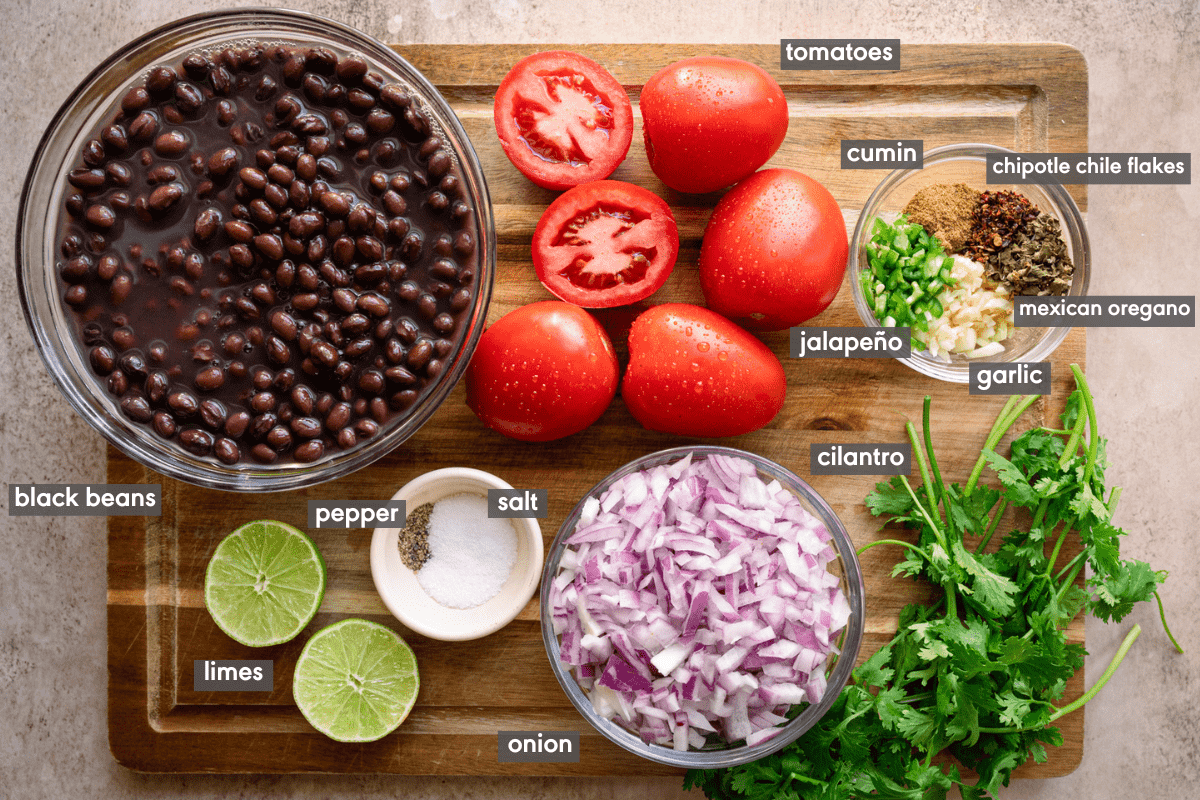 Black beans. Canned beans are plenty tasty and the easy solution here. When you really want to make the most epic batch of vegan Mexican black beans, you can use dried black beans. Check out the notes in the recipe card for deets.
Both the beans and the canning liquid (or cooking liquid if you used dry beans) are used. The liquid is safe to eat and its added starchiness lends a nice creamy consistency to the finished dish.
Tomatoes. This recipe is great with fresh or canned diced tomatoes. This would be a wonderful recipe to turn to when you have too many tomatoes in your garden or kitchen at the end of summer.
Sofrito. This is a mixture of aromatics, chiles, spices, and vegetables used to form the base of many Latin American and Caribbean meals. The sofrito mix I used here is made of onion, garlic, red chili flakes, Mexican oregano, cumin, and tomatoes.
Scroll down to the Tips section to learn how to further customize your sofrito mix.
Want to save time? Make the sofrito 1 or 2 days ahead of time and store it in a jar in the fridge. Save it for this bean dish or use it as a starter in more Latin-inspired recipes like Instant Pot Rice and Beans, Burrito Bowl Stuffed Peppers, and more.
Step-by-step instructions
If using fresh tomatoes, pulse them in a food processor until pureed, or grate using a box grater.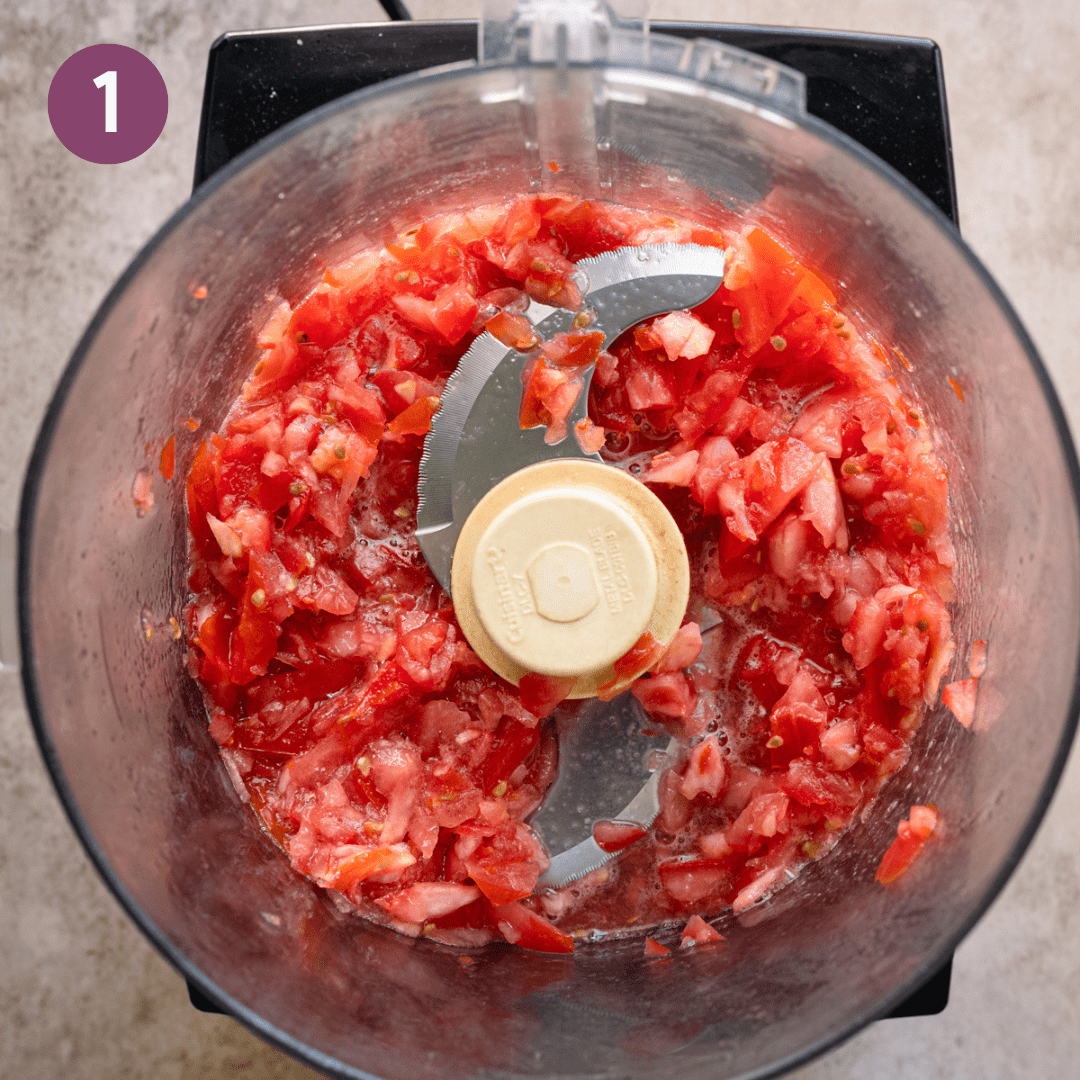 Make the sofrito. Saute the onion in a pan with oil over medium heat. Once it's soft, add the garlic, chipotle chile or red pepper flakes, cumin, and oregano.
Next, pour the tomatoes into the pan. You want to maintain a rapid simmer so the tomatoes can break down and most of the liquid evaporates. Season with salt and pepper.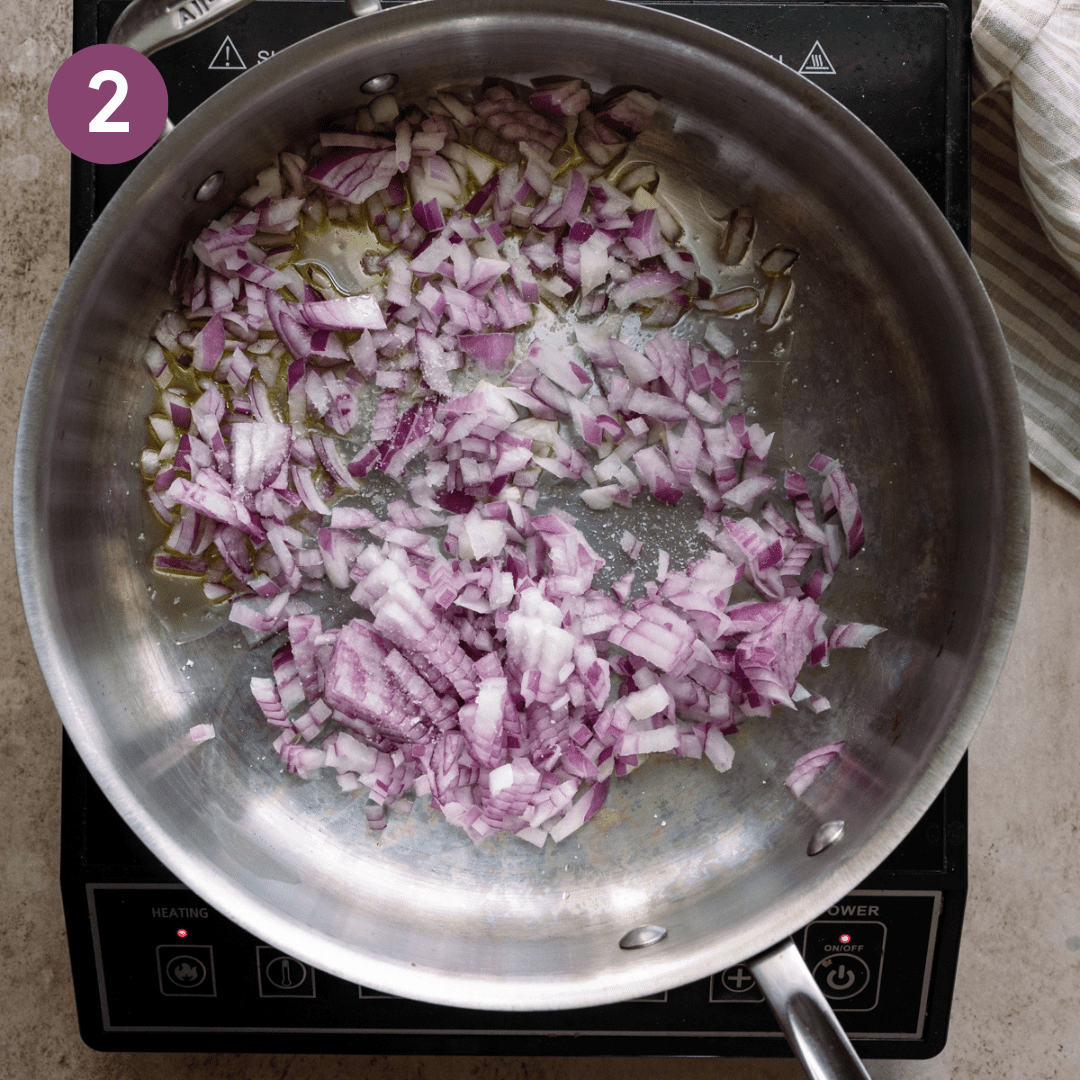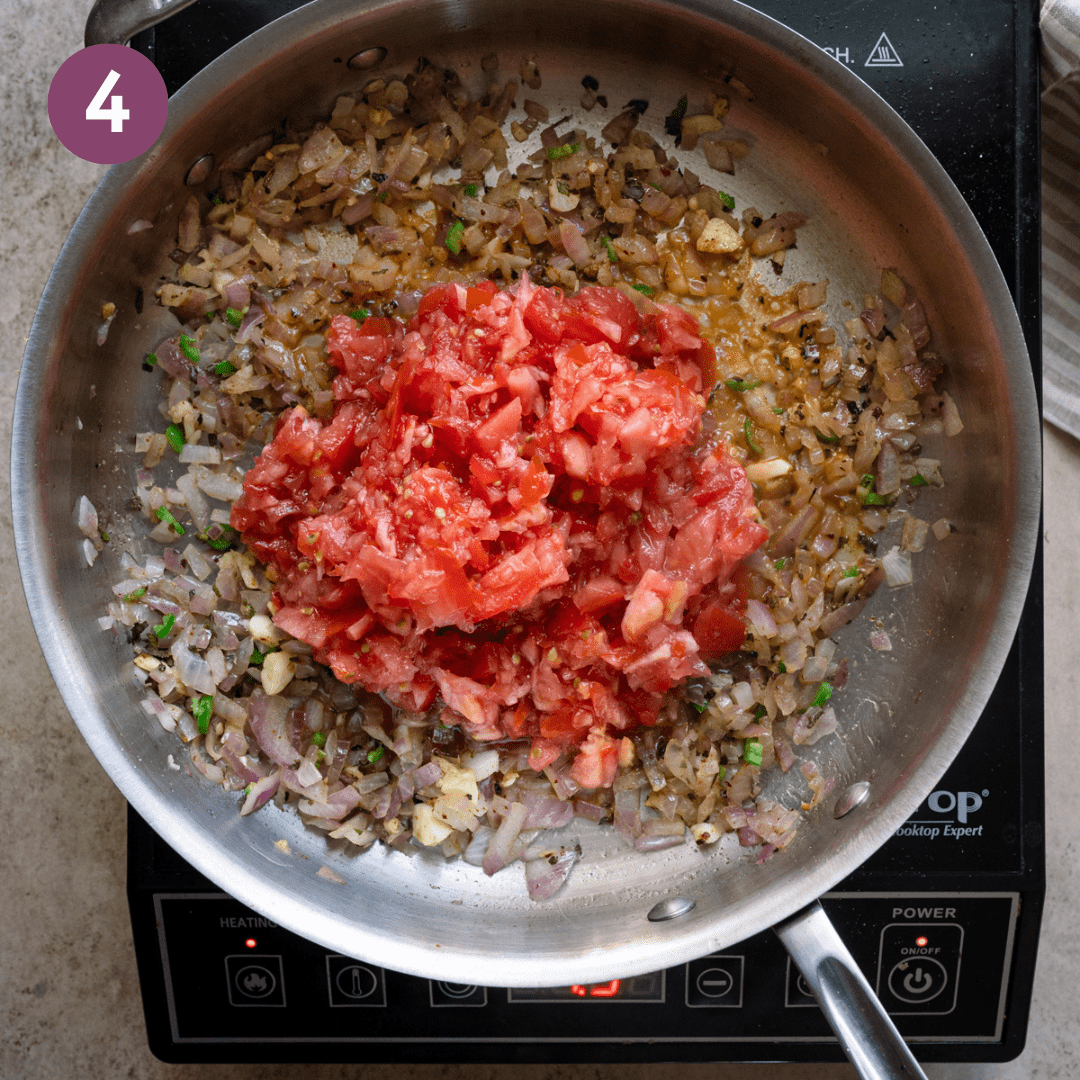 Add the beans. Pour in the black beans plus their canning liquid. Bring to a simmer. Let everything cook until the mixture has thickened and looks saucy.
Finish with garnishes. Stir a glug of extra virgin olive oil, a squeeze of lime juice, and cilantro in with the beans. Add more salt, pepper, or lime juice to suit your taste buds, then serve.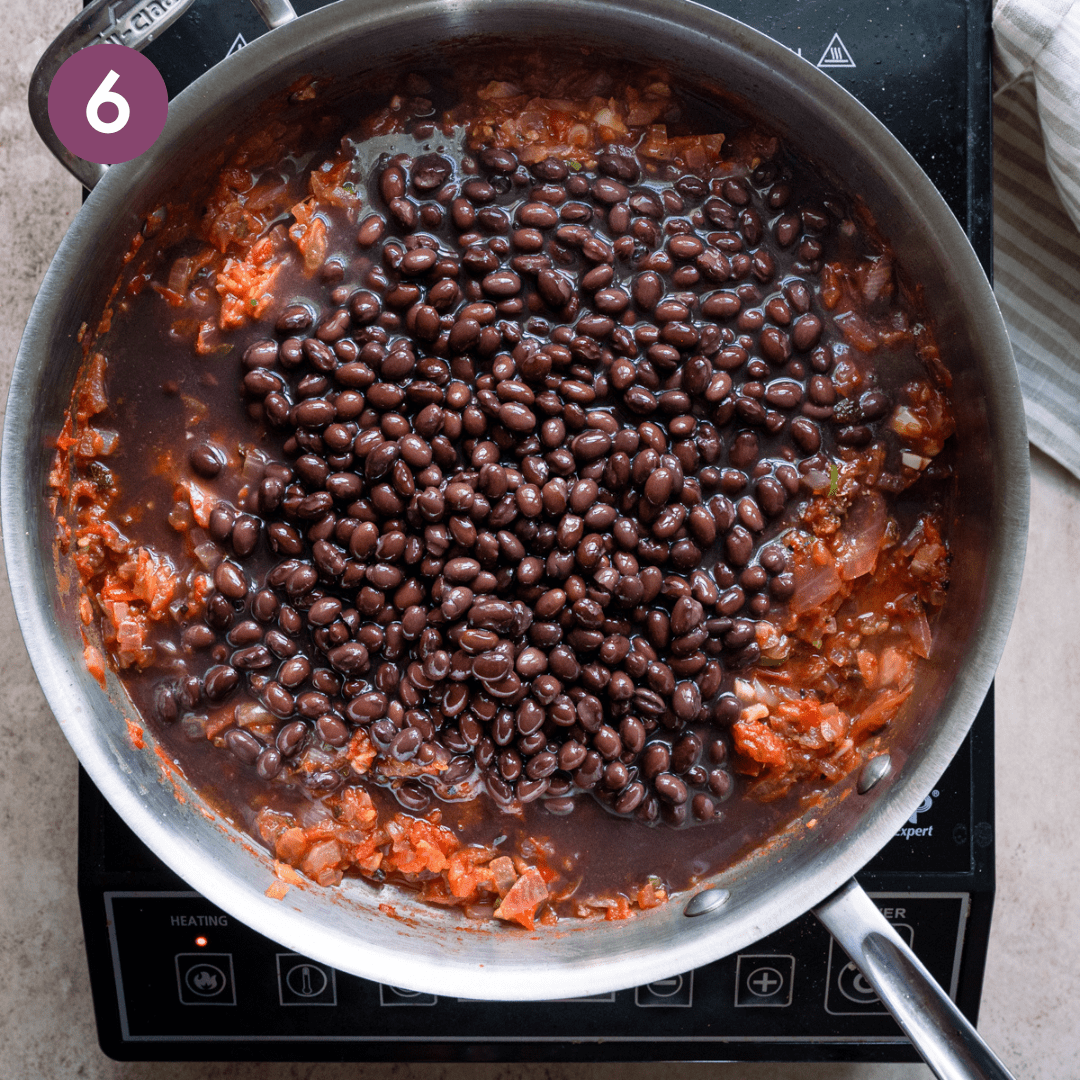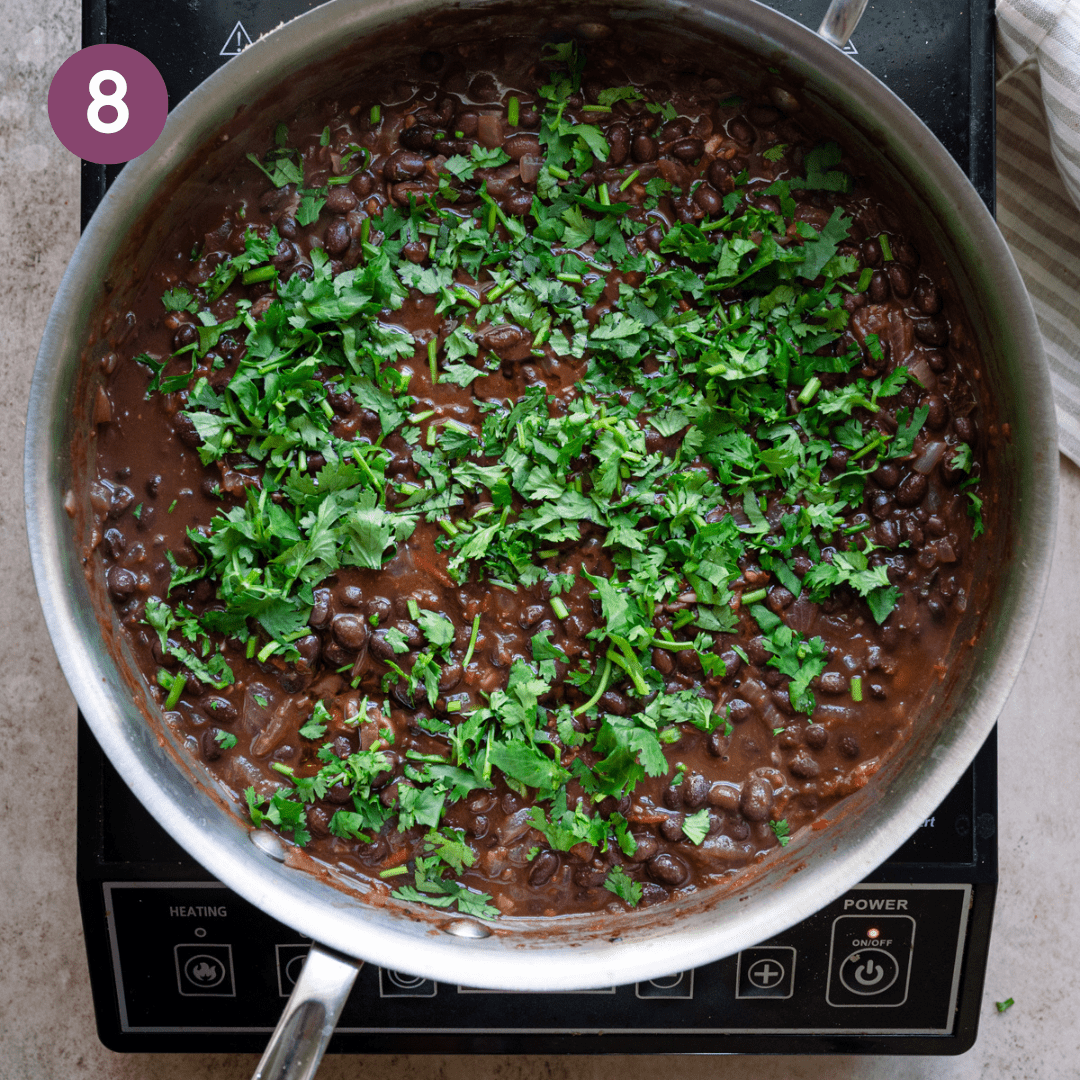 Tips for making this recipe
Adjust the sofrito to your liking. If you'd like to take the heat up a notch, use more chile flakes or add a diced jalapeño along with the garlic. If you have BabyMouth, leave the chili flakes out entirely.
If you prefer smoky black beans, use crushed chipotle chile flakes instead of red pepper flakes. You can even add a few teaspoons of adobo sauce from a can of chipotle peppers along with the tomatoes for a smoky heat.
Have a green bell pepper in your fridge to use up? Chop it finely and sauté along with the onion.
Don't drain the beans! Unlike most recipes using canned beans, this one includes the canning liquid to thicken and "creamify" the beans. Just dump the entire can of beans and liquid into the pan and cook away.
The olive oil matters. Don't skip the extra virgin olive oil at the end. It gives body, mouthfeel, and richness to an otherwise very low-fat dish.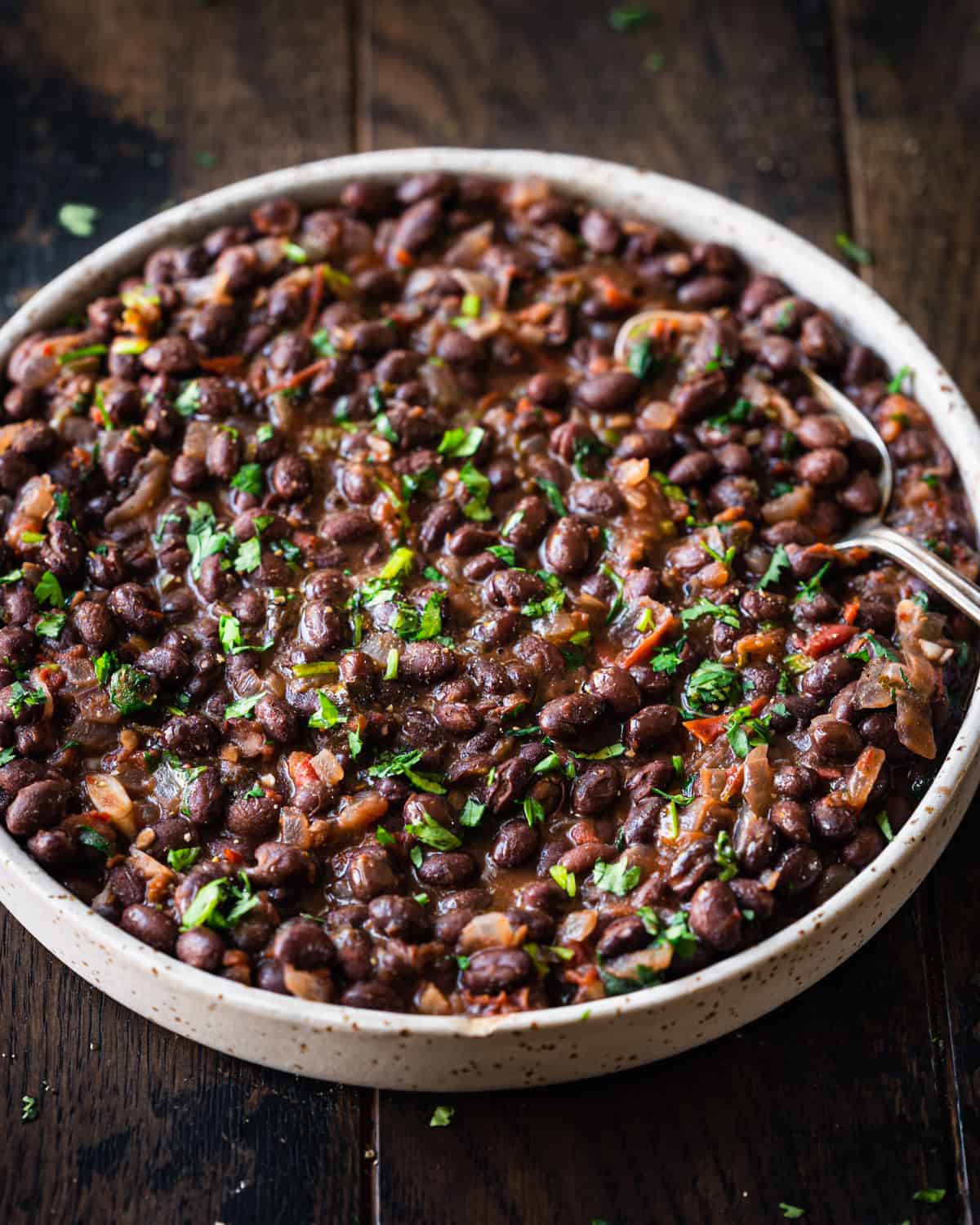 Frequently Asked Questions
Can I use pinto beans instead?
Sure. They should work just as well.
Can I use dried black beans instead of canned beans?
Yes, but you'll need to soak the beans ahead of time. Check out the notes in the recipe card below for more detailed instructions.
Can I make Mexican black beans in the Instant Pot instead?
Given that this recipe use canned beans and they only simmer for 15 minutes, I don't think an Instant Pot makes sense here.

If you are using dried black beans, yes.

1) Use the IP Sauté setting to cook the sofrito in steps 3 and 4.

2) Then add 8 ounces (227g) dried black beans (rinsed well) + 2.5 cups (600 mL) water and season with a bit of salt.

3) Pressure cook at high pressure for 35 minutes, followed by a natural pressure release for 10 minutes.

4) If not saucy enough, turn on the Sauté setting and simmer for a few minutes.

Note: we haven't tested this, but the method is adapted from the Game Day Black Bean Dip in my cookbook, The Vegan Instant Pot Cookbook.
How long do these beans last?
Keep them in an airtight container in the fridge for 5 days. Reheat in a saucepan over medium heat or in the microwave until warmed through, adding a splash of water or veggie broth as needed if they have thickened.
Can you freeze cooked black beans?
Absolutely! Transfer the cooled black beans to an airtight container (or individual containers for single-serve portions) and freeze for up to 6 months. For the best texture, let them defrost in the fridge before reheating.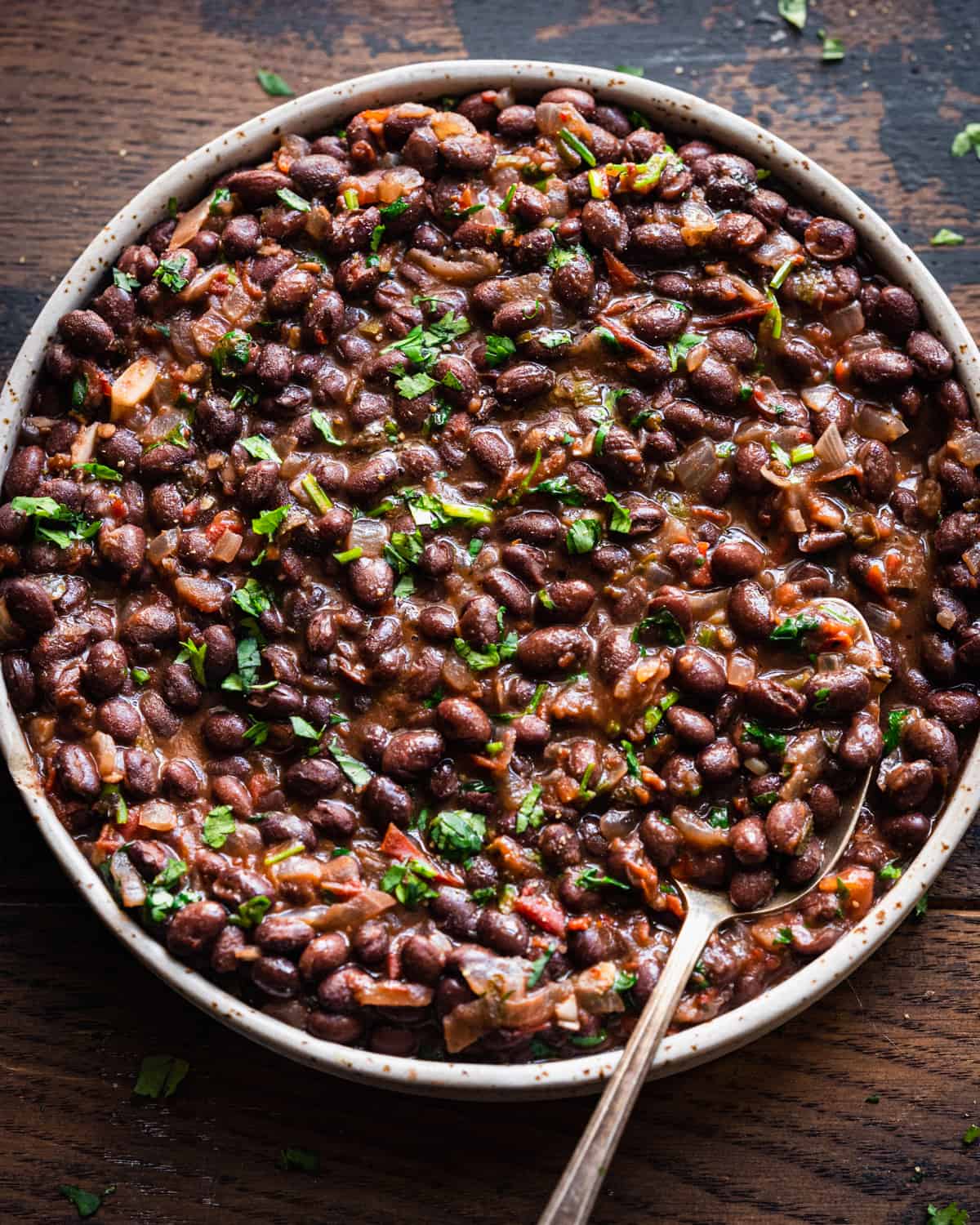 How to serve Mexican black beans
These beans are so good that you'll have no trouble eating them with tortilla chips or mixing them into a simple pot of white or brown rice.
Meal prep these beans and Chipotle-style sofritas, and enjoy burrito bowls throughout the week.
Spoon them into corn tortillas for taco night and top with pickled onions (7th recipe card) and guacamole or cilantro crema.
Pair them with my vegan queso to make bean and cheese burritos, enchiladas, and quesadillas.
Serve them over a platter of nachos to give them a boost of plant-based protein.
Pair alongside tofu scramble for a hearty breakfast of champions.
Or, puree them in a food processor or using an immersion blender and turn into a dip! Serve with tortilla chips.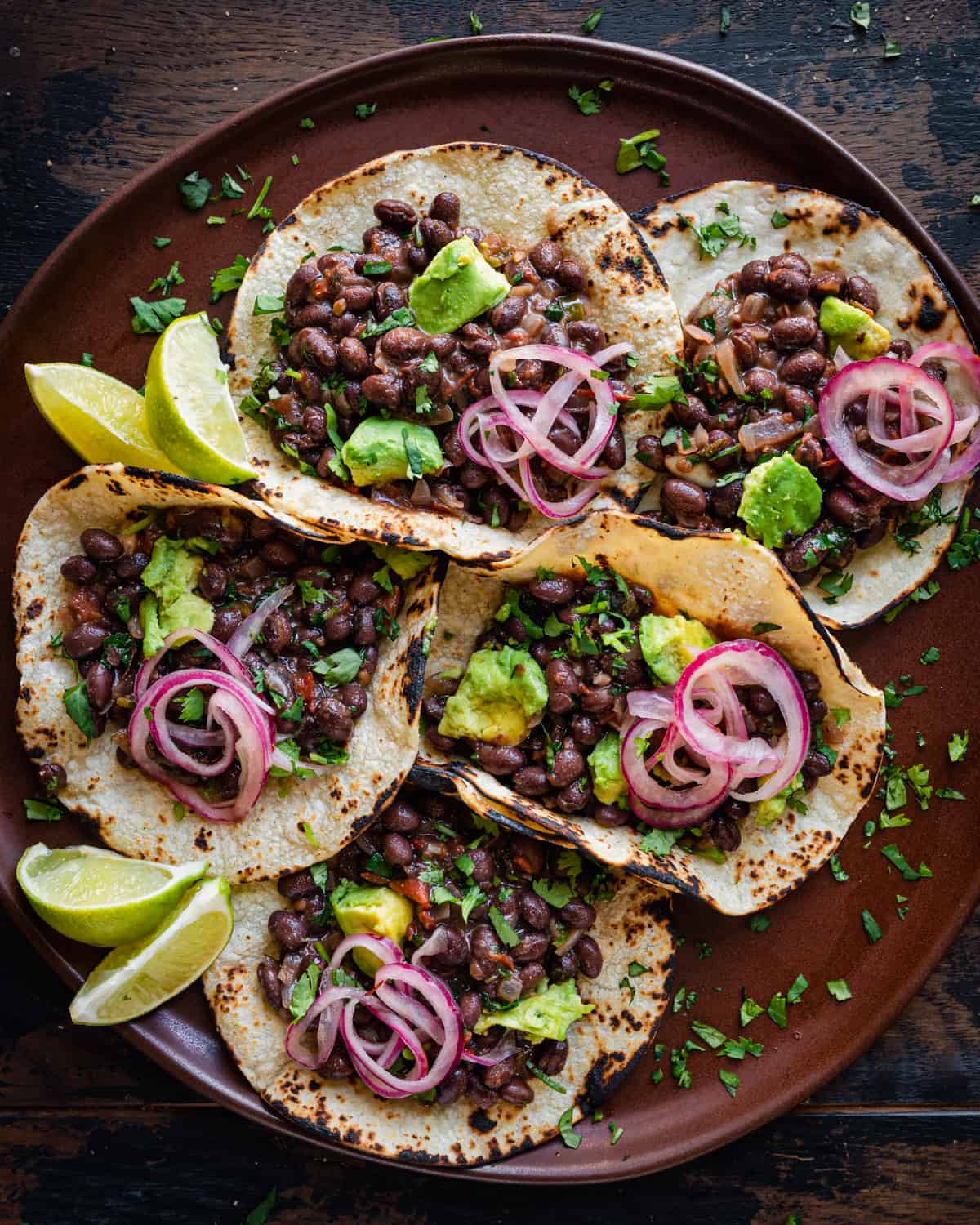 If you love these Mexican Black Beans as much as we do, please rate and review the recipe with your feedback below :) It's always very much appreciated!
Mexican Black Beans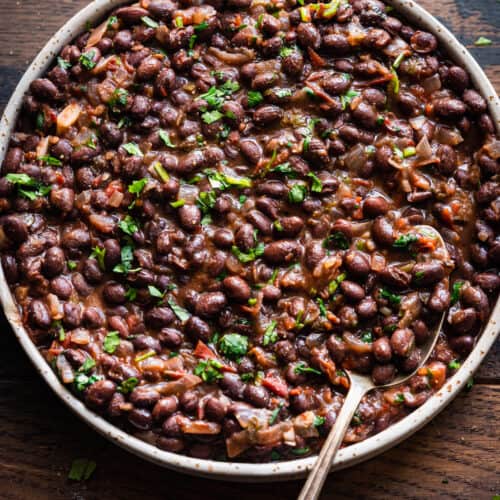 Mexican Black Beans just like the ones you love from Mexican restaurants but homemade! With a short list of budget-friendly pantry ingredients and 40 minutes, you can achieve gourmet flavors and the perfect creamy texture. Use them as a protein-packed addition in burrito bowls, tacos, nachos, and more!
Ingredients
2

(15-ounce/425g) cans

black beans, undrained*
Sofrito
1 ½

tablespoons

extra virgin olive oil

1

small red or yellow onion,

diced

4

garlic cloves,

chopped

1

jalapeño or serrano pepper,

diced**

½

teaspoon

ground cumin

1 ½

teaspoons

dried Mexican oregano

½

teaspoon

chipotle chile flakes or red pepper flakes***

1 ½

teaspoons

kosher salt

Freshly cracked black pepper

1

pound

(454g) fresh tomatoes or 1 (14-ounce/400g) can of diced tomatoes
Finishing
A glug of extra virgin olive oil****

A squeeze or two of lime juice

1

cup

(16g) fresh cilantro leaves and stems, chopped
Instructions
Don't drain the beans!

Prep the fresh tomatoes, if using. Wash, and then add to a food processor and pulse until pureed. Or grate the tomatoes using the wide holes of a box grater.

Make the sofrito. Heat a large sauté pan over medium heat with 1 ½ tablespoons of oil. Once hot, add the onion with a pinch of salt and cook until the onion has softened and is golden but not browned, 5 to 6 minutes, stirring occasionally. Add the garlic, jalapeño, cumin, oregano, and chipotle flakes (if using) and cook for 1 to 2 minutes, stirring frequently.

Add the diced tomatoes. Adjust the heat as needed to maintain a rapid simmer and cook until the tomatoes break down and most of the liquid has evaporated, 8 to 10 minutes. Season with the kosher salt and several cracks of black pepper.

Pour the black beans with their liquid into the sofrito. Bring to a simmer and simmer for 15 minutes until thickened and saucy. If it gets too thick, add a splash of vegetable broth if you have it, or water.

Stir in a glug of extra virgin olive oil, a squeeze of lime juice, and cilantro. Taste, and add salt/pepper or more lime juice to taste.
Notes
*How to make with dried black beans: Soak ½ pound (227g) black beans overnight (add 1 teaspoon baking soda to the soaking water to help soften); drain. Cook the beans in 3 cups (720 mL) water + add 2 bay leaves and a few fresh oregano sprigs if you have them. Cook the beans for at least an hour, probably longer, until they're tender. Then scoop out 1.5 cups (360 mL) cooking liquid and discard for maximal sauciness. Make the sofrito and add it to the pot of cooked beans with 1 teaspoon kosher salt, and rapidly simmer for 15 to 20 minutes, until thickened and saucy. Follow step 4 as written.
**A

jalapeño here is pretty mild; use a serrano pepper for a spicier version.
***For a more pronounced smoky, spicy flavor, add a few teaspoons of adobo sauce from a can of chipotle peppers when you add the tomatoes.
****Don't skip the olive oil! It adds a necessary richness and great mouthfeel.
Storage: Store leftover beans in an airtight container for 5 to 6 days. Or freeze for up to 6 months; defrost in the fridge before reheating.
---
Calories:
197
kcal
|
Carbohydrates:
29
g
|
Protein:
10
g
|
Fat:
6
g
|
Saturated Fat:
1
g
|
Polyunsaturated Fat:
1
g
|
Monounsaturated Fat:
4
g
|
Sodium:
820
mg
|
Potassium:
673
mg
|
Fiber:
11
g
|
Sugar:
3
g
|
Vitamin A:
902
IU
|
Vitamin C:
19
mg
|
Calcium:
76
mg
|
Iron:
3
mg