These Vegan Buffalo Chickpea Quesadillas are a fan favorite for a reason. Despite being mind blowingly tasty and flavorful, they're made with mostly pantry ingredients and easy to make. And they're extremely popular with vegan skeptics, omnivores, and picky kids.
Check out the video on Youtube for a look at how to make these (including the trick to getting crispy, not soggy quesadillas). And some, err, cooking mishaps and awkward outtakes lol. There's also a short food-only video at the end of this post :)
Vegan Buffalo Chickpea Quesadillas: Recipe Video
These quesadillas were so freakin' delicious that I'll never be going back to my simple cheese quesadillas. Sure, they take a little more effort and time than plopping some vegan cheese on a tortilla. But they are SO worth it. And they really don't take thaaat much effort and time. As long as you've got your cashews soaked in advance, you can make these spicy, cheesy quesadillas in a half hour.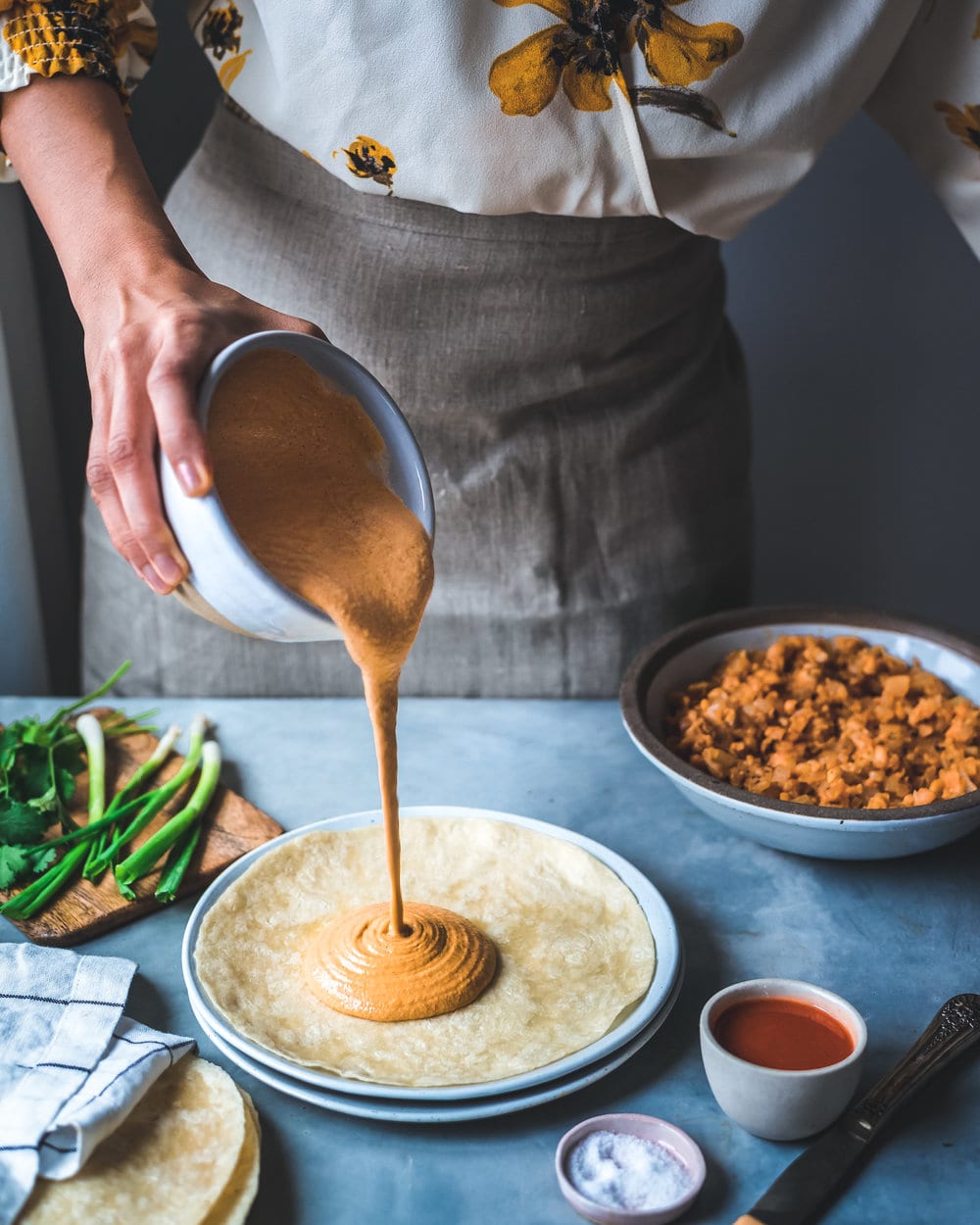 Ingredient Rundown
Buffalo Sauce
Hot Sauce: For these quesadillas, I married the oh-so-popular Buffalo flavor that people associate with hot wings with my favorite plant protein (chickpeas). The result is a hearty and delicious mashed chickpea buffalo sauce filling. Then I combine this filling with an irresistible Mexican cheese sauce for a match made in heaven.
I wanted the "buffalo" flavor to be pronounced but not overwhelming, which is often the case in buffalo-flavored foods. I use Frank's Xtra hot sauce for that traditional, spicy "buffalo" flavor because I like things xtra spicy. If you're okay with spice but want a slightly more moderate heat, I recommend Frank's original sauce.
If you can't find Frank's hot sauce, you can make your own hot sauce (this is a copycat recipe for Frank's hot sauce). Or use Cholula, Tabasco, or any hot sauce of your preference. Since the hot sauce gets mixed with (vegan) butter, you'll want a hot sauce that's pretty vinegar-y to balance out the butter.
Vegan Butter: Buffalo sauce is typically made with a hot sauce and melted butter. But, obviously, we're going to be using vegan butter! I've made this with both Country Crock Plant Butter and Earth Balance vegan butter with great results.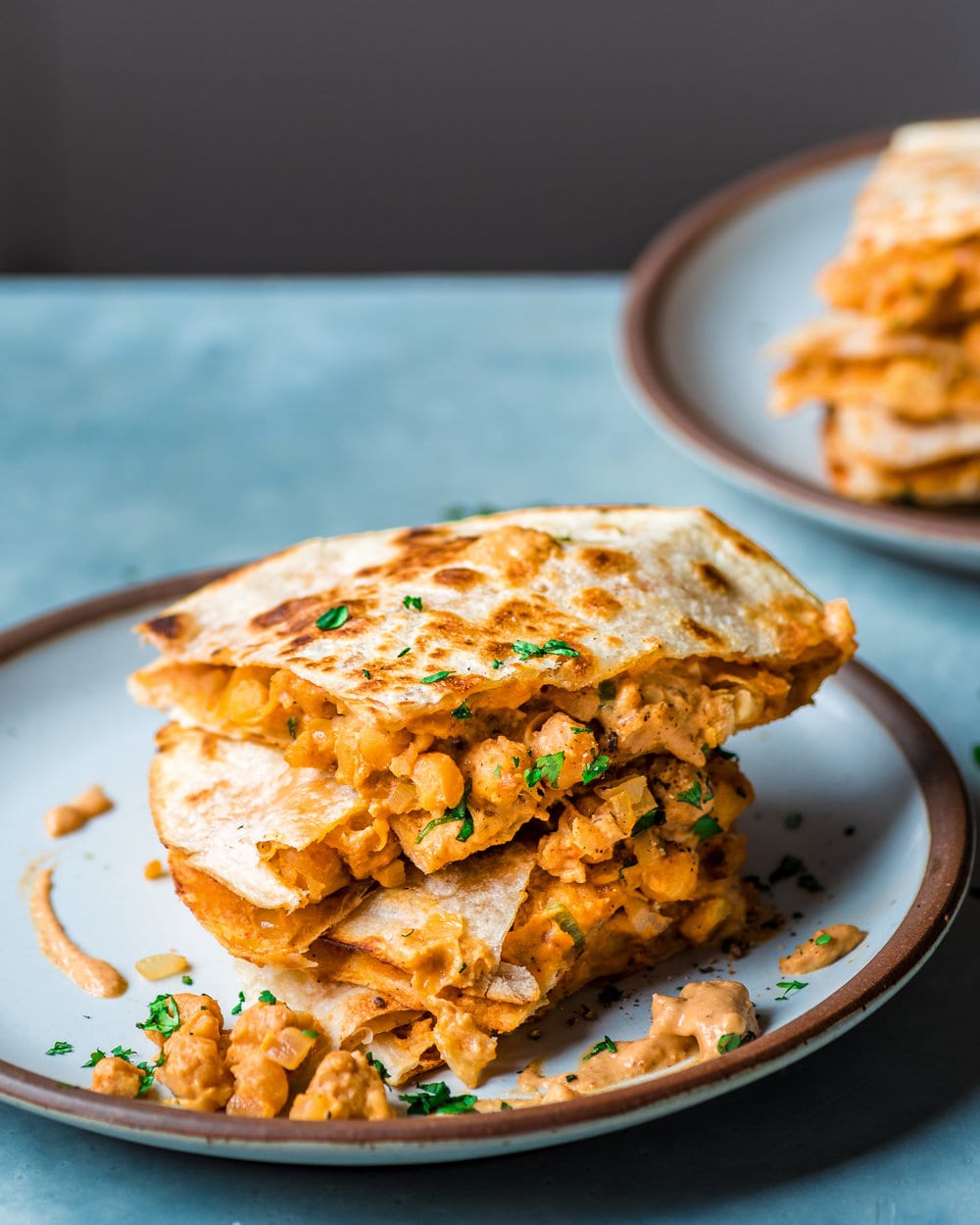 Chickpea Filling
Chickpeas + Aromatics: Once the hot sauce is mixed in with the melted vegan butter and some spices, it gets folded into the mashed chickpea mixture. I rely on canned chickpeas make this recipe a quick, weeknight-friendly meal. And to give them extra flavor, I first sauté an onion and minced garlic in a bit of oil before adding the chickpeas.
PS: If you're looking for more great quesadilla fillings, these Chipotle copycat Sofritas and Mexican Black Beans are excellent in quesadillas!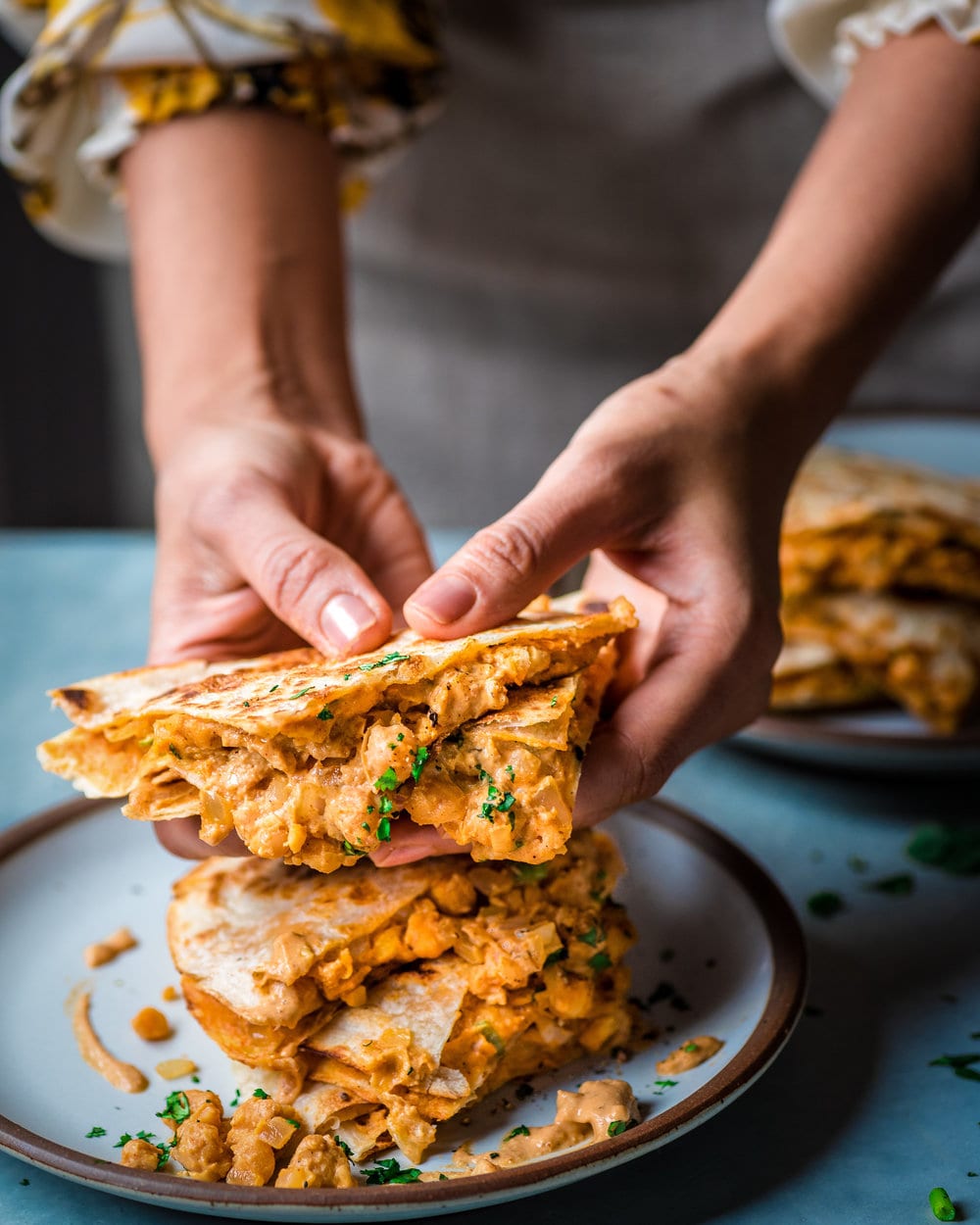 Mexican cheese sauce
This is the EASIEST cheese sauce ever, and it really tastes like a Mexican-flavored cheese dip. It features raw cashews, vegan yogurt, salsa, a few spices, and nutritional yeast.
The hardest part of this recipe is remembering to soak your cashews in advance. If you find that you've forgotten to soak your cashews overnight, you can soak them in boiling water for 1 hour.
Simply add all the ingredients to a high-powered blender and whiz until creamy. Even if you don't make these quesadillas, you should definitely add this cheese sauce to your recipe repertoire because it's insanely good (and healthy!). It's great with burritos, enchiladas, tacos, and nachos!
Tips for making these quesadillas 
For the chickpeas, the recipe calls for one (15-ounce) can of chickpeas because that's the most convenient amount to use. But if you have extra chickpeas on hand, I like to add about 1 1/2 (15-ounce) cans (about 2 1/2 cups cooked chickpeas). It makes each quesadilla a bit more filling. If you do increase the amount of chickpeas to 1 1/2 cans (2 1/2 cups), you shouldn't need to make more of the buffalo sauce because the mixture is already so flavorful.
To achieve that perfectly crisp, crunchy texture on the outside of the quesadilla, follow this step. Weigh down the quesadilla with another skillet while it cooks in the pan. After a few minutes, flip the quesadilla and do the same for another minute or two. You'll be in quesadilla heaven, I promise!
More Delish Chickpea Recipes
In the mood for more Mexican recipes that are not 100% authentic but are 100% delicious? Give these a try:
I hope you try out these Vegan Buffalo Chickpea Quesadillas! They're incredibly delicious and I guarantee you will fall in love with them! If you love them, please rate and review them below :)
Vegan Buffalo Chickpea Queasadillas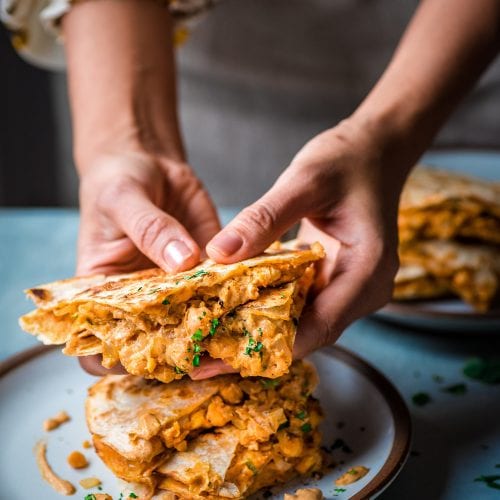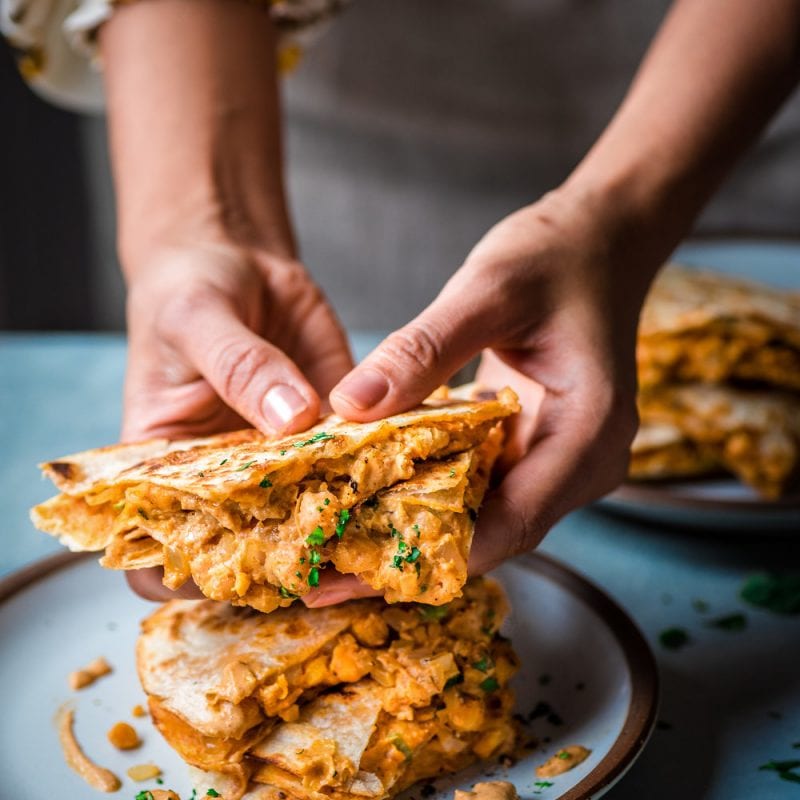 These Vegan Buffalo Chickpea Quesadillas are the absolute best vegan quesadillas you'll ever try! Made with a spicy buffalo sauce, chickpeas, and a Mexican cheese sauce, this is the ultimate comfort food! 
Ingredients
Mexican Cheese Sauce
1

cup

(130-140g) raw cashews,

soaked overnight (or soaked in boiling water for 1 hour)

½

cup

(115g) vegan unsweetened plain yogurt

(see Note 1)

2

tablespoons

water or vegetable broth

½

cup

(115-130g) salsa of choice

(see Note 2)

1

teaspoon

ground cumin

½

teaspoon

chili powder

½

teaspoon

smoked paprika

1

teaspoon

kosher salt

2

tablespoons

nutritional yeast
Buffalo Chickpea Filling
¼

cup

(56g) vegan butter

(1/2 stick)

4

tablespoons

Frank's hot sauce,

original cayenne or Xtra hot, or hot sauce of choice (see Note 3)

⅛

teaspoon

garlic powder

A pinch of cayenne pepper

(optional; I don't use it when I use Xtra hot sauce)

A pinch of kosher salt

2

teaspoons

coconut sugar or brown sugar

2

teaspoons

olive oil

1

medium yellow onion,

diced

4

cloves

garlic,

minced

1

(15-ounce

/425g) can chickpeas, drained and rinsed

(see Note 4)

1

small bunch of scallions (4-5 scallions),

white and light green parts only, sliced thinly)
For serving
8

large flour tortillas****
Instructions
Prepare the Mexican Cheese Sauce. Drain the soaked cashews and pat dry. Add the cashews, along with the remaining sauce ingredients, to a high-powered blender. Blend until thick, creamy, and smooth. The sauce should be quite thick and creamy, but if you'd like it to be even thicker, add the sauce to a saucepan over medium-low heat for a few minutes to thicken up slightly.

Next, make the buffalo sauce. Melt the vegan butter in a heatproof bowl in the microwave (or in a saucepan on the stove). To the melted butter, add the hot sauce, garlic powder, cayenne pepper (if using), salt, and sugar. Whisk until the hot sauce and butter are completely incorporated.

Pour the drained and rinsed chickpeas in a medium bowl and roughly mash them with a fork or a potato masher, leaving some beans intact.

Heat the 2 teaspoons oil in a large skillet over medium heat and once the oil is shimmering, add the diced onion. Cook for 4 to 5 minutes or until softened and they have a little color, then add the garlic and cook for an additional 1 minute.

To the onions, add the buffalo-butter sauce and the mashed chickpeas, and bring the mixture to a boil. Reduce the heat to low and simmer for 2 minutes, stirring occasionally. Add the scallions and stir to combine. Turn off the heat and wipe out the skillet so you can reuse it for making the quesadillas.

Assemble the quesadillas. Spread an even layer of the Mexican Cheese Sauce (1/4-1/3 cup) onto one of the eight tortillas. Arrange about 1/2 cup of the Buffalo Chickpea Filling on top. Place another tortilla on top to cover.

Lightly grease the large skillet with a bit of oil and place over medium heat. Once hot, add the prepared quesadilla to the skillet. Place a slightly smaller skillet on top of the quesadilla so that it presses down on the quesadilla, resulting in a nice crispy exterior. I also like to weigh the smaller skillet down with a couple cans of beans/tomatoes or just press down on the skillet with my hands (using a kitchen towel so I don't burn myself).

Cook the quesadillas for 3 minutes, then flip and cook another 2 to 3 minutes, or until both sides are crispy and nicely browned. Repeat with the remaining sauce, filling, and tortillas.
Notes
Note 1: If you use a very thick, creamy coconut yogurt, you'll need to add more water or broth to slightly thin out the cheese sauce. 
Note 2:

use mild or medium salsa unless you looove spicy food since the buffalo sauce is already spicy. 
Note 3: If you are sensitive to spicy food, use less hot sauce. Also, keep in mind that each hot sauce has a different level of spiciness. If your hot sauce is very spicy, use a smaller amount.
Note 4: The recipe calls for 1 (15-ounce) can of chickpeas because that's the most convenient amount to use, but if you have extra chickpeas on hand, I like to add about 1 1/2 (15-ounce) cans (about 2 1/2 cups cooked chickpeas) because it makes each quesadilla more filling.
**** This recipe is gluten-free if you use gluten free tortillas.
---
Calories:
583
kcal
|
Carbohydrates:
67
g
|
Protein:
18
g
|
Fat:
29
g
|
Saturated Fat:
7
g
|
Polyunsaturated Fat:
7
g
|
Monounsaturated Fat:
12
g
|
Trans Fat:
1
g
|
Sodium:
989
mg
|
Potassium:
589
mg
|
Fiber:
9
g
|
Sugar:
9
g
|
Vitamin A:
781
IU
|
Vitamin C:
7
mg
|
Calcium:
205
mg
|
Iron:
6
mg