'Tis the season for hot chocolate! In years past, my go-to warming beverage has been peppermint hot chocolate, but I decided to change things up this year with this gingerbread hot chocolate!
While hot chocolate is typically made with refined sugar and dairy milk, this Vegan Gingerbread Hot Chocolate basically qualifies as a health food. It's made with superfood ingredients like raw cacao powder and blackstrap molasses, which make this beverage packed with antioxidants and minerals like magnesium, iron, and calcium.
Despite how nutrient-rich it is, it's also unbelievably creamy. The texture is almost as thick as pudding, thanks to a secret ingredient. If you want to see just how thick this hot chocolate is, be sure to watch the video starting around the 01:20 mark.
But if you're looking for a more classic hot chocolate, you gotta try this Vegan Hot Chocolate made with two kinds of chocolate. It's a serious dream!
In addition to being creamy, this hot chocolate is loaded with warming gingerbread spices, which make it all the better for a cosy winter treat.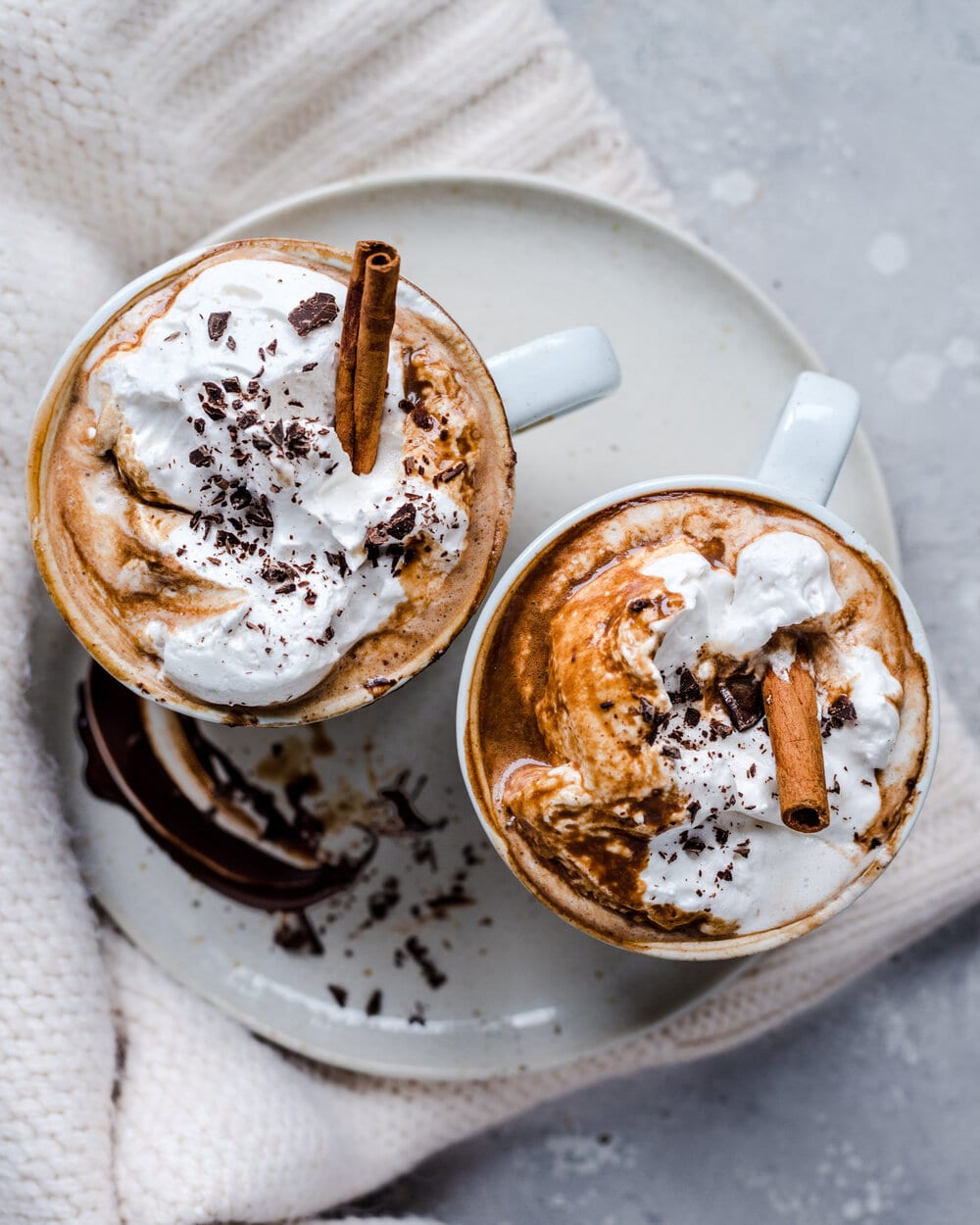 Why is this hot chocolate so good for you?
Refined Sugar-Free
Most hot chocolate is typically made with refined sugars (white sugar or even bottled syrups…gasp!), but this one is made with pure maple syrup and blackstrap molasses. While maple syrup's distinctive rich flavor and blackstrap molasses's bitter sweetness might be too overwhelming in many hot chocolate recipes, they work perfectly with this gingerbread-flavored hot chocolate.
If you are trying to really limit your sugars, you can use less maple syrup than called for in the recipe (e.g., 1 or 2 teaspoons instead of 2 tablespoons). Give it a taste and a bit more as needed.
You could omit the maple syrup entirely and just use the blackstrap molasses, but it will be a rather bittersweet hot chocolate (bittersweet as in sweet yet bitter flavors, not bittersweet as in those happy yet sad moments that bring a tear to your eyes). Think of this hot chocolate recipe as an 75% dark chocolate and the hot chocolate with just blackstrap molasses as 90% dark chocolate.
Blackstrap Molasses
Blackstrap molasses is NOT the same thing as regular ol' molasses. I repeat, they are not the same thing! If you want an in-depth scientific explanation of their differences, read this post at Serious Eats.
In short, molasses has an amber color and is relatively sweet, with a sugar content of around 70%. In contrast, blackstrap molasses is well, black. It is denser in texture, tastes pretty bitter, and it has a sugar content of only about 45%.
This is why baked goods made with blackstrap molasses can taste bitter and why blackstrap molasses qualifies as a health food, but regular ol' molasses does not.
But blackstrap molasses is quite good for you. It's rich in magnesium, iron, calcium, selenium, and Vitamin B6. In just one tablespoon of blackstrap molasses, you'll get approximately:
10% of your daily Calcium

needs

20% of your daily Iron

needs

8-10% of your daily Magnesium

needs
Calcium and magnesium are essential for bone health and help in preventing osteoporosis, whereas iron is important for red blood cell health and helps prevent anemia.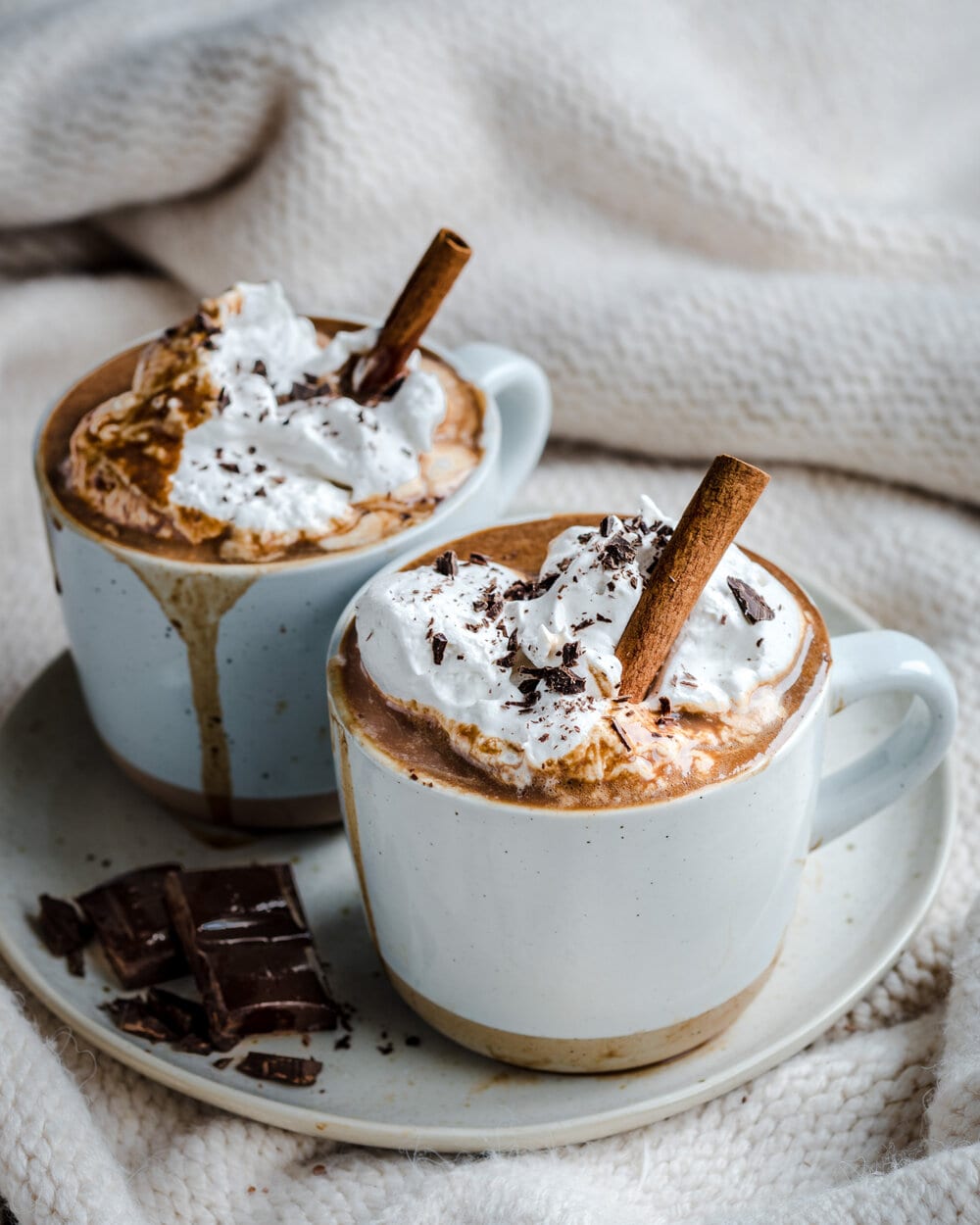 Raw Cacao Powder
This hot chocolate is also made with raw cacao powder instead of processed cocoa powder. I don't think there's anything wrong with standard cocoa powder and use it often in my baking, but raw cacao powder qualifies as a superfood.
Raw cacao powder is made by cold-pressing unroasted cocoa beans. Cocoa powder is raw cacao that has been roasted at high temperatures. The roasting process changes the the molecular structure of the cocoa bean and removes some of the nutritional content.
Basically, raw cacao powder is unprocessed and packed with healthy enzymes, antioxidants, nutrients, and minerals, while cocoa powder is a much more processed food. Cacao powder is an incredibly rich source of magnesium and is also a good source of fiber, iron, potassium, and even protein!
In 2 1/2 tablespoons of raw cacao powder (the amount in one serving of this hot chocolate), you'll get approximately:
25% of your daily Magnesium

needs

10% of your daily Iron

needs

6% of your daily Potassium

needs

19% of your daily Fiber

needs

4 grams of Protein

(surprise!)
Secret Ingredient: how is this hot chocolate so creamy?
The answer is arrowroot powder!
Arrowroot (Maranta arundinaceaI) is a starchy tuber native to Southeast Asia and it's usually processed into a white powdery starch, known as arrowroot powder or arrowroot flour. It's often used as a thickener in cooking and baking and is gluten-free, grain-free, vegan, and paleo.
In contrast to cornstarch, which is heavily processed and can leave food with a slight chalky aftertaste and slightly opaque look, arrowroot powder is more wholesome, less processed, has no taste, and leaves food looking shiny and glossy.
To thicken arrowroot powder, you treat it similarly to cornstarch. First, make a slurry by mixing the arrowroot powder with a small amount of cold liquid (usually water, but in this recipe, we're using plant-based milk). Then pour that slurry into your hot chocolate (or sauce, gravy, etc.) at the end of the recipe. In this case, you add the slurry once the hot chocolate is at a rapid simmer and whisk constantly until the hot chocolate has thickened.
Arrowroot powder doesn't need very much time to thicken and usually thickens more quickly than cornstarch. In fact, in this recipe, the arrowroot powder needs just 30-45 seconds to fully thicken. Resist the temptation to cook it longer, as arrowroot powder tends to break down at higher temperatures and will thus become thin again.
If you don't have arrowroot powder, you can substitute cornstarch. It will take a little longer to thicken, about 1-2 minutes, and it won't be as glossy in appearance. Also, keep in mind, that if you double (or triple) this recipe, it will take longer than the 30-45 seconds for the arrowroot powder (or the 1-2 minutes for the cornstarch) to thicken up the hot chocolate.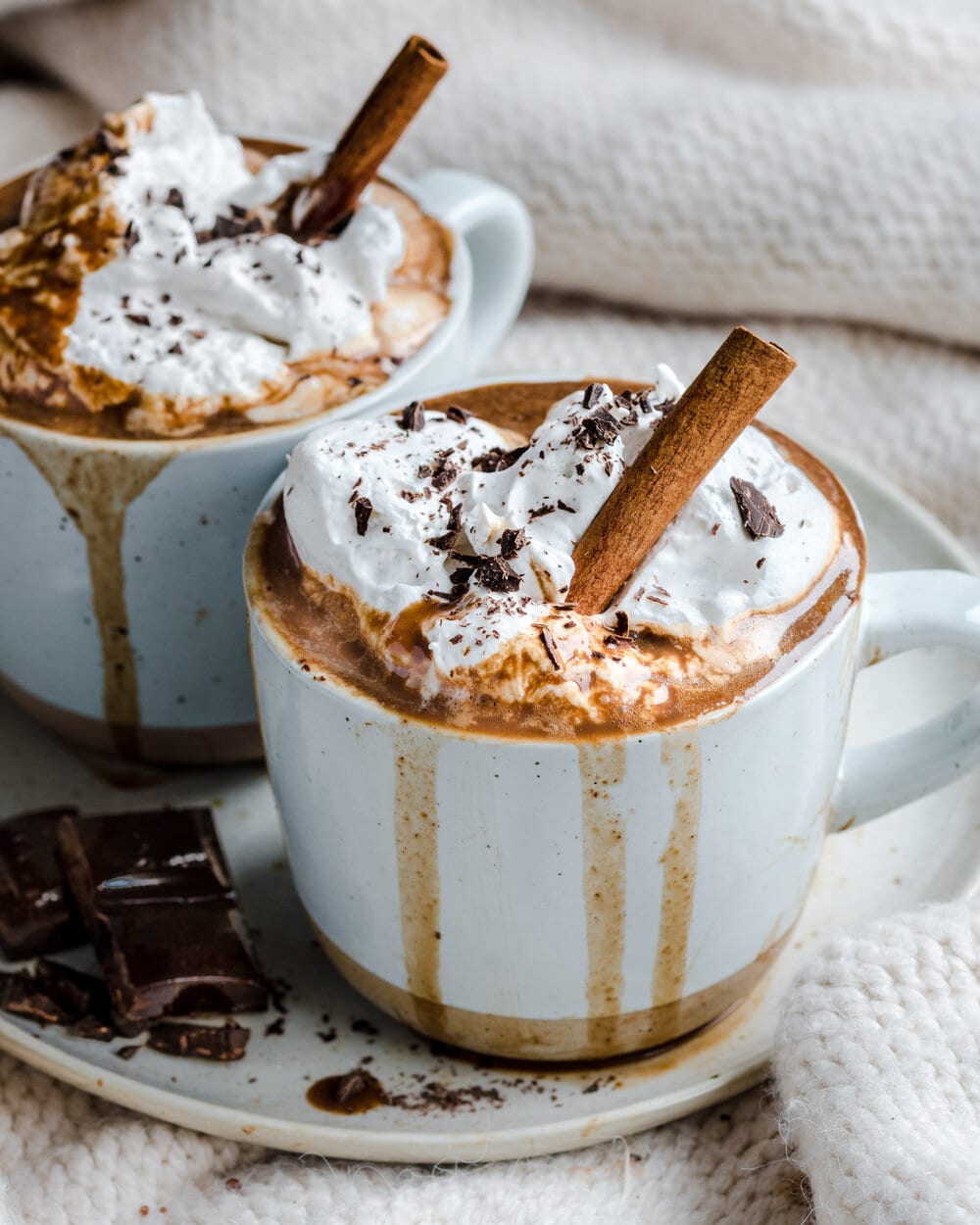 That's all you need to know about this easy, refined-sugar-free Vegan Gingerbread Hot Chocolate! If you make it, leave me a comment below or over on Youtube!
Healthy Vegan Gingerbread Hot Chocolate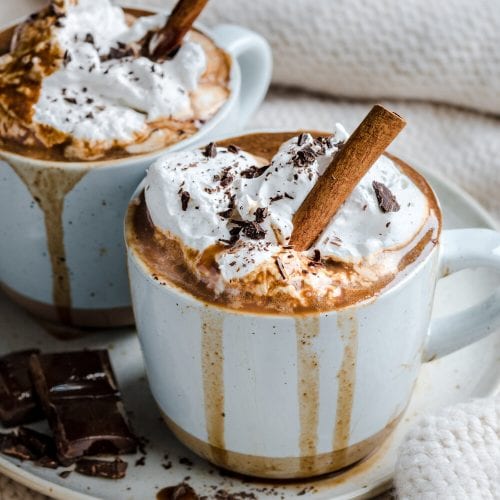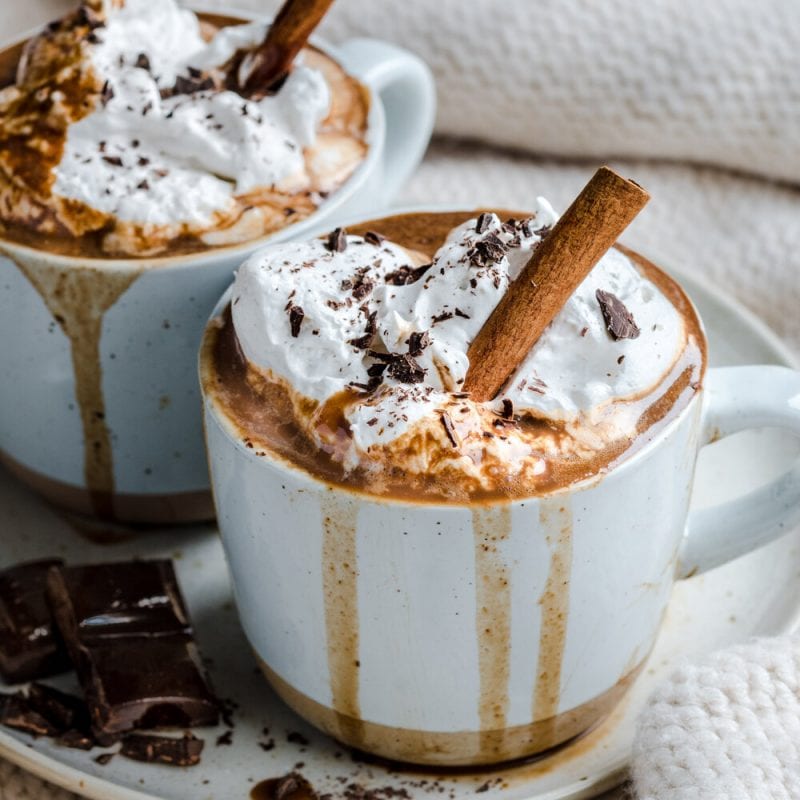 While hot cocoa is typically laden with dairy and refined sugar, this Vegan Gingerbread Hot Chocolate is a health food. Made with cacao powder and blackstrap molasses, it's a hot chocolate you can feel good about. But thanks to a secret ingredient, it has a creamy, pudding-like texture!
Ingredients
1 1/2

cups

(12 ounces or 360 mL) plant-based milk*, divided

3/4

teaspoon

ground ginger

1/4

teaspoon

ground cinnamon

Scant 1/4 teaspoon nutmeg

Scant 1/8 teaspoon allspice

2 ½

tablespoons

(15-20g) raw cacao powder

1

tablespoon

pure maple syrup**

1/2

tablespoon

blackstrap molasses

1

tablespoon

arrowroot powder***
Instructions
Pour 1 cup (8 ounces or 240 mL) of the plant-based milk into a small or medium saucepan. Add the ginger, cinnamon, nutmeg, allspice, cacao powder, maple syrup, and molasses. Bring to a rapid simmer over medium heat, whisking occasionally to incorporate the cacao powder and spices into the milk.

Meanwhile, whisk together the remaining 1/2 cup (4 ounces or 120 mL) of the plant-based milk with the arrowroot powder in a bowl until no clumps remain.

Once the hot chocolate is at a rapid simmer, pour the arrowroot slurry into the hot chocolate, whisking constantly until the mixture thickens, just 30-45 seconds. If you double the recipe, it will take a bit longer for the hot chocolate to thicken. Remove from heat and serve warm.
Notes
* I like to use oat milk or carton coconut milk, but any plant-based milk will work
** Feel free to start with less maple syrup and then add a bit more at the end after tasting.
*** If you can't find arrowroot powder, you can substitute cornstarch. Cornstarch will take a little longer to thicken, closer to 1-2 minutes.
---
Calories:
199
kcal
|
Carbohydrates:
38
g
|
Protein:
5
g
|
Fat:
6
g
|
Saturated Fat:
1
g
|
Polyunsaturated Fat:
2
g
|
Monounsaturated Fat:
3
g
|
Sodium:
496
mg
|
Potassium:
405
mg
|
Fiber:
6
g
|
Sugar:
20
g
|
Vitamin A:
2
IU
|
Vitamin C:
1
mg
|
Calcium:
518
mg
|
Iron:
3
mg