Wow your holiday guest with mugs of this decadent Vegan Hot Chocolate! It feels and tastes super fancy but is easy to throw together.
Simmer cocoa powder, dark chocolate, dairy free milk, and a few other simple ingredients on the stove until luxuriously creamy, then top each serving with vegan whipped cream or marshmallows. That's it!
Much like my Vegan Spiced Eggnog, a steaming mug of vegan hot chocolate is a perfect cozy drink for the holiday season and throughout winter. Each sip is rich, thick, and not overly sweet. The customizable flavor is perfect for adults, but can easily be made sweeter for kids.
Table of Contents:
1. Why this recipe works
2. Ingredient notes
3. Step-by-step instructions
4. Tips for making this recipe
5. How to customize
6. Frequently Asked Questions
7. Recipe card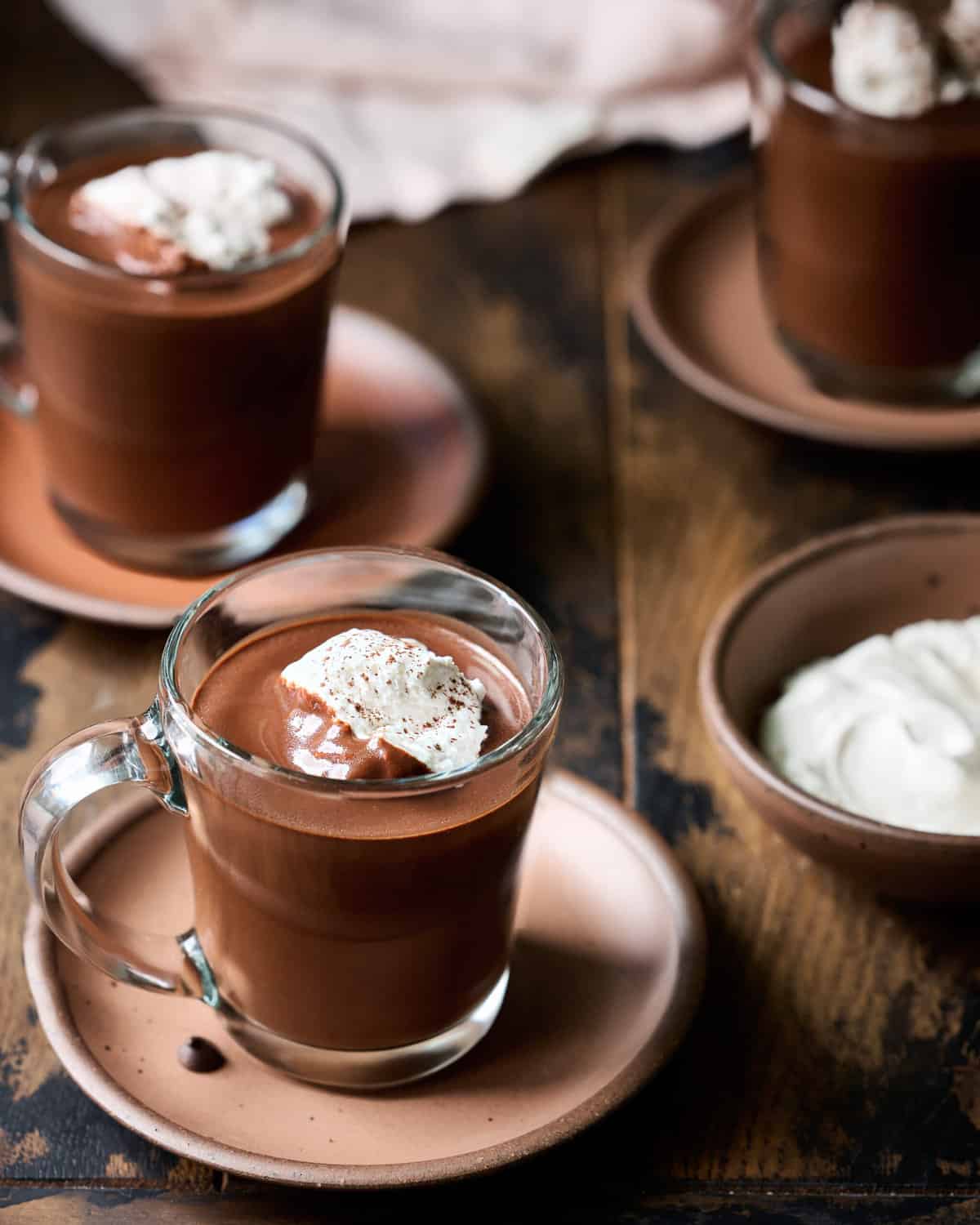 Why this recipe works
A chocolate lover's dream.
Most hot chocolate recipes mix melted chocolate OR cocoa powder with dairy free milk and sugar. In this recipe, we're using both for the ultimate vegan hot chocolate.
And not just any cocoa powder: Dutch process cocoa powder. It's been alkalized, which, according to Sally's Baking Addiction, means the acidic flavor has been washed away. You end up with a no acidity but purer chocolate flavor (and darker color) compared to natural cocoa powder (e.g., Hershey's).
Once the cocoa is mixed with melted dark chocolate, the mixture becomes deeply rich and velvety. All of your chocoholic friends will be asking for another cup.
No watery hot chocolates here.
We've all had the hot chocolate mix stirred in hot water, right? It's pretty sad stuff, so let's just say no to that.
In this version, oat milk and lite canned coconut milk are mix to form the perfect creamy and rich but not heavy consistency.
No water in this hot chocolate, please and thank you. The texture is supremely luxurious and undetectably vegan.
Makes enough for a crowd.
This is a large-batch vegan hot chocolate recipe, perfect for serving to crowds or for enjoying leftovers later on. Any extras will store well in an airtight jar in the fridge for up to one week. 
When it's time to party, pour the hot chocolate into a crockpot and set to the warm setting. The slow cooker keeps the drink warm and creamy throughout the night. Put out a ladle, your most festive mugs, and sweet toppings on the side for your party guests to serve themselves.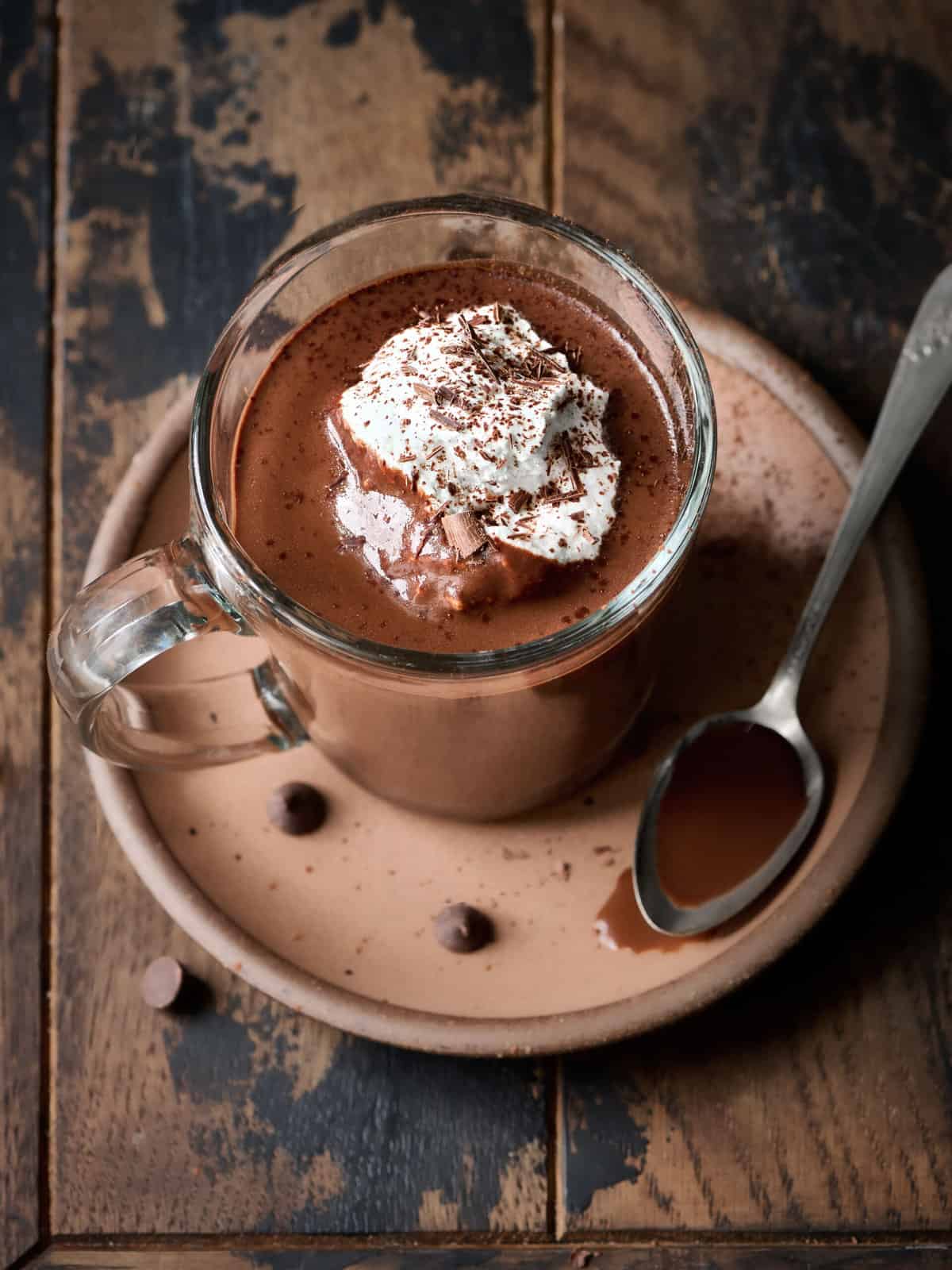 Ingredient notes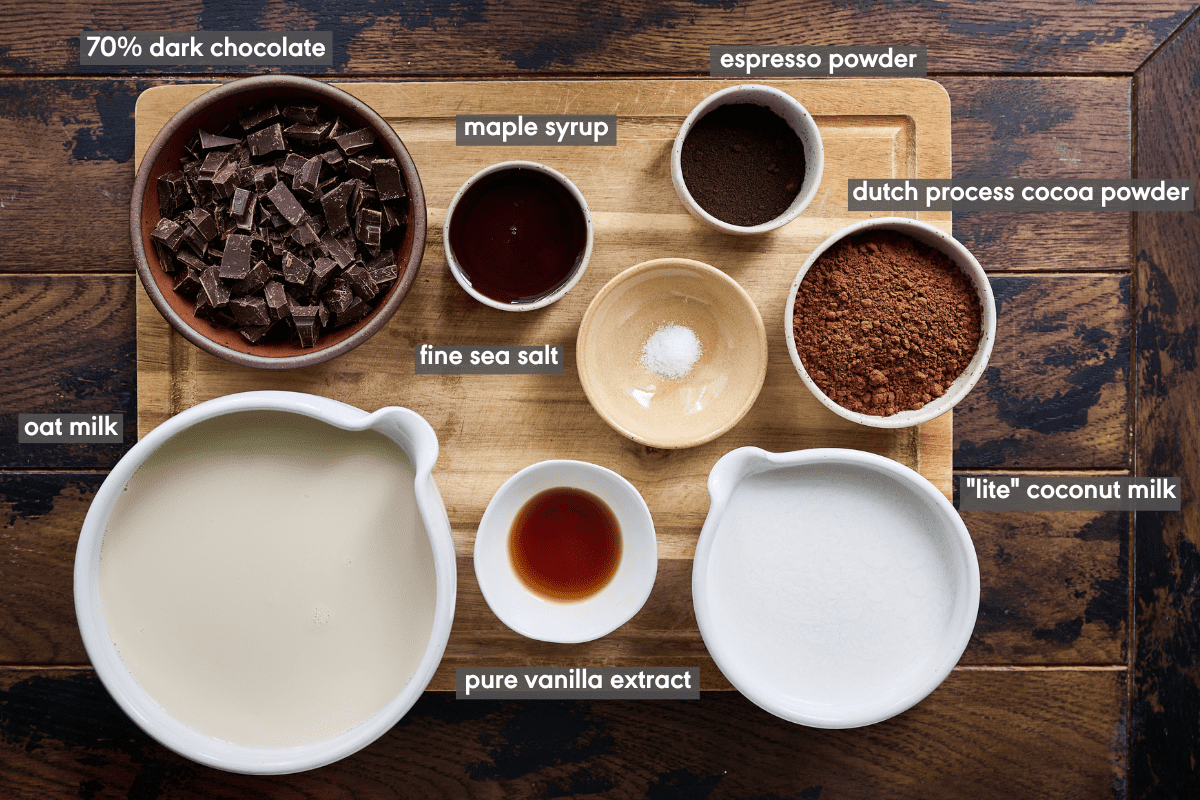 Dark chocolate. Good-quality dark chocolate takes this hot chocolate over the top, making each sip a party for the taste buds.
Tip: I like to use a 70% to 75% dark chocolate bar, chopped up. If your chocolate bar (or chips) has a cacao percentage lower than 65%, start with less sweetener, then adjust as needed.
Substitute: You can also use bittersweet baking chocolate.
Dutch process cocoa powder. This is another secret to an amped-up chocolate flavor. It's better than natural cocoa powder because of its deeply rich and chocolatey flavor.
Before you go shopping, read this article from Serious Eats. They tested the best Dutch process cocoa brands to help you find one with the right flavor, color, and richness.
Substitute: You can use raw cacao powder or natural cocoa powder (e.g., Hershey's) if you don't have Dutch process cocoa. The hot chocolate will be great but less rich in chocolatey flavor.
Tip: In Europe, most cocoa powders are Dutch process but may not be labeled as such.
Lite coconut milk + oat milk. My tests using full-fat coconut milk resulted in a very heavy hot chocolate and my tests with just a standard plant-based milk came out too thin.
But I found the perfect balance when I used some "lite" or reduced-fat coconut milk in addition to oat milk. The combo gives the hot chocolate the perfect luxurious consistency and a creamy body, much like if you were to use real half and half.
Substitute: if you can't have coconut products, omit the coconut milk and use all oat milk instead.
Espresso powder. Just a little enhances the flavors of the chocolate without making the drink taste like a mocha. Read more about how espresso works its magic in baking in this article by King Arthur Baking. It's how I get my Best Vegan Brownies to taste mega chocolatey, too!
Substitute: A double shot of brewed espresso will work just as well. Or, if you only have instant coffee powder at home, use that instead. It isn't as concentrated as espresso powder, but will still get the job done.
And if you're sensitive to caffeine, either skip the espresso/coffee or use decaf powder.
Maple syrup or sugar. Both maple sugar and cane sugar can be used to sweeten. Use maple syrup if you want a slightly robust caramel flavor.
The sweetness is easy to adjust in this recipe. Taste as you go, adding more sugar/syrup to fit your sweet tooth. You can always stir more in at the end, too (chances are the kids will ask for more sugar).
Vanilla extract. For flavor, obvi!
Substitute: If it's the holidays and you love the mint-chocolate flavor, use peppermint extract instead.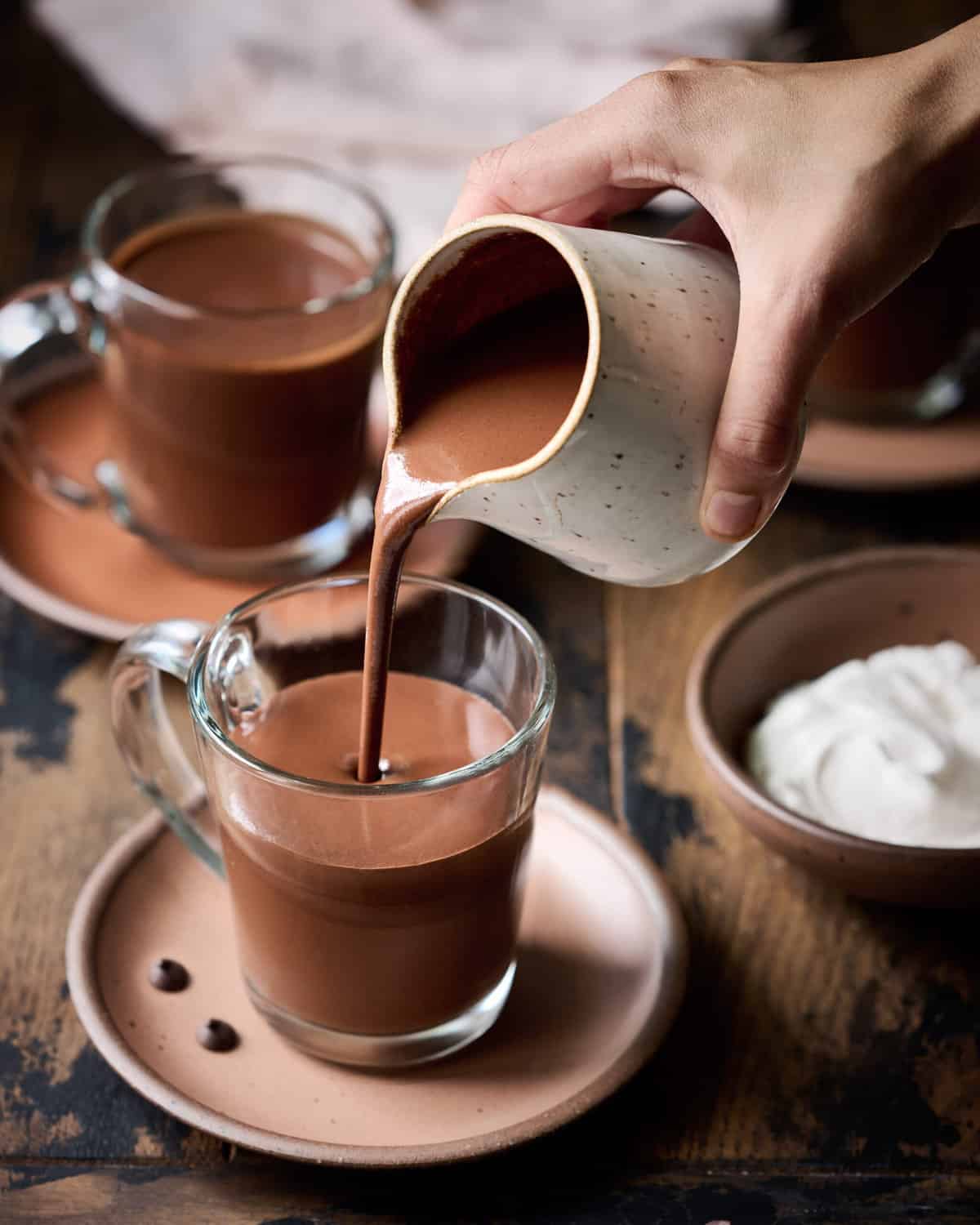 Step-by-step instructions
Chop up your chocolate.
Add the oat milk, lite coconut milk, chopped chocolate, cocoa powder, espresso powder, sweetener of choice, vanilla, and salt to a saucepan on the stove.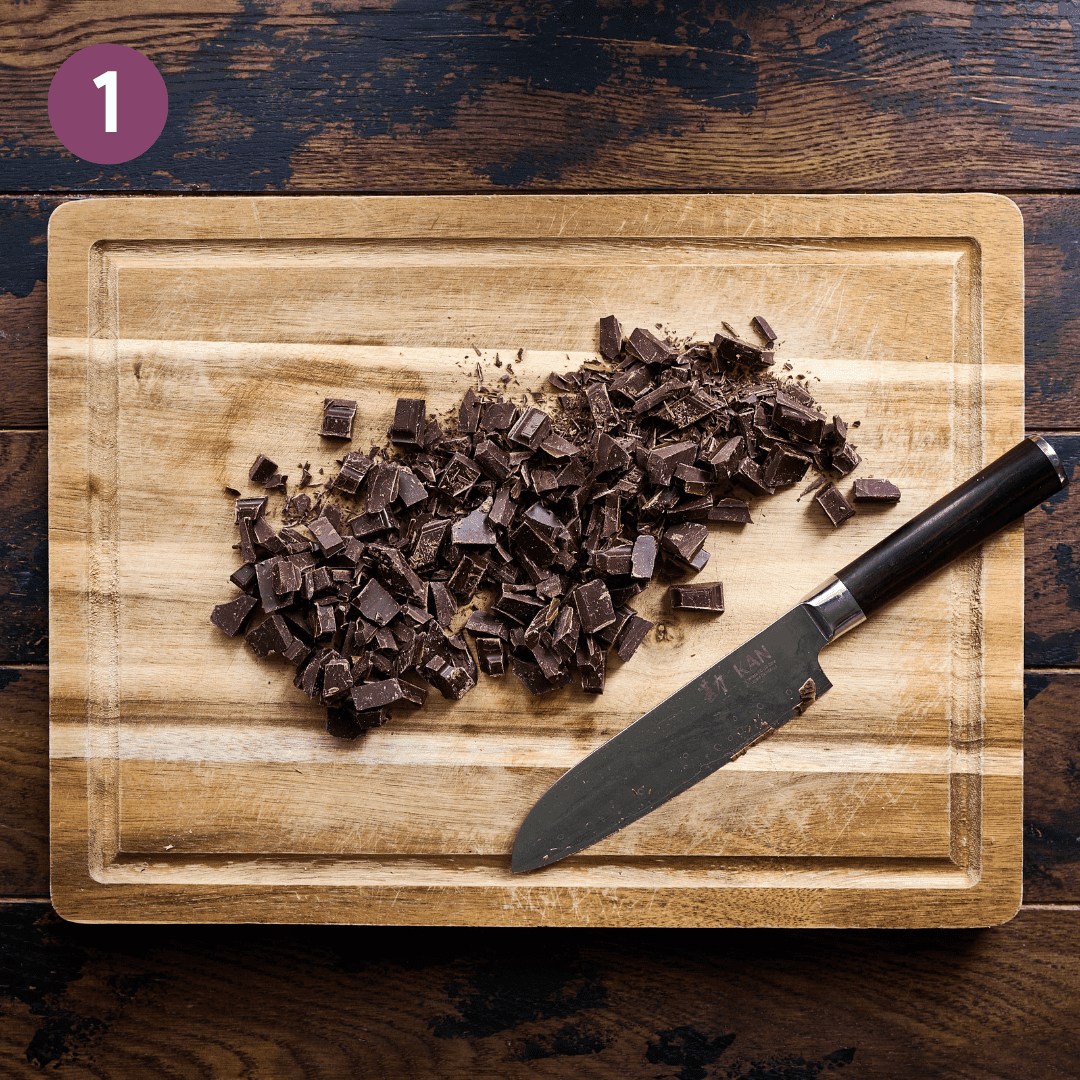 Heat over medium heat to bring the mixture up to a rapid simmer.
Whisk occasionally to help incorporate the cocoa powder into the milk. Keep simmering for 8 to 10 minutes, or until slightly thickened.
Cool for 5 to 10 minutes before serving. Add more sweetener to taste. Pour into mugs and top as desired.
Tips for making this recipe
This is an adult hot chocolate. By this, I mean it isn't as sweet as most store-bought hot chocolate mixes. I erred on the lower end of sweetness in case you use chocolate with a lower cacao content, as it will make the hot chocolate sweeter.
Hot chocolate not sweet enough for you?

Option 1: Stir in more sugar or maple syrup at the end (if the hot chocolate is still warm, the sugar will dissolve just fine).

Option 2: Top your hot chocolate with a vegan whipped topping (my preference) or marshmallows, and those will add extra sweetness.
Whisk well to remove clumps. As the hot chocolate comes to a simmer, you may notice some clumps from the cocoa. You'll want to whisk well and frequently to dissolve the clumps (once the milk is hot, it should be easier).
You can also make ensure a clump-free mixture by sifting your cocoa powder first.
As the mixture simmers, the fat from the milks may start to form a skin on the surface. Don't worry, you can just whisk that away and it won't compromise the texture.
Let it rest to thicken. If it doesn't seem as thick as you'd like, don't fret. This hot chocolate thickens quite a bit as it rests and cools. Once it rests for ~10 minutes, the texture will not only be thicker but will also help you avoid mouth burns (and it continues to thicken).
When reheating, the hot chocolate will likely have thickened so just add a splash of plant milk.
Make a hot chocolate bar! Have some fun for the holidays by warming this vegan hot chocolate in a crockpot and keeping a ladle and mugs on the side. Fill small bowls with all kinds of fun toppings (see ideas below) and let your party guests serve themselves.
How can I customize this hot chocolate?
Peppermint hot chocolate: Substitute peppermint extract for vanilla and garnish the mug with a candy cane. A delightful holiday party trick.
Mexican hot chocolate: You can add 2 cinnamon sticks and ¼ teaspoon cayenne pepper for a spicy kick.
Spiked hot chocolate: Stir 2 to 3 ounces of bourbon, dark rum, peppermint schnapps, or vegan Irish cream liqueur in at the end, then divide into cups.
Gingerbread hot chocolate: Try my refined sugar-free Gingerbread Hot Chocolate instead. Don't forget a piece of Gingerbread Cake on the side for dunking!
Toppings galore! Top each mug with vegan whipped cream or a nondairy whipped topping, or vegan marshmallows (like Dandies) if you like. Then finish with a sprinkle of shaved dark chocolate or dairy-free chocolate chips.
Less rich hot chocolate: (1) Use less dark chocolate (4 ounces instead of 6 ounces), and (2) replace the lite coconut milk with more oat milk.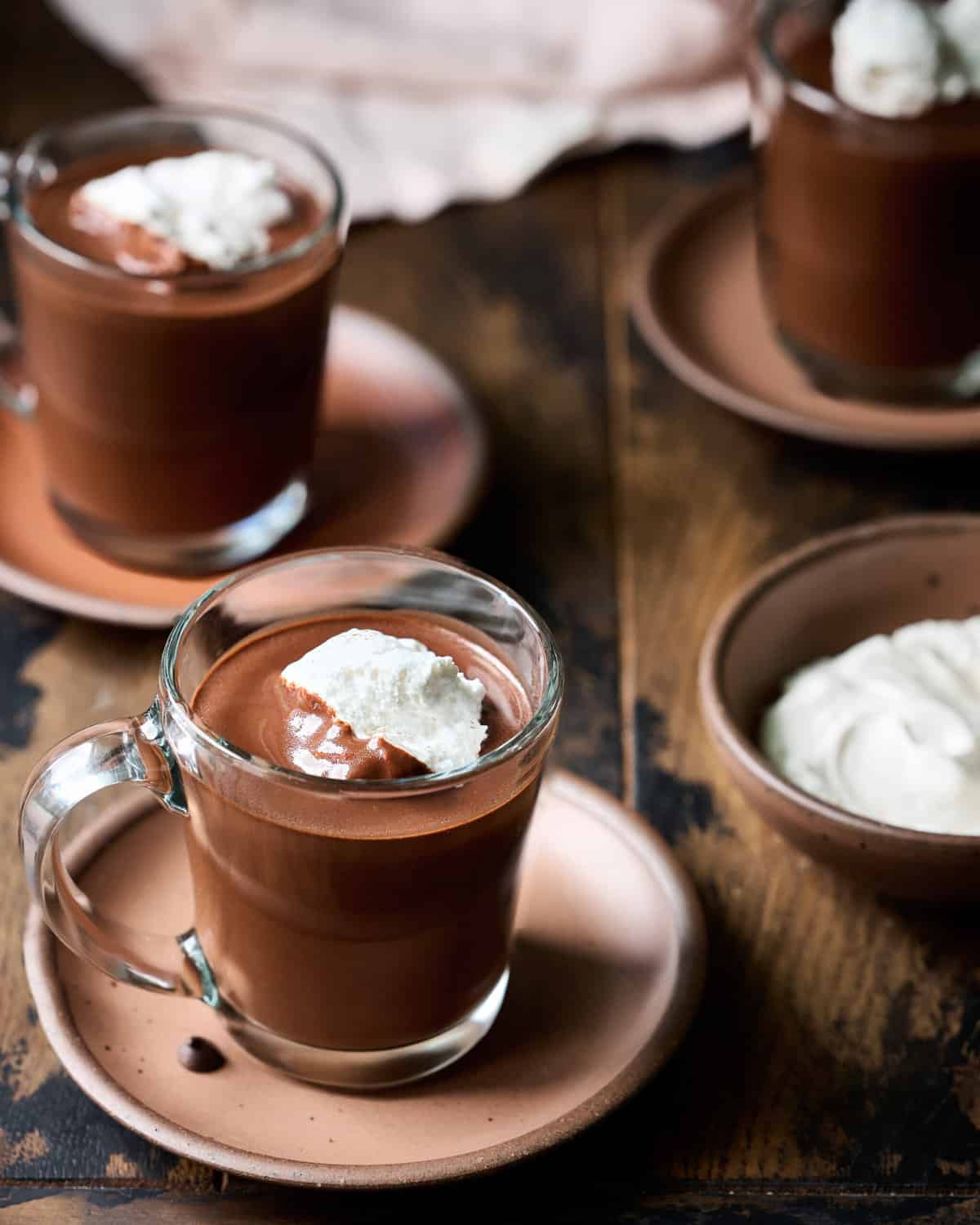 Frequently Asked Questions
Can you use chocolate chips instead of dark chocolate? 
Yes, you can use vegan chocolate chips instead of a dark chocolate bar. Chocolate chips are typically made with lower-quality chocolate than bars and don't melt the same way, but they still work fine. 

A couple considerations: (1) dark chocolate chips are not that common, so if you're using semisweet chocolate, start with half the amount of sugar (or none at all). (2) Read the labels to make sure your chocolate chips don't contain milk solids. 

Note: you can also use bittersweet baking chocolate.
What is the best non-dairy milk for hot chocolate?
Technically, you can make dairy-free hot chocolate with any non-dairy milk. But a combination of lite coconut milk and oat milk is best because it mimics the rich cream and fattiness of traditional dairy milk. 
Can you omit the coconut milk? 
Yes. The hot chocolate won't be as thick or rich, but it will still be tasty. Just substitute an equal amount of oat milk. 
Can I use something besides oat milk?
Feel free to use another creamy plant milk, like soy milk or cashew milk instead. We haven't tested these ourselves, but they should work well.
What is Dutch process cocoa powder?
Dutch process cocoa powder (AKA "alkalized" or "European style" cocoa powder) is the smoother, more mellow alternative to natural cocoa powder. According to Serious Eats, the cocoa beans are "washed with a potassium carbonate solution that neutralizes cocoa's acidity to a pH of 7" (this is known as the "Dutching" process).

As for flavor, Dutch process cocoa is smooth, mild, and pure in chocolate flavor. It's the perfect choice in chocolate-forward recipes like this hot chocolate. 
How long does this hot chocolate last in the fridge?
We've had it after a full 7 days later, and it was still tasty! It does thicken in the fridge, but usually comes back to its normal texture when reheated. If it's still too thick, thin it out with a bit of plant-based milk or a splash of water as needed.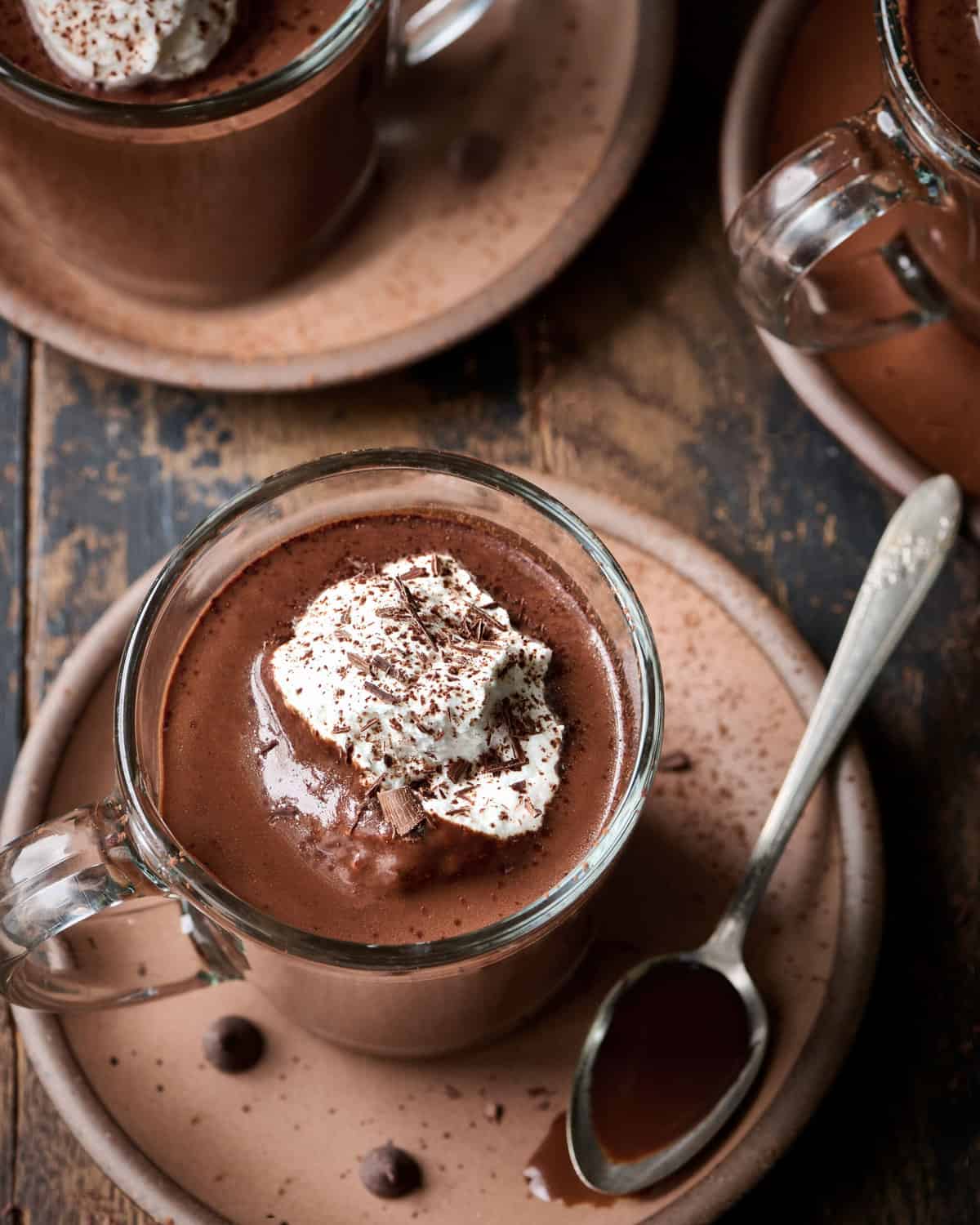 If you love this Vegan Hot Chocolate as much as we do, please rate and review the recipe with your feedback below! It's always very much appreciated :)
Vegan Hot Chocolate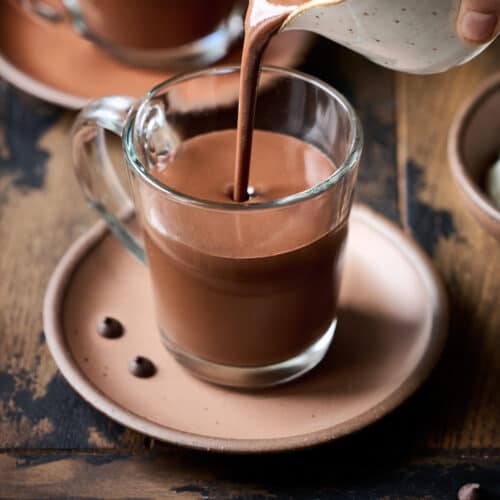 This Vegan Hot Chocolate is luxury in a glass! A decadent blend of cocoa powder, dark chocolate, and two kinds of dairy-free milk result in a dreamy, warming winter drink. It's a luxe, grown-up version of the classic.
Ingredients
6

ounces

(170g) 70% dark chocolate, chopped

4

cups

(960 mL) oat milk (or soy milk)

1

(13.5-ounce/400 mL) can of "lite" coconut milk*

1/4

cup

maple syrup (80g) or organic cane sugar (50g),

plus more to taste**

2

teaspoons

espresso powder or instant coffee powder

(optional)

¼

teaspoon

fine sea salt

2

teaspoons

pure vanilla extract***

1/2

cup

(48g) Dutch process cocoa powder****
Optional Toppings
vegan whipped cream or whipped topping,

vegan marshmallows, dairy-free chocolate shavings or chocolate chips
Instructions
Add the oat milk and lite coconut milk to a 4-quart / 4L (or larger) saucepan or Dutch oven (to prevent overflow).* Add the chopped chocolate, maple syrup or sugar, espresso (if using), salt, and vanilla.

Use a fine mesh sieve or sifter to sift the cocoa powder directly into the pan (or sift in advance, then add). Sifting removes the clumps, making it easier to whisk.

Bring to a rapid simmer over medium heat, whisking frequently to incorporate the cocoa powder into the milk.

Simmer for 8 to 10 minutes, whisking occasionally until the hot chocolate has slightly thickened (it will thicken quite a bit more as it rests).

Note: Once it comes to a simmer, it will expand in volume and rise upwards, so lower the heat as needed to prevent it from bubbling up.

Cool for 5 to 10 minutes (it'll burn your mouth otherwise!). Whisk again and give it a taste. If desired, sweeten to taste with sugar or maple syrup.

Add optional toppings such as whipped cream and shaved chocolate. Enjoy!
Notes
General Note: The serving size will look quite small, but this hot chocolate is quite rich. Feel free to serve a bigger portion though! For a lighter hot chocolate, see the second note. 
* It's important to use a large enough saucepan, as once the hot chocolate comes to a simmer, it will expand in volume quite a bit. If you use a smaller saucepan, it will overflow! 
** For a lighter hot chocolate, replace the lite coconut milk with more oat milk, but use a full-fat variety. You can also use slightly less dark chocolate, about 4 ounces. 
*** This hot chocolate is not too sweet, more of an adult hot chocolate. If you prefer a sweet hot chocolate, you can (1) add ⅓ to ½ cup sweetener; or (2) keep as is and stir more sweetener at the end, to taste. I prefer option 2 because every chocolate brand has a different level of sweetness; also, if you top it with whipped cream, it'll add more sweetness. With option 2, you don't risk ending up with a too-sweet hot chocolate. 
**** If it's the holidays and you love chocolate mint, use peppermint extract instead.
***** You can sub with raw cacao powder or natural cocoa powder, but Dutch process has more rich chocolatey flavor!
---
Calories:
261
kcal
|
Carbohydrates:
34
g
|
Protein:
4
g
|
Fat:
14
g
|
Saturated Fat:
9
g
|
Polyunsaturated Fat:
0.3
g
|
Monounsaturated Fat:
3
g
|
Sodium:
173
mg
|
Potassium:
183
mg
|
Fiber:
5
g
|
Sugar:
23
g
|
Vitamin A:
246
IU
|
Calcium:
192
mg
|
Iron:
2
mg
Recipe: Nisha Vora / Rainbow Plant Life | Photography: Megan Morello