I love making risotto. There's something very comforting and rewarding about pouring your heart and soul (and arm strength) into a creamy dish that'll hug your soul (and hips). But I only love making risotto when I have a completely free evening and nothing on my mind except for cooking. Since I'm a Type A, go-getter Millennial who lives in NYC and wants to do everything, those kinds of evenings are few and far between.
If you don't want to read my ramblings and are more of a visual person, check out the recipe video instead.
And if you want more than 90 incredible vegan Instant Pot recipes, be sure to order my 5-star-rated cookbook, The Vegan Instant Pot Cookbook!
That is, until I fulfill my dream of moving into a (fancy) cottage in the (civilized) wilderness where I spend my days gardening and painting (activities that I currently know nothing about) and my evenings making elaborate meals from scratch.
But in the meantime, I've found a way to enjoy making risotto that doesn't require standing by the stove and stirring constantly for 30 minutes. More on that below.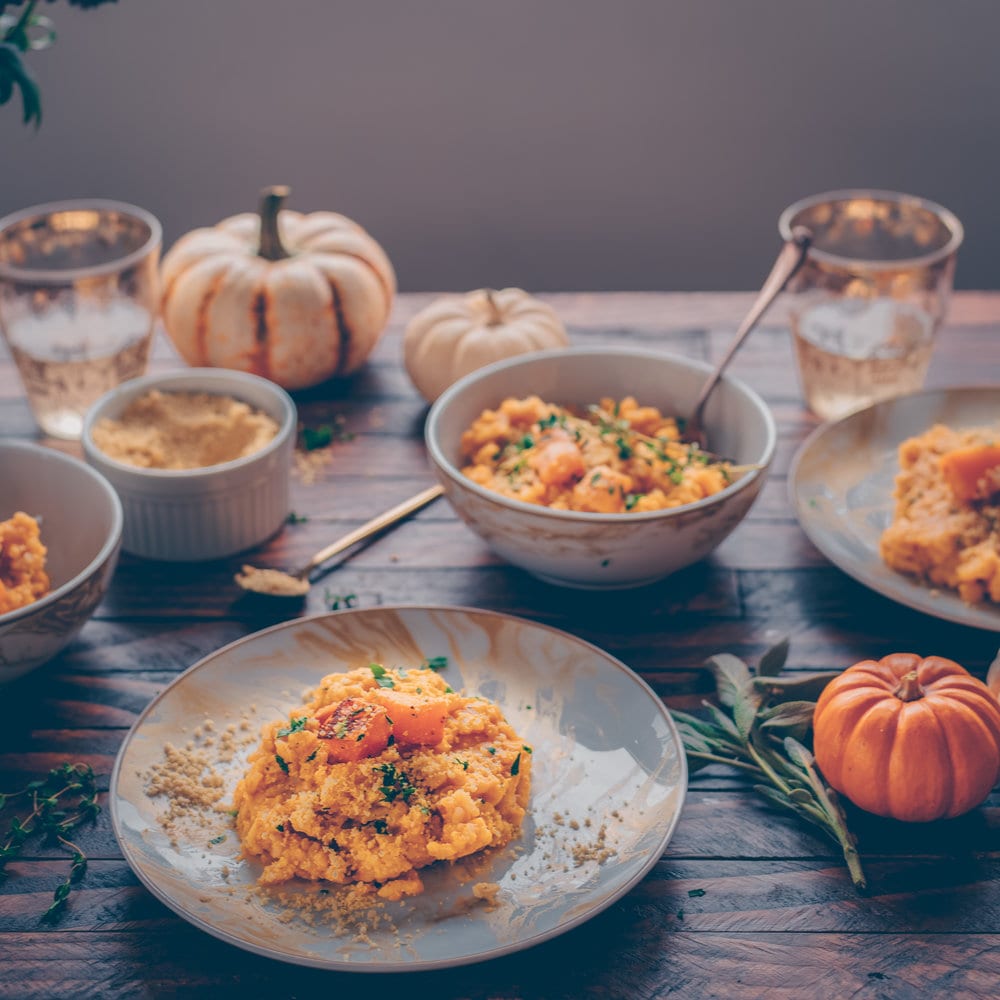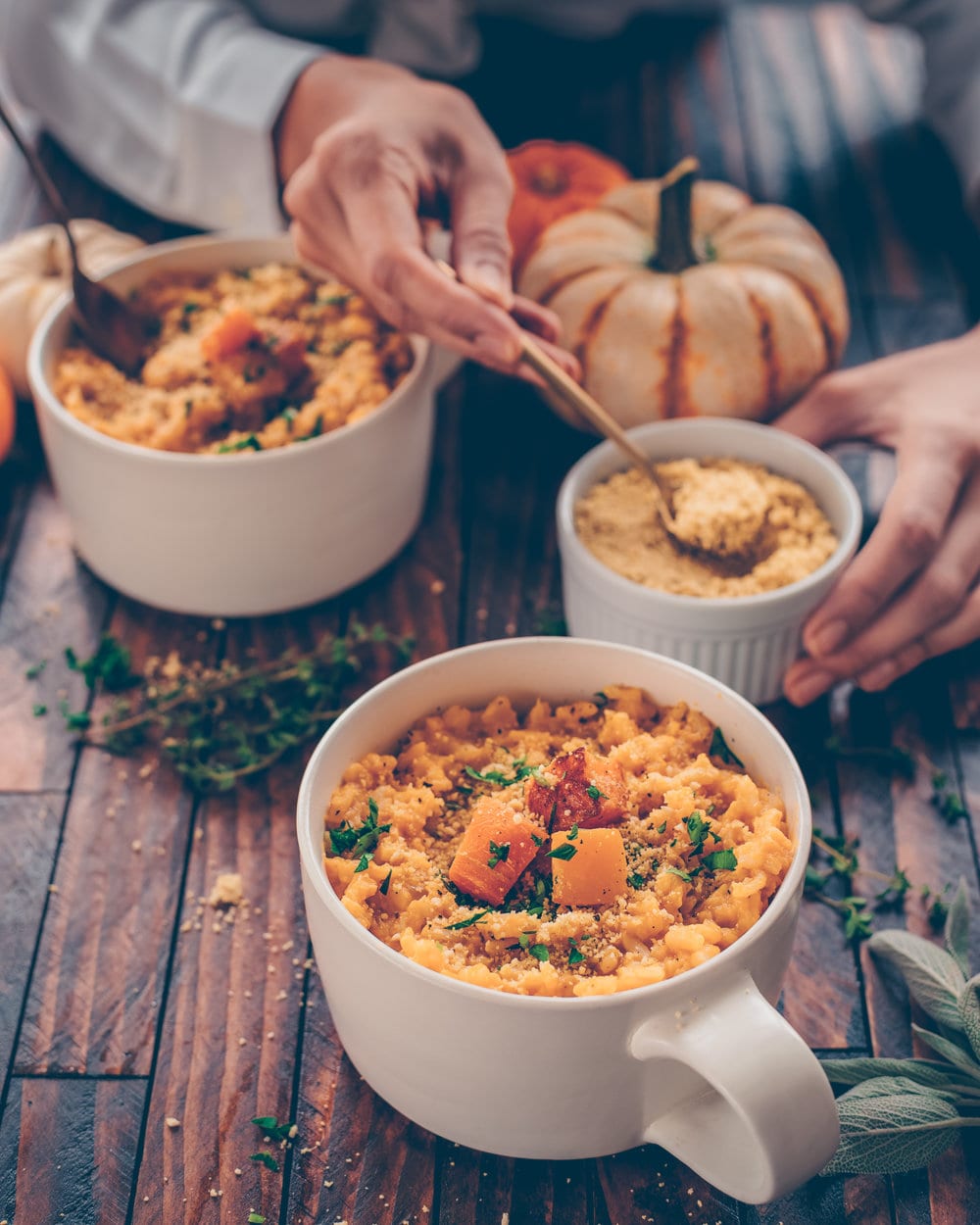 My secret to easy, quick risotto is a pressure cooker! The Instant Pot, to be specific. I know, you're probably thinking there's no way risotto made in a pressure cooker is as good as traditional risotto. And you're right: it's not.
That's because it's better. Well, maybe, the taste is the same, but it's better because it's quicker and easier.
I used an Instant Pot, which has a pressure cooker as one of its 7 functions, but you can use a traditional pressure cooker as well.
When you unseal the pressure cooker, the risotto may appear a bit liquidy. Don't panic. Just give it a stir and you'll see the risotto start creaming together.
This dish is comfort food at its finest. It's creamy and rich, it's savory yet a little sweet, and it doesn't skimp on flavor (or calories). And it would make the perfect main dish at your Thanksgiving table. Because, let's be honest, it's 2017, and nobody needs to kill a turkey in order to have a delicious Thanksgiving meal.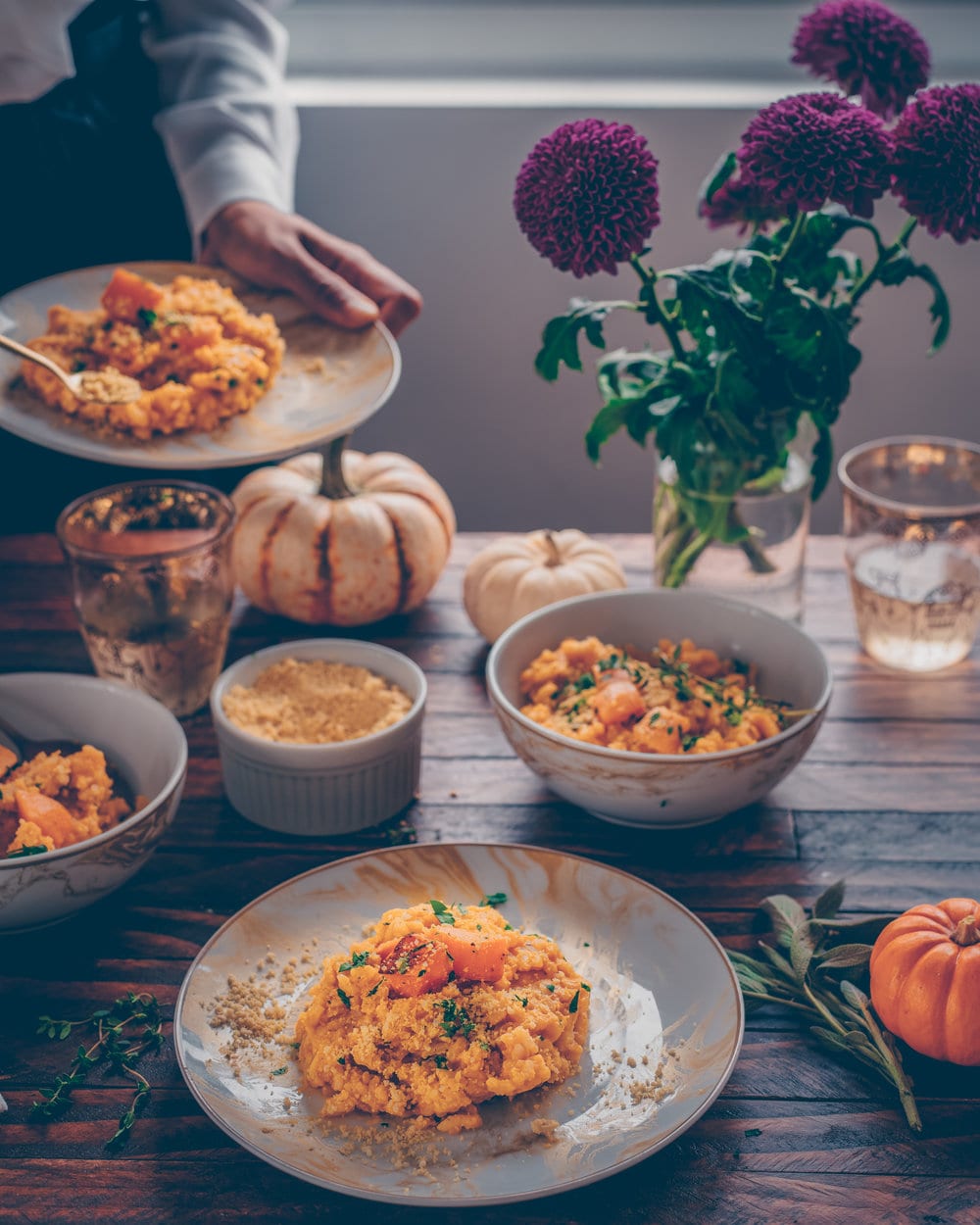 Bon appétit!
Instant Pot Butternut Squash Risotto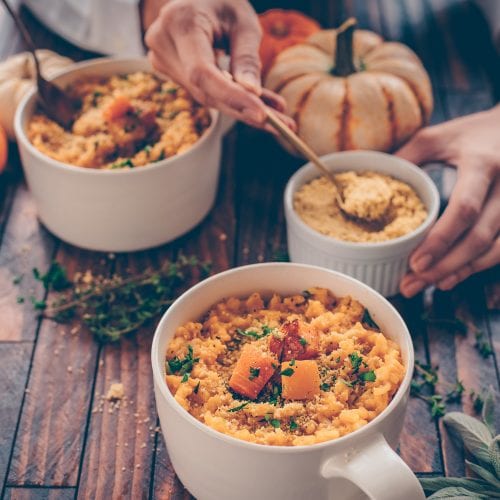 This vegan Instant Pot risotto enables you to enjoy the creamy, indulgent taste and texture of risotto with half the work! With a creamy butternut squash puree and miso maple butter, this vegan butternut squash risotto is the ultimate fall comfort food!
Ingredients
Roasted Butternut Squash
2

pounds

of peeled and chopped butternut squash

cut into 1-inch chunks

1-2

tablespoons

olive oil

2

cloves

garlic

crushed

1

apple

cut into 4 chunks

1

handful of fresh thyme sprigs

1

handful of fresh sage sprigs

Salt + pepper
Risotto
1-2

tablespoons

olive oil

1/2

large sweet onion

finely diced

1 1/2

cups

arborio rice

1/3

cup

dry white wine

such as Pinot Grigio or Sauvignon Blanc

2 1/2

– 2 3/4 cups vegetable broth
Miso Maple Butter
1

tablespoon

maple syrup

1

tablespoon

vegan butter

Heaping 1/2 tablespoon miso paste
Cashew Parmesan Crumble
1/2

cup

raw cashews

2

tablespoons

nutritional yeast

Scant 1/2 teaspoon sea salt

1/2

teaspoon

olive oil
Instructions
Preheat oven to 400°F.

In a large bowl, toss the chopped squash with 1-2 tablespoons olive oil, crushed garlic, apple slices, thyme sprigs, sage sprigs, and a large pinch of salt and pepper until evenly coated. Spread squash onto one or two large baking sheets.

Roast squash for 30-40 minutes, stirring once or twice during baking, until tender and browned. Discard thyme and sage sprigs.

Reserve 1/4 of the roasted butternut squash. Transfer the remaining squash, apple, and garlic to a food processor or blender and purée until smooth and creamy. Set aside the puréed squash mixture.

While the squash is roasting, make the risotto. Turn the Instant Pot onto the Saute function. Add the 1-2 tablespoons olive oil and heat until shimmering. Then add the minced onion and cook until translucent but not browned, about 4 minutes.

Add the Arborio rice and cook, stirring, until the rice is evenly coated in oil and toasted but not yet browned. This should take 4-5 minutes and the rice will be translucent around the edges.

Add the white wine and cook, stirring, until the smell of alcohol has cooked off and the wine has almost evaporated, about 2 minutes.

Pour in the vegetable broth, scraping any browned bits off the bottom of the pot.

Secure the lid and select the Pressure Cook setting at high pressure for 5 minutes. When the timer goes off, allow a natural pressure release for 10 minutes, then switch the valve to the Venting position to release the remaining steam.

While the risotto is cooking, make the Cashew Parmesan Crumble. Combine the cashews, nutritional yeast, salt and olive oil in a food processor and pulse repeatedly, until the mixture has a fine, crumbly texture, similar to grated parmesan.

Then, make the Miso Maple Butter. In a small saucepan, melt the vegan butter. Then add the miso and maple syrup and stir to combine for 1-2 minutes to allow flavors to combine.

When the risotto. is done, open the pot and stir to combine the rice and cooking liquid. It may be appear more liquidy than risotto should be, but after some stirring, it will thicken and become creamy. If it doesn't thicken as much as you'd like, cook for a few minutes longer on the Sauté setting. Stir the puréed squash into the risotto to combine thoroughly. Then stir in the Maple Miso Butter.

Transfer to serving bowls and top with the Cashew Parmesan Crumble and reserved roasted squash pieces.
---
Calories:
432
kcal
|
Carbohydrates:
73
g
|
Protein:
9
g
|
Fat:
12
g
|
Saturated Fat:
2
g
|
Polyunsaturated Fat:
2
g
|
Monounsaturated Fat:
7
g
|
Trans Fat:
0.01
g
|
Sodium:
273
mg
|
Potassium:
792
mg
|
Fiber:
7
g
|
Sugar:
11
g
|
Vitamin A:
16211
IU
|
Vitamin C:
36
mg
|
Calcium:
107
mg
|
Iron:
5
mg