I love welcoming spring with a lemony dessert, and this Vegan Lemon Olive Oil Cake certainly fits the bill. It's bursting with a bold and zingy sweet-yet-tart lemony flavor complemented by fruity extra virgin olive oil. And the texture is the best combination of moist and fluffy!
This cake is easy to make and features everyday ingredients, so now you have no excuse to not make it :) You can serve it plain for an afternoon snack or even breakfast, or spruce it up for a special occasion with the strawberry compote and macerated strawberries (it's simpler than it sounds!)
This post is sponsored by ALDI USA. Thank you for supporting the brands who help make my work possible!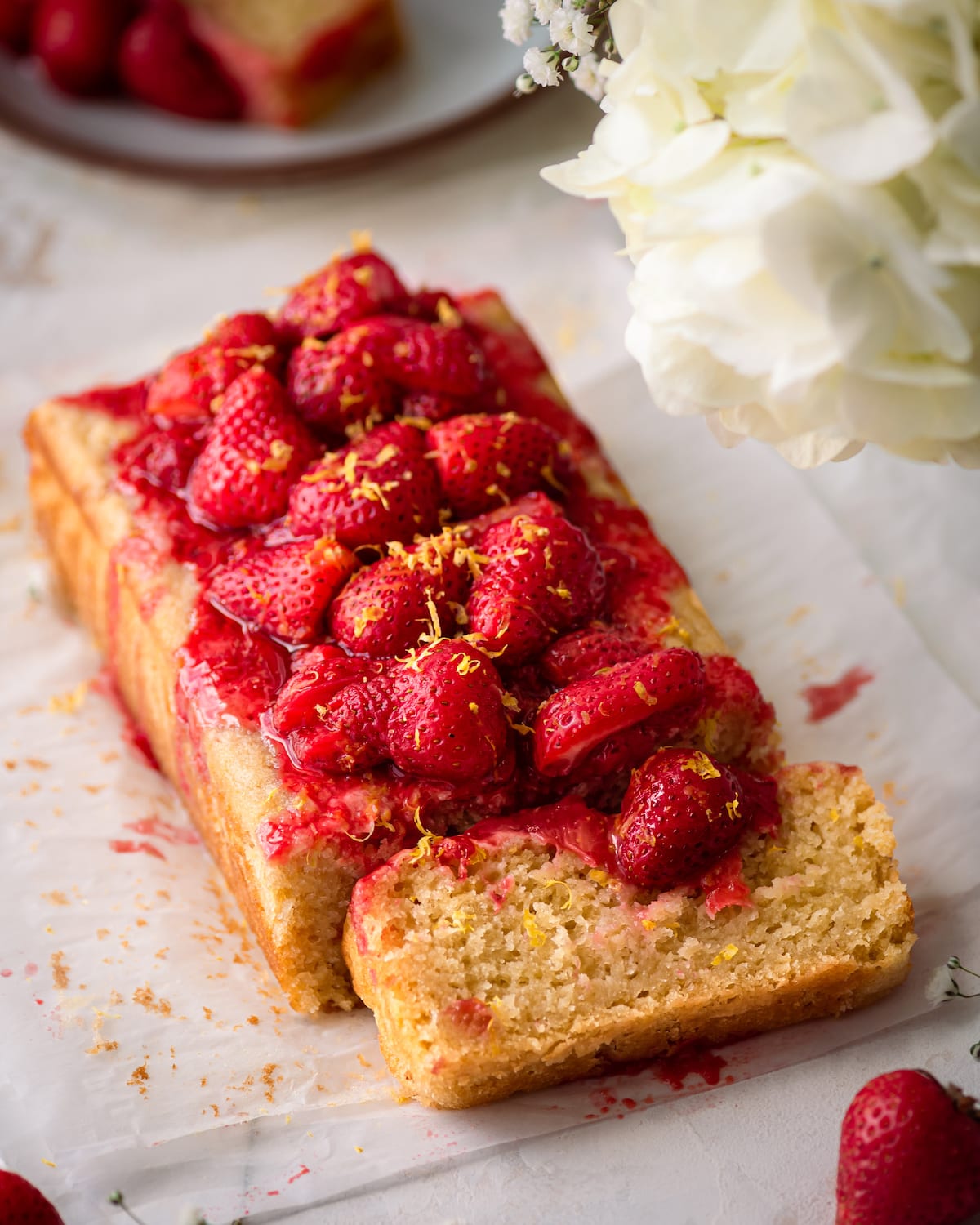 Why you'll love this lemon olive oil cake
10 simple everyday ingredients. This cake requires just 10 simple ingredients (10 ingredients even if you make the strawberry topping!). And you can find all of these baking essentials at your local ALDI store at great prices! I always buy organic cane sugar to ensure that it's vegan, and at ALDI, the organic label does not come with an inflated price tag :)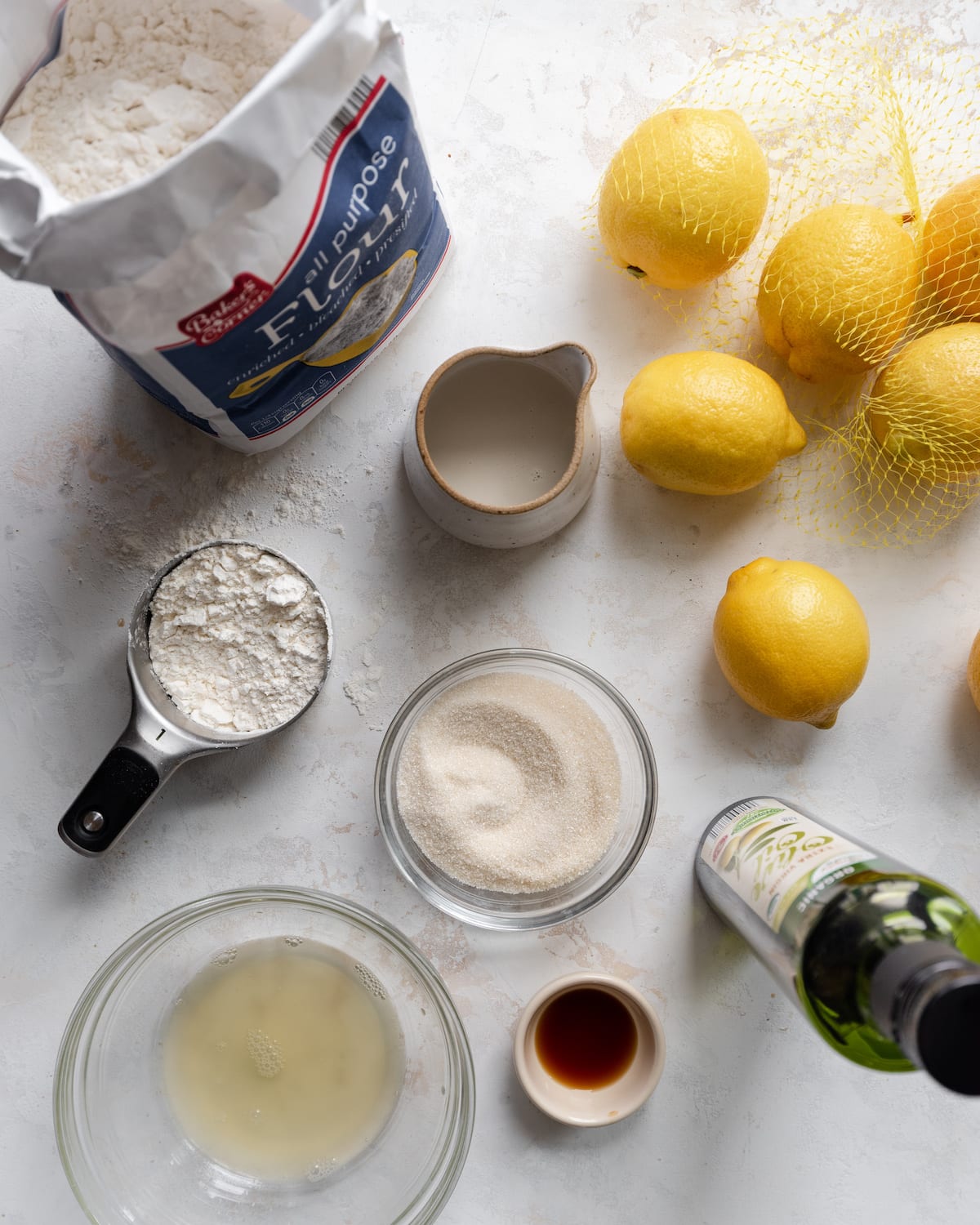 Tender, light, and moist. I love using extra virgin olive oil in baking for its fruity yet grassy flavor that lends complex tasting notes, but also because it yields a fantastic texture. Think a soft, buttery, and tender crumb. And unlike cakes made with solid fats like butter, this cake stays super moist and doesn't harden or dry out. The liquid nature and high fat content of olive oil lock in the moisture!
Perfect for spring. There's something special about welcoming spring with a fruity, zesty dessert like this, especially when it features seasonal fruit. This cake features lots of lemons (juice and zest) and a double strawberry topping. I opt for organic strawberries, and at ALDI, that doesn't break the bank :)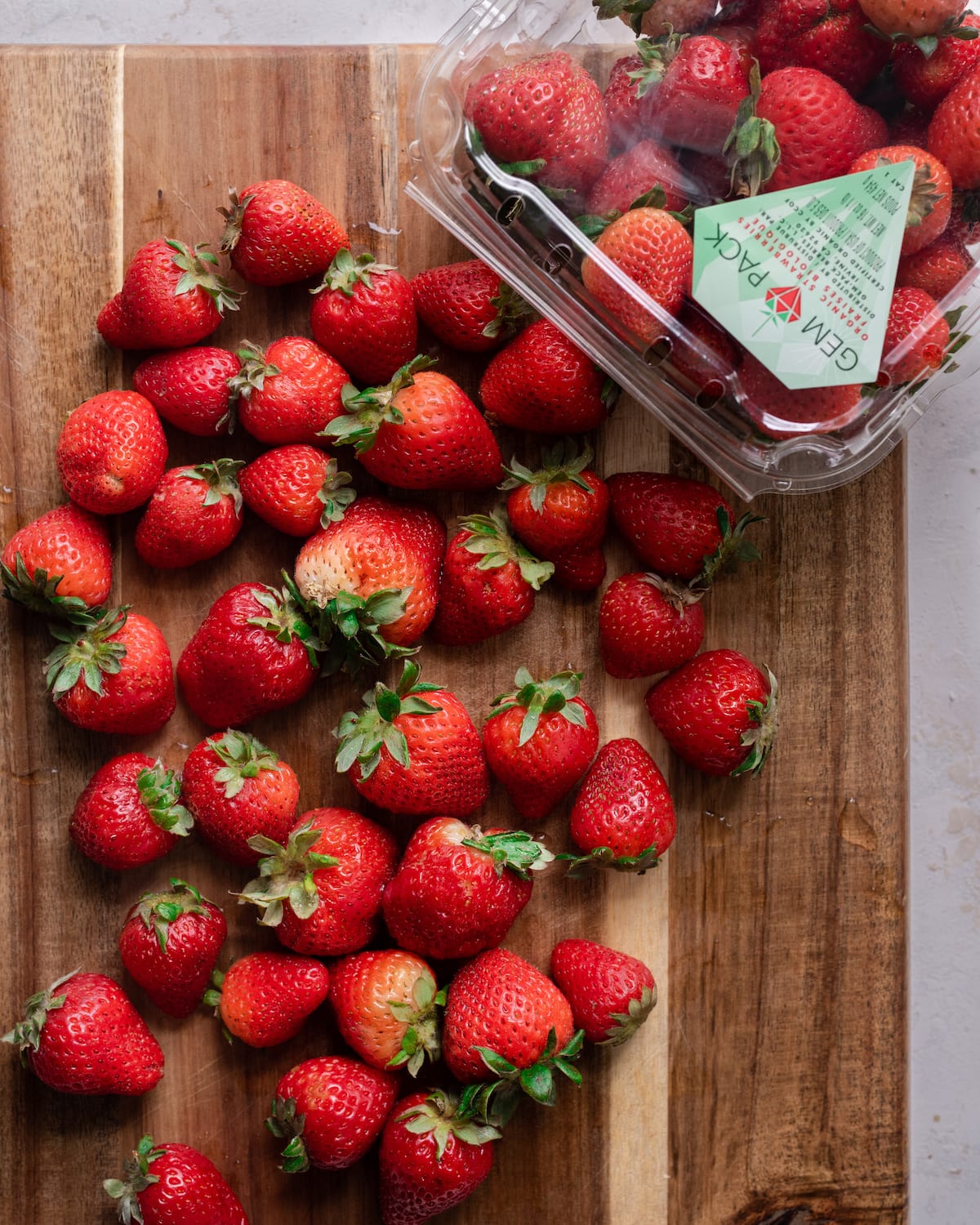 Easy and rustic but elegant. This cake needs just 20 minutes of prep time and 35ish minutes in the oven. And it doesn't require any fancy cake equipment or complicated layers. At the same time, it's elegant and grown-up, thanks to the rich fruity background notes from the olive oil. If you're into cakes that are balanced in flavors and not overly sweet, this sweet-yet-tart cake is for you!
Easy to dress up. While this lemon olive oil cake is delightful on its own and perfect for an everyday dessert or afternoon tea, you can easily dress it up for a special occasion, like Mother's Day. Try the strawberry topping recipe below for a classic strawberry-lemon combo that is bursting with freshness and seasonal flavors.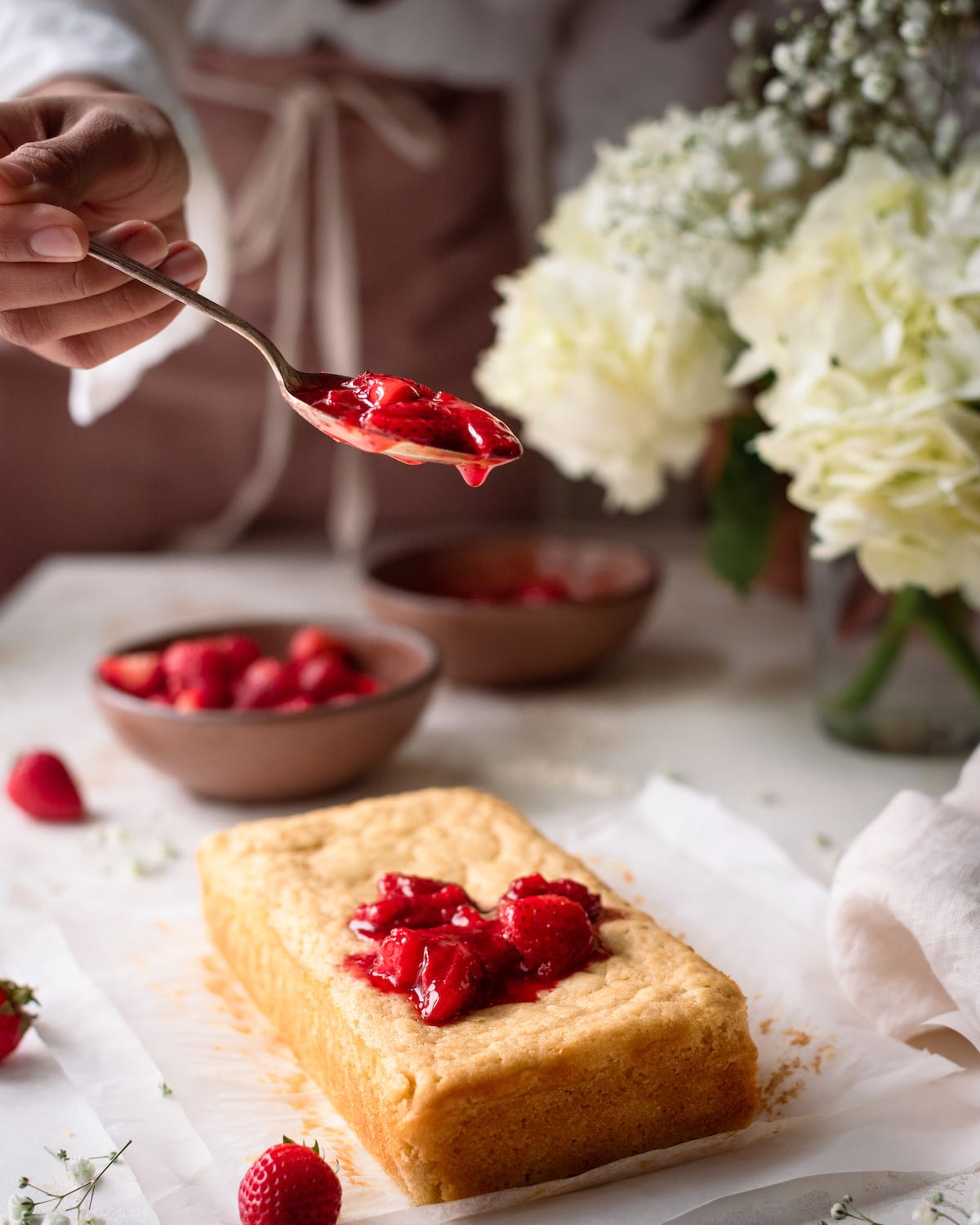 How to make this vegan lemon cake
Add the aquafaba (chickpea liquid) to a bowl and whip with a mixer until foamy.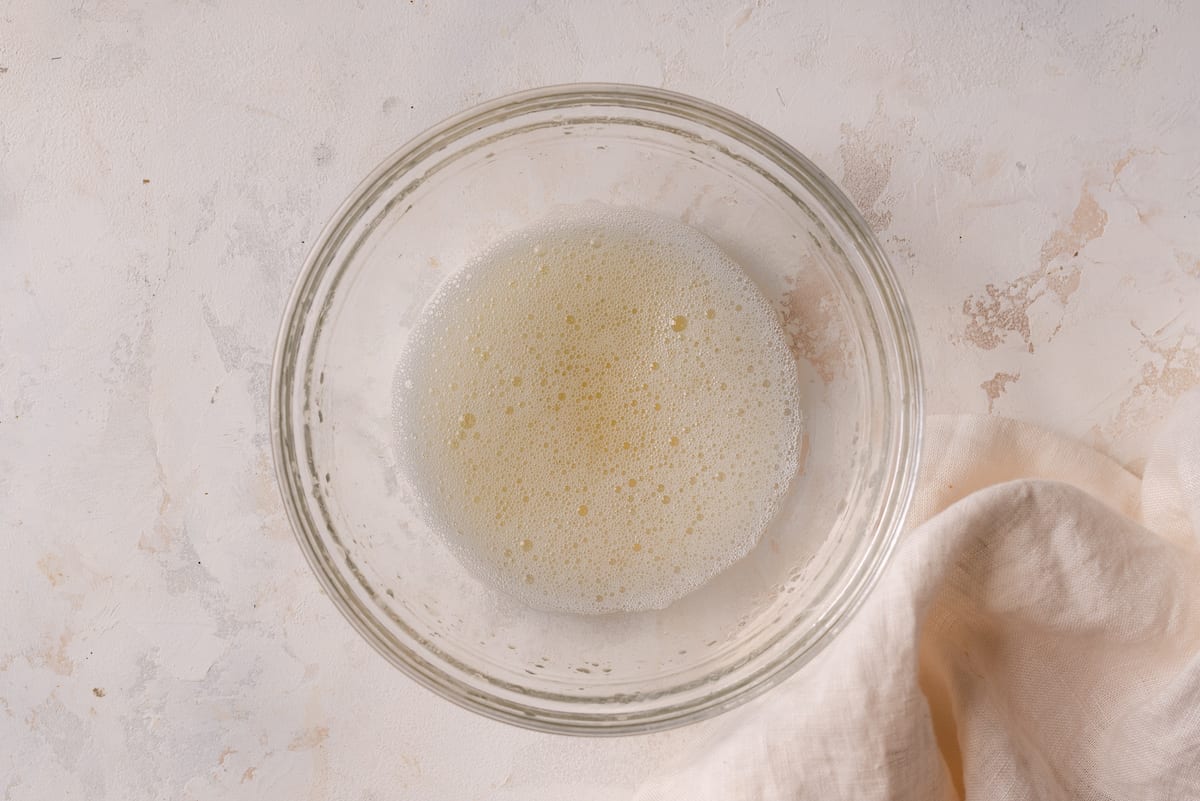 Combine the extra virgin olive oil and organic cane sugar in a large bowl.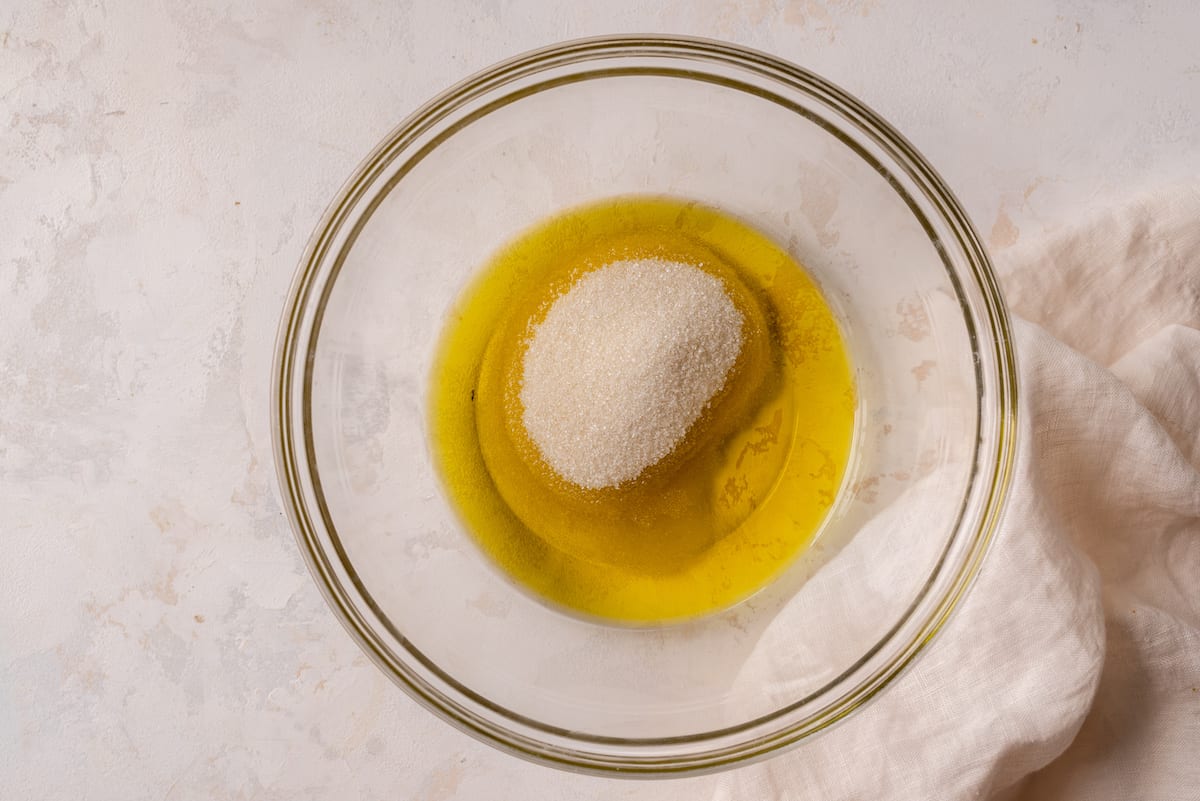 Mix together the oil and sugar until well combined, then fold in the whipped aquafaba and mix again.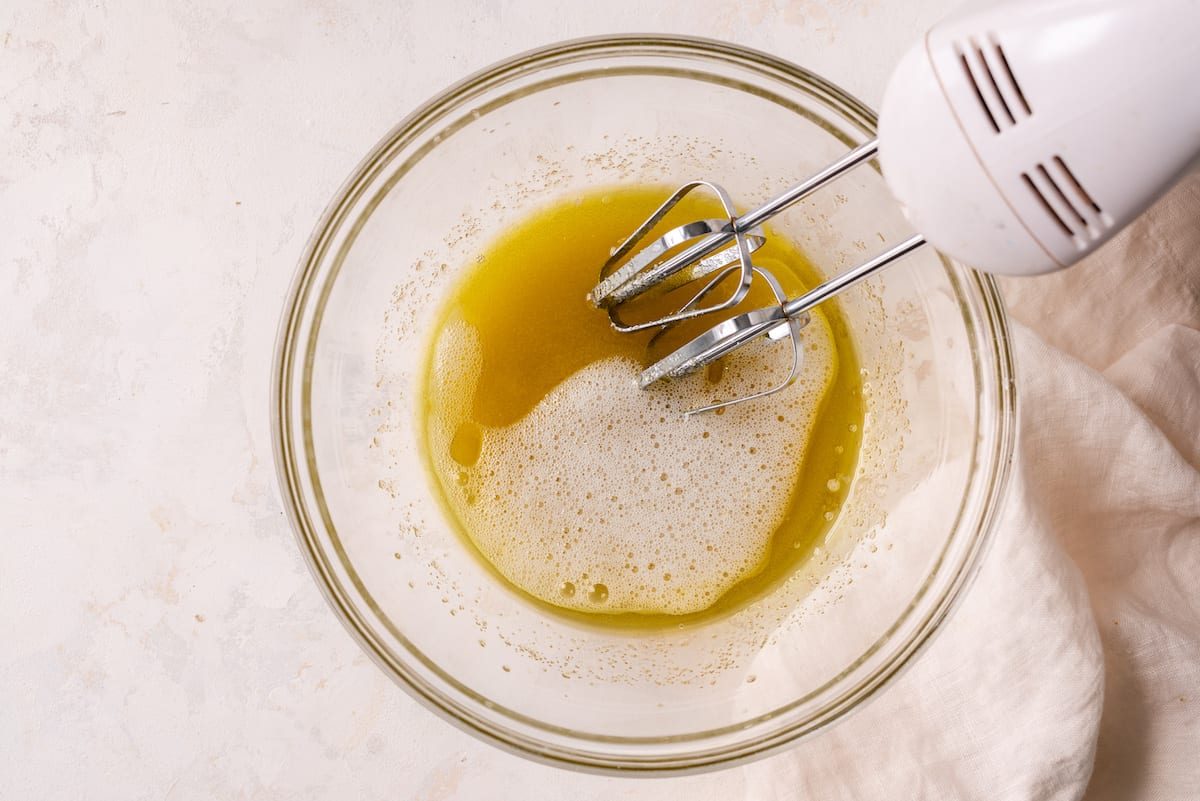 Add in the vegan buttermilk (oat milk + lemon juice), 1 tablespoon of lemon zest, and vanilla. Mix again until well combined.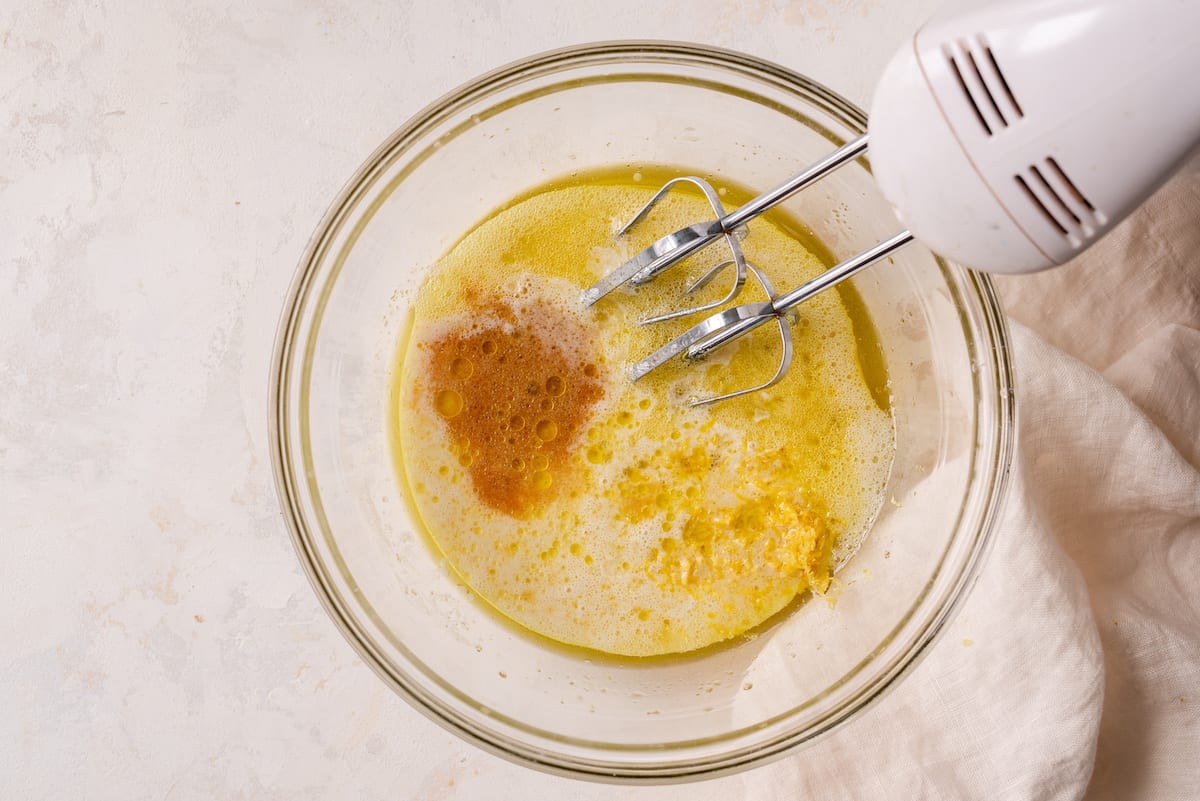 Add in half of the dry ingredients (flour + baking powder + baking soda + salt) and mix on low speed until just combined.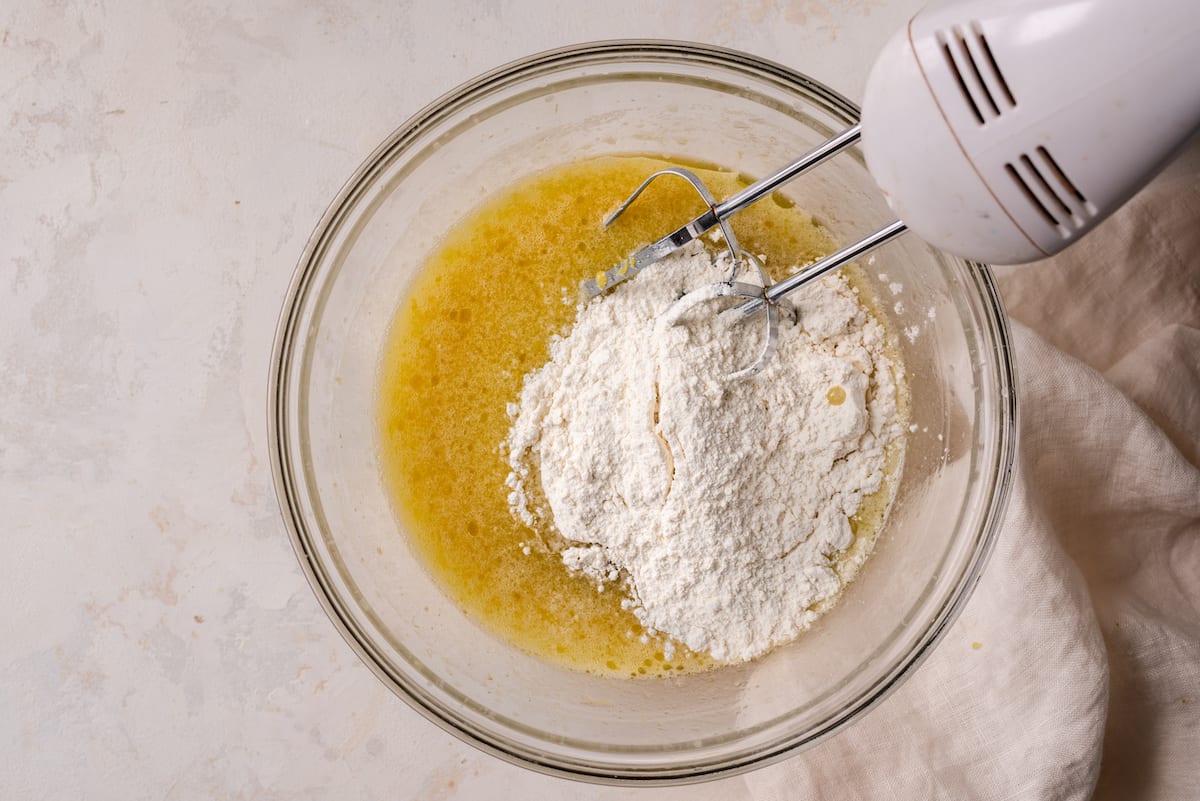 Add in the remaining dry ingredients. Mix on low speed, then switch to mixing in by hand.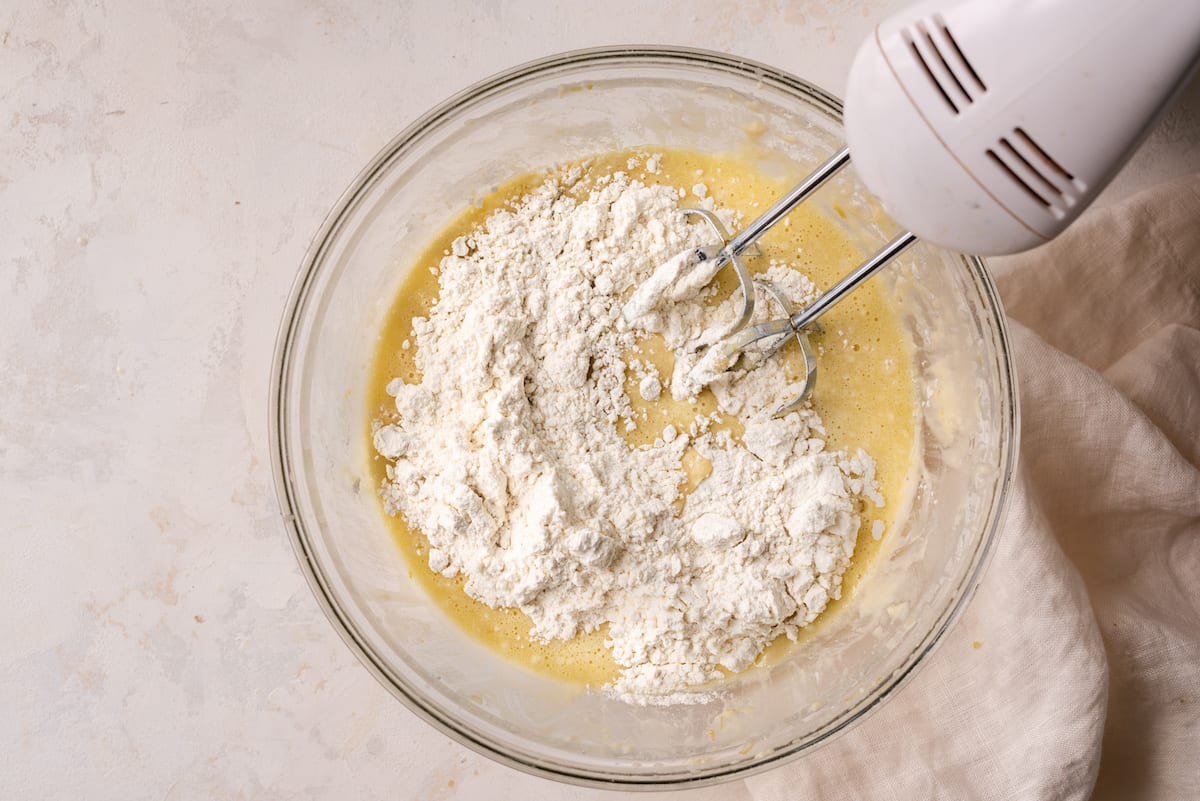 The finished batter should be light and airy. Do not overmix!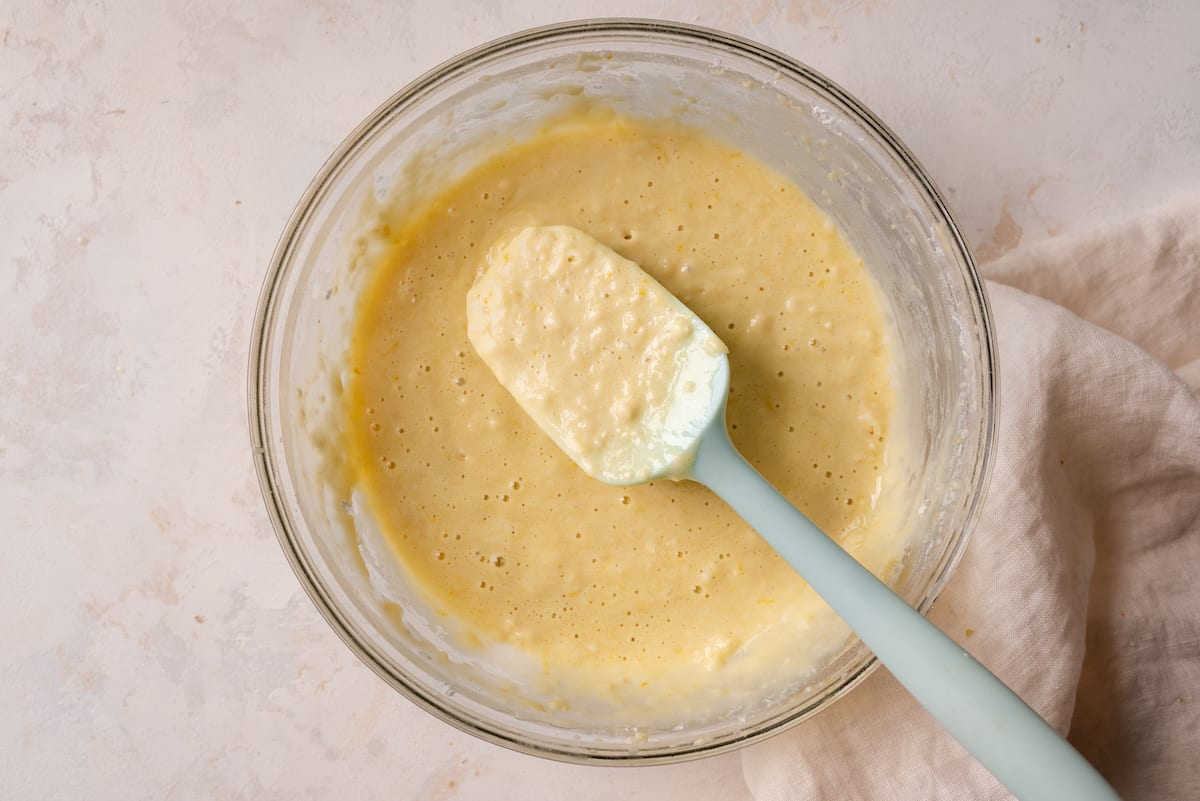 Pour the batter into a parchment paper-lined loaf pan. Bake at 350°F/176°C for 35-40 minutes.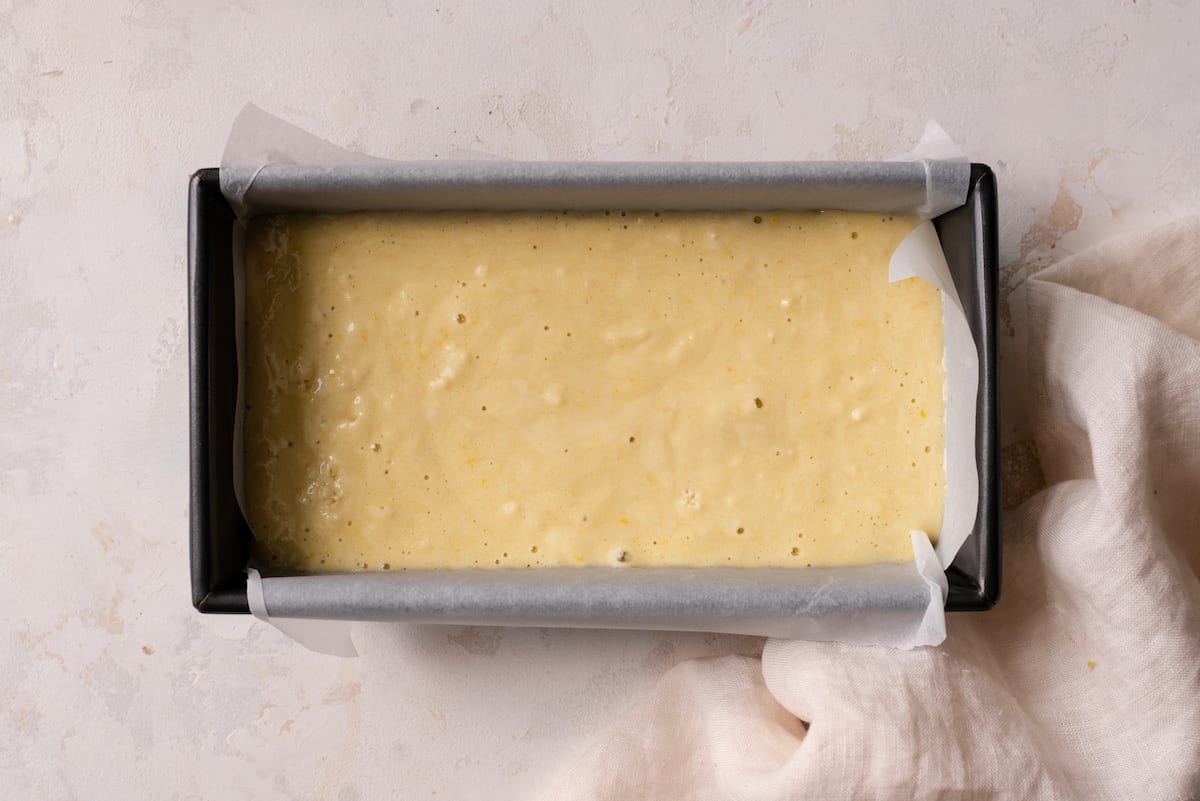 Allow to cool in the pan for 15-20 minutes, then transfer to a wire rack to further cool.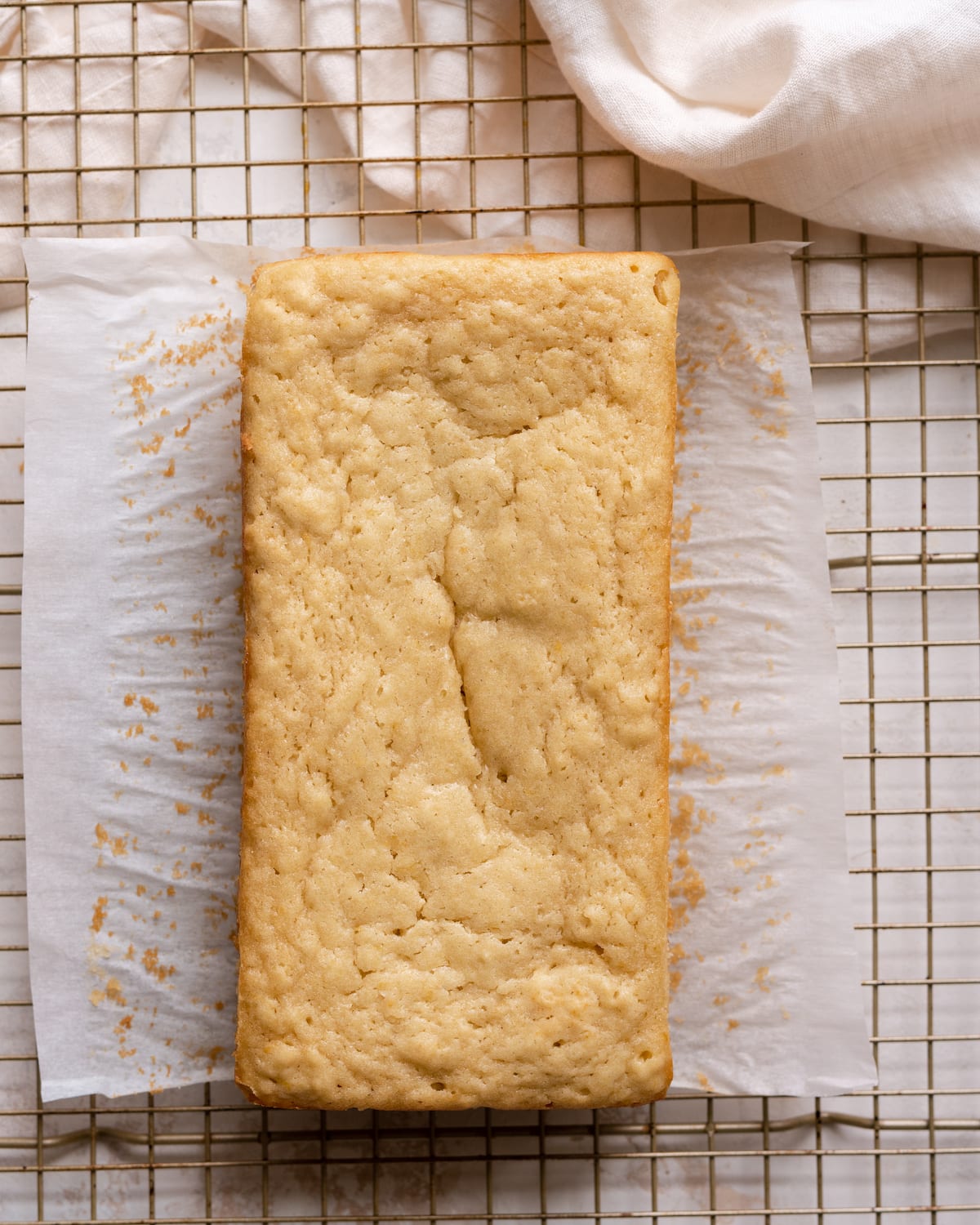 How to make the strawberry topping
The strawberry topping features (1) whole strawberries and (2) a strawberry compote. It's bright, light, and sweet but not too sweet. It's optional but a great way to enjoy strawberries as they come into season.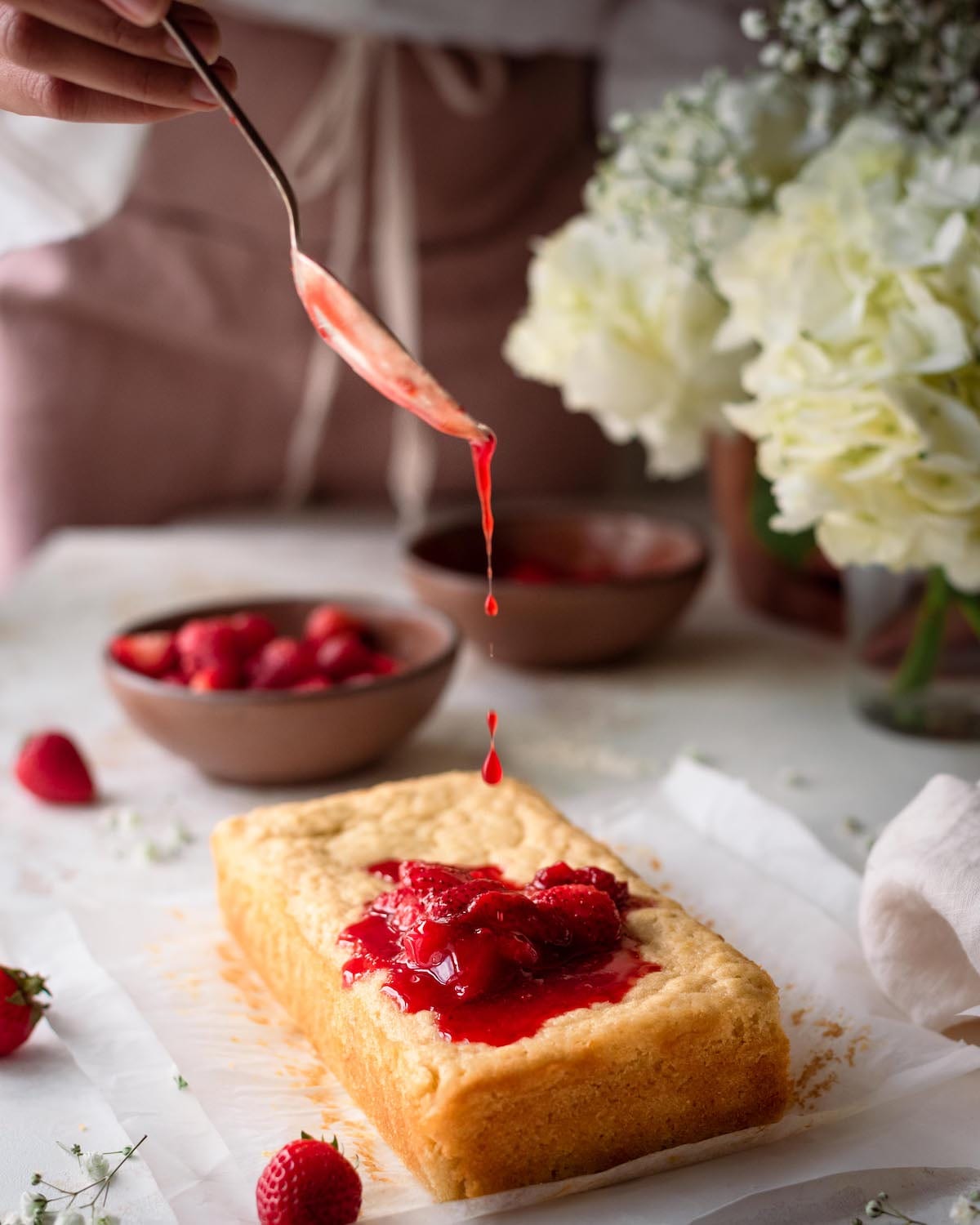 Wash 1 pound of strawberries. Hull the strawberries and slice in half (in quarters, if large).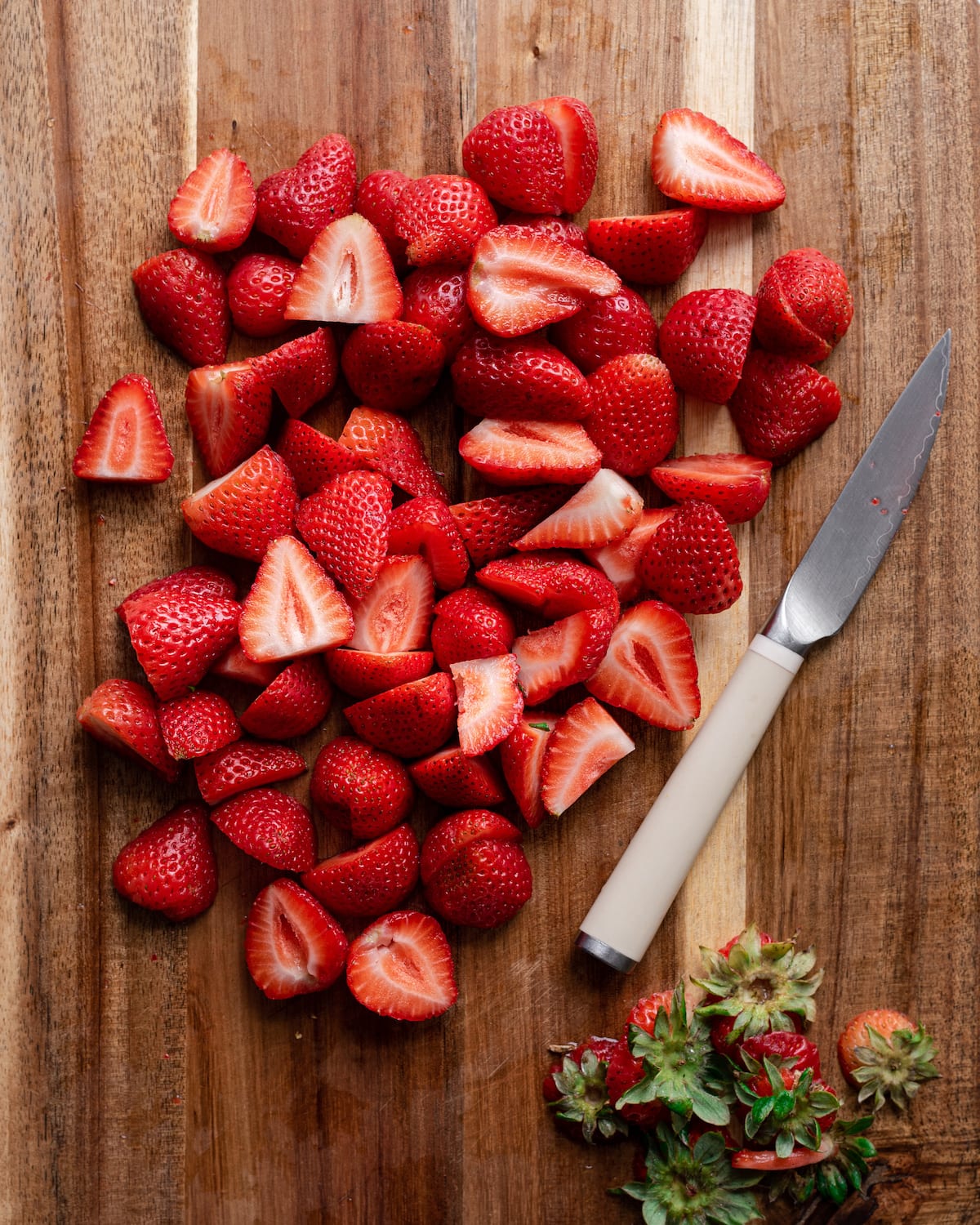 Combine the strawberries, organic cane sugar, lemon zest, and a pinch of salt.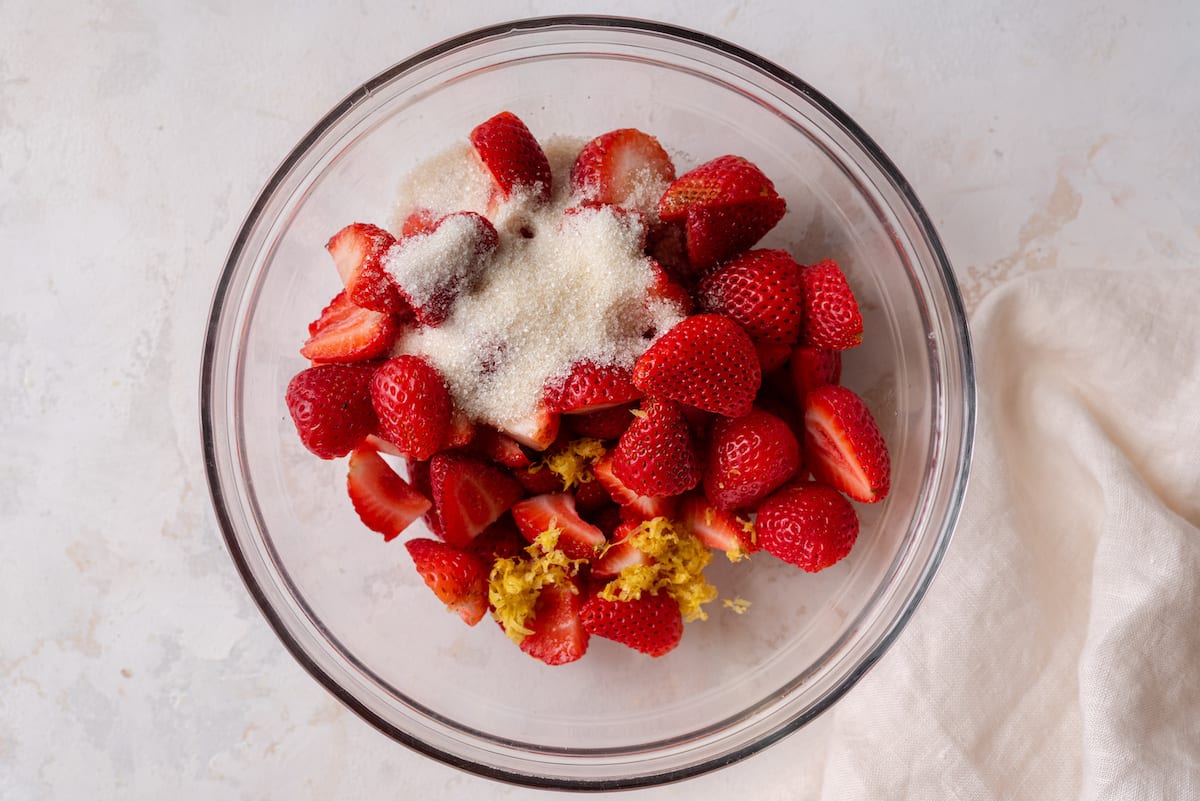 Toss the strawberries well and keep half in the bowl to macerate. Transfer the other half to a small saucepan to make the strawberry compote.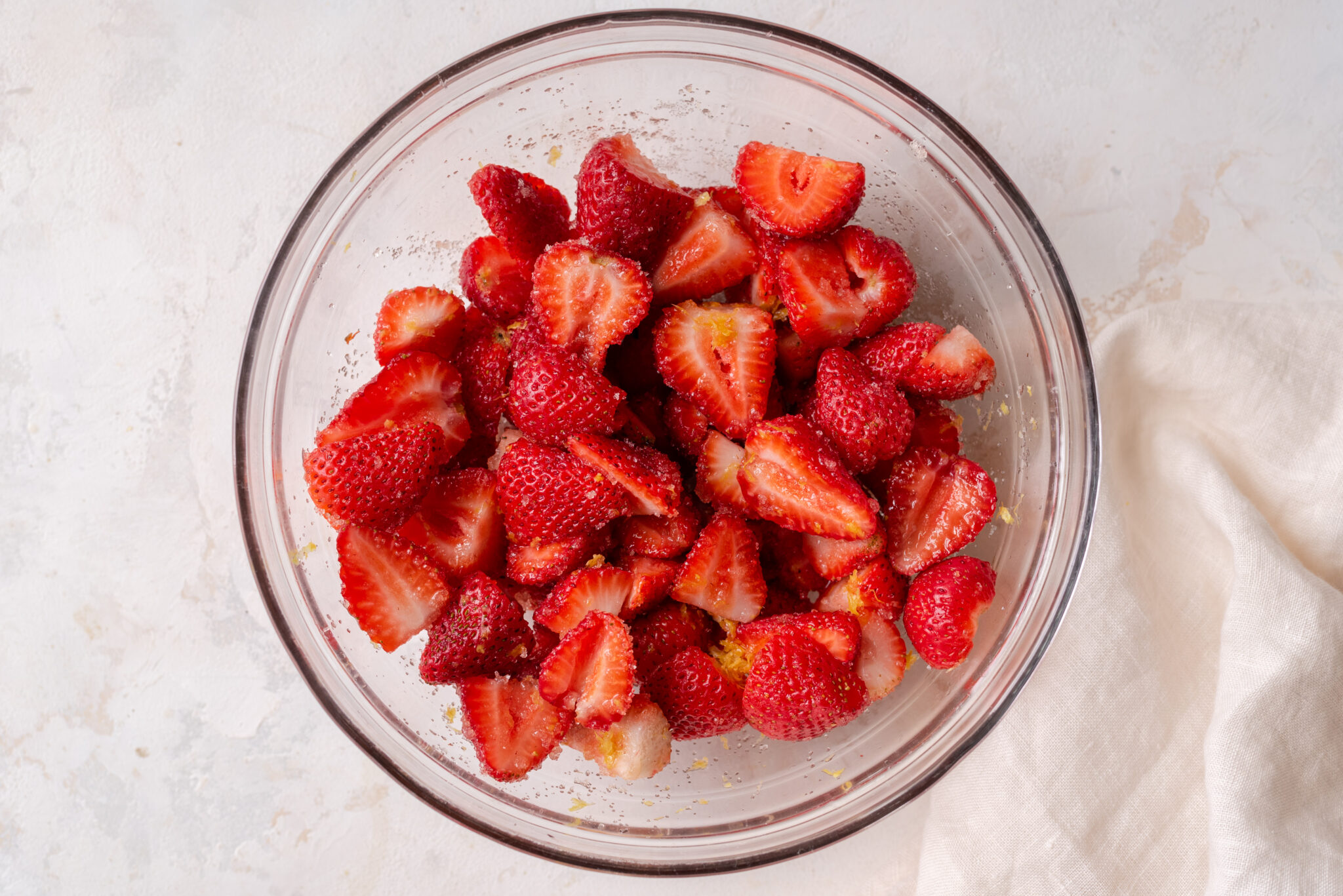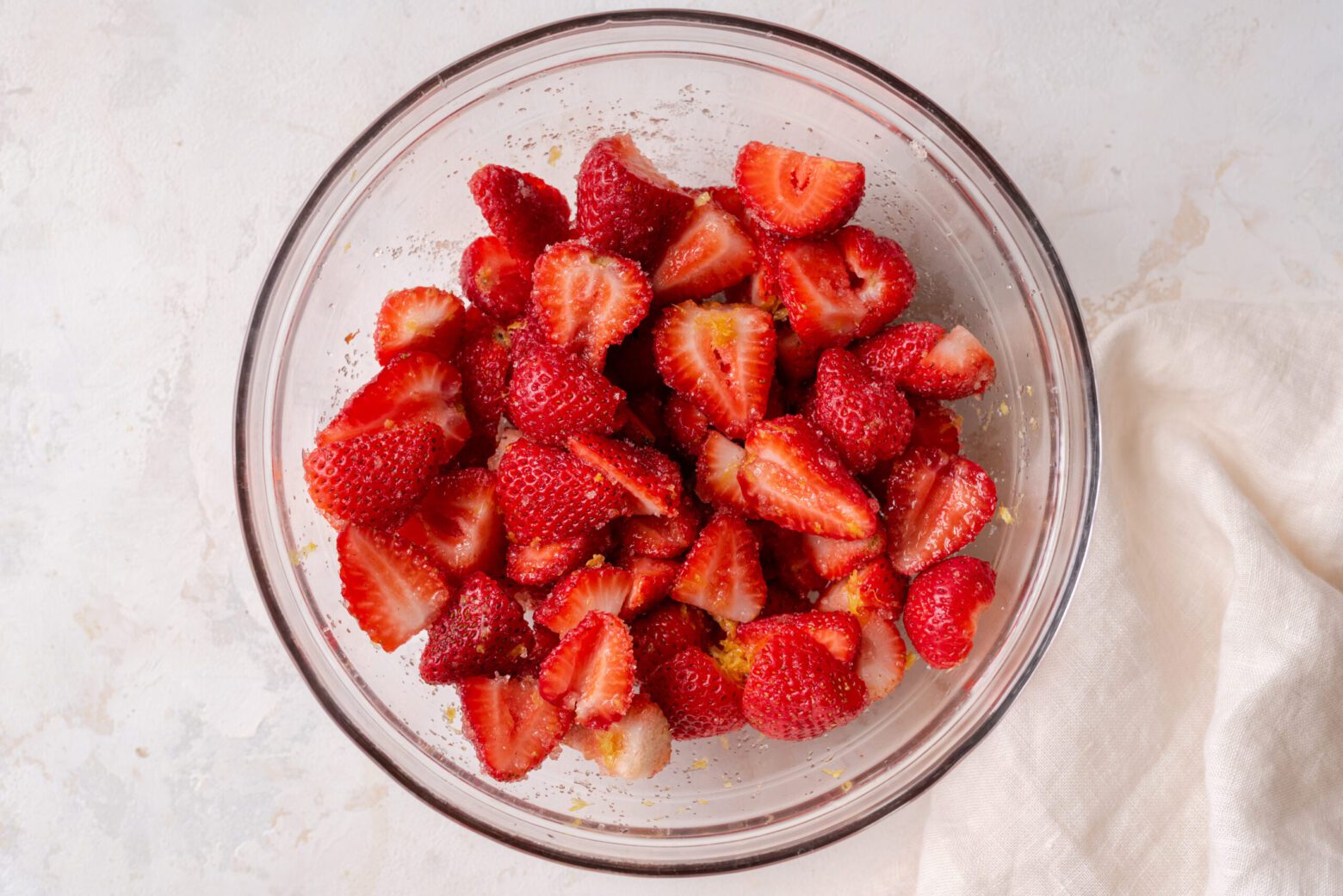 Cook the strawberries in the saucepan for 15-20 minutes, until the berries have broken down and the sauce is syrupy.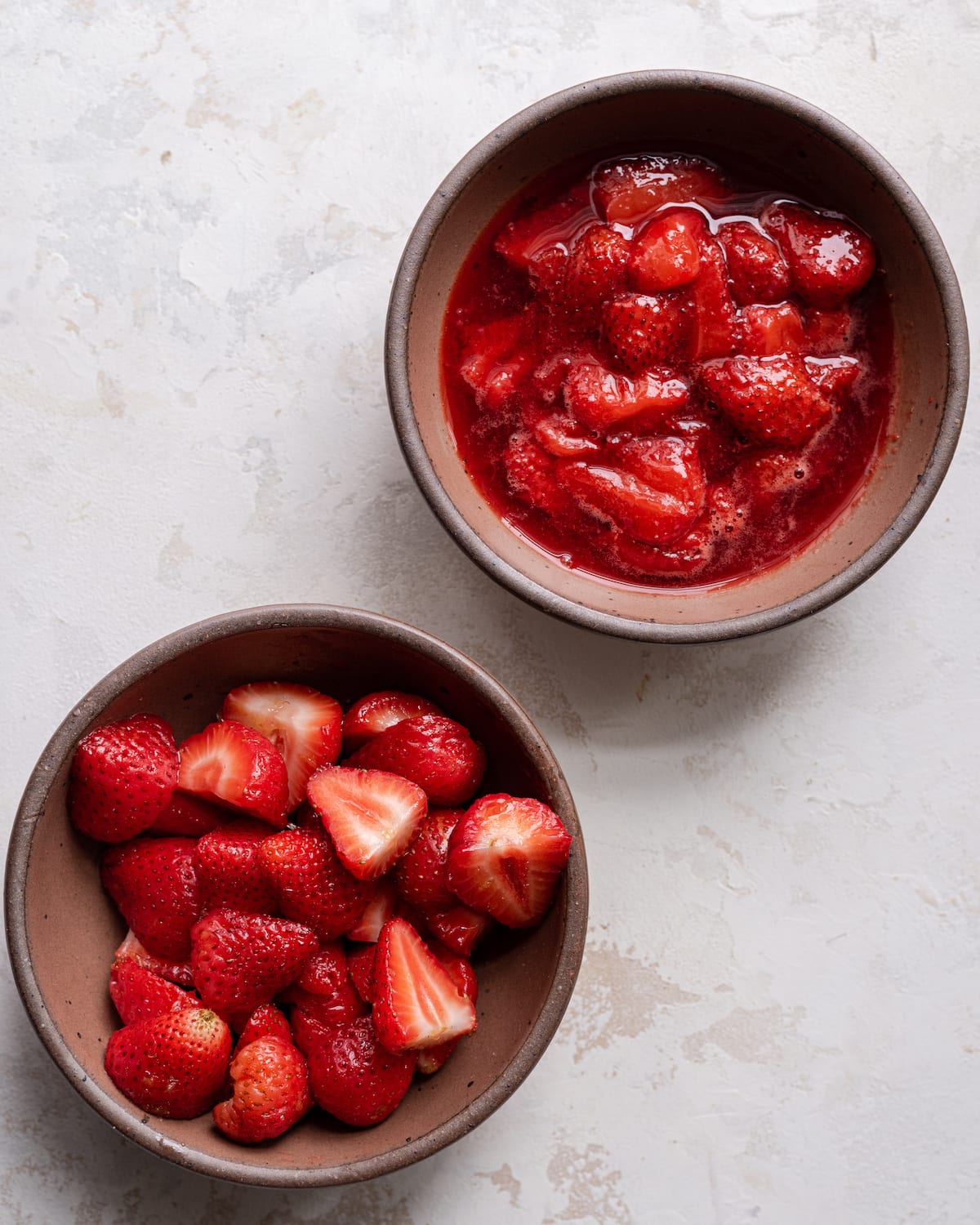 Spoon the strawberry compote over the cooled lemon cake and top with the macerated strawberries. Finish with lemon zest.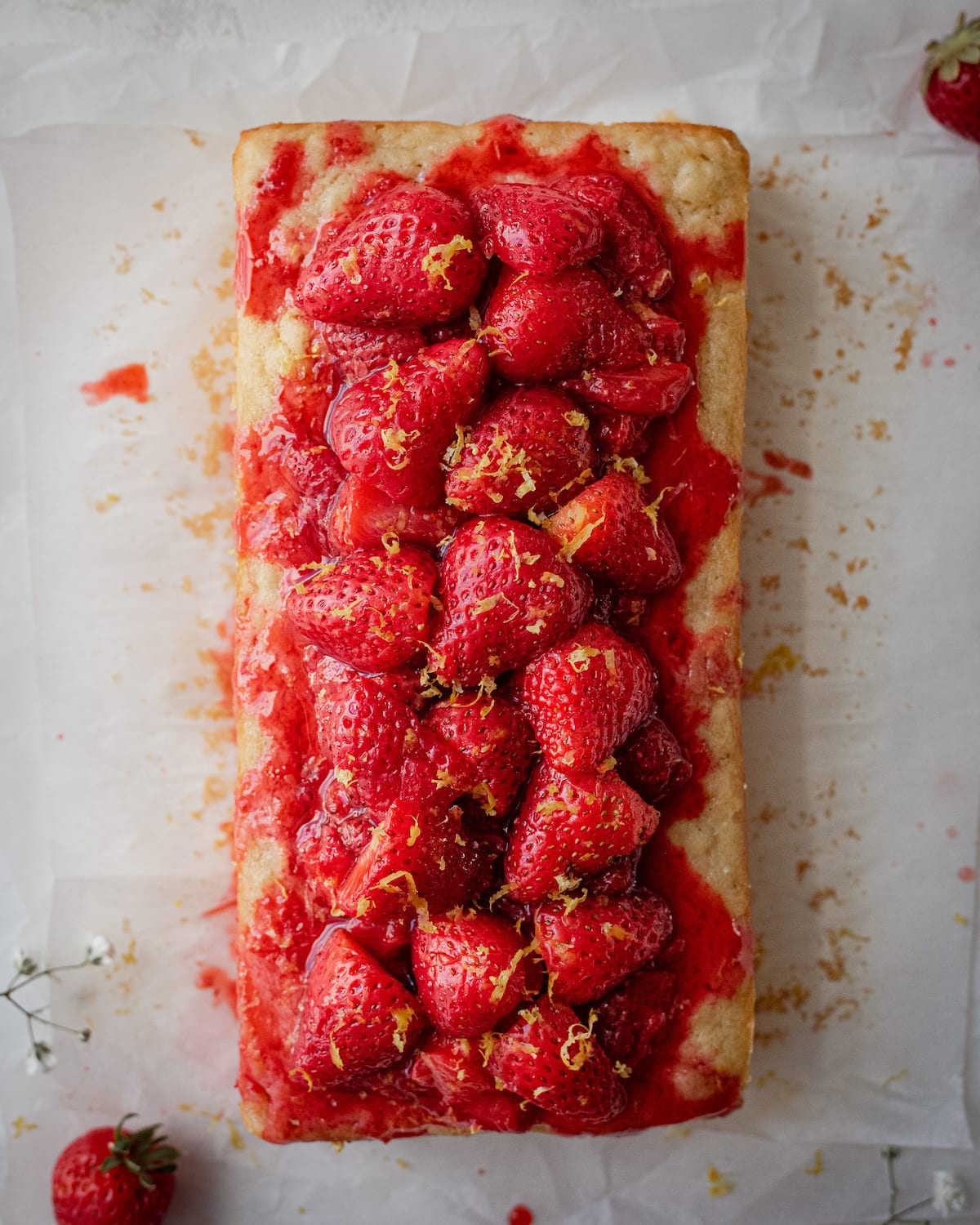 Tips for making this vegan lemon olive oil cake
Fresh lemon juice is essential
I always recommend using freshly squeezed lemon juice in cooking and baking (the flavor from the plastic bottles doesn't compare). But it's especially important when lemon is a key ingredient, as in this lemon cake. Plus, you'll need the zest from the lemons so there's that.
At ALDI, you can find 2-pound bags of lemons that are really well-priced so you can always keep lemons on hand for baking and cooking!
Zest the lemons before juicing them
Just a helpful reminder – zest your lemons first before juicing them!
Weigh your ingredients, or spoon-and-level the flour
This recipe calls for 1 3/4 cups all-purpose flour, but the more important part is to weigh or measure your flour properly. If you follow my recipes and YouTube channel, you know I'm a big advocate of using a kitchen scale for all baking purposes, as it yields the most exact results.
If you don't have a kitchen scale, do not scoop the flour out of the bag with your measuring cup. Instead, use the spoon and level method. Spoon your flour out of the bag/jar into the measuring cup until almost full, then use a butter knife to level it off. The latter method always leads to over-measuring flour, which can skew the results in baking. In this recipe, it will make the cake less tender and moist.
Don't overmix
When combining dry and wet ingredients, be sure to not overmix! Mix until the batter is just combined and then stop right there!
I use an electric mixer on low speed (since I already use it for the aquafaba). I find I'm less tempted to over-mix than when using a whisk, which requires more effort.
Add the dry ingredients in two stages
I add the dry ingredients to the wet ingredients in two batches to produce the best cake texture. During the first mix, the dry ingredients get coated with the fat, helping to build some structure before inundating it with lots of liquid. During the second mix, the rest of the liquid is added, and it helps in producing a light cake with even rise.
In contrast, if you were to add the dry ingredients all at once, you'd have to mix the batter more vigorously to get them to incorporate. Vigorously beating a cake batter can lead to a dense texture and less tender fluffiness.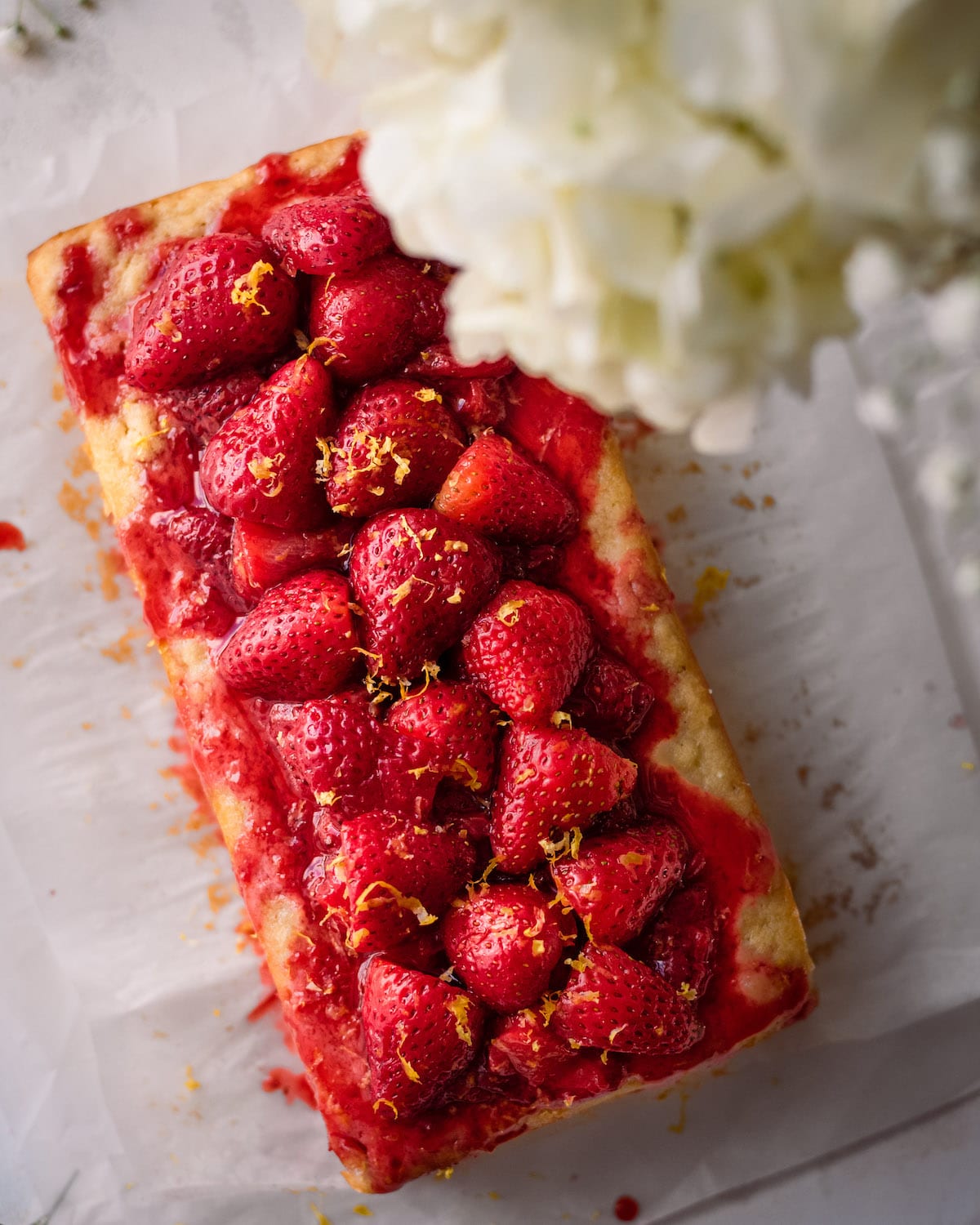 Frequently Asked Questions
What kind of olive oil should I use for this cake?
You want to use extra virgin olive oil, not a pure or regular olive oil. I use Simply Nature Organic Extra Virgin Olive Oil from ALDI, which is a good quality yet affordable olive oil I like to keep on hand. The flavor will differ slightly depending on the brand and type of oil used. Be sure to use an oil that you enjoy the taste of–something you'd dip bread into or serve on a salad, for instance–as the olive oil is a key ingredient in this cake.
Can I substitute the aquafaba?
Aquafaba is one of the primary methods for getting this cake so tender and light without using cake flour, so you won't get the same results using a different egg substitute.
How do I serve lemon olive oil cake?
For an everyday dessert that you can even enjoy for afternoon tea or breakfast, serve the cake plain. To dress it up, try the strawberry topping below (I LOVE lemon and strawberry together).
Or, you can make a simple lemon glaze instead of the strawberry topping. Just whisk together 1 cup powdered/confectioners sugar with 1 to 2 tablespoons freshly squeezed lemon juice until you have a thick yet pourable glaze texture. If you want it to be thinner, add more lemon juice (or a spoon of plant-based milk).
Or, simply just dust the top of the cake with powdered sugar before serving.
How do I store this cake?
If you're making this cake plain or without the strawberry topping, store this cake in an airtight container or wrapped in plastic on the countertop for 3-5 days.
Making the strawberry topping? You can leave the glazed cake on the countertop for 1 day, but I recommend refrigerating it if your kitchen is very warm (it will stay good in the fridge for 2-3 days). If you want to extend the shelf life of this cake, store the strawberry compote and whole strawberries in the fridge, and store the cake separately on the counter. Spoon the strawberry topping on the cake as you slice it. This method keeps the cake freshest.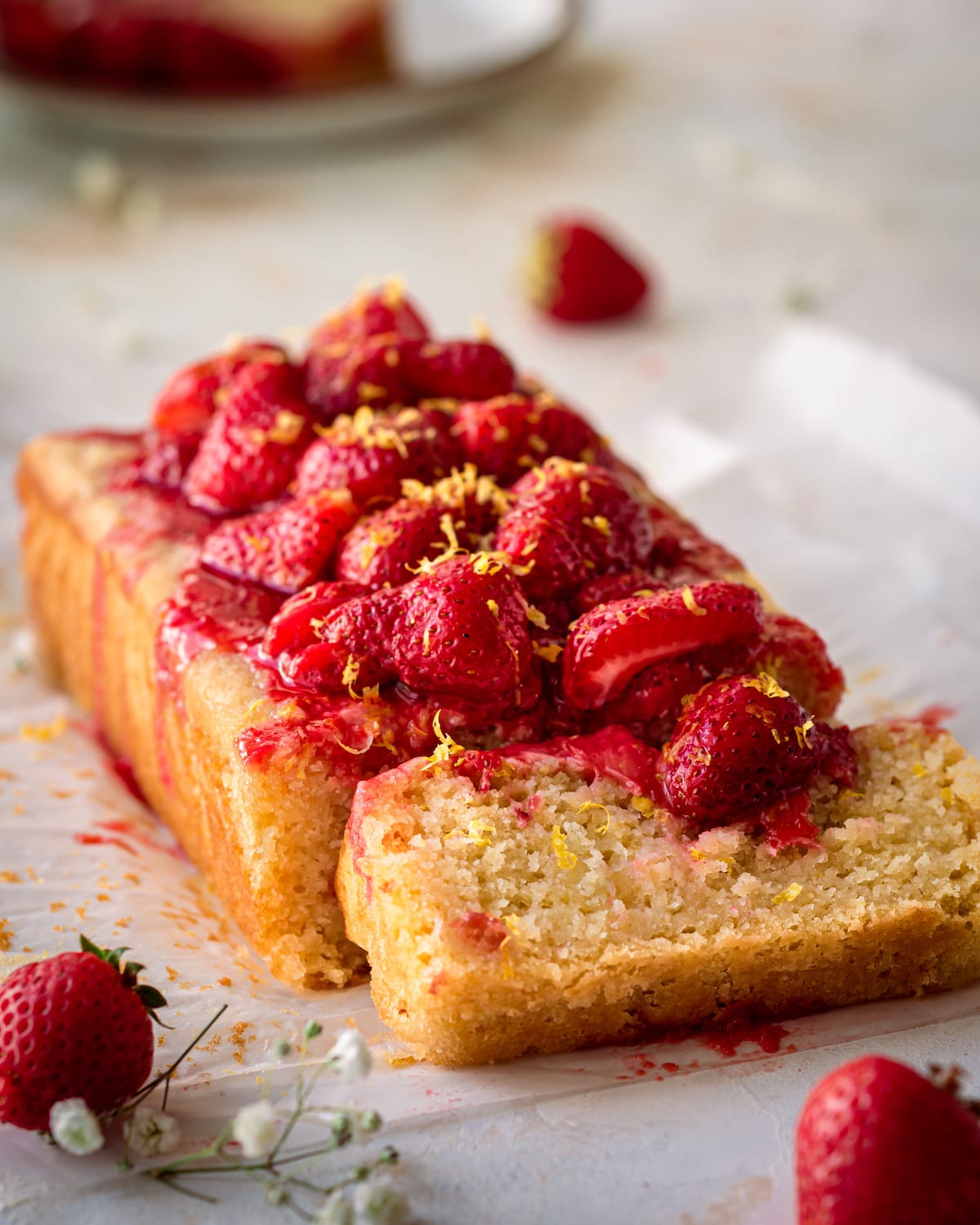 That's all you need to know about making this lemon olive oil cake! Head to your local ALDI to stock up on baking essentials and if you try this recipe, leave a rating and review below with your feedback!
Lemon Olive Oil Cake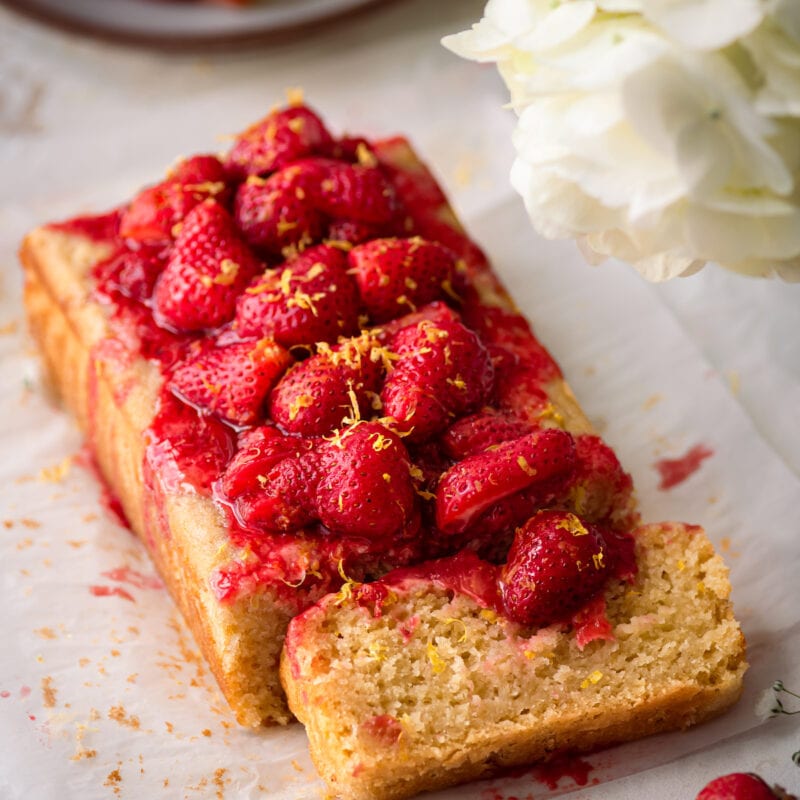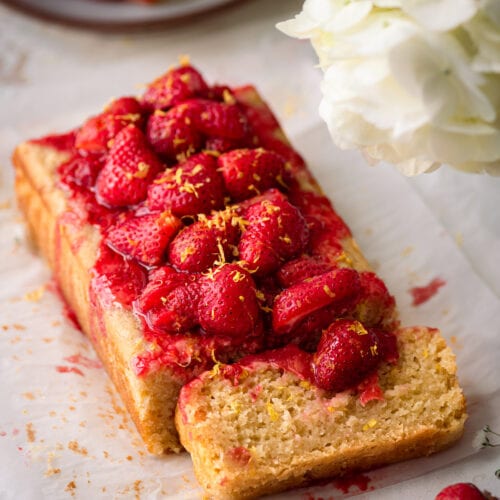 This vegan Lemon Olive Oil Cake is sweet-yet-tart, rich, zingy, and supremely lemony and is so tender and moist that it practically melts in your mouth. It's easy to make and requires just 10 ingredients! Serve as a sweet snack or breakfast, or dress it up with the strawberry compote. 
Ingredients
2

medium-large lemons*

1/2

cup

(120 mL) Friendly Farms Original Oatmilk

1/4

cup

(60 mL) aquafaba

(the liquid from a can of chickpeas)

1 3/4

cups

(210g) Baker's Corner All Purpose Flour

1/4

teaspoon

baking soda

1

teaspoon

baking powder

1/4

teaspoon

sea salt

1/2

cup

+ 1 tablespoon (112g) Simply Nature Organic Cane Sugar

1/2

cup

(112g) Simply Nature Extra Virgin Olive Oil

1/2

tablespoon

pure vanilla extract
Instructions
Preheat the oven to 350°F/175°C. Line a 9×5-inch (23×13 cm) or 8×4-inch (20×10 cm) loaf pan with parchment paper, leaving some paper overhang to use as handles.

Zest the lemons to get 1 tablespoon of zest. Set aside. You'll use more zest to finish the cake (and if making the Strawberry Topping).

Juice the lemons to get ¼ cup (60 mL) of juice and combine with the oat milk; set aside for 10 minutes to curdle. This is the vegan "buttermilk."

Pour the aquafaba into a medium bowl. Using a handheld electric mixer, whip the aquafaba on medium speed for 45-60 seconds, until uniformly foamy. Wipe the bowl out to use again in the next step.

To the medium bowl, add the flour, baking soda, baking powder, and salt. Whisk well to ensure the leaveners are well-combined.

In a large mixing bowl, add the sugar and olive oil. Mix using the electric mixer until well combined. Add in the whipped aquafaba and mix again until incorporated. Add the buttermilk, 1 tablespoon of lemon zest, and vanilla, and mix again until combined.

Add half of the flour mixture into the wet ingredients, beating on low speed until well- combined. Add the remaining flour mixture and beat until almost smooth, then switch to a silicone spatula to finish combining. Important: do not overmix to prevent the cake from becoming dense. The finished batter should be light and airy.

Pour the batter into the prepared loaf pan and smooth out the top with the spatula. Bake for 35-40 minutes, until a toothpick inserted into the center top (insert the toothpick at a slight angle) comes out clean and the top is lightly golden. I always check a few minutes before 35 minutes.

Transfer the cake to a wire rack and cool for 15 to 20 minutes. Then use the parchment paper handles to lift the cake out of the pan and onto the wire rack and cool for another 10 to 15 minutes.

If you made the strawberry topping, spoon the strawberry compote over the cooled lemon cake and then top with the macerated strawberries. Finish with some extra lemon zest on top.
Notes
* You might need a third lemon if making the Strawberry Topping, depending on their size and juiciness.
Strawberry Topping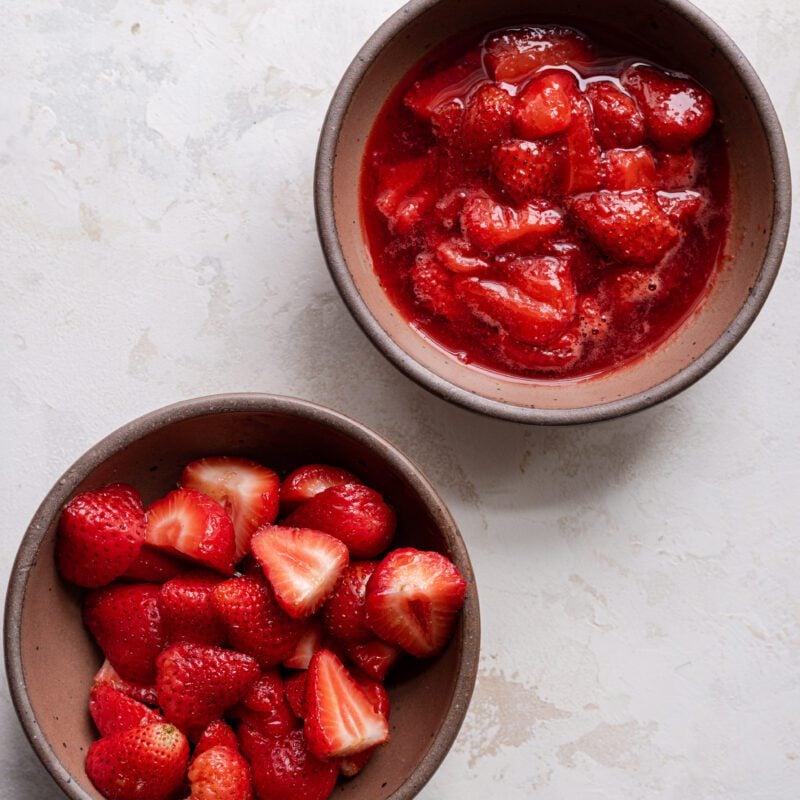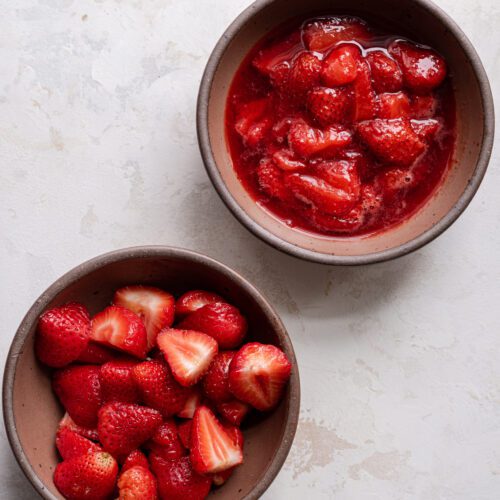 This strawberry topping features (1) whole strawberries and (2) a strawberry compote. It's bright, light, and sweet but not too sweet. It's a great way to enjoy strawberries in season!
Ingredients
1

pound

(454g) strawberries,

hulled and cut in half (or into quarters if large)

3 ½

tablespoons

Simply Nature Organic Cane Sugar

½

tablespoon

lemon zest

Sea salt

1

tablespoon

fresh lemon juice
Instructions
In a medium bowl, combine the strawberries, sugar, lemon zest, and a pinch of salt. Toss well to combine.

Transfer half of the strawberries to a small or medium saucepan. Keep the other half and allow them to macerate in the bowl.

Cook the strawberries over medium heat for 15 to 20 minutes, or until the berries break down and the liquid thickens into a syrup. Reduce the heat as needed to maintain a simmer.

Turn off the heat, then stir in the lemon juice.