This should be obvious, but I love cooking and testing out new recipes and cooking methods. But, some days, I just want to make the easiest recipe possible. It's that, or ordering in a large pizza and scarfing it down with a glass of red wine or three.
Enter dump-and-go Instant Pot recipes. If that wasn't self-explanatory, I'm talking about recipes where you can just dump in a bunch of ingredients into the Instant Pot, turn on the pressure cook setting, walk away, and come back to a complete dinner!
As pretty as this soup might look, this Thai-Inspired Red Curry Sweet Potato Soup is one such dump-and-go recipe. A lot of dump-and-go recipes I've seen online seem like the epitome of convenience food and seem to lack flavor—it's like they're just mixing canned beans, corn and tomatoes on top of a protein, and calling it a day.
Since I am a stickler for maximizing flavor, that is definitely not what we're going to do with this recipe!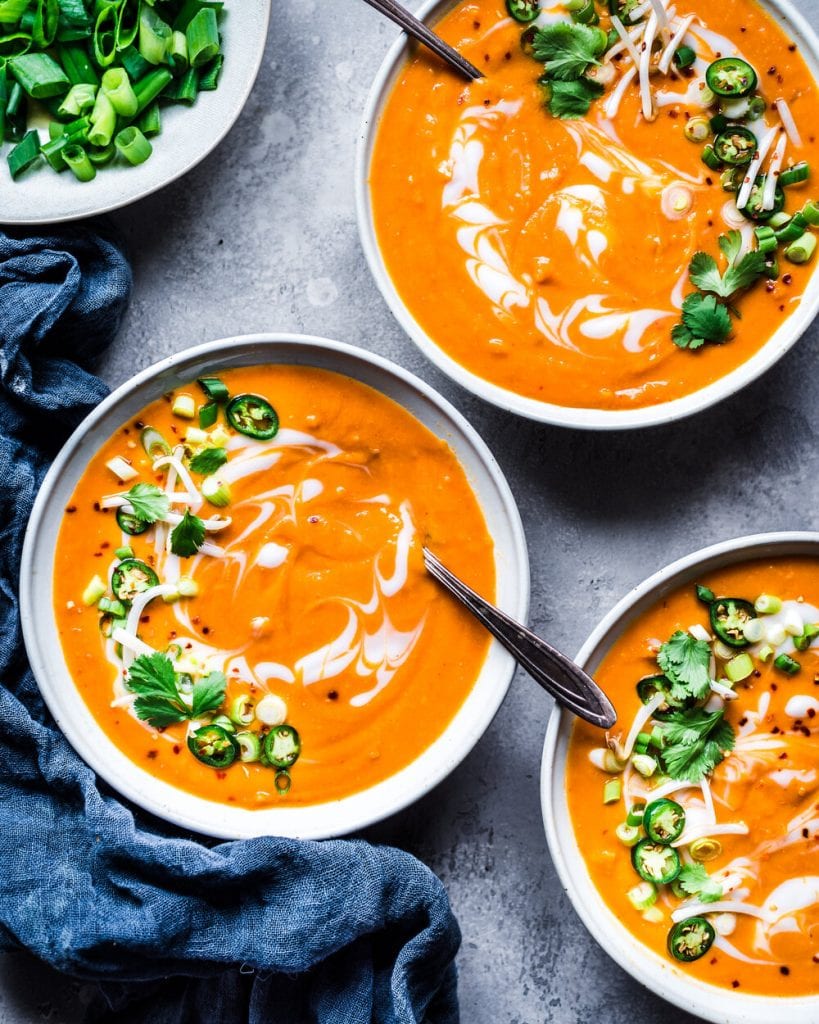 Why you're going to like this Thai Red Curry Soup
Dump-and-go. We already talked about this, but how can you not like a recipe that requires zero hands-on cooking??
Weeknight-friendly. See above. You can have dinner on the table and all you need to do is 10ish minutes of chopping. Oh, and one-pot meals also mean minimal dishwashing! Bonus: the Instant Pot inner pot is dishwasher safe!
Aromatic and flavorful. As with any good Thai or Thai-inspired dish, this soup is well balanced in flavors. Spicy from the curry paste, sweet from the sweet potatoes and a spoon of agave or sugar at the end, and sour from the tomatoes and lime juice! I learned how to balance flavors when I took some cooking classes in Thailand, and it's a principle that I use in all of my recipes to this day.
If you love Southeast Asian flavors, you'll go crazy for my Indonesian Tempeh Kecap and Thai Butternut Squash Curry. And if you have some more time, go all out and try my Homemade Thai Green Curry Paste to make a phenomenal Vegan Thai Green Curry!
Creamy and rich. Thanks to red lentils and sweet potatoes, this soup is naturally thick. Red lentils break down and get mushy when cooked, making them perfect for curries, soups, or curry-soup hybrids like this! And the high pressure of the Instant Pot virtually melts the sweet potatoes into the soup. Plus, the recipe also adds light coconut milk for extra creamy measure.
Hearty and satiating. Some soups leave you hungry after a couple hours, but this soup will stick to your ribs! We've got protein from the lentils, complex carbs from the sweet potatoes, and satiating fats from the coconut milk.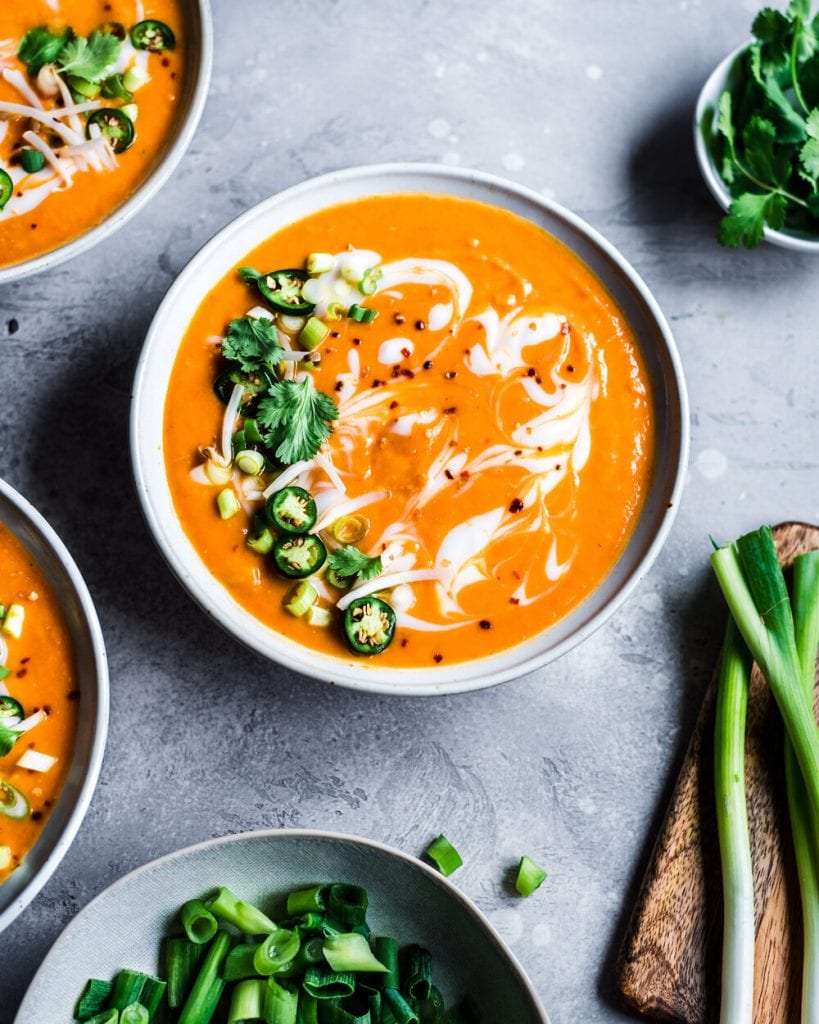 Ingredient Rundown
The aromatics. If you've made any of my savory recipes before, you know that I usually like to start with some aromatics. This could be as simple as onions or garlic, but it always varies based on the flavor profile and cuisine of the dish.
Since this a Thai-flavored soup, I'm using green onions or scallions instead of regular onions, along with garlic and ginger. A truly authentic Thai recipe would use galangal, also referred to as Thai ginger, but it's pretty uncommon to come across outside Asian grocery stores.
This recipe is a bit different than most in that you don't cook the aromatics in oil before adding the remaining ingredients. That's because there's no hands-on cooking involved. But don't omit the aromatics – they still add a good amount of flavor.
Sweet potatoes. Scrub, peel, and chop them into roughly 3/4-inch cubes. The smaller the cut, the more they'll melt into the soup. I recommend using garnet sweet potatoes or yams, not Japanese sweet potatoes .While I love the latter, they are naturally firmer, denser, and dryer in texture, so they don't quite melt into the soup.
Tomatoes. I know, it's not tomato season, but when the tomatoes are pressure cooked down into a soup, you won't notice their unremarkable taste. But, if you don't want to buy winter supermarket tomatoes, feel free to use canned diced tomatoes.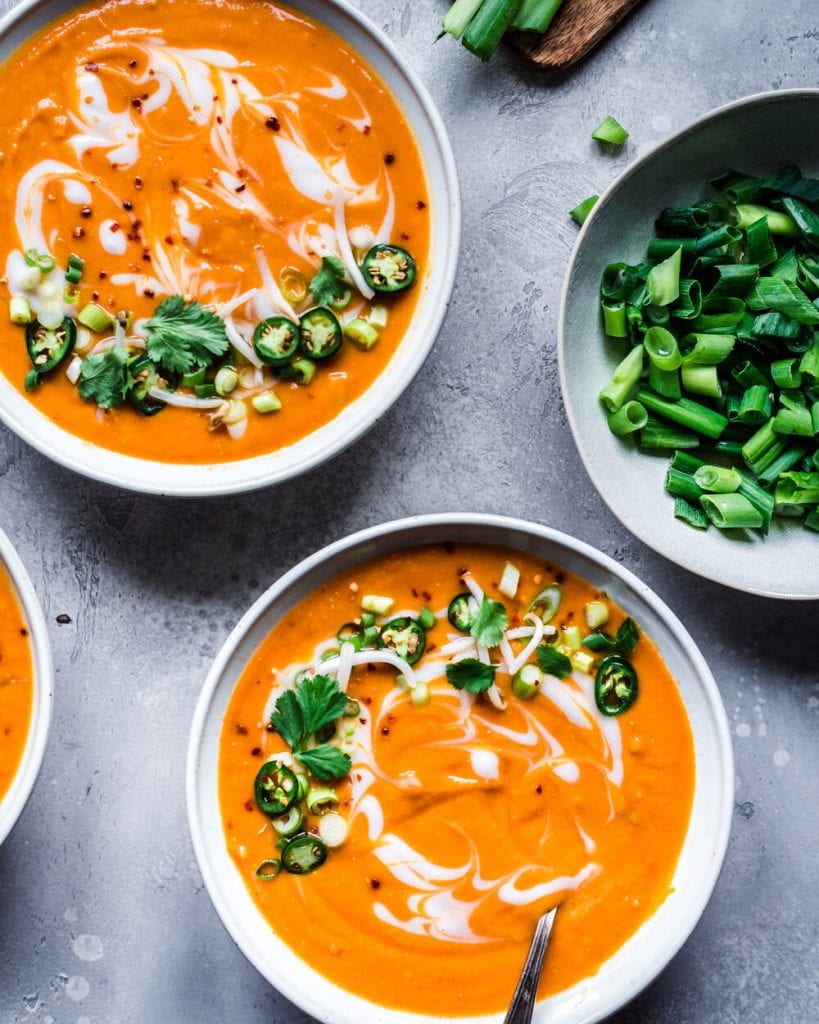 Red lentils. You can use red lentils or split red lentils – they are virtually the same.
Thai red curry paste. My favorite brand is Maesri (available at Thai and Southeast Asian grocery stores, or online), but Thai Kitchen also works decently and is widely available. Whichever brand you use, be sure to read the ingredients to ensure it's vegan. Some brands might use fish sauce. Another vegan red curry paste to try is from Thai Taste.
Note: keep in mind that there is variance in the heat level across curry paste brands. I find that Thai Kitchen is not too spicy, but if you know that the curry paste you're using is quite spicy and/or you're sensitive to spicy food, feel free to use less than the amount called for in the recipe.
Lite coconut milk. Since this soup is really thick and creamy thanks to the sweet potatoes and lentils, there's no need to use full-fat coconut milk. If all you have is full-fat coconut milk, feel free to use it, but you'll want to either (a) water down the milk or (b) use more vegetable broth.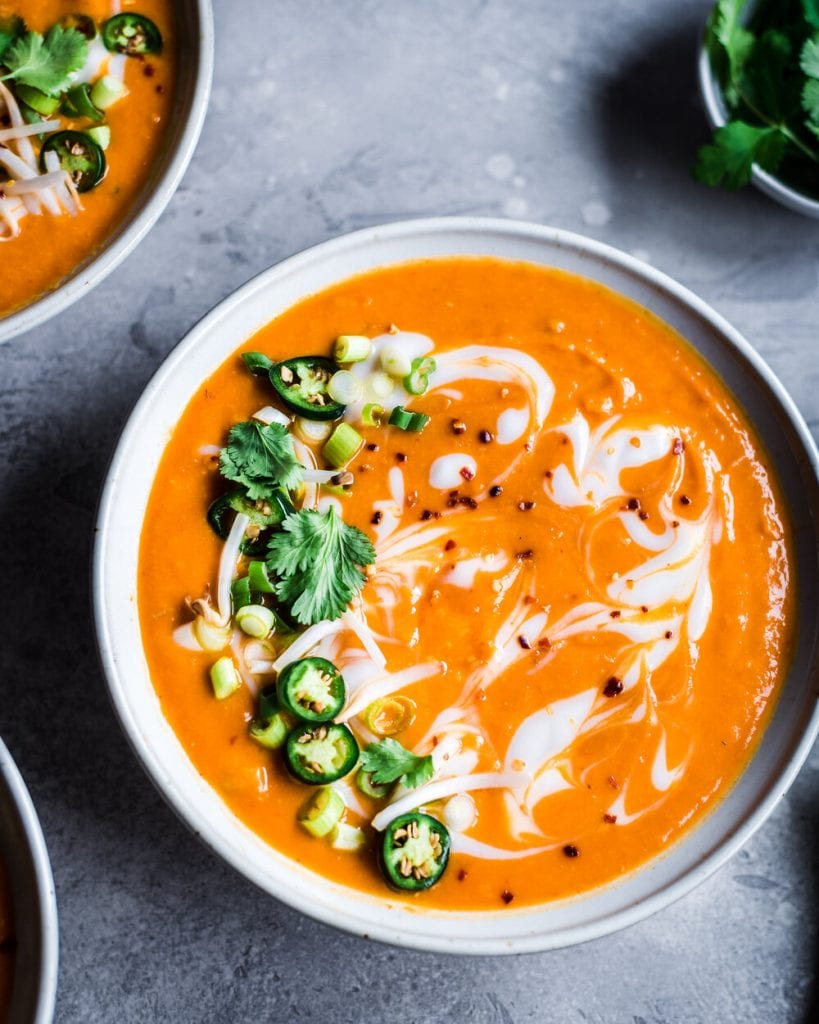 Tips for making this Thai Red Curry Soup
This section is going to be super short because, again, this is a dump-and-go recipe.
To minimize the number of dishes you need to wash, puree the soup using an immersion blender. If you don't have one, use a stand blender and transfer the soup in batches. Remove the center cap from the blender and cover it with a dish towel to prevent steam from building up inside the blender.
After pressure cooking and pureeing, if the soup is too thick for your liking, add some vegetable broth or water, and stir to heat through until the soup has thinned out a bit. The soup thickens even more as it rests, so if you're serving leftovers, heat it up on the stove with a bit of water or vegetable broth.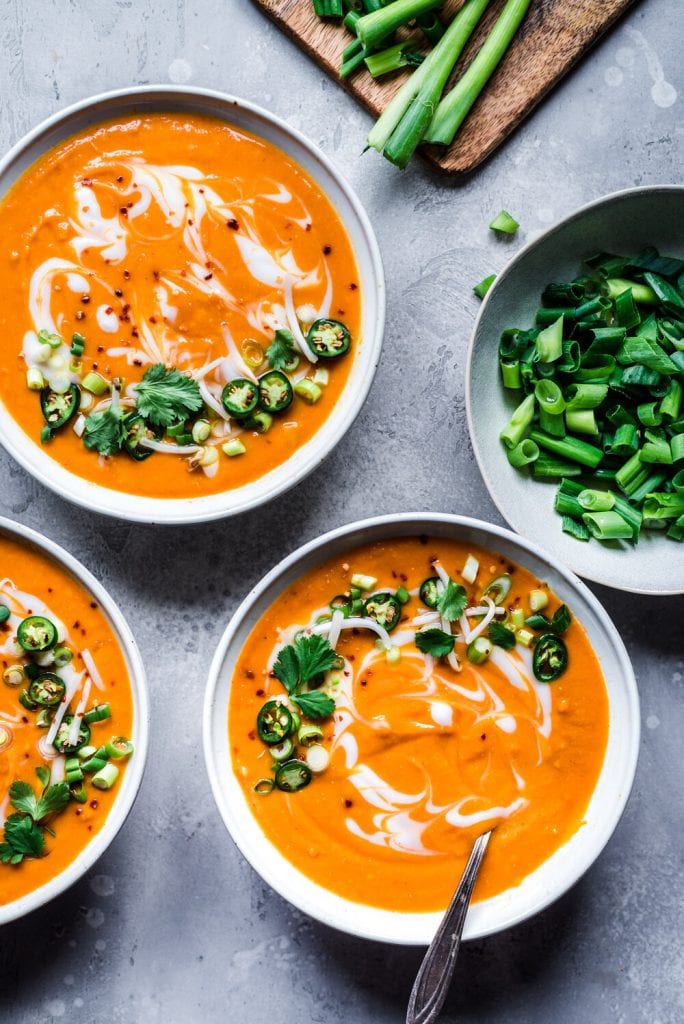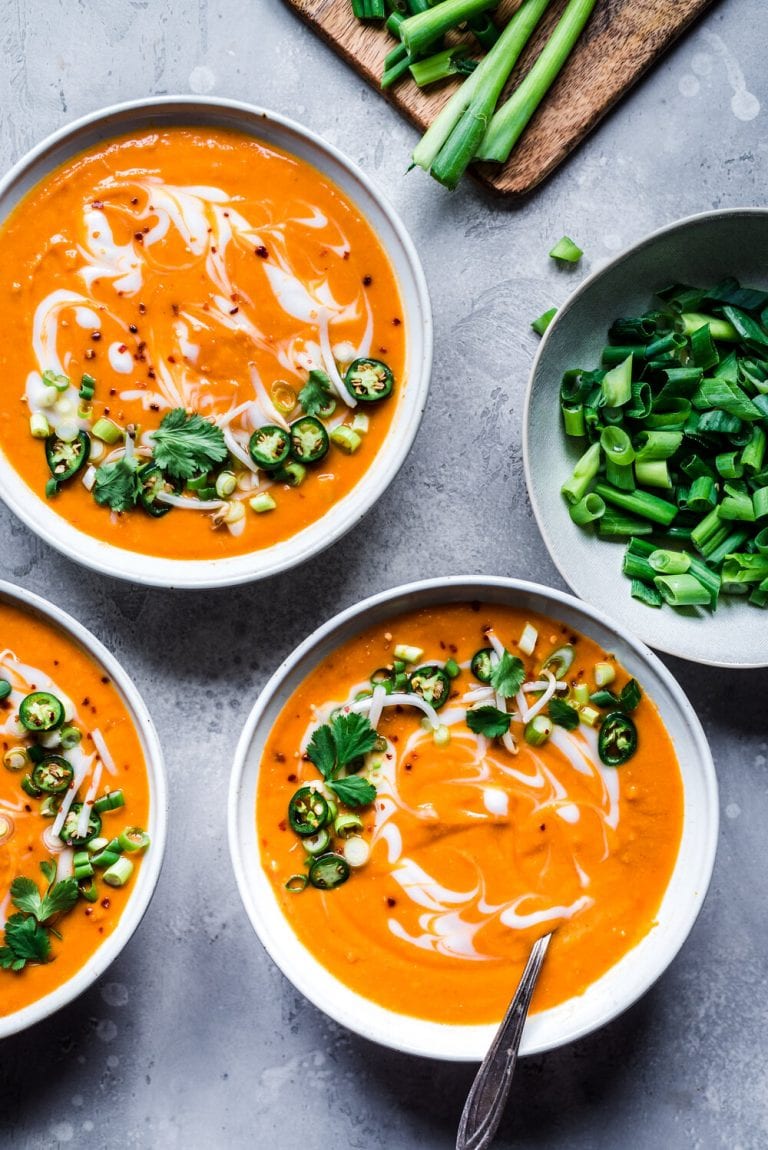 How to Garnish this Soup
Chopped cilantro is a must. Optional add-ons include thinly sliced scallions and chili peppers (if you like it spicy), a spoon of extra coconut milk (use a toothpick to make these fancy swirly designs), and/or bean sprouts.
Finally, this recipe couldn't be simpler, but if you want a visual (always helpful IMO), check out this video on my dump-and-go Instant Pot recipes! This Thai Red Curry Sweet Potato Soup recipe is the first one and begins at the 00:33 mark.
If you give this recipe a try, be sure to tag me on Instagram with your recreations and please comment with your feedback below!
Instant Pot Thai Red Curry Sweet Potato Soup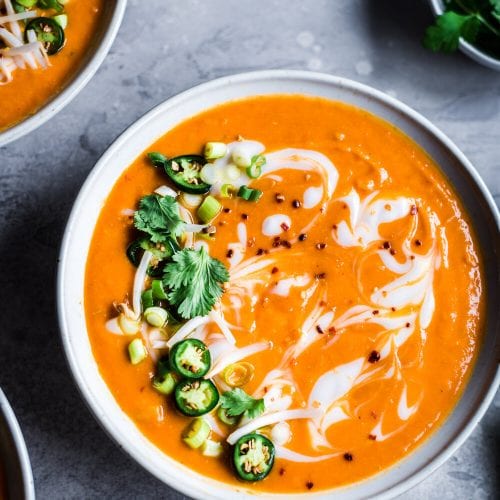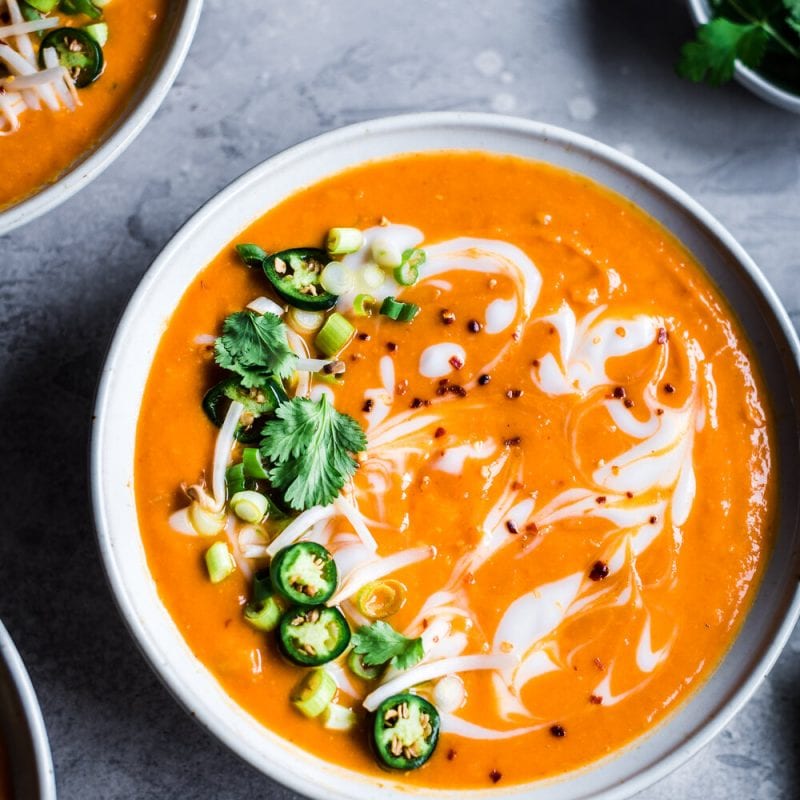 A dump-and-go Instant Pot recipe that's perfect for busy weeknights. This Instant Pot Thai Red Curry Sweet Potato Soup is made with wholesome ingredients like red lentils and sweet potatoes and is incredibly creamy and aromatic. Vegan, gluten-free, and oil-free.
Ingredients
1

large bunch of scallions,

sliced

5

garlic cloves,

mined

2

tablespoons

freshly minced or grated ginger

1½

pounds

(680g) sweet potatoes, peeled and cut into ¾-inch (2 cm) cubes

3

medium Roma or plum tomatoes,

chopped*

4

tablespoons

(60g) red curry paste** (use less if sensitive to spicy food)

1

cup

(190-210g) red lentils, rinsed and drained

2

cups

(480 mL) vegetable broth

1/2

teaspoon

kosher salt

1

tablespoon

tamari

(or soy sauce if not gluten-free)

1

(15-ounce / 400 mL) can "lite" or reduced-fat coconut milk

1

tablespoon

fresh lime juice

2-3

teaspoons

agave nectar,

coconut sugar, organic brown sugar, or organic cane sugar

1/2

cup

chopped cilantro

Optional Garnishes: extra coconut milk for a pretty swirl,

thinly sliced scallions, bean sprouts, thinly sliced chili peppers
Instructions
Pour the vegetable broth into the Instant Pot. Add the scallions, garlic, ginger, sweet potatoes, tomatoes, red curry paste, red lentils, salt, and tamari or soy sauce, and lite coconut milk. Stir to combine.

Secure the lid and set the Pressure Release to Sealing. Select the Pressure Cook setting at high pressure and set the cook time to 10 minutes.

Once the 10-minute timer has completed and beeps, allow a natural pressure release for 10 minutes and then switch the Pressure Release knob from Sealing to Venting to release any remaining steam.

Add the lime juice, agave or sugar, and chopped cilantro. Stir to combine. Taste the soup and adjust the seasonings as needed, adding more salt for saltiness, lime juice for acidity, or agave/sugar for sweetness. If the soup is too thick for your liking, add some vegetable broth or water, and stir to heat through until the soup has thinned out a bit.

Ladle soup into bowls and garnish as desired. Store leftovers in the fridge for up to 4-5 days. The soup thickens as it rests, so if you're serving leftovers, heat it up on the stove with a bit of water or vegetable broth.
Notes
* If you don't have fresh tomatoes, you can sub one 14.5-ounce (410g) can of diced tomatoes. I add the canned tomatoes at the end, on top of all of other ingredients, and don't mix them in. This prevents the tomatoes from sinking to the bottom, which can trigger the Instant Pot's burn notice. While diced tomatoes are pretty watery and are often just fine if you stir them in (it's usually crushed tomatoes or tomato paste that are the culprit), I recommend doing this just to be safe.
** There is variance in spice level across curry paste, so feel free to scale back if yours is quite spicy and/or you prefer a mild heat.
---
Calories:
454
kcal
|
Carbohydrates:
76
g
|
Protein:
16
g
|
Fat:
9
g
|
Saturated Fat:
8
g
|
Polyunsaturated Fat:
1
g
|
Monounsaturated Fat:
1
g
|
Sodium:
1203
mg
|
Potassium:
1179
mg
|
Fiber:
20
g
|
Sugar:
15
g
|
Vitamin A:
27331
IU
|
Vitamin C:
17
mg
|
Calcium:
116
mg
|
Iron:
5
mg