Craving an Indian restaurant-style curry without tons of extra work? Then you'll love this vegan Chickpea Curry! It's a creamy, generously-spiced meal with gourmet flavors that comes together in under 1 hour.
It has everything you need in a well-balanced, complete meal. Protein and fiber from chickpeas, fat from the coconut milk and tahini, and even leafy greens! The ultra-rich curry sauce and warm spices will pull you in for bowl after bowl.
Table of Contents
1. Why this recipe works
2. Ingredient notes
3. Step-by-step instructions
4. Tips for making this recipe
5. Frequently Asked Questions
6. Recipe card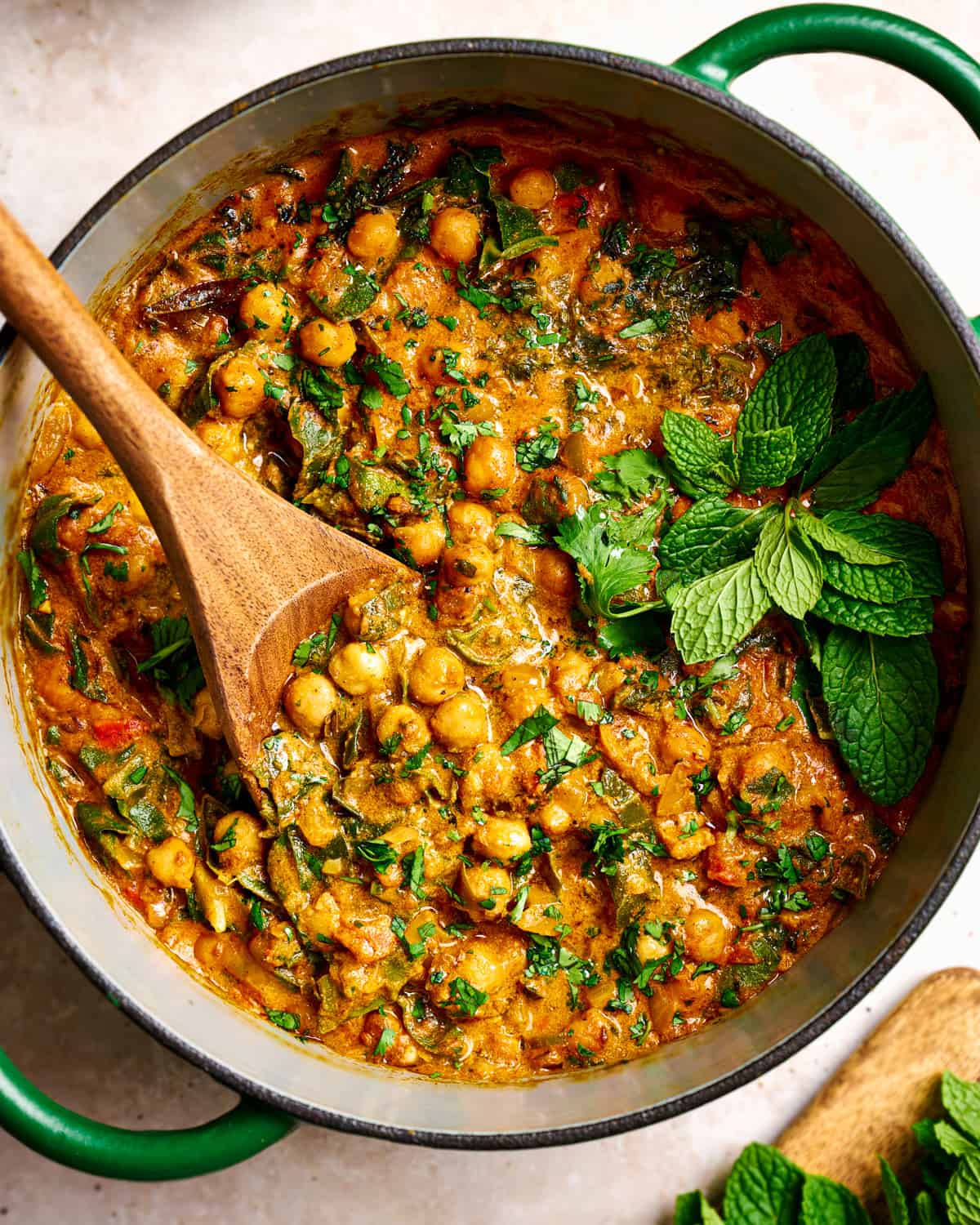 Why this recipe works
Dreamy texture.
Just like my Dal Makhani or Malai Kofta recipes, this chickpea curry has a luxuriously creamy consistency with a great mouthfeel. Rich and fatty coconut milk and subtly nutty and creamy tahini turn this into a seriously warm hug in a bowl.
But there are also tons of nourishing ingredients in this curry, like antioxidant-rich spices; anti-inflammatory garlic, ginger, and chile peppers; nutritional superstar dark leafy greens; and protein-packed chickpeas.
Loads of warmly spiced Indian flavor.
While not a traditional Indian dish, this chana masala-inspired chickpea curry will remind you of an Indian restaurant-style gravy. Similar to my Vegan Tofu Curry, you get those bold layers of spiced flavor without putting in as much work required of a more authentic recipe.
It features a rich and velvety gravy, similar to North Indian dishes, with a few flavors and ingredients from South Indian cooking that I love, like curry leaves and coconut milk.
In addition, this recipe fuses warm, earthy warm spices (cumin and turmeric) with bright, citrusy spices (coriander and curry leaves). And a blend of whole and ground spices bloomed in oil maximizes the complex, yet nuanced flavors.
Top every serving with cool, refreshing mint leaves and you have a vegan curry that will make your taste buds dance!
PS: If you are looking for a more traditional Indian dish, try the Chana Masala in my cookbook, The Vegan Instant Pot Cookbook!
The complete big batch meal.
This meal has protein, fiber, fat, and even greens. Plus, you'll have plenty of leftovers (the flavor gets better the next day!). Enjoy leftover chickpea curry throughout the week, as a grab-and-go lunch, and for pre-prepared dinners.
As explained in the Tips section, you can prep the vegetables and aromatics during your weekly meal prep to make cooking this dish even quicker. Plus, this curry freezes well so you can store it in the freezer during your busiest weeks.
Ingredient notes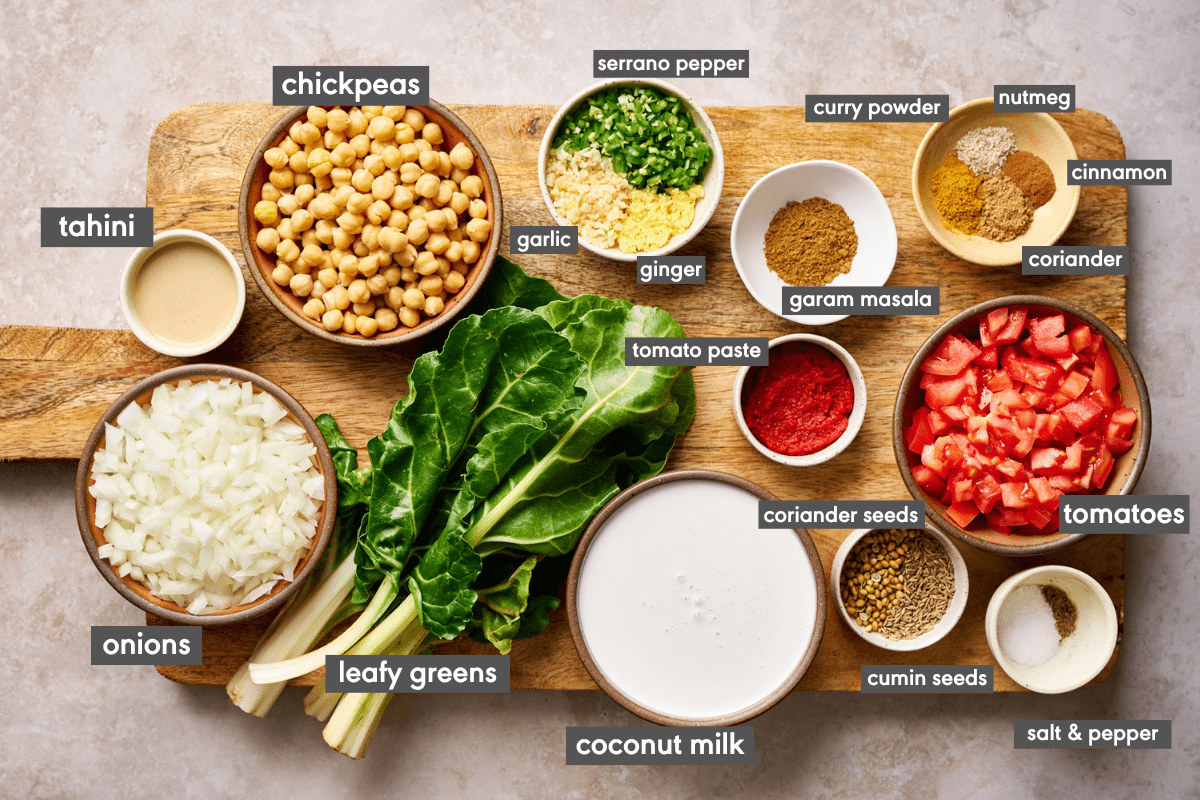 Chickpeas. Because it just wouldn't be a chickpea curry without the chickpeas! Plain ol' canned chickpeas will do just fine and add over 20 grams of plant protein to the batch. Of course, if you cook your beans from scratch, this curry will be even better.
Want to cook the beans yourself but don't know how? Follow my guide to learn How to Cook Beans in the Instant Pot. This a quick and easy alternative to the stovetop method with NO soaking needed.
The Indian Holy Quaternity. AKA onions, ginger, garlic, and green chiles (serrano or jalapenos). So many Indian dishes start with the "holy quaternity", as I discuss in the video for my Red Lentil Curry because they provide such a flavorful baseline.
Whole spices. I urge you to join "Team Whole Spices" for this chickpea curry recipe because they far outshine pre-ground spices.
Blooming (or toasting) the spices in an oiled pan is the secret to revealing their hidden flavors.

Once toasted, whole cumin and coriander seeds plus curry leaves are more vibrant and bold in flavor, adding layers of earthy warmth and bright citrus to each bite.
Substitute: If you only have pre-ground spices at home: use 1 ½ tsp ground coriander instead of 2 tsp whole coriander seeds; use a heaping ½ tsp ground cumin instead of 1 heaping tsp of whole cumin seeds.
Where to buy: Well-stocked grocery stores sell cumin and coriander seeds; they're always available at Indian grocers.

If you have an Indian grocer near you, seek out fresh curry leaves: they add an incredible citrusy yet pungent flavor. Alternatively, you can order dried curry leaves online (affiliate link).
Ground spices. One of the reasons Indian food is so dang good is that it layers both whole and ground spices for complex layers of flavor. Here, I use a simple mix of curry powder, coriander, turmeric, cinnamon, and freshly grated nutmeg, plus garam masala as a finishing spice.
Tomatoes. Diced Roma tomatoes and tomato paste form a team that provide this Indian curry with its necessary tang.
Substitute: Use half of a 14-ounce can of diced tomatoes if you don't want to chop them yourself.
Coconut milk. Canned coconut milk brings the richness you'd expect from a restaurant-style Indian curry and tempers the heat from the chiles. Always use coconut milk from a can, not the refrigerated coconut milk in a carton.
Substitute: Coconut allergy or aversion? use cashew cream instead. Blending the cashews is an extra step, but it will add even more flavor to the curry. Skip to the first FAQ for instructions.

Looking for a lighter dish? You can use "lite" canned coconut milk, or ½ of the full-fat coconut milk can + fill the rest of the can with water. It won't have the same creamy texture and will taste spicier since there's less fat to balance the heat.
Tahini. You'll always find tahini (ground sesame paste) in homemade hummus, but an Indian curry? Not so much.
But, this Middle Eastern staple brings a nutty indulgence to all kinds of recipes, like my Tofu Scramble. Here, it adds a subtle decadence and lovely mouthfeel without adding a distinct flavor, similar to what almond butter does in my fan favorite Red Lentil Curry.
Fresh herbs. Cilantro and mint are most commonly used in Indian cooking. They offer balance and brightness among the rich and creamy bites. Mint, in particular, brings a lovely cooling accent to the warm spices.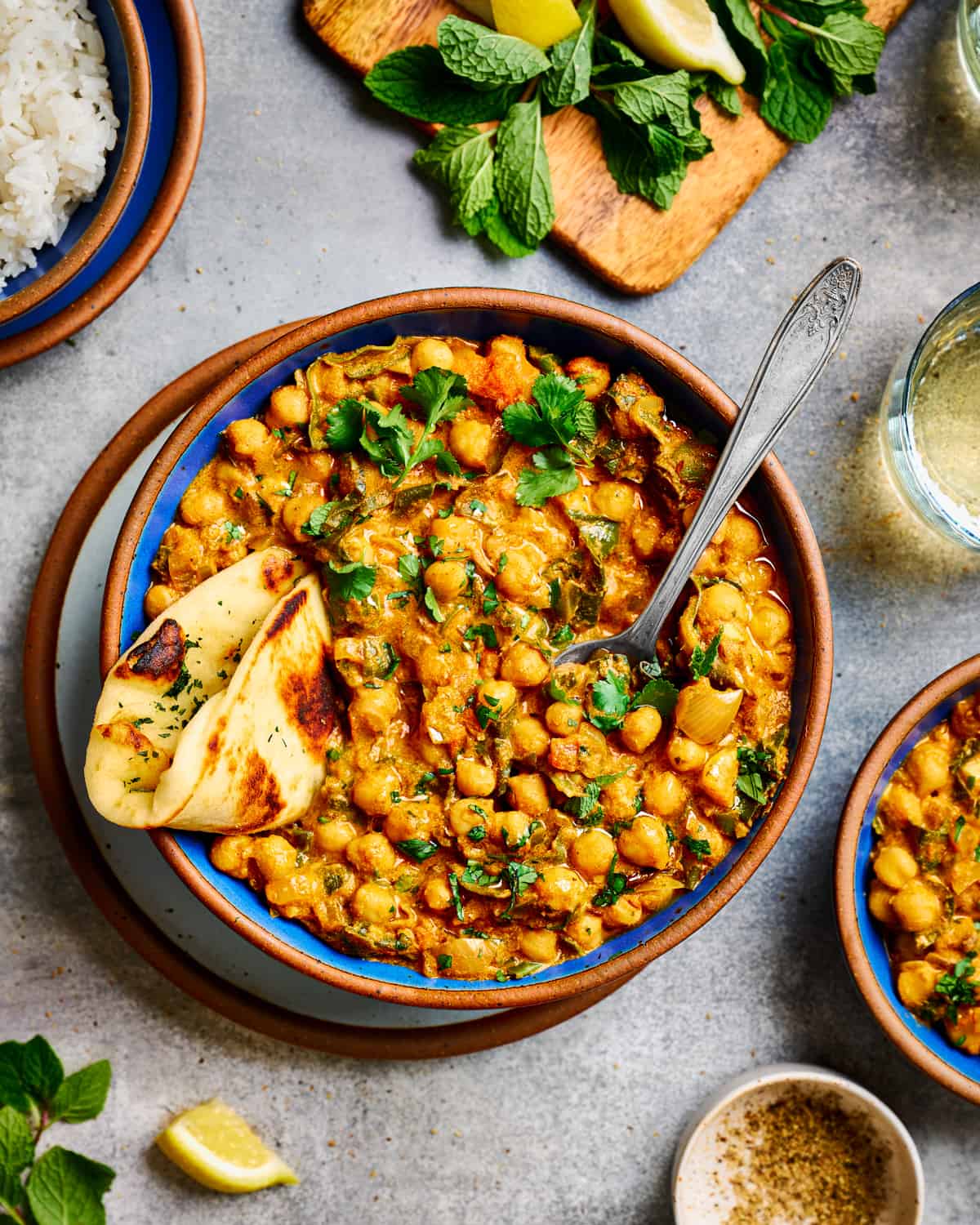 Step-by-step instructions
Toast the whole spices. Heat the oil in a skillet over medium-high heat, then add the cumin and coriander seeds. Toss frequently until toasty and darker in color, but don't burn.
Next, add the curry leaves. If using fresh leaves, immediately cover the pan with a lid to prevent the oil from splattering.
Sauté the aromatics. Add the onions and cook until they begin to develop some color. Pour in a splash of water to prevent browning, then add the garlic, ginger, and chile peppers for 1 to 2 minutes.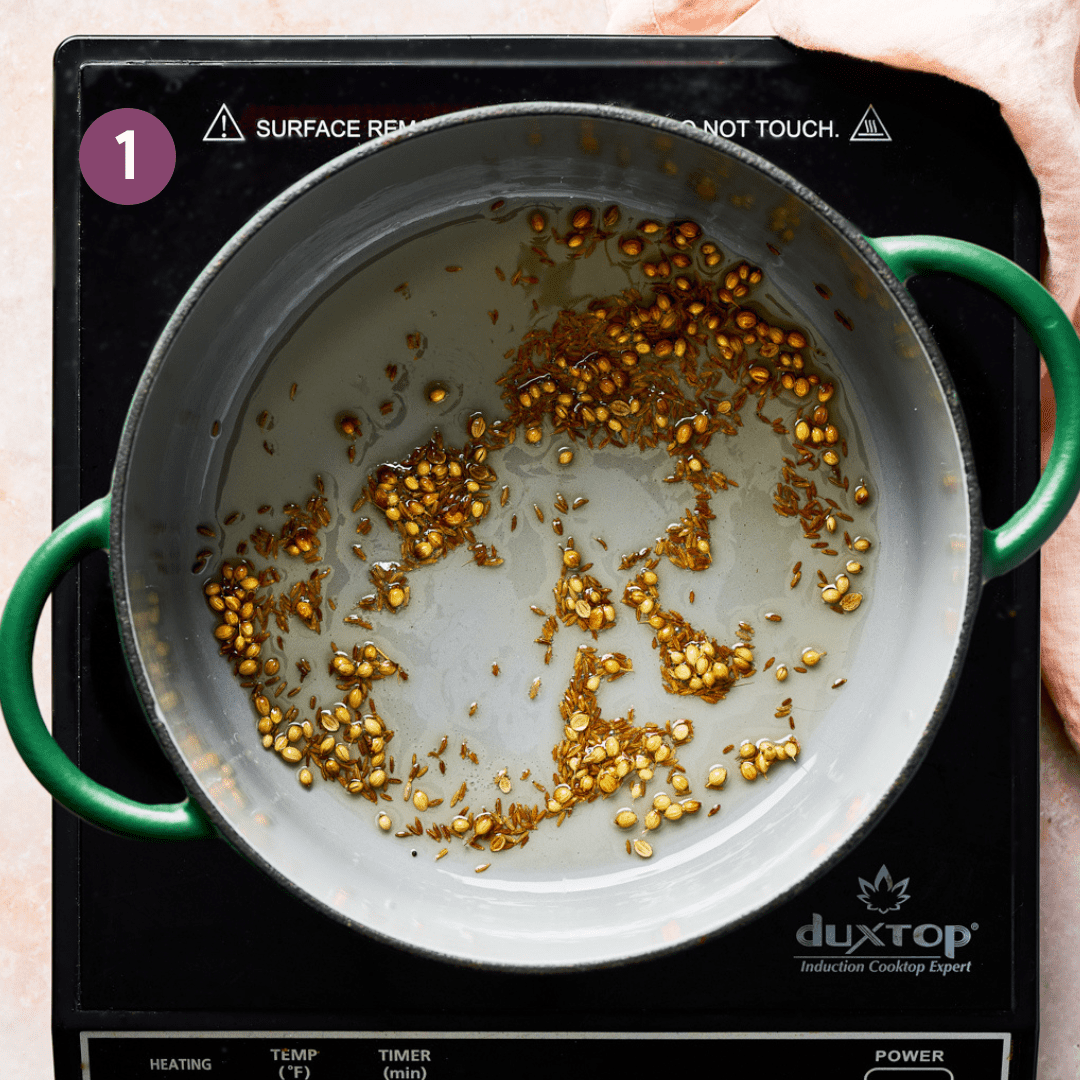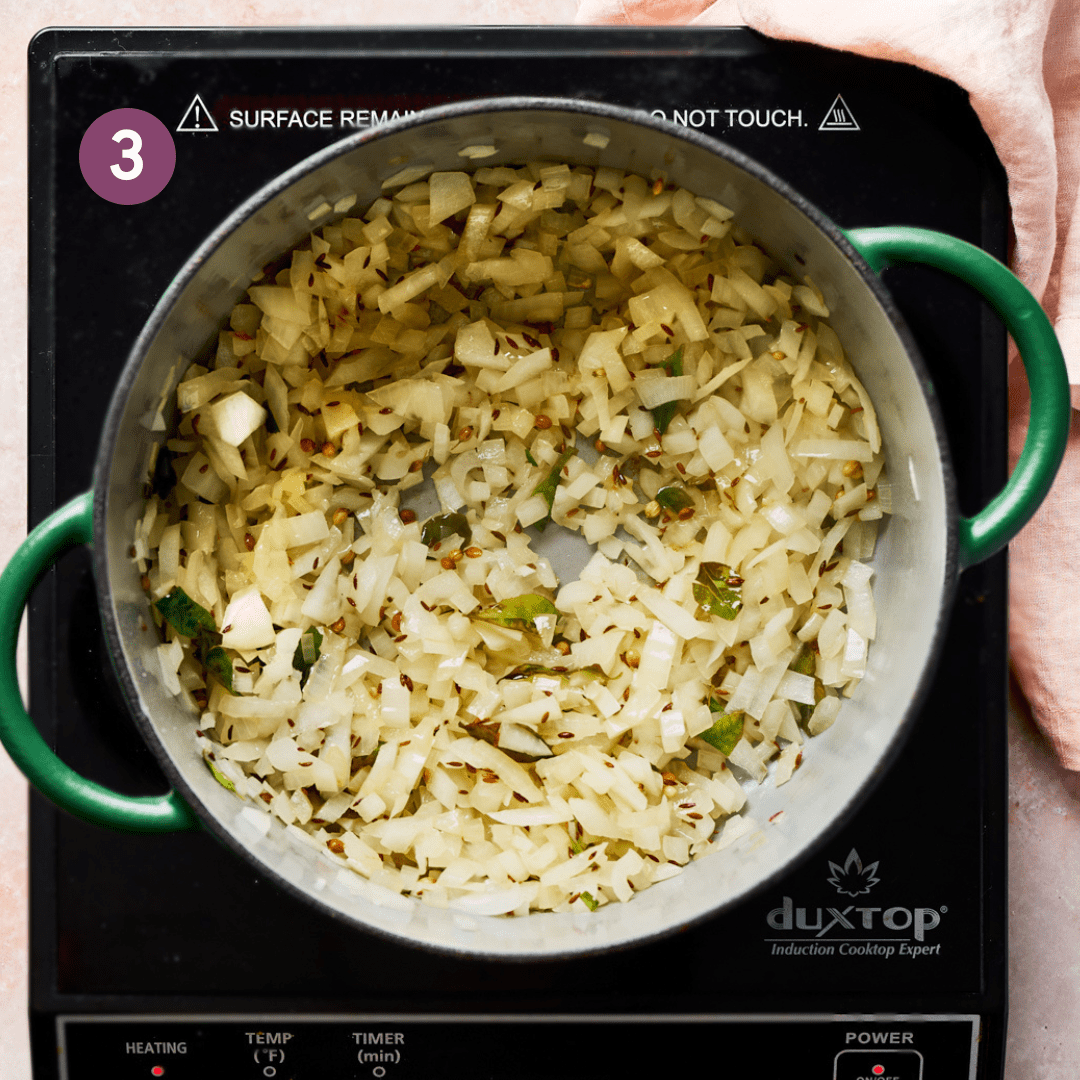 Add the ground spices and tomato paste and stir vigorously for about 90 seconds.
Add the tomatoes and their juices to the pan. Let the tomatoes simmer for a few minutes or until they start to break down.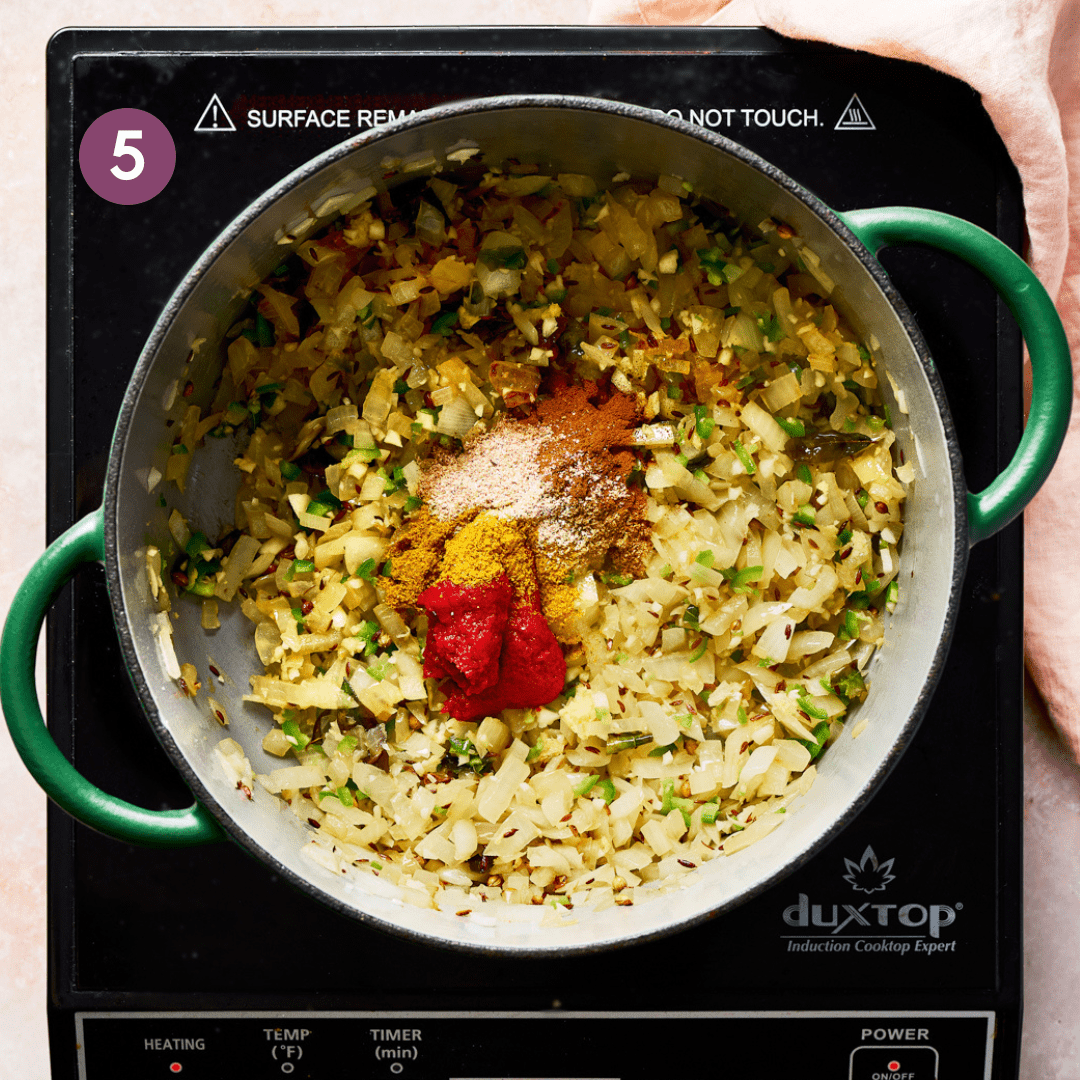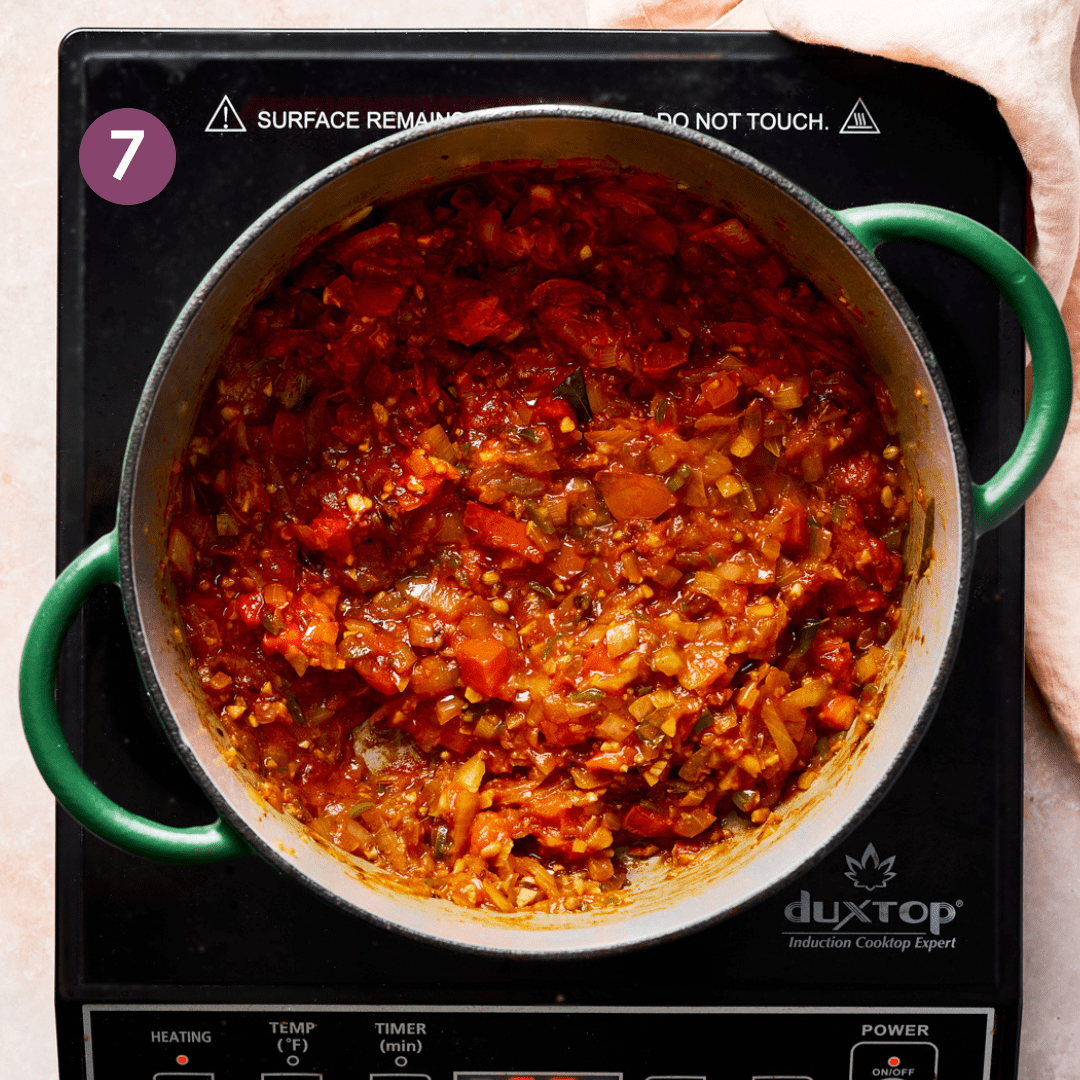 Next, add the chickpeas, followed by he coconut milk, water, and tahini. Bring the mixture back up to a simmer, then cover the pan.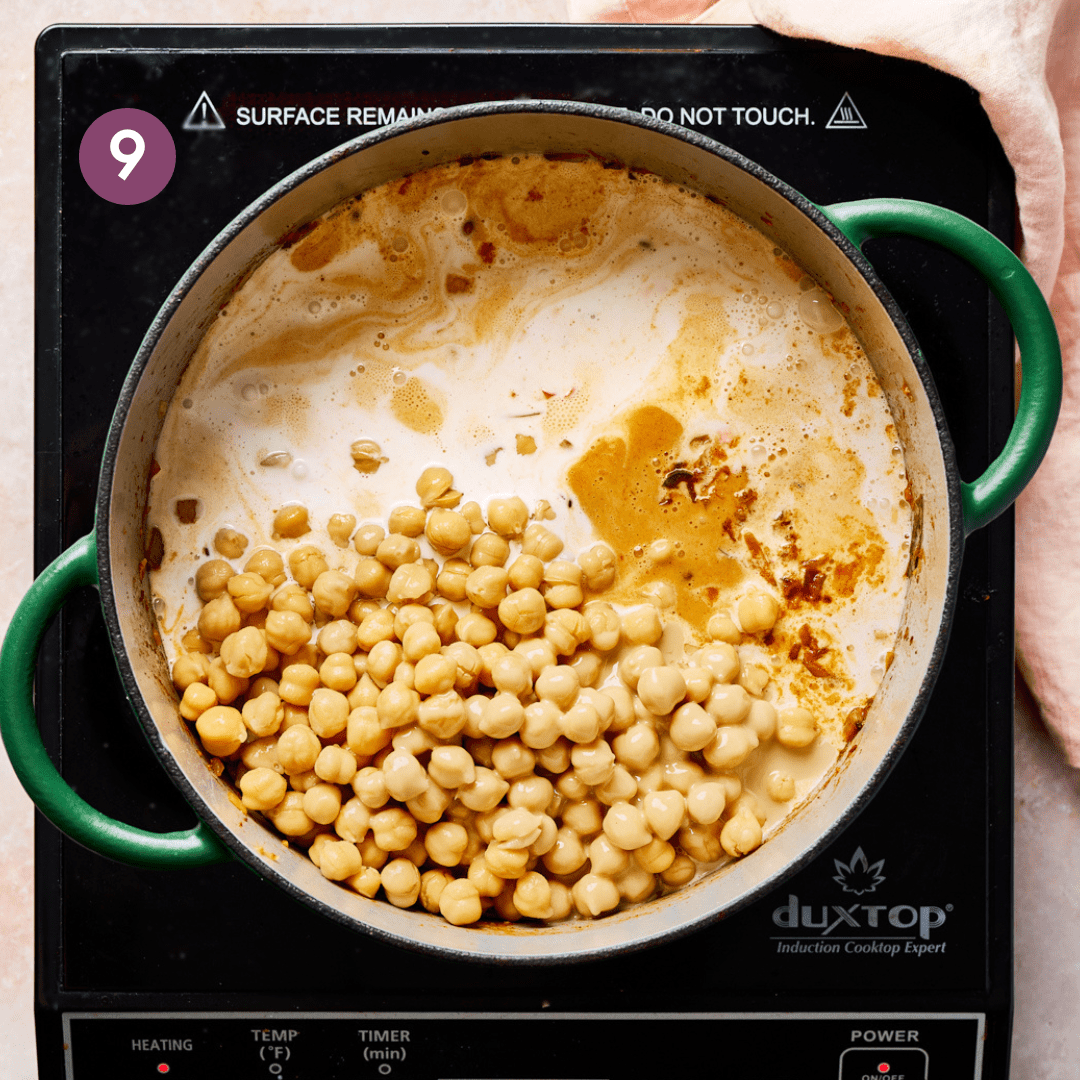 Stir the chopped greens into the curry when it's done simmering. Add the garam masala when the leaves have wilted.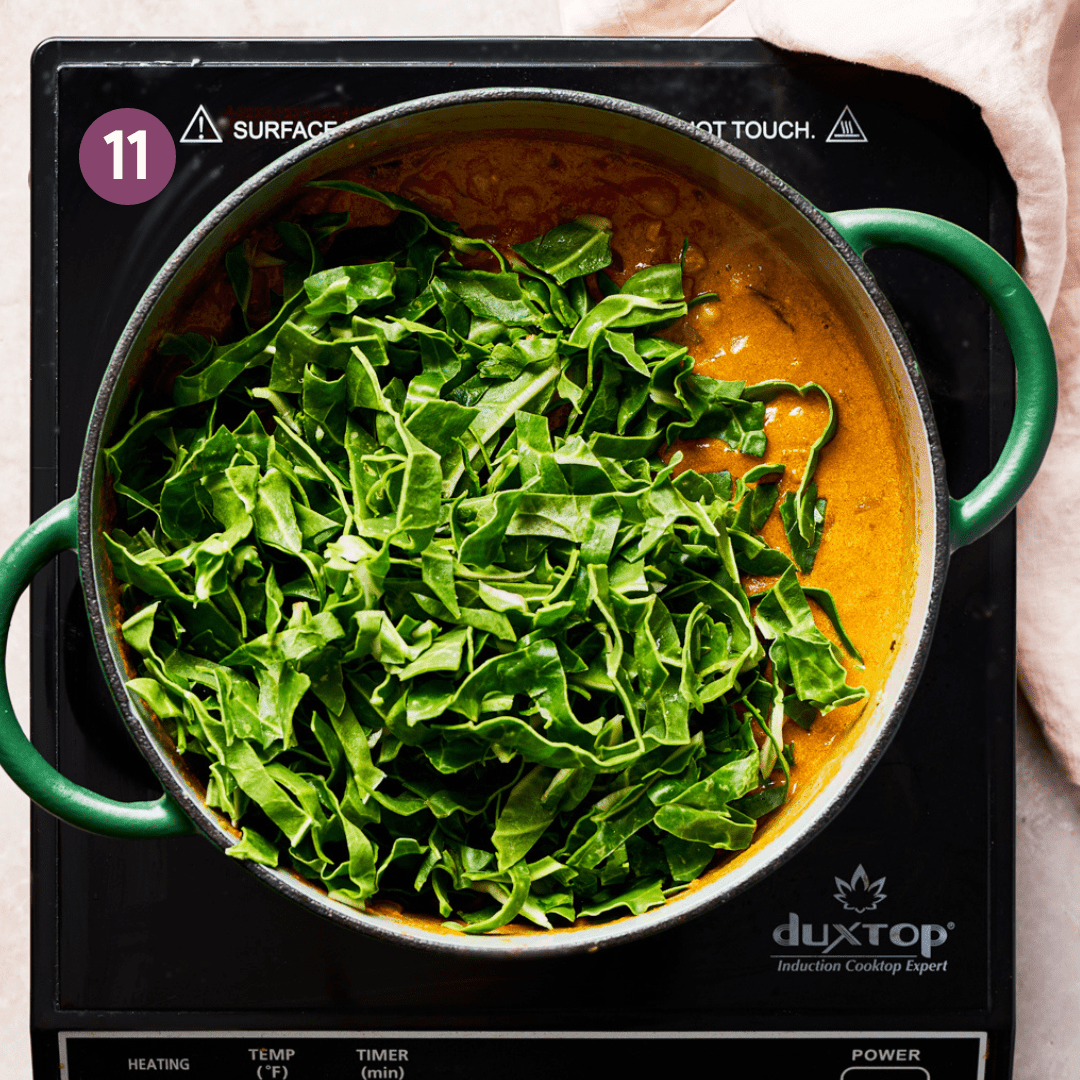 Off of the heat, add the lemon juice, cilantro, and mint. Give it a taste and adjust the flavors as needed. Serve with basmati rice or Homemade Vegan Naan, then enjoy!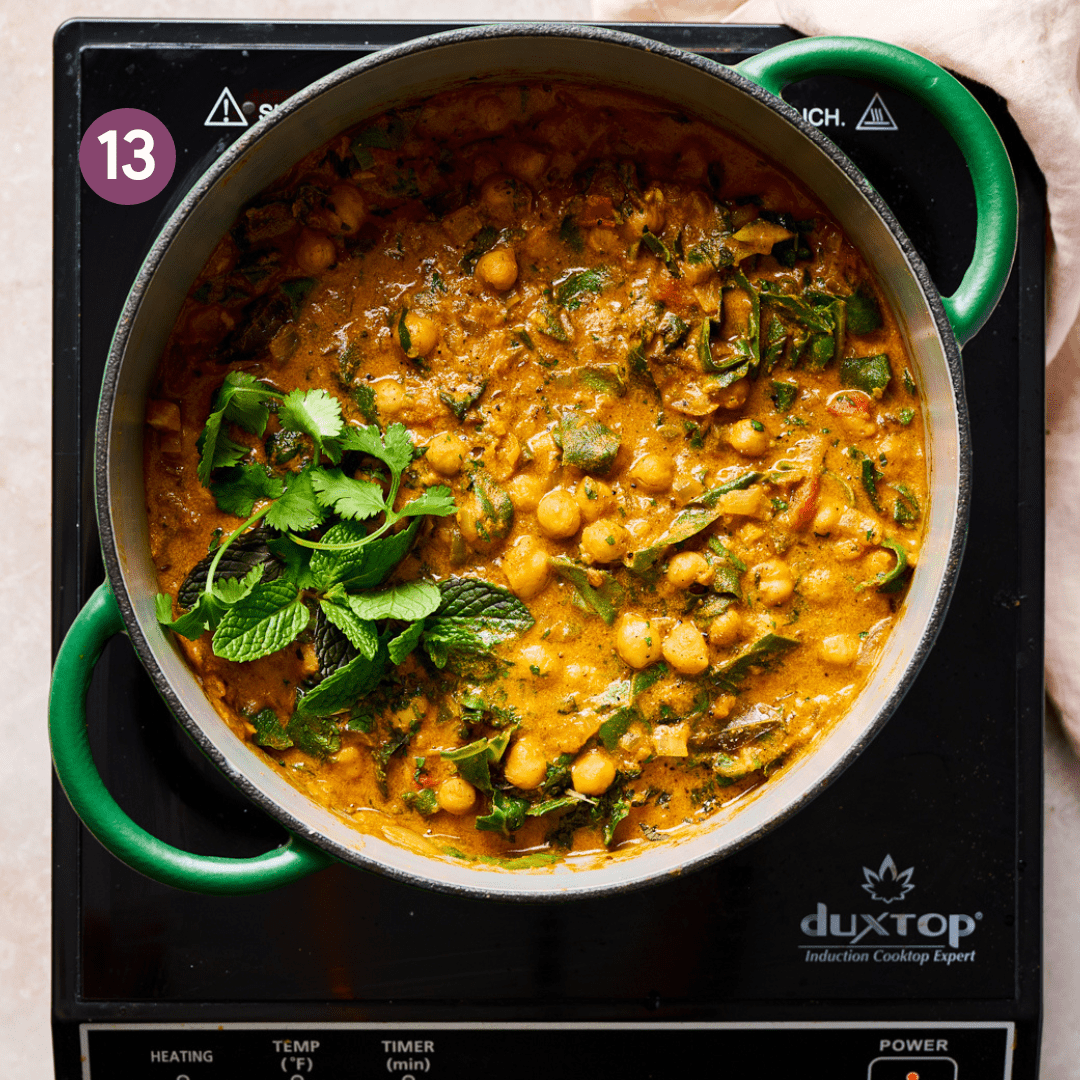 Tips for making this recipe
Prep in advance. Get the curry on the table even faster by dicing the onion, dicing the tomatoes, and prepping the aromatics (garlic, ginger, chiles) 1 or 2 days ahead of time. Store them in separate containers in the fridge.
In addition, mix the ground spices together and store the mixture in a ziploc bag or jar on your counter. With the prep out of the way, dinner will be ready in 35ish minutes.
And always multitask. Rinse and slice the greens while you wait for the chickpea curry to simmer. Once they're added in, chop the cilantro and mint. And while the onions cook, measure out your ground spices.
Take shortcuts if you need to. This is a flexible dinner recipe with a few shortcut options:

(1) Buy pre-washed baby spinach or baby kale instead of the Swiss chard or kale. Cook for 1 to 2 minutes until wilted; (2) Use half of a 14-ounce can of diced tomatoes instead of dicing fresh tomatoes by hand.
Chop the greens finely. There's nothing worse than an unusually large, hard-to-manage piece of kale or Swiss chard among an otherwise easy-to-eat curry. To avoid this, slice the greens into very fine pieces. I slice them like I chiffonade basil: roll the leaves up, then slice into thin strips.
PS: If your bunch of greens is large, you will need to add more salt, as dark leafy greens absorb a lot of flavor!
Customize if you want. While I love this curry as written, if you have an extra veggie you want to sneak in, go ahead!

Sauté a diced red bell pepper or finely diced carrots for a few minutes after the onions. For a sweet element, add a peeled and diced (cooked) sweet potato when you add the coconut milk. For more nutrient-dense goodness, add small or medium cauliflower florets when you add the coconut milk.
Seek out curry leaves. This recipe is extraordinary with fresh curry leaves, so if you have an Indian grocery store, please seek these out. You can freeze leftover curry leaves for another time.
If you don't have access, try to get some dried curry leaves online (affiliate link). They don't have as much flavor, but are still delicious.
When added to hot oil, fresh curry leaves bubble up rapidly. To prevent oil splattering on you, stand back when you add them and immediately cover the pan.

Cook for just 20 seconds, then remove the lid (they will be sizzling less by now) and add your onions.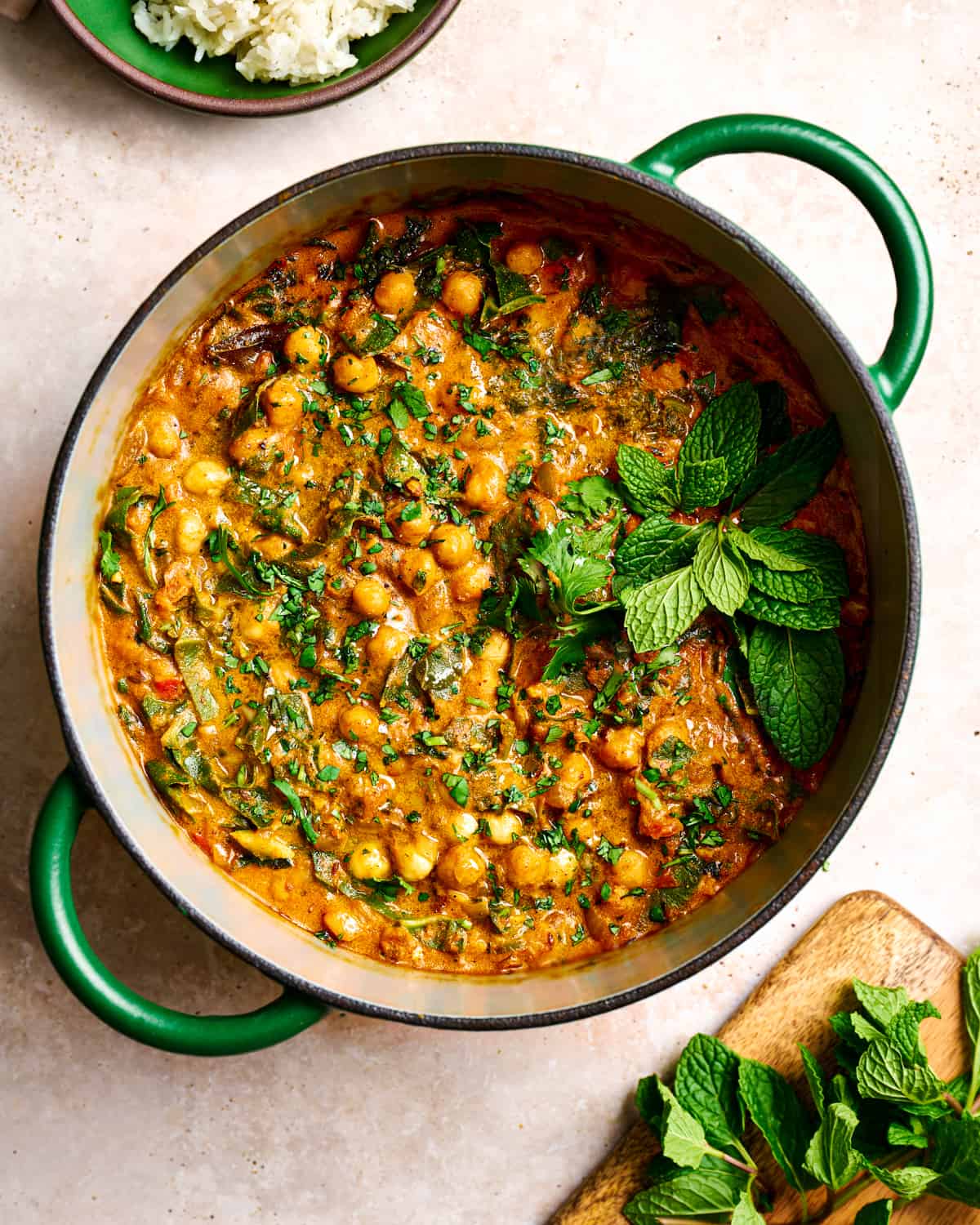 Frequently Asked Questions
Can I substitute the coconut milk with something else? 
Yes, cashew cream makes for a lovely substitute here. To make the cashew cream: 

1. Soak ½ cup (70g) of raw, unsalted cashews in water overnight, or do a quick soak by adding them to a saucepan, covering with water, and boiling for 15 minutes. Drain the cashews and rinse well. 

2. Add 6 tablespoons (90 mL) of water to a small-capacity high-powered blender (small blender jug, 32 oz / 1L or smaller). Add the cashews, 1 TBSP of freshly squeezed lemon juice, and ½ tsp kosher salt. 

3. Blend for about 2 minutes, starting on low and gradually moving up to high speed. Scrape down the sides as you go and blend until it's completely smooth and no cashew bits remain.

Note: If you only have a large-capacity high-powered blender, you'll need to double the cashew cream, as there isn't enough liquid here to blend in a large container. A food processor is a great alternative, but the texture won't be as silky smooth. Blend the ingredients for approximately 4 minutes.
What tahini brands do you recommend?
You can use any tahini brand that isn't bitter in flavor. However, since the tahini isn't a main flavor component here like it is in hummus, you're welcome to be flexible in the brand you use.

My favorite tahini brands are Soom Foods and Seed + Mill. For cheaper alternatives, look for Beirut sesame paste, Baron's, and the Whole Foods 365 brand (affiliate links).
Is this chickpea curry spicy?
It's fairly mild, but it can be as spicy or as mild as you want it to be.

For very mild heat, use 1 serrano pepper (or jalapeño). While these peppers are quite spicy on their own, the coconut milk tempers the heat very well.

If you enjoy heat, use 2 to 3 peppers (3 is my preference for spicy!). 

Remember: the white membranes inside peppers have most of the heat. So if you're uncertain about how spicy it will be, remove some of them to moderate the heat.
How long does this curry last? How should I store and reheat it? 
The leftovers stay fresh for up to 5 days when stored in an airtight container in the fridge. It also freezes well in about 3 months. I recommend freezing the curry in single-serve portions using Souper Cubes (affiliate link) to speed up the defrost.

The leftovers thicken considerably in the fridge. But once you reheat it in a saucepan, it loosens up. If needed, add a splash of water or veggie broth to loosen it more. 

What should I serve this with?
Scoop the curry into bowls with cooked white basmati rice (the classic), or brown rice or a whole grain like farro or quinoa. If you have extra time, take every serving over the top with my Homemade Vegan Naan (it's perfect for sopping up the delicious gravy!).
If you love this vegan Chickpea Curry, please be sure to leave a rating and review below! It's always much appreciated :) And tag me on Instagram – I love hearing your feedback.
Chickpea Curry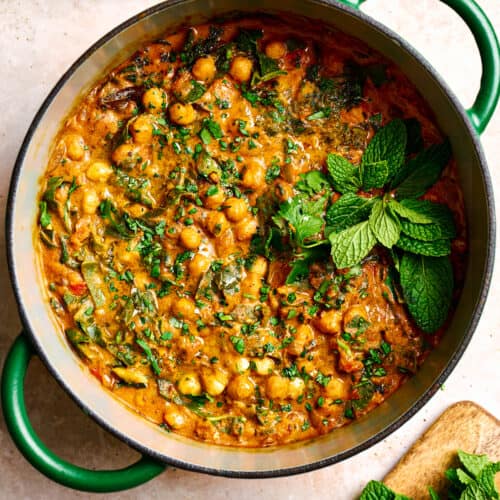 This creamy, dreamy Chickpea Curry makes for a gourmet, restaurant-quality yet approachable meal that's on the table in an hour. Featuring bold Indian flavors and a taste of healthy indulgence, it'll quickly become a new staple in your dinner rotation.
Ingredients
2

tablespoons

avocado oil or neutral-flavored oil of choice

2

teaspoons

coriander seeds

(Note 1)

1

heaping teaspoon cumin seeds

(Note 1)

15 to 20

fresh curry leaves, or 30 dried curry leaves

(optional but recommended, Note 2)

1

large

yellow or red onion,

finely diced

6

garlic cloves,

minced

2-

inch

piece fresh ginger,

minced or grated

1 to 3

serrano peppers,

diced (1 adds mild heat; 3 for spicy!!)

2

tablespoons

tomato paste

½

pound

(227g) Roma or plum tomatoes (2 roma tomatoes),

diced

2

teaspoons

kosher salt

(Note 3)

1

(13.5 oz /400 mL)

can full-fat coconut milk

(Note 4)

½

cup

(120 mL) water

(Note 5)

2

(15 oz /425g)

cans chickpeas,

drained and rinsed

3

tablespoons

tahini,

well-stirred

1/2

teaspoon

organic cane sugar,

brown sugar, or coconut sugar

1

small head

of Swiss chard or lacinato kale

(Note 6)

2

teaspoons

garam masala

Freshly squeezed lemon or lime juice,

½ to 1 tablespoon, to taste

1

big handful

of cilantro leaves and tender stems,

chopped

1

big handful

of fresh mint leaves,

chopped
Ground Spices
1 ½

teaspoons

curry powder

1

teaspoon

ground coriander

½

teaspoon

ground cinnamon

1/2

teaspoon

freshly grated nutmeg

¼

teaspoon

ground turmeric

A generous amount of

freshly cracked black pepper
Instructions
Keep a small bowl of water nearby for deglazing.

Heat the oil in a 12-inch heavy-bottomed sauté pan or medium-sized Dutch oven over medium-high heat. Once hot, add the cumin and coriander seeds for about 1 minute, tossing frequently, or until aromatic and darker by a few shades but don't let them burn!Add the curry leaves: if using fresh leaves, cover the pan immediately and stand back to prevent oil splatter. Cook for just 20 seconds to prevent burning. For dry leaves, cook a little longer.

Add the onions with a big pinch of salt and cook for 5 minutes, until starting to get some color. If the spices start to darken, lower the heat to medium. Add a splash of water as needed to prevent onions from browning. Add garlic, ginger, serrano peppers, and cook for 1 to 2 minutes, stirring frequently.

Add Ground Spices and tomato paste and stir frequently for 90 seconds. If it dries out, add a splash of water. Add tomatoes + 2 teaspoons kosher salt. Use tomato juices to scrape up browned bits. Cook for 5 minutes, or until tomatoes are soft and the oil starts to release from them.

Pour in chickpeas, coconut milk, water, tahini, and sugar. Stir well and bring to a simmer. Cover and simmer for 15 to 20 minutes, opening the pot to stir occasionally.

Meanwhile, rinse Swiss chard (or kale) and cilantro and mint. For the greens, remove the center ribs and discard. Roll the leaves and up slice the leaves very thinly. Chop the cilantro and mint.

After the simmer time, add the greens. Simmer until tender and wilted, 4 to 5 minutes. Stir in the garam masala to combine.

Off the heat, squeeze in a little lemon or lime juice, cilantro, and mint. Season to taste with salt (about ½ teaspoon kosher salt). Rest for 5 to 15 minutes to allow flavors to meld. Serve with cooked rice or flatbread.
Notes
Note 1: I like the subtle crunch of whole spices. If you don't, grind your spices first or roughly crush with the back of a sturdy mug, cast iron pan, or heavy knife. No whole spices? Use 1 ½ tsp ground coriander + heaping ½ tsp ground cumin with the other ground spices. Note 2: If you have an Indian grocery store, seek out fresh curry leaves, which add incredible flavor. Or order dried curry leaves online. The amount of leaves depends on size. If your curry leaves are large, use the smaller range. Note 3: Since this is a fair amount of salt, I've specified the salt I use. For sea salt or Morton's kosher salt, use less salt, about 1 ¼ tsp. If using table salt, use 1 tsp. Note 4: If you can't have coconut products, check the FAQ section in the blog post for how to use cashew cream as a substitute. Note 5: if you prefer a looser consistency in curries, use ¾ to 1 cup (180 to 240 mL) water. Note 6: This weighs 7 to 8 oz / 200-230g (stems included). If using more greens, you need to add more salt. You can sub with bagged baby spinach or baby kale (I like to roughly chop before adding it to the curry); it'll cook in 1-2 minutes. 
---
Calories:
360
kcal
|
Carbohydrates:
33
g
|
Protein:
12
g
|
Fat:
22
g
|
Saturated Fat:
11
g
|
Polyunsaturated Fat:
4
g
|
Monounsaturated Fat:
6
g
|
Sodium:
1352
mg
|
Potassium:
748
mg
|
Fiber:
10
g
|
Sugar:
4
g
|
Vitamin A:
3582
IU
|
Vitamin C:
59
mg
|
Calcium:
126
mg
|
Iron:
4
mg
Recipe: Nisha Vora / Rainbow Plant Life | Photography: Megan Morello