This vegan corn chowder is one of my favorite recipes from my cookbook, The Vegan Instant Pot Cookbook (it's on page 241 in the Soups, Stews, and Curry chapter). It's incredibly creamy, luxurious, and packed with Southwestern flavor.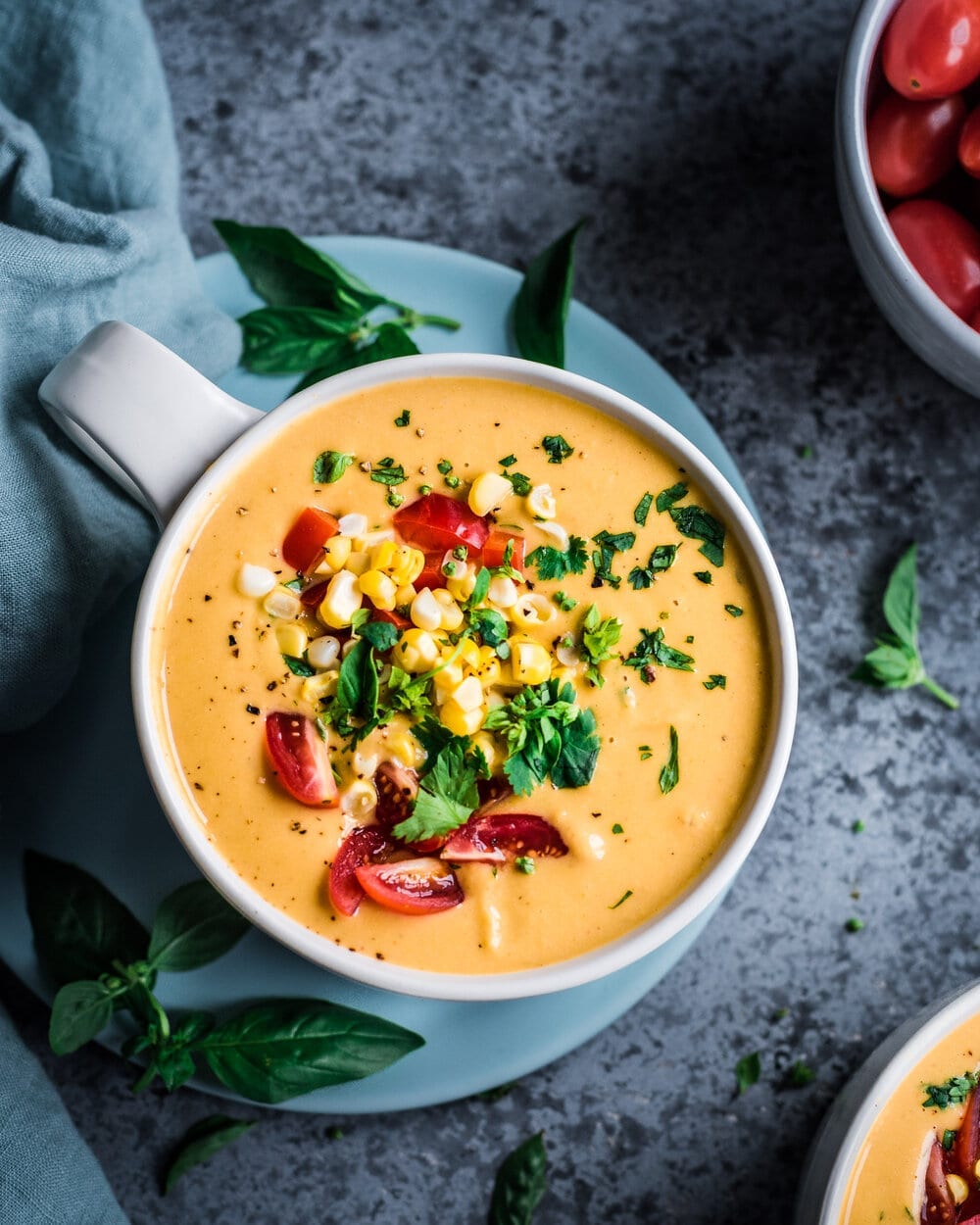 Why you'll love this recipe
Summer corn. This is truly one of the most delicious uses for fresh sweet corn. I can't even describe the flavor except that it's spectacular.
Creamy and dreamy. Despite having no dairy, this corn chowder is as creamy as a bisque. Max was legit floored when he tried this soup. It's incredibly creamy, luxurious, and tastes so indulgent.
Extremely flavorful. Y'all know I take flavor seriously, and this soup is no exception. To bring the classic American flavors you associate with corn chowder, I use celery salt. And to give this soup a bit of a Southwestern kick that makes it a little more complex, I add jalapeño peppers.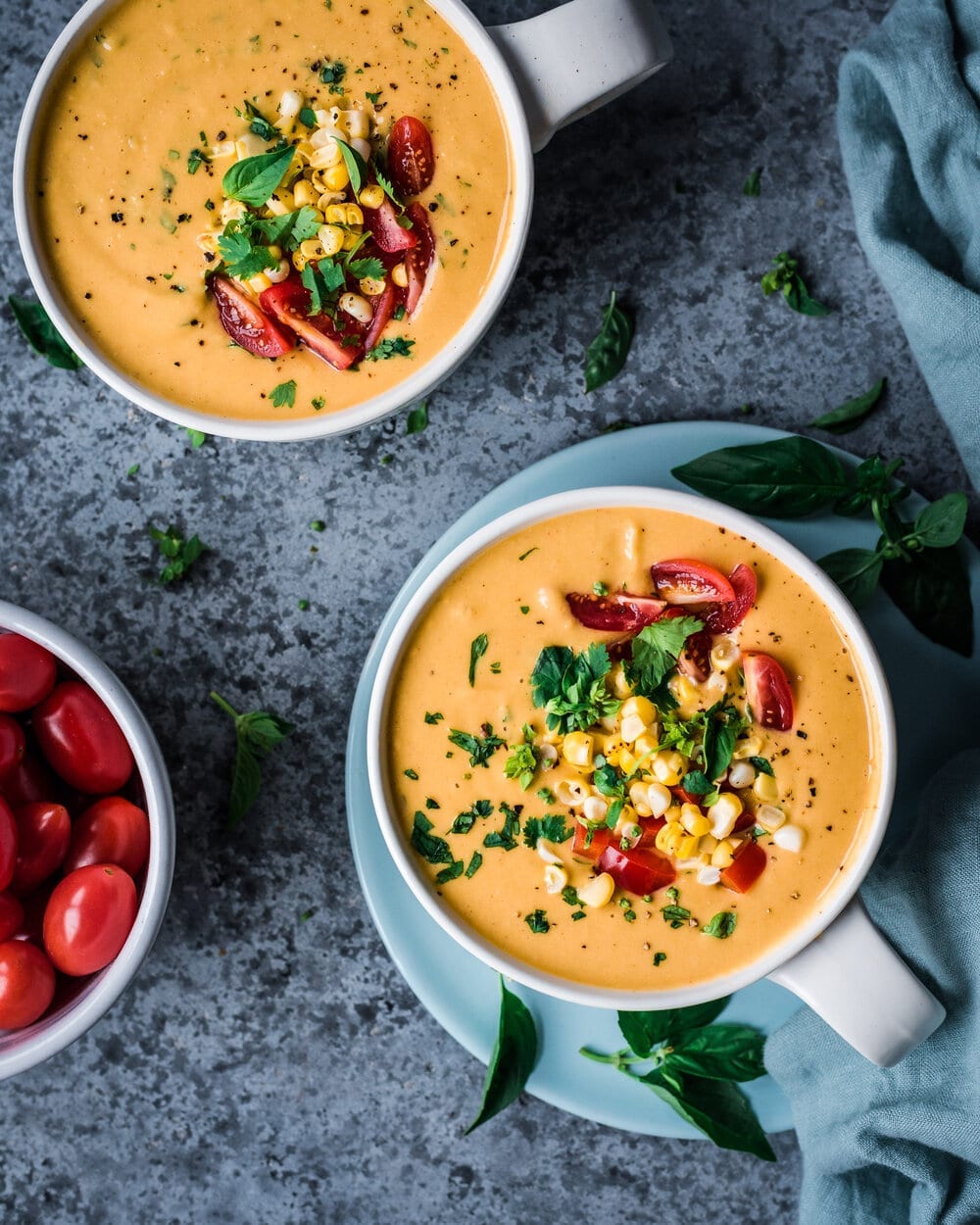 Vegan Instant Pot Corn Chowder: Ingredient Spotlight
Fresh Corn. This is such a good recipe for fresh summer corn! I really can't even describe how delicious and flavor-packed it is. Of course, if you prefer your chowder in the winter, you can use canned or frozen corn, but if you are reading this in the summertime, PLEASE USE FRESH CORN!
To pack extra slightly smoky summer flavor into the corn, I lightly char it over a flame. You can see how to do this in the video!
Raw Cashews. This is the first ingredient in my trio of thickening ingredients. As you might know, I love using raw cashews in my cheese and sauce recipes, as it brings the most luscious, creamy texture to replicate dairy. It does the same thing here, but you don't have to soak them overnight!
I do soak the cashews for 20-30 minutes, but just because it's an easy thing to do while you prep all of the other ingredients. The high pressure of the instant pot will take care of softening them up, resulting in a silky, smooth texture.
Potatoes. Another ingredient that brings the creamy dreamy factor here. The first time Max tried this soup, he asked "is this a bisque??" That's how creamy the texture of this chowder is!
Coconut Milk. The final ingredient in this rich and creamy soup. I use full-fat canned coconut milk, but you can use lite coconut milk if you want to lighten the soup up.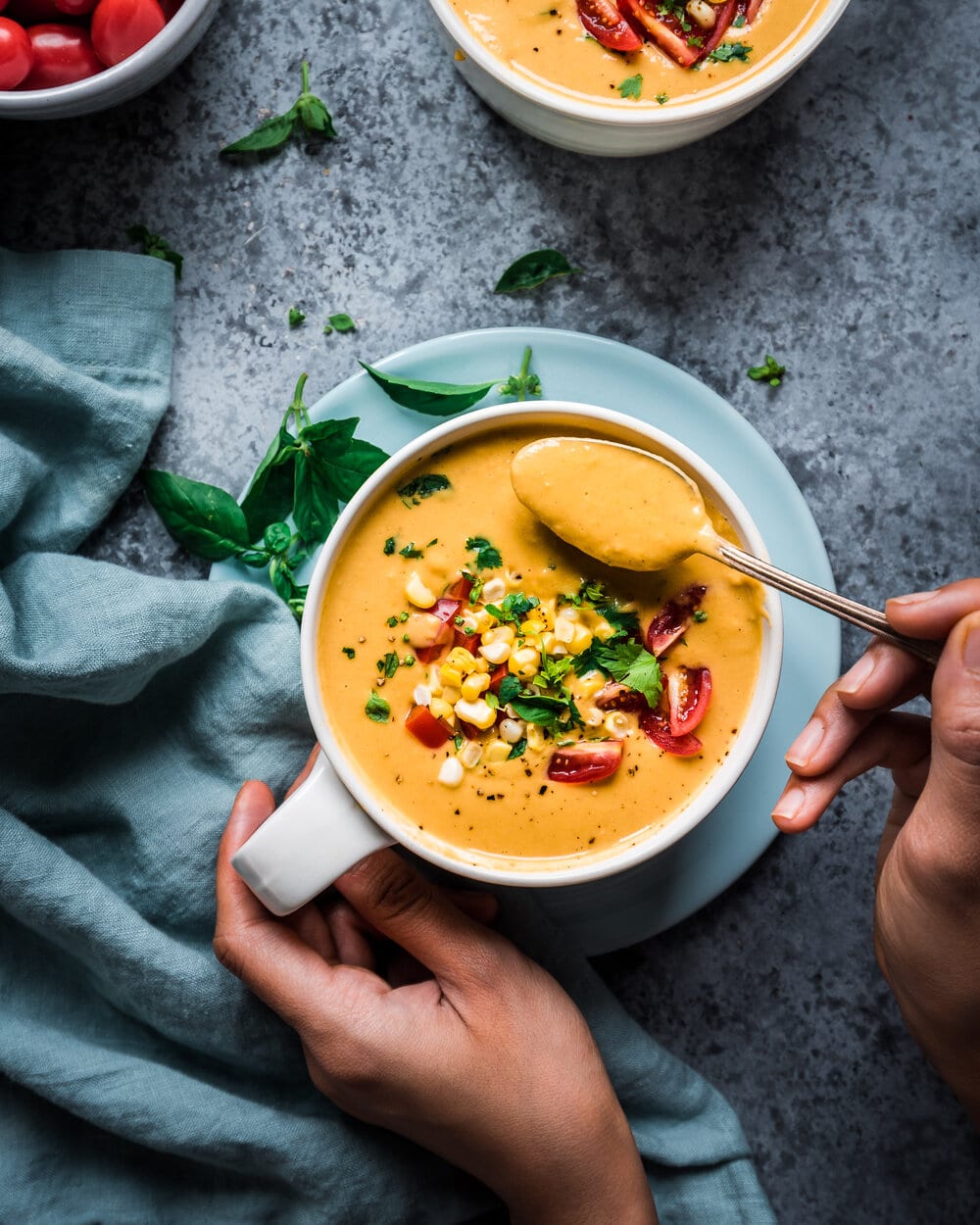 Jalapeños. I think corn and jalapeño peppers are a match made in heaven (have you tried my easy Charred Corn Salad?), and they work wonders here. They bring a subtle but noticeable background heat that makes this soup more complex in flavors than your standard corn chowder.
Aromatics. Like most soups, I begin this chowder by sautéing aromatics (in the Instant Pot). I start with onion, then add garlic (and the jalapeños), followed by carrots and celery. Celery is classic in corn chowder (more on that below!).
Celery Salt. This is a classic ingredient in New England cuisine, and it brings a grassy, salty, slightly tangy flavor that really enhances the chowder. I highly recommend getting some celery salt for this recipe, if you can (it should be just a few dollars at most supermarkets). As with the jalapeños, it really enhances the flavors of the soup and brings some complex depth of flavor.
Spices. A little extra flavor comes from smoked paprika and cumin. Again, the idea is to layer flavors to create a complex corn chowder that is anything but ordinary!
Nutritional Yeast. An ingredient I like to use to boost the umami factor in a lot of savory vegan recipes.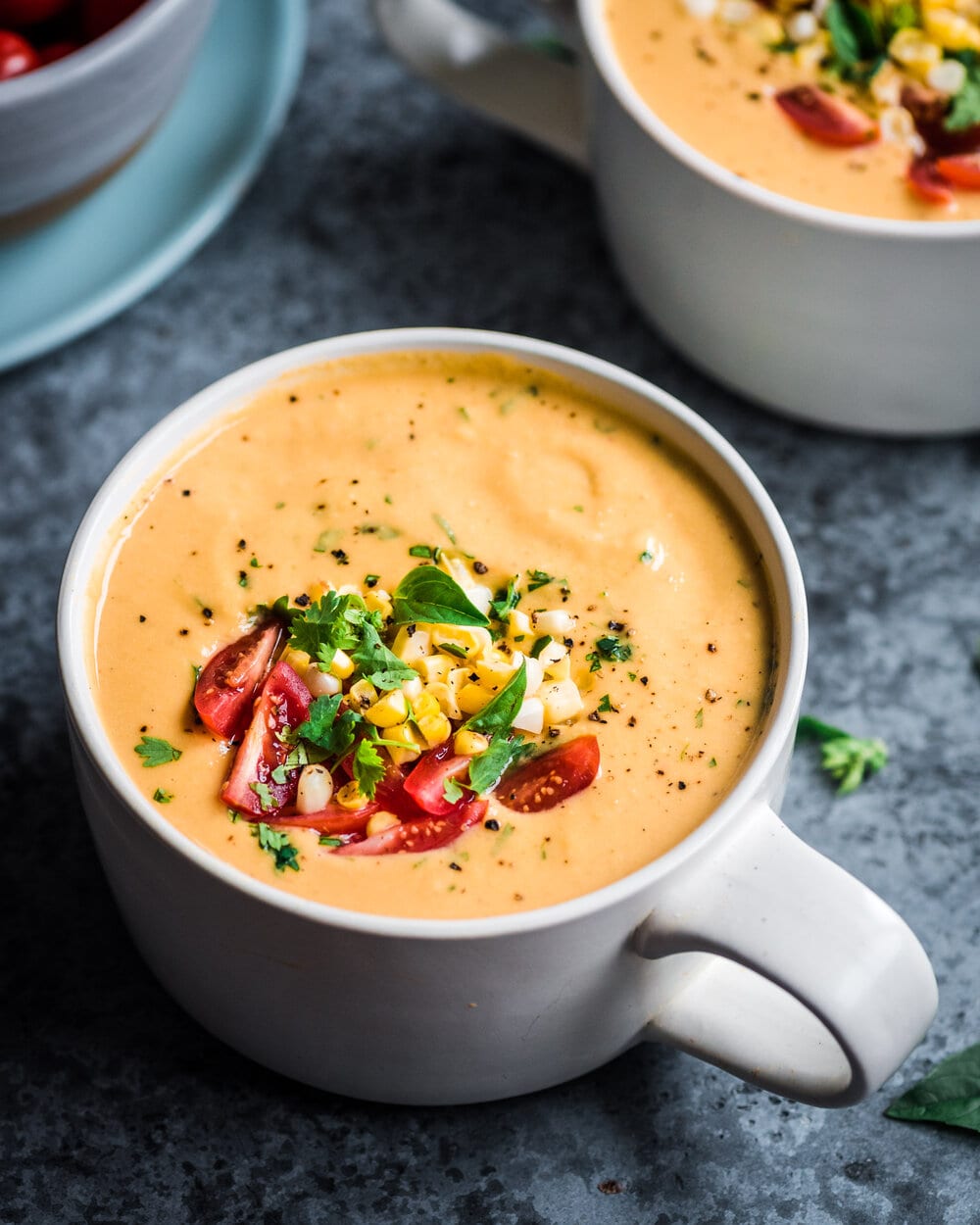 Tips for making this Vegan Instant Pot Corn Chowder
Jalapeño peppers. If you are very sensitive to spicy food, use just one jalapeño pepper and de-seed it. If you can handle a little heat, I recommend using one jalapeño pepper and keeping the seeds in (that's where the real interest comes in!). If you can handle a decent amount of heat, I think 2 jalapeño peppers with seeds left in is the way to go.
Texture of soup. This soup is VERY creamy, like bisque-level creamy. I only add 2 cups of vegetable broth when the soup is pressure cooked, but recommend having up to 2 extra cups of vegetable broth for the blending stage. In this video, I didn't end up adding any extra broth during blending because we loved the thick, creamy texture, but in the past, I've added up to 1 additional cup of broth.
Also, if you have leftovers (which is likely because this recipe makes A LOT of soup), you might want to thin the chowder out a bit with broth or water while reheating, as the soup thickens as it rests.
If you want a silky smooth texture, I recommend using a stand blender (transfer it in batches, remove the lid center cap and cover with a dish towel to allow steam to escape). If you don't mind a slightly chunky, rustic texture, feel free to use an immersion blender directly in the Instant Pot.
Substitutes for this recipe
Celery Salt. If you don't have or can't find celery salt, you can substitute it with 1/4 teaspoon celery seeds and 1/2 teaspoon salt.
Vegetable Broth. I used low-sodium broth in this recipe, but if you use regular broth, consider using slightly less salt.
Coconut Milk. As mentioned earlier, this soup is very thick and lush, so if you want to make it a little lighter, you can use lite or reduced-fat coconut milk. In that case, you may not need to add any broth during the blending stage.
Cashews. If you are allergic to cashews, you can try substituting with (1) more potatoes or (2) cannellini beans. I haven't tried either of these options myself, but think they would work based on similar recipes I've made and substitutions that readers have tried in similar recipes.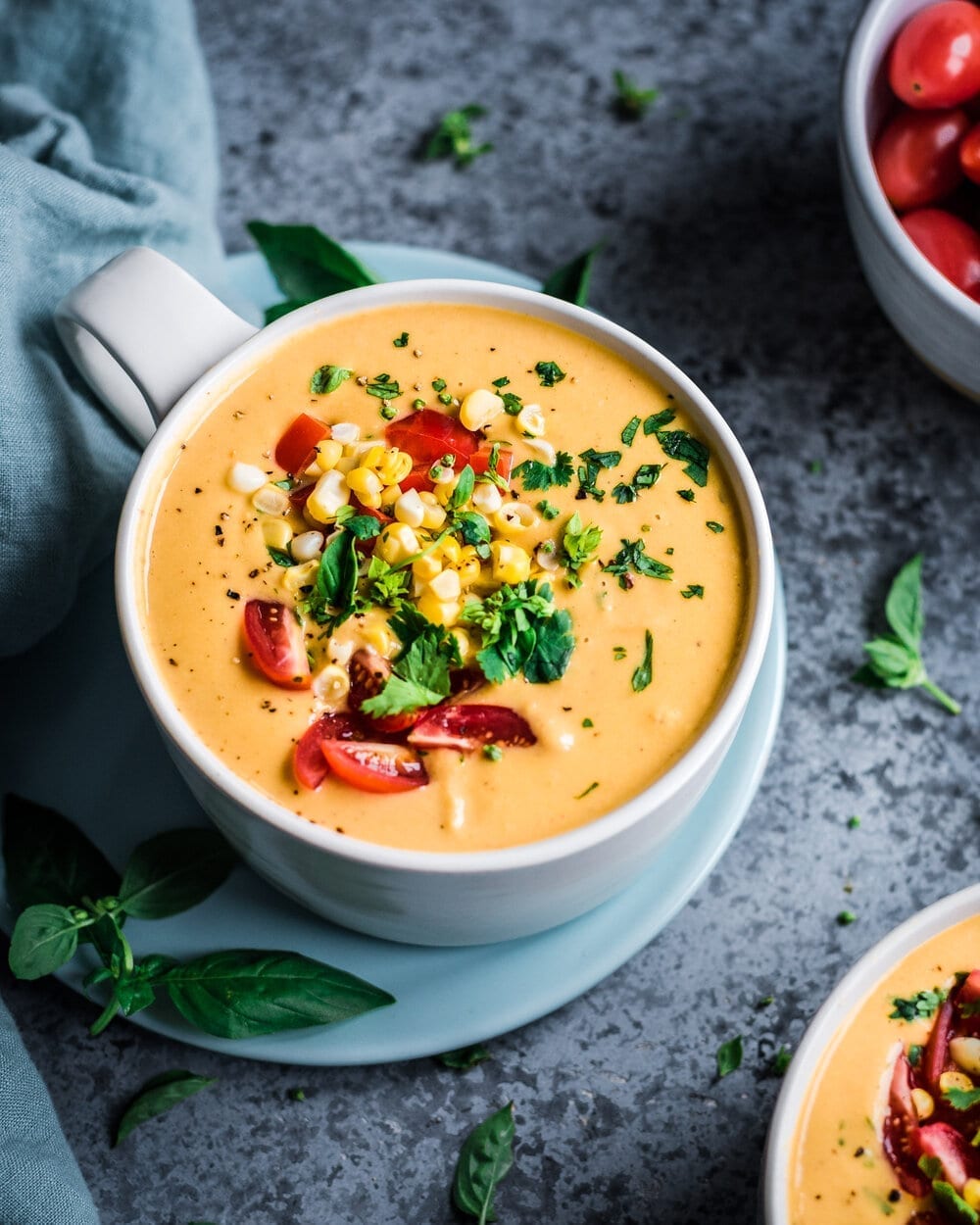 If you give this Vegan Instant Pot Corn Chowder recipe a try, be sure to tag me on Instagram with your recreations and please comment with your feedback below!
Vegan Instant Pot Corn Chowder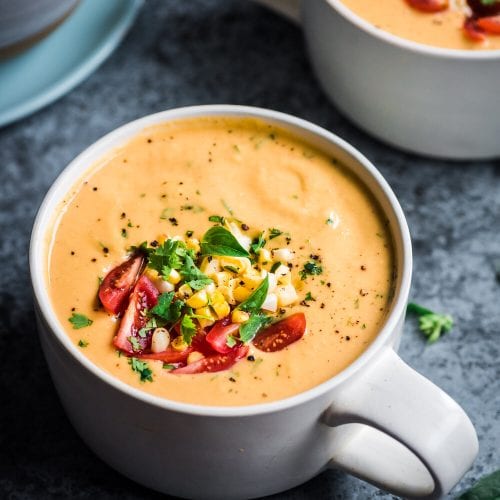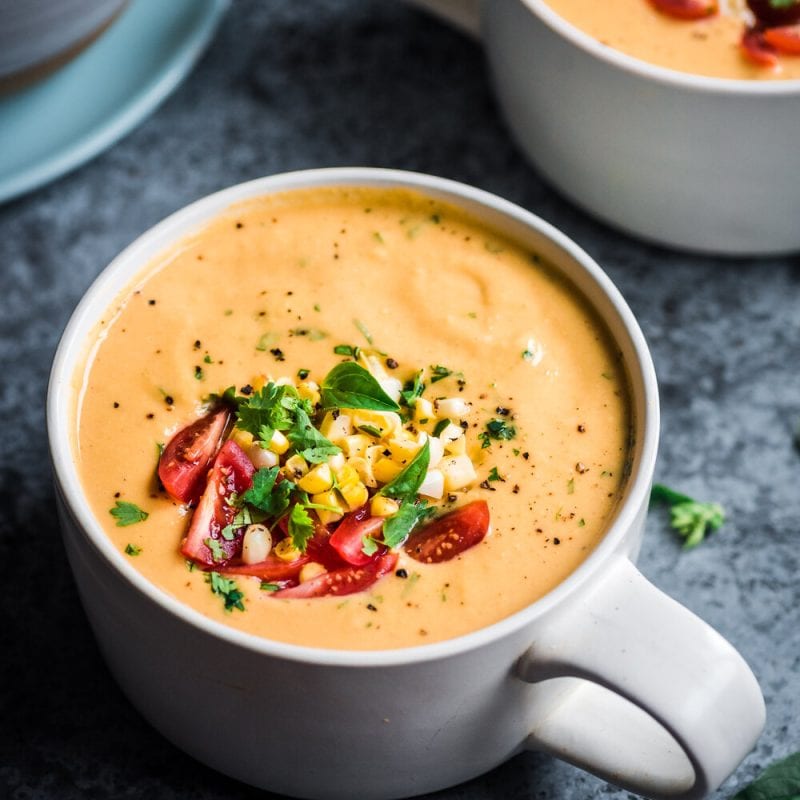 This is the best corn chowder you will ever taste and it's so easy, thanks to the Instant Pot! It's a recipe from my cookbook, The Vegan Instant Pot Cookbook! Featuring fresh corn and jalapeños, along with potatoes and cashews for a corn chowder that's as creamy as a bisque!
Ingredients
1

cup

raw cashews

4

large ears fresh sweet corn,

husked, or 3 cups canned or frozen kernels

2

tablespoons

olive oil

1

medium yellow onion,

chopped

4

garlic cloves,

minced

2

jalapeño peppers,

diced (omit seeds and membranes for less heat)

1

medium carrot,

diced

1

cup

diced celery,

2 to 3 medium stalks

1

teaspoon

kosher salt + more to taste

Freshly cracked black pepper

1

pound

Yukon gold potatoes,

peeled and diced

2

bay leaves

1

teaspoon

smoked paprika

½

teaspoon

ground cumin

½

teaspoon

celery salt

2 to 4

cups

low-sodium vegetable broth

1

(13.5-ounce) can full-fat coconut milk

3

tablespoons

nutritional yeast

1

lime,

halved
Garnishes
Reserved corn kernels

1/4

cup

chopped chives

(optional)

Diced tomatoes or red bell pepper

(optional)

Chopped cilantro or finely slivered basil leaves

(optional)
Instructions
Place the cashews in a bowl and cover with boiling water while you prepare the other ingredients. Drain after 20 to 30 minutes.

Optional step: To enhance the flavor of the soup, place the husked ears of corn over an open flame and turn occasionally until the kernels are lightly charred, repeating with each ear.

Hold an ear of corn upright in a large bowl and shave off the kernels with a sharp knife. (If you charred the ears of corn, wait until the corn is cool enough to handle.). Repeat with the remaining ears. Place the kernels in a bowl and reserve a tablespoon or two for garnish

Select the Sauté setting on the Instant Pot and let the pot heat up for a few minutes before adding the olive oil. Once the oil is hot, add the onion. Cook until the onion is translucent, 4 to 5 minutes.

Add the garlic & jalapeños and cook for 1 minute, stirring frequently. Add the carrot and celery with a pinch each of salt and black pepper and cook for 2 minutes. Add the potatoes and cook for 2 more minutes, tossing frequently to prevent the potatoes from sticking. Select the Cancel setting.

Add the corn kernels, drained cashews, 1 teaspoon salt, black pepper to taste, bay leaves, smoked paprika, cumin, celery salt, 2 cups of the vegetable broth, the coconut milk, and nutritional yeast. Stir well to combine.

Secure the lid and set the Pressure Release to Sealing. Select the Pressure Cook setting at high pressure and set the cook time to 6 minutes.

Once the 6-minute timer has completed and beeps, allow a natural pressure release for 5 minutes and then carefully switch the Pressure Release knob from Sealing to Venting to release any remaining steam.

Open the pot and discard the bay leaves. Squeeze the juice 1/2 lime into the soup, stir, and taste for seasonings. Add more lime juice or salt and black pepper as needed. The soup will be very thick at this point, so I like to thin it out a bit with additional vegetable broth during the blending stage (see next step).

Transfer the soup in two or three batches to a high-speed blender (don't fill the blender to capacity). Be sure to remove the center cap from the blender to vent steam, but cover the hole with a kitchen towel. Start at low speed and gradually work your way up and blend until the soup is thick and creamy. I typically add 1 additional cup of broth, but if you prefer a slightly thinner soup, add more broth. Alternatively, use an immersion blender directly in the Instant Pot to blend the soup for a few minutes until the soup is pureed and thick, thinning with the additional broth as you blend.

Transfer the puréed soup to bowls and top each each bowl with the reserved corn kernels and other garnishes as desired.
---
Calories:
654
kcal
|
Carbohydrates:
60
g
|
Protein:
17
g
|
Fat:
43
g
|
Saturated Fat:
22
g
|
Polyunsaturated Fat:
4
g
|
Monounsaturated Fat:
14
g
|
Trans Fat:
1
g
|
Sodium:
641
mg
|
Potassium:
1464
mg
|
Fiber:
9
g
|
Sugar:
12
g
|
Vitamin A:
3179
IU
|
Vitamin C:
45
mg
|
Calcium:
81
mg
|
Iron:
8
mg