If you're trying to cook healthy meals at home but are tired of salads and quinoa bowls, here are 10 Healthy Vegan Dinner Recipes that won't disappoint!
All of these healthy vegan dinner recipes are made with wholesome, plant-based ingredients, and they're all either gluten-free or easy to make gluten-free. But they certainly don't skimp on flavor and are extremely satisfying, and even comforting!
This 10-ingredient Lentil Bolognese is what comfort food dreams are made of. The meaty, umami, and flavor-rich sauce simmers together wholesome, pantry-staple ingredients in one pot in less than 1 hour. An easy, yet gourmet Italian-inspired sauce for pasta night!
Check out this recipe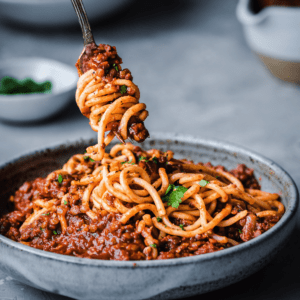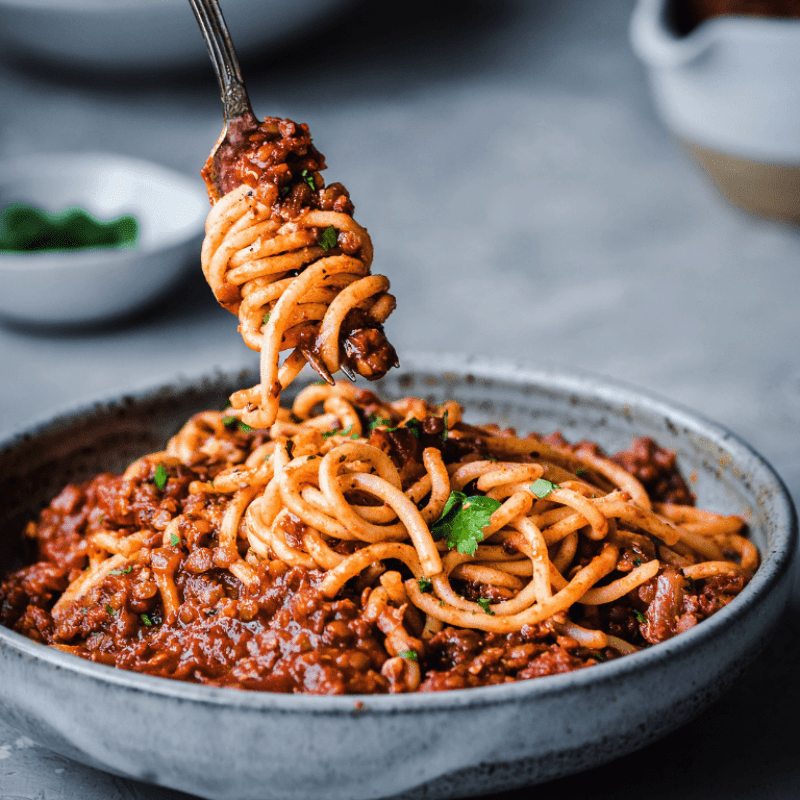 What people are saying about this recipe
Blog reader Kiesha says, "Hi Nisha, Thank you soooo much for this recipe! It turned out awesome for my friends. They were literally licking the bowl!! I didn't have walnuts on hand but a handful of mixed nuts, and it still worked well. My favorite meal this month. 😁".
Blog reader Iliana says, "I've made many different red lentil bolognese recipes on the internet and I must say this is the BEST one. So packed with flavor! Every other time I've made this recipe on other blogs its been disappointing but this did not disappoint!!"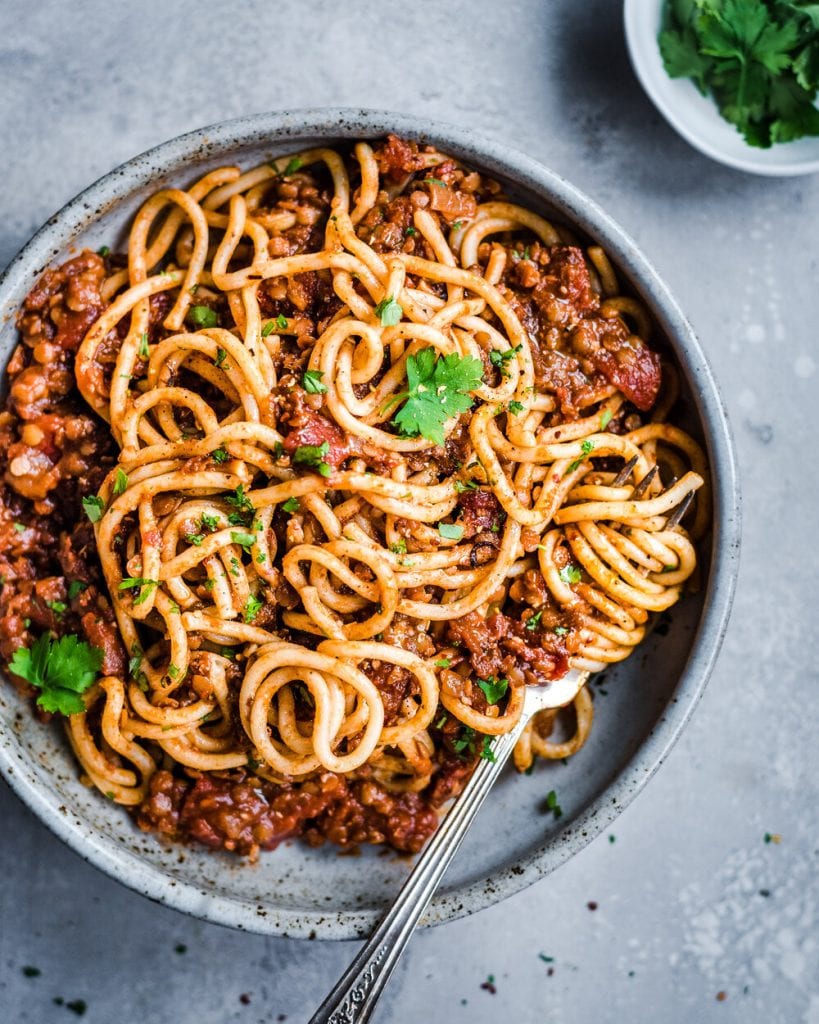 Creamy White Bean Soup with Kale is no ordinary soup! It has a super creamy texture without any dairy or nuts and features wholesome and comforting yet gourmet flavor boosters. A weeknight dinner or meal prep must (16 fiber + 19g protein!).
Check out this recipe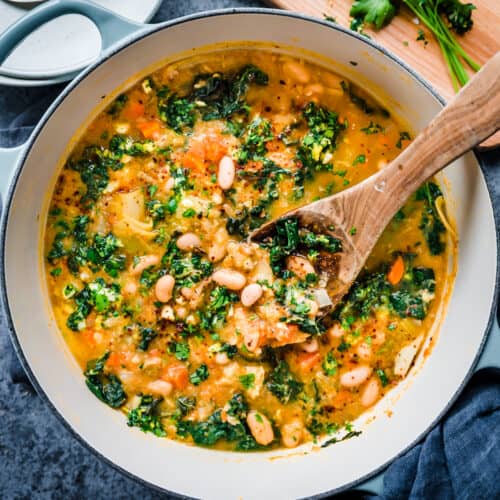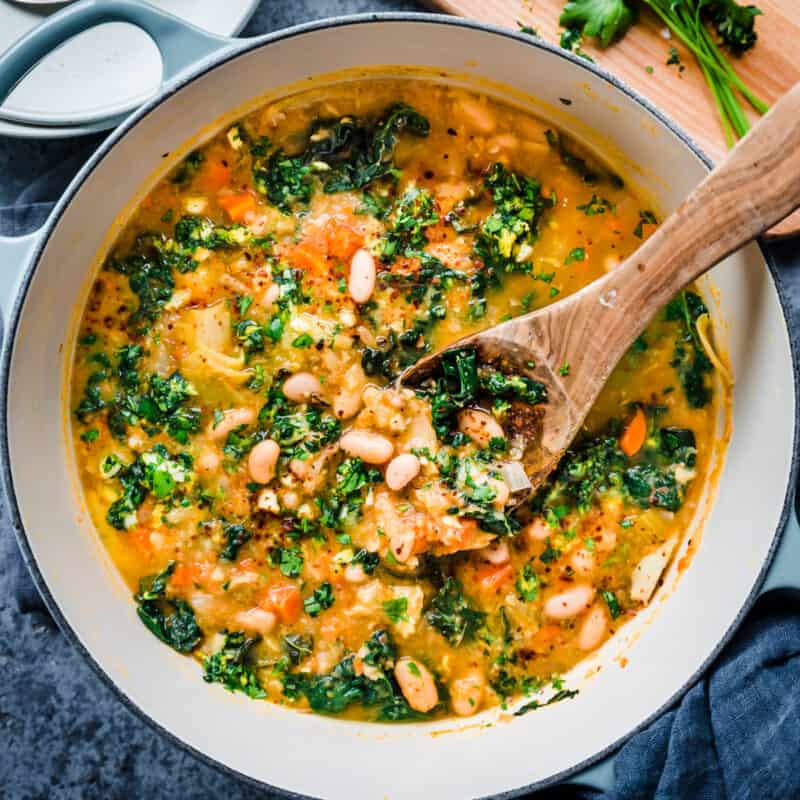 What people are saying about this recipe
Blog reader Susan says, "Made this soup tonight and OMG it's fabulous. I almost didn't make the Gremolata because it just didn't sound right but I'm so glad I did. This soup is a homer in that goes perfectly with a loaf of crusty bread. This is going in the regular rotation thank you and well done!"
Blog reader Savanna says, "Oh my GOSH, this is sooo delicious you guys!!! Holy cow! I can't even think of the right words to describe it except, DIVINE and AMAZING. It's great for cold, cozy evenings and the gremolata on top was absolute perfection. If you can, don't skip the gremolata!!! Even my omni boyfriend raved about how good this soup is. I will absolutely make this again… and soon!"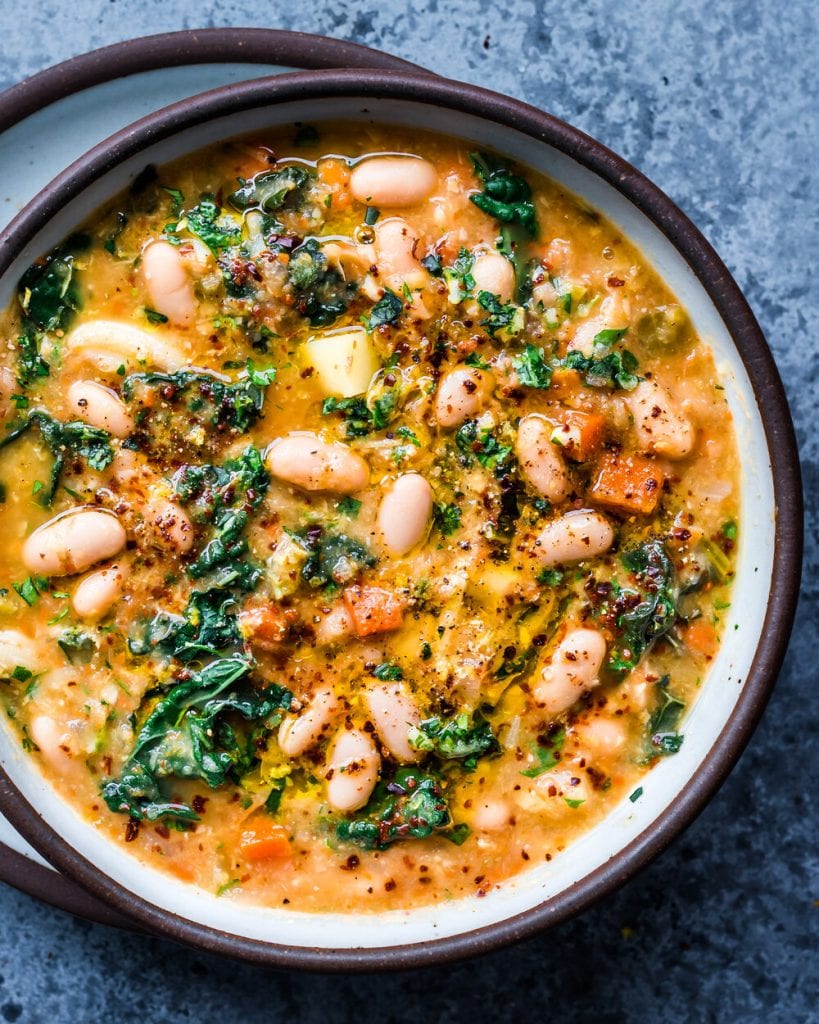 Enjoy gourmet restaurant-style Indian food at home with this Vegan Palak Tofu Paneer! A fragrant, creamy spinach curry made healthier with tofu instead of cheese. An easy yet impressive vegan Indian dinner!
Check out this recipe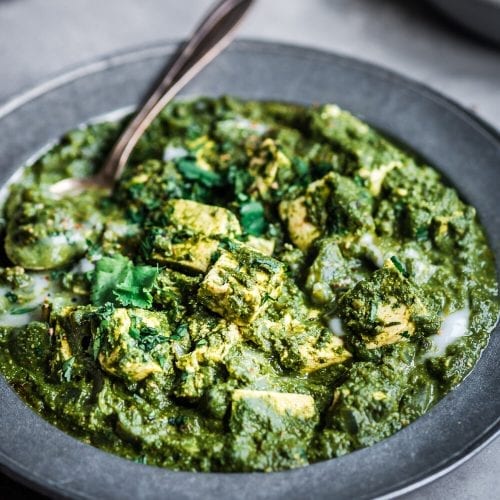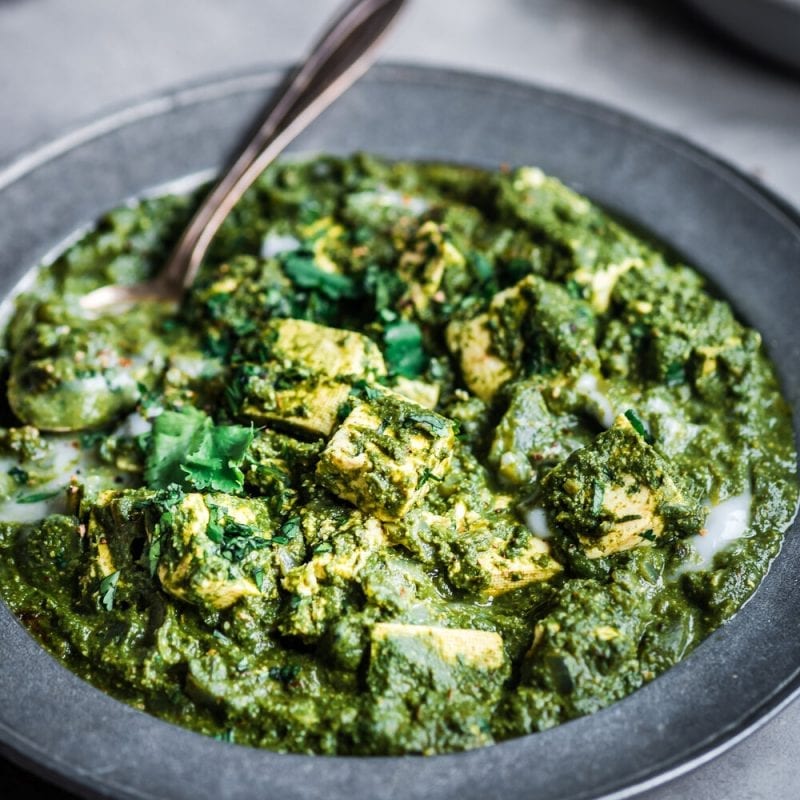 What people are saying about this recipe
Blog reader Raj says, "I made both versions of the tofu, soft and baked! Enjoyed both of them. Soft one was a big hit in our family. My husband who hates tofu said it tasted like cheese."
Blog reader Christina says, "I just made this recipe for a second time and it was SO delicious still! This says a lot because I haven't made any recipe twice for the last 3 months of quarantine! Since it seems relatively healthy, I don't feel as guilty eating 2 large bowls of it haha!"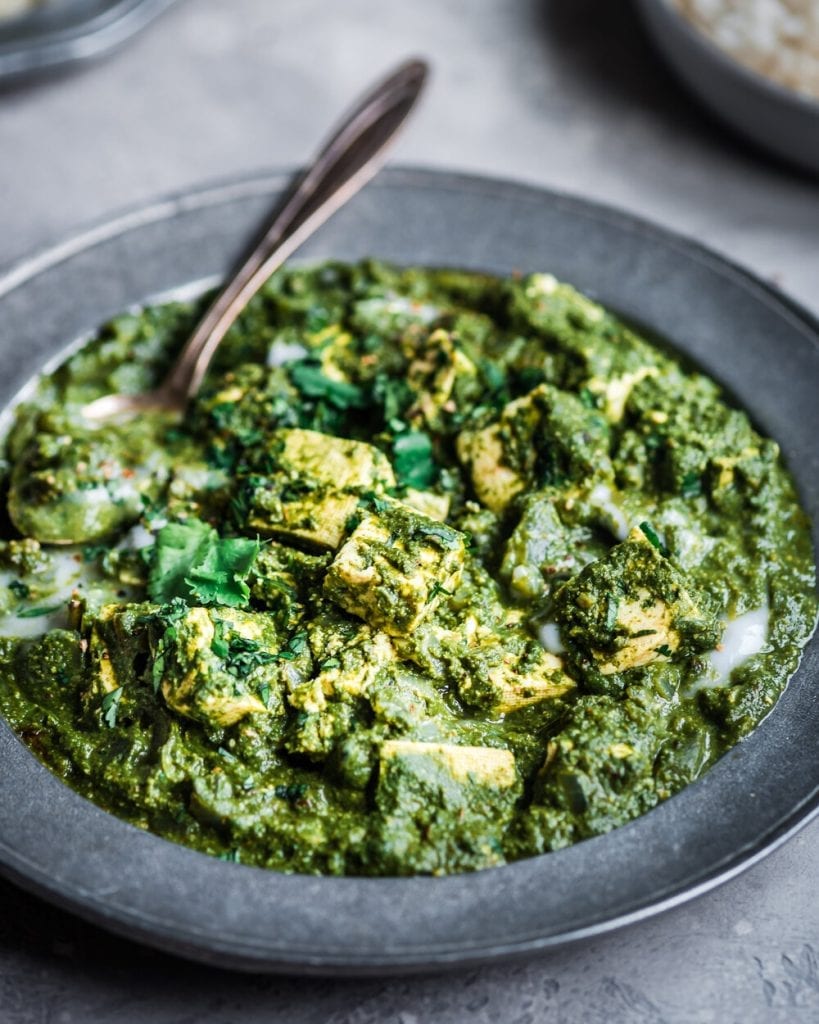 This Butternut Squash Curry is the most delicious Thai-inspired vegan curry you'll ever try! Packed with aromatic Thai flavors, well balanced in nutrients, and indulgent yet wholesome, it's a complete one-pot weeknight meal that's meal prep- and freezer-friendly.
Check out this recipe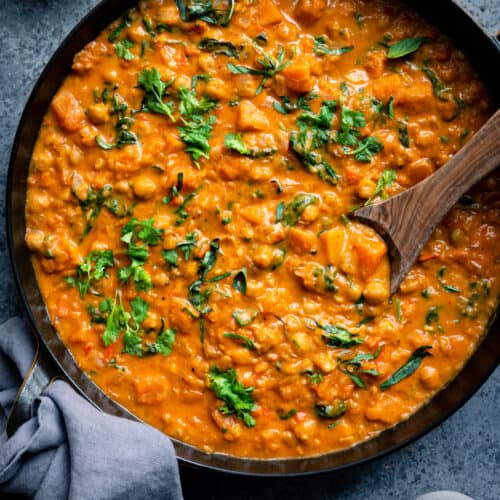 What people are saying about this recipe
Blog reader Reyann says, "This is on my "food to make" list for the weekend! It has all of my favorite foods – chickpeas, butternut squash, coconut milk. I am literally drooling thinking about it! Thanks for sharing, Nisha!"
Blog reader Miranda says, "I made this for my family tonight and everyone loved it (even my "meat and potatoes" dad). It's so rich and satisfying. I just wish I had made a second batch for leftovers!"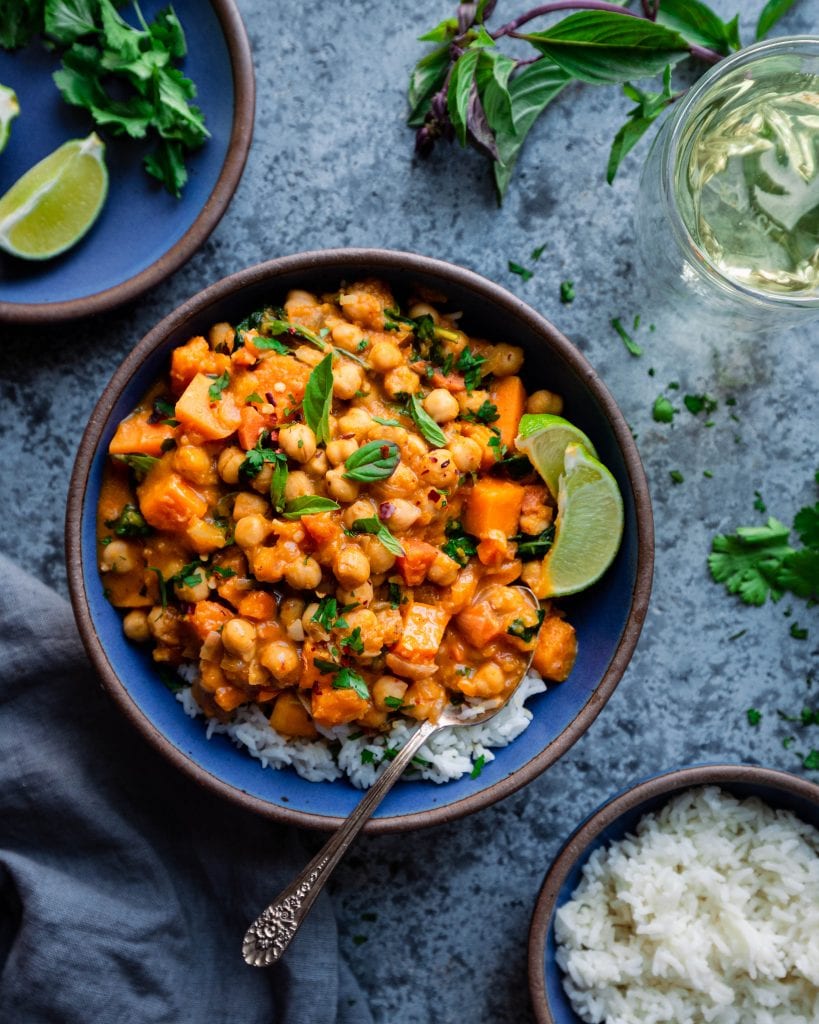 Creamy White Beans with Kale and Wild Rice - a simple yet flavorful meal for those busy weeknight dinners. Made with wholesome everyday ingredients, this recipe is vegan, gluten-free, and oil-free but doesn't skimp on flavor.
Check out this recipe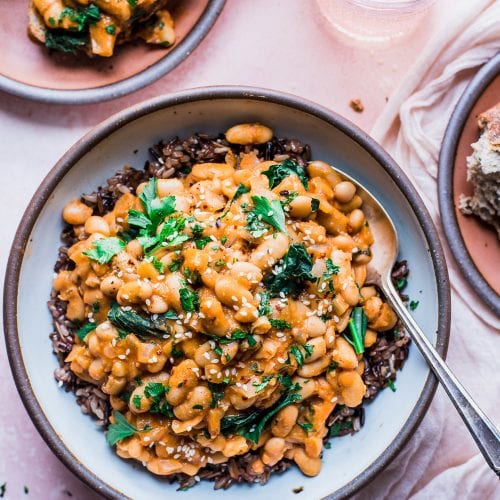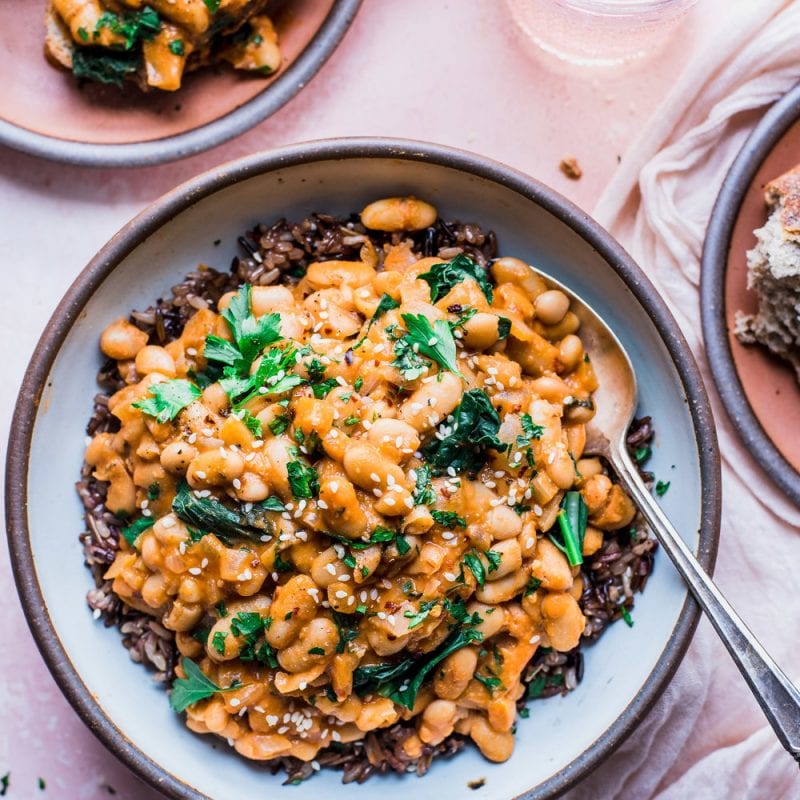 What people are saying about this recipe
Blog reader Emily says, "I LOVE this recipe. I made this last night for my boyfriend and I. Super flavorful. I subbed about 3/4 cup of almond milk with a tablespoon of arrowroot starch for the coconut milk because I was out and it tasted great!"
Blog reader Kate says, "Nisha!! I thought adding vegan meals to our rotation at least 1-2x weekly would be great for the environment AND my waistline, but your recipes are SO GOOD that I keep having too many portions for dinner! This was another great one that we'll be repeating often."
This luxurious, fan favorite Red Lentil Curry will get you truly excited about lentils! It's an ultra-creamy and gourmet Indian-inspired meal made in one pot with pantry staples. Whip it up on a weeknight in 45 minutes!
Check out this recipe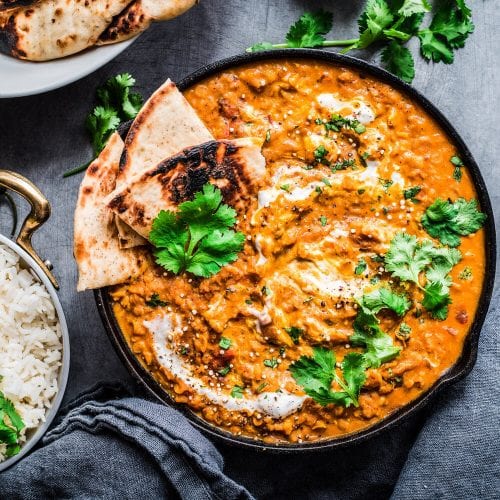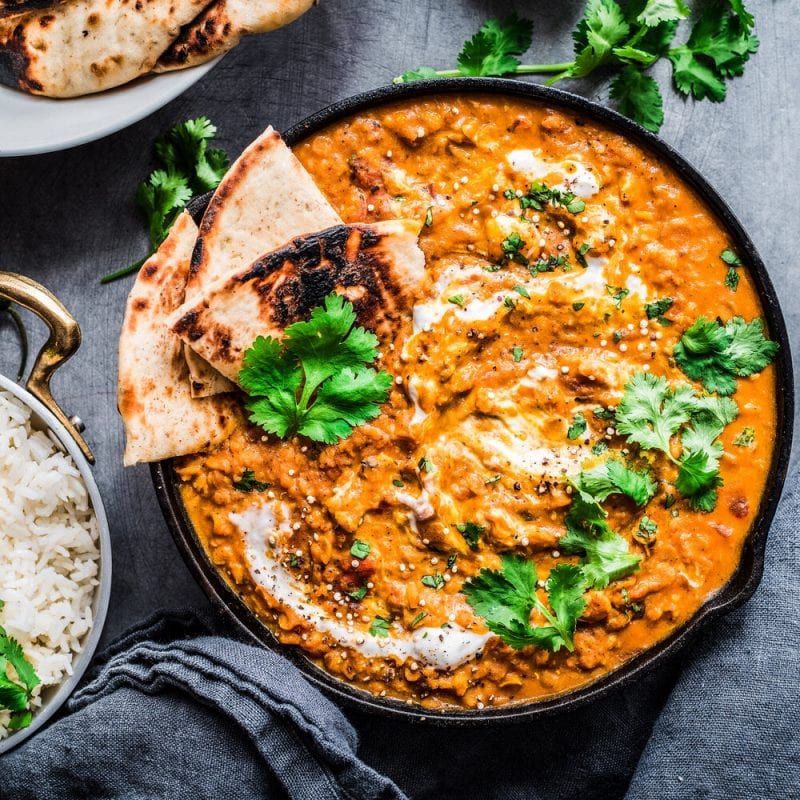 What people are saying about this recipe
Blog reader Ammi says, "I absolutely love this recipe!! I made it for the first time last night for my carnivorous family, and after complaining a bit about it not having meat, they all went back for seconds! I look forward to trying out variations with spinach and sweet potato in the future."
Blog reader Missy says, "I just made this, minus the Serrano peppers, I can't do too much spice, its FANTASTIC!!! Thank you SOO much for the recipe!! I've tried so many online recipes and most times they suck or don't turn out well at all. I'm SO happy that this is amazing!! It'll likely become why go to curry …and SO EASY to make!! Thanks Nisha..xo"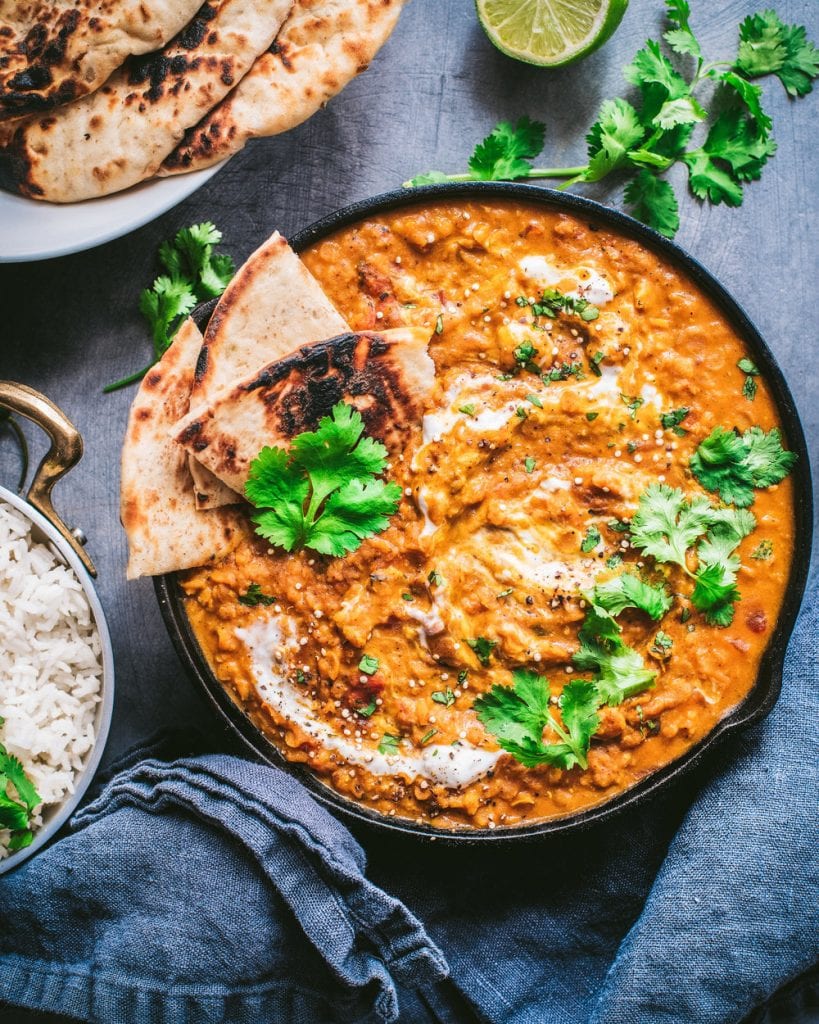 This is the best vegan shepherd's pie you'll try! A hearty, flavor-packed lentil and sticky onion filling meets fluffy mashed potatoes and cauliflower in this protein-rich plant-based dinner. The perfect healthy comfort food for winter!
Check out this recipe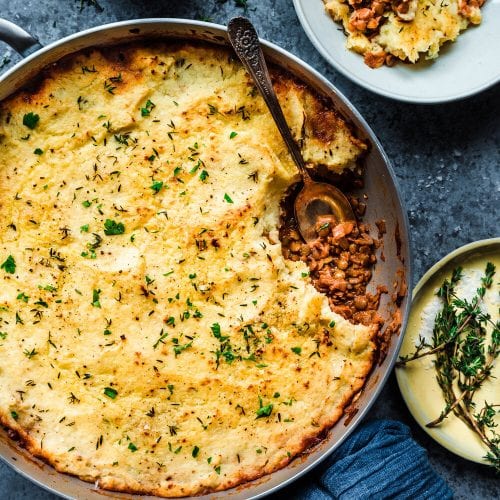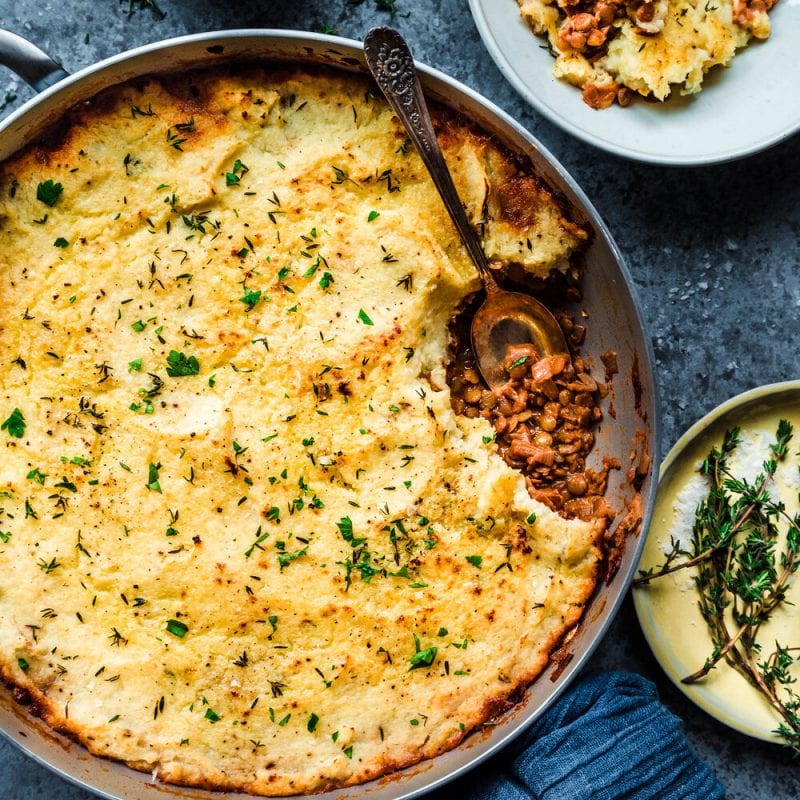 What people are saying about this recipe
Blog reader Leigh says, "I'm not vegan BUT I am trying to eat less meat and I want to at least go vegetarian. I made this last week and it is just amazing. If you like shepherd's pie, you will love this. Bonus points for not making me feel heavy after eating it."
Blog reader Amy says, "Couldn't be easier! My husband has been wanting to make A Shepard's pie for months but have been dreading it with all the time it took. This recipe saves sooo much time and is sooo easy! We couldn't stop eating it! Our friends stopped by and enjoyed some as their 2nd dinner and went back for seconds. Will be making this recipe again. Also will be easy to pre-make then heat up in the oven if you have a busy week."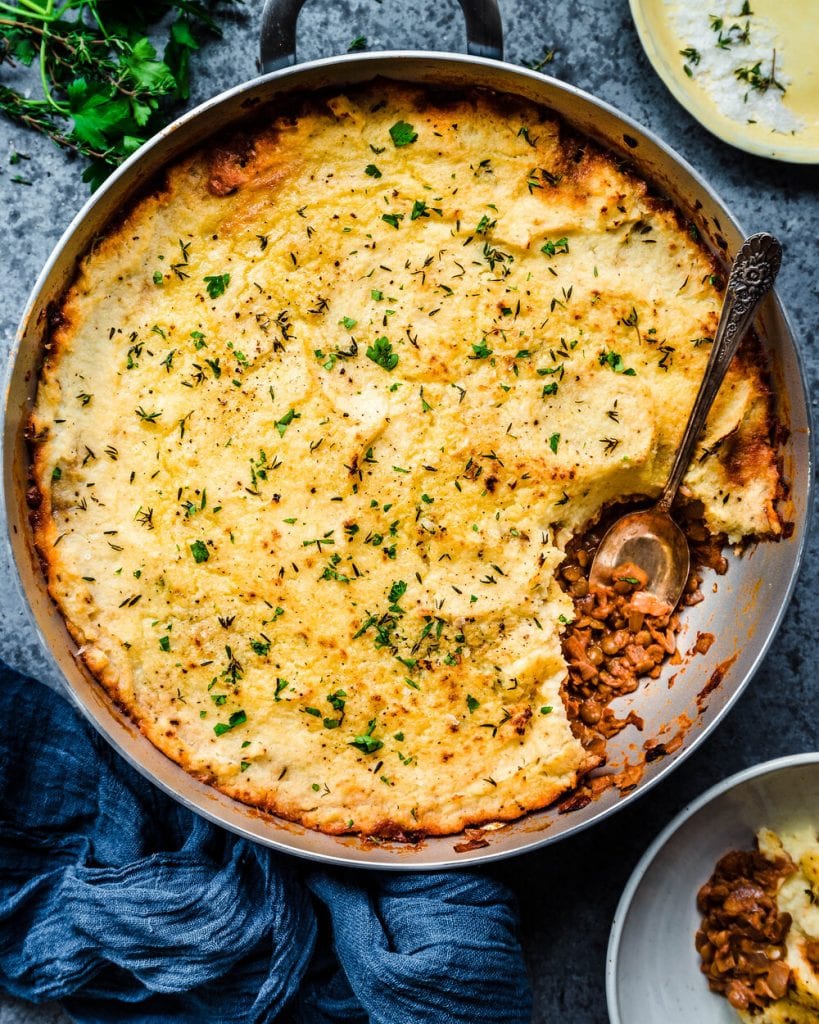 A protein-packed chili meets pasta in this One-Pot Vegan Chili Mac! Easy and quick and made with simple ingredients, this is a perfect hearty weeknight-friendly and budget-friendly dinner! Easy to make gluten-free, soy-free, and oil-free.
Check out this recipe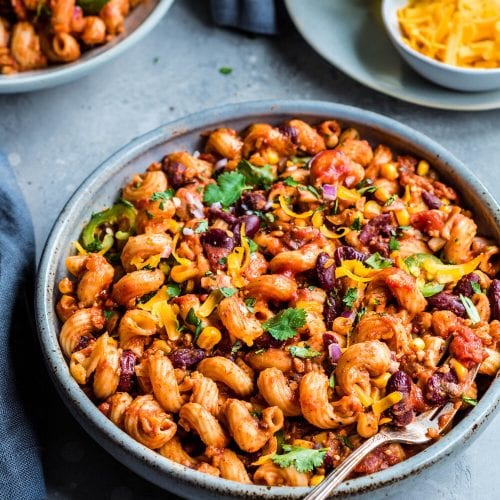 What people are saying about this recipe
Blog reader Monica says, "Made this tonight and it was a big hit. My hubby and 2 boys loved it as much as I did! Thank you for this great recipe!"
Blog reader Diane says, "Hi Nisha, I just made this for the Super Bowl. So simple to put together and the flavors are delish. I made just as your recipes reads and it's perfect as is. Love your recipes!!"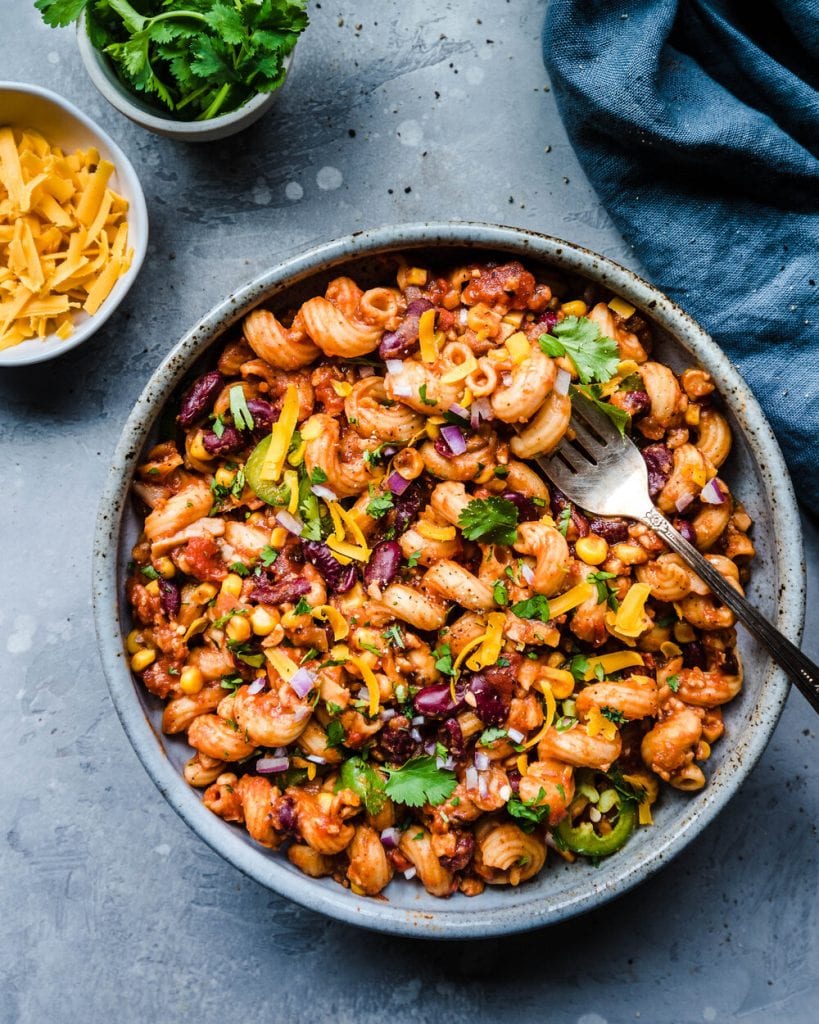 This Creamy Mushroom and Black Beluga Lentil Stew is vegan, gluten-free, and plant-forward, but creamy and delicious. With hearty black beluga lentils, umami-packed mushrooms, and nutrition superstar kale, this is comfort food you can feel good about!
Check out this recipe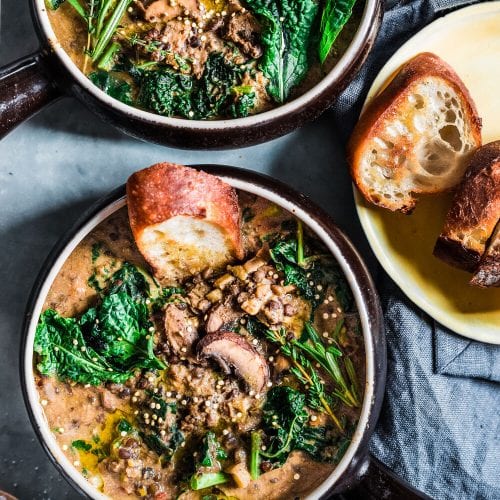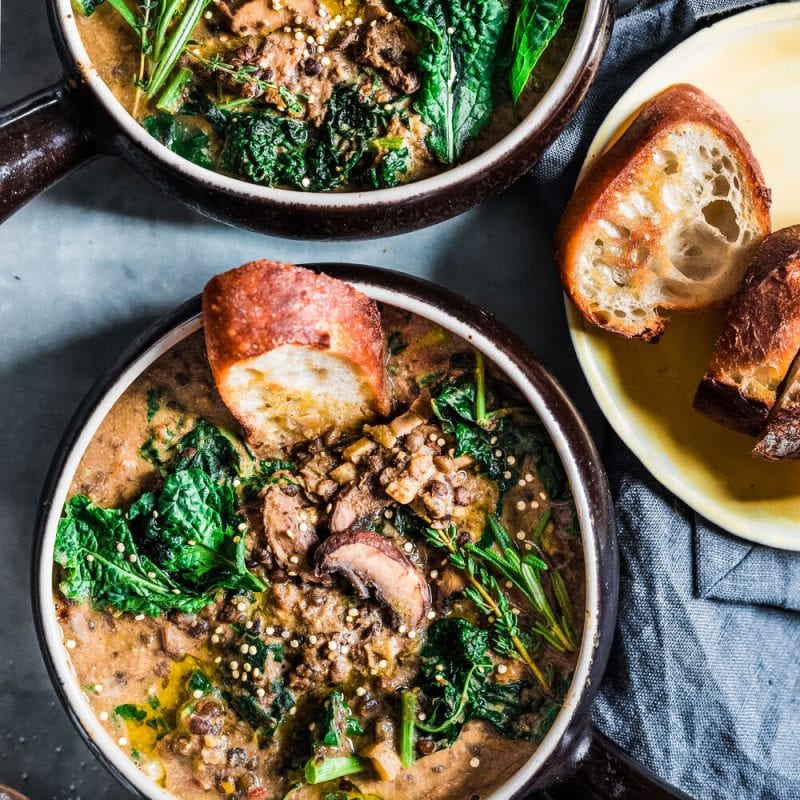 What people are saying about this recipe
Blog reader Rasika says, "Hi Nisha! I made this soup for the second time in a month last night and it is the BOMB! My entire family loves it so much. The depth of umami flavors is amazing. Will be making again and again. Thank you for this keeper!"
Blog reader Autumn says, "Wow…I made it and the whole family loved it… I couldn't stop saying how good it was. So happy to find a most delicious recipe that uses beluga (black) lentils."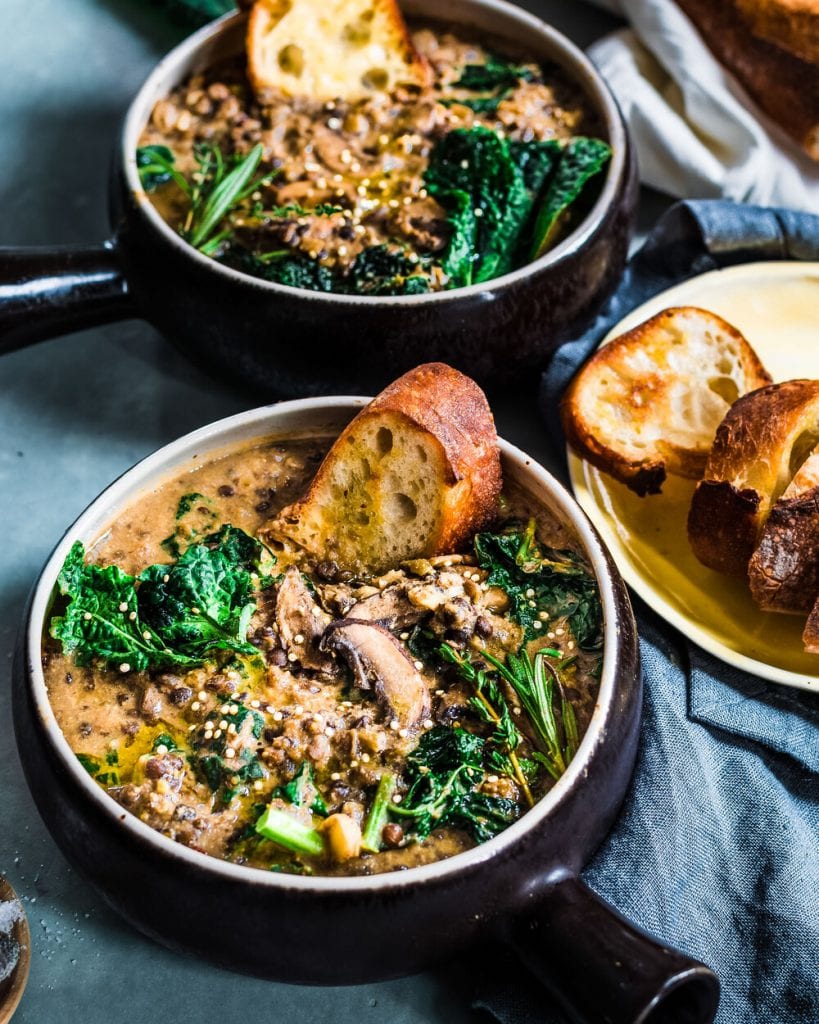 Creamy Vegan Pantry Pasta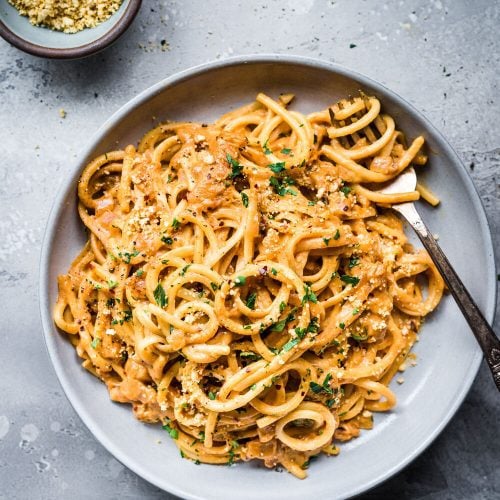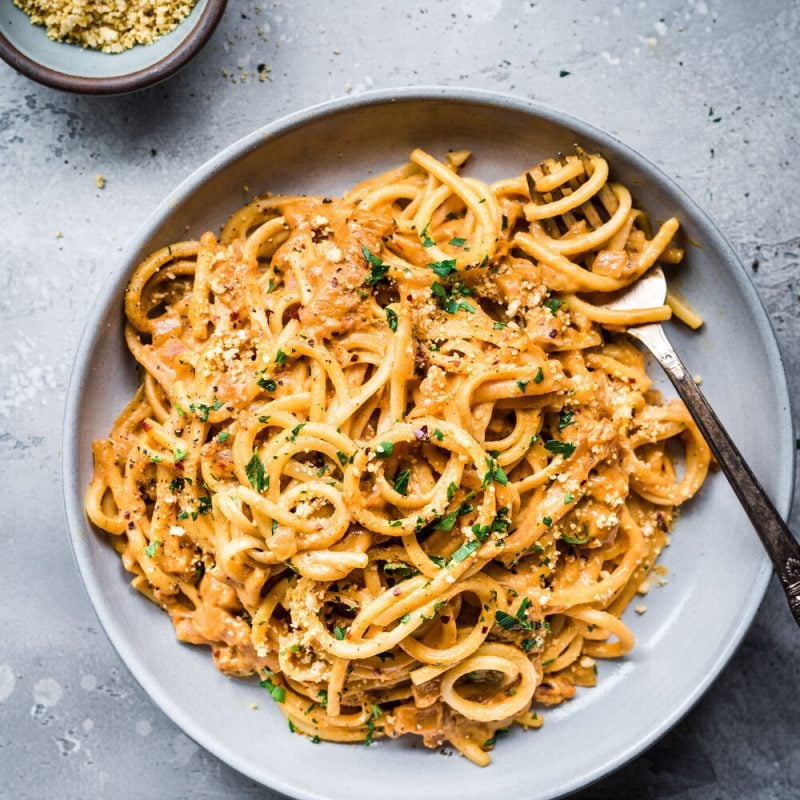 This Creamy Vegan Pantry Pasta is made with just a handful of everyday pantry staples and it'll quickly become part of your regular easy weeknight dinner rotation. It's creamy, cheesy, and smoky and indulgent yet healthy, and guaranteed to be a crowd pleasing meal.
Ingredients
1

tablespoon

olive oil

1

medium yellow onion,

diced

3

garlic cloves,

minced

1/2

teaspoon

dried thyme

3/4

cup

(180 mL) vegetable broth or water

1

tablespoon

reduced-sodium tamari

(gluten-free soy sauce or soy sauce)

2

tablespoons

all-purpose flour*

3/4

cup

(180 mL) canned "lite" coconut milk or unsweetened oat milk**

1

tablespoon

tahini

1

tablespoon

nutritional yeast

1/2

teaspoon

smoked paprika

1/2

teaspoon

kosher salt + more to taste

Freshly cracked black pepper to taste

1/4

teaspoon

Dijon mustard or coarse-grain mustard

6

ounces

(170g) linguine, fettuccine, or any pasta of choice (including gluten-free)

Optional garnishes: chopped flat-leaf parsley,

toasted pine nuts or Cashew Parmesan
Instructions
Bring a large saucepan of salted water to a boil. Cook the pasta until al dente.

Meanwhile, heat a medium sauté pan over medium-high heat and add the olive oil. Once the oil is shimmering, add the onions and season with a pinch of kosher salt. Cook for 5-7 minutes, stirring occasionally, until browned around the edges. Add the garlic and thyme, and stir to combine for 1 minute, until fragrant.

While the onions are cooking, pour the vegetable broth (or water) into a measuring cup or bowl and add in the tamari or soy sauce and flour. Whisk to combine until all the flour is dissolved.

Pour the vegetable broth-flour mixture into the onion-garlic mixture and whisk to combine, ensuring there are no flour clumps. It should thicken almost immediately. Reduce the heat to medium-low and pour in the coconut milk or oat milk, tahini, nutritional yeast, paprika, 1/2 teaspoon kosher salt, and black pepper to taste. Bring to a simmer and cook for 5-10 minutes, or until the sauce is thickened and very creamy, whisking occasionally.

1. NOTE: if you double the recipe, you'll probably want to cook it closer to 10 minutes.

Stir in the Dijon mustard, and taste for seasonings, adding more salt as needed. Add the hot cooked pasta directly into the sauce and toss to coat until all the pasta is coated.
Notes
*If you're gluten-free, you can substitute with (a) 2 tablespoons gluten-free all-purpose flour or (b) 1 tablespoon cornstarch.
** I used oat milk because I usually have it on hand, but any creamy plant-based milk will work. If all you have is canned full-fat coconut milk, be sure to stir well and water it down a bit. Or add more broth/water.
---
Calories:
375
kcal
|
Carbohydrates:
55
g
|
Protein:
11
g
|
Fat:
12
g
|
Saturated Fat:
5
g
|
Polyunsaturated Fat:
2
g
|
Monounsaturated Fat:
5
g
|
Sodium:
780
mg
|
Potassium:
293
mg
|
Fiber:
4
g
|
Sugar:
3
g
|
Vitamin A:
175
IU
|
Vitamin C:
4
mg
|
Calcium:
41
mg
|
Iron:
2
mg
What people are saying about this recipe
Blog reader Gaby says, "One of my very favorite dishes! It's so easy and the ingredients are so simple. The ending result is just an explosion of flavor in your mouth! I've made this a few times now and will continue to do so!"
Blog reader Elyse says, "We had no plans for dinner tonight and we're looking for something easy, with ingredients already on hand. This was the perfect option. So full-flavored and a perfect pair with roasted Brussels and a glass of wine. Thank you for yet another delicious dinner Nisha!"
If you try one of these healthy vegan dinner recipes, be sure to rate and review it and tag me with your remakes on Instagram!