If you're trying to cook healthy meals at home but are tired of salads and quinoa bowls, here are 10 Healthy Vegan Dinner Recipes that won't disappoint!
All of these healthy vegan dinner recipes are made with wholesome, plant-based ingredients, and they're all either gluten-free or easy to make gluten-free. But they certainly don't skimp on flavor and are extremely satisfying, and even comforting!
What people are saying about this recipe
Blog reader Kiesha says, "Hi Nisha, Thank you soooo much for this recipe! It turned out awesome for my friends. They were literally licking the bowl!! I didn't have walnuts on hand but a handful of mixed nuts, and it still worked well. My favorite meal this month. 😁".
Blog reader Iliana says, "I've made many different red lentil bolognese recipes on the internet and I must say this is the BEST one. So packed with flavor! Every other time I've made this recipe on other blogs its been disappointing but this did not disappoint!!"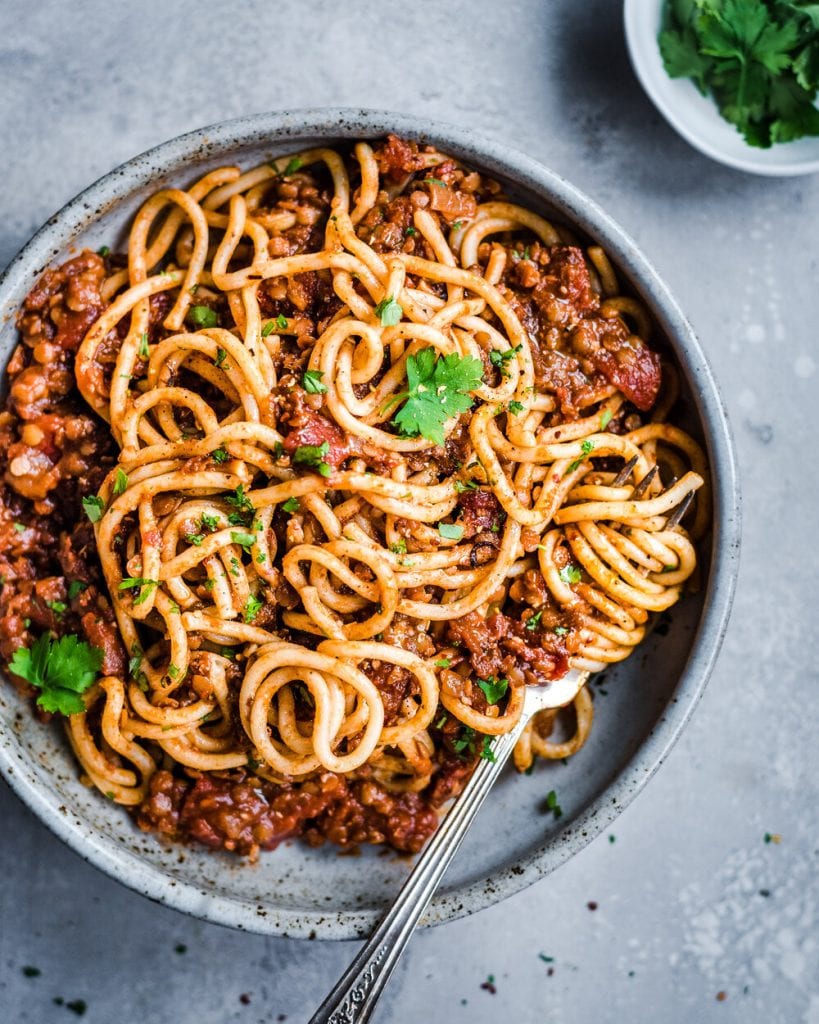 What people are saying about this recipe
Blog reader Susan says, "Made this soup tonight and OMG it's fabulous. I almost didn't make the Gremolata because it just didn't sound right but I'm so glad I did. This soup is a homer in that goes perfectly with a loaf of crusty bread. This is going in the regular rotation thank you and well done!"
Blog reader Savanna says, "Oh my GOSH, this is sooo delicious you guys!!! Holy cow! I can't even think of the right words to describe it except, DIVINE and AMAZING. It's great for cold, cozy evenings and the gremolata on top was absolute perfection. If you can, don't skip the gremolata!!! Even my omni boyfriend raved about how good this soup is. I will absolutely make this again… and soon!"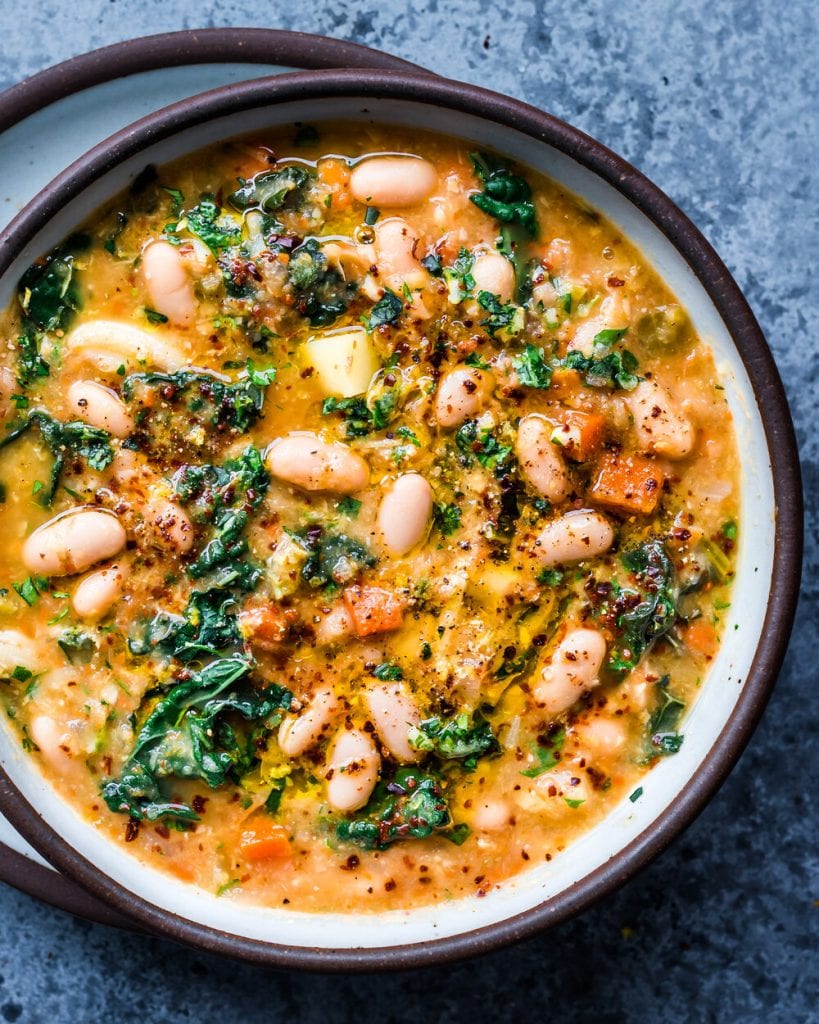 What people are saying about this recipe
Blog reader Raj says, "I made both versions of the tofu, soft and baked! Enjoyed both of them. Soft one was a big hit in our family. My husband who hates tofu said it tasted like cheese."
Blog reader Christina says, "I just made this recipe for a second time and it was SO delicious still! This says a lot because I haven't made any recipe twice for the last 3 months of quarantine! Since it seems relatively healthy, I don't feel as guilty eating 2 large bowls of it haha!"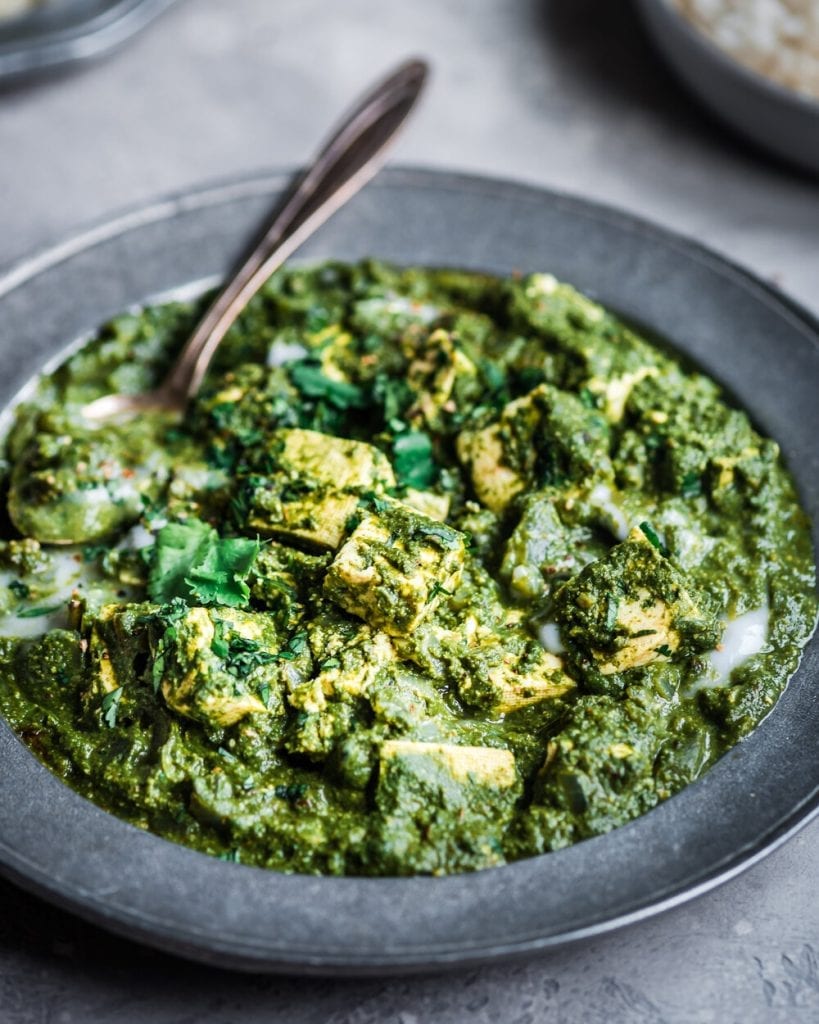 What people are saying about this recipe
Blog reader Reyann says, "This is on my "food to make" list for the weekend! It has all of my favorite foods – chickpeas, butternut squash, coconut milk. I am literally drooling thinking about it! Thanks for sharing, Nisha!"
Blog reader Miranda says, "I made this for my family tonight and everyone loved it (even my "meat and potatoes" dad). It's so rich and satisfying. I just wish I had made a second batch for leftovers!"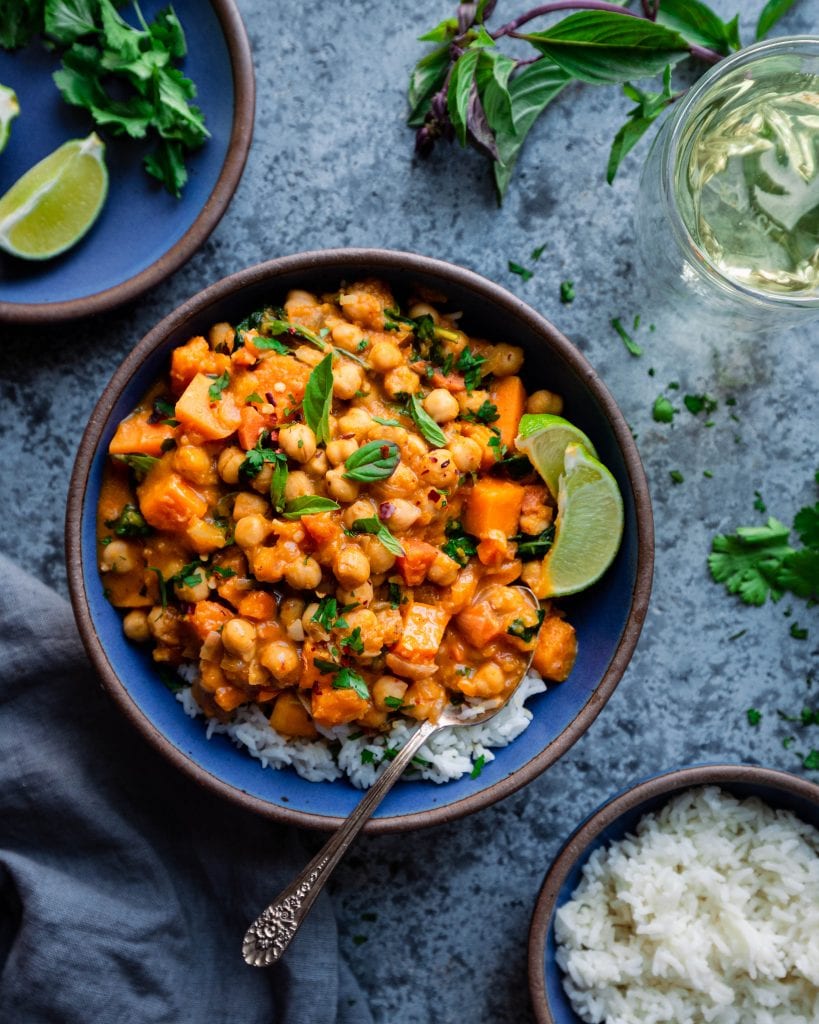 What people are saying about this recipe
Blog reader Gaby says, "One of my very favorite dishes! It's so easy and the ingredients are so simple. The ending result is just an explosion of flavor in your mouth! I've made this a few times now and will continue to do so!"
Blog reader Elyse says, "We had no plans for dinner tonight and we're looking for something easy, with ingredients already on hand. This was the perfect option. So full-flavored and a perfect pair with roasted Brussels and a glass of wine. Thank you for yet another delicious dinner Nisha!"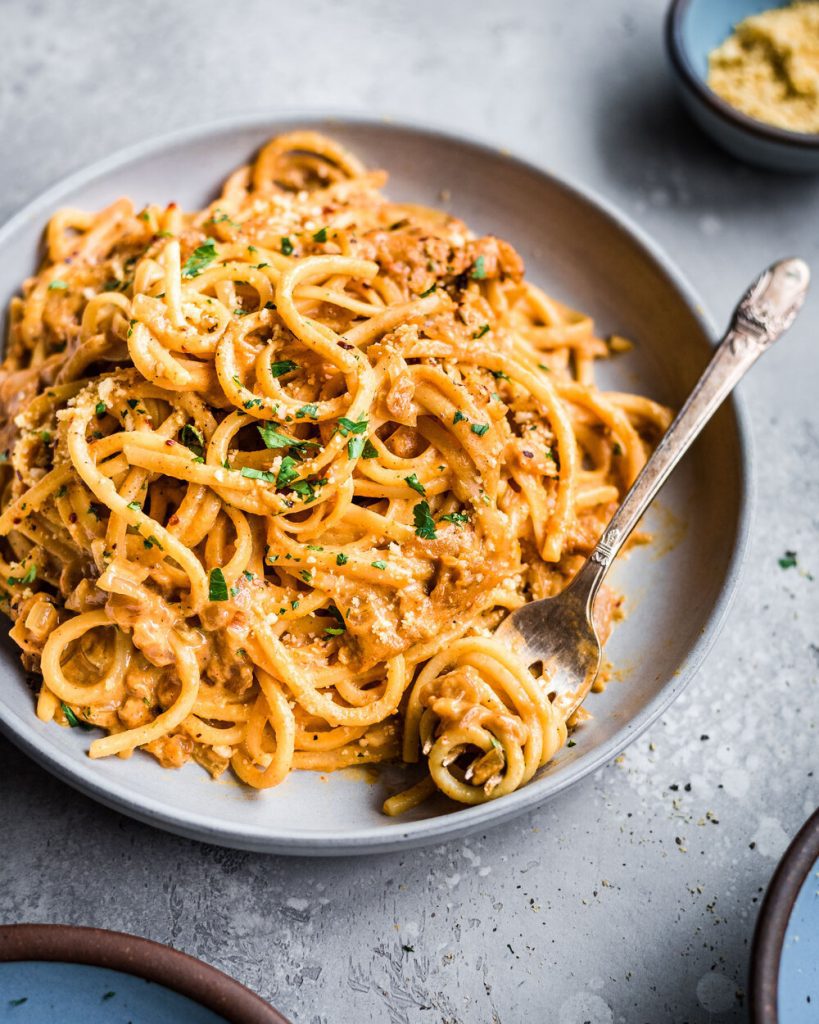 What people are saying about this recipe
Blog reader Ammi says, "I absolutely love this recipe!! I made it for the first time last night for my carnivorous family, and after complaining a bit about it not having meat, they all went back for seconds! I look forward to trying out variations with spinach and sweet potato in the future."
Blog reader Missy says, "I just made this, minus the Serrano peppers, I can't do too much spice, its FANTASTIC!!! Thank you SOO much for the recipe!! I've tried so many online recipes and most times they suck or don't turn out well at all. I'm SO happy that this is amazing!! It'll likely become why go to curry …and SO EASY to make!! Thanks Nisha..xo"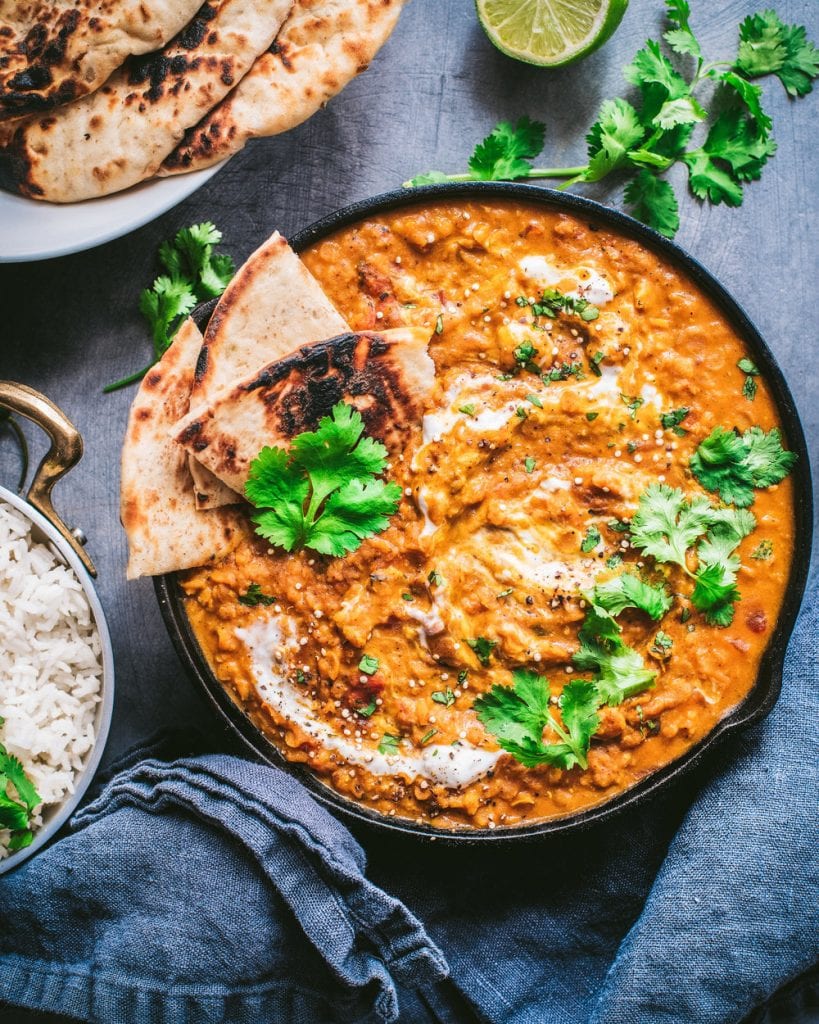 What people are saying about this recipe
Blog reader Leigh says, "I'm not vegan BUT I am trying to eat less meat and I want to at least go vegetarian. I made this last week and it is just amazing. If you like shepherd's pie, you will love this. Bonus points for not making me feel heavy after eating it."
Blog reader Amy says, "Couldn't be easier! My husband has been wanting to make A Shepard's pie for months but have been dreading it with all the time it took. This recipe saves sooo much time and is sooo easy! We couldn't stop eating it! Our friends stopped by and enjoyed some as their 2nd dinner and went back for seconds. Will be making this recipe again. Also will be easy to pre-make then heat up in the oven if you have a busy week."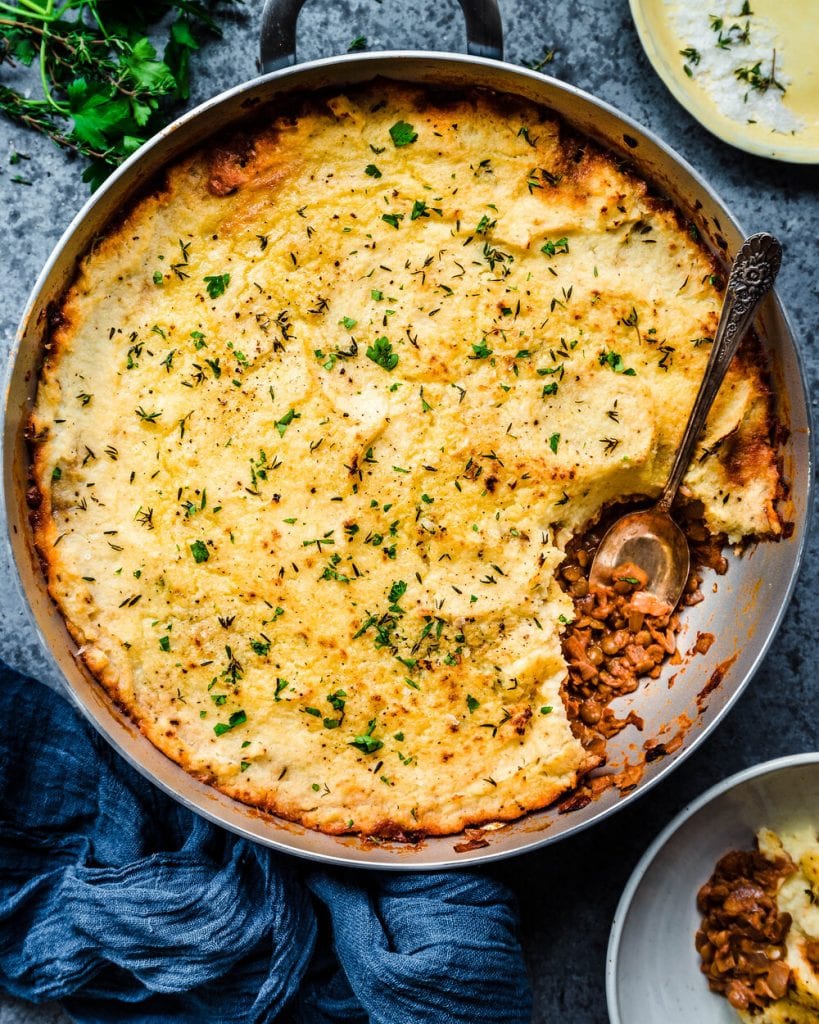 What people are saying about this recipe
Blog reader Monica says, "Made this tonight and it was a big hit. My hubby and 2 boys loved it as much as I did! Thank you for this great recipe!"
Blog reader Diane says, "Hi Nisha, I just made this for the Super Bowl. So simple to put together and the flavors are delish. I made just as your recipes reads and it's perfect as is. Love your recipes!!"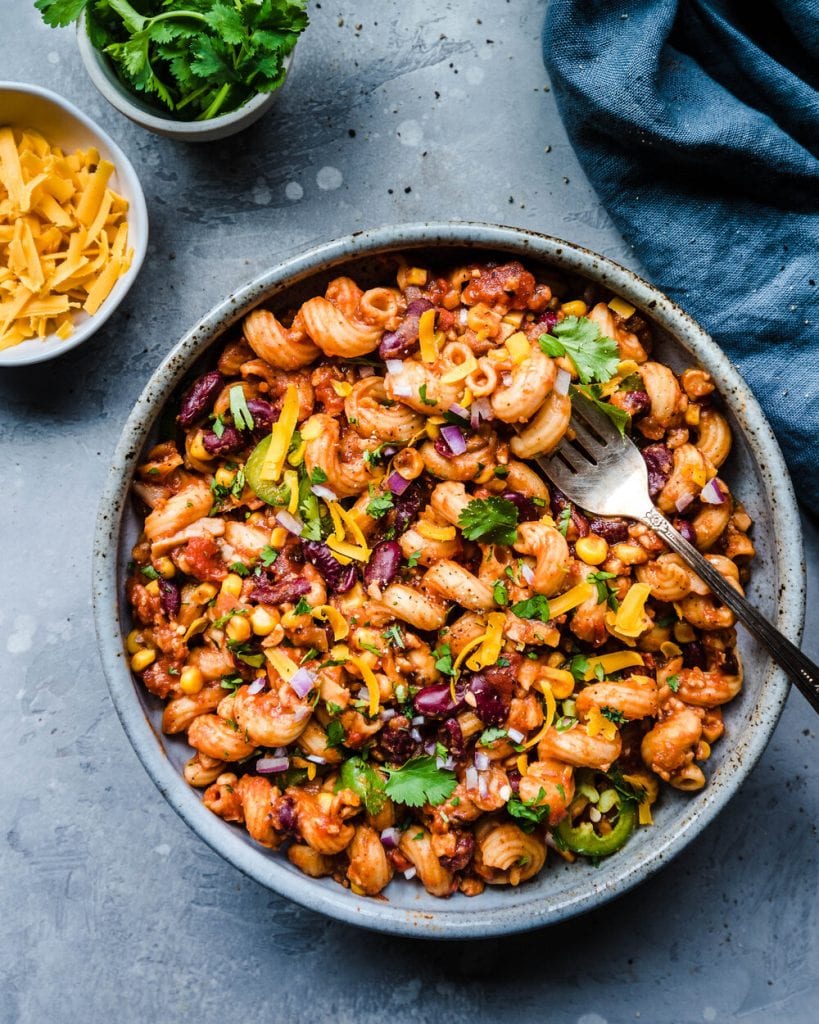 What people are saying about this recipe
Blog reader Rasika says, "Hi Nisha! I made this soup for the second time in a month last night and it is the BOMB! My entire family loves it so much. The depth of umami flavors is amazing. Will be making again and again. Thank you for this keeper!"
Blog reader Autumn says, "Wow…I made it and the whole family loved it… I couldn't stop saying how good it was. So happy to find a most delicious recipe that uses beluga (black) lentils."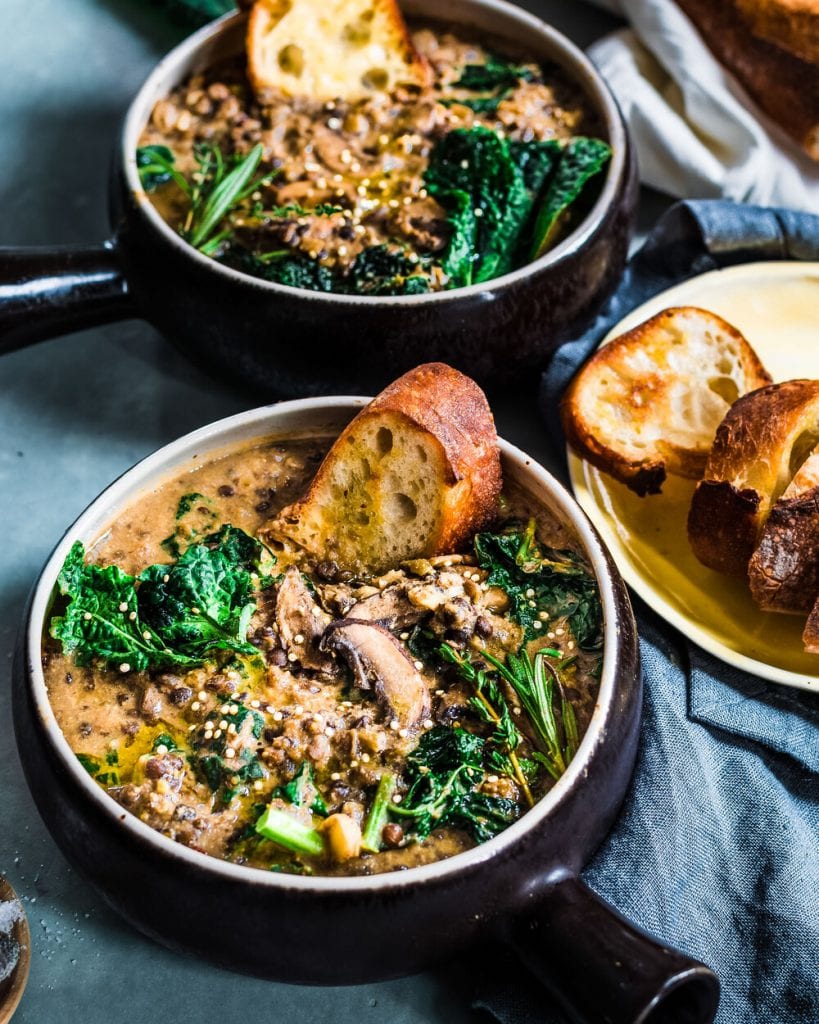 What people are saying about this recipe
Blog reader Emily says, "I LOVE this recipe. I made this last night for my boyfriend and I. Super flavorful. I subbed about 3/4 cup of almond milk with a tablespoon of arrowroot starch for the coconut milk because I was out and it tasted great!"
Blog reader Kate says, "Nisha!! I thought adding vegan meals to our rotation at least 1-2x weekly would be great for the environment AND my waistline, but your recipes are SO GOOD that I keep having too many portions for dinner! This was another great one that we'll be repeating often."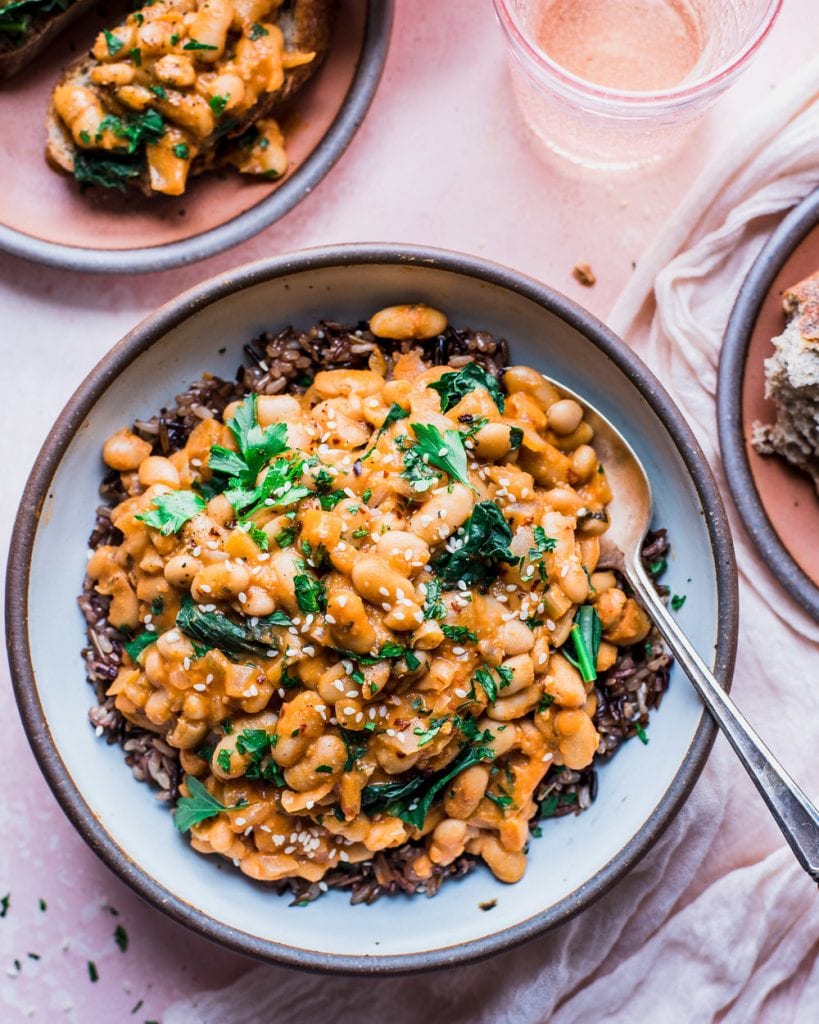 If you try one of these healthy vegan dinner recipes, be sure to rate and review it and tag me with your remakes on Instagram!