I've shared quite a few summer recipes recently, and while I love most summer produce, there is a very special spot reserved in my soul for corn. There's really nothing quite like fresh corn in the summer, and luckily, it is so inexpensive!
My dad is equally obsessed with fresh corn, and during the summer, he always makes a really delicious grilled corn salad. It's different each time (he's not one to write down recipes), but it often contains red onions, chili peppers, tomatoes or bell peppers, and, sometimes, a few Indian spices. Regardless of what he adds, it's always delicious.
He made one of these corn salads for a summer barbecue the first time he met Max's parents, and it was so tasty, they were speechless. They've only tasted his food that one time, but they're now convinced he's an A+ chef.
This Charred Corn Salad with White Beans is inspired by the fresh summer corn salads my dad loves to make, and I hope you will enjoy it as much as I do! It features both raw and charred corn, juicy cherry tomatoes, marinated red onions and jalapeños, avocados, white beans, basil, and lots of lime juice and extra virgin olive oil.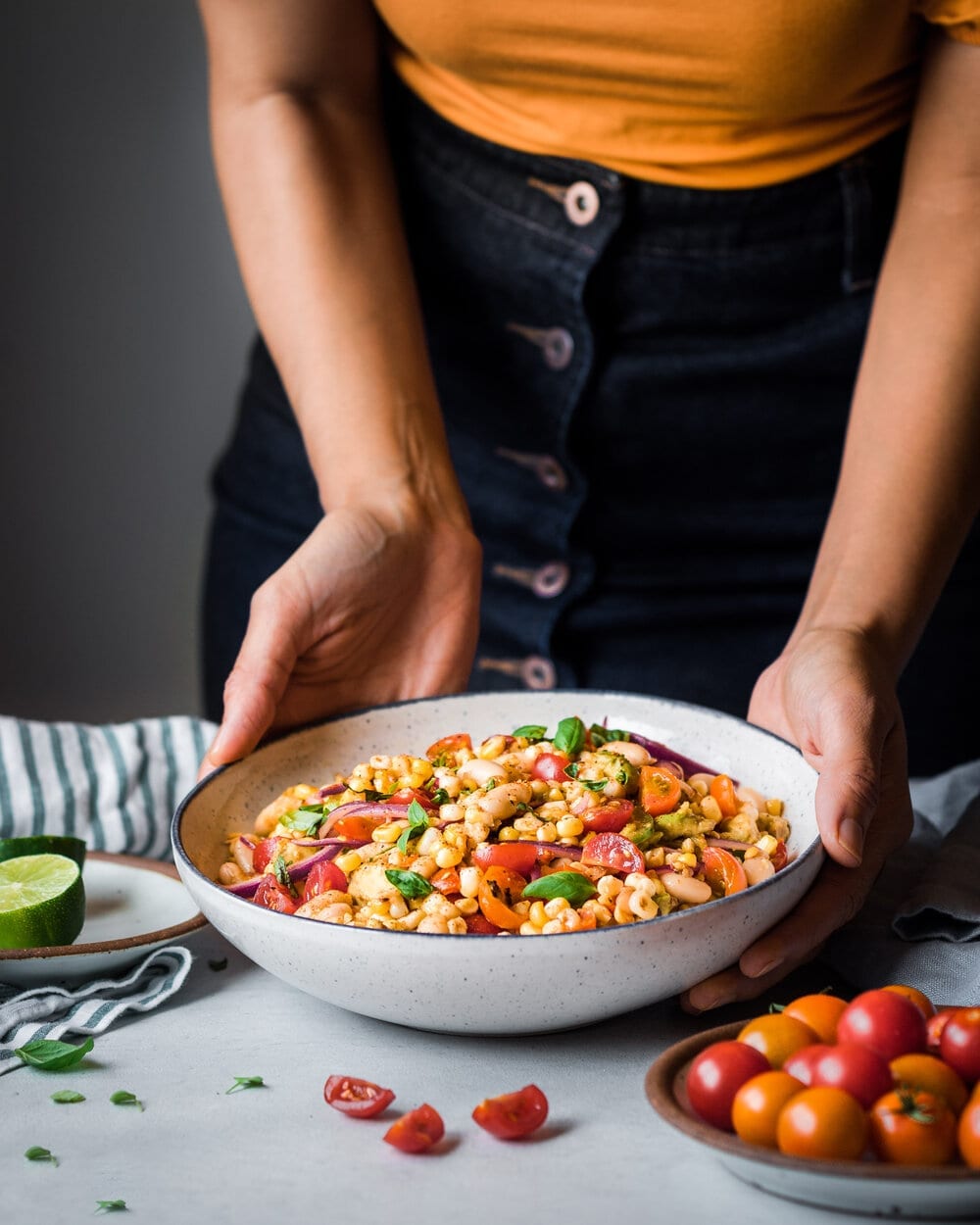 Why you'll love this recipe
Easy to make but gourmet. I'm not going to say this is "easiest" corn salad to make. That title would go to a basic corn salad made with canned corn and not much else. BUT, for how gourmet this salad tastes, it's actually quite easy.
9 ingredients. There are 9 main ingredients, all of which are everyday ingredients you can find at any grocery store!
Light yet satisfying. Made with fresh corn, tomatoes, onions and basil, this salad is light and perfect for summer. But, thanks to the addition of white beans and avocado, it's hearty enough to act as a main course.
Summer perfection. This salad highlights the best of summer corn season. Fresh corn is sweet enough to eat raw, so this salad features both raw and charred corn. The sweetness that fresh corn brings to this salad is the perfect balance to the spiciness of the jalapeño peppers and the tartness of the lime juice.
Weeknight friendly. From start to finish, you can get this meal on the table in 25 minutes.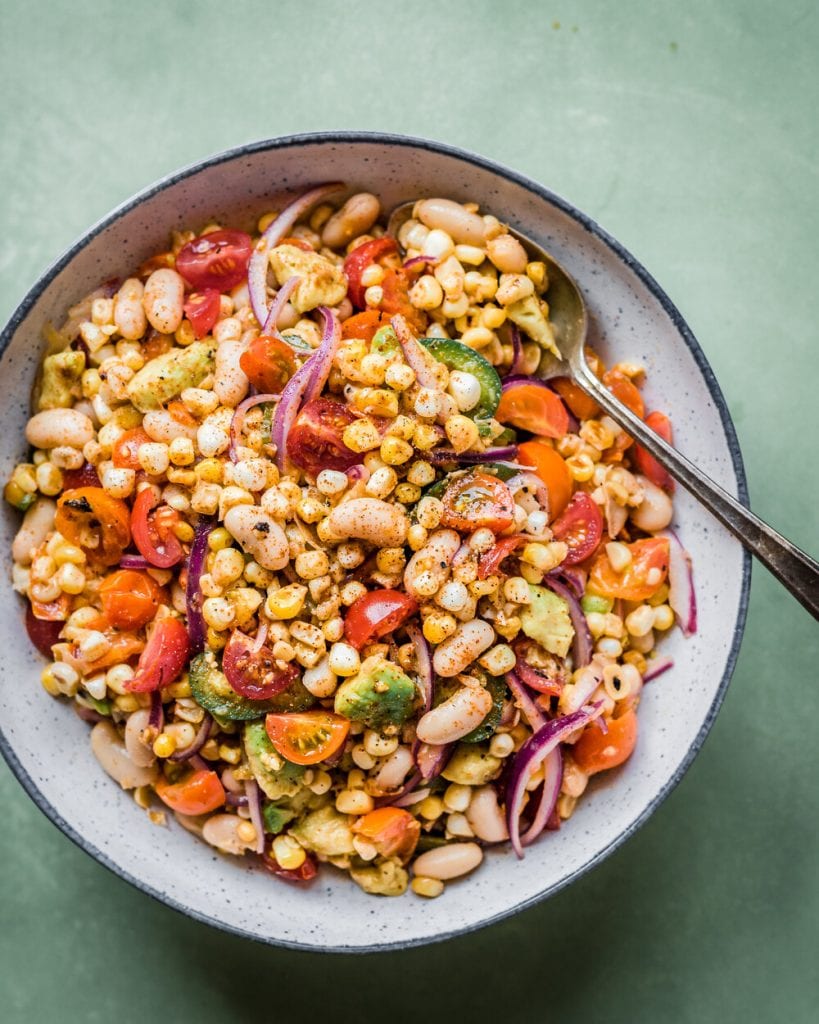 Ingredient Rundown
Fresh corn. One of my core cooking principles is when you make a recipe with minimal ingredients and minimal cooking, as in this recipe, it is very important to use the best quality ingredients you can find. And right now, fresh corn is the best thing you can do for this recipe. It's corn season and corn is very inexpensive, so this is a no-brainer.
Don't get me wrong, though. If you're reading this in the dead of winter and still want to make this salad, I will not shame you for using canned corn or thawed frozen corn. But, if you're reading this during the summer, I cannot urge you enough to use fresh corn.
Red onions and jalapeños. Since I'm not a huge fan of raw red onions, I quick marinate them in lime juice, extra virgin olive oil, salt and pepper. The marinade helps soften the texture up, as well as mellow the pungency. Plus, it infuses a lot of flavor into the onions and jalapeños.
I don't find jalapeños to be very spicy, so I leave the seeds in. It brings a subtle heat, not a prominent heat that sits at the forefront. However, if you are very sensitive to spicy food, go ahead and remove the seeds before slicing them.
Lime juice and extra virgin olive oil. There are minimal ingredients in this salad, so I use a generous amount of fresh lime juice (which pairs beautifully with fresh corn and jalapeños) and good-quality extra virgin olive oil. This is the time to use the good olive oil. Again, minimal ingredients + minimal cooking = use the best-quality ingredients you can afford.
Cherry Tomatoes. Cherry tomatoes bring the perfect sweet taste, which complements the sweet corn, along with a juicy bite that contrasts nicely with the chewiness of the corn. I used a mix of sungold tomatoes (the most delicious, sweetest tomatoes) and classic cherry tomatoes.
White Beans. I have made this salad without beans and it is delicious, but I like adding beans because it makes this salad hearty enough to serve as a full lunch or main dish. I used one can of cannellini beans, but you could use beans cooked from scratch or use an entirely different type of bean (see the section on substitutions).
Cannellini beans are so versatile. I always keep some cans in my pantry so I can throw together some stewed beans or white bean dip.
Avocado. Again, to heart-ify this salad (totally not a word, but you know what I mean), I add avocado as well. Plus, the combination of summer corn-tomatoes-avocado is too good to be true.
Basil. To bring in some extra summer freshness and flavor, I finish this salad with a handful of basil. Since basil is also at its peak right now, you don't need to use too much of it, as it is extra fragrant and a little goes a long way.
How to Make Charred Corn Salad with White Beans
This recipe is quite simple, so this will be a short section!
Marinate the onions and jalapeños. This is the first step in the recipe, and while you marinate the onions and jalapeños in the lime juice and olive oil (20 minutes is sufficient, though you can let it sit for up to an hour), you can prepare the rest of the ingredients.
Shave the corn. You'll need to husk your ears of corn and then shave the kernels. To see how I shave corn without creating a mess, watch this Youtube video starting at the 1:00 mark.
Char half of the corn kernels. Set aside half of the corn kernels and keep them raw. Then, char the remaining half. This mixture creates interest and variety from both a taste and texture perspective. To char corn, all you need is a little olive oil and a large cast iron skillet.
Of course, if you have a grill, you can grill the whole ears of corn, then shave the kernels.
Mix everything together. Once the onions and jalapeños are done marinating and the corn is charred, it's time to mix everything together!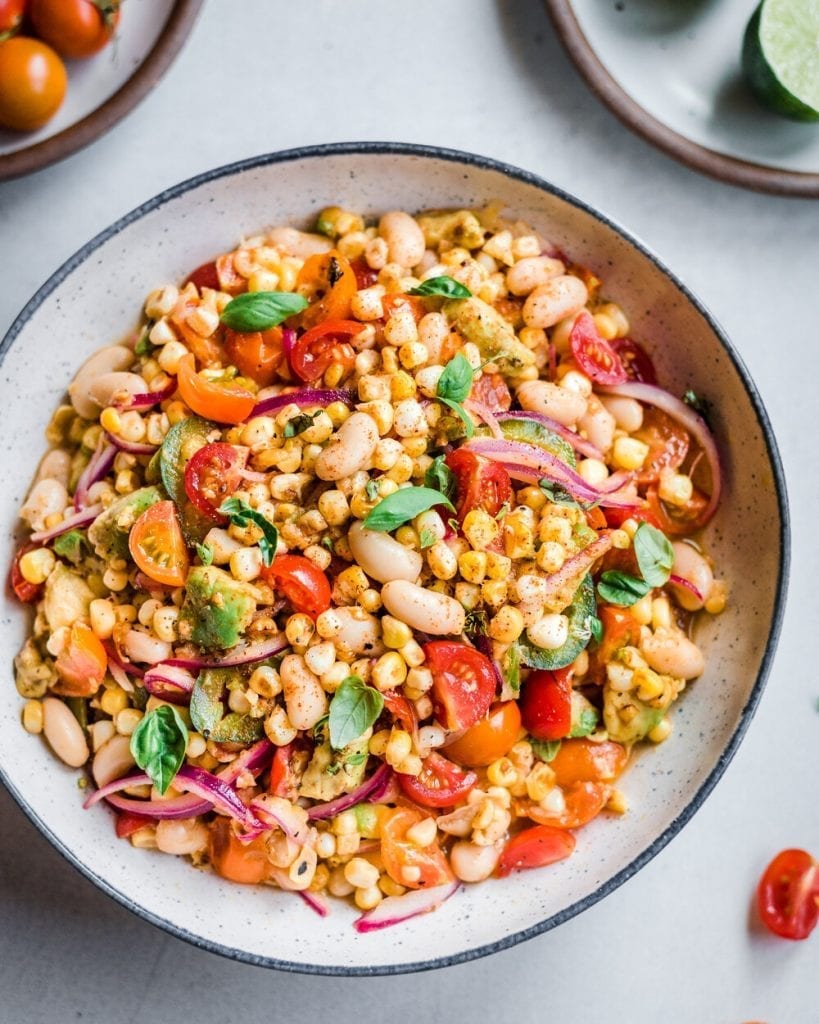 Substitutions for this recipe
Red onion. I don't recommend using yellow or white onions, but shallots would be a good substitute in this recipe if you don't like red onions.
Jalapeños. If you prefer your salad to be quite spicy, use a serrano pepper (or 2 peppers), as they are significantly spicier than jalapeño peppers.
Cherry tomatoes. You could also use heirloom tomatoes or other good summer tomatoes and dice them finely.
White beans. If you don't like white beans or don't have them, you can substitute with chickpeas (my preference) or even black beans.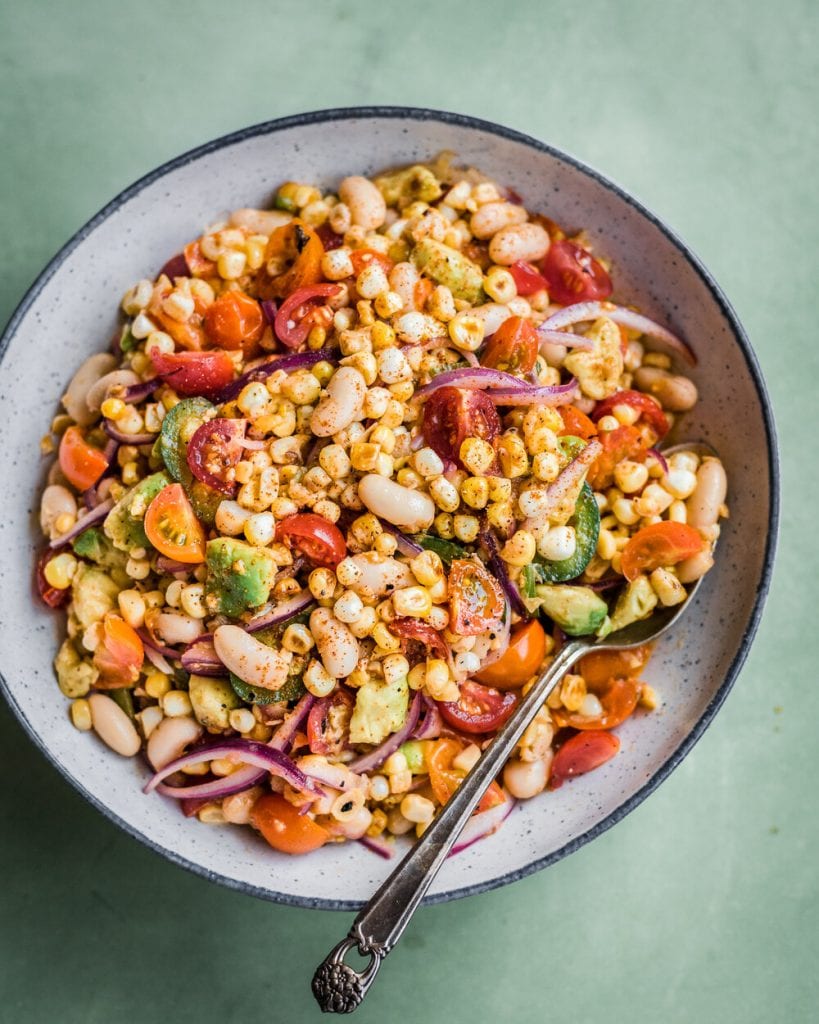 Tips for making this recipe
Season with salt and pepper at stages, and don't skimp.
Since there aren't a ton of ingredients in this recipe, I season the salad with salt and pepper at each stage. First, I season the onions and jalapeños with the lime juice marinade. Then, when I add the charred and raw corn to the marinated onions and jalapeños, I season again with salt and pepper. Finally, after adding the basil and avocado, and before serving, I season yet again.
The generous amount of salt helps bring out the sweetness of the corn and the tartness in the lime juice, (AKA, it makes the ingredients taste like they should)!
If you don't have a large (12-inch) cast iron skillet, I recommend charring the corn in two batches. Otherwise, you'll overcrowd the pan and some corn kernels will get overcharred, and some not at all charred.
If you don't plan to eat all of the corn salad on the day you make it (it makes a big quantity), add avocado only to the portion you plan to consume that day to prevent it from browning in the salad. Then, when you serve the leftovers, you can add more avocado if you have it.
If you give this Charred Corn Salad with White Beans recipe a try, be sure to tag me on Instagram with your recreations and please comment with your feedback below!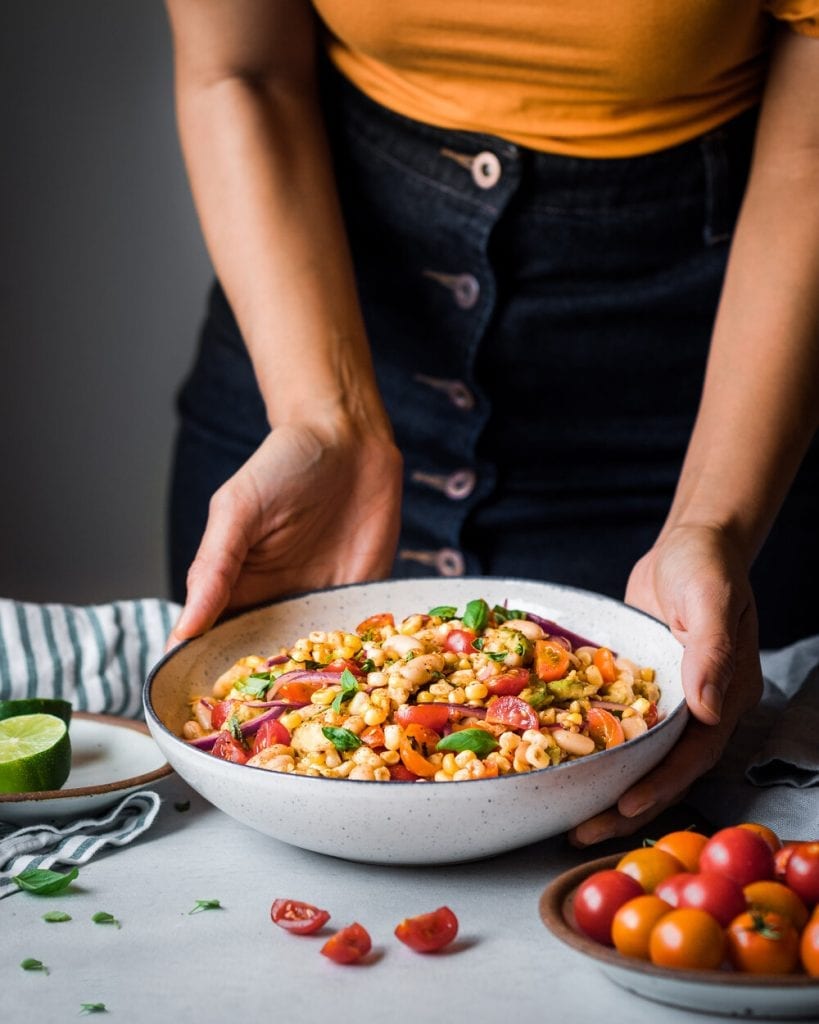 Charred Corn Salad with White Beans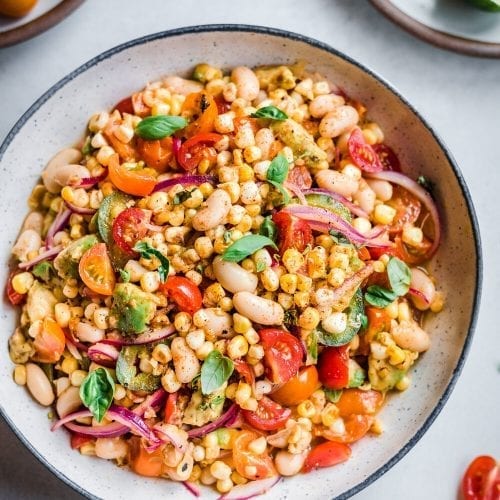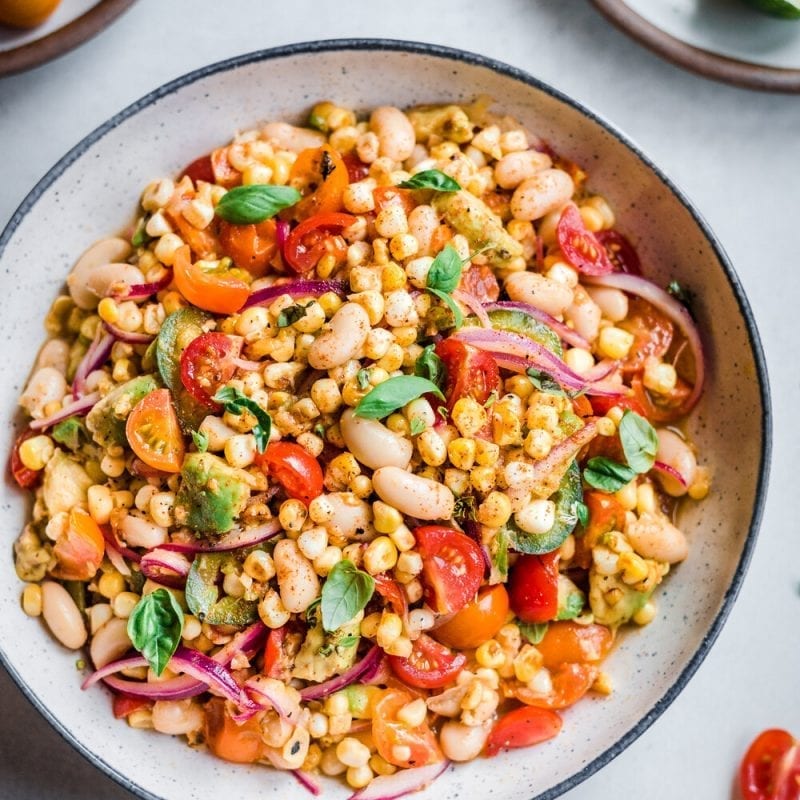 This Charred Corn Salad is the most delicious use for summer corn! Plus, it requires just 9 ingredients and takes less than 30 minutes to make. It's a crowd pleasing side dish for barbecues and picnics, but also hearty enough to stand in as a main dish.
Ingredients
1/2

of a large red onion,

thinly sliced

2

large or 3 small jalapeño peppers,

thinly sliced

1/3

cup

(75-80 mL) lime juice, plus 1 extra lime for finishing

4 1/2

tablespoons

extra virgin olive oil,

divided

Kosher salt to taste

Freshly cracked black pepper to taste

6

ears of corn

(about 600-650g of corn kernels)

1/2

teaspoon

paprika

(optional)

1

pint

(~300g) cherry tomatoes, sliced in half or quarters

1

(15-ounce/440g) can of cannellini beans (or navy beans, or chickpeas), drained and rinsed

2

medium ripe avocados*,

diced

1

handful of fresh basil leaves,

slivered
Instructions
In a large bowl, mix together the thinly sliced red onions, thinly sliced jalapeños, 1/3 cup lime juice, and 3 tablespoons of the extra virgin olive oil. Season with kosher salt and black pepper and let the mixture marinate for at least 20 minutes, or up to 1 hour. This helps soften the onion's texture, as well as mellow its pungency.

Position an ear of corn upright in a large bowl. Use a knife in a downward direction to shave the corn kernels, allowing the kernels to drop into the bowl.

Heat a large cast iron skillet over medium-high heat with the remaining 1 1/2 tablespoons of the extra virgin olive oil. Add HALF of the corn kernels. Cook the corn for 3-5 minutes until charred in spots, tossing just once or twice to get a nice char on them. If you are using the paprika, add the paprika during the last 2 minutes of cooking and toss to combine.

1. NOTE: If you don't have a large-sized cast iron skillet, cook the corn in two batches to get the most even browning. You might need to add a tiny bit more oil if you do this.

Add the charred corn to the bowl with the marinated onions and jalapeños. Add the raw corn to the bowl, along with the sliced cherry tomatoes and drained beans. Season to taste with salt and pepper and the juice from the extra lime, toss to combine and taste again for seasonings. Be pretty generous with the salt.

Add the basil and toss to combine. If serving the salad immediately, dice the avocado and mix gently to combine. If keeping some of the salad as leftovers, add the avocado only to the portion you plan to eat now.
Notes
* If serving all of the salad immediately, add in the avocado now. But if you plan to keep leftovers, add the avocado only to the portion of the salad you plan to eat today.
---
Calories:
381
kcal
|
Carbohydrates:
43
g
|
Protein:
10
g
|
Fat:
22
g
|
Saturated Fat:
3
g
|
Polyunsaturated Fat:
3
g
|
Monounsaturated Fat:
15
g
|
Trans Fat:
1
g
|
Sodium:
225
mg
|
Potassium:
1108
mg
|
Fiber:
11
g
|
Sugar:
9
g
|
Vitamin A:
734
IU
|
Vitamin C:
43
mg
|
Calcium:
76
mg
|
Iron:
4
mg