Since so many of you have been loving my 10-Ingredient Creamy Pantry Pasta, I figured I needed to make another creamy 10-ingredient pasta recipe! Enter this Creamy Chipotle Sweet Potato Pasta!
It's made with 10 main ingredients and it's also creamy, but it's pretty different than the first recipe. It's smoky and spicy and gets its creaminess from roasted sweet potatoes, sunflower seeds, and plant-based milk.
(PS: if you're looking for yet another 10-ingredient pasta recipe, you can't go wrong with this Red Lentil Bolognese!)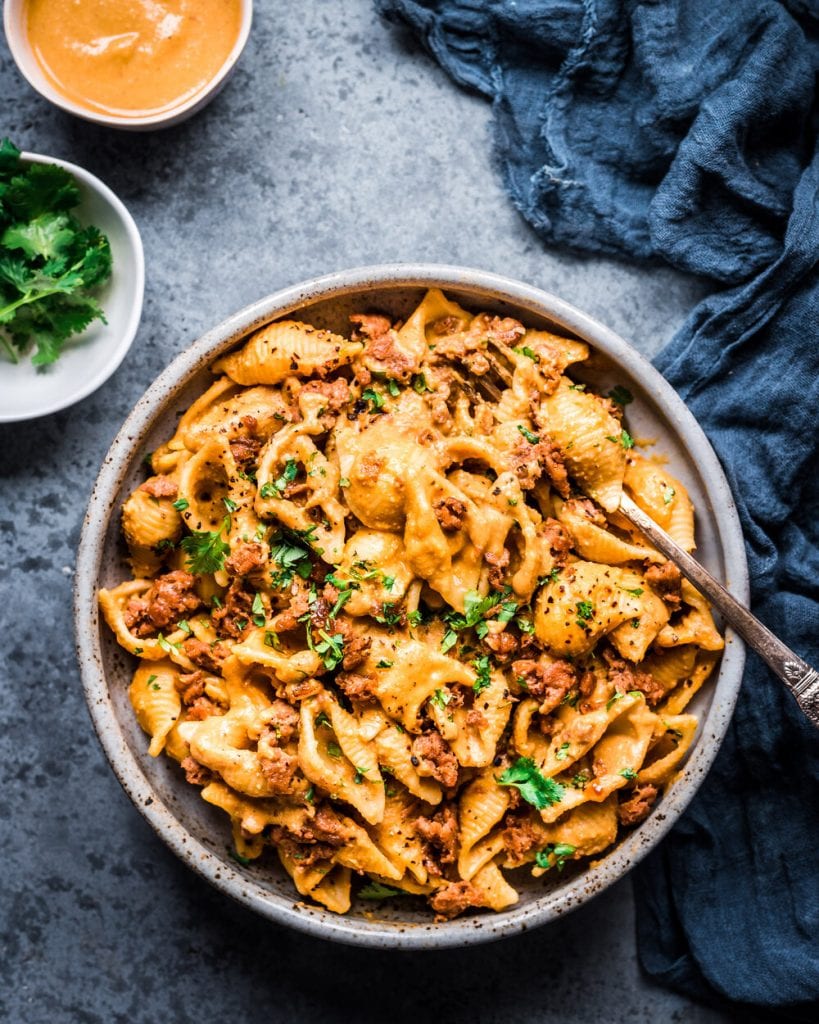 Why you're going to like this recipe 
10 main ingredients. Okay, not counting, oil, salt and pepper. But yeah, just 10 main ingredients, woohoo! And the 10 main ingredients include the optional vegan sausage, so if you're omitting that ingredient, you're looking at 9 ingredients :)
Pantry staples. And all those ingredients are pantry ingredients (i.e., you might already have all the required ingredients in your pantry).
Budget-friendly. In addition to being a pantry meal, it's budget-friendly (unless you splurge on that Beyond Meat sausage like I did lol…so worth it IMO).
Comfort food heaven. It's creamy, spicy, smoky, and cheesy, and incredibly indulgent, especially if you add the vegan sausage. It tastes like a grown-up, more elevated, and spicy version of cheeseburger pasta.
Easy to customize. Feel free to make this your own meal. Toss in frozen peas at the end, blanch some broccoli at the end of cooking your pasta, serve with crispy baked tofu instead of vegan sausage, etc.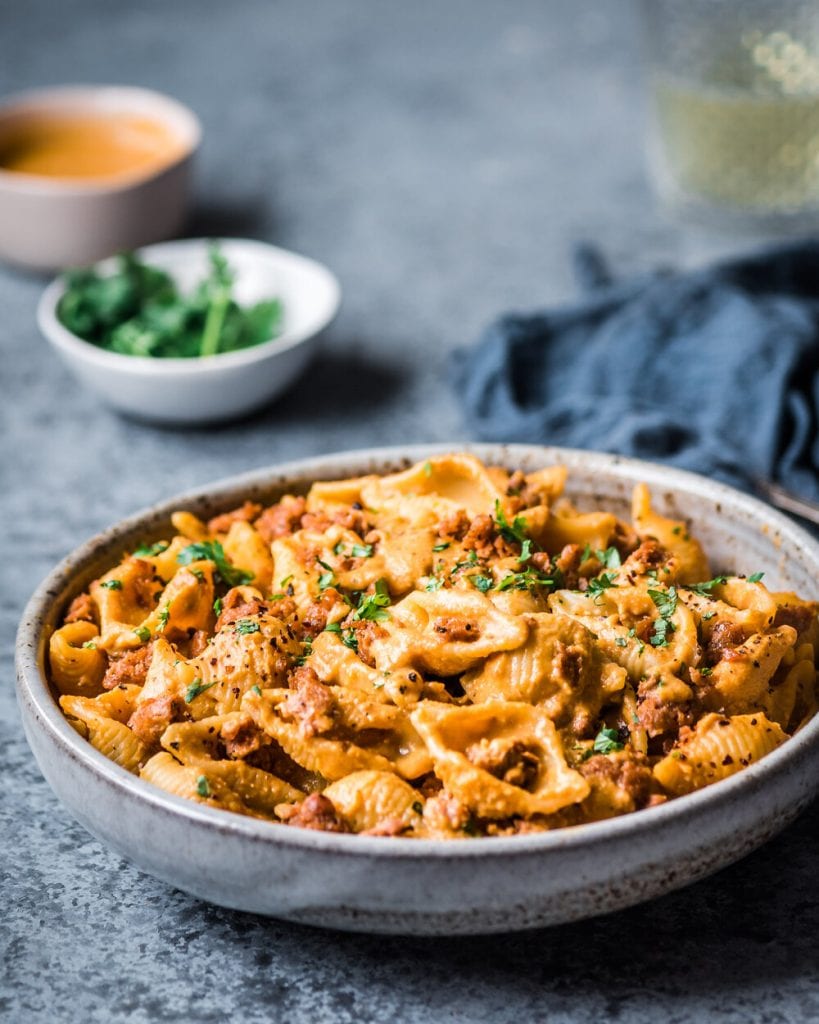 Substitutions for this recipe
In the event you don't have all the exact ingredients on hand, here are some substitutions to try.
No sweet potatoes? Sweet potatoes are the primary ingredient in this recipe, and I imagine they are fairly easy to find in most grocery stores….but if you don't have them, your best bet would be butternut squash, or canned pumpkin puree. However, both of those options don't have the sweetness that sweet potatoes bring, and therefore you'll need to add a spoon of agave nectar or maple syrup to help balance out the smoky, spicy flavors.
Gluten-free? Use gluten-free pasta :) The sauce itself is gluten-free.
Plant milk. Canned lite coconut milk is the most pantry-friendly recipe, but I've been using oat milk or cashew milk in this recipe since I have a lot on hand. Any creamy plant-based milk such as oat, coconut, cashew, or soy will work – just make sure it's unsweetened.
No lime juice? You can use lemon juice instead, or if you don't have that, use white wine vinegar but half the amount.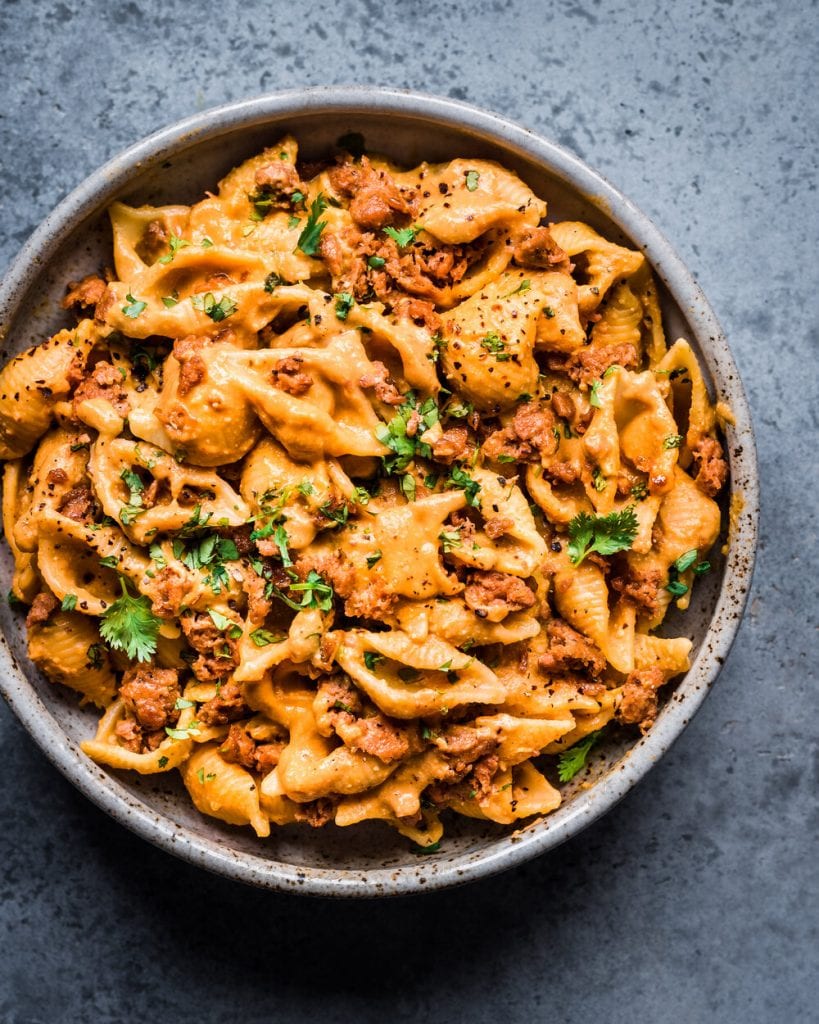 No chipotle peppers in adobo sauce? This is the source of the smoky, tomatoey-tang in this sauce, along with the spiciness. I use 2 chipotle peppers in adobo sauce, but if you prefer a milder heat, just use one pepper.
I absolutely LOVE the way the bold smokiness and spiciness of the chipotle peppers pairs with the sweet potatoes in this recipe. It's a flavor match made in heaven. However, if you can't find chipotle peppers in adobo sauce, here are some substitute options.
1/2 to 1 teaspoon chipotle chili powder, though I recommend starting slowly, especially if you are sensitive to spicy food.

1 or 2 rehydrated dried chipotles (soak the dried pepper in hot water) + 1 to 2 tablespoons tomato sauce.

A few splashes of Tabasco Chipotle Hot Sauce (add more to taste)

1/4 – 1/2 teaspoon cayenne pepper + 1 teaspoon smoked paprika + 2 tablespoons tomato sauce
With any of these substitutions, if you want a little more heat, add a tiny pinch of cayenne pepper; if you want a little more smokiness, add (a) a few pinches of smoked paprika or (b) a few dashes of liquid smoke.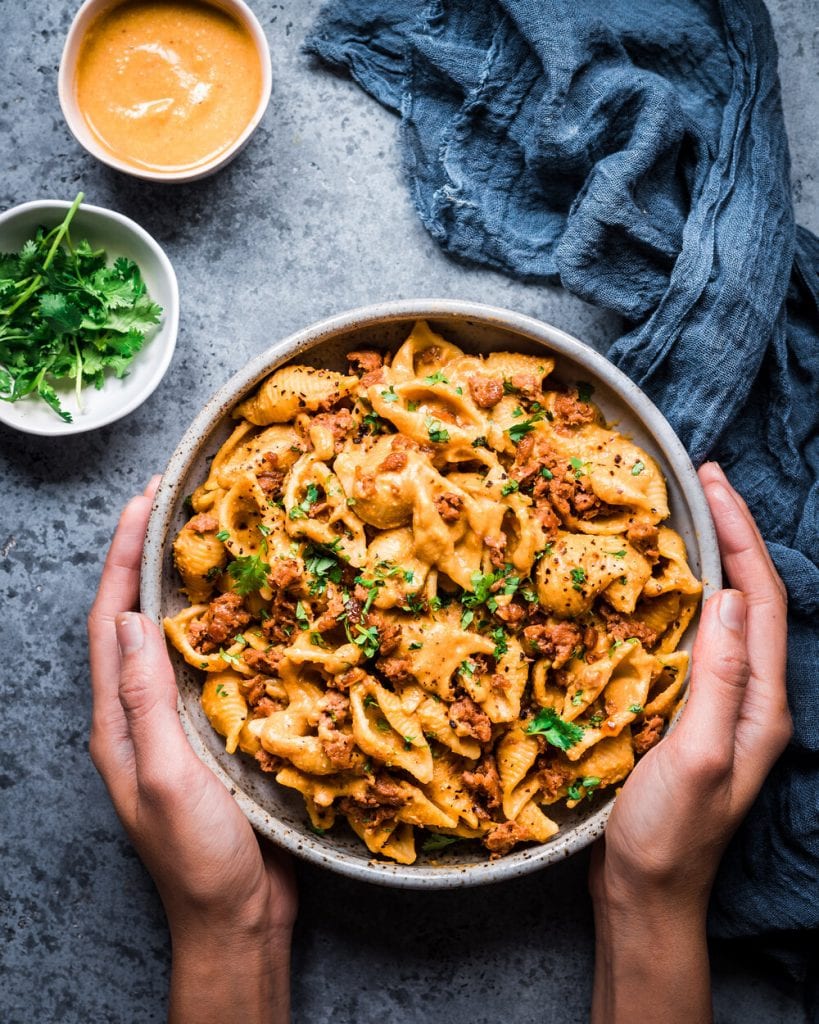 Tips for making this recipe
To make this a quick, weeknight-friendly dinner, bake/roast your sweet potatoes ahead of time. Baked/roasted sweet potatoes will stay good in an airtight container in the fridge for several days.
Don't skip the sauté step! I know some of you might be tempted to skip the step of browning the onions and garlic, but please don't. Starting the sauce off with nearly caramelized onions and garlic is help what builds deep savory flavors into this pasta sauce.
This sauce is the creamiest when made with cashews (unsurprisingly), but sunflower seeds work almost just as well that it's worth using them :) They're incredibly cheap and they're a great option for keeping this recipe nut-free.
I recommend soaking your sunflower seeds in boiling water for 30 minutes (you can do this while you prep the other ingredients and cook the onions/garlic, or when you bake the sweet potatoes). This is enough time if you have a powerful blender or a heavy duty food processor, but if you don't have either of those, you'll want to soak them for at least 3-4 hours.
Reserve some pasta water. Before you drain your pasta, reserve some of the cooking water in a separate bowl, or drain your pasta into a colander set over a bowl to catch the pasta water. Depending on what plant-based milk and what seed/nut you use and your desired pasta sauce consistency, you may not need to add any pasta water, but it's always good to reserve some in case.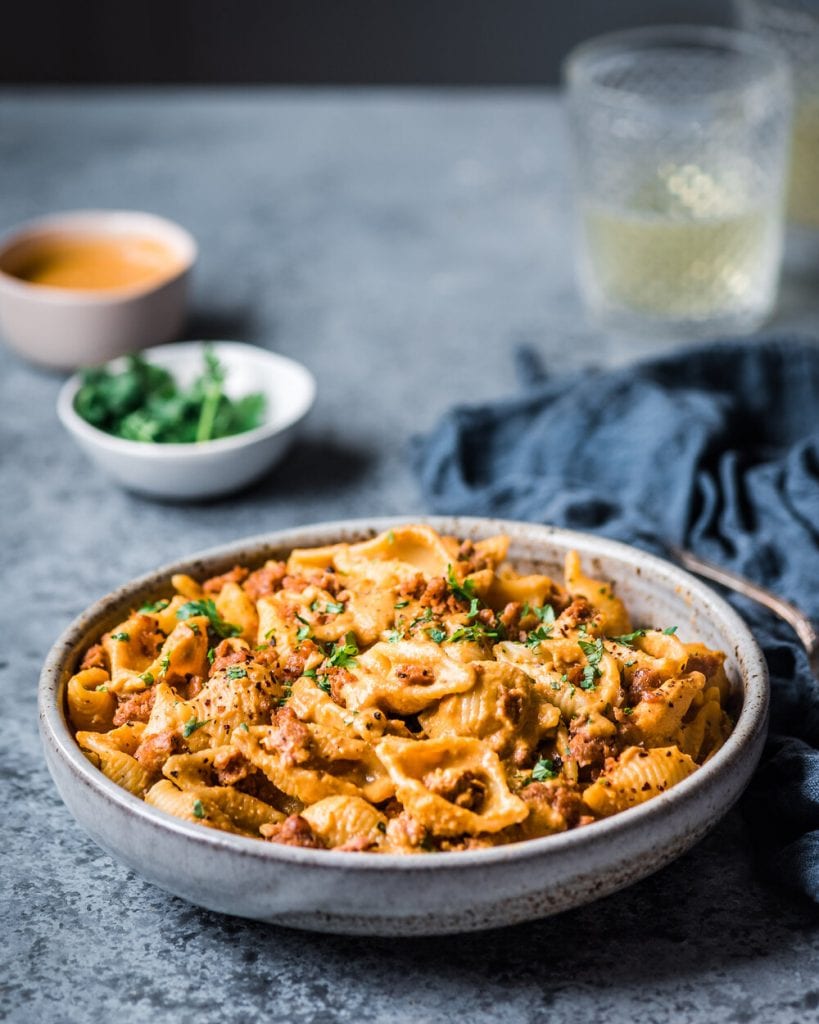 I served this with Beyond Meat vegan sausage, which I crumbled up and cooked in a pan for a few minutes to brown. As I mentioned earlier, it makes this taste like a elevated cheeseburger pasta. I think the combination is FANTASTIC, and my non-vegan boyfriend agreed 100% and asked for seconds and then thirds. Also, we love spicy food, so we opted for the Hot Italian flavor.
Of course, if you don't have any vegan sausage, feel free to add your favorite vegan protein. Spiced tempeh or crispy baked tofu would be good options! Or for something green, add some broccoli to the pasta cooking water in the last few minutes to get in some greens :)
If you give this recipe a try, be sure to tag me on Instagram with your recreations and please comment with your feedback below!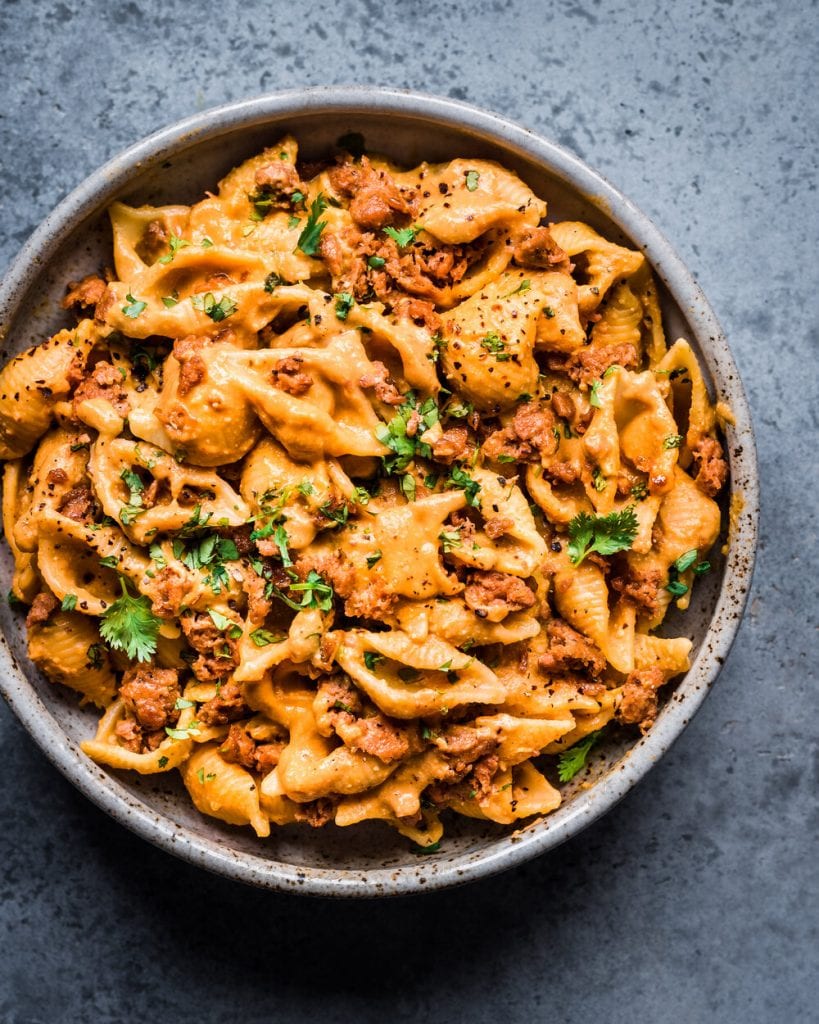 Creamy Chipotle Sweet Potato Pasta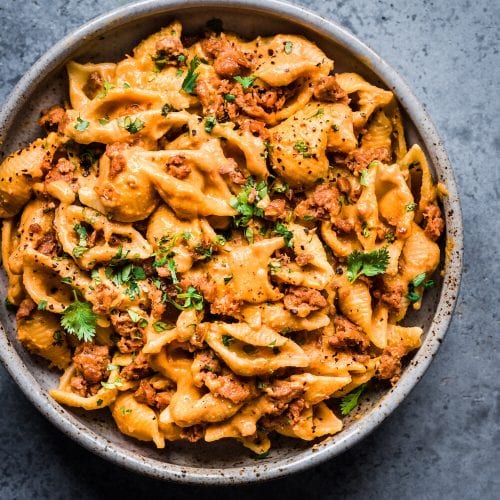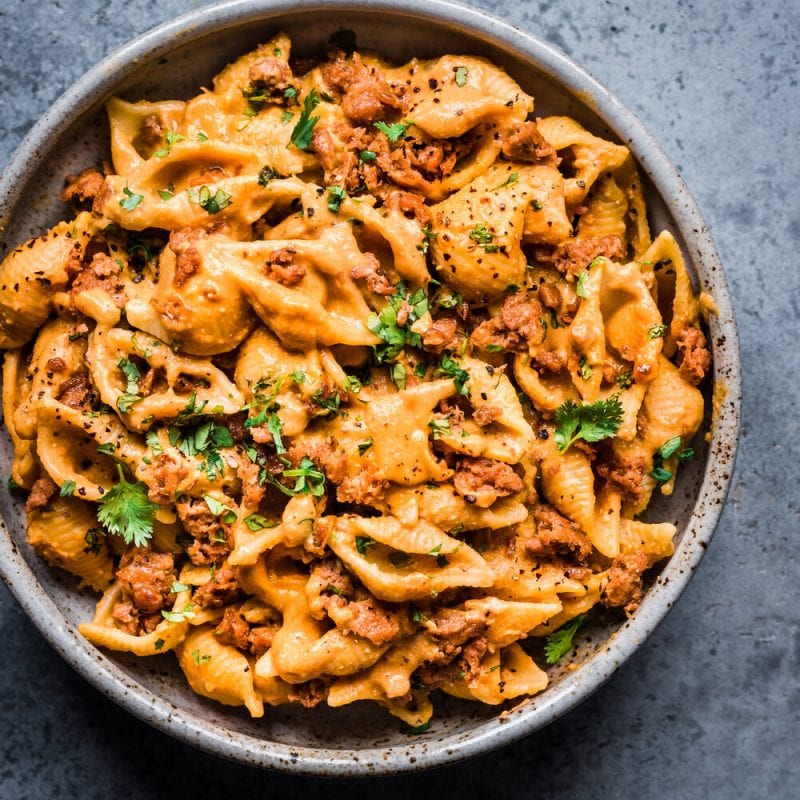 This Creamy Chipotle Sweet Potato Pasta is indulgent but made with healthy ingredients like sweet potatoes and sunflower seeds. This 10-ingredient vegan pantry pasta will become your new favorite dinner recipe!
Ingredients
1

pound

(454g) sweet potatoes

1/2

(70g) cup sunflower seeds*, soaked in boiling water for 30 minutes

1

tablespoon

olive oil

1

medium yellow onion

finely chopped

4

cloves

garlic

chopped

2

chipotle peppers in adobo

(use just 1 pepper for a milder heat; see the "Substitutions" section above for substitute options)

1

teaspoons

kosher salt + more to taste

Black pepper to taste

3

tablespoons

nutritional yeast

1 - 1 1/2

tablespoons

fresh lime juice

1

cup

(240mL) creamy plant-based milk, or canned "lite" coconut milk**

1/2 - 3/4

cup

(120-180 mL) water

12 -14

ounces

(340-400g) pasta of choice

3-4

vegan sausage links,

such as Beyond Meat sausage***
Instructions
Bake your sweet potatoes. Preheat the oven to 425°F (218°C). Lightly slash or prick the sweet potatoes several times with a sharp knife to allow for even ventilation. Place the potatoes on a baking sheet (line with parchment paper for easy cleanup). Bake for 45-60 minutes (depending on size), or until the potatoes are fork-tender and don't give any resistance.

1. NOTE: you can also roast/bake the sweet potatoes up to a few days in advance.

Meanwhile, soak the sunflower seeds in boiling water for 30 minutes (or longer). After soaking, drain.

Shortly before the sweet potatoes are done baking, start cooking your pasta and start cooking the onions/garlic.

For the pasta, bring a large pot of salted water to a boil. Once boiling, add your pasta of choice and cook according to the package instructions until just al dente (don't overcook)! Before draining, be sure to reserve at least 1 cup of pasta water and set aside. Or, drain the pasta in a colander set over a bowl to catch the pasta water.

For the onions and garlic, heat a large frying pan over medium-high heat with the olive oil. Once hot, add onions and season with a pinch of salt. Stir occasionally and cook until a light brown fond starts to form on the surface of the pan, about 5 minutes. Add a few spoons of water to deglaze, and stir. Continue cooking the onions, adding more water every few minutes and stirring frequently to prevent burning, until onions are softened and golden brown, 9-10 minutes.

Add the garlic and stir frequently for 1-2 minutes, until lightly golden. Turn off the heat and transfer the onions/garlic to a stand blender (or food processor). Wipe out the frying pan.

Make the chipotle sweet potato sauce. Peel and discard the baked sweet potato skins (use oven mitts or wait until they're slightly cooled). Add the potato flesh to the blender with the onion-garlic mixture. Add the soaked and drained sunflower seeds, chipotle peppers, 1 teaspoon kosher salt, black pepper to taste, nutritional yeast, lime juice, plant-based milk, and 1/2 cup (120 mL) of the water. Blend on high speed until smooth, creamy, and thick, scraping down the sides as needed. Add the remaining 1/4 cup water (60 mL) if needed to thin out (you can also thin out the pasta sauce with the pasta cooking water). Taste for seasonings.

Mix the pasta and sauce. Pour the sauce into the wiped-out frying pan. Heat up for 30-60 seconds, then add the hot cooked pasta into the sauce. Toss to combine with tons or a wooden spoon, and add a ladle or two of pasta water as needed to achieve your desired pasta sauce consistency. It should be thick and creamy yet thin enough to coat the pasta.

Serve the pasta with your favorite protein. For Beyond Meat sausage, heat up a frying pan (the same one used for the onions/garlic) over medium-high heat with a tiny drop of oil. Add the sausage links directly to the pan, and then use a wooden spoon to crumble them, similar to traditional sausage. Cook for a few minutes until well browned.
Notes
* You can substitute cashews for an even creamier sauce!
** I like oat milk, cashew milk, or carton coconut milk.
*** Feel free to omit or substitute with your favorite protein source.
---
Calories:
421
kcal
|
Carbohydrates:
66
g
|
Protein:
13
g
|
Fat:
12
g
|
Saturated Fat:
3
g
|
Polyunsaturated Fat:
3
g
|
Monounsaturated Fat:
4
g
|
Sodium:
325
mg
|
Potassium:
574
mg
|
Fiber:
7
g
|
Sugar:
6
g
|
Vitamin A:
10985
IU
|
Vitamin C:
6
mg
|
Calcium:
53
mg
|
Iron:
2
mg