With Thanksgiving less than a week away, it's time to crank my recipe delivery into full gear. In this last week, I've already shared the secrets to the best vegan mashed potatoes, a fun and unique stuffing that can double as your holiday table centerpiece, and an elegant spin on pumpkin pie. Oh, and also a roundup of 30 vegan recipes you can make for Thanksgiving.
So now it's time for Thanksgiving main dish ideas! Hence this vegan, gluten-free Creamy Lentil and Vegetable Bake! This recipe is hearty, indulgent, and so flavorful, so you definitely won't feel like you're missing out at Thanksgiving! And be sure to check out my brand new Cheesy Baked Butternut Squash for another vegan main dish idea this holiday season!
For the recipe video and visual instructions, be sure to check out the Youtube video!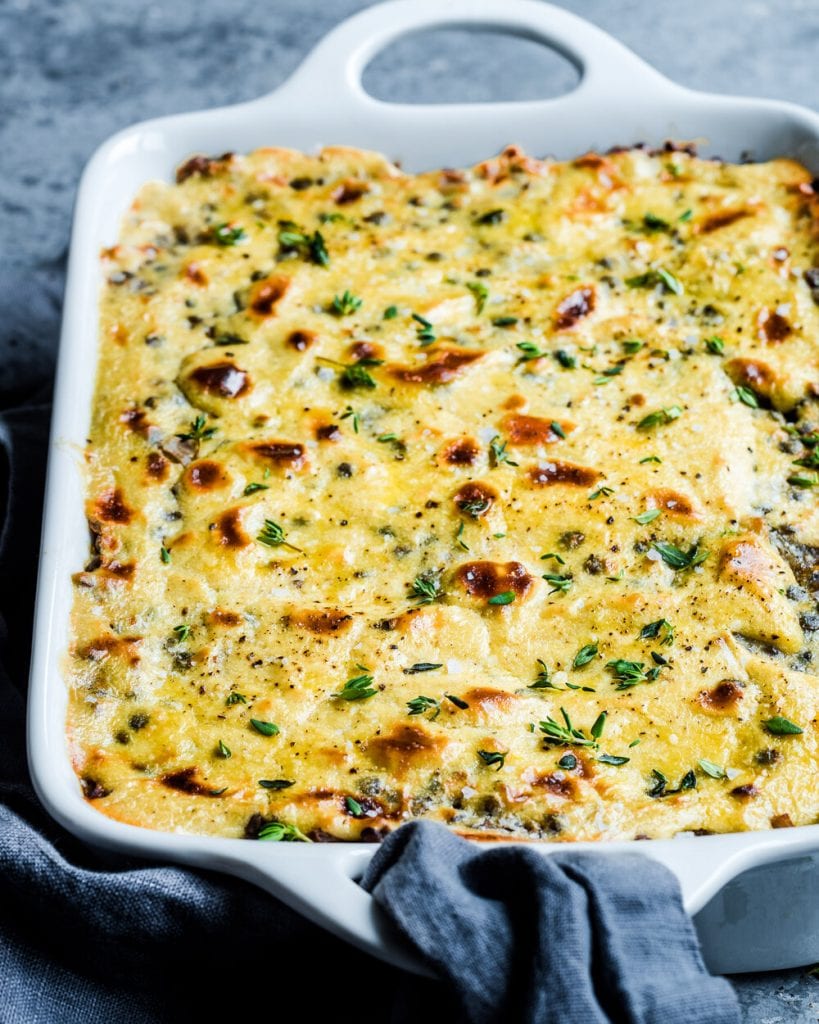 Why you'll love this recipe
As you can tell from these photos, this dish looks like it's COVERED in cheese. Except it's not! Not even any vegan cheese. Crazy, right? It's just cashew cream! More on that below.
The reason I love this Creamy Lentil and Vegetable Bake so much is that it's basically a layered mixture of all my favorite wholesome ingredients mixed together in a really indulgent way.
The first layer consists of roasted vegetables. They're baked in the oven until tender, sweet and caramelized. Then they're topped with a layer of the creamiest, most flavorful lentils. The lentils are simmered with onions, garlic, thyme, and vegetable broth, and then finished with a trio of winning ingredients—miso paste, tahini, and balsamic vinegar. Finally, we pour some cashew cream on top of everything. When the cashew cream gets baked, it forms this thick, cheesy crust on top that is incredibly irresistible. You would never know that this cheesy, bubbly crust is basically just cashews and water!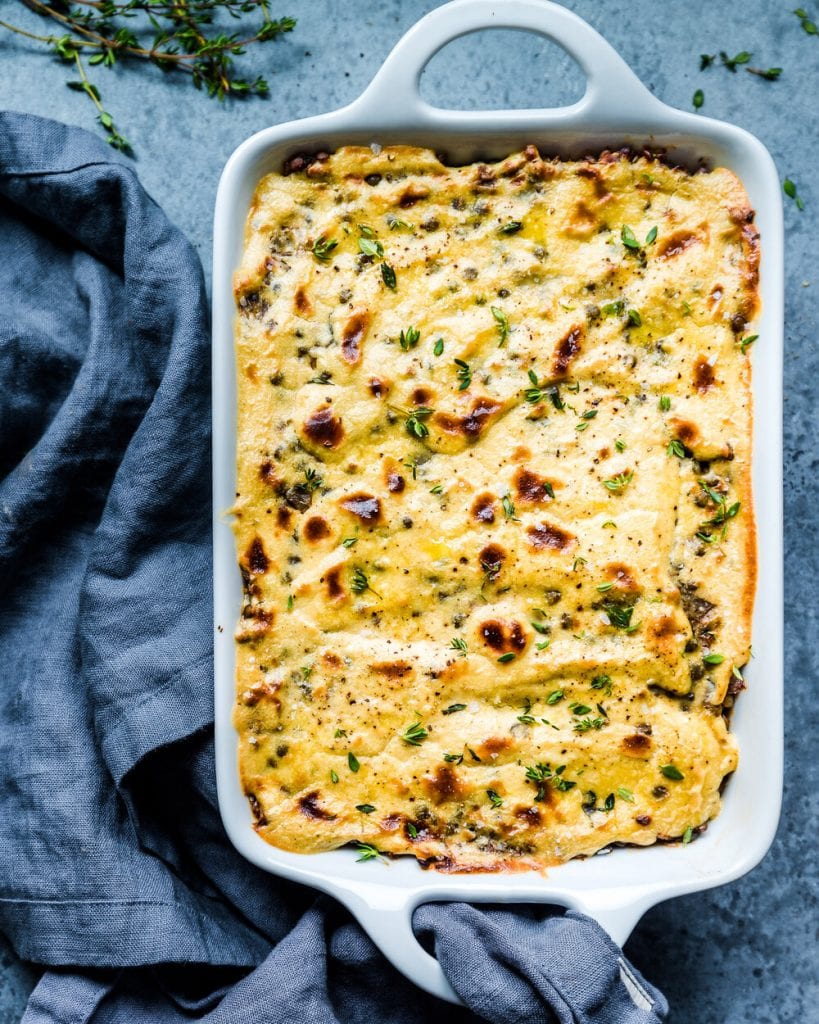 Ingredient Rundown
Now let's talk about the ingredients and layers in this Creamy Lentil and Vegetable Bake!
Layer 1: Roasted Vegetables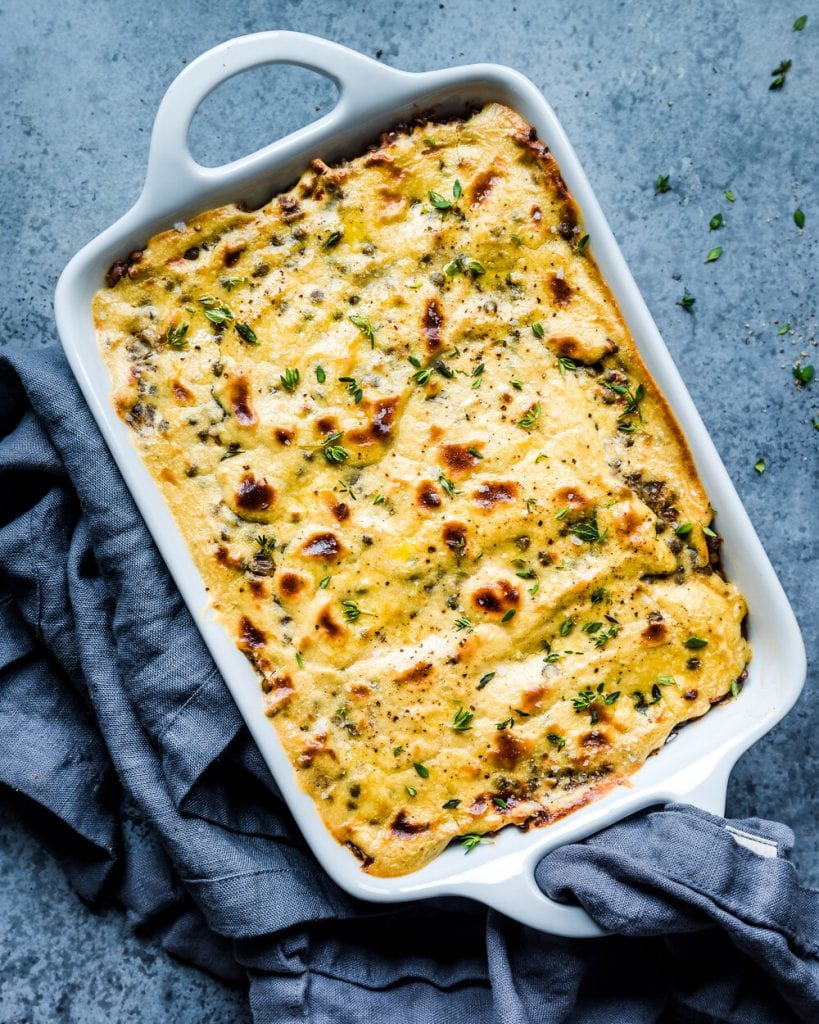 Layer 2: Creamy Lentils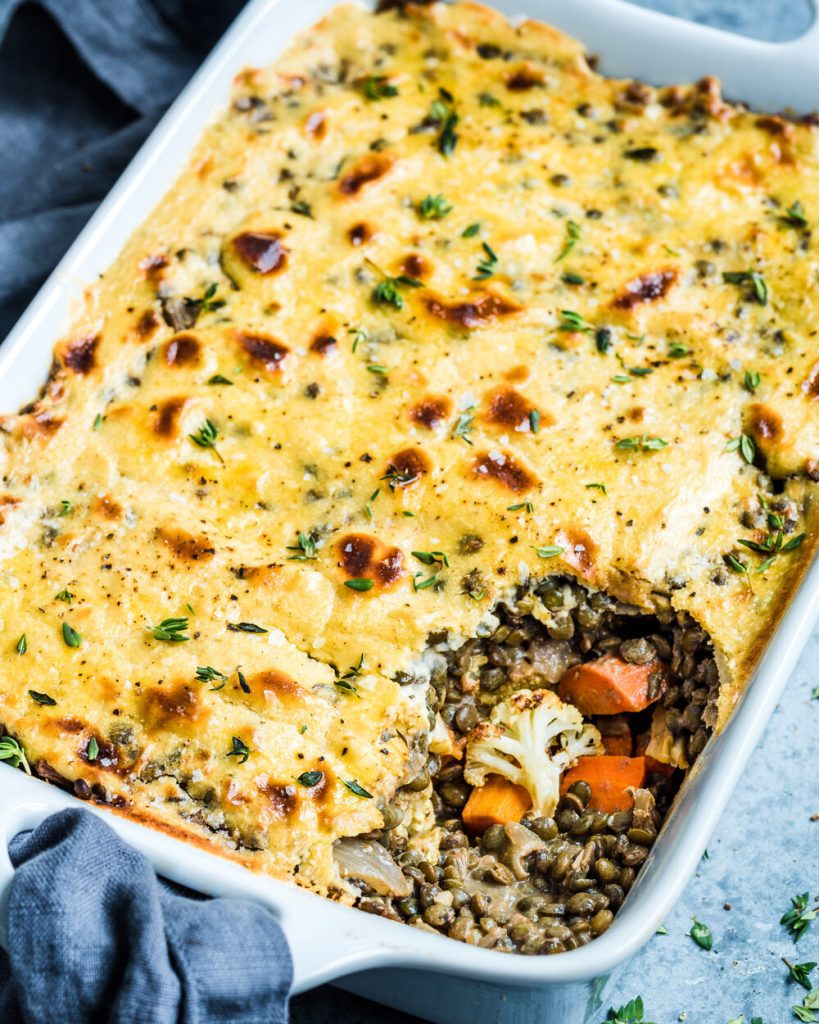 Layer 3: Cashew Cream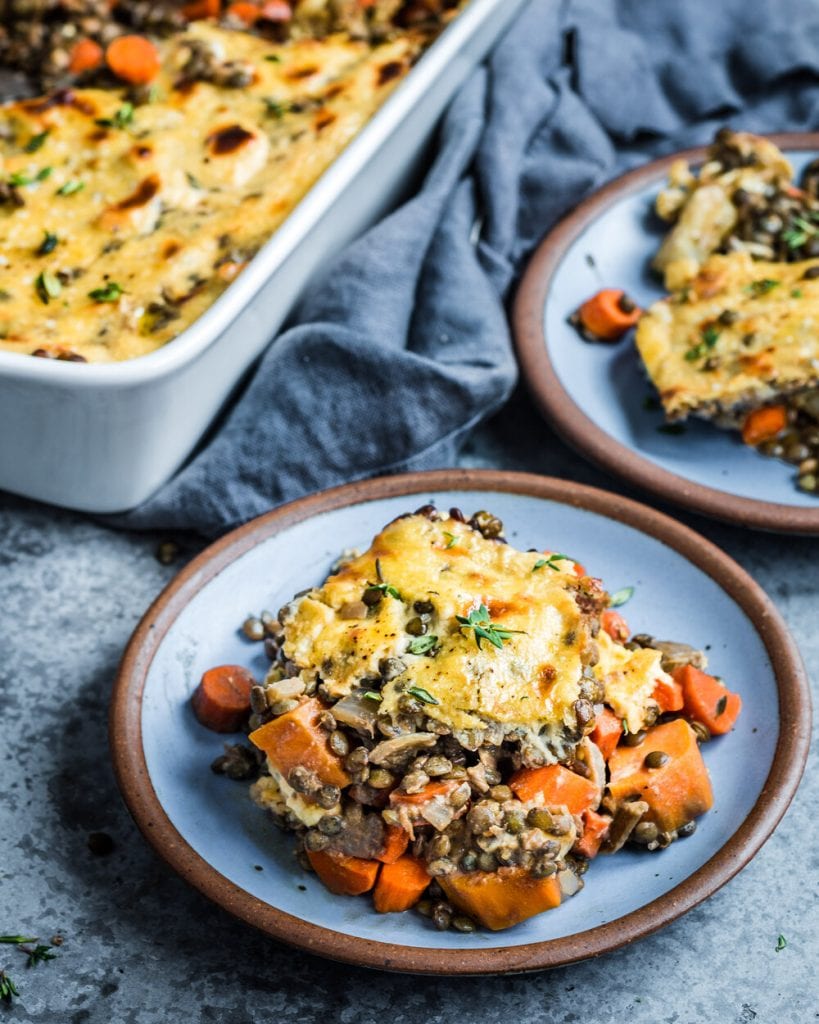 Tips for making this Creamy Lentil Winter Bake
Once you have all the main components ready—roasted vegetables, creamy lentils, cashew cream—it's time to layer them into a baking dish (in that order).
This is an easy dish to make ahead, since all of the components can sit in the fridge for at least a day or two in advance. The cashew cream can even be prepared up to 3 or 4 days in advance. If you do prepare the lentils in advance and refrigerate them, they might be more solidified and less creamy than when you first cooked them. To remedy that, heat them up on the stove to loosen them up. And if needed, add a bit of water or plant-based milk to soften them up.
This recipe is designed to be made in a 13×9-inch baking pan or 3-liter casserole, but if you don't have one, you could easily make it in two smaller baking pans. Since all of the layers are already cooked, using a smaller baking pan won't affect the cook time.
I like to bake this for 20 minutes or until it's warmed through and the cashew cream has sort of encrusted. And to take it over the top, turn on your oven broiler and place the pan under the broiler for just a minute or two until the cashew cream is browned in some spots. It can burn easily so keep an eye on it.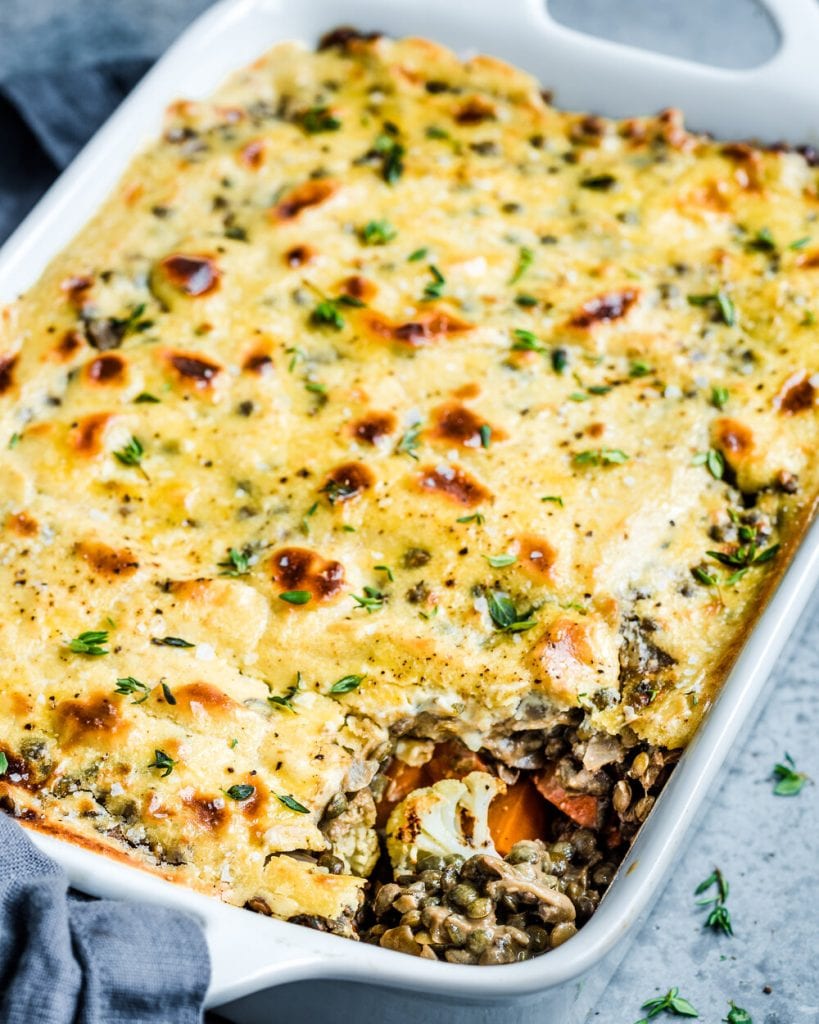 Looking for more vegan holiday dishes?
I hope you give this recipe a try at Thanksgiving (or another holiday) this year! If you make it, be sure to leave a comment below with your feedback and tag me on Instagram with your recreations!
Creamy Lentil and Vegetable Bake (Vegan, Gluten-Free)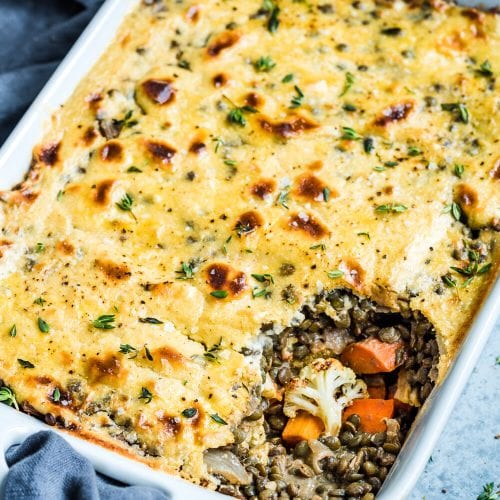 This vegan, gluten-free Creamy Lentil and Vegetable Bake is the ultimate comfort food. Sweet, caramelized roasted vegetables and creamy lentils are baked in a rich cashew cream and make for an excellent vegan main dish for any holiday gathering!
Ingredients
Cashew Cream
1

cup

(112g) raw cashews, soaked for 1 hour in boiling water

1/2

cup

+ 2 tablespoons

(~150 mL) water

2

garlic cloves

2

tablespoons

nutritional yeast

1½

tablespoons

freshly squeezed lemon juice

1/2

teaspoon

sea salt + more to taste

Freshly ground black pepper to taste
Roasted Vegetables
1

large head of cauliflower,

cut into florets

1

large sweet potato,

peeled

6

medium carrots,

peeled

2

tablespoons

olive oil or avocado oil

Kosher salt and freshly ground black pepper
Creamy Lentils
1 1/2

tablespoons

olive oil

1

large sweet onion,

diced

6

garlic cloves,

minced

1 ½

cups

French green lentils

(also known as Puy lentils*)

4

cups

vegetable broth or water

A handful of thyme sprigs

1/4

cup

tahini

2

tablespoons

white or yellow miso paste

2

tablespoons

high-quality balsamic vinegar**
Instructions
Cover the cashews with boiling water and allow to soak for 1 hour. When done soaking, drain well and rinse.

Preheat the oven to 400°F/205°C. Line two large sheet pans with parchment paper (optional, but for easy cleanup).

Prepare the vegetables. Cut the cauliflower into florets, and chop the peeled sweet potato into roughly equal size as the florets. Chop the carrots into slightly smaller pieces than the sweet potato (they take longer to cook). Toss the vegetables with the oil and generously season with salt and pepper. If the veggies seem dry, add a bit more oil as needed. Spread the veggies out in a single layer on the prepared sheet pans. Roast in the oven until they are browned in some spots and soft, tossing once during cooking, about 25 to 30 minutes. Reduce the oven temperature to 350°F/175°C (or turn off until ready to assemble the bake).

While the vegetables are roasting, cook the lentils. Heat a deep sauté pan or Dutch oven over medium heat and add the 1 1/2 tablespoons olive oil. Add the diced sweet onion and cook until lightly browned, 5 to 7 minutes. Add the garlic and cook, stirring frequently, until fragrant, about 2 minutes.

Deglaze the pan with the vegetable broth or water, and then add the French green lentils and thyme sprigs. Bring to a boil, and then reduce to a rapid simmer. Simmer until most of the liquid is absorbed and the lentils are tender but still al dente, 25 to 30 minutes. Remove the thyme sprigs and add the tahini, miso paste, and balsamic vinegar. Stir well to combine and taste for seasonings, adding salt or pepper as desired.

While the vegetables are roasting and the lentils are cooking, make the cashew cream. To a high-powered blender or food processor, add the soaked and drained cashews, water, garlic, nutritional yeast, lemon juice, 1/2 teaspoon sea salt and black pepper to taste. Blend until smooth and creamy. If you need a bit more water to blend the cashews, add 1-2 more tablespoons. You can also prepare the cashew cream a few days in advance, if desired.

Assemble the bake: If the oven is off, heat it 350°F/175°C. Layer the roasted vegetables on the bottom of a 13×9-inch baking pan or 3-liter casserole (or in two smaller baking pans). Top with the cooked lentils and then pour the cashew cream on top, smoothing it out over the entire surface. Bake for 20 minutes, until warmed through. If desired, turn on the oven broiler and broil for a minute or two until the cashew cream is browned in some spots.

Store leftovers in an airtight container in the fridge for up to 3-4 days.
Notes
* Depending on the brand you use, the equivalent of 1 1/2 cups French green lentils in grams might be anywhere from 210 grams to 315 grams. See notes in the blog post for substituting French green lentils.
** You don't need to use a super fancy bottle of balsamic vinegar, but avoid the $2-3 bottles, as they taste mostly like alcohol and don't have the rich sticky, viscous texture and deep sweetness as traditionally aged balsamic vinegars.
---
Calories:
425
kcal
|
Carbohydrates:
51
g
|
Protein:
18
g
|
Fat:
18
g
|
Saturated Fat:
3
g
|
Polyunsaturated Fat:
4
g
|
Monounsaturated Fat:
10
g
|
Sodium:
312
mg
|
Potassium:
1104
mg
|
Fiber:
17
g
|
Sugar:
10
g
|
Vitamin A:
13696
IU
|
Vitamin C:
44
mg
|
Calcium:
102
mg
|
Iron:
5
mg