I know a lot of people whose favorite dish at Thanksgiving is stuffing. I am not one of those people. Or at least I wasn't one of those people until now. Now that I've I tried this recipe for Vegan Wild Mushroom Stuffing, that is. This recipe has literally changed my life (or at the very least, it has changed my view on stuffing). Yep, it's that good.
As a child, I hated stuffing. I later realized what I hated was Stove Top boxed stuffing mix, which is what we had every year for Thanksgiving until I started taking over the cooking in my household. Even after I started cooking the Thanksgiving dinner, however, I steered clear of making stuffing because (1) I assumed that all stuffing was gross and (2) I thought it would be nice to allow my mother to continue making one dish at Thanksgiving (especially one that was so easy).
If you're wondering why on earth we were eating Stove Top boxed stuffing mix in the first place, I'd like to remind you that this was the '90s, when it seemed not only acceptable but also delicious. Plus, my parents are lifelong vegetarians who didn't even know what Thanksgiving was until they moved to the United States, so expecting them to find a recipe for a homemade vegetarian stuffing that didn't taste like wet cardboard in the '90s before the Internet was flooded with free recipes…yeah, that would've been too much to ask.
It wasn't until I actually went vegan that I started making stuffing for Thanksgiving. And that's when I realized stuffing is delicious AF. It's basically a savory French toast casserole. Dried bread gets mixed with cooked veggies and butter and moistened up in the oven. Seems like a savory French toast casserole to me.
And this year, 2019, was the year I truly fell in love with stuffing. After 32 years, I now finally understand why a lot of people say that stuffing is their favorite part of Thanksgiving.
Now that you know my whole back story about stuffing and how I went from hating it to only very recently loving it, let's talk about this recipe for Vegan Wild Mushroom Stuffing, shall we?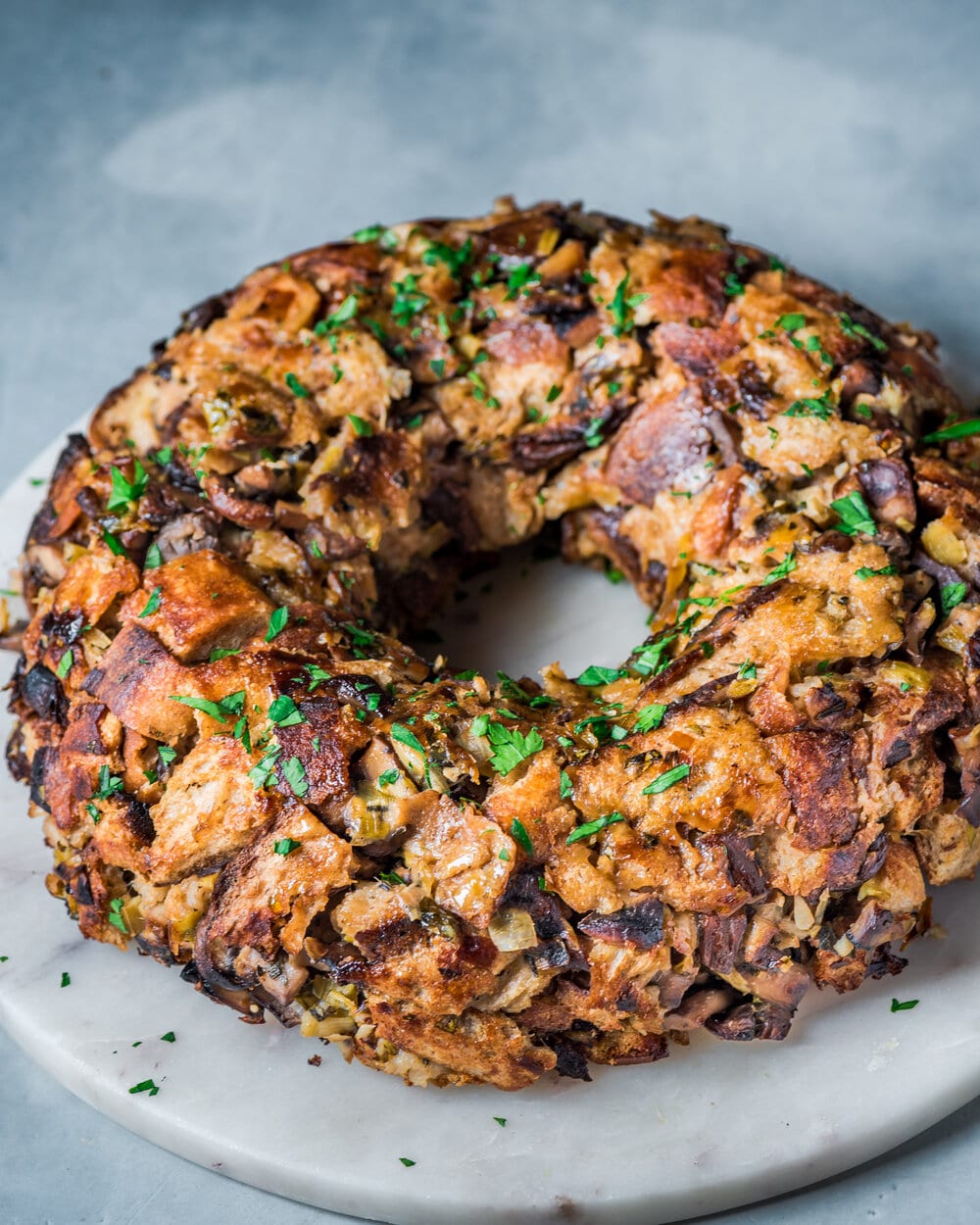 First things first, you might have noticed that my stuffing looks like a wreath. You can call it a Stuffing Wreath, if you'd like. This beautiful little thing actually came about by accident. The first time I tested this recipe, I had just finished making the stuffing but forgot to prepare my baking dish in advance. When I opened my cupboard to grab my baking pan, I remembered that it had been taking up too much space in my small NYC kitchen and so I had stashed it our storage closet to save space. Our storage closet isn't all that far—it requires an elevator ride down to our basement and it would've taken me about 4 minutes to retrieve—but I had already prepared the whole recipe and I was ready to start cooking it immediately. Also, I am pretty lazy.
So I grabbed the nearest pan that seemed like it could work. A 12-cup Bundt pan. Bundt pans are typically reserved for bundt cakes, but I figured it held nearly the same volume as a 13×9-inch pan, so I decided to give it a try. And it worked out!
I do need to inform you that, unfortunately, the stuffing does not hold its wreath shape once you cut into it. The wreath basically folds in on itself. But that's actually a good thing (aside from presentation purposes) because this is stuffing, after all. You don't want your stuffing to be firm and dense. You want it to be moist, soft, and tender, with some crisped up pieces that have a crunch.
You can of course make this in a standard 13×9-inch or 3 quart baking dish. The reasons you might want to make it into a wreath, like I did, is if (a) you have a Bundt pan lying around that you never use, (b) you're into fancy presentations ,and/or (c) you think your Thanksgiving guests would enjoy the fancy presentation. Speaking of fancy presentation, this would make a beautiful centerpiece at any holiday table!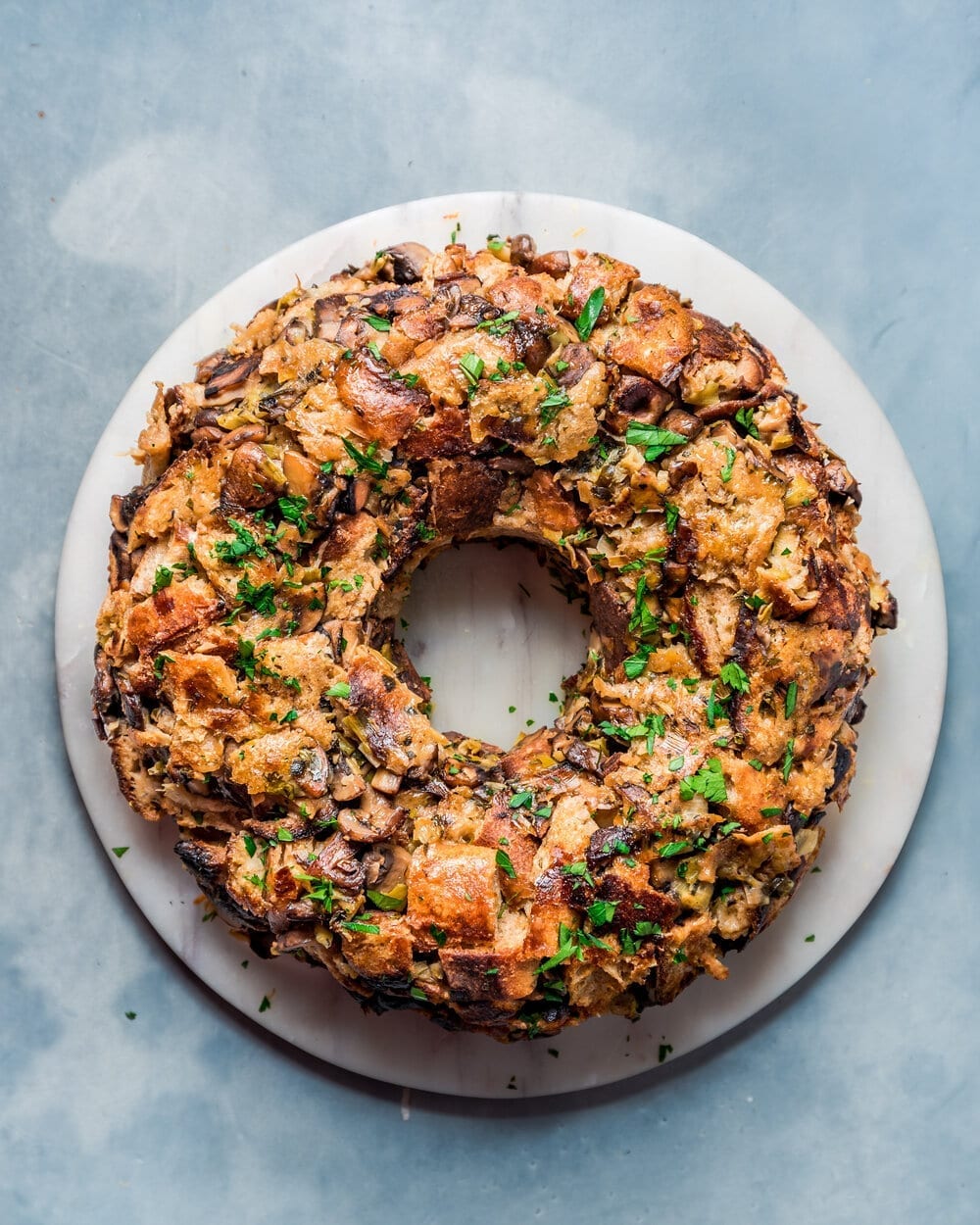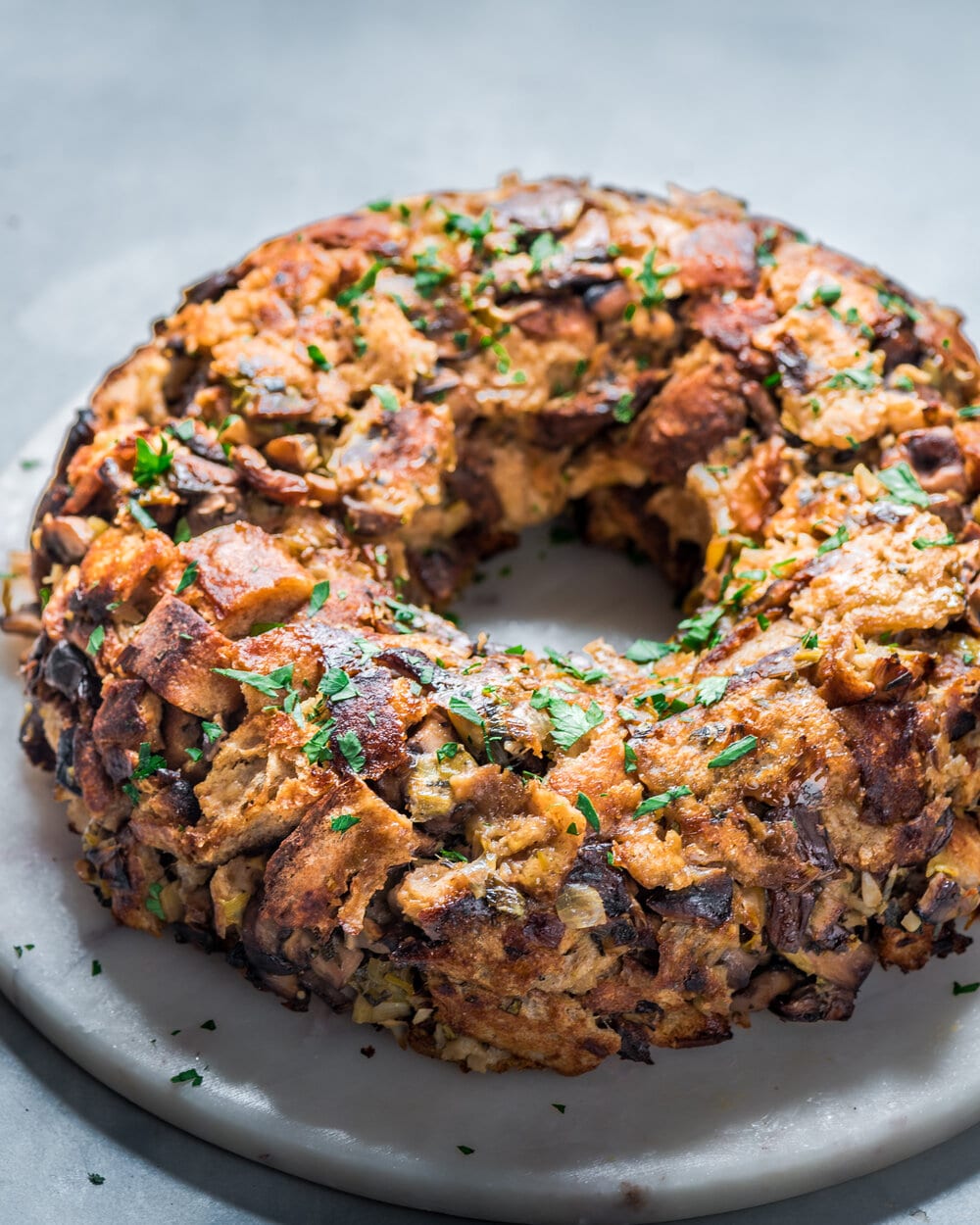 If you've ever made homemade stuffing, you know that is actually very simple to make. And if you've never made it before, well I guess that's a good thing because this recipe is easy to make and pretty foolproof. That said, here are some notes on ingredients and tips for perfecting this Vegan Wild Mushroom Stuffing.
Mushrooms: This is a Mushroom Stuffing, so we are using a lot of mushrooms. One-and-a-half pounds, to be precise. This recipe calls for 1 pound wild mushrooms and 1/2 pound ordinary mushrooms, but I understand that wild mushrooms are pricy, so you can use a smaller quantity of wild mushrooms, if you prefer.
If you do use only button mushrooms

, just keep in mind that they are are more watery than wild mushrooms (at least in my experience), so it might take a few more minutes for the liquid to evaporate when cooking button mushrooms than when cooking a combination of wild and button mushrooms.

Also, as written in the instructions, do not add the salt when you first start cooking the mushrooms

. Rather, wait until the last minute of cooking the mushrooms to salt them. This is because mushrooms have a high water content and salting them at the start of cooking encourages them to release their moisture. This leads to watery mushrooms that are less meaty (not good).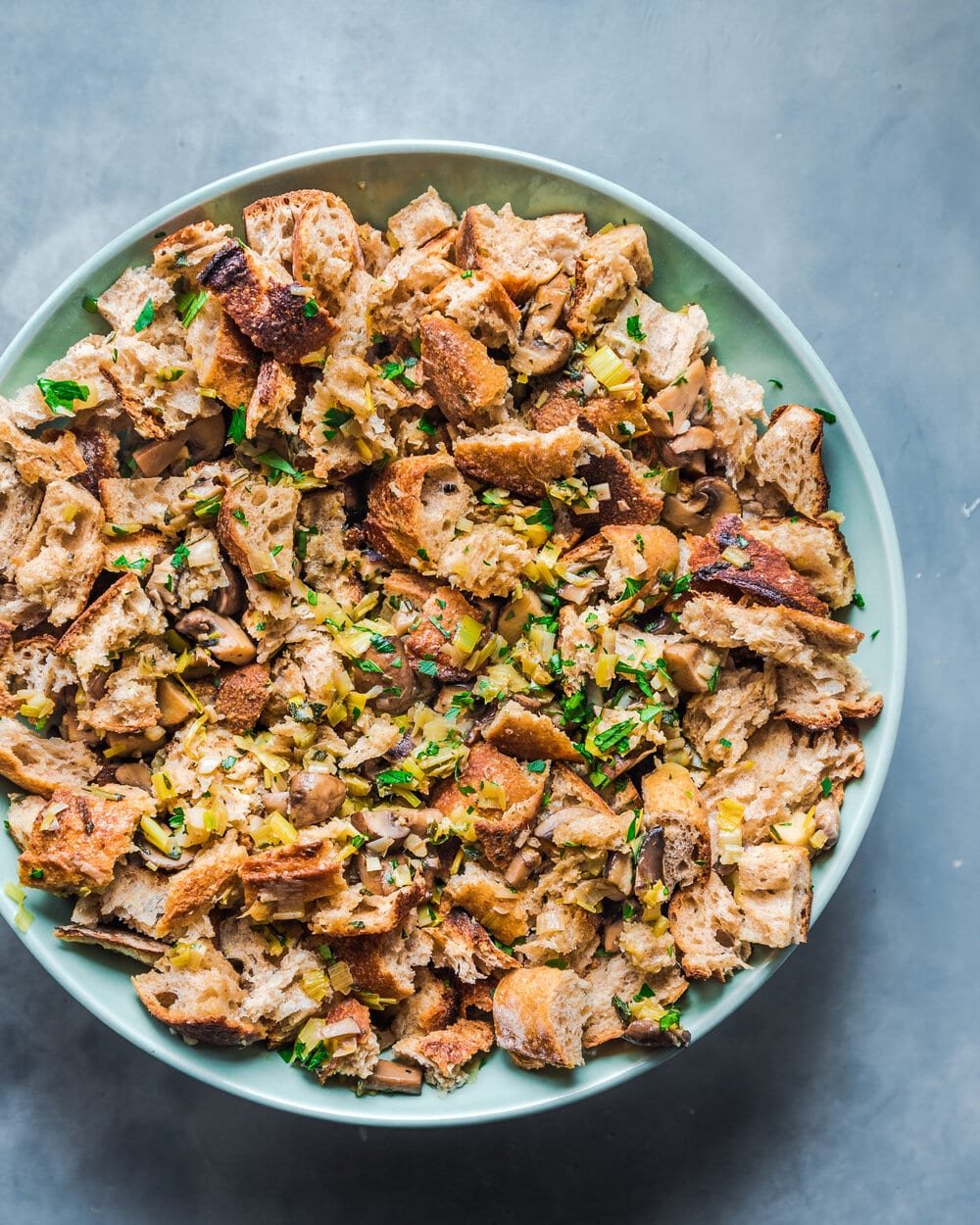 Fresh Herbs: This recipe calls for fresh sage, thyme, and rosemary, but I have also made it with thyme and oregano. Both combos are great, but whatever variety you choose, don't skimp on the amount of herbs used because it infuses the stuffing with a lot of savory, Thanksgiving-y flavors.
I almost always recommend using fresh herbs

for these types of woodsy herbs, especially rosemary and sage, because the flavor is much more potent than dried herbs. Plus, if you haven't freshly stocked your dried herbs, they've probably lost some of their potency.

If you are worried about having too many fresh herbs and don't want them to go to waste, here's a fun and easy way to preserve fresh herbs

(I used the remaining sage leaves from this recipe to make olive-oil sage cubes, which are in my freezer right now).
Bread: Ah yes, this is stuffing, so bread is essential, obviously. I like to use a hearty rustic bread, such a a good-quality baguette, French bread, or a ciabatta.
Many stuffing recipes call for cutting your bread into cubes. I do not do this and instead prefer to tear the bread

into pieces using my hands. For one, it is less annoying to do. Cutting bread into small cubes is annoying and time consuming. In contrast, tearing it apart with your hands is relatively quick and easy. Plus, it gives the stuffing a more rustic character and makes it feel less like a boxed Stove Top stuffing.

Whatever bread you use and however you tear/cut it, be sure to dry out the bread

! There are two ways to dry out your bread. For either method, the first step is to tear your bread into into 11/2- to 2-inch pieces.

If you are serving your stuffing the following day and you have already purchased your bread, leave the bread pieces on a large rimmed sheet pan at room temperature (uncovered) to dry out until the next day.
If you are preparing your stuffing on the same day you're serving it, you'll need to dry your bread out in the oven. I've seen various temperature and time combinations for drying out bread, but what works for me when using a baguette-style bread is to bake the bread pieces at 300ºF/150ºC for 25 – 40 minutes, until the bread is completely dried out and lightly crisped

. The amount of time it takes will depend on the variety of bread you use.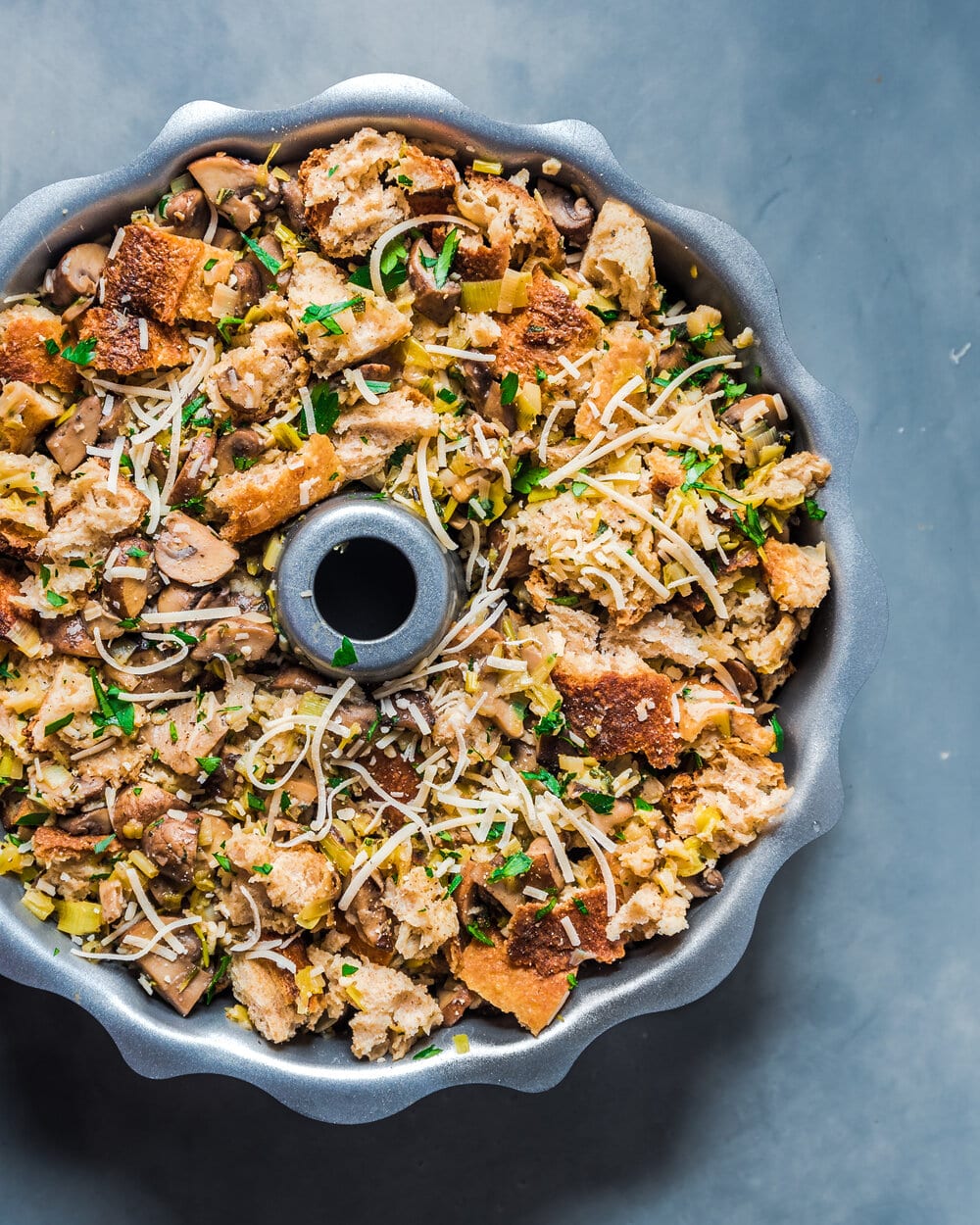 Vegan Butter and Olive Oil: This recipe, like many stuffing recipes, uses a combination of olive oil and (vegan) butter to cook the veggies.
I like the combination since the butter brings a richness to this dish (it's Thanksgiving, after all) and the addition of oil ensures that the veggies won't easily burn. If you don't have vegan butter or don't want to use it, you can just use more olive oil.
Flaxseed meal: The reason many stuffing recipes call for an egg or two is because eggs act as a binder and help hold the stuffing together. Here, the combination of a flax egg (flaxseed meal mixed with water to thicken), along with vegetable broth, act as the binder.
Leeks: I absolutely love the combination of mushrooms and leeks, but if you can't find leeks, you can easily use onions instead.
Also, leeks are dirty AF. Strip them of the outer leaves and then slice of the dark green parts, which are too fibrous to eat. Then wash them thoroughly in cold water

until all traces of dirt are gone.
Dry white wine: I love the flavor that wine imparts to this stuffing. It enhances and accents the flavors and aromas of the mushrooms and leeks. However, if you don't drink wine or don't keep it in your house, you can substitute the 1 cup of dry white wine with vegetable broth. If you are worried about cooking with wine for children, don't be! The alcohol cooks off during cooking so you won't accidentally get your kids tipsy.
Miso paste: This is not a traditional ingredient in stuffing, but as you might have noticed in my recipes, I like to incorporate umami into my savory recipes wherever possible because it just makes them taste so much better! If you don't cook with soy or are intolerant to it, you can omit it. But I recommend buying chickpea miso (affiliate link) instead. It's not the exact same, but it does serve the same purpose.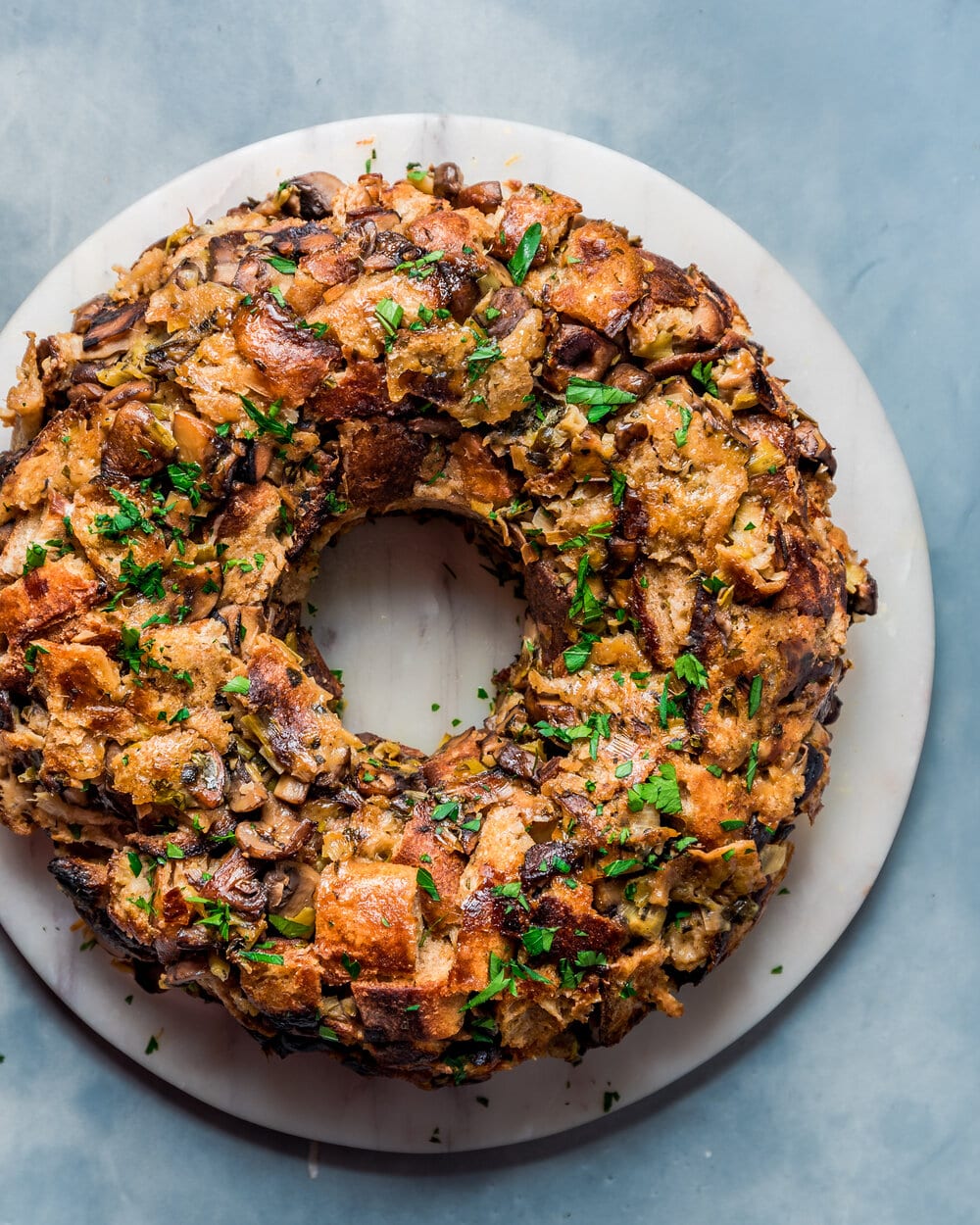 That's all you need to know about making this incredibly delicious Vegan Wild Mushroom Stuffing! If you give the recipe a go, be sure to leave a comment below or tag me with your recreations on Instagram! And for even more Thanksgiving recipes, check out my round-up of the best vegan thanksgiving recipes here!
Vegan Thanksgiving Stuffing | Wild Mushroom Stuffing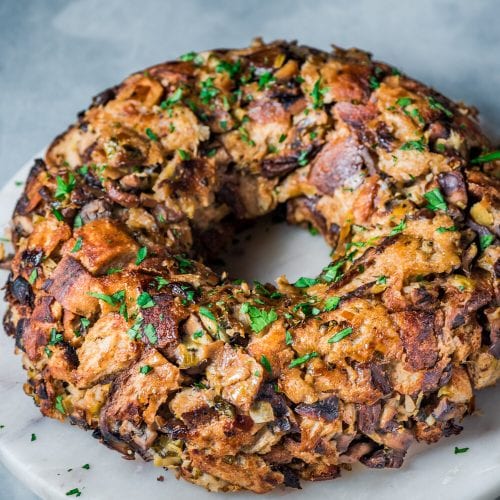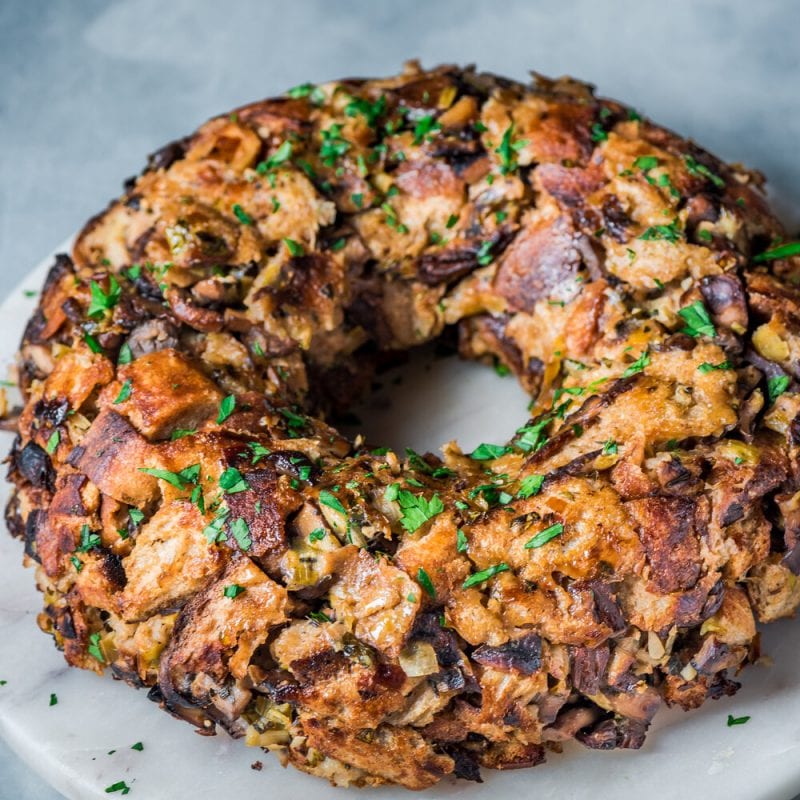 This Vegan Thanksgiving Stuffing will wow your holiday guests with its taste and presentation! Like traditional stuffing, this Wild Mushroom Stuffing is tender and moist yet a little crunchy! Bake it in a traditional pan or turn it into a festive Stuffing Wreath for a unique holiday centerpiece.
Ingredients
2

tablespoons

olive oil

2

tablespoons

vegan butter*

(I use Country Crock Plant Butter)

1

pound

wild mushrooms

(tough stems removed and cut into 1-inch pieces)**

½

pound

button or cremini mushrooms,

tough cut into 1-inch pieces

1 ½

teaspoons

kosher salt,

divided

Freshly cracked black pepper to taste

2

large leeks

(white and light green parts only, diced)

4

large garlic cloves,

minced

2

tablespoons

finely chopped fresh sage

1

tablespoon

finely chopped rosemary leaves

2

tablespoons

thyme leaves,

roughly chopped

1

cup

dry white wine

1

tablespoon

white miso paste***

1

flax egg

(see Step #2)

1

large baguette or loaf of French bread

(about 16 ounces, or 8-10 cups cubed)****

1/4

cup

finely chopped fresh parsley

1

– 2 cups vegetable broth

½

cup

vegan parmesan

(optional)
Instructions
Prepare the bread. Tear apart the bread into 1 1/2- to 2-inch pieces with your hands. Place the bread pieces on a large rimmed sheet pan and spread into an even layer. If you are making the stuffing the following day, allow the bread to sit uncovered at room temperature to dry out. If you are making the stuffing on the same day, preheat the oven to 300ºF/150ºC. Toast the bread pieces in the oven until completely dried out and lightly crisped, about 25 – 40 minutes. The exact amount of time will depend on the type of bread you're using, as some breads have more moisture than others.

Prepare the flax egg. Combine 1 tablespoon flaxseed meal with 2 1/2 tablespoons water. Stir to combine and set aside for 15 minutes to thicken.

Preheat the oven to 350ºF/175ºC. Lightly grease a 9×13-inch rectangular baking dish (or other 3-quart baking dish with oil or vegan butter). If you want to make the stuffing "wreath" shape, use a 12-cup Bundt pan.

Heat a deep saucepan or Dutch oven over medium heat. Once hot, add the olive oil and vegan butter. Once melted and shimmering, add the wild mushrooms and button or cremini mushrooms. Cook until the mushrooms are lightly browned and most of the liquid has evaporated, stirring occasionally but not too often to allow them to brown, about 8-9 minutes. Add 1 teaspoon of the kosher salt and black pepper to taste and cook for 1 more minute.

Add the leeks, garlic, and chopped sage, rosemary, and thyme. Cook for 3-5 minutes, stirring occasionally to prevent burning, or until the leeks are starting to turn golden.

Pour in the white wine, and stir to deglaze the pan. Stir occasionally, until almost all of the wine evaporates, about 5-7 minutes. Add the miso paste and stir to incorporate into the veggies. Transfer the mushroom mixture into a very large bowl (the biggest bowl you have so you have enough room for mixing).

Add the flax egg, dry bread cubes, and chopped parsley to the mushroom mixture. Toss well to combine. Season with remaining ½ teaspoon kosher salt and black pepper to taste. Pour 1 cup of vegetable broth over the mixture to moisten, stirring to coat. Allow the stuffing to rest for 1-2 minutes to absorb the liquid. Then toss again until the liquid is evenly distributed onto each piece of bread. Add more broth as needed, depending on how dry your bread is.

If using vegan parmesan, sprinkle it over the stuffing and gently mix it in.

Transfer the stuffing to your prepared dish. Spray a piece of aluminum foil lightly with cooking spray or brush lightly with oil to prevent sticking. Cover the pan tightly with the foil bake until warmed through, about 25 minutes. Then increase the oven temperature to to 425°F/220°C and uncover the pan. Continue baking until golden-brown and crisp on top, about 15-20 minutes.

Allow to cool slightly before serving. If you are making the stuffing in a bundt pan, allow to cool for 20-25 minutes before inverting onto a serving dish.
Notes
* You can just use more olive oil if you don't want to use or don't have vegan butter.
** Wild mushrooms are pricy, so you can use a smaller quantity if you prefer. Also, I find that button mushrooms are a lot more watery than wild mushrooms, so it might take a few more minutes for the liquid to evaporate when cooking them.
*** To keep this recipe soy-free, omit the miso paste or use chickpea miso. If you omit the miso paste, you might want to add just a smidgen more of salt.
**** You can use any bread you like, but I prefer a sturdy rustic bread such as a good-quality baguette, French bread, or ciabatta.
---
Calories:
211
kcal
|
Carbohydrates:
25
g
|
Protein:
6
g
|
Fat:
8
g
|
Saturated Fat:
2
g
|
Polyunsaturated Fat:
2
g
|
Monounsaturated Fat:
4
g
|
Trans Fat:
1
g
|
Sodium:
773
mg
|
Potassium:
415
mg
|
Fiber:
3
g
|
Sugar:
4
g
|
Vitamin A:
818
IU
|
Vitamin C:
10
mg
|
Calcium:
72
mg
|
Iron:
3
mg