In the great hard-shell-taco vs. soft-taco debate, my advice is simple – why not both?
In these double decker black bean and corn salad tacos, a soft corn tortilla gets spread with refried black beans, which become the "glue" that helps them adhere to an inner hard taco shell.
It's really the best of both worlds – you get the crispy crunchy goodness of a hard shell tacos without having them fall apart when you take a bite, thanks to the chewy soft taco wrapping.
And the corn and black bean salad filling is so good you could eat it on its own. Add to that an easy cilantro crema and you have a delicious vegan meal that can be on the table in under 30 minutes.
Looking for even quicker tacos? Try these 20-Minute Chickpea Tacos!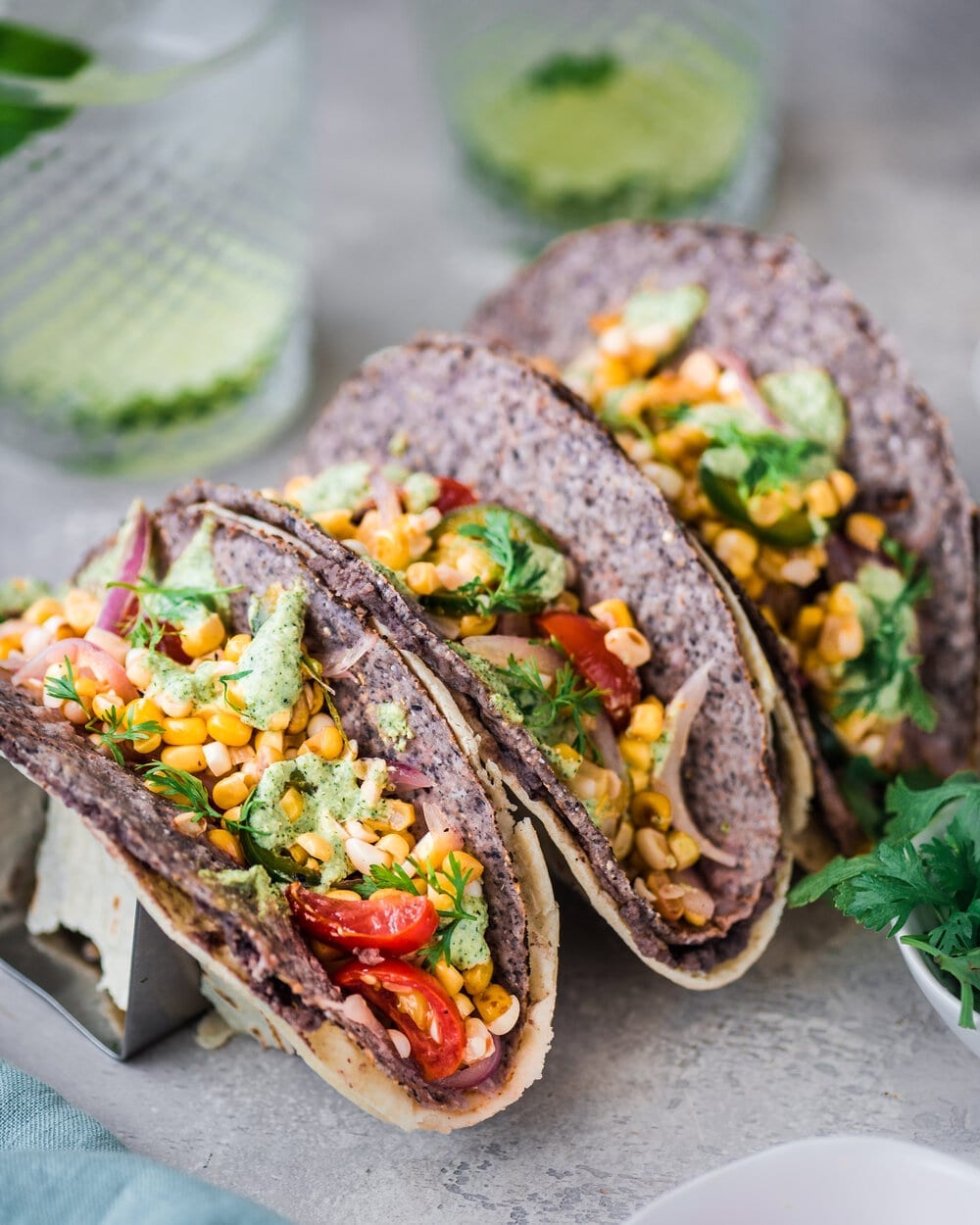 Why you'll love this recipe
Weeknight and Meal Prep Friendly. The corn salad, refried beans and cilantro can all be made in advance to make weeknight dinners a breeze.

Textural Heaven. The combination of the crunchiness from the hard taco shell, creaminess from the refried beans and cilantro crema, chewiness from the fresh corn and juiciness from fresh tomatoes.

Peak Seasonal Ingredients. There are few things more delicious than corn and tomatoes at their peak flavor.
Tips for making this recipe
This recipe is dead simple so I don't have a ton of advice for you, but here are a couple things to keep in mind.
Thinly slice the red onions and jalapeños. Onion slices and jalapenos get marinated in lime juice and olive oil for 15-20 minutes, which helps mellow out their flavors. By slicing both thinly, the marinade is able to cover more surface area and have a more pronounced effect.
For a nifty technique to shave the corn kernels without them going everywhere, watch the below YouTube video. The segment starts at the 1:00 mark in the video.
More Mexican-ish recipes you might like…
Are you in the mood for even more Mexican inspired recipes? Check out some of my favorites below:
Watch the video!
Okay, that's all for me. If you enjoyed making these tacos, be sure to leave a comment below or tag me on Instagram!
Double Wrapped Black Bean and Corn Salad Tacos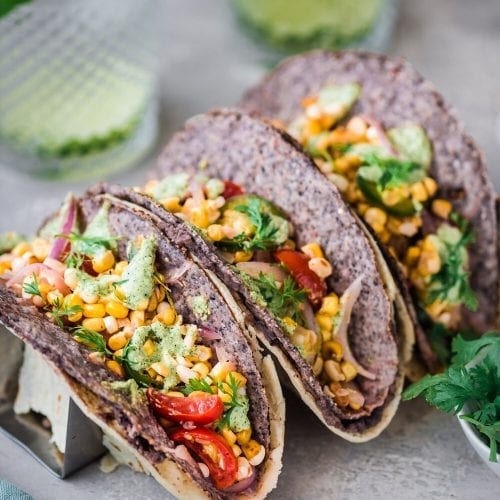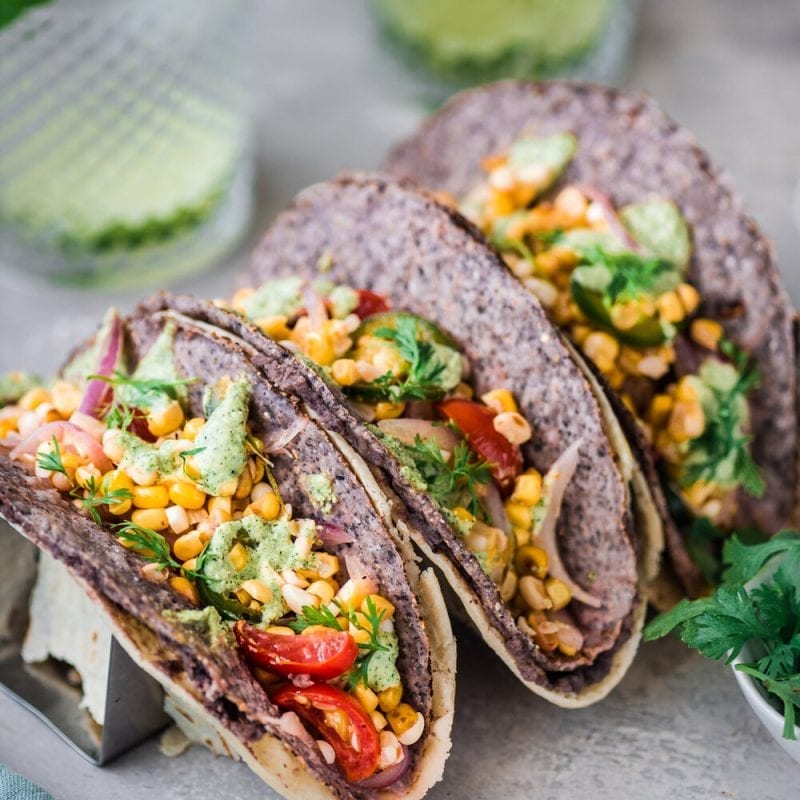 These double-wrapped tacos of the best of both worlds! A soft corn tortilla gets spread with refried black beans, then wrapped around a crispy hard taco shell, all stuffed with a flavorful corn and black bean salad.
Ingredients
Tacos Ingredients
Corn Salad

(recipe below)

Cilantro Crema

(recipe below)

Refried Black Beans

(store-bought, or recipe below)

Soft corn tortillas

(can substitute flour tortillas if not gluten-free)

Hard taco shells

(I used these, which are corn-based; you can also try grain-free taco shells such as this; or, try the homemade taco shells in the third recipe below)
Corn Salad Ingredients
1/2

of a small red onion,

thinly sliced

2

small jalapeño peppers

(or 1 ½ medium, thinly sliced into rounds)

3 ½

tablespoons

lime juice,

plus more for serving

3

tablespoons

extra virgin olive oil,

divided

Kosher salt or sea salt to taste

Freshly cracked black pepper to taste

4

ears of corn

1

pint

of cherry tomatoes

~280g, sliced in half or quarters
Cilantro Crema Ingredients
1/2

cup

water

(120 mL), more to thin as needed

1

cup

(130g) hemp seeds (also known as hemp hearts)

6

tablespoons

freshly squeezed lime juice

1

heaping cup

(15g) fresh cilantro leaves

½

teaspoon

ground cumin

3

garlic cloves,

roughly chopped

1

jalapeño pepper,

roughly chopped (remove seeds for mild version, or use 2 peppers for a spicy version)

1/2

teaspoon

sea salt

Freshly cracked black pepper to taste

2

tablespoons

nutritional yeast

1

tablespoon

extra virgin olive oil

(optional but adds a nice richness)
Refried Black Beans Ingredients
1

tablespoon

olive oil

2

garlic cloves,

minced

1

teaspoon

dried oregano

1

teaspoon

chili powder

1/2

teaspoon

ground cumin

1

(15-ounce / 440g) can black beans, drained and rinsed

2

bay leaves

2/3

– 1 cup

(160-240 mL) water, vegetable broth, or canned bean liquid

Kosher salt or sea salt to taste

Freshly cracked black pepper to taste

1

tablespoon

fresh lime juice
Instructions
Tacos Directions
Place a few corn tortillas on a damp paper towel and fold up the towels to seal the tortillas. For three tortillas, microwave for 20 to 25 seconds.

NOTE: This step is important to soften up the tortillas and make them more pliable; otherwise, they can be too dry and crack when wrapping them around the hard taco shell. If using flour tortillas, you can probably skip this step.

Spread some of the Refried Black Beans on one side of a soft corn tortilla. Place a hard taco shell, upright, in the center of the soft corn tortilla. Fold up both sides of the soft tortilla and gently press the refried beans onto the hard taco shell to seal, starting at the bottom and working your way up to the top. The refried beans should stick and help hold the double taco together.

Fill the tacos. Using a slotted spoon (to prevent getting a lot of the liquid from the corn salad into the tacos), add some of the Corn Salad into each hard taco shell. Generously dollop the Cilantro Crema on top. Serve and enjoy!
Corn Salad Directions
In a large bowl, mix together the sliced red onions, sliced jalapeños, 3 ½ tablespoons lime juice, and 2 tablespoons of the extra virgin olive oil. Season with salt and pepper and let marinate for at least 20 minutes (or up to 1 hour), until the onion is softened.

Meanwhile, shave the corn kernels from the ears of corn. To see how I do this, watch the video. Set aside half of the kernels.

Heat a cast iron skillet over medium high heat. Once hot, add the remaining 1 tablespoon olive oil. Add the remaining half of the corn kernels. Cook for 3-5 minutes, tossing once or twice, until the corn is charred in some spots.

Add the charred corn and the raw corn to the large bowl with marinated onions. Add in the sliced cherry tomatoes. Season to taste with salt and pepper and a squeeze of extra lime juice.
Cilantro Crema Directions
Pour the water into a high-powered blender. Add in the remaining crema ingredients and blend until smooth and creamy, scraping down the sides as you go. Taste for seasonings, adding more salt or lime juice as needed.
Refied Black Beans Directions
Heat the oil in a large frying pan over medium heat. Once the oil is hot, add the garlic. Cook for 1-2 minutes, stirring frequently, until golden brown.

Add the oregano, chili powder, and cumin and cook for 30-60 seconds until fragrant, stirring frequently. Add in the drained beans, bay leaves, and water or broth. Cook for 5-10 minutes, or until the beans are warmed through.

Using an immersion blender or a potato masher, mash most of the beans, but leave some beans whole for texture. If the beans appear dry, add more water or broth as needed to moisten. Continue to cook the beans, stirring often, for 2-4 more minutes.

Season the beans with salt and pepper to taste. Turn off the heat, and stir in the lime juice.
---
Calories:
514
kcal
|
Carbohydrates:
44
g
|
Protein:
20
g
|
Fat:
31
g
|
Saturated Fat:
4
g
|
Polyunsaturated Fat:
15
g
|
Monounsaturated Fat:
12
g
|
Trans Fat:
1
g
|
Sodium:
349
mg
|
Potassium:
551
mg
|
Fiber:
6
g
|
Sugar:
8
g
|
Vitamin A:
885
IU
|
Vitamin C:
41
mg
|
Calcium:
123
mg
|
Iron:
7
mg