You'll be a tempeh fan for life after trying these Tempeh Tacos.
Fried tempeh crumbles are delightfully crisp and lightly seasoned with soy sauce and lime juice. They're stuffed into charred tortillas along with quick pickled vegetables and homemade avocado crema. It's really all you need for the best vegan taco spread ever.
These tacos are a sensational yet simple weeknight dinner or feature on Taco Tuesday. The layers of tang, spice, and umami complement each other perfectly and are pretty much addictive. So good that they've turned tempeh haters into tempeh lovers. They just happen to be nutrient-rich, too.
PS: If you're looking for more easy vegan tacos for Taco Tuesday, make sure to try my 20-Minute Chickpea Tacos and Black Bean and Corn Salad Tacos as well.
Table of Contents:
1. What is tempeh?
2. Why this recipe works
3. Ingredient notes
4. Step-by-step instructions
5. Tips for making this recipe
6. Frequently Asked Questions
7. Recipe card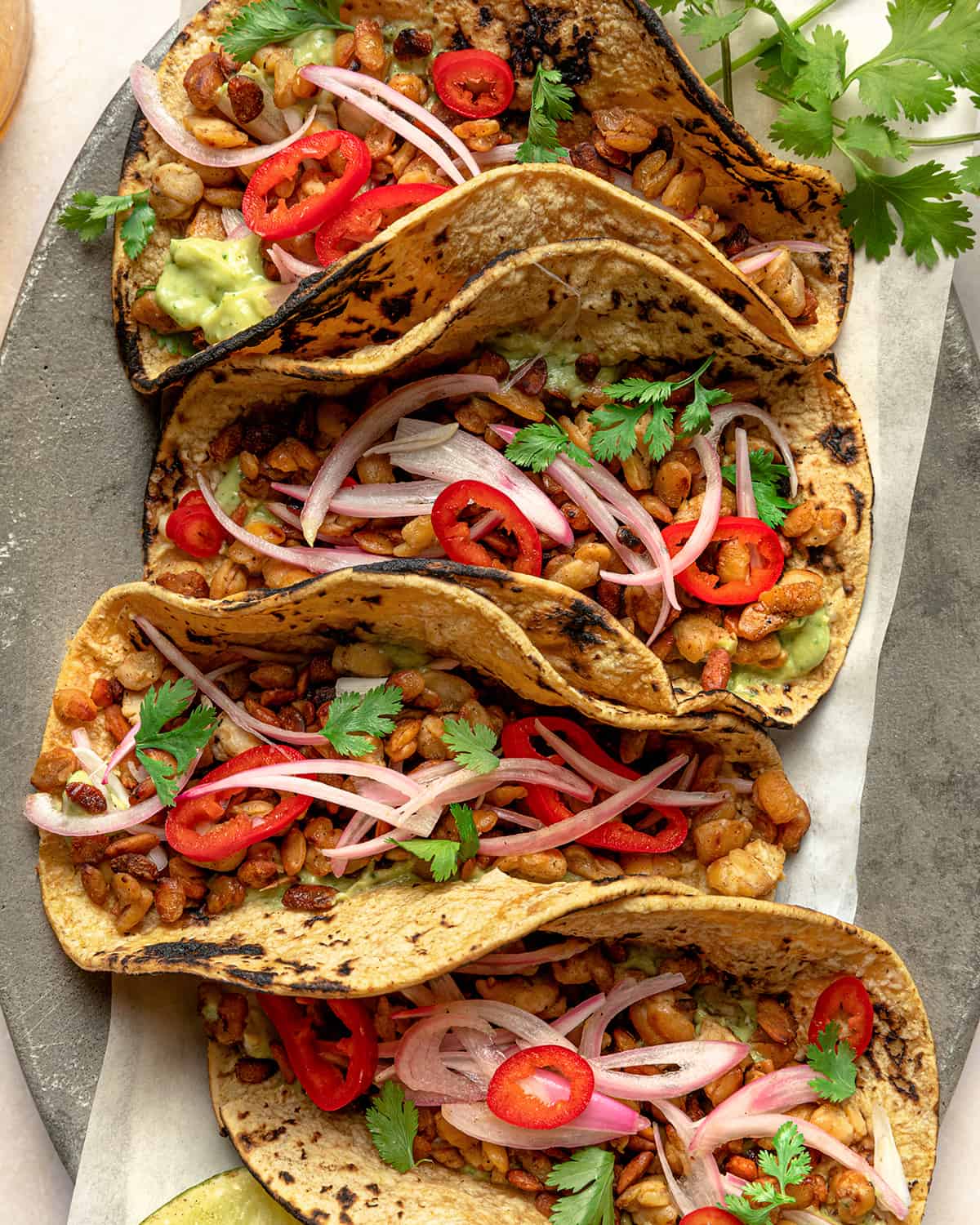 What is tempeh?
Tempeh is a basically a fermented soybean cake, typically sold in rectangular blocks. It's originally from Indonesia, where it's been used in cooking for thousands of years.
Tempeh is a good source of umami thanks to fermentation. The flavor is meaty, nutty, and a little mushroom-y. And its nutrition profile is off the charts (more on that below)!
Note: Sometimes, tempeh will have dark black or blue-ish spots on it. This is not mold or a sign of spoilage. It's safe to eat and tastes fine.
If you're looking for more tempeh recipes, my Indonesian Tempeh Kecap stir-fry and BBQ tempeh are wildly good. On the other hand, if you haven't been sold on tempeh (yet) but love the sound of these flavors, check out my Chipotle Copycat Vegan Burrito Bowl or Chickpea Tacos.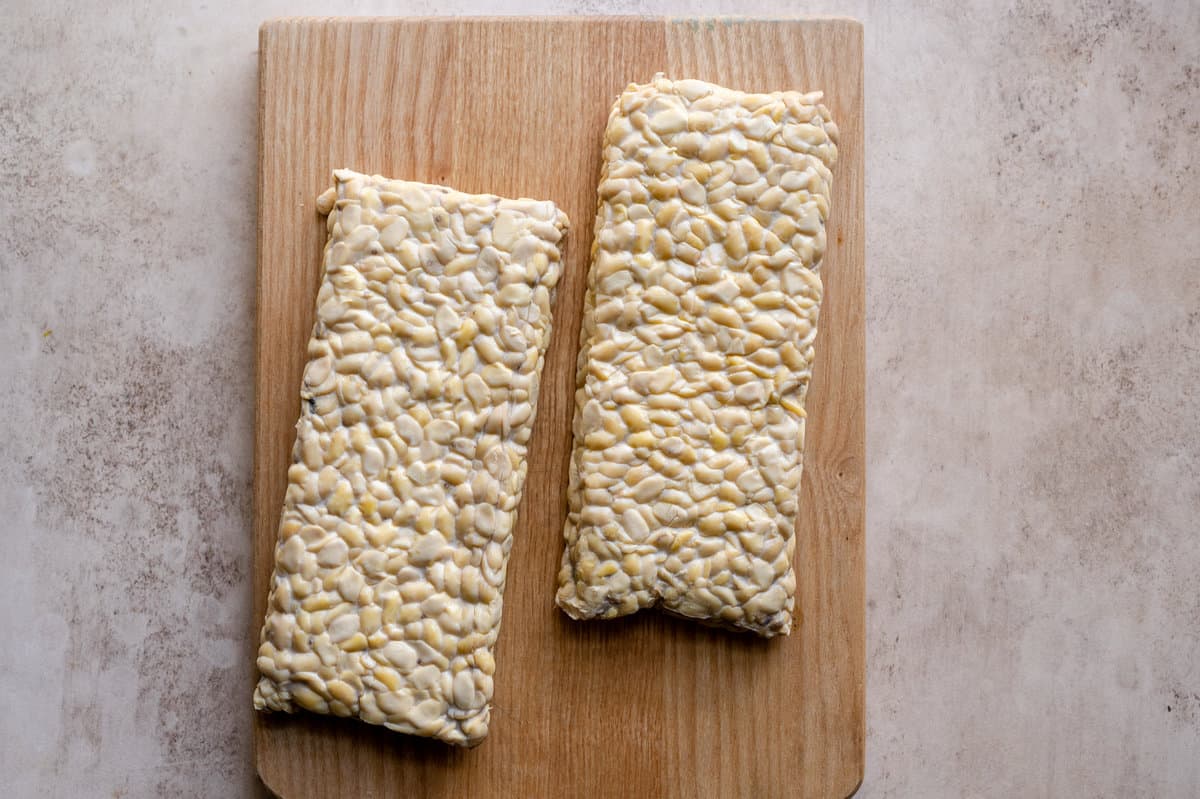 Why this recipe works
It takes tempeh from 'meh' to majestic
Tempeh is an underrated and nutrient-diverse food that deserves more love. Not only does it soak in flavor just as well as tofu, but it boasts magnesium, iron, calcium, and even more health benefits in every bite.
Scroll down a little to check out even more tempeh health benefits.
BUT, tempeh gets a bad rap because of its naturally bitter flavor and dense, nutty texture. Often, when you bake it, it dries out (even when coated in a marinade), leaving you with a difficult-to-chew sensation.
Instead of dwelling on these "faults," though, I use these to tempeh's advantage in this recipe.
First, the tempeh is crumbled very finely to break up that dense nuttiness, then pan-fried in oil to give it an ultra-crispy texture.

Next, simple seasonings and condiments come into play. All of that natural bitterness goes away when tempeh is lightly seasoned with soy sauce and lime juice, as savory saltiness and acidity are great balancers of bitter flavors.

The quick pickled vegetables offer the final tangy-sweet zing, making the tempeh perfectly balanced in flavors.
Gourmet flavors in a 40-minute recipe
You aren't sacrificing flavor for time in this recipe. It's the best of both worlds: quick and packed with flavor! Impatient guests or family members won't have time to complain because the tacos come together in less than 40 minutes.
The tempeh, avocado crema, and pickled vegetables have all of the flavors you love from Mexican cuisine rolled up into a wholesome plant-based package. They're sure to win over all of the picky eaters, meat eaters, and vegan skeptics in your life.
They're wholesome (really!)
Tempeh is a complete protein, meaning it contains all 9 essential amino acids. It keep you full and boasts a wide range of vitamins and minerals: vitamin B12, fiber, iron, and calcium, to name a few. Lastly, because it's fermented, tempeh contains probiotics, meaning it's great for your gut health and is easy to digest (even for many folks afflicted with the soy troubles).
One 3-ounce serving of tempeh contains 18 grams of protein and 6 grams of fiber!
And if you'd love to turn tempeh into a wholesome one-pot meal, I recommend checking out the Hearty Tempeh Chili in my cookbook, The Vegan Instant Pot Cookbook!
Then there's the avocado. It's considered nature's butter because it's naturally creamy and full of healthy monounsaturated and polyunsaturated fats (which can help lower your cholesterol). Also rich in fiber, potassium, and a variety of other vitamins and minerals. It's one of the many reasons I love using avocados in sandwiches, creamy pasta sauces, and this homemade crema.
Ingredient notes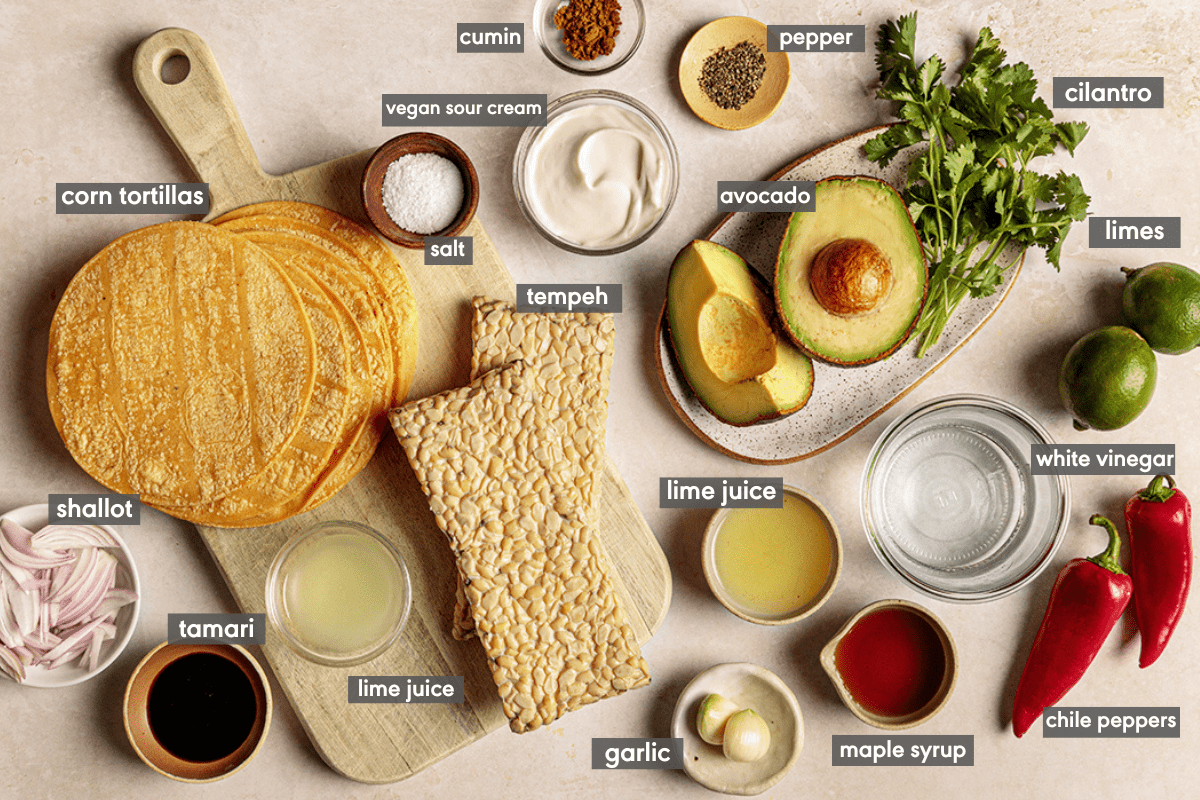 Tempeh. Tempeh crumbles similar to ground meat and soaks up flavor like a sponge! You can use tempeh and/or tofu, lentils, or walnuts to make vegan taco meat.
Soy sauce + lime juice. These two ingredients are all you need to season the tempeh taco meat. Between the tempeh and the crema, you'll likely need 3 medium limes or 2 large juicy limes.
Pickled shallots and chile peppers. For the very best vegan tacos, do not skip the pickled stuff. Quickly pickling shallots and chile peppers (like fresno chiles or jalapeños) in vinegar and maple syrup adds a burst of brightness, vibrancy, and just a touch of sweetness to every bite.
Avocados. Mashed avocados are blended with vegan sour cream or yogurt, lime juice, and a few aromatics and seasonings to make the vegan avocado crema. It's a quick and cooling taco spread that (1) tones down the spice level, (2) keeps the tempeh in place, and (3) adds a creamy textural contrast to the crispy tempeh.
Craving extra sauce? Scroll down to the Tips section to learn how to expertly store a big batch without it turning brown.
Vegan sour cream. In the RPL kitchen, our favorite vegan sour creams are from Kite Hill Foods, Tofutti, or Follow Your Heart. For tangy coconut yogurts, we like Culina, CocoJune, and GT's Cocoyo.
Tortillas. Corn tortillas are best here, but go ahead and use flour tortillas if that's what you have at home (the recipe will no longer be gluten-free though).
Step-by-step instructions
Stir the chile peppers, shallot, vinegar, maple syrup, and salt together in a small jar. Set it aside and let the mixture macerate while you work on everything else.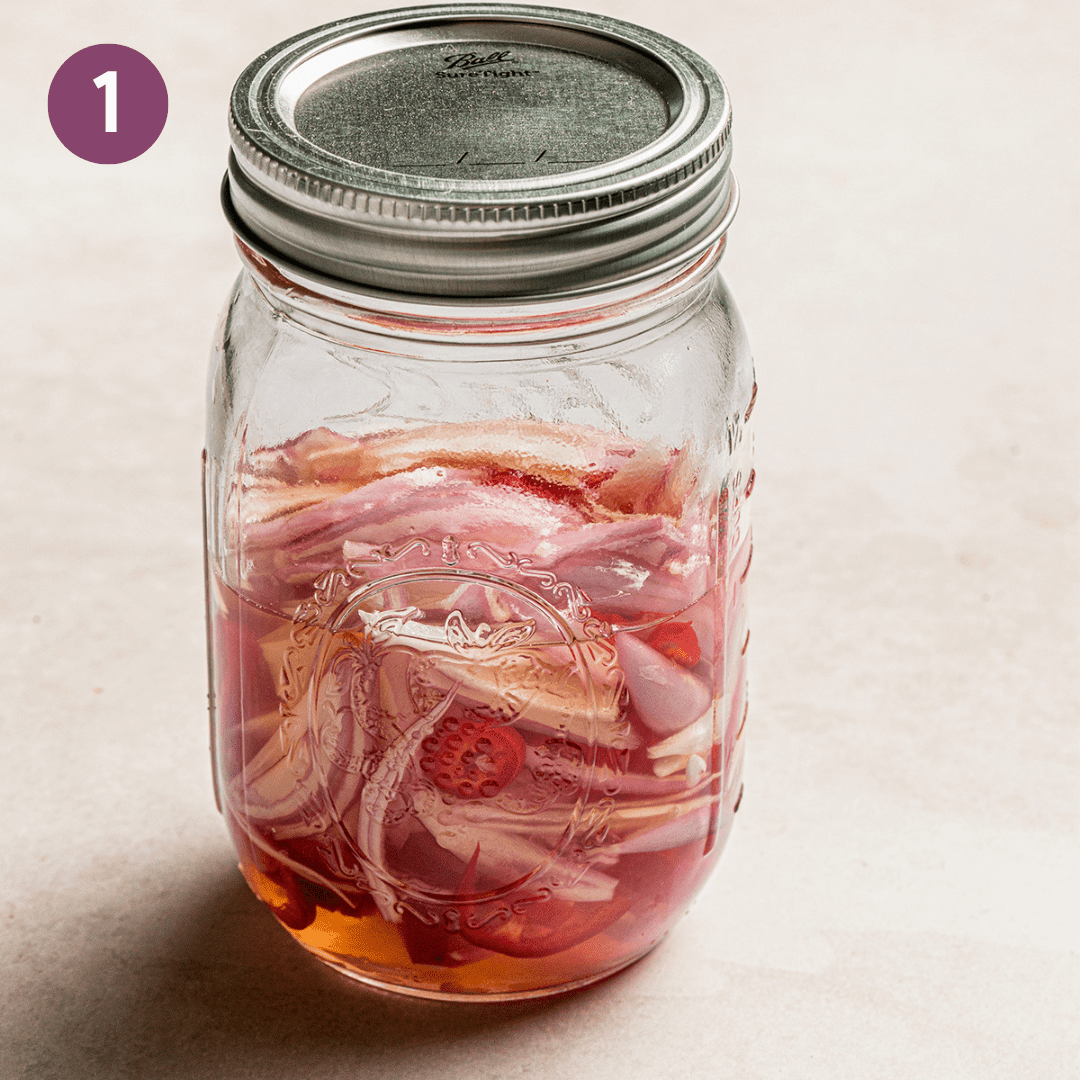 Make the tempeh taco meat. Crumble the tempeh into very small pieces.
Heat the oil in a frying pan over high heat. Once it begins to smoke, add the crumbled tempeh in a single layer and cook until it's golden brown and crisp.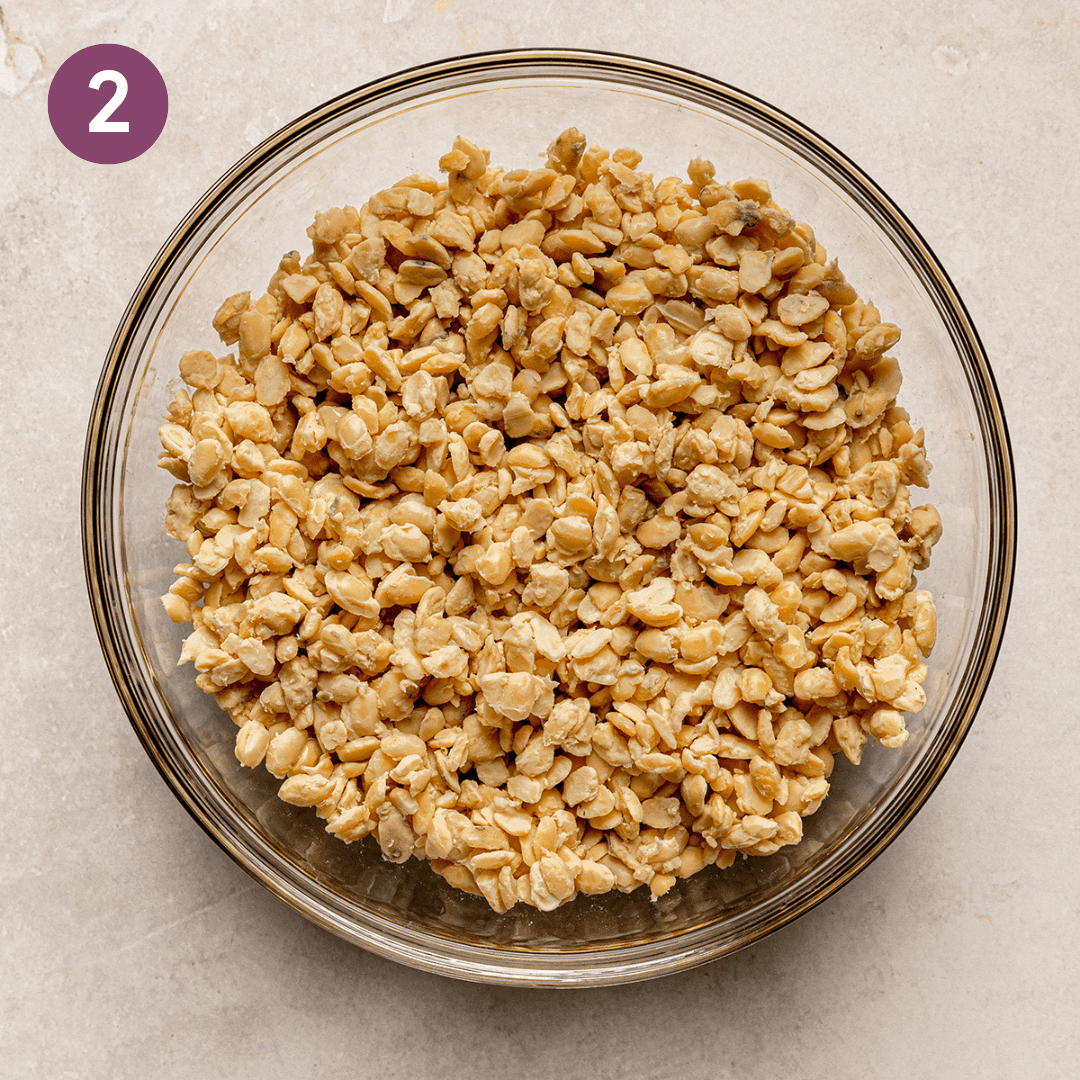 Transfer the crispy tempeh crumbles to a paper towel-lined surface. Blot them dry to remove any excess oil.
Once they're a bit cool, place them in a bowl and pour the soy sauce and lime juice over top. Toss to coat.
Make the avocado crema. Pulse the avocado flesh, sour cream or yogurt, lime juice, cumin, cilantro, salt, and pepper together in a food processor until creamy. Season to taste with salt, pepper, or lime juice.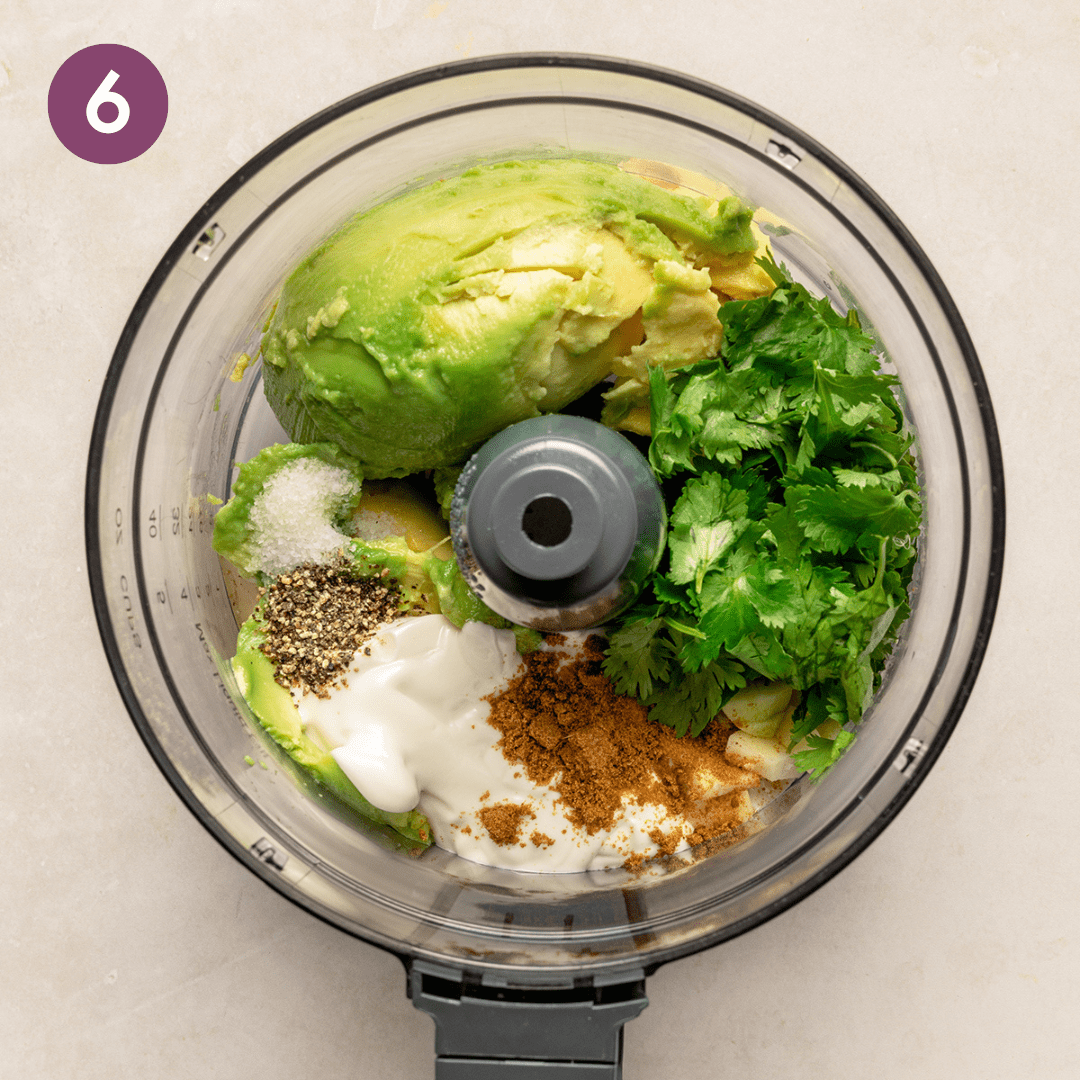 Char the tortillas. If you have a gas stove, use tongs to lightly char the tortillas over a low flame. Alternatively, warm the tortillas in a skillet until they're pliable (about 20 to 30 seconds per side). Stack and wrap the charred tortillas in a dish towel to keep them warm and pliable.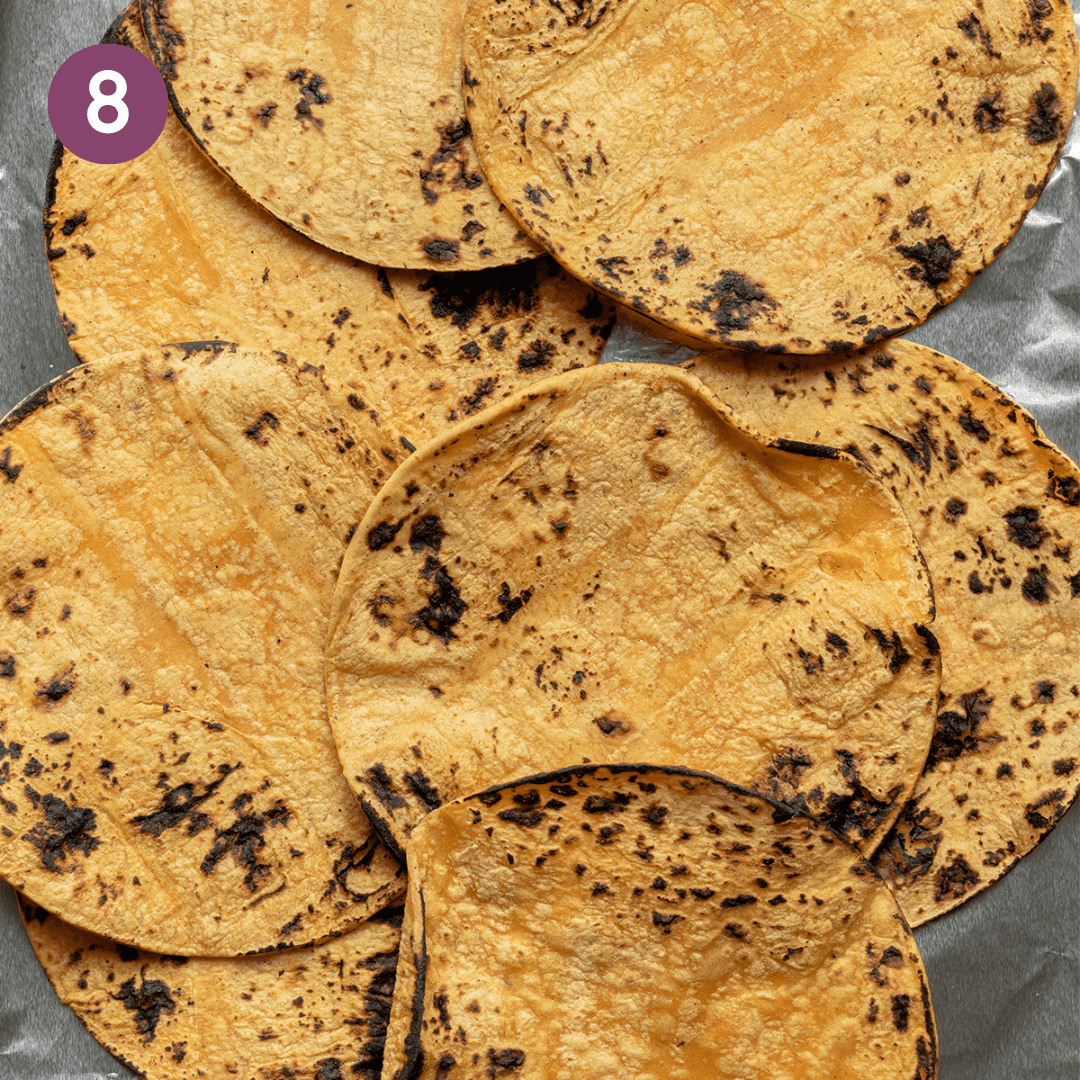 Assemble the tacos. Spread a dollop of crema onto each tortilla. Top with fried tempeh, then the pickled shallots and peppers. A dash of the pickling liquid on top makes them extra tasty! Finish with fresh cilantro and lime juice, then serve!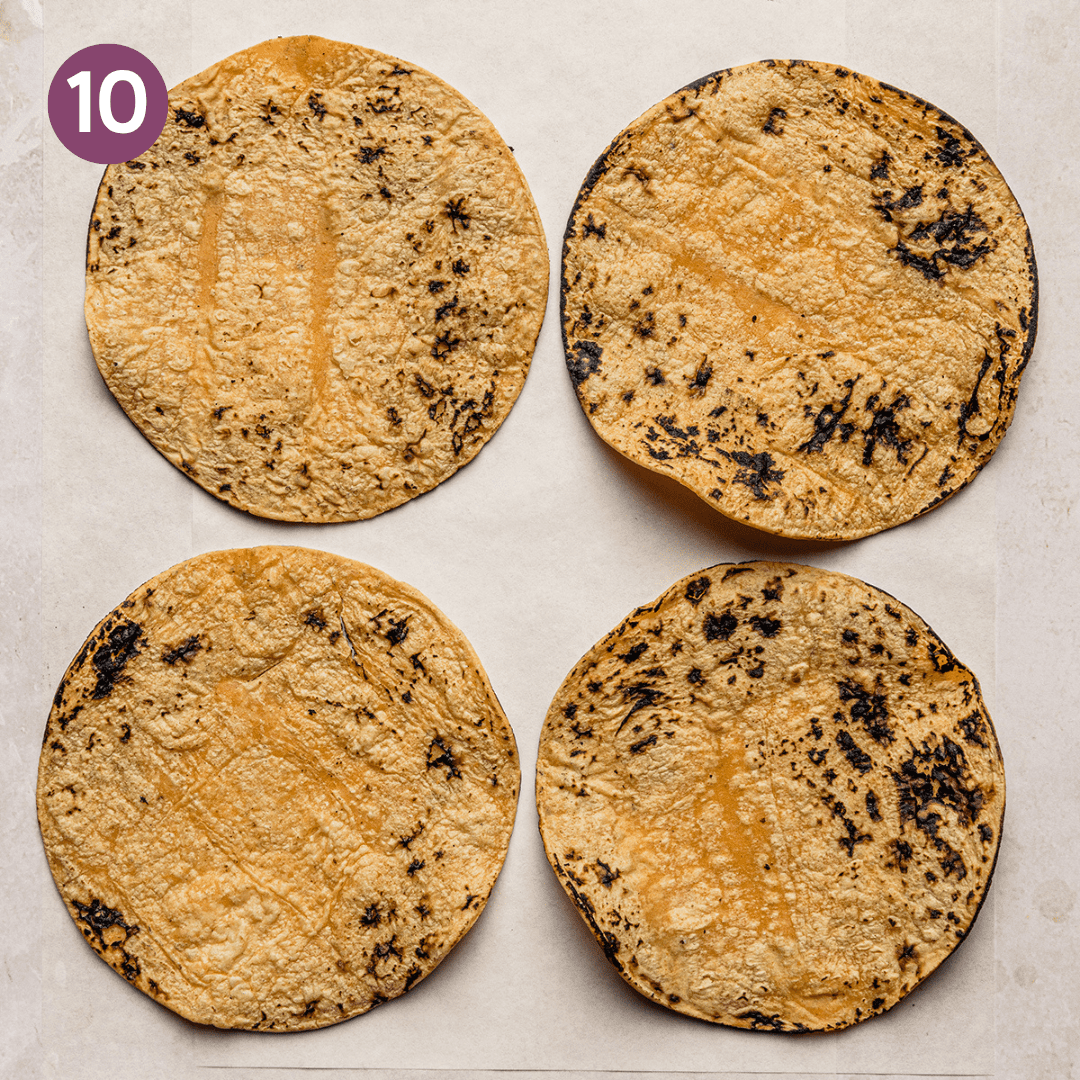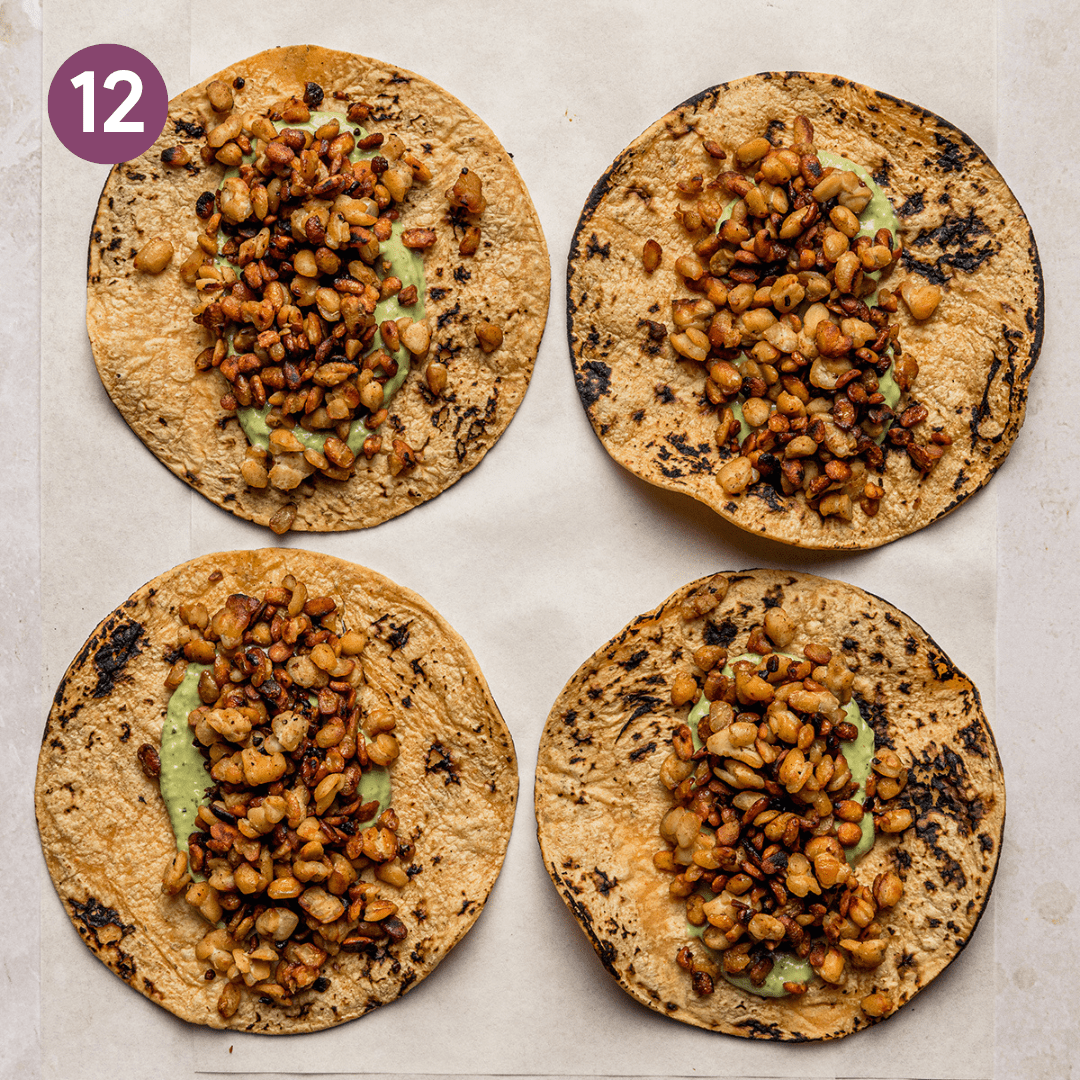 Tips for making the best tempeh tacos
Make extra avocado crema.
You won't regret the extra effort. Avocado crema goes well with virtually any taco or burrito, on grain bowls, taco salads, and more. It's just as versatile as it is delicious.
On keeping the crema fresh.
Store the extra crema in an airtight jar or container with the avocado pit to keep the sauce fresh and to prevent it from browning for up to 4 or 5 days. I learned this handy tip from my lovely friend Edgar Castrejón in his cookbook, Provecho, where you'll find even more incredible vegan Mexican recipes.
The smaller the crumbles, the better.

Use your hands to crumble the tempeh into very fine pieces, about the size of a pine nut. The smaller the pieces, the crispier they get and less dense/chewy they feel.
Tailor to your spice level.
It's possible to make these tacos extra spicy if that's your thing. Add a third fresno or jalapeño pepper to the pickled pepper mixture, or add half a pepper to the avocado crema. But mild tacos are delicious too! In this case, only use one chile pepper in the pickled pepper/shallot mixture.
Char the tortillas.
Charring the tortillas over an open flame (or in a skillet) makes them chewy and a little crispy, adding extra textural dimension to the tacos. It also firms up the texture, making them a sturdier vessel for holding all of the toppings.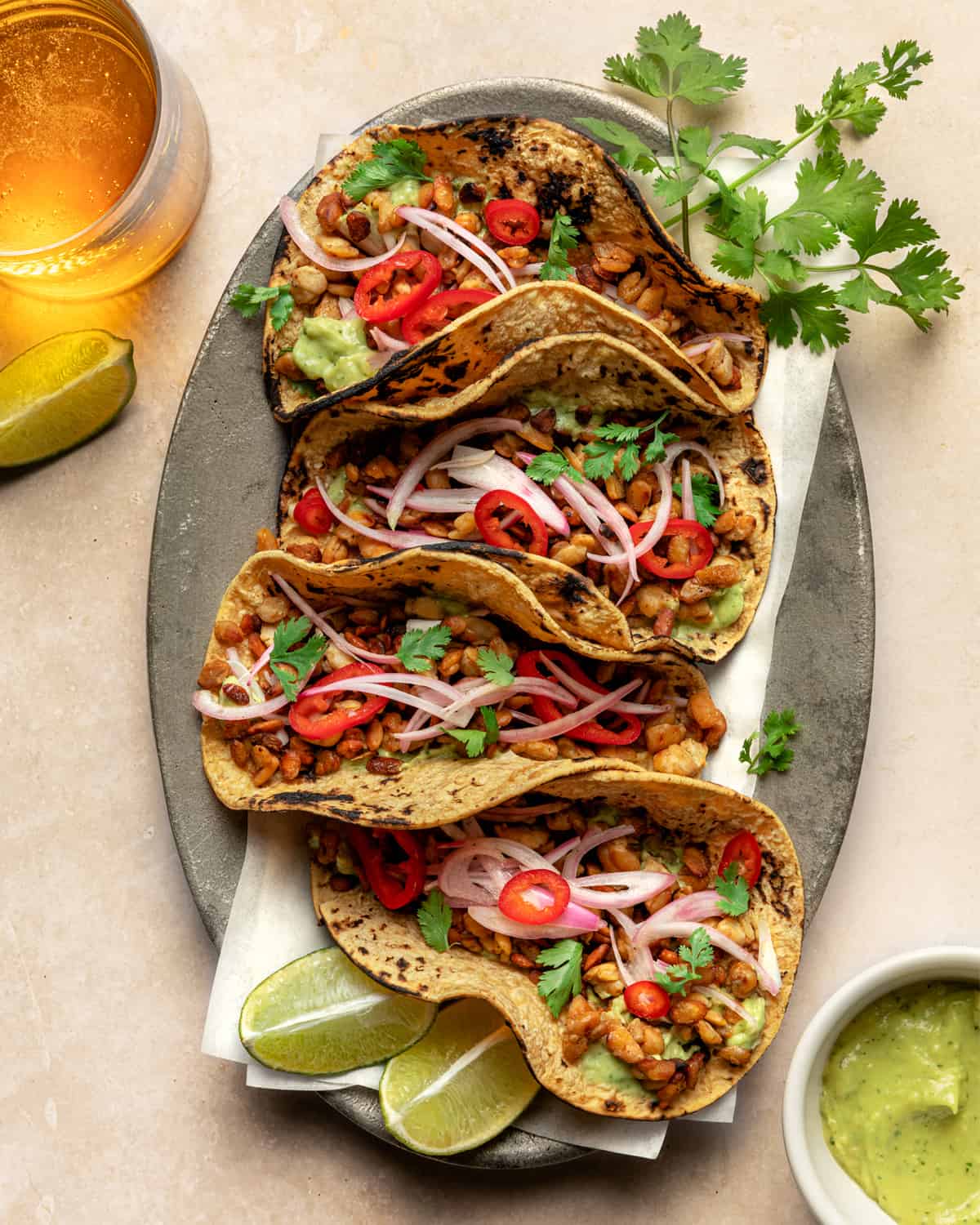 Frequently Asked Questions
What kind of tempeh should I use?
Look for varieties that say "original." Some tempeh varieties are sold as "three grain," but I find they can get too crispy when fried (hard to chew). Also avoid pre-seasoned tempeh, like tempeh bacon or buffalo tempeh.
Can this recipe be made gluten free?
Yes. Be sure to use tamari instead of soy sauce when seasoning the tempeh. Corn tortillas and plain varieties should be naturally gluten-free, but check the labels just in case.
Do I have to use oil?
Yes. Oil is necessary to not only allow the tempeh to get crispy, but to also prevent it from sticking to the pan. Use oil with a high smoke point, like avocado oil or canola oil, to achieve golden brown crumbles without burning.
Can I scale this recipe down?
If you're making tacos just for two, I recommend cooking just one block of tempeh. You'll have leftover avocado crema and pickled vegetables, but they're practically begging to be used in all your other tacos as well as sandwiches and grain bowls.
How should I store leftovers?
Store all components (tempeh, pickled vegetables, crema) separately in airtight containers or jars in the fridge. The tempeh should stay good for 5 days, the crema 4 to 5 days, and the pickled vegetables for a few weeks.

To keep the crema fresh as long as possible, save on of the avocado pits. Store the pit on top of the crema, seal the jar or close the lid, and refrigerate.

Reheat leftover tempeh in a nonstick frying pan over medium-high heat until warmed through.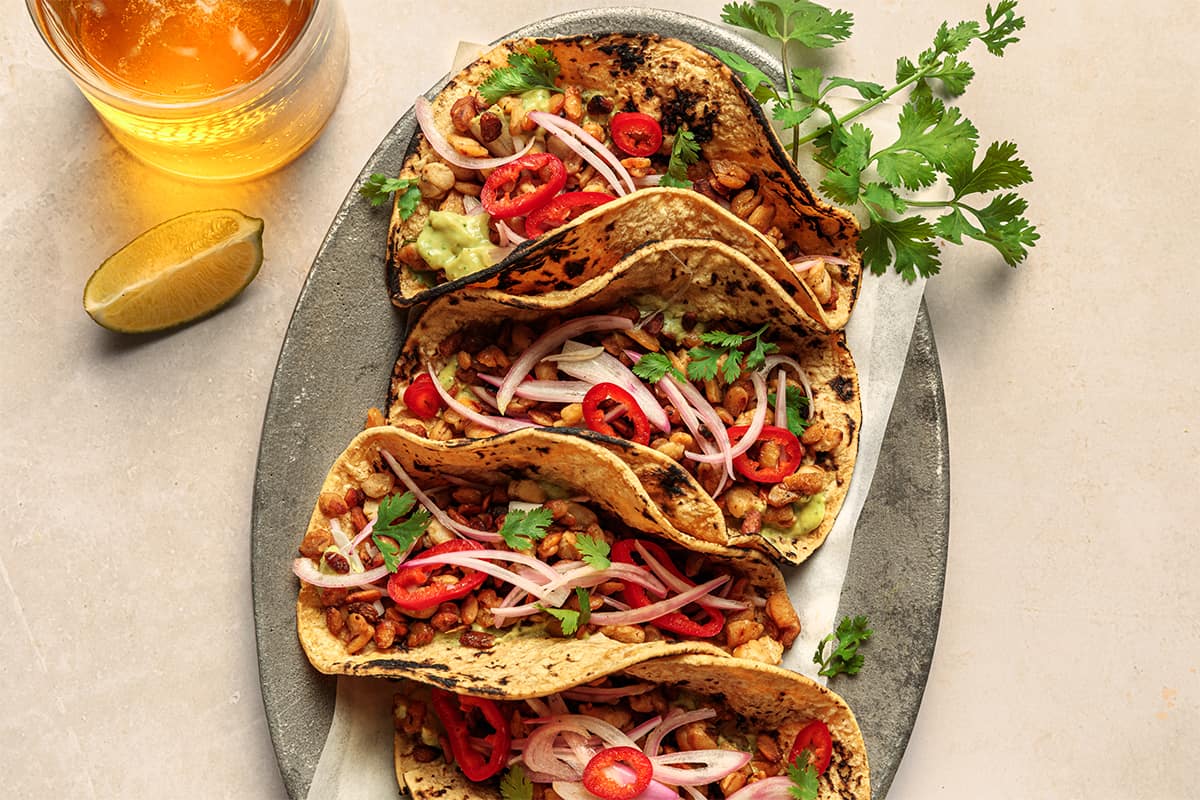 If you love these tempeh tacos as much as we do, please be sure to leave a rating and review below :) And as always, I love seeing your remakes on Instagram!
Tempeh Tacos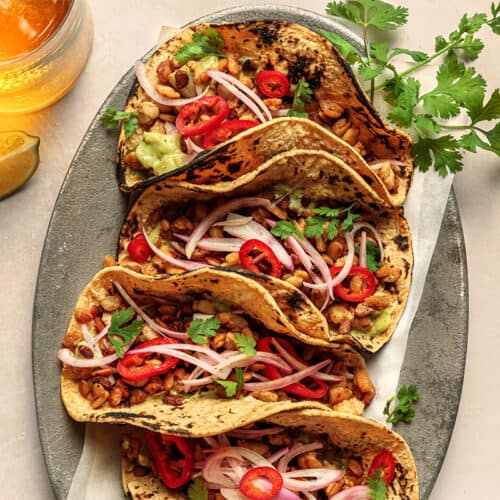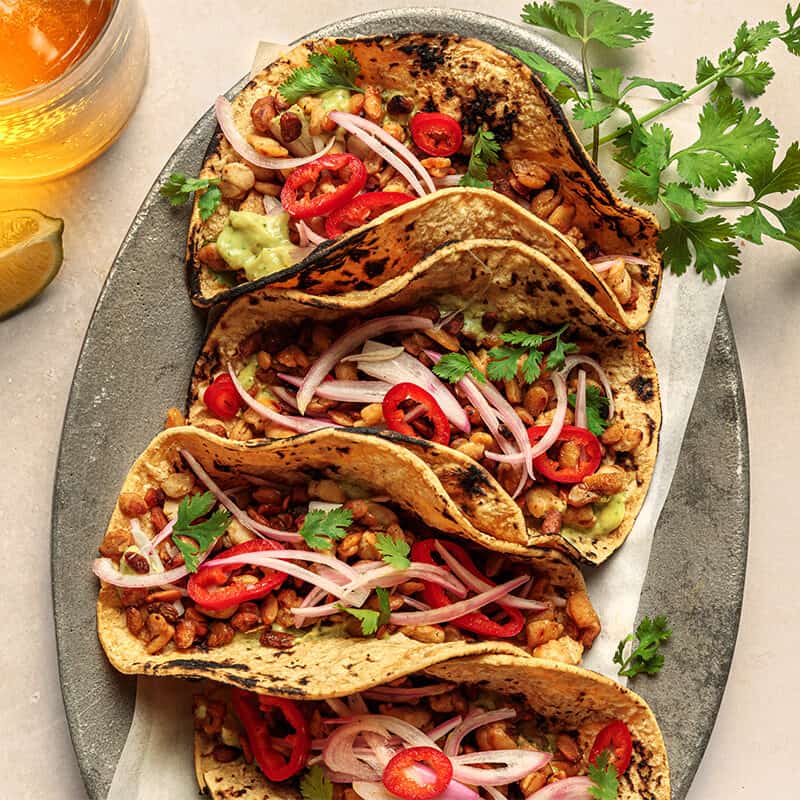 These tempeh tacos will make everyone happy – including meat eaters! Lightly seasoned tempeh crumbles are fried until crispy, then layered into tortillas with homemade avocado crema and quick pickled vegetables. They're ready in just 40 minutes!
Ingredients
Pickled stuff
2

Fresno chile peppers or jalapeños*,

sliced thinly

1

large

shallot,

sliced as thinly as you can

½

cup

(125 mL) distilled white vinegar

1 ½

tablespoons

maple syrup

Kosher salt
Crispy Tempeh
2

(8-ounce/227g)

blocks of tempeh

4

tablespoons

avocado oil,

or other neutral-flavored high-heat oil

2

tablespoons

tamari or soy sauce**

1

tablespoon

+ 1 teaspoon freshly squeezed lime juice
Avocado crema
2

small

or 1 extra large ripe avocado

¼

cup

(60g) vegan sour cream or tangy coconut yogurt***

2

garlic cloves,

roughly chopped

3

tablespoons

freshly squeezed lime juice****

½

teaspoon

ground cumin

¾

cup

(12g) cilantro leaves and tender stems

½ to ¾

teaspoon

kosher salt

Freshly cracked black pepper
For serving
12

corn tortillas

A handful of cilantro,

chopped (optional)

Lime wedges

(optional)
Instructions
Pickle the vegetables. In a small jar (about 8 ounces or 240 mL), combine the chile peppers, shallot, vinegar, maple syrup, and sprinkle with a couple pinches of salt. Seal and set aside to macerate while you make everything else (at least 15 minutes). Be sure to gently shake the jar a few times for even distribution.

Use your hands to crumble the tempeh into very small pieces, ideally around the size of a pine nut (the smaller the pieces, the crispier the tempeh gets).

Open some windows for ventilation and line a large surface with a few paper towels.

Cook the tempeh. Heat a 12-inch (or larger) nonstick frying pan with the avocado oil over medium-high to high heat until it just starts to smoke. Add the tempeh and arrange it in a single layer as much as possible. Cook for 2 minutes undisturbed, then toss and continue cooking for a total of 12 to 14 minutes, stirring every 1 ½ to 2 minutes, until mostly golden brown and crisp (some pieces will get brown before others, that's okay).

Transfer the tempeh to a paper-towel lined surface to blot out excess oil and season with a couple pinches of salt. Once the tempeh has cooled off a bit, transfer it all to a bowl. Add in the soy sauce and lime juice, and toss to coat the tempeh.

While the tempeh is cooking, make the avocado crema. In a food processor bowl, add the avocado flesh, sour cream or yogurt, lime juice, cumin, cilantro, ½ teaspoon kosher salt, and several cracks of pepper. Blend until smooth and creamy, scraping down the sides as you go. Season to taste, adding more lime juice or salt and pepper as desired.****

Char the corn tortillas. If you have a gas stove, turn a burner to medium-low and use tongs to place the tortilla directly over the flame, 10 to 20 seconds per side until charred, in spots. Or, you can add each tortilla to a cast iron skillet over medium-high heat for 15 to 30 seconds per side. Stack and wrap charred tortillas in a dish towel to keep them warm.

Assemble the tacos. Dollop some crema onto each charred tortilla and spread out. Top with fried tempeh and spoon some pickled shallots and peppers on top, adding a spoon of the pickling liquid onto each taco. If desired, sprinkle a bit of cilantro onto each taco, and if you have a leftover lime, serve the tacos with lime wedges.
Notes
* For a spicier version, use three chile peppers (quick pickling the peppers mellows their heat). For a mild version, use one pepper.
** Use tamari to keep the recipe gluten-free. Also check the label of your corn tortillas (most are GF).
*** Our favorite brands of vegan sour cream are Kite Hill Foods, Tofutti, and Follow Your Heart. For tangy coconut yogurts, we like Culina, CocoJune, and GT's Cocoyo.
**** Between the lime juice in the tempeh and in the crema, you'll likely need 3 medium limes or 2 large juicy limes.
*****You may have leftover avocado crema, depending on how much you add to each taco. 
---
Calories:
222
kcal
|
Carbohydrates:
20
g
|
Protein:
9
g
|
Fat:
13
g
|
Saturated Fat:
2
g
|
Polyunsaturated Fat:
3
g
|
Monounsaturated Fat:
6
g
|
Sodium:
305
mg
|
Potassium:
321
mg
|
Fiber:
3
g
|
Sugar:
3
g
|
Vitamin A:
121
IU
|
Vitamin C:
7
mg
|
Calcium:
72
mg
|
Iron:
2
mg
Recipe: Nisha Vora / Rainbow Plant Life | Photography: Rosana Guay