You'll never look at noodles and sauce the same way after trying these saucy Gochujang Noodles. Addictively delicious and slurpable, it's a seriously flavorful dinner that tosses udon noodles and stir-fried vegetables in a spicy, savory, and nutty gochujang sauce.
Bonus: you can have it on the table in just 30 minutes!
Table of Contents:
1. Why this recipe works
2. Ingredient notes
3. Step-by-step instructions
4. Tips for making this recipe
5. Variations
6. Frequently Asked Questions
7. Recipe card with notes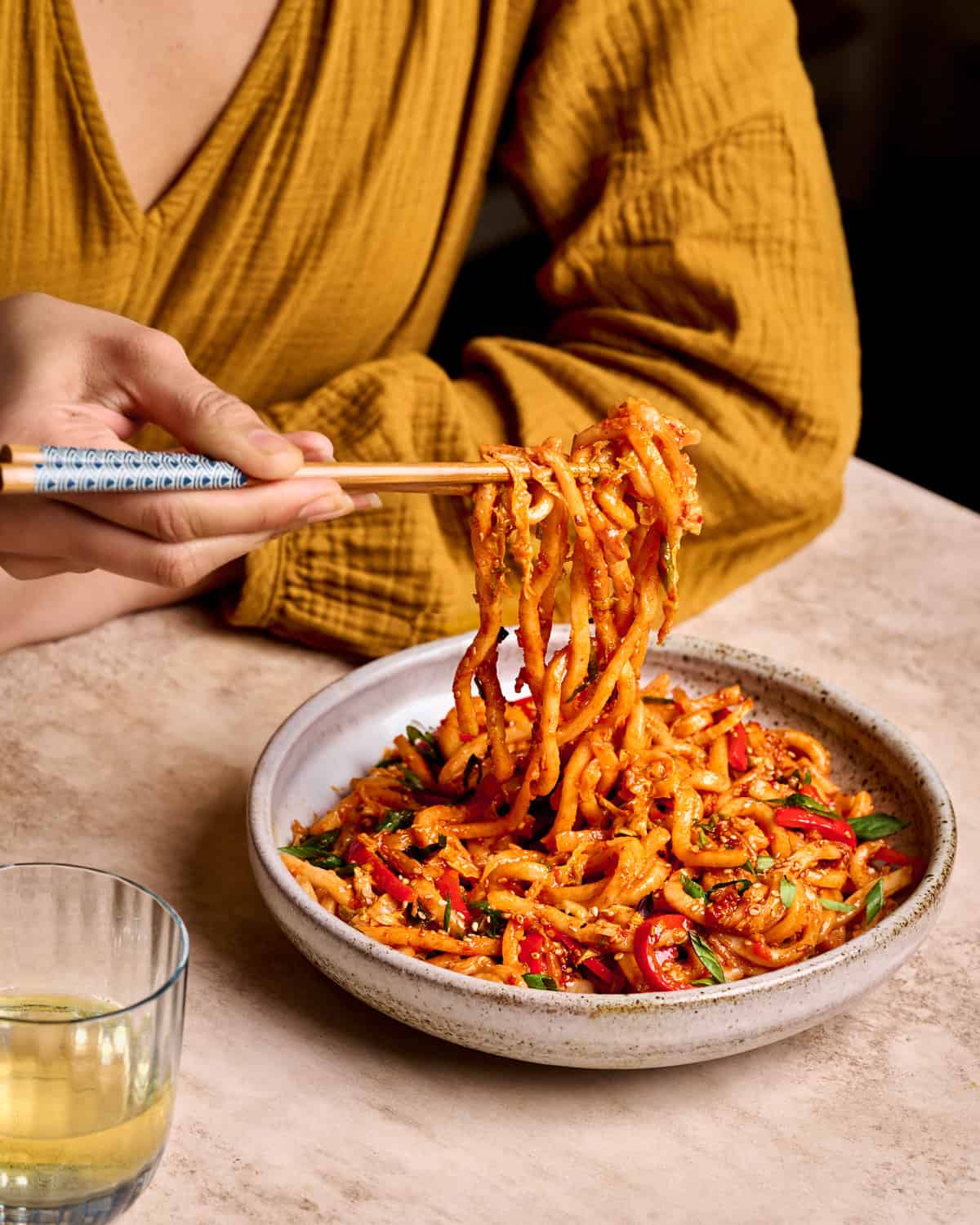 Why this recipe works
Crazy good sauce.
This recipe begins with an unbelievably good sauce that puts hard-hitting ingredients on display.
Korean superstar ingredient gochujang adds a spicy umami funk, soy sauce savory depth, toasted sesame oil nutty richness, and mirin a complex sweet tang. Every bite is bursting with just the right amount of spice, savoriness, and tang.
Incredible texture.
The combination of sticky, lustrous gochujang, rich toasted sesame oil, and syrupy mirin creates a sauce that perfectly clings to the noodles. While you can use any noodle, fresh or frozen udon noodles take this dish to the next level with their bouncy, supple, and slurpable texture.
Big flavor, easy to make.
While you will definitely find restaurant-worthy flavors here, this entire dish comes together in just 30 minutes. No fancy methods or tools are needed, either.
You can stop cravings in their tracks by making a double batch of the gochujang sauce. Keep it in your fridge for at least a week, and pull it out when you're craving saucy, spicy noodles in a hurry!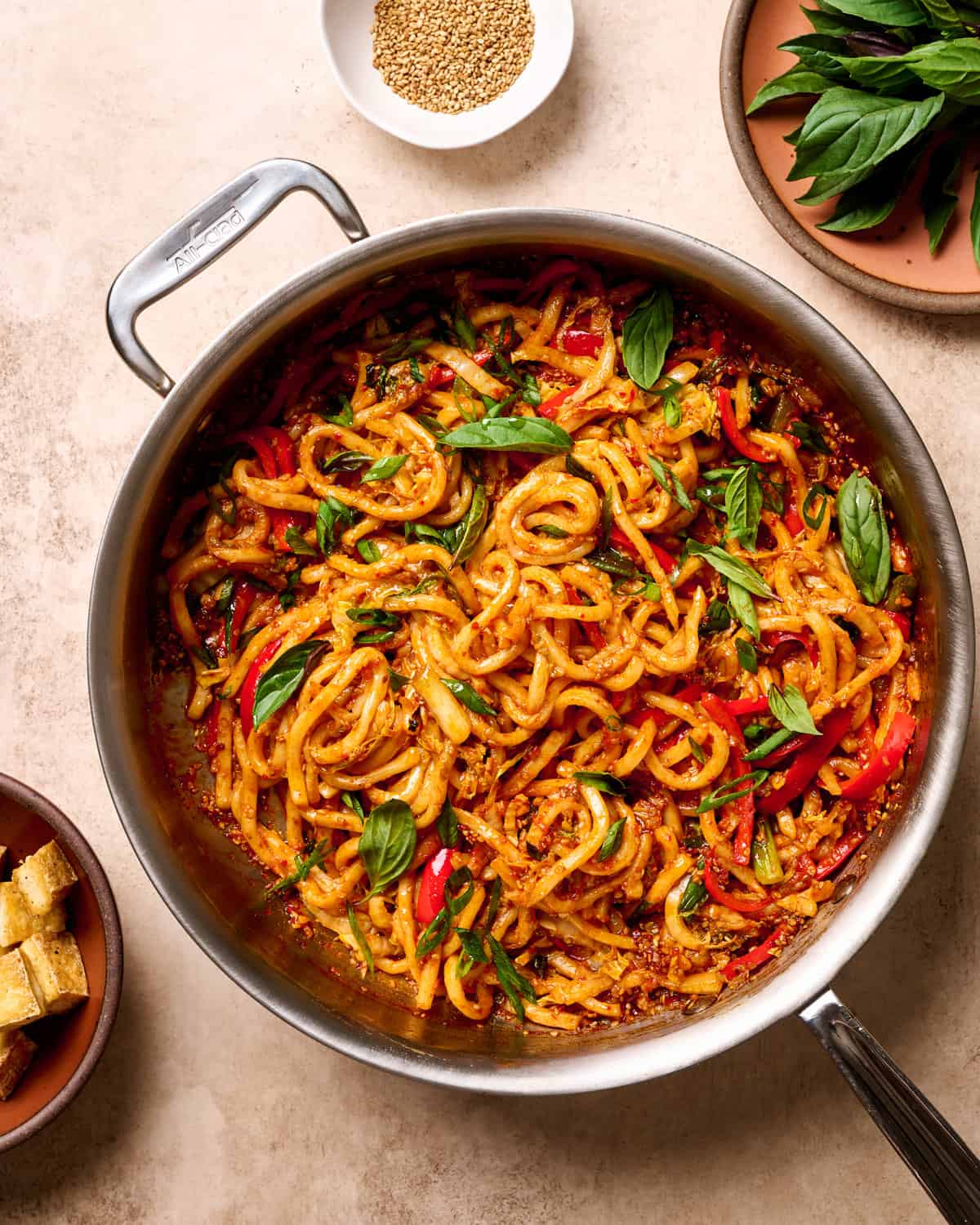 Ingredient notes
The crave-worthy flavors in this recipe come from a handful of Korean and Japanese ingredients.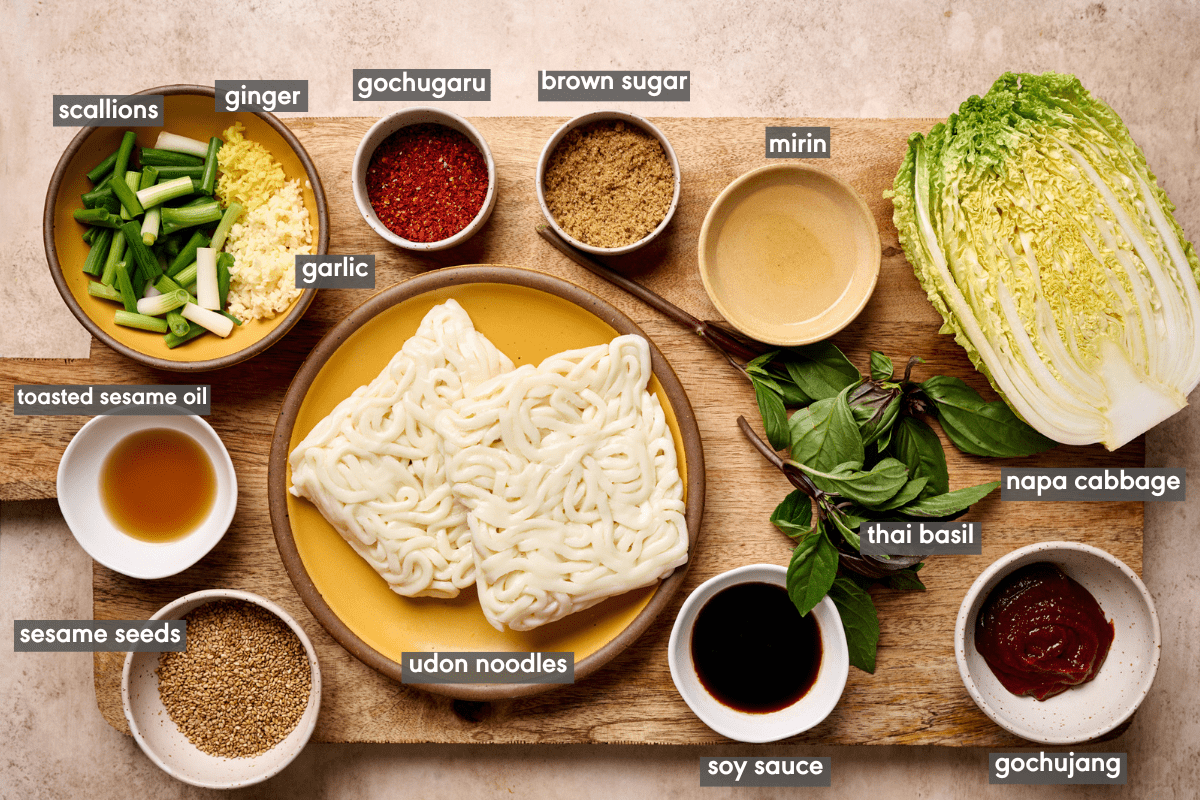 Gochujang
Gochujang is a Korean staple and one of my favorite ingredients. A fermented chili paste that's spicy, subtly sweet and tangy, and deeply savory, it's made of gochugaru (Korean chile flakes), fermented soybeans, glutinous rice, and salt (read more about gochujang here!). It's the backbone of my Korean Cucumber Salad as well as the sauce for these noodles.
Substitute: There is no substitute that has the same supercharged flavors of gochujang. Gochujang isn't typically gluten free, so seek out a gluten-free variety if you need to (the brands Sempio and Chung Jung One sell GF options).

Check out the FAQ section for more details on where to buy gochujang.
Soy sauce
Just like gochujang, this builds another layer of umami-richness, making the sauce irresistibly tasty.
Substitute: You can use tamari or gluten free soy sauce if you're gluten free.
Toasted sesame oil
Used often in Korean cooking, toasted sesame oil gives the sauce a nutty flavor and rich mouthfeel.
I've tried a lot of brands, and this toasted sesame oil is hands down my favorite (affiliate link).
Mirin
This is a type of Japanese fermented rice wine that lends deeply funky, tangy, and slightly sweet flavors, as well as a rich body to the sauce.
Where to buy: Mirin is sold at many well-stocked grocery stores (it may be labeled as Aji-Mirin, which means "tastes like mirin"), in East Asian markets, and online.
Substitute: Use rice vinegar if you can't find mirin. Rice vinegar isn't sweet like mirin though, so use more brown sugar (2 TBSP instead of 1.5 TBSP). If you don't have either, Bon Appetit suggests using dry sherry, marsala wine, or white wine vinegar.
Brown sugar
This adds the necessary sweetness to the sauce, taming the heat from the gochujang and enhancing the savoriness. You can use coconut sugar, but we don't recommend using a liquid sweetener like maple syrup or agave, as it will thin the sauce out.
Udon noodles
Fresh or frozen udon noodles always came out on top when testing this recipe. No surprise there! Just like in my 15-Minute Vegan Chili Garlic Noodles, they came out bouncy, chewy, and slurpy every time, and never left too much sauce behind.
Udon noodles are a type of thick Japanese wheat noodle made from just flour, water, and salt. Both fresh and frozen noodles work well here.
Where to buy: You can find udon noodles at East Asian markets in the refrigerated or frozen section. You may also find shelf-stable, vacuum-sealed udon noodles at these markets.
Substitute: If you can't find them, use dried udon noodles or another noodle variety that isn't too thin (thin noodles, like rice vermicelli, will wilt under the weight of the sauce). Even Italian pasta, like linguine or spaghetti, will work well, despite its unconventionality.
When subbing dried noodles, the weight of noodles will be different, so check out the Tips section!
Vegetables
Go ahead and get creative here – any quick-cooking vegetable works great. I love this dish with shredded Napa cabbage and/or red bell peppers, but check out the Variations section for more suggestions.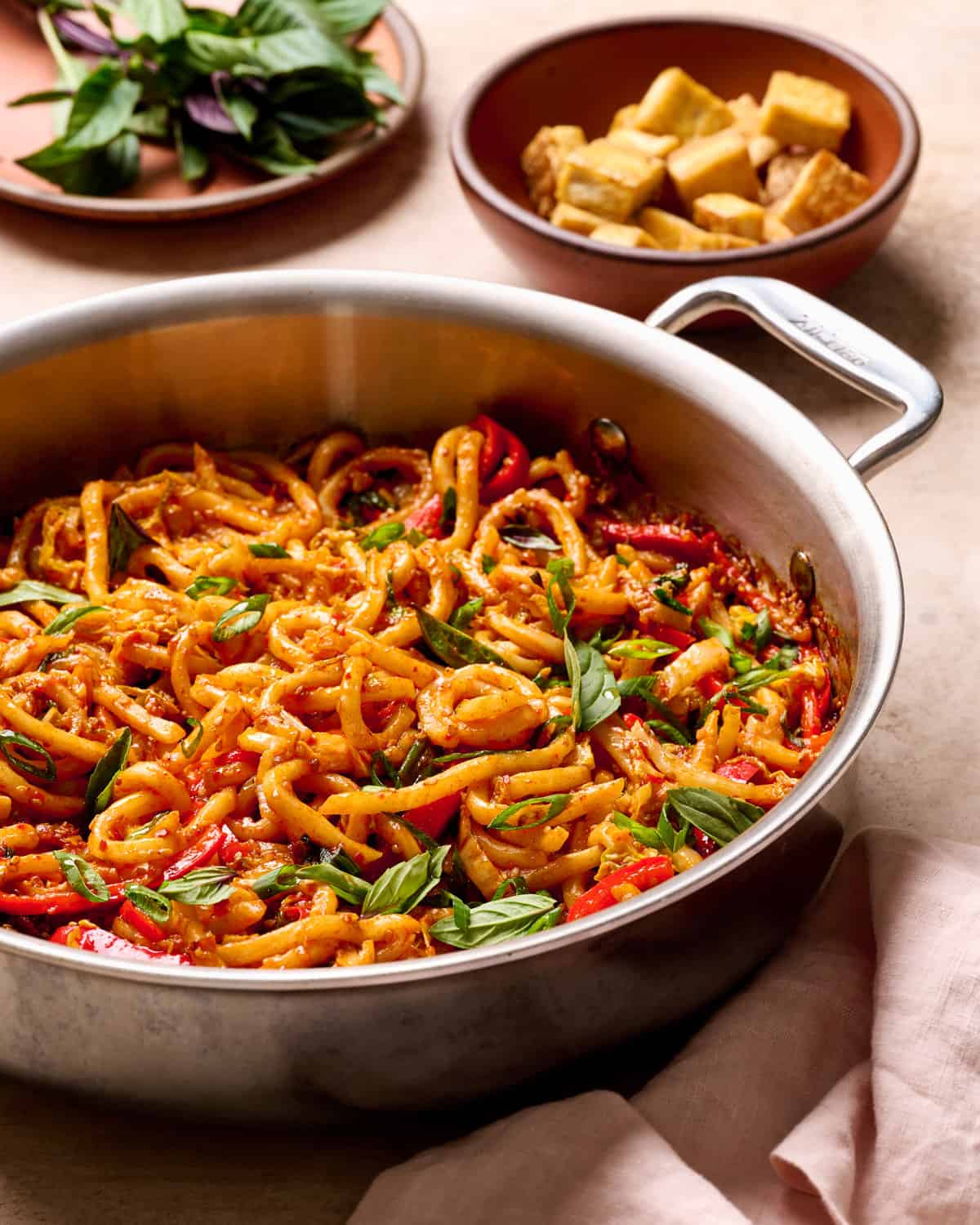 Step-by-step instructions
Cook the noodles according to the package instructions, but cook for 1 minute less than the package instructions to prevent a soggy dish.
Drain, reserving some noodle water, and set aside.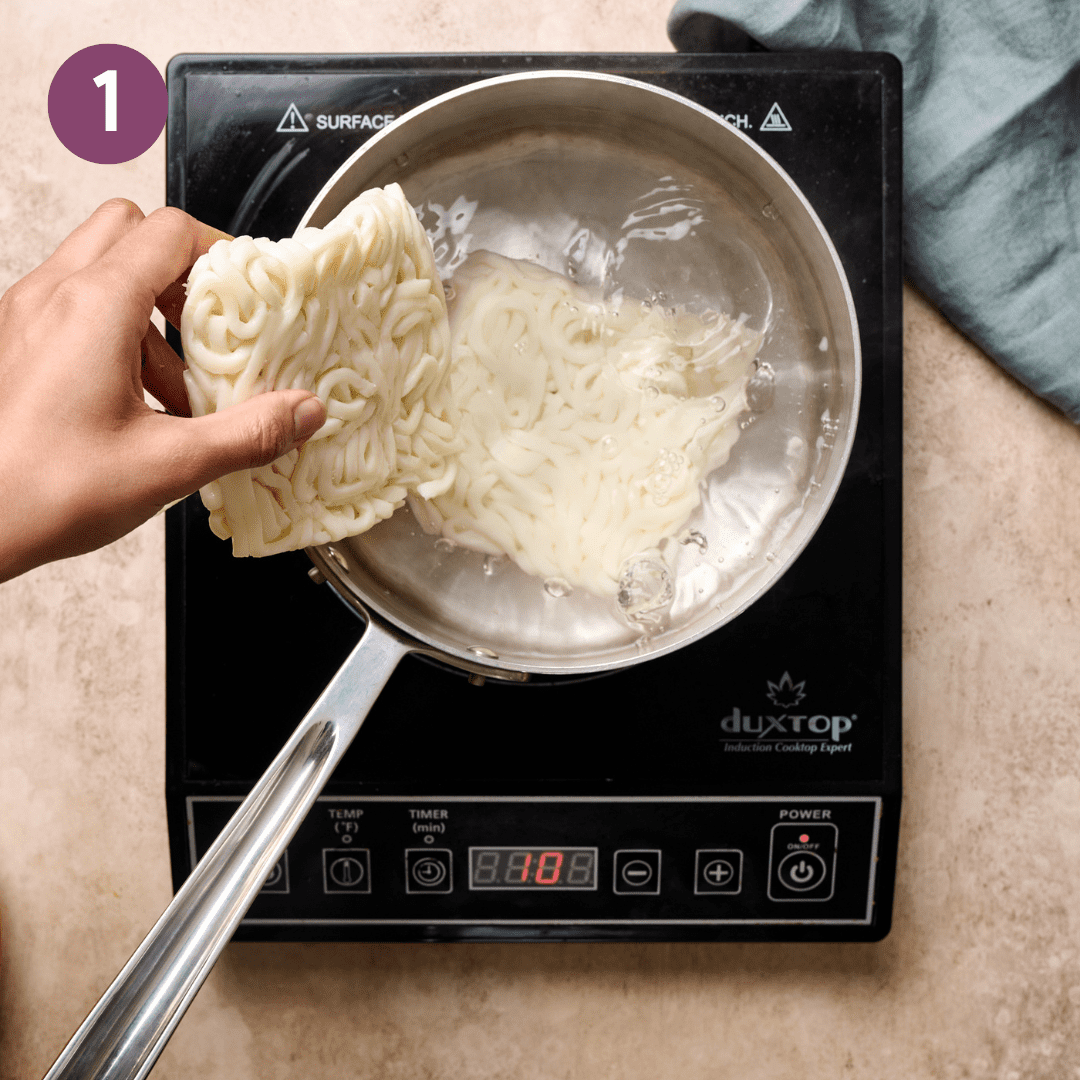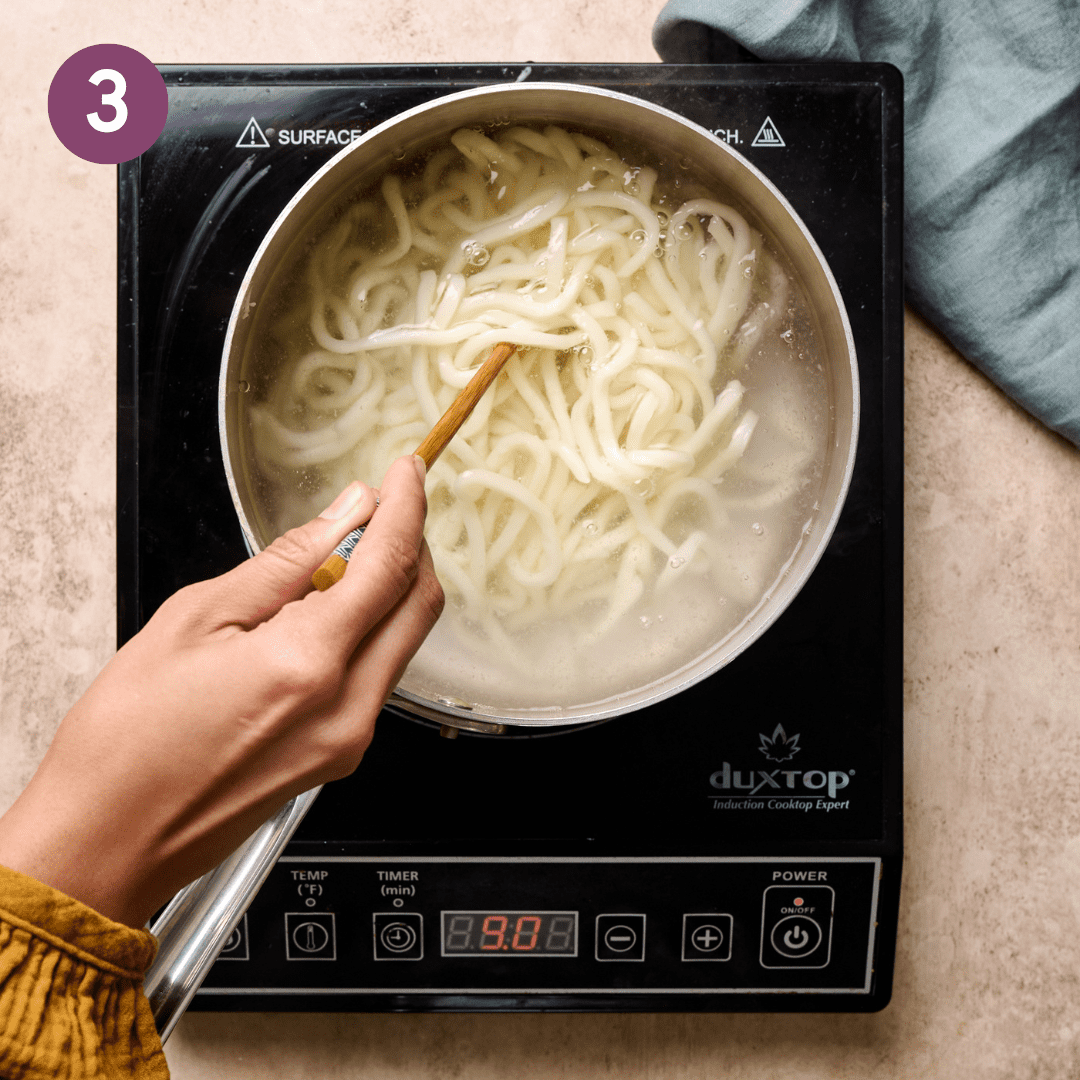 Next, make the gochujang sauce by whisking the gochujang, toasted sesame oil, soy sauce, mirin, sugar, and gochugaru in a bowl.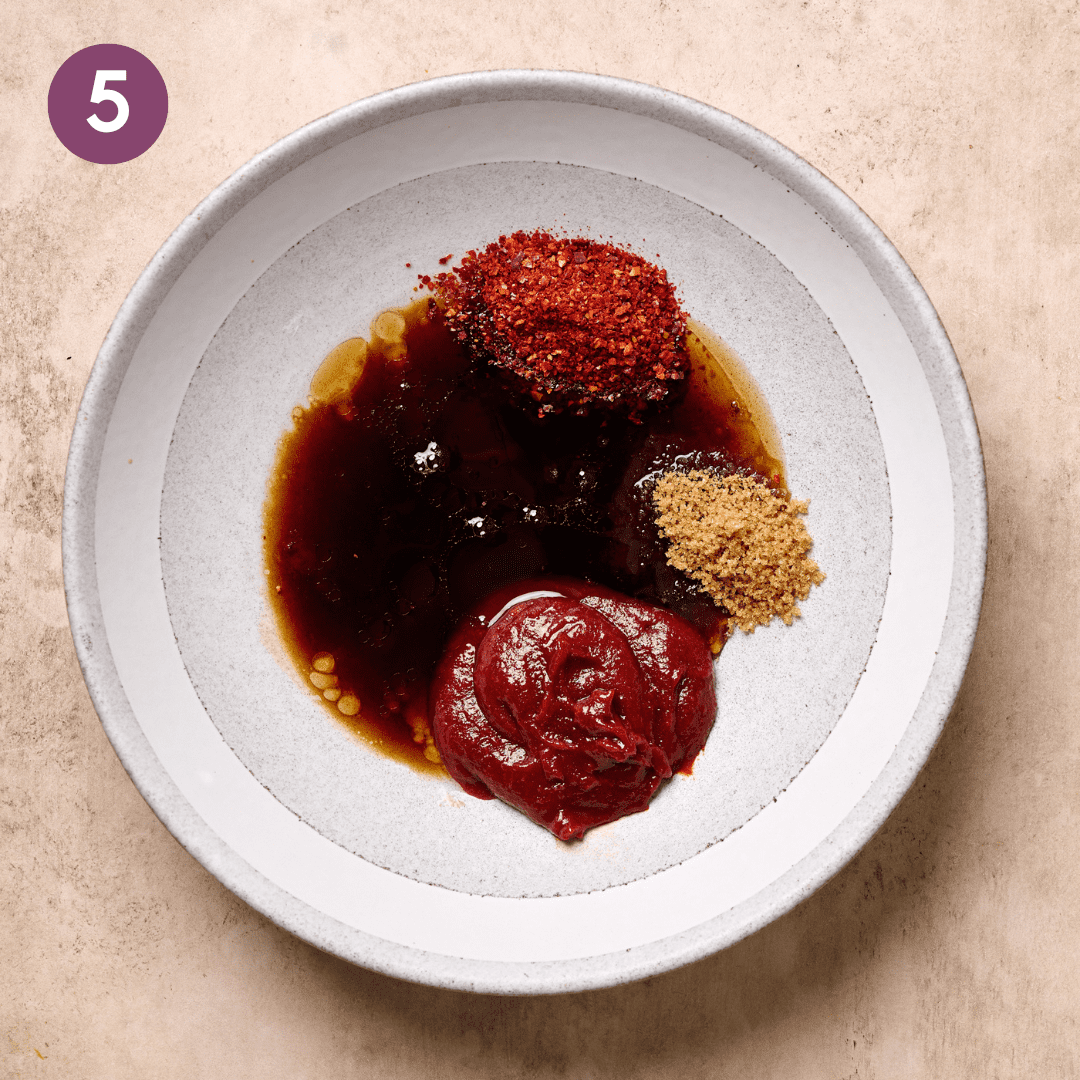 Heat the oil in a large skillet over medium-high heat. Once hot, add the scallion whites and greens, garlic, and ginger, as well as vegetables like bell peppers or broccoli.
Sauté for a few minutes, then add delicate vegetables like Napa cabbage, bok choy leaves, or snow peas. Stir fry until crisp-tender.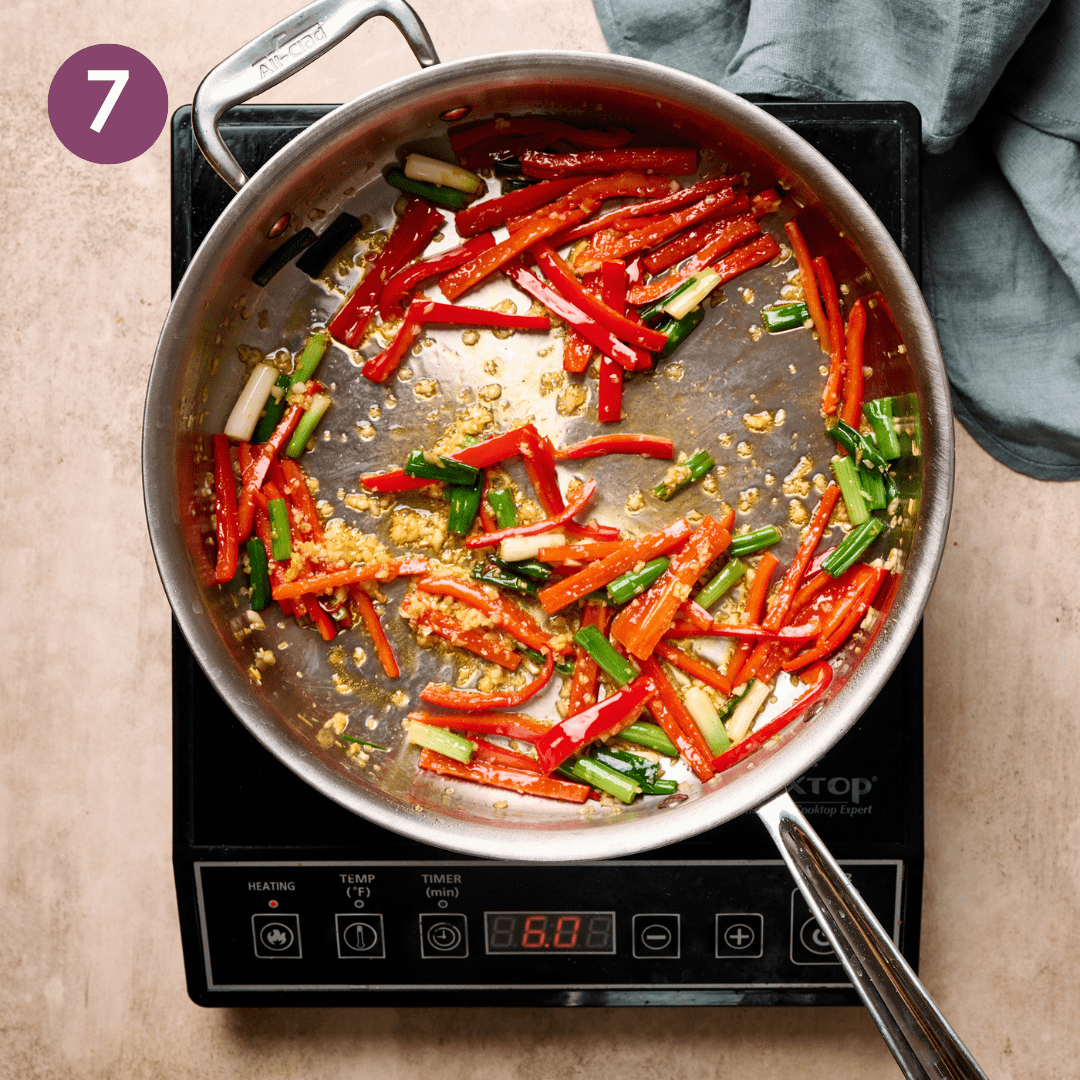 Pour the gochujang sauce into the pan along with the sesame seeds. Next, add the cooked noodles and toss to coat. If needed, add a splash of noodle water to help bring the sauce together.
Tip: You shouldn't need to add noodle water if using fresh or frozen udon noodles. It's more likely you'll need to add it if using dried noodles.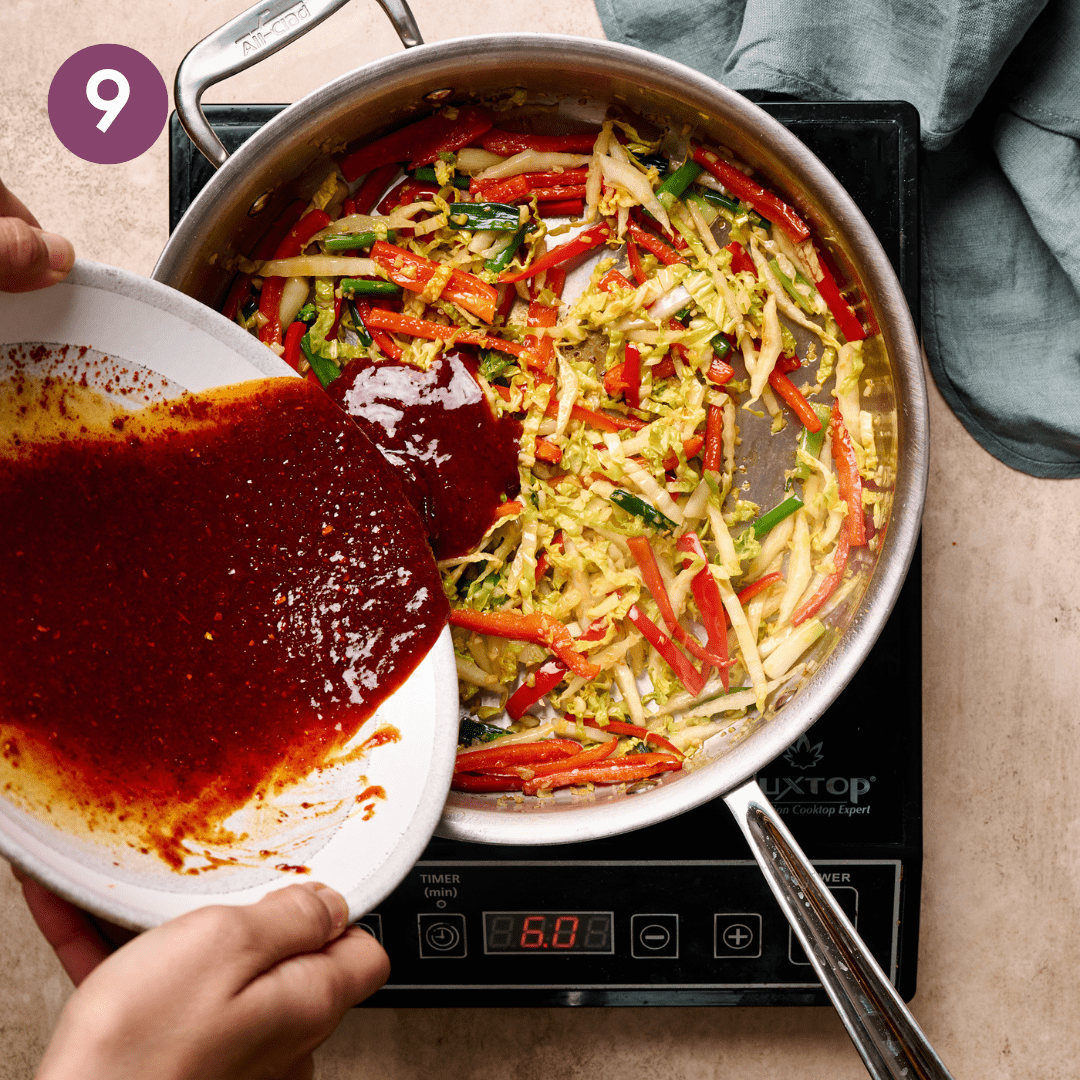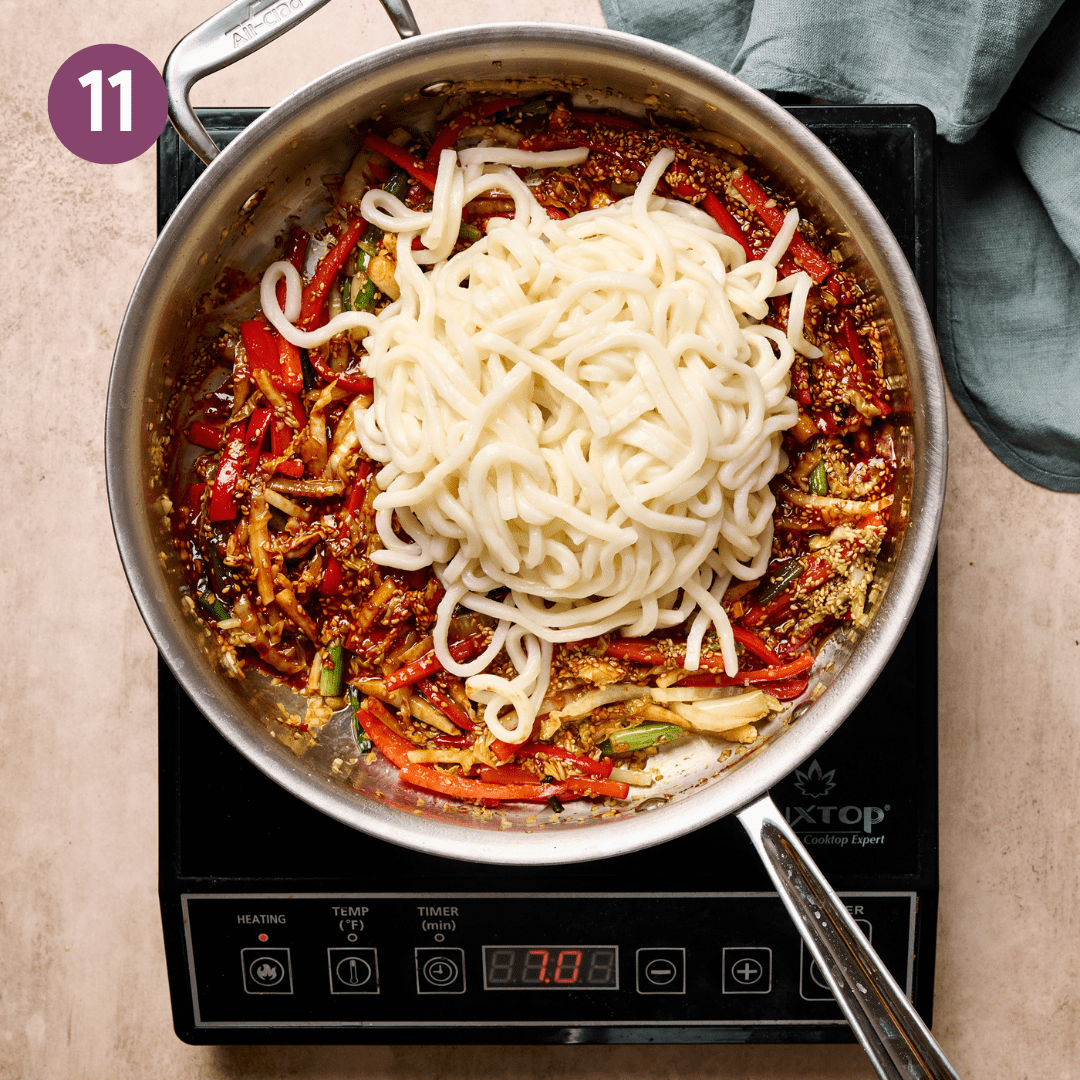 Take off the heat and garnish with reserved scallion greens and Thai basil or cilantro. Gently toss, then enjoy!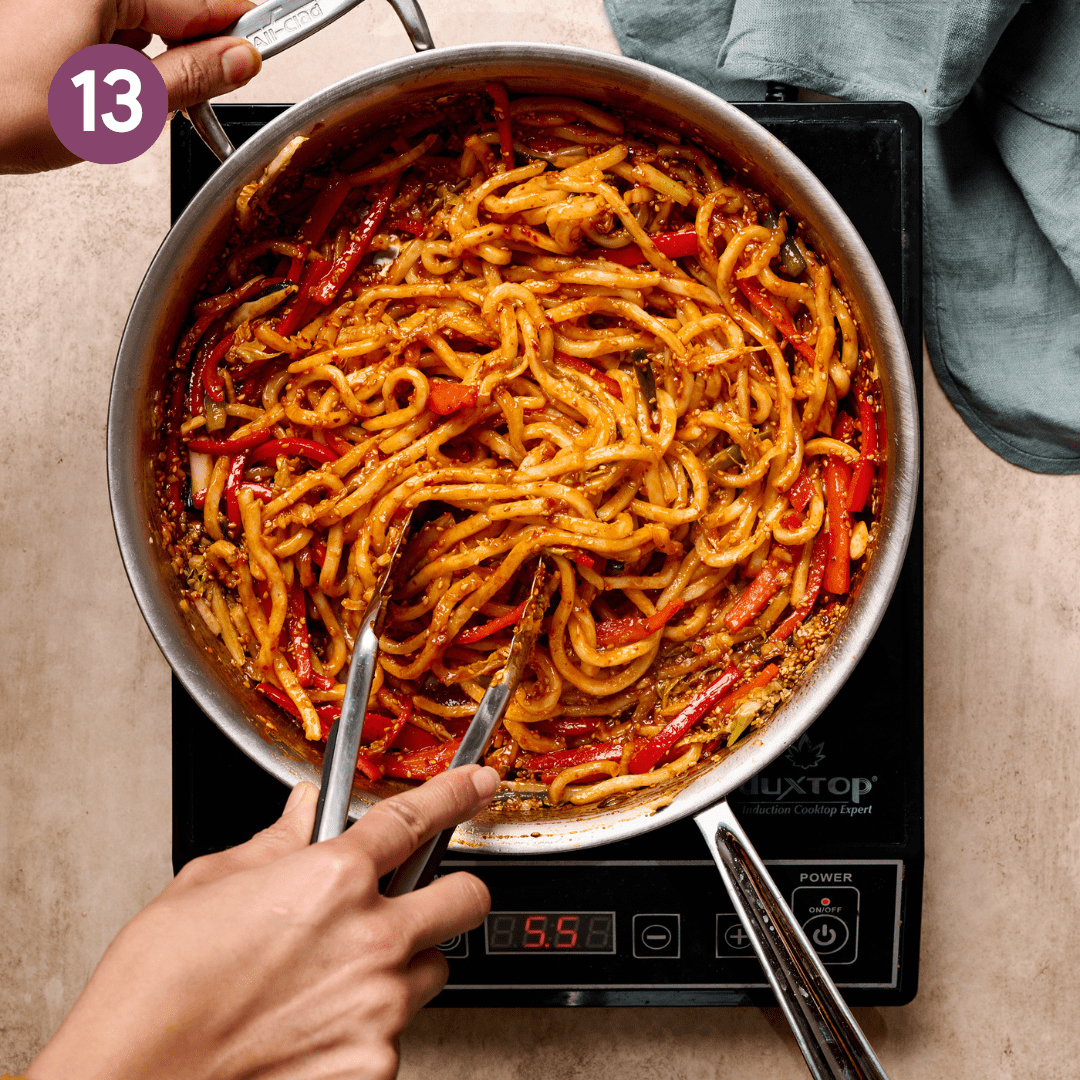 Tips for making this recipe
Follow these helpful tips before putting the noodles and sauce together:
Udon noodles: fresh vs. dried
While both fresh and dried noodles will yield the same results, you'll need to adjust the amount you use depending on the variety you choose:
Fresh udon noodles = use 16 ounces (450g)
Frozen udon noodles = use 24 ounces (680g) (they're heavier)
Dried udon or other dried noodles = use 8 to 9 ounces (230 to 250g)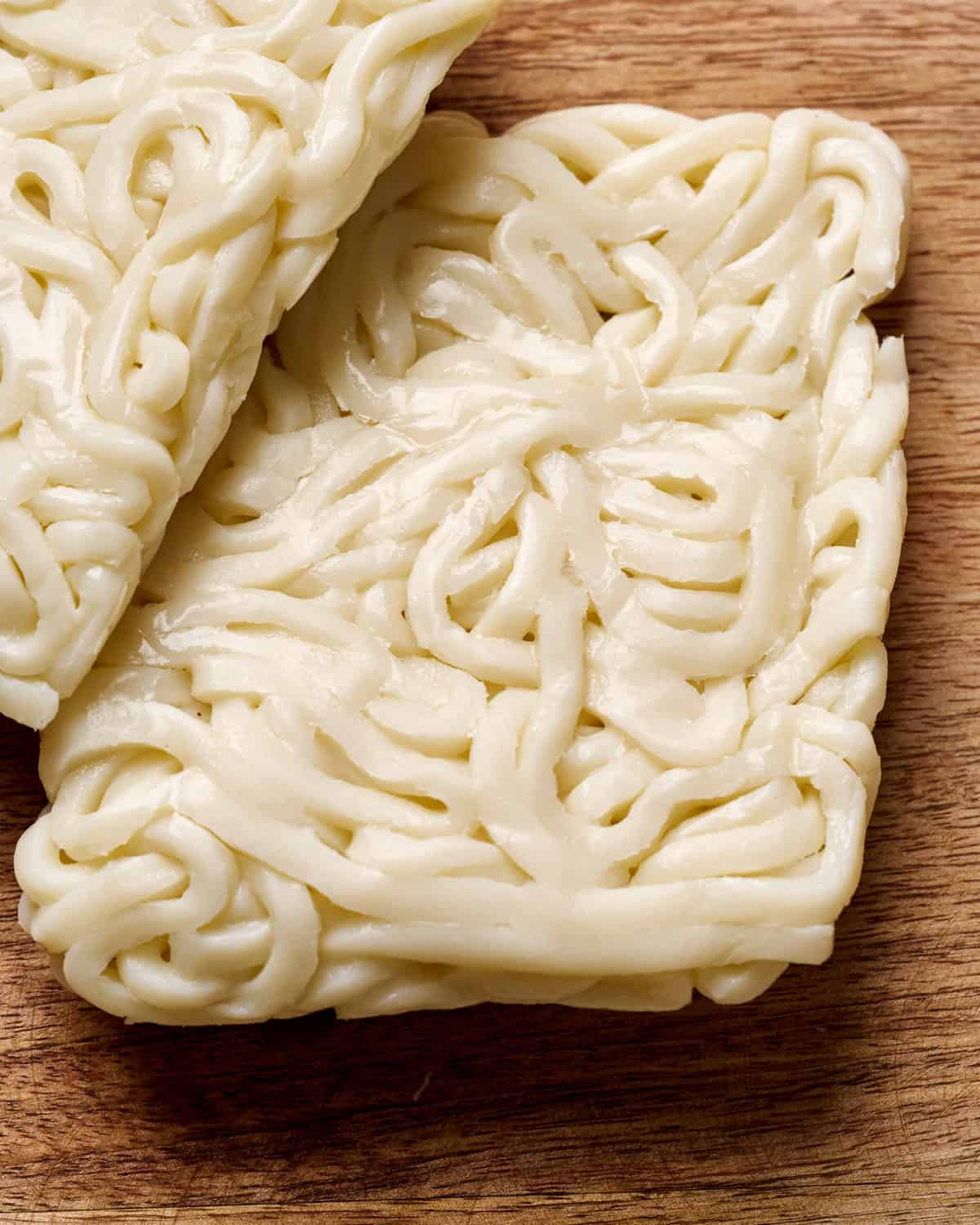 Save the noodle water
That starch in the leftover noodle water will help your sauce cling to the noodles, especially if using dried noodles. Set a bowl underneath your colander so you don't forget to save some water!
Use roasted or toasted sesame seeds
The sesame seeds need to be toasted or roasted ahead of time to bring out their full flavor. You can buy pre-roasted sesame seeds at many grocery stores and Asian markets, but it's easy to toast them yourself.
Just heat a frying pan over medium heat for a couple minutes, then add the sesame seeds. Toss occasionally until they're lightly golden and slightly fragrant, about 3 to 4 minutes.
Make a trip to your Asian market
Your local Asian market will have some or all of these ingredients, especially the gochujang, mirin, and udon noodles. Using the proper ingredients also means you'll have an easier time achieving the best flavors and textures… All while having fun exploring new cuisines!
Pro tip: Pick up some Thai basil if you see it! It adds incredible flavor as a finishing ingredient here.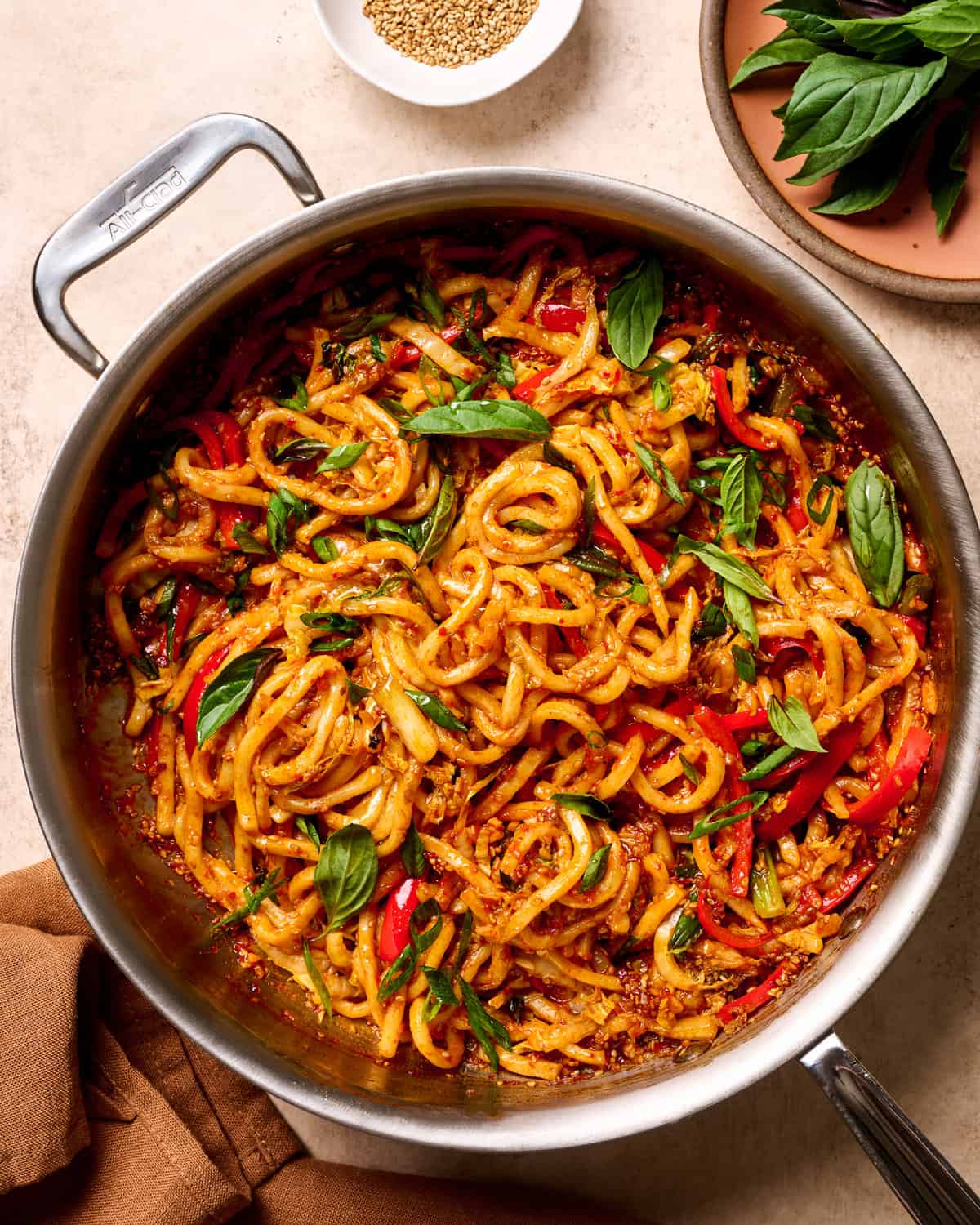 Variations
You can customize these gochujang noodles quite a bit!
Swap out the vegetables
Pick one vegetable or use half the amount of two vegetables!
Napa cabbage: 6 to 8 cups or handfuls, thinly sliced (~250g)
Bell peppers: 2 medium, thinly sliced (red, yellow, or orange)
Snap peas or snow peas: 8 to 9 ounces (230-250g), ends trimmed
Baby bok choy: 2 heads (3 if small); leafy tops cut into 1" pieces; cut white stems into 1" or bite-sized pieces
Broccoli: 8 ounces (230g), chopped very finely
Add your favorite protein
Serve gochujang noodles with your favorite protein, like baked or fried tofu, stir-fried tempeh, or store-bought pre-baked tofu.
Here's my go-to method for simple baked tofu. To keep things efficient, bake the tofu in the oven while you cook the gochujang noodles.
Preheat the oven to 425ºF/218ºC. Line a rimmed sheet pan with parchment paper.
Slice a block of extra-firm tofu into 4 vertical slabs, and gently press down on them with a towel several times to remove excess water. Press for 10 minutes, changing the towels in between.
Chop the tofu into ~ ¾ inch (2 cm) cubes.
In a large bowl, add the tofu, 1.5 TBSP neutral-flavored oil, 1 tsp kosher salt, and black pepper to taste, tossing to coat. Add 2 TBSP potato starch (or arrowroot powder), and as gently as possible, toss with your hands.
Arrange tofu on the pan in a single layer, spreading out the pieces so they don't touch.
Bake for 15 minutes, or until lightly golden on the bottom. Flip with a spatula or carefully turn the tofu with your hands. Bake for 15 minutes until golden and crisp.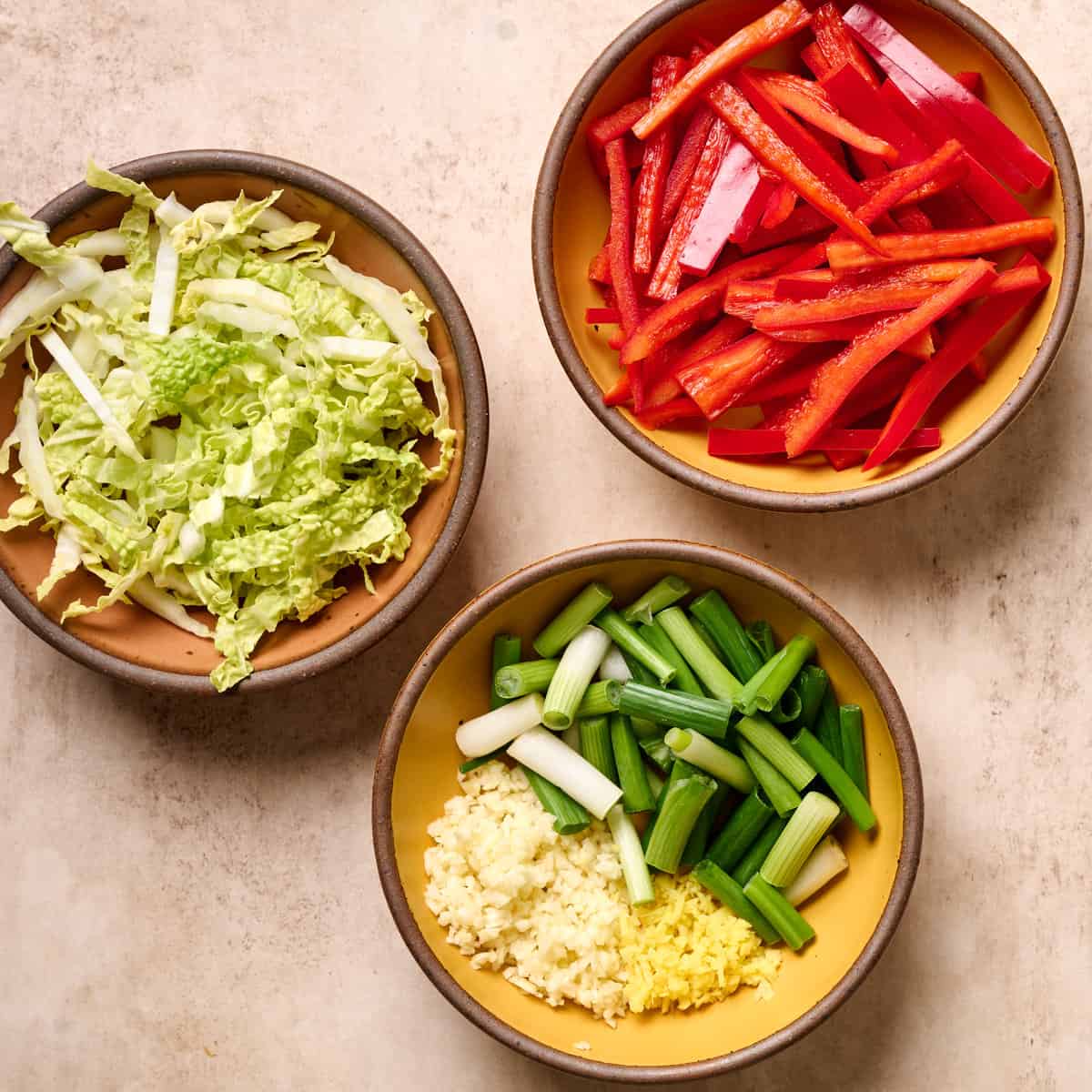 Frequently Asked Questions
Where can I buy gochujang?
You can buy gochujang at Korean and large Asian markets, like H-mart. It's also carried at well-stocked grocery stores, like Whole Foods, or online (affiliate link).

Remember: You're looking for traditional gochujang, which is a thick paste and is typically sold in a plastic tub. Don't buy "gochujang sauce" like this. 

Some gochujang brands also offer differing heat levels. It's pretty spicy as-is, so skip the ones labeled "extra hot" if you're worried about spice.
Can I make this gluten free? 
Yes, it can be made gluten free with a few substitutions. (1) Seek out gluten-free gochujang*, (2) use tamari instead of soy sauce, and (c) use a relatively thick rice noodle variety (thin varieties will wilt under the sauce). 

* I know the brands Sempio and Chung Jung One sell GF options.
How spicy is this?
It's spicy enough that you'll have a little sweat on your brow (depending on your tolerance).

If that sounds like it will be too spicy for your taste, reduce the amount of gochujang to 1 1/2 to 2 tablespoons and omit the gochugaru (Korean chile flakes, which are optional). 
Can I add more vegetables to this?
Sure. You can add in an extra cup of veggies if you'd like! 
How should I store and reheat this dish?
The leftovers can be stored in an airtight container in the fridge for up to 6 days (more likely 4 days if using dried noodles). 

If you really want to save time, whisk the gochujang sauce together and keep it in a sealed jar in the fridge until it's time to make the noodles.

You can reheat the leftover noodles and sauce quickly in the microwave or in a skillet over medium heat. Add a splash of water if you need to help loosen the texture of the sauce.
More East Asian-Inspired Recipes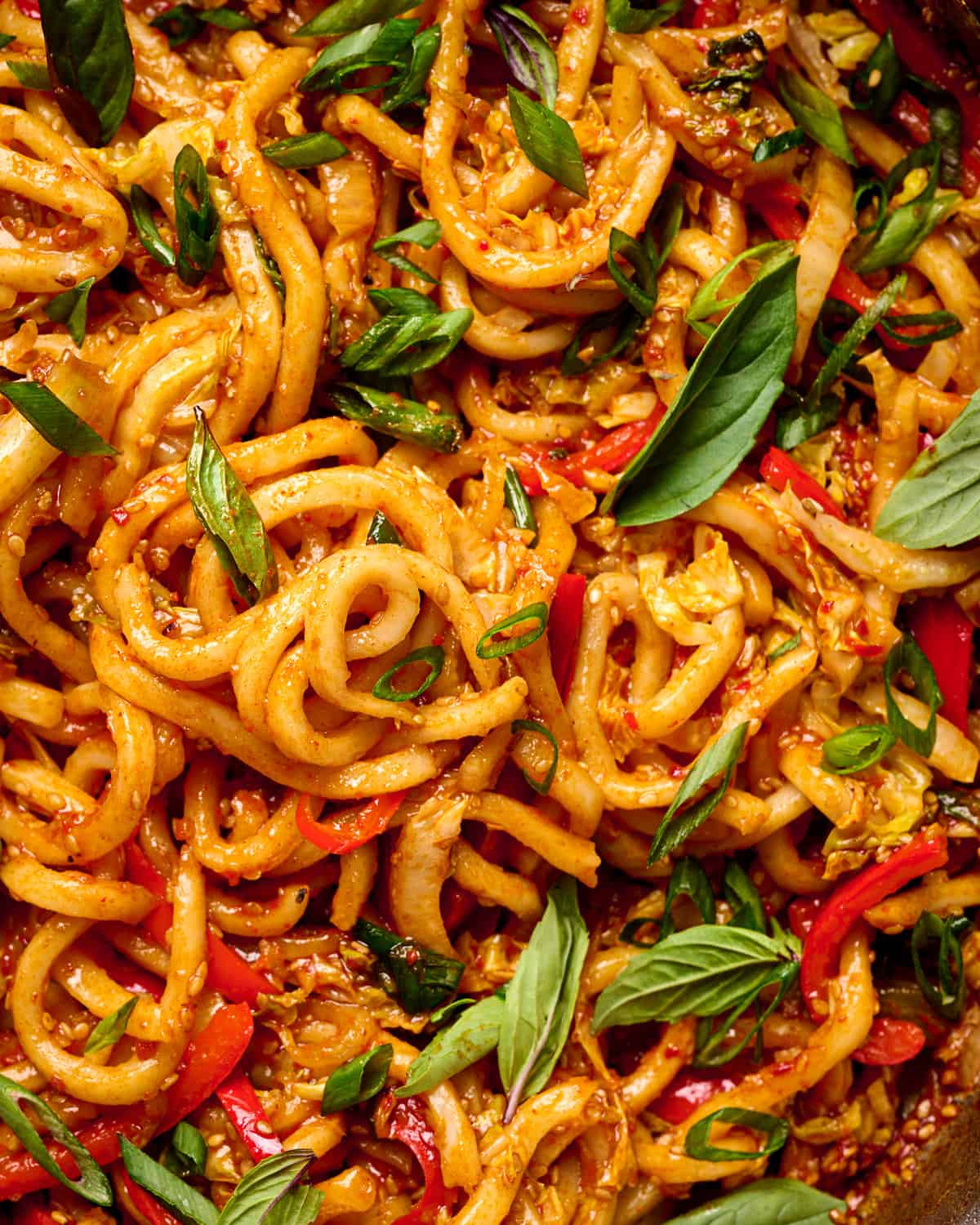 That's all you need to know about making these saucy Gochujang Noodles! If you love this recipe, please rate and review it below!
Gochujang Noodles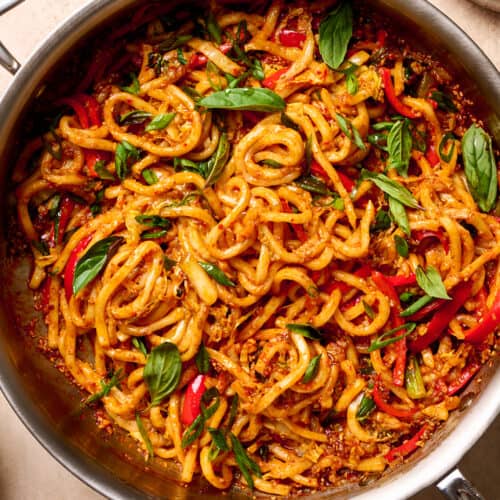 These vegan Gochujang Noodles take sauce and noodles to an entirely different level! A lustrous spicy-and-savory sauce is tossed with udon noodles and vegetables, leaving you with a noodle bowl that's layered with incredible flavors. Ready in just 30 minutes!
Ingredients
16

ounces

(450g) fresh udon noodles

(see Note 1 for subs)
Gochujang sauce
3

tablespoons

gochujang

(see Note 2)

1

tablespoon

toasted sesame oil

2

tablespoons

soy sauce

(use tamari for GF)

2

tablespoons

mirin

(or rice vinegar)

1 ½

tablespoons

organic brown sugar

(see Note 3)

1

tablespoon

gochugaru

(optional)
Aromatics and vegetables
1

heaping tablespoon

neutral-flavored oil

1

bunch

(about 6) scallions, whites and light greens chopped into 1-inch pieces

(dark green tops sliced thinly on a bias, reserved for garnish)

4

garlic cloves,

finely chopped

1-

inch

piece ginger,

grated or minced

6 to 8

cups

(or handfuls) thinly sliced Napa cabbage (250g) OR 2 medium bell peppers, thinly sliced (see Note 4)

¼

cup

(32g) roasted white sesame seeds (see Note 5)
Finishing
A few handfuls of Thai basil leaves

(or fresh cilantro, chopped)

A drizzle of toasted sesame oil
Instructions
Cook the noodles according to the package, but cook for a minute less to avoid a soggy dish. For fresh udon noodles, add to a pot of boiling water and cook for 1 minute; use a chopstick to loosen the noodles from their bundle and cook for another 30 seconds.

Scoop out some noodle water, then drain the noodles.

Make the sauce. Whisk together the gochujang, toasted sesame oil, soy sauce, mirin or vinegar, sugar, and gochugaru if using. Set aside.

Cook the aromatics. Heat the oil in a large frying pan over medium-high heat. Once shimmering, add the scallion whites and greens, garlic, and ginger (and bell pepper, if using). Season with a pinch of salt and cook for 1 to 2 minutes over medium-high heat. If using Napa cabbage, add it now; season with a pinch of salt, and stir-fry for 3 minutes, or until it reduces in size and is tender but not soft.

Add in the gochujang sauce and the sesame seeds and allow to sizzle. Add in the cooked noodles and use tongs to coat them in the sauce. If it feels dry, add a spoon or two of noodle water to bring the sauce together (more likely the case when using dry noodles; fresh udon noodles usually don't need the water). Cook for 1 to 2 minutes, or until the sauce clings to the noodles.

Off the heat, stir in the Thai basil and a drizzle of toasted sesame oil.
Notes
This is equivalent to about 24 ounces (680g) frozen udon noodles, or 8 to 9 (230 to 250g) ounces of dried udon or wheat noodles of choice.
Prefer only moderate heat? Use 2 tablespoons of gochujang instead.
If using rice vinegar instead of mirin, use 2 tablespoons of sugar, as mirin is slightly sweet. You can sub with coconut sugar as needed but I don't recommend a liquid sweetener like maple syrup or agave, as it will thin out the sauce.
Or, you can use a combination of both Napa cabbage and bell peppers, like we did in this photo (4 cups shredded cabbage + 1 bell pepper).
If your sesame seeds aren't roasted, toast them first for the best flavor. To do so, heat a frying pan over medium heat. After a minute or two, add the raw sesame seeds. Toss occasionally until lightly golden, 3 to 4 minutes.
---
Calories:
437
kcal
|
Carbohydrates:
69
g
|
Protein:
12
g
|
Fat:
15
g
|
Saturated Fat:
2
g
|
Polyunsaturated Fat:
6
g
|
Monounsaturated Fat:
5
g
|
Sodium:
895
mg
|
Potassium:
611
mg
|
Fiber:
8
g
|
Sugar:
13
g
|
Vitamin A:
861
IU
|
Vitamin C:
50
mg
|
Calcium:
278
mg
|
Iron:
3
mg
Recipe: Nisha Vora / Rainbow Plant Life | Photography: Megan Morello