This Spicy Korean Cucumber Salad just might be my new favorite summer appetizer.
Smashed cucumbers are coated in a lightning fast yet incredibly delicious sweet-salty-spicy-tangy sauce and finished with scallions and toasted sesame seeds for freshness and crunch.
This salad is refreshing yet perfectly spicy and outrageously flavorful, making it a great choice for easy and breezy summer entertaining. Serve it as an appetizer or side dish when you have guests over, or keep reading to see how I turn it into an easy weeknight dinner.
PS: If you love gochujang, you must try my Gochujang Noodles. And if you love non-traditional flavor-packed salads, this Vegan Broccoli Salad is a must-try!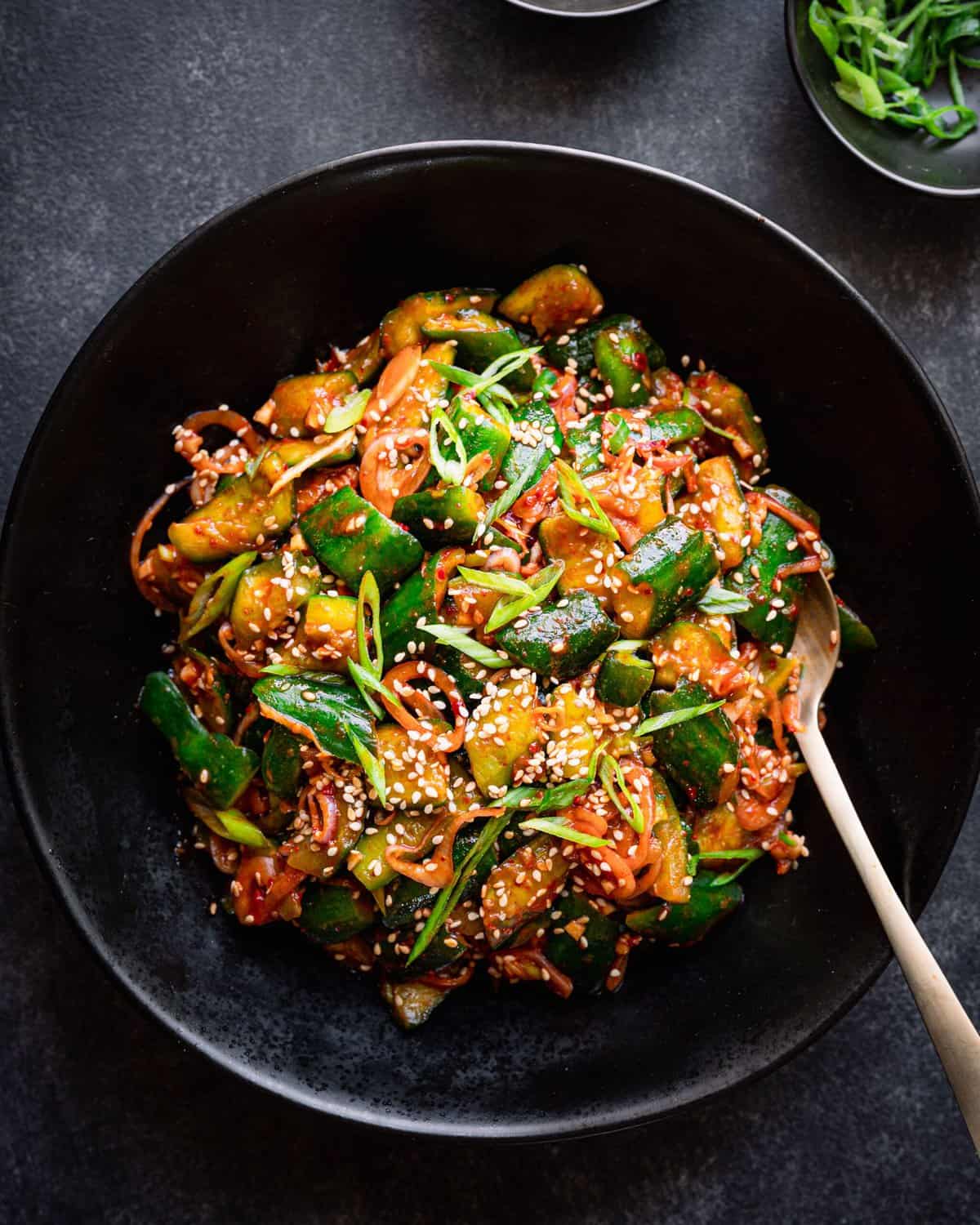 About Korean Cucumber Salad
The Korean word for spicy cucumber salad is oi muchim (오이무침), where oi means cucumber, and muchim means mixed with seasonings, or to mix or season. As popular Korean YouTuber Maangchi says, many Korean families have their own spin on this salad, so you'll find quite a few variations.
In a typical Korean cucumber salad, cucumbers are sliced and then quickly marinated in a simple dressing featuring gochugaru (Korean chile flakes), toasted sesame oil, soy sauce, rice vinegar, and garlic.
In Korean cuisine, there are tons of little side dishes, primarily vegetable-based sides, that are served in small bowls as accompaniments for your main course. These are called banchan, and oi muchim is one such dish (kimchi is another popular one).
I first tried oi muchim at our neighborhood Korean restaurant in Brooklyn. It was the only restaurant within a 5-minute walking distance that had an incredible vegan option, so I found myself there quite often.
I typically ordered the vegan bibimbap, which came with a selection of banchan. The cucumber salad was always my favorite one, and since there were no vegan appetizer options, one day I asked if I could order a larger portion of the cucumber salad as my appetizer. The restaurant happily obliged, and that became my new go-to order for a couple years until I left Brooklyn.
Why this recipe works
Thanks to a few high-impact Korean pantry staples, this salad is an addictive blend of savory, salty, spicy, sweet, and tangy flavors, all wrapped in a perfectly crunchy cucumber package.
Smashed cucumbers make for an excellent salad.
Traditionally, in a spicy cucumber salad, the cucumbers are sliced into rounds. In my various tests, this made for a good salad, but there were some issues.
When I sliced the cucumbers thinly (1/8 to 1/4″), after the first 10ish minutes, the cukes lost some of their crunch (the most appealing part of cucumbers!). When I sliced them thicker (1/2″), they stayed crunchy but their large uniform surface area meant they didn't absorb the flavor of the dressing as well.
So I opted for smashing cucumbers, which is more common in Chinese cucumber salads.
Smashing cucumbers creates all these nooks and crannies, creating more ridged opportunities for the dressing to seep into the cucumbers. At the same time, the cukes stay crunchy because they have more heft than thinly sliced cucumbers.
All that said, if smashing cucumbers is difficult for you (it might be hard for those with arthritis), you can slice the cukes into 1/4″ (.6 cm) rounds (but try to serve all the salad immediately for the best texture).
Remove as much water from the cucumbers as possible.
Cucumbers are 96% water, so to (1) avoid a watery salad and (2) ensure the cucumbers absorb maximal flavor from the dressing, I rely on a few techniques.
1) Salt the smashed cucumbers and allow to rest for 30 minutes (or longer). Through the power of osmosis, the salt draws out water from the cucumbers but also seasons them.

2) Weight the salted cucumbers down with a bag of ice while they're resting. This helps push down on the cucumbers, causing them to release even more water.

3) Squeeze the cucumbers of excess water (or use a salad spinner) before tossing with the dressing. This final step wrings out even more water.

Note: If you're going to serve all the salad immediately, you can skip steps 2 and 3. If you think you'll have leftovers, I recommend all three steps for the optimal texture and maximal crunch.
With these techniques, the cukes stay crunchy like a raw cucumber, but taste almost like pickled or marinated cucumbers, which is the best of both worlds.
Pack maximal flavor into the dressing.
All the Korean cucumber salad recipes I came across use gochugaru (Korean red chile flakes) but most did not use gochujang (a fermented Korean red chile paste). I have to say that using gochujang in the dressing makes a huge difference and takes this salad from good to incredible.
Adding gochujang to the dressing supercharges it with the best flavors: a deep savoriness, serious heat, a sweet saltiness, and just a touch of tang. It also has a thick, sticky, viscous texture, which adds body to the dressing and fully coats the cucumbers.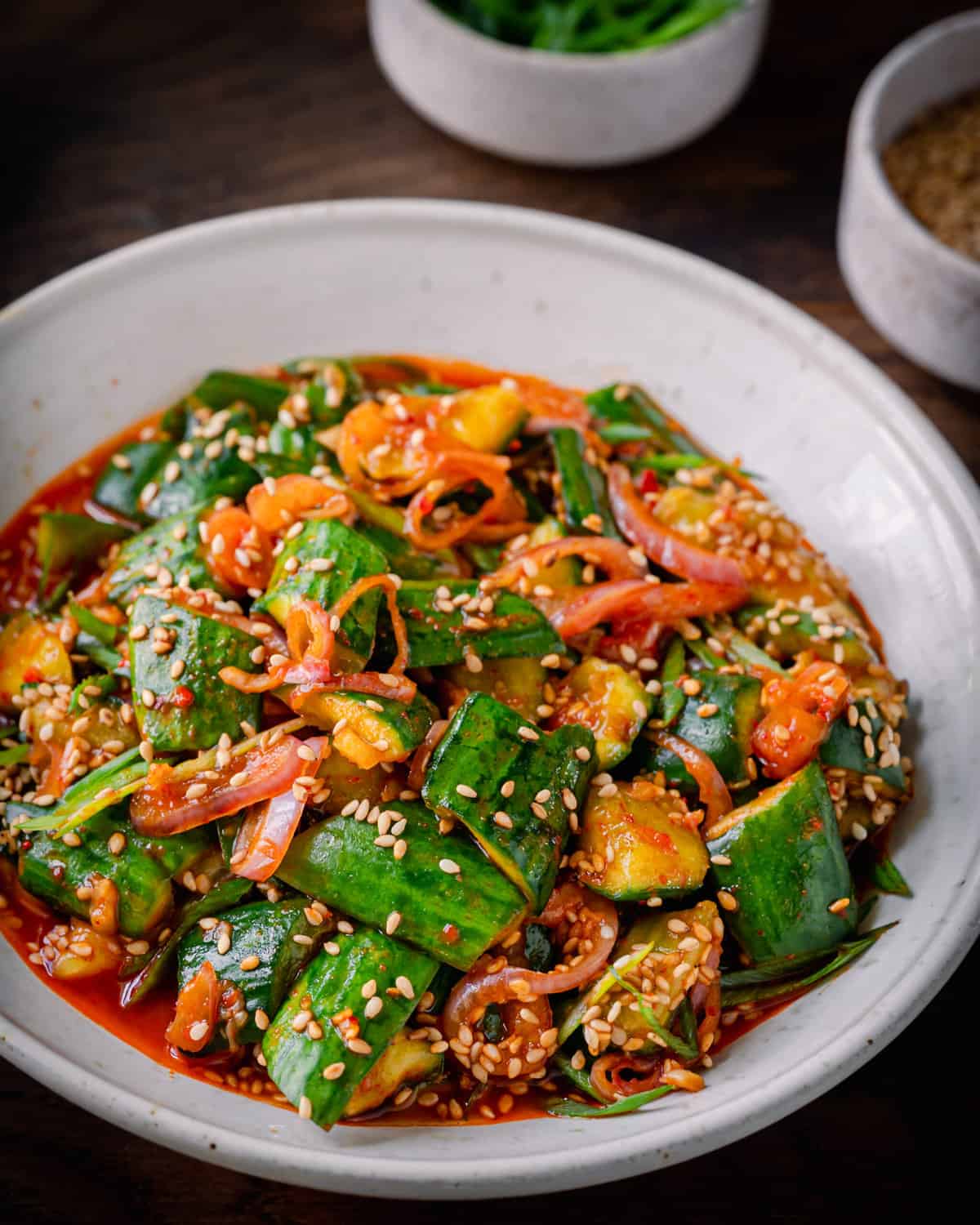 Ingredient Notes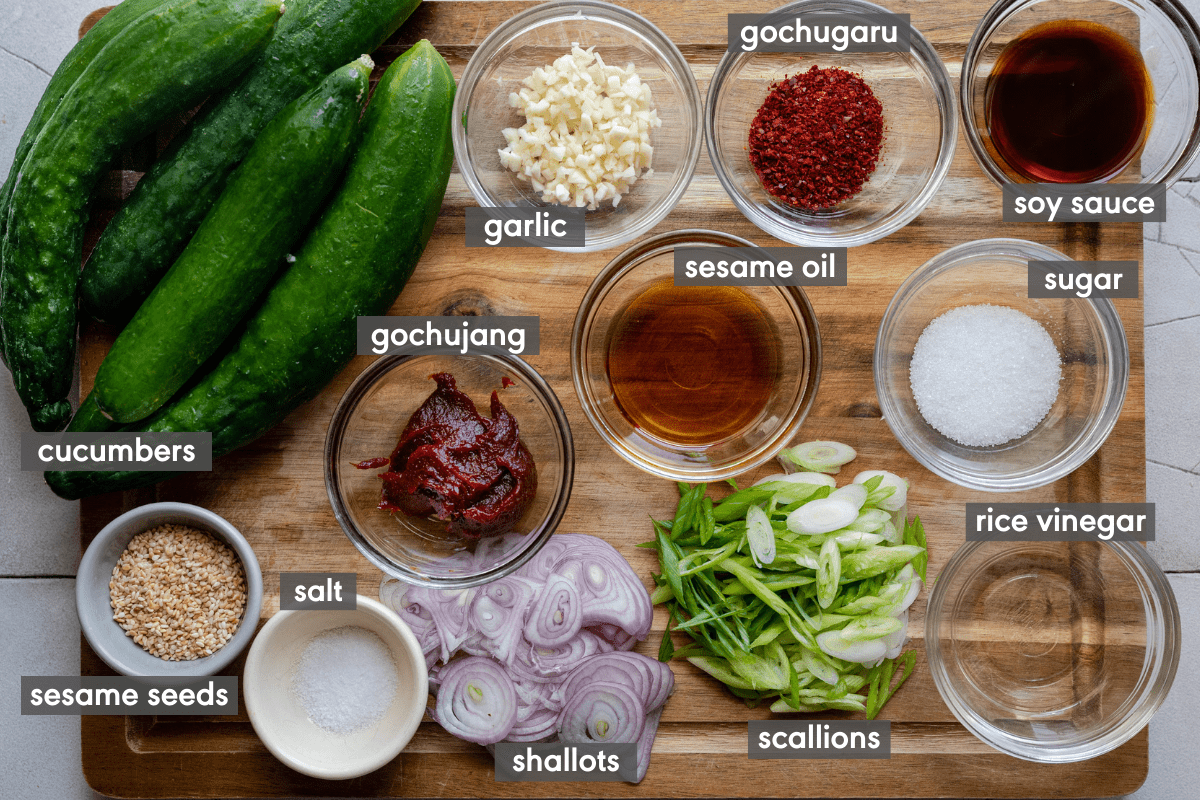 Cucumbers
I've tried this recipe with Persian, Japanese, Korean, and English cucumbers and all work great. Many Korean blogs mention you can also use Kirby/pickling cucumbers, but I haven't tried it myself.
My favorites are the small Persian cucumbers because they're easiest to smash. You can find these at many grocery stores these days. You'll find Korean cucumbers and Japanese cucumbers at East Asian markets, and farmers markets often sell Japanese cucumbers in the summer. You can find English cucumbers at any grocery store.
I don't recommend using a standard pole cucumber, as they're less sweet and have lots of seeds.
Gochujang
A staple in Korean cooking, this is a fermented red chile paste made from gochugaru, fermented soy beans, glutinous rice, and salt. It's spicy, sweet, umami-rich, and an absolutely amazing ingredient.
Substitutes: You could try starting with half the amount of miso paste and adjust to your taste, but it won't have the same flavor. Gochujang is the star ingredient in this salad so I would advise seeking it out.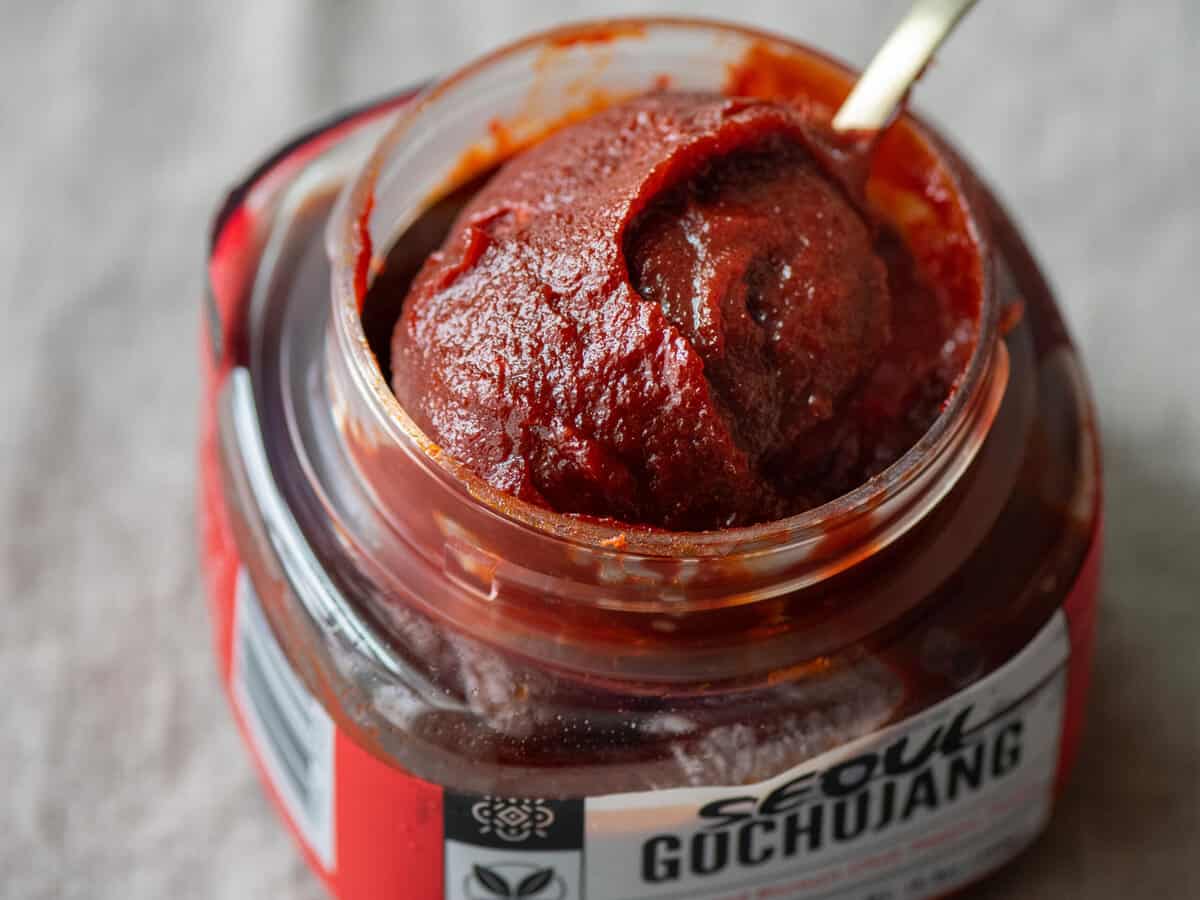 Gochugaru
These are Korean red chile flakes, but they're quite mild, much milder than red pepper flakes. They have a subtle sweet fruitiness but also slight smokiness. I use them in all kinds of recipes, not just Korean dishes, when I want a mild chile heat.
If you can spring for just one of these two specialty Korean ingredients, I'd go with gochujang because it adds so much flavor and heat to this salad all at once.
Step-by-step instructions
Smash the cucumbers.
Slice the cucumbers in half, vertically. Press the flat side of a heavy knife against the cucumber and press down with the heel of your palm, as if you were smashing down on a garlic clove to release its skin. You should feel the cucumber smashing beneath your knife. Once smashed, tear the cukes into bite-sized chunks (or slice them into pieces with a knife).
Note: If using a larger cucumber, like an English cucumber, you'll want to first chop the cucumber into 2 to 3-inch segments, then smash.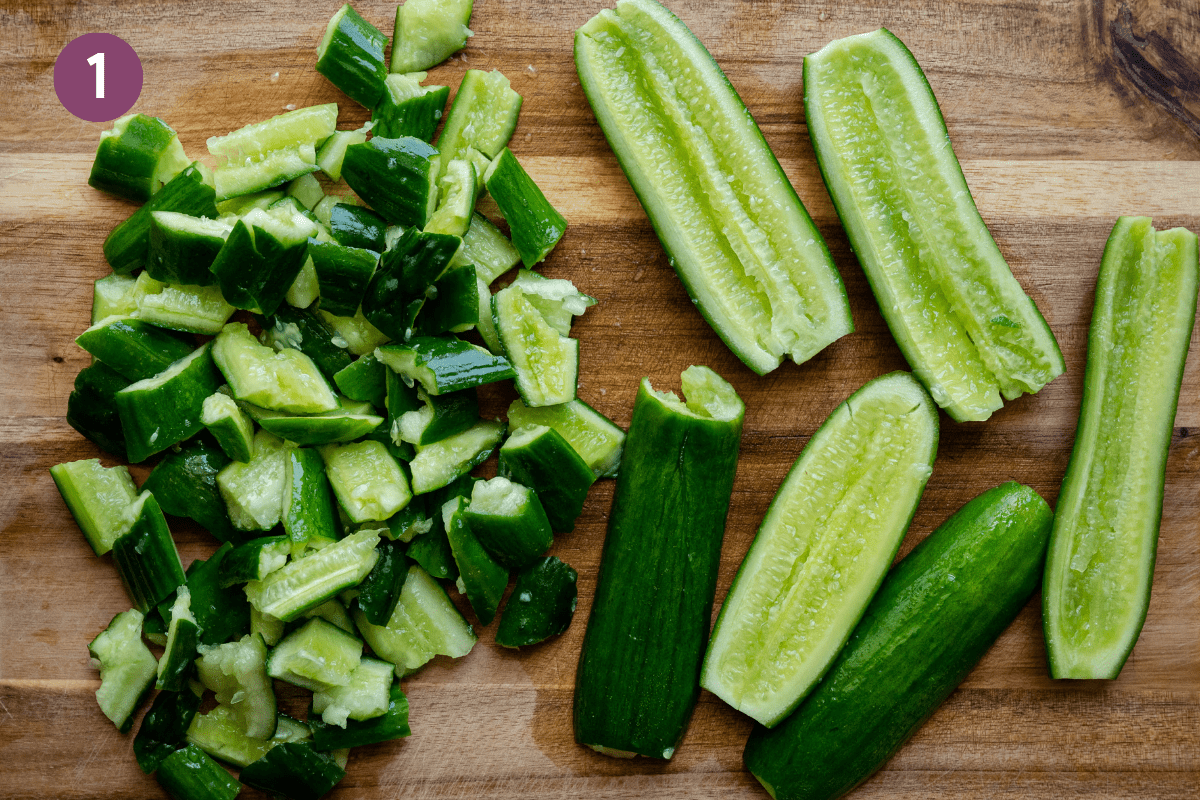 Add the smashed, torn cucumbers to a colander and add the salt. Toss with your hands to distribute evenly. Weigh the cucumbers down with a large bag of ice (or a large bag of frozen vegetables). Refrigerate for 30 minutes (or up to 4 hours).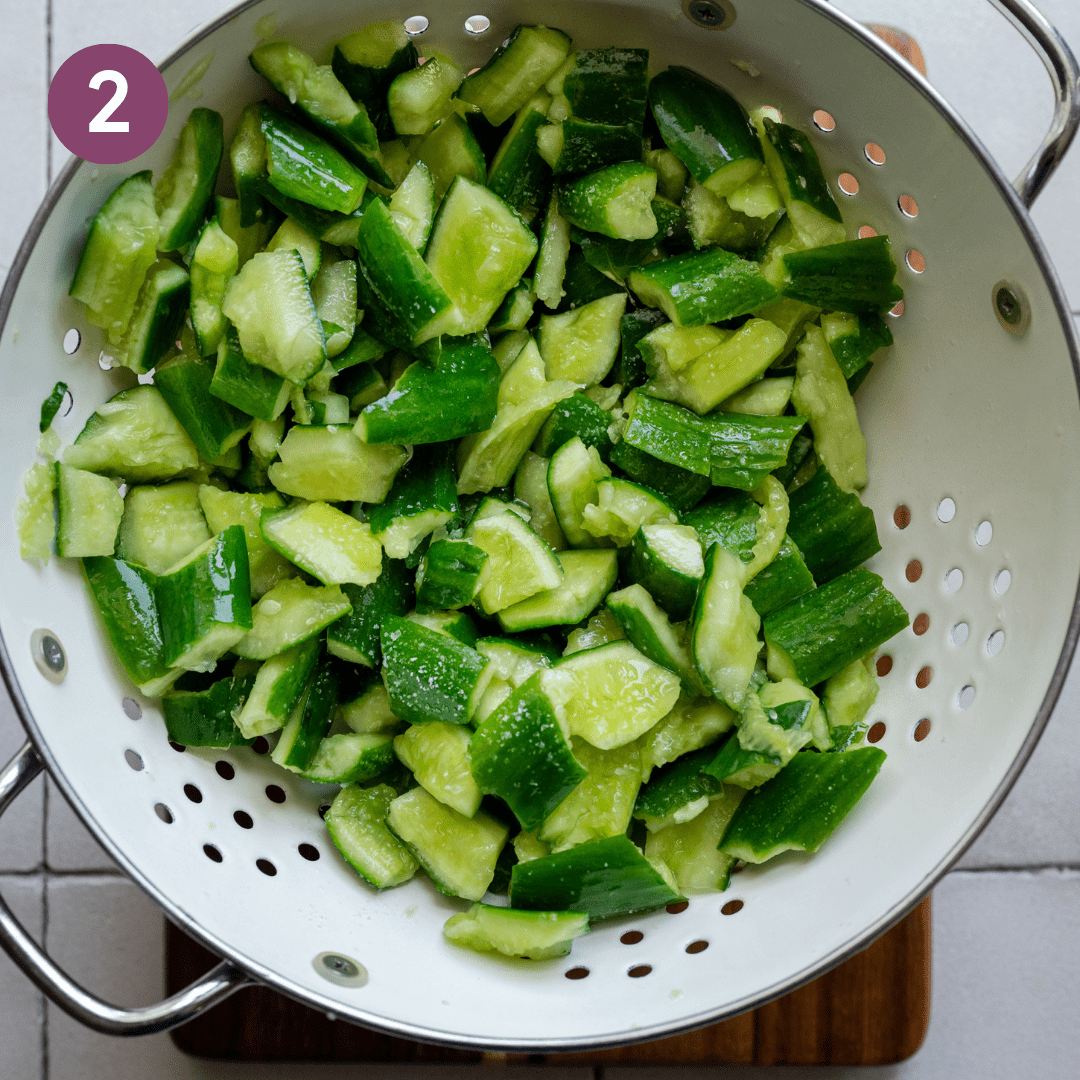 Make the dressing. Add the gochujang, gochugaru, toasted sesame oil, rice vinegar, soy sauce, sugar or agave, and minced garlic to a small bowl. Whisk until well-combined.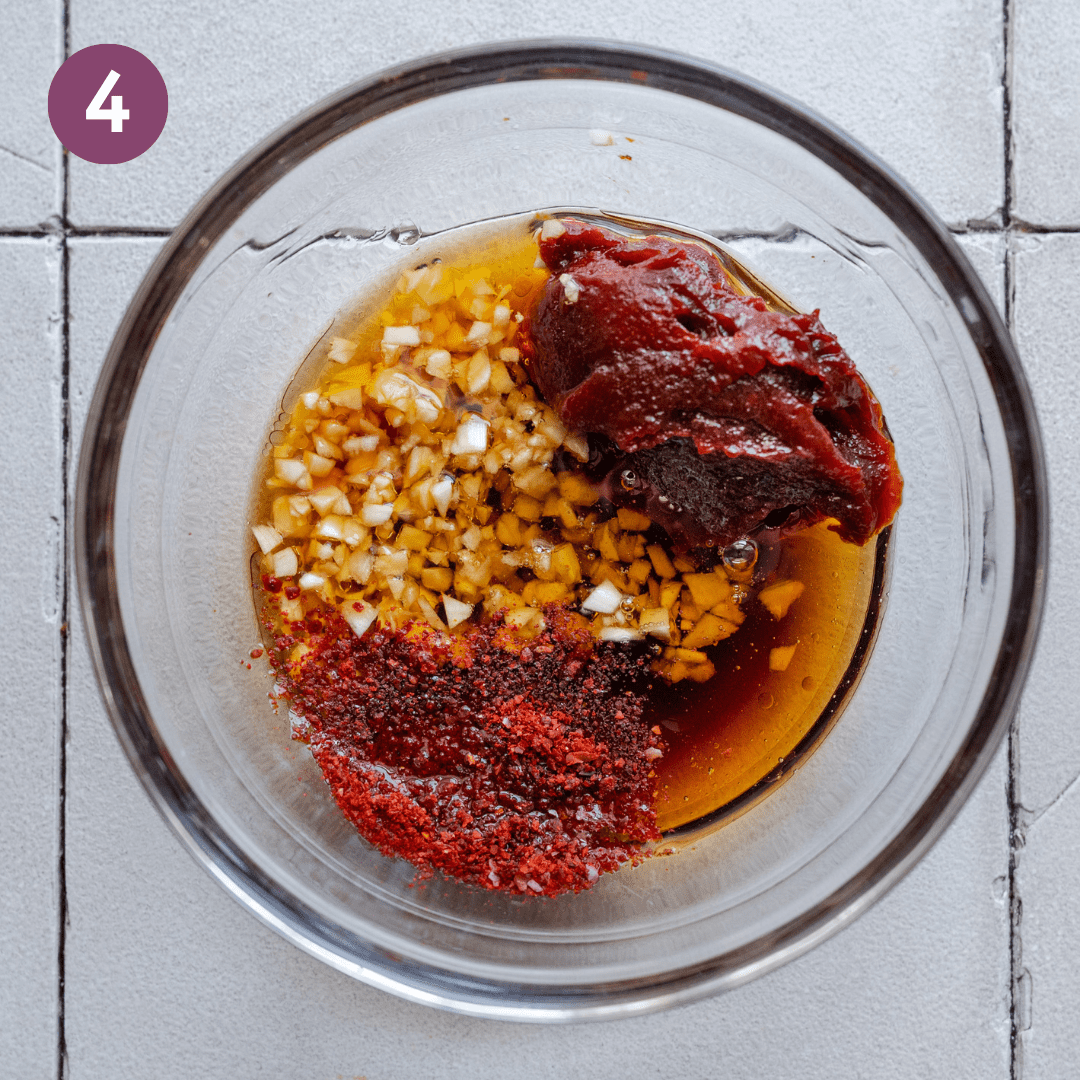 Assemble the salad. Add the smashed cucumbers to a large bowl, and mix in the sliced shallots and scallion whites/light greens. Pour the dressing on top.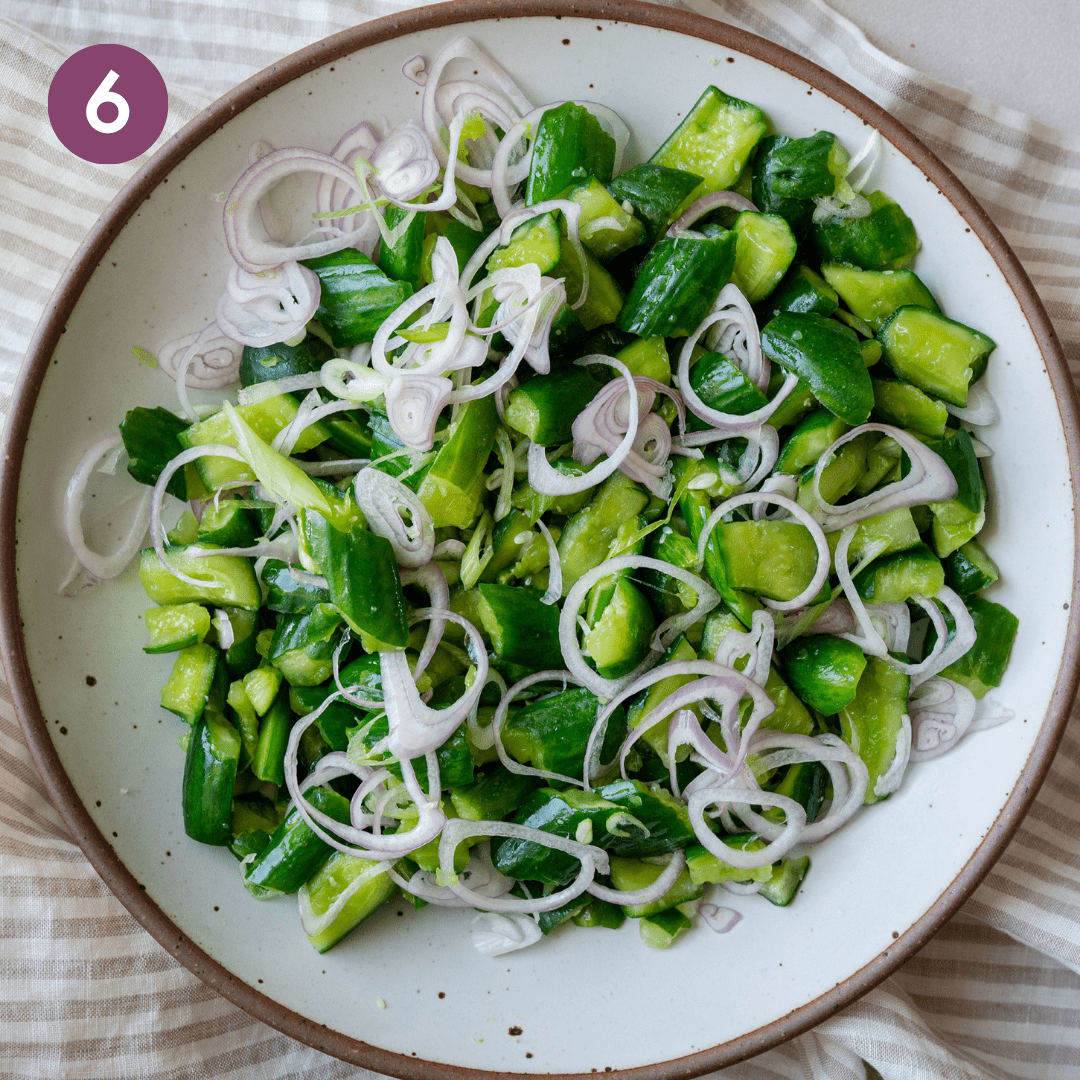 Use your hands to massage the dressing into the cucumbers for about a minute. Garnish the salad with toasted sesame seeds and scallion greens.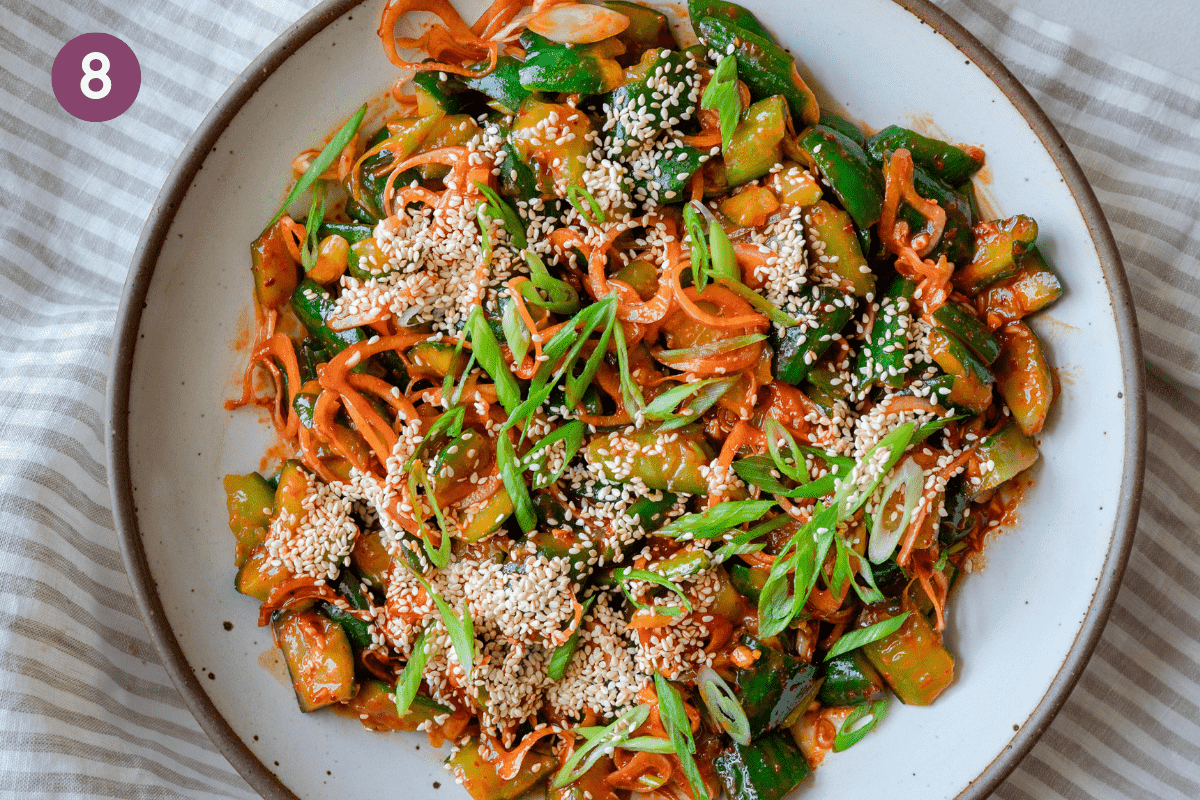 Frequently Asked Questions
How should I serve this spicy cucumber salad?
A Korean cucumber salad is traditionally served as an appetizer or side dish alongside the main course, and that's how I serve it if I have a few people coming over.

If it's just me and/or Max eating it, I'll turn it into a main course by serving it alongside cooked brown/white rice or noodles and some sort of baked/fried tofu (store-bought tofu if I don't have time to cook tofu). If I don't have any tofu on hand, I'll use edamame for a speedy, no-cook option.

This salad would also make a fabulous side dish or starter for these Crispy Sesame Tofu Lettuce Wraps or these 15-Minute Chili Garlic Noodles.
Can I make this salad less spicy?
If you want some heat but not as much, use 1 tablespoon of gochujang instead of 2. Gochugaru is quite mild so it doesn't add too much heat, but you can skip that if you'd like.
Can I make this recipe ahead of time? How long do leftovers last?
You will get the best results if you make this salad within a few hours of serving. That said, if you do need to make the salad ahead of time, the flavor is still great.

The salad still stays crunchy for 2 to 3 days in the fridge, but keep in mind, the cucumbers will continue to release water. Don't worry though—the resulting "sauce" is delicious and flavorful, and I like to drizzle it over rice or noodles. If you have extra scallions, I'd slice a fresh scallion or two for more freshness.

You can also smash the cucumbers and make the dressing ahead of time, store separately in the fridge, and then assemble before serving.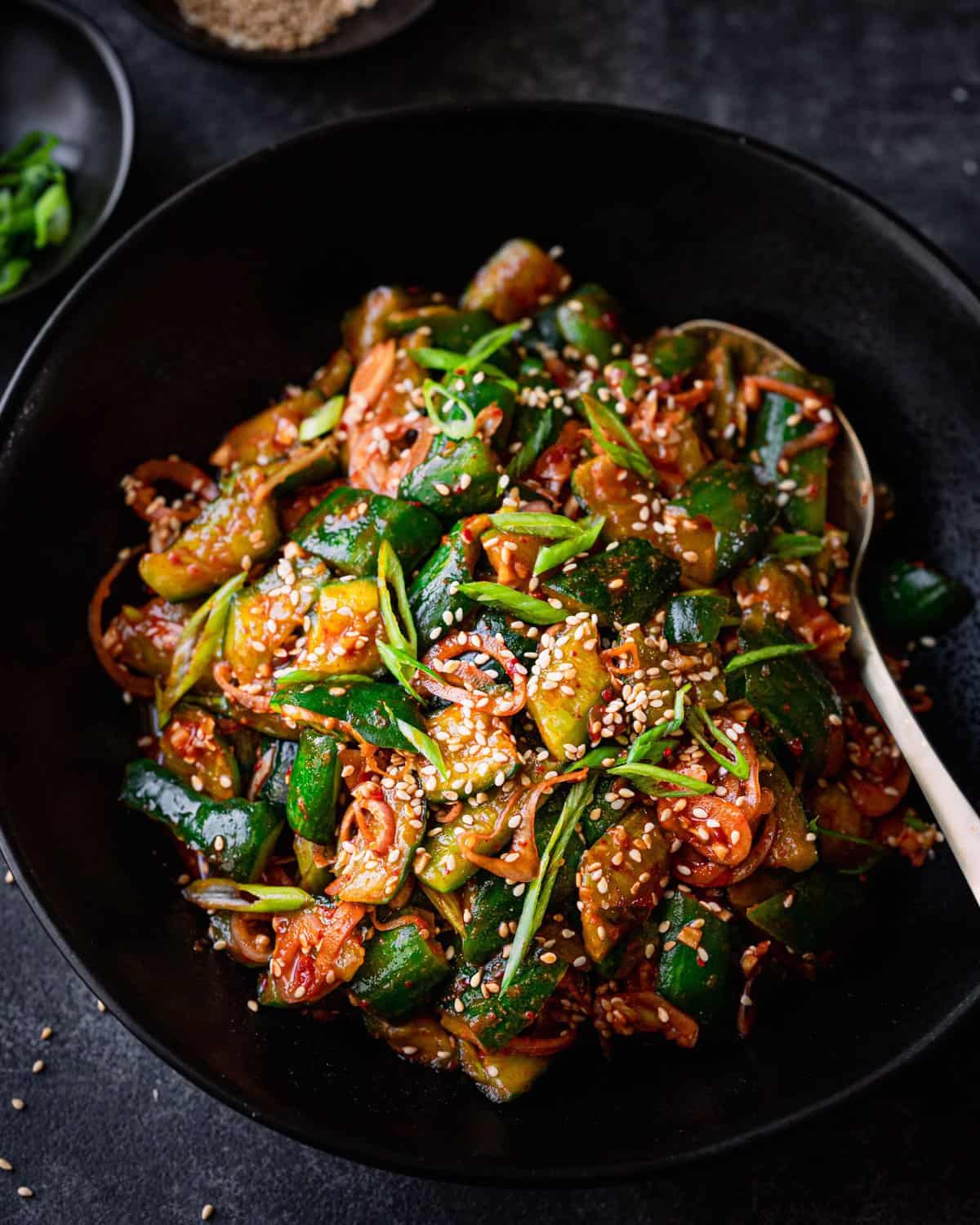 If you love this Spicy Korean Cucumber Salad, please rate and review the recipe below with your feedback :) Thank you, as always!
Spicy Korean Cucumber Salad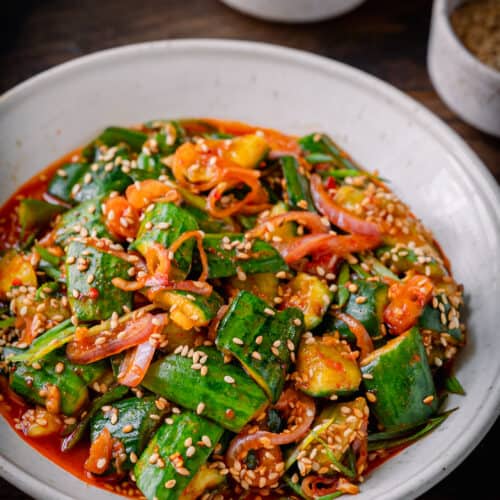 Smashed cucumbers are coated in an incredibly delicious sweet-salty-spicy-tangy sauce in this Spicy Korean Cucumber Salad. Refreshing, beyond flavorful, and an impressive yet easy side dish or appetizer for the summer. 
Ingredients
Salad
24

ounces

(680g) cucumbers*

(Persian, Japanese, Korean, or English cucumbers)

1

teaspoon

kosher salt

1

large shallot,

thinly sliced

2

scallions,

sliced on a bias

1

tablespoon

white sesame seeds,

toasted or roasted**
Dressing
2

tablespoons

gochujang

(Korean red chile paste)***

½

tablespoon

gochugaru

(Korean red chile flakes)

1 ½

tablespoons

toasted sesame oil****

1

tablespoon

soy sauce

1

tablespoon

rice vinegar

2

teaspoons

agave nectar or organic cane sugar

3

garlic cloves,

minced or crushed with a press
Instructions
Smash the cucumbers. Wash and dry the cucumbers and slice off the ends. Slice in half lengthwise. Grab your largest, heaviest knife (if you have a cleaver knife, use it) and smash the cukes by pressing the flat side of a heavy knife against them, using the heel of your palm (right above your wrist) to press down, similar to smashing down on a garlic clove to peel it.

NOTE: If using large cucumbers like English cucumbers, it's hard to smash them whole. First, chop the cucumbers into 2- to 3-inch segments, then smash them.

Salt the cucumbers. Tear the smashed cukes into bite-sized chunks and transfer to a colander fitted over a bowl or in the sink. Sprinkle the cucumbers with 1 teaspoon kosher salt and use your hands to toss until well coated.

Place a resealable bag filled with ice and cold water (or a bag of frozen peas) on top of the cucumbers to weigh them down—this forces more water out.

Rest in the fridge for at least 30 minutes, or or up to 4 hours. Discard accumulated water and shake off excess water from the cucumbers.

Meanwhile, thinly slice the shallot. Slice the scallions on a hard bias, separating the dark greens for the garnish.

Meanwhile, make the dressing. In a large bowl, whisk together the gochujang, gochugaru, sesame oil, soy sauce, rice vinegar, sugar, and garlic until well combined.

After the cucumbers have rested, squeeze a handful of them until no water is dripping out, like you would a washcloth. Repeat with remaining cucumbers. Alternatively, you can run the cucumbers in a salad spinner afterwards.*****

Assemble. Add the cucumbers, scallion whites/light greens, and shallots to the dressing. Use your hands to massage the dressing into the cukes for about a minute. Before serving, add the sesame seeds and scallion greens and toss gently.
Notes
*I don't recommend using a pole cucumber, as they're less sweet and have a lot of seeds. Persian cucumbers, which are small, are the easiest to smash. 
** You can buy pre-roasted sesame seeds, or toast raw sesame seeds yourself. To toast them, heat a skillet over medium heat. Once the pan is hot, add the sesame seeds and toast, stirring from time to time to prevent burning, until golden brown, 2 to 4 minutes. 
*** For moderate heat, use 1 tablespoon of gochujang. 
*** Toasted sesame oil imparts a rich, nutty flavor. I have tried many brands, and

Ottogi is my favorite toasted sesame oil

(affiliate link).

 
**** If you are serving all of the cucumber salad at once, you can skip the step of wringing out the smashed cucumbers. 
General Notes
This salad is best served chilled. It should be pretty chilled from the cucumbers resting in the fridge.
If keeping leftovers, the cucumbers will release more water over time. Don't be alarmed—it doesn't water down the flavor, and the resulting sauce is delicious. Pour the sauce over cooked rice for an easy flavor boost.
---
Calories:
123
kcal
|
Carbohydrates:
16
g
|
Protein:
3
g
|
Fat:
7
g
|
Saturated Fat:
1
g
|
Polyunsaturated Fat:
3
g
|
Monounsaturated Fat:
3
g
|
Sodium:
857
mg
|
Potassium:
365
mg
|
Fiber:
2
g
|
Sugar:
8
g
|
Vitamin A:
551
IU
|
Vitamin C:
9
mg
|
Calcium:
64
mg
|
Iron:
1
mg