Given the heat wave affecting much of the country right now, it should come as no surprise that I'm drinking a lot of smoothies! But nailing the perfect smoothie isn't as simple as it sounds. Building the perfect smoothie—a smoothie that is icy cold, nourishing, delicious, and satiating—is somewhat of an art form.
But I have some handy tips on How to Make the Perfect Smoothie, which I'm sharing in my Youtube video! I'm sharing all my favorite smoothie ingredients and how to get creative in the smoothie department so you can build healthy AND satiating smoothies that'll keep you full for hours.
And in this blog post, you'll find a useful smoothie chart that will help you build a perfect smoothie every time, along with FOUR creative recipes for satisfying smoothies!
Table of contents:
1. Smoothie formula
2. Tips for making a great smoothie
3. My favorite smoothie combinations
4. Watch! How to build the perfect smoothie
5. Recipe card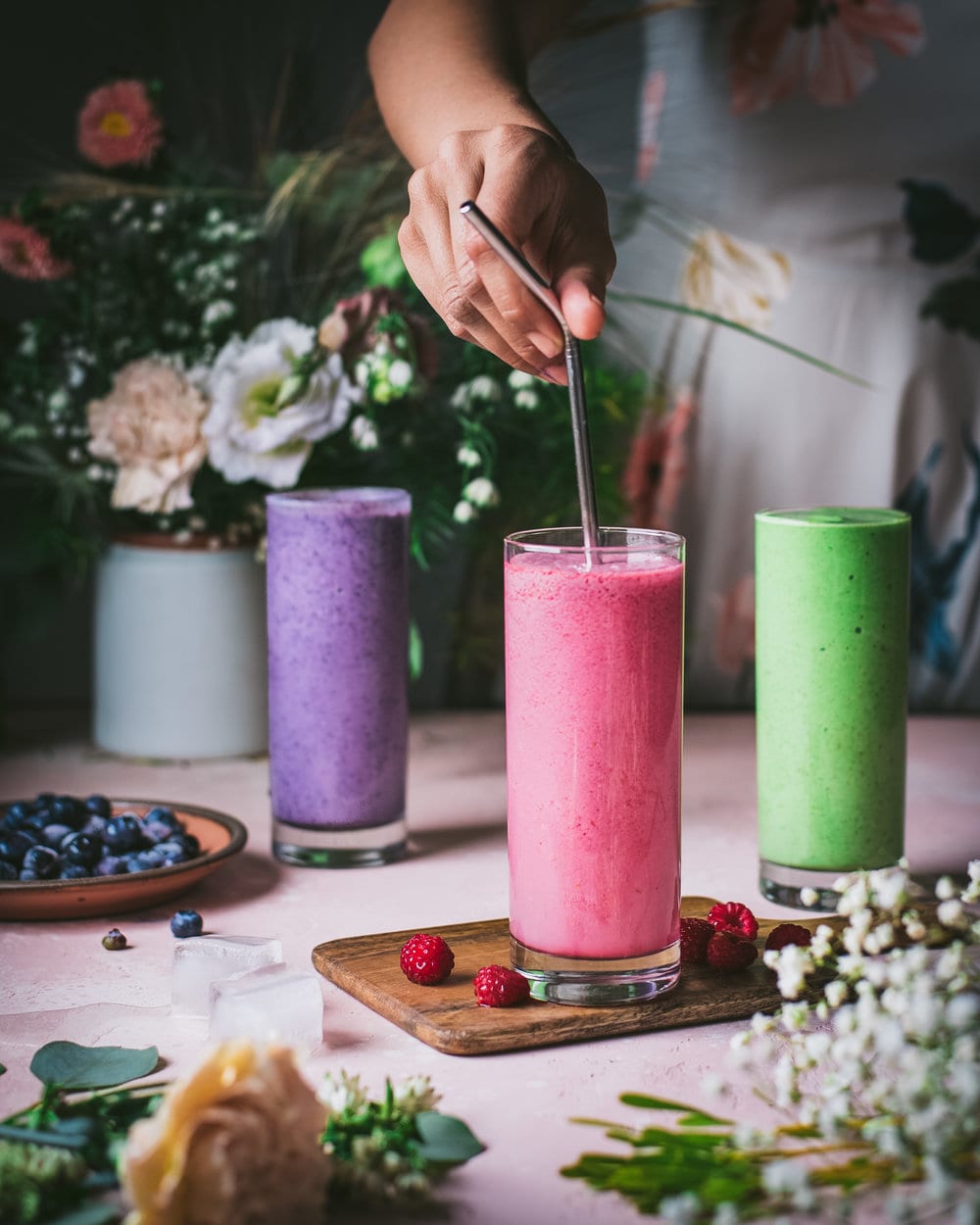 Smoothie formula
Use this chart as a guide to make your next green smoothie and get creative! Try different combos every day or just make your favorite one over and over!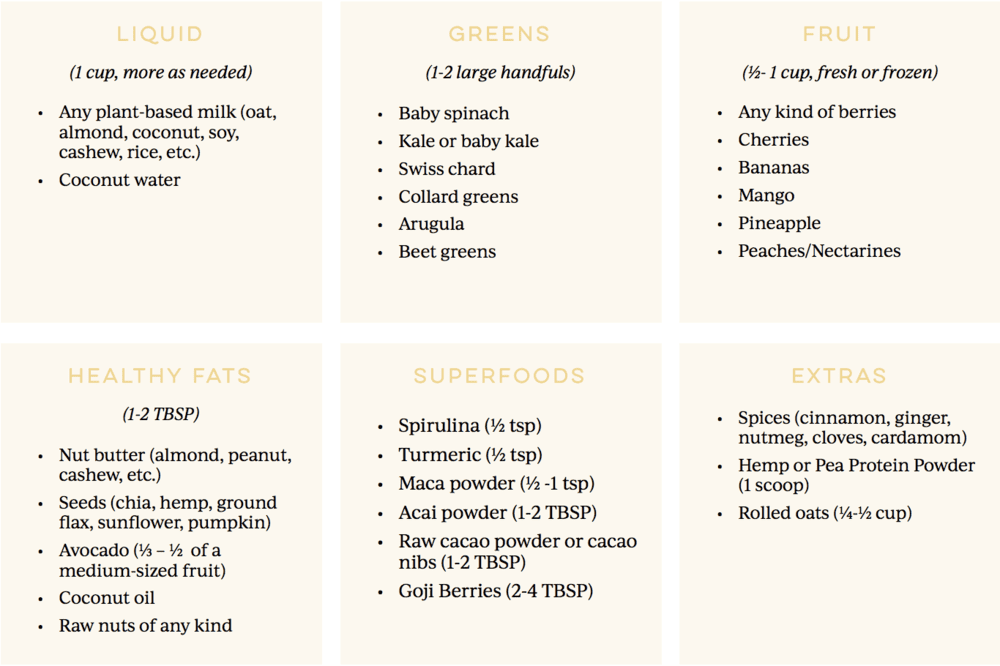 One caveat about this chart: for the Fruit column, I listed it as "fresh or frozen," but I always use frozen fruit because it helps the smoothie stay icy cold (more on that in Tip #2). Of course, if you don't have frozen fruit, you can use fresh fruit and add some ice cubes to your smoothie.
Tips for making a great smoothie
Use the right liquid
I usually use some type of plant-based milk for my smoothies because I want them to be creamy and substantial! I've seen a few people make smoothies with water, which seems downright sad. Who wants a watery smoothie??
I occasionally do use coconut water in lieu of a plant-based milk for my smoothie if (1) I need the extra hydration and (2) there are other ingredients in the smoothie that bring the creaminess (i.e., avocado).
Fresh or frozen fruit?
I have tried making smoothies with fresh fruit, and they're never quite as good as smoothies made with frozen fruit. The frozen fruit adds so much texture and heft to the smoothie, along with an icy cold temperature (which is especially important during these hot summer days). This is especially true if you want your smoothie to be creamy and lush because, as you might already know, a frozen banana can majorly upgrade just about any smoothie from so-so to a creamy delight.
Frozen fruits (and veggies) are usually picked at their peak ripeness and are therefore just as sweet and nutritious as their fresh counterparts (and even more so if your fresh fruit is bought out of season).
But, if you are limiting your plastic usage and don't want to buy frozen packaged fruit at the grocery store, you can always freeze your own fresh fruit. To see how I do this, check out tip number #2 in my Youtube video (the discussion starts around the 02:10 mark)!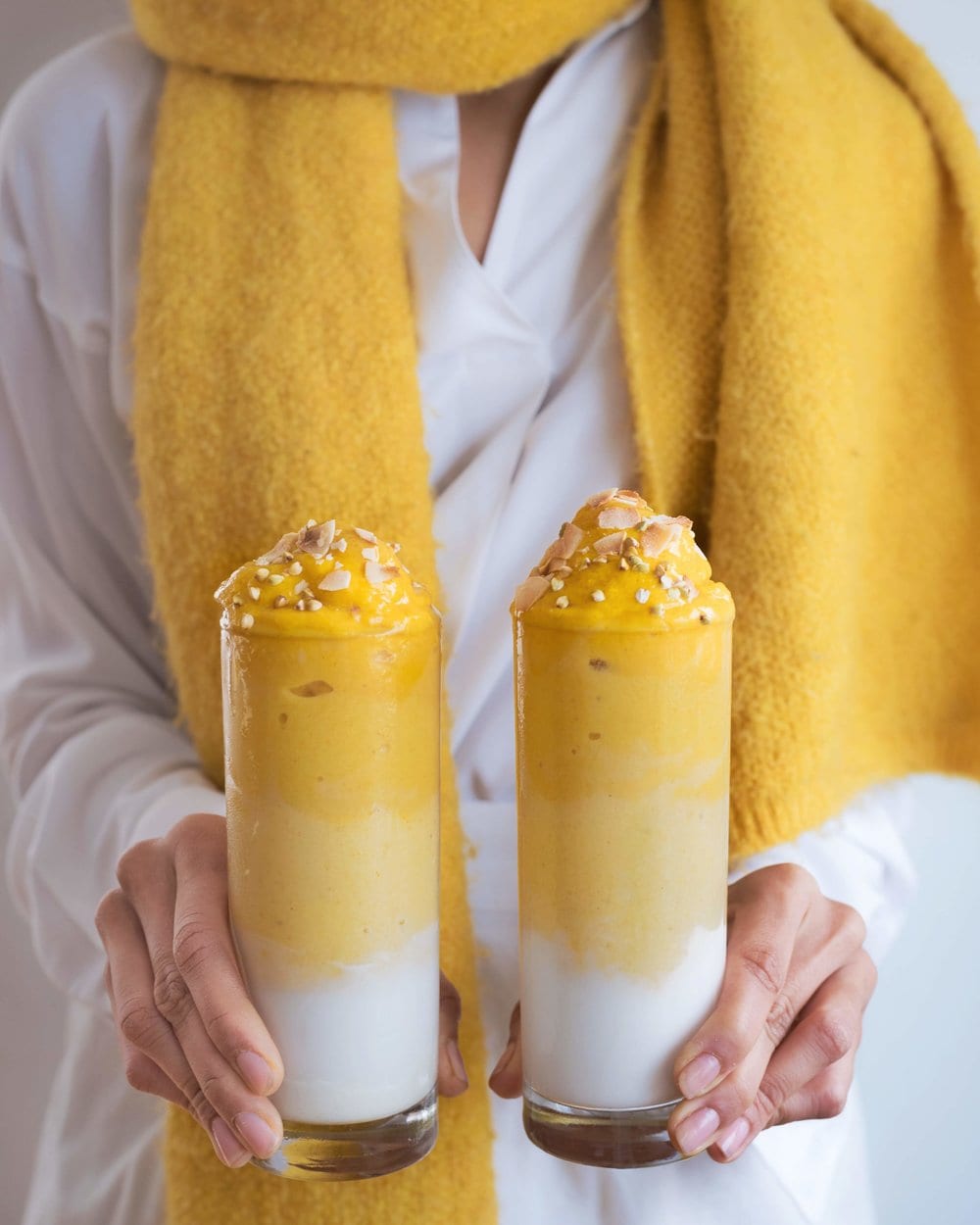 Love thy veggies
When I first started drinking smoothies, I was in college and it was only because there was a Jamba Juice outside of my university. Little did I know how sugar-rich those smoothies were, but I am certainly glad the smoothie game has come a long way since then!
While I don't think every smoothie NEEDS to have a vegetable, 90% of the smoothies I drink do have some form of veggie in them. And if you can create a wholesome smoothie that doesn't taste like vegetable soup, why wouldn't you??
Here are some vegetables I recommend adding to your smoothies (not all at once)!:
Common greens, such as spinach and kale
Less common greens, such as collard greens and arugula
Zero-waste greens, such as carrot tops or beet greens
Baked/steamed sweet potatoes
Frozen cauliflower
Frozen zucchini (goes great in a healthy strawberry smoothie

)
For a more-in depth discussion on why and how I incorporate these various vegetables into smoothies, check out Tip #3 in the video (the discussion starts around the 03:02 mark).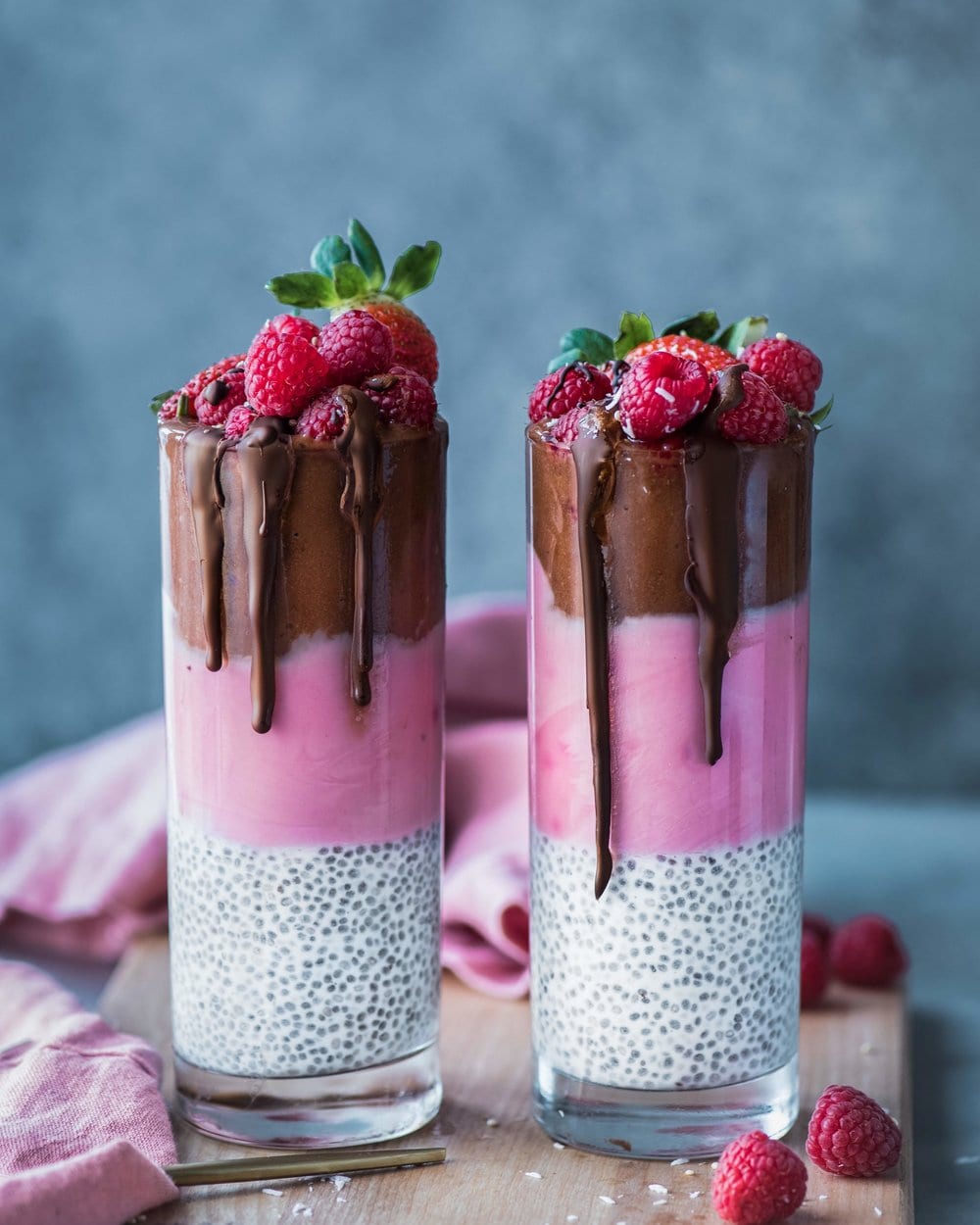 How to bulk up your smoothies
If you want to build smoothies that are satisfying and will keep you satiated for hours on end, then you might want to bulk them up with some hearty ingredients! The first three items are great alternatives to protein powder.
Here are some of my suggestions:
Silken soft tofu

(adds creaminess and protein, without changing the taste)

Cooked beans

(start slowly with about 1/4 cup, see how it tastes, and add more if desired)

Cooked red lentils

(these break down when cook and have a neutral mild taste. I usually add 1/2 cup to smoothies).

Uncooked Oats

(to ensure your oats make your smoothie creamy and smooth instead of tough, check out Tip #4 in the

video

around the 06:55 mark).

Nut

Butters

(also applicable for Tip #5)

Avocado

(makes smoothies incredibly thick and luscious, like a milkshake. Also applicable for Tip #5).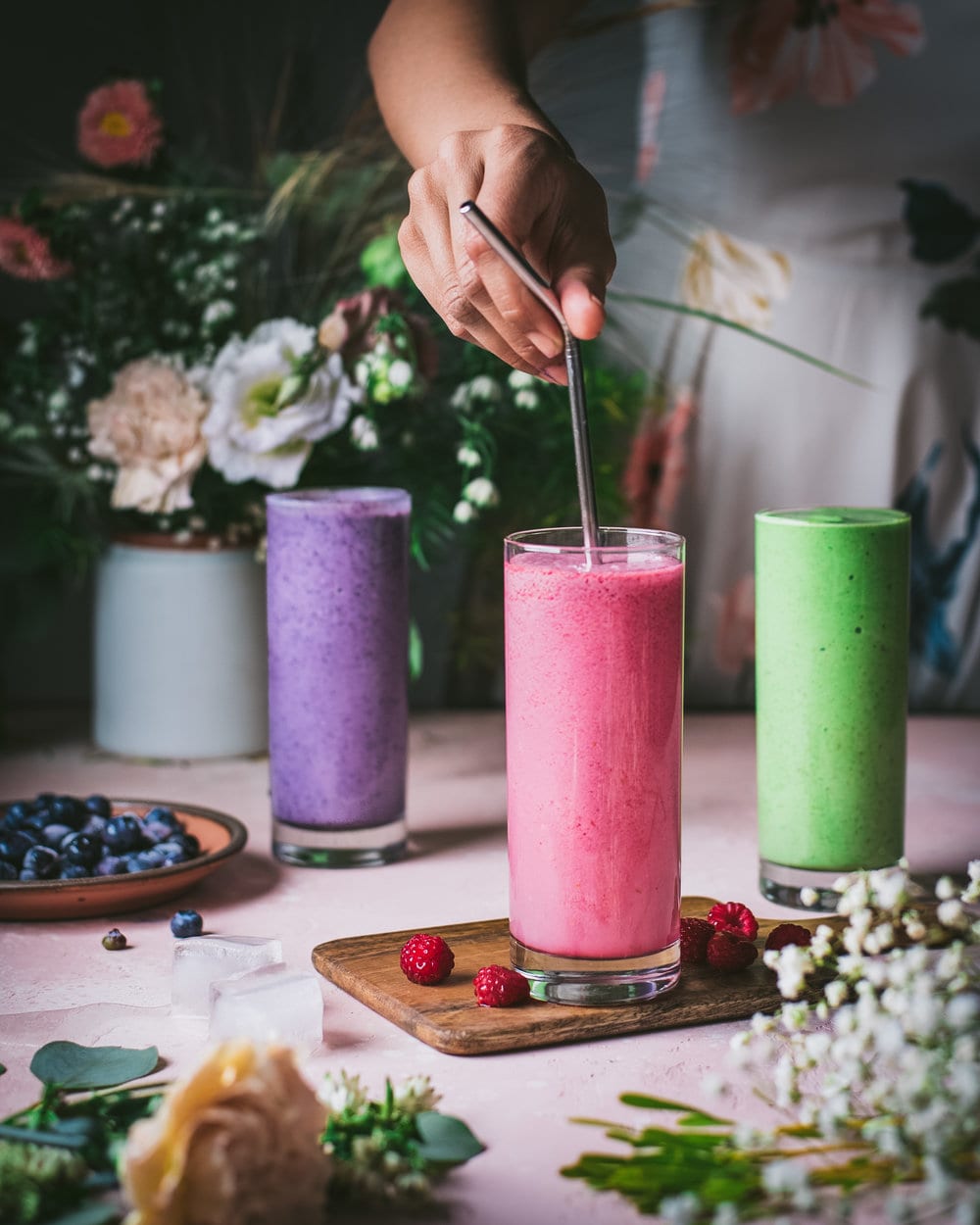 Fear not fat
On the same note as Tip #4, if you want your smoothies to fill you up, don't forget to add a source of healthy fat! I've listed some of my favorites in the chart above, but be sure to tailor your serving size to your needs. For instance, the chart says 1-2 tablespoons of a healthy fat, but oftentimes, my smoothies have 3 tablespoons of a healthy fat (such as in the High-Fat, Low-Sugar Smoothie at the start of this blog post) because I like my healthy fats! Remember, fat doesn't make you fat!
Finish with superfoods
Smoothies are a great excuse to get in some superfoods! Superfoods such as spirulina powder and flaxseeds nibs can be difficult to incorporate into your diet. If you've ever tried drinking a glass of spirulina water, you know what I'm talking about (so gross). And, what, are you supposed to just eat flaxseeds by the handful?
That's where the ol' smoothie comes in handy! Just toss your superfoods into a smoothie, blend, and voilà! You'll easily mask the taste of spirulina and the texture of flaxseeds, and get in some much-needed nutrients.
And if you're making a smoothie bowl, you can also use superfoods as toppings. My favorites are raw cacao nibs, goji berries, and hemp seeds!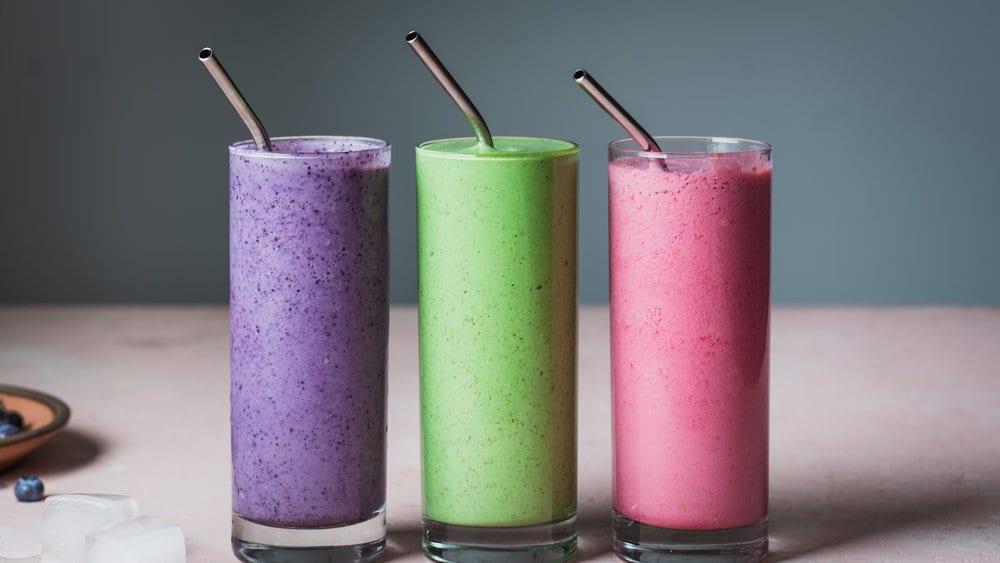 My favorite smoothie combinations
Blueberry Lemon
A tangy smoothie that's popping with refreshing flavors. Blend all ingredients until smooth.
Ingredients
¾ cup carton coconut milk from a carton, not a can)
1 cup frozen cauliflower (substitute half of f frozen banana for a sweeter version)
1 cup frozen blueberries
½ – ¾ cup vegan yogurt (amount will depend on the brand, texture, etc)
¼-½ cup cooked cannellini beans (use ¼ if you're new to adding beans in smoothies and/or if you're not adding any banana)
1 teaspoon lemon zest
1 tablespoon fresh lemon juice
1 tablespoon chia seeds
Tropical Green
Make this smoothie when you need extra hydration or when you're looking for a refreshing tropical escape! Blend all ingredients until smooth.
Ingredients
1 cup coconut water (add more as needed)
2-3 large handfuls baby spinach (or kale)
A few fresh mint leaves
1/2 cup frozen mango
1/2 ripe medium avocado
1-2 tablespoons raw cashews
1-2 tablespoons hemp seeds
½ teaspoon ground ginger
½ teaspoon spirulina
Chocolate Sweet Potato
A healthy spin on a chocolate milkshake that gets its natural sweetness from sweet potatoes and bananas, plus extra creaminess from a surprise vegetable. Blend all ingredients until smooth.
Ingredients
¾ cup baked sweet potato flesh (about 1 medium-sized sweet potato)
1 cup almond milk
½ cup frozen cauliflower
1 small frozen banana
2 tablespoons unsweetened cocoa powder or

raw cacao powder

1 1/2 tablespoons almond butter
1/2 teaspoon ground cinnamon
1/2 teaspoon ground ginger
Watch! How to build the perfect smoothie
I hope you found this guide on How to Make the Perfect Smoothie useful! If you did, drop me a line on Youtube or down below! And now here are four healthy and satisfying smoothie recipes!
Raspberry Tahini Smoothie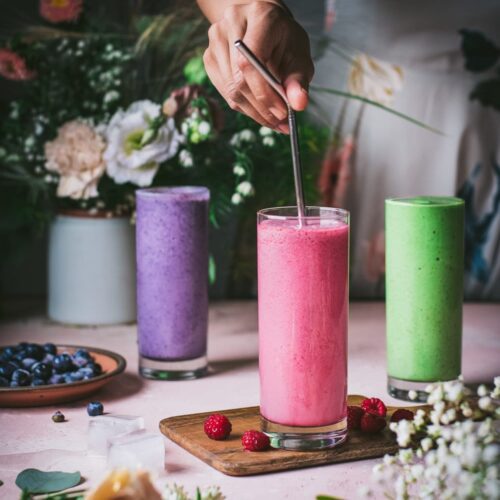 A pretty in pink smoothie that's surprisingly loaded with healthy fats. Blend all ingredients until smooth.
Ingredients
1

cup

coconut milk

from a carton, not a can

1

large frozen banana

1

cup

frozen raspberries

1/2

cup

frozen zucchini or cauliflower

(optional)

2

tablespoons

tahini

1/2

cup

silken soft tofu

1

teaspoon

ground cinnamon

1

tablespoons

flaxseed meal
Instructions
Add all ingredients to a blender. Blend until smooth.
---
Calories:
537
kcal
|
Carbohydrates:
67
g
|
Protein:
15
g
|
Fat:
28
g
|
Saturated Fat:
7
g
|
Polyunsaturated Fat:
11
g
|
Monounsaturated Fat:
7
g
|
Sodium:
21
mg
|
Potassium:
1085
mg
|
Fiber:
17
g
|
Sugar:
30
g
|
Vitamin A:
153
IU
|
Vitamin C:
45
mg
|
Calcium:
252
mg
|
Iron:
4
mg