I am so excited to be sharing my new favorite easy dessert recipe with you today, No-Bake Cookie Dough Bars. I've been making these healthy treats for the last couple months, and literally everyone has loved them, from junk food addicts and omnivores to health-conscious vegans and food snobs (hello, that last one is me).
It's not surprising that everyone who has tried these has absolutely loved them because…what's not to love? This recipe features a vegan, gluten-free, and nut-free cookie dough that is not only healthy and safe to eat but also tastes like real cookie dough! Then the cookie dough is turned into bar form and drizzled with melted chocolate! Are you drooling yet?
And these cookie dough bars couldn't be simpler to make! The dough takes 5 minutes to come together in the food processor and they require no baking, making them a perfect summer dessert idea.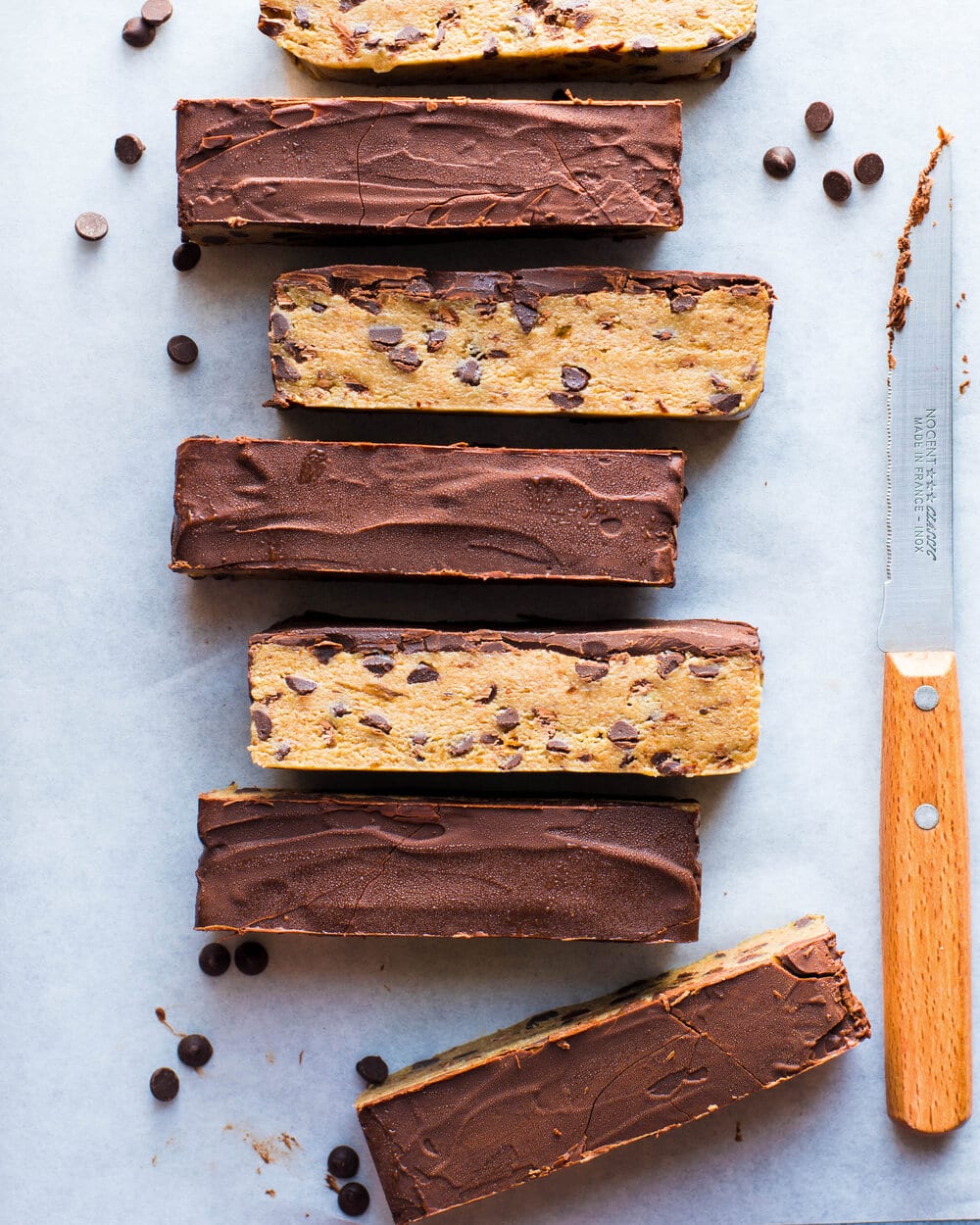 Why you're going to LOVE these No-Bake Cookie Dough Bars
6 main ingredients. Yep, that's it! This recipe is so easy and accessible.
I can be skeptical of recipes that have just a handful of ingredients because that often means they skimp on flavor or texture, but you really don't need more than these basic six ingredients to make these delicious cookie dough bars!
No baking required. Whether baking intimidates you or you're just looking for a quick, easy, and foolproof treat, this is the recipe for you! The food processor does 95% of the work for you and it's so easy that even young kids can help.
Cookie dough but better for you. Everyone loves edible cookie dough, but unfortunately most versions are not very healthy. In contrast, these bars feature healthy ingredients like tahini, oats, maple syrup, and vegan chocolate chips, so they're so much better for you but they still taste just like cookie dough.
Allergen-Friendly. These bars are free of dairy, gluten, nuts, soy, and oil, so they make an excellent allergen friendly treat, whether you're packing them in your kids' lunch boxes for school or bringing them over to a potluck.
Ingredient Rundown
Medjool Dates. These sweet and sticky gems are going to help sweeten the dough and also bring it together. The stickiness of the dates, in part, makes the addition of oil unnecessary. Be sure to use soft Medjool dates for the best possible texture.
If you can't find Medjool dates in your local grocery store, you can find them on Amazon.
Rolled oats / Oat flour. If you can believe it, oats are actually the primary ingredient in this cookie dough! Which is could why I say these cookie dough bars are healthy enough to eat for breakfast!
You have two options: (1) blitz old-fashioned rolled oats in a food processor until they're finely ground or (2) use store-bought oat flour. The benefit of the store-bought variety is that it's more finely ground than you can do at home, so the consistency of the bars will be smoother and finer. That said, I make my own oat flour because it's cheaper and so quick, and the bars still come out delicious.
Be sure to buy certified gluten-free rolled oats if you or someone you are making these for has a severe gluten intolerance or allergy.
Tahini. If you've been following along for awhile, you know I LOVE tahini. And I really love the way it pairs with Medjool dates, salt, and vanilla to make this cookie dough taste like actual cookie dough. Just be sure that your tahini is smooth and somewhat runny, not thick and chunky (usually, the bottom of a jar of tahini is left with thick chunks).
Store-bought tahini can be hit or miss, depending on which brand you buy. Some brands are quite bitter, so the brands I've used and love include the following:

Whole Foods 365 brand: A very decent tahini for the price, this is my everyday tahini and works great in this recipe.

Seed+Mill: pricy but the best artisanal tahini. Made with organic white sesame seeds, it's extremely creamy.

Soom Tahini: Silky, smooth tahini made from Ethiopian white sesame seeds.
The tahini is the major source of fat here, making the use of oil unnecessary. If you don't have tahini, you can easily substitute a smooth almond butter or cashew butter (the bars won't be nut-free anymore, obvi). Or another nut-free option is sunflower seed butter (I like this one from Sunbutter).
If all you have is peanut butter, you can substitute that for the tahini, but it will taste less like cookie dough and more like a Snickers bar (I've been told my some readers). Snickers bars are delicious, so you do you.
Maple Syrup. This is my go-to sweetener in the kitchen. Plus, using a liquid sweetener such as maple syrup also helps the dough come together in a way that obviates the use of oil.
PS: If you're wondering why the recipe has 4 1/2 tablespoons of maple syrup, it's because I found that just 4 tablespoons was slightly under-sweet, and that extra half tablespoon made a noticeable difference.
Vanilla. Any cookie dough recipe needs a good-quality pure vanilla extract.
Vegan Chocolate Chips. These are chocolate chip cookie dough bars, after all! I love the vegan mini chocolate chips from Enjoy Life, but you can use any dairy-free chocolate chips or chunks you can find. I use half the chocolate chips in the dough, and reserve the remaining half for the chocolate topping.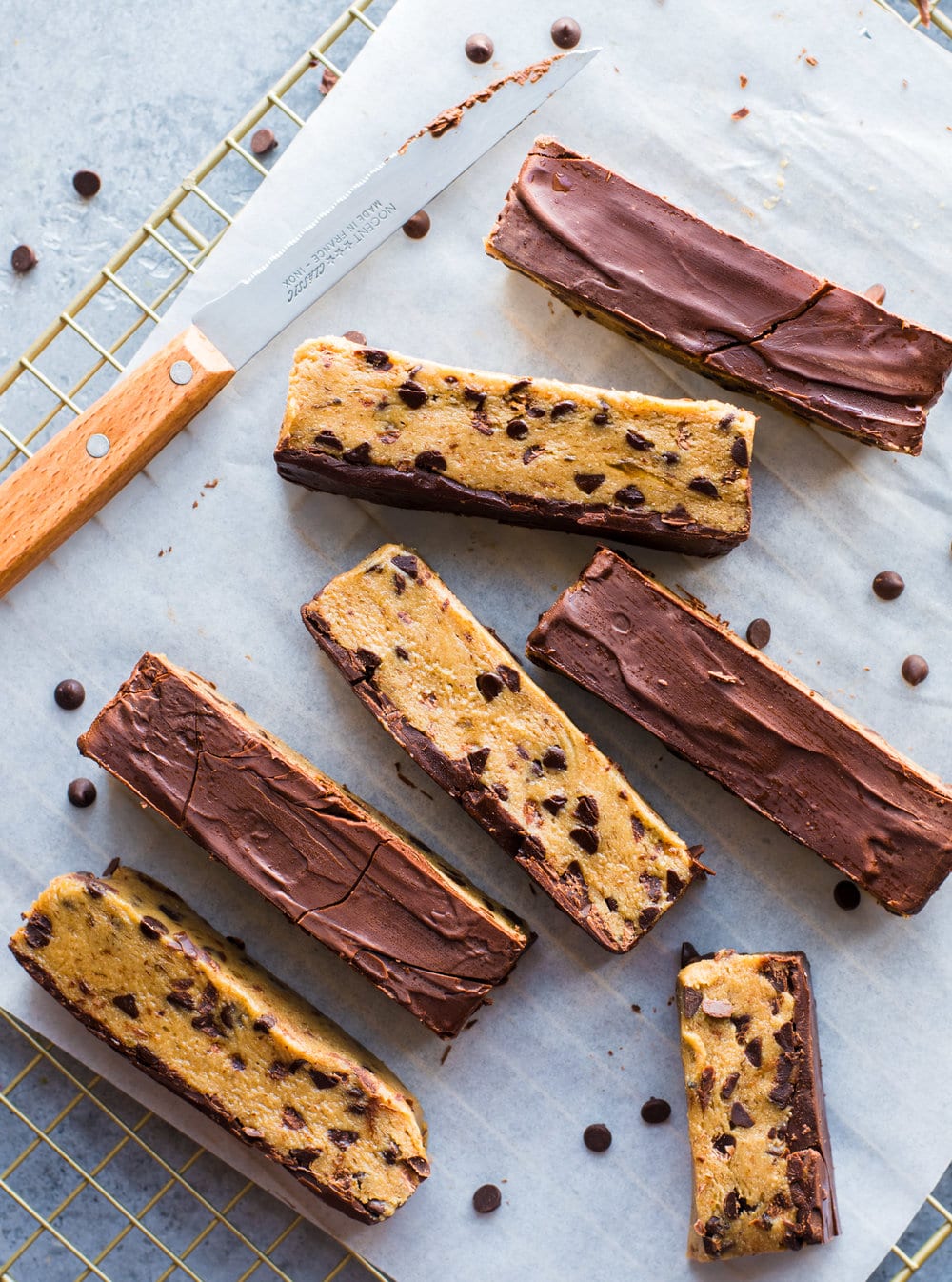 How to Make No-Bake Cookie Dough Bars
Add the oats to a food processor and blend they turn into a fine flour. This should only take 1-2 minutes with a high-powered food processor.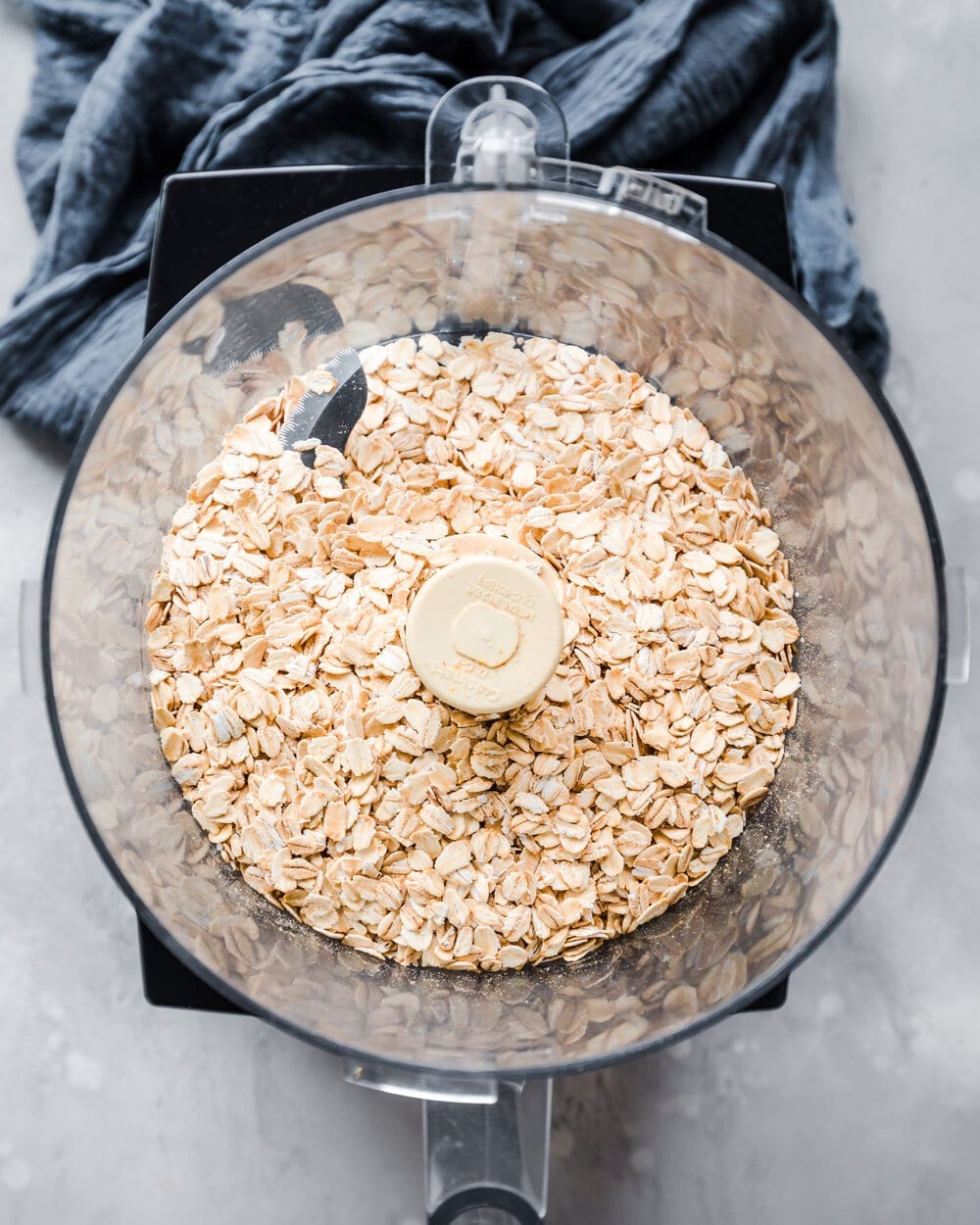 Then add in the Medjool dates, tahini, maple syrup, vanilla, and salt and blend together until a sticky dough forms. Usually it will come together into a ball (it shouldn't take very long).
Note: the photos here feature peanut butter instead of tahini, but the concept and texture is basically the same.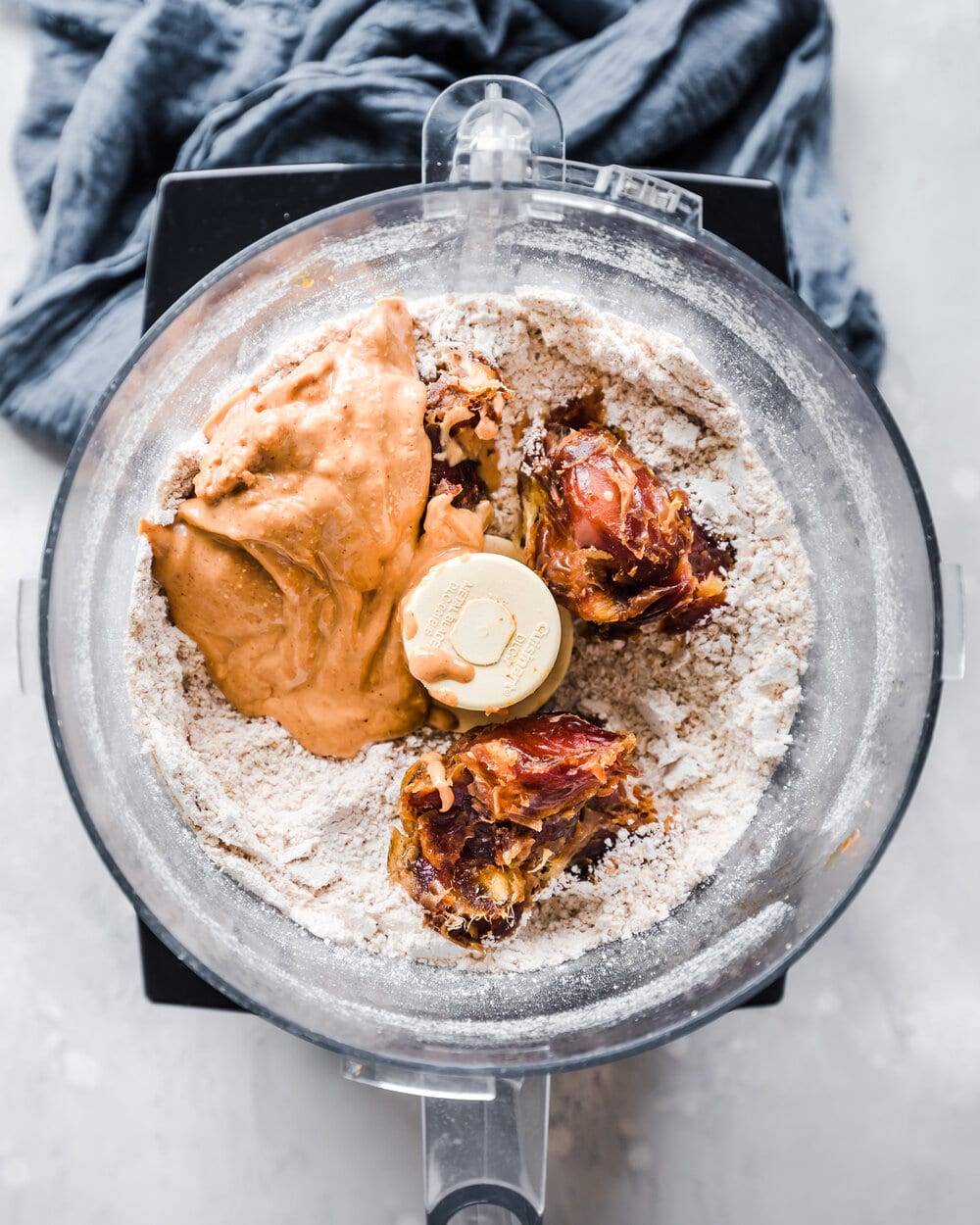 Transfer the dough to a bowl and stir in half of the chocolate chips by hand. If the dough is too sticky to handle, chill in the fridge for 15-20 minutes to help firm it up. Then press the dough into a parchment paper-lined loaf pan, using your fingers and/or a flat-bottomed steel cup to press it into every corner.
Freeze the cookie dough for 30 minutes to set it, and then pour or drizzle on the remaining melted chocolate chips. If desired, sprinkle with a bit of flaky sea salt.
Once the bars are coated in chocolate, if the chocolate immediately hardens up, you can start enjoying them. If not, pop the bars back in the freezer for 5-10 minutes to let the chocolate set, then enjoy!
Tips for making these vegan cookie dough bars
If your dates are not soft, soak in hot water for 5 minutes, then drain and pat dry well. Only have deglet dates (smaller, less sticky than Medjool)? You may need to add more coconut oil or maple syrup to bring the dough together.
If you prefer the smoothest texture possible for the dough, store-bought oat flour is a better option. It's more finely ground than you'll be able to grind your own oats in a food processor.
To keep these cookie dough bars free of added oil, just melt the chocolate chips in a heatproof bowl in the microwave in 30-second intervals, stirring after every interval (or using a double boiler on the stove). Prefer a glossier, firmer chocolate like hardened ganache and don't mind a little oil? Then add the optional coconut oil to the chocolate when you melt it.
If you don't have an 8×4-inch (20×10 cm) or 9×5-(23×13 cm) inch loaf pan, you can also use a similar-sized Tupperware or glass storage container. If you only have a square baking pan (e.g. 8×8-inch or 20×20 cm), you can use that too, but the bars won't be as tall/thick as they are in these photos.
Store leftovers in the freezer. They'll stay good in the freezer for many weeks, if not months. After removing from the freezer, let them rest for 5-10 minutes – it'll make them a lot easier to slice and eat.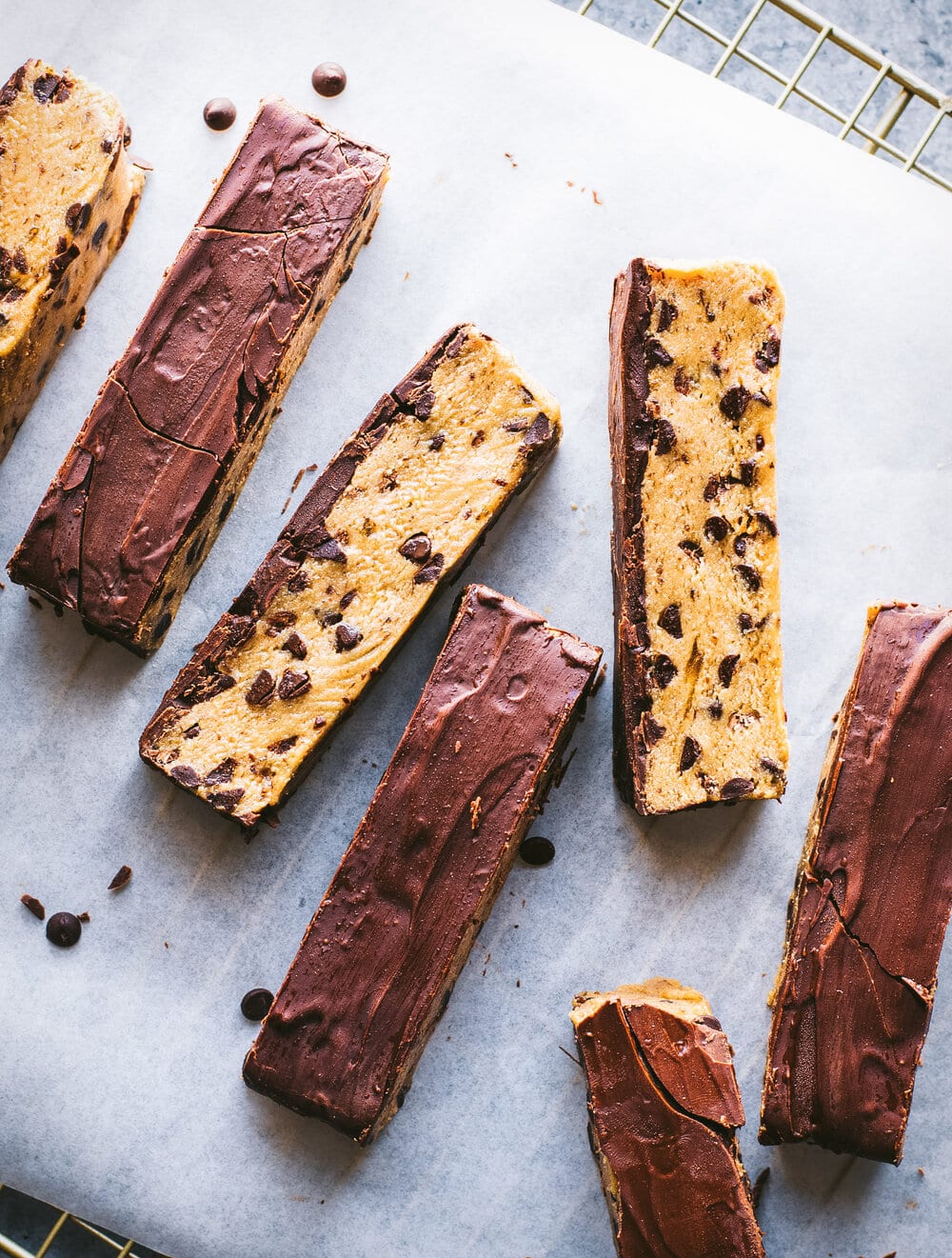 Frequently Asked Questions
How to store these cookie dough bars?
Store bars, covered, in the freezer. They'll last for at least a few weeks, probably longer.
Can I substitute nut butter for tahini?
Yes, I'd recommend a smooth, creamy almond butter or cashew butter. If all you have is peanut butter, you can use that. But it will taste more like peanut butter cookie dough, instead of classic chocolate chip cookie dough.
More Easy No-Bake Treats
Can't get enough of these cookie dough bars? Then be sure to try my No-Bake Peanut Butter and Jelly Bars or my No-Bake Nutella Fudge Bars.
Or, for bite-sized treats that are secretly healthy, try these Fudgy Chocolate Truffles.
And for a crowd-pleasing elegant dessert that's extremely simple, make this Salted Chocolate Cream Tart.
If you try these No-Bake Cookie Dough Bars out, be sure to rate and review them below and tag me on Instagram with your remakes :)
No-Bake Cookie Dough Bars (Vegan & Gluten-Free)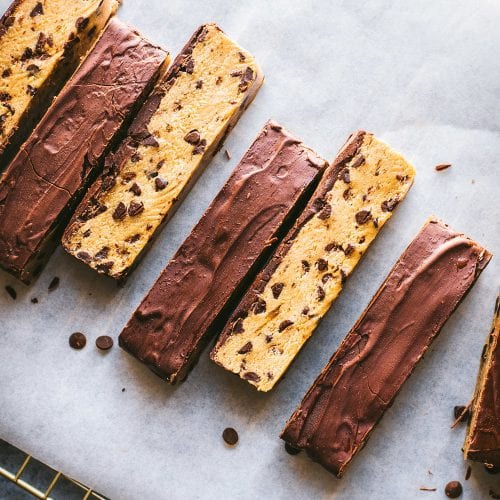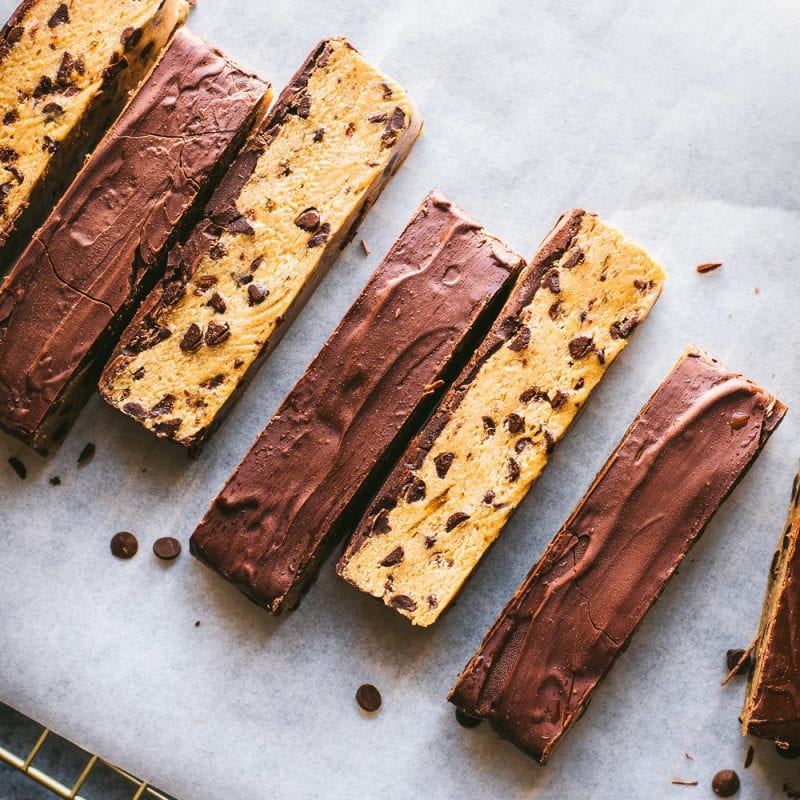 These are the BEST cookie dough bars you will ever try! Made with just six ingredients, they're an easy no-bake treat to satisfy any sweet tooth. Plus, they're vegan, gluten-free, soy-free, nut-free, and oil-free so they're a healthy, allergen-friendly, feel-good treat.
Ingredients
1

packed cup of soft Medjool dates,

pitted*

2 3/4

cups

rolled oats

(~260-275g), certified gluten-free if needed**

1/4

cup

smooth tahini

(56g) (or almond butter or cashew butter)

4 1/2

tablespoons

pure maple syrup

1

tablespoon

pure vanilla extract

1/2

teaspoon

fine sea salt

1

cup

(180g) vegan chocolate chips***, divided

2

teaspoons

refined coconut oil,

melted (optional; omit to keep oil-free)
Instructions
If the dates are not very soft, cover them with hot water for 5 minutes, then drain and pat dry.

Place the oats in the bowl of the food processor and pulverize them until you have a fine oat flour. Alternatively, you can use store-bought oat flour. See note below.

Add the pitted dates, tahini, maple syrup, vanilla, and salt to the oat flour. Blend until the mixture forms into a sticky dough (it should turn into a ball). If it feels dry, add a spoon of plant-based milk a teaspoon at a time until the dough just sticks together when pressed.

Transfer the dough to a large bowl. Fold in 1/2 cup of the chocolate chips into the dough using a silicone spatula.

Note: If the dough is too sticky to handle with your hands (this is more likely if your kitchen is warm), place the dough in the fridge for 20 minutes to firm it up a bit.

Line a 8×4-inch (20×10 cm) or 9×5-inch loaf pan (23×13 cm) with parchment paper, letting the excess hang over the long sides to form a sling. Spread the dough out into the prepared pan and smooth the top out evenly, pressing all the way into corners using your fingers or a flat-bottomed steel cup to get the mixture even on top.

Place the pan in the freezer for 30 minutes (or longer) to set. Once chilled, remove from the freezer and using the parchment paper as handles, lift the cookie dough out of the pan.

Before removing from the freezer, melt the chocolate.1. Double boiler method: Add a few inches of water to a saucepan and bring to a simmer. Nestle a large heatproof glass bowl that sits on top of the saucepan without touching the water to create a double boiler. Once the water is simmering, add the vegan chocolate chips and coconut oil to the bowl. Whisk frequently with a spatula until the mixture is just melted.2. Microwave method: Add the chocolate and coconut oil to a microwave-safe bowl and microwave on high in 25 to 30-second intervals until the chocolate is almost melted (about 3 intervals). Use a spoon to stir the chocolate until it is melted.

Drizzle the melted chocolate over the cold cookie dough and lightly sprinkle with flaky sea salt, if desired. If the chocolate doesn't immediately harden, return it to the freezer for 5-10 minutes to set, then slice into 8 thick bars or into smaller squares. Store leftovers in the freezer (they'll stay good for several weeks).
Notes
* After pitting the dates and packing them into a 1 cup measuring cup, you should have about 7 ounces or 200g of dates.
** If using store-bought oat flour, you'll need slightly less than the amount of oats – about 2 1/4 cups oat flour.
*** I use Enjoy Life mini chocolate chips. 
---
Calories:
179
kcal
|
Carbohydrates:
28
g
|
Protein:
3
g
|
Fat:
7
g
|
Saturated Fat:
3
g
|
Polyunsaturated Fat:
1
g
|
Monounsaturated Fat:
1
g
|
Sodium:
75
mg
|
Potassium:
145
mg
|
Fiber:
3
g
|
Sugar:
15
g
|
Vitamin A:
16
IU
|
Vitamin C:
1
mg
|
Calcium:
39
mg
|
Iron:
2
mg