Recently, I shared a roundup of 10 chocolate desserts to make for Valentine's Day and a showstopping vanilla-raspberry layer cake that would be perfect for Valentine's Day. And today I'm sharing some Vegan Chocolate Truffles that will blow your mind!
BUT, I also know that you guys love when I share really easy, no-bake desserts that require minimal ingredients. So I decided to develop an easy, no-bake vegan dessert that would be perfect for Valentine's Day because I know not everyone has to time to bake a layer cake for Valentine's Day (you have a life, I get it). Enter these Fudgy Vegan Chocolate Truffles!
These truffles use a secret ingredient – beets – that give them an amazing color and texture. It sounds crazy but I guarantee you will love it!
Why you'll love these truffles
No baking required! You do need to cook a beet, but that's the only actual cooking required. You could make it even easier by buy pre-cooked beets. The food processor and freezer do all of the hard work.
6 main ingredients. 7 including salt, but we don't count salt, so just 6 main ingredients.
Wholesome. I promise these truffles taste just as indulgent as any truffle, but they are actually good for you, especially if you use a dark chocolate with a high cacao content. They're vegan, oil-free, and easy to make Paleo-friendly.
Allergen Friendly. These truffles are gluten-free, nut-free, and soy-free so basically anyone can enjoy them!
Fudgy. Like really fudgy. The combination of Medjool dates, cooked beets, and cacao powder make these sticky, gooey and fudgy. They basically melt in your mouth, not even exaggerating.
Indulgent. Even though they're made with wholesome ingredients, they taste sooo indulgent. And because they're so rich, just a small serving will satisfy all your dessert cravings!
Looking for more indulgent and easy chocolate treats? My Vegan Chocolate Mousse and Vegan Hot Chocolate are MUST-makes! 
Ingredient Roundup
Beets. I know it sounds crazy to put beets in vegan chocolate truffles but if you give it a try I guarantee you'll love it!
I used one small-sized beet that weighed 4 1/2 – 5 ounces (gram measurements provided in recipe). If you can't find a small beet, just buy a larger one and use only the amount needed. Or, if your beet is quite large (about 9 ounces), just cut your beet in half and cook one half of it.
I steamed my beet in my Instant Pot, but you could easily steam them on the stove or roast them in the oven. I've included cooking instructions for beets in the next section.
Medjool Dates. This makes the truffles sticky, sweet, and fudgy! If you can't find Medjool dates, you can use deglet dates. They are smaller, so you'll need more than 12 dates to get 6 ounces or 170g. Deglet dates are also less soft than Medjool dates, so I recommend soaking them in hot water for a few minutes to soften them up.
Raw Cacao Powder. Not only is raw cacao powder a superfood that's packed with antioxidants, magnesium iron, and potassium, but it also makes for incredibly rich tasting chocolate desserts (richer than cocoa powder, at least in raw desserts).
Vanilla Extract. Enhances the flavor of chocolate!
Oat Flour. Since the truffle dough is very sticky, it needs a flour-like substance to help bring the dough together. But I wanted to maintain the rich, fudge-like texture, so I use a small amount – just 1/4 cup.
If you don't have store-bought oat flour, you can easily make your own oat flour in a food processor (directions are included in the recipe). Be sure to do this step before you make the truffles because otherwise, you'll have a sticky dough in the food processor to cleanup.
If you are Paleo, you can sub the oat flour coconut flour. I wouldn't recommend almond flour since almond flour is quite moist and therefore won't help to stiffen the dough.
Dark Chocolate. These beet truffles are pretty indulgent on their own, but to take them over the top, they get dunked in melted dark chocolate. Since the truffle dough is frozen before it's dunked in dark chocolate, the melted chocolate will quickly set and form a casing for the fudgy truffle.
To keep these truffles Paleo-friendly (and healthy, in general), be sure to use a dark chocolate with at least 70% content and minimal sugar. Options include Hu Kitchen's Simple Dark Chocolate Bar, Endangered Species 88% dark chocolate, Green & Black's 85% dark chocolate, or Alter Eco 90% Blackout Bar.
How to cook beets
First things first, wash and scrub your beets. They are dirty little things! Trim most of the stalks and remove any greens, reserving beet greens for another use (sauté them!).
To steam beets in the Instant Pot, pour in 1 cup of water into the inner pot. Position your whole, unpeeled beet on the steamer rack that comes with the Instant Pot, or in a steamer basket. Use the Pressure Cook or Manual setting at high pressure for 15-18 minutes. Perform a quick pressure release.
Pierce the beet with a fork or knife. If there is little resistance, the beet is done. If it feels still a bit firm, pressure cook for another 3-5 minutes. You want the beet to be pretty soft, not crunchy (it should be softer than you'd want it for, say, a beet salad). Allow beets to cool completely before peeling.
To steam beets on the stove, add a bit of water to the bottom of a saucepan and insert a steamer basket on top. Add the beet into the basket. Cover the pot (uncover occasionally to ensure the water in the bottom of the pot is steaming) and steam for about 30 minutes, or until beets are fork tender. Allow beets to cool completely before peeling.
To roast beets in the oven, wrap the whole, unpeeled beet in a piece of aluminum foil and crimp the sides closed. Optionally, if you want to ensure the beet stays moist, lightly brush it with a neutral-tasting oil. Obviously skip this step if you are oil-free.
Roast in an oven at 400°F/204°C for 40-50 minutes, or until there is little resistance when a fork or knife is inserted. I recommend checking every 20 minutes because every beet is a different size. Allow beets to cool completely before peeling
Tips for making these vegan chocolate truffles
Get a pair of food safe gloves! When you start to roll the dough into balls, you'll notice that the dough is quite sticky, so your hands will get really messy if you roll them with your bare hands, and it'll be difficult to keep rolling them. Plus, beets tend to stain, so you'll be scrubbing your hands for days to get the stains out.
Freeze the dough. Since the dough is sticky, you'll need to freeze it for 1-2 hours (though you can freeze it even longer). Freezing the dough also makes it easy to turn these into chocolate-coated truffles because when the melted dark chocolate hits the cold truffle, it'll quickly harden and encase the beet truffle. The result is a wonderful contrast in textures.
That's all you need to know about making these Fudgy Vegan Chocolate Truffles! If you try out the recipe, drop me a comment below and tag me on Instagram!
Fudgy Vegan Chocolate Beet Truffles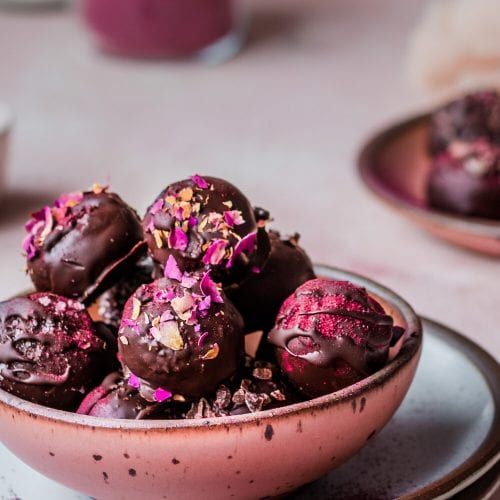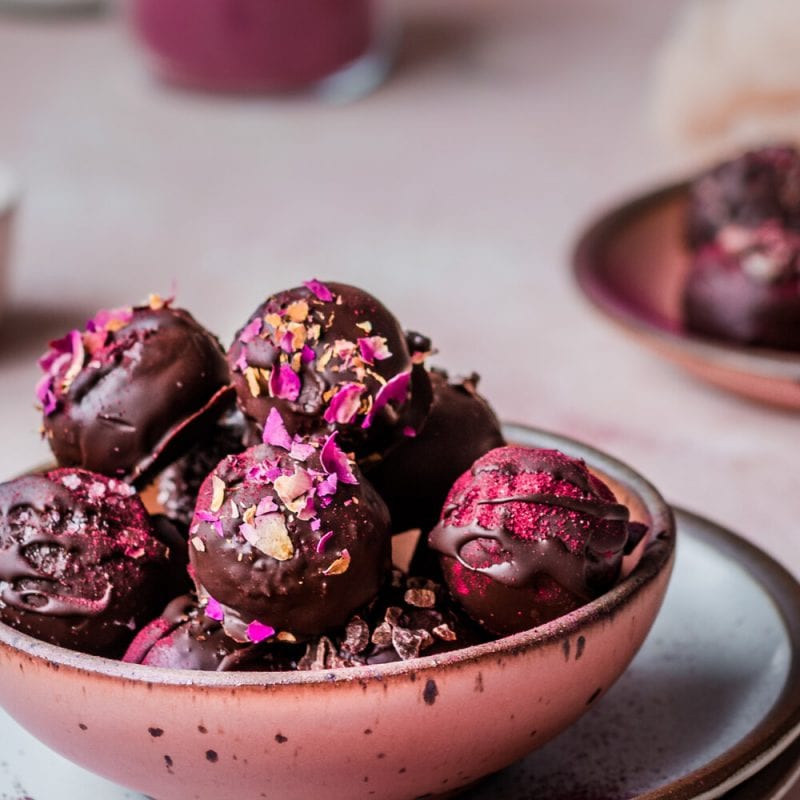 Made with just six main ingredients, these Fudgy Vegan Chocolate Beetroot Truffles are wholesome yet taste indulgent and melt in your mouth. They're also gluten-free, oil-free, soy-free, nut-free and include a Paleo option!
Ingredients
1

small beet

(4 1/2 – 5 ounces, or 125-140g), cooked and then peeled*

12

Medjool dates

(about 6 ounces, or 170g), pitted

1

teaspoon

vanilla extract

1/2

teaspoon

sea salt,

plus more to taste

6

tablespoons

(30 grams) raw cacao powder, divided

1/4

cup

(22g) oat flour** (sub an equal amount of coconut flour for a Paleo version)

3

ounces

(85g) of good-quality, dairy-free dark chocolate***

Optional ingredients for coating the truffles: unsweetened shredded coconut,

raw cacao powder, flaky sea salt, raw cacao nibs, dried rose buds, beetroot powder, hemp seeds, chopped nuts, etc.
Instructions
If you're making your own oat flour, take slightly more than 1/4 cup of rolled oats (22 grams) and add it to a food processor. Blitz until the oats have turned into a fine powder. Transfer to a bowl and set aside. If you're using store-bought oat flour, skip this step.

If you are not using a high powered food processor and/or if your dates are quite dry and not sticky, soak the dates in hot water for a few minutes to soften. Drain and squeeze out the excess water really well.

Chop your steamed or roasted beet. Add the beets, dates, vanilla extract, salt, and 1/4 cup or 4 tablespoons of the cacao powder (or 20g) to a food processor. Process until the ingredients are well combined and starting to come together as a sticky paste.

Add the remaining 2 tablespoons of cacao powder (or 10g) and the oat flour to the food processor. Blend again until the ingredients are well combined and a dough has formed. Taste and add more salt, as desired. The dough will be quite sticky at this point.

Transfer the dough to a bowl and cover. Freeze for at least 1-2 hours. This step is essential, so don't skip it.

Line a baking sheet with parchment paper. Melt the dark chocolate in a large bowl, using either a double boiler method, or in in the microwave in 30-second intervals. Allow to cool for 5 minutes.

Remove the truffle dough from the freezer. Using a rounded tablespoon or mini ice cream scooper, scoop the truffle dough and roll into evenly-sized balls. Transfer the balls to the baking sheet.

I highly recommend wearing food-safe gloves while rolling the balls because the dough is sticky and beets tend to stain, so your hands will get really messy if you roll them with your bare hands.

Using a slotted spoon or similar utensil, dip one truffle at a time into the melted dark chocolate, and coat it all over. Transfer back to the baking sheet and sprinkle with the toppings of your choice. Work quickly, as the melted chocolate will set pretty quickly and your toppings won't stick once the chocolate has set. Repeat with each truffle.

You can serve them immediately, but I prefer to return them to the freezer for 15-30 minutes to set. Store leftovers in an airtight container in the freezer (they don't need to be defrosted).
Notes
* See notes above on "how to cook beets" for instructions on how to steam beets in the Instant Pot, steam on the stove, or roast in the oven. Or, to avoid cooking beets, buy pre-cooked beets in the produce section of your grocery store.
** If you are making these for someone who's allergic to gluten, be sure to use certified gluten-free oat flour or oats. Instructions on how to make your own oat flour at home using rolled oats is in Step 1 of the directions.
*** See the notes above on "Ingredient Roundup" for my recommended brands of dark chocolate.
---
Calories:
103
kcal
|
Carbohydrates:
20
g
|
Protein:
2
g
|
Fat:
3
g
|
Saturated Fat:
2
g
|
Polyunsaturated Fat:
1
g
|
Monounsaturated Fat:
1
g
|
Trans Fat:
1
g
|
Cholesterol:
1
mg
|
Sodium:
84
mg
|
Potassium:
229
mg
|
Fiber:
3
g
|
Sugar:
15
g
|
Vitamin A:
32
IU
|
Vitamin C:
1
mg
|
Calcium:
21
mg
|
Iron:
1
mg