Since you guys absolutely love my No-Bake Cookie Dough Bars, I figured it was time to remix them a little bit! Now introducing these No-Bake Vegan Peanut Butter and Jelly Bars!
They are basically your childhood favorite peanut butter and jelly sandwich in a cookie bar form. And they're made with just 6 ingredients and require no baking, so they're incredibly simple to make.
Best of all, they are so insanely delicious that you and your kids will fall in love with them!
Table of contents:
1. Why you're going to like this recipe
2. Ingredient notes
3. How to make these bars
4. Watch! How to make this recipe
5. Recipe card with notes
Why you're going to like this recipe
6 main ingredients. Yep, that's it! This recipe is easy and accessible.
No baking required. If baking (especially vegan baking) intimidates you or you just want a quick, easy, and foolproof treat, this is the recipe for you! The food processor does most of the work for you and it couldn't be simpler.
Delightfully chewy. If you're like most people, you like chewy cookies. These cookie bars are incredibly chewy and utterly addictive.
Wholesome. These are cookie bars you can feel good about! They're made with ingredients that are perfectly acceptable for breakfast (dates, peanut butter, oats, jam), which means you can happily eat cookie bars for breakfast (if you want) They're vegan, gluten-free, oil-free, and soy-free.
Indulgent. Despite being made with wholesome ingredients, these vegan peanut butter and jelly bars are surprisingly rich so just a few bites are enough to satisfy your sweet tooth.
Easy to customize. If you are allergic to peanut butter or are avoiding refined sugars, these bars are very easy to customize (keep on reading for tips)!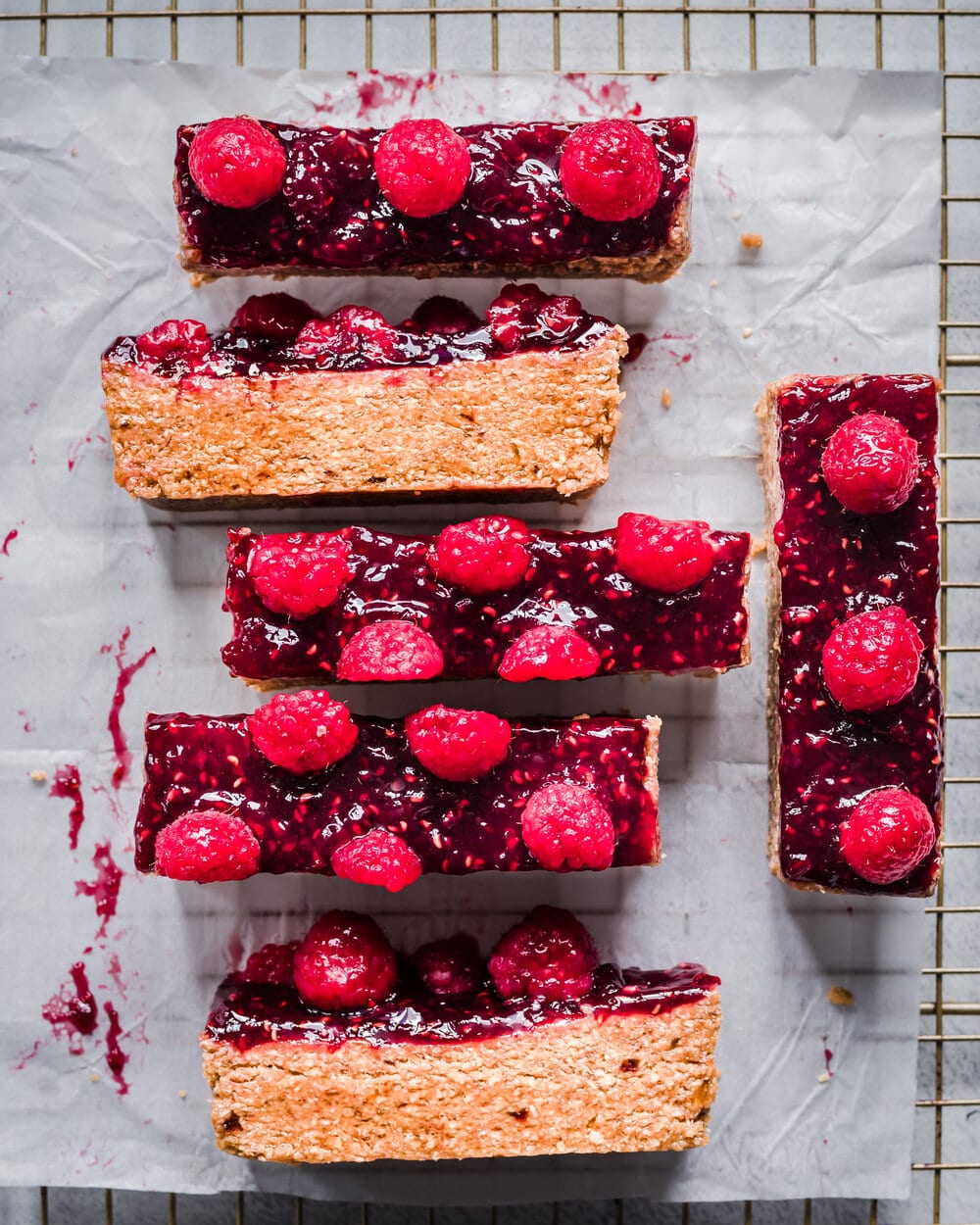 Ingredient notes
Medjool dates. These sweet and sticky gems are going to help sweeten the dough and also bring it together. The stickiness of the dates, in part, makes the addition of oil unnecessary. Be sure to use soft Medjool dates though.
If your dates are not very soft, soak them in hot water for 5 minutes, then drain and pat dry. If you can't find Medjool dates, the smaller, drier Deglet dates would be your next best bet, but the dough won't come together as smoothly. I recommend soaking those for longer, about 15-20 minutes.
Rolled oats. If you can believe it, oats are actually the primary ingredient! You can certainly use store-bought oat flour if you have it, but it takes 2 minutes to make your own oat flour using traditional rolled oats (as you'll see in the animation below).
Be sure to buy certified gluten-free rolled oats if you or someone you are making these for has a severe gluten intolerance or allergy.
Peanut Butter
Okay, captain obvious, but these are peanut butter and jelly bars, so we gotta use peanut butter! I typically don't bake with peanut butter because it has such a distinctive taste that can overwhelm other flavors, but for PB&J bars, we gotta use the real deal.
I recommend using creamy peanut butter that is smooth and drippy. If yours is not smooth, stir well and/or heat it in the microwave for a few seconds to loosen up. The peanut butter is the primary source of fat here, making the use of oil unnecessary.
Of course, if you are allergic to peanut butter but still love the idea of these cookie bars, feel free to substitute with almond butter or cashew butter, or for a nut-free alternative, use tahini (as in the original cookie dough bar recipe) or sunflower seed butter.
Maple syrup
Using a liquid sweetener such as maple syrup helps the dough come together in a way that obviates the use of oil.
Vanilla
Any cookie-type recipe needs a good-quality pure vanilla extract.
Raspberry or Strawberry Jam
I am partial to raspberry jam, but if you are not, feel free to use any flavor you like. You have a lot of options here.
You can use regular store-bought raspberry or strawberry jam.
You can use store-bought low-sugar raspberry or strawberry jam.
You can use store bought preserves that are sweetened with just fruit

(if doing this, you may want to consider adding 1 additional tablespoon maple syrup to the cookie dough bars).
I like these bars to be drippy and thick with jam, so I use the full 6 ounces of jam called for in the recipe. But if you are limiting your sugar intake, use the lower end of the amount of jam called for in the recipe (4 ounces).
If you want to keep these bars refined sugar-free but can't find store-bought jam that fits the bill, you can try using my three-ingredient Berry Compote.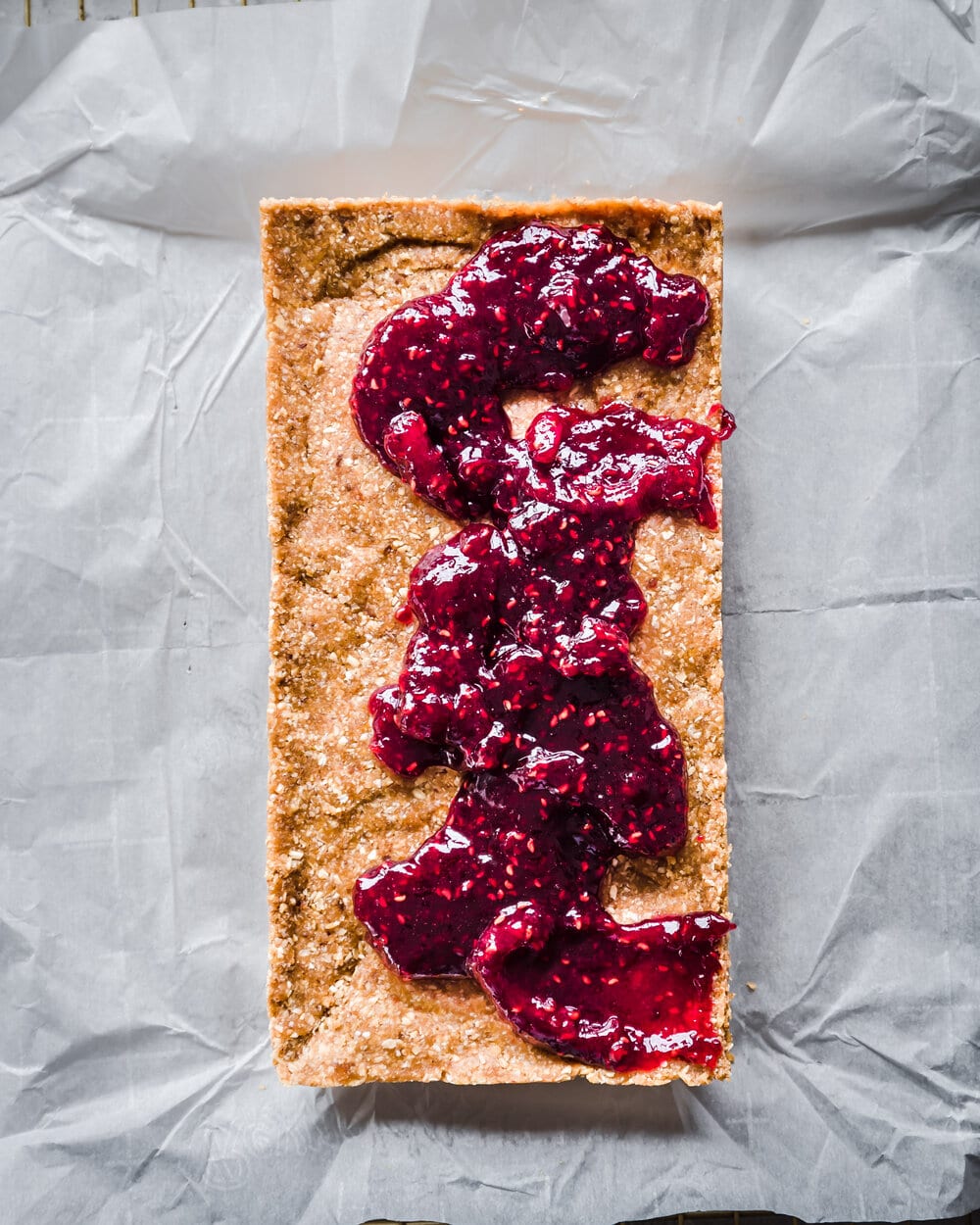 How to make these bars
To make these bars, start by pulverizing the rolled oats in your food processor until they turn into a fine flour. This should only take 1-2 minutes with a high-powered food processor. If you're using store-bought oat flour, skip this step.
If your Medjool dates aren't very soft, soak them in hot water for 5 minutes, then drain well and pat dry. If using Deglet dates, be sure to soak for a bit longer (15-20 minutes).
Then add in the dates, peanut butter, maple syrup, vanilla, and salt and pulse together until a sticky dough comes together
Transfer the dough to a parchment paper-lined loaf pan, using your fingers to smush it into every corner. If you don't have a loaf pan, you can also use a similar-sized Tupperware or glass storage container. If you only have a square baking pan, you can use that too, but the bars won't be as tall/thick as they are in these photos.
Freeze the cookie dough for 30 minutes to set it. Before taking them out of the freezer, warm your jam in a saucepan until slightly runny – it should take just a few minutes.
Use a silicone spatula to spread the jam across the surface of the bars. Pop the bars back in the freezer to set, and once they're set, you can devour them!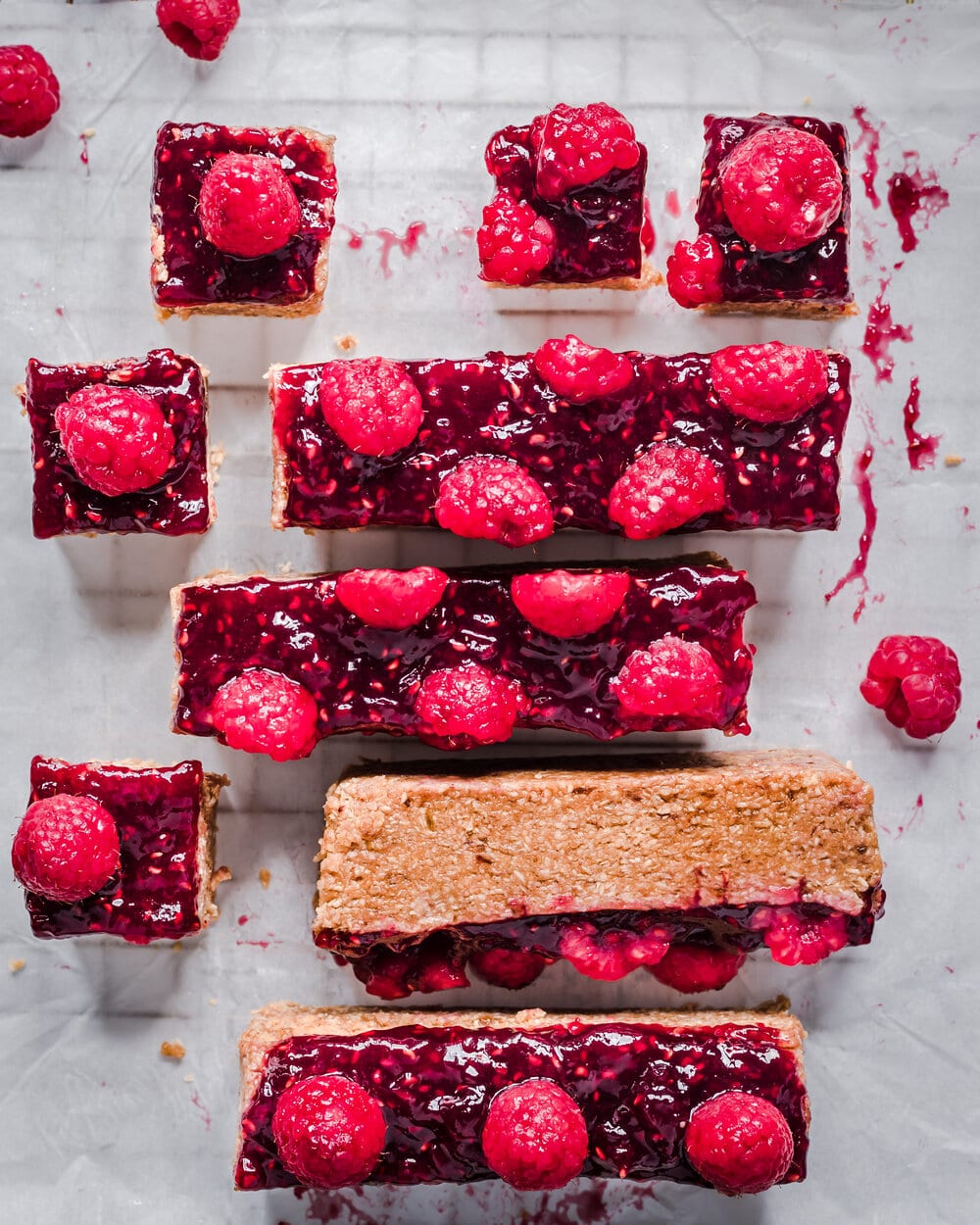 Watch! How to make this recipe
This recipe is really easy to make, so there's not much else you need to know! If you give this recipe a try, be sure to tag me on Instagram with your recreations and please comment with your feedback below!
No-Bake Vegan Peanut Butter and Jelly Bars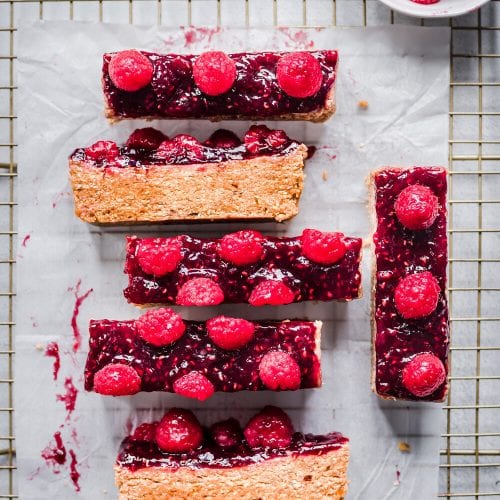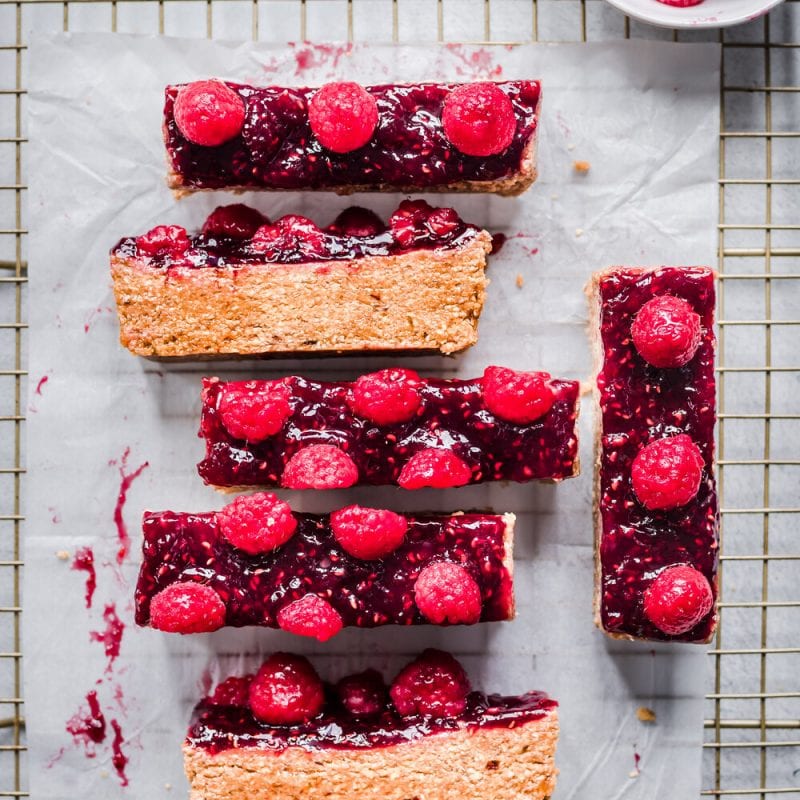 These No-Bake Vegan Peanut Butter & Jelly Bars taste exactly like a PB&J sandwich but even better! Made with just 6 ingredients, these healthy peanut butter jelly bars are vegan, gluten-free, oil-free, and soy-free and make great healthy snack bars or breakfast bars.
Ingredients
1

packed cup of soft Medjool dates,

pitted*

2 3/4

cups

(265-280g) rolled oats**, certified gluten-free if needed

1/2

cup

(128g) smooth, drippy peanut butter (no-sugar-added)

3

tablespoons

pure maple syrup

2

teaspoons

pure vanilla extract

1/2

teaspoon

fine sea salt

4-6

ounces

(114g-170g) raspberry or strawberry jam of choice***
Instructions
If the Medjool dates are not very soft, cover them with hot water for 5 minutes, then drain and pat dry. If using Deglet dates, soak for 15-20 minutes.

Place the oats in the bowl of the food processor and pulverize them until you have a fine oat flour.

Add the pitted dates, peanut butter, maple syrup, vanilla, and salt to the oat flour. Pulse until the mixture forms into a sticky dough. If it feels too dry, add a spoon of plant-based milk (or more maple syrup), a teaspoon at a time until the dough just sticks together when pressed.

1. NOTE: If the dough is too sticky to handle with your hands (this is more likely if your kitchen is warm), place the dough in the fridge for 20 minutes to firm it up a bit.

Line a 8×4- or 9×5-inch loaf pan (20×10 cm or 23×13 cm) with parchment paper, letting the excess hang over the long sides to form a sling. Spread the dough into pan and smooth the top out evenly, pressing all the way into corners with your fingers. Use a flat-bottomed glass to get the mixture even on top. Place the pan in the freezer for 30 minutes (or longer) to set.

Before removing from the freezer, warm the jam up in a saucepan over medium-low heat to make it a bit runny (if using homemade chia jam, this step should not be necessary). Pour the warm jam on top of the dough in the pan, spreading out with a silicone spatula. Add more jam as desired.

Return to the freezer to set. Then slice into 8 thick bars or into small squares, and serve immediately. Store leftovers in the freezer.
Notes
* After pitting the dates and packing them into a 1 cup measuring cup, you should have about 7 ounces or 200g of dates.
** You can also use store-bought oat flour – about 2 1/4 cups worth.
*** See notes above on raspberry jam for home-made substitutes and advice on amount to use.
---
Calories:
158
kcal
|
Carbohydrates:
26
g
|
Protein:
4
g
|
Fat:
5
g
|
Saturated Fat:
1
g
|
Polyunsaturated Fat:
1
g
|
Monounsaturated Fat:
2
g
|
Sodium:
94
mg
|
Potassium:
174
mg
|
Fiber:
2
g
|
Sugar:
13
g
|
Vitamin A:
14
IU
|
Vitamin C:
1
mg
|
Calcium:
23
mg
|
Iron:
1
mg