I love making vegan cheese alternatives, but I've gotten so many requests to make a nut-free vegan cheese sauce.
I personally love my cheese recipes that contain cashews, tofu, and/or miso paste. Two of my favorites are the Butternut Cheese Sauce in this Crispy Baked Mac and Cheese and the Creamy Tofu Ricotta in this Vegetable Lasagna.
But I also wanted to create an allergen-friendly recipe that was free of all nuts and soy, as well as made with nourishing, whole food plant-based ingredients. And I am so excited to share this nut-free vegan cheese sauce recipe with you all! Despite not containing any nuts or soy (or even oil), it is luxuriously creamy and silky smooth. And it's so healthy that you're basically just eating vegetables, so lather on as much cheese as you'd like.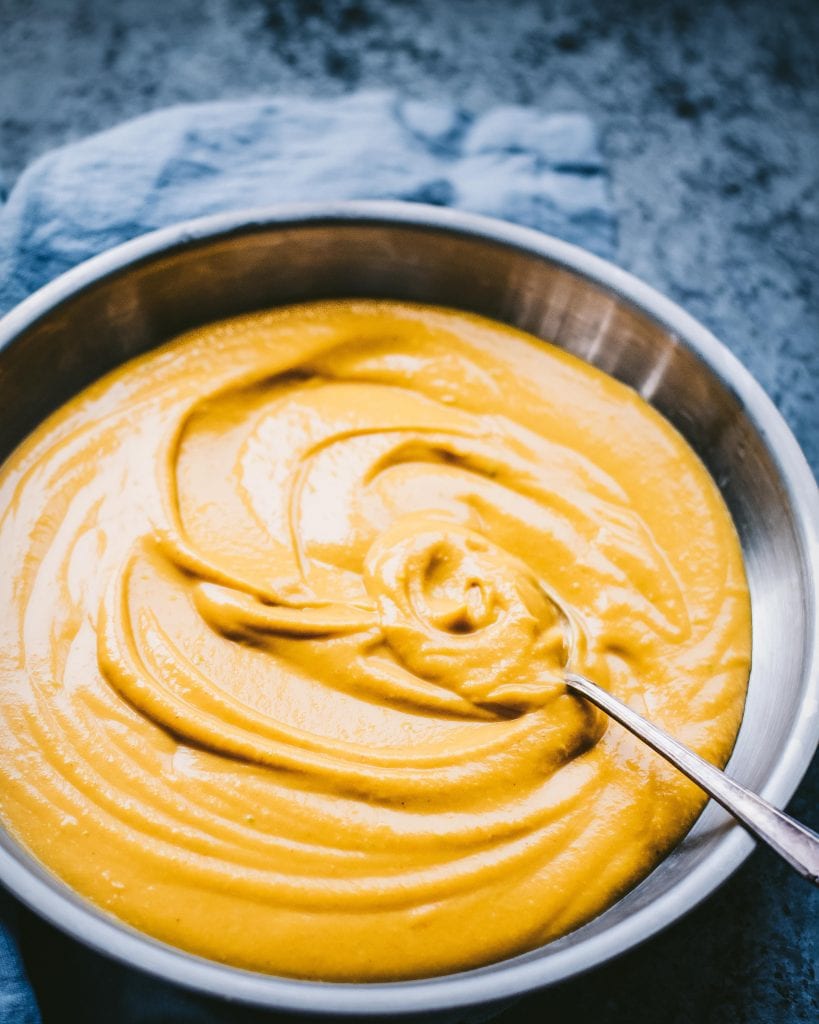 Let's talk about the main ingredients that make up this sauce!
Cauliflower: If you've been in the vegan food space for awhile, you're already aware of cauliflower's secret powers. Once cooked, it gets creamy and rich, and brings a luscious texture to this cheese sauce without requiring cashews.
Butternut Squash: This brings some heft and a velvety texture to this sauce. And, of course, that golden yellow-orange color reminiscent of cheese. I've tried making vegan cheese sauces with carrots and sweet potatoes instead, but they bring an unwanted sweetness (cheese should not be sweet)! To save time, I sometimes opt for pre-peeled, pre-cut butternut squash at the grocery store.
Garlic: This recipe calls for a copious amount of garlic (10 cloves). Since the ingredient list is minimal and there are no soy products involved (which add umami), adding a lot of garlic is essential to making this sauce flavor.
Nutritional Yeast: Since we're using a lot of vegetables (8 cups), we need a generous amount of nutritional yeast to bring that cheezy flavor. The recipe calls for 1/2 cup, but you can add up to 3/4 cup for a more pronounced cheezy flavor.
Coconut Milk: While cauliflower does make this sauce quite creamy, we need a little helping hand from some full-fat coconut milk. Not a lot though. Just 3/4 cup for 8 cups of vegetables and 1 1/2 cups of vegetable broth.
Who should make this Nut-Free Vegan Cheese Sauce?
Anyone who has nut allergies
Anyone with a soy intolerance
Anyone eating a whole food plant-based diet
Anyone watching their caloric intake
Anyone who wants a nutrient-dense, plant-based alternative to cheese!
Watch! How to make Nut Free Vegan Cheese Sauce
Is this Nut-Free Vegan Cheese Sauce Healthy? 
I never calculate or include calories in my recipes, as I try to maintain a balanced space here. But, since this cheese sauce is so remarkably cream yet healthy, I do want to point something out.
There's less than 125 calories in 1 CUP of this sauce, or about 30 calories per 1/4 cup serving! So yeah, really, lather on as much cheese as you'd like! Personally, I think 1 cup is a perfectly acceptable serving amount :) And of course, there's a great deal of nutrients in this cheese sauce, thanks to the fiber- and vitamin-rich cauliflower and butternut squash
If you try out this recipe, please leave a comment below with your feedback – it always helps out the blog and I love hearing from you!