Summers are for maximizing your time in the sunshine and minimizing work, which is why I love easy summer recipes like this Peach Panzanella Salad. It's a spin on the classic Panzanella bread salad that features juicy peaches, meaty heirloom tomatoes, fresh basil, and perfectly crisp yet tender bread.
It requires just 7 ingredients and is no-brainer, foolproof recipe, but because it utilizes peak seasonal ingredients, the results are gourmet! Make it for your next summer get-together, and I guarantee your guests will love it!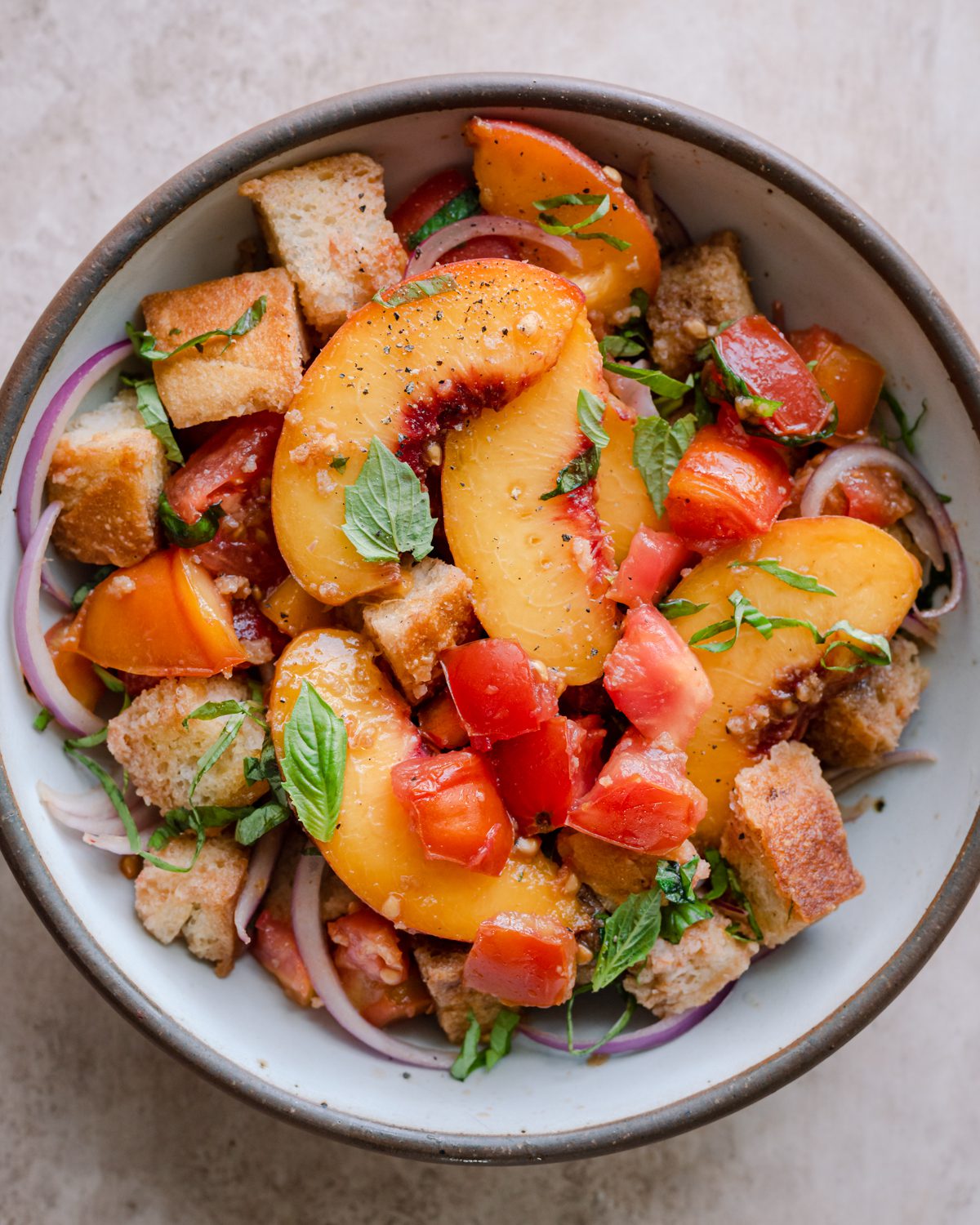 Why you'll love this peach panzanella salad
Peak seasonal goodness. Tomatoes, basil and peaches are at the height of their season right now and work so beautifully together in this salad.
And if you're excited to make more seasonal salads, be sure to try my Sweet and Spicy Smashed Cucumber Salad, my Grilled Corn Salad, or check out this fantastic roundup of 30 salad recipes!
Only 7 ingredients. All you need to make this fabulous side dish are peaches, tomatoes, basil, red onions, bread, olive oil, balsamic vinegar, and of course salt and pepper.
Textural delight. The juicy peaches and velvety heirloom tomatoes pair perfectly with the soft, tender yet crisp crunch of the baked bread and the crisp raw red onions. Each bite is a party in your mouth!
Couldn't be easier. Even the most novice cook can make this peach panzanella salad, it's that easy! At the same time, its flavors are guaranteed to wow all of your guests. It's the perfect easy yet impressive salad for al fresco dining, picnics, and any summer get together.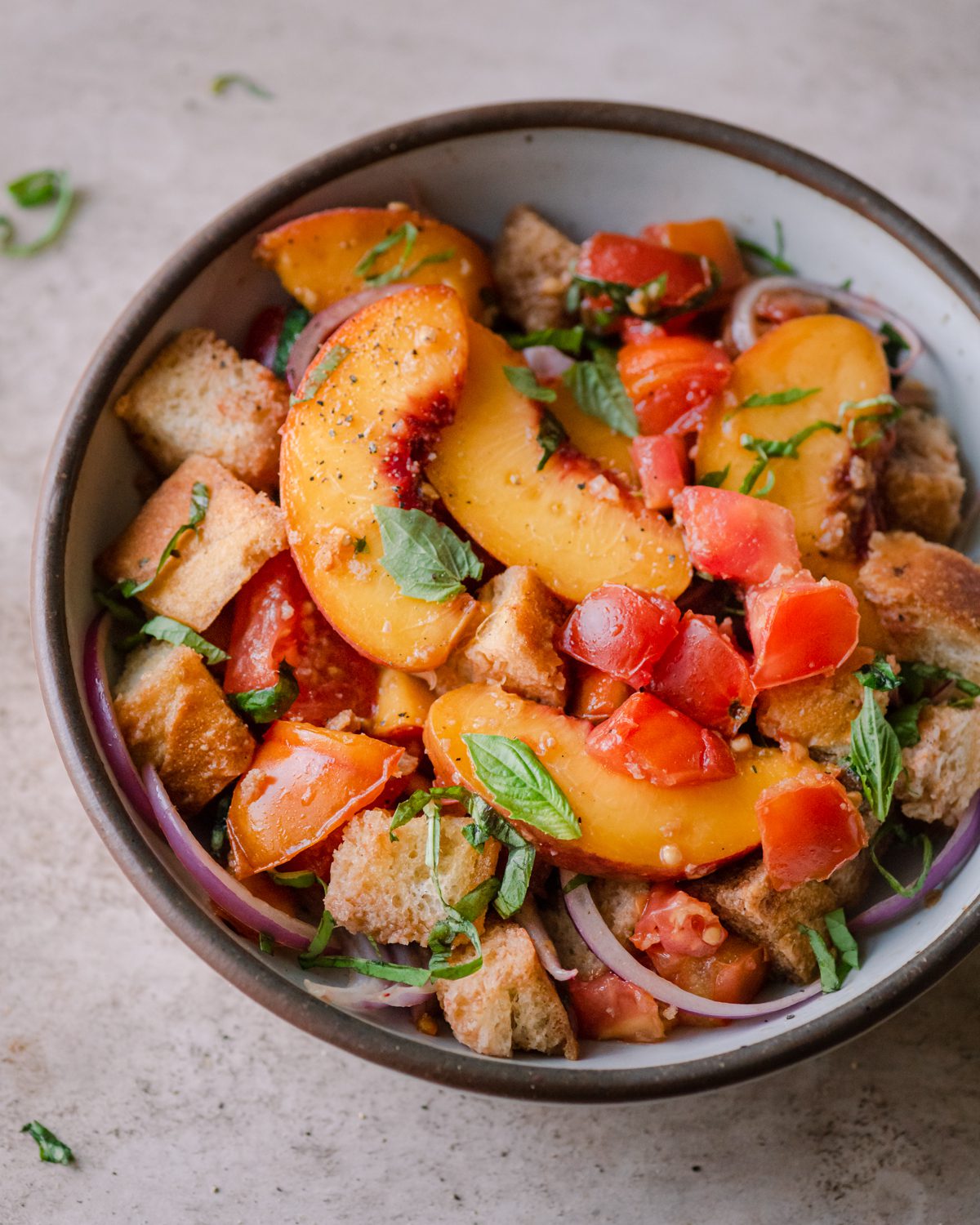 What is panzanella?
Panzanella is a Tuscan bread salad that consists of stale bread that has been soaked and softened, along with tomatoes and onions. Sometimes it includes basil (in my opinion it should always include basil!) as well as cucumbers, and it's typically dressed with olive oil and some sort of vinegar or a simple vinaigrette.
While this salad is Tuscan at origin, it is popular in other parts of Italy and bread salads are not uncommon in other regions of the Mediterranean. And it's popular in summer when tomatoes are in season (and practically begging to be eaten raw!).
And as Kenji Lopez-Alt has pointed out, panzanella is not a tomato salad with bread. It's a bread salad with vegetables. Panzanella was developed as just another creative way to use up dried stale bread to avoid food waste (similar to gazpacho, a cold soup that is typically thickened with bread).
Panzanella typically doesn't contain peaches, and while I enjoy a traditional panzanella, I love peach panzanella. They heighten the subtle sweetness and juiciness of the tomatoes and make this salad ultra delicious.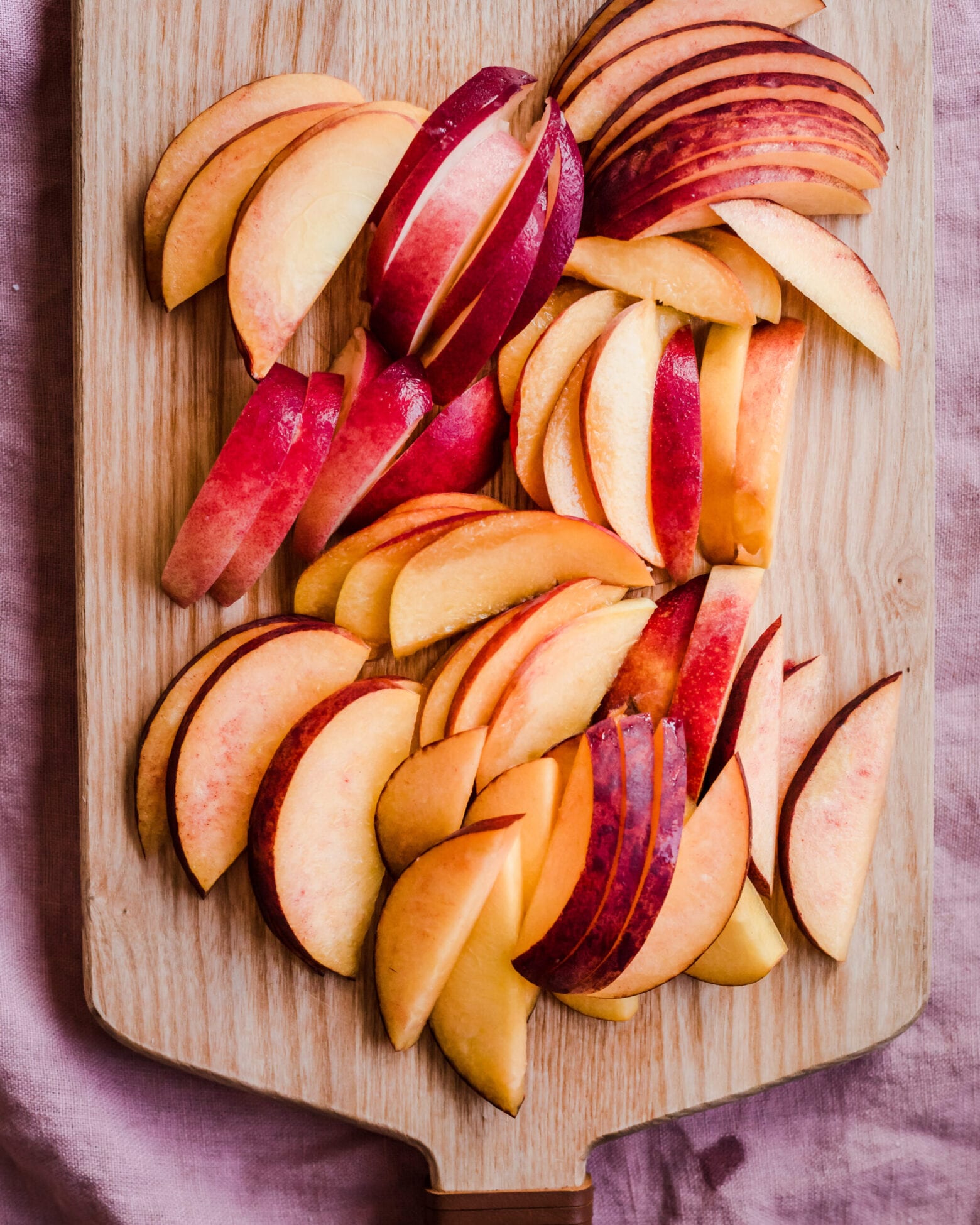 How to make panzanella salad
Slice your bread into one-inch cubes and spread them out on a baking sheet. Toss with olive oil and salt, and bake at 350ºF for 15 minutes until toasted and crisp.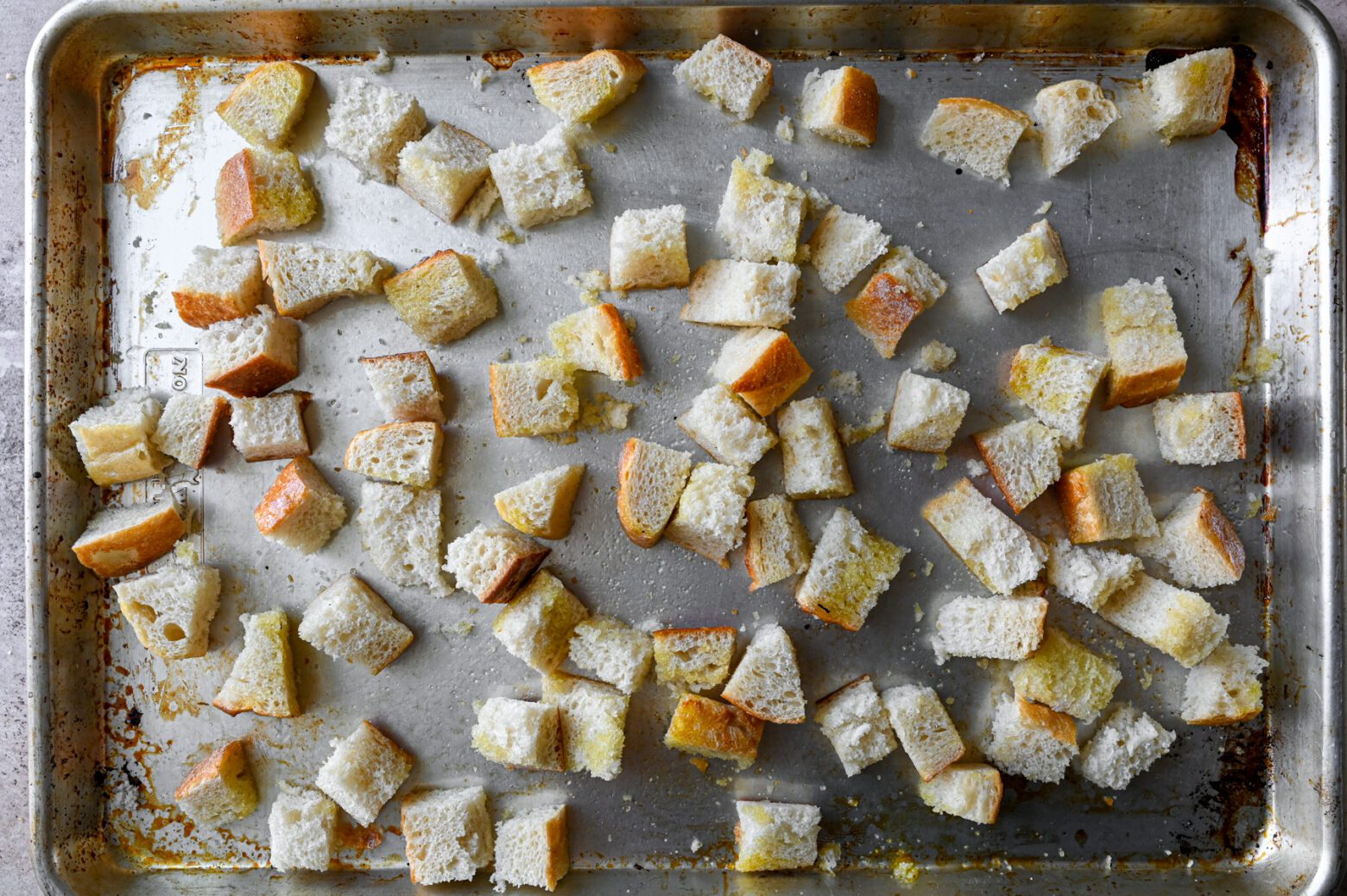 Meanwhile, pit and slice your peaches into wedges. Chop your tomatoes into one-inch pieces. Transfer the peaches and tomatoes to a colander fitted over a bowl. Sprinkle them with salt and allow the fruit juices to collect in the bowl (for 15 minutes, while the bread is baking). These juices are flavorful and you'll use them in the vinaigrette!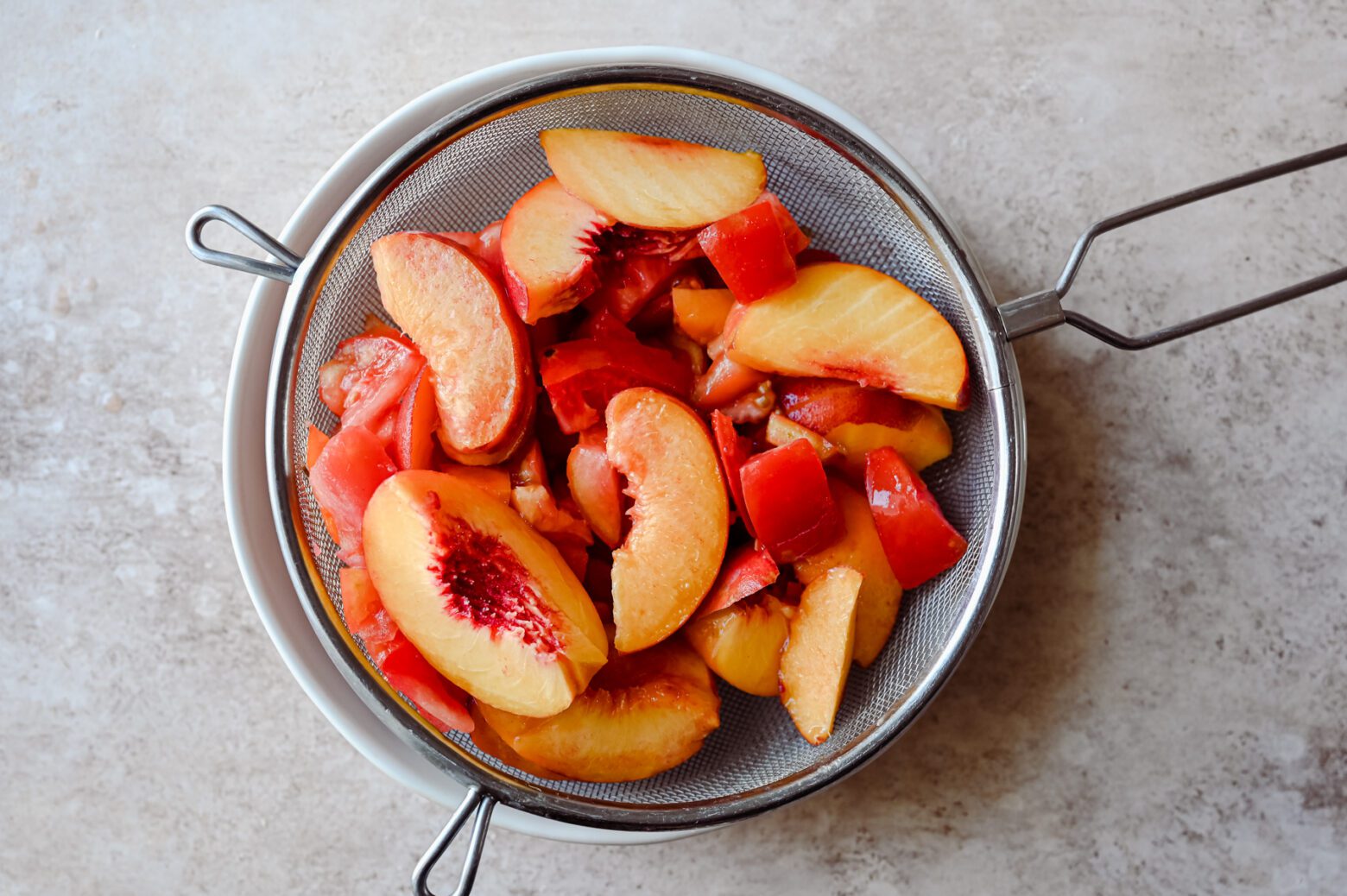 Remove the colander and whisk in the extra virgin olive oil, balsamic vinegar, and season with salt and pepper.
In a large bowl combine the tomatoes and peaches, along with the red onion, and sliced basil.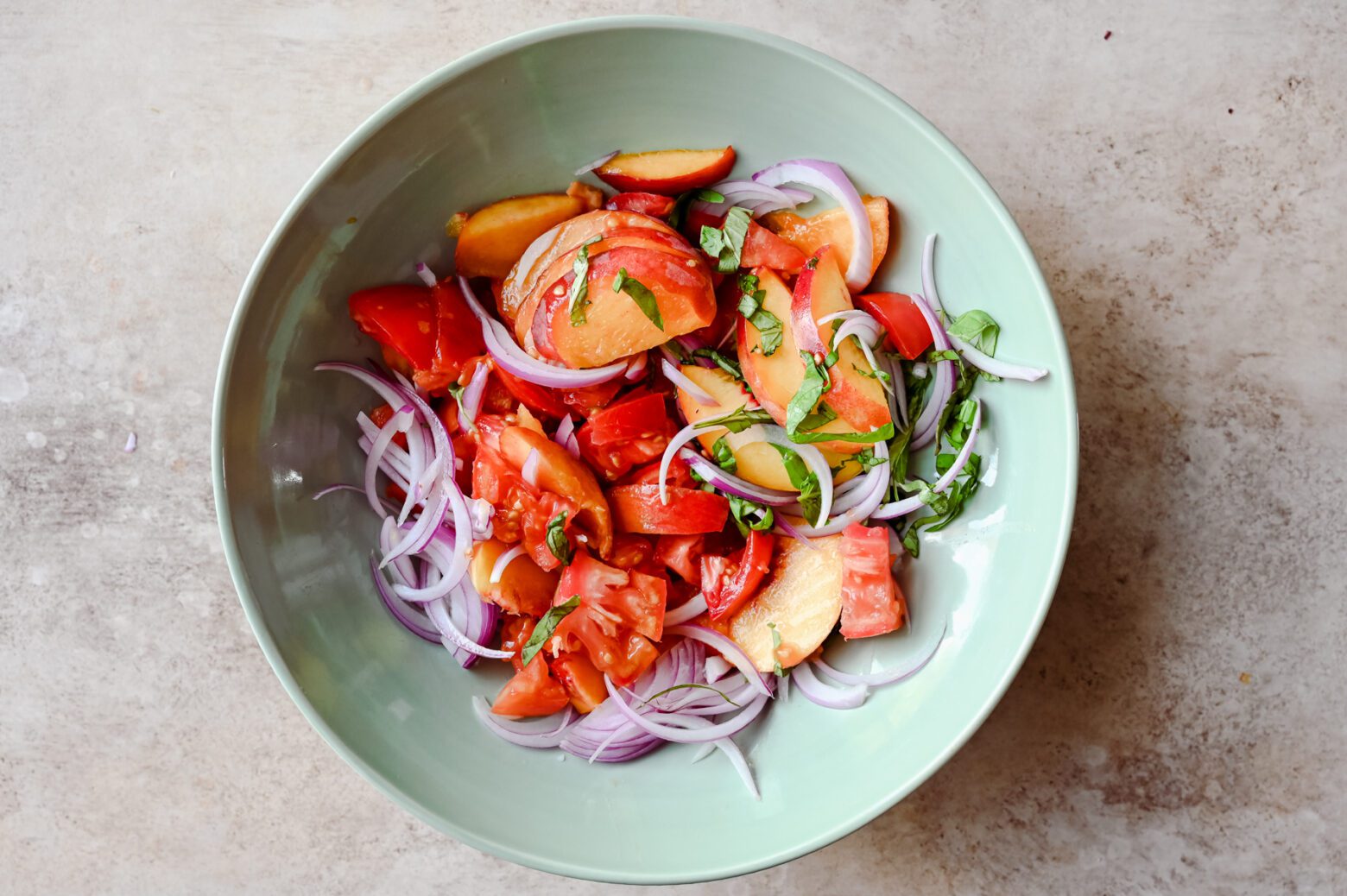 Add the toasted bread cubes and vinaigrette, tossing to coat.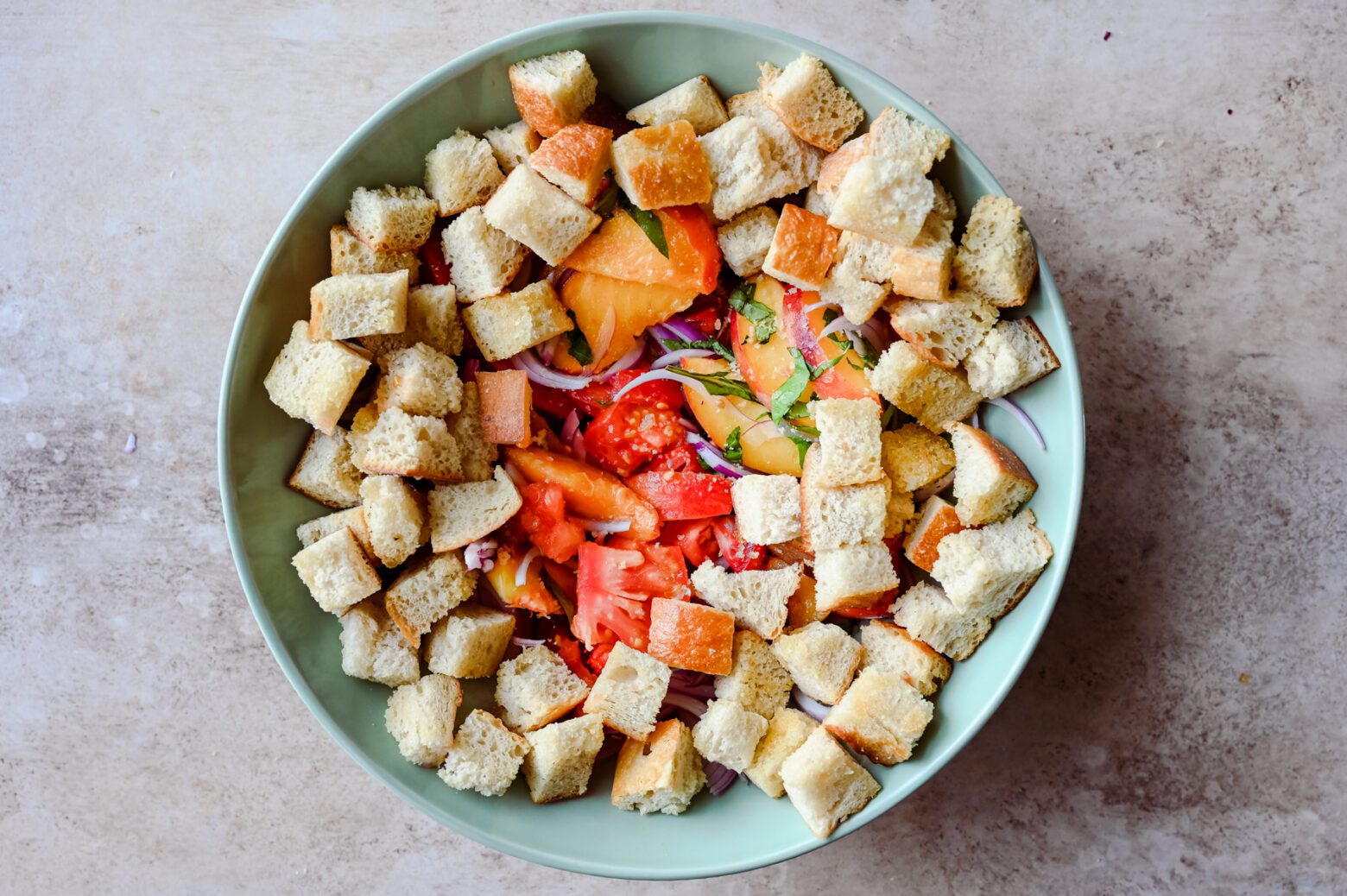 Allow the panzanella salad to rest for 30 minutes before serving, tossing the salad occasionally if you can. Season with salt and pepper and a little bit more fresh basil before serving.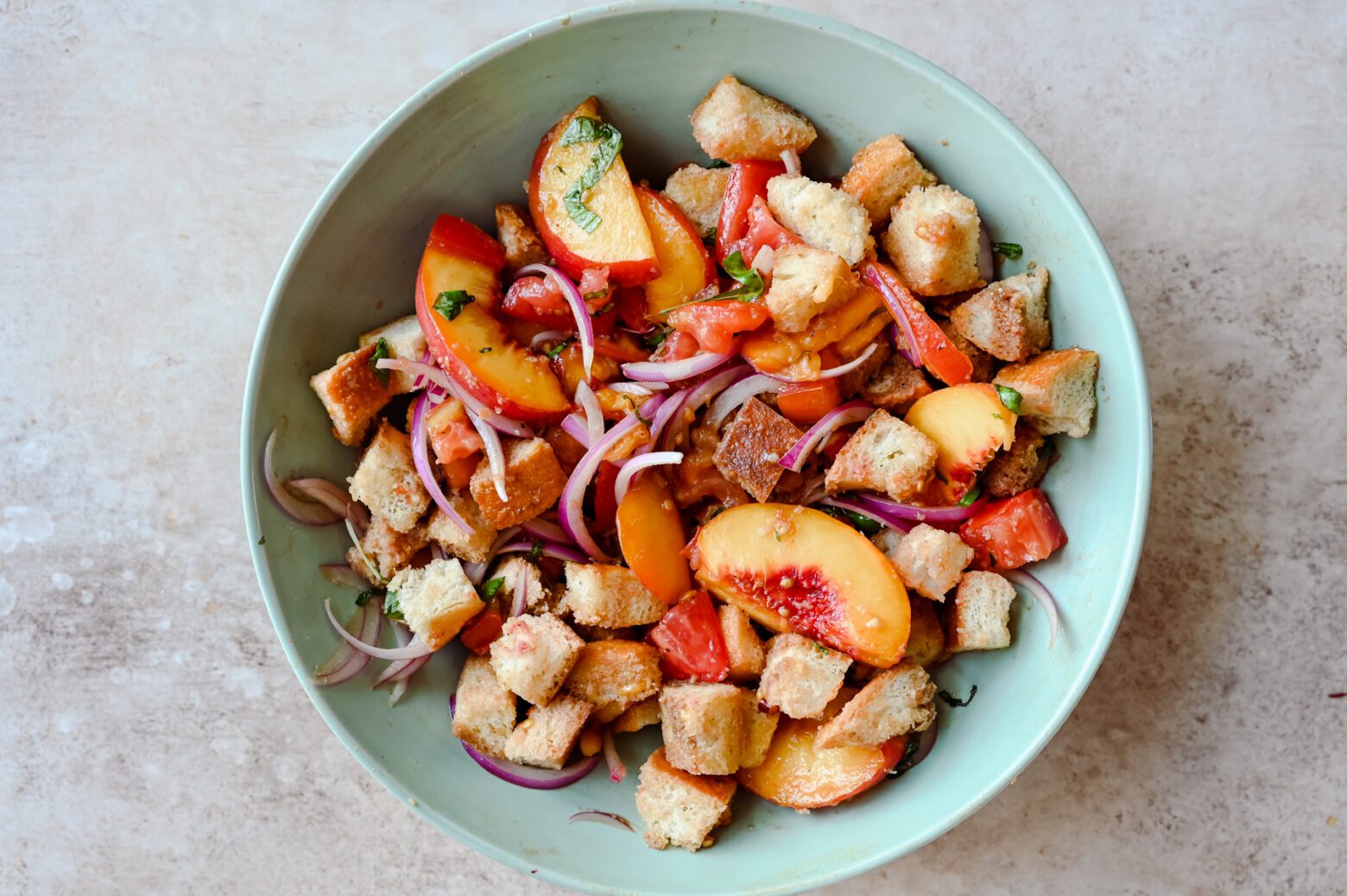 Tips for a great panzanella salad
Use the best-quality ingredients you can find and afford.
When making such a simple dish as this one, the quality of the ingredients is key.
That's why I recommend using heirloom tomatoes instead of regular tomatoes. The meaty, velvety texture of an heirloom tomato is impossible to not love. And superior to the often mealy, watery texture of regular tomatoes, especially those at a standard supermarket. There is variety (in taste and texture) amongst heirloom tomatoes, so you can read more about heirloom tomatoes here.
Also, pick a freshly baked bread that you'd enjoy eating. A ciabatta, sourdough, French, or Italian country bread all work well.
A good-quality balsamic vinegar and olive oil are also essential! They're the only ingredients in the vinaigrette aside from the tomato/peach juices and salt/pepper, so they need to shine. Here are my go-tos for olive oil and vinegar.
Dry out your bread in the oven or use stale bead.
While panzanella is traditionally made with stale bread, I actually prefer to toast fresh bread in the oven. The flavors are a bit fresher and the texture is better. Think crisp and crunchy in some parts but soft and tender in others. It's also more convenient, as you don't have to time making your salad with having a loaf of stale bread.
That said, if you already have stale bread lying around, just use that. But be sure to toast it in the oven to refresh it (you only need 10 minutes instead of 15 minutes).
In any event, be sure to dry out your bread, whether fresh or stale. If you use moist bread, the bread will end up mushy after it soaks in the vinaigrette (sad and not good).
Salt the tomatoes and peaches before using them.
Sprinkling the tomatoes and peaches with a bit of salt draws out their liquid, leaving them more concentrated in flavor. The tomato juice and peach juice that seep out also amp up the flavor in the very simple vinaigrette.
Rest the panzanella salad for at least 30 minutes.
Allowing the salad to rest for at least 30 minutes is crucial to getting the perfect texture. If you eat it right away, the toasted bread will be way too crunchy, as it won't have absorbed the vinaigrette. You can also let the salad rest for a few hours, if needed.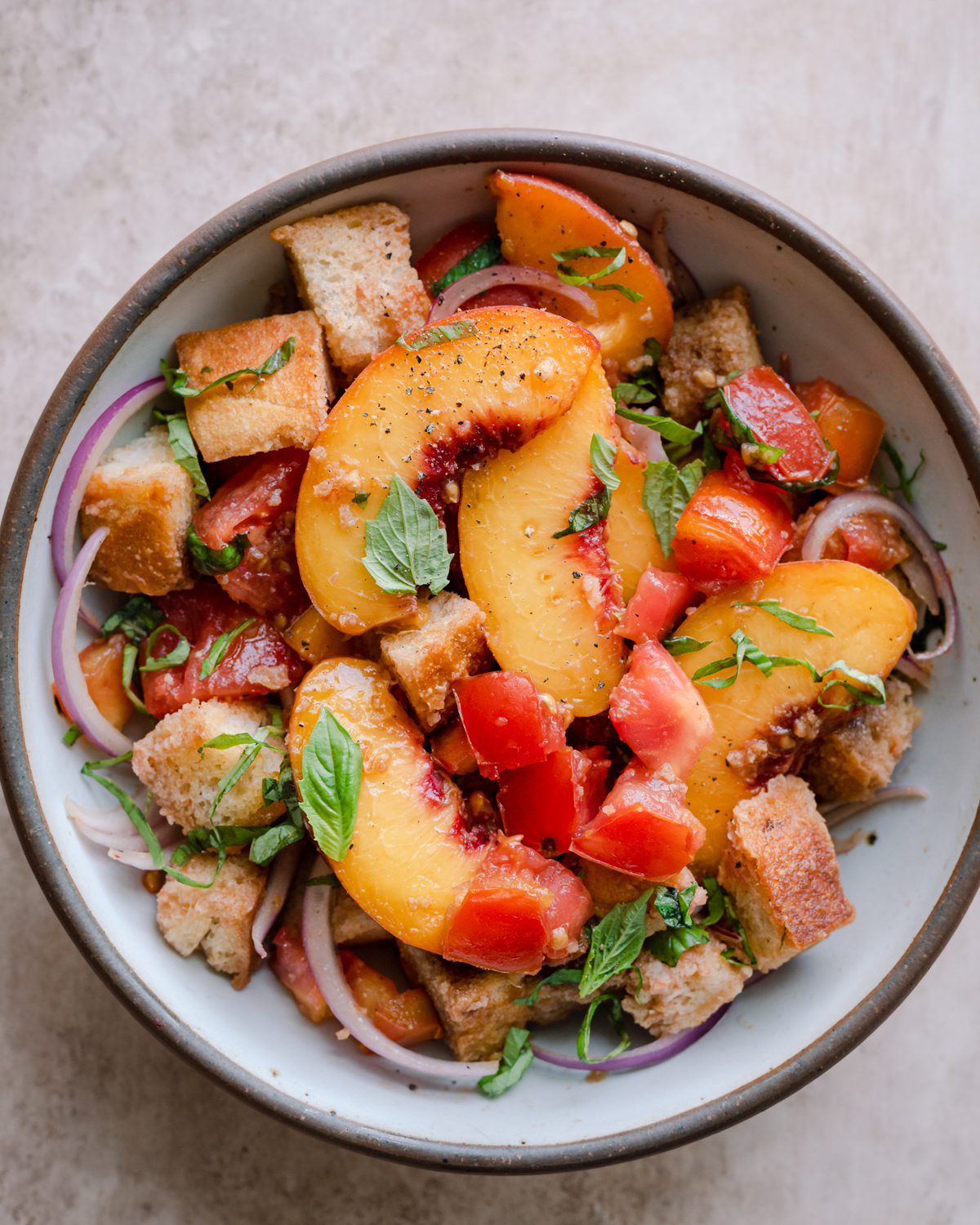 Peach Panzanella Salad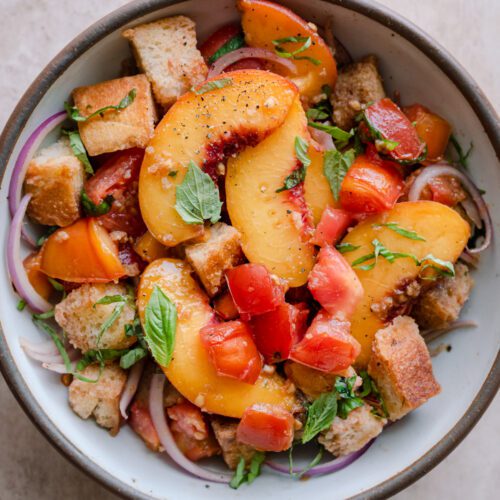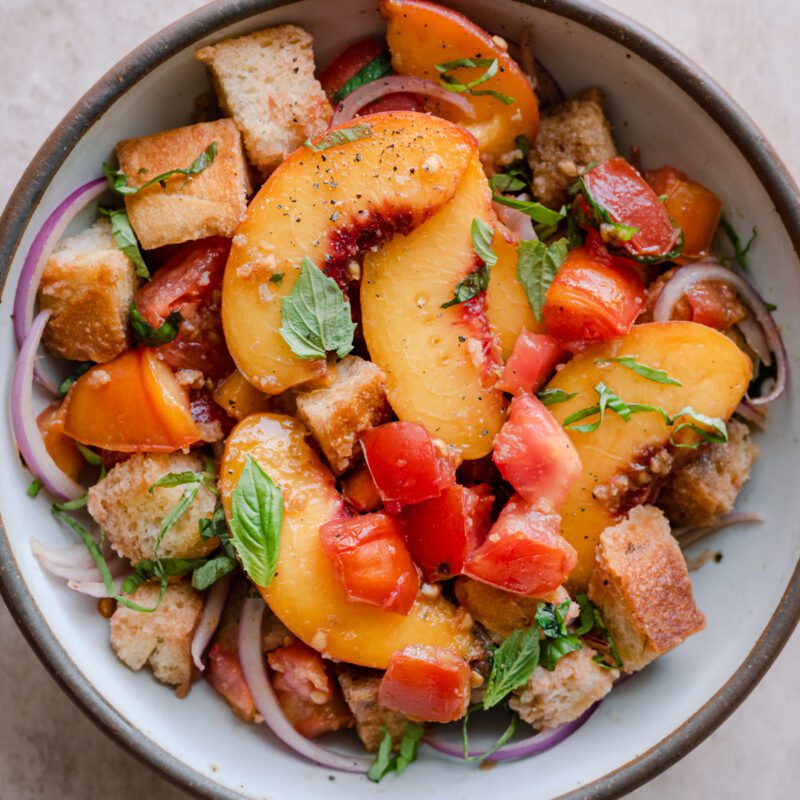 A spin on the classic Tuscan bread salad, this peach panzanella salad is a delicious bread salad featuring summer's finest produce: juicy peaches, velvety heirloom tomatoes, and fresh basil. Just 7 ingredients and it's a foolproof side dish for picnics and potlucks, but the gourmet flavors are guaranteed to impress your guests.
Ingredients
8 to 10

ounces

(230-280g) of sourdough, ciabatta, French bread, or other rustic bread,

cut into 1-inch cubes

2

medium-large ripe heirloom tomatoes,

cut into 1-inch pieces

2

large firm-but-ripe peaches,

sliced

½

small red onion,

very thinly sliced

Kosher salt

Freshly cracked black pepper to taste

5

tablespoons

good-quality extra virgin olive oil,

divided

2

tablespoons

good-quality balsamic vinegar*

1/2

cup

(8g) basil leaves, slivered
Instructions
Preheat the oven to 350ºF.

Spread the bread cubes out on a baking sheet. Toss with 1 tablespoon of the olive oil and 1/2 teaspoon kosher salt (add a bit more oil as needed to coat the bread). Bake in the preheated oven for 15 minutes, until toasted and crisp.

Meanwhile, transfer the chopped tomatoes and sliced peaches to a colander and fit the colander over a bowl. Sprinkle the fruit with 1/4 teaspoon kosher salt and gently toss to combine. Allow the fruit to rest while the bread is toasting, at least 15 minutes.

Remove the colander and transfer the peaches and tomatoes to a large serving bowl. Keep the peach and tomato juices that have accumulated in the bowl. To the juices, add the 2 tablespoons of vinegar. Slowly drizzle in the remaining 4 tablespoons of olive oil, whisking as you go to emulsify. Season the vinaigrette with salt and pepper to taste.

Or, you can transfer the peach/tomato juices to a lidded jar and add the olive oil/vinegar, and shake vigorously until emulsified.

To the peaches and tomatoes in the serving bowl, add the sliced onions and basil, and gently toss to combine. Add the toasted bread cubes and vinaigrette, and gently toss again to coat.

Rest for 30 minutes (or up to 2-3 hours) before serving, tossing the salad occasionally. Taste, and season with a bit of salt and pepper, as needed.
Notes
See "Tips" section for recommended balsamic vinegar brands. 
---
Calories:
377
kcal
|
Carbohydrates:
45
g
|
Protein:
8
g
|
Fat:
19
g
|
Saturated Fat:
3
g
|
Polyunsaturated Fat:
2
g
|
Monounsaturated Fat:
13
g
|
Sodium:
306
mg
|
Potassium:
420
mg
|
Fiber:
4
g
|
Sugar:
12
g
|
Vitamin A:
903
IU
|
Vitamin C:
16
mg
|
Calcium:
45
mg
|
Iron:
3
mg