I first had a smashed cucumber salad at a Chinese restaurant a few years ago, and it was incredible. I couldn't believe cucumbers could taste so dang good. I mostly associated cucumbers with spa water and Greek salads, both of which I enjoy very much. But I never gave them much credit until I tried that salad.
Smashing cucumbers has been a thing in many Asian cuisines for some time, but it's been a rather recent addition to Western cuisine. While my smashed cucumber salad is not Chinese-inspired, it is just as delicious as the first smashed cucumber salad I had a few years ago.
Here, smashed cucumbers are dressed in a slightly sweet, slightly spicy, garlicky red wine vinaigrette, and to add some sweetness, fresh peaches are tossed in. The salad gets finished with a hit of fresh basil, chewy golden raisins, and toasted pine nuts.
And if you are interested in an East Asian cucumber salad, you gotta try my Spicy Korean Cucumber Salad!
Why you'll like this recipe
Summer perfection. Crisp cooling cucumbers and seasonal peaches with fresh basil make for the perfect fun summer salad. It's light, healthy, and refreshing, yet packed with lots of zingy flavor. Take it on a picnic, bring it to a vegan BBQ, or enjoy it for any other al fresco dining occasion.
Almost too easy to make. If you know how to chop up vegetables and fruits, you will have no problem making this salad! That's all you need to do. Chop and mix.
Perfectly balanced in flavors and textures. This salad has it all: a sweet yet spicy vinaigrette, buttery yet crunchy toasted pine nuts, chewy golden raisins, juicy peaches, crisp cucumbers. It's truly a delight to eat!
Unique. If you're tired of eating the same boring salads, this is a non-traditional salad that will surprise and delight your tastebuds.
Ingredient Rundown
Cucumbers. If you can find Persian cucumbers, those are ideal in this recipe. They are mini cukes (about 5-6 inches long), seedless, extremely crisp, and slightly sweet. I typically buy them at Whole Foods, but they're increasingly sold at many grocery stores, usually packed in trays with 5-6 cukes.
Unlike many cukes you've seen before, Persian cucumbers are never watery, and their fresh flavor is always on point. If you find them at the store, pick up an extra pack because they make a delightful healthy snack.
If you can't find Persian cucumbers, use an English cucumber (AKA, a hot house cucumber). They are crunchy and crisp, and significantly tastier than regular cukes. Or, if you can find Japanese cucumbers, those would be excellent here too.
I do not recommend using a regular cuke (AKA a pole cucumber). They are watery, bland, not crisp, and slightly bitter, and they will do nothing for this salad. You've been warned.
Also please note that while cucumbers can be bought year round, they are best in season (like all produce). Their peak season is the summer. Which is why I'm sharing this salad right now. Because it's summer.
Peaches. I first started enjoying peaches in salad a few summers ago when I married them with heirloom tomatoes, fresh basil, bread cubes, and a balsamic vinaigrette for a summer panzanella salad. That salad inspired me to add peaches here!
Fresh Basil. I love using fresh herbs in salads, especially nontraditional salads like this one. And peach + basil is such a delightful combination, so I figured the combination would be excellent. And it was!
Toasted Pine Nuts. As with fresh herbs, I love adding toasted nuts to my salads. The crunch brings an interesting textural contrast, and toasting the nuts packs in more flavor, as the toasting process draws out maximal flavor from nuts. Plus, pine nuts are extremely buttery, so they add a slight touch of indulgence to this very fresh and healthy salad.
Golden Raisins. Another interesting texture in this salad comes from the chewiness of golden raisins, as compared to the crisp cukes. Plus, their sweetness pairs so perfectly with the slightly spicy vinaigrette.
Sweet and Spicy Vinaigrette. This is where a lot of flavor comes in. Garlicky (fresh crushed garlic), spicy (red pepper flakes), tangy (red wine vinegar), and rich full-bodied yet mild fruitiness (good-quality extra virgin olive oil).
How to make this Sweet and Spicy Smashed Cucumber Salad
Smash the cukes. This sounds more violent than it really is, but smashing is key to a good cucumber salad. Slicing cucumbers simply will not do. As the New York Times writes:
"Sliced cucumbers have a smooth, impenetrable surface, and when you introduce them to dressing, they usually shrug it off. By contrast, smashed cucumbers are wide open: Their craggy edges and rough surfaces absorb flavors and form relationships in seconds."
To smash a cucumber, lay a big heavy knife flat on top of the cuke, and smash down on the widest part of the blade, similar to how you would use a knife to smash down on a garlic clove to remove its peel. Alternatively, some chefs use a wooden mallet, rolling pin, or even the back of a skillet to smash the cukes. You want to smash until the cucumber cracks open, usually into a few pieces.
Once you smash them, use you hands to tear the cucumbers up into chunks. They don't need to be itty bite-sized pieces and they shouldn't be chopped into uniform pieces. The variety in shapes and sizes makes a a smashed cucumber salad very satisfying and interesting, and the rough pieces hold onto the vinaigrette better.
Then, add the smashed cukes to a colander or strainer and sprinkle with some salt. Salting the cukes draws out their excess moisture and helps retain that beautiful vibrant green color. Let the salted cucumbers rest for at least 15 minutes, or up to an hour. Then discard any liquid that has accumulated during the salting process.
Once the salted cukes have rested, dress them with the sweet and spicy red wine vinaigrette. Slice up some peaches (don't slice them earlier, as they tend to get bruised), and toss with the vinaigrette. Finally, top it with the toasted pine nuts, golden raisins, and basil, and toss to combine.
How to Serve Sweet and Spicy Smashed Cucumber Salad
This is a great starter salad for any of your entertaining needs, or a fancy yet casual side dish for any dinner. Or, you can just bring this delicious salad to your next potluck or picnic for everyone to share. If you want to turn this salad into a complete meal, you can toss in some chickpeas or white beans and toss to combine.
Substitutes for this Sweet and Spicy Smashed Cucumber Salad
If you can't find golden raisins, I would recommend substituting currants or dried cherries. Regular ol' brown raisins should be your last option (I am not a huge fan). Sorry, but golden raisins just taste better.
I love the contrast of the crisp cukes with the juicy peaches, but if you can't find peaches, you can substitute another summer fruit, such as apricots, nectarines, or even strawberries.
More smash-able recipes
Did you enjoy smashing these cukes and want to smash even more foodstuffs?
Check out my Crispy Smashed Potatoes with Cilantro Pesto or my Creamy Mushroom Smashed Avocado Toast.
In any event, that's all you need to know about this Sweet and Spicy Smashed Cucumber Salad. If you give recipe a try, be sure to tag me on Instagram with your recreations and please comment with your feedback below!
Sweet and Spicy Smashed Cucumber Salad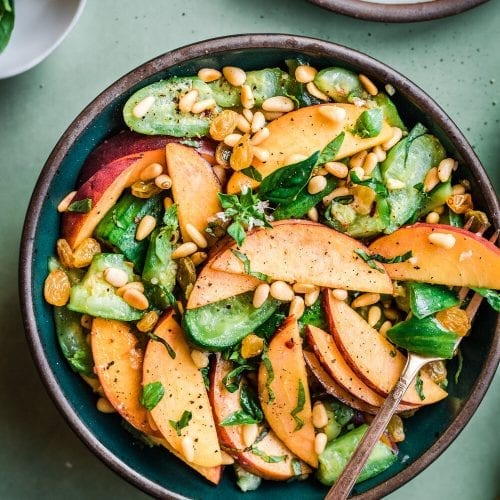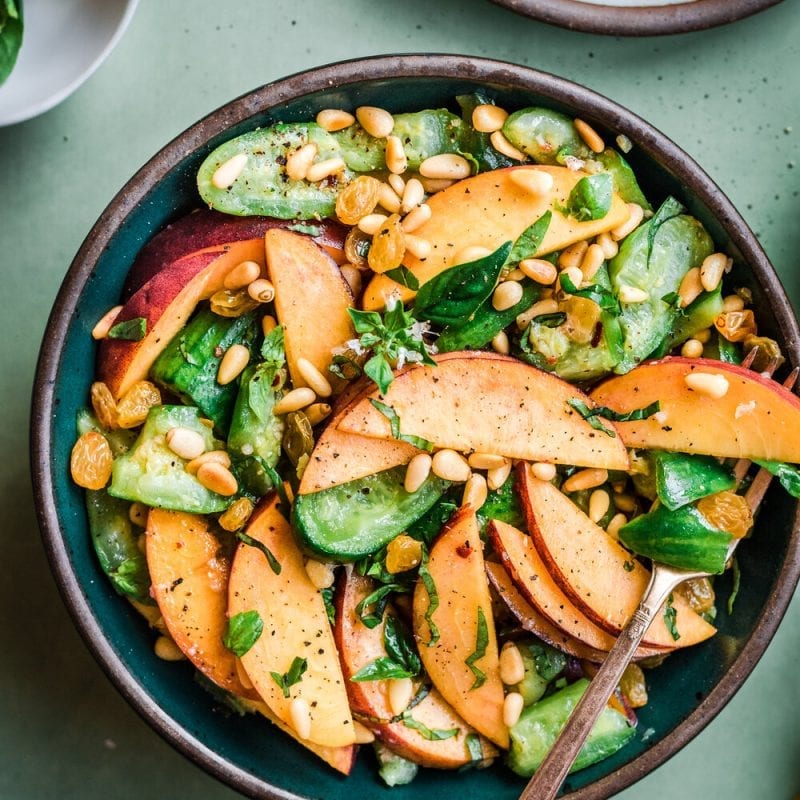 This Sweet and Spicy Smashed Cucumber Salad is an easy, healthy, and light side dish that takes cucumbers from bland to fabulous. Slightly sweet and spicy, garlicky, and fresh, it's surprisingly addictive yet very healthy (vegan, Paleo, and refined sugar-free).
Ingredients
5-6

mini Persian cucumbers

(or 1 large English cucumber)

2-3

ripe but firm peaches,

sliced
Sweet and Spicy Vinaigrette
2

garlic cloves,

crushed

½

teaspoon

red pepper flakes,

plus more to taste

2

tablespoons

red wine vinegar

1

teaspoon

pure maple syrup

2

tablespoons

good-quality extra virgin olive oil

Kosher salt and black pepper to taste

2-3

tablespoons

pine nuts

2-3

tablespoons

golden raisins

One handful of fresh basil leaves,

slivered
Instructions
Smash the cucumbers. Using the back of a heavy knife, smash down on each cucumber using the widest part of the blade (similar to smashing down on a garlic clove to remove its peel) until the cucumber cracks open into a few pieces.

1. NOTE: If using a large English cucumber, cut the cucumber into three segments before smashing.

Using your hands, tear the smashed cucumbers into rough chunks.

Place the cucumber chunks in a colander and sprinkle with a bit of kosher salt. Place the colander on top of a bowl. Allow the cucumbers to rest for at least 15 minutes, or up to 1 hour. Discard any liquid collected in the bowl.

Meanwhile, toast the pine nuts. To toast pine nuts, add them to a dry skillet over medium-low heat and toss occasionally until golden brown, 3-5 minutes.

Meanwhile, make the Sweet and Spicy Vinaigrette. Crush the garlic cloves. Add them to a bowl, along with the red pepper flakes, vinegar, and maple syrup. Whisk to combine, then stream in the olive oil, whisking as you go. Season to taste with salt and pepper.

1. Alternatively, add all of the ingredients to a jar, close the lid, and shake up the jar until the dressing is emulsified.

Add the drained cucumbers to a large serving bowl.

Slice the peaches (don't slice earlier, as they tend to bruise). Add the sliced peaches to the cucumbers, and then toss them with the Sweet and Spicy Vinaigrette. Top with the toasted pine nuts, golden raisins and slivered basil. Taste, and adds salt and pepper as needed.
---
Calories:
161
kcal
|
Carbohydrates:
17
g
|
Protein:
2
g
|
Fat:
11
g
|
Saturated Fat:
1
g
|
Polyunsaturated Fat:
3
g
|
Monounsaturated Fat:
6
g
|
Sodium:
141
mg
|
Potassium:
217
mg
|
Fiber:
2
g
|
Sugar:
12
g
|
Vitamin A:
361
IU
|
Vitamin C:
4
mg
|
Calcium:
17
mg
|
Iron:
1
mg