Thanksgiving is my favorite holiday, but to be honest, I've never been a fan of pumpkin pie. It's usually underwhelming, and sometimes, just plain bad. The crust is either too thick or gets soggy from the dense pumpkin filling, and the filling is pretty one-note in flavor.
Which is why I probably won't ever bake a pumpkin pie. But, a pumpkin tart is a totally different story. For one, a tart crust is very, very easy and quick to make, which is great when you're hosting or making a busy holiday dinner. Also, it's a better vessel for serving a dense pumpkin filling, as it won't get weighed down or soggy in the same way.
And the filling in this Vegan Gingersnap Pumpkin Cream Tart is anything but one note. Thanks to ingredients like freshly grated nutmeg, pure maple syrup, orange zest, and almond butter, it's full of complex and delightful flavors.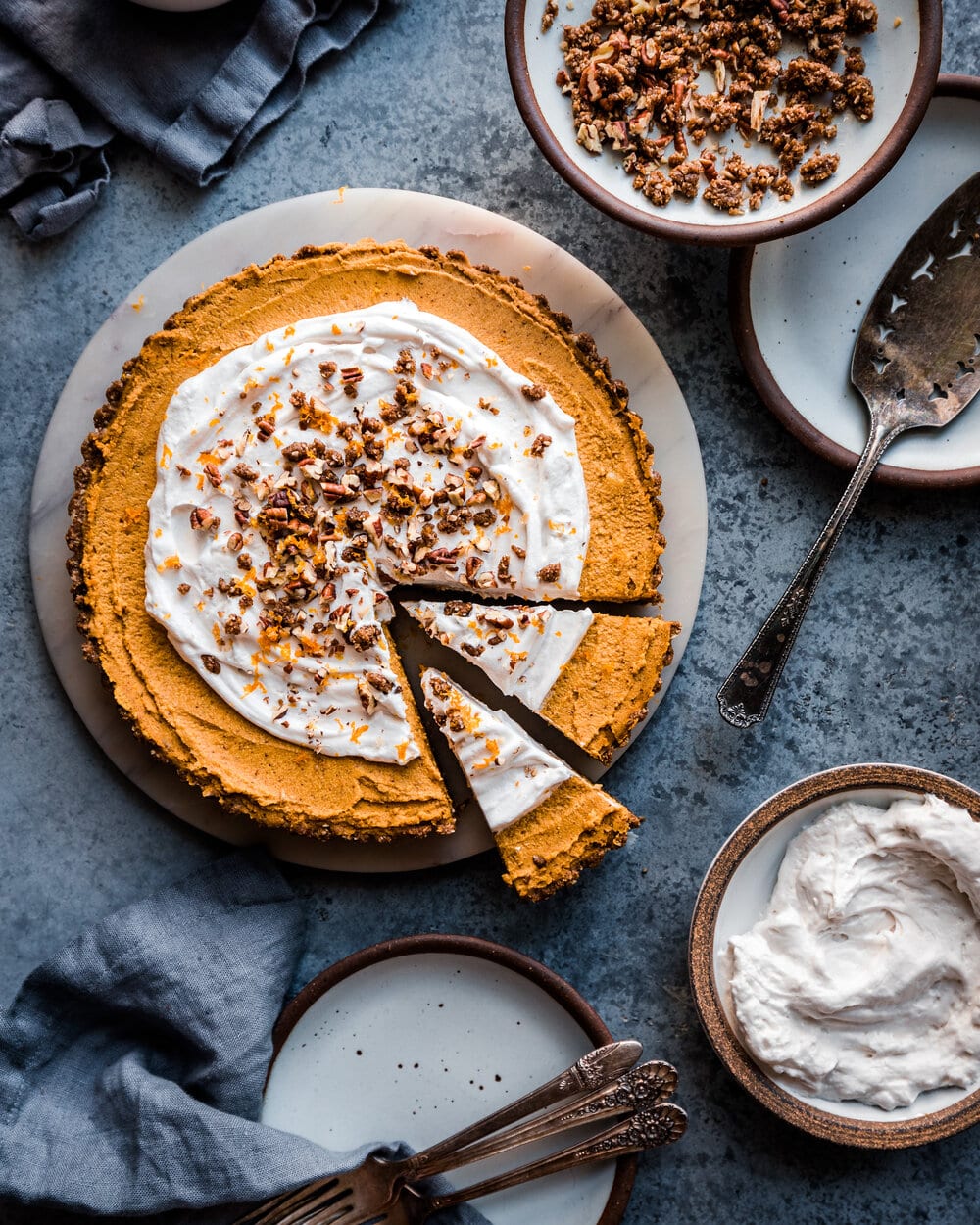 Why you'll love this tart
Easy to make! This tart crust is much easier to make than pie crust so it's perfect for lazy chefs, novice bakers, and anyone who wants to save time during the holidays.
On the hunt for another easy but impressive dessert to bring to Thanksgiving dinner? Try my Vegan Apple Crisp!
Healthyish but indulgent. This pumpkin tart is definitely healthier than standard pumpkin pie, and is gluten-free and even refined sugar-free, but you'd never know because it's so creamy and perfectly sweet!
No bake(ish). The crust does need to be baked, but just for 13-15 minutes. And the filling doesn't require any baking! However, if you prefer a more traditional pumpkin pie taste, you can also bake this whole tart!
Convenient. You can make this tart several days in advance, so it's great for those busy holiday dinners. Plus, the crust does double duty and works as the topping!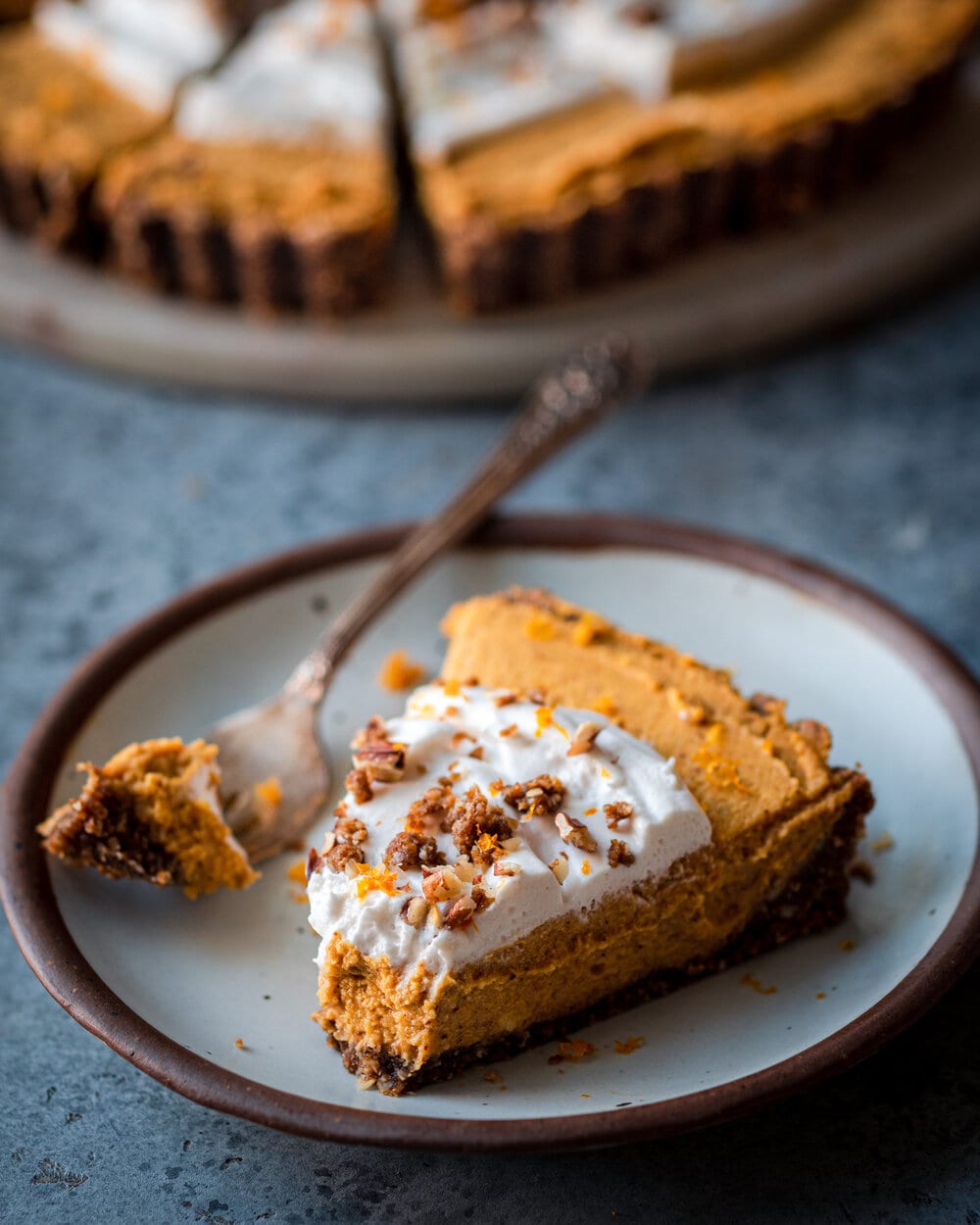 Ingredient Spotlight: Gingersnap Crust
Rolled Oats. Using oats in this tart keeps the cost of ingredients relatively low (instead of using all nuts), but it means you'll need to bake this crust a bit to bake off the raw oatty taste. If you or your guests are allergic to gluten, be sure to use certified gluten-free rolled oats.
Raw Pecans. Pecan's high fat content and buttery texture bring a subtle richness to this tart crust.
Refined Coconut Oil. The oil will help bring the oats and pecans together into a malleable crust. I recommend using refined coconut oil instead of unrefined/virgin coconut oil so the tart doesn't have a distinct coconutty taste.
Maple Syrup and Molasses. In addition to the coconut oil, these ingredients help bring the crust together. Maple syrup brings the sweetness, whereas molasses yields that classic gingersnap flavor to the crust.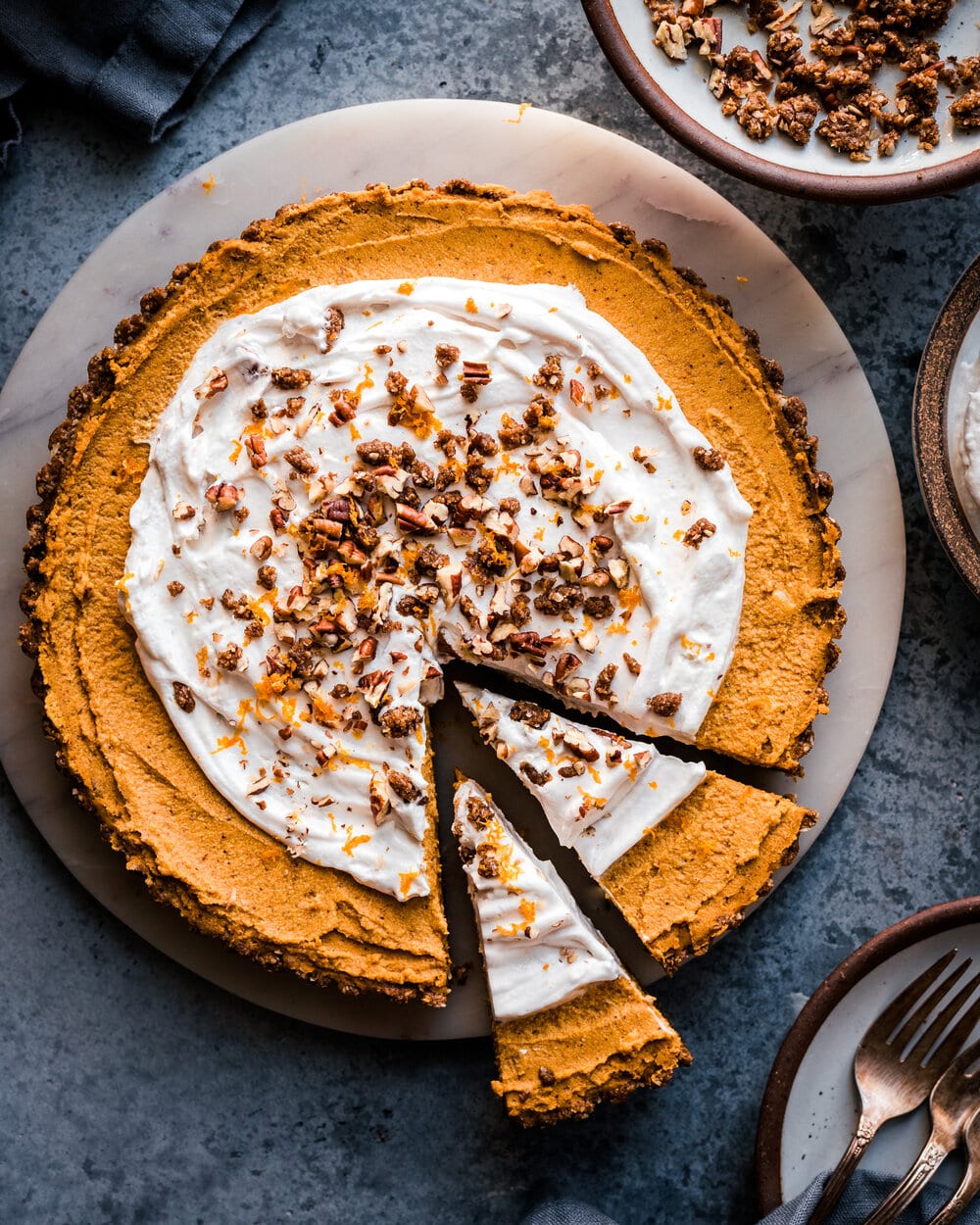 Ingredient Spotlight: Pumpkin Cream Filling
Coconut Cream. Coconut cream is the thick, solid white cream-like substance you'll find in a can of full-fat coconut milk. You can also buy canned coconut cream (affiliate link). It brings a luscious and indulgent texture to this filling.
The most difficult part of this recipe is to remember to refrigerate your can(s) of coconut cream or coconut milk 24 hours (or more) in advance.
When refrigerated, the cream separates from the liquid part, so it's easier to scoop out for the recipe. When at room temperature, many brands of coconut milk or cream mix together, so you can't scoop out the cream.
Most 13.5-ounce cans will yield 1/2-3/4 cup of solid coconut cream, so you might want to buy 2 cans in case (the recipe calls for 3/4 cup coconut cream).
Note: I have also made this recipe by substituting some of the coconut cream with So Delicious CocoWhip (which I also use as the whipped topping on top). To do that, I use 1/2 coconut cream + 1/2 cup CocoWhip, and reduce the maple syrup in the filling by 2 tablespoons.
Pumpkin Puree. If you can't find canned pumpkin in grocery stores near you, you can substitute with homemade pumpkin puree. To see how to make homemade pumpkin puree, read the "Substitutes" section below.
Coconut Oil. The coconut oil brings a glossy smoothness to this tart filling. Be sure to use refined coconut oil, as unrefined or virgin coconut oil will impart a coconutty taste.
Almond Butter. This brings a subtle nutty taste and richness to the filling.
Orange Zest. Don't skip this! It really enhances and brightens the flavor of pumpkin.
Pumpkin Spices. I use cinnamon, ginger, and cloves, along with freshly grated nutmeg. I really recommend using freshly grated nutmeg (the pods have an excellent shelf life, up to 3 years)! because there is a noticeable difference in taste – i't's sweeter, spicier, and more potent in flavor than pre-ground nutmeg.
How to make this tart
Start on the crust. Add the dry ingredients to a food processor and blitz up until you have a relatively fine meal. Then add the liquid ingredients and process until the mixture is a crumbly and just a bit sticky. Set aside a few tablespoons of the crust for the topping.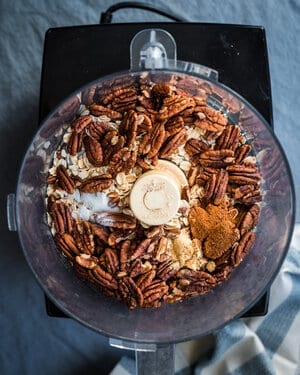 Add the crust to the tart pan and press into the sides and bottom. Bake at 325˚F for 13-15 minutes, then allow to cool.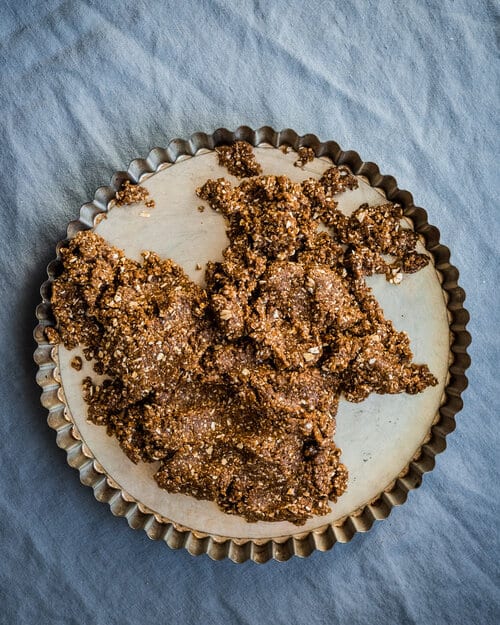 While the tart crust is chilling and/or baking, make the filling. Add all of the ingredients to a food processor and blend until thick, smooth, and creamy.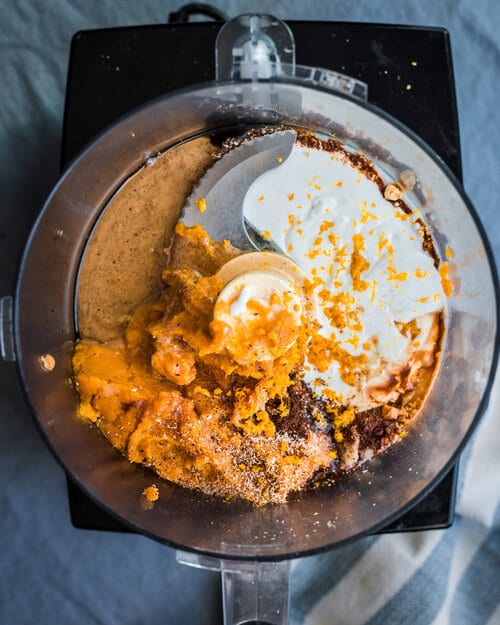 Pour the tart filling into the baked crust and smooth out. Chill until set, then serve with whipped topping and crumble the reserved crust on top! If you want to bake the entire tart (not just the crust), check out the recipe directions below.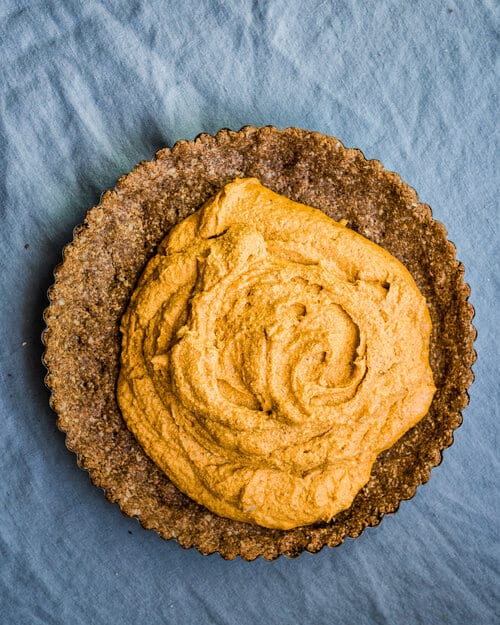 Substitutes for this recipe
Pecans. You can easily substitute walnuts.
Coconut oil. You can use melted vegan butter or avocado oil in the crust and filling.
Molasses. If you don't have any, just omit it. It's not very sweet so I don't recommending substituting it with maple syrup. If you omit it, taste the crust after blending it up; if it's not sweet enough, then add a bit more maple syrup.
Almond Butter. This adds a delightful nutty flavor, but if you don't have it, you can substitute tahini or omit it.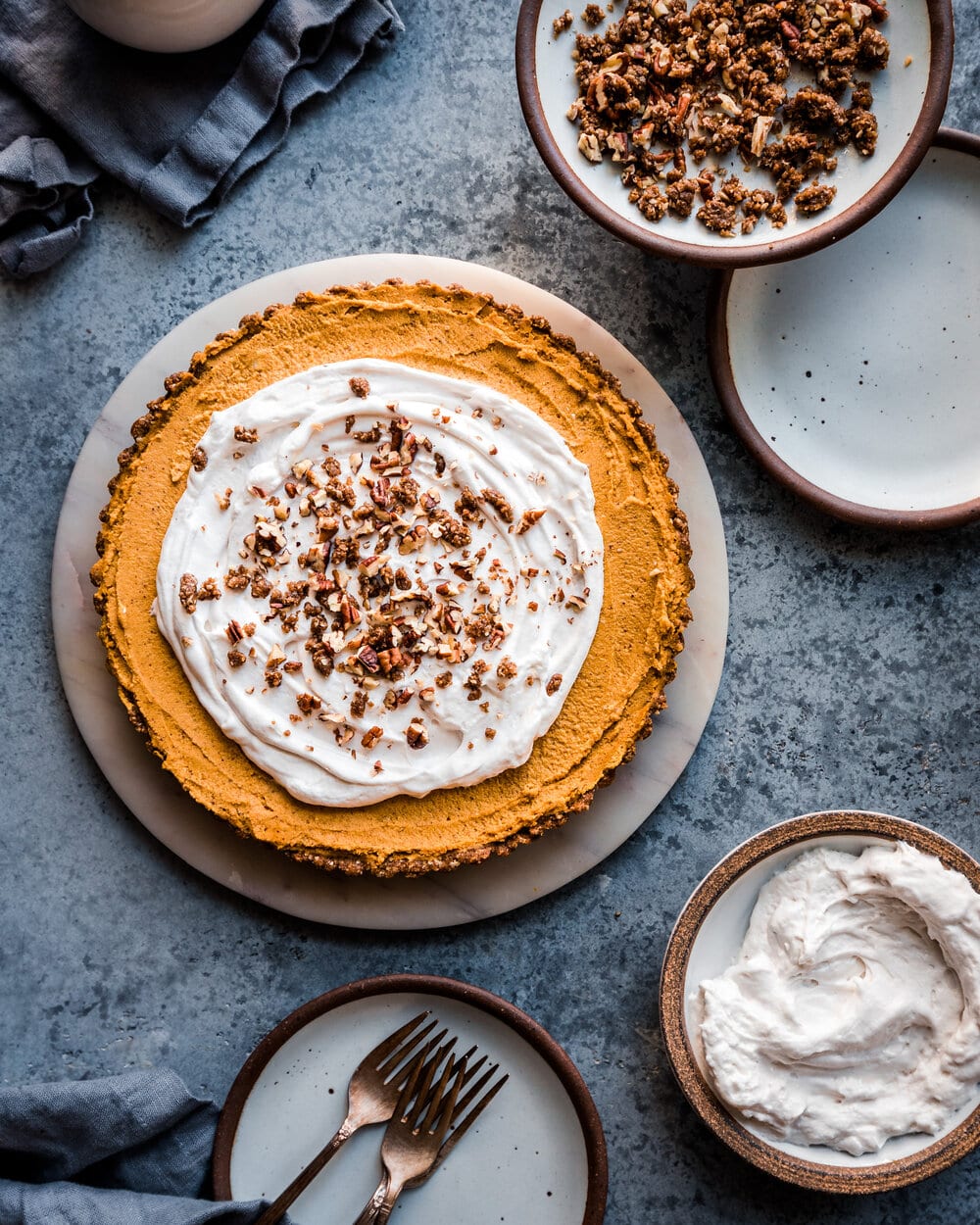 Can I use Homemade Pumpkin Puree to make Pumpkin Tart?
Yes. Here's how to substitute canned pumpkin puree with homemade pumpkin puree.
Slice a sugar pumpkin or pie pumpkin in half.
Lightly salt the flesh of the pumpkin, then place the pumpkin halves on a parchment paper lined baking sheet, cut side down. Bake in the oven at 400°

F/205

°

C until fork tender, about 30 minutes for a small pie pumpkin, or 40-45 minutes for a larger one.

Once cool, add the flesh to a food processor and puree for about 2 minutes, or until you have a really smooth puree.
Place the puree over a fine mesh sieve and stir with a spoon to let any excess water drain out. If you have cheesecloth, line the sieve with that and drain.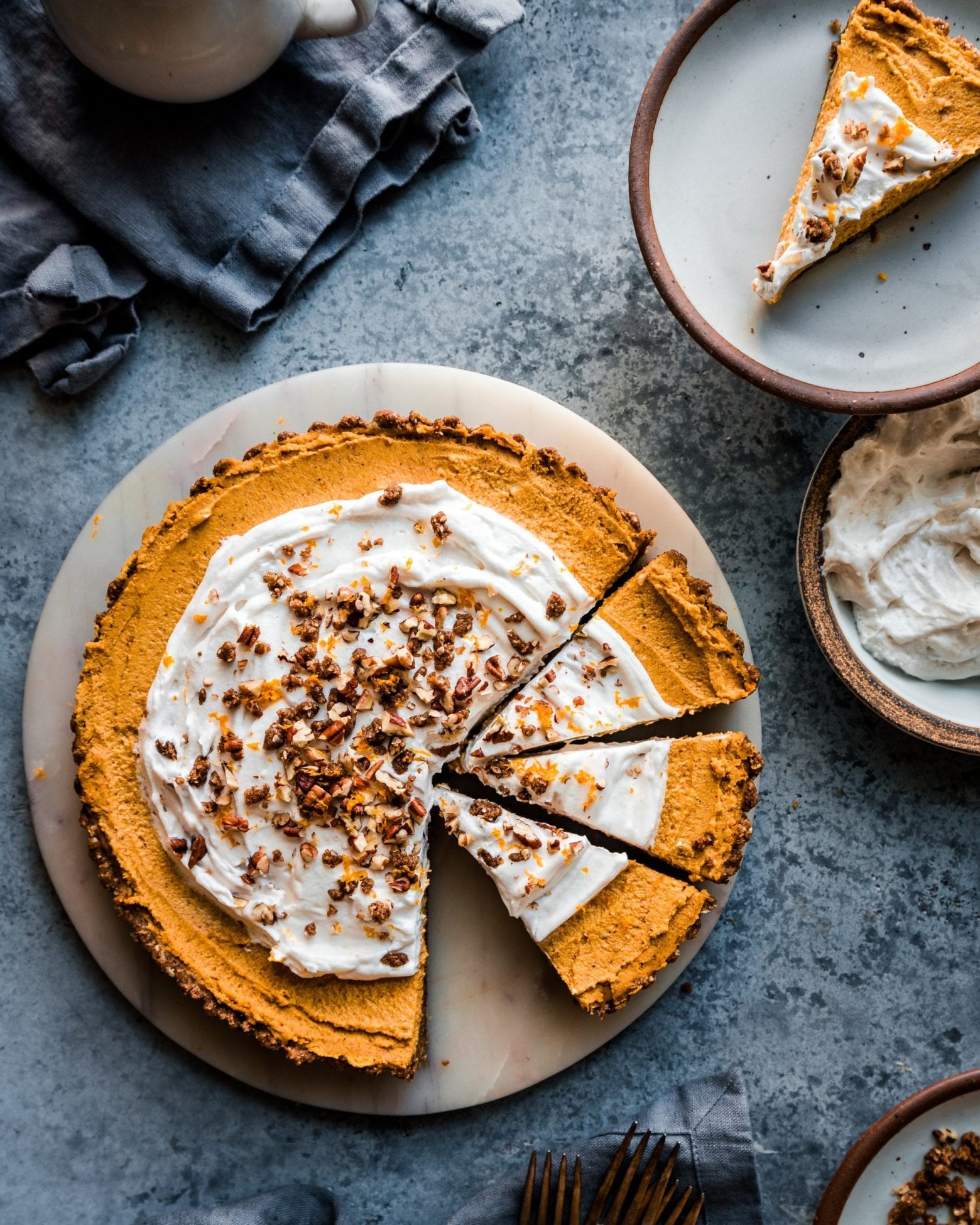 If you give this Pumpkin Cream Tart with Gingersnap Crust recipe a try, be sure to tag me on Instagram with your recreations and please comment with your feedback below!
Vegan Gingersnap Pumpkin Cream Tart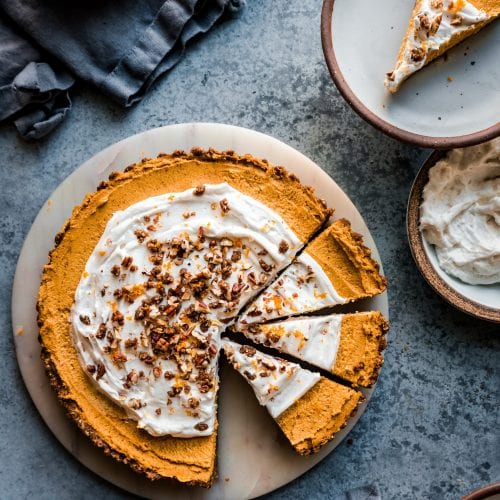 This Gingersnap Pumpkin Cream Tart features a luscious no-bake pumpkin cream filling and is much easier to make than pumpkin pie! It's healthy, vegan, and gluten-free, but tastes indulgent. Plus, you can make it ahead of time, so it's perfect for Thanksgiving!
Ingredients
Gingersnap Crust
1 1/2

cups

(140g) rolled oats

(certified gluten-free as needed)

1 ¼

cups

(140g) pecans

Heaping ½ teaspoon ground cinnamon

Heaping ½ teaspoon ground ginger

½

teaspoon

sea salt

1/4

cup

(56 mL) refined coconut oil,

melted

1/4

cup

(60 mL) pure maple syrup

1 1/2

tablespoons

molasses
Pumpkin Cream Filling
3/4

cup

(170-180g) canned coconut cream

refrigerated for 24 hours or longer*

1 ¼

cup

(300g) canned pumpkin purée

1/4

cup

+ 2 tablespoons (90 mL) pure maple syrup

1/4

cup

(56 mL) refined coconut oil,

melted

3

tablespoons

almond butter

1

teaspoon

vanilla extract

Zest of 1 medium orange

1

teaspoon

ground cinnamon

½

teaspoon

ground ginger

¼

teaspoon

freshly grated nutmeg

1/4

teaspoon

ground cloves

1/4

teaspoon

fine sea salt
Topping
Vegan whipped topping or coconut whipped cream

Reserved crust for crumble topping
Instructions
No-Bake Filling Method
Preheat the oven to 325˚F/163˚C. Lightly grease with melted coconut oil a 9″ or 10" (23 – 25 cm) tart pan with a removable bottom.

Make the gingersnap crust. In a food processor, combine the rolled oats, pecans, cinnamon, ginger, and sea salt into a fine meal. While the processor is running, slowly drizzle in the coconut oil, followed by the maple syrup and molasses, and blend just until the mixture turns into a crumbly dough. Reserve about 3 tablespoons of the crust for the topping.

Chill the crust. Using your hands and/or a flat-bottomed cup, press the crust into the bottom and sides of the prepared tart pan. Prick the bottom with a fork about a dozen times. Chill in the freezer for 10 minutes to help firm up.

Bake the crust. Bake tart crust in the preheated oven for 13-15 minutes until just a bit firm, then allow to cool for 20 minutes.

Make the pumpkin cream filling. In a food processor or blender, add the coconut cream, pumpkin purée, maple syrup, melted coconut oil, almond butter, vanilla, orange zest, cinnamon, ginger, nutmeg, cloves, and salt. Blend until the mixture until the ingredients are completely incorporated and creamy and smooth.

Pour the filling on top of the baked crust and smooth with a silicone spatula or offset spatula.

Freeze the tart for 3-4 hours to set. Before serving, defrost the tart on the counter for 10 minutes or for an hour in the fridge.

Top the tart with whipped topping or coconut whipped cream. Take the reserved crust and crumble it on top.
Baked Pumpkin Tart Method
Preheat oven to 350˚F/175˚C. Prepare the crust as indicated above, except do not pre-bake the crust. Just freeze the crust for 10-15 minutes to firm up.

Prepare the filling as indicated above. Pour the filling into the chilled tart crust. Tap the pan against the counter a few times to release any air bubbles.

Bake the tart in the preheated oven for 50 minutes. The tart will still be a bit jiggly on top, but it will eventually finish baking and solidify. Transfer the tart to a wire rack and cool to room temperature, then refrigerate for 2-3 hours before serving.
Notes
* I used canned coconut cream, but you can also scoop out the thick white portion from a refrigerated can of coconut milk. To solidify coconut cream, refrigerate a can of full-fat coconut milk for 24 hours or more. Most cans will yield 1/2-3/4 cup of solid coconut cream.
---
Calories:
378
kcal
|
Carbohydrates:
29
g
|
Protein:
5
g
|
Fat:
30
g
|
Saturated Fat:
16
g
|
Polyunsaturated Fat:
4
g
|
Monounsaturated Fat:
8
g
|
Sodium:
181
mg
|
Potassium:
340
mg
|
Fiber:
5
g
|
Sugar:
14
g
|
Vitamin A:
4779
IU
|
Vitamin C:
4
mg
|
Calcium:
71
mg
|
Iron:
2
mg