It's been awhile since I shared a bevvie recipe with y'all, so please give a warm welcome to this Sweet and Spicy Almond Butter Date Latte. I've been drinking it at least twice a week for the last month, so I figured it was time to share it with you.
I don't mean to toot my own horn so loudly, but this latte is truly life-changing. One sip and you'll be taken to latte heaven, a place I didn't even know existed until I tasted this sweet nectar. The almond butter and oat milk make the texture of this latte so creamy and lush, and the cinnamon-cayenne-vanilla-orange flavor combo is mindblowingly good.
And if you're saying to yourself, "Okay, Nisha, calm down. I've had an almond latte before, it's fine." I understand your skepticism. But no, no no. This is not your standard plant milk latte.
Why you'll love this Almond Butter Date Latte
The most flavorful latte. Thanks to a powerful combination of cinnamon, cayenne, vanilla, and orange, the sweet-spicy-zingy flavors are a a straight-up party for your taste buds.
Fun vegan breakfast idea. If you're tried of oatmeal and smoothies, give this date latte a try. There are a wide array of vegan breakfast recipes that most people don't know about and this is one of my faves.
Texture on point. This latte is extremely creamy and frothy, and requires no fancy espresso machine. It is so creamy and indulgent that it tastes like dessert.
Wholesome. Despite being extremely creamy, this latte is made with good-for-you ingredients and sweetened exclusively with dates.
PS: If you're thinking "I'm not a coffee person" or caffeine makes me jittery / gives me night sweats," I've got two caffeine-alternatives for you in the recipe card!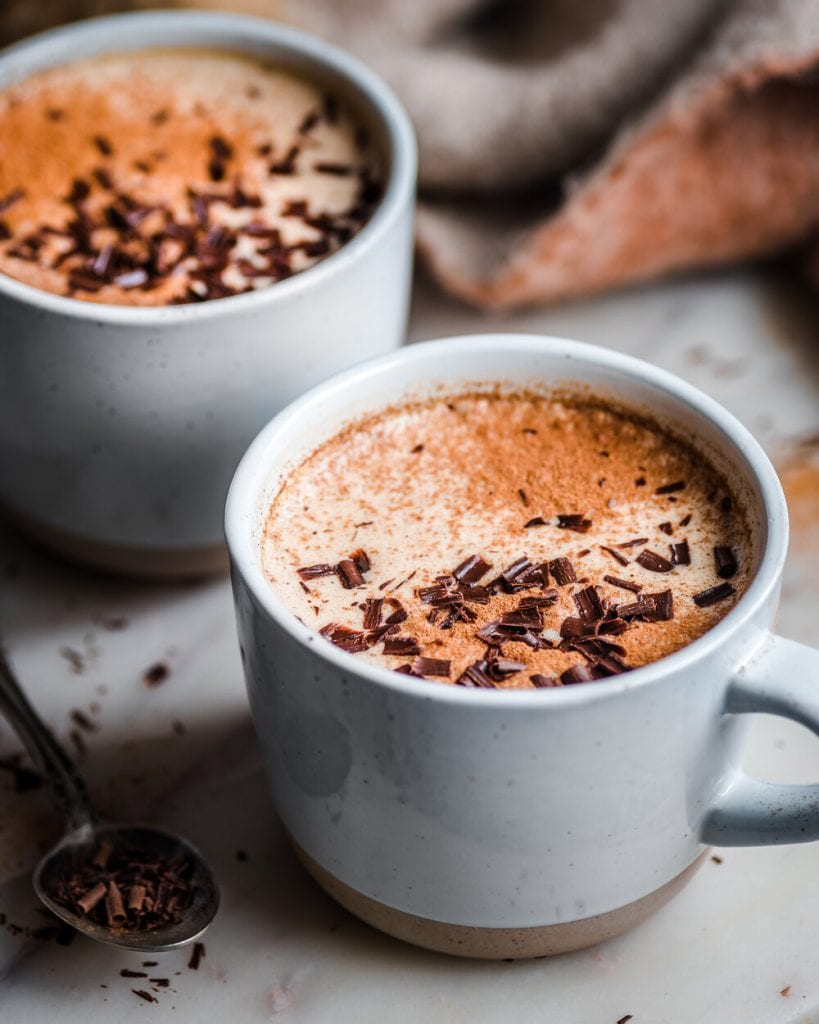 Ingredient Rundown
Oat milk
I use oat milk because it is super creamy, which makes this latte as thick, frothy, and indulgent as a latte made with full-fat milk. But of course, this version is kinder to the environment, animals, and your digestive system!
If you can't find oat milk (or have a sensitivity to oats), I recommend another similarly creamy plant-based milk, such as coconut drinking milk, cashew milk, soy milk, or macadamia milk. To keep this Paleo-friendly, use coconut, cashew or macadamia milk; to keep this soy-free, obviously, don't use soy milk.
Medjool Dates
This latte is perfectly sweet (i.e., sweet but not sugary) thanks to Medjool dates. And you only need 2 of them.
These sweet and sticky gems are perfect in this recipe, but if you can't find Medjool dates, you can use the smaller Deglet dates. Keep in mind they're not very soft, so you might need to blend the latte longer, especially if you don't have a powerful blender. Also, you'll want to use more than two since they're smaller in size.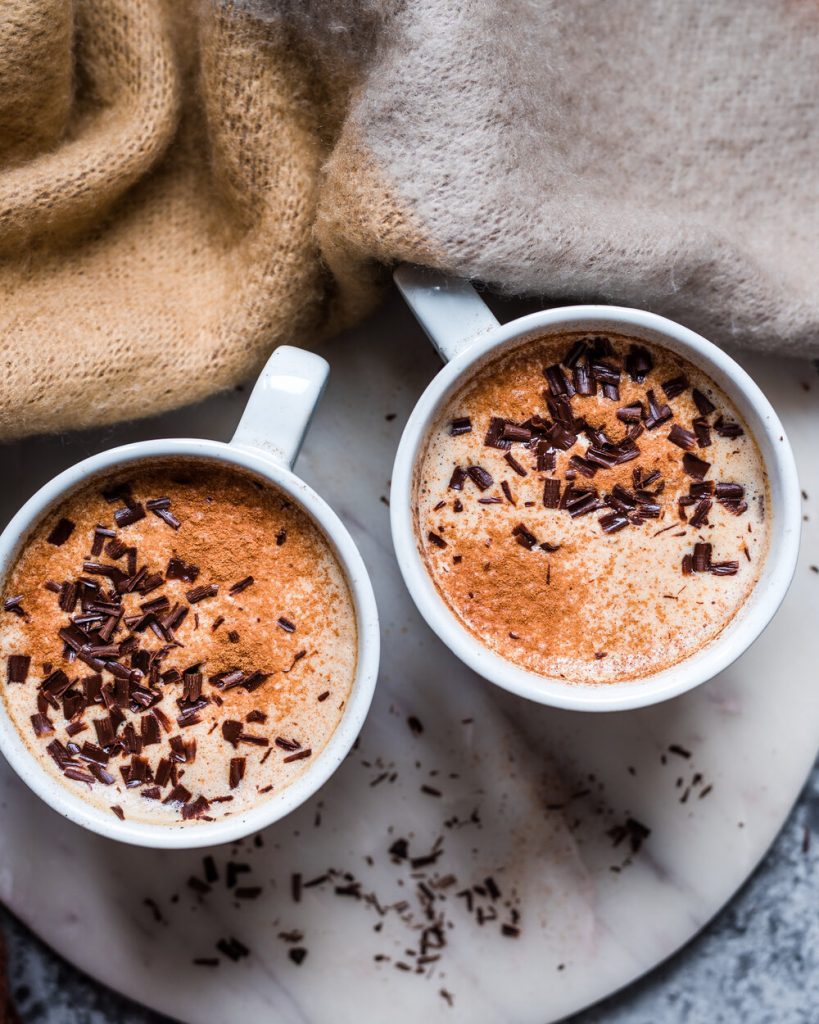 Almond Butter
This is my absolute new favorite ingredient to add to a beverage. I mean, I love almond butter and eat it on the reg and even put it in my smoothies, but I was not prepared for how delicious it is in a latte. It's very very very good.
You can use any brand of almond butter you like, but just stick to a smooth variety. Or, homemade almond butter is always a great idea. To see how easy it is to make almond butter (if you have a Vitamix), check out my winter meal prep video here (I make almond butter starting at 9:45).
Coffee
This is a latte, so we gotta add some coffee! I suggest a strongly brewed coffee, so that some of the coffee flavors shine through the sweet spiciness of the almond butter date milk. I used an Americano (espresso mixed with hot water), but if you brew coffee at home, just make it a bit strong.
If you're sensitive to caffeine or don't drink very much of it, (hi, that's me!), just use decaf coffee or espresso (there's a minuscule amount of caffeine in decaf). And if the taste of coffee just ain't your thing, then try a hot black tea. English breakfast would be a great neutral flavor, but an Earl Gray would be insanely flavorful and uniquely delicious. And, of course, you can use regular or decaf tea.
Cinnamon, Cayenne Pepper, Orange Peel, Vanilla
If the oat milk and almond butter are what bring the rich creaminess and the dates are what bring the sweetness, then these final ingredients pack in all the flavor!
Cinnamon and vanilla extract are fairly obvious choices, as they could spruce up almost any latte flavor. But the cayenne pepper and orange peel are real game changers, so please don't omit them!
First, the cayenne pepper. If you've ever had a spicy Mexican hot chocolate, you know what I'm talking about. The heat pairs sooo well with the sweet milkiness. You need just a pinch and it adds this subtle background heat that pairs so seductively well with the sweetness.
Which brings me to the next ingredient, the orange peel. If you've ever zested an orange (or lemon or lime), you know that there's so much flavor concentrated in the peel. And when you simmer that peel for 10 minutes and then blend it up until everything is frothy, you are extracting all of the flavor and freshness out of that peel.
The result is a sweet, spicy, floral, zingy latte that is utterly and indescribably delicious. It's bursting with warmth and love and coziness.
More delicious vegan breakfast recipes
Watch! How to make Almond Butter Date Latte
If you love this latte, please share your feedback and rate and review the recipe below!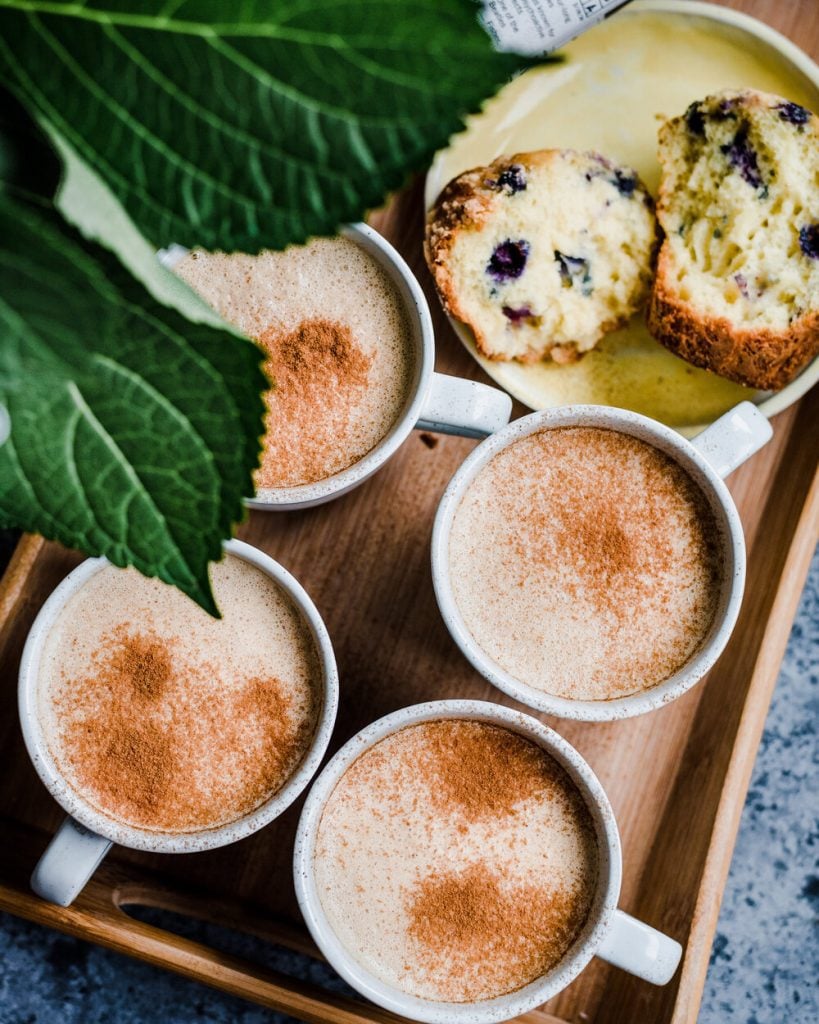 Sweet and Spicy Almond Butter Date Latte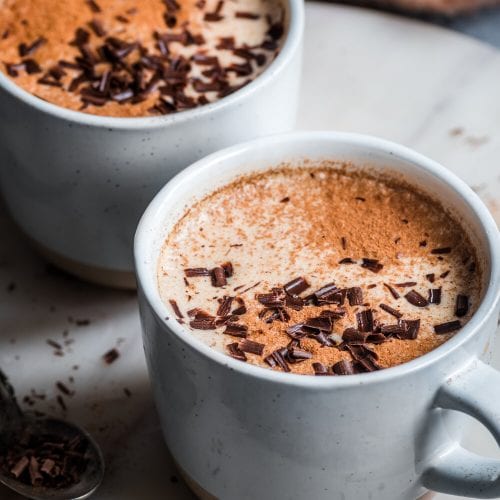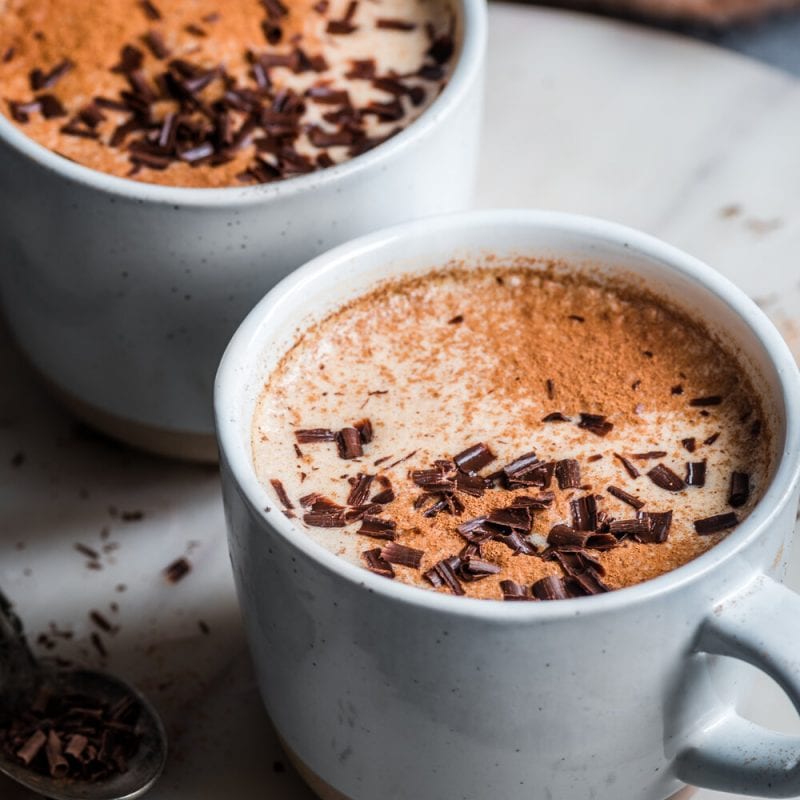 This Sweet and Spicy Almond Butter Date Latte is a cozy hug in a mug! Sweetened with dates and flavored with orange peel and cayenne, it's the perfect sweet-spicy-zingy flavor combination! And while it's vegan, gluten-free, soy-free, and paleo-friendly, it's still incredibly indulgent.
Ingredients
1 1/2

cups

(360 mL) unsweetened oat milk*

2

tablespoons

creamy almond butter

2

soft large(ish)

Medjool dates, pitted and torn in half

1/2

teaspoon

ground cinnamon,

extra for dusting the top

A pinch of cayenne pepper

1

large strip of orange peel

1

teaspoon

vanilla extract

1/4 - 1/2

cup

(60 - 120 mL) strongly brewed hot coffee**
Instructions
Add the oat milk, almond butter, dates, cinnamon, cayenne, orange peel, and vanilla to a small or medium saucepan. Bring to a rapid simmer and maintain it for 10 minutes, whisking occasionally.

Remove the milk from the heat and transfer it to a high-powered blender. Remove the center cap of the blender and cover with a dish towel to allow steam to escape. Blend on high until the mixture is very smooth and creamy, and all of the dates and orange peel are pulverized. Taste and adjust flavors as necessary.

Divide the hot coffee into two coffee mugs and then pour the almond butter date milk into each mug. Sprinkle with cinnamon and enjoy!
Notes
* For a Paleo-friendly version, substitute with coconut drinking milk, cashew milk, or macadamia nut milk.
** I used an Americano (espresso mixed with water). Feel free to use decaf if you don't drink much caffeine. And if you don't like the taste of coffee, use black tea (see the "Ingredient Rundown" section above).
---
Calories:
232
kcal
|
Carbohydrates:
32
g
|
Protein:
7
g
|
Fat:
10
g
|
Saturated Fat:
1
g
|
Polyunsaturated Fat:
2
g
|
Monounsaturated Fat:
5
g
|
Sodium:
102
mg
|
Potassium:
377
mg
|
Fiber:
5
g
|
Sugar:
17
g
|
Vitamin A:
391
IU
|
Vitamin C:
1
mg
|
Calcium:
324
mg
|
Iron:
2
mg