You've never had a stir fry quite like Tempeh Kecap. Protein-packed tempeh is the star of the show while a sweet-and-savory sauce made from kecap manis (sweet soy sauce) and Indonesian aromatics coat each piece. It's all tossed together in one skillet, leaving you with a surprisingly quick and easy yet gourmet meal!
This unique yet simple dish is a great excuse to make a trip to your local Southeast Asian or East Asian grocery store. Lime leaves, lemongrass, and kecap manis give this Indonesian tempeh stir fry an authentic blend of tangy, fresh, sweet, spicy, and savory flavors.
Every bite will take you on a trip around the world, just like my Vegan Pho and Thai Butternut Squash Curry.
Table of Contents:
1. About tempeh kecap
2. Why this recipe works
3. Ingredient notes
4. Step-by-step instructions
5. Tips for making tempeh kecap
6. Frequently Asked Questions
7. Recipe Card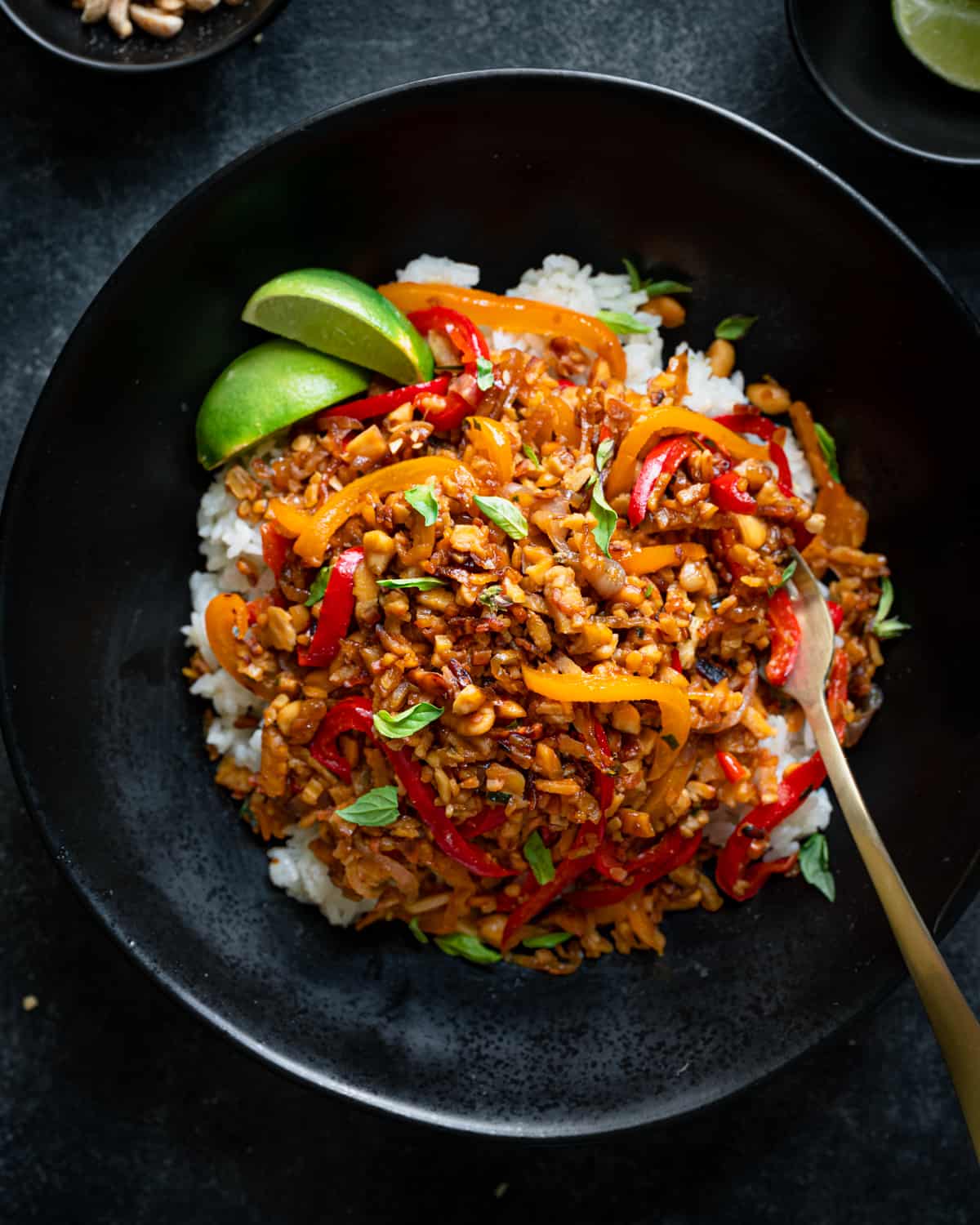 What is tempeh?
Tempeh is a basically a fermented soybean cake, typically sold in rectangular blocks. It's originally from Indonesia, where it's been used in cooking for thousands of years.
Tempeh is a good source of umami thanks to fermentation. The flavor is meaty, nutty, and a little mushroom-y. And its nutrition profile is off the charts (more on that below)!
Note: Sometimes, tempeh will have dark black or blue-ish spots on it. This is not mold or a sign of spoilage. It's safe to eat and tastes fine.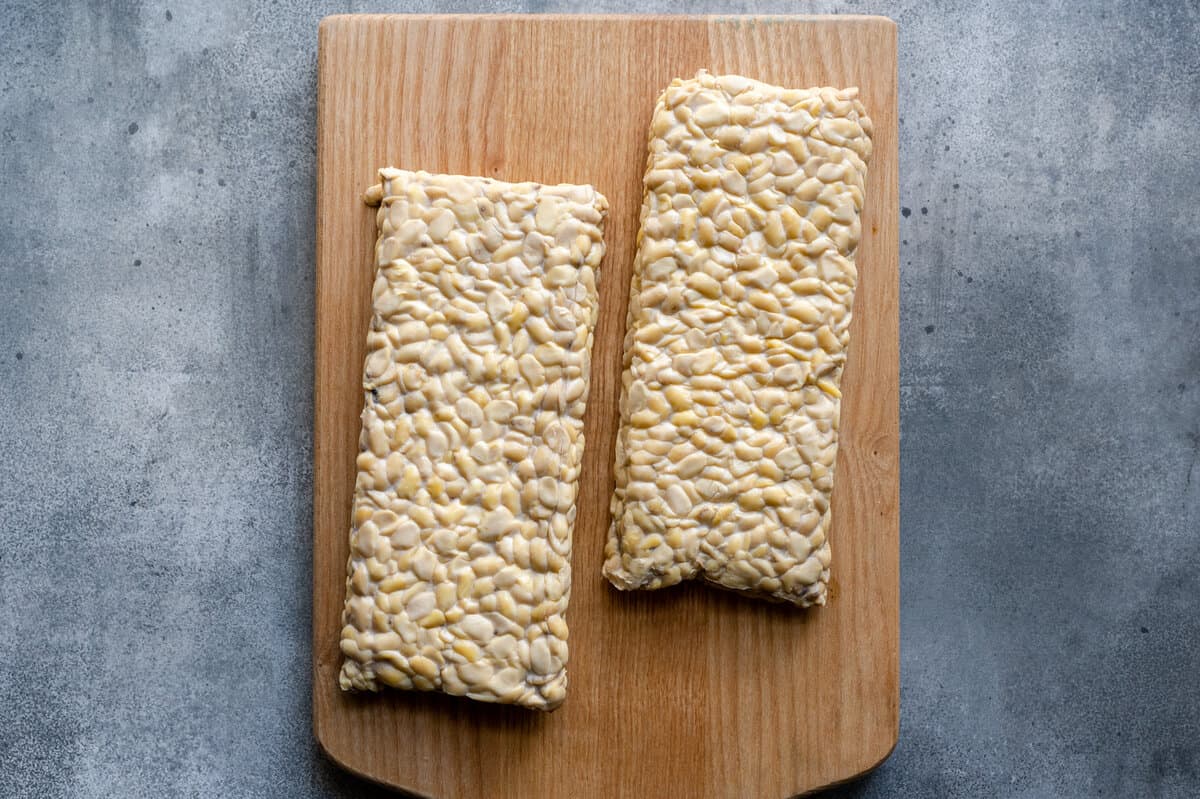 About tempeh kecap
Tempeh kecap (sometimes called tempeh manis) is an Indonesian tempeh stir fry that's sweet, salty, a little spicy, and sticky. It's made primarily from fried tempeh and peanuts, which are coated in an aromatic sauce and flavored with plenty of aromatics.
This dish gets its name from the popular condiment kecap manis, which is a sweet soy sauce that's used both as a condiment and as a seasoning in Indonesian cooking.
Kecap manis is typically made from soy sauce and palm sugar, boiled down into a syrupy consistency; sometimes aromatics like lime leaves, star anise, ginger, and garlic are added. The texture and taste are similar to molasses with background notes of soy sauce.
Interested in reading more? Learn more about kecap manis over on Serious Eats.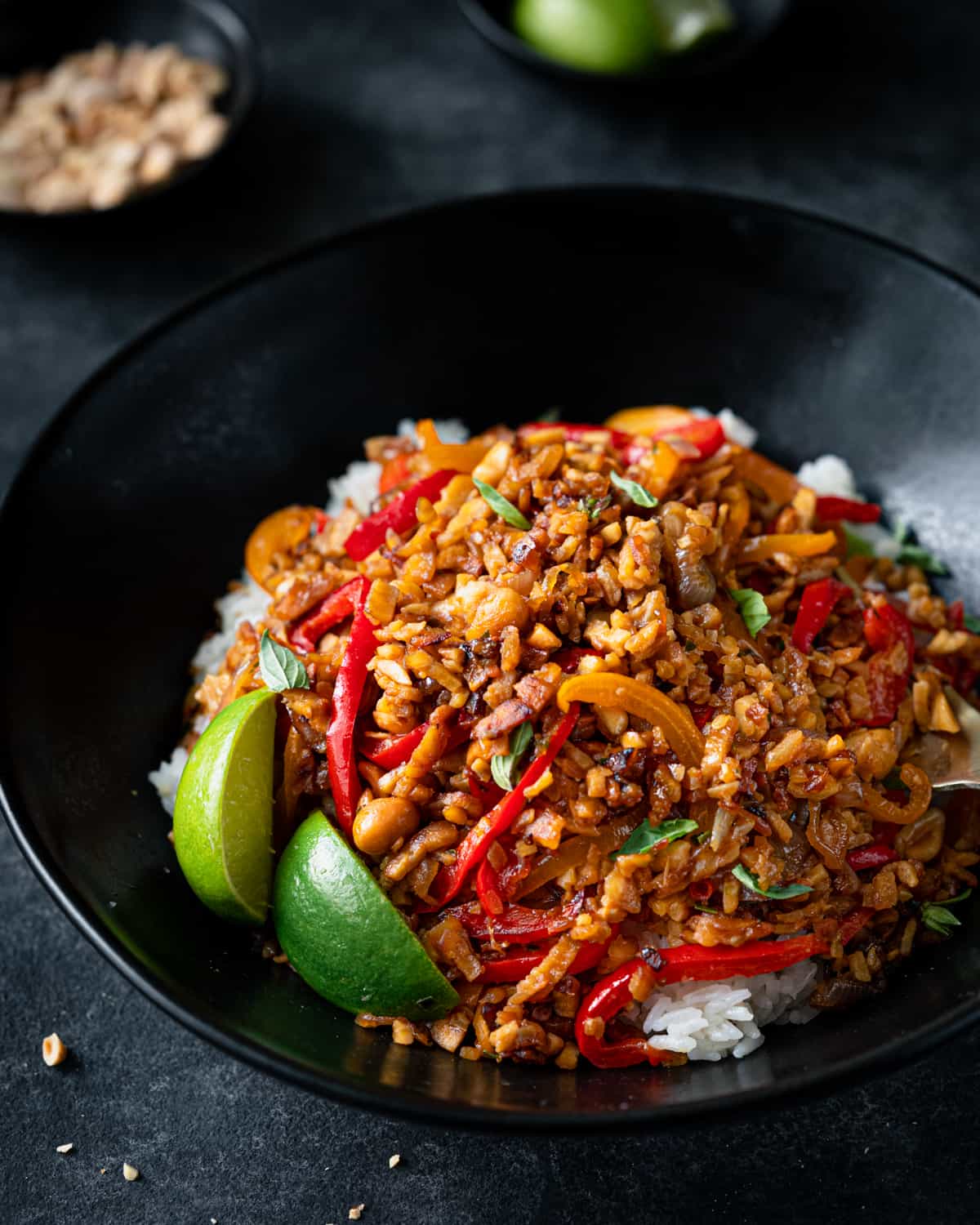 Why this recipe works
Crispy without the excess oil.
In a traditional tempeh kecap (and in similar Indonesian recipes), the tempeh is deep fried. While I'm not opposed to deep frying (as you might know from my epic Gobi Manchurian!), choosing not to deep fry is a low-maintenance and less messy alternative that doesn't compromise on taste or texture.
Instead, the tempeh is pan-fried, making it remarkably crispy and irresistible. It honestly tastes deep fried but is a bit more wholesome.
Tempeh has (truly) never tasted so good.
If my BBQ tempeh or tempeh tacos haven't turned you into a tempeh lover yet, tempeh kecap surely will. While tempeh has a naturally bitter and dense texture that can be hard to love, a few techniques here make all the difference.
(1) Cutting the tempeh into very small matchsticks, (2) pan-frying the pieces in oil, and (3) coating them in a sweet and sticky sauce masks tempeh's natural bitterness and converts the dense nuttiness into crispy morsels.
A to-die-for flavor profile.
Unless you're already familiar with Indonesian cuisine, I can guarantee you've never tried anything quite like this. Every bite is zingy uniquely refreshing.
And it's all thanks to the various citrus flavors. First, fresh lime leaves bring distinctive Southeast Asian flavor right to the tip of your tongue. They perfume the entire dish with refreshingly bright and citrusy notes without the familiar tartness of fresh lime.
Lemongrass also comes into play, adding its intoxicating lemony, minty, and gingery aromas. It's the secret to lightening up this rich Indonesian stir fry.
Ingredient notes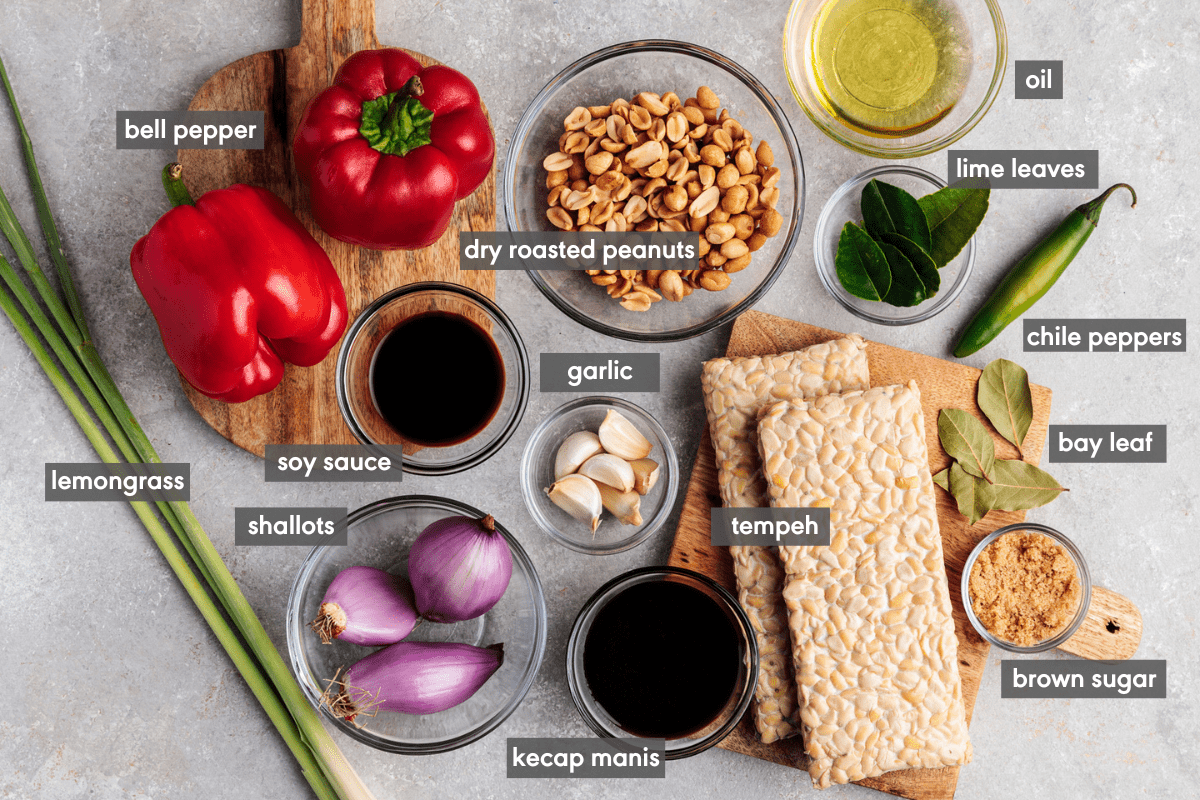 Tempeh. This is an Indonesian vegan meat substitute made from fermented soybeans. You can find tempeh in most grocery stores these days (next to the tofu!).
Tip: When you're shopping, look for "original" varieties, as they have the best texture. Skip the "three grain" varieties, as their texture can be quite hard, and anything flavored (like "tempeh bacon" or "buffalo tempeh").
Substitute: While tempeh is the key ingredient here, if you're allergic to soy but still intrigued by these flavors, you could try a soy-free sub like jackfruit here.
Kecap manis. This is a popular Indonesian condiment that's basically a sweet soy sauce. It adds a powerful sweet umami flavor to this tempeh stir fry.
You can find bottled kecap manis at Southeast Asian grocery stores and large East Asian markets like Hmart (​​ABC and Cap Bango being the most popular brands in the U.S.), or you can buy it online (affiliate link).
Make it at home: Alternatively, you can make kecap manis at home using my easy 3-ingredient recipe in the 2nd recipe card (I actually prefer this to store-bought).
Peanuts: Peanuts are an integral ingredient in an Indonesian tempeh kecap, adding a nutty crunch to each bite.
Substitute: Allergic to peanuts? Omit and/or substitute with chopped dry roasted almonds.
Lemongrass. Both East Asian and Southeast Asian grocery stores should sell fresh lemongrass. Some well-stocked grocery stores will sell pre-trimmed lemongrass in packages. If you can't find lemongrass, leave it out.
Lime leaves. Just like lemongrass, fresh lime leaves should be in stock at most East Asian and Southeast Asian grocery stores. They may be sold as "lime leaves," "makrut lime leaves," or "kaffir lime leaves."
Substitute: If you can't find fresh leaves, dried makrut lime leaves are a good alternative (affiliate link). Keep the dried leaves whole or snip each leaf to release more flavor.
Fresno peppers. Fried tempeh in sweet soy sauce isn't an overly spicy dish. However, if you can't handle spicy food at all, use just 1 Fresno pepper.
Substitute: If you can't find Fresno peppers, replace them with 1 to 2 Thai chile peppers or 1 serrano pepper (seen in the step-by-step photos). If you love spicy food, feel free to add another pepper.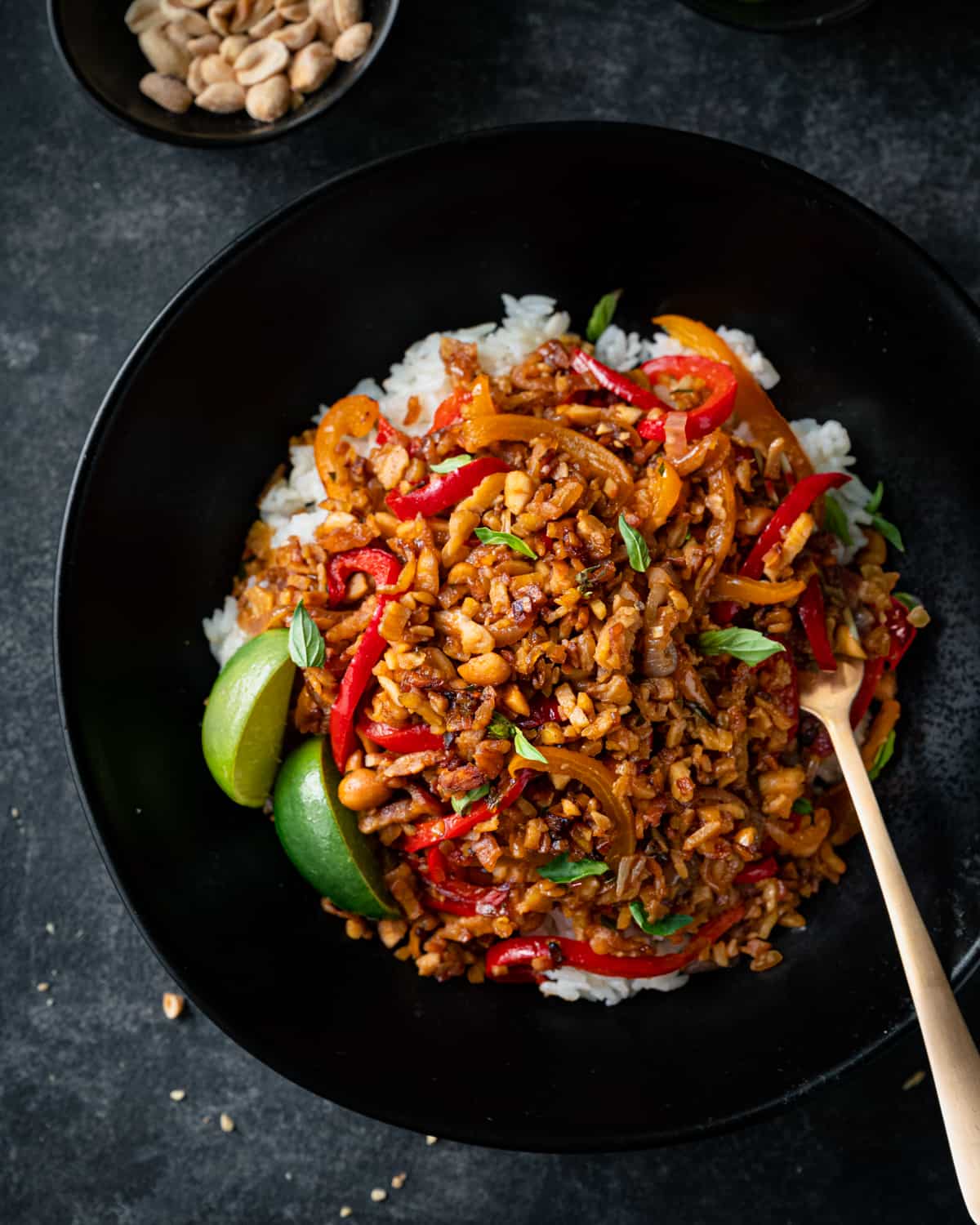 Step-by-step instructions
Prep the aromatics. Slice the shallots, chile peppers, lime leaves, garlic, and bell pepper. Grate the lemongrass. Make the sauce: mix all of the sauce ingredients together in a bowl.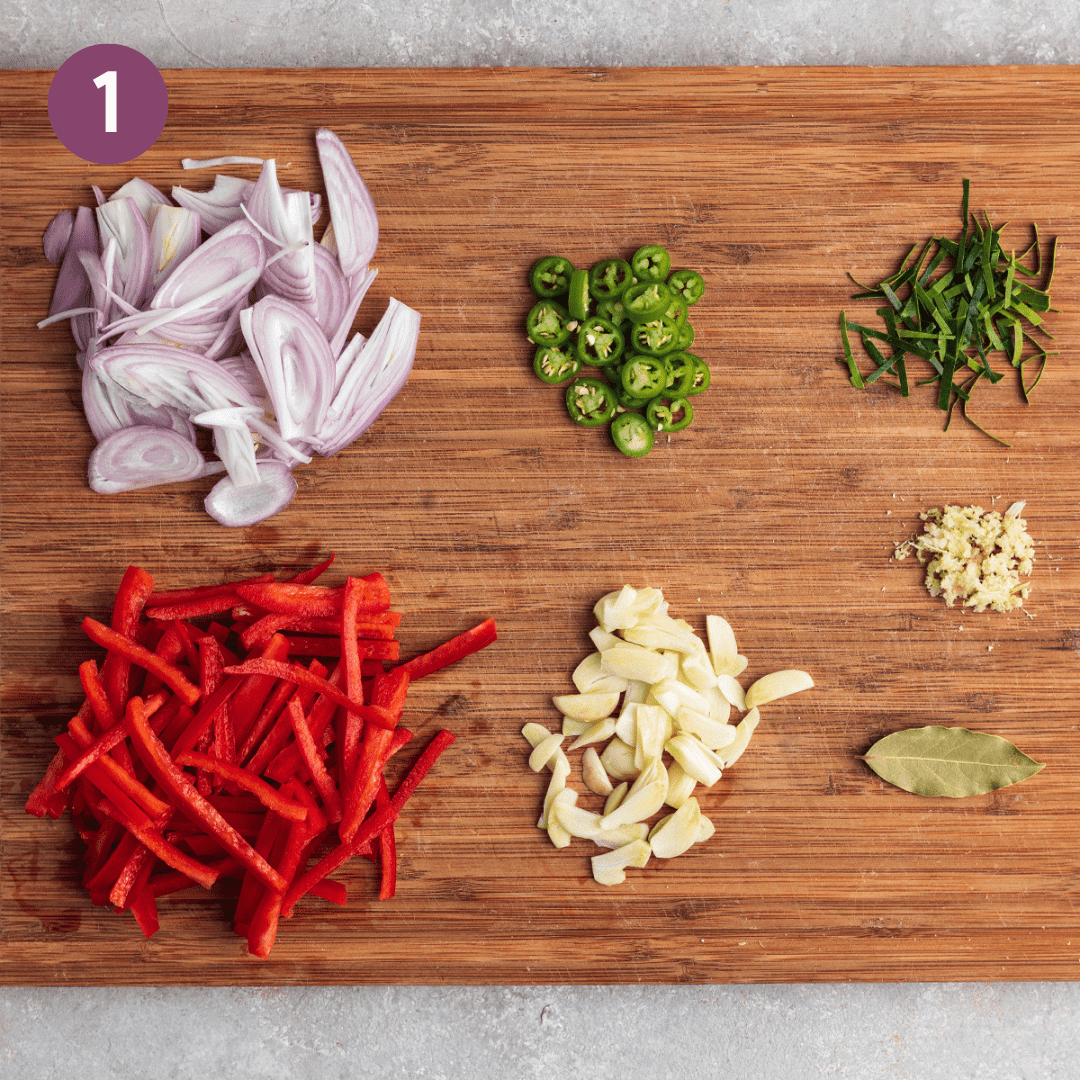 Cut the tempeh crosswise into very thin slices. Stack several slices on top of each other and cut those into tiny slivers. The smaller the matchstick pieces, the better.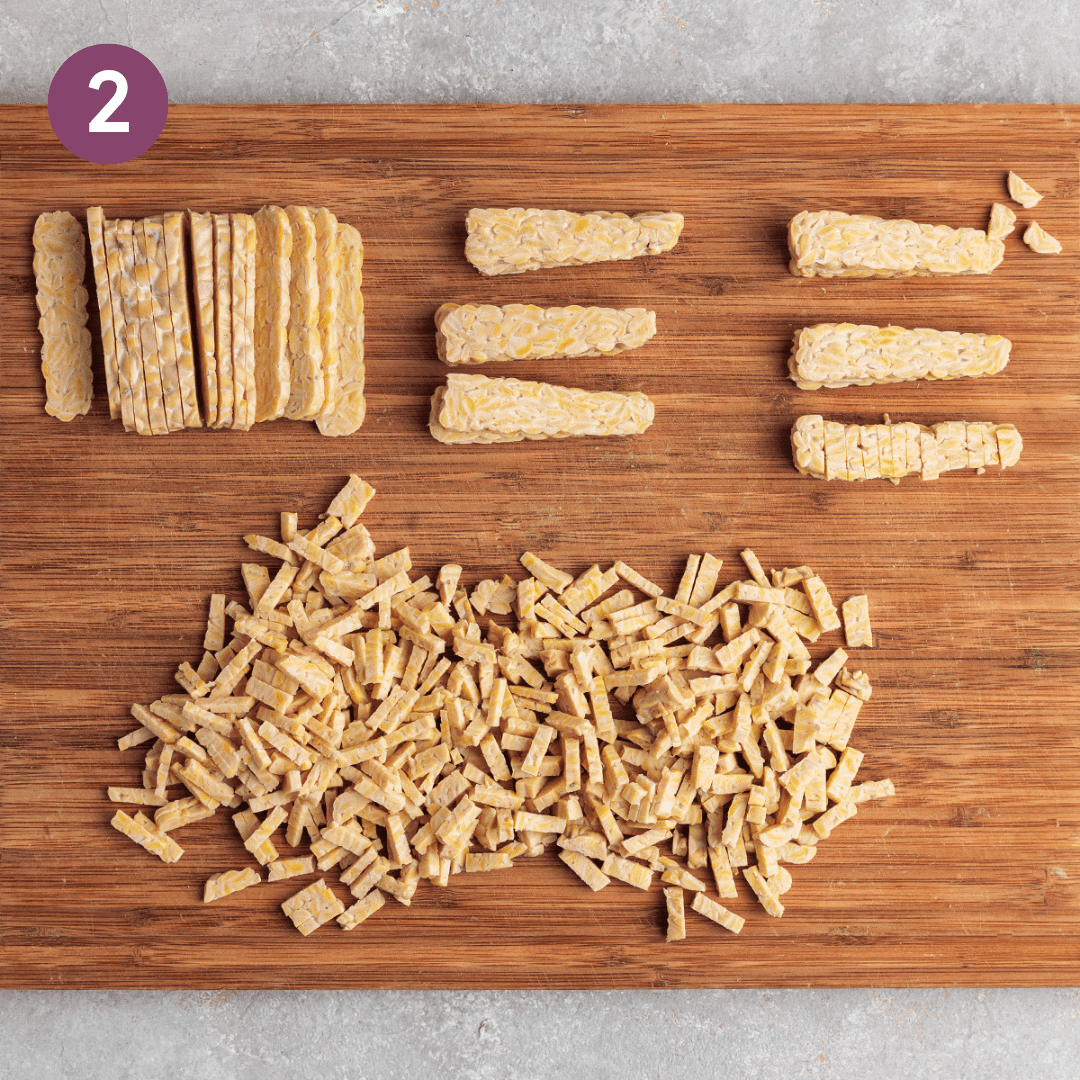 Fry the tempeh. Heat the oil in a large nonstick skillet (or wok). Once it's hot, add the tempeh and season with salt. Cook undisturbed until it's beginning to brown, then stir.
You'll know it's ready when most pieces are golden brown and crispy. Transfer the fried tempeh to a paper towel-lined plate while you prepare the rest.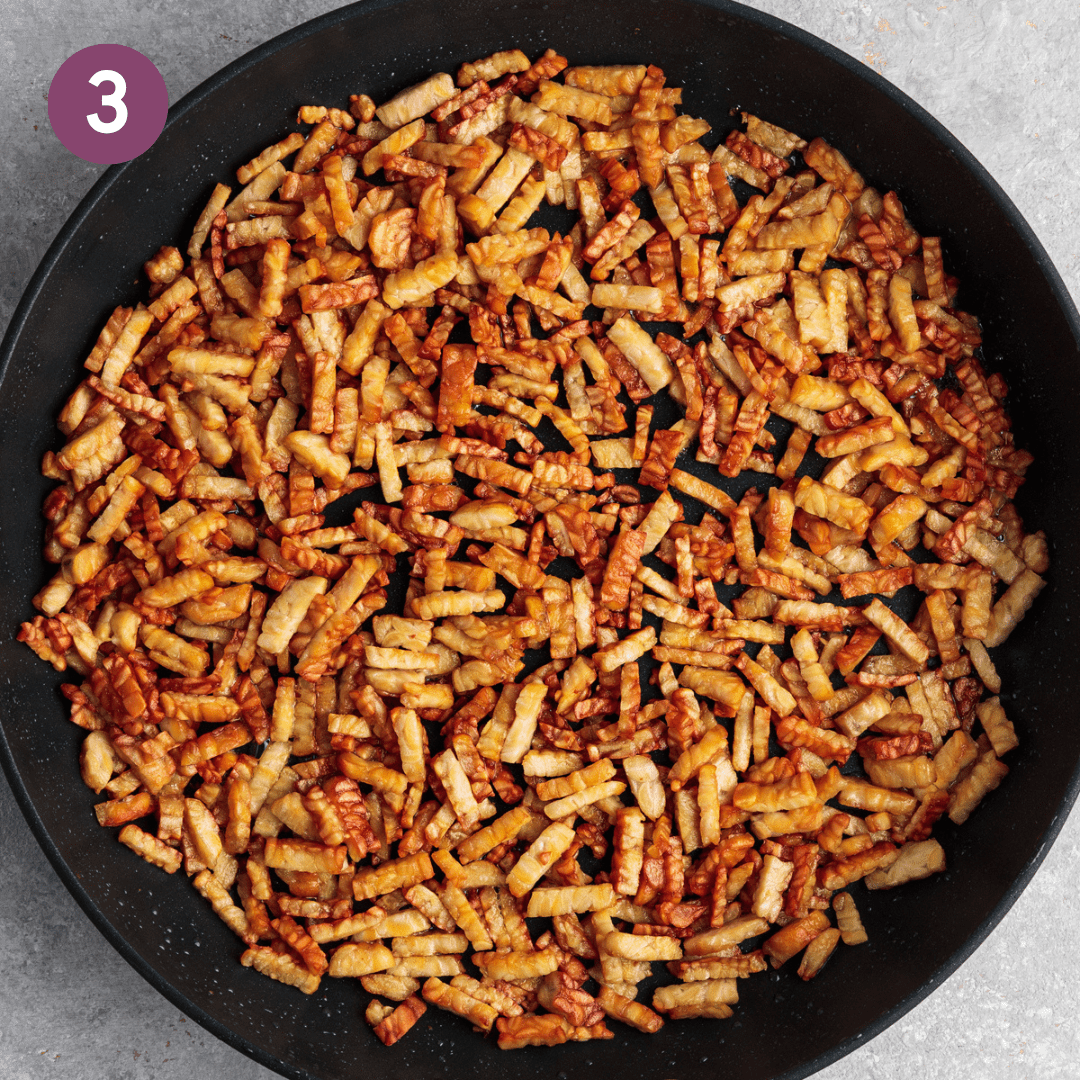 Make the stir fry. Lower the heat and add a little more oil before adding the shallots, garlic, and chile peppers in the pan. Cook briefly, then add the lemongrass, lime leaves, and bay leaf.
Turn up the heat and add the bell peppers, and stir fry for a couple minutes.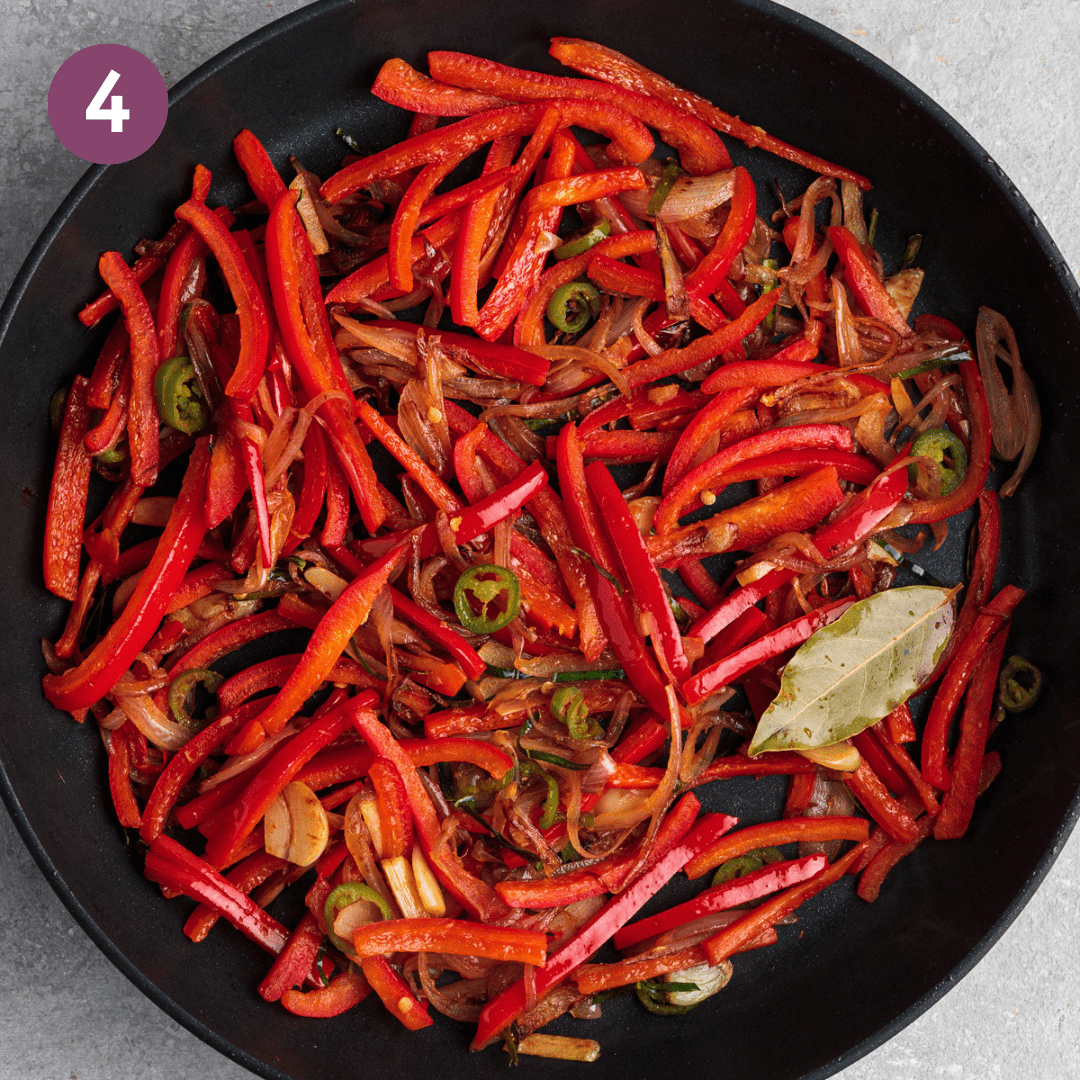 To assemble the stir fry, add the fried tempeh back into the pan along with the peanuts.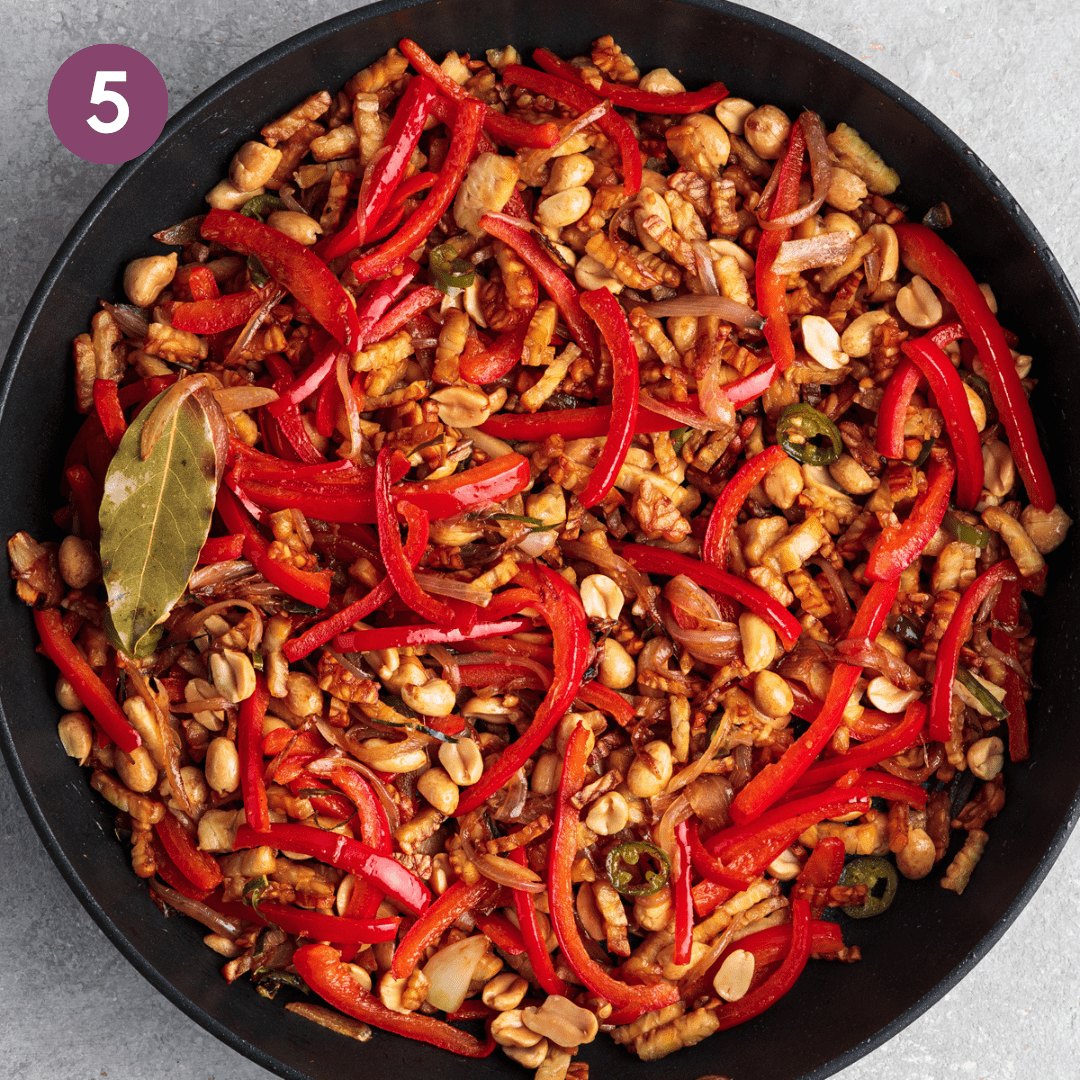 Pour in the sauce and toss to coat. Keep cooking until the sauce becomes sticky and covers each piece of tempeh.
Remove the lime leaves and bay leaf and season with salt and lime juice if needed. Serve over rice and enjoy!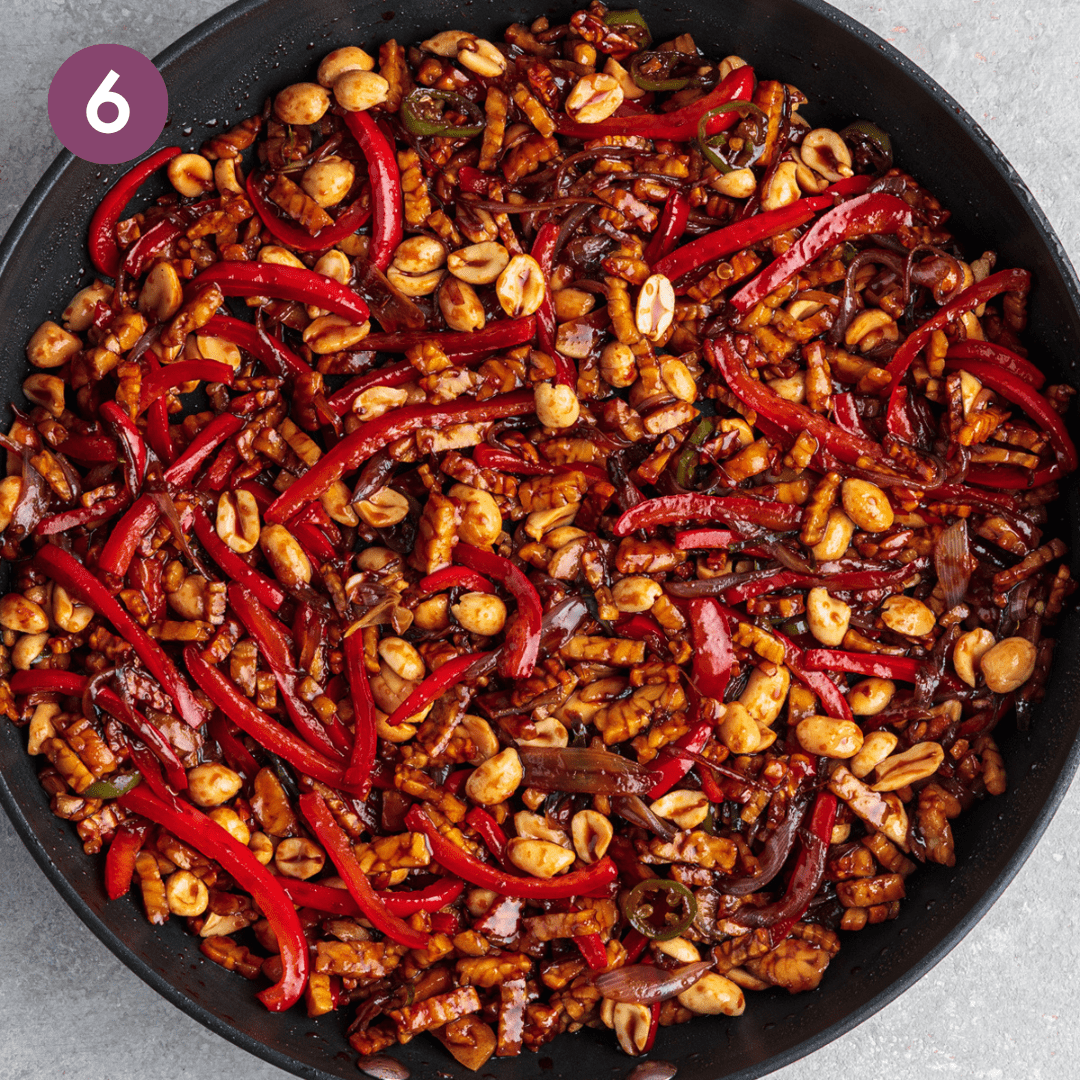 Tips for making tempeh kecap
You need a nonstick frying pan.
It's non-negotiable. A nonstick frying pan or wok is essential because the tempeh will stick otherwise.
If you don't have a large pan (e.g., 12 inches), I recommend cooking the tempeh in two batches for the crispiest results.
To cook tempeh in a wok: Heat over high heat until it just starts to smoke. Add the oil and swirl it in the pan to get it up the lower sides. Add the tempeh and cook for 2 minutes, then flip and continue cooking for a total of 8 to 12 minutes. Stir every 2 minutes or until golden brown and crisp.
Thin matchstick slices are key.
The key to super crispy tempeh without deep frying is to slice the tempeh very small (and to use relatively high heat). It takes a few extra minutes to slice the tempeh this way, but the crispy results are worth it, I promise.
Don't stir the tempeh too often.
Let the tempeh fry undisturbed for a few minutes at a time. This enables it to get golden and crispy without deep frying. If you're worried about it burning, turn the heat down slightly.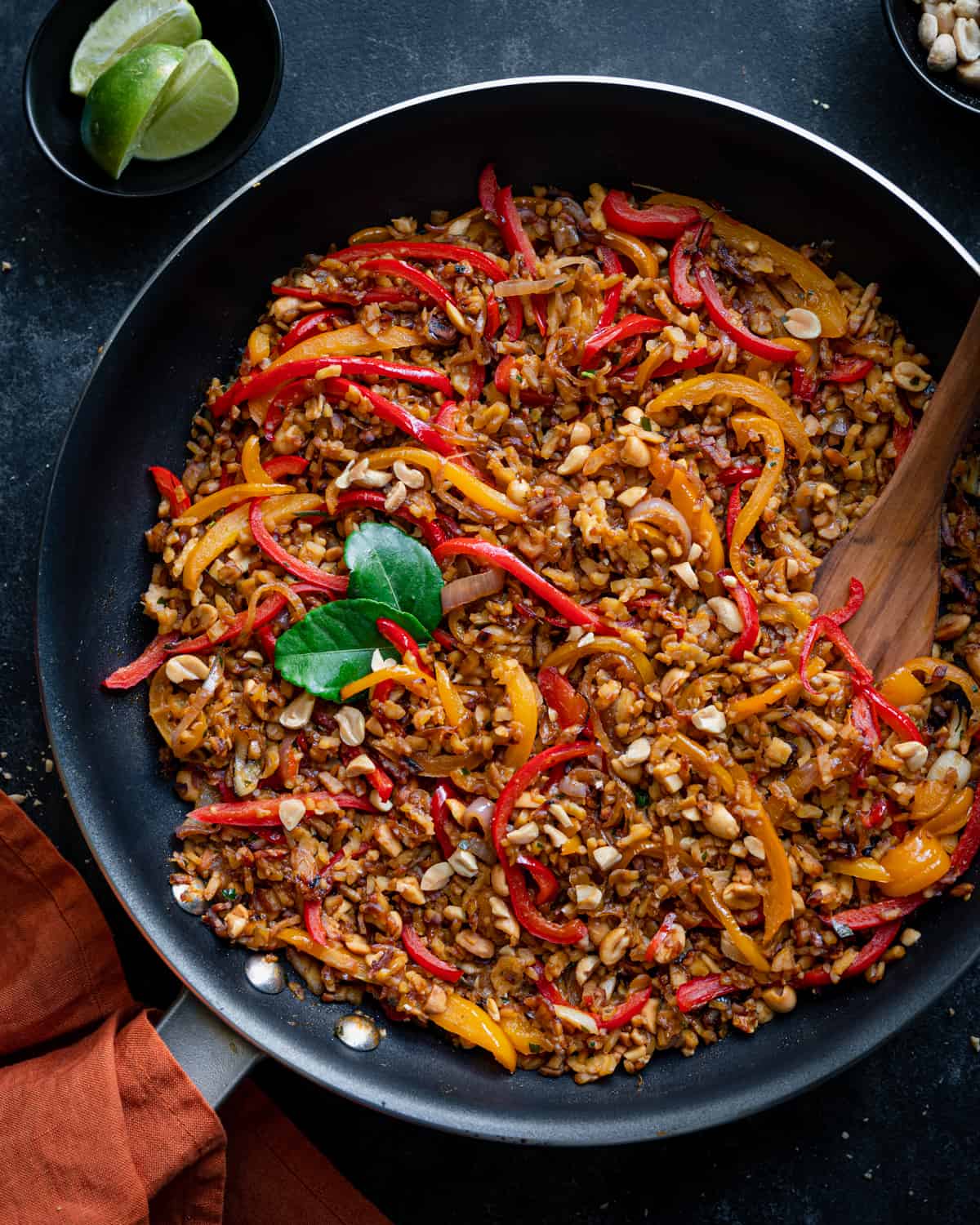 Frequently Asked Questions
Can I use soy sauce instead of kecap manis?
No, as they are quite different. Kecap manis is made by cooking soy sauce, palm sugar or brown sugar, and water together until it turns into a thick, pourable syrup. It's much sweeter than regular salty soy sauce, giving you a sweet umami flavor profile. 
Can I make kecap manis instead of buying it? 
Yes! You need just three ingredients: soy sauce, brown or coconut sugar, and molasses. It's simple to make and more well-rounded in flavors than store-bought options, in my opinion.

Find my homemade kecap manis recipe in the second recipe card below. You can use it in other stir fries, marinades, dressings, or barbecue sauces. It will stay good in the fridge for a few months.
How do you prepare lemongrass?
First cut off the nubby end of the stalk, then cut off the top half (both are quite tough). Remove the papery outer layers of the rest of the lemongrass (there will be several layers). You'll be left with the tender, bendy inner white core that's ready for mincing.

I also have video instructions on how to prep lemongrass in a past video if you need more help.
Is this recipe gluten free?
No, but it's easy to make GF with a few changes: (1) replace the soy sauce with tamari and (2) instead of buying kecap manis, use my homemade kecap manis recipe (and use tamari instead of soy sauce).

Most brands of tempeh are naturally gluten free, but check the packaging to ensure they don't contain wheat.
Can you make this recipe without the sugar?
Tempeh kecap has a fairly sweet flavor profile. Sweetened soy sauce and brown sugar work together to elevate each bite and balance the strong citrus flavor. I recommend reducing the brown sugar from 1 ½ tablespoons to 1 tablespoon instead of leaving it out altogether.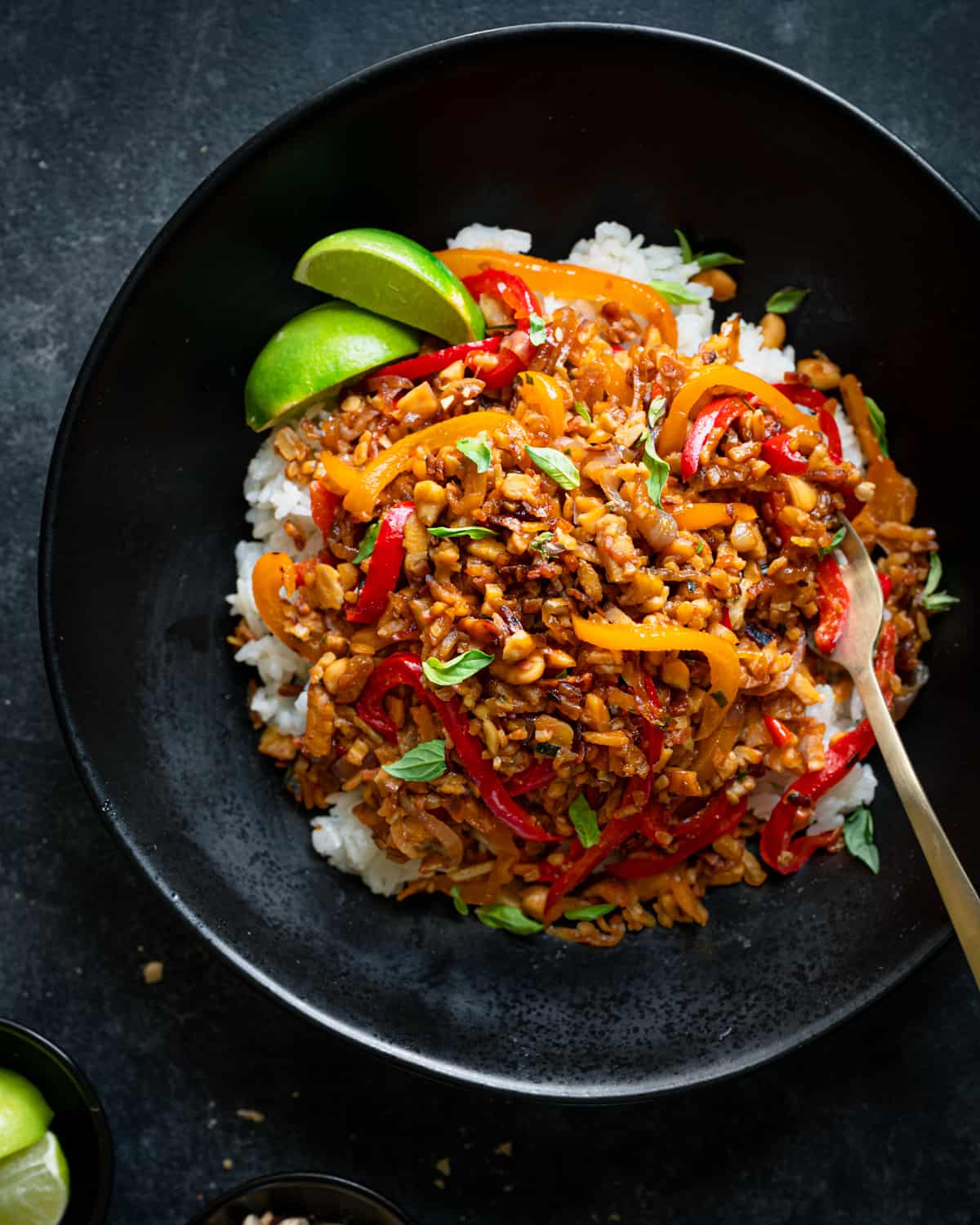 If you love this unique Indonesian Tempeh Kecap as much as we do, please be sure to leave a rating and review below :) And as always, I love seeing your remakes on Instagram!
Tempeh Kecap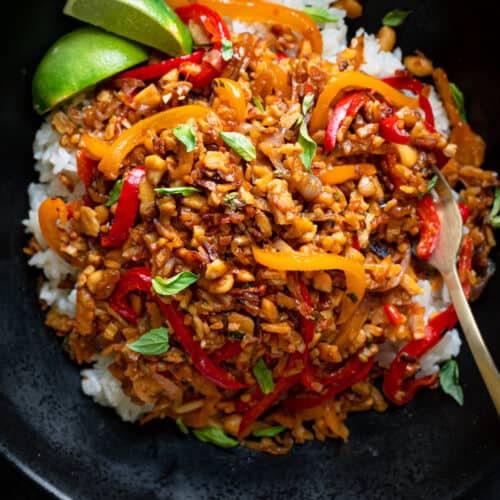 You'll be blown away by the unique flavors in this Indonesian Tempeh Kecap! Fried tempeh and peanuts are coated in a sticky, sweet, umami-rich sauce perfumed with lime leaves and lemongrass. It's a gourmet stir fry that's surprisingly easy to make.
Ingredients
2

(8-ounce) blocks of tempeh

¼

cup

(56g) neutral-flavored, high-heat oil (avocado, grapeseed, canola, vegetable oil)
Aromatics
3

medium shallots,

thinly sliced*

6

garlic cloves,

thinly sliced

3

Fresno chile peppers,

thinly sliced**

1

lemongrass stalk,

outer layers peeled, then minced or grated

4

fresh lime leaves,

finely chopped (or 10 to 12 dried makrut lime leaves, left whole)

1

bay leaf

2

medium red/orange/yellow bell peppers,

thinly sliced

¾

cup

(90g) dry roasted unsalted peanuts (salted peanuts are fine too)
Sauce
3 ½

tablespoons

kecap manis (Indonesian sweet soy sauce)***

1 ½

tablespoons

organic brown sugar or cane sugar****

1

tablespoon

soy sauce or tamari
For serving
Lime juice to squeeze on at the end

(optional)

Cooked white/brown/sticky rice for serving
Instructions
Cut both blocks of tempeh crosswise into very thin slices, almost as thinly as you can. Then stack several slices on top of each other and cut crosswise into tiny slivers.*

Fry the tempeh. Heat a 12-inch nonstick** frying pan over medium-high heat. Add the ¼ cup oil and heat for a few minutes until hot. Add all the tempeh and season with a couple pinches of salt, and stir to coat the tempeh into the oil. Spread out the tempeh into an even layer as much as possible and cook undisturbed for 2 minutes to allow browning, then stir.

Repeat this process (cook for 2 minutes undisturbed, then stir) for a total of 10 to 12 minutes, or until most of the tempeh is golden browned and crispy. Lower the heat a touch if the tempeh starts to burn.

Mix together the Sauce ingredients in a small bowl.

Make the stir fry. Return the frying pan to medium heat and allow to heat up again. Add a touch more oil (or cooking spray). Add the shallots, garlic, and chile peppers. Season with a pinch of salt. Cook until shallots and garlic start to turn color, 2 to 3 minutes.

Add in the lemongrass, lime leaves, and bay leaf, and cook for 1 minute, tossing frequently.

Increase the heat to medium-high and add in the bell peppers and cook until crisp-tender, 2 to 3 minutes.

Add the fried tempeh and peanuts to the pan, and toss to coat. Pour in the Sauce, and stir for a couple minutes, until the sauce clings to the tempeh and coats it well.

Remove the bay leaf (and dried lime leaves, if used). Taste, adding salt as needed. Finish with a squeeze or two of lime juice, if desired.
Notes
Ingredient Notes
* You can sub the shallots with 1 small yellow onion.
** If you can't find Fresno peppers, sub with 1 to 2 Thai chile peppers or 1 serrano pepper (these peppers are spicier).
*** See the next recipe card for my homemade kecap manis recipe.
**** Use 1 tablespoon for a slightly less sweet pronounced dish.
Instruction Notes
*For reference, see photo #2 in the step-by-step instructions.. 
** A nonstick pan is essential to prevent sticking. If you don't have a large nonstick pan, I recommend cooking the tempeh in two batches. If using a wok, heat it over high heat until it just starts to smoke (open windows). Add the oil and swirl up the sides. Add the tempeh and cook for 2 minutes, then flip and cook for a total of 8 to 12 minutes, stirring every 2 minutes, until golden brown and crisp.
---
Calories:
461
kcal
|
Carbohydrates:
35
g
|
Protein:
22
g
|
Fat:
29
g
|
Saturated Fat:
4
g
|
Polyunsaturated Fat:
7
g
|
Monounsaturated Fat:
14
g
|
Sodium:
357
mg
|
Potassium:
697
mg
|
Fiber:
3
g
|
Sugar:
17
g
|
Vitamin A:
1584
IU
|
Vitamin C:
75
mg
|
Calcium:
133
mg
|
Iron:
4
mg
Homemade Kecap Manis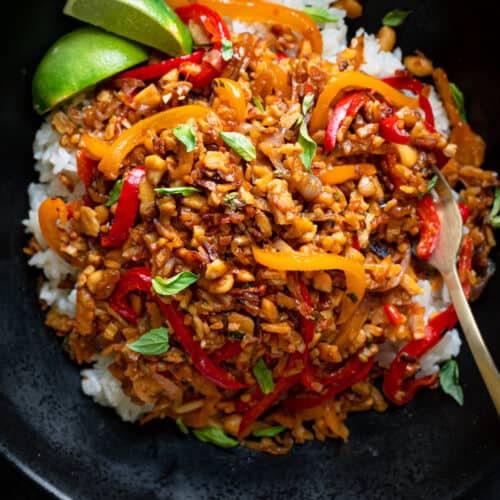 Can't find kecap manis in stores? This Indonesian sweet soy sauce is remarkably easy to make and requires just 3 ingredients! Use in tempeh kecap and other Indonesian stir fries. Stays fresh in the fridge for several months.
Ingredients
½

cup

(140g) soy sauce (use tamari to keep gluten-free)

1

cup

(152g) organic brown sugar (or coconut sugar), loosely packed

½

cup

(120 mL) water

1

tablespoon

molasses*,

(regular molasses, not blackstrap molasses)
Instructions
Add the soy sauce, sugar, and water to a medium or small saucepan. Stir occasionally as it comes to a boil to prevent sugar from burning, about once a minute. Once it starts bubbling, reduce the heat to medium-low or low. Simmer, uncovered, until the sauce thickens a bit (small bubbles and frothing are okay, you just don't want lots of big bubbles, or it can quickly bubble over).

Once it starts to thicken, start stirring frequently. And once it almost reaches a thin syrupy consistency, about 10 minutes in, add the molasses. Stir frequently and continue cooking for another 5 minutes, until it has thickened to a maple syrup consistency.

Take off the heat. Carefully pour into a heat-proof jar. Once cooled to room temp, (it will thicken a fair amount as it cools), seal the jar and store in the fridge for several months.
Notes
*If you don't have molasses, omit it and use less water, about ⅓ cup (80 mL).
---
Serving:
0.75
cup
|
Calories:
54
kcal
|
Carbohydrates:
13
g
|
Protein:
1
g
|
Fat:
0.03
g
|
Saturated Fat:
0.003
g
|
Polyunsaturated Fat:
0.02
g
|
Monounsaturated Fat:
0.01
g
|
Sodium:
410
mg
|
Potassium:
62
mg
|
Fiber:
0.1
g
|
Sugar:
10
g
|
Calcium:
7
mg
|
Iron:
0.2
mg