Maybe it's the whole summertime thing, but I have been on a big BBQ sauce kick lately. In the last month alone, I've made BBQ grilled tofu, BBQ jackfruit sandwiches, and BBQ tempeh. I think it's because I finally cracked the code for an incredible vegan BBQ sauce and I'm just so excited to use it (and to share it with you all)!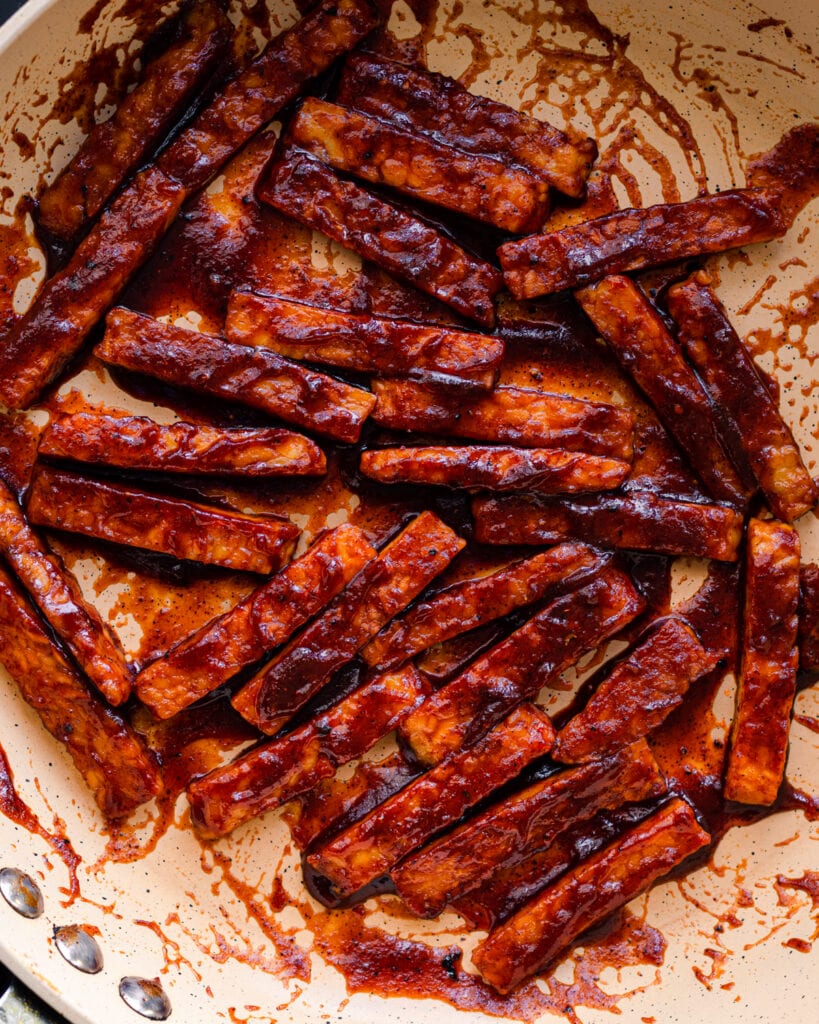 Why you'll love this BBQ Tempeh
Classic BBQ flavor. This BBQ sauce tastes just like they would in your BBQ sauce dreams. It's sweet but tangy, smoky, and a little spicy. To nail that classic BBQ flavor, I did repeated side-by-side taste-tests of my BBQ sauce vs. a well-known, vegan-friendly BBQ sauce until it felt like mine (a) hit all the same flavor profiles and (b) tasted even a little better!
Makes tempeh fun. It's so nutritious (it's fermented, as well as high in protein and fiber), but it can be bitter in taste and crumbly in texture. This recipe avoids both of those things and will get you to fall in love with tempeh. From a taste perspective, any natural bitterness from tempeh is masked from the flavors of the BBQ sauce. And texture-wise, the method of pan-frying the tempeh ensures it gets crispy and golden, which minimizes its natural crumbly texture.
If you're intrigued by this prospect, then you have to try my Tempeh Tacos with Avocado Crema (my taste testers couldn't even tell they were eating tempeh!).
Quick and simple. From start to finish, you can get this tempeh done in 20 minutes. The BBQ sauce just requires you to whisk all the ingredients together – that's it!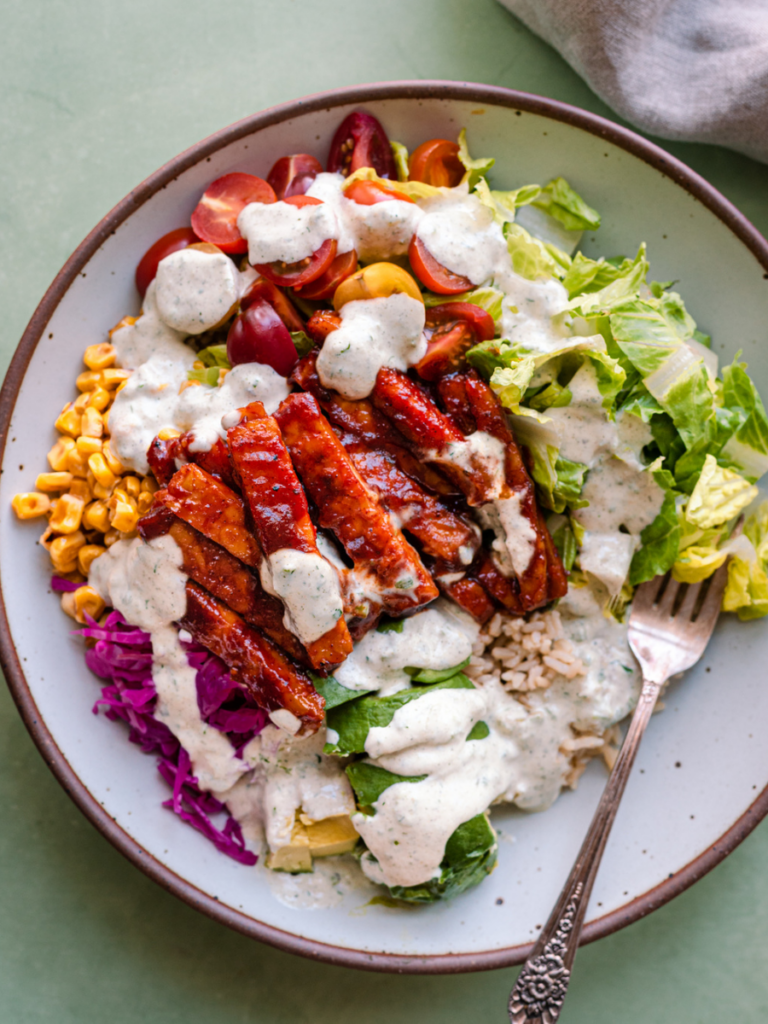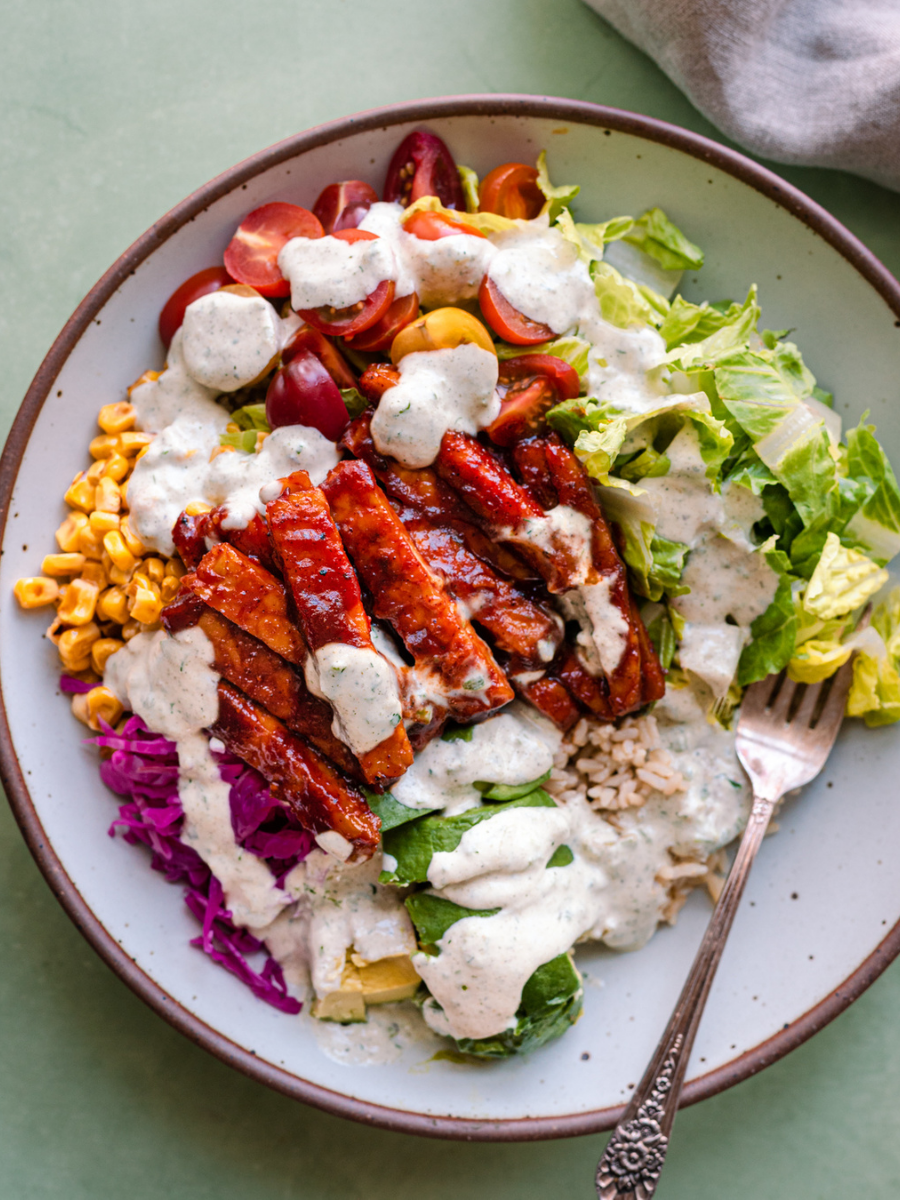 How to make vegan BBQ Tempeh
Gather your ingredients.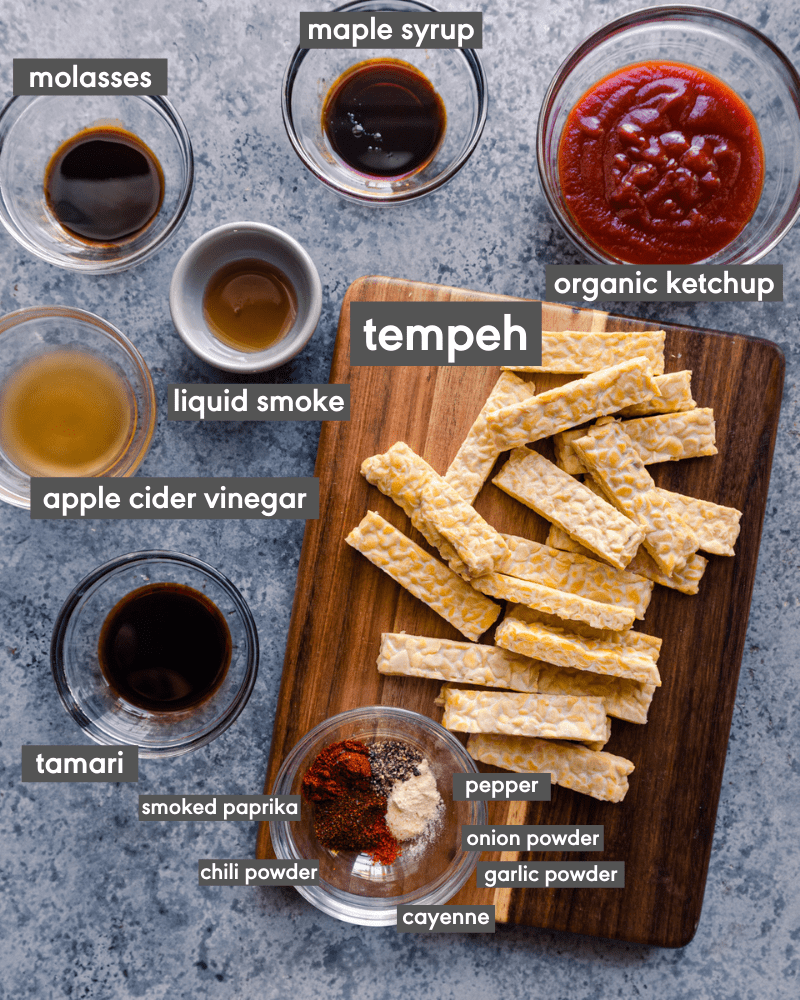 Slice the tempeh into 1/2″ inch pieces, crosswise; flip each piece on its side and slice lengthwise to make thinner.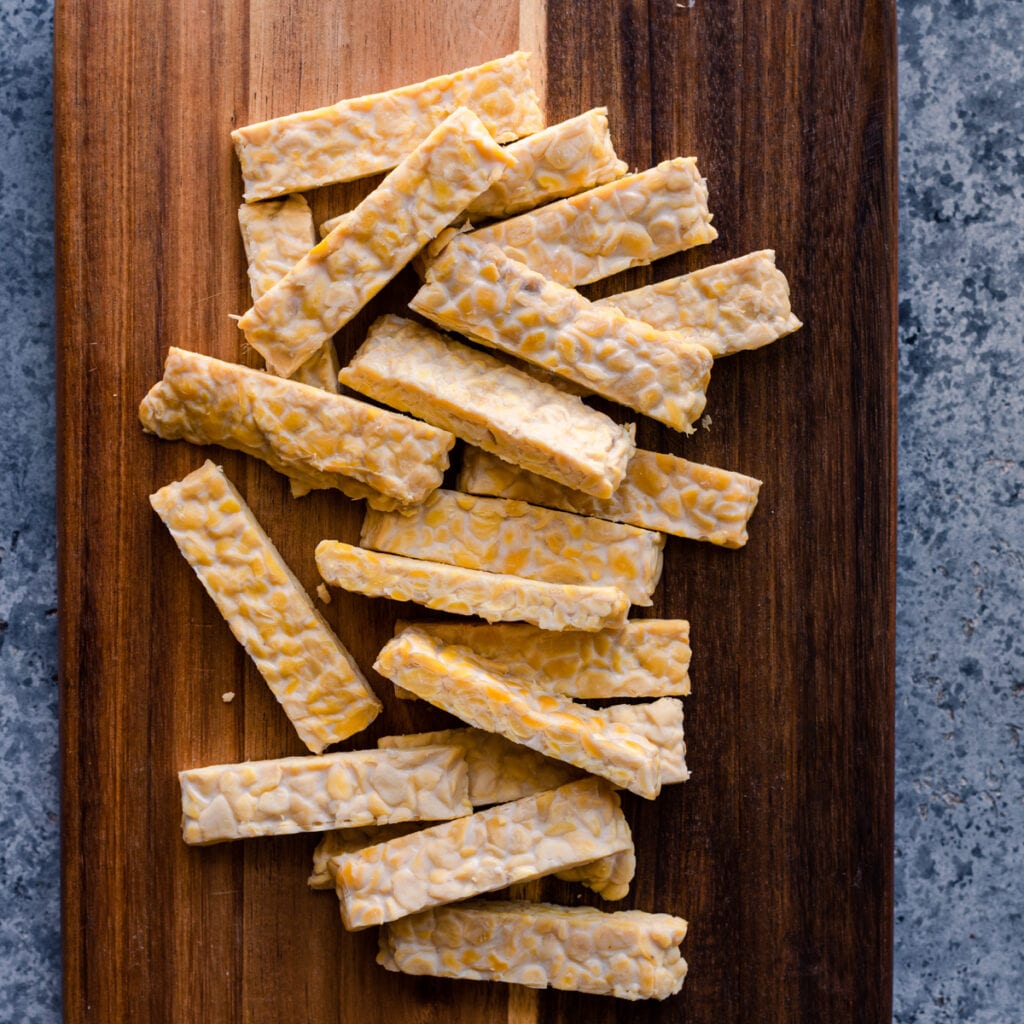 Optionally, steam the tempeh for 10 minutes. This helps remove tempeh's slight bitter taste, but since it gets coated in a flavor-packed BBQ sauce, I find this step unnecessary.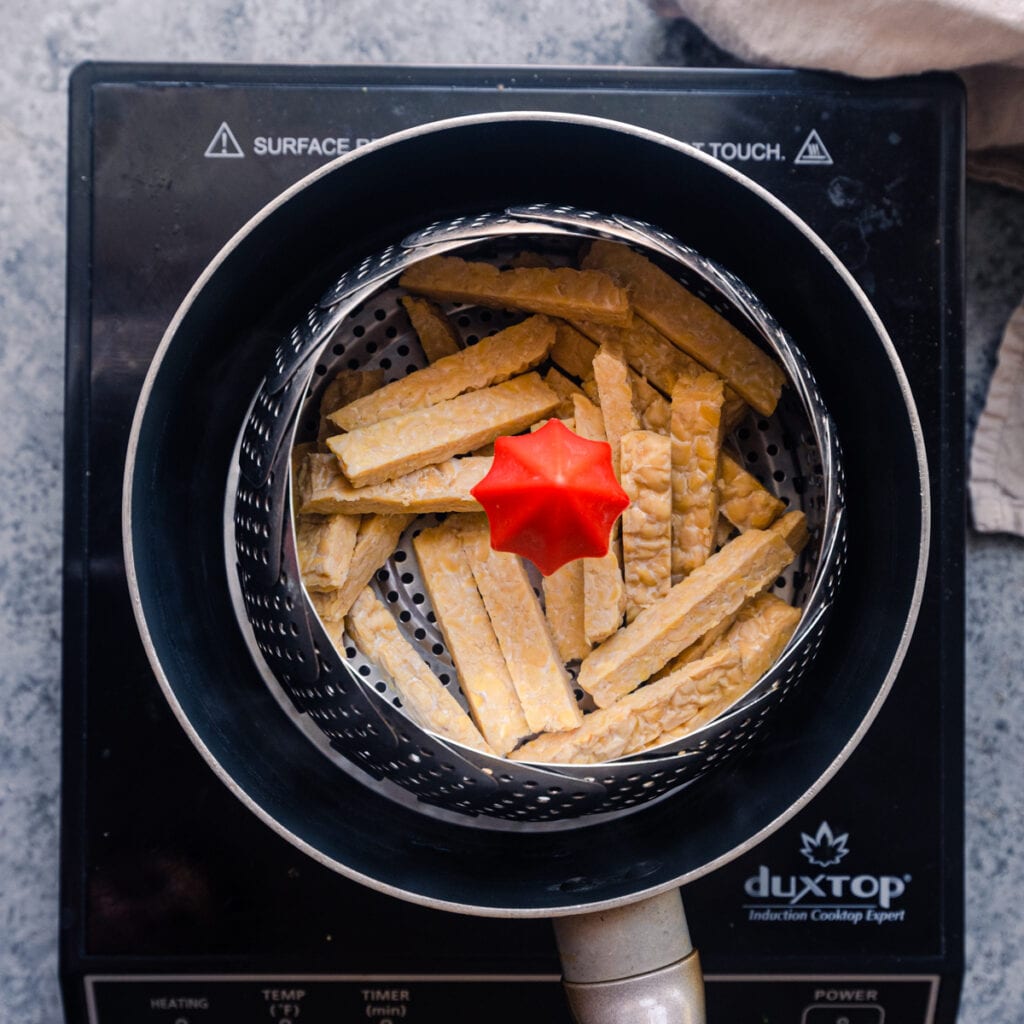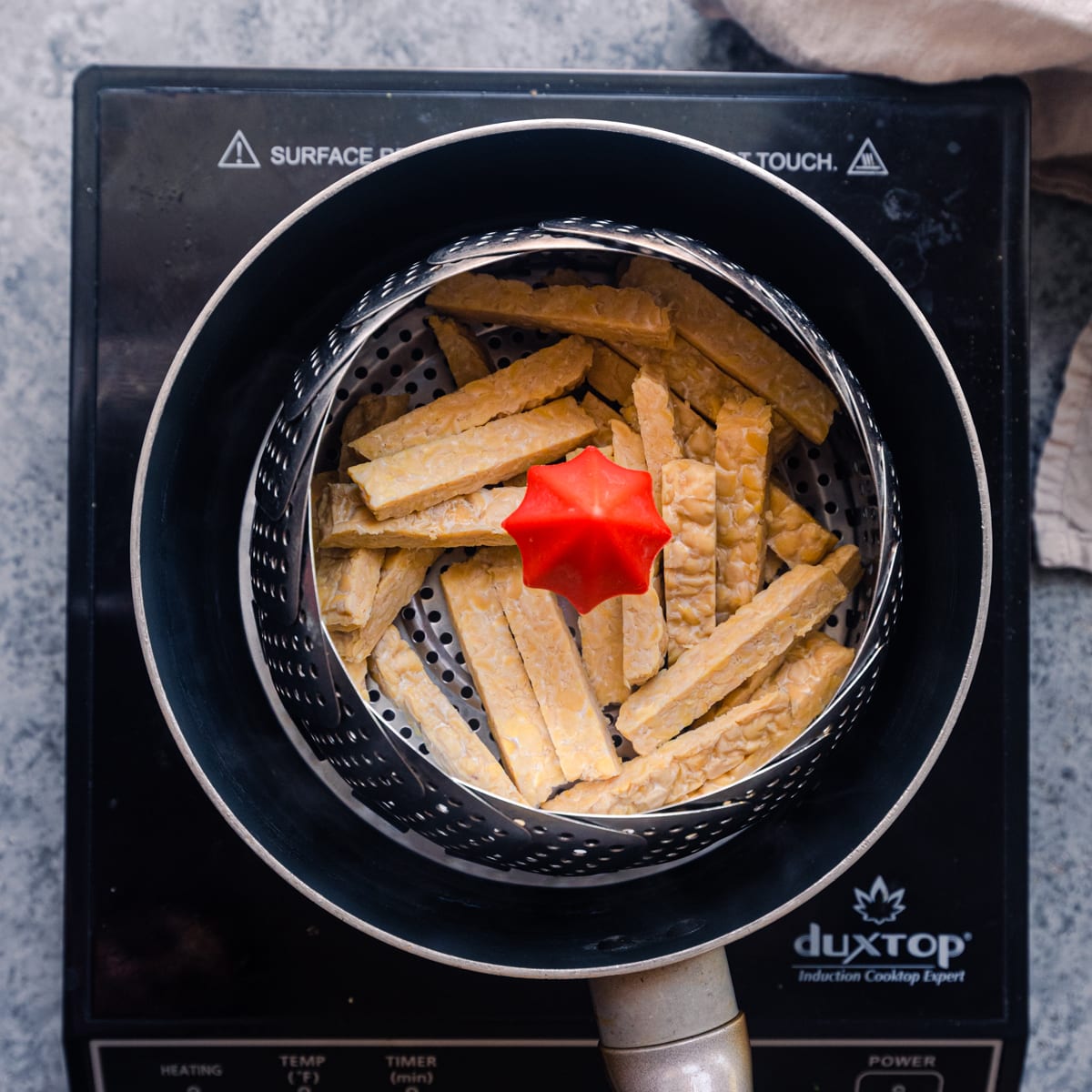 Make the BBQ sauce. Whisk together the ketchup, soy sauce, vinegar, maple syrup, molasses, vegan Worcestershire sauce, liquid smoke, and BBQ sauces.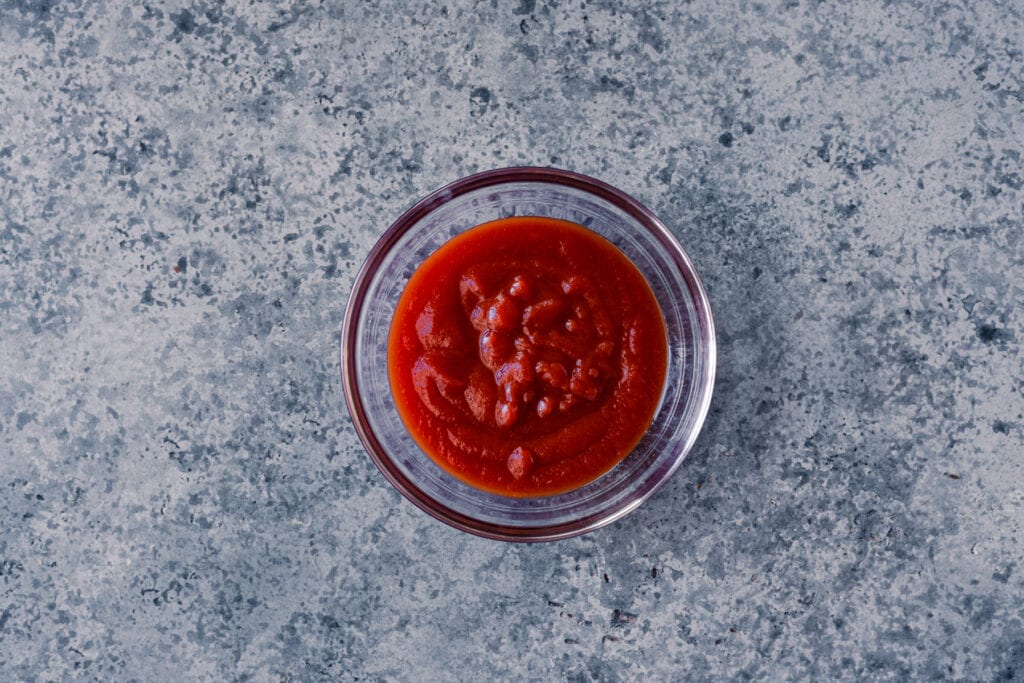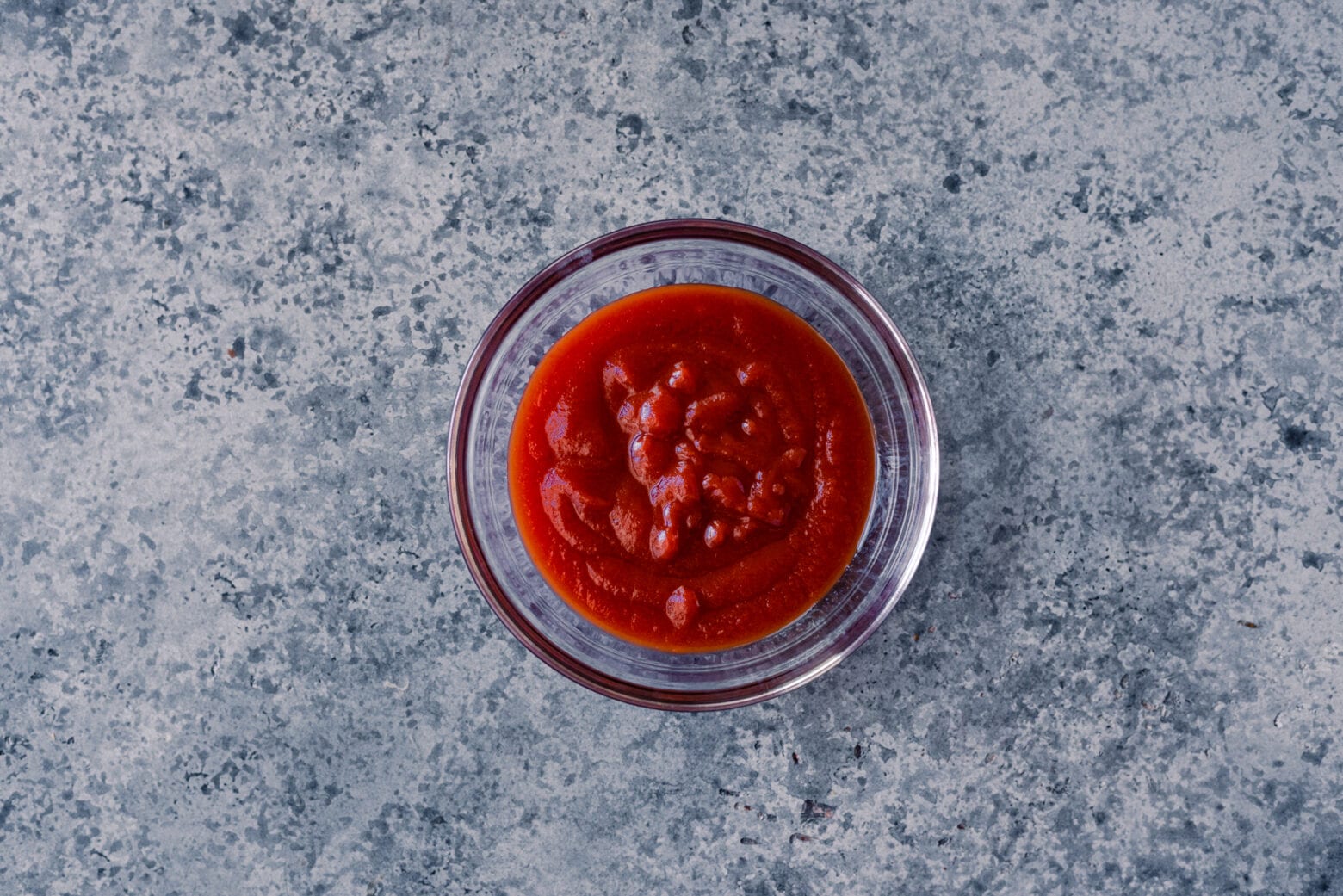 Heat a 12-inch nonstick frying pan over medium heat with oil. Once very hot, add the tempeh in a single layer and cook for 3 ½ to 4 ½ minutes.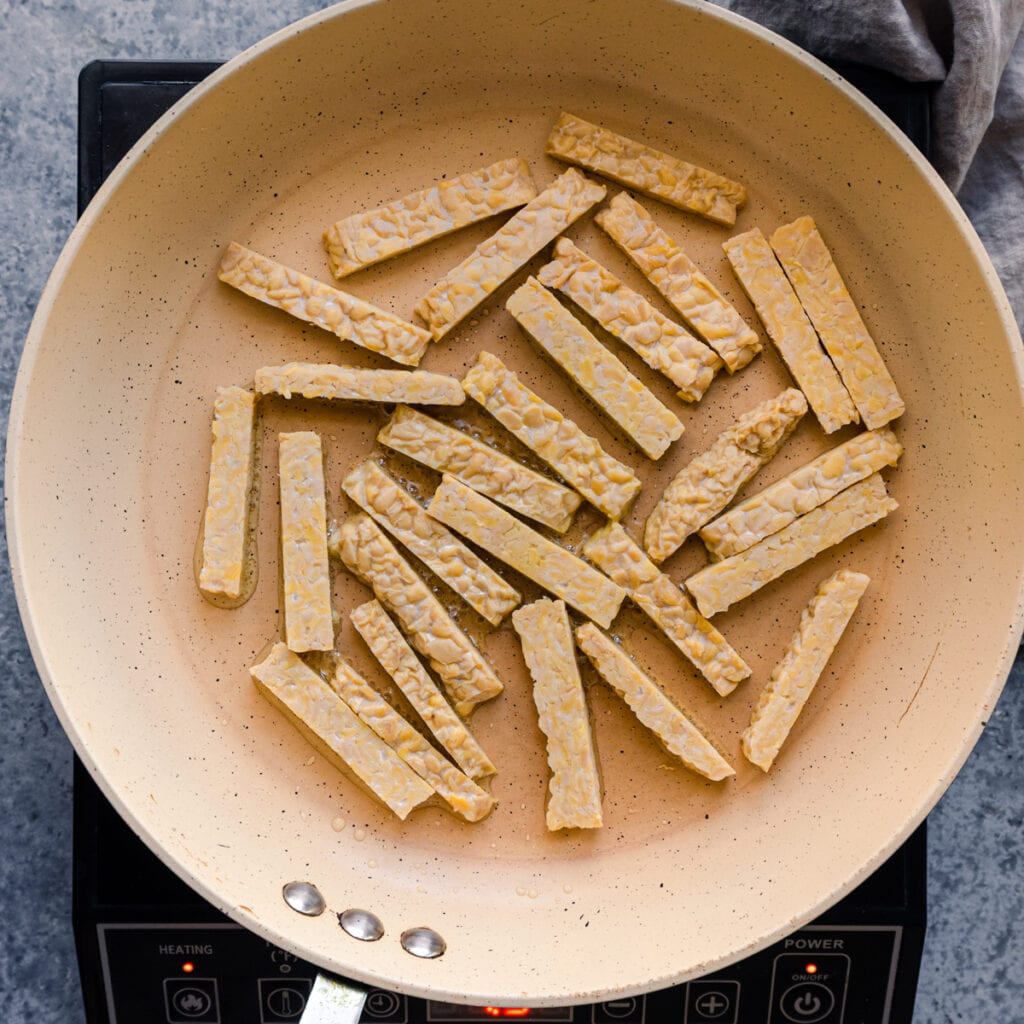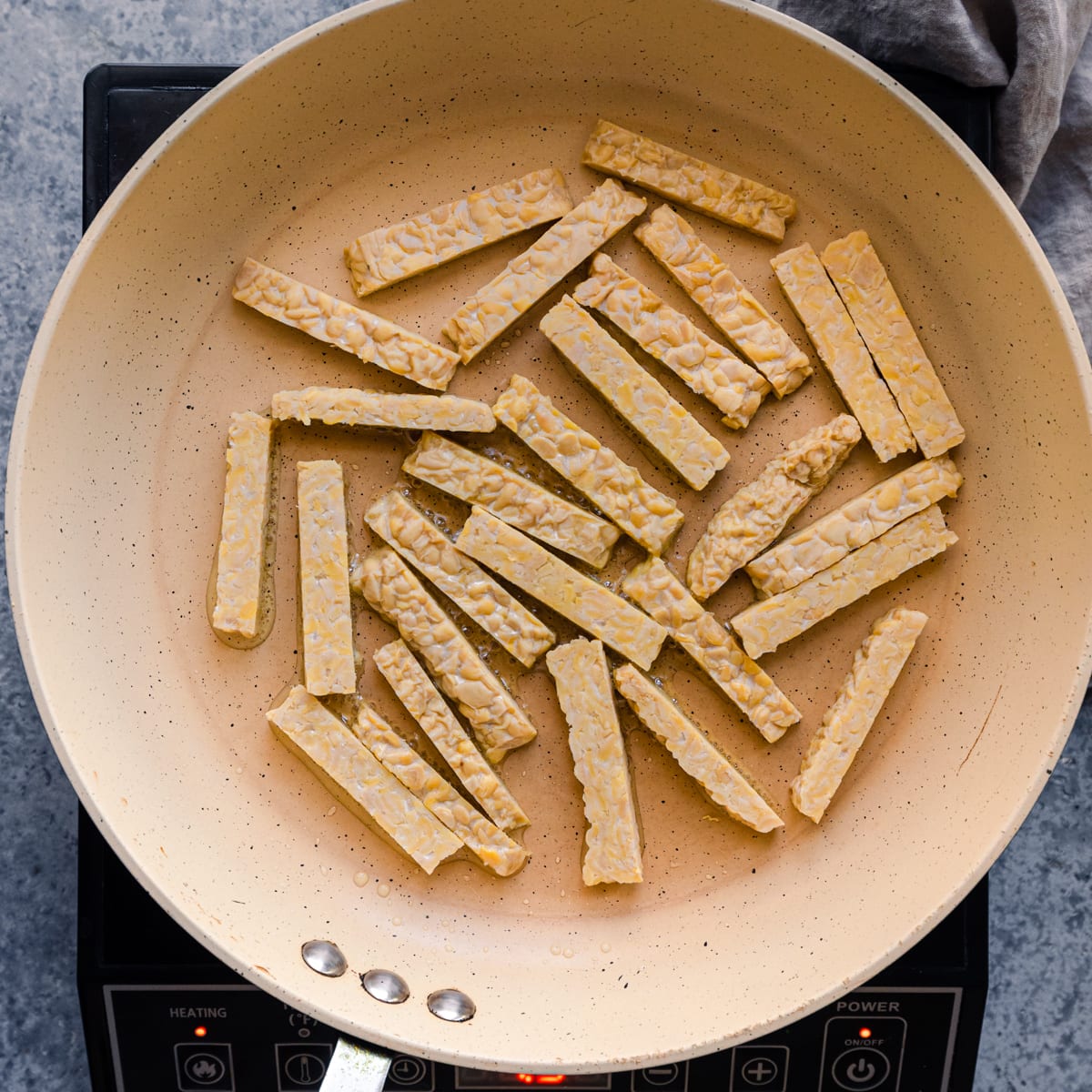 Before flipping, spray top side of tempeh with cooking spray or brush with more oil.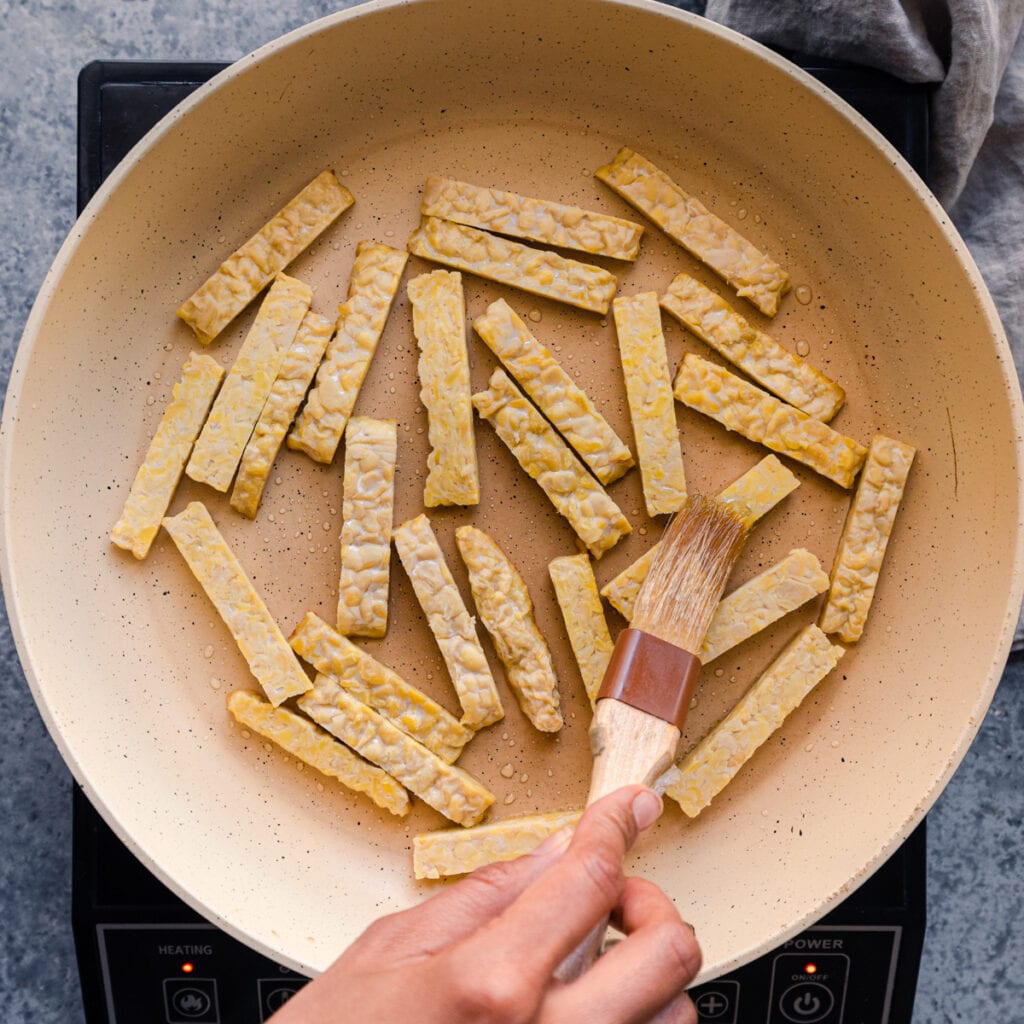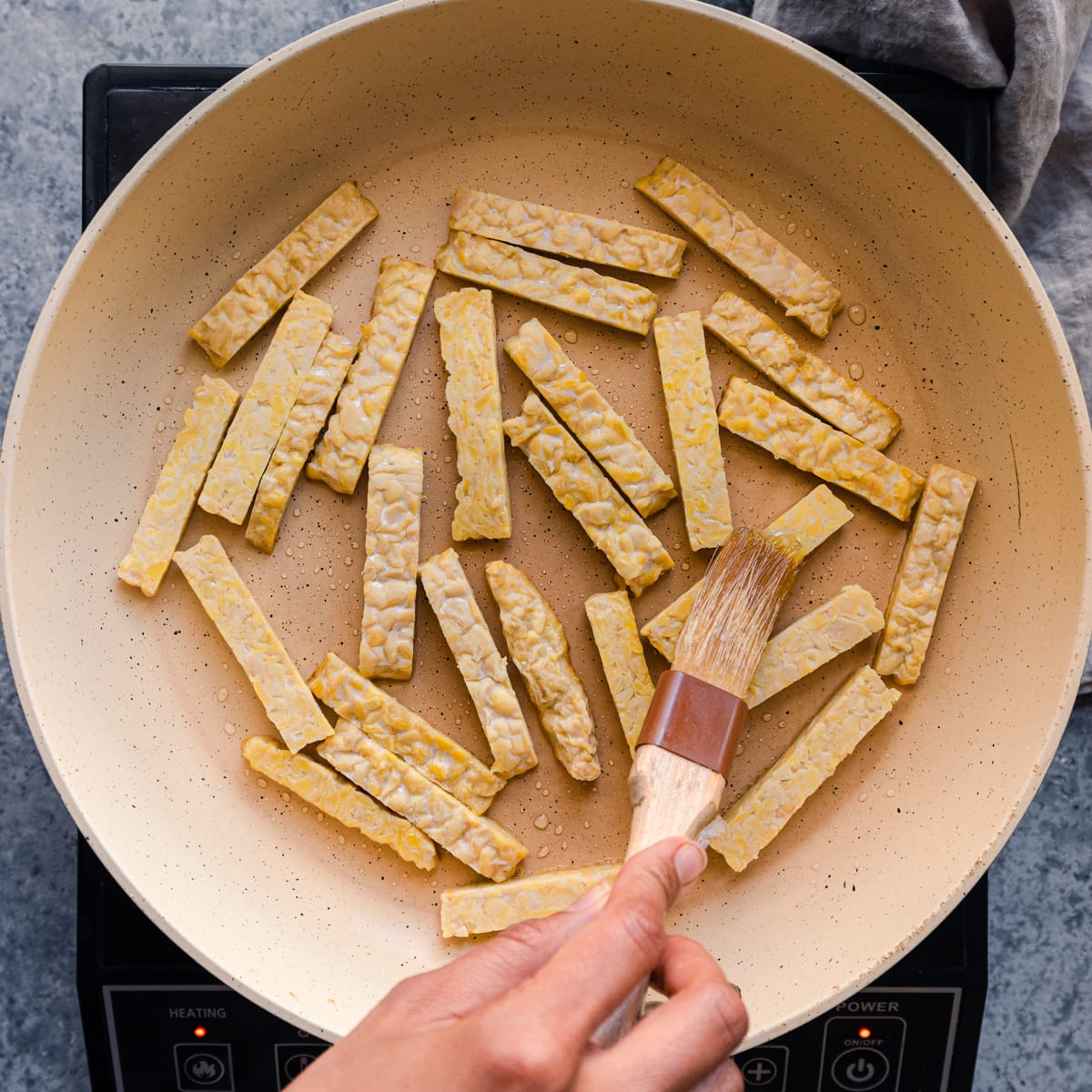 Cook on second side for 2 ½ to 3 ½ until both sides are nicely golden brown.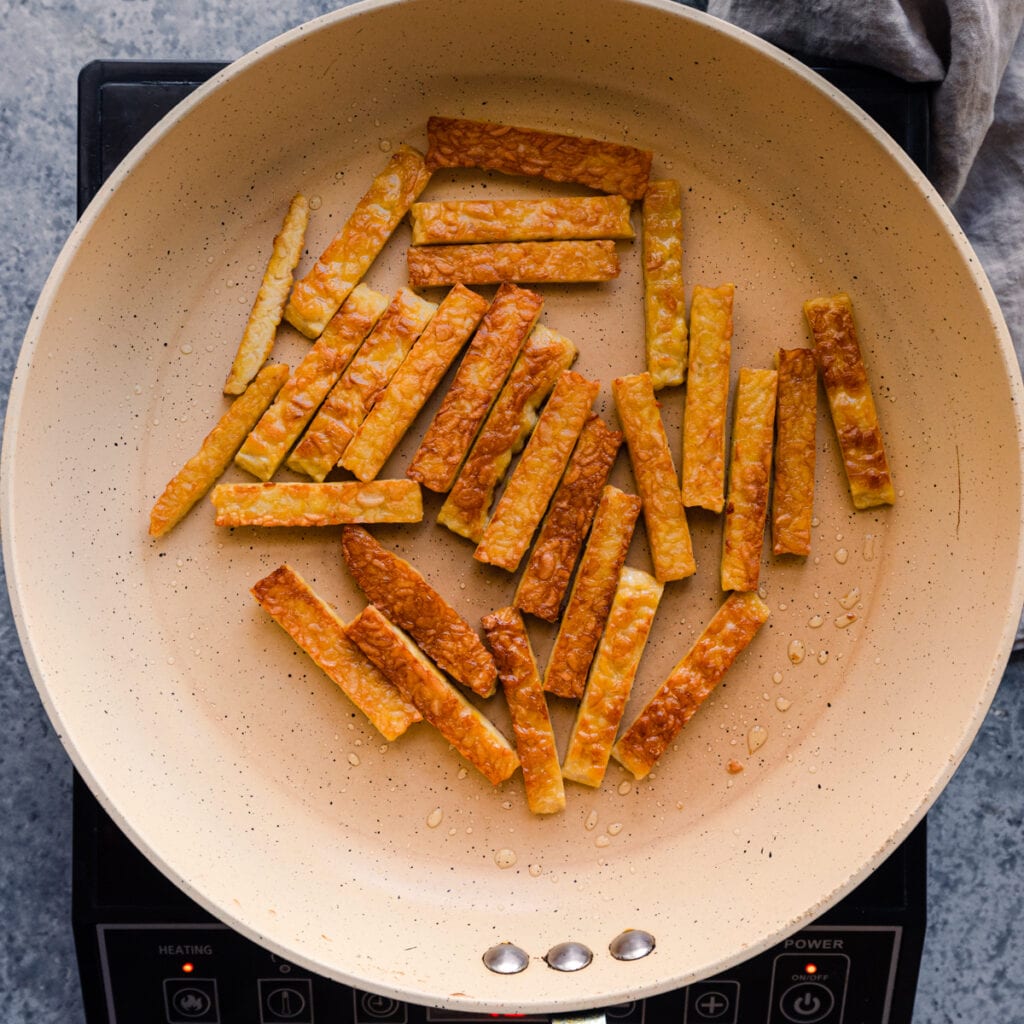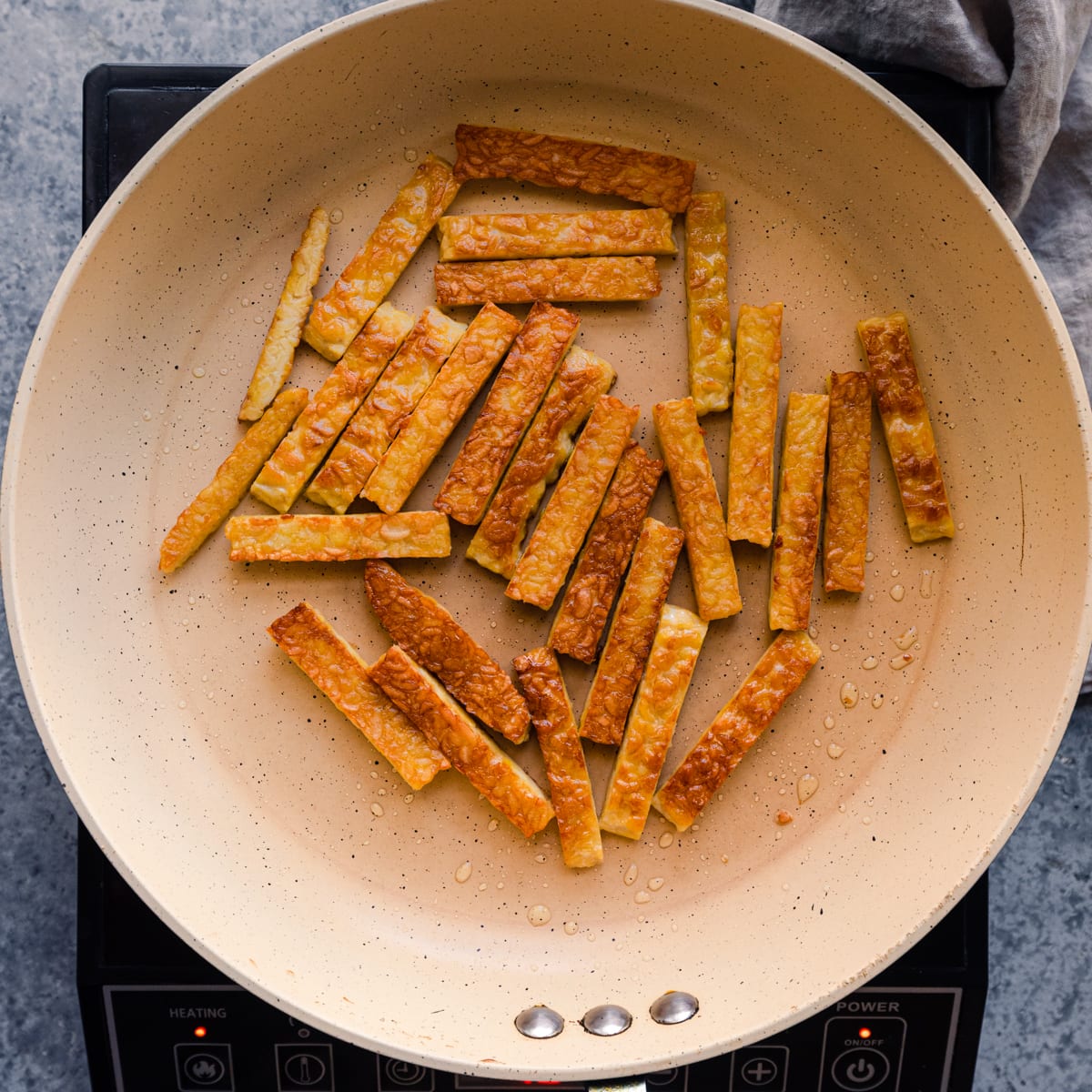 Transfer tempeh to a layer of paper towels to absorb excess oil.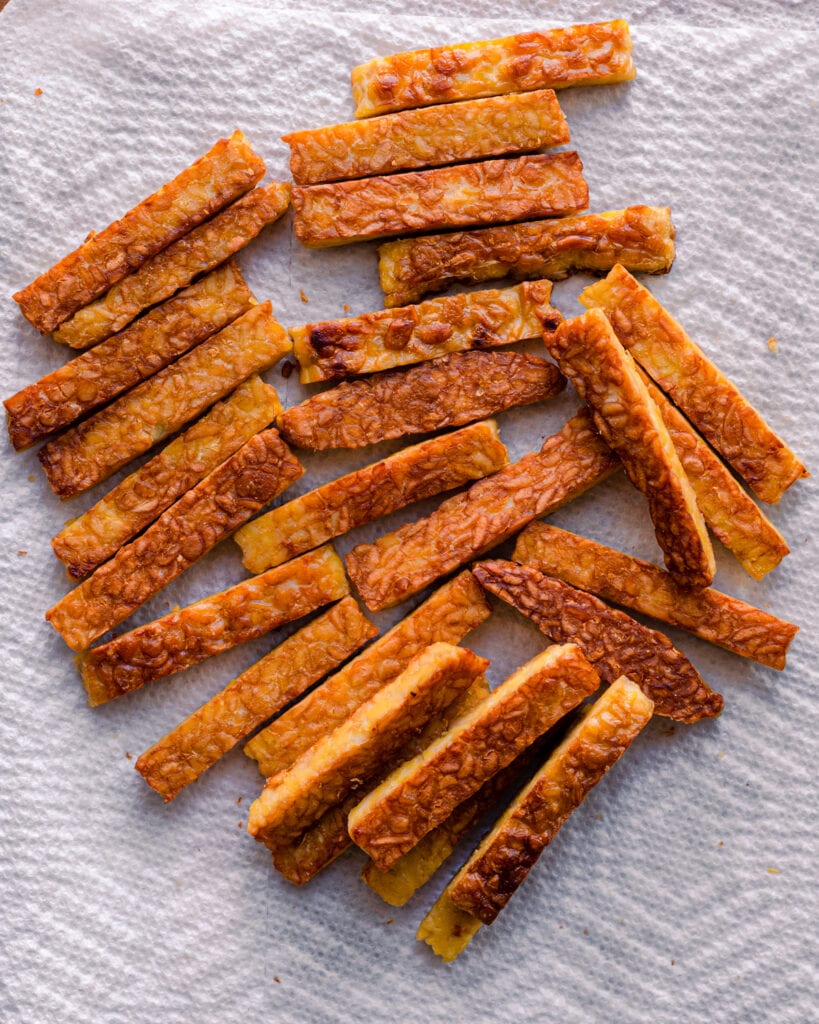 Pour BBQ sauce into the pan and simmer for 1-2 minutes. Add the tempeh back in and coat it in the BBQ sauce.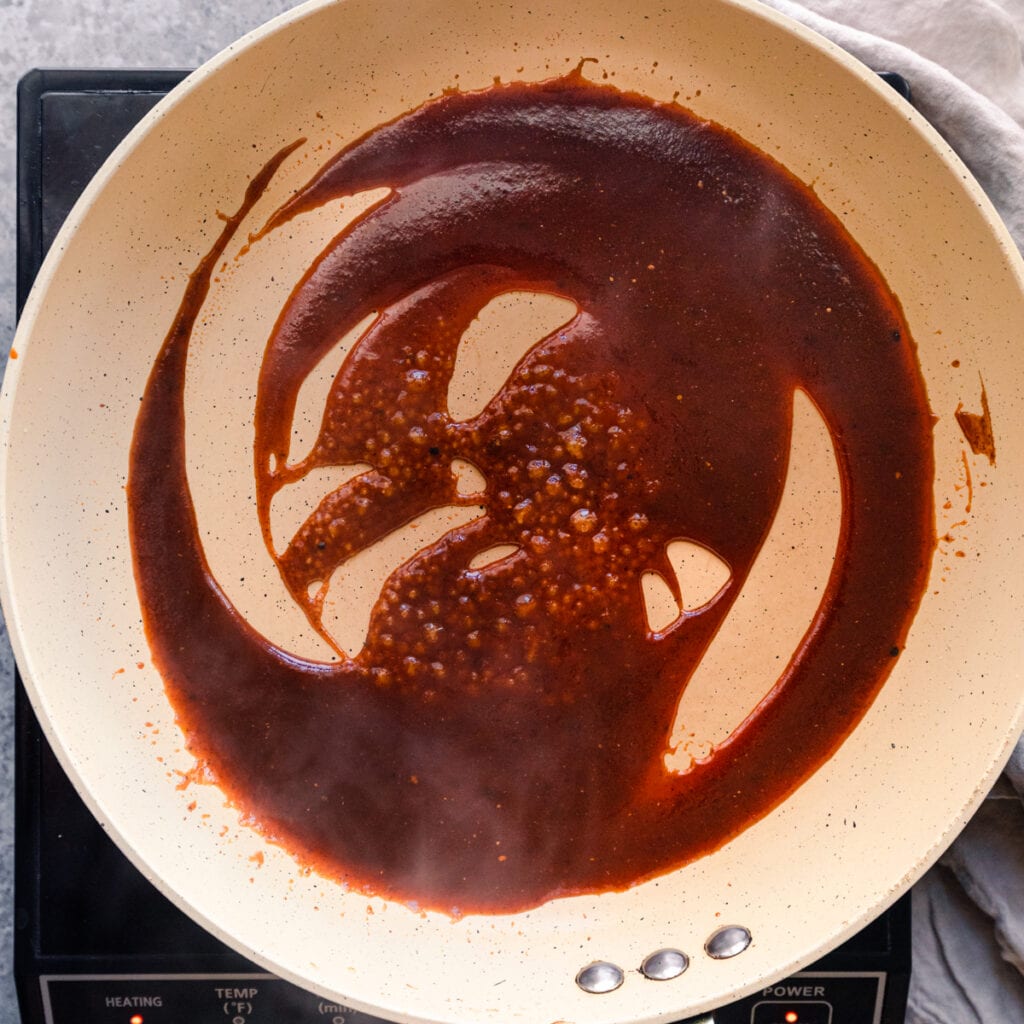 Cook briefly to warm through and until tempeh is saucy.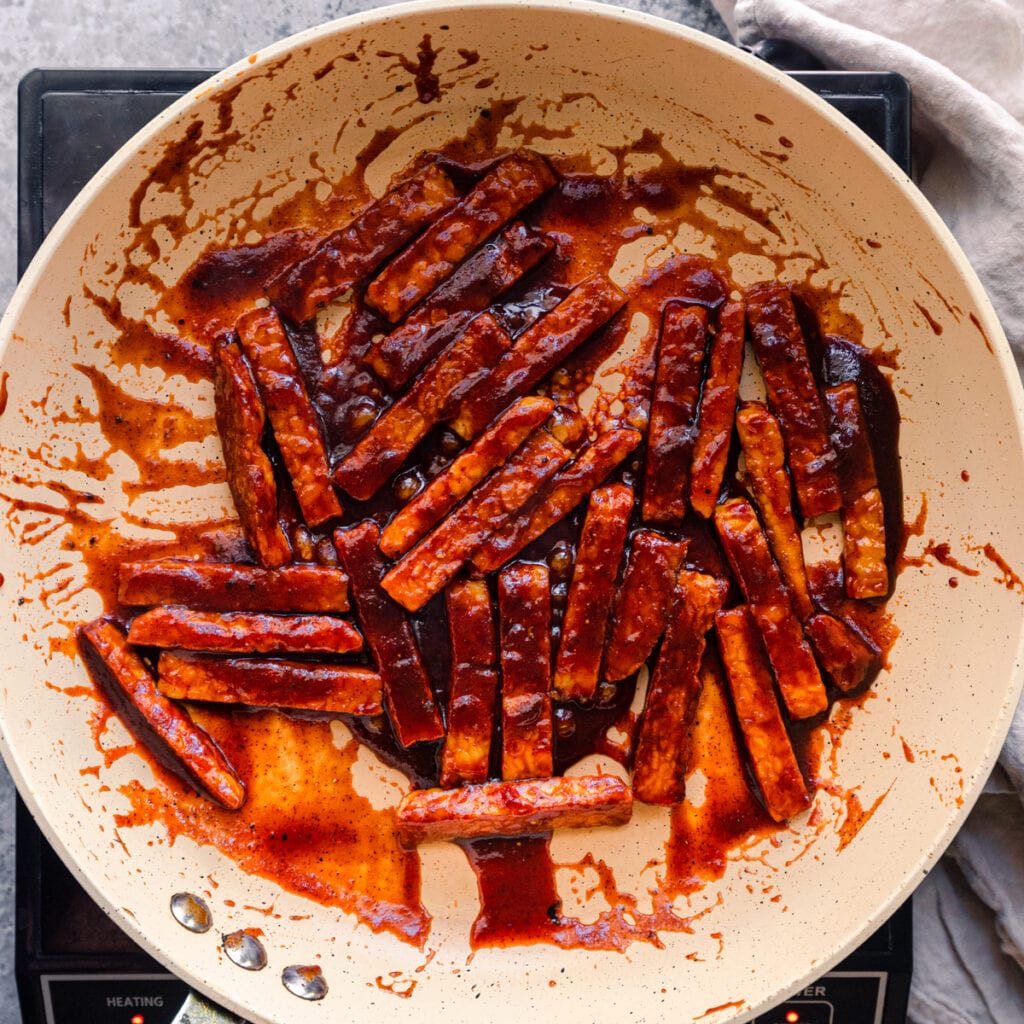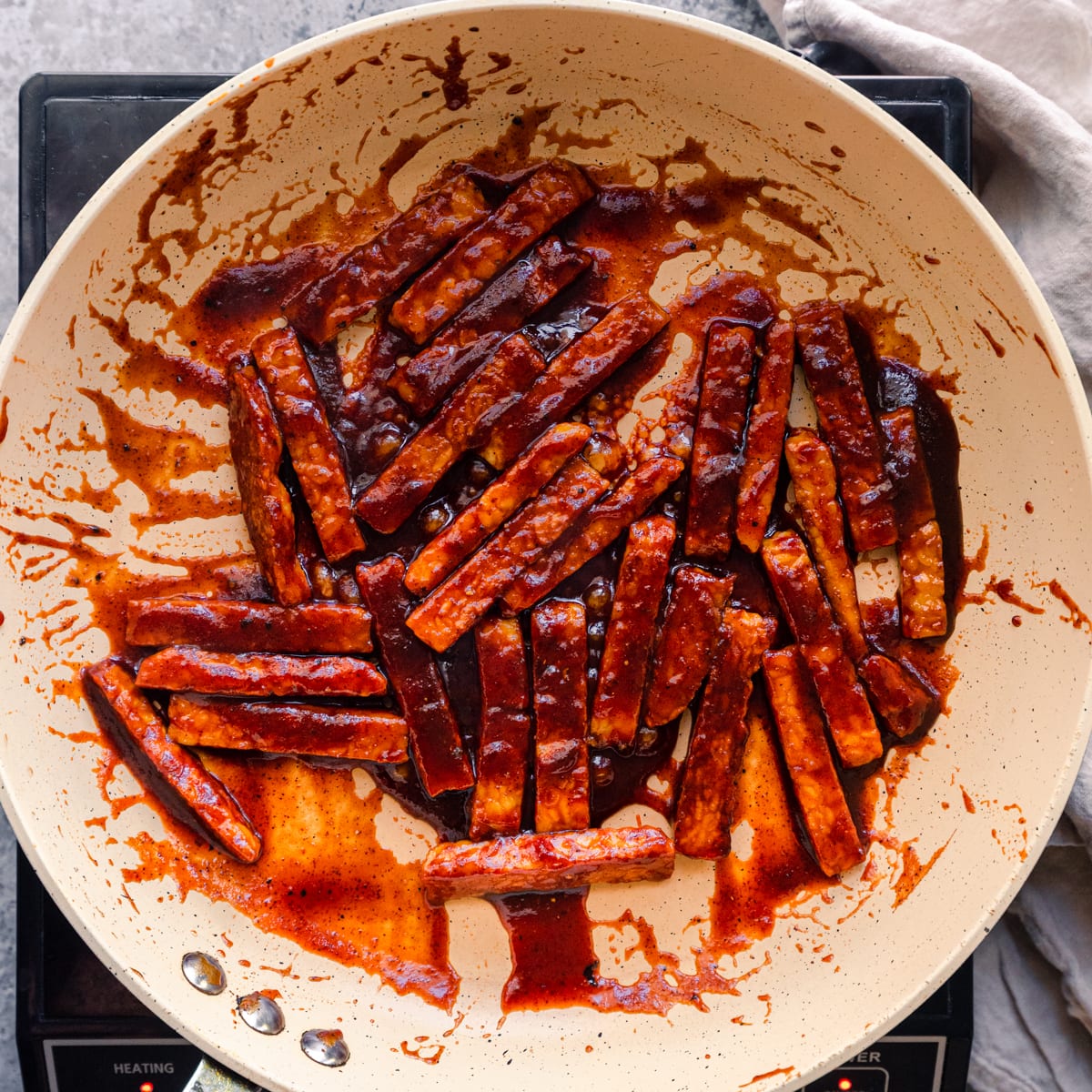 How to serve this BBQ Glazed Tempeh
This BBQ tempeh is the perfect protein for summer cookouts, and is excellent paired with classic summer side dishes like potato salad, macaroni salad, and pasta salad.
I actually photographed this BBQ tempeh and my Herbed Potato Salad on the same day and the combo was electric. For a dream team pairing for a cookout, this Vegan Pasta Salad is a must-make.
Other fun summer combinations to pair with include grilled corn and cornbread. For colder weather pairings, pair it with this Crispy Baked Mac and Cheese or Miso Butter Mashed Potatoes for some serious comfort food.
How to make a BBQ Tempeh Bowl
This BBQ tempeh is great in a grain bowl or salad. Here, I paired it brown rice, crisp romaine lettuce, cherry tomatoes, charred corn, pickled red cabbage, avocado, and some vegan ranch dressing. So colorful, fun, and hearty yet healthy. I don't measure and just eyeball everything.
For the charred corn, simply shave kernels from fresh ears of corn. Heat a cast iron skillet over medium-high heat with a bit of olive oil. Once hot, add the corn kernels and cook for 3-5 minutes until charred in spots, tossing just once or twice to get a nice char on them.
For the pickled cabbage, I used this recipe from Jessica in the Kitchen's blog.
Other toppings to consider adding to your bowl: crushed tortilla chips or pita chips, your favorite salsa or the pico de gallo recipe in this post, pickled jalapeños or red onions, or black/pinto beans for more protein.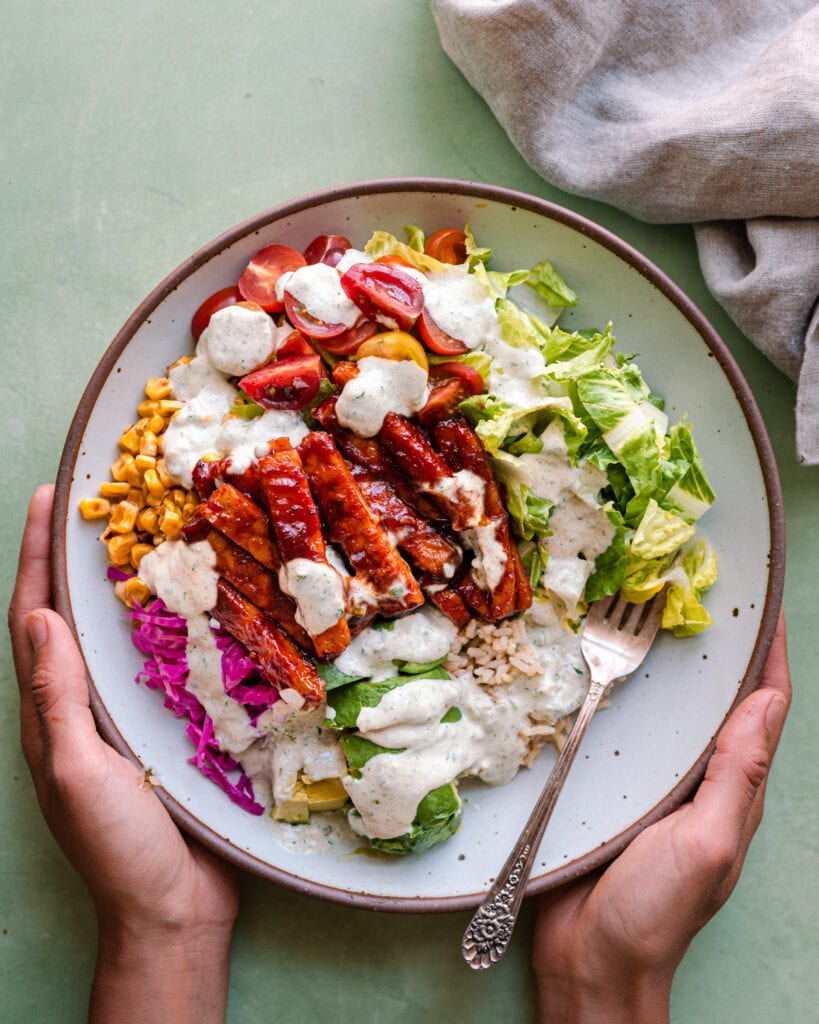 BBQ Tempeh Sandwich
Possibly my favorite way to serve this BBQ tempeh is in a sandwich. Here, I slathered some vegan mayo on a nice baguette, layered it with the BBQ tempeh, bibb lettuce, and a quick carrot-cabbage slaw. For the slaw, I just mixed together shredded red cabbage and carrots with a generous squeeze of lime juice, salt, and pepper.
PS: my favorite brands for vegan mayo include Just Mayo, Sir Kensington, and Follow Your Heart Vegenaise).
P.P.S. This sandwich was outrageously good. You could also make it on a burger bun for a more casual cookout dish.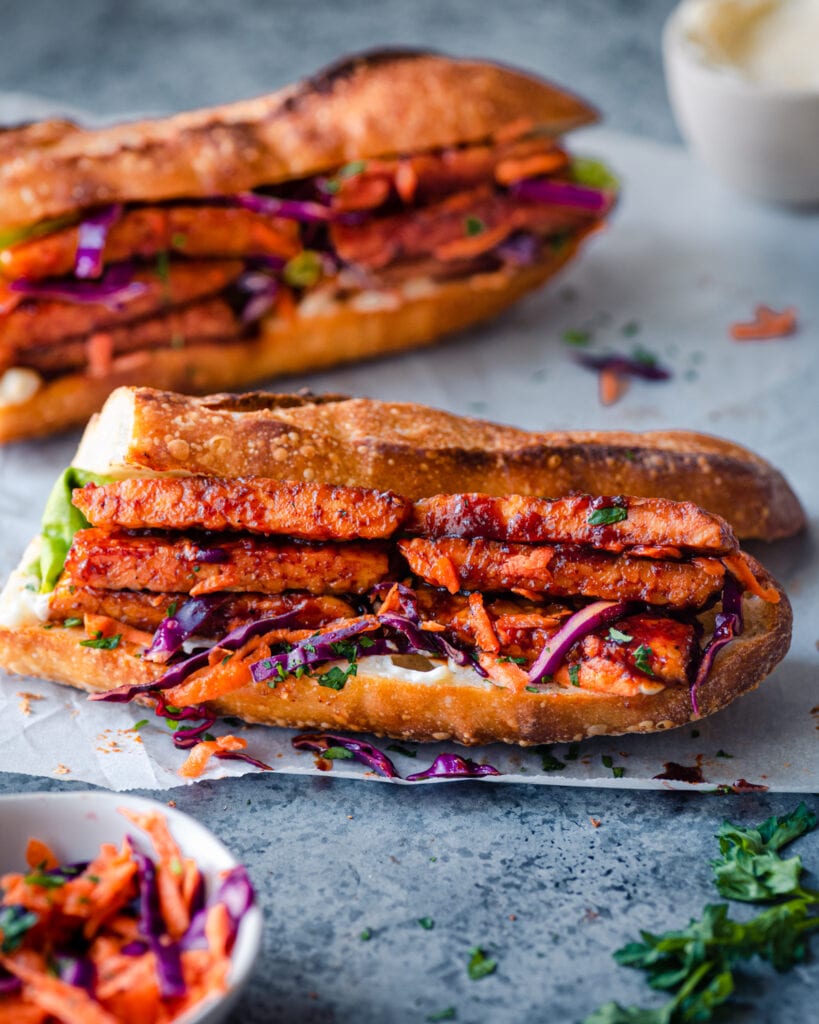 Tips for making this recipe
Be sure to use a vegan-friendly Worcestershire sauce. Traditionally, the sauce contains anchovies, but several brands are vegan. I have used Annie's vegan Worcestershire sauce and the Whole Foods 365 vegan Worcestershire sauce with great results, and know that the Kroeger store brand is also vegan.
Interested in making this gluten-free? First, buy a tempeh variety that is gluten-free (some contain wheat; I use Lightlife's original tempeh).
Second, for the BBQ sauce, use tamari (gluten-free soy sauce) instead of soy sauce. Also, omit the vegan Worcestershire sauce (most vegan Worcestershire sauces contain wheat). There is, however, at least one vegan and gluten-free Worcestershire sauce I've seen online.
If you are sensitive to bitter foods, you may consider steaming the tempeh before further cooking it. I typically do this before preparing tempeh, but the bold flavors of the BBQ sauce make it unnecessary in this recipe (at least for my tastebuds).
To ensure the tempeh gets perfectly golden and crispy, you'll want to:
Ensure there's a decent amount of oil in the pan and that that the pan and oil are hot before you add the tempeh
Don't flip the tempeh until it's seared on the bottom (about 3 1/2 to 4 1/2 minutes).
Before flipping the tempeh, brush the top sides with a bit more oil (or use cooking spray). This ensures the second side gets golden brown all over. If you don't add the oil, the tempeh instead gets charred in spots and doesn't get a crispy exterior.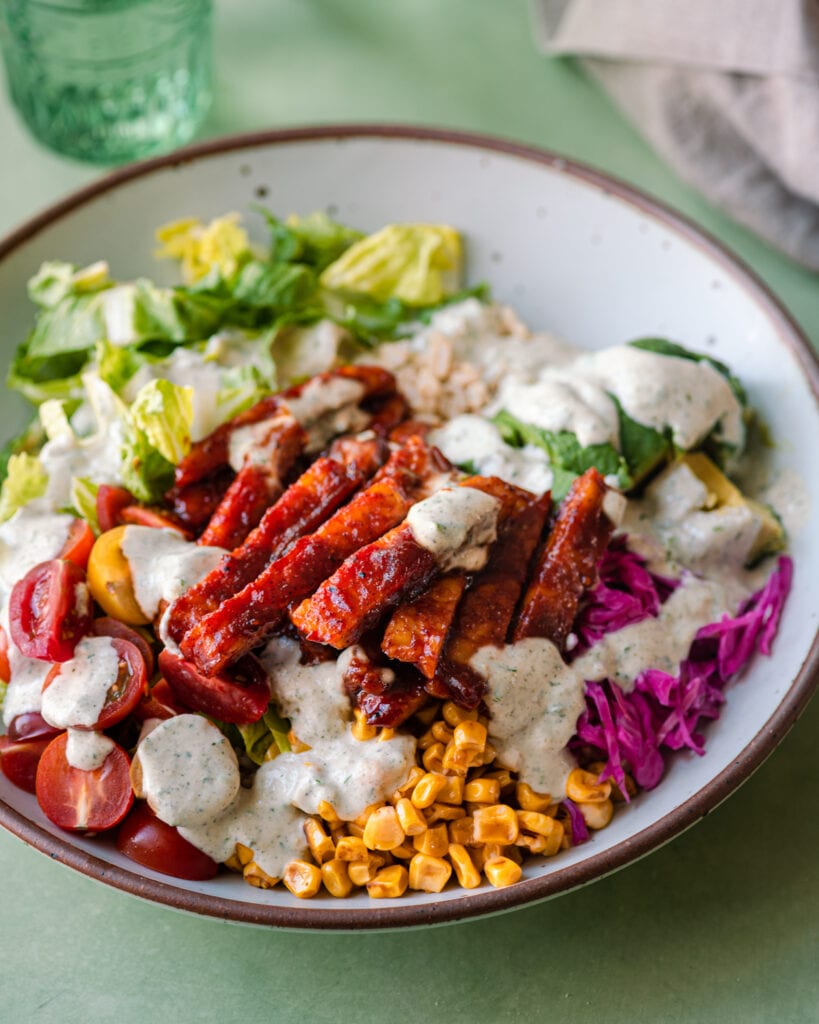 That's all you need to know about this BBQ Tempeh. If you love the recipe, please rate it and review below :)
BBQ Tempeh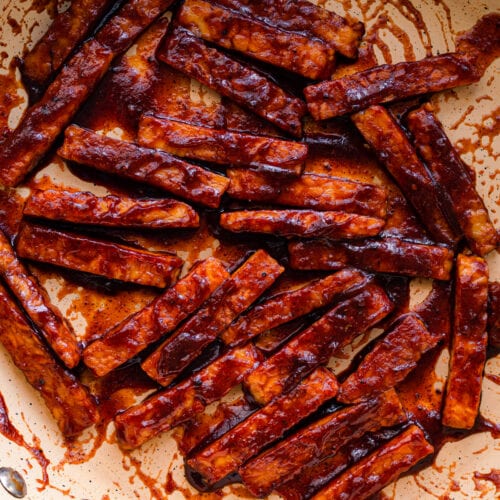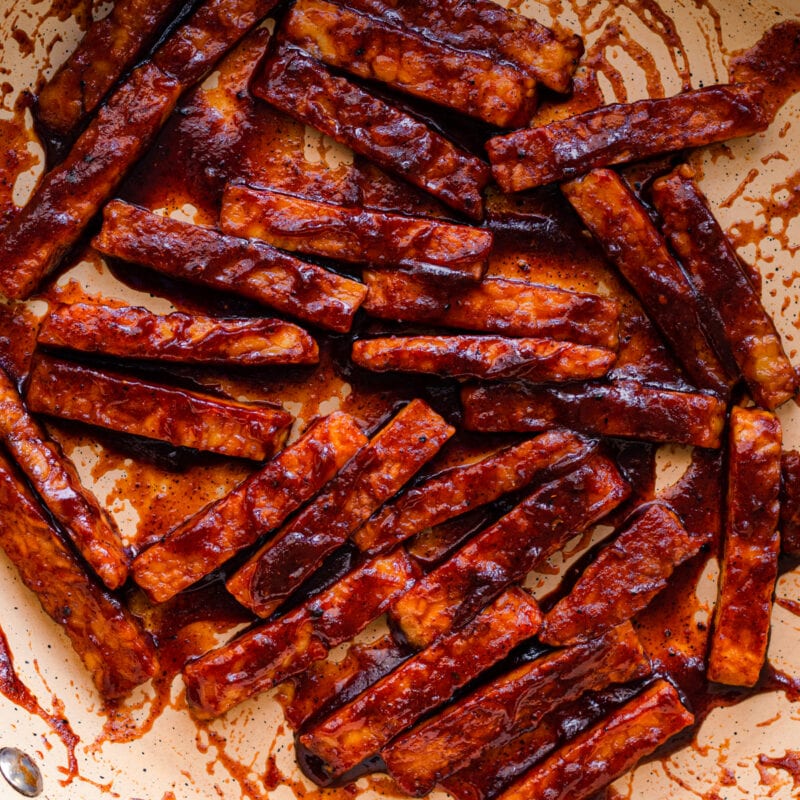 This vegan BBQ tempeh is the BEST way to enjoy tempeh. The tempeh gets pan-fried until golden and crispy and then coated in a sweet but tangy and smoky BBQ sauce. And takes just 20 minutes!
Ingredients
1

8-ounce block of tempeh

2

tablespoons

grapeseed oil

avocado oil, or other neutral-flavored oil for cooking

1/3

batch of Vegan BBQ Sauce

(recipe below) (about 1/2 to 2/3 cup BBQ sauce)
Instructions
Slice the tempeh crosswise into ½-inch thick strips. Then, place each strip on its side and slice in half lengthwise to make it thinner.

See the step-by-step photos in the blog for reference.

Optional – steam the tempeh. Place the tempeh pieces in a steamer basket fitted in a saucepan with a few inches of water. Bring the water to a boil, cover, and steam the tempeh for 10 minutes.

Note: I typically steam tempeh to get rid of its characteristic bitter taste, but I find it unnecessary in this recipe, as the BBQ sauce is so bold in flavor.

Line a cutting board or plate with a few paper towels.

Cook the tempeh. Heat a 12-inch nonstick frying pan over medium heat with 1 ½ tablespoons of the oil. Once the oil is shimmering (it will take a few minutes), arrange the tempeh slices in a single layer.

Cook for 3 ½ to 4 ½ minutes, until nicely golden brown on the bottom side.

Brush the top side of each tempeh piece with the remaining oil or spray with cooking spray (I used avocado oil spray), then flip each piece and cook on the second side for 2 ½ to 4 more minutes until seared on the other side. Transfer to the paper towels.

Turn the heat off and allow the pan to cool down for a few minutes.

Make the BBQ sauce (recipe below).

Note: you do NOT need to simmer the BBQ sauce on the stove for a full 5 minutes, as in step #2 in the recipe card below. You will simmer it for a few minutes in the next step.

Return the frying pan to medium-low heat and pour in the BBQ Sauce. Allow the sauce to cook for 1 to 2 minutes, or until gently simmering, stirring with a silicone spatula. If the pan is too hot, the sauce will rapidly simmer, so lower the heat a touch.

Add the tempeh back to the pan, and coat the tempeh in the sauce for a minute or two until very saucy. Enjoy!
---
Calories:
229
kcal
|
Carbohydrates:
7
g
|
Protein:
14
g
|
Fat:
17
g
|
Saturated Fat:
3
g
|
Polyunsaturated Fat:
9
g
|
Monounsaturated Fat:
4
g
|
Sodium:
8
mg
|
Potassium:
312
mg
|
Sugar:
1
g
|
Vitamin A:
1
IU
|
Calcium:
84
mg
|
Iron:
2
mg
Vegan BBQ Sauce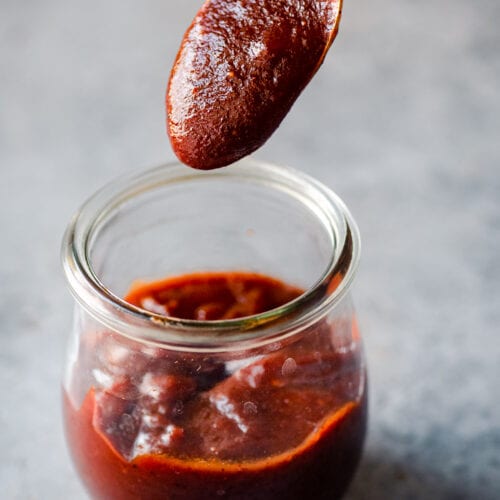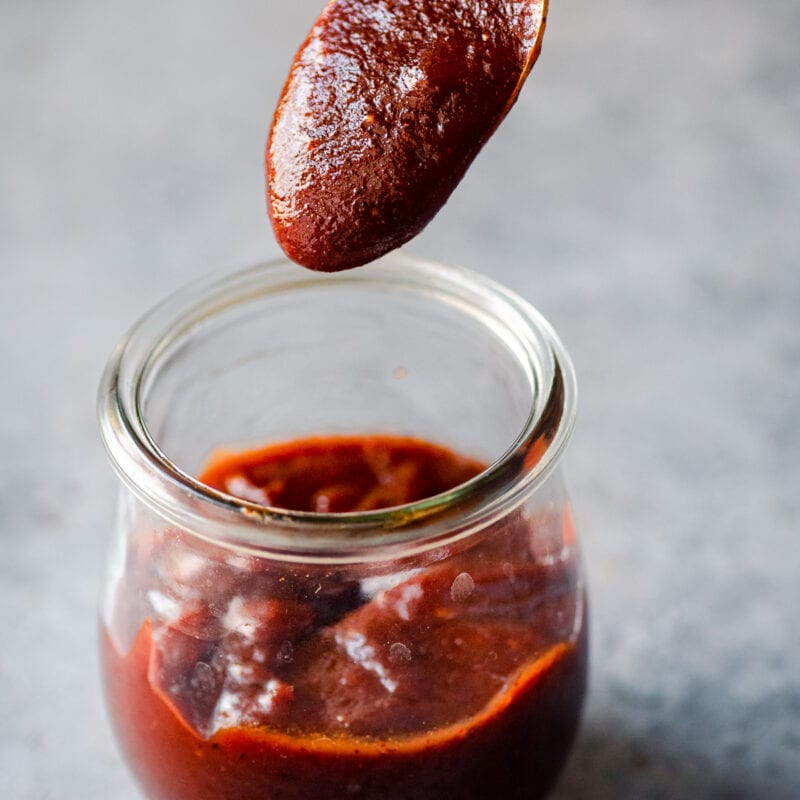 This vegan BBQ sauce is perfectly sweet yet tangy, smoky, and a little spicy. It's simple to make and tastes just like your favorite bottled BBQ sauce. Plus, it's ready in just 10 minutes!
Ingredients
1

cup

(275-280g) organic ketchup

4

tablespoons

(80g ) maple syrup

3

tablespoons

apple cider vinegar

2

tablespoons

soy sauce or tamari

2

tablespoons

molasses

1

tablespoon

vegan Worcestershire sauce*

1

tablespoon

liquid smoke**
BBQ Spice Blend
1 1/2

teaspoons

smoked paprika

1 1/2

teaspoon

chili powder

3/4

teaspoon

black pepper

Heaping 1/4

teaspoon

onion powder

Heaping 1/4

teaspoon

garlic powder

⅛

teaspoon

cayenne pepper

(optional)
Optional Thickening
1 1/2

tablespoons

arrowroot powder (or cornstarch)

3

tablespoons

cold water
Instructions
Add all of the ingredients to a mixing bowl. Whisk well to combine. Taste, adding a pinch of salt or pepper as needed. For more sweetness, add a bit more maple syrup. For more smokiness, add a few drops more of liquid smoke or a few dashes of smoked paprika.

Transfer the BBQ sauce to a small frying pan and simmer for 3 to 5 minutes, stirring at least once a minute.***

Take off the heat. Once cool, transfer to an airtight jar and refrigerate. It will thicken as it chills. Store for 2 to 3 months (yes, months is right; the high acidity content keeps it fresh).

To thicken the sauce even more, whisk together arrowroot powder and cold water until smooth and no clumps remain. Add the slurry to the simmering sauce (from step 2) and whisk frequently for 1-2 minutes, or until the sauce is thickened. Take off the heat (don't let it keep simmering, or the arrowroot powder can start to congeal).
Notes
*See the "ingredients and substitutions" section in the blog post for vegan-friendly Worcestershire sauce brands. Or, try my homemade blend (included in the blog post). 
** If you don't have liquid smoke, add more smoked paprika. Start with an additional 1/2 teaspoon and use up to 1 1/2 teaspoons. 
*** If you are making the BBQ Tempeh recipe, you do not need to simmer the sauce for this long. Just 1-2 minutes is fine. 
---
Calories:
57
kcal
|
Carbohydrates:
14
g
|
Protein:
1
g
|
Fat:
0.1
g
|
Saturated Fat:
0.02
g
|
Polyunsaturated Fat:
0.1
g
|
Monounsaturated Fat:
0.02
g
|
Sodium:
305
mg
|
Potassium:
157
mg
|
Fiber:
0.3
g
|
Sugar:
11
g
|
Vitamin A:
310
IU
|
Vitamin C:
1
mg
|
Calcium:
22
mg
|
Iron:
0.5
mg