Before someone calls the falafel police, let me preface this by saying these are not traditional falafel. They don't have chickpeas and they aren't fried and super crunchy. I probably just lost most of you, but for those of you kind souls who stuck around, I would like to emphasize that these are superfood falafel packed with healthy fats from walnuts, tempeh, flax seeds, and avocado oil.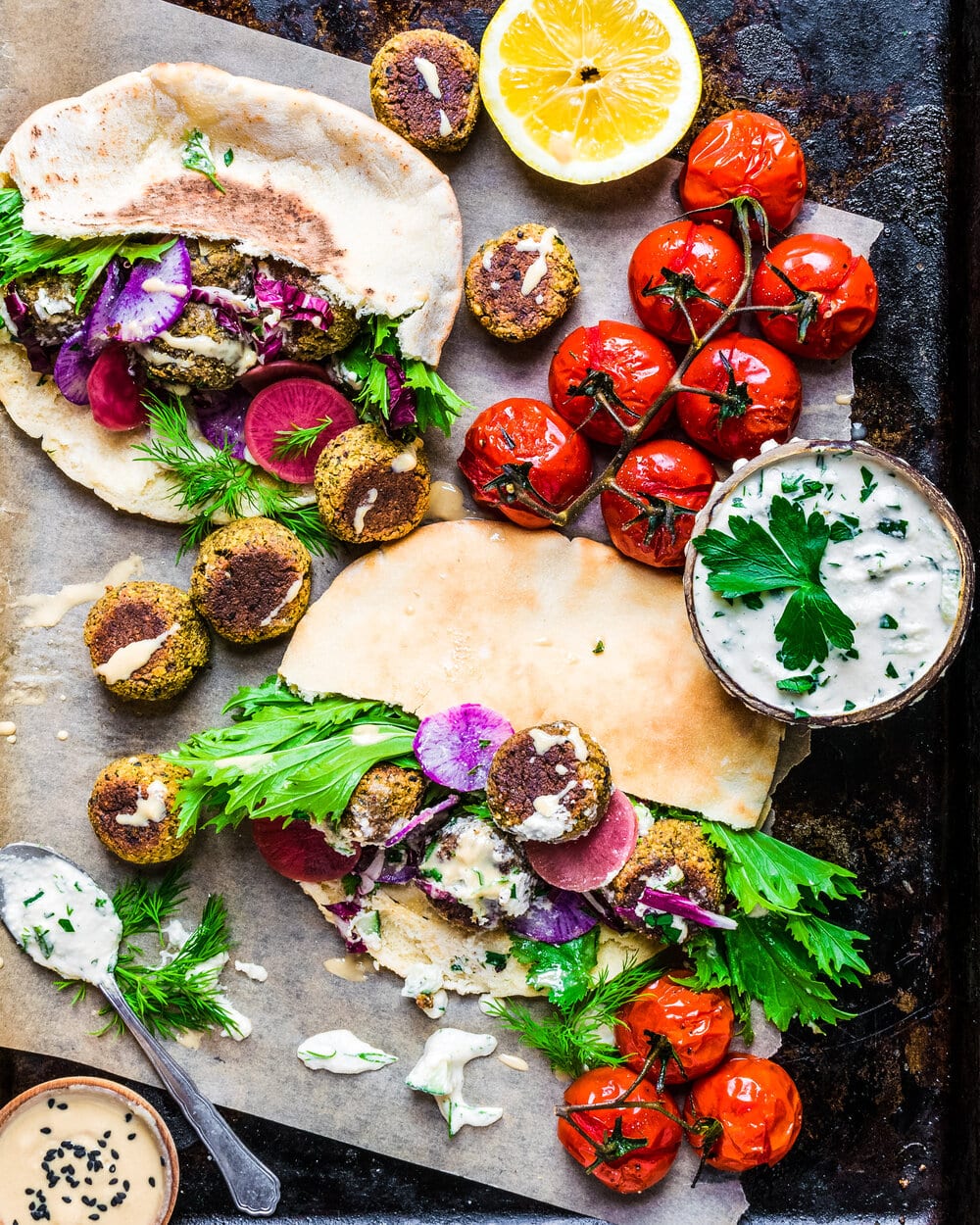 I eat a pretty high-fat diet for a vegan, and I'm always looking for ways to add more healthy fats into my diet. What makes these falafel even healthier (though less authentic) is that they're baked. No need to use a vat of bubbling oil that might spatter on you without warning.
And most importantly, when I brought these falafel to work this week, three of my coworkers mentioned that they smelled insanely delicious. Of course they have no idea how delicious they tasted because, let's be honest, I didn't share my lunch.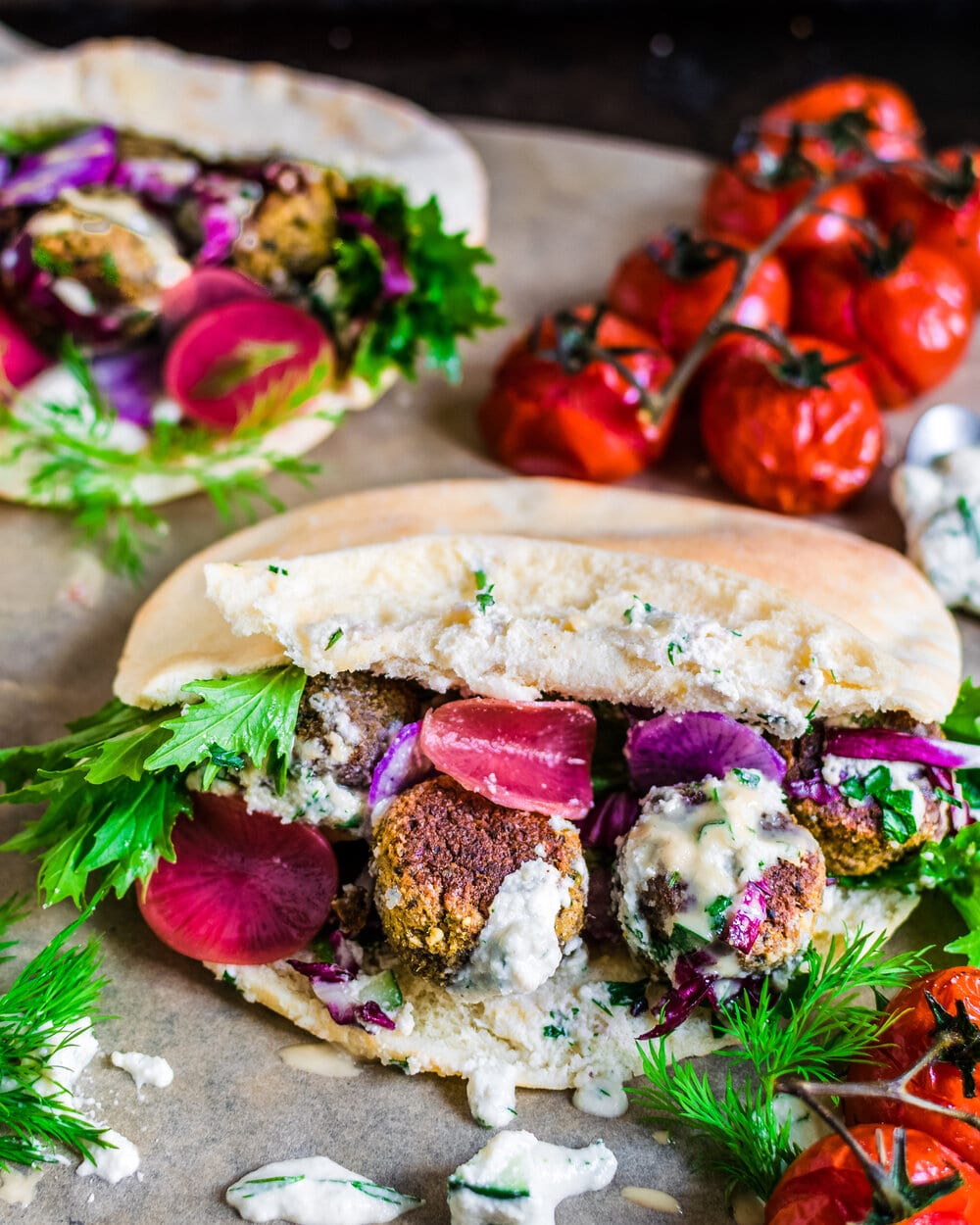 One of the few dishes I've missed since going vegan is tzatziki, so it was amazing to be able to make a vegan version at home and enjoy it again. I love how these falafel pair with the vegan tzatziki sauce. It feels like you're eating an authentic Greek meal on an island in Greece, even though there's nothing authentic about this recipe.
Just because this isn't an authentic Greek recipe, it doesn't mean I can't share a photo of Greece with you!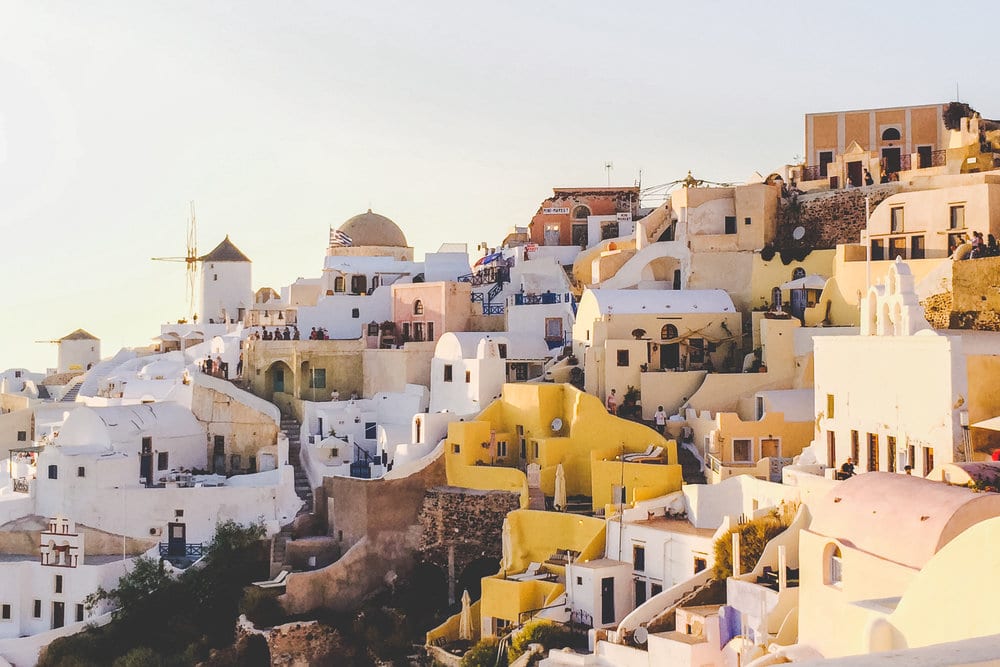 My favorite way to serve these falafel is to stuff them in pita bread, along with roasted veggies, pickled radishes, and chickpeas. Then, I drizzle everything with the tzatziki sauce and tahini, and of course a dollop of hummus. But if you're into that low-carb life, just omit the pita and turn it into a falafel bowl! Maybe omit the chickpeas too? Are chickpeas considered a low-carb food or a high-carb food? Help! I don't know what carbs are (except that they're delicious)!
Store these in an air-tight container in your fridge and they will stay good for 4-5 days, making them the perfect dish for weekly meal prep. Hope you enjoy these little brown balls!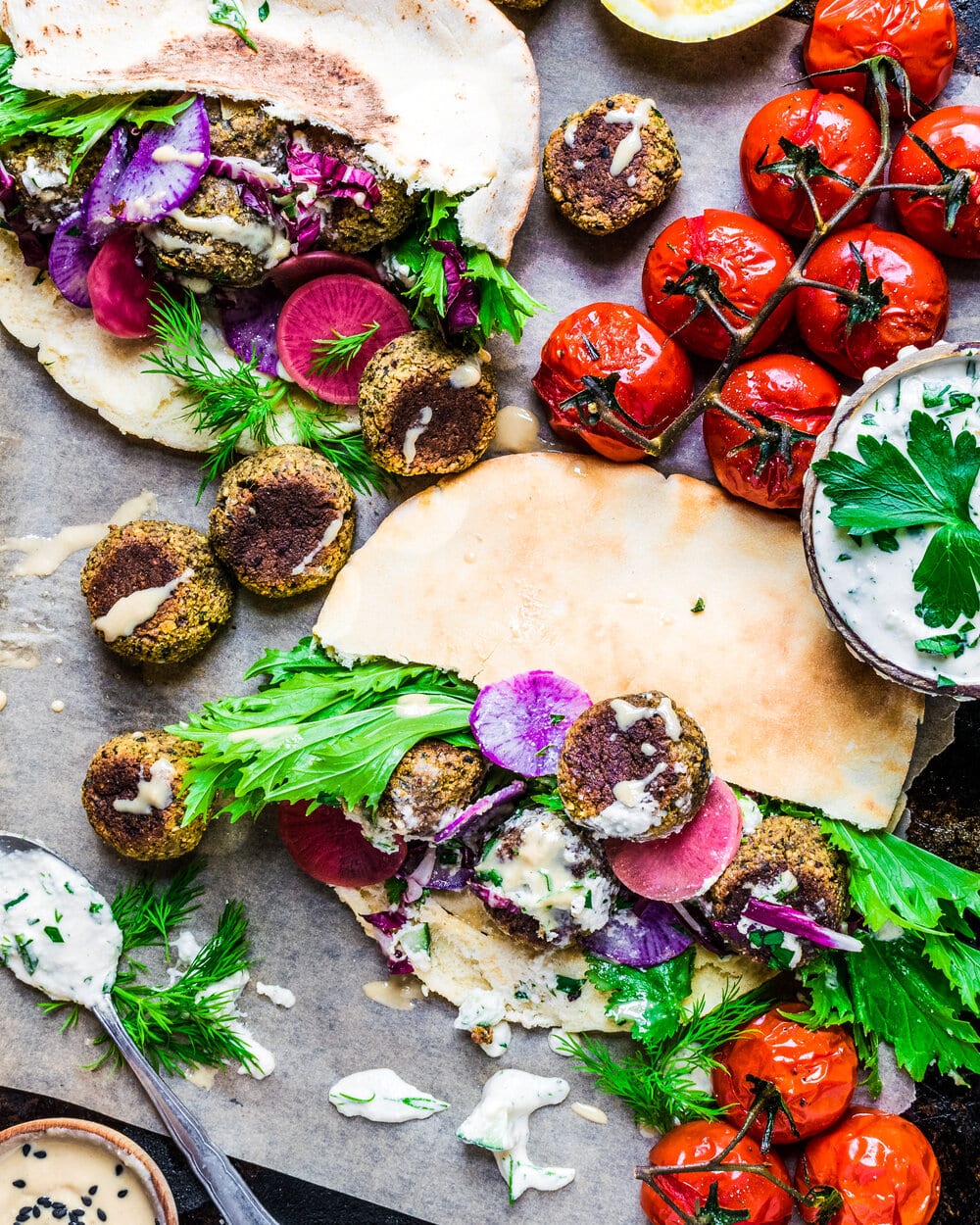 Tempeh & Walnut Falafel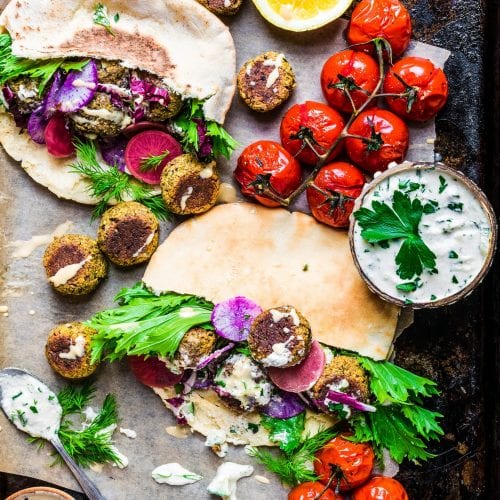 These rather untraditional baked falafel are packed with healthy fats from walnuts, tempeh, flax seeds, and avocado oil and are a wonderful addition to your weeknight dinner repertoire. They're best served stuffed in warm pita bread with roasted veggies, pickled radishes, and chickpeas and drizzled with my homemade tzatziki sauce!
Ingredients
Tempeh & Walnut Falafel
1

tablespoon

ground flaxseed meal

1

(8-ounce) block of organic tempeh

1/3

cup

cilantro,

chopped

1/3

cup

fresh basil,

chopped

1/4

cup

Italian flat-leaf parsley,

chopped

2/3

cup

raw walnuts

2

teaspoons

olive oil

1

small onion,

diced

4

cloves

garlic

3

tablespoons

almond flour or almond meal

2

tablespoons

olive oil

(or oil of choice)

2

tablespoons

sesame seeds

1/2

teaspoon

sea salt

Freshly cracked black pepper to taste

1/2

teaspoon

cayenne pepper

1

teaspoon

ground cumin

1/4

teaspoon

ground coriander

1/2

teaspoon

ground turmeric

1

teaspoon

baking soda
Vegan Tzatziki Sauce
1

cup

raw cashews

(soaked in water overnight, or quick soaked in boiling water for 1 hour)

2/3

cup

canned "lite" coconut milk

3

tablespoons

lemon juice

1 1/2

tablespoons

apple cider vinegar

2

teaspoons

nutritional yeast

1/2

teaspoon

kosher salt

1/2

teaspoon

onion powder

2

garlic cloves,

chopped

1/2

of medium unpeeled cucumber,

diced

1/4

cup

fresh dill,

chopped

3

tablespoons

fresh parsley,

chopped

2

tablespoons

fresh mint leaves,

chopped
Instructions
Make the Tempeh & Walnut Falafel.
Preheat the oven to 375°F. Line a baking tray with parchment paper.

Prepare the flax egg: Mix 1 tablespoon ground flax meal with 2 ½ tablespoons warm water and let sit for 15 minutes to thicken.

Cook the onion and garlic. Heat a medium frying pan over medium heat with a touch of olive oil. Add the onions and cook for 3 minutes, until just starting to soften. Add the garlic and cook for another 1-2 minutes, until golden. Take off the heat.

Using your hands, crumble the tempeh (doesn't need to be too finely crumbled).

Make the falafel dough. Add the crumbled tempeh to a food processor and pulse until it is finely broken down. Next, add the cilantro, parsley, basil, and walnuts and process until the ingredients start to blend together. Then, add the cooked onion and garlic, prepared flax egg, almond flour, 2 tablespoons olive oil, sesame seeds, salt, pepper to taste, cayenne pepper, cumin, coriander, turmeric, and baking soda. Blend until combined and the mixture sticks together.

Place the dough in the refrigerator for 20 minutes. Otherwise, it will be sticky and more difficult to handle.

Spoon the refrigerated dough into approximately 22 falafel balls (one heaping tablespoon of dough for each). Place the falafel on the prepared baking tray and bake in the preheated oven for 20-22 minutes, turning halfway through baking time, until browned on both sides.
Make the Vegan Tzatziki.
Drain the soaked cashews and pat dry to remove moisture. Place the cashews in a high-powered blender or food processor. Add the lite coconut milk, lemon juice, apple cider vinegar, nutritional yeast, salt, onion powder, and garlic. Blend until thoroughly combined and smooth, ensuring there are no remaining pieces of cashews. This should take 1-2 minutes in a blender, or 3-4 minutes in a food processor.

Transfer the dip into a serving bowl. Mix in the diced cucumber, chopped dill, parsley, and mint. Stir to combine. Taste for seasonings.
Serve the falafel in a pita, on a rice bowl, with veggies and herbs and drizzle with vegan tzatziki.
---
Calories:
113
kcal
|
Carbohydrates:
5
g
|
Protein:
4
g
|
Fat:
9
g
|
Saturated Fat:
2
g
|
Polyunsaturated Fat:
3
g
|
Monounsaturated Fat:
3
g
|
Sodium:
164
mg
|
Potassium:
144
mg
|
Fiber:
1
g
|
Sugar:
1
g
|
Vitamin A:
224
IU
|
Vitamin C:
4
mg
|
Calcium:
36
mg
|
Iron:
1
mg