This Vegan Chocolate Layer Cake is my everything.
While I love making healthier versions of comfort food, sometimes a true decadent indulgence is merited, amirite? But the thing is, when I want a treat, I usually gravitate towards brownies and cookies, or pie and tarts. Not really cakes. That might come as a surprise, but most cakes are not great. They are dry and dense and not the most diverse in terms of flavor or texture.
But over the last few years of recipe testing and experimentation, I learned how to bake a damn good cake! One that is tender and moist, not dense or dry. One that has textural and flavor integrity.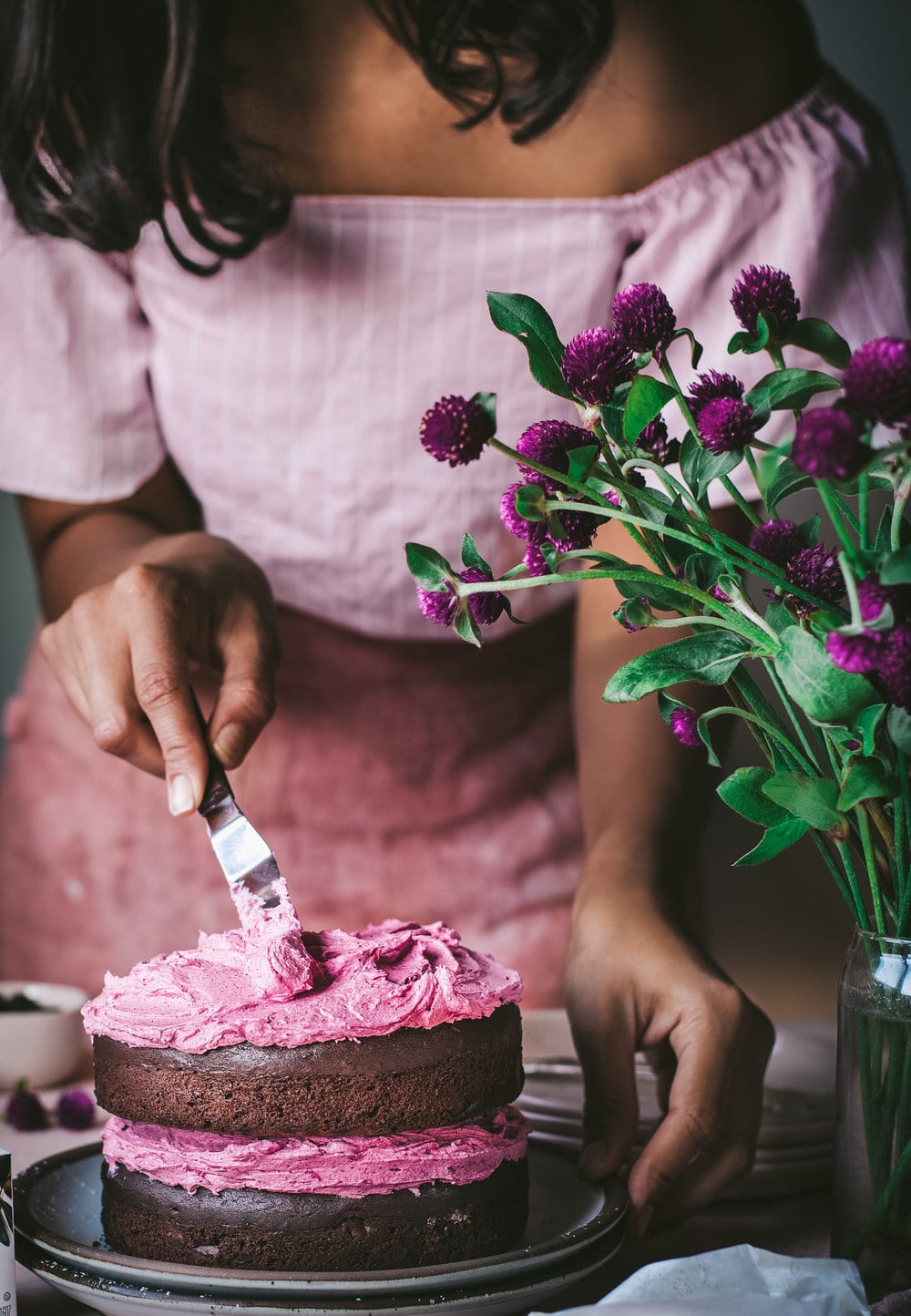 Tips for Baking Vegan Chocolate Layer Cake
Flour
First, the type of flour matters. This isn't a gluten-free cake and I'm not going to pretend I'm an expert on gluten-free cakes, but generally speaking, cakes made with gluten-containing flour are going to be lighter in texture than than gluten-free cakes. If you have a gluten allergy, of course, I am not encouraging you to go ahead and test it. But if you can tolerate gluten, use the gluten-containing flour! You're eating cake, not broccoli. It's supposed to be a treat.
Secondly, baking with cake flour (as opposed to all-purpose flour) makes cakes more tender, leaving them with a lighter crumb and texture. I have baked this cake with both all-purpose flour and cake flour, and they are both delicious, but if you are looking for the lightest texture possible, use cake flour.
Leaveners
The most commonly used leaveners in vegan baking are baking soda, baking powder, and apple cider vinegar. Yes, apple cider vinegar! When ACV is mixed with a plant-based milk, it starts to curdle after a short period of time, similar to buttermilk. And that begins a mutually symbiotic relationship!
First, when you use baking soda, it requires a little acid to start bubbling (i.e., to start reacting), and the acidity in apple cider vinegar is a perfect neutral-tasting option (lemon isn't a great idea for chocolate cakes, and white vinegar is too harsh in taste). And the tangy buttermilk (plant-based milk with ACV) reacts with baking soda (or baking powder), it helps activate the leavening action of baking soda, enhancing the amount of rise in your cakes. And finally, the alkaline nature of baking soda cancels out any sour buttermilk flavor so you don't end up with an unwanted tangy taste.
If however, you're making a recipe where you want some of that subtle tang flavor (perhaps a lemon cake or a buttermilk pancakes), you'd want to also include some baking powder. That's because using baking soda alone will completely neutralize the buttermilk's acidity/tanginess. Adding in some baking powder (which has its own acid, but not nearly as much as baking soda), then, allows some of that tang to remain in the batter.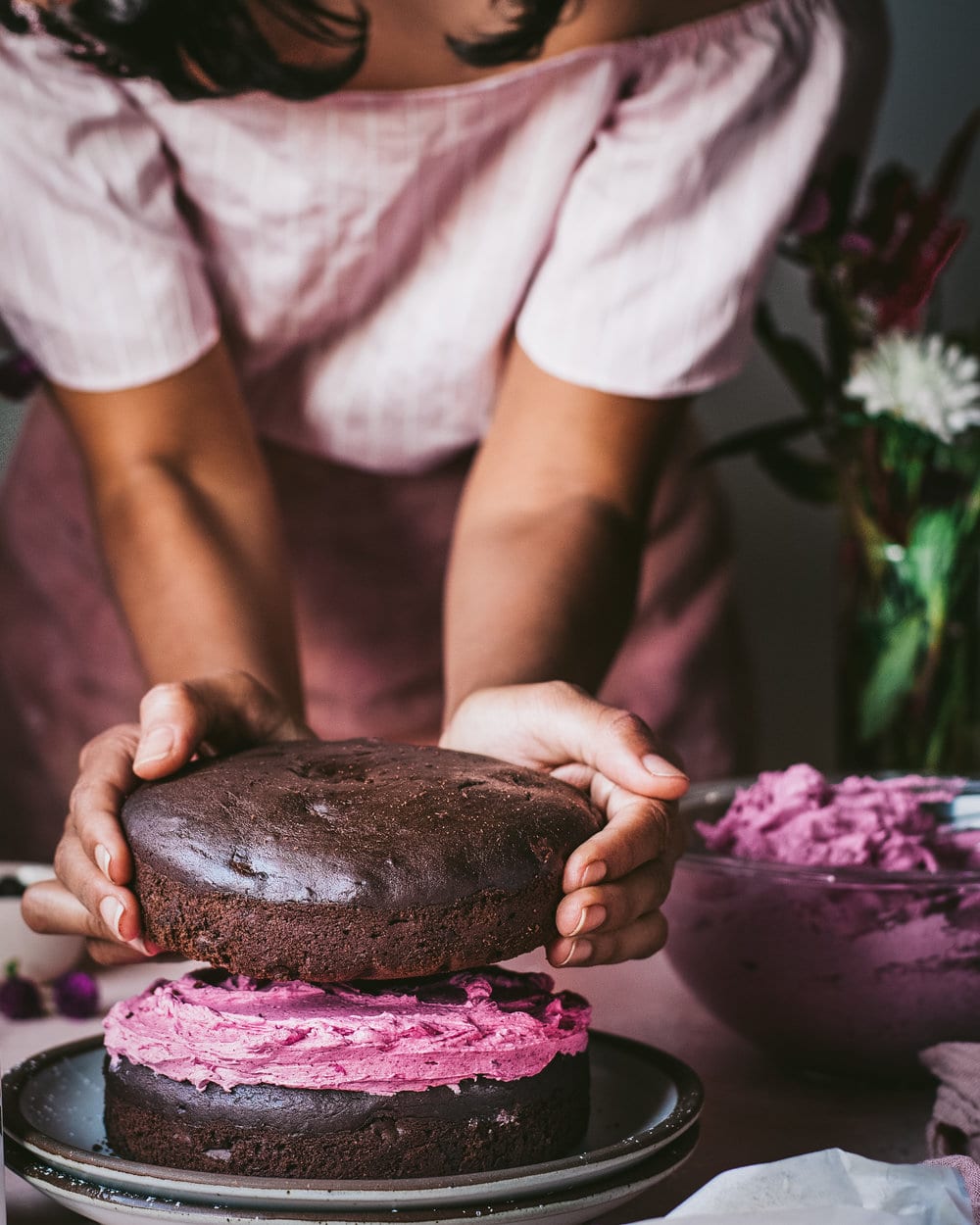 Chocolate
There are a few ways to make chocolate cake taste even chocolatier (i.e., even better). First, you might notice that many chocolate cake recipes call for adding boiling water to the batter. This is because the boiling water helps "bloom" the cocoa powder.
Blooming means mixing cocoa powder with a hot liquid (such as boiling water or hot coffee). This serves two purposes. First, it helps dissolve the cocoa powder and prevents it from clumping, which it has a tendency to do. Second, blooming releases the flavor within cocoa powder more intensely, resulting in more chocolatey-tasting cakes.
Another way to make your cake taste even richer is by adding some coffee. In this recipe, I use espresso powder and boiling water, which, well turns into hot coffee. Espresso amplifies the deep, rich flavor of chocolate without adding any noticeable coffee flavor. I learned that tip from the goddess Ina Garten 15 years ago!
And finally, I love adding an extra boost of chocolate to the cake in the form of chopped dark chocolate or chocolate chips. I fold those in at the end, and they not only bring extra rich chocolatey goodness to the cake, but they also bring an interesting textural component. Some of the chocolate chunks/chips will almost melt into the cake, which means rich fudginess (always a good thing), but other chunks/chips will stay firm (especially larger sized ones), providing a nice little solid piece of chocolate to bite into.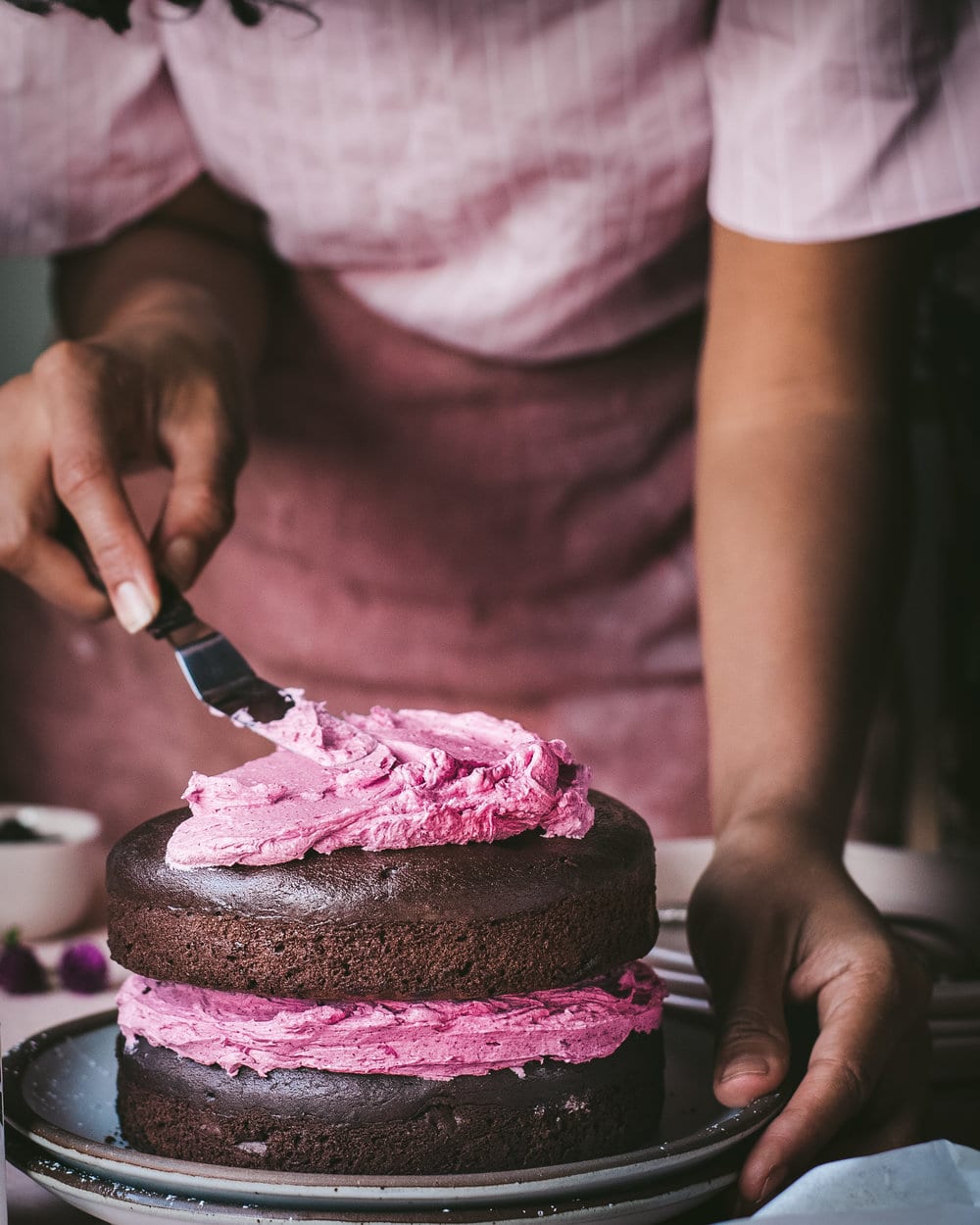 I hope you enjoyed those tips for making a tender, light and flavorful vegan chocolate cake! And as for the frosting, it's a pretty simple buttercream frosting (except the butter is vegan)! Just make you use softened room temperature vegan butter!
And as for the hibiscus flavor, if you can't find hibiscus powder or don't want to buy it, you could also crush up some freeze-dried raspberries and use that instead. I find that the sweet-tart flavor from the hibiscus pairs really nicely with and balances the richness of the buttercream frosting!
That's about it for this Vegan Chocolate Layer Cake. If you make it, be sure to tag me with your recreations on instagram!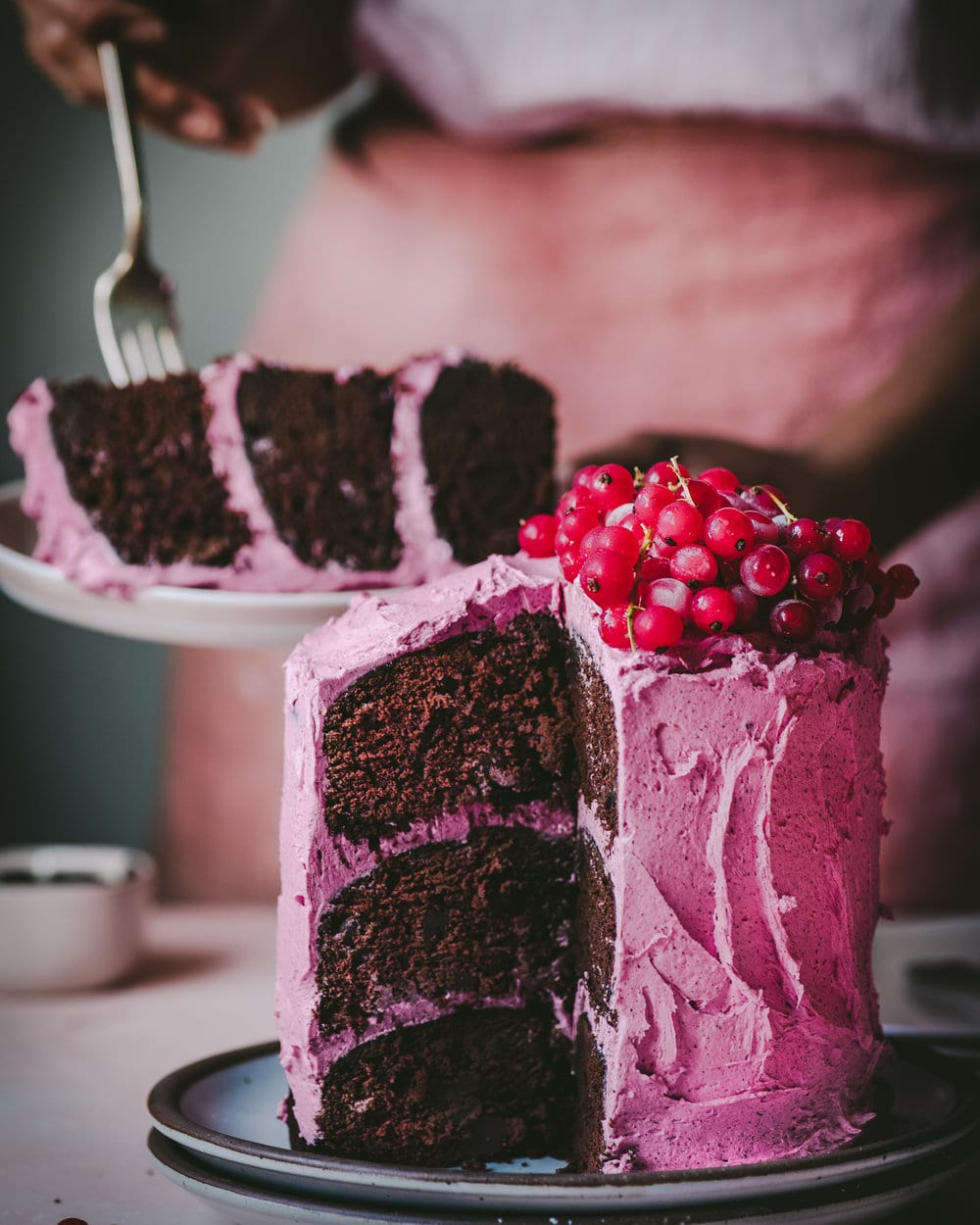 Vegan Chocolate Layer Cake with Hibiscus Frosting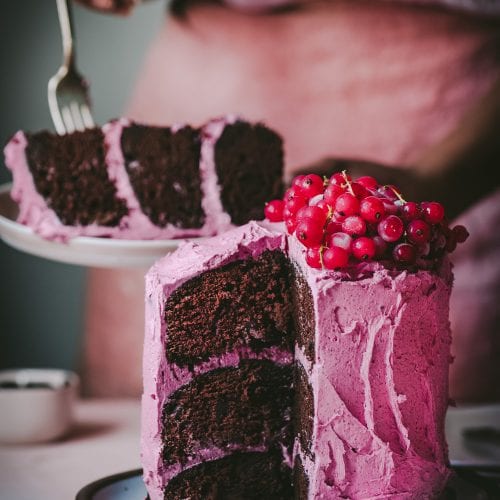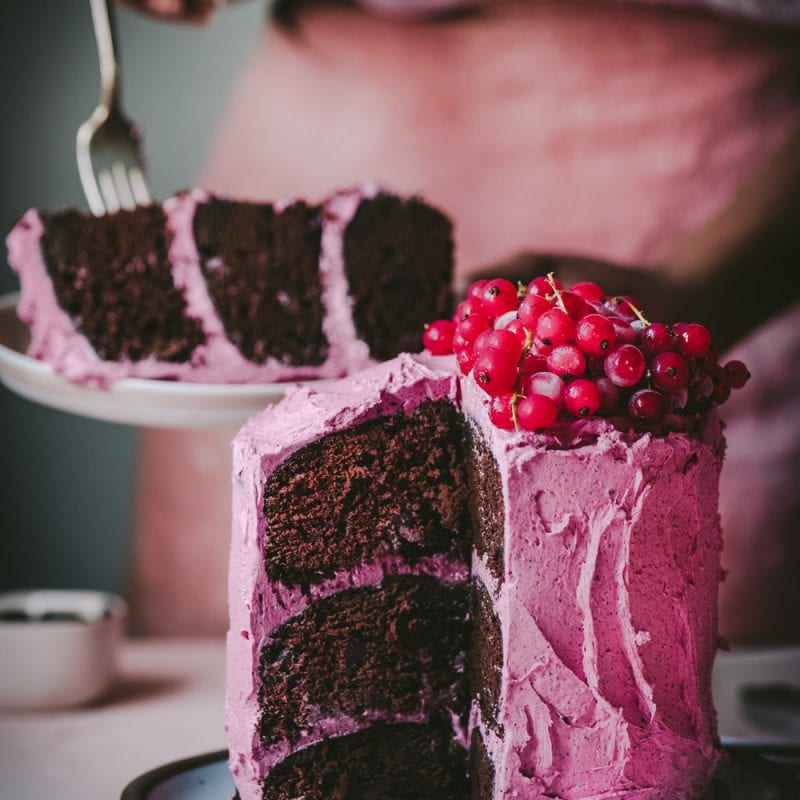 This Vegan Chocolate Layer Cake with Hibiscus Frosting is decadence, defined! Vegan buttercream frosting spiked with a fruity tartness from hibiscus, then sandwiched between three layers of moist chocolate cake with chocolate chunks floating throughout. Plus, tips for baking vegan chocolate cake!
Ingredients
VEGAN CHOCOLATE LAYER CAKE
1 1/2

cups

(~ 375 mL) unsweetened plant-based milk, at room temperature

1

tablespoon

apple cider vinegar

2 3/4

cups

(~ 330g) all-purpose flour or cake flour (see notes above)

1 1/2

teaspoons

baking soda

1

teaspoon

fine sea salt

1

cup

(~ 125g) unsweetened cocoa powder

1/2

cup

(~ 112g) vegan butter, softened at room temperature (I used Country Crock Plant Butter)

3/4

cup

+ 2 tablespoons

(~ 168g) organic cane sugar

1/2

cup

loosely packed

(~ 96g) organic brown sugar

2

teaspoons

pure vanilla extract

1

teaspoon

espresso powder

(or instant coffee powder)

1/4

cup

(60 mL) boiling water

6

ounces

(~ 170g) 65-80% dark chocolate chunks or vegan chocolate chips
HIBISCUS BUTTERCREAM FROSTING
1/2

cup

(~ 112g) vegan butter, softened at room temperature (I used Country Crock Plant Butter)

2

cups

(~ 240g) organic powdered sugar, sifted

1/2

teaspoon

pure vanilla extract

Pinch

of sea salt

2

teaspoons

hibiscus powder

(more to taste or for color)

1-2

tablespoons

unsweetened plant-based milk
Instructions
Preheat the oven to 350°F/175°C. Make three parchment paper rounds for three 6-inch round cake pans and line each pan and lightly grease the sides to prevent sticking). Alternatively, you can use two 8-inch round pans.

Combine the plant-based milk and apple cider vinegar, stir, and set aside to curdle.

In a medium bowl, whisk together flour, cocoa powder, baking soda, and salt. I like to sift the mixture together so it's extra fine and there are no clumps).

In a large bowl, add the softened vegan butter, cane sugar, and brown sugar. Using an electric mixer, beat on medium speed until light and fluffy, about 3 minutes. Add in the vanilla extract and espresso powder and beat to combine.

Switch the mixer to low speed and add in the milk-vinegar mixture until combined. Gradually add half of the dry ingredients and mix on low speed until well combined, about 1 minute, scraping the sides as needed with a spatula. Switch to a wooden spoon and stir in the remaining dry ingredients. The batter will be very thick at this point.

Carefully pour in the boiling water, continuing to mix with a wooden spoon until well combined. Fold in the dark chocolate chunks or chips with a silicone spatula.

Divide the batter equally in the prepared pans, using a scale to measure each pan so each cake is equal in size.

Bake the cakes for 25 minutes until the center is set and the cake has puffed up a bit and just started to pull away from the pan, and a toothpick inserted comes out with only a few moist crumbs. If you are using two 8-inch pans, you'll want to bake them a bit longer, 30-35 minutes.

Allow the cakes to cool for 10 minutes in the pan, then transfer to a wire rack to cool completely before inverting.

While the cakes are cooling, make the Hibiscus Frosting. With an electric mixer on medium speed, beat the softened vegan butter until fluffy, about 1 minute. Slowly add the powdered sugar in 1/2 cup increments, mixing on low speed until well combined and fluffy, scraping down the sides as needed. Add the vanilla, salt, and hibiscus powder, and beat until smooth. If the frosting is too thick, add the plant-based milk, a tablespoon at a time, until you reach your desired consistency.

To assemble the cake, place one layer cake on a cake platter or plate. Add 1/4 of the frosting and smooth out with an offset spatula. Top with the next layer cake and repeat the process. Using the offset spatula, apply the remaining buttercream to the sides of each cake layer, starting at the bottom.
---
Calories:
332
kcal
|
Carbohydrates:
48
g
|
Protein:
5
g
|
Fat:
15
g
|
Saturated Fat:
6
g
|
Polyunsaturated Fat:
3
g
|
Monounsaturated Fat:
6
g
|
Trans Fat:
1
g
|
Cholesterol:
1
mg
|
Sodium:
380
mg
|
Potassium:
258
mg
|
Fiber:
5
g
|
Sugar:
23
g
|
Vitamin A:
544
IU
|
Calcium:
58
mg
|
Iron:
4
mg