As a child, I did not like grilled cheese. Little Nisha didn't like French toast either. To be honest, I didn't like pizza very much either. I know, I was an awful, ungrateful child.
My dislike for grilled cheese stemmed primarily from the two primary ingredients found in grilled cheese: bread and cheese. Again, I know, I sound like a monster, but let me explain.
In the 1990s, my family's bread of choice was squishy, soft, nutrient-dense Wonder Bread and our choice of cheese was rubbery, preservative-laced Kraft Singles (also referred to on its own ingredient statement as a "pasteurized prepared cheese product"). My childhood distaste for grilled cheese might make more sense now.
Despite the fact that my tastebuds matured, I never really got into grilled cheese as an adult. There were a few occasions on which I enjoyed a good grilled cheese, primarily because a grilled cheese food truck was parked outside of my office and it seemed more interesting than eating yet another cafeteria salad.
But I never went for the classic grilled cheese, as it harkened back memories of that rubbery, squishy marriage between Wonder Bread and Kraft. Instead, I would get a grilled cheese that was super extra: mozzarella with pesto, tomatoes, basil, and balsamic vinegar; a brioche grilled cheese with brie, blueberry jam, and dark chocolate; or a sourdough stack stuffed with ricotta, sun dried tomatoes, spinach, and artichokes.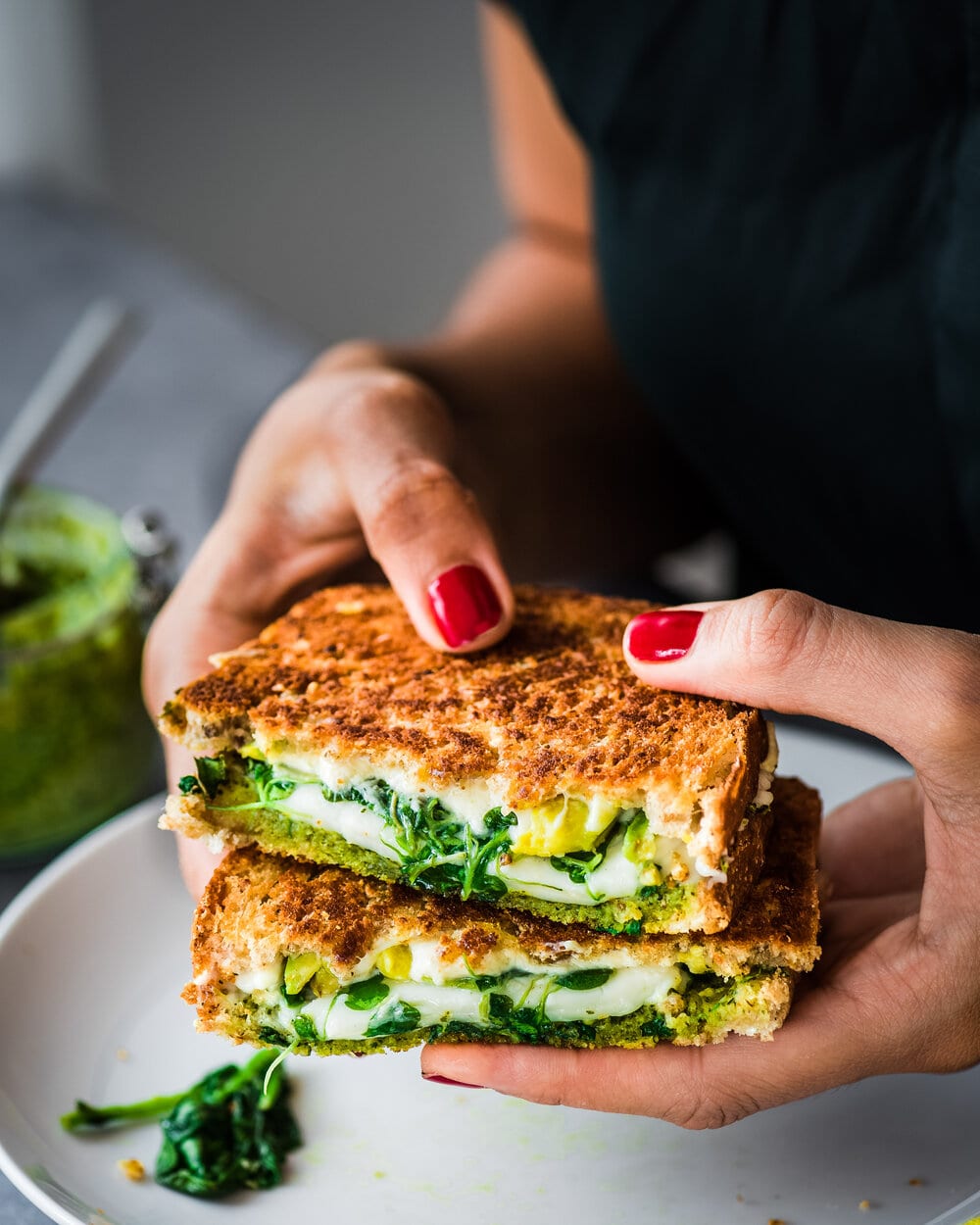 Now that I've been vegan for nearly 2 years, I thought it was time to come up with a vegan grilled cheese recipe. And of course, it is extra. It's loaded with two types of vegan cheese, avocado, pesto, and more.
I highly recommend saving this sandwich for when you are starving and craving something truly decadent. You won't do it any justice if you don't eat it on an empty stomach. I also recommend sharing it with a friend because sharing is caring (but also because it is rich and filling).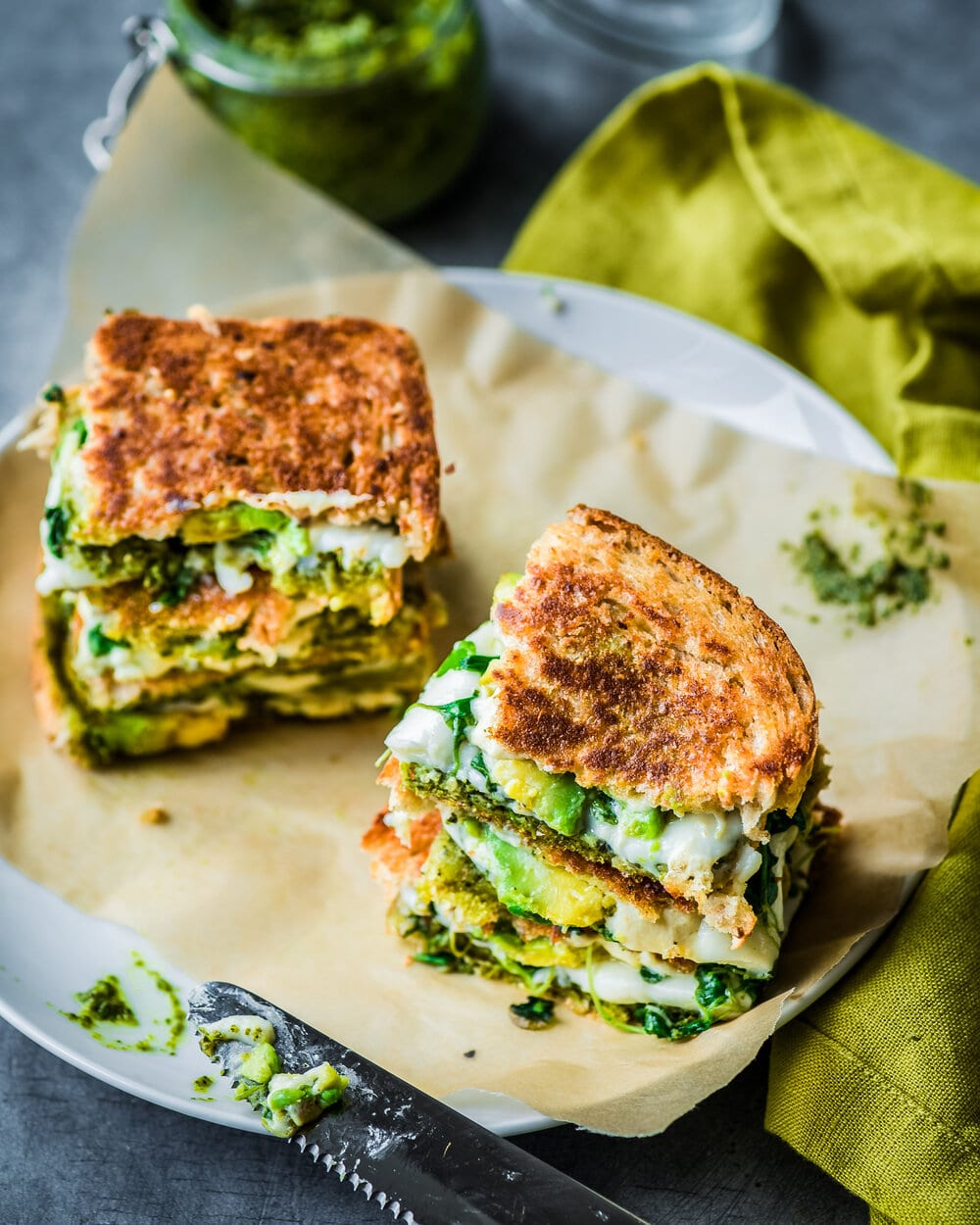 Now, let's address the elephant in the room. Does vegan cheese even melt???
To be honest, yes and no. Yes, many vegan cheeses that are sold in supermarkets these days do melt. But most of them do not stretch like traditional dairy based cheese. And some of the less desirable brands don't do much melting at all.
My favorite sliced cheeses for melting come from Chao Creamery, Follow Your Heart, Violife and Daiya.
Vegan cheeses have come so far in recent years, so if you're hesitant because you tasted a terrible one in the past, trust me when I say there are some fabulous alternatives out there!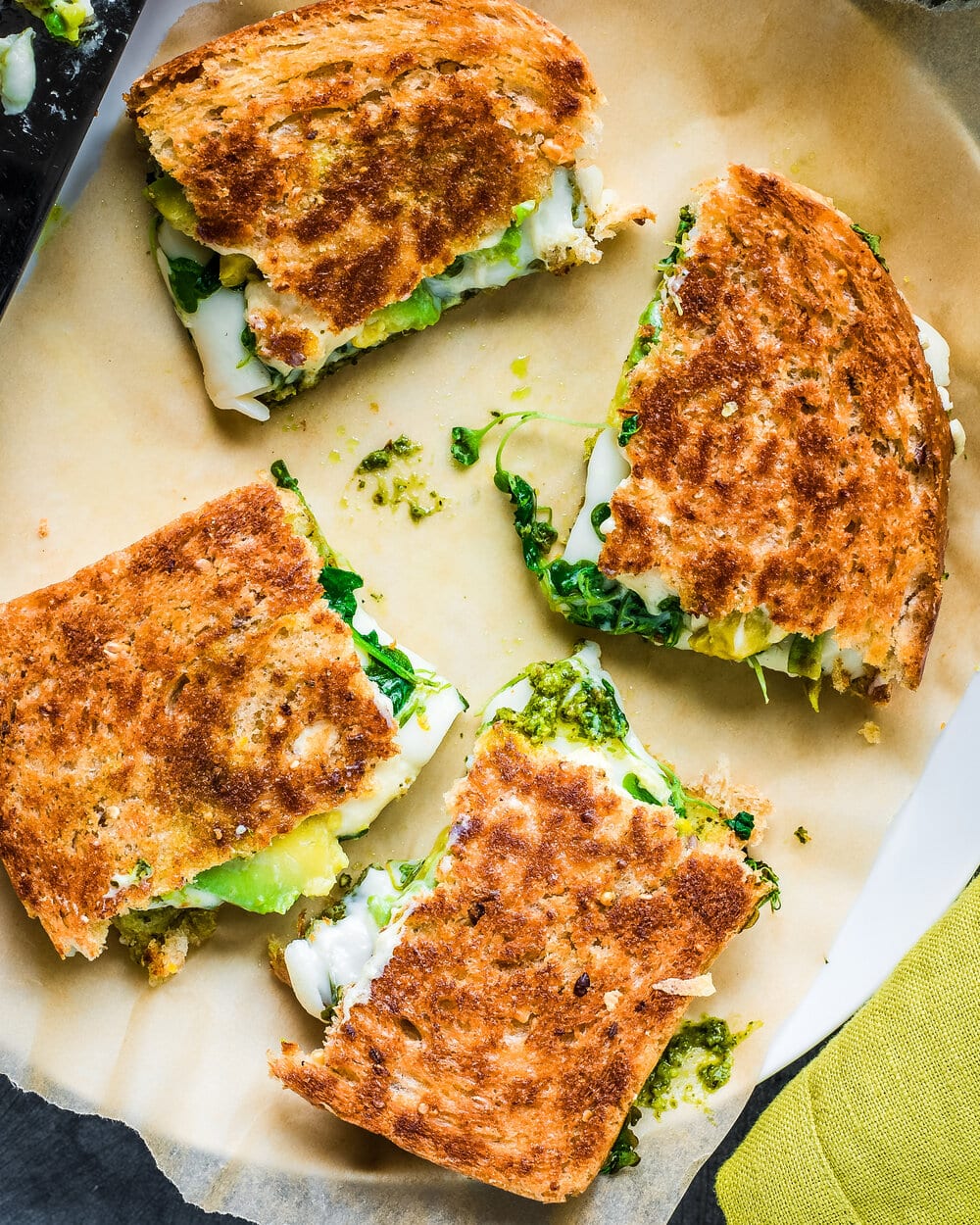 Now let's talk about the rest of the fixings. This is a green goddess sandwich, so all of the remaining ingredients are green (duh). But, if you're not obsessed with color pairing like I am, you can get creative and use your favorite toppings instead. If you are very sensitive to spice, feel free to omit the jalapeños, though I think the subtle spice helps to balance out the creaminess of the sandwich. If you have some leftover roasted vegetables, slice them thinly and add them in. And be sure to use a a hearty bread that won't soften or get squishy under pressure. Otherwise, you'll end up with a sad, soggy sandwich.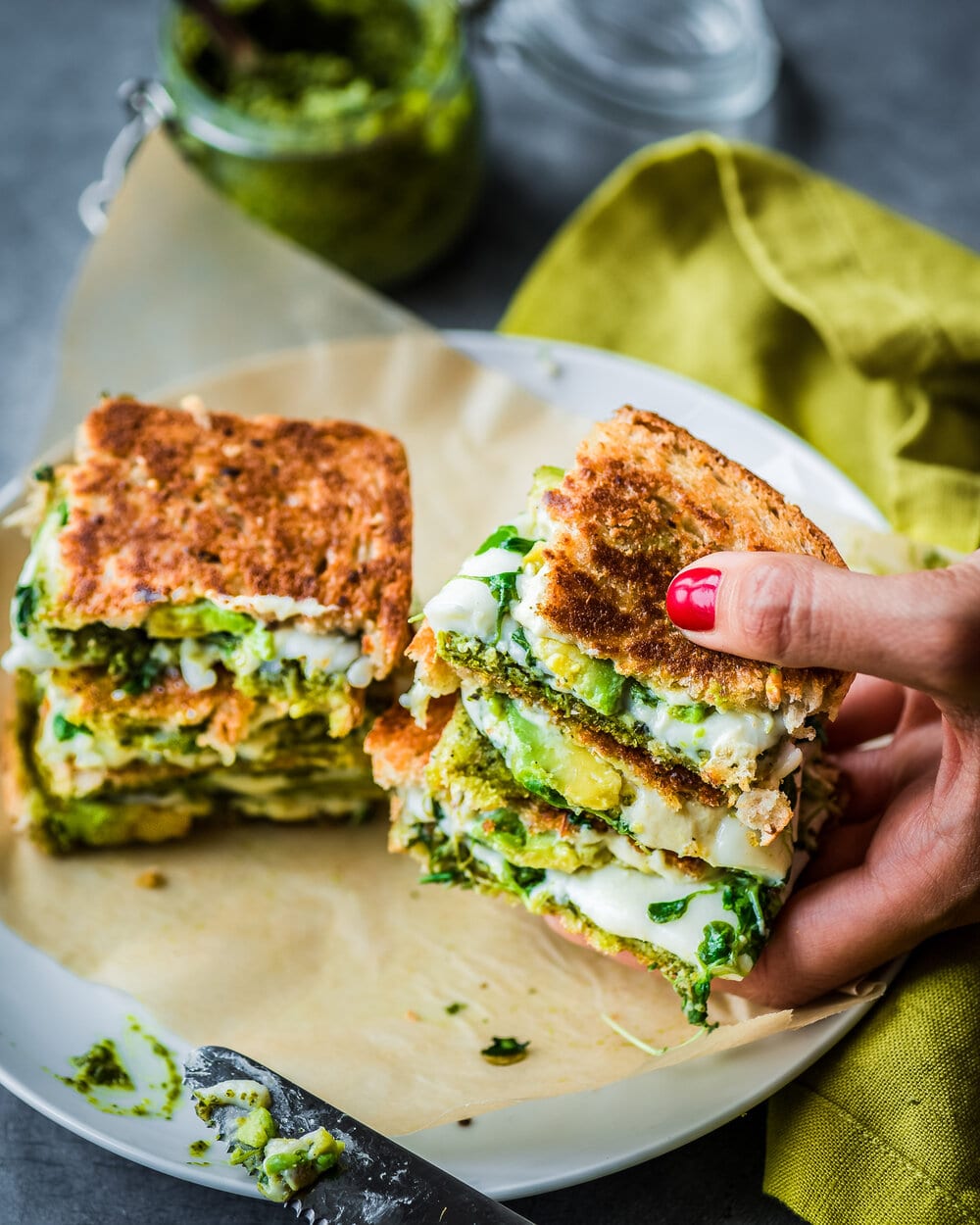 That's about it for this recipe. It's really simple to make and guaranteed to satisfy your savory cravings, so I hope you give it a go!
Vegan Green Goddess Grilled Cheese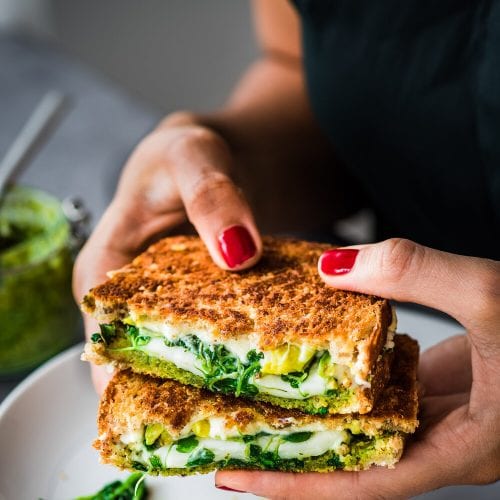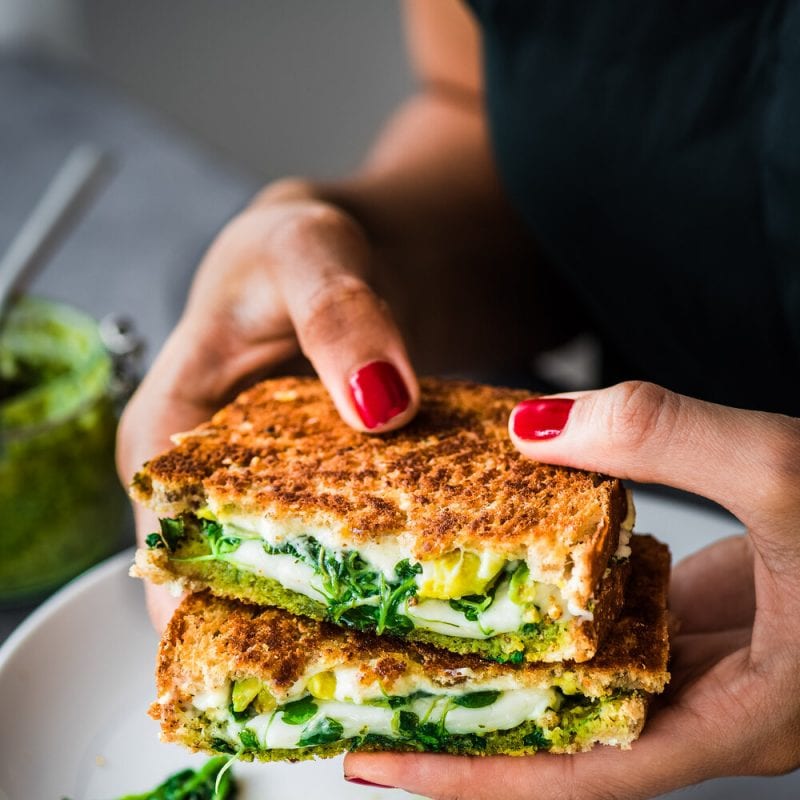 This Vegan Green Goddess Grilled Cheese is an epic stacked vegan grilled cheese with layers of vegan cheese, pesto, avocado, greens, pickled jalapeños, and sprouts.
Ingredients
2

handfuls of baby kale or baby spinach

2-3

tablespoons

vegan butter

(I used Earth Balance)

4

slices

of rustic hearty bread

3-4

tablespoons

Vegan Pesto

10

pickled or roasted jalapeño slices

4

slices

of vegan cheese

1/2

ripe avocado,

sliced thinly

1/2

cup

micro greens or broccoli sprouts

2

tablespoons

shredded vegan cheese
Instructions
In a large skillet, heat 1 teaspoon of vegan butter (or olive oil) and sauté the baby kale or baby spinach with a pinch of salt and pepper. Cook for a few minutes until wilted. Set aside.

For one sandwich, place one slice of bread on a cutting board or plate. Top the bread with 2 slices of vegan cheese, followed by half of the avocado, half of the jalapeño slices, half of the sautéed kale, and half of the sprouts or micro greens.

Take another slice of bread and spread with 1-2 tablespoons of pesto. Place that slice on top of the sandwich fillings, with the pesto side facing down on top of the sandwich fillings.

Heat a skillet over medium heat. Once hot, add 1 tablespoon of vegan butter. Once it has melted, add the prepared sandwich.

Use a spatula to press down on the grilled cheese for 10 seconds, and then cover the skillet with a lid to help melt the cheese. Cook for 3-4 minutes until the bottom of the sandwich has a golden crust. Add additional vegan butter to the pan if necessary to help the second side obtain a golden crust. Flip the sandwich and press down on the sandwich again and repeat the process.

Once the second side of the sandwich is golden, transfer sandwich to a cutting board and slice in half or quarters. Repeat with the remaining ingredients and two slices of bread for a second grilled cheese.
---
Calories:
641
kcal
|
Carbohydrates:
42
g
|
Protein:
8
g
|
Fat:
50
g
|
Saturated Fat:
15
g
|
Polyunsaturated Fat:
6
g
|
Monounsaturated Fat:
12
g
|
Trans Fat:
1
g
|
Sodium:
867
mg
|
Potassium:
531
mg
|
Fiber:
7
g
|
Sugar:
13
g
|
Vitamin A:
3501
IU
|
Vitamin C:
24
mg
|
Calcium:
74
mg
|
Iron:
3
mg