As I write this, we are experiencing unprecedented times, and people are seriously stocking up their pantries. I have nothing novel to say about it or secrets on how to protect yourself (I leave that to the public health experts), but I do have some pantry-friendly recipes that can be made with just pantry staples.
A few pantry meals from last week's Youtube video include:
And by no coincidence, this Instant Pot Fennel, Chickpea, and Brown Rice Stew is also a mostly pantry-ready meal (the section "how to make this recipe with pantry-only ingredients" includes tips on how to fully make it a pantry-only meal). Oh, one more easy Instant Pot recipe that's mostly pantry-friendly is this White Bean Stew!
Plus, regardless of whether you need to limit yourself to pantry staples or if you're reading this during less stressful times, this stew is an easy dump-and-go recipe, which means you can quite literally, dump all the ingredients into the Instant Pot, do no hands-on cooking, and come back to a warm, delicious dinner!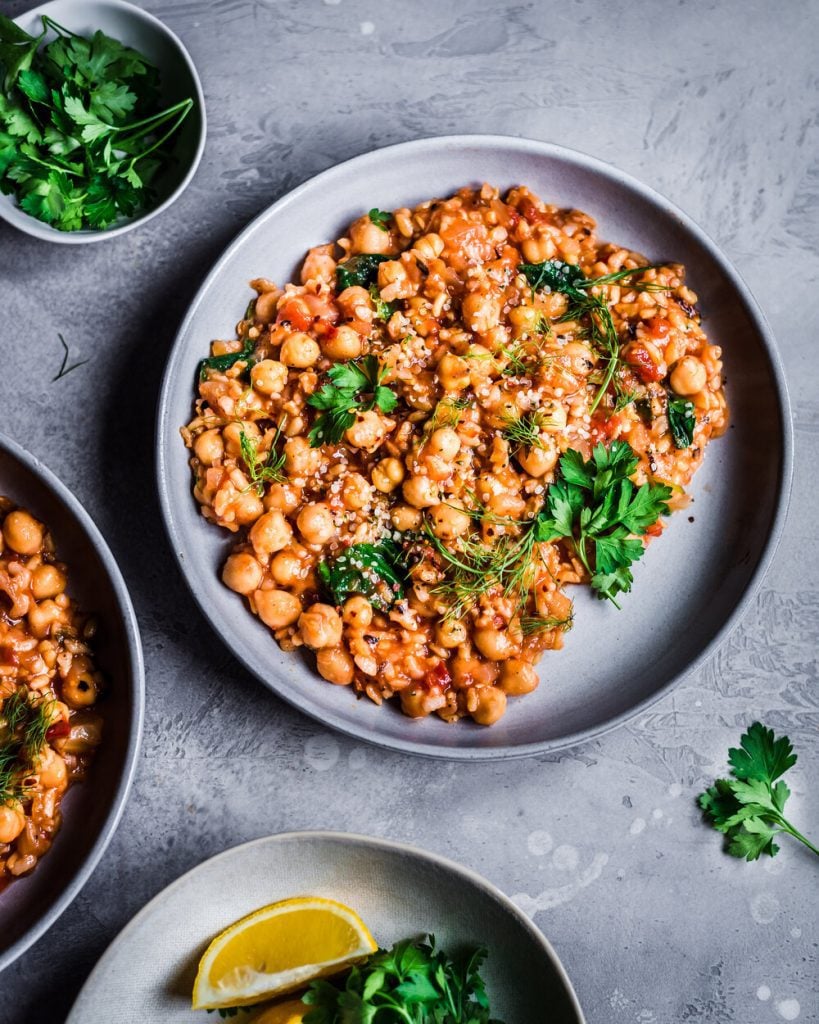 Why you're going to like this recipe 
Dump-and-go. We already talked about this, but it's impossible to dislike a recipe that requires zero hands-on cooking!
Weeknight-friendly. See above. You can have dinner on the table and all you need to do is 10ish minutes of chopping. Oh, and one-pot meals also mean minimal dishwashing! Bonus: the Instant Pot inner pot is dishwasher safe!
A complete balanced meal. Protein? Check. Complex Carbs? Check. Lots of Veggies? Check. Say hello to chickpeas and brown rice, along with fennel, tomatoes, onions, and greens!
Allergen-friendly and healthy. This stew is vegan, gluten-free, soy-free, oil-free, and nut-free so it is definitely allergen-friendly!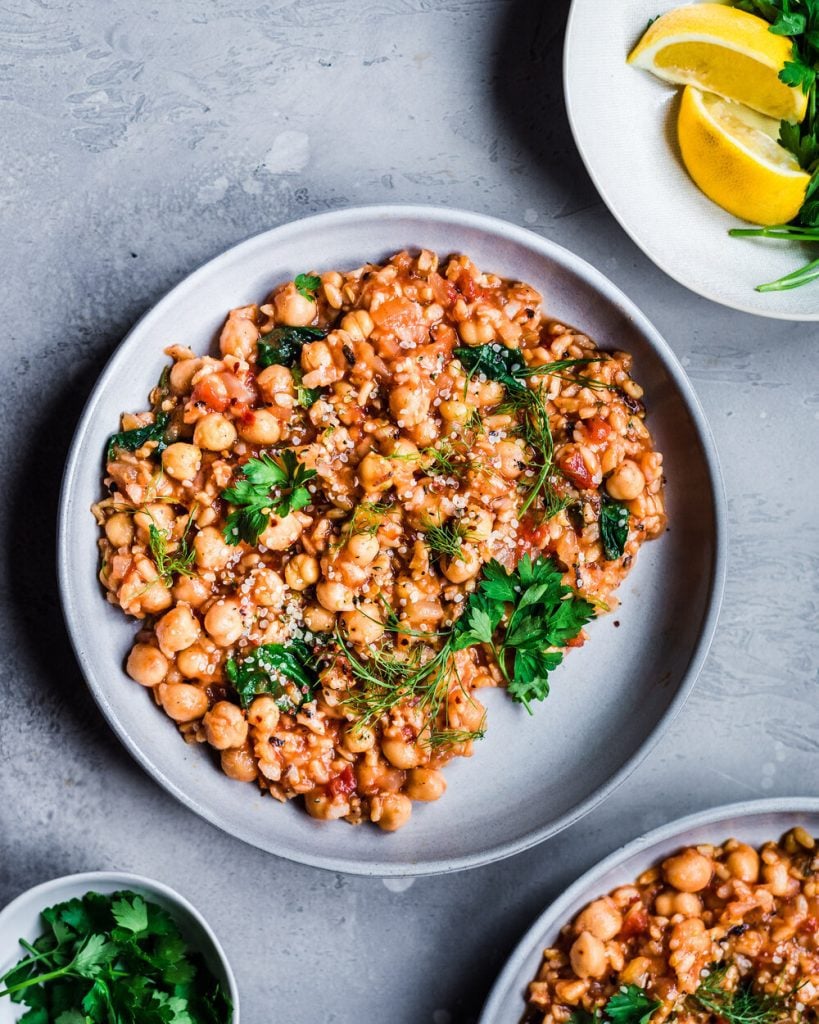 Ingredient Rundown
The aromatics. As with most of savory recipes, you know that I usually like to start with some aromatics. This could be as simple as onions or garlic, but it always varies based on the flavor profile and cuisine of the dish.
This recipe features my ride-or-dies onions and garlic, but also a new favorite of mine: fennel. Fennel has this anise-like sweetness that is SO good in this stew. It adds a nice subtly sweetness that brings a complexity of flavor to this meal that's otherwise made with mostly pantry ingredients.
If you're thinking, I could probably make this without fennel…you could…but it is SO much better with the fennel (I know because I've made both versions). So if you can get fennel at your grocery store, please buy it!
This recipe is a bit different than most in that you don't cook the aromatics in oil before adding the remaining ingredients. That's because there's no hands-on cooking involved. But don't omit the aromatics – they still add a good amount of flavor.
I also add fresh thyme, but no worries – you don't have to chop up the thyme. Just strip off the leaves and add them whole to the Instant Pot. Or, if you have kitchen twine, you can tie up a small handful of thyme sprigs together into a bouquet garni, and add that directly to the pot.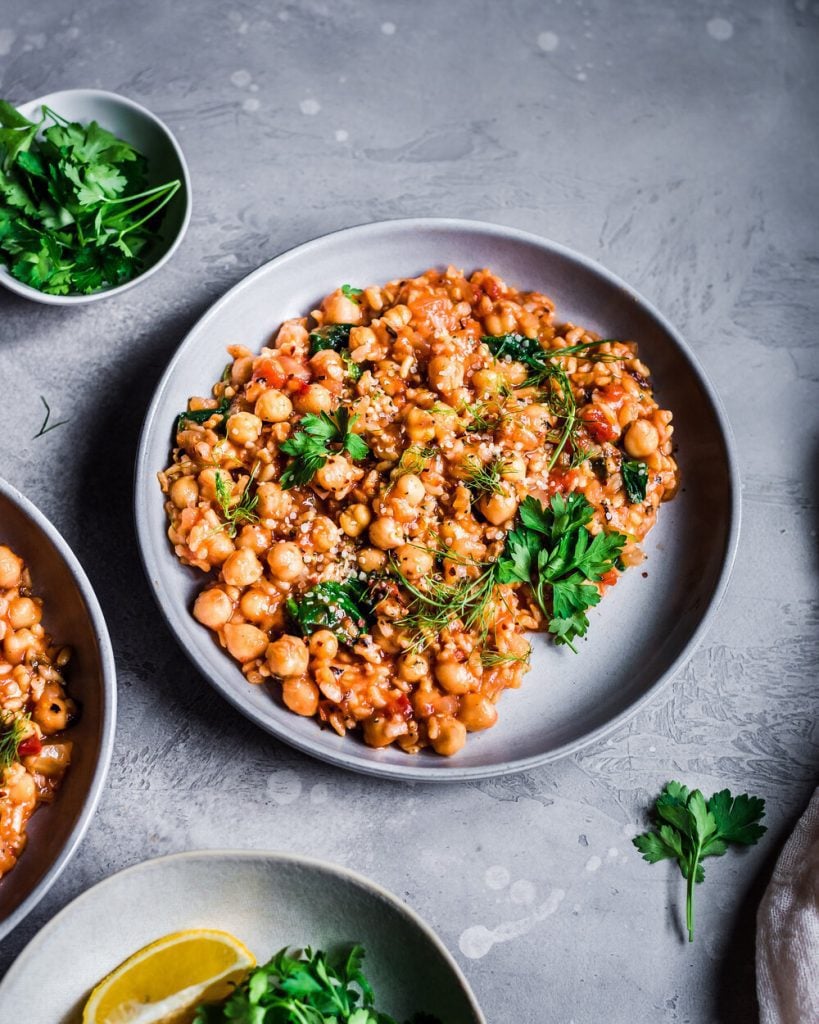 Dried chickpeas. The beauty of the Instant Pot is that it makes it much simpler to cook beans from scratch. No need to babysit the pot, wait for it to boil, or check to see if your beans are burning.
You do need to soak the chickpeas for this recipe overnight or for 8 hours, so it does require a little advance planning. But as long as you can remember to soak the beans, but it takes just 2 minutes to soak the beans.
Note: I do not recommend making this with canned chickpeas because you need to cook this stew for 12 minutes in order for the brown rice to fully cook, and this is too much time to cook canned chickpeas (which are already cooked), so they'll likely turn to mush.
Similarly, I also do not recommend making this with unsoaked dried chickpeas. That's because they'll need a much longer time to cook than 12 minutes-a minimum of 35 minutes, which is too long for brown rice.
Brown Rice. Use a long-grain brown rice variety, such as Basmati brown rice. Short-grain varieties are denser and bind together. Great for rice pudding, not so great for stews like this.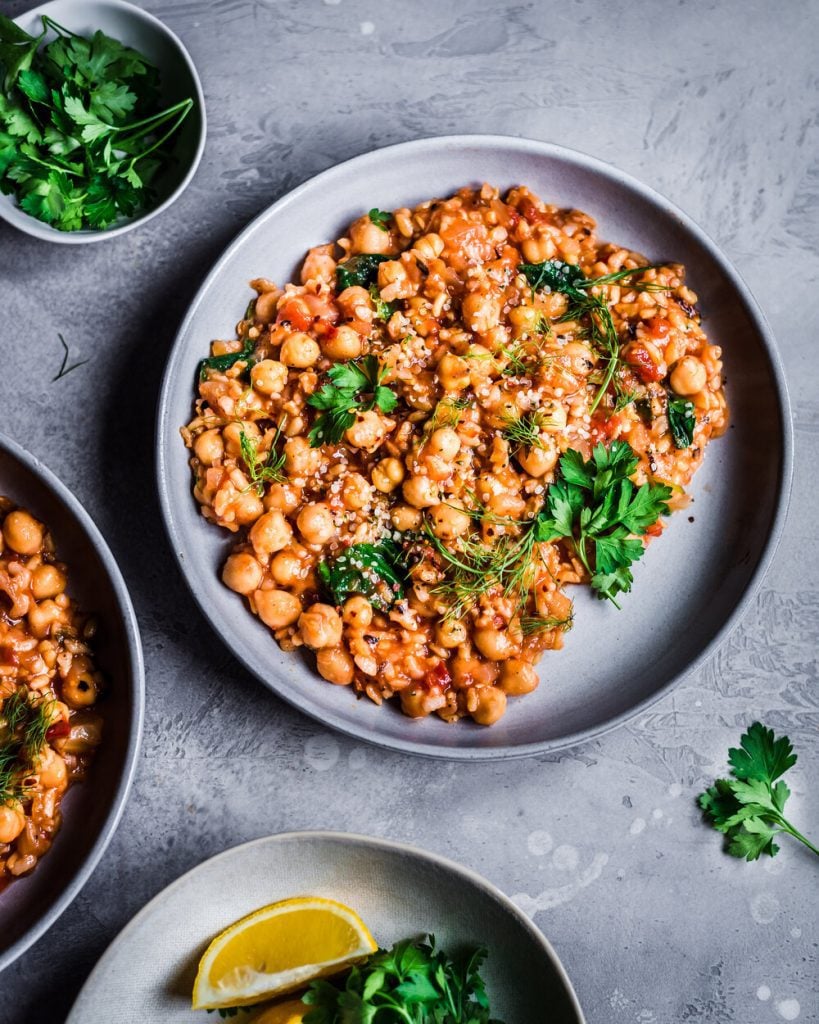 Crushed tomatoes. Read up, this part is important! Thick ingredients like crushed tomatoes tend to burn in the Instant Pot. To avoid this, add the crushed tomatoes (and tomato sauce) at the end and layer them on top of all of the other ingredients without mixing in. The tomatoes are less likely to mix into everything and sink to the bottom of the pot if you pour them as low and close to the pot as possible and not from high above.
Tomato sauce. See above :)
Greens. I stir in a generous few handfuls of greens at the end because, after all, this is a complete balanced meal! I used baby kale, but any green will do – baby spinach, or something hardier like regular kale or Swiss chard. If you do use a heartier green, you'll need to cook it for a few minutes longer at the end.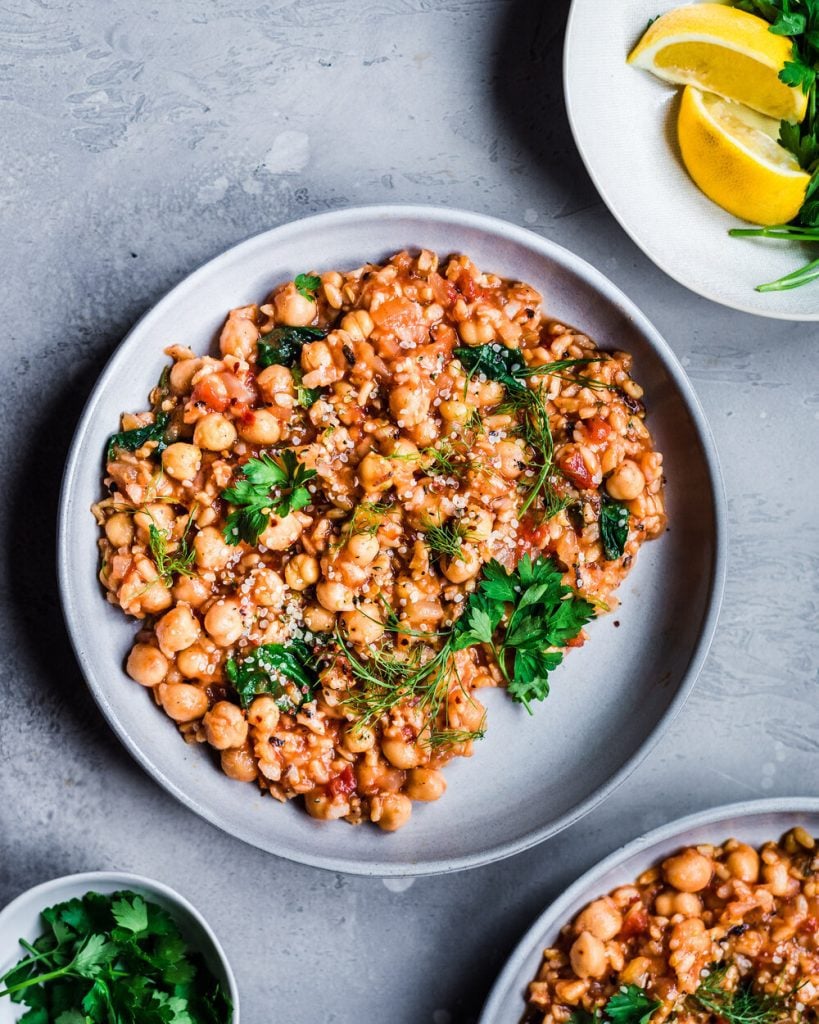 How to make this recipe with pantry-only ingredients
I am going to count onions, garlic, and lemon as pantry ingredients since they have a long shelf-life.
Other than that, to make this pantry-friendly, do the following:
Omit the fennel. I know, it's my favorite part. But if you're quarantined to your apartment and can't go out to get fennel, it'll be fine. If you have fennel seeds, add 1/2 to 1 teaspoon of them.

Replace the fresh thyme with dried thyme (1 to 1 1/2 teaspoons).

Omit the greens at the end. Sorry, the greens have to go!
If you give this recipe a try, be sure to tag me on Instagram with your recreations and please comment with your feedback below!
Finally, this recipe couldn't be simpler, but if you want a visual (always helpful IMO), check out this video on my dump-and-go Instant Pot recipes! This Instant Pot Fennel, Chickpea, and Brown Rice Stew recipe is the last one and begins at the 05:01 mark.
Instant Pot Fennel, Chickpea, and Brown Rice Stew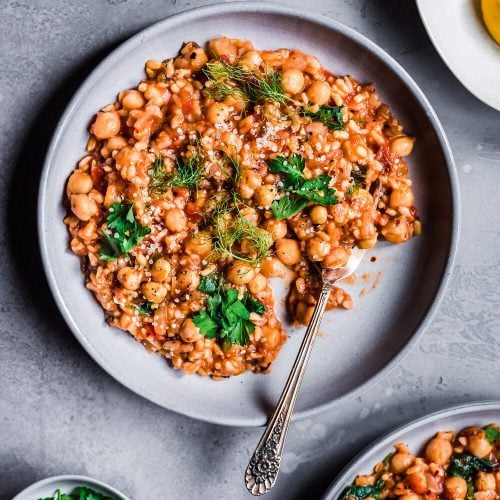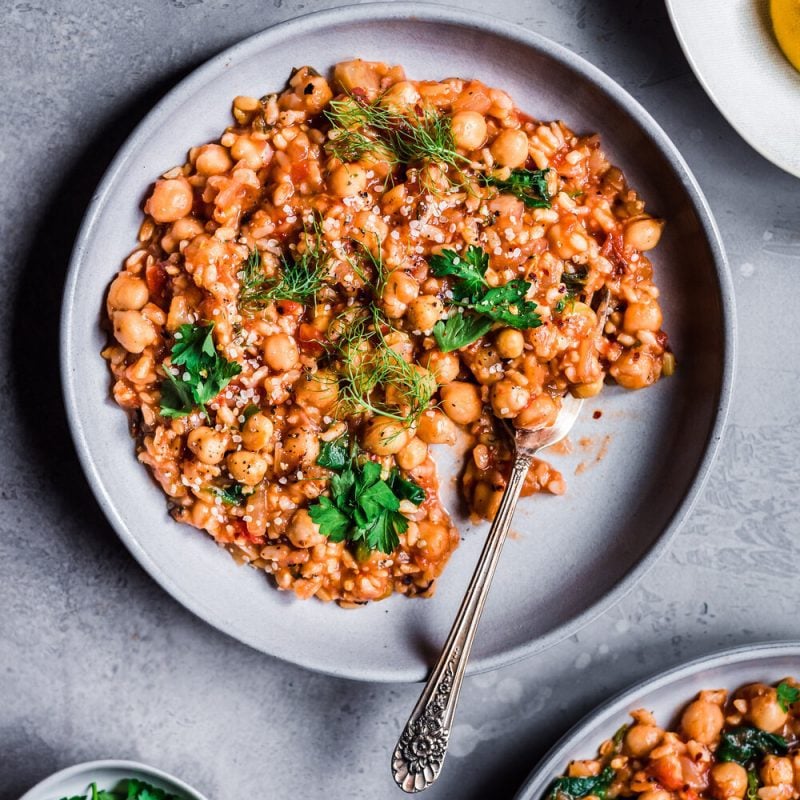 This Instant Pot Chickpea and Brown Rice Stew is a complete, balanced meal and is so simple - just add all the ingredients to the Instant Pot and dinner will be waiting for you! Healthy, vegan, gluten-free, oil-free, nut-free, and soy-free.
Ingredients
1

cup

(200g) dried chickpeas, soaked overnight*

1

large yellow onion,

diced

1

large fennel bulb with fronds**

4

garlic cloves,

finely chopped

1

handful of fresh thyme sprigs,

leaves stripped

4

cups

(950 mL) vegetable broth

1 1/4

cups

long-grain brown rice

(about 8 ounces, or 225g)

1/2

teaspoon

red pepper flakes

2

bay leaves

1 1/2

teaspoons

kosher salt + more to taste

Freshly cracked black pepper to taste

1

(14.5-ounce / 410g) can crushed tomatoes

1

(8-ounce / 227g) can tomato sauce

3 to 4

large handfuls of baby spinach or kale

(or other greens of choice), chopped roughly

1 - 1 1/2

tablespoons

fresh lemon juice

1/2

cup

Italian flat-leaf parsley,

finely chopped
Instructions
Pour the vegetable broth into the Instant Pot. Add the soaked and drained chickpeas, onions, fennel, garlic, whole thyme leaves, broth, brown rice, red pepper flakes, bay leaves, salt, and pepper. Stir to combine.

Pour the crushed tomatoes and tomato sauce on top of the other ingredients, but do not stir, allowing the tomatoes to sit on top (this prevents the tomatoes from blocking the Instant Pot's heat sensory and burning).

Secure the lid and set the Pressure Release to Sealing. Select the Pressure Cook setting at high pressure and set the cook time to 12 minutes.

Once the 12-minute timer has completed and beeps, allow a natural pressure release for 10 minutes and then switch the Pressure Release knob from Sealing to Venting to release any remaining steam.

Open the pot and stir in the greens and lemon juice. Select the Sauté́ setting and cook for 2 to 4 minutes, or until the greens are wilted and the stew has slightly thickened. Season to taste with additional salt and black pepper as needed. Transfer stew to individual bowls and garnish with the chopped parsley and the reserved fennel fronds. Store leftovers in the fridge for up 5 to 6 days.
Notes
* Cover the beans with 4 to 5 cups (about 1 L) water and 1 teaspoon kosher salt. Soak for 8 hours or overnight, then drain and rinse them under cold water.
** To prepare the fennel, chop off the tops/stems of the fennel bulbs (discard them or save to make vegetable broth). Reserve the fronds, chop up finely, and set aside. Slice off the thick bottom core from the fennel bulb and slice the fennel bulb in half. Then chop up the bulb into small pieces.
---
Calories:
363
kcal
|
Carbohydrates:
69
g
|
Protein:
17
g
|
Fat:
4
g
|
Saturated Fat:
1
g
|
Polyunsaturated Fat:
2
g
|
Monounsaturated Fat:
1
g
|
Sodium:
834
mg
|
Potassium:
1470
mg
|
Fiber:
17
g
|
Sugar:
17
g
|
Vitamin A:
4142
IU
|
Vitamin C:
49
mg
|
Calcium:
191
mg
|
Iron:
7
mg