Pantry meals came into high demand in 2020 for obvious reasons, and one of the easiest yet tastiest pantry meals I made was this Vegan Instant Pot White Bean Stew. It's incredibly easy to make, hearty and satiating, and very flavorful!
This stew a dump-and-go recipe, which means you can quite literally, dump all the ingredients into the Instant Pot, do no hands-on cooking, and come back to a warm, delicious dinner!
Unfortunately, a lot of dump-and-go recipes you'll find online seem to lack creativity and flavor—think mixing canned beans and salsa on top of a chicken breast (blah). Luckily, I am a stickler for maximizing flavor, so your taste buds definitely won't be bored with this recipe!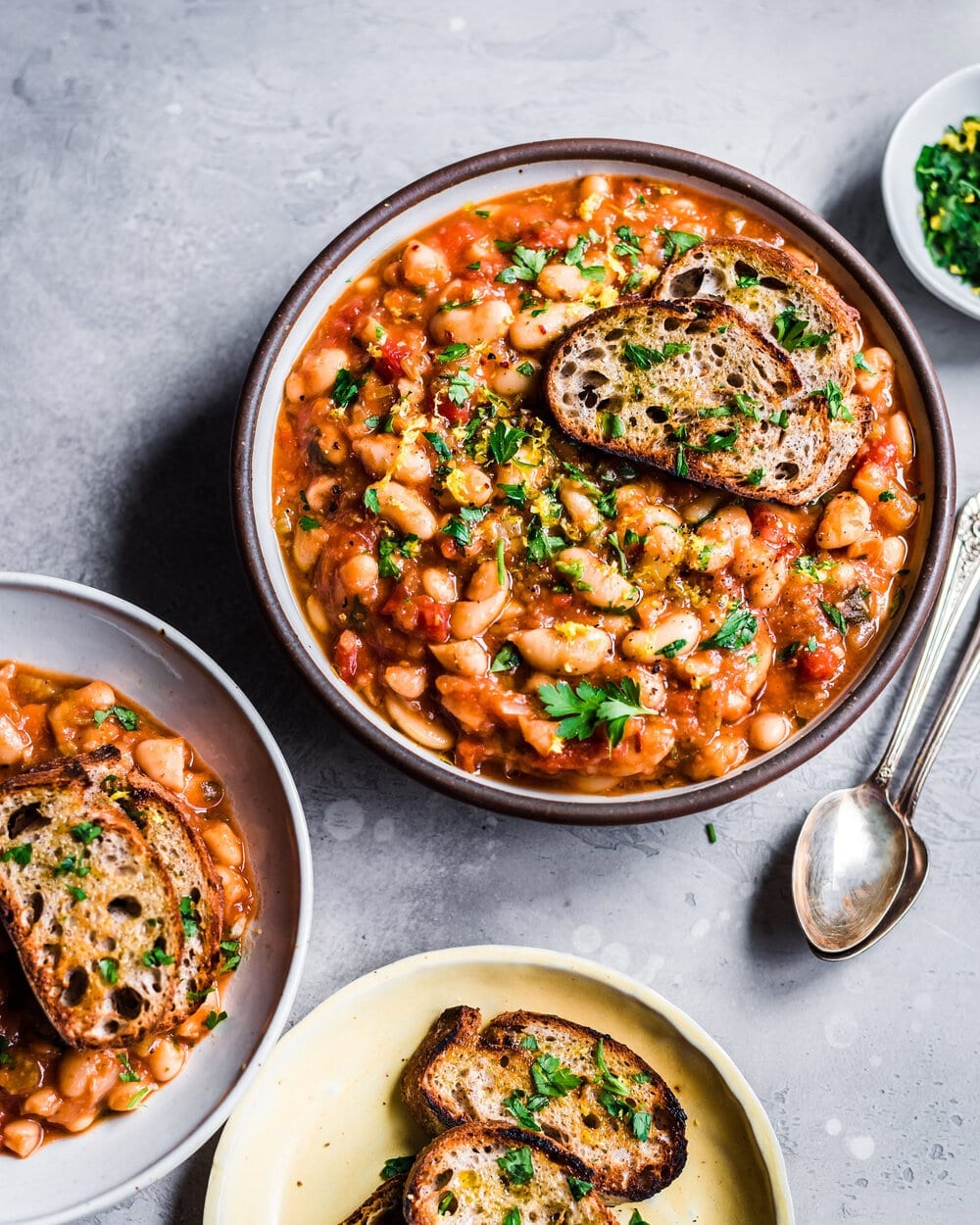 Why you'll like this vegan white bean stew
Dump-and-go. See above. Dump and go = no hands-on cooking!
Weeknight-friendly. See above. You can have dinner on the table and all you need to do is 10ish minutes of chopping. Oh, and one-pot meals also mean minimal dishwashing! Bonus: the Instant Pot inner pot is dishwasher safe!
Hearty and satisfying. This is hearty yet healthy comfort food that satisfies your cravings and your hunger, and leaves you full for hours. Especially if you serve this stew with some crusty, whole grain bread.
Allergen-friendly and healthy. This stew is vegan, gluten-free, soy-free, oil-free, and nut-free so it is definitely allergen-friendly!
Flavorful. There are multiple levels of flavors in this dish, from the bouquet garni (more on that below) to the ground cumin and paprika to the fresh gremolata topping (my favorite part).
Ingredient Rundown
The aromatics. If you're familiar with my savory recipes, you know that I usually like to start with some aromatics. This could be as simple as onions or garlic, but it always varies based on the flavor profile and cuisine. The aromatics I use in this recipe are shallots, celery, and garlic.
This recipe is a bit different than most of my savory recipes in that you don't cook the aromatics in oil. That's because there's no hands-on cooking in this dump-and-go recipe. But don't omit the aromatics – they still add a good amount of flavor.
Yukon Gold Potatoes. To naturally thicken the stew, I add one large Yukon Gold Potato. I grate it with a box grater (the side with the large holes). Why grate them? Because the potatoes practically melt into the stew. But if you don't have a grater, just peel and finely dice the potatoes.
Dried white beans. The beauty of the Instant Pot is that it makes it much simpler to cook beans from scratch. No need to babysit the pot, wait for it to boil, or check to see if your beans are burning.
You do need to soak the beans for this recipe overnight or for 8 hours, so it does require a little advance planning. But as long as you can remember to soak the beans, the soaking step takes just 2 minutes.
As for bean variety, my go-to is cannellini beans (so creamy and rich). But great northern beans or navy beans work just fine too.
Crushed tomatoes and tomato paste. Read up, this part is important! Thick ingredients like crushed tomatoes tend to burn in the Instant Pot.
To avoid the burn warning, add the crushed tomatoes and tomato paste at the end and layer them on top of all of the other ingredients without mixing in. The tomatoes are less likely to mix into everything and sink to the bottom of the pot if you pour them as low and close to the pot as possible and not from high above.
Gremolata. An Italian word for a chopped herb condiment featuring lemon zest, garlic and parsley. I make the gremolata while the stew is cooking, and stir it into each bowl when ready to serve. I promise you it will take your stew from good to AHMAAZING. It adds an incredible amount of bright, lemony freshness that makes every bite sing!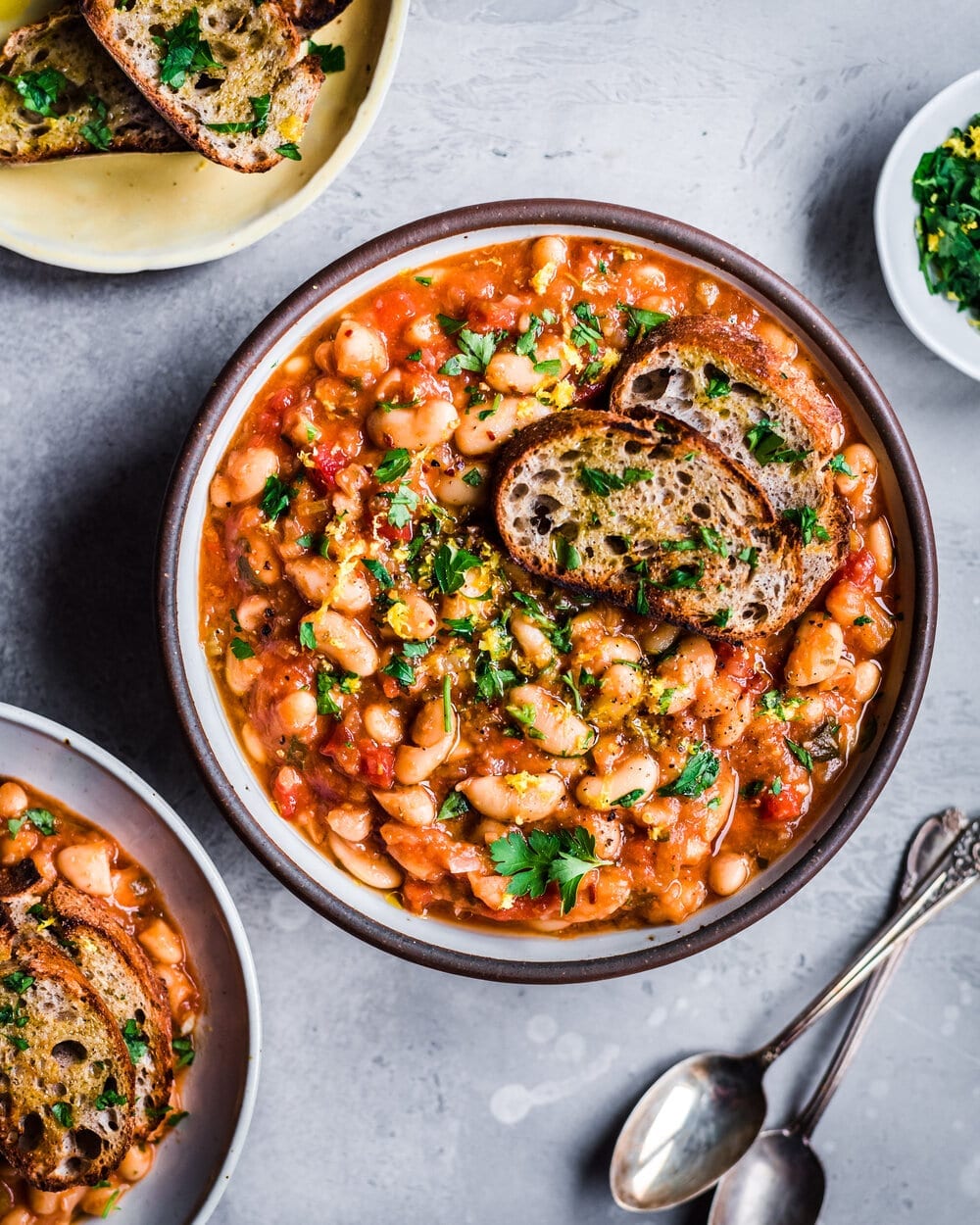 Substitutes and Modifications for this Recipe
Using unsoaked dried beans. If you do forget to soak your beans, you can make this recipe with unsoaked beans, but a few notes
the texture of soaked beans is much better IMO (you'll end up with more split skins if you don't soak the beans);
You'll need to add more liquid (about 4 3/4 to 5 cups of vegetable broth instead of 3 cups – that's about 1.1-1.2 liters instead of 720 mL);
You'll need to increase the cook time from 12 minutes to something about 55 minutes.
Using canned white beans. Since the beans are already cooked, you don't need to cook them for very long. I'd say 5 or 6 minutes using the pressure cook setting. IMO, dried beans are better in taste and texture, but if you don't got 'em and can't get 'em canned beans will work.
Frequently Asked Questions
Can I substitute this ingredient?
No Shallots? Try leeks or a sweet onion.
No Thyme? Try oregano, rosemary, or sage, but use less. Or, use dried thyme (1 to 1 1/2 teaspoons).
Is the gremolata necessary?
Yes! When making dump-and-go recipes, you're missing out on some of the opportunities to build flavor during the sauté step. So, it's important to find other ways to build flavor elsewhere.
What to serve with white bean stew?
A hunk of crusty bread is the best pairing! If you're gluten-free, try serving this over a bed of millet or brown rice.
Can I freeze this white bean stew?
Yes! Freeze it without the gremolata in freezer-safe containers (affiliate link). Defrost in the fridge before reheating.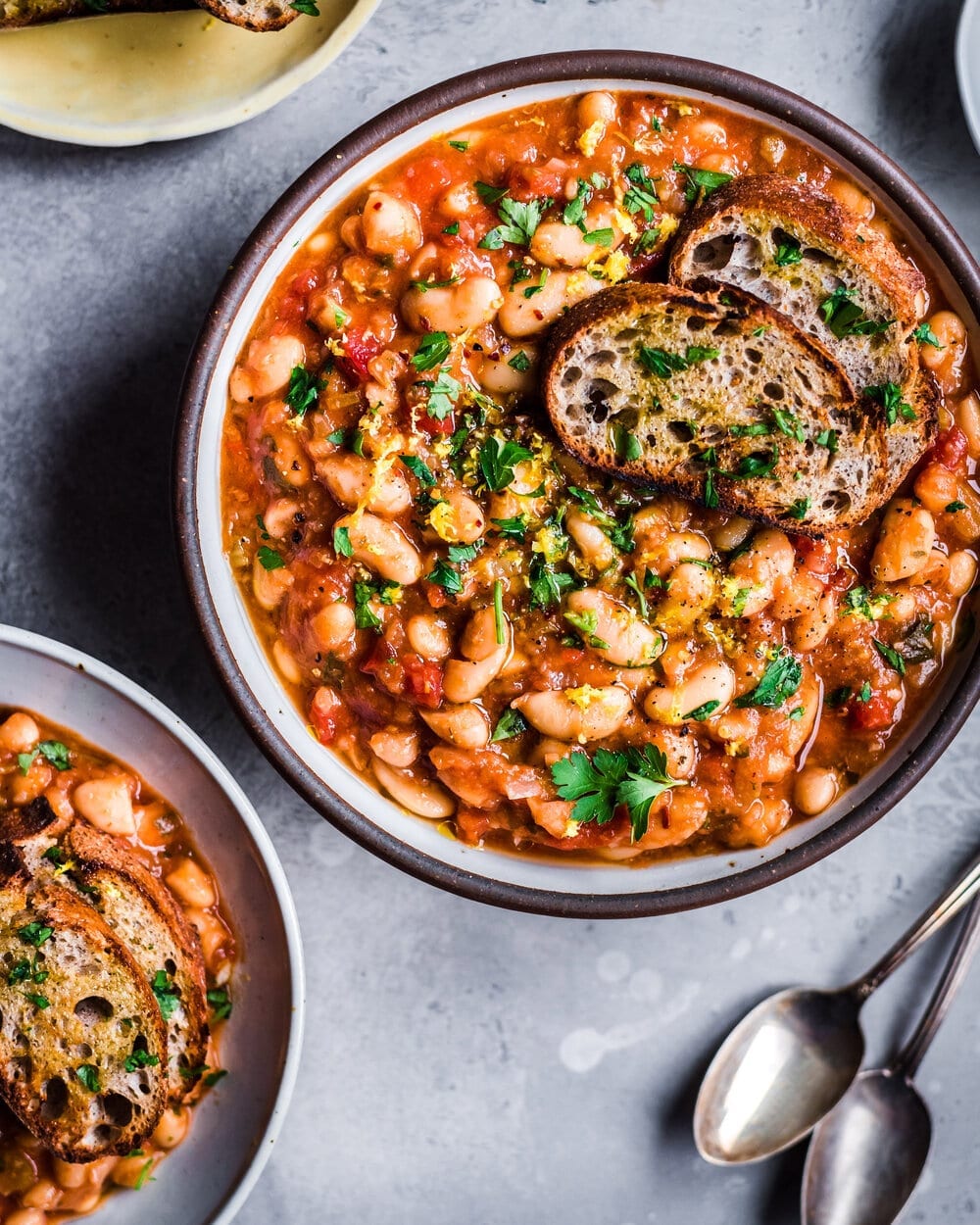 More Delicious White Bean Recipes to Try
If you give this recipe a try, be sure to tag me on Instagram with your recreations and please comment with your feedback below!
Vegan Instant Pot White Bean Stew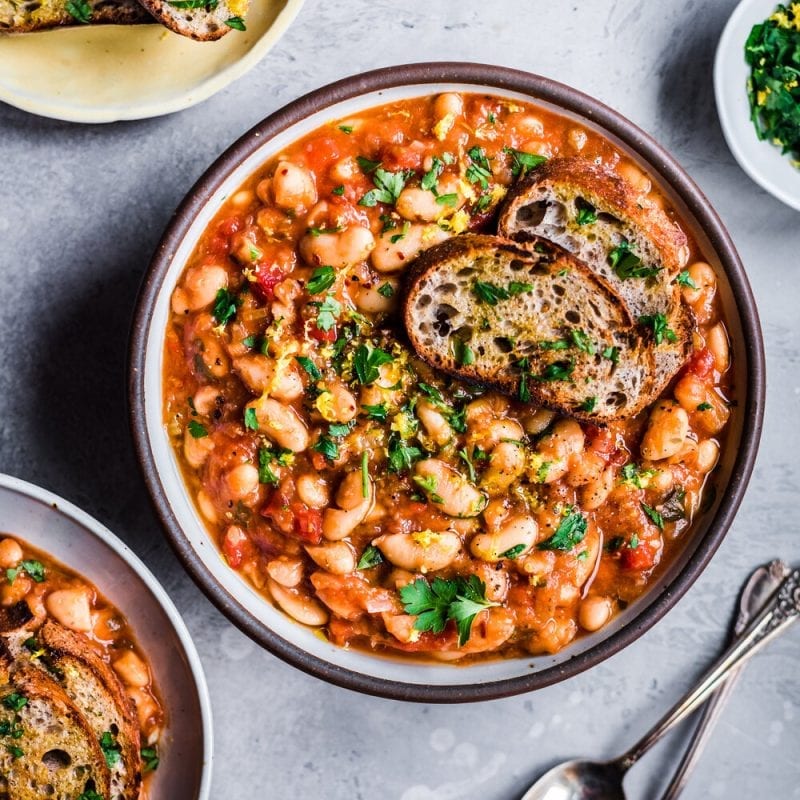 A dump-and-go Instant Pot recipe that couldn't be simpler! This Instant Pot White Bean Stew is healthy, vegan, gluten-free, nut-free, soy-free and has no added oil. And it comes together with zero hands-on cooking!
Ingredients
12

ounces

(340g) dried white beans, such as cannellini or great northern beans, soaked overnight*

3

medium shallots,

diced

4

garlic cloves,

chopped

3

celery ribs,

sliced

1

large or 2 small-to-medium Yukon Gold potatoes,

scrubbed, peeled, and grated**

3 1/2

cups

(840 mL) vegetable broth***

1 to 1 1/2

teaspoon

ground cumin

(use 1.5 tsp if you love cumin like I do)

1

teaspoon

sweet or hot paprika

Bouquet garni: 2 bay leaves + a few sprigs of flat-leaf parsley and thyme,

tied tightly together with kitchen twine

1 ½ – 2

teaspoons

kosher salt

Freshly cracked black pepper to taste

1

(14.5-ounce / 410g) can crushed tomatoes

3

tablespoons

(50g) tomato paste
Gremolata Topping
1

large handful of Italian flat-leaf parsley,

leaves and stems

1

large garlic cloves,

peeled and left whole

1

small organic lemon

Coarse or flaky sea salt

For serving

(optional): fresh lemon juice, extra virgin olive oil, and crusty whole-grain bread
Instructions
Pour the vegetable broth into the Instant Pot. Add the soaked and drained white beans, shallots, garlic, celery, grated potatoes, cumin, paprika, salt, pepper, and the bouquet garni. Stir to combine.

Pour the crushed tomatoes and scoop the tomato paste on top of the other ingredients, but do not stir, allowing the tomatoes to sit on top (this prevents the tomatoes from blocking the Instant Pot's heat sensory and burning).

Secure the lid and set the Pressure Release to Sealing. Select the Pressure Cook setting at high pressure and set the cook time to 12 minutes.

While the stew is cooking, prepare the Gremolata Topping. Roughly chop the parsley. Using a Microplane, grate the garlic directly over the parsley and zest the lemon on top of this mixture, taking care to not zest the white pith underneath the skin. Mix the garlic and lemon zest into the parsley and chop until everything is finely minced. Sprinkle with a bit of the coarse or flaky sea salt.

Once the 12-minute timer has completed and beeps, allow a natural pressure release.

Open the pot and taste for seasonings, adding more salt as needed. Transfer the stew to individual bowls, and top each with some gremolata. If desired, squeeze a little fresh lemon juice and drizzle with a bit of extra virgin olive oil, and serve with whole grain bread. Store leftovers in the fridge for up to 4-5 days.
Notes
* Cover the beans with 6 cups (about 1.4 L) water and 2 teaspoons kosher salt. Soak for 8 hours or overnight, then drain and rinse them under cold water.
** I use the large side of a box grater. if you don't have a grater, just dice the potatoes.
*** This recipe originally had 3 cups of water but some users reported getting the burn warning, so I recommend adding a bit more water, as all Instant Pot models are a bit different. 
---
Calories:
399
kcal
|
Carbohydrates:
77
g
|
Protein:
25
g
|
Fat:
1
g
|
Saturated Fat:
1
g
|
Polyunsaturated Fat:
1
g
|
Monounsaturated Fat:
1
g
|
Sodium:
729
mg
|
Potassium:
2263
mg
|
Fiber:
19
g
|
Sugar:
11
g
|
Vitamin A:
763
IU
|
Vitamin C:
32
mg
|
Calcium:
277
mg
|
Iron:
12
mg