One of my all-time favorite dishes is risotto, and this vegan mushroom risotto has been my favorite version the last year or two. The first time I served this risotto was at a dinner party, and all of the non-vegan guests proclaimed it was the best risotto they had ever tasted (no vegan qualification needed). Best. Risotto. Period.
Through rounds and rounds of recipe testing, I've keyed in on the techniques and ingredients anyone can use for a mind-blowing risotto. One of those is an easy miso butter. It enhances the naturally occurring umami in mushrooms, helps mimic those rich savory flavors that parmesan cheese ordinarily brings to risotto, and turns this recipe into a true flavor bomb.
Table of Contents
This post is sponsored by Country Crock® Plant Butter. All opinions and recipes are my own.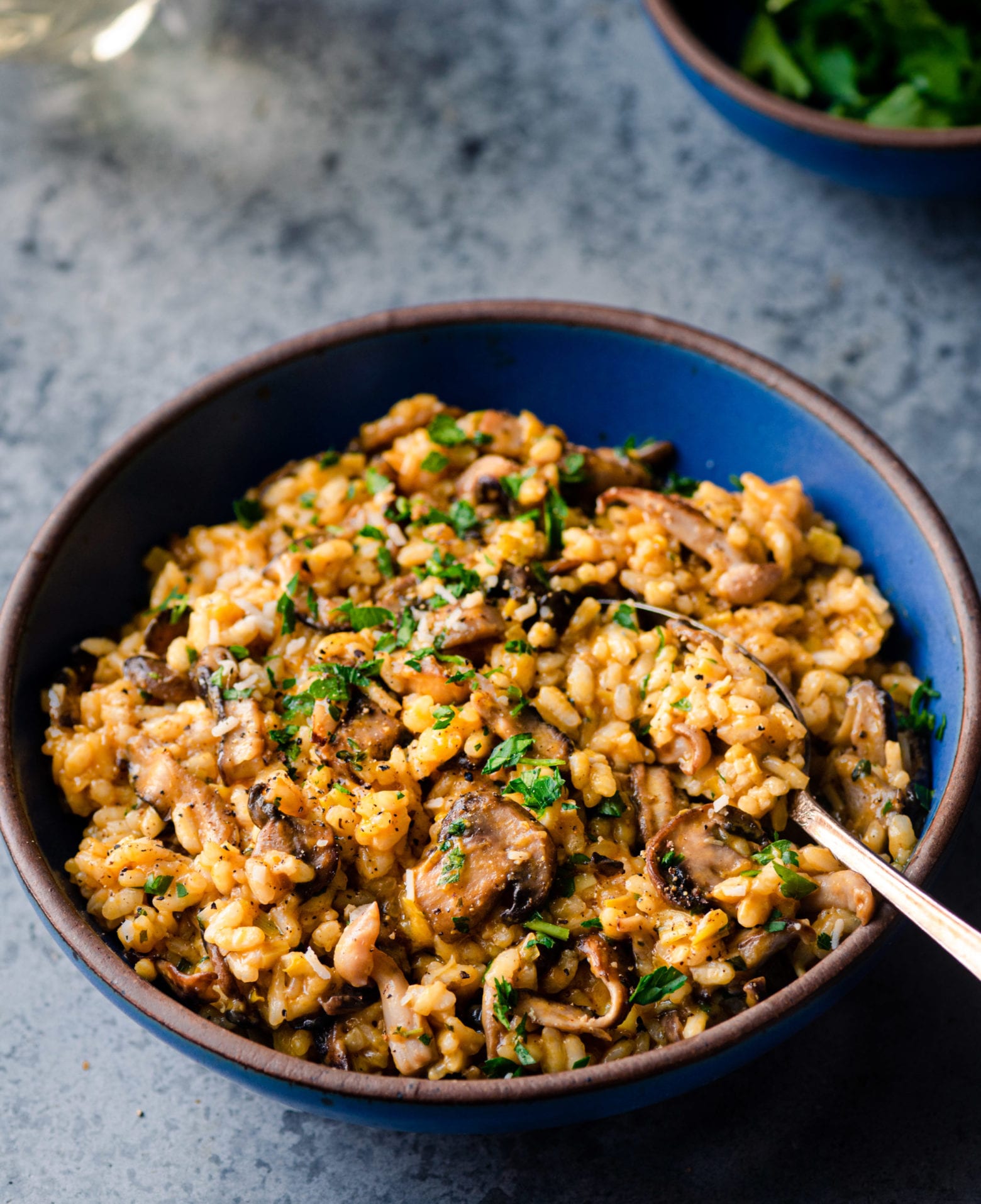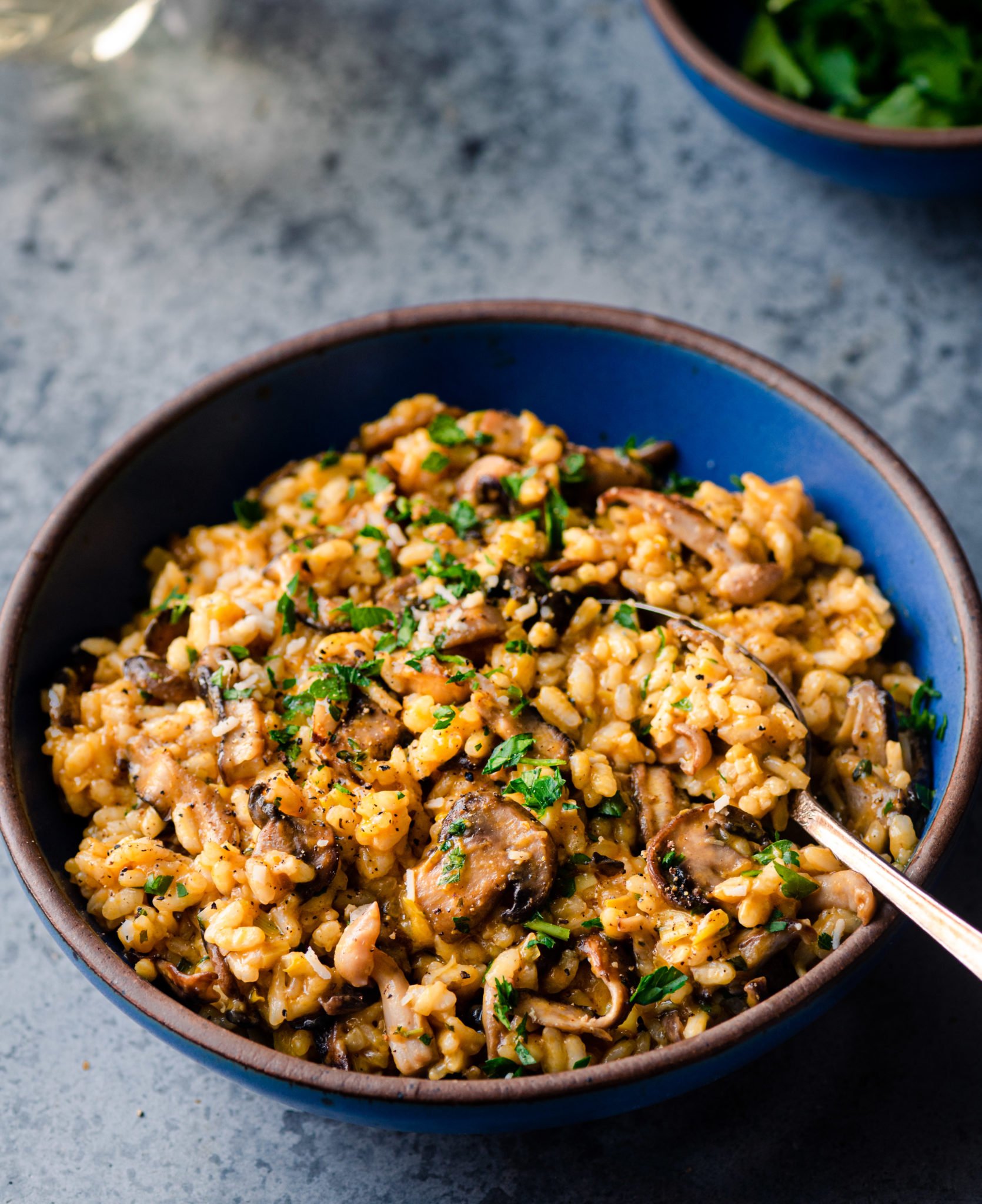 Tips for making the best vegan risotto (no dairy required for creaminess!)
Making risotto can be intimidating, but once you get familiar with these tips, it's pretty straightforward. And you don't need dairy (butter, cream, or cheese) to make creamy and rich risotto. Rather properly cooking the rice–as outlined in the tips below–is the secret.
Use hot vegetable broth. Warm up your broth in a separate saucepan on the stove. No need to vigorously boil, but you want to make sure you're adding hot broth to cook the rice. Adding cold or room temperature broth will cause your rice to cook unevenly (i.e., some rice grains will be firm and others will be soft).
Cook the vegetables and rice separately. This recipe calls for cooking the mushrooms separately and mixing them in once the risotto is done cooking. Yes, it's an extra step, but if you add the mushrooms directly with the rice, the mushrooms will get soggy and will likely overcook. Risotto is supposed to be creamy, but not mushy!
Cooking the mushrooms directly with the rice also makes it difficult to stir the rice. This rule applies to most kinds of risotto, not just mushroom risotto.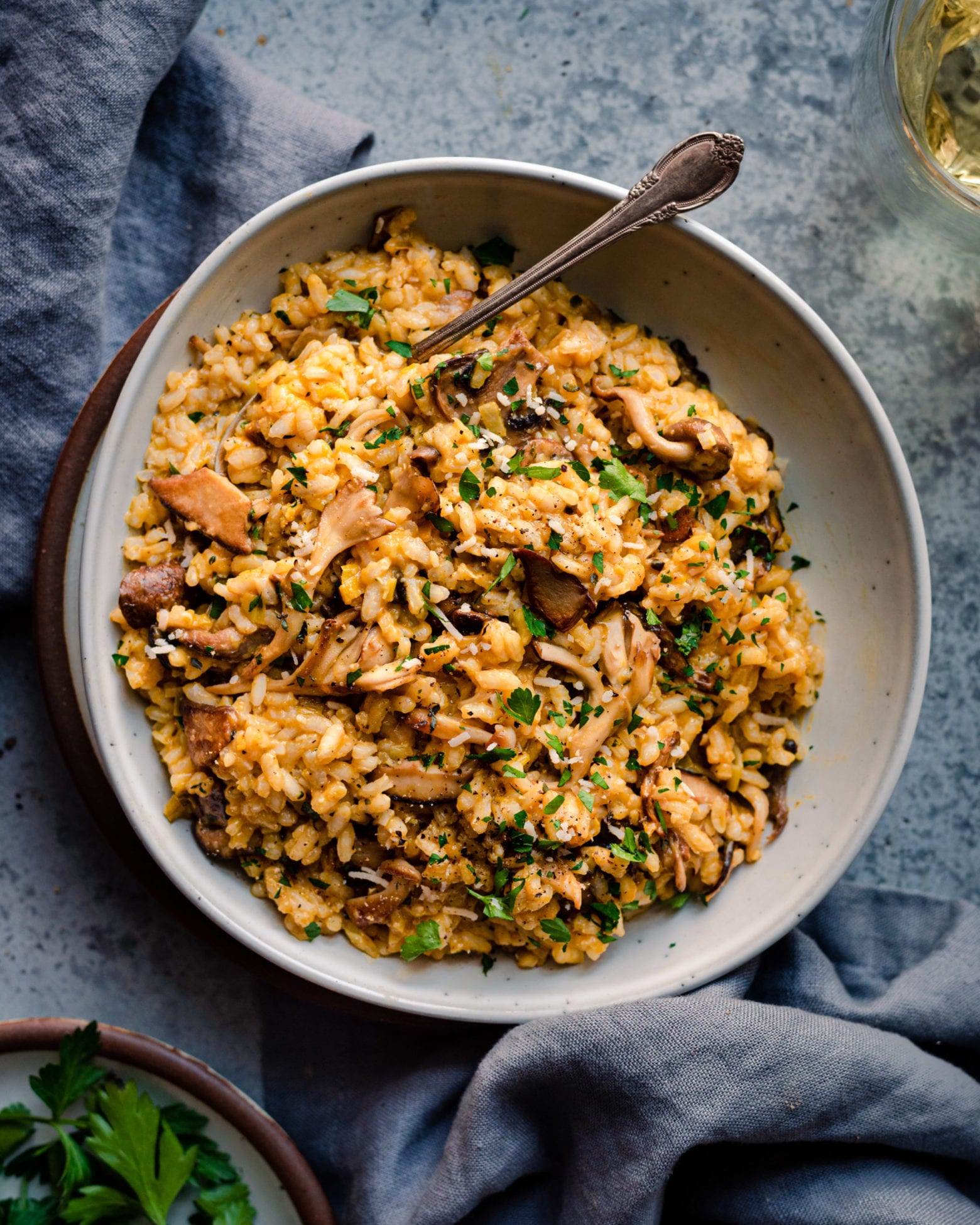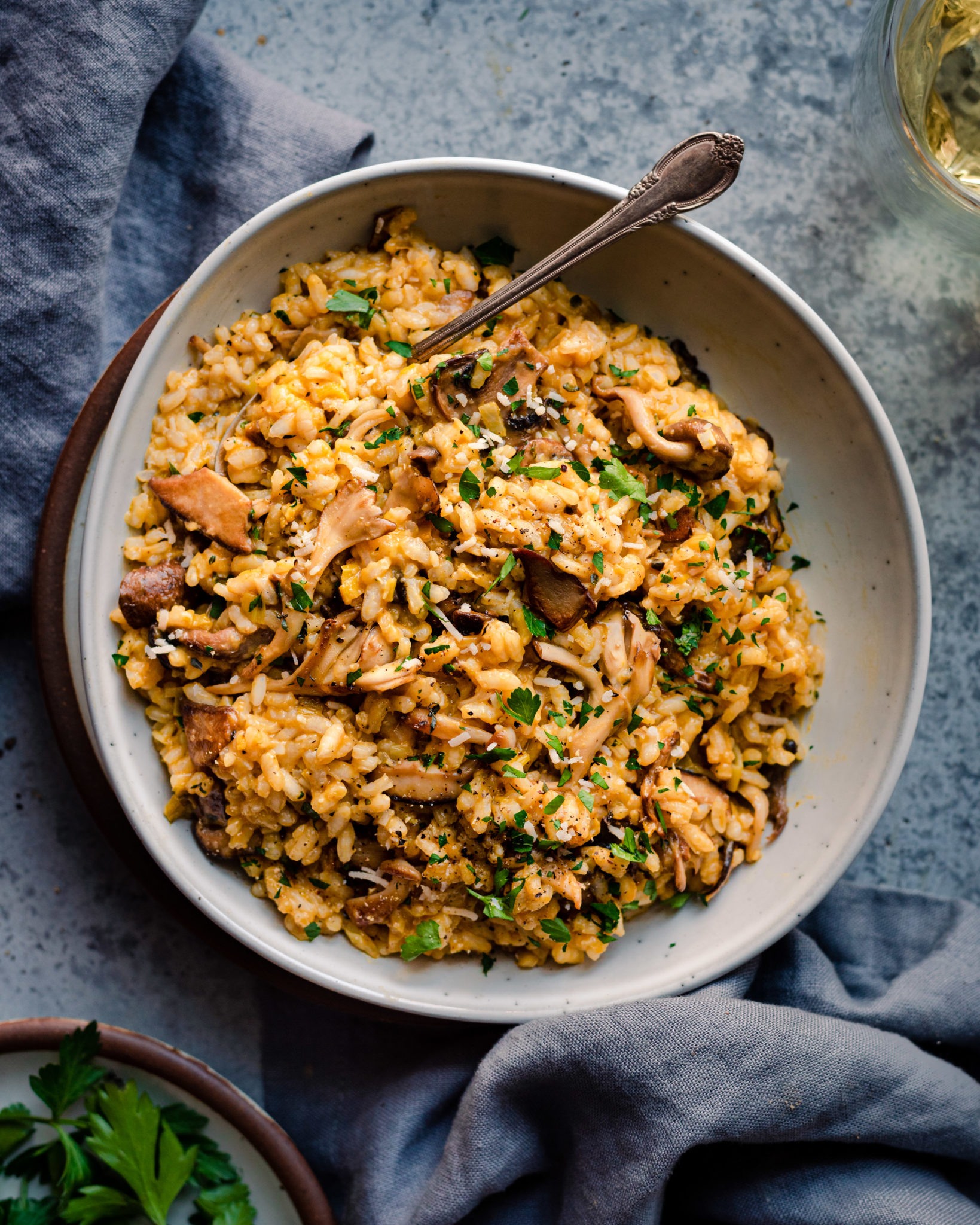 Cook the mushrooms the right way. A lot of mushroom risotto recipes have you just briefly cook the mushrooms for 4-5 minutes. To allow the mushrooms to truly shine, though, you need to do a few things. First, cook them separately from the rice. Second, allow them to sear and brown beautifully. Third, wait until the end of cooking to salt them so they don't release a ton of moisture. For more detail on this, check out my vegan mushroom stroganoff recipe.
Deglaze the pot. When you pour the wine into the rice, use it as an opportunity to deglaze the pot. Stir the wine into the rice grains, ensuring that there are no bits of rice or leeks/garlic stuck to the bottom of the pot. This does two things. It infuses more flavor into the risotto. And makes it easier to stir, ensuring the rice doesn't stick to the bottom of the pot.
Add the broth gradually. Don't be tempted to pour in a bunch of vegetable broth all at once. When rice is flooded with a ton of liquid, it's akin to just boiling rice. Boiled rice does not equal creamy risotto.
In contrast, when you ladle in just a little liquid at a time, the rice grains are forced to get cozy and agitate each other; this process helps release the natural starch found in medium-grain rice. And when those starches release, you unlock all the creaminess.
Stir often but not constantly. You might have heard that you need to stir risotto constantly, but that's a bit of an overstatement. Instead, aim to stir it about every 30 seconds. If you stir constantly, it will aerate the rice, making it a bit gluey. In contrast, if you don't stir frequently, enough, your rice will stick to the bottom of the pot and possibly burn.
Cook until al dente, not mushy. There's a common misconception that risotto should be very soft. No! It should be creamy and somewhat soft but still al dente. It's rice, not porridge.
There's also a misconception that risotto takes 45 minutes of stirring. In reality, risotto shouldn't take more than 20 minutes once you've added that first ladle of broth.
If you're not sure what al dente should taste/feel like, I recommend doing the "smear/smush" test outlined in this article. Place a grain of rice on a cutting board or flat surface and smush it with your finger. If the risotto is properly cooked, it should smear fairly smooth but you should still be able to see a bit of the white, al dente center of the rice.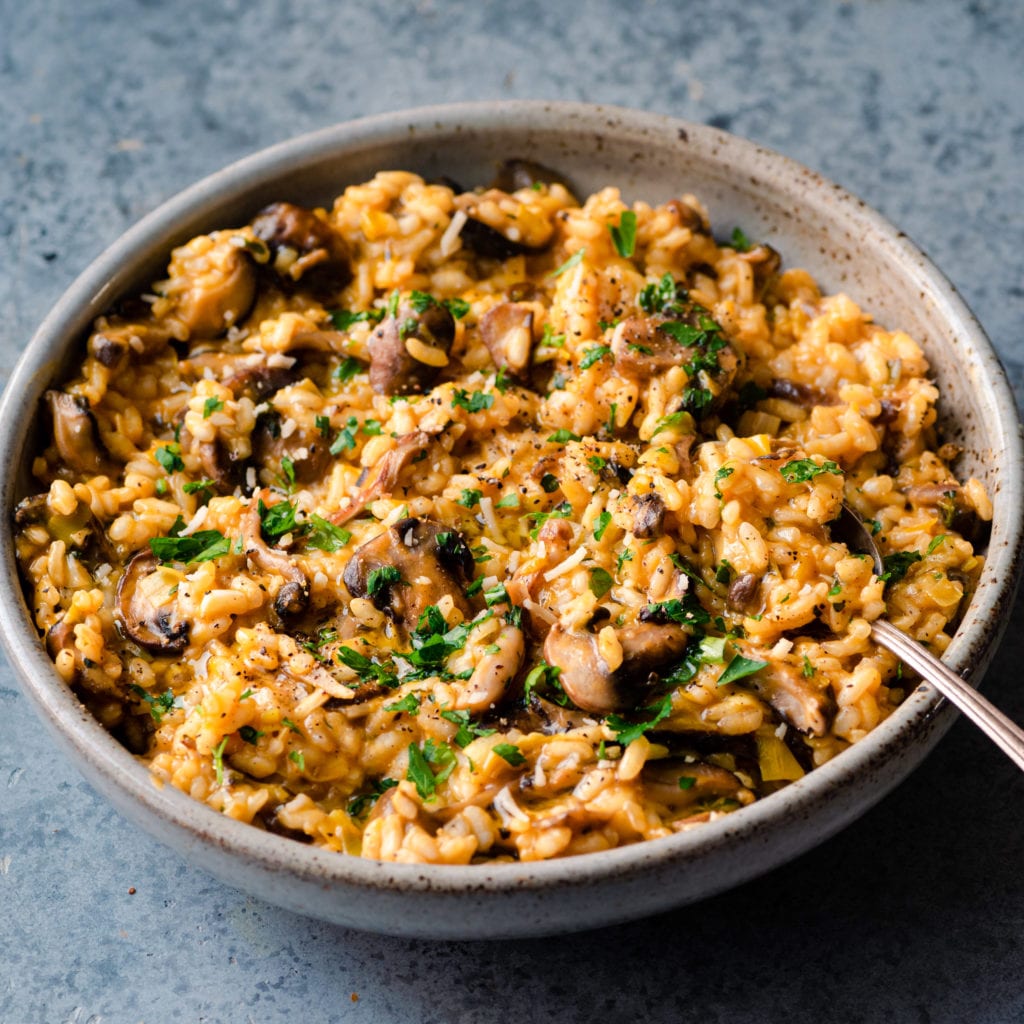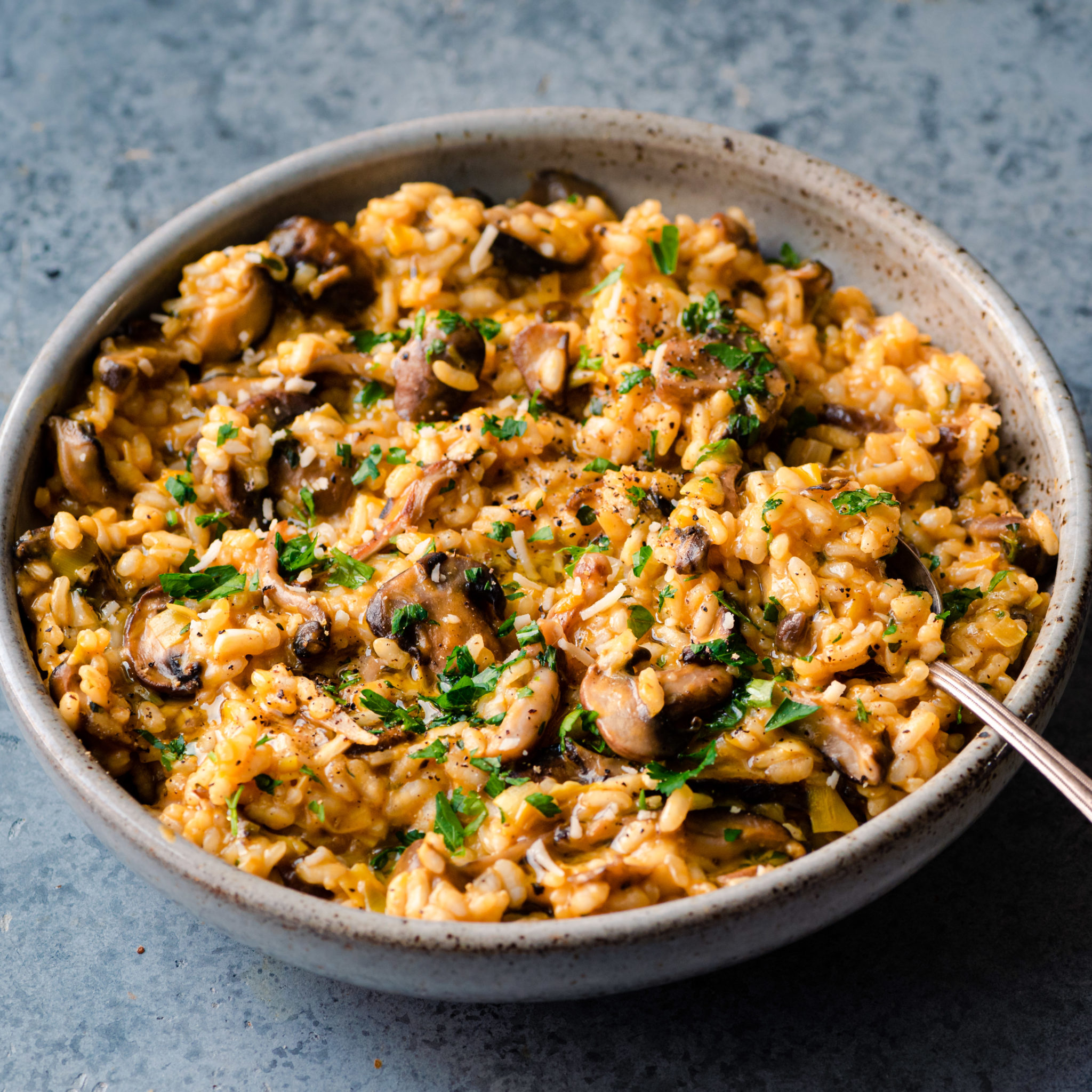 Ingredients in this vegan mushroom risotto
Mushrooms. We use a lot of mushrooms (20 ounces, to be exact)! I like to use a combination of mushrooms for the best texture and taste variety. You definitely don't need to use all of the mushroom varieties I use, but aim for at least 2 different kinds of mushrooms. And preferably, look for varieties besides the standard white button mushrooms. More on this in the "Frequently Asked Questions" section.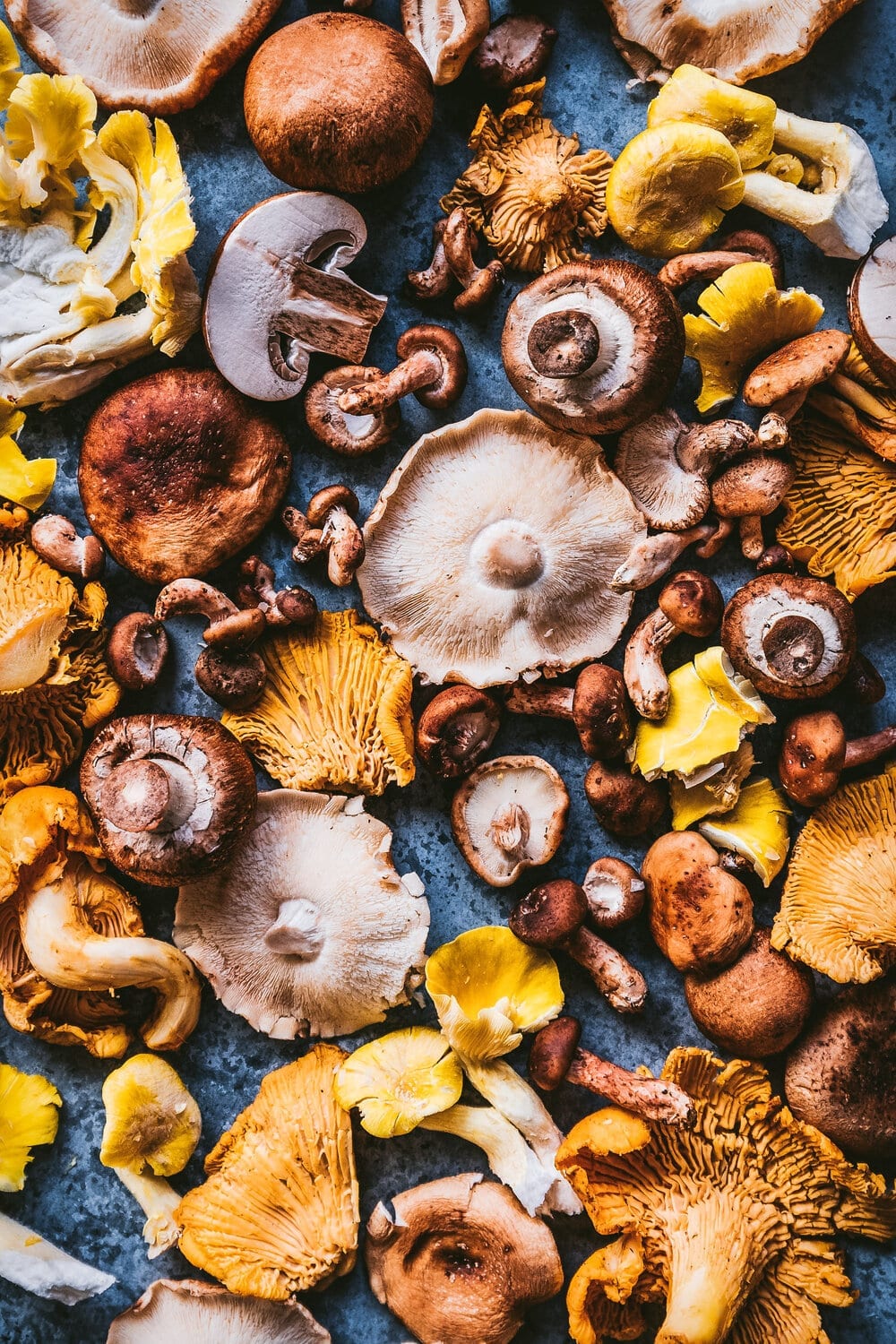 White Miso Paste. Miso is one those superstar ingredients that adds so much umami oomph and pizzaz to vegan dishes in a wholesome, plant-based way.
I almost always use a mellow/mild miso paste, such as white or yellow, as the mellow flavor doesn't overwhelm the dish. If you can only find darker miso (e.g, red miso), add a bit less to prevent overwhelming the other flavors in this dish.
Country Crock Plant Butter. The miso butter takes this recipe from ordinarily delicious mushroom risotto to wow-worthy delicious mushroom risotto. It adds an indescribably rich flavor and texture to the risotto that will have your taste buds screaming "THERE'S A PARTY IN MY MOUTH!"
To make the miso butter, all you need to do is cream together softened vegan butter and white miso paste to make the most flavorful butter ever. I use Country Crock's Plant Butter, which works fabulously. Nobody, not even serious butter loves, will know that it's not your standard dairy-based butter.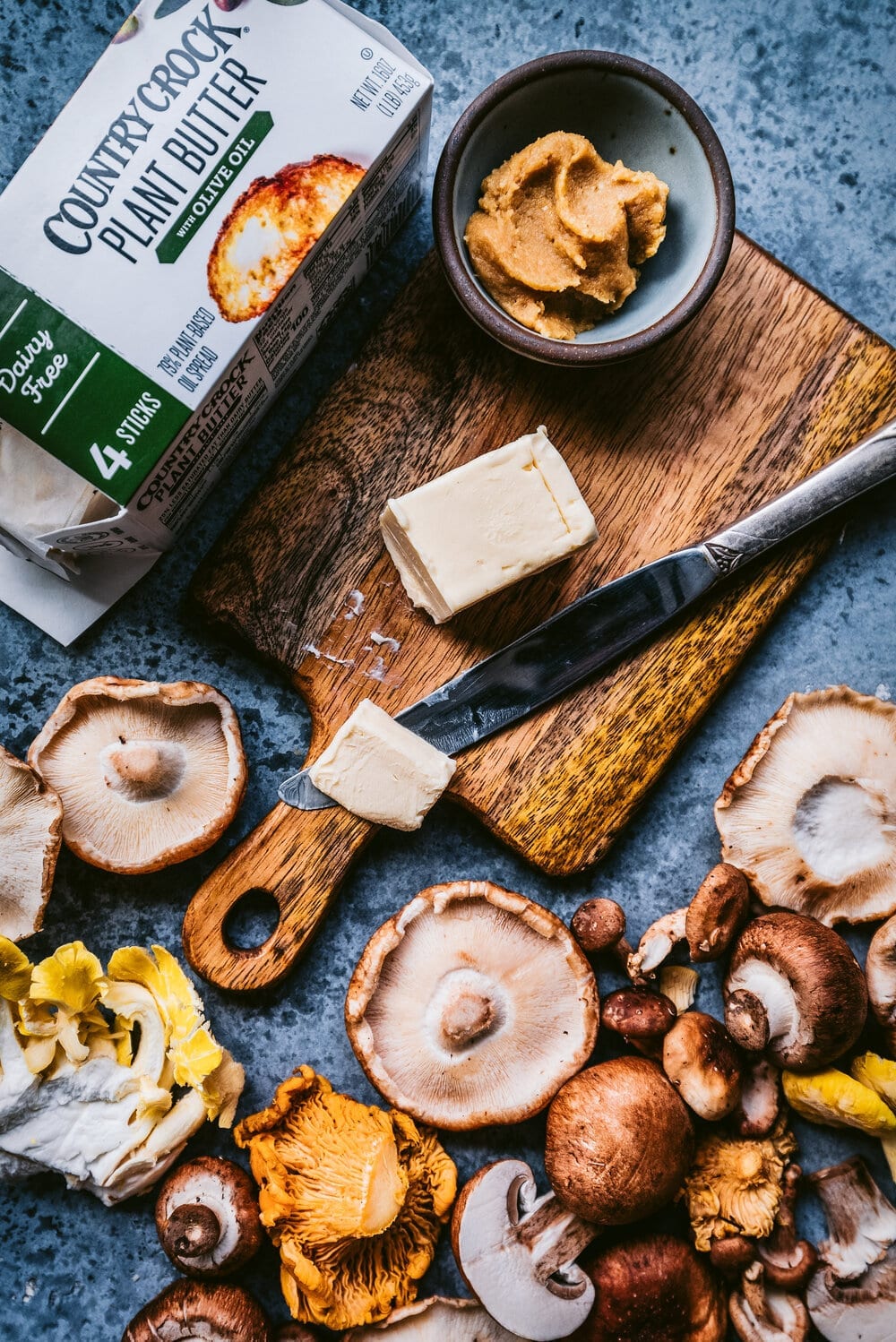 Leeks. Many risotto dishes start by sautéing onions or shallots, but my preference is leeks, at least for mushroom risotto. There is something irresistible about the flavor combination of mushrooms and leeks: nutty and earthy meets sweet, mild, delicate flavors in an electric combination.
Arborio Rice or Carnaroli Rice. These are both medium-grain rice varieties classically used in risotto. Arborio is much more commonly available at most grocery stores. However, if you can find Carnaroli rice, it makes for slightly creamier risotto and is is harder to overcook than Arborio rice (it's known as the "king of risotto" rice!).
White Wine. Most traditional risotto recipes add a dry white wine after you toast the rice. It lends a bit of flavor and a nice subtle punch of acidity, which helps cut through the creamy richness of risotto.
Don't consume alcohol? See the Substitutes section below.
Vegetable Broth. I typically make risotto with store-bought vegetable broth to keep things convenient. If you make or have homemade broth, it's always a welcome addition.
For lots of incredible meaty flavors to complement the mushrooms, try this vegan "chicken" broth seasoning (it's much more concentrated in flavor than store-bought veggie broth). It is quite salty, so I usually use a lower less seasoning powder : water ratio than indicated on the container.
PS: For truly phenomenal risotto, make this recipe with the homemade Mushroom Broth from my cookbook!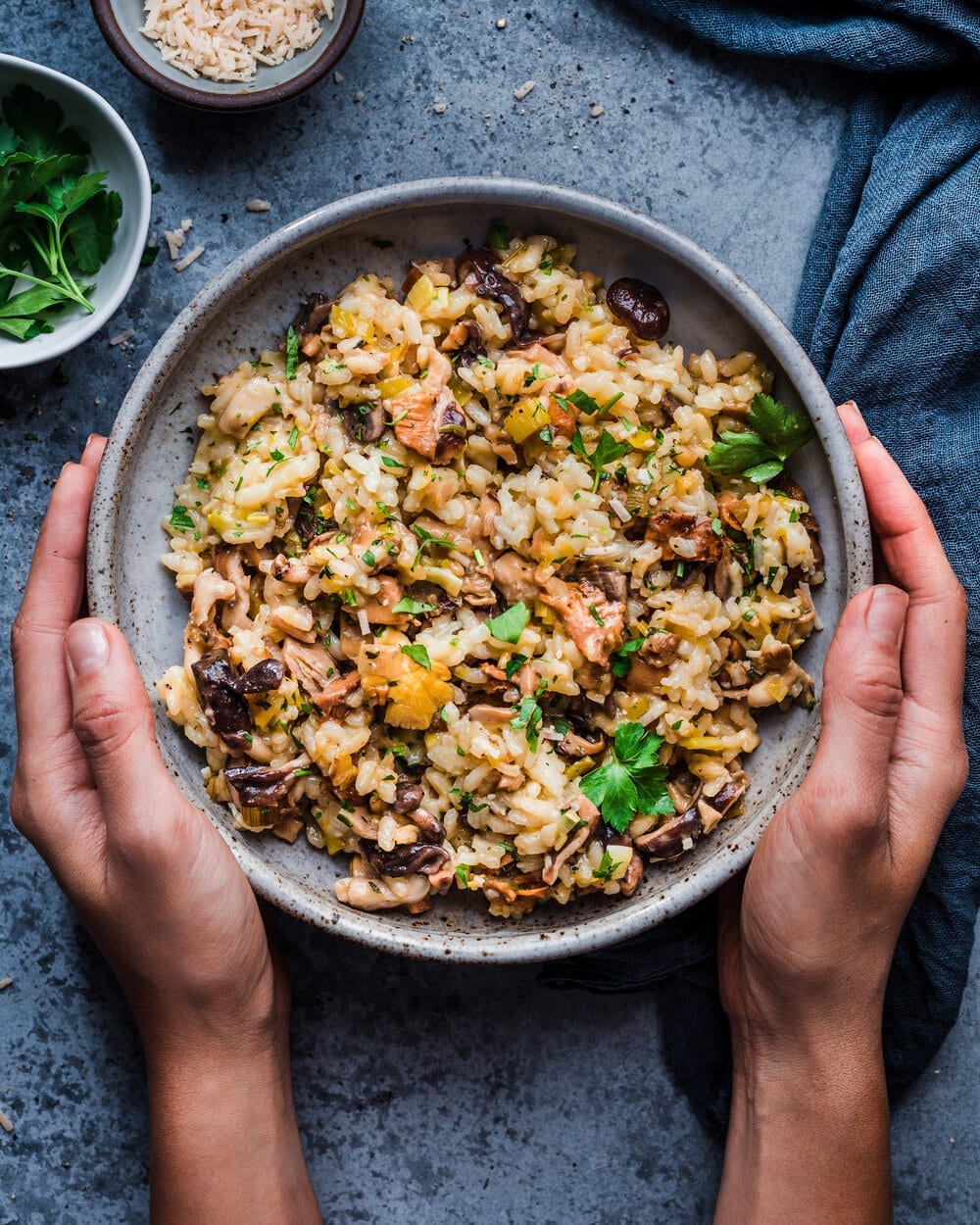 Step-by-step instructions
Slice and tear your mushrooms. Dice the leeks and submerge in cold water. Swish around the leeks with your hands to loosen the sand and dirt (leeks are very dirty). Scoop the leeks out with your hands or a slotted spoon.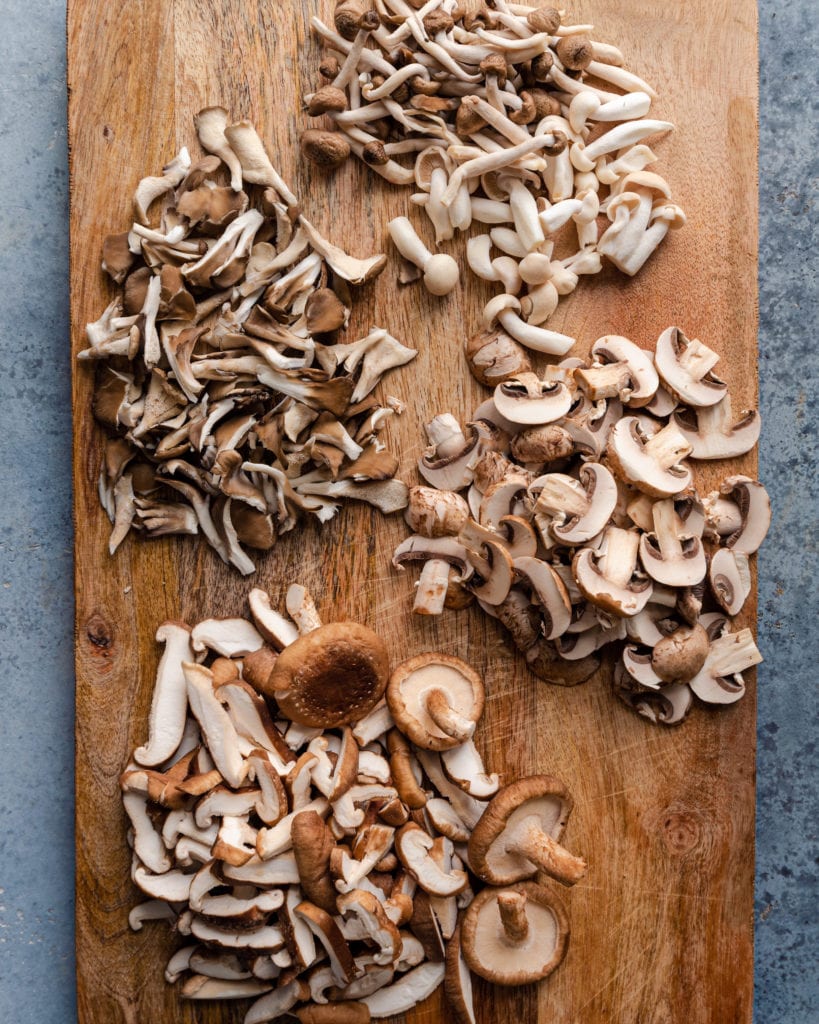 Heat a frying pan over medium-high heat and add the mushrooms. Cook for 8-9 minutes, stirring only occasionally, until nicely browned.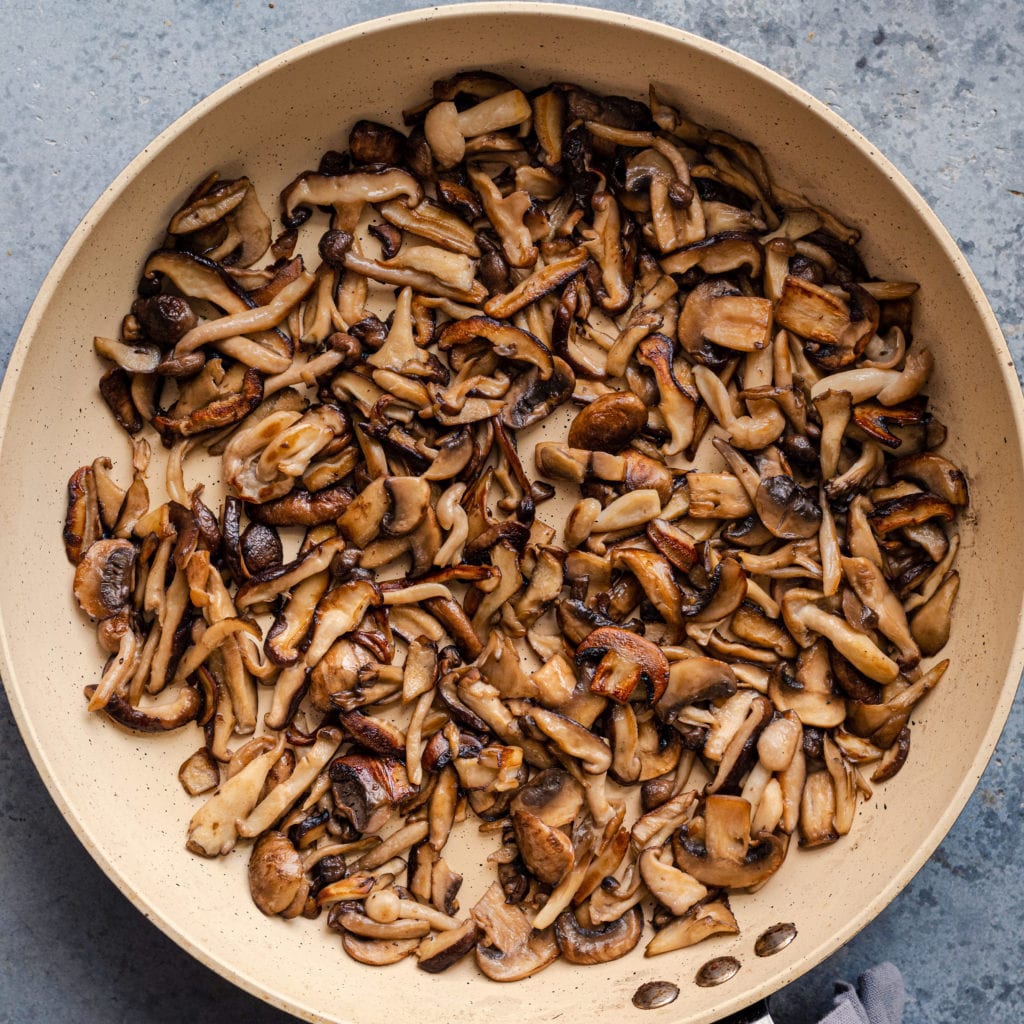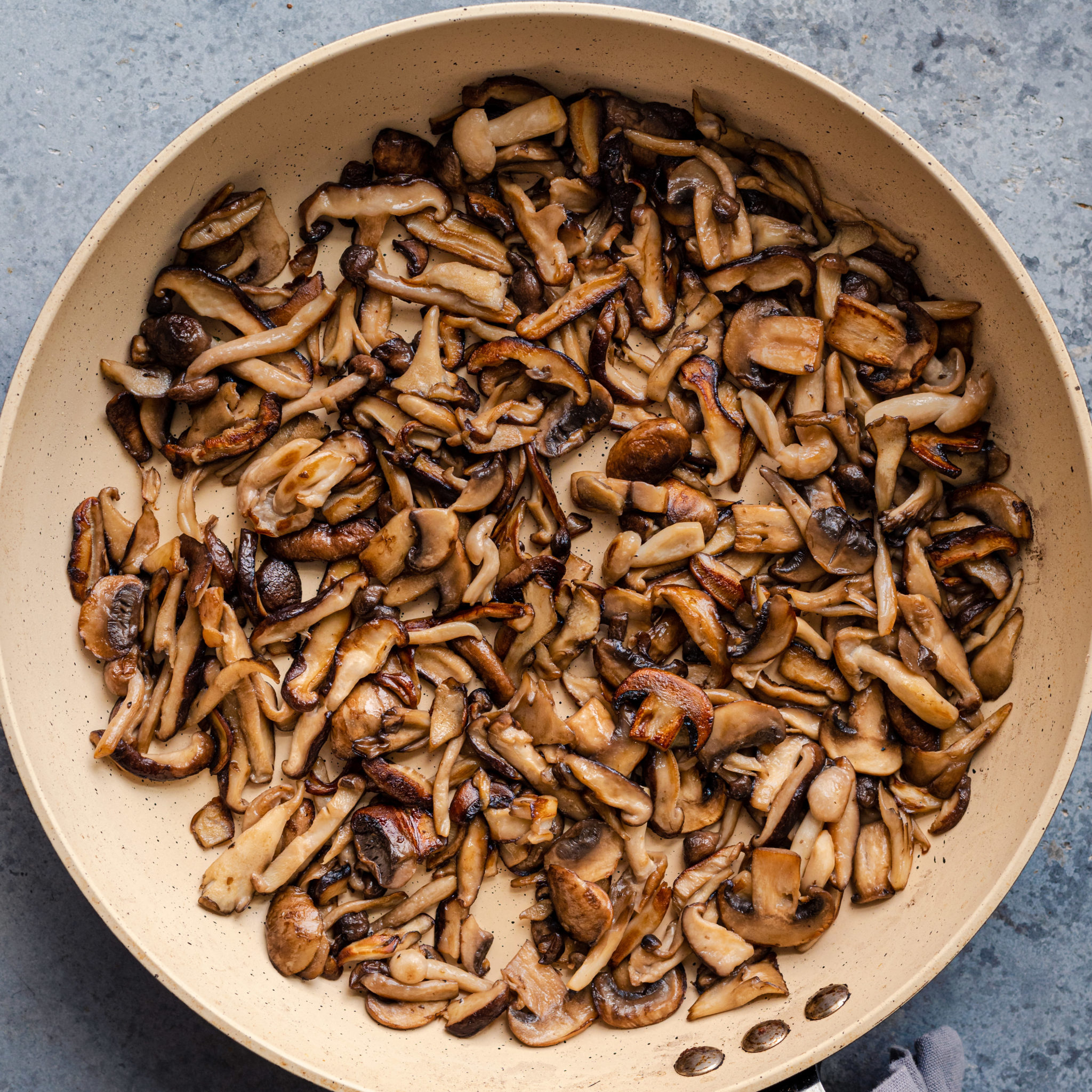 Add the chopped thyme and half of the garlic; season with salt. Cook for 2-4 minutes, then add in the creamed miso butter (vegan butter + miso paste).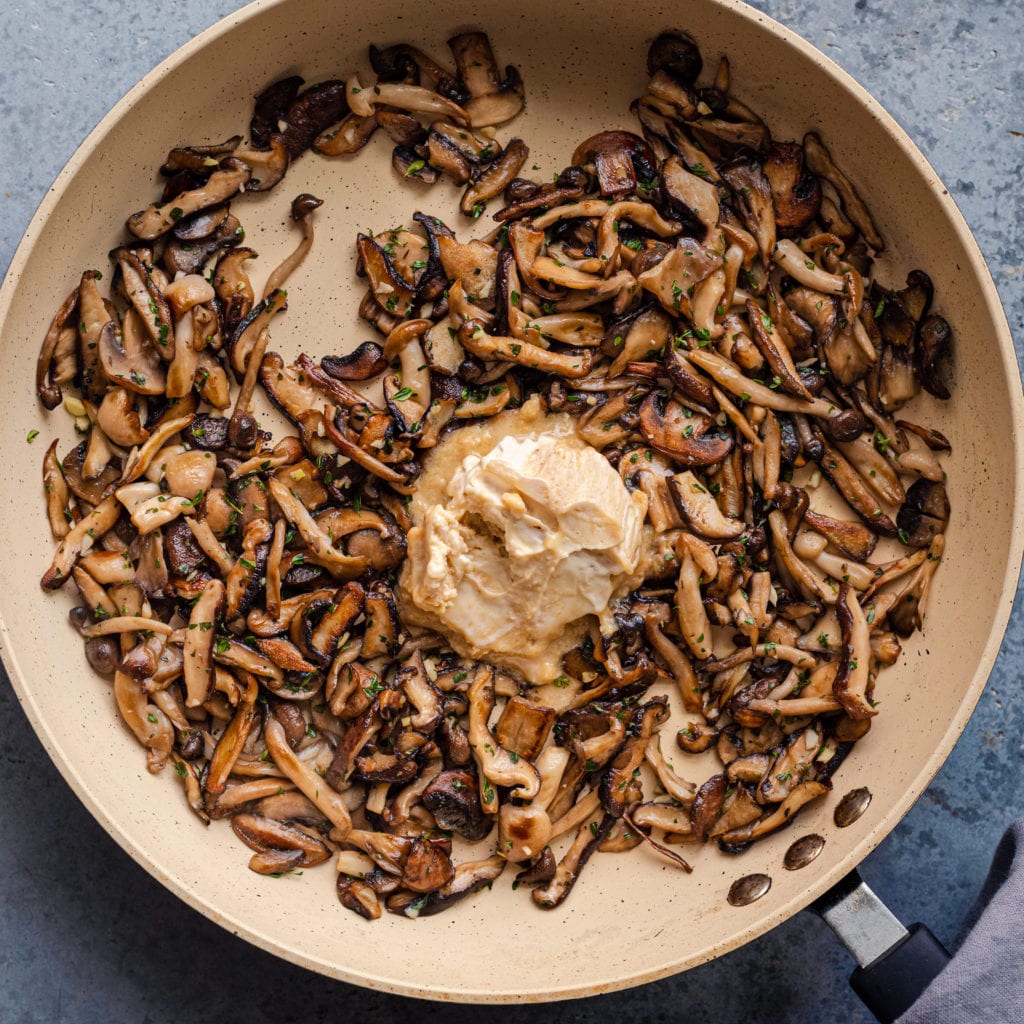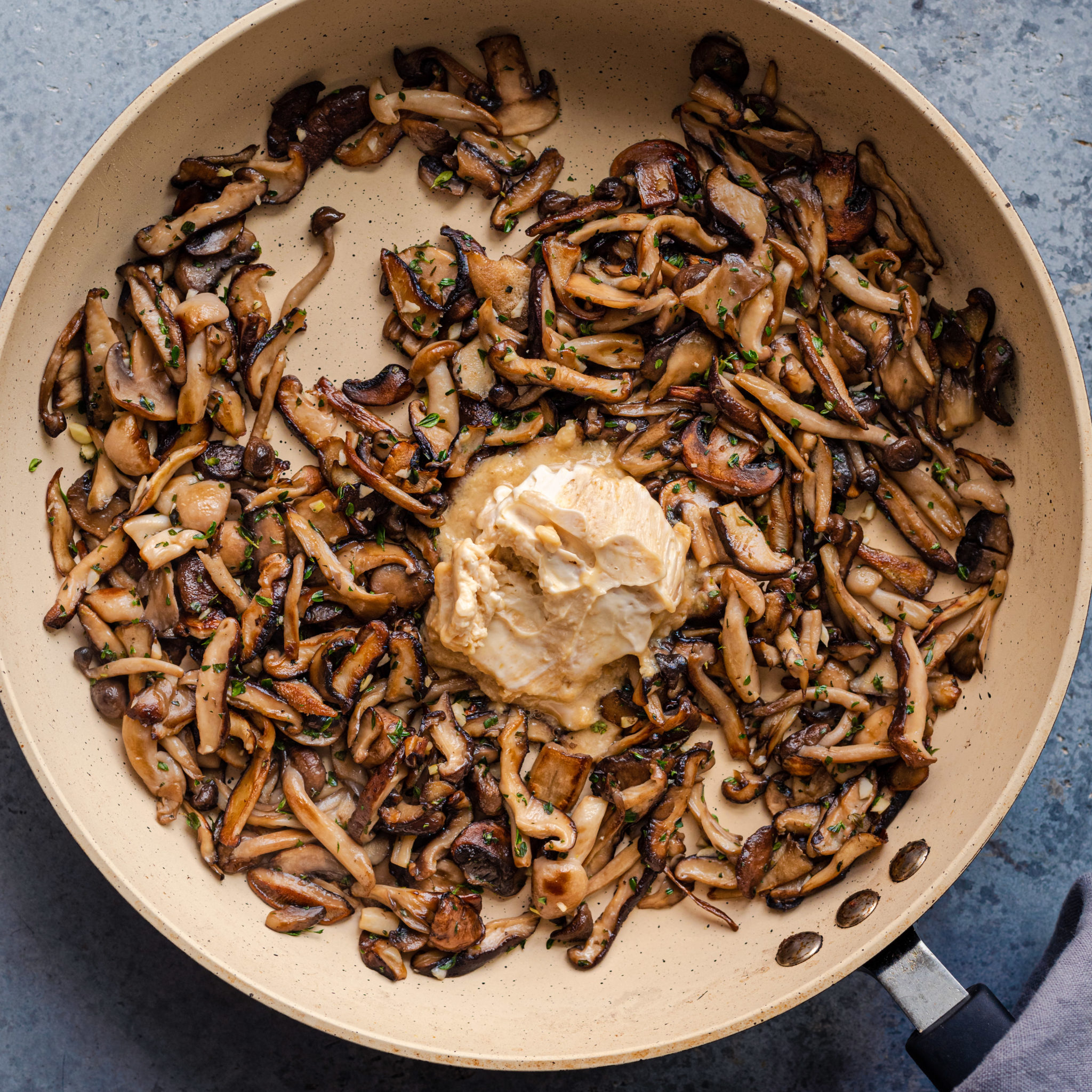 Stir the miso butter into the mushrooms to incorporate and cook the miso mushrooms for 2 minutes. Set aside the mushrooms.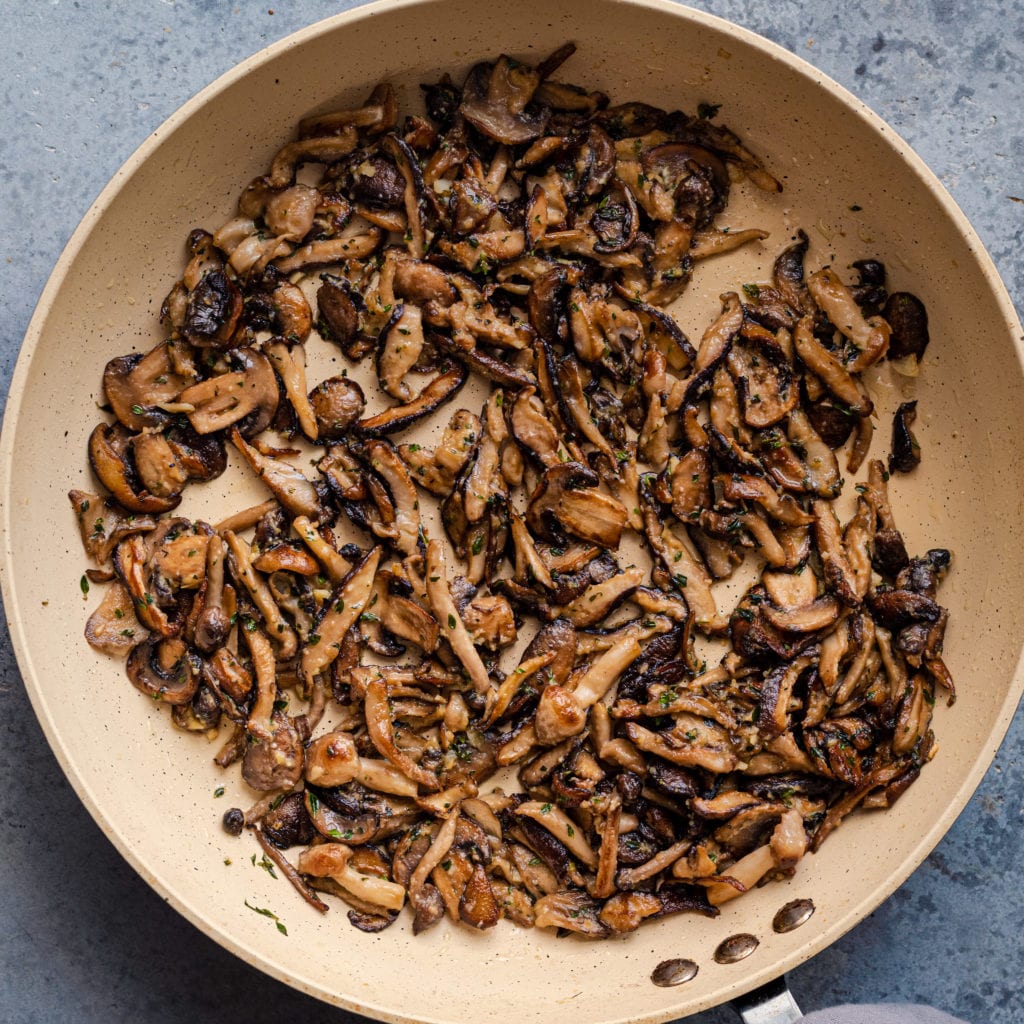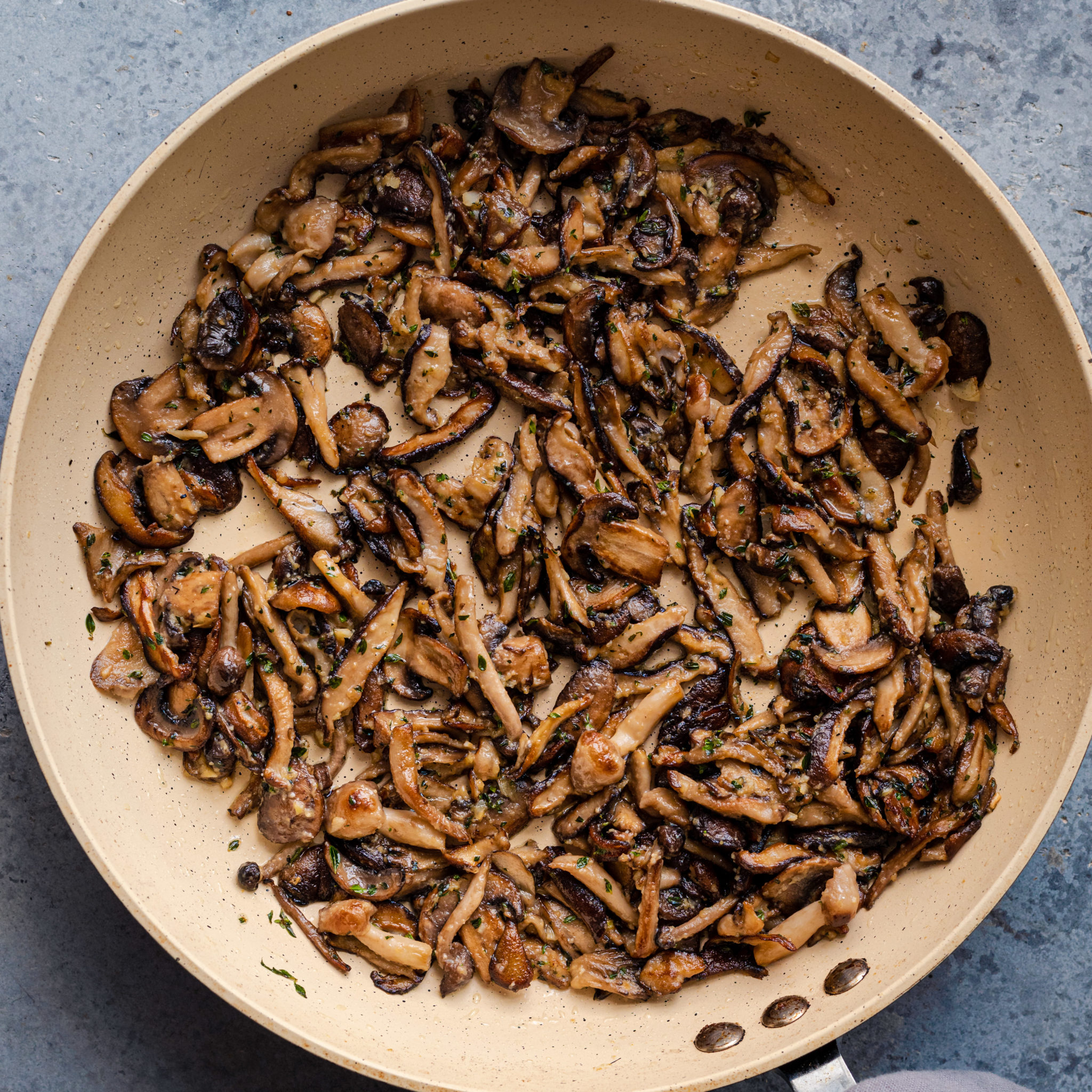 Heat the vegetable broth in a saucepan and keep warm/hot at a gentle simmer.
Heat the olive oil in a Dutch oven or deep sauté pan. Add the leeks and remaining garlic and cook 2-3 minutes until leeks have just softened.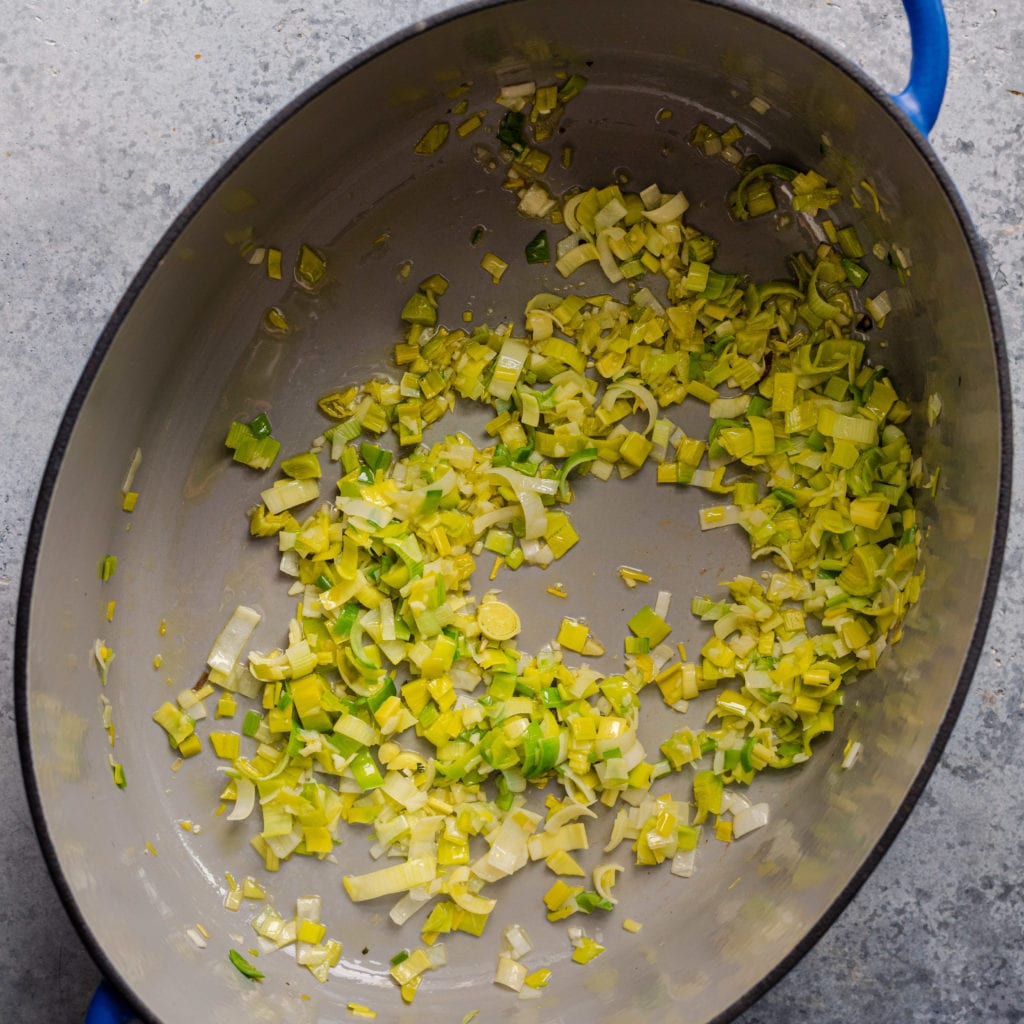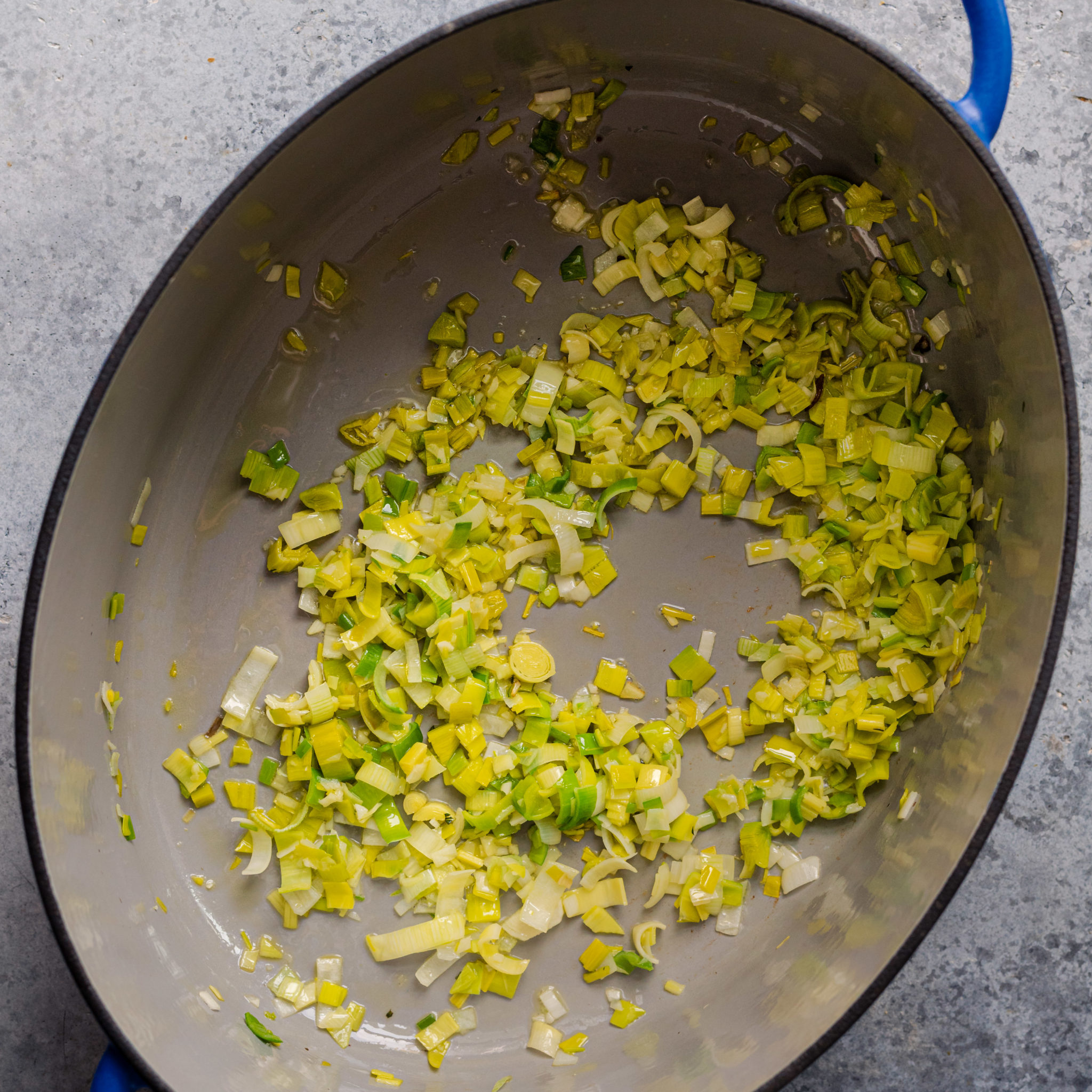 Add the rice and toast for 1-2 minutes, stirring frequently.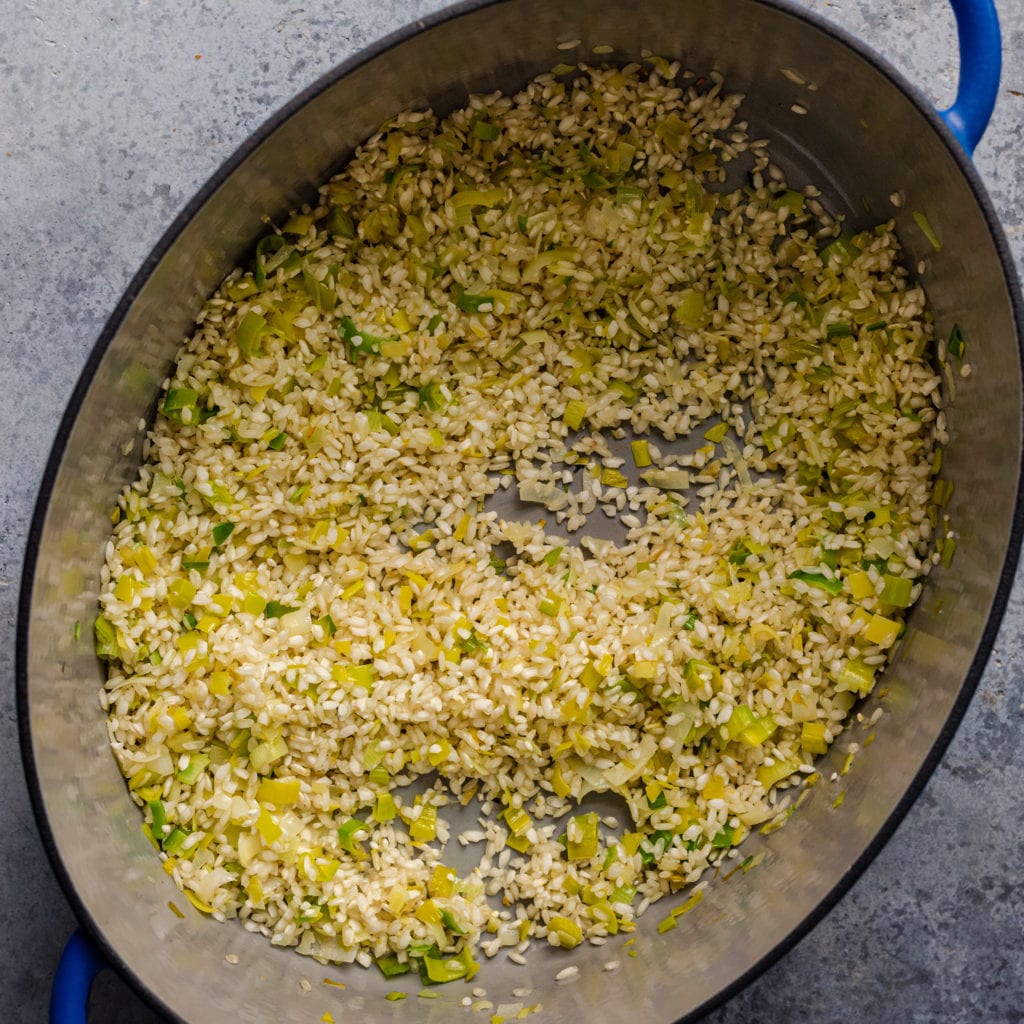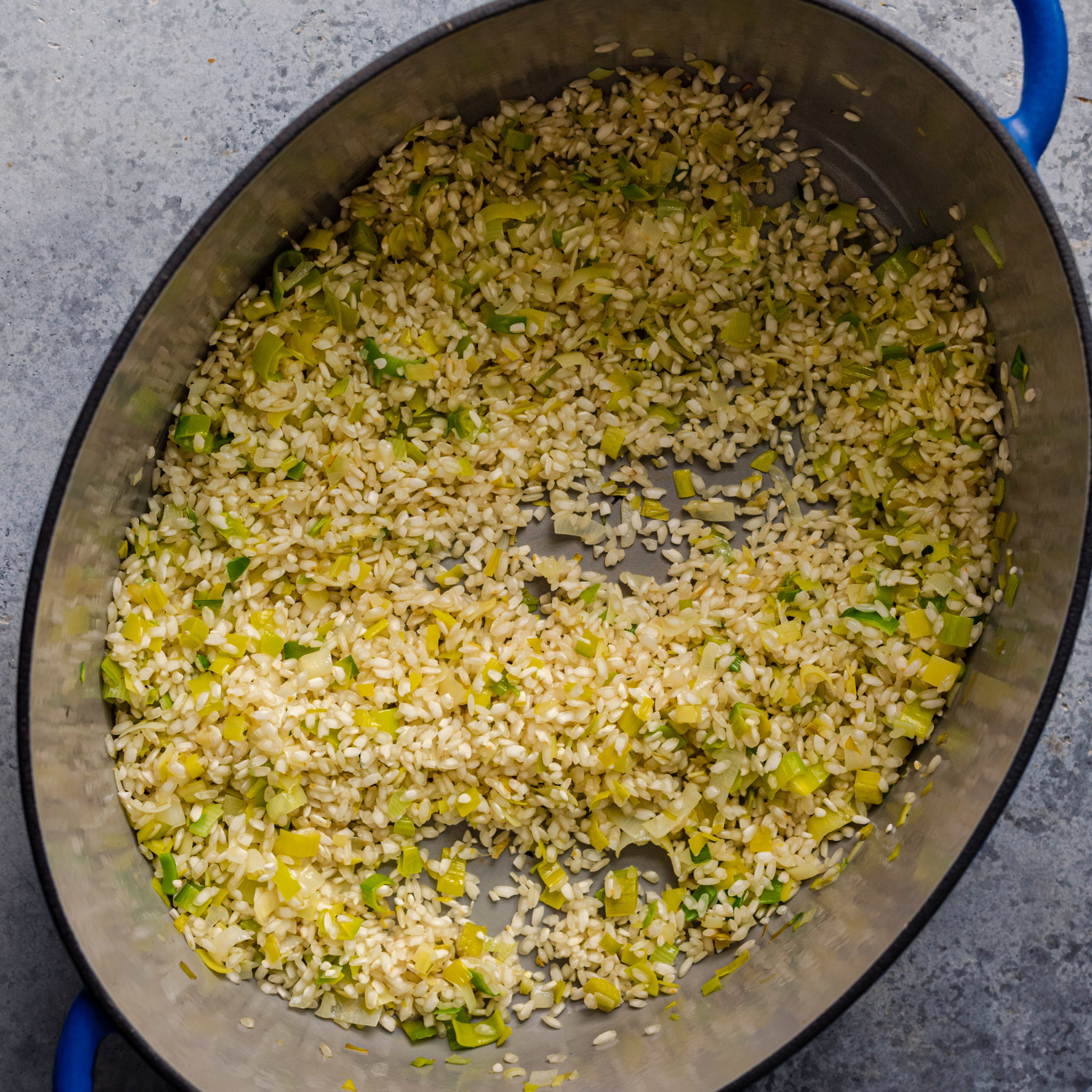 Deglaze the pot with the white wine and cook for a few minutes.
Start ladling in the vegetable broth, 1 cup at a time. Stir frequently but not constantly. Add another cup of broth once most of the liquid has absorbed.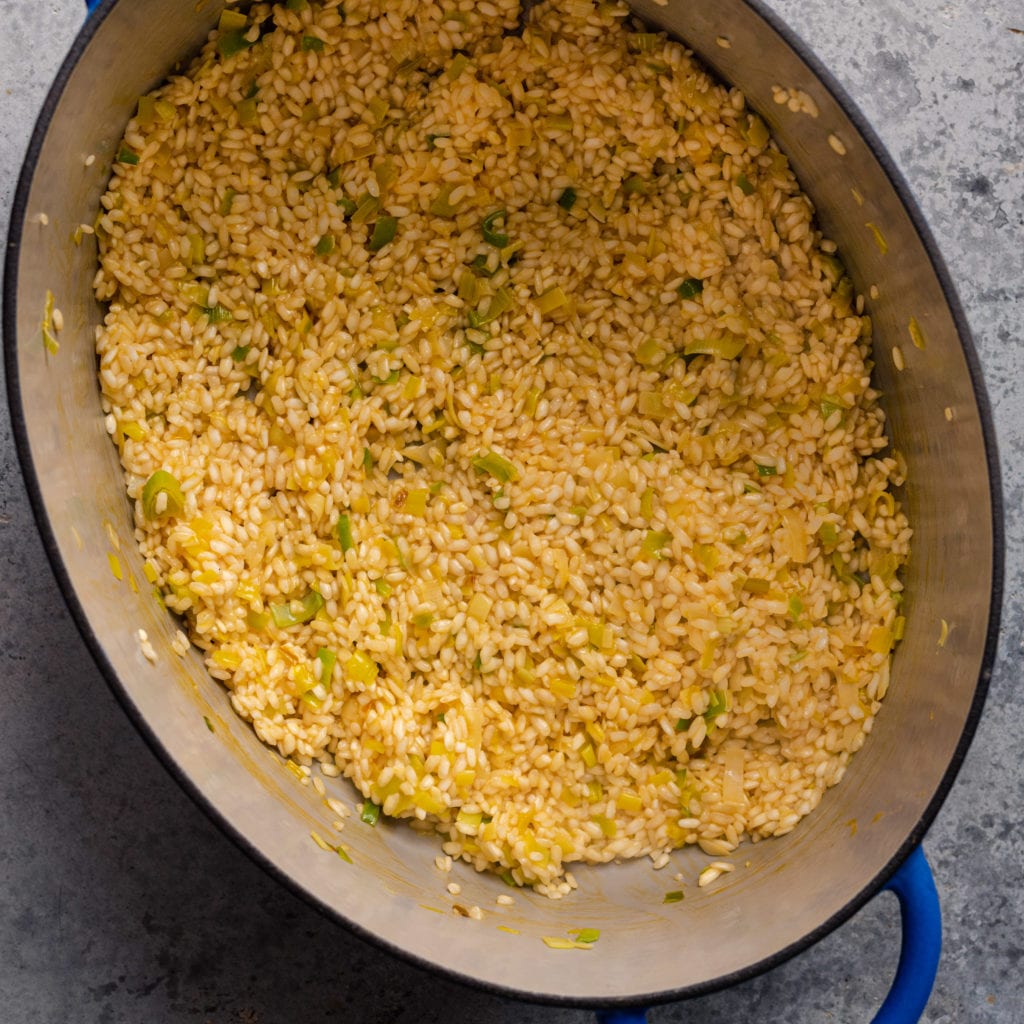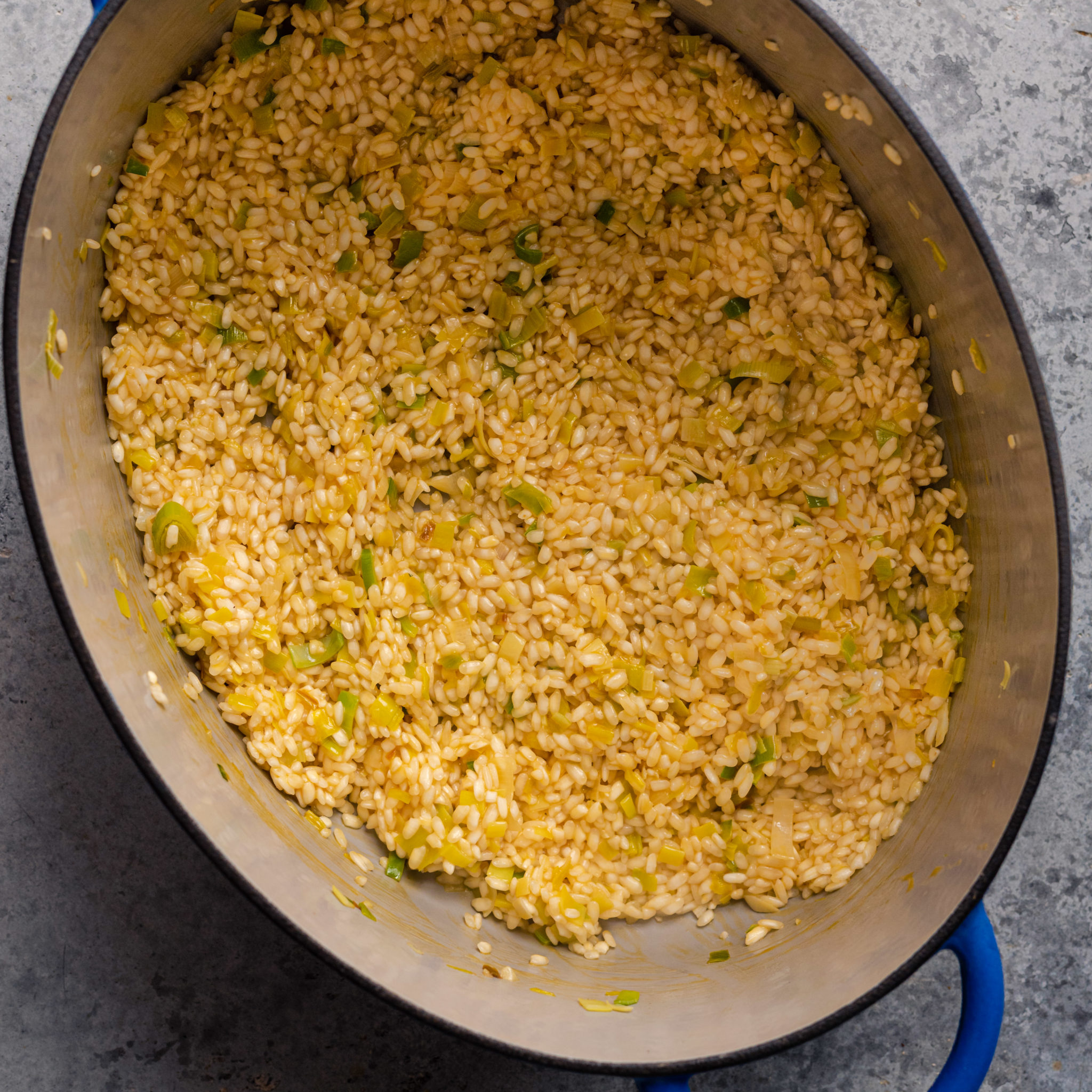 Repeat the process of ladling in broth and stirring frequently until the rice is somewhat soft but still al dente.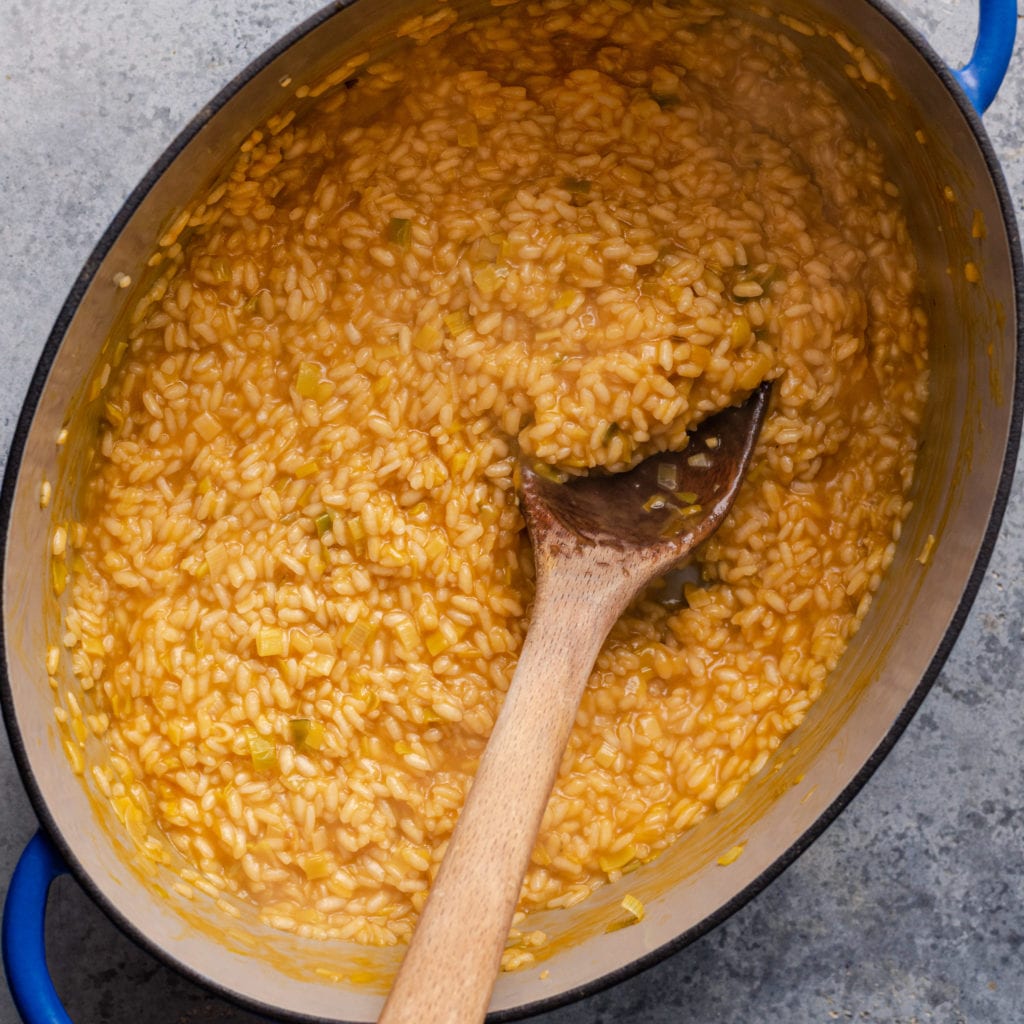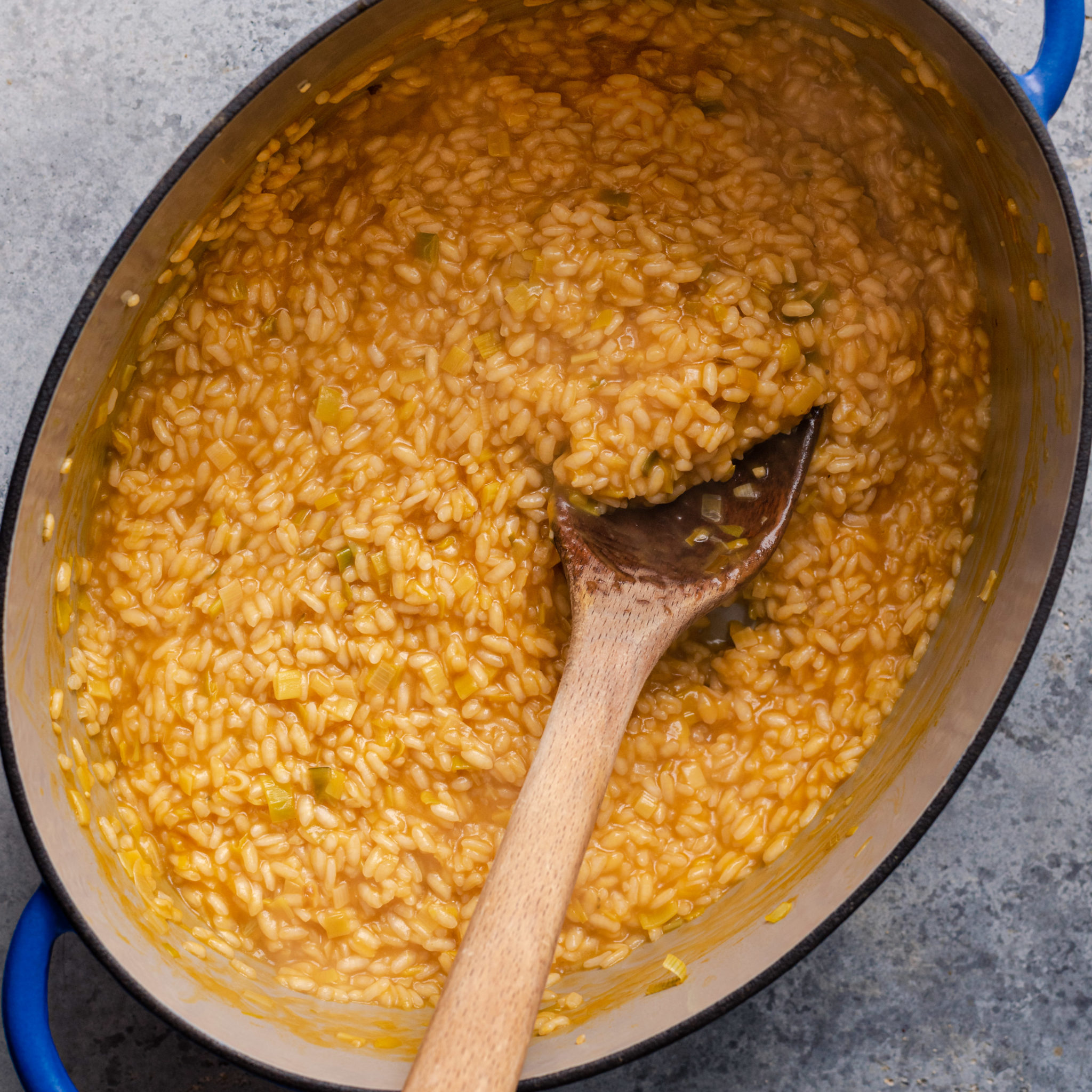 Add the miso mushrooms to the risotto.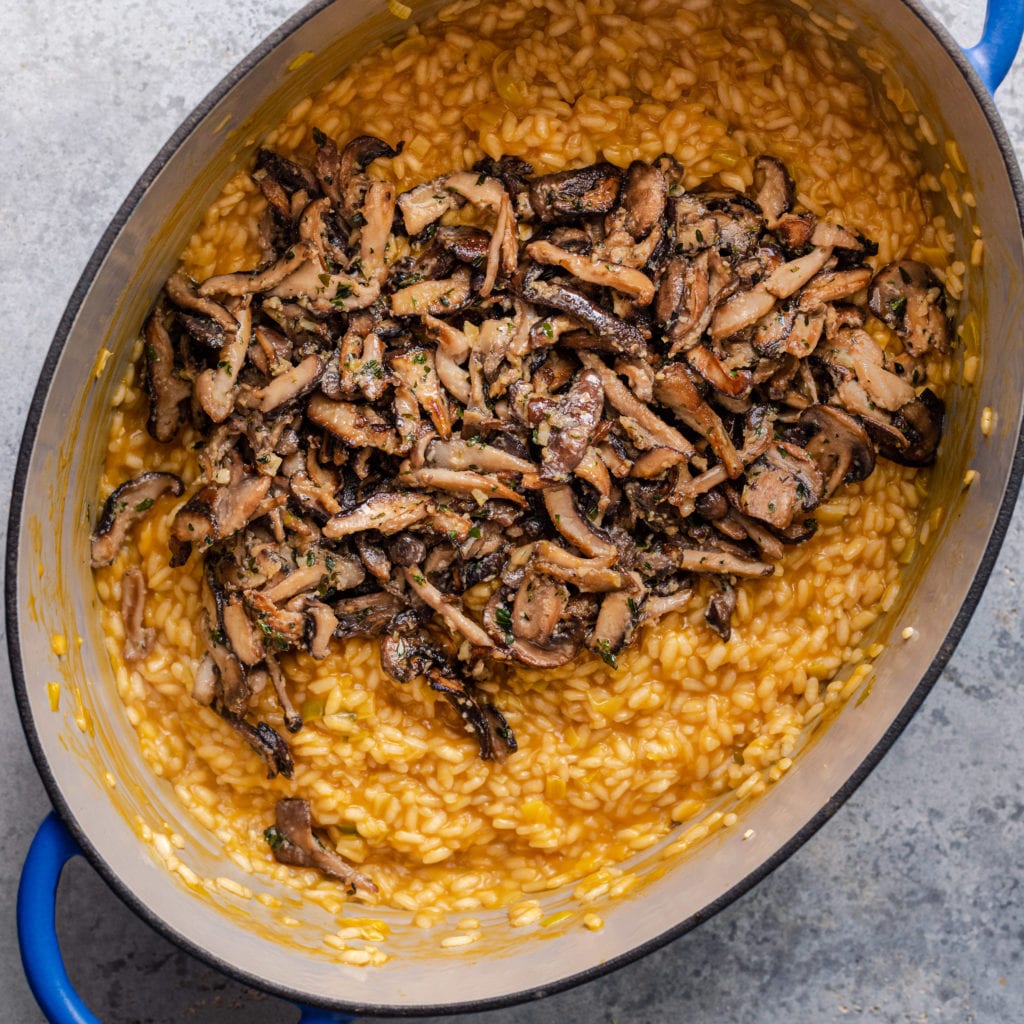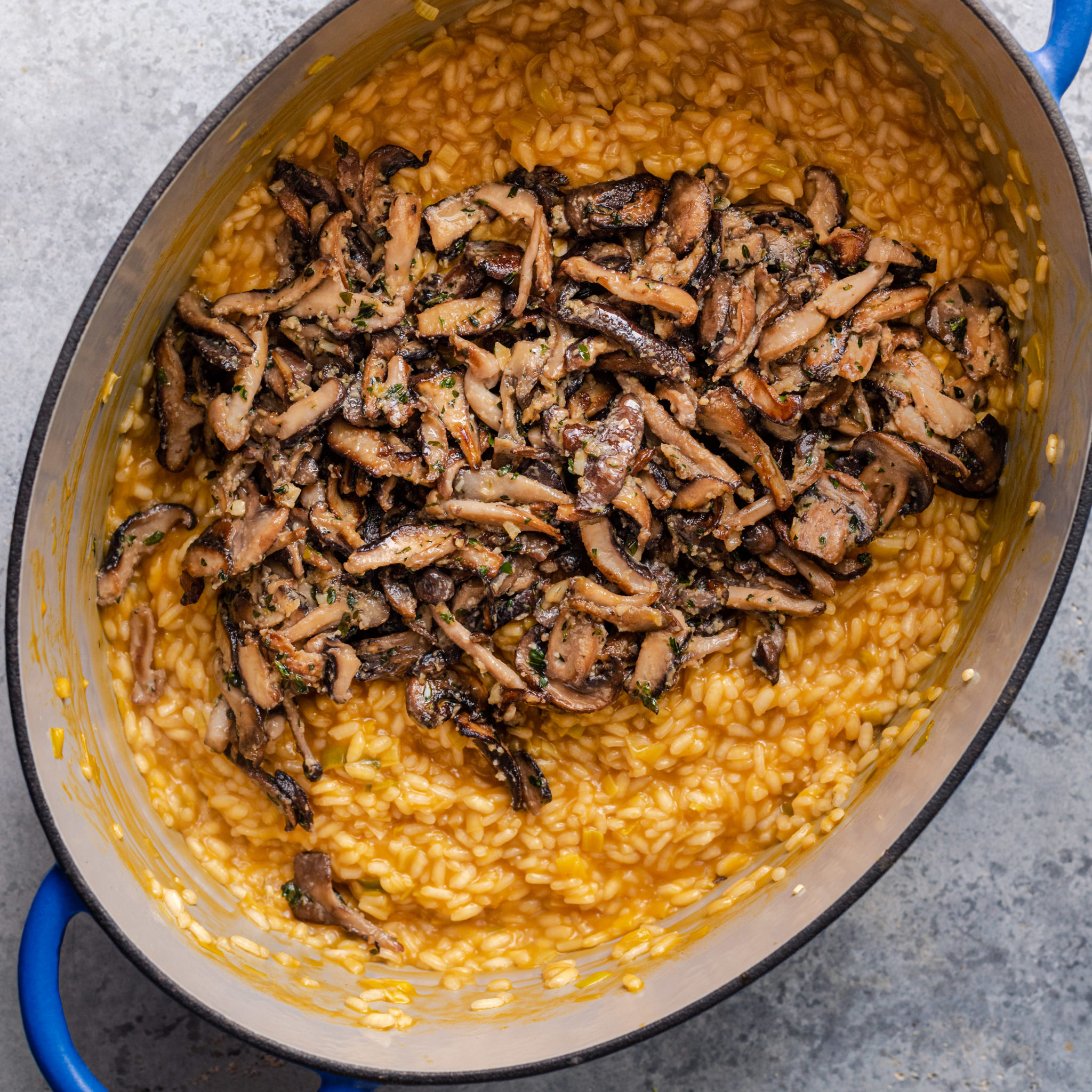 Heat briefly to warm up the mushrooms. Add vegan parmesan (optional), season to taste with salt/pepper as needed. Serve immediately.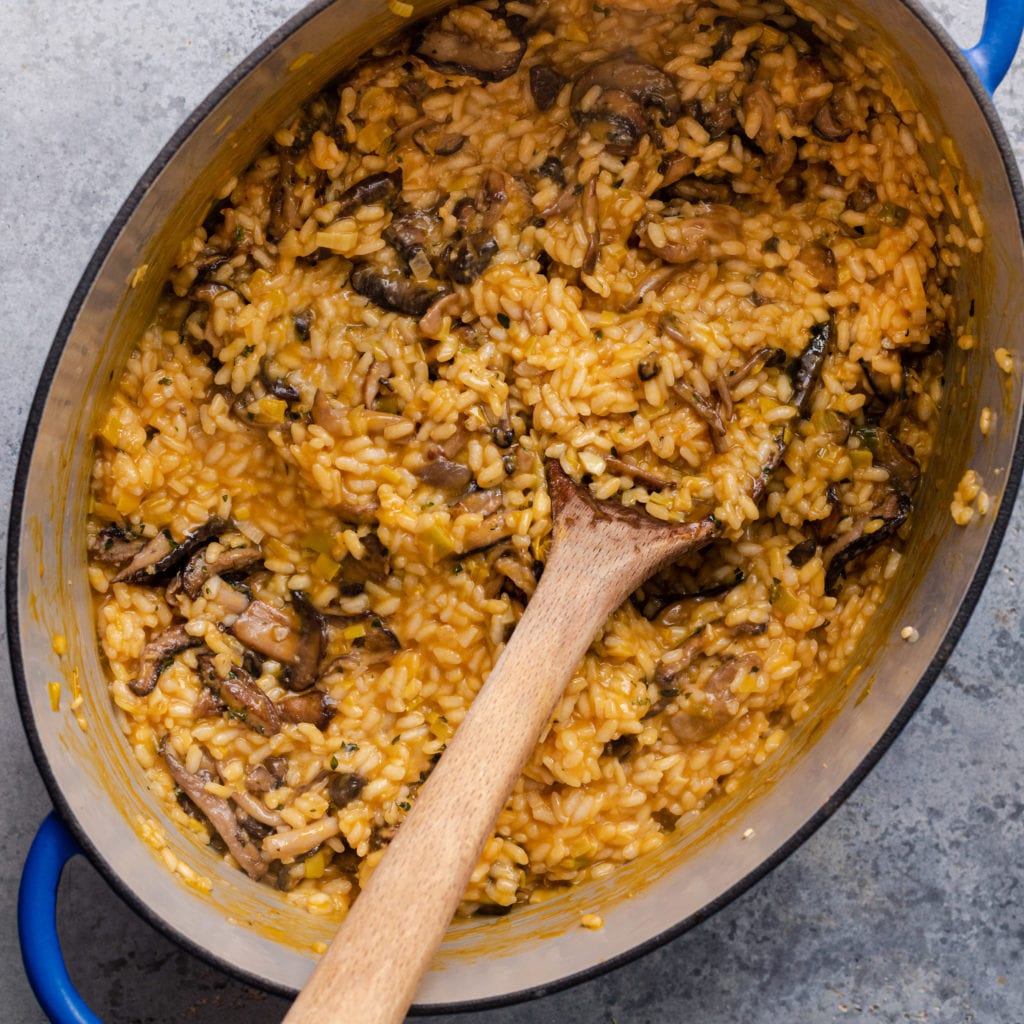 Watch! How to make this recipe!
.
Substitutes for this recipe
Leeks. If you can't find leeks, try shallots instead. No shallots? Try yellow onions.
White wine. Wine is a great addition, but if you don't consume it or don't want to buy it, just skip this step and start adding the vegetable broth to the pot after toasting the rice. To replicate the acidity of the white wine, you can squeeze in a bit of lemon juice when you add a ladle of broth (or at any point during cooking).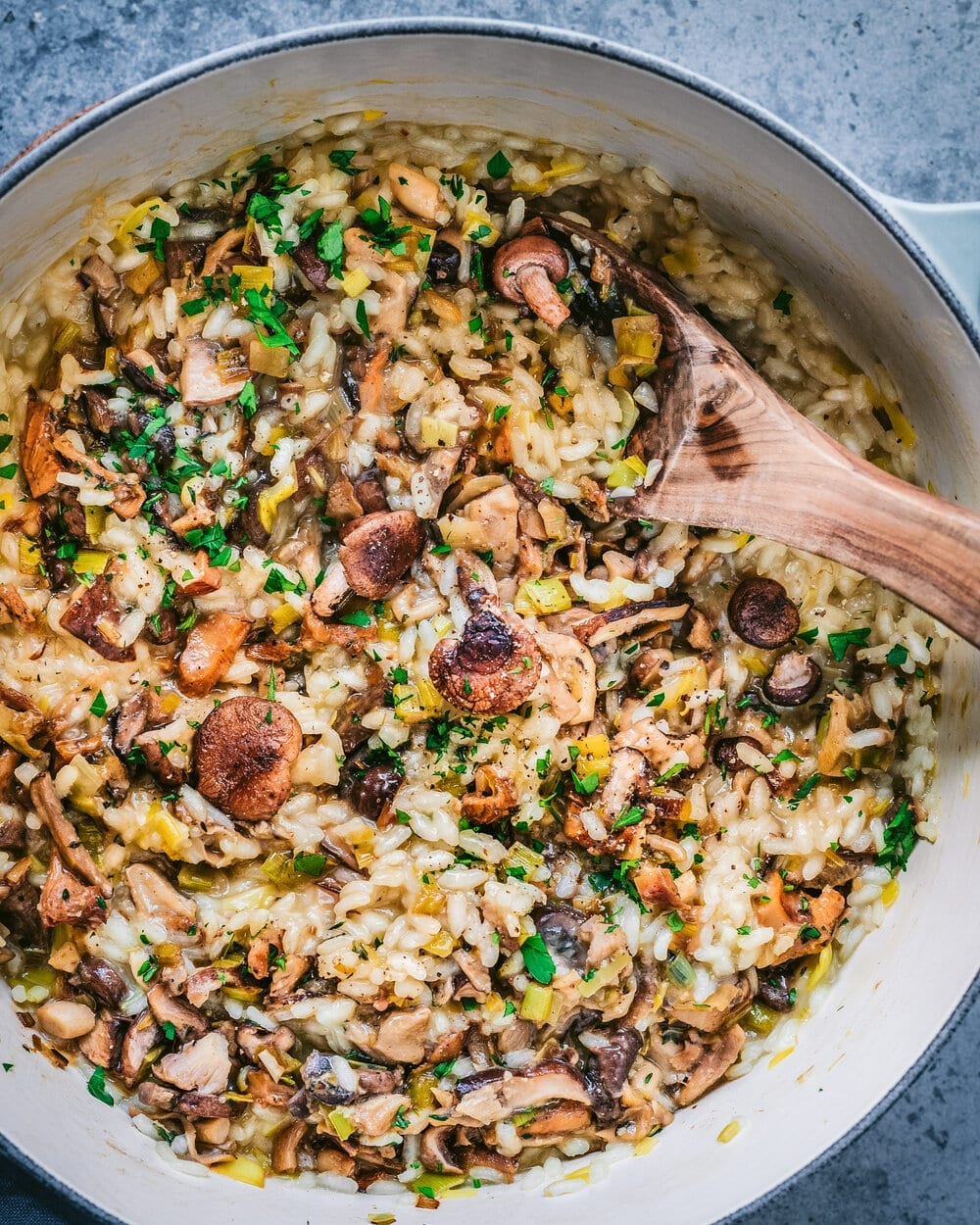 Frequently Asked Questions
How do I know when my risotto is done?
Each pot of risotto will take a slightly different amount of time to cook (variables include type of pot, heat level on the stove, temperature of broth, etc.), so you need to cook with your eyes and senses. Once the broth is mostly absorbed, that's when you add the next ladle of broth.
The cook time is a guide – your risotto might take slightly less or more time to cook through – but generally, it shouldn't take more than 20 minutes after you add the first ladle of broth. The risotto should be creamy and somewhat soft but still have a bite to it. I recommend using the smear/smush test outlined in the "Tips" section.
What kind of wine should I use for risotto?
A dry white wine such as Sauvignon Blanc or Pinot Grigio works great. To look up vegan-friendly wines, use Barnivore.com. Some vegan-friendly brands that are commonly available and reasonably priced include Layer Cake Wines, Santa Margherita, Bonterra, Decoy, and Murphy Goode.
What are the best mushrooms for this risotto?
There's no one single answer. More important is to use a variety of mushrooms so you get some textural (and taste) contrast.
I alway use some brown button mushrooms (a/k/a cremini) – they're inexpensive and more flavorful than white button mushrooms. And I also throw in with some more exotic varieties like shiitake (available at most grocery stores), oyster, beech, king trumpet, and/or chanterelles. You can usually find these kinds of mushrooms at farmers markets, well-stocked grocery stores like Whole Foods and Sprouts, and some Asian grocery stores.
How do you clean mushrooms?
Please stop washing your mushrooms! Mushrooms are sponges, so as soon as you add water, they absorb it and become even more watery. Instead, wipe off any dirt patches with a slightly damp kitchen towel or paper towel. Some varieties like button mushrooms have quite a bit dirt, but many varieties are grown in indoor farms and are quite clean.
Can you make this recipe in the Instant Pot?
Yes! I have a recipe for instant pot mushroom risotto in my cookbook, The Vegan Instant Pot Cookbook!
What do you serve with mushroom risotto?
For a pop of color, I finish it with chopped flat-leaf parsley. And for extra boost of umami, a sprinkling of vegan parmesan cheese.
This dish is satisfying enough to serve on its own, but if you want a side dish, try something light and green. Blanched broccolini or steamed broccoli, grilled or roasted asparagus, or a simple green salad with a vinaigrette. For something a little fancier, try a raw fennel salad. For something more indulgent, make homemade garlic bread!
How do you store and reheat vegan risotto? Can you freeze risotto?
As with most risottos, this dish is best enjoyed immediately. But, if you're cooking for just 1 or 2, store the leftovers in an airtight container in the fridge. Heat the risotto up in a saucepan on the stove and add some vegetable broth or water (about 1/4 cup for every 1 cup of risotto you're reheating). Heat until it warms up, stirring occasionally and adding a bit more broth as needed to loosen up the texture.
I do not recommend freezing risotto. It significantly changes the texture and hardens, which is the opposite of what you want with risotto.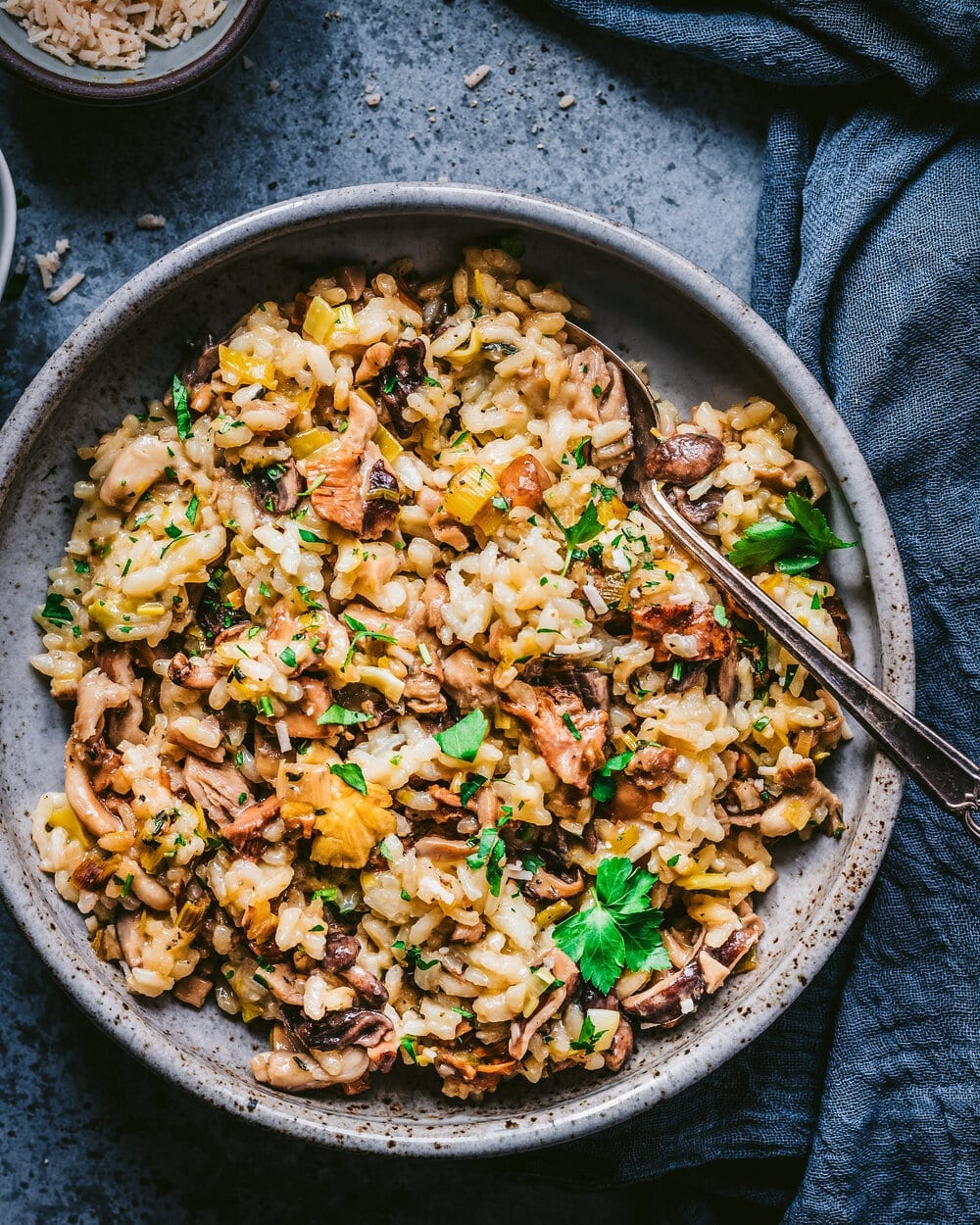 I hope you give this incredibly delicious and satisfying Vegan Mushroom Risotto a try! If you do, please leave a rating and review below with your feedback and tag me on Instagram with your remakes :)
The Best Vegan Mushroom Risotto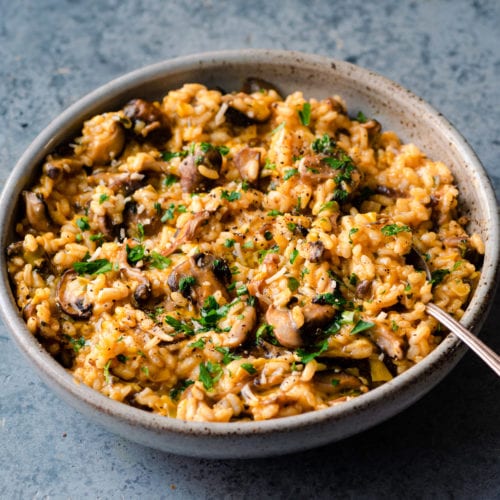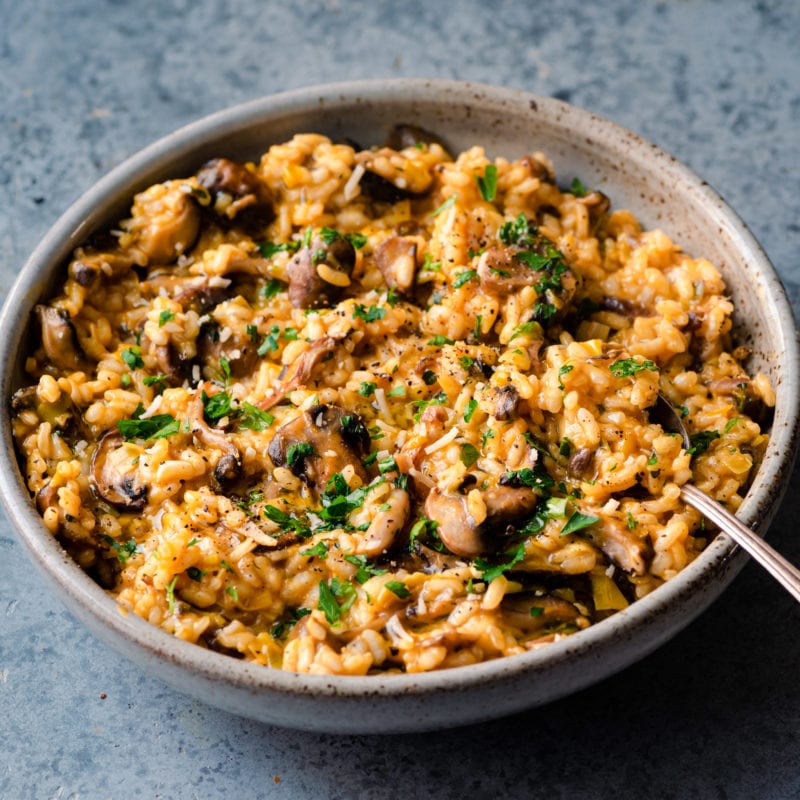 This is the best vegan mushroom risotto you'll ever try. It's creamy and velvety and bursting with umami, just like classic risotto but it's dairy-free and vegan. Plus, these tips will help you nail the perfect vegan risotto every time.
Ingredients
4

tablespoons

(56g) Country Crock's Plant Butter (I use the olive oil variety),

softened at room temperature

2

tablespoons

(30-35g) white miso paste

20

ounces

(~565g) mixed mushrooms*,

sliced or torn

3

tablespoons

olive oil,

divided

2

tablespoons

roughly chopped fresh thyme leaves

6

garlic cloves, minced

(divided in half)

6 to 8

cups

(1.5 to 1.9 L) vegetable broth***

2

large leeks (white & light green parts only), cleaned**** and diced

1/2

teaspoon

kosher salt,

plus more to taste

Freshly cracked black pepper to taste

2

cups

(~360g) Arborio rice or Carnaroli rice

2/3

cup

(160 mL) dry white wine*****

1/4

cup

(28g) vegan parmesan cheese (optional)

1

handful

Italian flat-leaf parsley,

chopped (for garnish)
Instructions
Read the recipe notes below before starting!

Take the Plant Butter out of the fridge and place in a small bowl to soften. Once softened, add the miso paste and use a fork to cream them together until well combined.

Add the vegetable broth to a saucepan. Once it comes to a rapid simmer, adjust the heat to keep the broth warm/hot at a gentle simmer.

Cook the mushrooms. Heat a large nonstick frying pan over medium-high heat and add 1 tablespoon of the olive oil.  Once shimmering, add the mushrooms. Allow to cook undisturbed for a few minutes to develop some browning. Cook for a total of 8-9 minutes, until mushrooms are nicely browned, stirring only occasionally.

Reduce the heat to medium. Add the chopped thyme and HALF of the minced garlic to the mushrooms. Season with 1/2 teaspoon kosher salt. Cook for 2-4 minutes, stirring frequently to prevent burning.

Add the creamed miso butter to the pan and stir into the mushrooms. Season with a pinch of salt and pepper and cook for 2 more minutes. Turn off the heat and set the mushrooms aside.

Cook the risotto. Heat a Dutch oven, large nonstick saucepan, or deep sauté pan over medium heat. Add the remaining 2 tablespoons of olive oil. Once hot, add the leeks and remaining garlic and cook for 2 to 3 minutes, until the leeks have just softened.

Add the arborio rice and stir quickly until all of the rice grains are well-coated and the rice smells slightly toasty, 60 to 90 seconds. Pour in the white wine, and stir to scrape any bits stuck to the bottom of the pot, cooking until the wine is nearly all evaporated and the smell of alcohol has dissipated, about 3 to 4 minutes.

Ladle in 1 cup (240 mL) of the warm vegetable broth and stir frequently but not constantly. Once the rice has absorbed the liquid, add the next round of broth, 1 cup at a time. Continue this process stirring about every 30 seconds and adding more broth when most of the liquid is absorbed for about 20 minutes, until the risotto is slightly firm and creamy, but not too soft or mushy.

To test for doneness, you can place the rice on a flat surface and smear downwards with your finger. It should be fairly smooth but you should still be able to see a bit of the white, al dente center of the rice.

Transfer the cooked miso mushrooms to the risotto, and stir to warm through for a few minutes. Remove from the heat, and then stir in vegan Parmesan cheese, if using. Taste for seasonings, adding a bit of salt as needed and some black pepper to season. Garnish with fresh chopped parsley and serve immediately.
Notes
Ingredient Notes
* See the "frequently asked questions" section for suggested varieties of mushrooms. 
** My favorite store-bought veggie broth is Organic Imagine. It is quite vibrant in color, hence the orangish-yellow color of the risotto in some of these photos. 
I included the range of 6 to 8 cups because I never use the same amount of broth – each pot of risotto is slightly different. You can 8 cups to be safe, but you likely won't use the entire amount. 
*** See the "step by step instructions" or watch the recipe video for how to clean leeks. 
**** See "substitutes" section for how to omit the wine. 
Cooking Notes
The type of pan you use matters, at least with regard to how much oil you need to use and how much you need to scrape up the browned bits and rice. If you use a nonstick pan, you can get away with using less olive oil. With a ceramic pot (and certainly with a stainless steel pot), you will need to use a generous amount of oil; otherwise, the rice will stick to the bottom of the pot. I don't recommend using stainless steel for cooking mushrooms. 
If you use use the same pan to cook the mushrooms and the risotto, be sure to clean it out after frying the mushrooms and before cooking the risotto.  
Risotto smush/smear details here.
---
Calories:
449
kcal
|
Carbohydrates:
67
g
|
Protein:
10
g
|
Fat:
14
g
|
Saturated Fat:
3
g
|
Polyunsaturated Fat:
3
g
|
Monounsaturated Fat:
8
g
|
Trans Fat:
1
g
|
Sodium:
386
mg
|
Potassium:
468
mg
|
Fiber:
5
g
|
Sugar:
5
g
|
Vitamin A:
1023
IU
|
Vitamin C:
11
mg
|
Calcium:
44
mg
|
Iron:
5
mg