Sometime last year, during a conversation about baked goods with an unnamed person (for reasons that will become obvious soon), I heard unnamed person say, "Muffins are so over, nobody even likes muffins anymore."
Okay, those might not have been this monster's exact words, but the sentiment was clear. She was a muffin hater.
I gave her the most polite "oh no you didn't!!!" look I could manage under the circumstances.
Sensing the tension, she added "just my opinion," adding insult to injury. As if I didn't know how to separate facts from her garbage opinion.
She didn't apologize for her behavior, so I quickly changed the topic to more neutral ground. And after our encounter, I swiftly deleted this person/monster from my life.
Okaaaay, maybe I'm being a bit harsh on this unnamed monster. But, I suspect she had only experienced those weird wannabe-healthy-but-not-actually-healthy bran muffins from the 1990s.
I am confident that if she had ever tasted a good muffin such as this one—a light, tender muffin with a fine crumb, for instance—she would not have such a ludicrous opinion about muffins.
Table of contents:
1. Why you'll love this recipe
2. Ingredient notes
3. Tips for making this recipe
4. More delicious baked goods
5. Recipe card with notes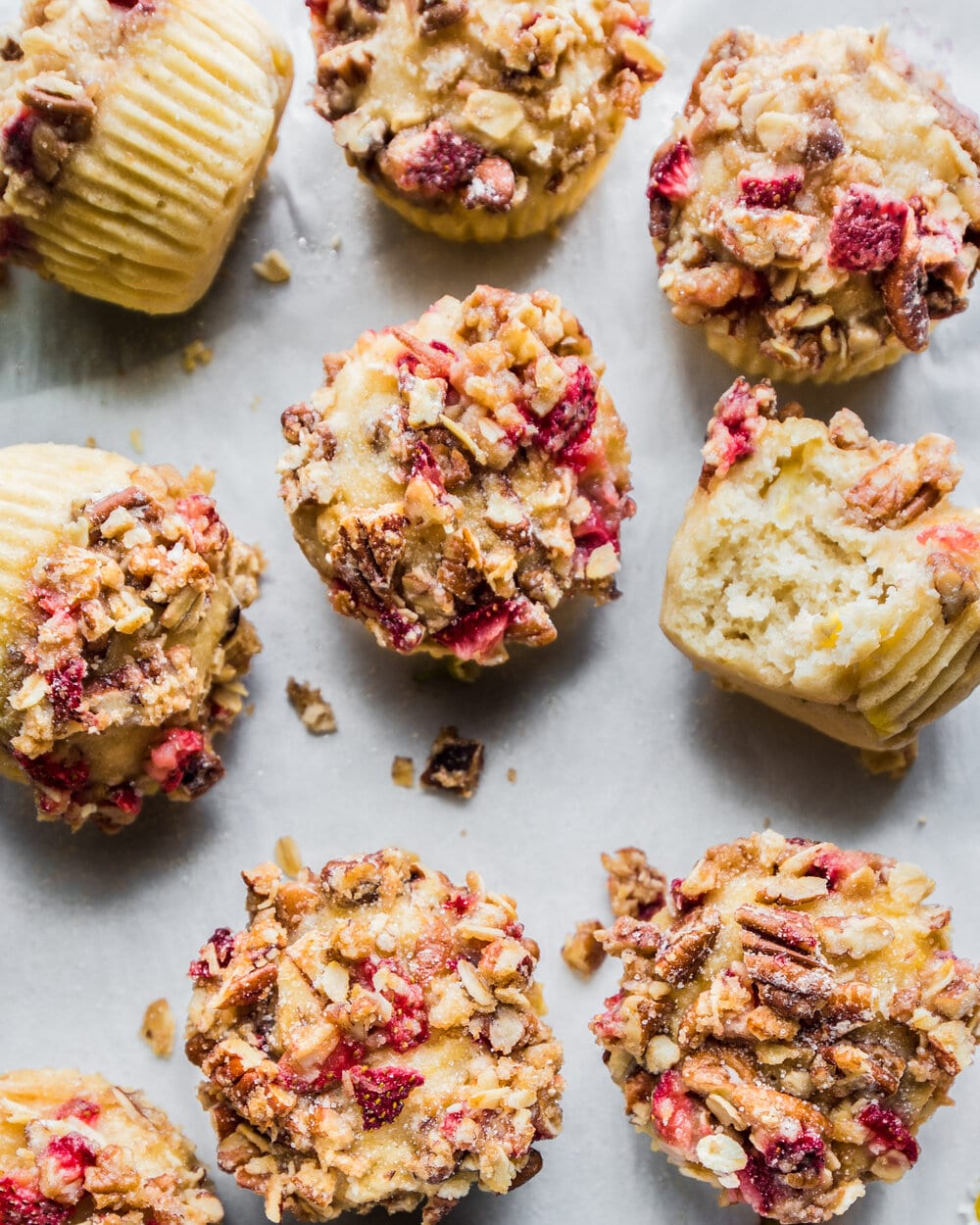 Why you'll love this recipe
These Vegan Strawberry Streusel Muffins feature an easy and light, bouncy muffin base with a sweet, sticky, crumbly streusel made with fresh strawberries. Basically, it's is a muffin that would please even the biggest muffin-skeptics/monsters.
They're vegan and refined-sugar-free, but taste like those naughty bakery-style muffins!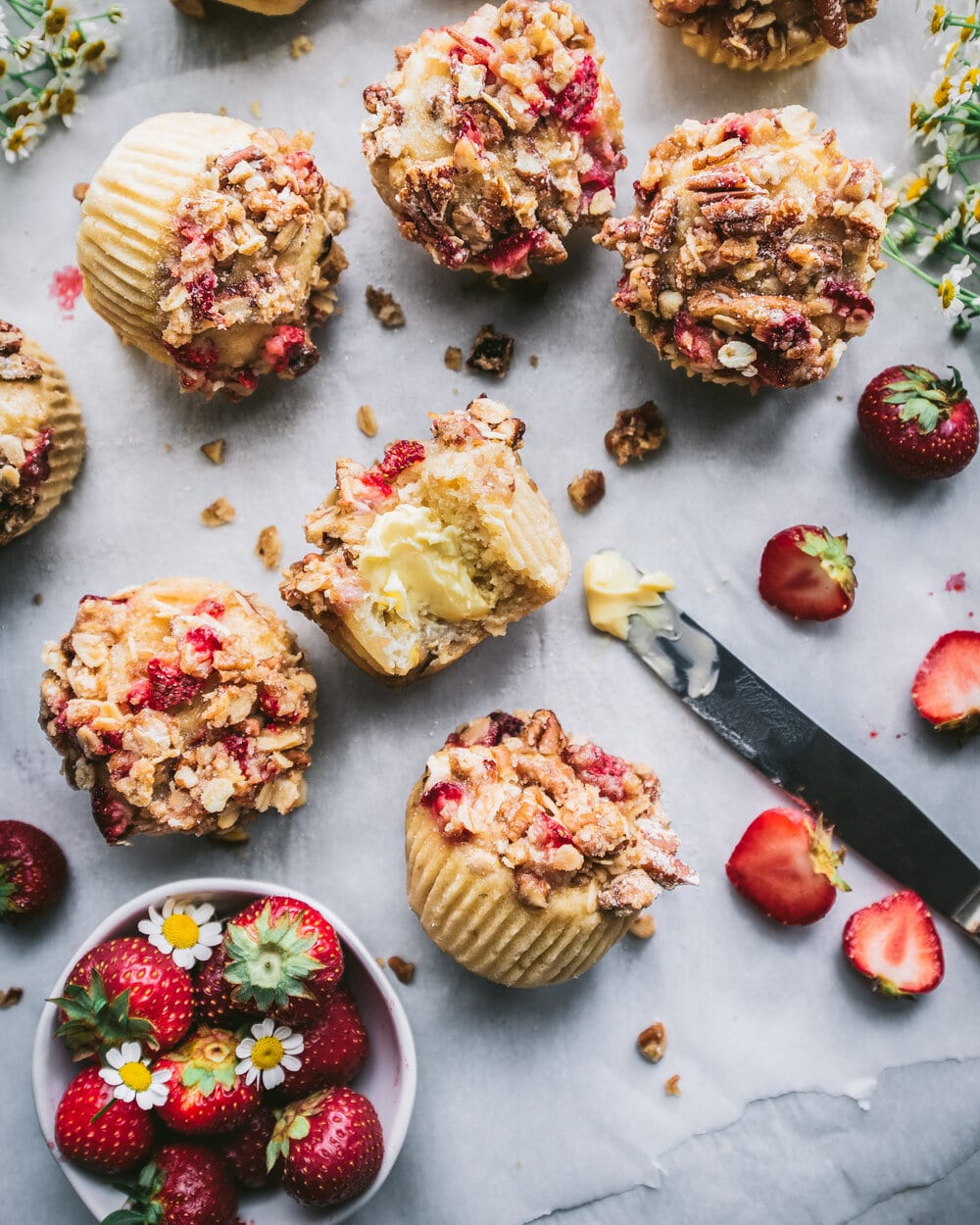 Ingredient notes
All-Purpose Flour and Almond Flour. For the dry ingredients, I use a mixture of all-purpose flour and almond flour. The almond flour lends a nice tender texture and a little richness to the muffins, but you can just use more all-purpose flour if you don't have any.
And if you are avoiding gluten, you can substitute with an all-purpose gluten-free flour blend (the texture will be a bit denser). Please do not try using any gluten-free flour you like (I tried making similar muffins with just oat flour and they came out super gummy/gross). I recommend something like Bob's Red Mill Gluten-Free 1:1 Baking Flour (affiliate link).
Lemon Zest and Lemon Juice. These are strawberry muffins, and there's nothing quite like the zesty, tart-yet-sweet combination of strawberries and lemon. The zest packs in a zingy flavor punch, so don't skip it!
Just be sure to zest your lemons before you juice them. I've forgotten that many a times, which has resulted me in dashing out to the grocery store midway through baking (not an option during these days of quarantine!).
Plant Milk and Yogurt. The addition of plant-based yogurt helps to keep the muffins moist but also gives them a slightly chewy texture, which is lovely in a muffin. It also imparts a light tang in a very subtle this-batter-almost-tastes-like-cream-cheese way.
For the yogurt, I use So Delicious unsweetened plain coconut yogurt. Be sure to use a relatively thin variety, not a Greek-style or really creamy one, as it will make the batter too thick. If you only have very thick plant yogurt, try adding a few tablespoons of plant-based milk to thin it out and whisk until smooth.
Maple Syrup and Mashed Bananas. To sweeten these muffins, I use a combination of pure maple syrup and a ripe mashed banana. Ripe bananas are incredibly sweet so you don't need to use too much sweetener. If you don't have a mashed ripe banana on hand, you can try substituting with applesauce (but it will make the muffins a bit denser).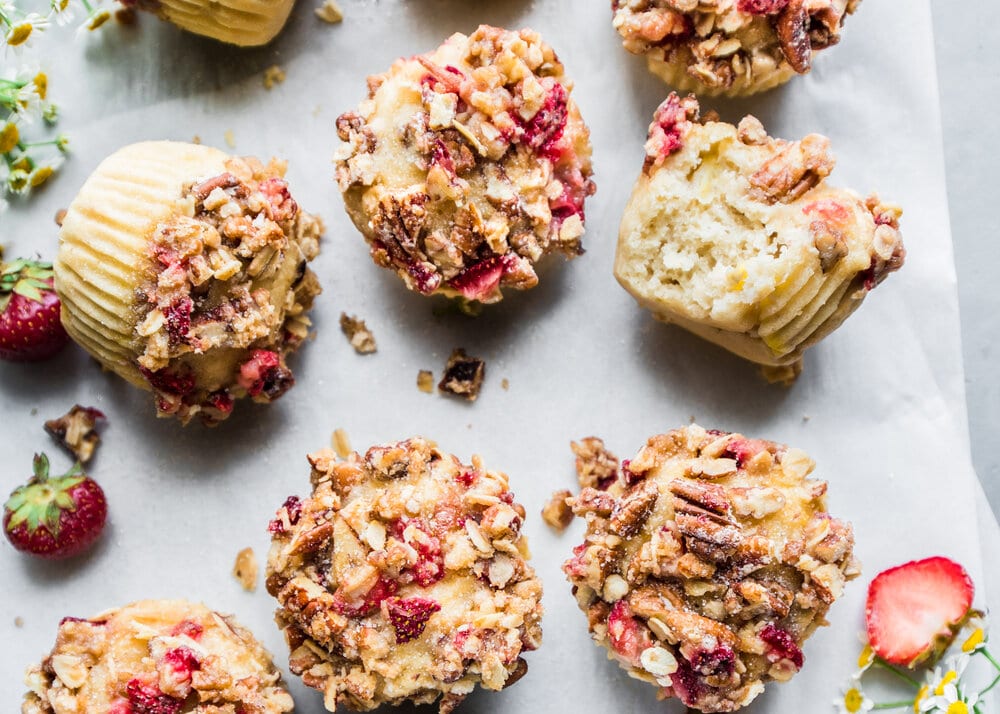 Streusel Topping. The streusel topping takes five minutes or less to make, and it is so worth it! Sticky, sweet, crumbly. All the good things!
It's made with a bit of flour, rolled oats, pecans or walnuts, sugar, coconut oil, and fresh strawberries!
The fresh strawberries add such a delightful fresh punch of spring/summer and the streusel topping take these muffins from good to great.
You can customize this streusel by adding spices (e.g., cinnamon, cardamom, ginger or nutmeg), using slivered almonds instead of pecans/walnuts, or using cane sugar instead of brown sugar.
To keep this recipe refined-sugar-free, though, use coconut sugar in the streusel. Of course, if you don't have coconut sugar or just don't care about refined sugar, feel free to use brown sugar or cane sugar.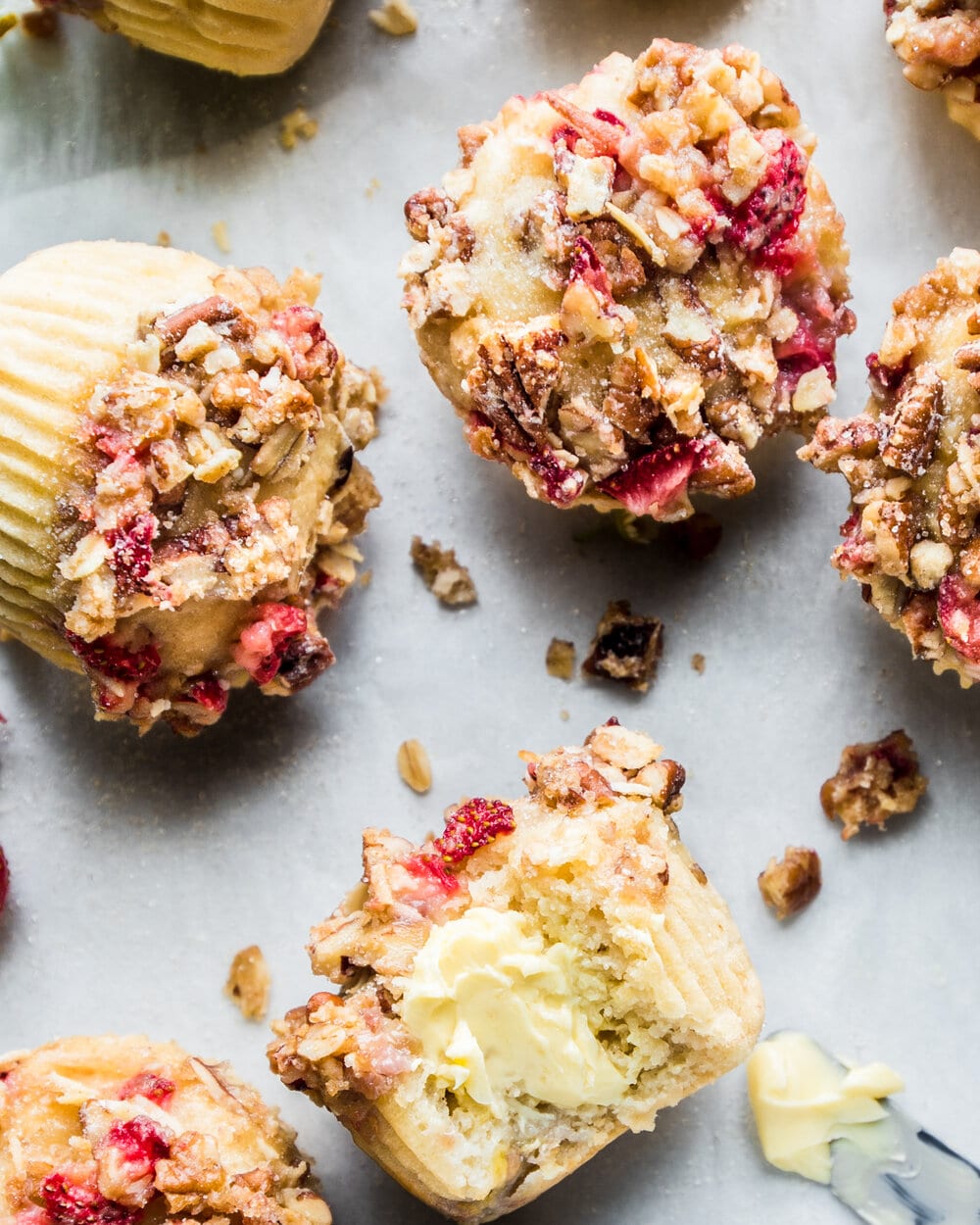 Tips for making this recipe
Do NOT overmix the batter. I repeat, do not overmix the batter! Overmixed batter = dense muffins. Commit this to memory.
You really only need 12 big strokes with a wooden spoon for this recipe. And yes, it's totally okay (and even encouraged) for there to be a few pockets of flour that remain unincorporated.
Change up the oven temperature. This recipe calls for preheating the oven to high temperature (425°F/218°C). Then, before adding the muffin pan to the oven, reduce the heat to 350°F/177°C.
This dual temperature system creates lighter, fluffier muffins with taller domes. This is because the higher temperature causes the baking powder to act quickly, creating a burst of steam that lifts the muffin batter and preventing the muffins from spreading out.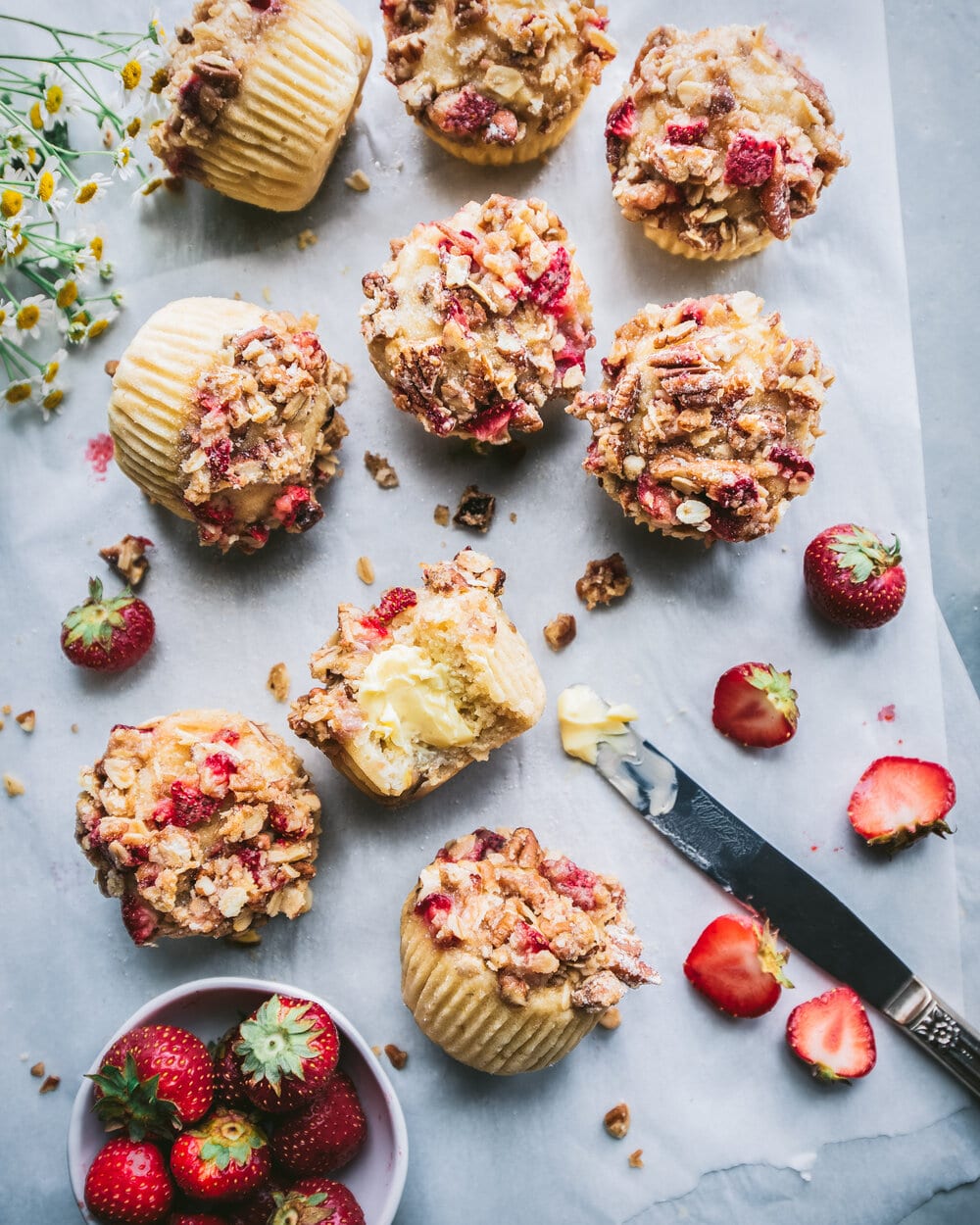 More delicious baked goods
In the mood for even more baked goodness? Check out this Vegan Banana Bread!
And if it's muffins you're after, consider these Vegan Blueberry Muffins or these Vegan Pumpkin Tahini Chocolate Chip Muffins. Yum!
That's all you need to know about these Vegan Strawberry Streusel Muffins. If you give this recipe a try, be sure to tag me on Instagram with your recreations and please comment with your feedback below!
Vegan Strawberry Streusel Muffins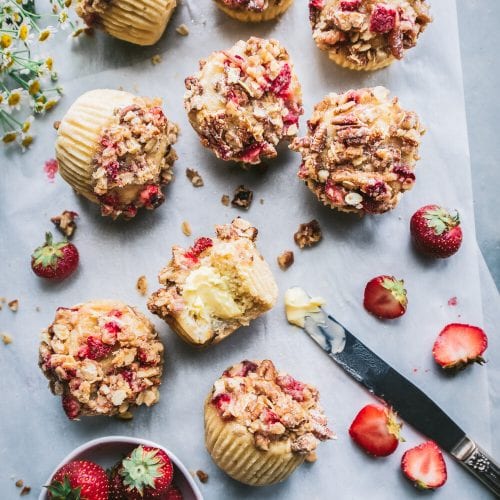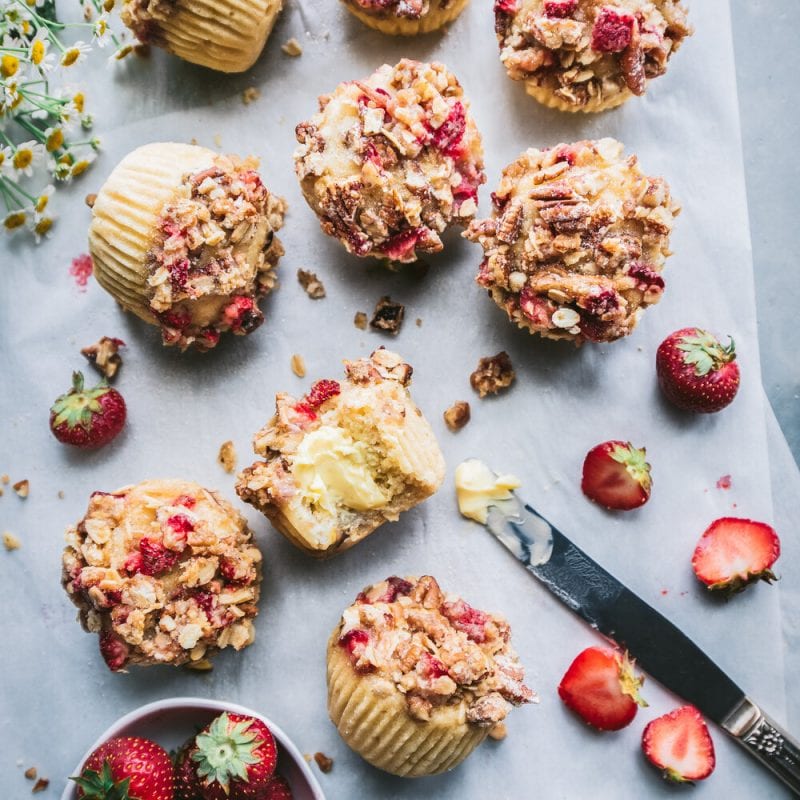 Moist and light vegan muffins with fresh strawberries and an irresistible sticky crumble topping! These Vegan Strawberry Streusel Muffins are the perfect easy spring dessert!
Ingredients
1 1/2

cups

(180g) all-purpose flour

2/3

cup

almond flour*

2

teaspoons

baking powder

1/4

teaspoon

sea salt

1

tablespoon

lemon zest

1

tablespoon

lemon juice

1/4

cup

(60 mL) almond milk or other plant-based milk

3/4

cup

(170g) plant-based yogurt**

1/2

cup

(120 mL) pure maple syrup***

1

large ripe banana,

mashed

2

tablespoon

melted coconut oil

(or neutral oil of choice)

1

teaspoon

vanilla extract
Streusel Topping
1/4

cup

all-purpose flour

1/4

cup

old-fashioned rolled oats

1/4

cup

organic coconut sugar,

or brown sugar

3/4

cup

pecans or walnuts,

roughly chopped

1/2

cup

fresh strawberries,

diced

3

tablespoons

melted coconut oil

(melted vegan butter, or neutral oil of choice)

1/4

teaspoon

sea salt
Instructions
Preheat the oven to 425°F/218°C. Line a standard 12-cup muffin tin with liners.

Zest the lemon, them juice it. Mix the almond milk with the 1 tablespoon lemon juice and set aside to curdle.

In a large bowl, whisk together the flour, almond flour, baking powder, and salt. Make a well in the center and add in the lemon zest, almond milk-lemon juice mixture, yogurt, maple syrup, mashed banana, oil, and vanilla.

Stir the wet ingredients into the dry using a wooden spoon, stirring until it's just mixed – about 10 to 12 strokes. The batter should be lumpy and not terribly smooth. Don't overmix, as it will cause the muffins to become dense.

In a small bowl, add all the ingredients for the Streusel Topping. Stir together with a fork until well combined a bit sticky.

Scoop the muffin batter evenly into each lined muffin cup. Top each muffin with a generous amount of the Streusel Topping.

Add the muffin pan to the oven and then reduce the temperature to 350°F/177°C. Bake for 25 minutes or until a toothpick inserted in the center comes out with just a few crumbs. Cool on a wire rack for 10-15 minutes before enjoying.
Notes
* Don't have almond flour? You can just substitute with more all-purpose flour, though I find that a little almond flour brings a more tender texture and a little richness to the muffins.
** Be sure to read the notes in the "Ingredient Rundown" section for types of yogurt to use.
*** You can use a bit less syrup if you are watching your sugar intake.
---
Calories:
260
kcal
|
Carbohydrates:
31
g
|
Protein:
5
g
|
Fat:
14
g
|
Saturated Fat:
6
g
|
Polyunsaturated Fat:
2
g
|
Monounsaturated Fat:
3
g
|
Sodium:
165
mg
|
Potassium:
125
mg
|
Fiber:
2
g
|
Sugar:
11
g
|
Vitamin A:
12
IU
|
Vitamin C:
8
mg
|
Calcium:
98
mg
|
Iron:
1
mg