One of the most nostalgic treats has got to be a slice of soft banana bread slathered in butter, and this Vegan Banana Bread is sure to evoke those fuzzy childhood memories.
You'll never notice it's vegan, egg-free, and dairy-free because it has the most delectable, moist and even fluffy texture. And it's called the best banana bread for good reason, too. All you need are 10 ingredients and 20 minutes of hands-on time.
After over 15 rounds of testing, I'm certain it's fluffier, more tender, and less dense than any other vegan banana bread you've tried.
If you're more of a muffin gal or want to turn this banana bread into individual-sized treats, you gotta try these outrageously good Vegan Banana Muffins!
Table of Contents
1. Why this recipe works
2. Ingredient notes
3. Step-by-step instructions
4. Tips for making this recipe
5. Frequently Asked Questions
6. Recipe card with notes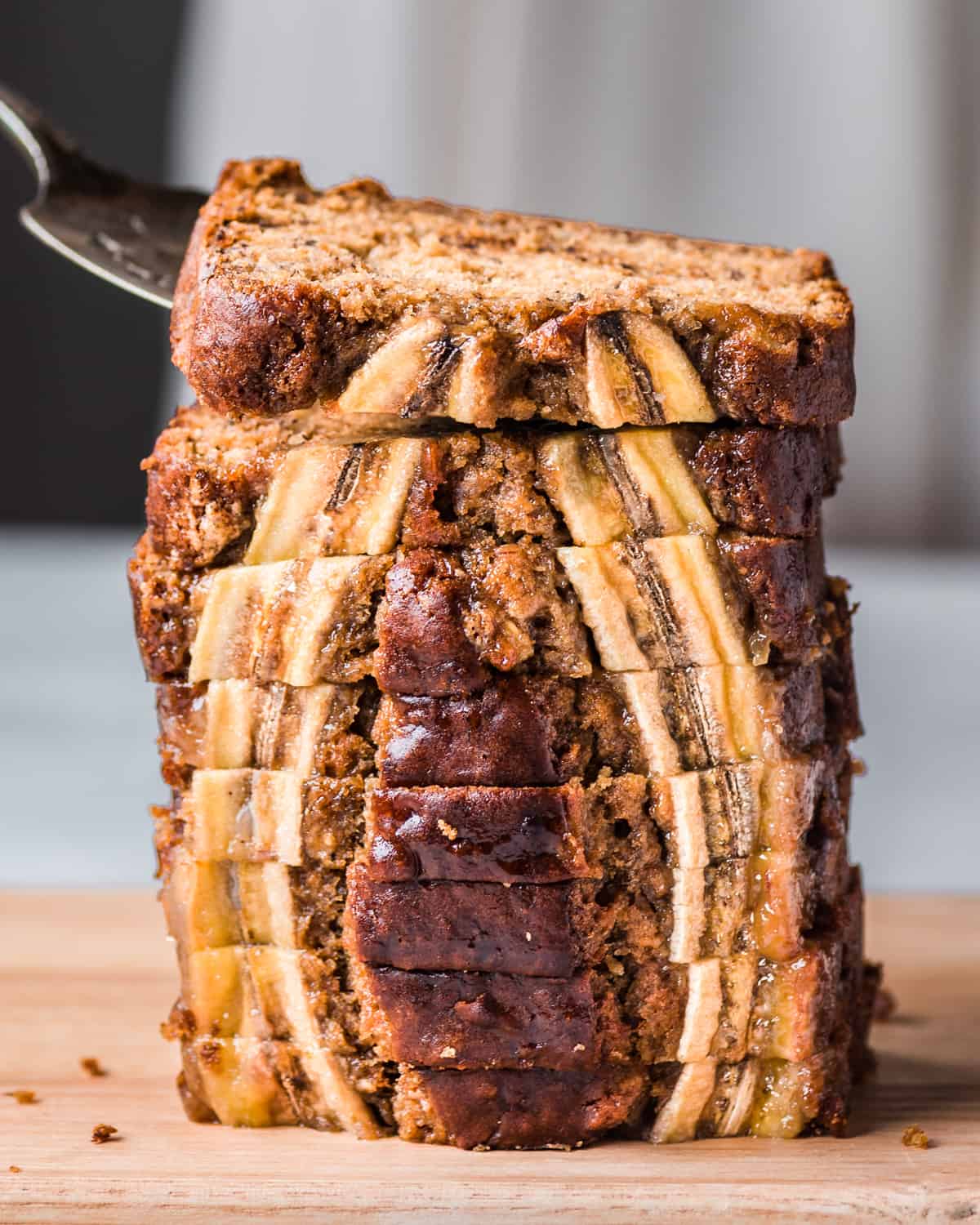 Why this recipe works
The ultimate tempting texture.
Banana bread can sometimes get a bad rap for being dense, but this one is far from it. The texture is tender, light, and fluffy, and it's all thanks to two ingredients: aquafaba and vegan buttermilk.
Aquafaba is one of my favorite vegan egg substitutes for baking. It's just the leftover liquid from a can of chickpeas! When it's lightly whipped, it miraculously transforms ordinarily dense banana bread into a fluffy and light treat.
And adding vegan buttermilk to the batter is the best way to fix the curse of the dry banana bread (you know what I'm talking about!).
No fanciness required.
Banana bread doesn't claim to be fancy. It leans into its natural rustic charm, which makes it such a comforting treat!
It's made up of simple, pantry ingredients that are flexible and forgiving. Many readers have made tweaks to the recipe and have still had great results. Banana bread is pretty much foolproof, making it perfect for both beginners and pro bakers.
It's just plain comforting.
Despite being vegan, nut-free, and soy-free and made with some better-for-you ingredients, this banana bread still tastes like pure indulgence. Warmed up and slathered in vegan butter makes it a true dream.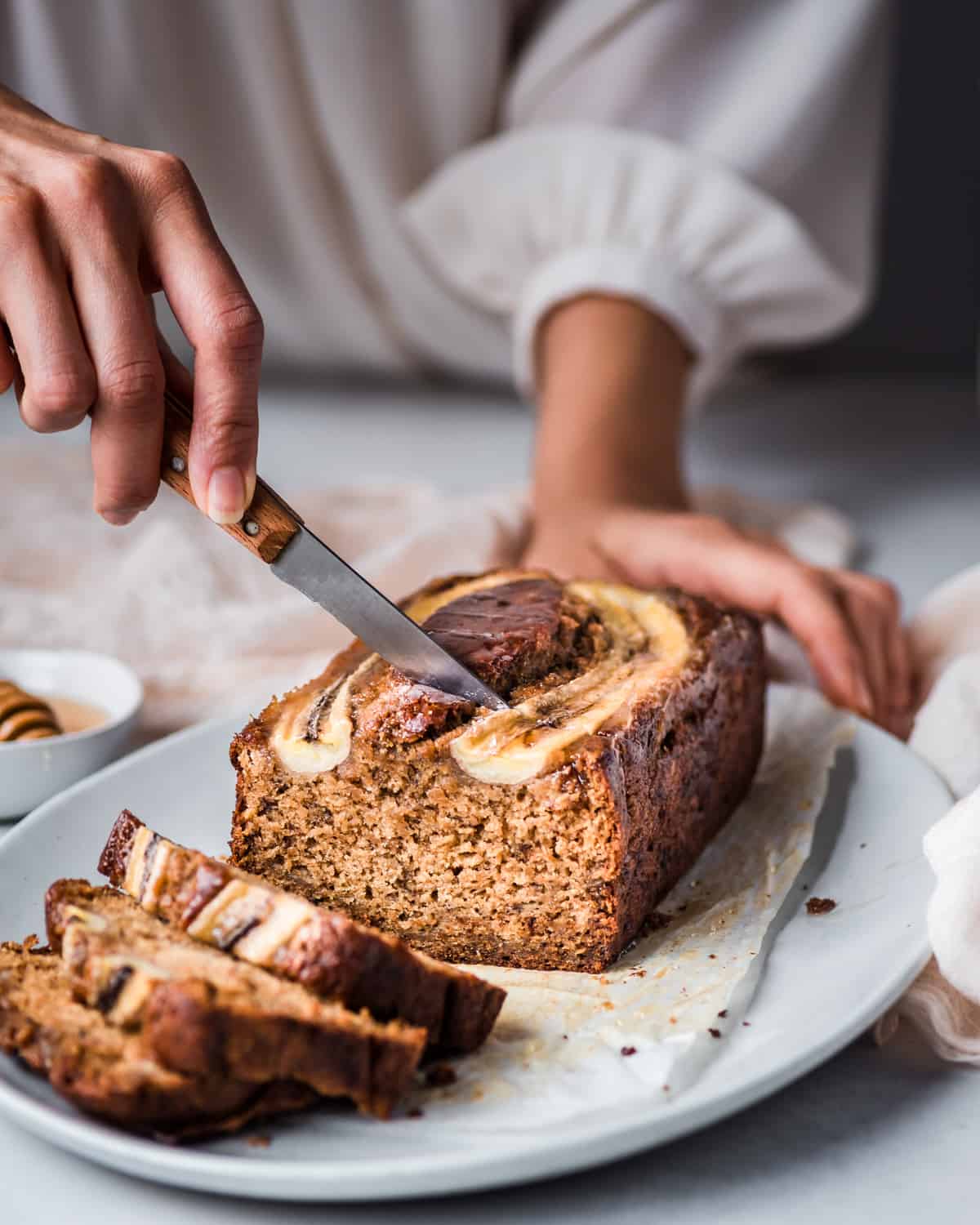 Ingredient notes
Aquafaba. This is the leftover liquid from a can of chickpeas. It's a magical ingredient that gives this banana bread and other baked goods like my Vegan Vanilla Layer Cake a tender, moist, and light texture.
Substitute: If you don't have a can of chickpeas at home, you can substitute 2 flax eggs instead. To make the flax eggs, mix 2 tablespoons of ground flaxseed meal with 5 tablespoons of water. Stir and let sit for 15 minutes to thicken.
Several readers have made this recipe with flax eggs and said it was very tender, so rest assured, it'll still be tasty (even if not as fluffy as the original).
Bananas. Overripe, spotty bananas are essential because (1) they're very sweet, as the starches have converted to sugar; (2) they're easier to incorporate into the batter; and (3) they have a deeper banana flavor, which translates to more flavorful banana bread.
Bananas not ripe yet? Skip to the FAQ for tips.
Oat milk + lemon juice. These two together give you a dairy-free buttermilk substitute, AKA the other secret to this ultra-fluffy and moist banana bread.
Substitute: Oat milk is a favorite of mine for baking because of its superb browning abilities (as evident in my Pumpkin Spice Bread) but soy milk should work well as a replacement.
Brown sugar. If choosing between light and dark brown sugar, go with the dark variety. It has a deeper molasses flavor, making the bread richer in flavor (and darker in color). You can also use coconut sugar.
Flour. All-purpose flour always leaves you with the best texture and foolproof results. Just make sure to measure it properly to prevent the bread from turning out dense! Head to the Tips section to learn more.
Substitute: We haven't tested this recipe with gluten-free flour. However, many readers have had pretty good results using an all-purpose GF flour (like this variety from Bob's Red Mill or this one from King Arthur). FYI gluten-free vegan banana bread will usually turn out a bit more dense.
Baking soda. The baking soda produces gas bubbles as a reaction to the acidic lemon juice. The bubbles in the batter enhance the rise and are the reason why this quick bread is so fluffy and light.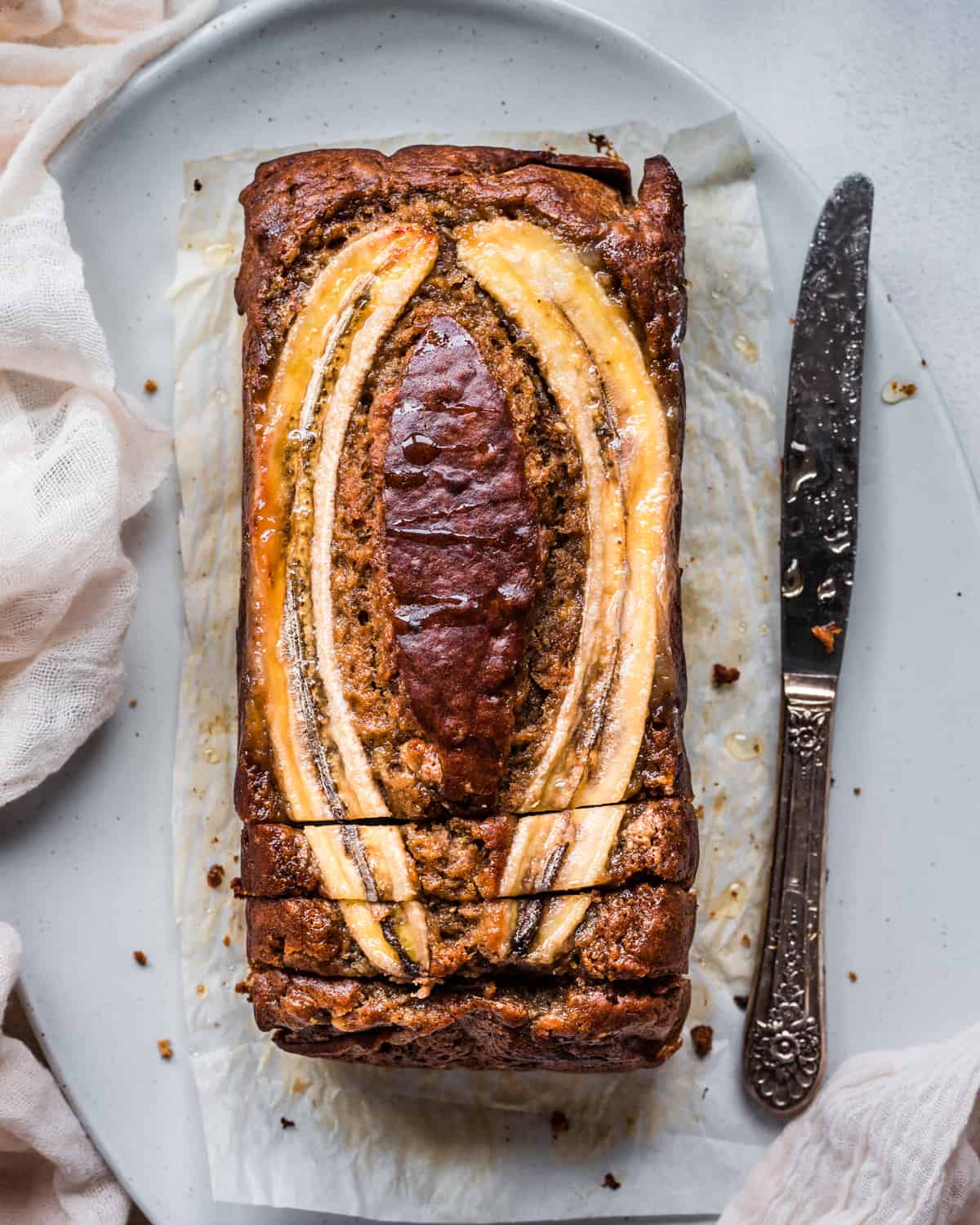 Step-by-step instructions
Pour the aquafaba into a mixing bowl. Whip it until it's frothy and bubbly all over. Mash the bananas in another bow with a fork or potato masher.
Lastly, in a separate bowl, stir the lemon juice into the oat milk to make the vegan buttermilk.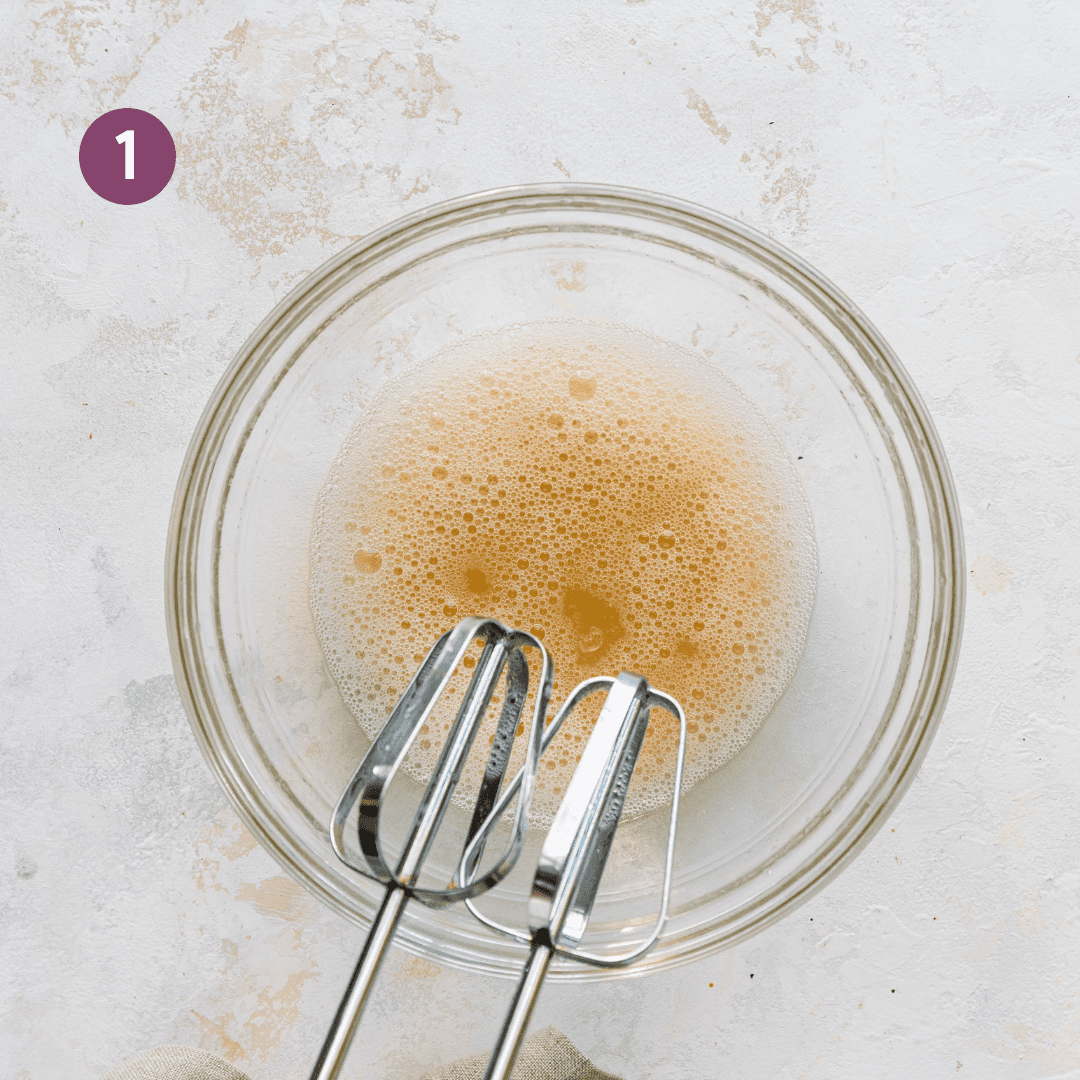 Mix the wet ingredients. Whip the brown sugar and oil in a large mixing bowl.
Stir in the whipped aquafaba, then the buttermilk and vanilla. Finish by mixing in the bananas.
Tip: If you don't have an electric mixer, use a whisk. It requires a little more arm muscle.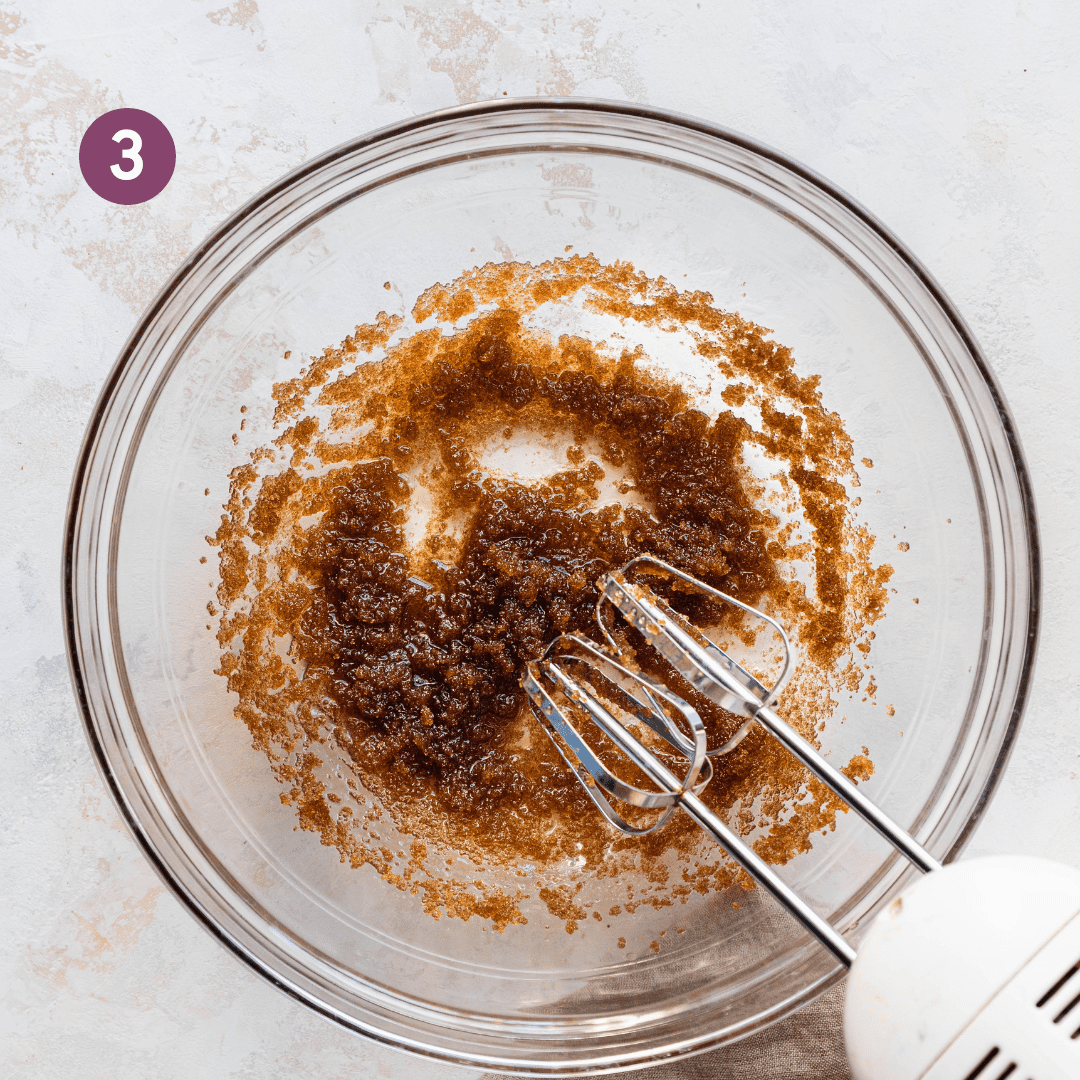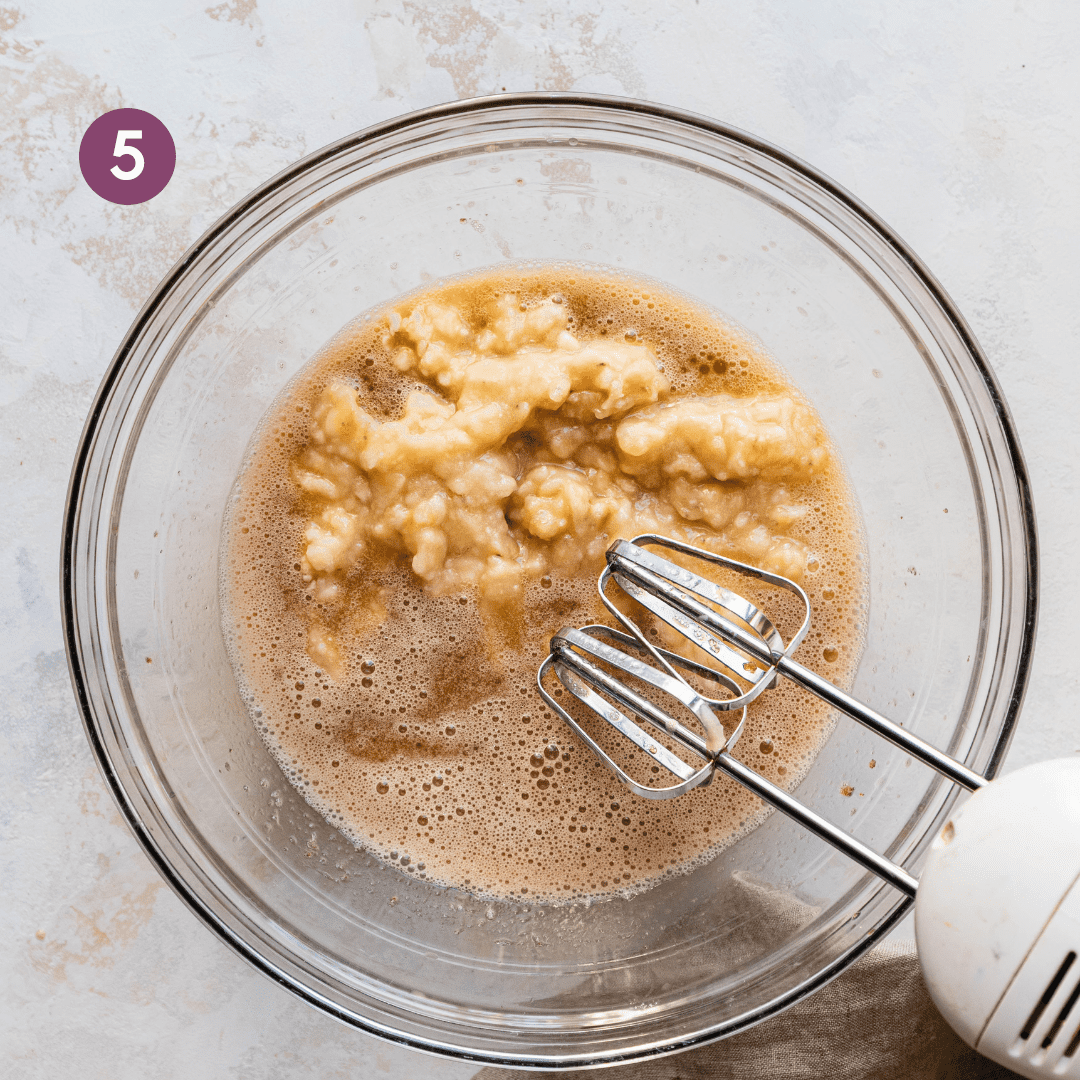 Add the dry ingredients. Gently stir the flour, salt, baking soda, and cinnamon into the wet mixture with a spatula. Try not to overmix! It's ok if there are light flour streaks left behind.
Quick tip: According to Cook's Illustrated, folding the dry ingredients into the wet (instead of vice versa) promotes better incorporation, a more supple batter, and prevents overmixing.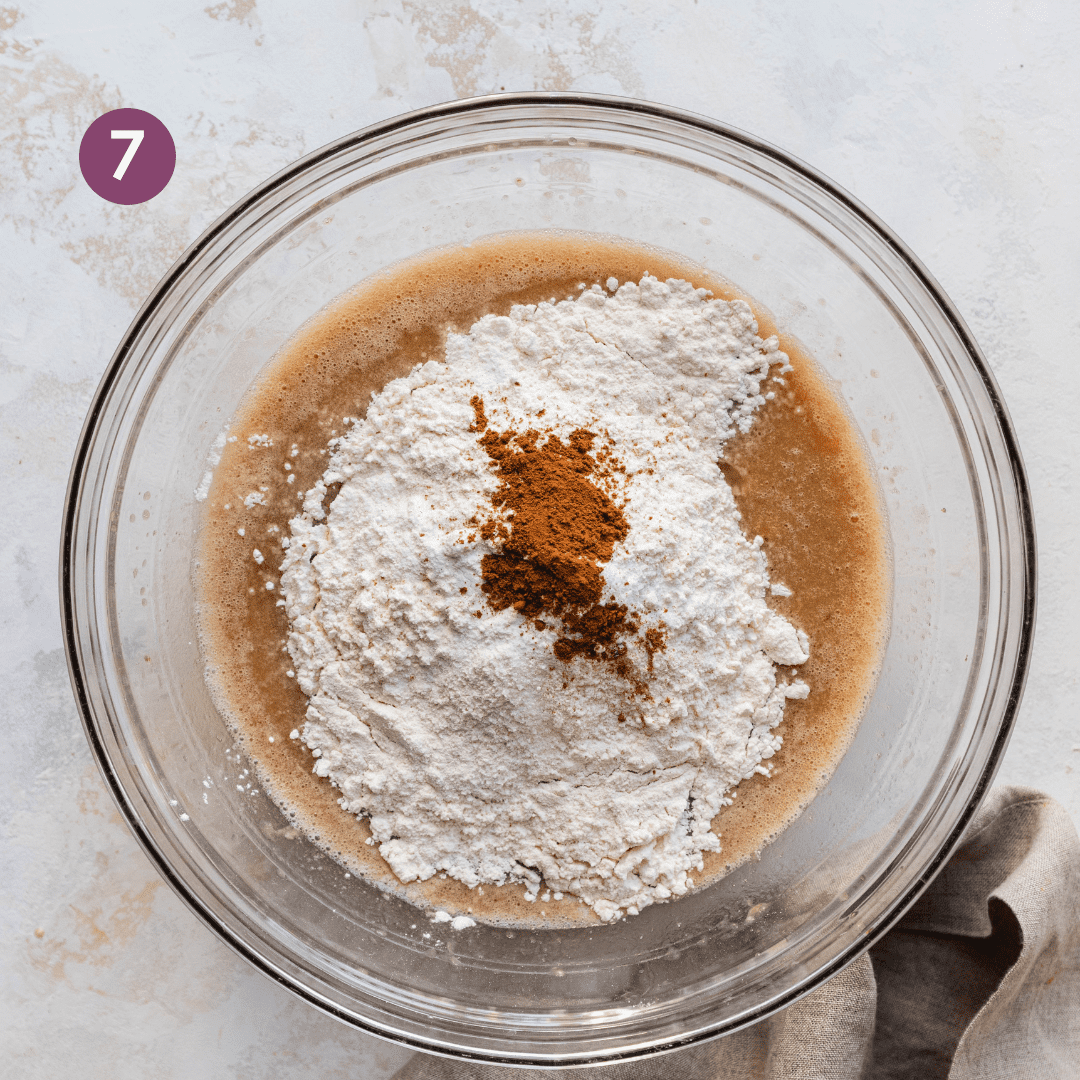 Pour the batter into a loaf pan and smooth out the top.
For optional decoration, gently place a halved banana on top of the batter. Sprinkle brown or coconut sugar on top for caramelization.
Bake. Bake the bread until a toothpick inserted in the center comes out mostly clean (a few moist crumbs are ok). Cool in the pan for 10 min, then on a wire rack for 20-30 min before slicing and enjoying.
Pro tip: Insert the toothpick at an angle rather than vertically into the bread. The angle is a much better test for doneness in a tall loaf cake!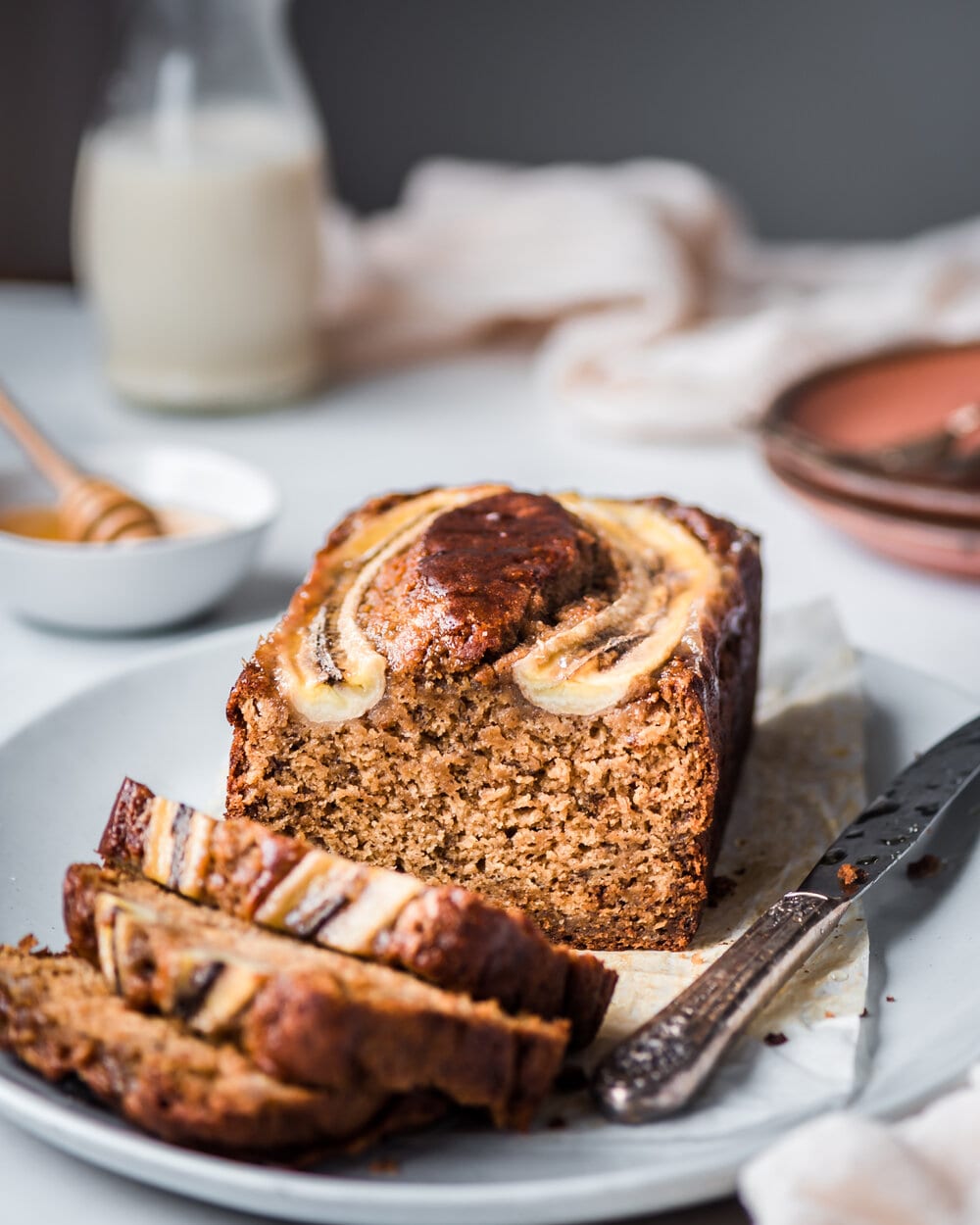 Tips for making the best vegan banana bread
Do not overmix!
Use a silicone spatula or wooden spoon to gently mix the dry and wet ingredients together. Only mix until both are combined. It's ok if some traces of dry flour are left behind.
The more you mix, the more gluten develops in the batter. If you overmix, the bread will have a dry and almost chewy, denser texture.
Measure your flour properly!
I strongly recommend a digital kitchen scale for baking. If you don't have one, do not scoop the flour straight from the bag with a measuring cup because you will over-measure the flour and end up with a dry banana bread.
The proper way to measure flour is to spoon it into the cup, then level it off with a knife.

Want to see the spoon and level method in action? Watch my Youtube video on banana bread (also at the end of this post), starting at the 5:20 mark.
Don't let the batter rest too long.
Once the baking soda starts to react with lemon juice, bubbly chemistry magic starts to happen! If you let the batter hang out for too long, though, some of those bubbles disappear. So get your batter in the pan and into the oven as quickly as you can.
Let it rest before slicing.
The bread will be gooey if you slice it as soon as it comes out of the oven. Instead, let it rest in the pan for 10 to 15 minutes. This rest time lets the loaf finish baking and firm up a bit.
But don't let it sit in the pan too long, or it can develop a soggy bottom. Instead, transfer to a wire rack to cool completely.
For a less sweet banana bread.
The bread isn't overly sweet, but if you're limiting your sugar intake, feel free to use as little as ¼ cup of sugar.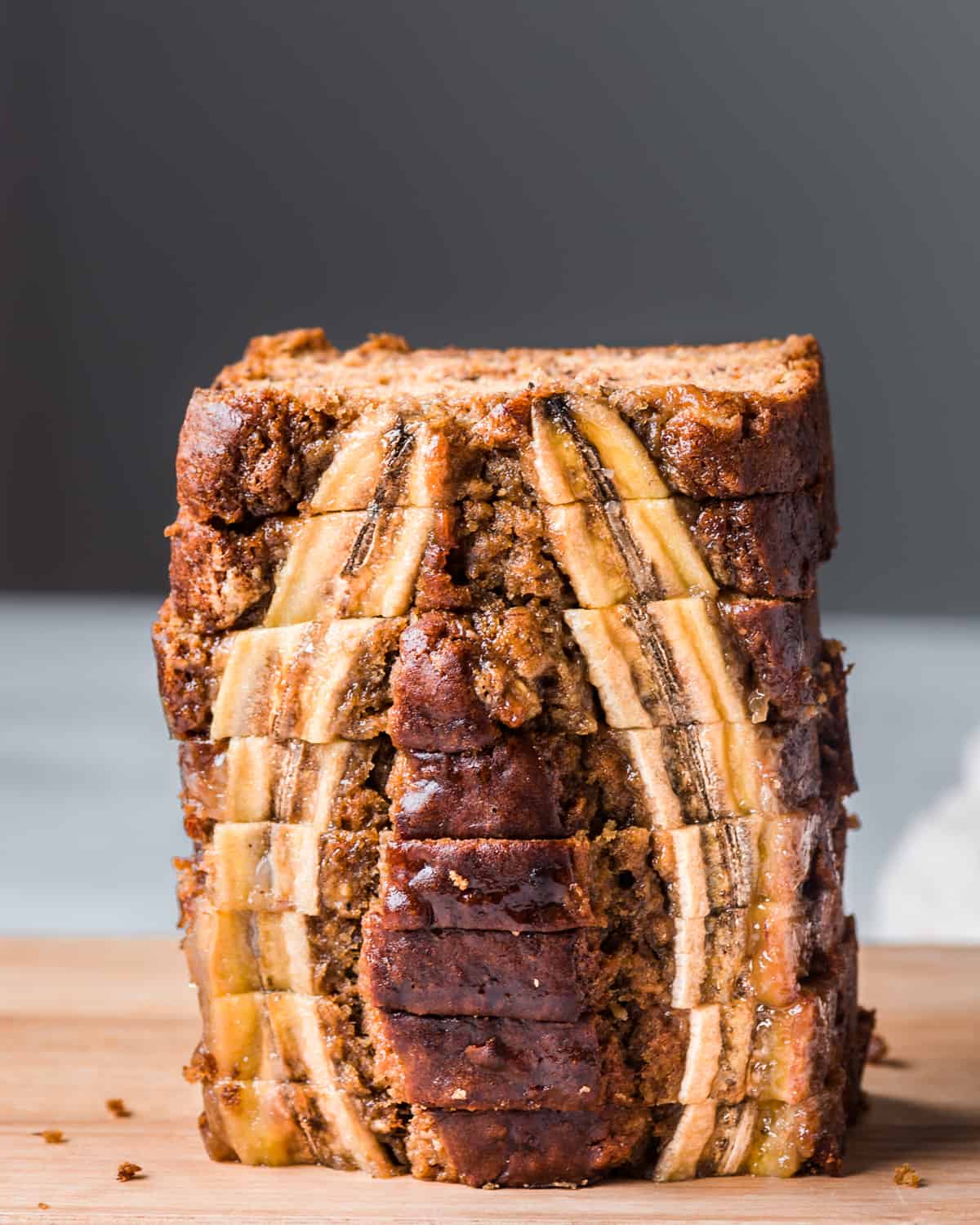 Frequently Asked Questions
Help! My bananas aren't ripe. What should I do?
The best banana bread is made with naturally ripened bananas. However, if you must make banana bread today and your bananas are not yet overripe, here's what to do:

1. Preheat the oven to 300°F/150°C. Place the whole, unpeeled bananas on a parchment-lined baking sheet. Bake for 15 to 35 minutes, or until the skins turn black all over. If they're already somewhat ripe, stick to the lower range.

2. Strain the bananas over a strainer to get rid of excess moisture, as less ripe, baked bananas will have more moisture.
Can I use this recipe to make banana bread muffins?
Yes! To make muffins, fill a standard 12-muffin tin about 3/4 full. Bake at 350°F/176°C and reduce the bake time to 20 to 25 minutes (checking after 20 minutes).

Or bake at 375°F/190°C and reduce the bake time to 15 to 22 minutes (check at 13 to 15-minute range).

We have tested muffins using less sugar (1/4 to 1/2 cup) and it works well.
I don't have a loaf pan. What can I use?
Use an 8×8 inch (20×20 cm) square baking pan. Reduce the bake time to approximately 25 minutes. Or, make muffins (see above!).
Can I add mix-ins?
Sure! Try vegan chocolate chips or finely chopped dark chocolate; chopped walnuts, hazelnuts, or almonds; or blueberries. Add between 1/2 to 1 cup total of mix-ins. If using chocolate chips, consider reducing the sugar by a few tablespoons.

How long does this banana bread last?
Baked banana bread will stay fresh for 2 to 4 days at room temperature (once cooled, store in an airtight container).

To extend the shelf life, omit the decorative banana on top (which can become mushy and black within 1 day) and store it in the fridge.
Can I freeze banana bread?
Yes. If you plan on freezing it, don't add the decorative sliced banana on top. Wrap cut slices or in foil, then place it in an airtight container or bag. Freeze for up to 3 months.
.
If you love this Vegan Banana Bread recipe, please rate and review it below and tag me with your recreations on Instagram!
The Best Vegan Banana Bread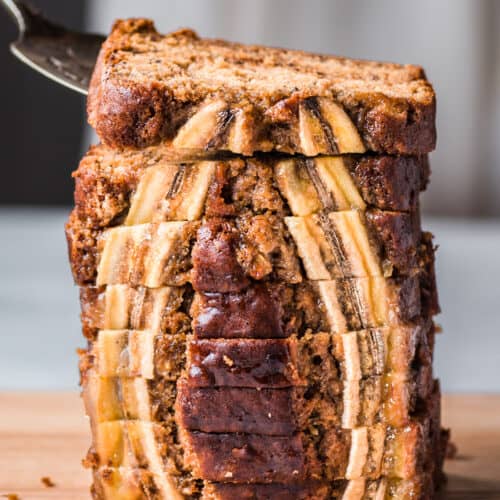 Yes, this IS the Best Vegan Banana Bread! The tender, moist, and fluffy texture sets it apart and practically melts in your mouth! This recipe is a reader favorite for good reason: not only does it taste amazing, it requires just 10 ingredients and 20 minutes of your time.
Ingredients
6

tablespoons

(90 mL) aquafaba

(see Note 1)

3

medium-sized

very ripe bananas,

(optional, 1 ripe banana for decoration)

1/4

cup

+ 2 tablespoons (90 mL) oat milk,

or plain-flavored plant-based milk of choice

1

tablespoon

lemon juice

1/3

cup

(75g) sunflower oil, olive oil, or any neutral-tasting oil

3/4

cup

(115g) organic brown sugar or coconut sugar

(see Note 2)

1

teaspoon

pure vanilla extract

(see Note 3)

2

cups

(240 to 250g) all-purpose flour,

spooned and leveled (see Note 4)

1/4

teaspoon

sea salt

1

teaspoon

baking soda

3/4

teaspoon

ground cinnamon
Instructions
Preheat the oven to 350°F/176°C. Arrange a rack in the bottom third of the oven. Line a 9×5-inch (23×13 cm) loaf pan with parchment paper, letting the excess hang over the long sides to form a sling.

Pour the aquafaba into a medium bowl. Using a handheld electric mixer, whip the aquafaba on medium speed for 45-60 seconds until uniformly foamy.

Wipe out the bowl used for the aquafaba. Add the three bananas to the bowl and mash with a fork until smooth and no lumps remain (or, for a more rustic banana bread, leave a few chunks in). FYI: the 3 mashed bananas should weigh around 300g.

Stir the lemon juice into the oat milk and set aside. This is the vegan "buttermilk."

In a large mixing bowl, add the sugar and oil. Mix using the electric mixer or a whisk until well combined.

Add the whipped aquafaba and mix until well incorporated. Add in the vegan "buttermilk" and vanilla and mix until smooth. Add the mashed bananas and mix until well incorporated.

Add the flour, salt, baking soda, and cinnamon to the wet ingredients. Switch to using a silicone spatula (if you don't have one, use a large wooden spoon). Gently stir until the ingredients are just barely combined. It's okay if you can see a few traces of flour.

Pour the batter into the prepared loaf pan and smooth out the top of the batter using a spatula or spoon.

For the optional decoration, keep the peel on the reserved banana and slice it in half, lengthwise; then peel the banana. Sprinkle a little coconut sugar or brown sugar on the cut/interior sides of the banana. Gently arrange the bananas on top the batter, sugared side side up.

NOTE: This might create a dome in the middle of the bananas, where the batter bunches up in the middle. Use a spoon to move some of the batter around the pan so that the bread doesn't bake unevenly.

Bake in the preheated oven for 45 to 55 minutes. Since every home oven differs, I like to start checking at 45 minutes.

The banana bread is done when a toothpick inserted into the center top at a slight angle comes out a few moist crumbs (see Note 5). If there's runny batter, it needs more time.

Transfer the pan to a wire rack and cool for 10 minutes. Then remove the bread from the pan and cool on the rack for at least 20 to 30 minutes before slicing (the bread is still cooking and setting up, so don't slice too early).

To store, place completely cooled banana bread in an airtight container or wrap tightly in plastic and leave on the counter for 2-4 days (if using decorative banana topping, the topping a will start to brown after day 1).

You can also freeze the banana bread. If you freeze the whole loaf, allow it to defrost on the countertop for 2-3 hours. If you freeze individual slices, defrost on the countertop for 20-30 minutes.
Notes
Note 1. Aquafaba is just the liquid from a can of chickpeas. If you don't have canned chickpeas or are allergic, use 2 flax eggs: mix 2 TBSP ground flaxseed meal with 5 TBSP water. Stir and let sit for 15 minutes to thicken. The banana bread won't be as fluffy though. 
Note 2: If using brown sugar, lightly pack it. If choosing between light and dark brown sugar, I like the dark variety for a deeper molasses flavor; the bread will be darker in color too. If you are limiting your sugar intake, you can use less sugar, as little as 1/4 cup (about 38g) with still pretty good results. 
Note 3: Since this is a simple ingredient list, try to use real vanilla extract, not the imitation stuff, as you will taste the difference. 
Note 4. If not using a measuring scale to weigh ingredients, please spoon and level your flour so you don't overmeasure. More info in the Tips section of the blog post. 
Note 5:
Don't just insert a toothpick vertically down into the bread. Instead, insert it at an angle, which is a much better test for doneness in a tall cake. 
---
Calories:
252
kcal
|
Carbohydrates:
44
g
|
Protein:
3
g
|
Fat:
8
g
|
Saturated Fat:
1
g
|
Polyunsaturated Fat:
1
g
|
Monounsaturated Fat:
6
g
|
Sodium:
177
mg
|
Potassium:
181
mg
|
Fiber:
2
g
|
Sugar:
21
g
|
Vitamin A:
41
IU
|
Vitamin C:
4
mg
|
Calcium:
33
mg
|
Iron:
1
mg