Vegan gravy might sound like an oxymoron, but once you taste this rich and creamy, boldly flavored vegan gravy, you'll never look back! Dare I say it's the best damn gravy I've ever tasted, vegan or not.
In this post, I share seven secrets to making amazing vegan gravy, plus step-by-step instructions (and, of course, the recipe!). Say good-bye to those mild-flavored, one-note gravies that leave you underwhelmed.
And despite being indulgent, this gravy is vegan, gluten-free, dairy-free, and nut-free! It takes 45 minutes to make and is so flavorful that'll you want to drink it (or add some veggie broth and turn it into a cream of mushroom soup). And of course, it pairs fabulously with my Mashed Potatoes.
In this post:
1. Seven Secrets You Need to Know
2. Step by Step Instructions
3. Frequently Asked Questions
4. Recipe Card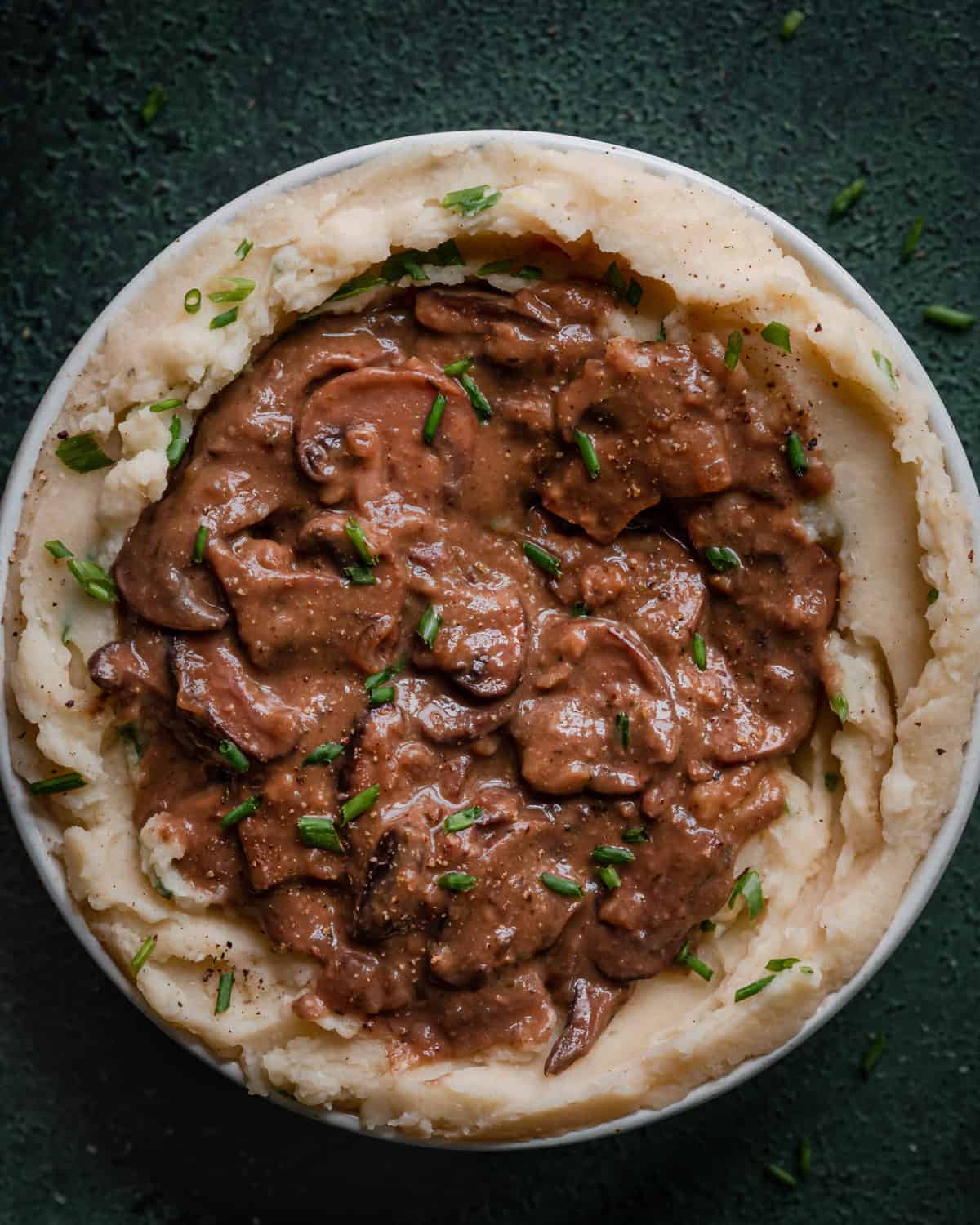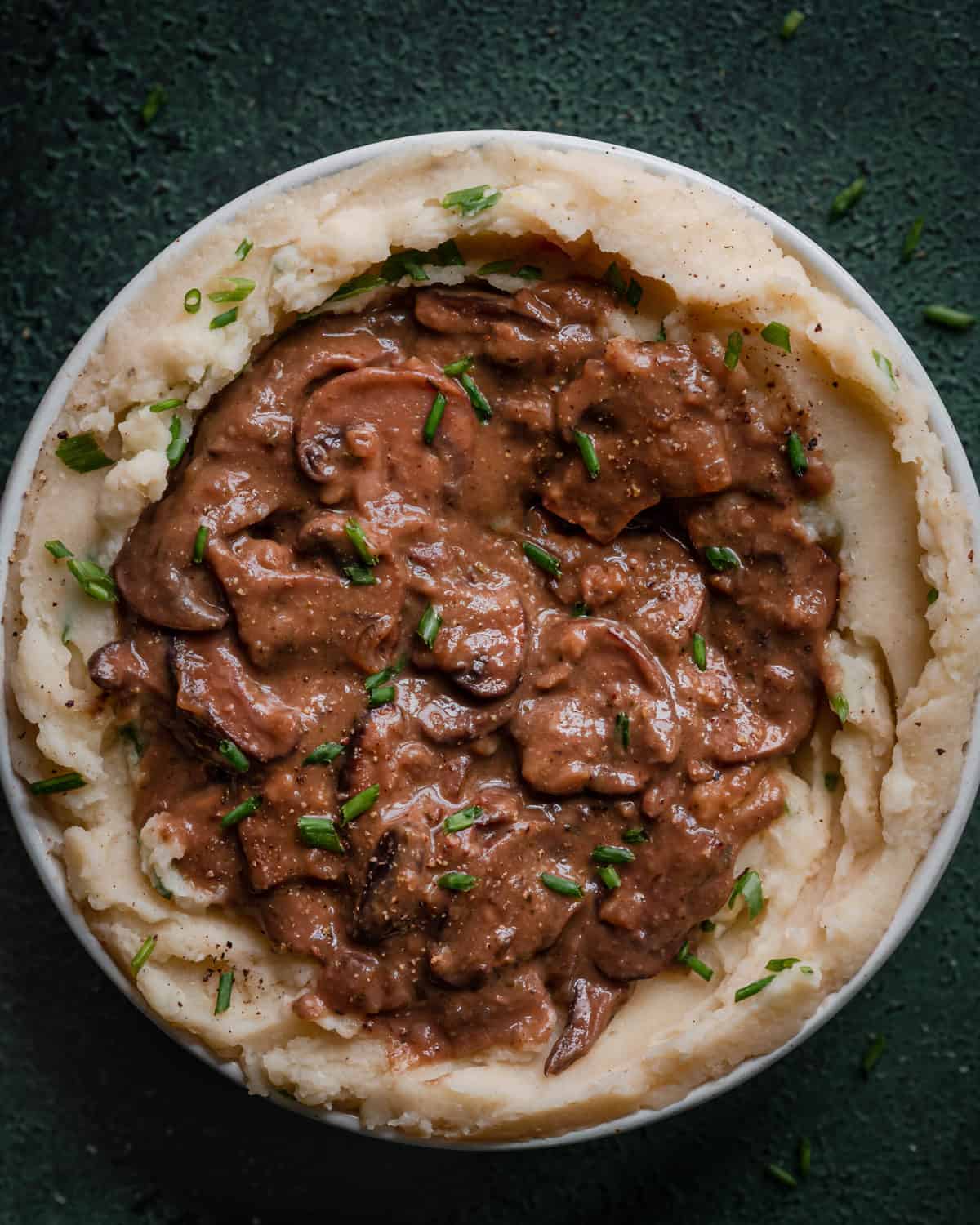 The secrets to making amazing vegan gravy
If you're looking at this recipe right now, there's an approximately 98% chance your planning your Christmas or Thanksgiving feast. In other words, gravy is a holiday dish, not an everyday dish.
So to me, the focus should be on making this dish as delicious and as wow worthy as possible. With that said, here are seven secrets to an absolutely amazing vegan gravy.
Secret #1: Three ingredients make for the most umami-packed gravy
As you might know, traditional gravy is made with animal meat. I don't like talking about the details, but animal meat is naturally rich in umami. So a great vegan gravy also needs to packed with that savory, meaty quality.
First, mushrooms are a natural choice. While many vegetarian/vegan gravies use onions as the base, I find that a vegan gravy needs something bolder and richer in flavor.
To amp up the natural umami found in mushrooms, this recipe adds tamari or soy sauce and white miso paste. Both pack in some serious savoriness that salt alone can't bring (trust me, I've tried!) and enhance the natural meatiness of mushrooms.
The result is an umami explosion that will make your taste buds sing! The flavors are bold and they don't apologize for it.
Takeaway: Mushrooms, white miso paste, and soy sauce are essential to giving vegan gravy the umami typically found in traditional gravies.
Secret #2: Use fresh herbs and aromatics
Many gravy recipes will tell you to use onion powder and garlic powder and/or dried sage or dried thyme. But for a serious-flavored gravy that will win even over meat lovers at the holiday table, you gotta use the fresh stuff. Otherwise, you're sacrificing multiple flavor opportunities.
This recipe starts with sautéing shallots in vegan butter or olive oil (shallots are milder than onions so they don't steal the show from the mushrooms). After the mushrooms are cooked down, a generous amount of minced garlic, fresh thyme, and rosemary go in. The result: herbaceous, garlicky notes that so beautifully complement the mushrooms.
Takeaway: Don't take shortcuts by using dried powders or herbs when you're making gravy. Gravy is traditionally a holiday dish – it's worth the effort to make it right.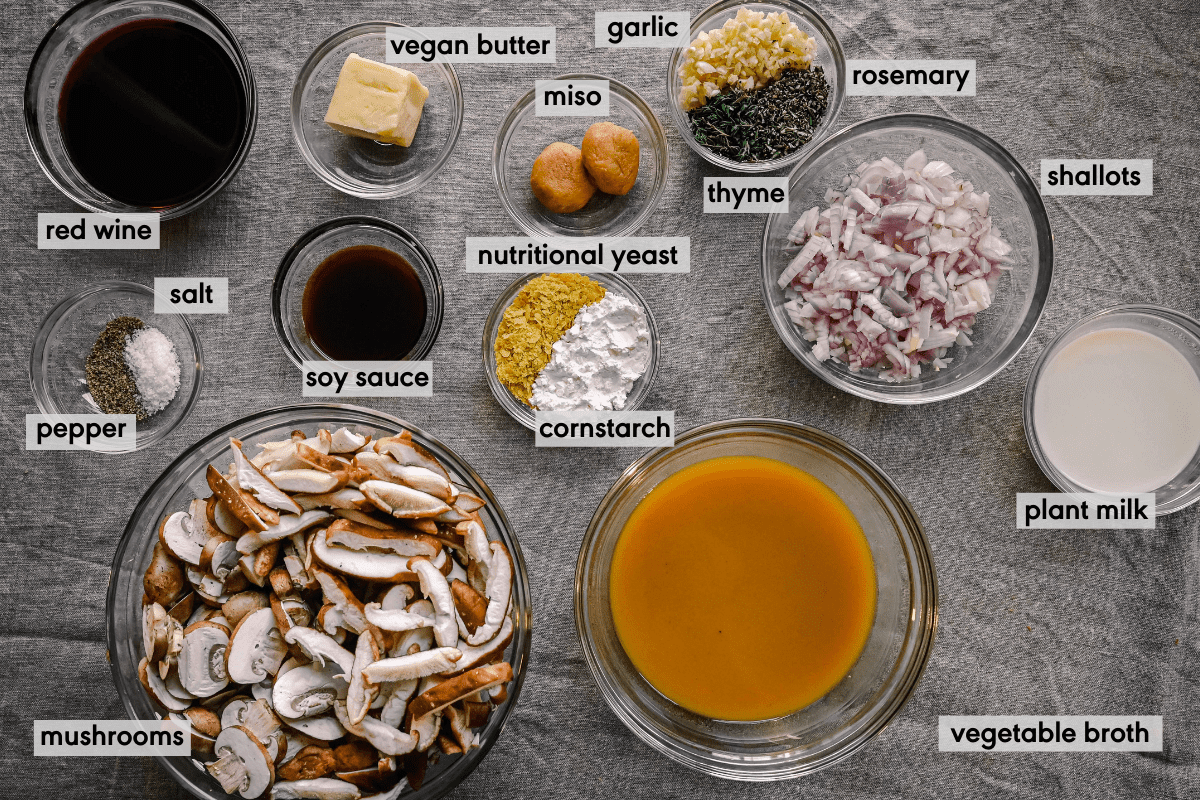 Secret #3: Season judiciously
This recipe uses low-sodium vegetable broth and just a couple pinches of salt in the cooking process. This is because (1) you get a good amount of salty savoriness from both the soy sauce and miso, and (2) as the gravy simmers, the flavors will become concentrated. If needed, you can always season with a pinch or two of salt at the end.
Takeaway: In many dishes, one of the biggest mistakes is often not adding enough salt. But for this dish, it pays to be careful and salt judiciously.
Secret #4: Red wine is a game changer
Red wine plays several roles here. First, the natural acidity in wine helps cuts through some of the richness both in this gravy but also in all of the heavy, rich meals on your holiday table.
Second, the compounds in red wine contribute an extra depth of flavor (think subtly earthy and fruity flavors) and enhance the natural meatiness of mushrooms. Third, cooking the wine down for 3-4 minutes not only cooks off the alcohol, but contributes to a jammy, rich body.
Takeaway: For a more complex and delicious gravy, add red wine. If you can't drink wine, check out the FAQ section below with substitute ideas.
Secret #5: Blend partially for a creamy but meaty texture
This recipe scoops out a cup of the gravy, blends it, and then folds it back into the remaining gravy. This naturally thickens the gravy and gives it a luxuriously creamy texture (something I do often with soups and stews, like this Creamy White Bean Soup with Kale).
At the same time, blending just a portion retains some of the mushroom pieces, which gives the gravy a meatier vibe (and nicer presentation). If you prefer a totally smooth gravy without mushroom pieces, you could blend all of the gravy. Or, if you love the gravy as is, keep it unblended.
Takeaway: Blending only a portion of your gravy will give you a creamy yet meaty texture.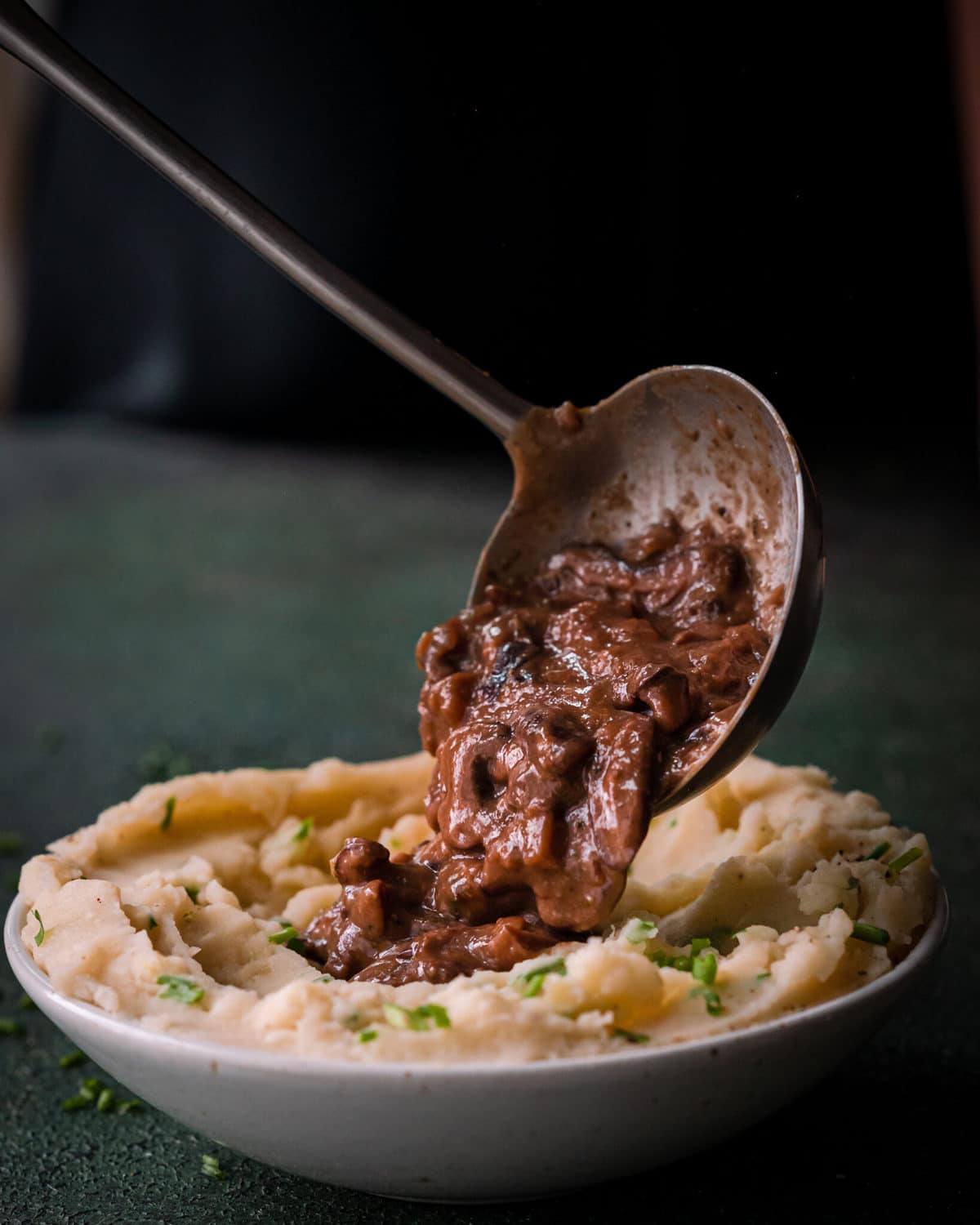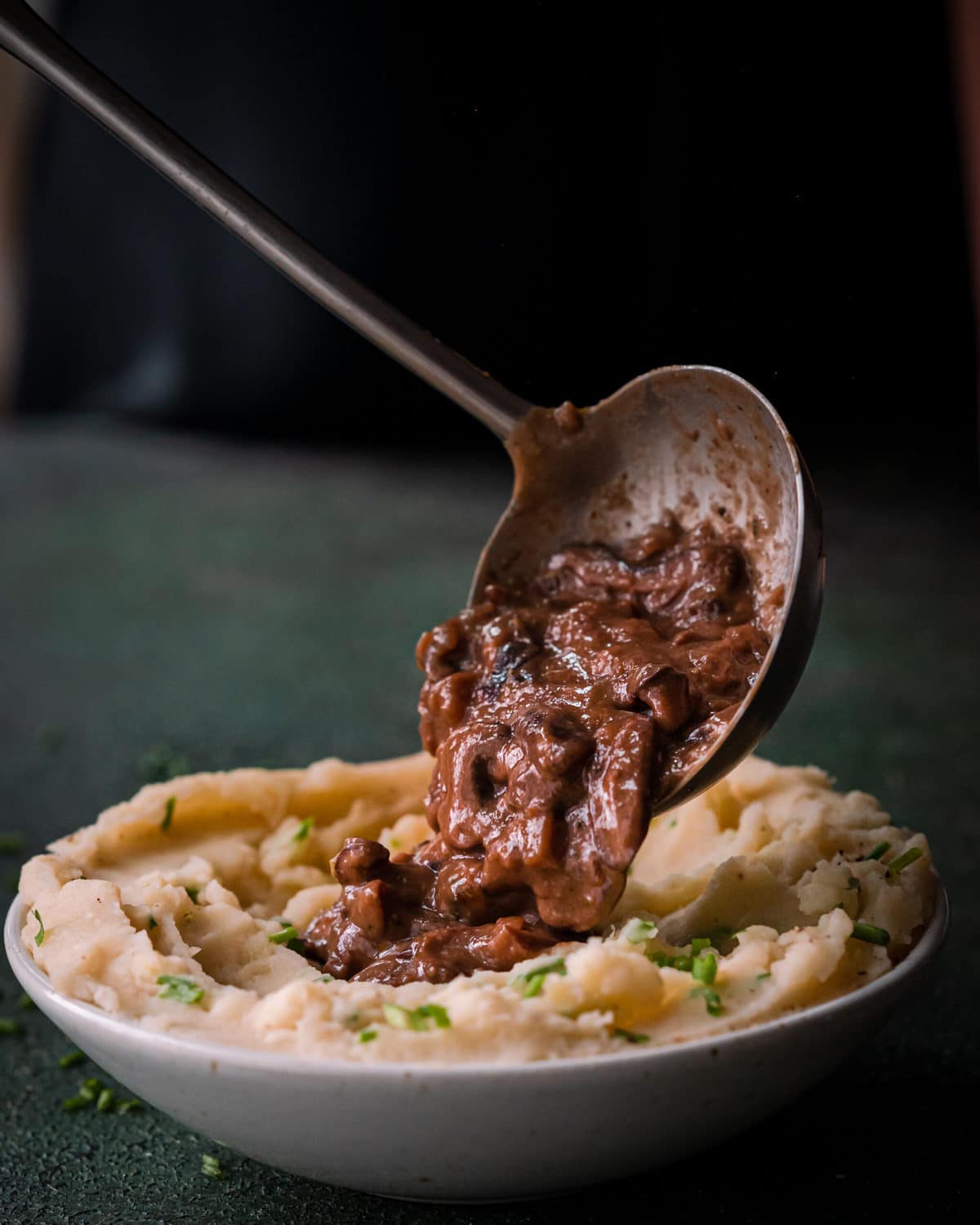 Secret #6: Make gravy ahead of time for a stress-free holiday!
The benefit of making a vegan gravy (in addition to it being better for the animals!) is that you can easily make it ahead (no need to wait until the turkey is being cooked).
You can easily make this gravy 1-3 days in advance and store it covered in the fridge. Just one less thing to make on the big day! The gravy does thicken as it rests, so when reheating it, add a couple splashes of water or veggie broth to thin it out to your desired consistency.
Takeaway: Make life easier for yourself on the big day by preparing the gravy ahead of time. It's easy to reheat and will taste just as good.
Secret #7: Finish with a little freshness
I like to finish the gravy with a tiny splash of good-quality balsamic vinegar (or red wine vinegar) to help brighten all the flavors. The acidity really awakens the rich flavors, especially if the gravy has been made in advance. And a small sprinkling of chopped flat-leaf parsley adds a fresh herb bite and a nice color contrast to the brown gravy.
Takeaway: As with many dishes, a splash of something acidic (like red wine vinegar or balsamic vinegar) and some fresh herbs takes this gravy from good to gourmet.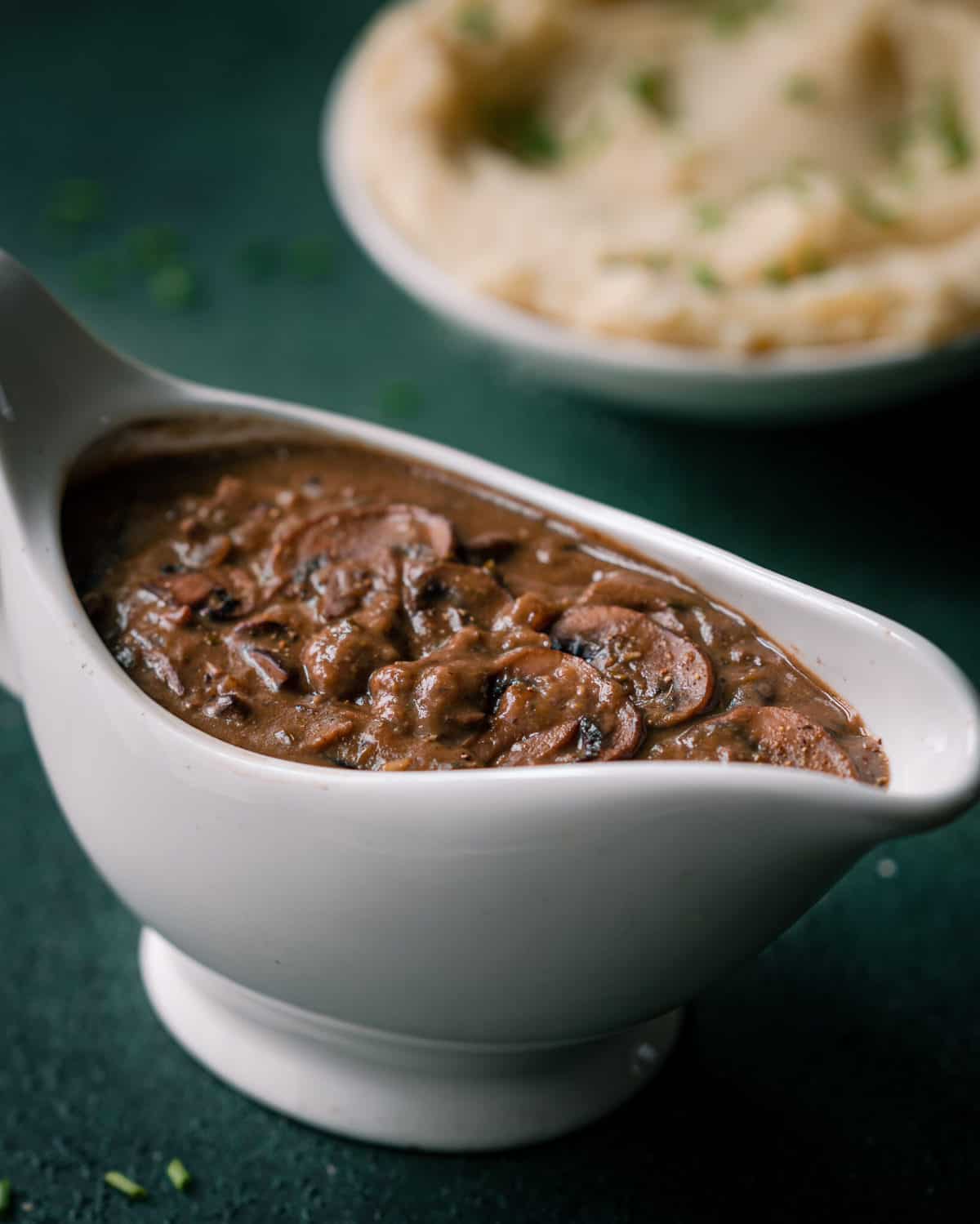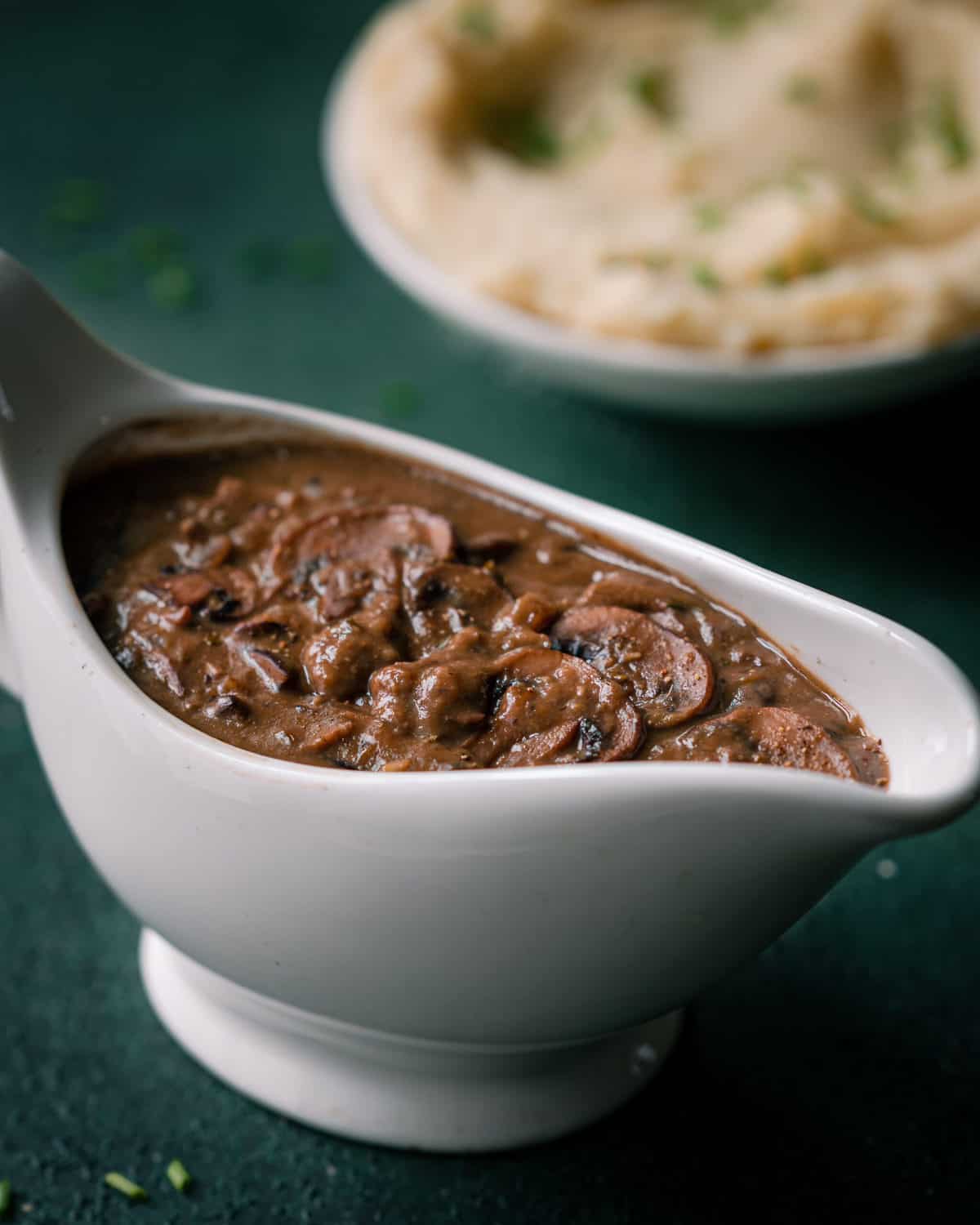 Step-by-Step Instructions
Heat half of the vegan butter or olive oil in a large skillet over medium heat. Cook the shallots for 3 minutes until golden. Add the rest of the butter and the mushrooms. Cook for 8-10 minutes until nicely browned and the water has been released.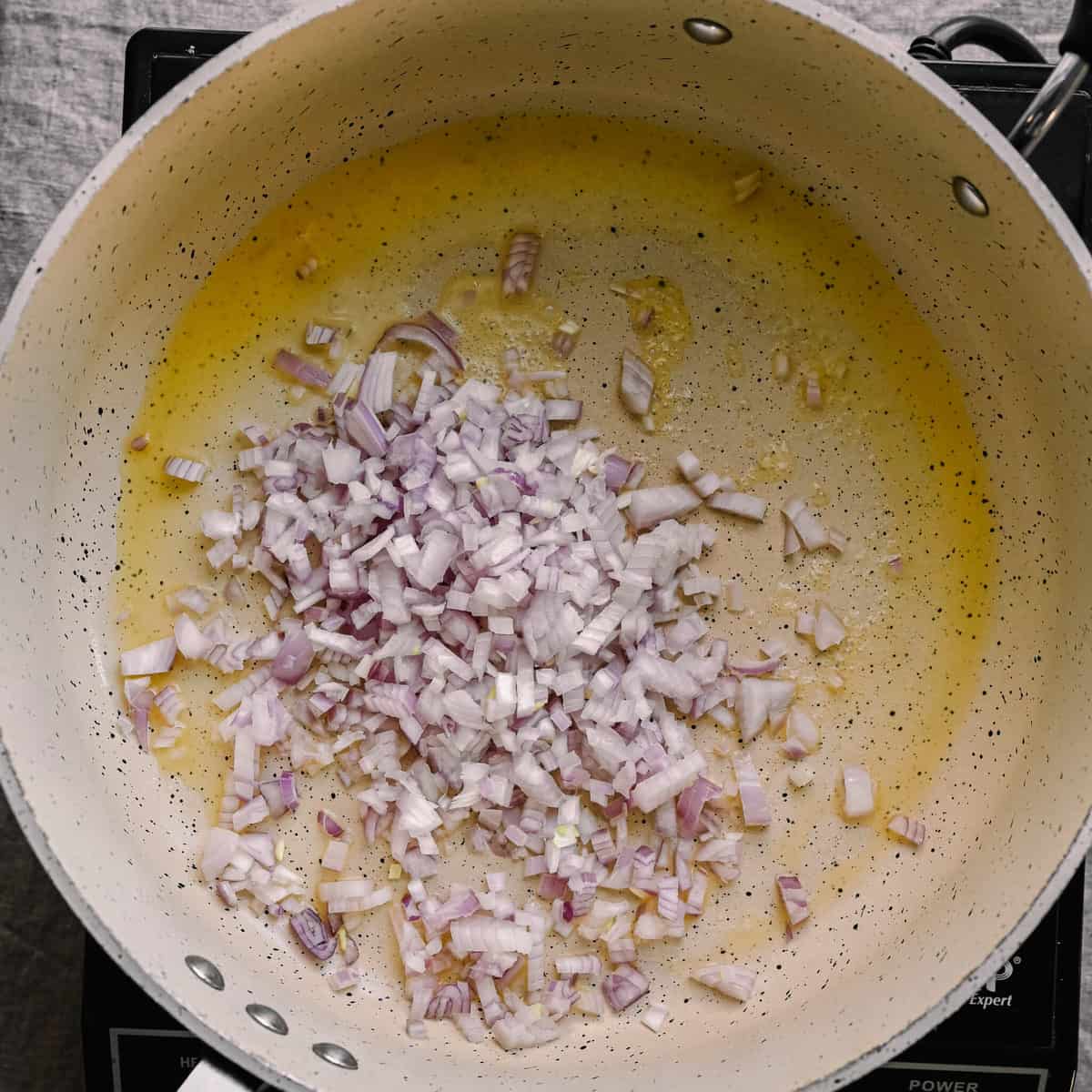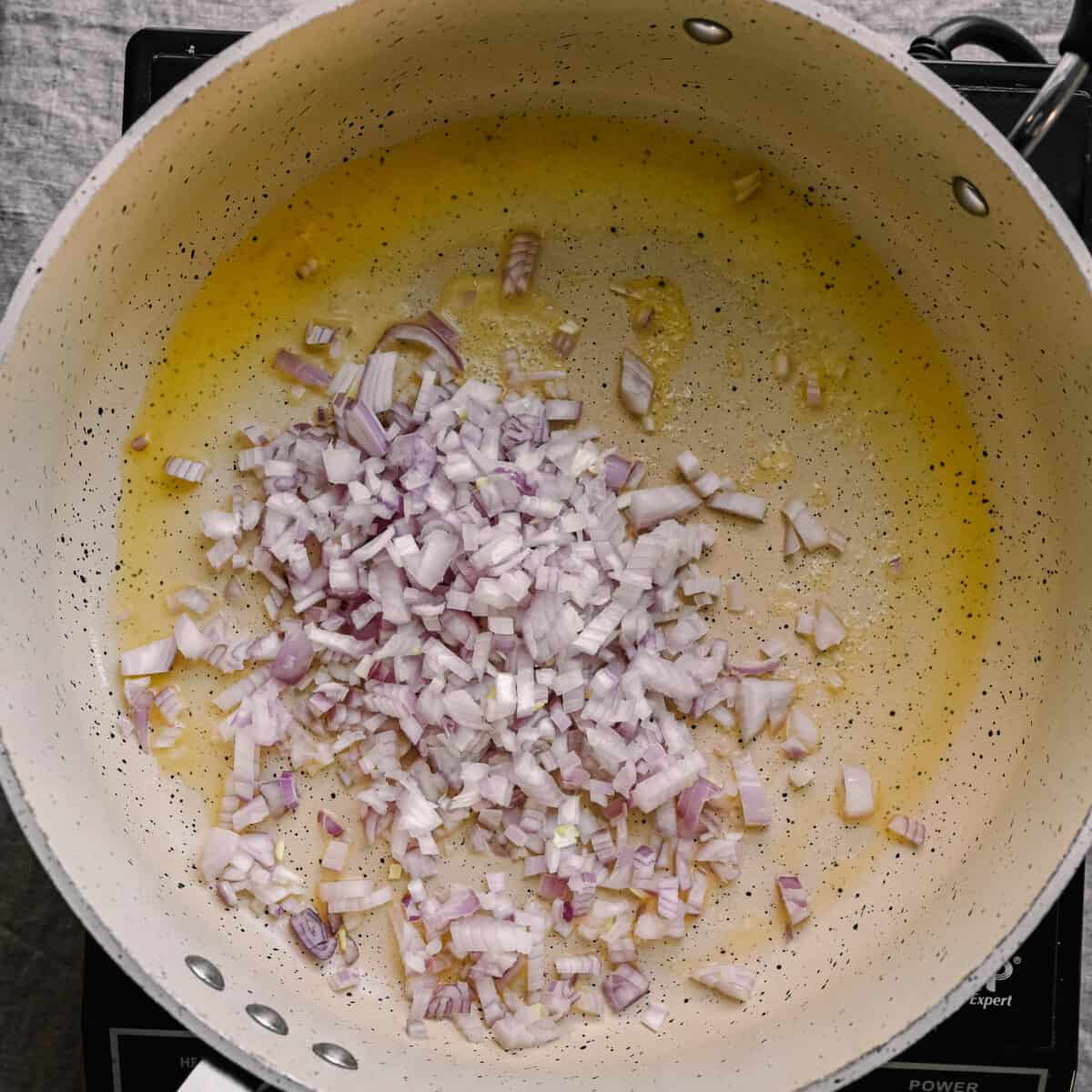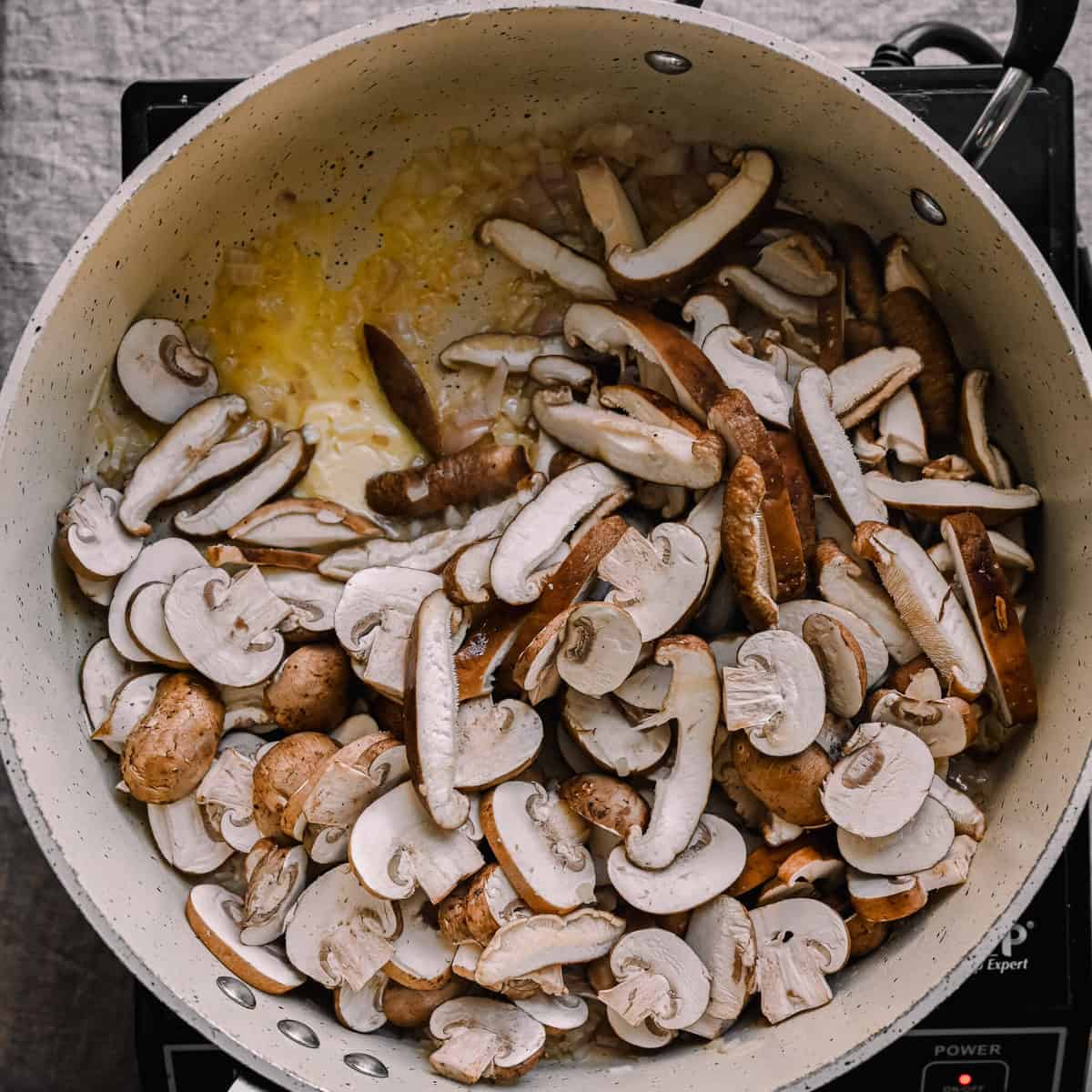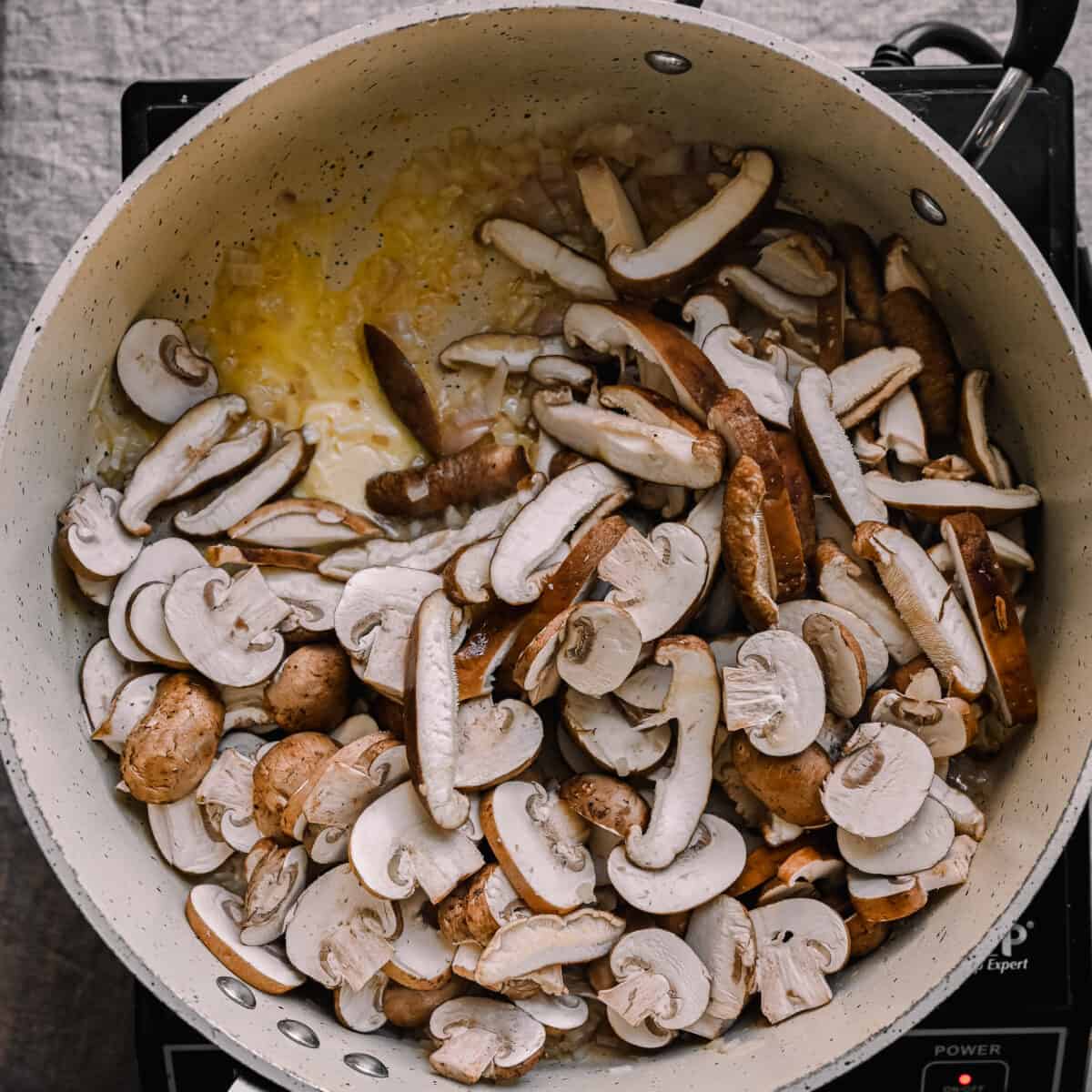 Add the garlic, thyme, and rosemary and cook 1-2 minutes, until fragrant.
Add the red wine, vegetable broth, and soy sauce/tamari. Boil for 3 to 4 minutes to cook off the wine, whisking frequently.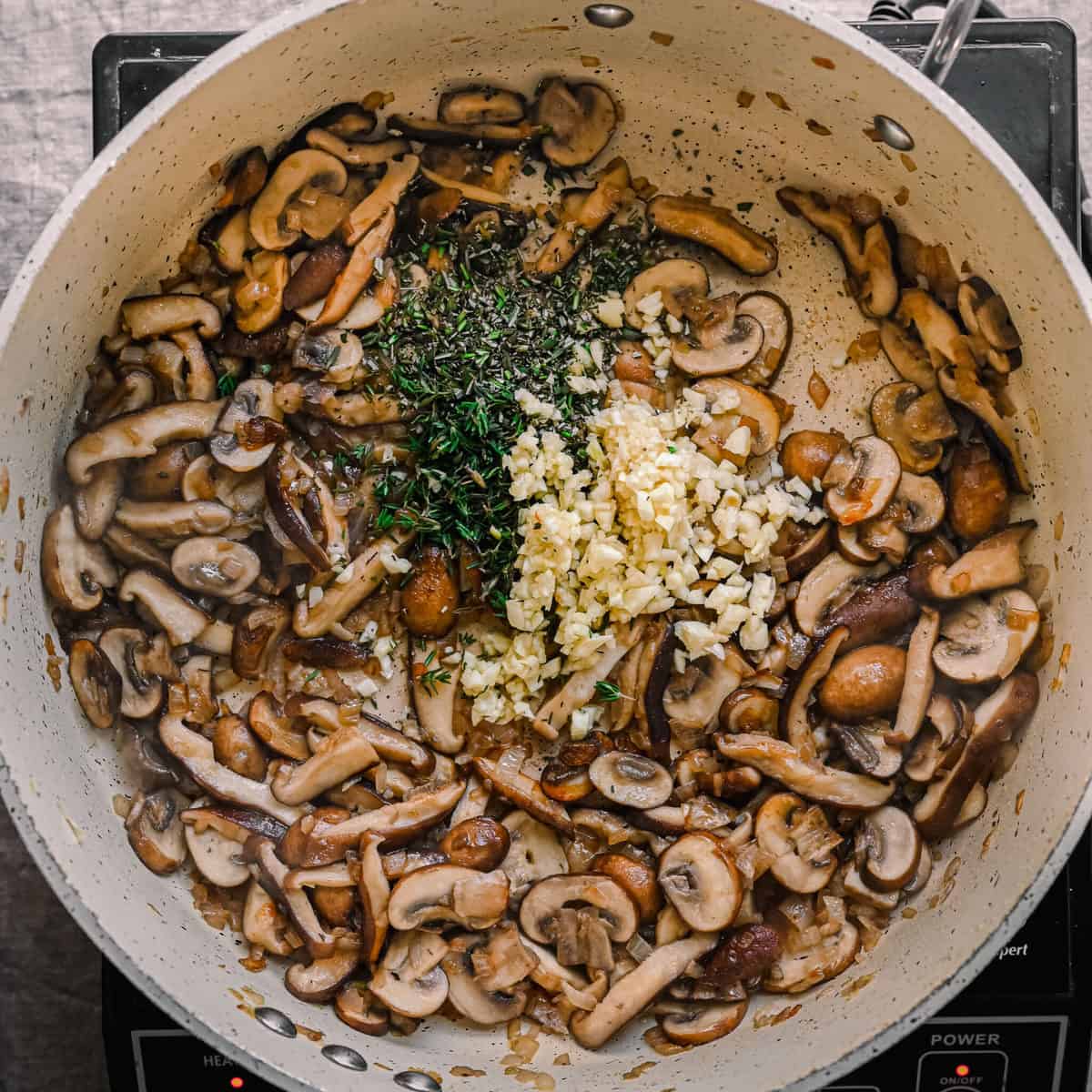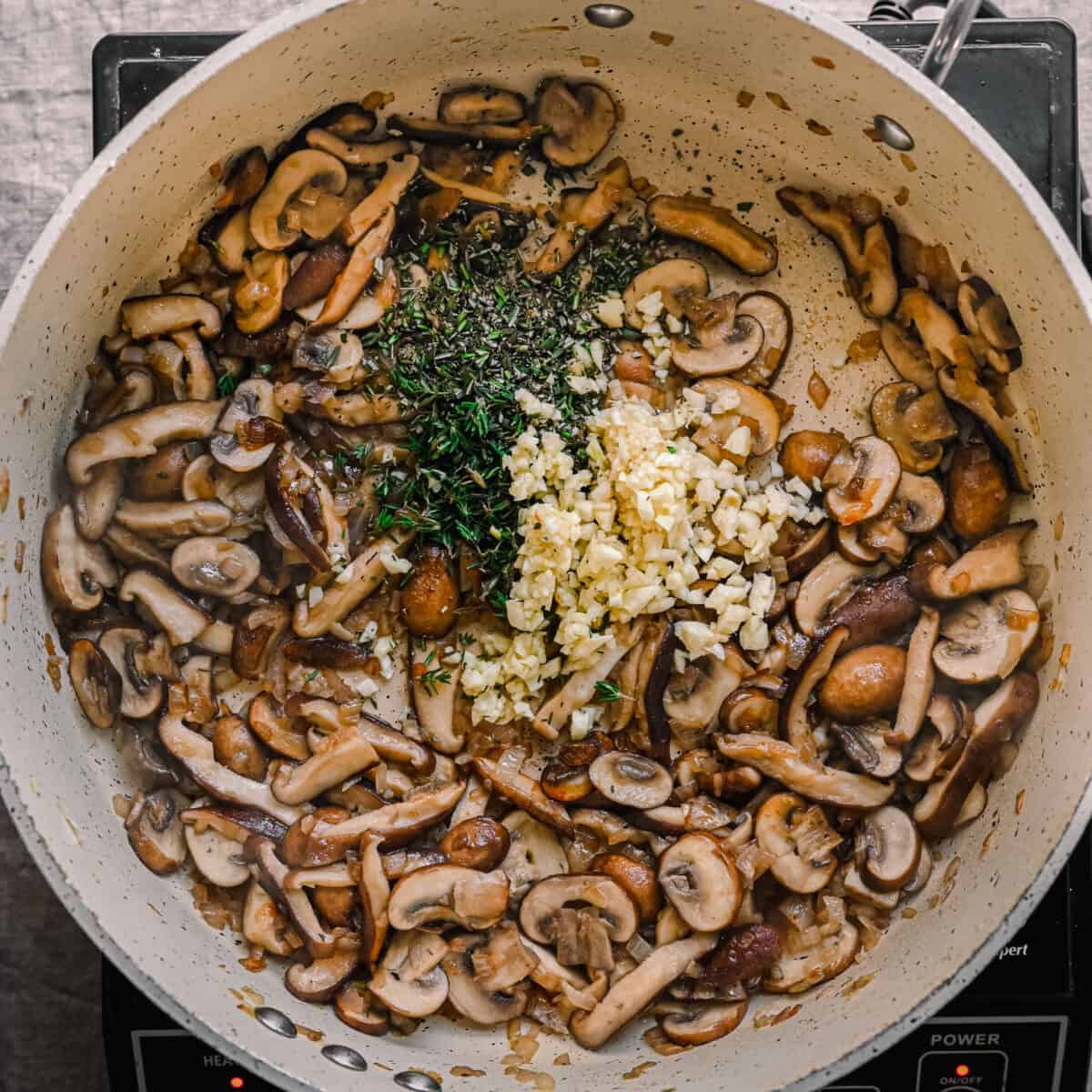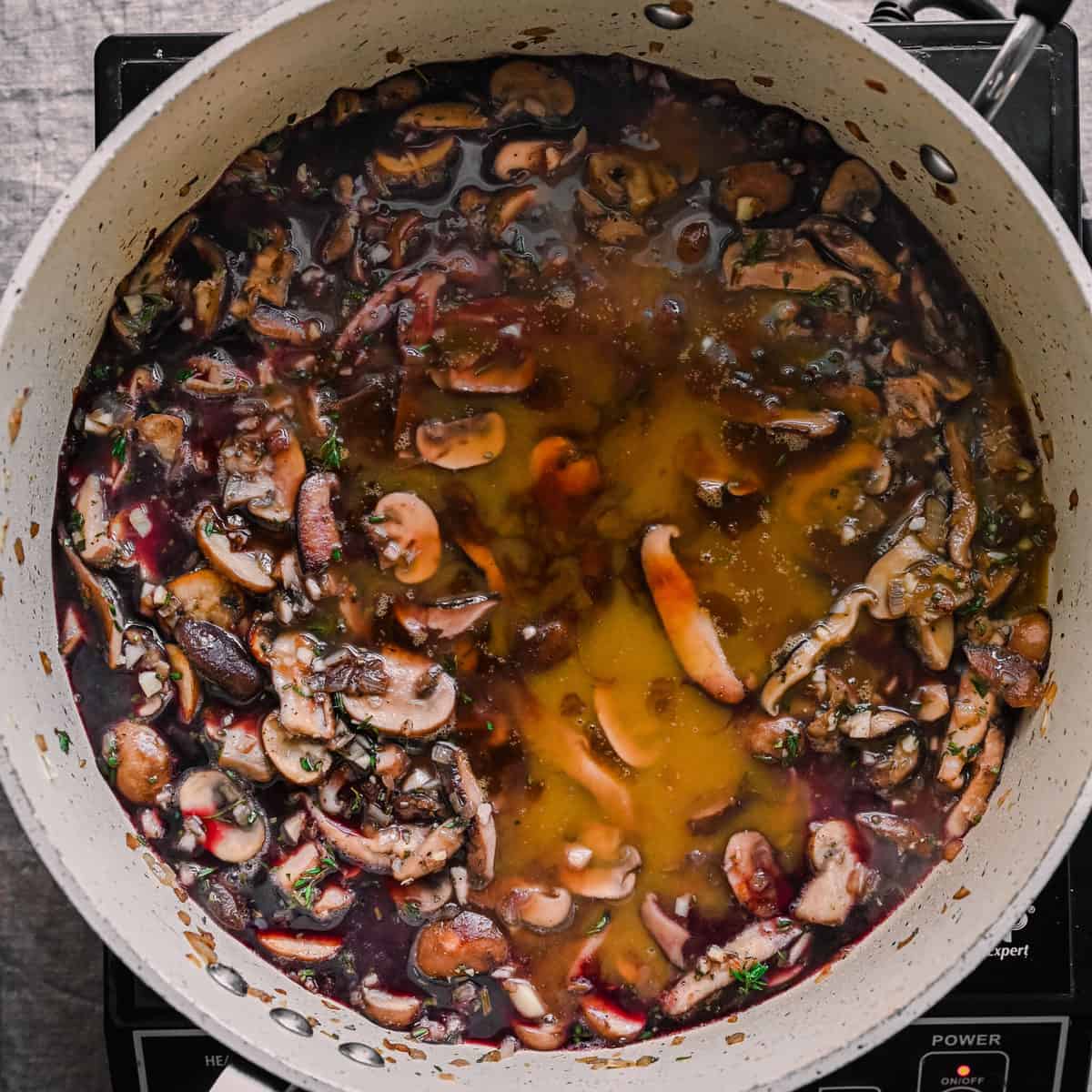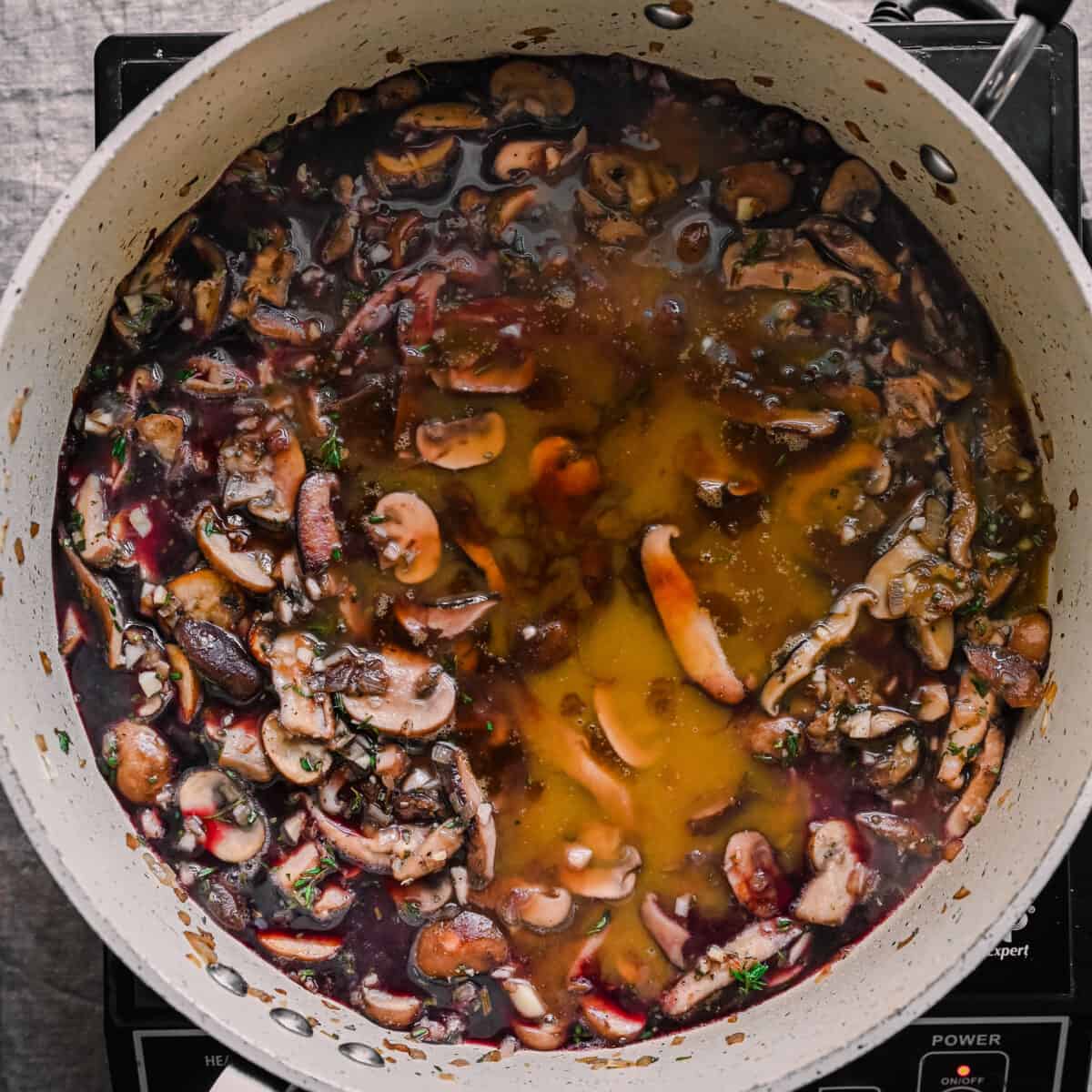 Next, add in your nutritional yeast roux (nutritional yeast, plant milk, and cornstarch stirred together). Whisk constantly to combine. Add in the miso paste, stir well, and simmer for 3 to 4 minutes.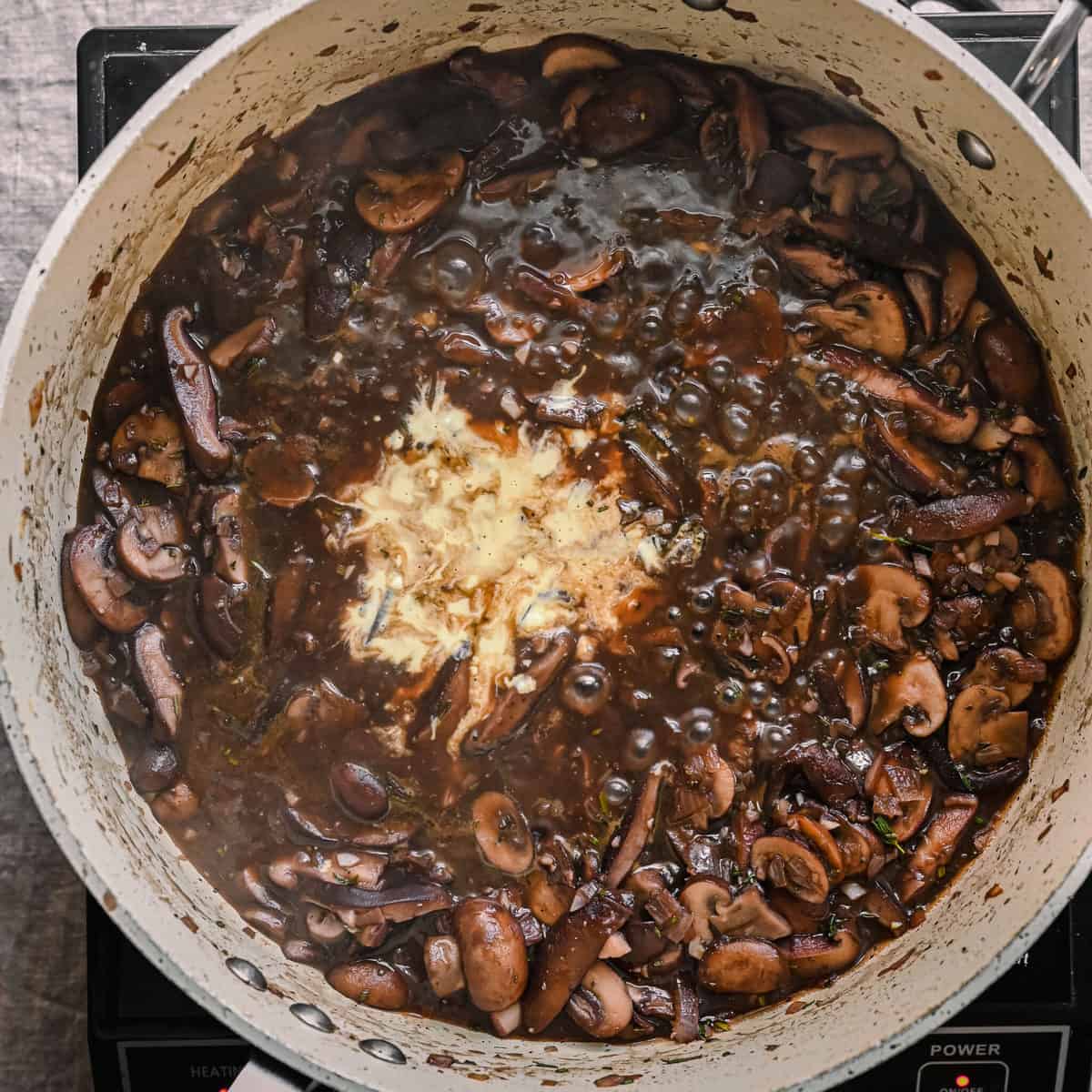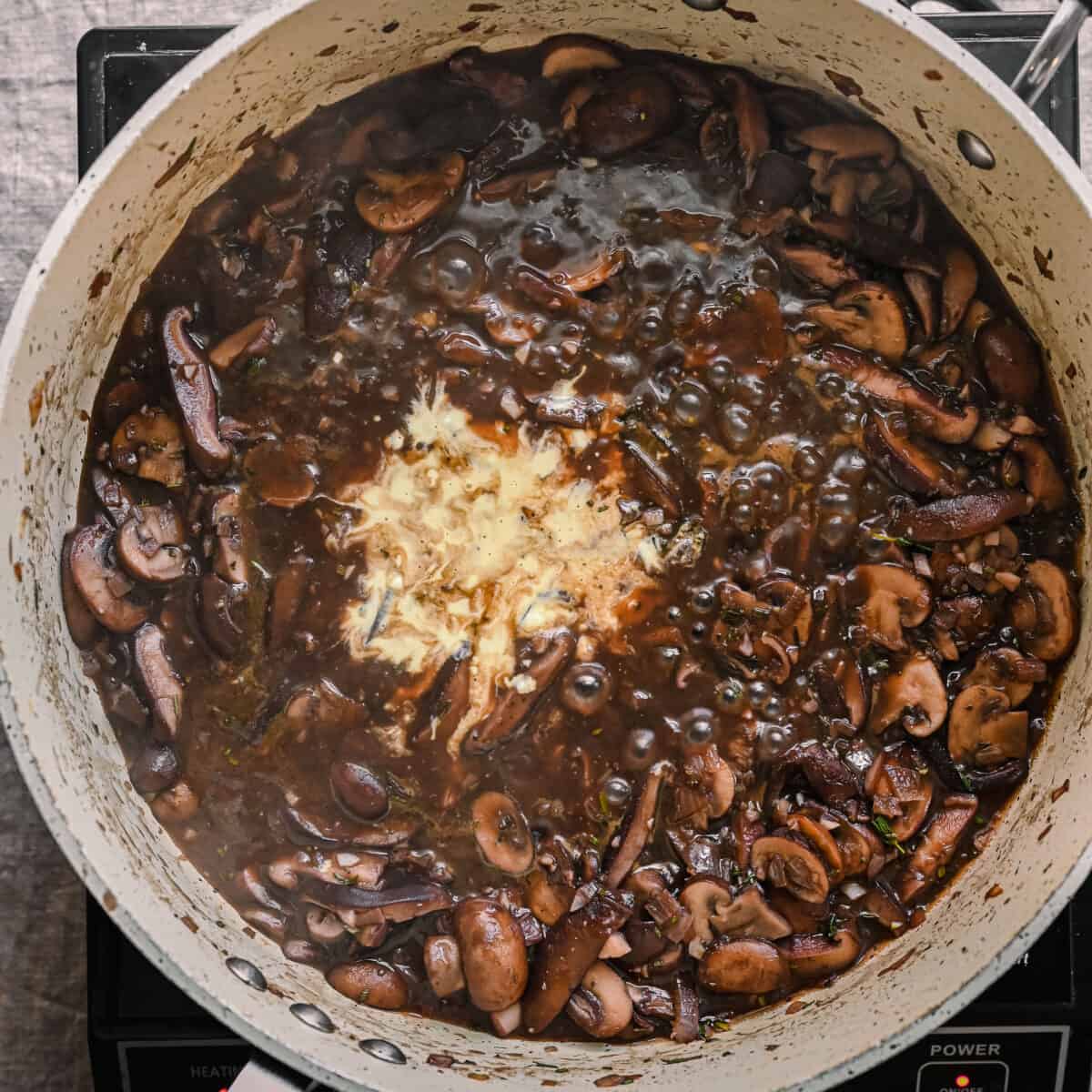 Finish with salt and pepper to taste. If desired, scoop out 1 cup of gravy and blend, then return to pan and stir to combine.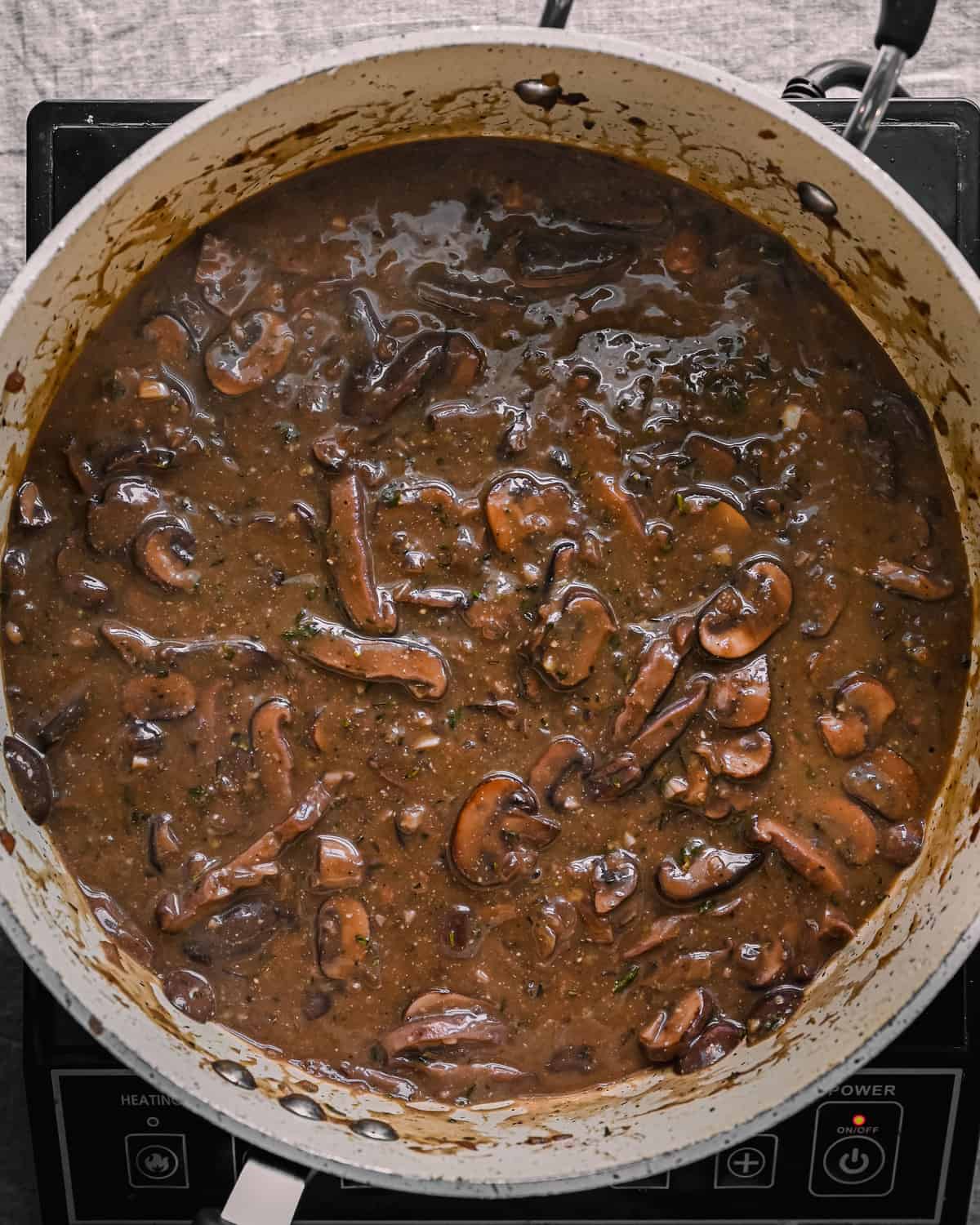 Frequently Asked Questions
What do you serve vegan gravy with?
My Mashed Potatoes, obviously! If you have my cookbook The Vegan Instant Pot Cookbook, it would be great over the Millet-Cauliflower Mash for something a little lighter than mashed potatoes, or over the Polenta for some crazy good rustic Italian comfort food.

It would also be amazing with my Vegan Wellington! That recipe has an easy vegan gravy, but this one would certainly take things over the top.

If you're making biscuits for the holiday or a lentil/seitan "meatloaf," this gravy will definitely jazz things up.
Can I omit the soy sauce and miso paste for a soy allergy?
You could just use more salt, but unfortunately you won't get the same umami punch. A couple options to add in more savoriness: (1) use more nutritional yeast; (2) use a concentrated vegetable broth, like this vegan "chicken-flavored" broth seasoning (which has super concentrated flavor!).

I know some folks use coconut aminos in place of soy sauce, but it always tastes sweet to me so I don't like that as an option in gravy.
Is this vegan gravy also gluten-free?
Yes, as long as you use gluten-free tamari instead of soy sauce! Many gravy recipes use flour to thicken, but since this one uses cornstarch, it works great for those on a gluten-free diet.
What kind of red wine should I cook with?
The most important rule for choosing a wine to cook with is that the wine must be good enough for you to drink on its own. If it's not good enough to drink, it's not going to taste very good in the finished dish.

Loads of wines will work here, but if you're not sure, you can always choose a Pinot Noir, Malbec, or a Merlot. You can use Barnivore.com to check that your wine is vegan-friendly.
How can I substitute the red wine?
The alcohol does cook off, but if you don't drink any alcohol, you can try adding a tablespoon of red wine vinegar to deglaze, along with a little extra vegetable broth.

The gravy will have less complexity and body without the red wine, but it will still be good.
How do you store leftovers and reheat?
Store leftover gravy in an airtight container in the fridge for up to 5 days. Reheat on the stove over medium-low heat, thinning out with a bit of water or vegetable broth until you reach your desired consistency.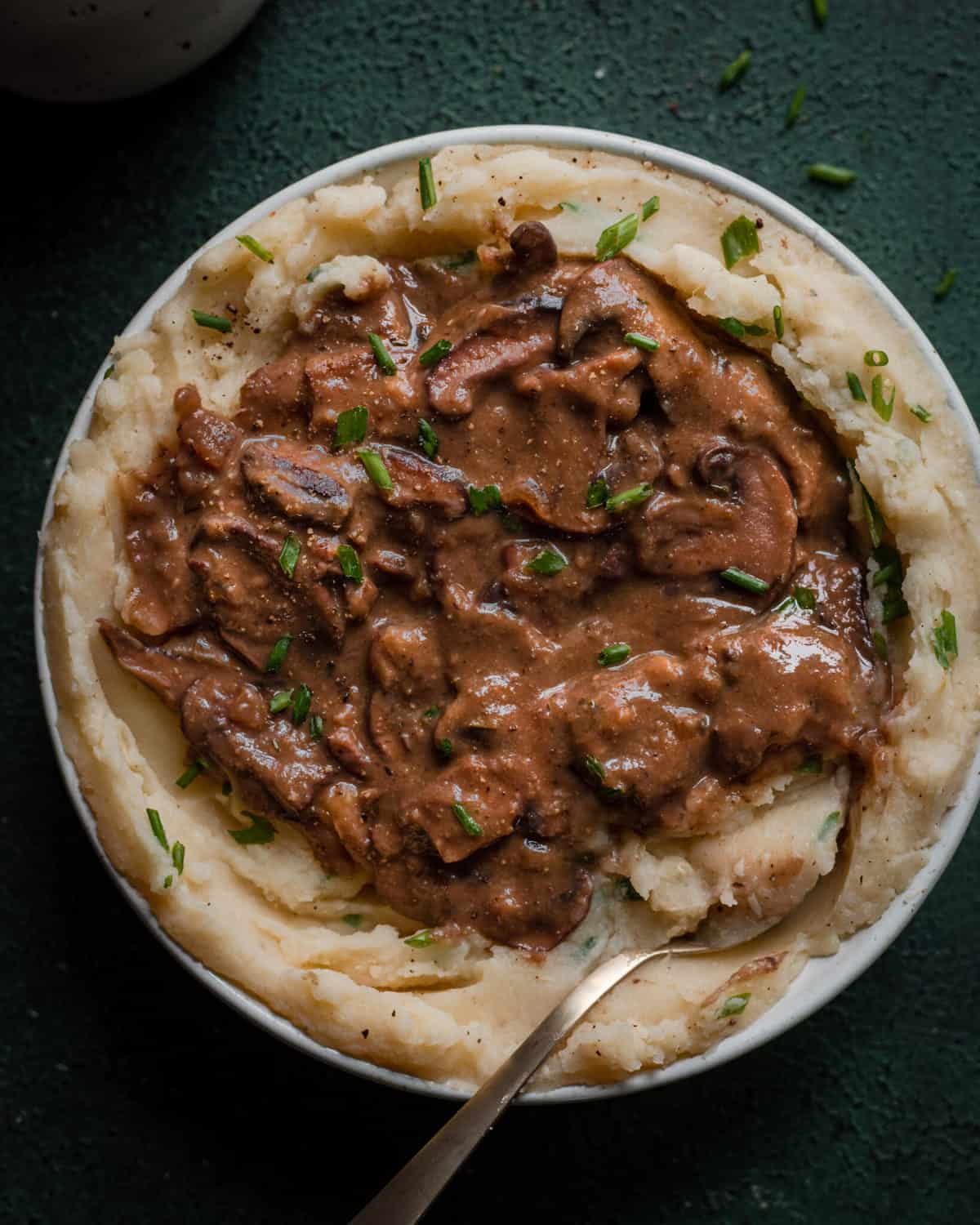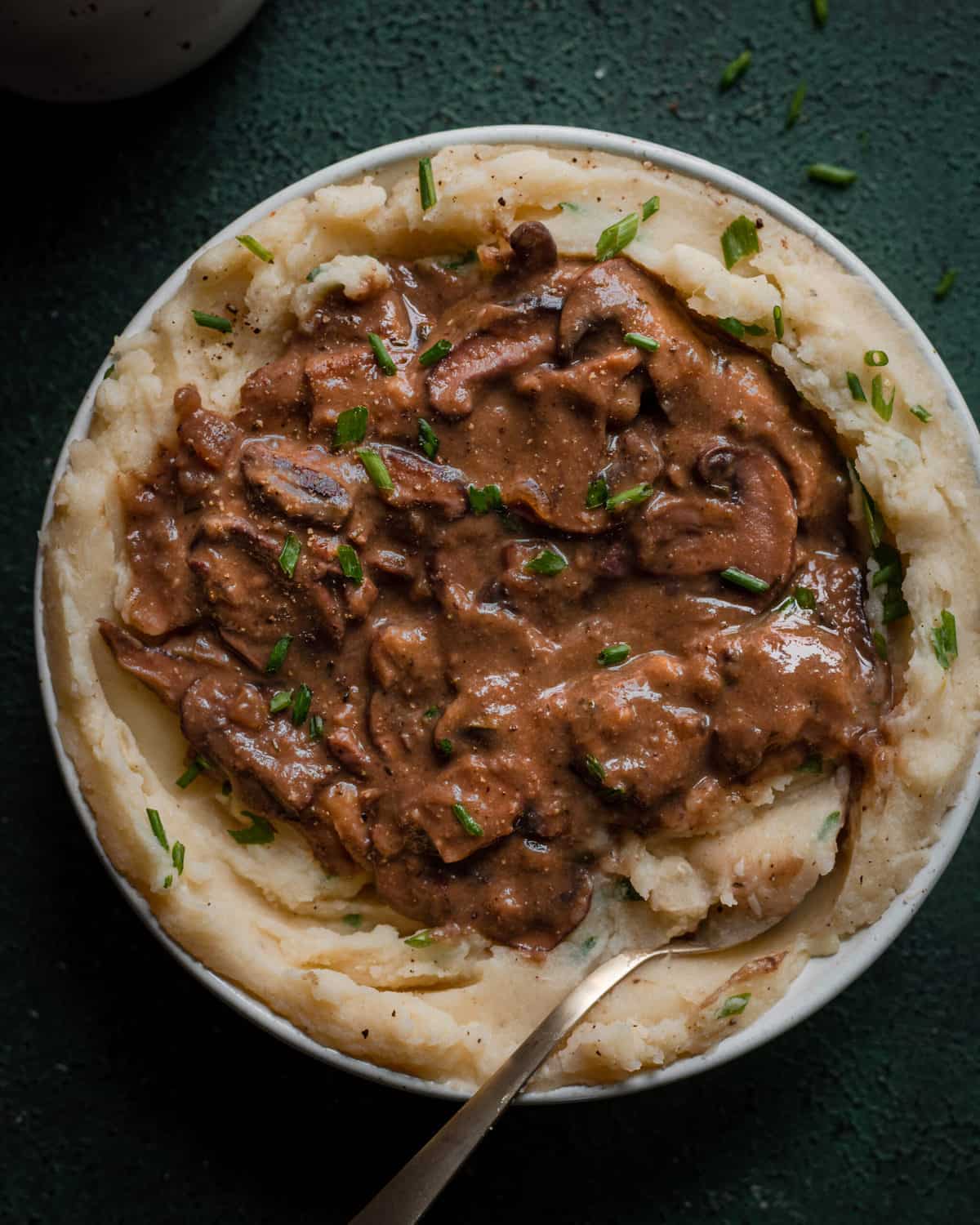 That's all you need to know about this luscious Vegan Mushroom Gravy! If you love it as much as I do, please be sure to rate and review it below :) Your feedback is super helpful for us!
The Best Vegan Gravy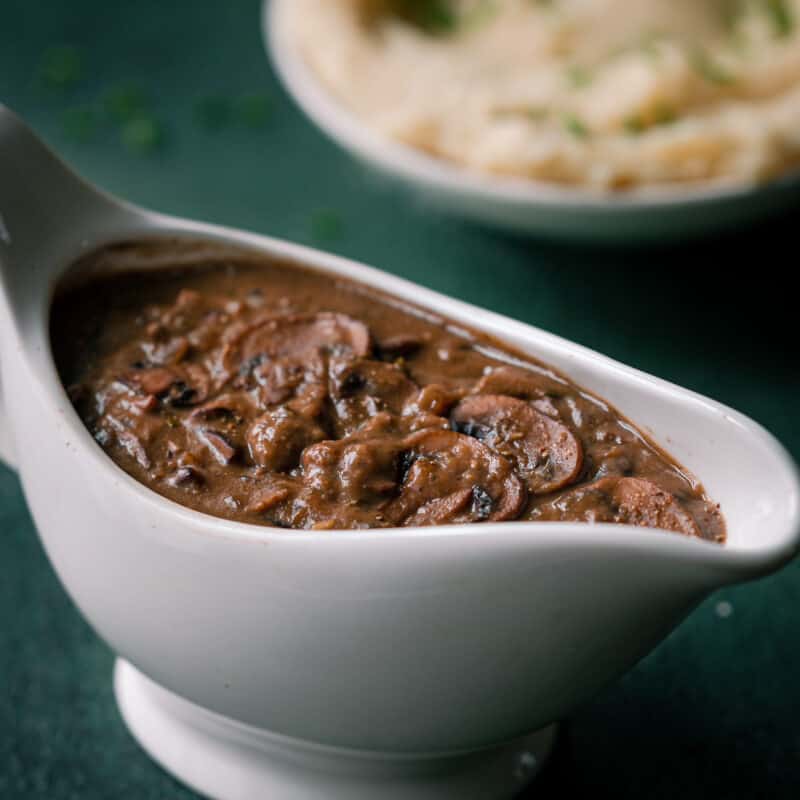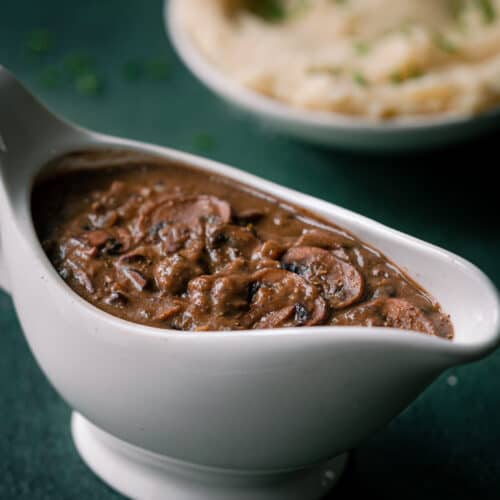 This is the most flavor-packed vegan gravy you'll ever taste! It's rich, creamy, and bursting with umami, thanks to seven secret ingredients and techniques. A must-make for your holiday menu! Vegan, gluten-free, nut-free. 
Ingredients
3

tablespoons

vegan butter or extra virgin olive oil

divided (I used vegan butter)

1

cup (120g)

diced shallots

(3-4 medium shallots)

Kosher salt + freshly cracked black pepper

16

ounces

(454g) brown button (cremini) and/or shiitake mushrooms*, sliced

5

garlic cloves,

minced

1

tablespoon

fresh thyme leaves,

chopped

1

tablespoon

finely chopped fresh rosemary leaves,

finely chopped

2

tablespoons

nutritional yeast

2

tablespoons

cornstarch

(or arrowroot powder)

¼

cup

(60 mL) plant-based milk of choice

(can sub veggie broth)

1/2

cup

(120 mL) dry red wine

(such as Pinot Noir, Malbec, or Merlot)

2

cups

(480 mL) low-sodium vegetable broth, at room temperature or warm

2

tablespoons

soy sauce or tamari

(use tamari for GF)

1

tablespoon

white miso

(AKA shiro miso)

1/2

teaspoon

balsamic vinegar (or red wine vinegar)

1

small handful of flat-leaf parsley,

chopped (optional)
Instructions
Heat a large skillet over medium heat. Add 1 1/2 tablespoons of the vegan butter or olive oil. Once melted or hot, add the diced shallots with a pinch of kosher salt. Sauté until translucent and golden, about 3 minutes.

Add the remaining 1 1/2 tablespoons butter or oil and the mushrooms. Increase the heat to medium-high and cook for 8-10 minutes, stirring only occasionally so they get some color, until the mushrooms release their liquid and are nicely browned.

While mushrooms are cooking, whisk together the nutritional yeast, cornstarch and plant-based milk.

Add the minced garlic, thyme, rosemary and season with 1/4 teaspoon kosher salt and several cracks of black pepper. Cook for 1 to 2 minutes, stirring frequently, or until very fragrant.

Add the red wine, vegetable broth, and soy sauce and bring to a boil. Whisk frequently and allow to boil for 3 to 4 minutes to cook off the wine. Add the nutritional yeast roux to the pan, whisking constantly to make sure it dissolves and thickens, about 2 minutes. Then add in the miso paste and stir well to incorporate it into the gravy. Adjust the heat to maintain a simmer and cook for 3 to 4 minutes, whisking very frequently, until the flavors have melded together.

If you want a smoother and creamier consistency, scoop out 1 cup of gravy (about 2 ladles) into a blender or food processor. Blend until smooth. Add the blended gravy back to the pan and mix together.

Add the vinegar, stir to combine, and taste. Add salt or pepper to taste. Finish with chopped parsley, if using.
Notes
*I like using a mix of cremini (which are inexpensive) and shiitake, which are bold and meaty-flavored, but you can use just cremini. If using shiitake, remove the stems – they are tough. 
**To save time on prep, you can chop the garlic and herbs while the mushrooms cook, as they don't need to be stirred frequently. You can also buy pre-sliced mushrooms and/or use a garlic press to mince the garlic finely. 
---
Calories:
96
kcal
|
Carbohydrates:
10
g
|
Protein:
4
g
|
Fat:
4
g
|
Saturated Fat:
1
g
|
Polyunsaturated Fat:
1
g
|
Monounsaturated Fat:
1
g
|
Trans Fat:
1
g
|
Sodium:
273
mg
|
Potassium:
303
mg
|
Fiber:
2
g
|
Sugar:
3
g
|
Vitamin A:
252
IU
|
Vitamin C:
4
mg
|
Calcium:
27
mg
|
Iron:
1
mg