It's that time of year. The time of year where baking and eating cookies is as routine as brushing your teeth. For instance, this morning, I came to work (on a Monday), and two of my coworkers had brought homemade cookies and left them out on the common table before 10 a.m. And when I went to a holiday party this past weekend, the first edible item that greeted me was a giant, rotating lazy Susan platter of cookies. Given this ubiquitousness nature of cookies this time of year, I decided I had to do the only reasonable thing: share a new cookie recipe with you.
And because I am an unashamed chocolate lover, these are Triple Chocolate Cookies! These cookies are really rich and chocolatey (there are three kinds of chocolate), a bit more like a brownie than traditional cookie, and they taste like a mug of hot chocolate when eaten warm. The dense, brownie-ish texture is a result of (a) using very little flour (just over a half cup), using nut or seed butter as the primary fat source, (c) and using lots of melted dark chocolate in the batter.
But before you go thinking that these cookies are too naughty for you, let me remind you that they are vegan, oil-free, and easily made gluten-free! Regarding the flour, I use an organic, unbleached all-purpose flour, but a gluten-free flour blend would work well if you are avoiding gluten. I've tried a similar cookie recipe with an all-purpose gluten-free flour with good results. Plus, there's not very much flour in the recipe, so there won't be a big difference.
Now for the chocolate (yay)! The first form of chocolate is unsweetened cocoa powder (not Dutch processed). Next comes a generous amount of dark chocolate. You can either buy dark chocolate bars and chop them up finely, or just buy dark chocolate chunks or dairy-free chocolate chunks. To evenly melt the chocolate, I recommend using a double boiler on the stove. Simply fill a saucepan with a few inches of water and bring to a simmer on the stove over low heat. Place the chopped chocolate or chocolate chunks in a heatproof glass bowl that fits snugly over the saucepan. The bowl should be at least 3 inches above the boiling water. Stir the chocolate regularly for even melting, and once melted, remove from the heat. If that sounds like too much work for you (I get it), you can safely melt the chocolate in the microwave, but be sure to do it in short intervals. I usually heat the chocolate chunks for 25-30 seconds, give it a stir with a rubber spatula, and repeat two more times until the chocolate is almost fully melted, then give it a final stir to melt the remaining chocolate. The third type of chocolate is vegan chocolate chips, but of course, if you don't want to buy another type of chocolate, you can use just more dark chocolate chunks!
Aside from the chocolate, the only fat source is the cashew butter (or almond butter or sunflower seed butter), which is why I use a full cup of it. I recommend using a natural, no-added variety that is creamy (as opposed to chunky). Using a natural variety keeps the cookies oil-free (if that's important to you) and ensures that the recipe doesn't get any additional sugar; the creamy variety ensures that your cookie dough is smooth and not full of chunky lumps (that sounds gross, now doesn't it?).
Last note on ingredients: I haven't tried this, but I have a feeling that a dash of peppermint extract would take these Triple Chocolate Cookies over the top (chocolate mint is my favorite baking combo during the holidays). Since peppermint extract is very powerful, I'd substitute just one teaspoon of the vanilla extract with peppermint extract.
Once you've made the cookie dough, if you find that the dough is too sticky to scoop up, just refrigerate it for 10-15 minutes. This will make it much easier to scoop into perfectly shaped rounds. Finally, regarding baking time, the ideal bake time depends on how you like your cookies. If you like them soft and gooey, just 9 minutes will be sufficient. If you want them to be a bit firmer and fluffy, I recommend baking them 11-12 minutes.
And if I can make two final recommendations, it would be to (1) add the flaky sea salt (the sweet-salty combination is electrifying!); (2) EAT THESE COOKIES WARM. Yes, the cookies need to rest for 5 minutes or whatever so they don't fall apart, but they seriously taste like a mug of hot chocolate when you eat them warm!
Happy baking, friends!
Vegan Triple Chocolate Cookies (Oil-Free, Refined Sugar Free)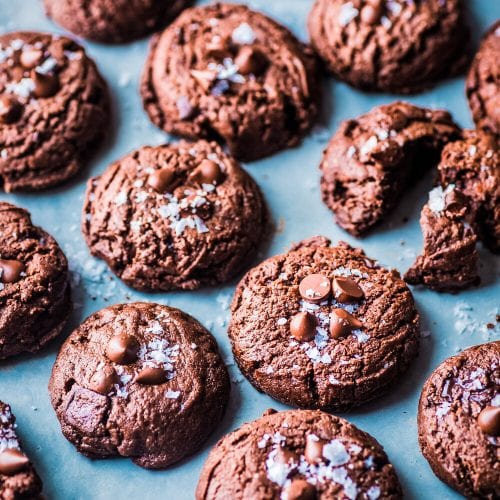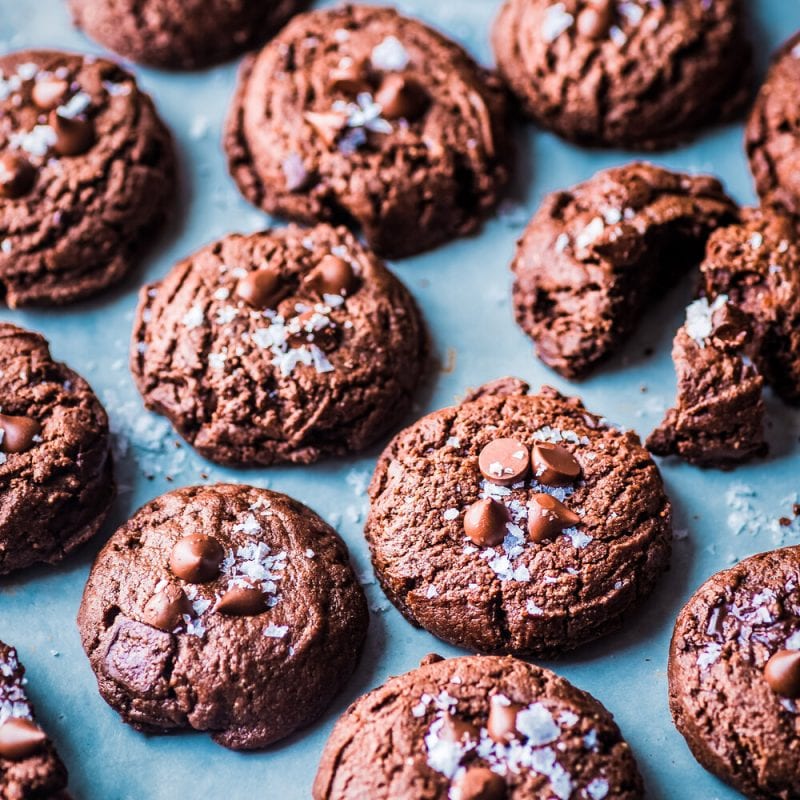 These oil-free, vegan Triple Chocolate Cookies are rich, dense, and chocolatey, like a mashup between a brownie and cookie. Best of all, they taste like a mug of hot chocolate when eaten warm!
Ingredients
1/2

cup

+ 1 tablespoon unbleached all-purpose flour

1/4

cup

tapioca flour

2 1/2

tablespoons

unsweetened cocoa powder,

sifted

1/4

teaspoon

fine sea salt

1 1/4

teaspoons

baking powder

6

ounces

dark chocolate chunks or dairy-free chocolate chunks

(see notes above)

1

cup

natural

creamy cashew butter or almond butter

2/3

cup

pure maple syrup

2

teaspoons

pure vanilla extract

1/2

cup

vegan chocolate chips or more dark chocolate chunks + extra for topping

Flaky sea salt
Instructions
Preheat the oven to 375°F (190°C) and line two baking sheets with parchment paper.

In a large bowl, whisk together the all-purpose flour, tapioca flour, cocoa powder, salt, and baking powder.

Melt the 6 ounces of dark chocolate in a glass bowl over a double boiler on the stove (complete instructions are in the blog post). Alternatively, you can melt the chocolate in a glass bowl in the microwave in 30-second intervals. Allow the melted chocolate to cool slightly.

Add the cashew butter or almond butter, maple syrup, and vanilla to the melted chocolate. Whisk until completely combined and smooth.

Add the melted chocolate mixture to the flour-cocoa mixture and stir until just combined with a wooden spoon. Fold in the chocolate chips using a rubber spatula.

If the cookie dough is too sticky to scoop up, refrigerate the batter for 10- 15 minutes (but not any longer).

Use a medium cookie scoop to form 22-24 cookies. Flatten each cookie slightly with your palm. If desired, press a few extra chocolate chips onto the top of each cookie for presentation.

Bake the cookies for 9-12 minutes (see blog post above for precise times). Remove from the oven and immediately sprinkle each cookie with flaky sea salt. Allow to cool for 5-10 minutes before devouring.
---
Calories:
179
kcal
|
Carbohydrates:
20
g
|
Protein:
3
g
|
Fat:
11
g
|
Saturated Fat:
4
g
|
Polyunsaturated Fat:
1
g
|
Monounsaturated Fat:
4
g
|
Trans Fat:
1
g
|
Cholesterol:
1
mg
|
Sodium:
60
mg
|
Potassium:
153
mg
|
Fiber:
2
g
|
Sugar:
10
g
|
Vitamin A:
3
IU
|
Calcium:
41
mg
|
Iron:
2
mg