Okay, so the title of this recipe is a mouthful. But, one mouthful of this Warm Lentil Salad with Delicata Squash and Cilantro Cashew Cream and you will be hooked. The ingredients are simple and nourishing, but the flavors are extraordinary and delightful.
This beautiful, colorful combination of flavors and textures is THE salad for Fall, and I highly recommend you try it out. It's the kind of meal I cook regularly throughout the fall because it's equal parts nourishing and delicious. It's packed with protein- and fiber-rich lentils, vitamin-rich delicata squash, and heart healthy cashews. It's satiating and satisfying and will keep you full for hours. Plus, it stays good in the fridge for several days (just store the cashew cream separately), making it a favorite for meal prep in my house.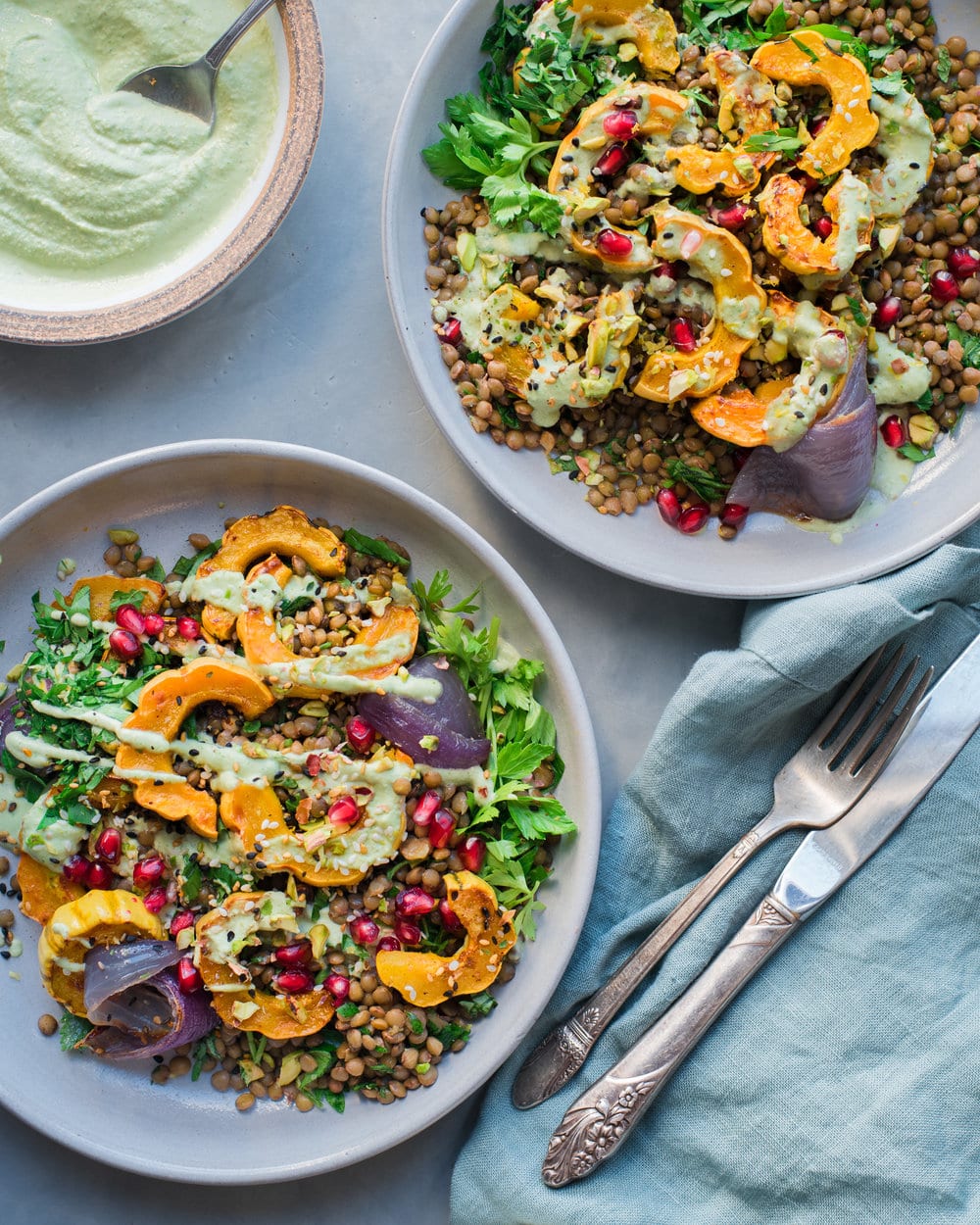 This salad isn't just great for meal prep though. It would be a fabulous side dish for your Thanksgiving or holiday table. While salad isn't exactly an exciting addition to a Thanksgiving menu, the word salad in this recipe is a bit misleading. It's a warm salad made with peppery French green lentils, caramelized winter squash and onions, fresh herbs, and a savory cashew cream. So, it's a lettuce-free salad made with hearty and incredibly flavorful ingredients, making it 10x better than most salads.
When it comes to making salads delicious and even crave-worthy, the key is adding textural variety. In this warm salad, we have firm lentils, tender roasted delicata squash, a pop of freshness from fresh herbs, a juicy crunch from pomegranate seeds, and a smooth richness from the cashew cream. The unique combination and varied textures makes for an irresistible salad. Yes, salads can be irresistible!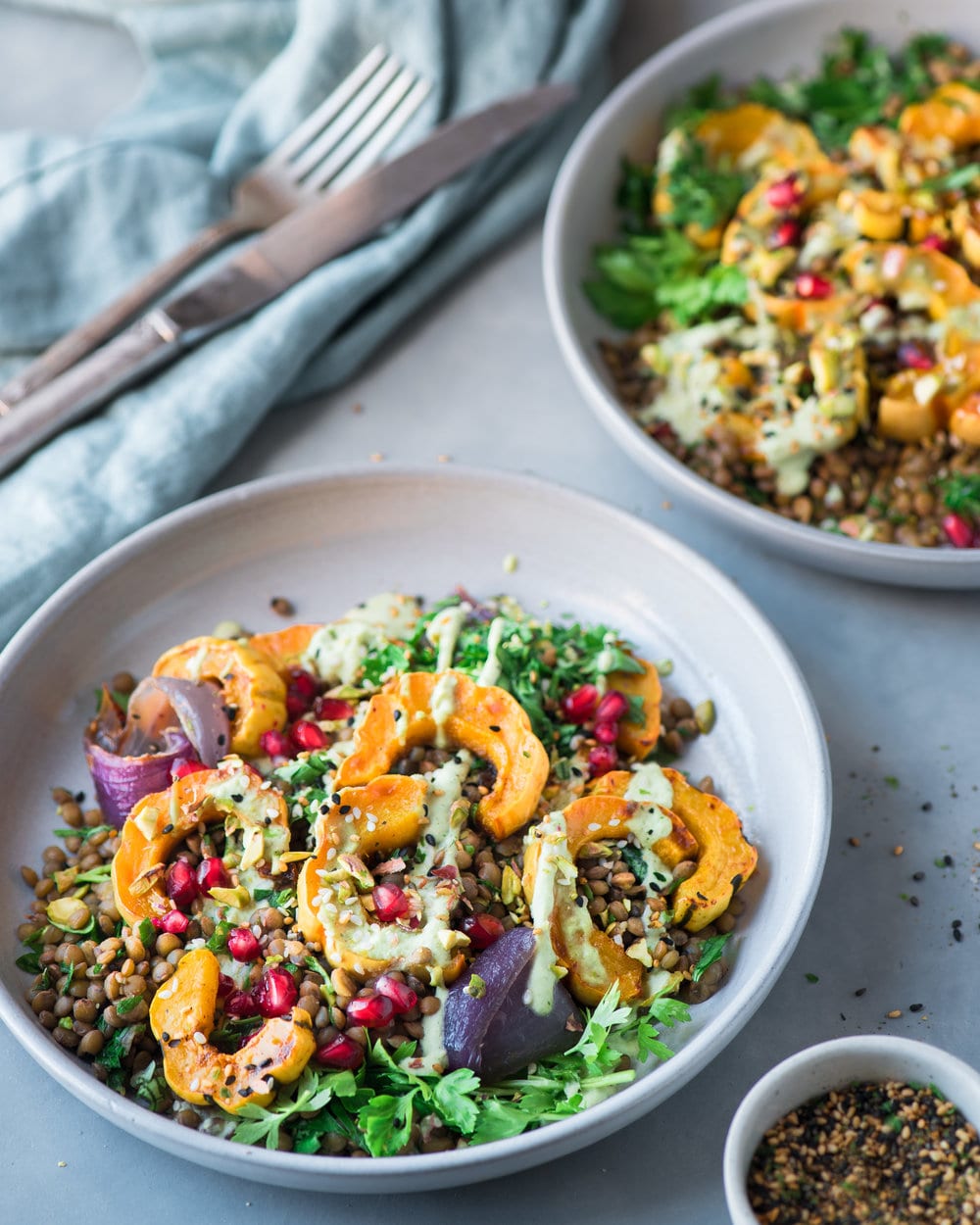 Beyond the delicious flavors, this warm lentil salad is an incredibly easy dish to make. While the squash and onions are roasting in the ovens, you can cook the lentils either on the stove or in a pressure cooker like the Instant Pot. My preference is the latter, as it cuts down on cook time and requires zero babysitting.
The cilantro cashew cream does require you to soak the cashews in advance, but if you forget to soak them overnight (hey, it happens), you can always do a quick soak of cashews in boiling water for 1 hour. Start off the recipe by soaking the cashews and by the time you prepare the squash, lentils, and salad mix-ins, the cashews will be soft enough to make the cashew cream.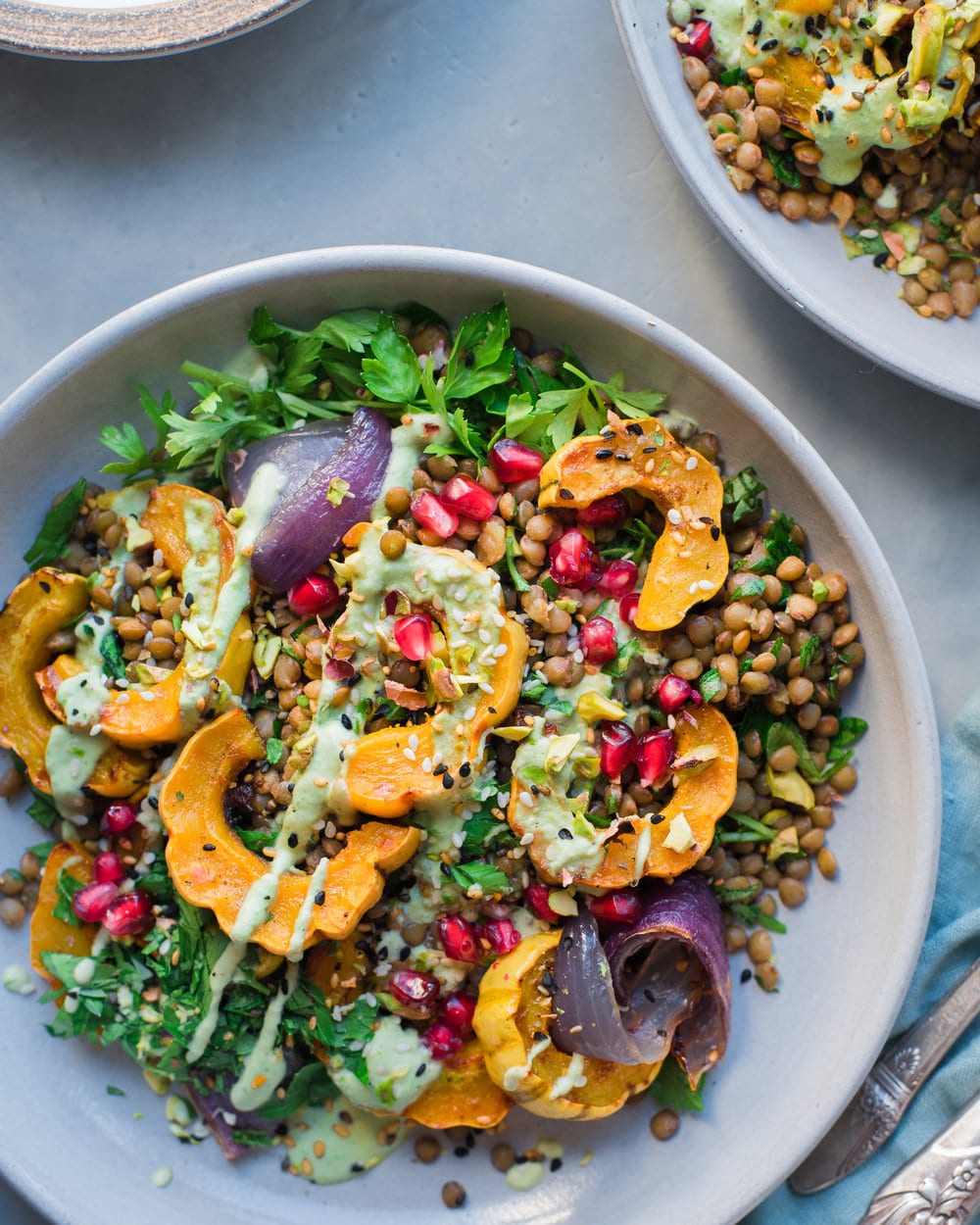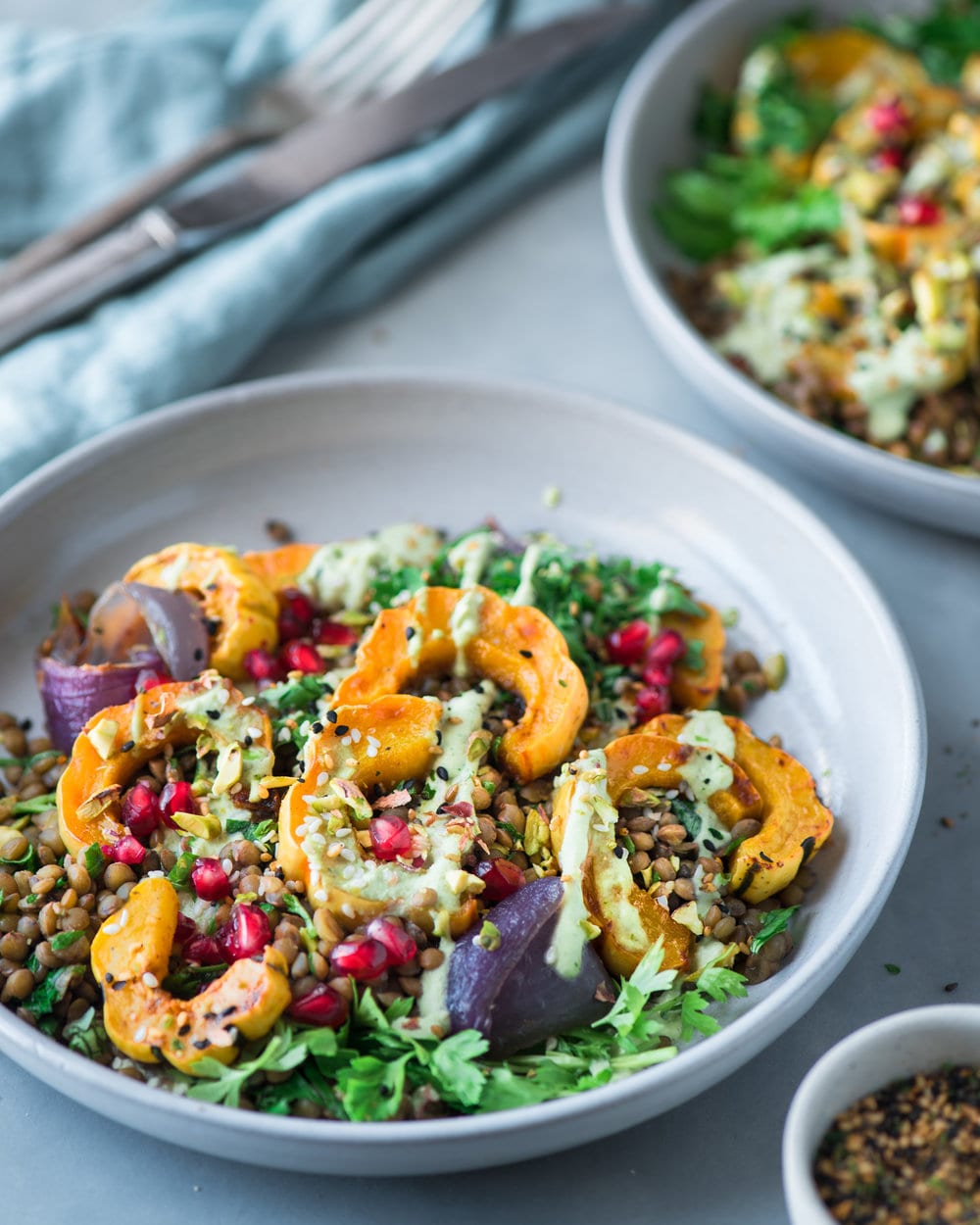 Unless you really douse the salad in the cilantro cashew cream, you'll likely have some leftovers. This is a good thing because it is absolutely delicious. I love using it as a sandwich spread, drizzling it over salads or grain bowls, or tossing it with pasta. The cashew cream leftovers will stay good in an airtight container or glass jar in the fridge for about a week.
If you're looking for a healthy yet satisfying fall dish that's easy enough for a weeknight dinner or fancy enough to serve for the holidays, try out this Warm Lentil Salad with Delicata Squash and Cilantro Cashew Cream!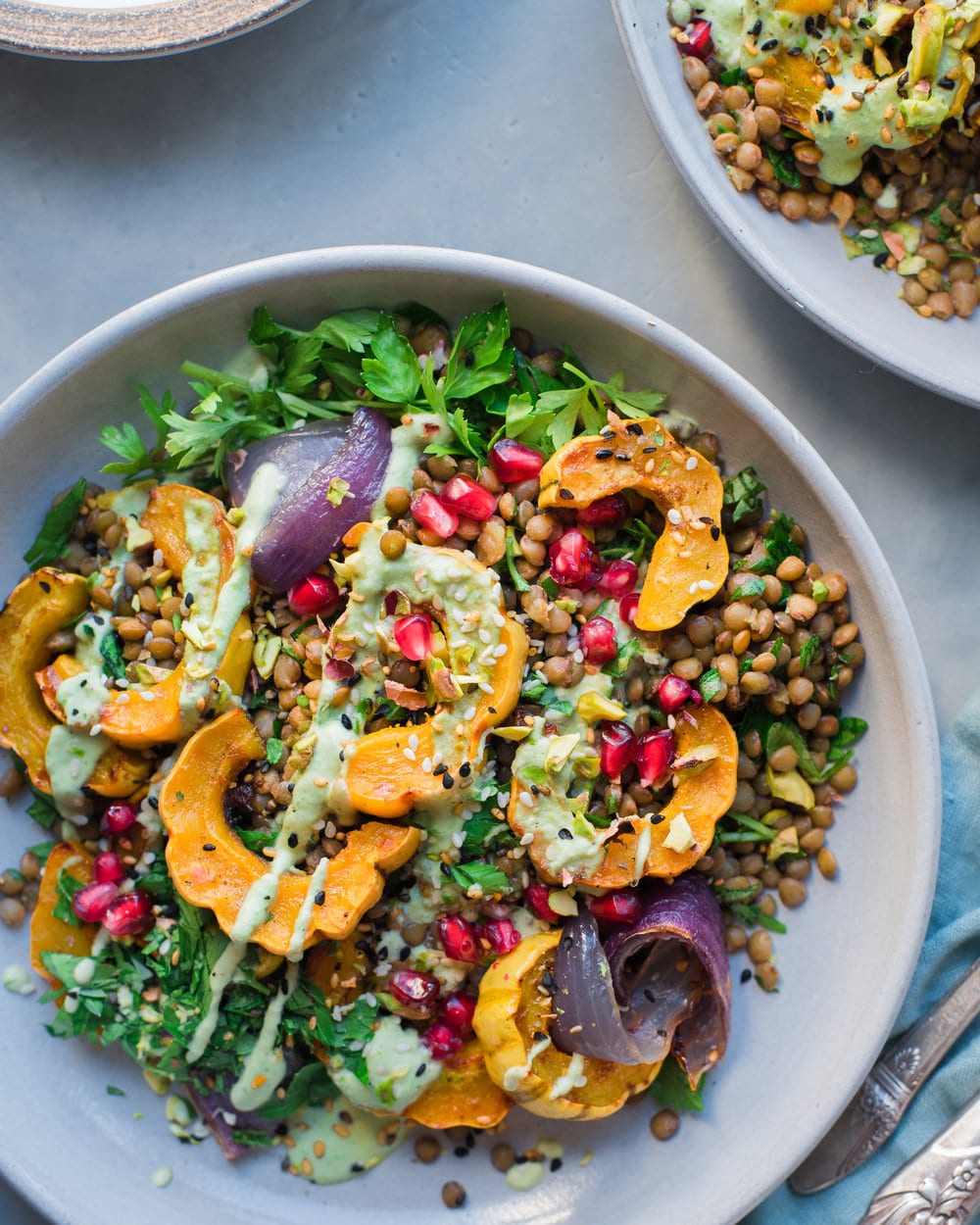 Warm Lentil Salad with Delicata Squash and Cilantro Cashew Cream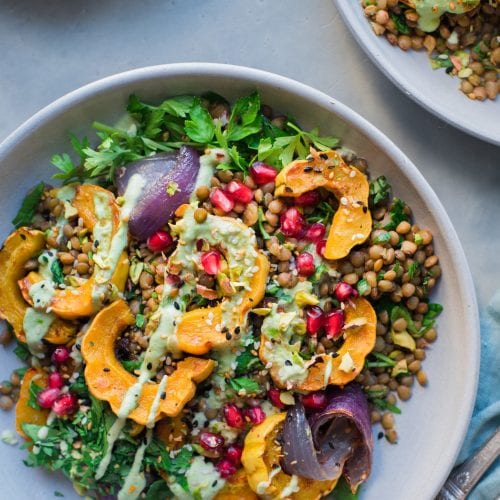 The perfect warm salad, this recipe is made with hearty and wholesome ingredients like lentils, delicata squash, and cashews. Proof that salads don't have to be boring or skimpy. It's a wonderful option for meal prep or an excellent entree for a dinner party.
Ingredients
3

delicata squash

2

red onions,

cut into large wedges

2

tablespoons

olive oil

2

tablespoons

pure maple syrup,

divided

Sea salt and black pepper to taste

1/2

teaspoon

ground cumin

1/4

teaspoon

ground cayenne pepper

1

cup

Puy lentils

(also known as French green lentils)

1

bay leaf

4-6

sprigs of fresh thyme

1/2

of a medium lemon,

zested and then juiced

1

tablespoon

extra virgin olive oil

1/2

cup

parsley leaves,

chopped

1/2

cup

cilantro leaves,

chopped

1/4

cup

mint leaves,

chopped

1/4

cup

pomegranate seeds,

1/3

cup

pistachios,

chopped

Cilantro Cashew Cream

(recipe below)
Instructions
Preheat the oven to 425F or 220C. Line two rimmed baking sheets with parchment paper or aluminum foil for easy cleanup.

Roast the squash. Slice each delicate squash in half, lengthwise. Using a spoon, scoop out the seeds and then slice each squash into 1/2-inch half moon slices. Transfer the squash and the red onion wedges to the prepared baking sheets and toss with the 2 tablespoons olive oil, 1 tablespoon of the maple syrup, salt and black pepper to taste, ground cumin, and cayenne pepper. Toss to coat the veggies. Arrange the squash slices and onion wedges in a single layer. Roast in the preheated oven for 30-35 minutes, flipping halfway through, until the edges of the squash are browned and the flesh is tender.

Meanwhile, cook the lentils. First, rinse the lentils to remove any debris. To cook the lentils on the stove, add the lentils to a large saucepan or Dutch oven and cover with water by a few inches; add the bay leaf and thyme. Bring the water a boil over high heat, then reduce the heat to medium and add a pinch of salt. Simmer the lentils for 20-25 minutes until just tender.

To cook the lentils in the Instant Pot, add the lentils along with 1 3/4 cups water (or vegetable broth) and cook on the Manual/Pressure Cook setting at high pressure for 6 minutes. Allow a natural pressure release.

Once the lentils are cooked, drain well and transfer them to a serving bowl. To the lentils, add the remaining tablespoon of maple syrup, along with the lemon zest, lemon juice, 1 tablespoon extra virgin olive oil, parsley, cilantro, mint leaves, and toss well to coat.

While the squash is roasting and lentils are cooking, make the Cilantro Cashew Cream.

Serve the roasted delicata squash and onions on top of the warm lentil salad, and scatter the pomegranate seeds and pistachios on top. Generously drizzle the Cilantro Cashew Cream on top. Serve warm.
Notes
To make ahead: cook the lentils and prepare the lentil salad, make the cashew cream, and roast the veggies. Store in separate airtight containers in the fridge. Assemble and dress the salad when ready to serve.
---
Calories:
513
kcal
|
Carbohydrates:
77
g
|
Protein:
20
g
|
Fat:
17
g
|
Saturated Fat:
2
g
|
Polyunsaturated Fat:
3
g
|
Monounsaturated Fat:
10
g
|
Sodium:
27
mg
|
Potassium:
1515
mg
|
Fiber:
23
g
|
Sugar:
19
g
|
Vitamin A:
5700
IU
|
Vitamin C:
67
mg
|
Calcium:
190
mg
|
Iron:
7
mg
Cilantro Cashew Cream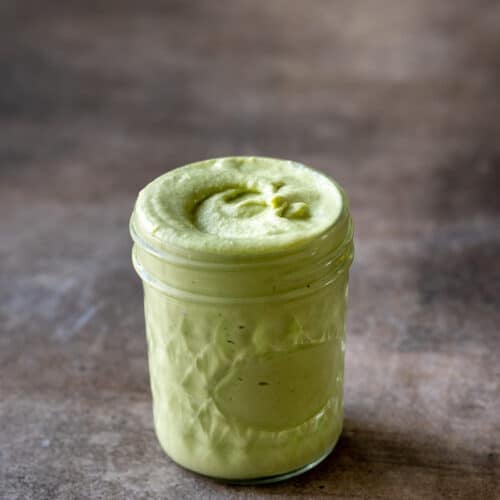 Cashew Cream is the ultimate condiment! It's wonderful as a sandwich spread, drizzled over salads or grain bowls, or tossed it with pasta.
Ingredients
1

cup

raw cashews,

soaked in water for 8 hours or soaked in boiling water for 1 hour

1/2

cup

water

2

garlic cloves

1/2

cup

fresh cilantro,

roughly chopped

1

lemon,

juiced

2

tablespoons

nutritional yeast

1/2

teaspoon

sea salt + more to taste

Black pepper to taste
Instructions
Place all of the ingredients in a high-powered blender or processor and blend for 2-3 minutes or until smooth, creamy, and well combined. Ensure that all of the cashew pieces are pulverized before serving.
---
Calories:
98
kcal
|
Carbohydrates:
6
g
|
Protein:
4
g
|
Fat:
7
g
|
Saturated Fat:
1
g
|
Polyunsaturated Fat:
1
g
|
Monounsaturated Fat:
4
g
|
Sodium:
149
mg
|
Potassium:
152
mg
|
Fiber:
1
g
|
Sugar:
1
g
|
Vitamin A:
68
IU
|
Vitamin C:
1
mg
|
Calcium:
9
mg
|
Iron:
1
mg