There is no wrong time to whip up some chocolate desserts IMO, but if there were ever a "right" time to do it, Valentine's Day would be it!
Whether you're interested in a show-stopping chocolate layer cake, decadent brownies or cookies, or a no-bake chocolate tart, I've got you covered!
10 Vegan Chocolate Desserts for Valentine's Day
These epic Vegan Brownies are absolutely mind blowing. They're supremely fudgy, chewy, and chocolatey, and feature the classic crinkle top. You'll never settle for dry, crumbly, or cakey brownies after trying this recipe!
Check out this recipe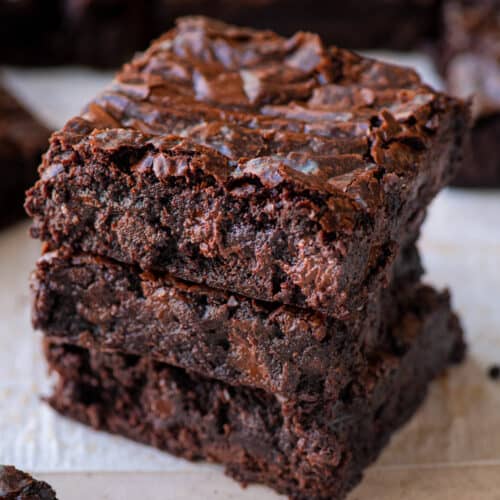 Blog reader Annika says, "So these brownies really are the best vegan brownies ever!! They're fudgy and chocolatey and oh so addictive. This will be my go to recipe from now on! Nobody would know these are vegan – they will stand up to any "normal" brownie."
Blog reader Tessa says, "Totally ridiculous how good these are, never going to even try another recipe, these are perfect."
With a no-bake brownie base and a creamy salted chocolate filling, this gluten-free, vegan Salted Chocolate Cream Tart is one of the best desserts you'll ever taste! It's rich and creamy but made with wholesome ingredients and requires no baking. Make it for a special occasion and wow your guests!
Check out this recipe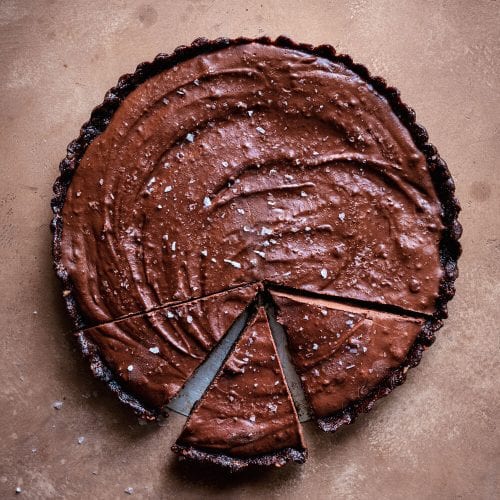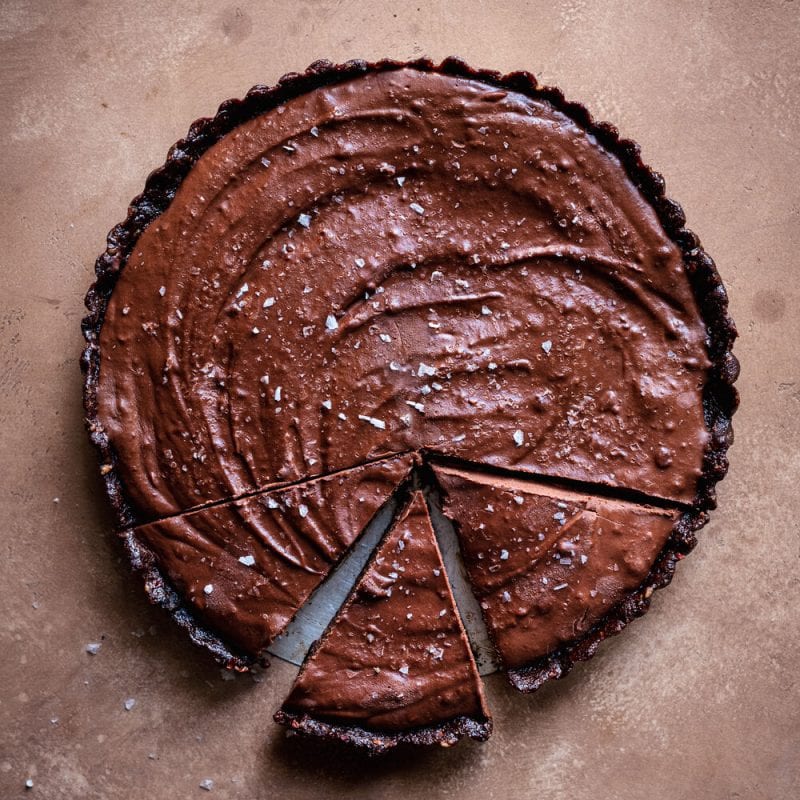 Blog reader Esri says "I made it for my husband's birthday. Everyone loved it!!! Thank you so much. It was really delicious."
Blog reader Lynn says "I made this for my mother-in-law's birthday this weekend and it was SO good…. Nobody could tell it was vegan and even my picky 12-year old niece asked for seconds.

"
This Vegan Chocolate Layer Cake with Hibiscus Frosting is decadence, defined! Vegan buttercream frosting spiked with a fruity tartness from hibiscus, then sandwiched between three layers of moist chocolate cake with chocolate chunks floating throughout. Plus, tips for baking vegan chocolate cake!
Check out this recipe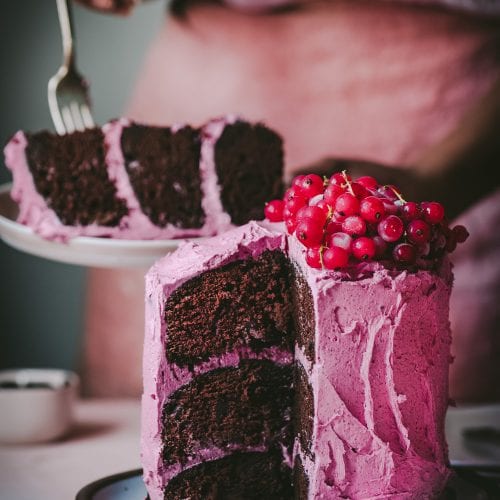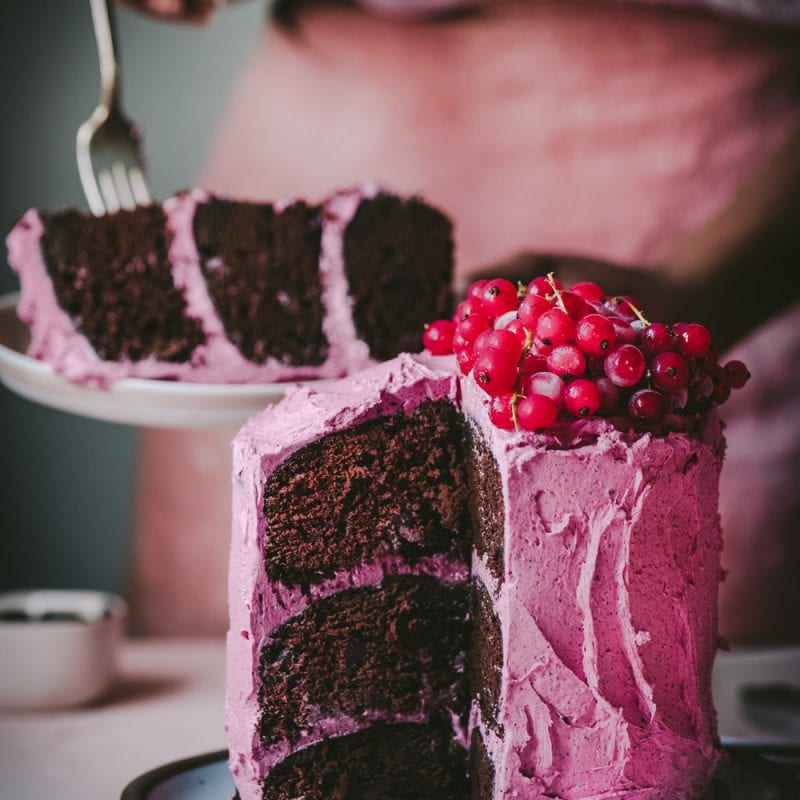 Blog reader Emma says "This is such an amazing recipe, I am already planning on repeating it again and again. It is super chocolaty and as a great dark-chocolate enthusiast, this is perfect for me."
Blog reader Kim says "Oh heavens YUM!! This cake was perfect! I made this for my daughters birthday recently…. I used Cup4Cup Ancient Grains to make the cake gluten free! It was perfect."
This Baked Vegan Chocolate Cheesecake is a crowd-pleasing chocolate cheesecake that no one will ever guess is vegan! Rich and dense and creamy, just like traditional cheesecake, this chocolate cheesecake is dairy-free, vegan, and gluten-free.
Check out this recipe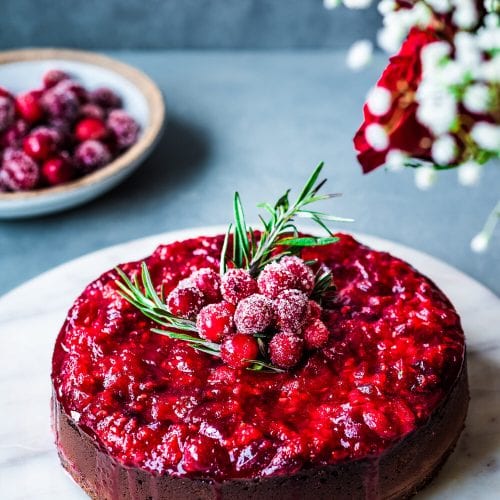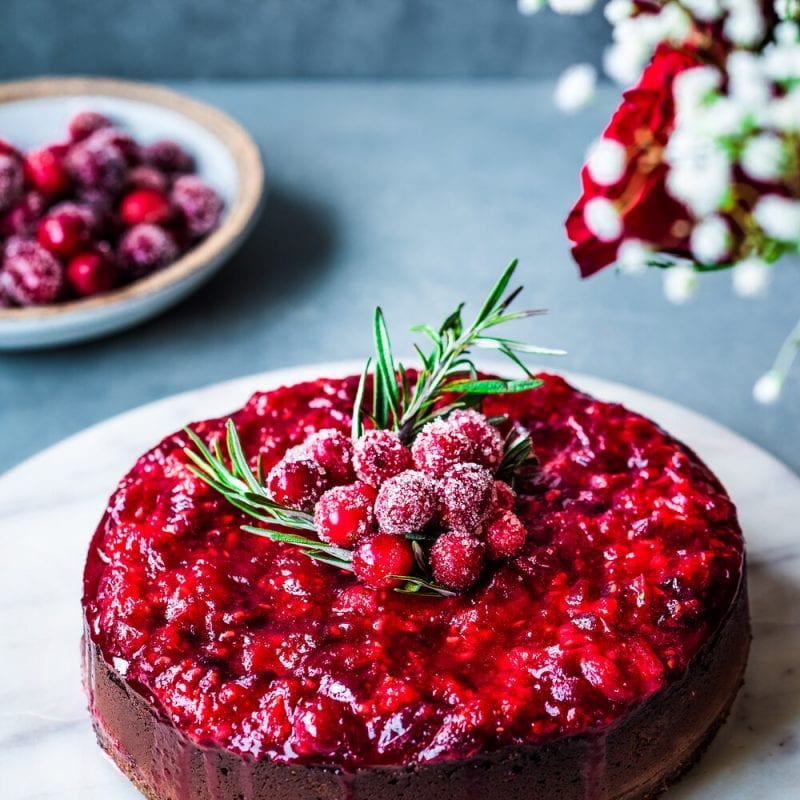 Blog reader Linda says " The compote, the texture, the taste.. really amazing recipe!! Thank you for sharing it!"
You won't believe how rich, creamy, and chocolatey this vegan fudge is! It tastes just like the beloved Ferrero Rocher candy but is dairy-free and vegan! It requires just 5 main ingredients, is super easy and quick, and stays fresh for a long time!
Check out this recipe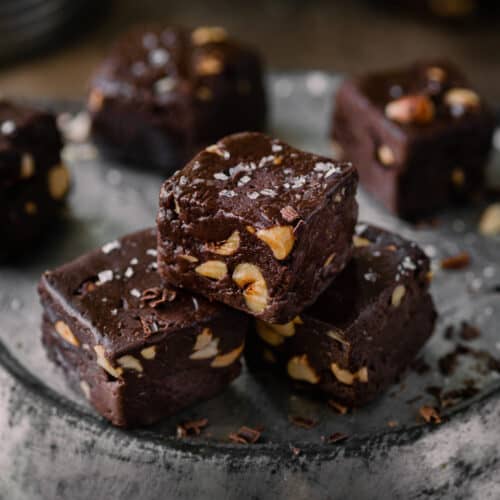 Blog reader Emily says, "Wow! This was so good! Rich, dense, and creamy textured fudge. The hazelnuts sent it over the top.

"

Blog reader Patty says, "This was my first time making fudge. Honestly, I was never a fan of fudge. But this recipe has changed that for me! This is absolutely DELICIOUS!"
These No-Bake Nutella Fudge Bars taste just like Nutella but are made with healthier ingredients like oats, cacao powder, and dates. They're dairy-free, vegan, gluten-free, and soy-free so they make great healthy snack bars or even breakfast bars!
Check out this recipe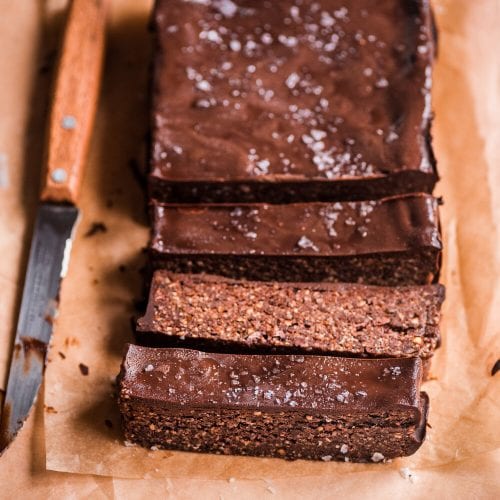 Blog reader Claire M. says, "I made these and they were gobbled!I'm not sure if it was my imagination but I think the flavour was even better and richer on the second day ( there was only a quarter left!)!

"

Blog reader Julia says, "I just made these and they are so so delicious – thanks for the awesome recipe 😍 Will definitely make again!"
Made with just six main ingredients, these Fudgy Vegan Chocolate Beetroot Truffles are wholesome yet taste indulgent and melt in your mouth. They're also gluten-free, oil-free, soy-free, nut-free and include a Paleo option!
Check out this recipe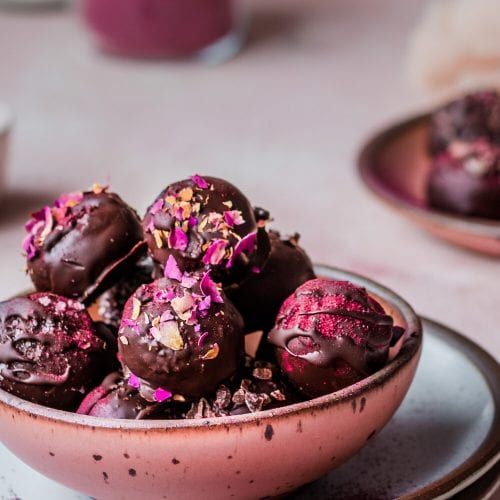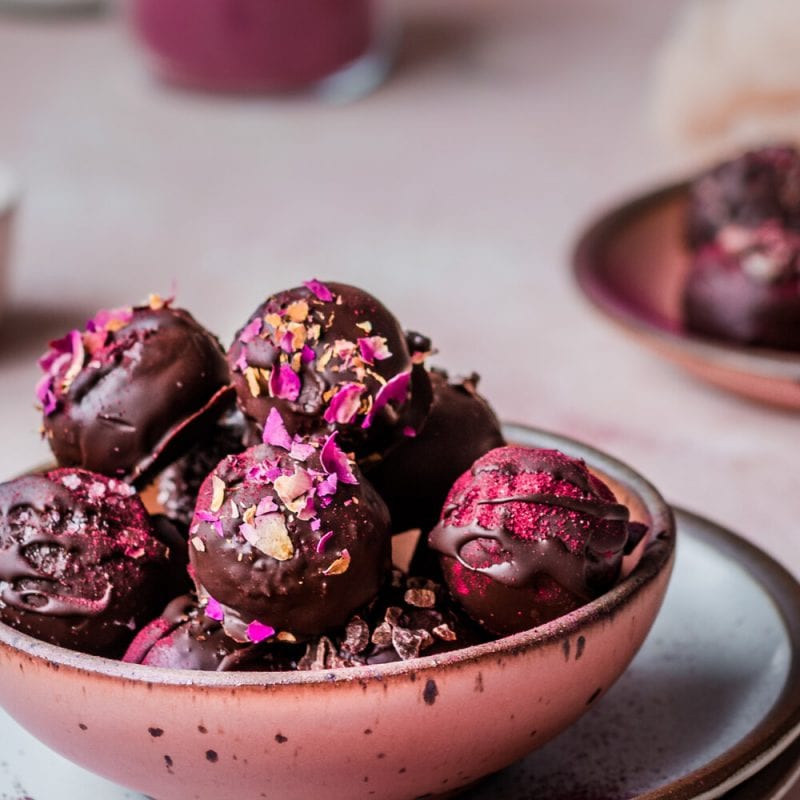 Blog reader Lindsey says, "These are magnificent!! I needed a pick-me-up in the worst way today, and boy, these taste pretty naughty for such a healthy treat

!"

Blog reader Željka says "They are fabulous, my husband was shocked how good they taste

!"
A dessert charcuterie board is a fun and festive way to enjoy Valentine's Day at home this year! Fill up a big board with your favorite sweet treats, fresh berries, chocolate candies, homemade treats like brownies or truffles, and satisfy your sweet tooth! It's a great, stress-free way to entertain for any holiday occasion!
Includes recommended vegan chocolates and candies; how to make chocolate covered truffles, strawberries and pretzels; and ideas for themed dessert boards!
Check out this recipe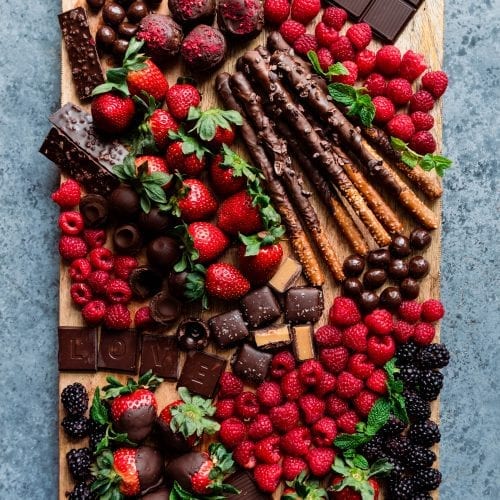 Blog reader Caryn says "Hands down, you've got the most elegant Dessert Charcuterie Board on the entire internet. Most definitely going to use this as a model for my next birthday dessert."
This Vegan Hot Chocolate is luxury in a glass! A decadent blend of cocoa powder, dark chocolate, and two kinds of dairy-free milk result in a dreamy, warming winter drink. It's a luxe, grown-up version of the classic.
Check out this recipe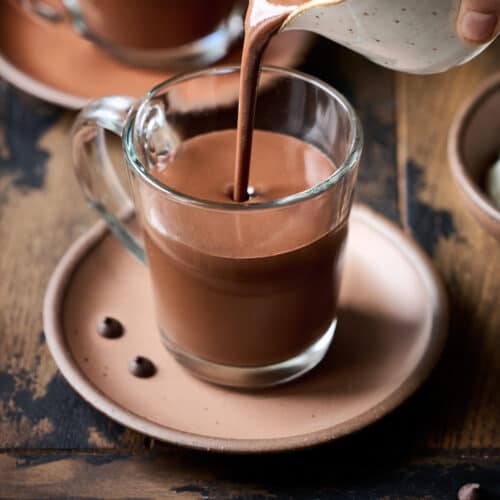 Blog reader Penelope says, "I made this last night not expecting much – I figured, at best, it would be "good for vegan hot chocolate". It's so much more than that. This recipe stands up to any dairy-based hot chocolate. Really rich and so much chocolate flavor."
Blog reader Sarah says, "Yes yes yes! This hot chocolate is thick and luxurious, just as promised! I am picky about my hot chocolates and this one reminds me of French 'chocolat chaud à la ancienne'. When I drink this I can close my eyes and imagine I'm in a Parisian cafe."
It's divine, simple, and velvety smooth… It's Vegan Chocolate Mousse! This luxurious and rich dessert comes together in no time using some seriously chocolatey ingredients and is served with homemade raspberry compote on top.
Check out this recipe