Are you ready for the absolute best vegan brownies to change your life? I'm talking a supremely fudgy and chewy vegan brownie with a shiny, crinkly top.
These truly are the best vegan brownies I've ever tasted (perhaps best brownies, PERIOD). They feature everything I love about brownies: a fudgy interior, a flaky and crinkly top, a chewy structure, and intense chocolatey notes that make you close your eyes in satisfaction.
If you've been skeptical about vegan brownies (many are too dry, others are too oily, some lack structure and fall apart, others aren't very chocolatey), I promise this is the brownie recipe for you! I tested it a whopping eight times to get it perfect, so I am confident you will love them.
PS: these are what I call "classic adult brownies." They are extremely indulgent and rich, and feature only classic brownie ingredients (obviously excluding dairy). In other words, there are no black beans, zucchini, or oats. If you are looking for "healthier" brownies, please use a different recipe (I won't be offended!). And if you're looking for an indulgent but still wholesome chocolate dessert, highly recommend my no-bake Salted Chocolate Cream Tart!
Table of Contents
Ingredients needed for the best vegan brownies
Dutch process cocoa powder
Dutch process cocoa powder is cocoa powder that has been treated with an alkali solution, which neutralizes its acidity. Cocoa beans are naturally acidic, and traditional cocoa powder (like Hershey's cocoa powder) has a pH of 5.5. In contrast, Dutch process cocoa powder is neutral or slightly alkaline, with a pH of 7 or 8.
Dutch process cocoa powder tends to have a purer, more intense chocolate taste and fewer acidic notes. It also has smoother texture than natural cocoa powder. As a result, Dutch process cocoa deepens the chocolatey-ness of the brownies.
I firmly believe that Dutch process cocoa powder is required for the *BEST* brownies. You can make good brownies with natural cocoa powder, but for the best brownies (that's what this post is about), you need the Dutch stuff.
Not convinced yet? Here's what Serious Eats says.
"The natural cocoas sold in American supermarkets tend to come from mediocre cocoa beans that have had almost all of their cocoa butter removed…[it's] starchy and low in fat—about as rich and luxurious as a handful of chalk. The acidity often has a tinny quality, rather than one that's zippy and bright.
In contrast, "Most Dutch-cocoa brands contain nearly twice the fat of natural styles, and often come from better-quality beans. The result is…higher in fat, lower in starch, and more aromatic all around, with a mahogany color and a flavor profile that emphasizes cocoa's darker, nuttier, earthier tones."
Note: most European brands of cocoa powder are alkalized, so if you live in Europe, you can likely ignore everything I said.
Dutch Process Cocoa Powder – Recommended Brands
Valrhona
. This is what I have been using for my brownies. I found it in bulk in the specialty baking aisle at Whole Foods, and that was the most affordable way to buy it. It is pricy, but worth it IMO. As you can see in. the screenshot from my video below, the Dutch process cocoa is significantly darker and richer looking than. the natural cocoa.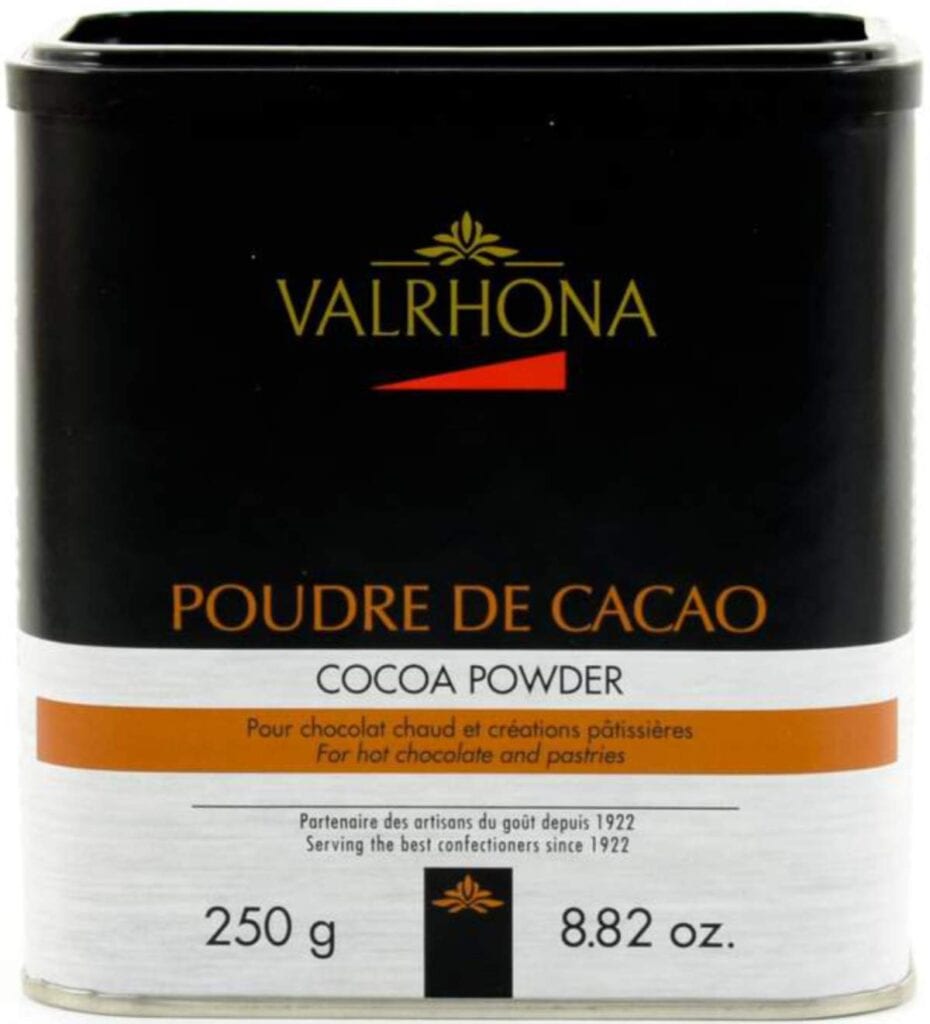 One of the highest-quality cocoa powders you'll find. Note: I did find it for cheaper in the bakery/chocolate bulk department at Whole Foods.
Other great options for Dutch Process Cocoa Powder (based on my research) include: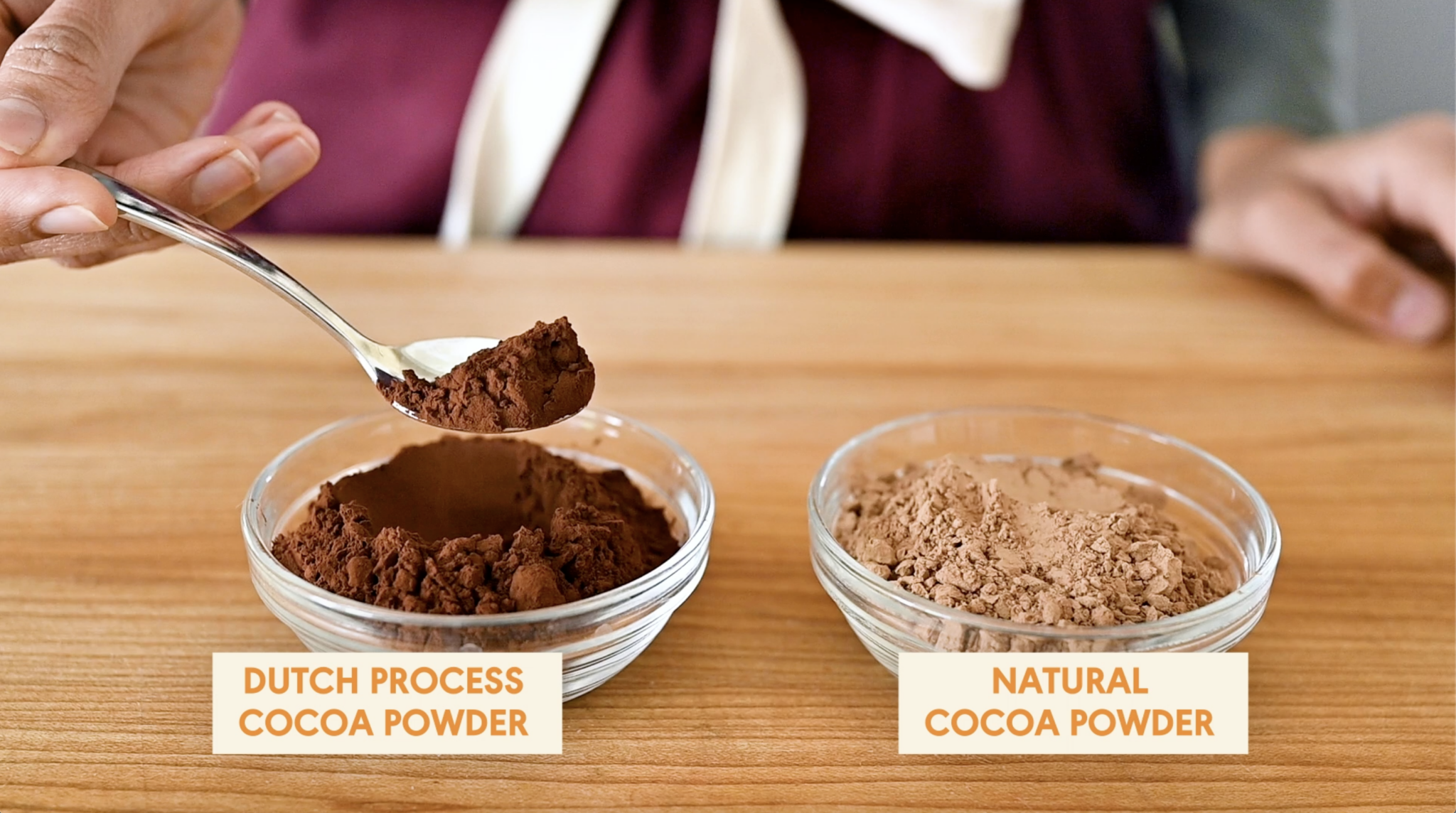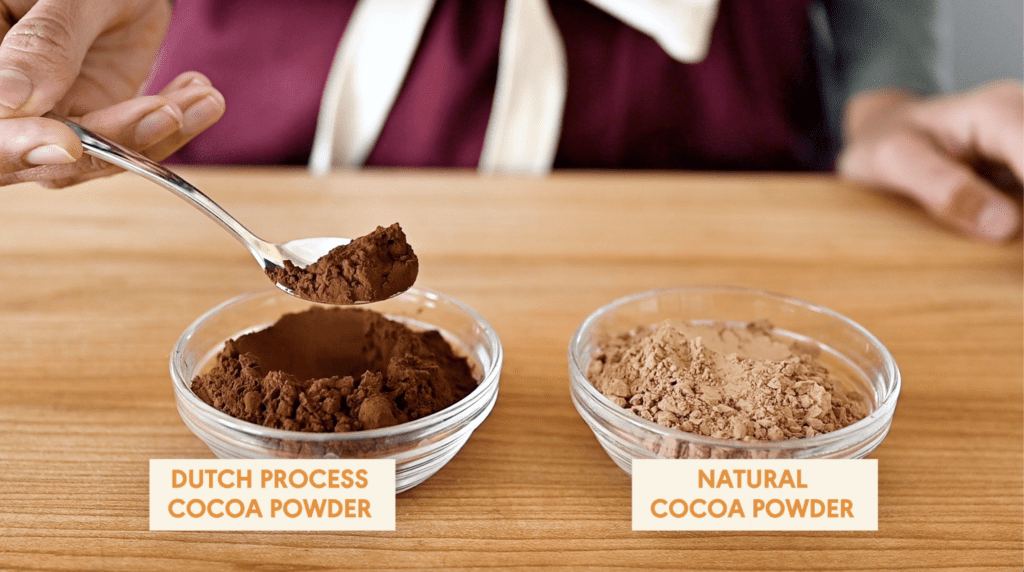 Vegan Butter
A lot of vegan brownies use oil as a substitute for butter. Which makes sense on first thought. But, I've tried my fair share of vegan brownies that were simply too oily. That's why I use vegan butter for brownies.
Yes, vegan butter is made up of plant-based oils, but it has other ingredients and properties that make it act more like butter than like oil. Plus, you're getting that rich buttery taste, which is essential for the classic flavor and mouthfeel associated with brownies.
I've tried this recipe with Earth Balance vegan butter, Miyokos, and Country Crock Plant Butter.
All-Purpose Flour
Most traditional brownies don't use a lot of flour, especially fudgy brownies. But, for vegan brownies, I use a little more flour than you might expect (1 ½ cups) because there are no eggs (which provide a lot of structure). Don't worry, though, these brownies are not going to be cakey!
I am often asked, "can I swap the all-purpose flour with almond flour or oat flour," and my answer is usually no. Or at least, no, not really.
Flours work in very particular ways, especially non-traditional flours and gluten-free flours. For instance, flour made from wheat is high in gluten and works much differently than "flour" made by grounding up high-fat, low-starch, gluten-free almonds!
Tip: In sum, unless you're allergic to gluten, I don't recommend substituting the all-purpose flour.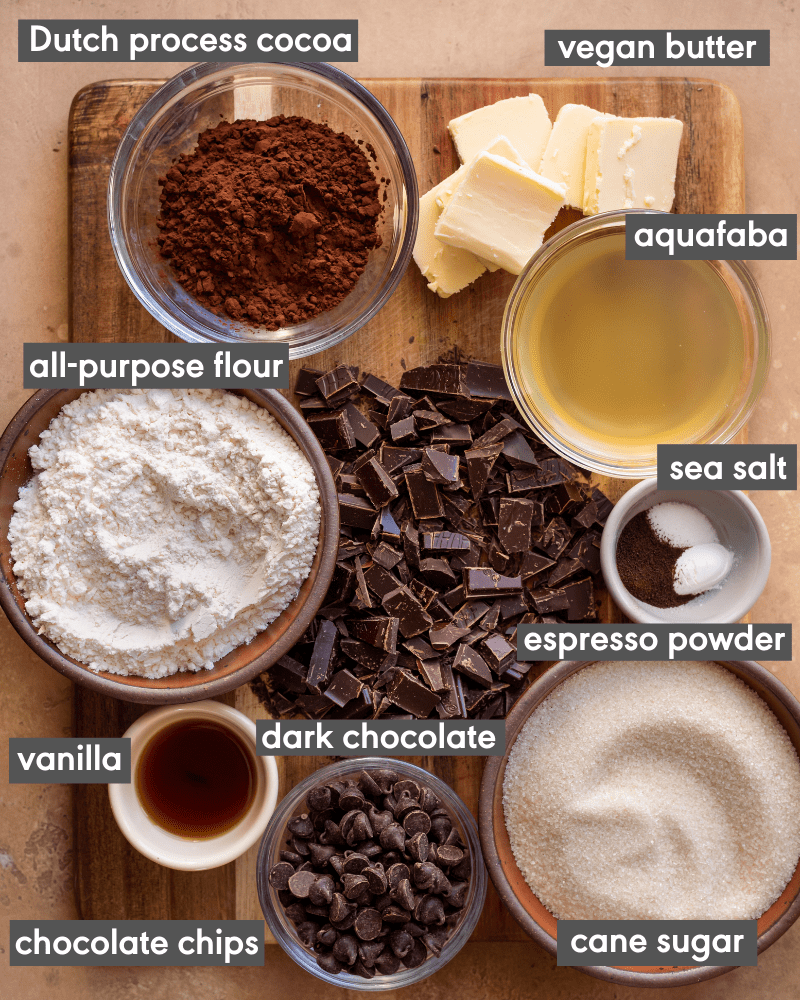 Aquafaba
Eggs are one of the primary ingredients in classic brownies (some recipes use 4 whole eggs!), so the "which egg substitute do I use?" question was an important decision.
Most vegan brownies use flax eggs (flaxseed meal + water), and that's what I've used in the past too with good results. Other vegan brownies use applesauce (I don't love this as an egg substitute in most recipes) and some use plant-based milk.
However, once I did all lots of brownie research, I realized that eggs play several roles in brownies: they provide moisture, binding, leavening, AND structure. That's when I decided that I needed to try using aquafaba, AKA the liquid from a can of chickpeas, as my egg substitute.
I typically use aquafaba as an egg substitute when I want to bring a light tenderness to baked goods (as in this tender vanilla layer cake, or this remarkably light banana bread). But we don't want lightness with brownies. We want dense, rich, and fudgy. So what's a girl to do?
To see how I used aquafaba to make the best vegan brownies, read more in the "how to get a shiny, crinkly top in vegan brownies" section below.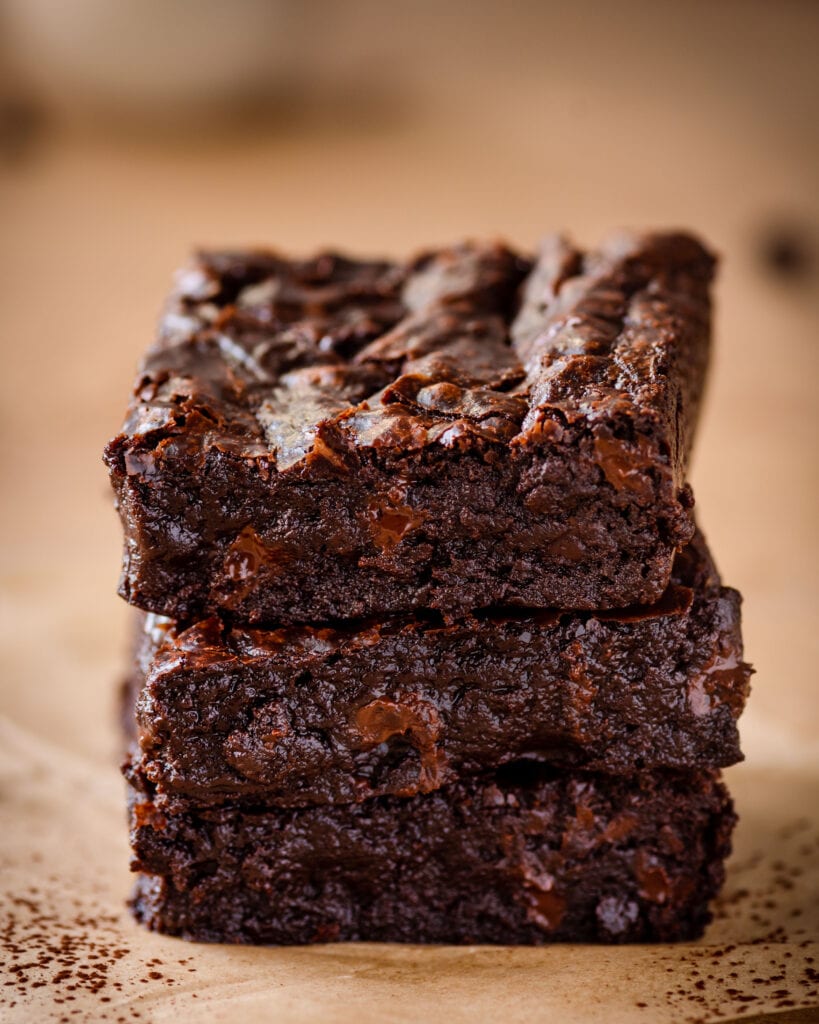 The secrets behind fudgy and chewy vegan brownies
Brownies made with just cocoa powder typically turn out on the cakey side, whereas brownies made with only melted chocolate turn out fudgy. This is because adding cocoa powder is akin to adding more flour to the recipe, and adding more flour makes for cakier brownies. In contrast, adding a melted pool of chocolate essentially adds more liquid, making brownies more moist, dense, and gooey.
But if you combine cocoa powder and melted chocolate, you get a little bit of both, which often results in chewy brownies. That's what I do in this recipe, and the result is rich, fudgy brownies with a chewy bite. The chewiness becomes even more pronounced on day 2.
No offense to cakey brownie fans, but if I wanted a cakey brownie, I would make a chocolate cake. These are very different desserts.
Why I use dark chocolate in my brownies
I've always been a fan of using dark chocolate in my brownies, even before becoming vegan.
One, brownies made with dark chocolate are more chocolatey, as the cocoa flavor has not been diluted by milk and tons of sugar. Two, brownies made with dark chocolate (AKA eating chocolate) make for more flavorful, more intensely chocolatey brownies than brownies made with unsweetened baking chocolate. Since chocolate is the most essential ingredient in brownies, the quality of the chocolate matters.
Similar to my philosophy about cooking with with wine (I only cook with a wine I'd actually drink…but it certainly doesn't need to be a fancy bottle), I believe you should only bake with chocolate you would actually eat. As Claire Saffitz, formerly of Bon Appetit, says, "I wouldn't bake with an $11 artisanal bar…[but]…it should be delicious enough on its own to eat as a snack."
I typically use 72% dark chocolate bars, but bittersweet baking chocolate bars also work. If you like your brownies on the less sweet side you could use dark chocolate up to 80% cacao content. If using something below 70%, you might want to scale back on the sugar by a few tablespoons.
And for outrageously good brownies, I also add in a smattering of chocolate chips. I love biting into a brownie that's fudgy but also has a little chocolate nugget that you can bite into.
I used 63% dark chocolate chips. If you don't want to buy chocolate chips or don't have them, you can finely chop dark chocolate bars into small chunks. Or, you can buy dark chocolate chunks (70%) or 67% dark chocolate chunks. If you're using vegan-friendly semisweet chocolate chips, scale back on the sugar by roughly 1/4 cup and/or use fewer chocolate chips.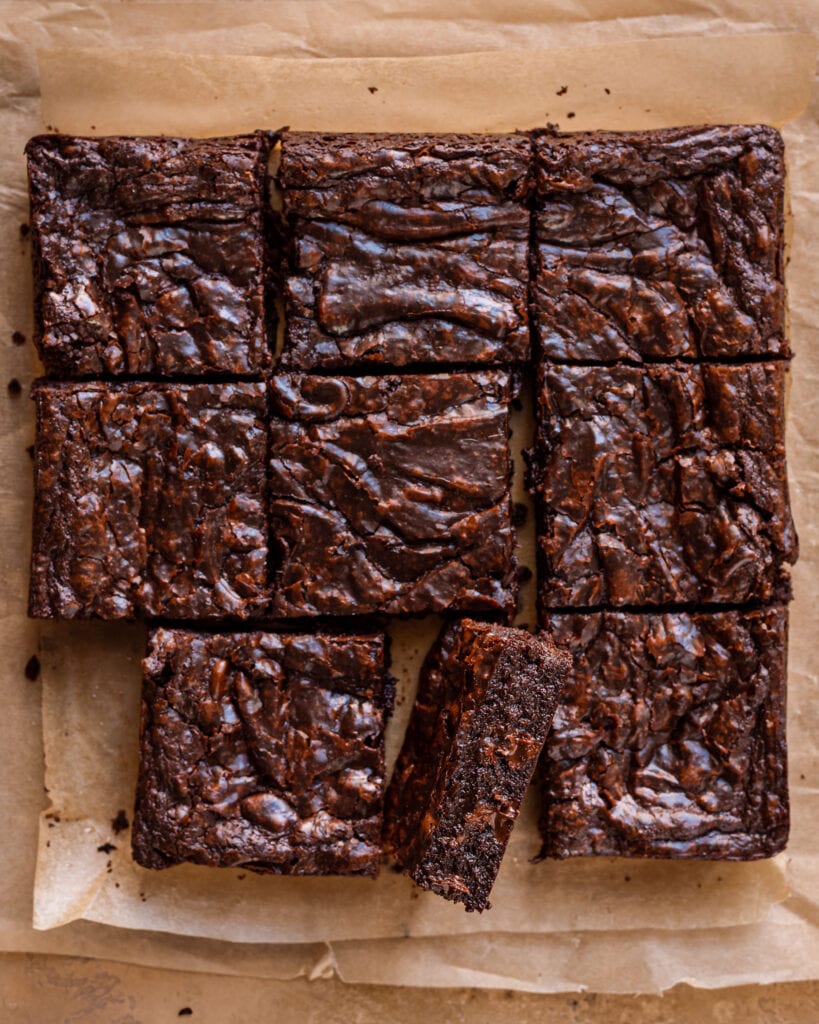 How to get a shiny, crinkly top in vegan brownies
The shiny, crinkly top is what so many of us love about brownies. They evoke nostalgic memories of boxed brownies eaten around the kitchen table. Plus, the texture is extremeley delightful: wispy, delicate, ridged, and flaky. When paired with a fudgy interior, the textural contrast is too good to describe in words.
However, the shiny, crinkly top is elusive. It's a hit or miss with ordinary brownies, and almost mythical when it comes to vegan brownies. I have actually never had a vegan brownie (homemade or bakery-bought) with a crinkly top. Until now.
I did a TON on sleuthing (i.e., six hours of internet research) to figure out the scientific secrets behind shiny top brownies. Unfortunately, almost every single reason revolved around non-vegan ingredients.
Many sources said you needed to whip the eggs and sugar together for several minutes. There's a sciency explanation for this (something about the bonds between the sugar and egg proteins and the dissolving of sugar very finely).
Several sources said you needed to use very hot butter to keep the brownie batter warm.
A few sources said you needed to use milk chocolate (again, something about milk solids).
After some trial and error, I determined the secret to vegan brownies with a shiny, crinkly top is vigorously whipping the aquafaba and sugar together for several minutes. I typically whip aquafaba (by itself) for just 45 to 60 seconds (until it's foamy) for cakes. But when I whipped it with the sugar for 2 1/2 to 3 minutes on high speed, it completely changed. The sugar dissolved, the mixture thickened and became glossy, and it started to hold its structure, rather similar to the consistency of beaten eggs.
This method has two benefits: (1) it produces the beautiful, crinkly top you see in these brownies; (2) it brings structure to these brownies (a lot of vegan brownies, including some I've made before, fall apart and don't have a decent backbone to hold them together).
For extra good measure, I tried to keep the vegan butter warm when I added it to the other liquid ingredients (following the second most popular explanation I found online for shiny top brownies). This seems to make a small difference, but after 8 batches of testing these brownies, I think this factor is not nearly as important as whipping the aquafaba and sugar.
Tip: Use aquafaba from a can of unsalted chickpeas to avoid adding extra salt. If you only have canned chickpeas with added salt, scale back on the salt.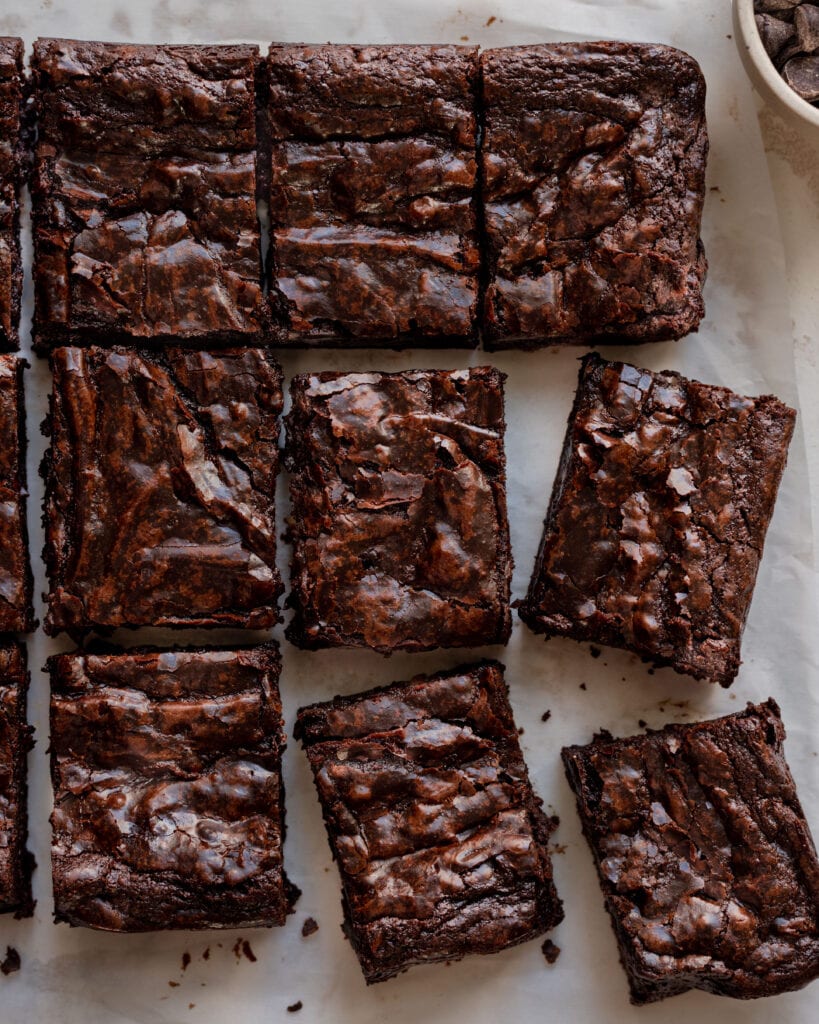 Step by step instructions
Sift together the flour and Dutch process cocoa powder.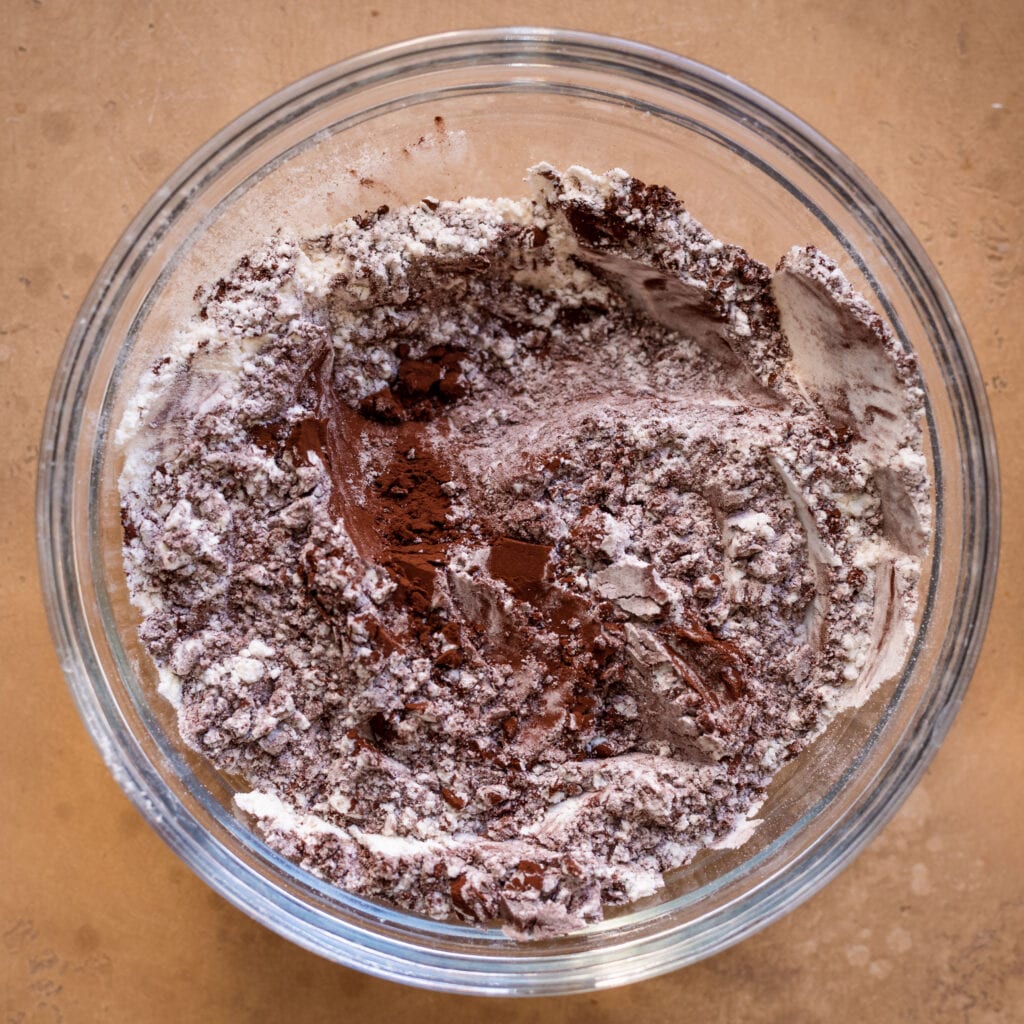 Add the aquafaba and organic cane sugar to a large mixing bowl.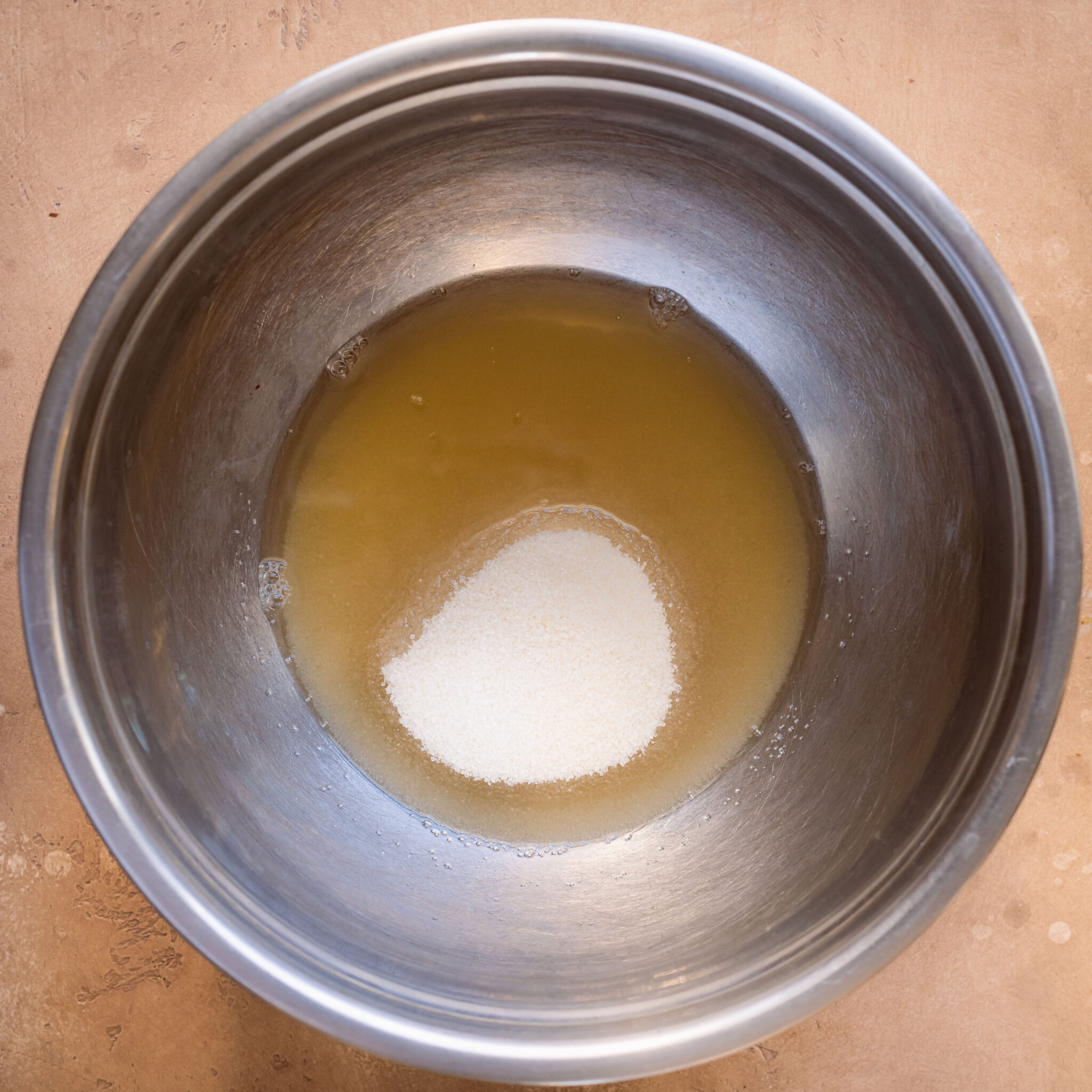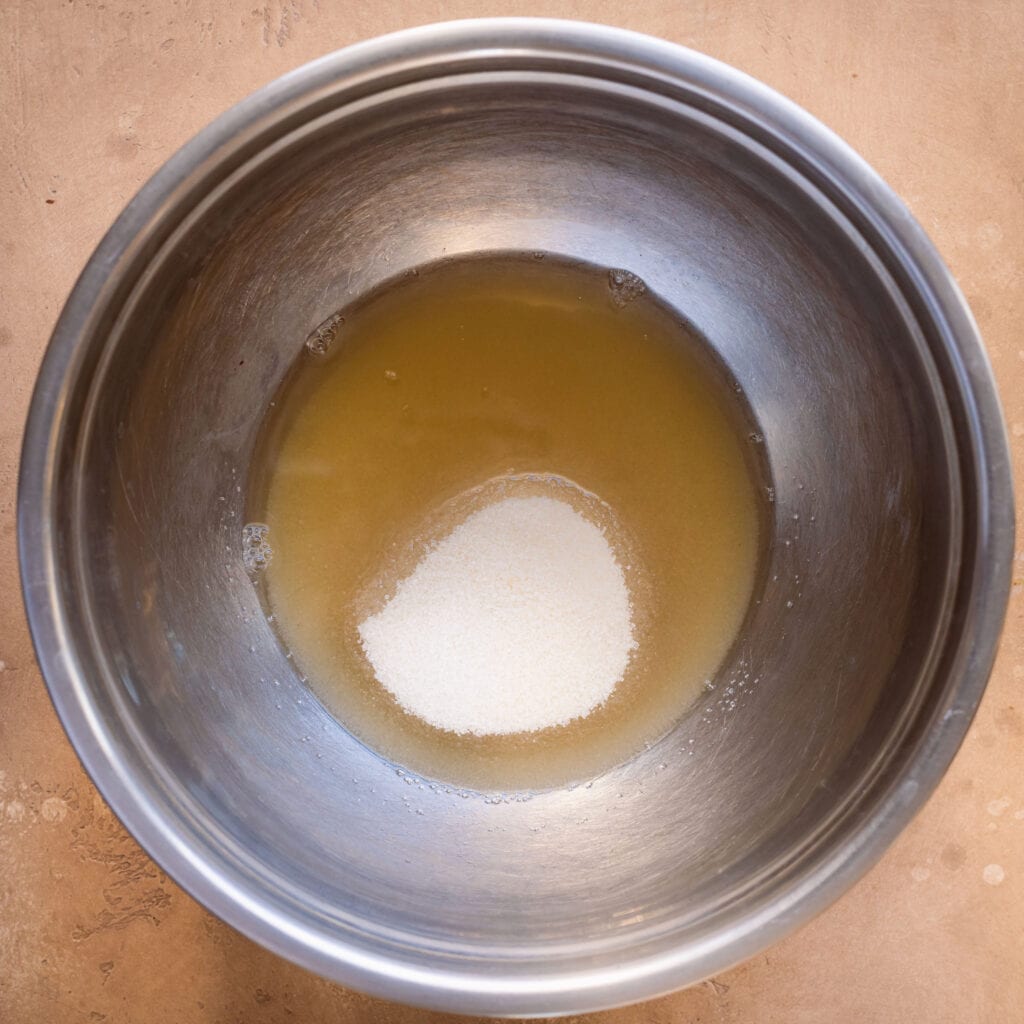 Use an electric mixer on high speed to beat the aquafaba and sugar until thickened and glossy. Then, using a silicone spatula, fold in the vanilla, salt, and espresso powder.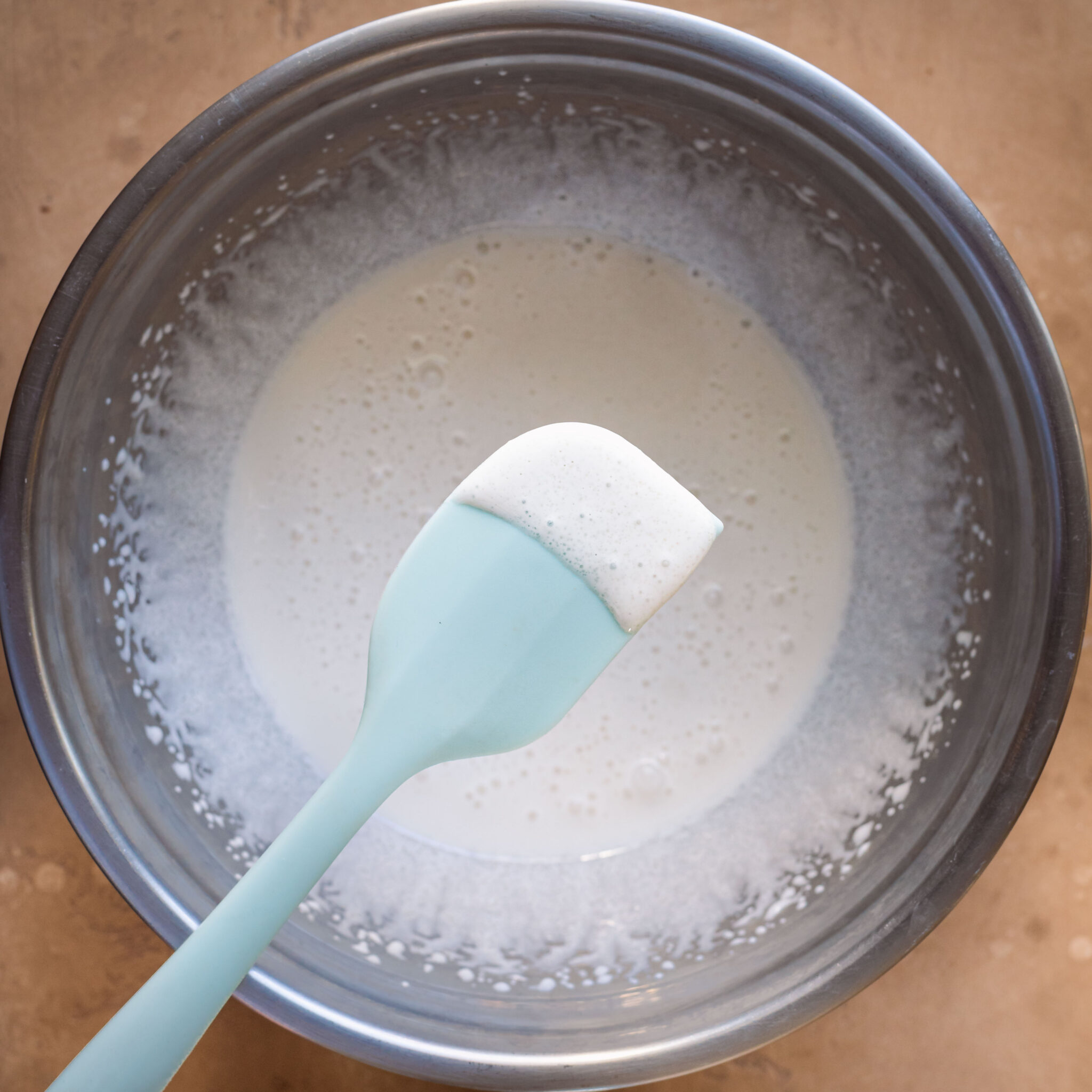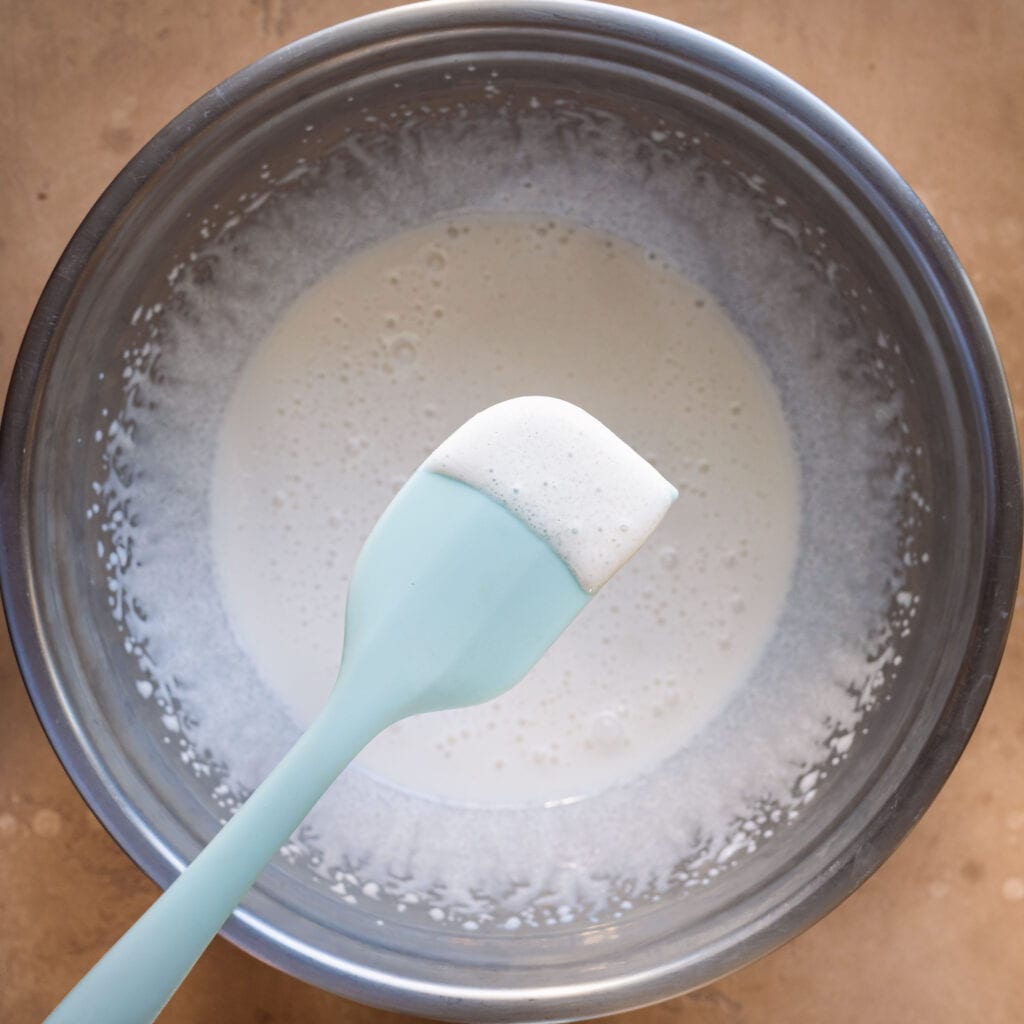 Chop the dark chocolate and add to a heatproof bowl with the cubed vegan butter. The bowl needs to be able to fit snugly into a saucepan.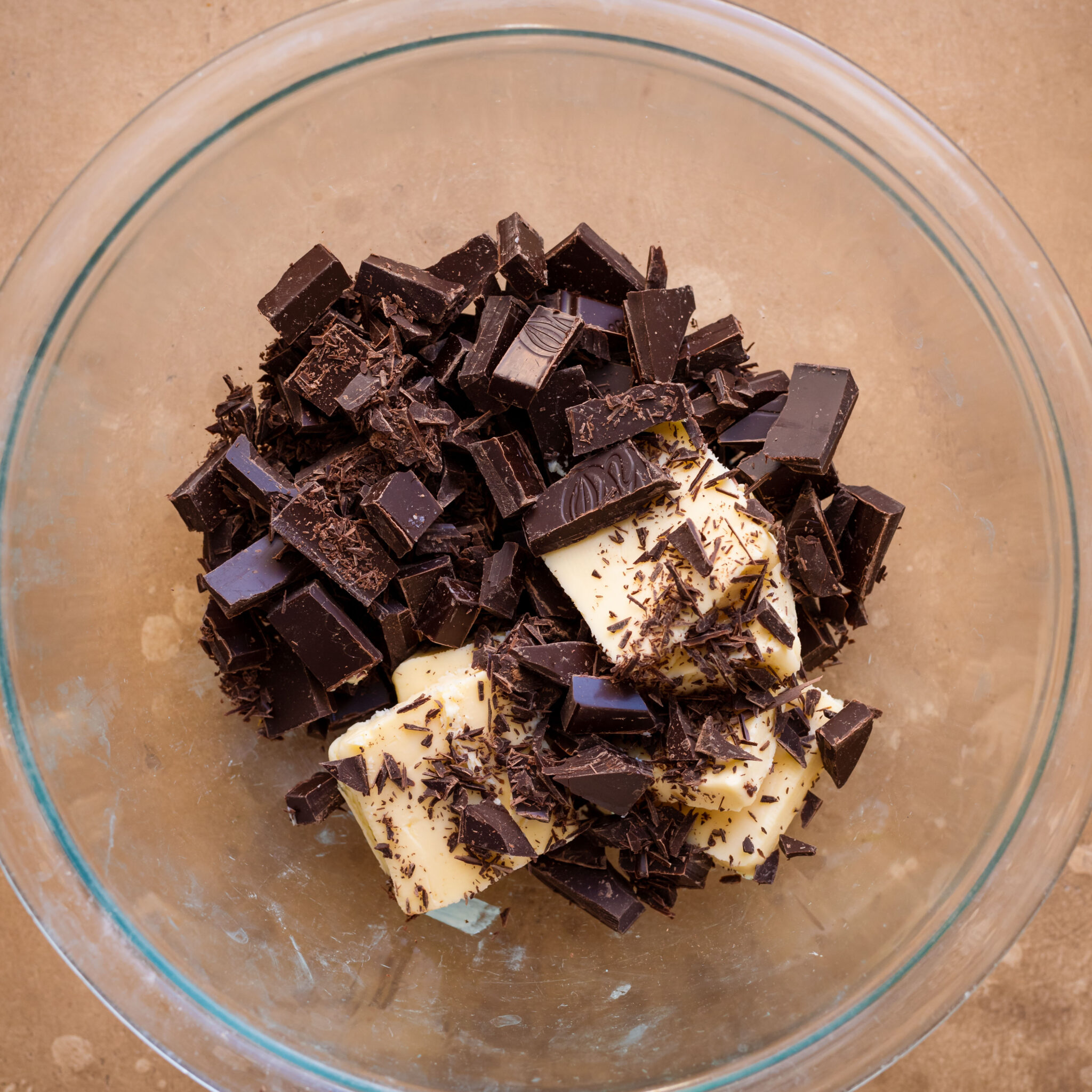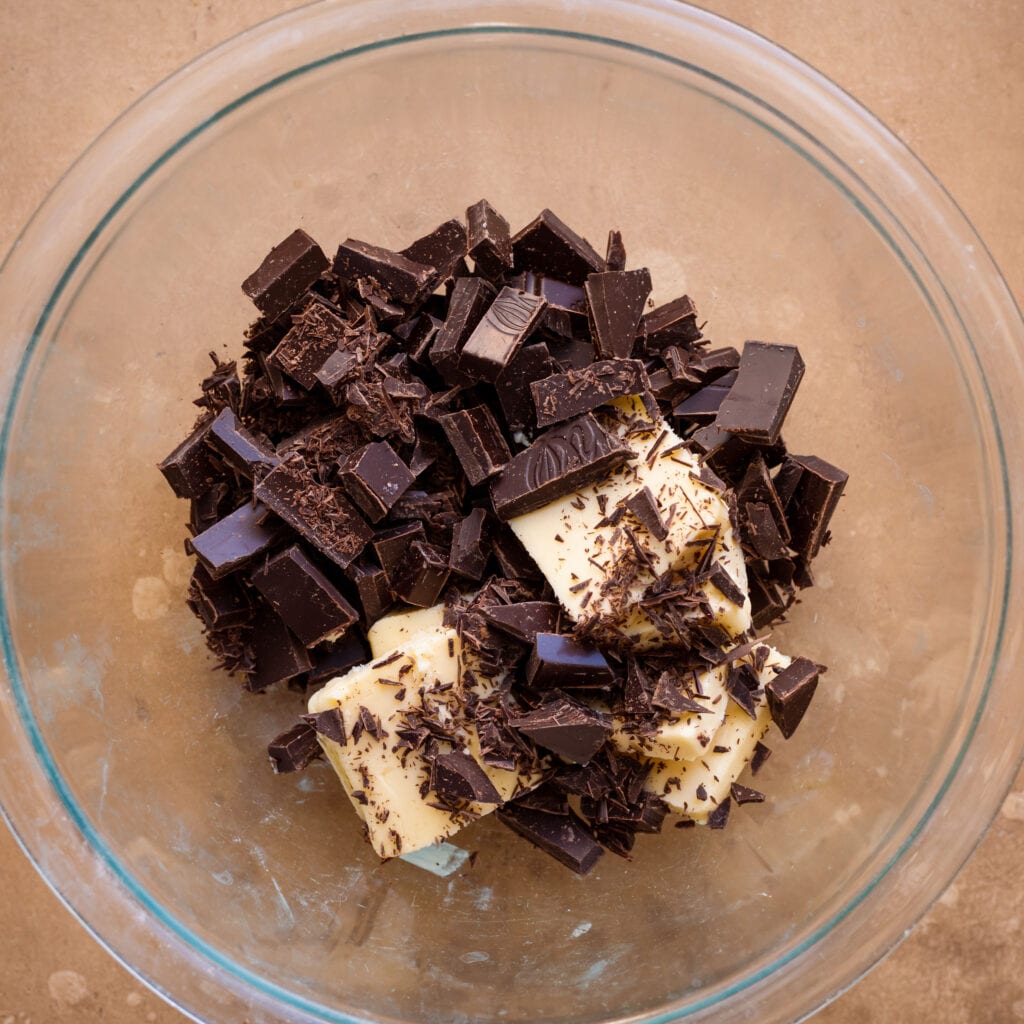 Melt the dark chocolate and butter in a double boiler.
To make a double boiler, add an inch or two of water to the saucepan – you don't want the bottom of the bowl to touch the water. Bring the water to a rapid simmer (not a boil). Carefully lower the bowl of chocolate-butter into the saucepan. Maintain a rapid simmer and whisk occasionally, until the butter and chocolate are completely melted and glossy.
Note: you can also melt the chocolate-butter in the microwave in 30-second increments, stirring after each round.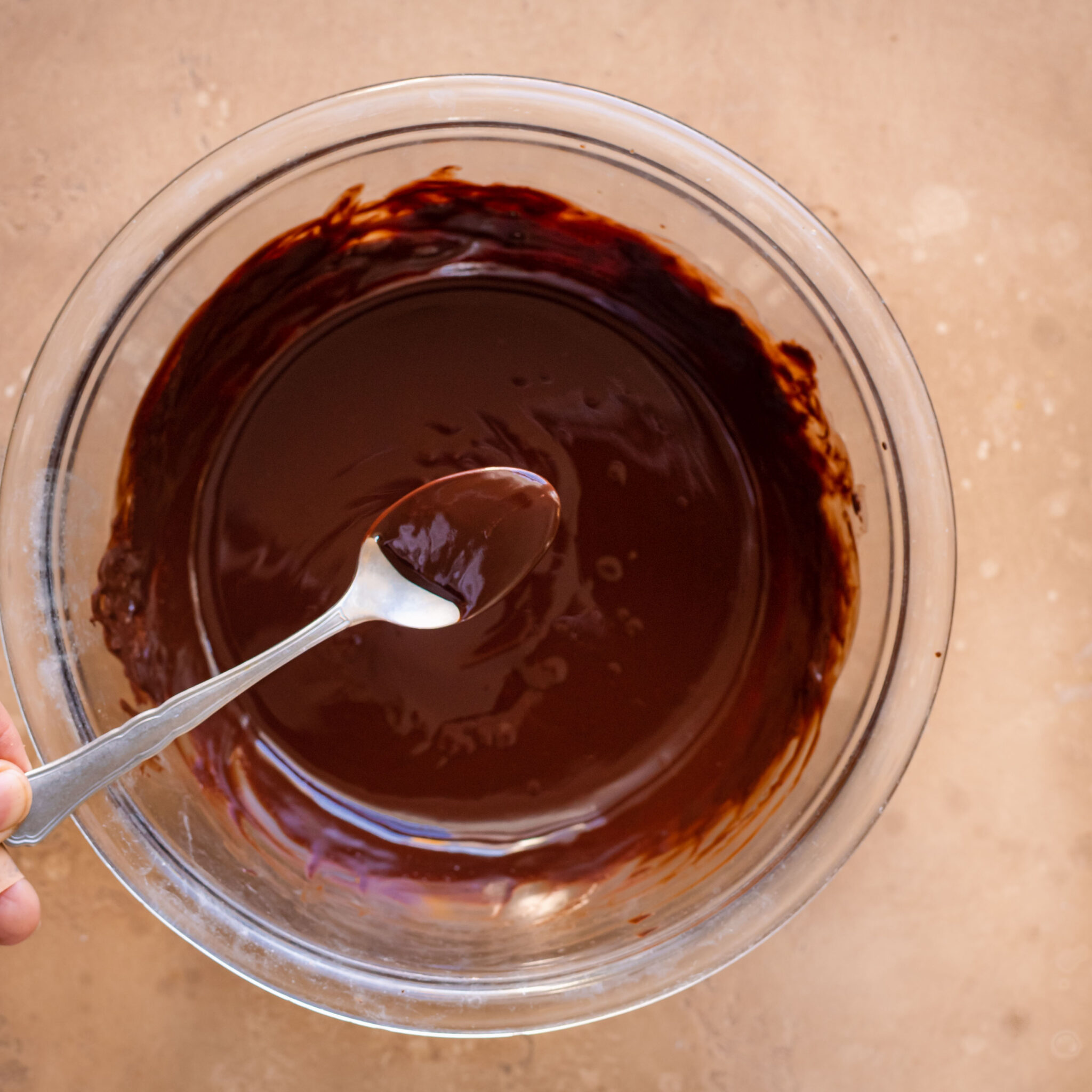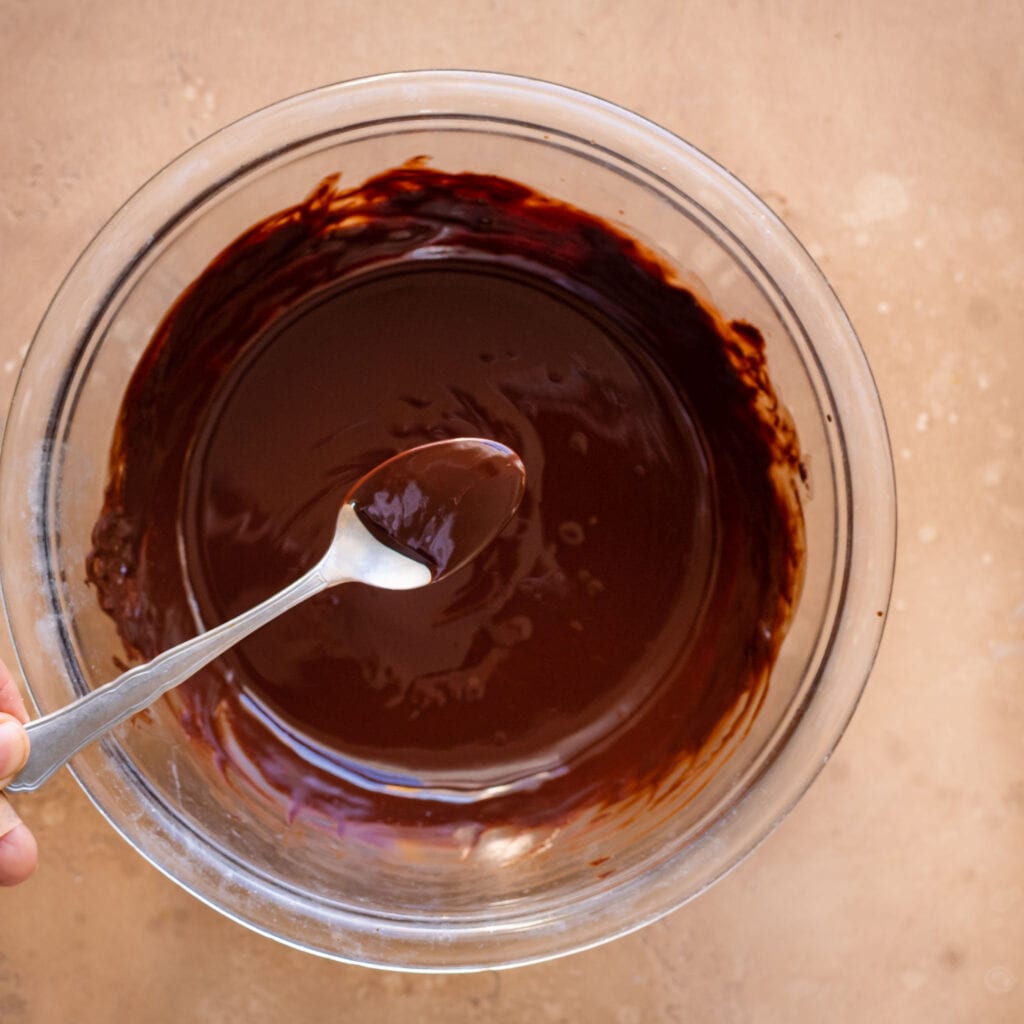 Fold the melted chocolate-butter into the aquafaba mixture until well combined.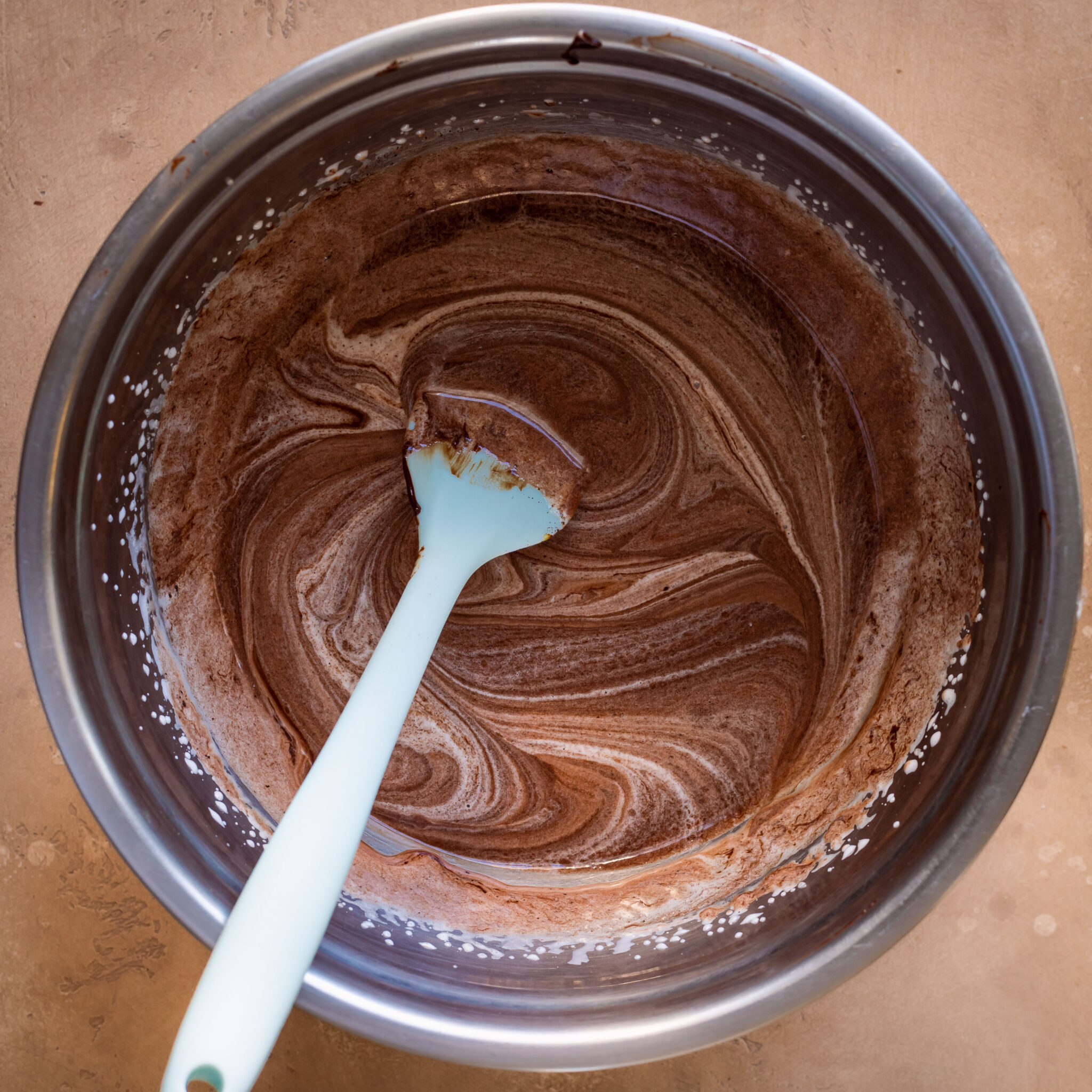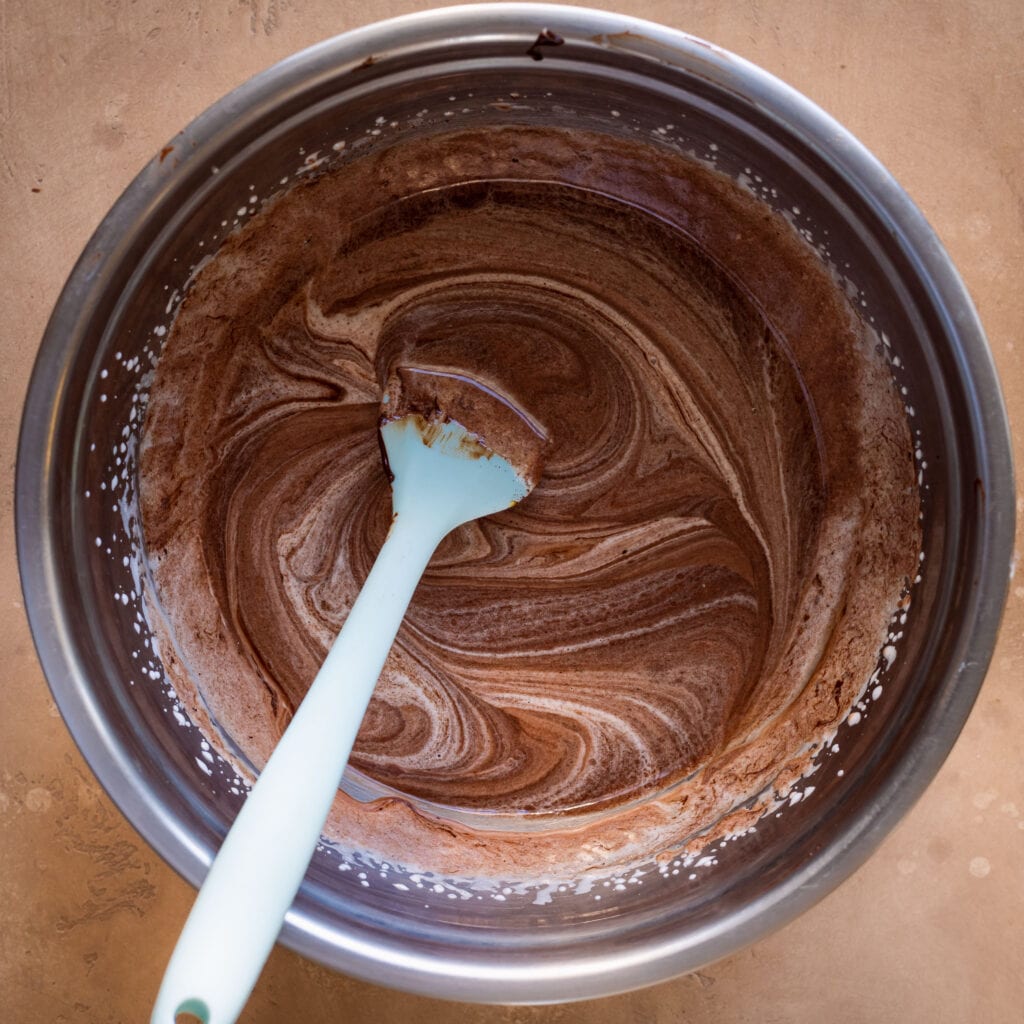 Add the flour-cocoa powder to the liquid ingredients. Use a silicone spatula to mix until just combined. The batter will be quite thick. Finally, add the chocolate chips to the batter (oops I forgot this step when taking photos!).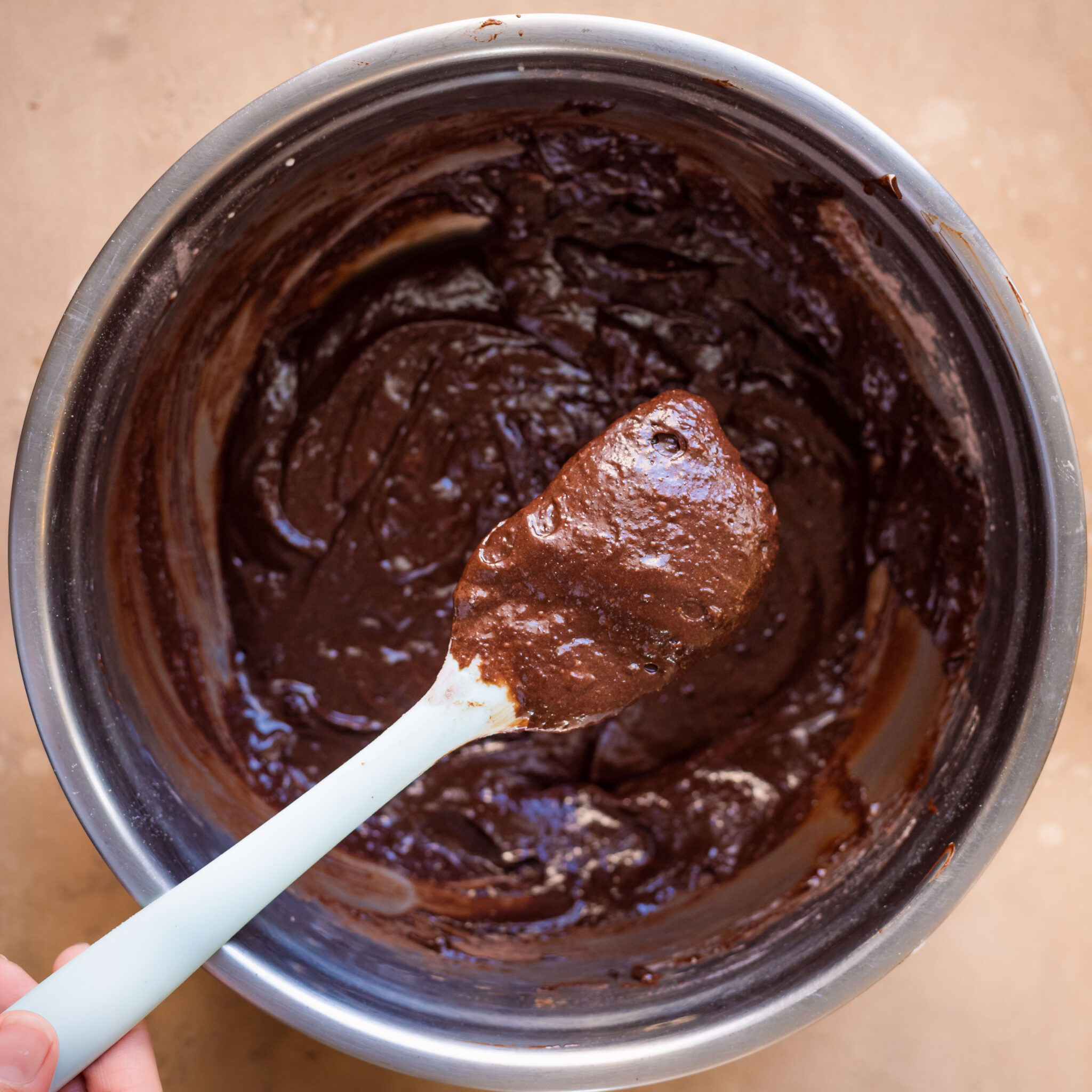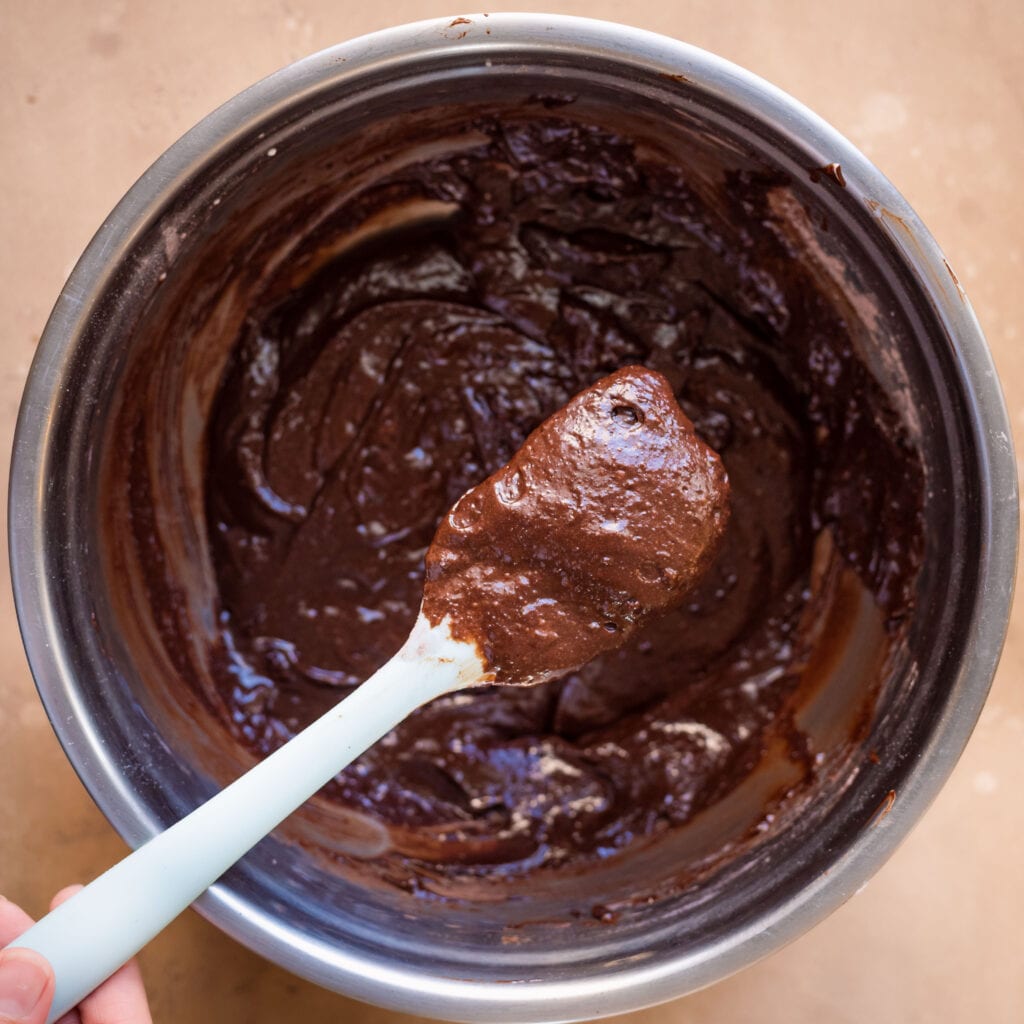 Pour the batter into an 8×8-inch (20×20 cm) square baking pan lined with parchment paper.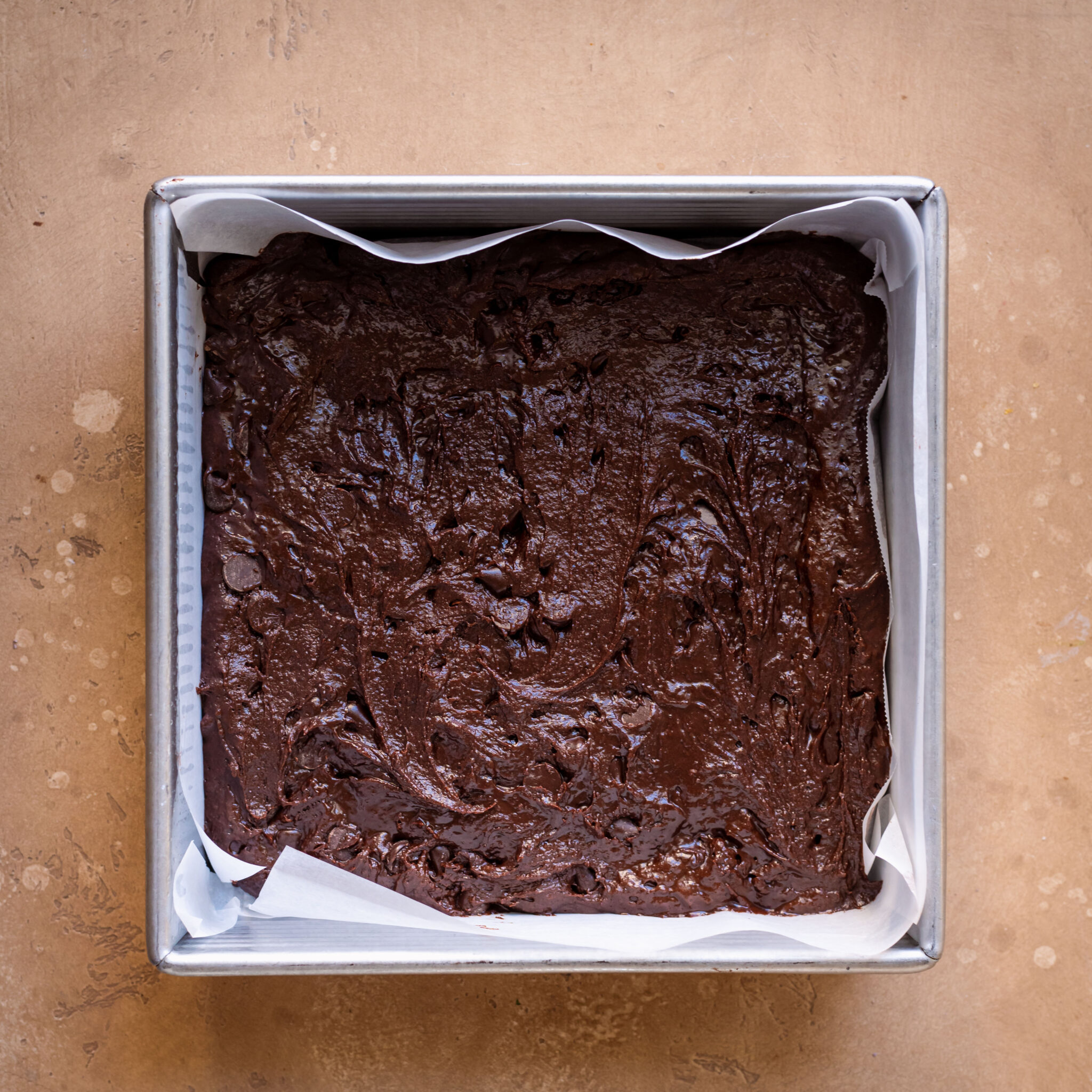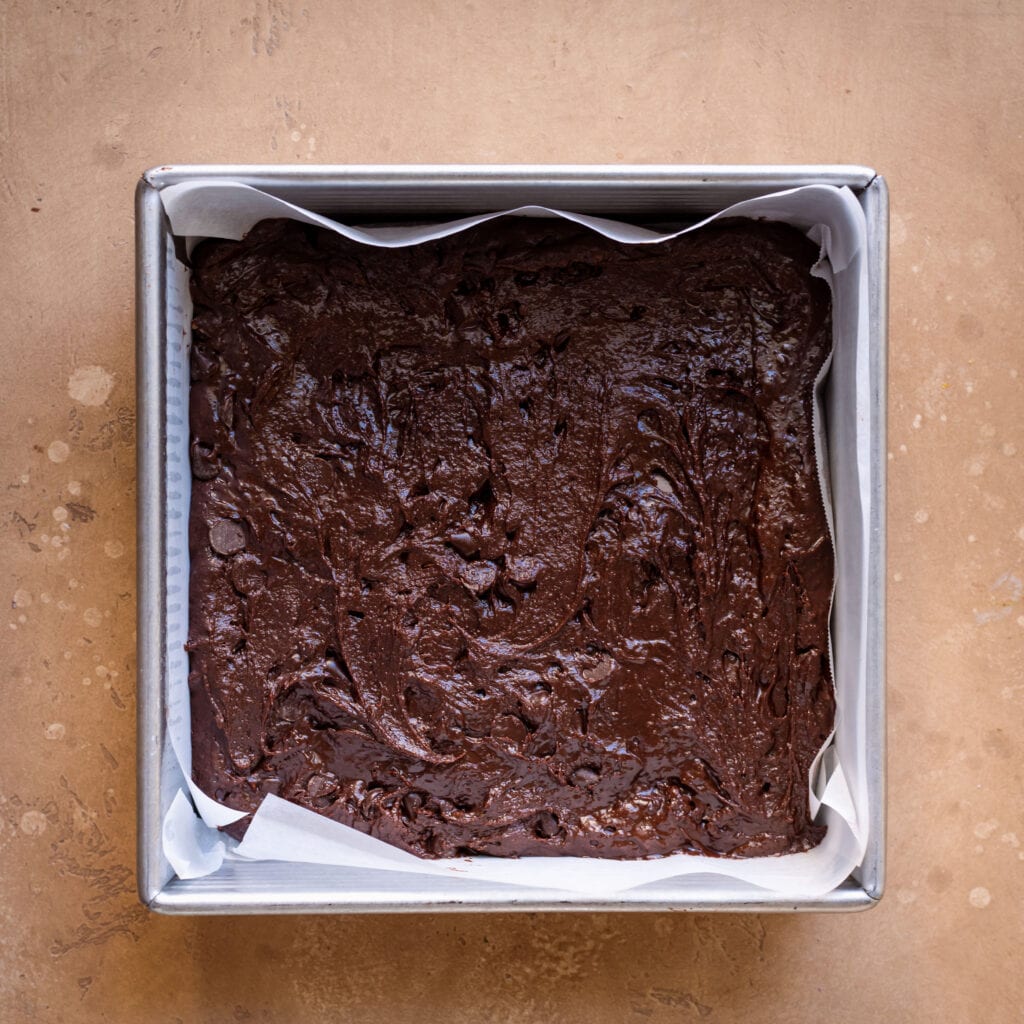 Bake in a preheated oven at 350°F (176°C) for 34 to 37 minutes, until a toothpick comes out with moist crumbs. Cool completely before slicing (see the "Tips" section).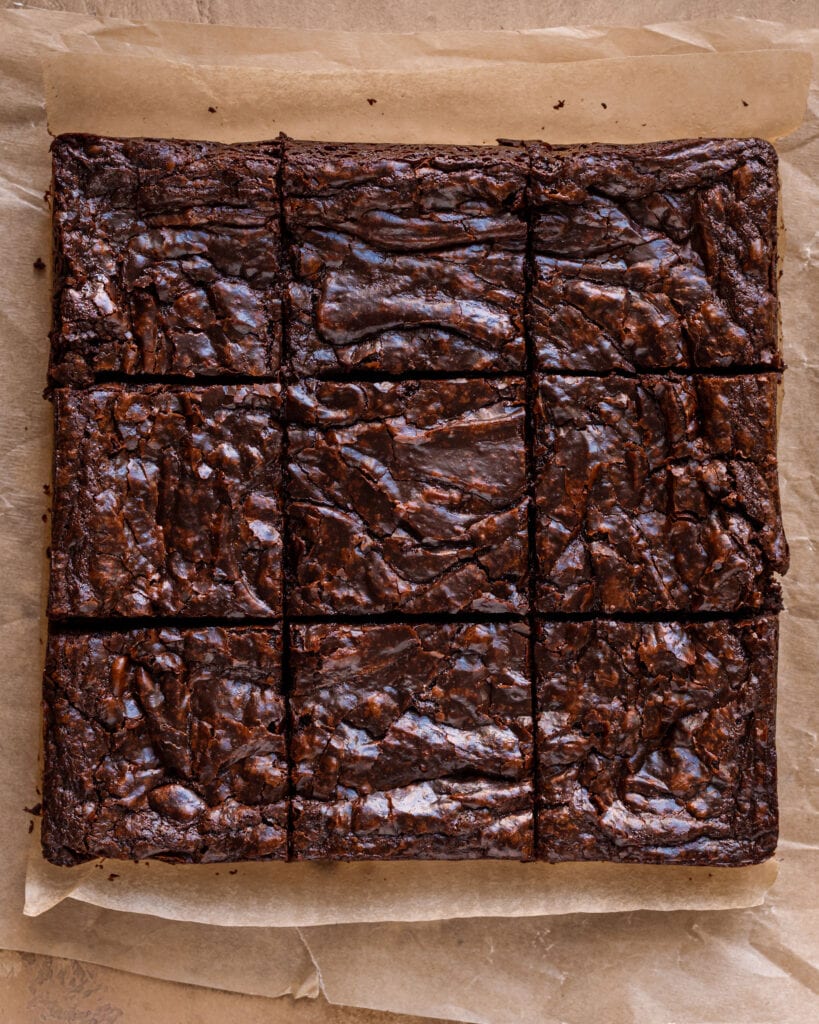 Tips for the best vegan brownies
Sift the dry ingredients.
Cocoa powder is fairly clumpy, so to ensure a clump-free brownie batter, sift the cocoa powder and flour before combining them with the wet ingredients. This is especially important if using natural cocoa powder, which is clumpier than Dutch process cocoa. But if you read the section above, you know that I think the best brownies are made with Dutch process cocoa.
Measure your flour properly.
I use a digital scale for all baking and highly recommend it for the most precise results (baking + precision are best friends).
Tip: If you don't have a digital scale, do not scoop the flour straight out of the bag or container. This always results in getting too much flour in your measuring cup, and too much flour = dry brownies. Instead, use the spoon and level method. Spoon your flour out of the bag/jar into the measuring cup until almost full, then use a butter knife to level it off.
Use the best quality chocolate you can find and afford.
I already talked about this at length earlier, so I'll keep it short. Chocolate is the primary ingredient in brownies, so it's important to use the highest-quality chocolate you can get and afford.
I promise you will get much tastier results if you use (1) Dutch process cocoa + (2) good dark chocolate that you enjoy eating, instead of (1) natural cocoa powder and (2) baking chocolate.
Line your baking pan with parchment paper.
This makes it easy to remove the baked brownies from the pan and slice them. Also, it doesn't require you to grease the pan. These brownies are plenty decadent and don't need any extra oil or vegan butter.
Don't overmix.
This is a good policy for all baked goods. Overmixing the dry and wet ingredients aerates the the batter, resulting in cakey brownies.
Don't slice brownies too early.
It's tough to wait for brownies to cool. The chocolatey aroma wafts from your nostrils to your brain and begs you to demolish the warm brownies. But, if you slice brownies while they're still warm, you miss out on peak brownie goodness.
For one, the brownies will likely be under-baked and have less structure. Think more gooey lava cake, less brownie. This is because brownies still baked once removed from the oven and they continue to set up during the cooling process. Two, the brownies will be harder to slice cleanly and be more crumbly. And third, the chocolate flavor won't be as pronounced.
You can, however, do two things to speed up the cooling process and more quickly enter brownie heaven. After resting the pan on a wire rack for 20 minutes, you can (1) carefully transfer the brownie pan to a large shallow pan filled with an inch or two of ice cold water. This will help solidify the brownies more quickly. Or, (2), transfer the pan to the fridge for 20 to 30 minutes.
Note: If you love chewy brownies, let these brownies cool for a few hours. The chewy texture sets up over time. These brownies are noticeably chewier on day 2.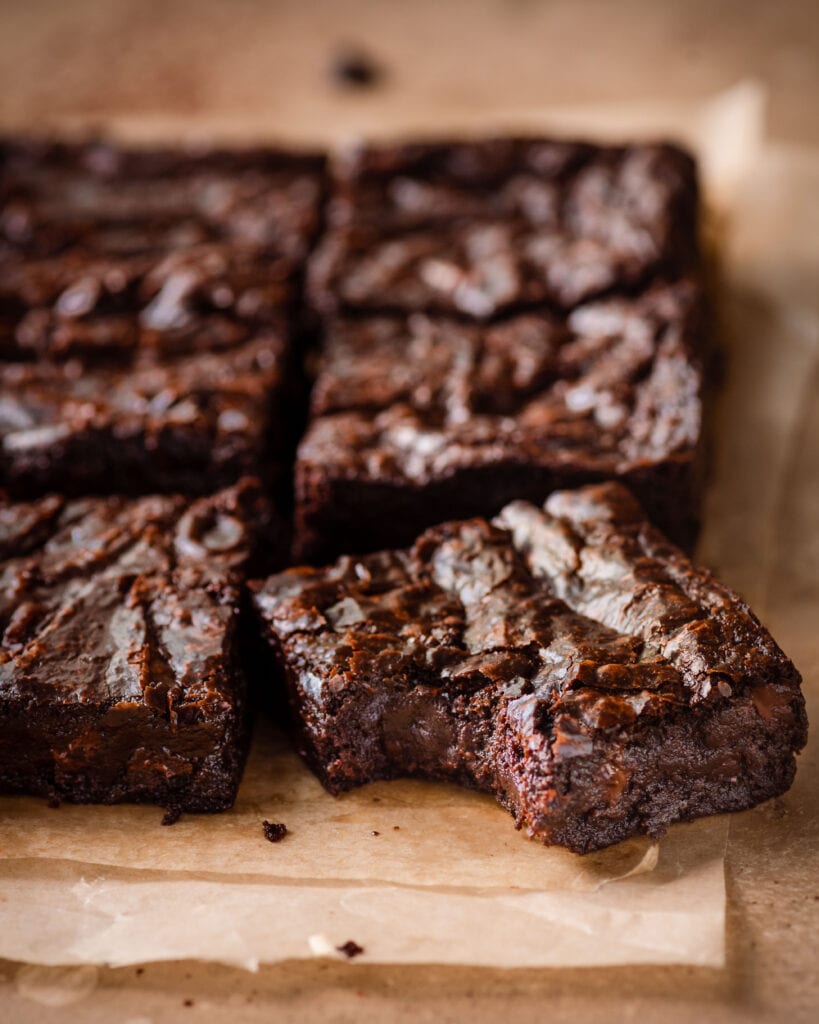 Frequently Asked Questions
How can you tell when brownies are done?
Brownies are typically done when you insert a toothpick and it comes out with some moist crumbs and/or a tiny bit of thick batter (the latter could be the melted chocolate chips). If the batter is liquidy or runny, though, the brownies need about 5 more minutes in the oven.
If a toothpick comes out clean, the brownies sadly have been baked for too long. That's because the brownies will continue to bake during cooling. The end result will be brownies that are a bit dry.
To avoid this possibility, I like to check the brownies 5 minutes before I think they're going to be done. Especially when I try out a new recipe.
Tip: If you're not entirely sure, err on the side of under-baking. The brownies willl continue to set up during cooling).
How do you get clean slices of brownies?
First, use a large knife (I use an 8-inch chef's knife). Slice the brownies in one fell swoop instead of dragging the knife back and forth. The dragging method leads to more crumbs and uneven slices.
Also, you can try dipping your knife in hot water and drying it off with a kitchen towel before slicing. Repeat this process between every slice. I find that this method in conjunction with cooling the brownies on top an ice cold sheet pan (see previous section) yields the cleanest slices.
How do you store these vegan brownies?
To keep brownies as moist as possible, slice only the amount you'll eat at the time of serving. Leave the rest of the brownies unsliced and store this block of brownies in an airtight container. This will minimize the brownies' exposure to air, preserving moisture loss.
If you don't have a container big enough to fit the unsliced brownies, slice and and store pieces in an airtight container. Here's why. With batch #4 of these brownies, I wrapped the unsliced block of brownies (and individual slices), in plastic wrap. For batch #5, I sliced all of the brownies and stored them in airtight containers, separating the stacks of brownies with a piece of parchment paper.
Batch #5 brownies stayed moister longer (batch #4 brownies dried out more quickly, especially the individually sliced ones), so I recommend storing brownies in airtight containers instead of wrapping them in plastic.
Brownies, stored in airtight containers, will stay good at room temperature for 3-4 days, but you can keep them longer (for 8-10 days) in the fridge. When refrigerated, the fudginess of the brownies intensifies (not a bad thing).
Can I freeze these brownies?
Yes, though, in my house, these brownies never last more than 3 to 4 days. If you've already sliced the brownies, transfer them to an airtight container. Cover each stack or layer with a piece of parchment paper, lightly pressing down. Defrost brownies at room temperature.
If you're making these brownies for a future time and haven't sliced them, tightly wrap the entire block of brownies in plastic wrap, then in aluminum foil.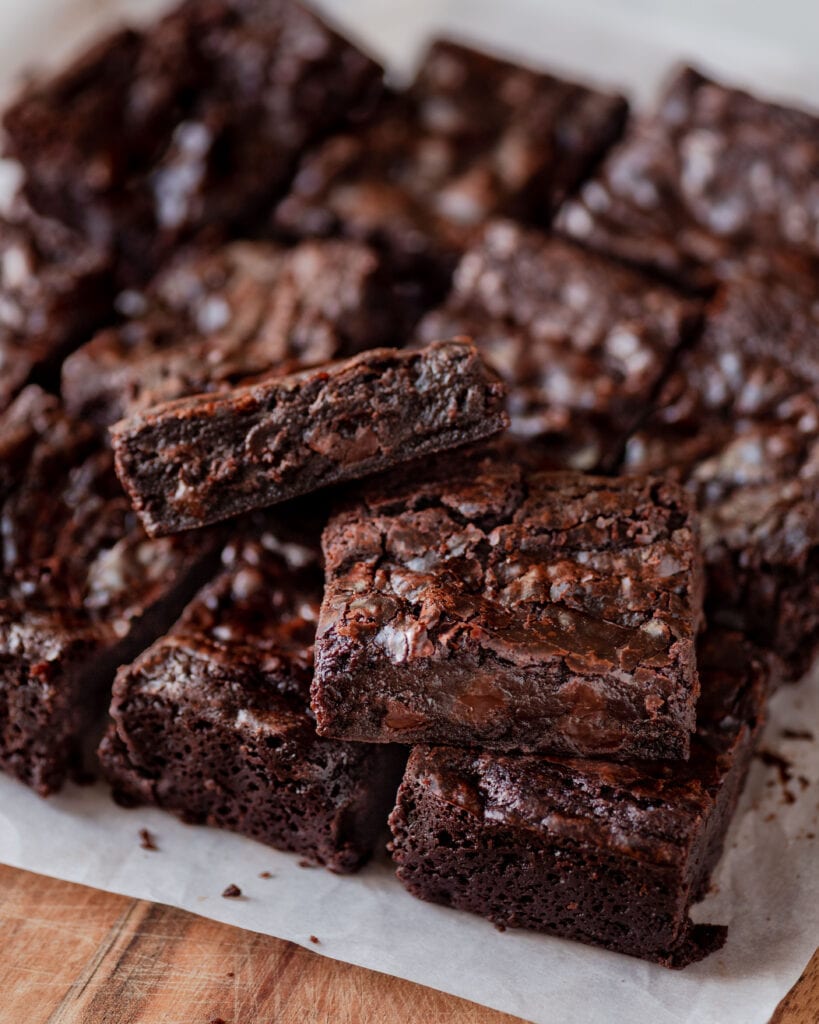 Watch! How to make the best vegan brownies!
That's everything you need to know about making the BEST VEGAN BROWNIES ever. I hope you found the information useful and I hope you will love the recipe! If you try it out, please rate and review it below and tag me with your remakes on Instagram!
The Absolute Best Vegan Brownies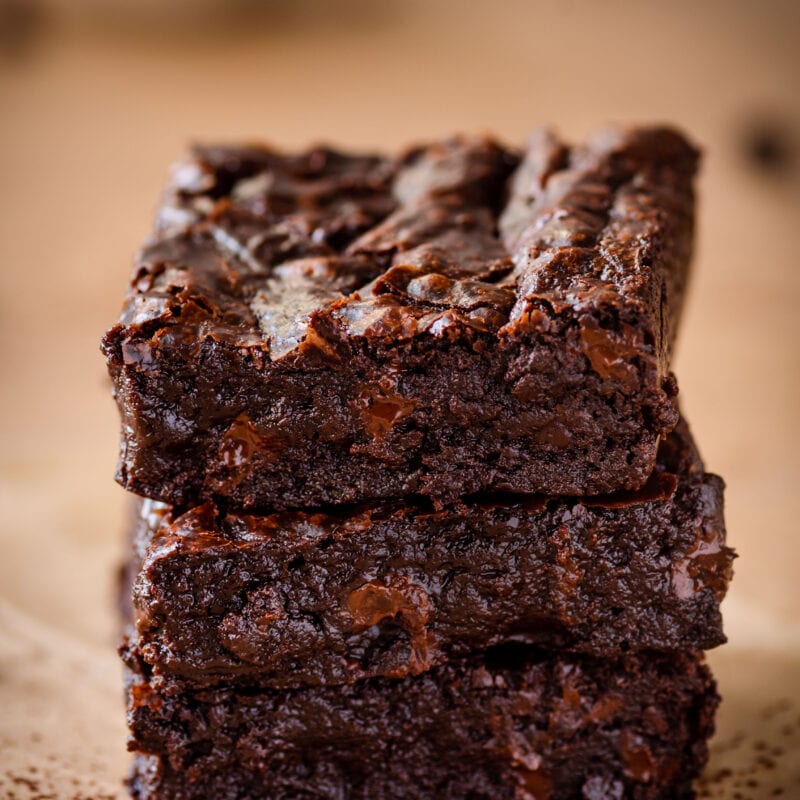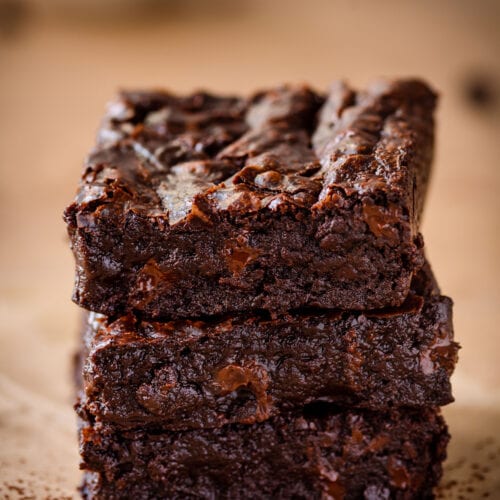 You've never tasted vegan brownies like this! Supremely fudgy and chewy, intensely chocolatey, and with a gorgeous shiny, crinkly top! Truly the best vegan brownie you'll ever try!
Ingredients
8

tablespoons

(120 mL) aquafaba

(liquid from a can of chickpeas, use unsalted chickpeas)

1 ½

cups

(290g) organic cane sugar or pure cane sugar

6

ounces

(170g) 65-75% dark chocolate,

roughly chopped

½

cup

or 8 tablespoons (112g) vegan butter,

cubed

1 ½

cups

(180g) all-purpose flour

7

tablespoons

(42g) Dutch process cocoa powder*

¾

teaspoon

fine sea salt

1

tablespoon

pure vanilla extract

1

teaspoon

espresso powder**

3

ounces

(85g) dark or bittersweet chocolate chips,

or finely chopped dark chocolate
Instructions
Line an 8×8-inch (20×20 cm) square metal baking pan with parchment paper and ensure there is some overhang on the sides (this will make it easy to lift the brownies out of the pan). Preheat the oven to 350°F (176°C).

Sift the flour and cocoa powder together in a medium bowl.

Add the aquafaba and sugar to a large mixing bowl. Use an electric handheld mixer or a stand mixer on high speed and beat the mixture for 2 ½ to 3 minutes until thickened, glossy, and wavy ribbons frequently appear in the bowl.

Add in the vanilla, salt, and espresso powder, and fold with a silicone spatula until well combined (the espresso will continue dissolving into the mixture as it rests).

Assemble a double boiler. Grab a heatproof bowl that can be nestled into a saucepan. Fill the saucepan up with a few inches of water – not so much that the bottom of the bowl would touch the water. Heat the water on the stove and keep at a rapid simmer.

Add the chopped dark chocolate and cubed vegan butter to the bowl on top of the saucepan. Allow the chocolate mixture to melt, whisking occasionally until smooth and the chocolate is completely melted. Once the chocolate is completely melted, keep the bowl on the saucepan for an additional 30 to 60 seconds to further warm through.

Pour the warm butter-chocolate mixture over the aquafaba-sugar mixture and fold together with the silicone spatula.

Add the flour-cocoa mixture to the wet ingredients and stir until just combined (stop mixing once the flour traces are gone). Fold in the chocolate chips. Pour the batter into the lined pan and smooth out the surface with the spatula.

Bake the brownies in the preheated oven for 34 to 37 minutes, or until a toothpick inserted in the middle comes out with some moist crumbs and/or a tiny bit of thick batter (the latter could be the melted chocolate chips). If the batter is liquidy or runny, though, the brownies need about 5 more minutes in the oven.

To avoid overbaking and since every home oven varies, I err on the side of underbaking and check the brownies 5 minutes before I think they're going to be done. My oven usually takes between 34 and 37 minutes.

Transfer the brownies to a wire rack to cool for 30 minutes. Then carefully lift the brownies out of the pan using the parchment paper handles onto the wire rack. Allow to cool for a further 20 to 30 minutes before slicing. Slice the brownies and enjoy!

NOTE: See the "tips" section in the blog post for how to speed up the cooling process and the "FAQ" section for how to get clean slices.
Notes
* I included the measurements in grams for the Dutch process cocoa powder brand I used (Valhrona), but the exact weights vary a bit across brands.
** Coffee enhances the chocolatiness in chocolate and deepens the rich flavor (without tasting like coffee). If you don't have espresso powder, you can substitute with instant coffee powder (use slightly more, about 1 1/4 to 1 1/2 teaspoons).
Here is the espresso powder I use (also available at Target, Whole Foods, and Walmart). Check out this blog post or this post for more options.