Awhile back, I posed an important question on Instagram: what kind of recipes would you like to see more of? I got a lot of different responses, but some of the most common replies were:
Gluten-free recipes
Plant-forward dishes
Savory comfort food
And today's recipe for a Creamy Mushroom and Black Beluga Lentil Stew is all of those things! It's vegan and gluten-free, heavy on plants, and definitely qualifies as delicious savory comfort food.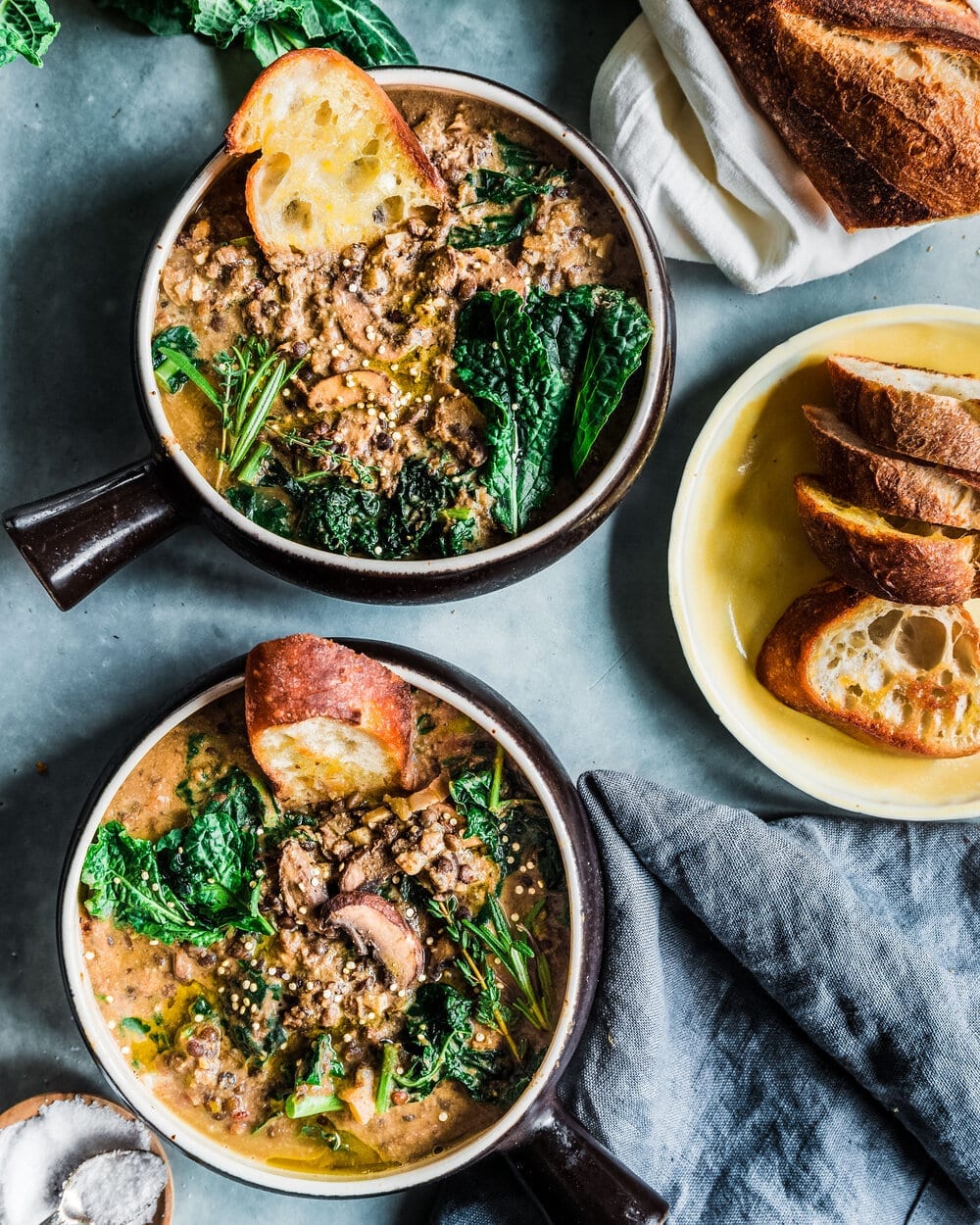 Why you'll love this recipe
This stew boasts a healthy dose of vitamins, minerals, antioxidants, fiber, and protein from the lentils, mushrooms, garlic, and kale. And then gets hit with a flavorful mixture of tahini, miso paste, tamari, and coconut milk.
The resulting taste is electric and unique, packed with strong notes of umami and a rich, creamy mouthfeel. It's the kind of comfort food you can feel good about eating without a single ounce of guilt.
Ingredient Rundown
Now that I've obviously sold you on this dish, let's talk about the ingredients, shall we?
The heart of this dish are mushrooms and black beluga lentils. I use a combination of cremini mushrooms and shiitake mushrooms to balance out taste and cost. Shiitake mushrooms bring a bold, savory flavor, but since they are quite pricy, I only use a small portion and rely on inexpensive cremini mushrooms for the bulk of the stew.
And for the lentils, I absolutely adore black beluga lentils, which are tiny black lentils that look almost like caviar once cooked (hence the name beluga). They have a delicate yet full-bodied taste, absorb other flavors really well, and pair particularly well with meaty vegetables (hi, mushrooms).
I love using black beluga lentils because the lentils stay firm-ish in this stew, so it feels heartier and adds some textural differences (instead of having a one-note, soft, mushy stew). And second, the lentils take on the flavors of the remaining ingredients, including the earthy, umami-packed flavors of the mushrooms, miso, and tahini. And bonus: black lentils, like dark-colored fruits (i.e., blackberries and blueberries) contains anthocyanin, a powerful antioxidant that prevents cellular damage caused by free-radicals. #antioxidants
Substitute: black beluga lentils are sold in most grocery stores (or online), but if you can't find them, use French green lentils (also called Puy lentils). They're similar in size and texture and also hold their shape well when cooked.
If you're looking for more flavor-forward lentil recipes, you gotta try my Lentil Salad with Fresh Herbs!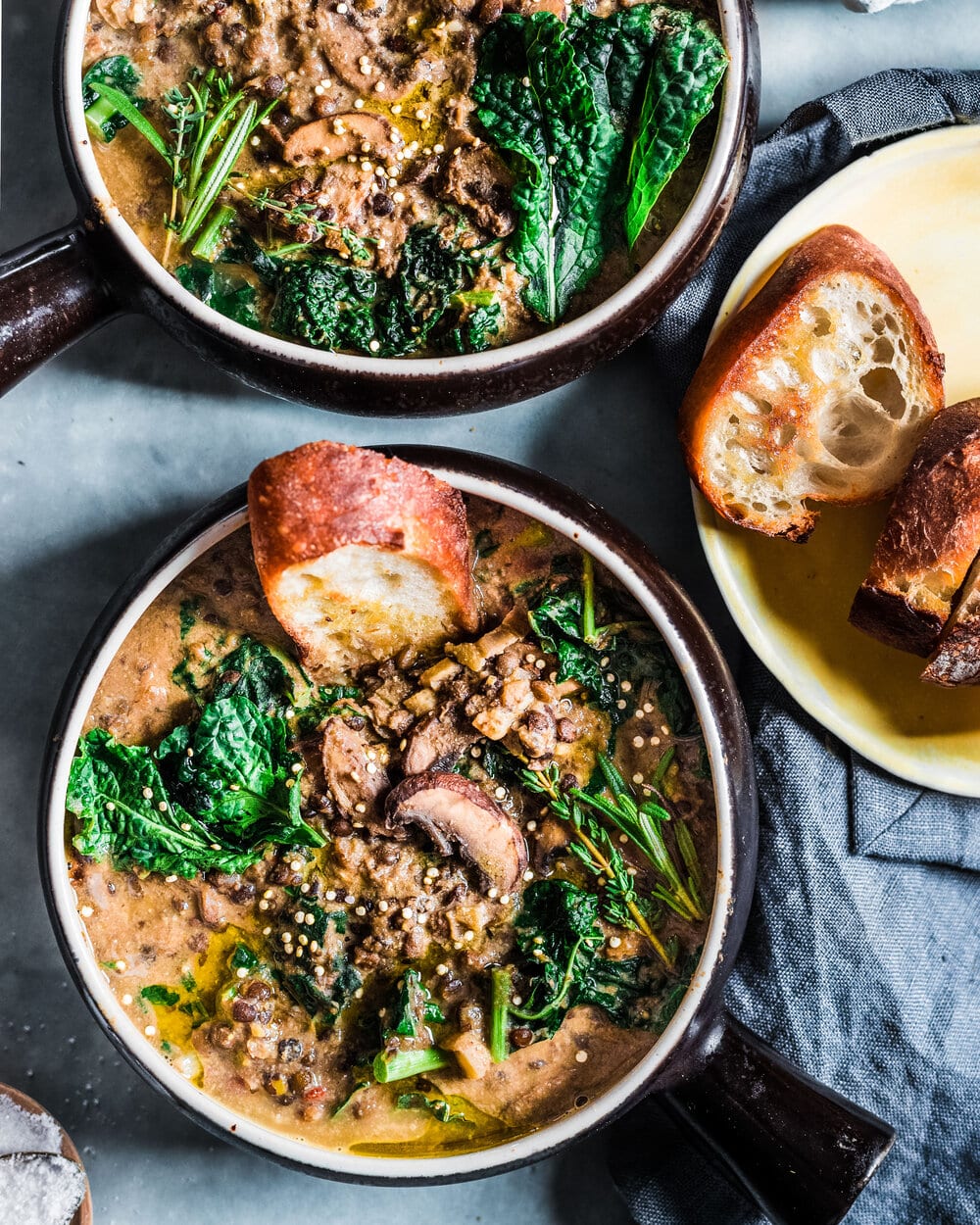 Tips for cooking this recipe
To cook the lentils, the easiest method is to pressure cook them in an Instant Pot or other electric pressure cooker. Just pop the lentils in the pot with the vegetable broth or water and flavoring ingredients and pressure cook for 6 minutes. If you don't have a pressure cooker, I've also included stovetop instructions below.
While the lentils are cooking, you can work on the other part of the stew, which is quite easy once you've prepared all your ingredients. If I can be a bit of a food snob for a minute, I recommend using a high-quality tahini and balsamic vinegar. If your tahini is chunky or bitter, the stew is not going to taste as great as it could. And for the balsamic vinegar, if all you have is a cheap $2 vinegar, you're better off adding a squeeze of fresh lemon juice instead.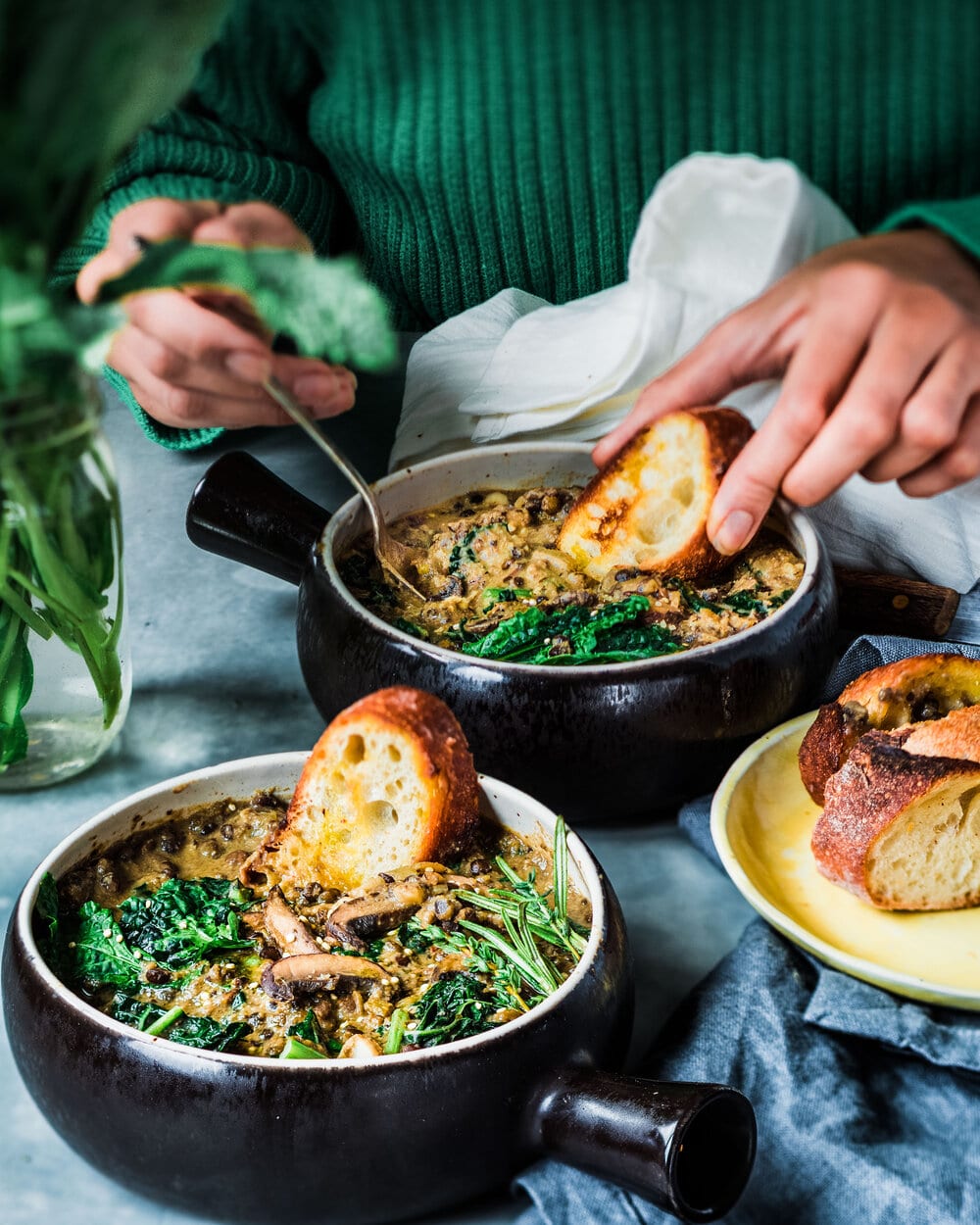 Serving suggestions
This Creamy Mushroom and Black Beluga Lentil Stew is hearty enough to serve on its own, but if you want to spread it across more mouths (or more days), serve it over a bed of your favorite grain (my choice would be millet or quinoa). Or, it's great with a side of rustic, freshly baked bread (duh).
If you try this recipe out, be sure to leave me a comment below and tag me with your creation on Instagram!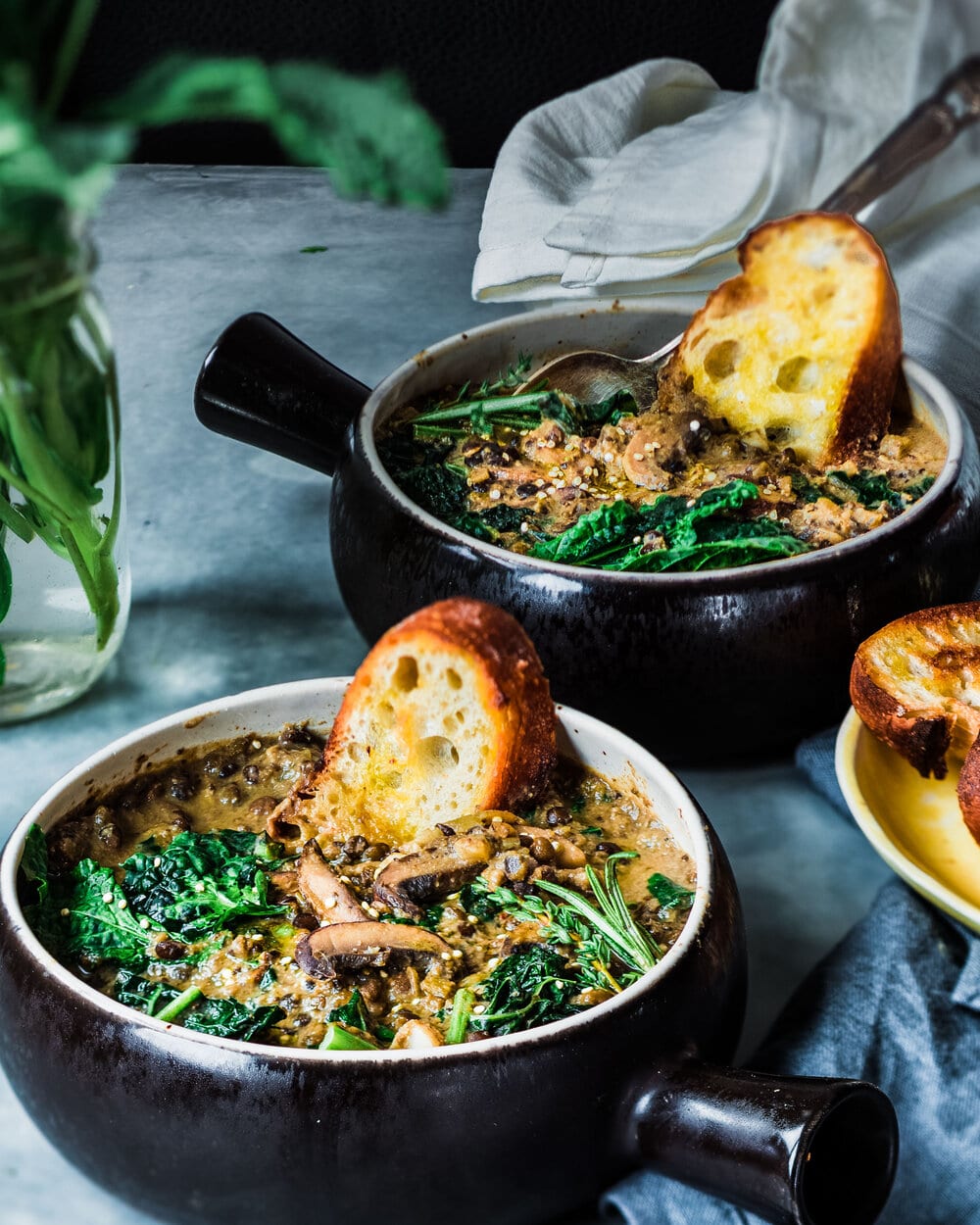 Creamy Mushroom and Black Beluga Lentil Stew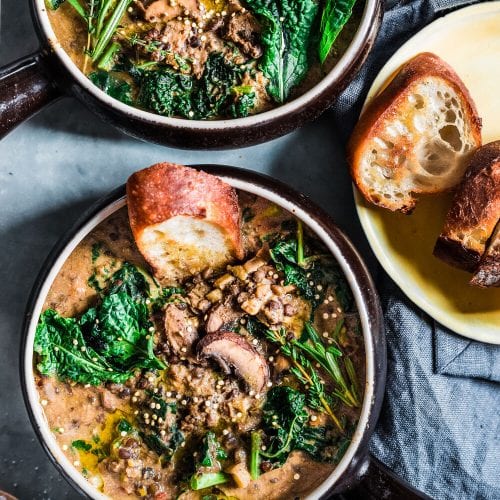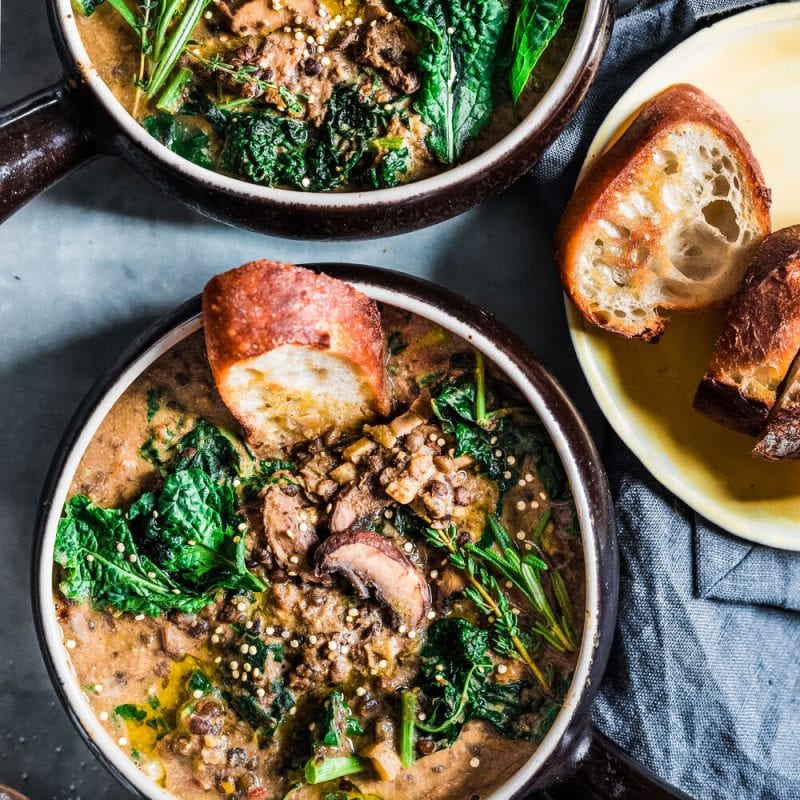 This Creamy Mushroom and Black Beluga Lentil Stew is vegan, gluten-free, and plant-forward, but creamy and delicious. With hearty black beluga lentils, umami-packed mushrooms, and nutrition superstar kale, this is comfort food you can feel good about!
Ingredients
Lentils
1

cup

(~200g) black beluga lentils (can substitute French green lentils)

1 3/4

cups

(420mL) low-sodium vegetable broth or water (2 cups (or 480mL) if cooking lentils on stovetop)

6

sprigs of fresh thyme

1

spring of fresh rosemary

1

bay leaf

1/2

teaspoon

kosher salt

(1/4 teaspoon if cooking lentils on stovetop)

8

whole black peppercorns
Mushroom Stew
2

tablespoons

olive oil

(you can use less if you're using a nonstick pan)

1

yellow onion

diced

6

cloves

garlic

minced

16

ounces

(~450g) cremini mushrooms, sliced

4

ounces

(~110g) shiitake mushrooms (caps only), sliced

Kosher salt and black pepper to taste

1

tablespoon

fresh thyme leaves

1/2

teaspoon

crushed red pepper flakes

1/4

cup

(60mL) dry white wine (such as Pinot Grigio or Sauvignon Blanc)

1 ½

tablespoons

white or yellow miso paste

3

tablespoons

good-quality tahini

1 ½

tablespoons

reduced-sodium tamari

(gluten-free soy sauce)

2

cups

(480mL) low-sodium vegetable broth

1/2

cup

(120mL) "lite" coconut milk or unsweetened oat milk, cashew milk, or soy milk

1

head of Tuscan

lacinato kale, tough midribs removed and leaves sliced

1-2

teaspoons

good-quality balsamic vinegar
Instructions
Sift through the lentils to remove any debris or pebbles. Then place them in a fine-mesh sieve and rinse under cold water until the water runs clear.

To make the lentils in the Instant Pot, combine all of the Lentils ingredients in the inner pot and stir to combine. Select the Pressure Cook setting (or Manual setting, depending on your model) at high pressure for a cook time of 6 minutes. Allow a natural pressure release.

To make the lentils on the stovetop, add the lentils to a large saucepan or Dutch oven and add the 2 cups of vegetable broth or water. Add the remaining ingredients (thyme, rosemary, bay leaf, 1/4 teaspoon salt, and black peppercorns). Bring the water a boil over high heat, then reduce the heat to medium and add a pinch of salt. Simmer the lentils for 20-25 minutes until just tender.

While the lentils are cooking, prepare the ingredients for the mushroom stew (chop the vegetables, measure out the ingredients, etc.).

To make the mushroom stew, heat a Dutch oven or large soup pot over medium heat and add the olive oil. Once the oil is shimmering, add the onion and cook until lightly browned, about 5-7 minutes, stirring frequently.

Add the sliced cremini and shiitake mushrooms and let them sit undisturbed for 3 minutes to allow them to brown. Then stir the mushrooms, and add a generous amount of kosher salt and pepper. Add the garlic, thyme leaves, and crushed red pepper flakes, and stir to combine until the mixture is fragrant, about 1-2 minutes.

Pour in the white wine and deglaze the pan for 2-3 minutes, scraping up any browned bits as needed. Then add the miso paste, tahini, and tamari and stir into the mushrooms to coat them. Add the cooked and drained lentils, 2 cups vegetable broth, and lite coconut milk. Stir well, and bring the stew to a boil.

Once the stew is boiling, carefully pour half of it into a stand blender. Blend until the mixture is completely pureed and smooth, and then pour the mixture back into the pot and stir to combine. Alternatively, use an immersion blender directly in the pot to partially blend the stew.

Once the stew has been blended, add in the sliced kale. Bring the stew to a boil until it is thick and creamy and the kale has wilted. Stir in the balsamic vinegar. Taste for seasonings and adjust accordingly.
---
Calories:
428
kcal
|
Carbohydrates:
50
g
|
Protein:
23
g
|
Fat:
16
g
|
Saturated Fat:
4
g
|
Polyunsaturated Fat:
4
g
|
Monounsaturated Fat:
7
g
|
Sodium:
799
mg
|
Potassium:
1079
mg
|
Fiber:
14
g
|
Sugar:
5
g
|
Vitamin A:
6931
IU
|
Vitamin C:
92
mg
|
Calcium:
207
mg
|
Iron:
7
mg