If you're like most people, you've probably stocked up on canned beans in the last few weeks. And while canned beans are convenient and time-saving, they aren't exactly the tastiest. That's why I'm sharing this post on How to Make Canned Beans Taste Better! Read on for five ways to elevate and transform those sad canned beans you've got stored in your pantry.
Watch! How to make canned beans taste better
For more details and visuals on how to make canned beans taste better, as well as tips on how to cook and flavor dried beans, be sure to check out the corresponding video over on Youtube!
1. Make Refried Beans
I love Mexican restaurant-style refried beans, but unfortunately, canned refried beans are usually not very good. And some varieties are made with lard, so they're definitely not vegan.
Luckily, it's so easy to make your own homemade refried beans with canned beans. All you need is a can of pinto beans or black beans, a few aromatics, and a mashing instrument. Once you make these, all sorts of tacos, burritos, and enchiladas await you! Try these Pantry Tacos, Pantry Quesadillas, or Burrito Bowl Stuffed Sweet Potatoes! Oh, and they're absolutely phenomenal in a vegan crunchwrap supreme and in vegan nachos.
Easy Vegan Refried Beans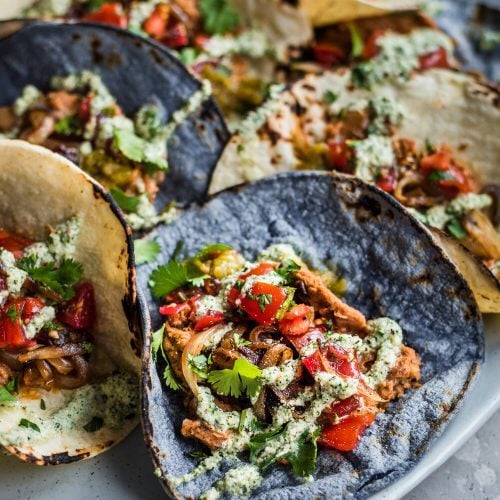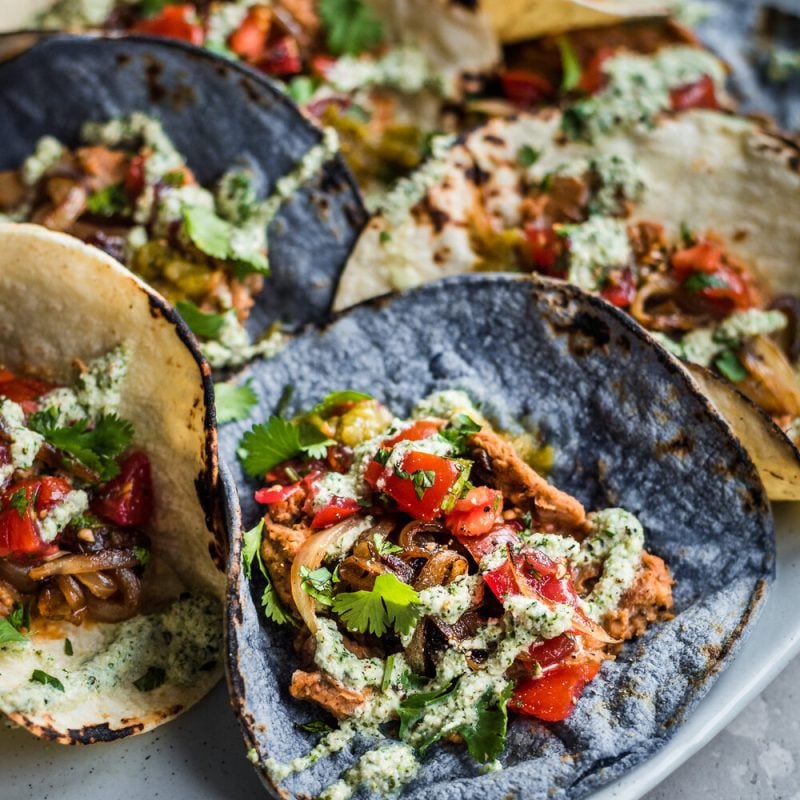 A staple of Mexican cuisine and oh-so-good, you'll love this easy (and tasty!) refried beans recipe
Ingredients
1

tablespoon

olive oil or a neutral cooking oil

1/2

of a yellow onion,

diced

3

garlic cloves,

minced

1

teaspoon

dried oregano

1

teaspoon

chili powder

1/2

teaspoon

cumin

1

15-ounce / 440g can pinto beans or black beans, drained and rinsed

2

bay leaves

2/3 - 1

cup

160-240 mL vegetable broth (or water)

Kosher salt or sea salt to taste

Freshly cracked black pepper to taste

1

tablespoon

fresh lime juice

1

small handful of cilantro,

chopped
Instructions
Heat the oil in a large frying pan over medium heat. Once the oil is shimmering, add the onion with a pinch of salt and cook until softened, about 6-7 minutes.

Add the garlic, oregano, chili powder, and cumin and cook for 1 minute, stirring frequently. Add in the drained beans, bay leaves, and broth or water. Cook for 5-10 minutes, or until the beans are warmed through, then remove the bay leaves.

Using an immersion blender or a potato masher, mash the beans, but leave some beans whole for texture. If the beans appear dry, add more broth or water as needed to moisten. Continue to cook the beans, stirring often, for 2-4 more minutes.

Season the beans with salt and pepper to taste. Turn off the heat, and stir in the lime juice and cilantro.
---
Calories:
138
kcal
|
Carbohydrates:
20
g
|
Protein:
6
g
|
Fat:
4
g
|
Saturated Fat:
1
g
|
Polyunsaturated Fat:
1
g
|
Monounsaturated Fat:
3
g
|
Sodium:
304
mg
|
Potassium:
348
mg
|
Fiber:
6
g
|
Sugar:
2
g
|
Vitamin A:
165
IU
|
Vitamin C:
4
mg
|
Calcium:
70
mg
|
Iron:
2
mg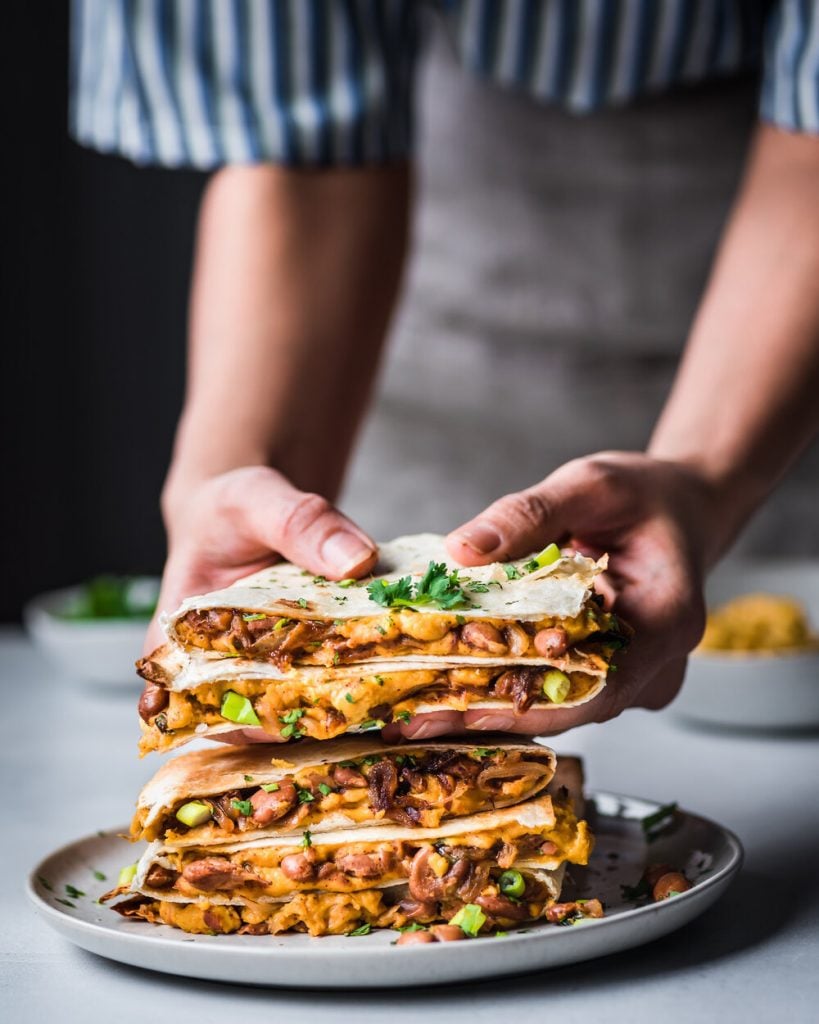 2. Make Crispy Pan-Fried Beans
This is my absolute favorite way to make canned beans taste better! Canned beans go from somewhat squishy and mushy to crispy and browned! Just be sure to thoroughly pat dry the beans to remove any liquid and to avoid crowding the pan.
They're fantastic stuffed into baked potatoes and sweet potatoes, or in a salad or grain bowl.
Try these Za'atar White Bean Stuffed Sweet Potatoes!
Spiced Pan-Fried Chickpeas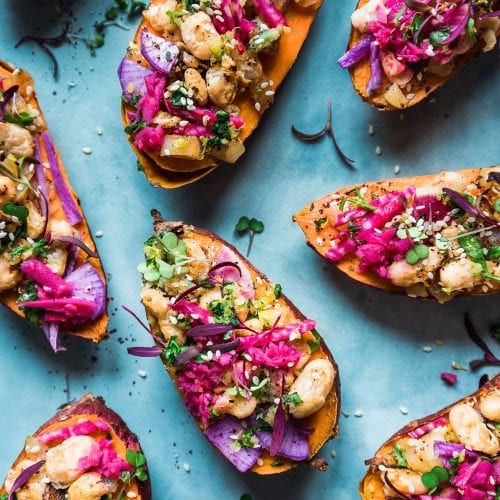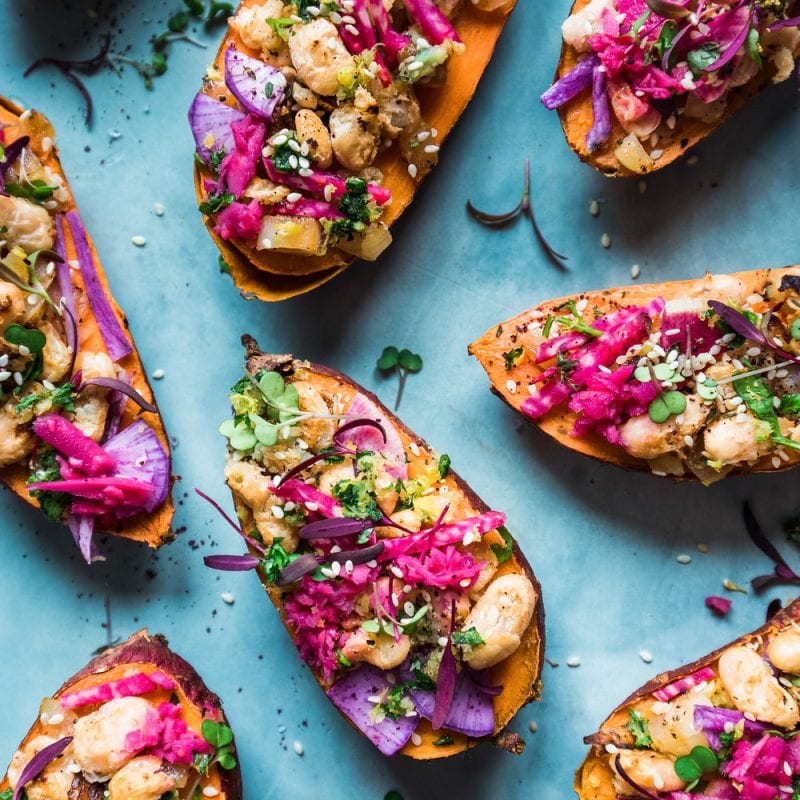 Canned beans go from somewhat squishy and mushy to crispy and browned! Just be sure to thoroughly pat dry the beans to remove any liquid.
Ingredients
1

15-ounce / 440g can chickpeas

2-3

teaspoons

olive oil

½

teaspoon

garlic powder

½

teaspoon

dried oregano

½

teaspoon

dried thyme

½

teaspoon

paprika

Kosher salt or sea salt to taste

Freshly cracked black pepper to taste

Juice of 1/2 medium lemon
Instructions
Drain and rinse the chickpeas and thoroughly pat dry with a clean dish towel or paper towels.

Heat the oil in a large (12-inch) skillet over medium-high heat, and ensure that the entire pan is lightly coated with the oil. Add the chickpeas in small handfuls and spread them out in a single layer. Let the beans cook undisturbed for 3 to 5 minutes. Use a spatula to flip the beans and cook for another 3 to 5 minutes, or until the beans are browned and blistered.

Stir the garlic powder, oregano, thyme, paprika, and a generous pinch of salt and pepper. Stir to coat the chickpeas evenly and cook for 30-60 seconds. Turn off the heat, and squeeze the lemon juice over the chickpeas and stir to combine.
---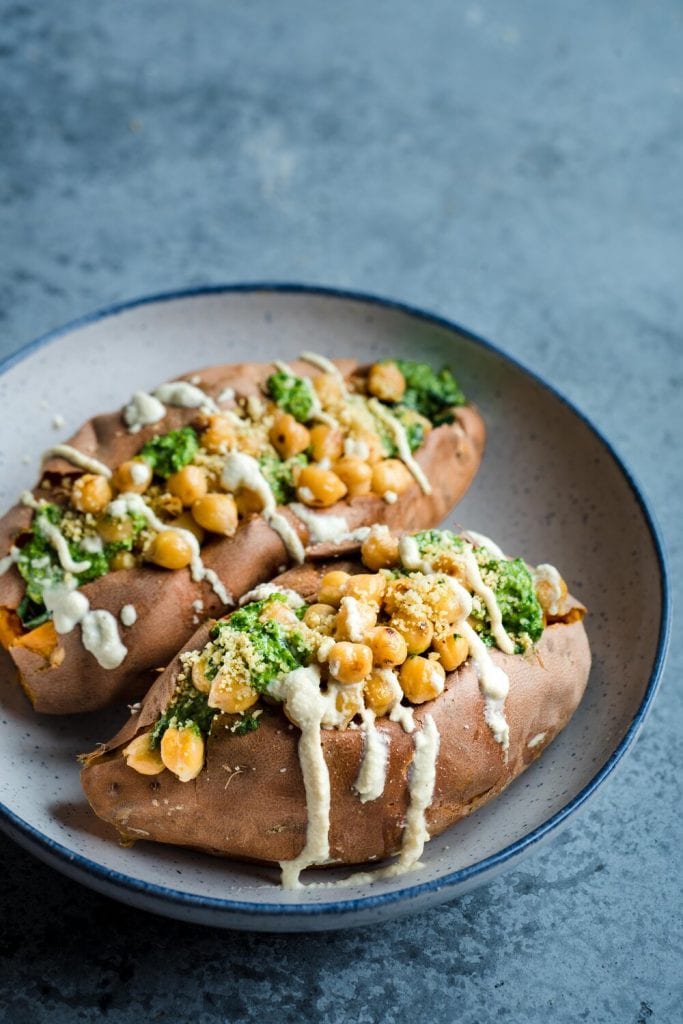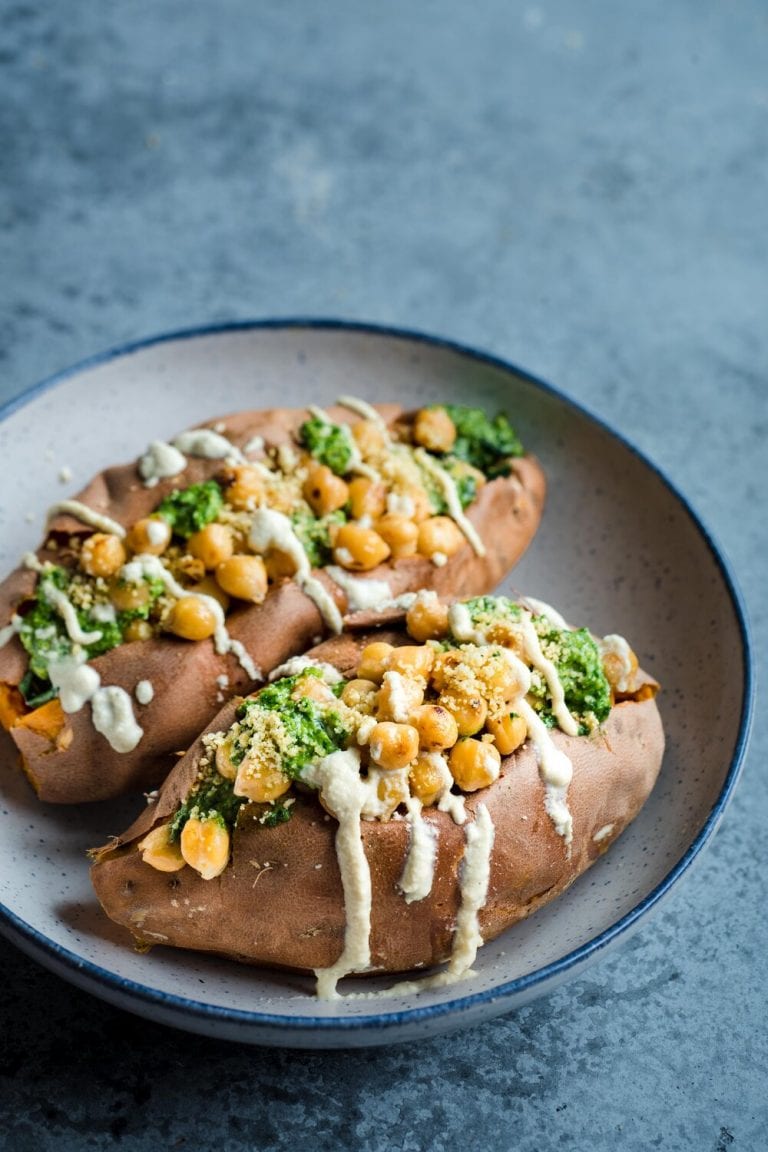 3. Make Hummus (or another bean dip)
Hummus is a food group in itself for me (and for many vegans). While I love making my hummus recipe with dried chickpeas cooked from scratch, you can easily make it with canned chickpeas and it's still great. Plus, homemade hummus is SO much better than store-bought (which is often gritty, grainy, and dull in flavor), so homemade hummus (even with canned chickpeas) is always going to be way better!
While I love hummus with pita the most, it's also a great all-purpose condiment. Use it as a grain bowl topper, as in these Mediterranean Lentil and Grain Bowls. Or as a sandwich spread, as a dip for crudités, or thin it out into a salad dressing.
But you're not just limited to traditional hummus. You can also use cannellini beans to make a white bean dip.
If you have my cookbook, The Vegan Instant Pot Cookbook, I have a recipe for Restaurant-Style Hummus. And a Game Day Black Bean Dip in Chapter 1, which requires no hands-on cooking and is wildly addictive with tortilla chips.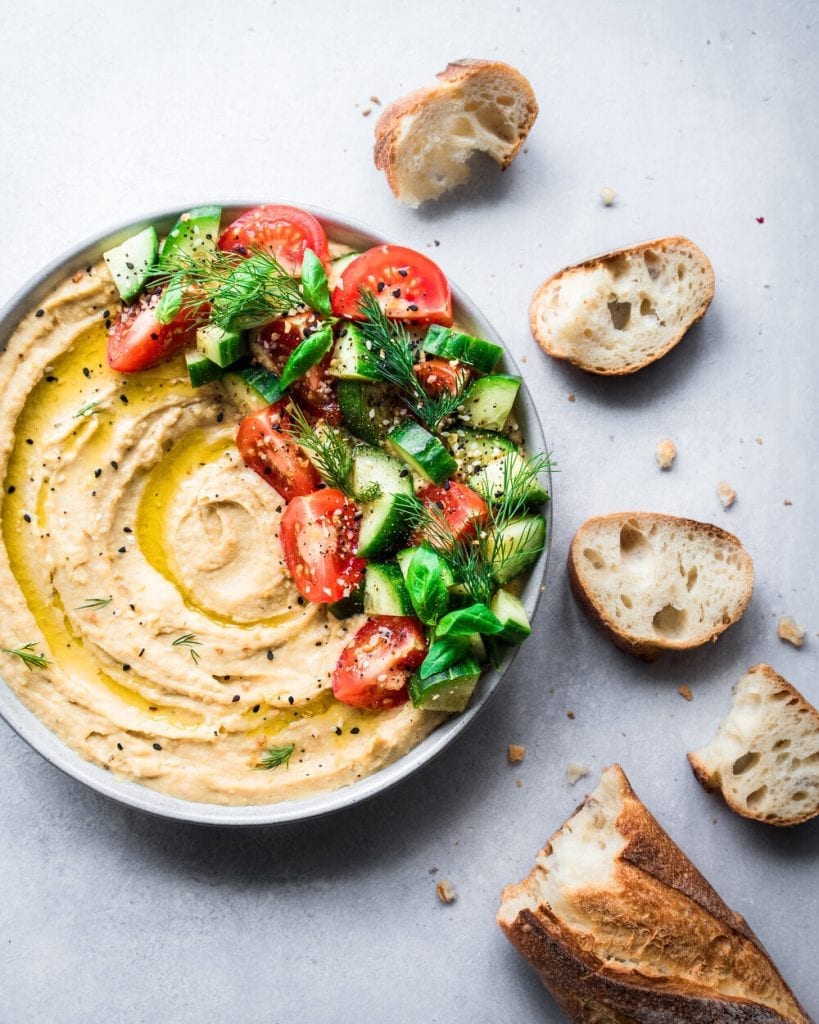 4. Make Saucy Beans!
If you've ever cooked dried beans from scratch, you know that they can get saucy. Like in a good way. When you cook them in water with lots of aromatics, the beans release their starches, making the cooking water thick and saucy (and the aromatics add flavor).
Canned beans are unfortunately not saucy like this, but you can make them saucy!
This recipe for Creamy White Beans with Kale is one of my more popular easy recipes, and a great option for busy weeknights. Another recipe featuring saucy beans that I adore is this Italian White Bean and Pasta Stew. And if you're in an Italian mood, stewed beans could be just the ticket.
Some of my favorite ingredients to add sauciness to your beans include: coconut milk or other creamy plant milks, tahini, tomato sauce, and crushed tomatoes. You can even add some of the canned bean liquid to make your beans saucier, but I recommend this only in recipes where you'll cook the bean liquid for at least 5 minutes. Otherwise, the bean liquid can cause some digestive distress (at least for me).
You could also incorporate beans into a soup. I love white bean soup, especially when I add a bit of kale to make things extra healthy.
5. Roast those Beans!
Another fabulous way to crisp up some canned beans (in addition to pan-frying them) is to bake them! As with pan frying them, thoroughly pat dry the beans to remove any liquid.
Toss drained/rinsed/dried beans with a bit of olive oil (or avocado oil) and your favorite seasonings. You can add crushed whole seeds (coriander, cumin, fennel, mustard, etc.), woodsy herbs (thyme, oregano, rosemary, sage), red pepper flakes, crushed garlic cloves, and of course salt and pepper.
Spread the beans out on a rimmed sheet pan (lined with parchment paper for easy cleanup) and bake at a relatively high temperature 400°F-450°F (204°C-232°C) for 15-20 minutes, or until they're browned in some spots and sort of crispy and crunchy.
If you have space on your baking sheet, feel free to add any veggies that roast at the same temperature, such as potatoes, sweet potatoes, cauliflower, carrots, or broccoli. That's what I call an easy sheet pan dinner!
For an Indian flair, try these Tandoori Roasted Chickpea Stuffed Sweet Potatoes!