I recently posted a questionnaire on Instagram Stories in which I asked my audience "what kind of recipes would you like to see?" A good chunk of participants responded with some variation of "simple, healthy everyday meals."
BUT, I tend not to post those simple recipes as much on my blog for a few reasons. First, to be honest, I feel a bit guilty about posting basic recipes that don't teach the reader something new. Second, I love testing out new recipes that make me try something new, along with recipes that are visually appealing (#doitforthegram). Finally, I do share a ton of easier everyday recipes on my Youtube channel. However, with that said, I am passionate about creating content that my audience wants, so here is one such easy recipe: Za'atar White Bean Stuffed Sweet Potatoes.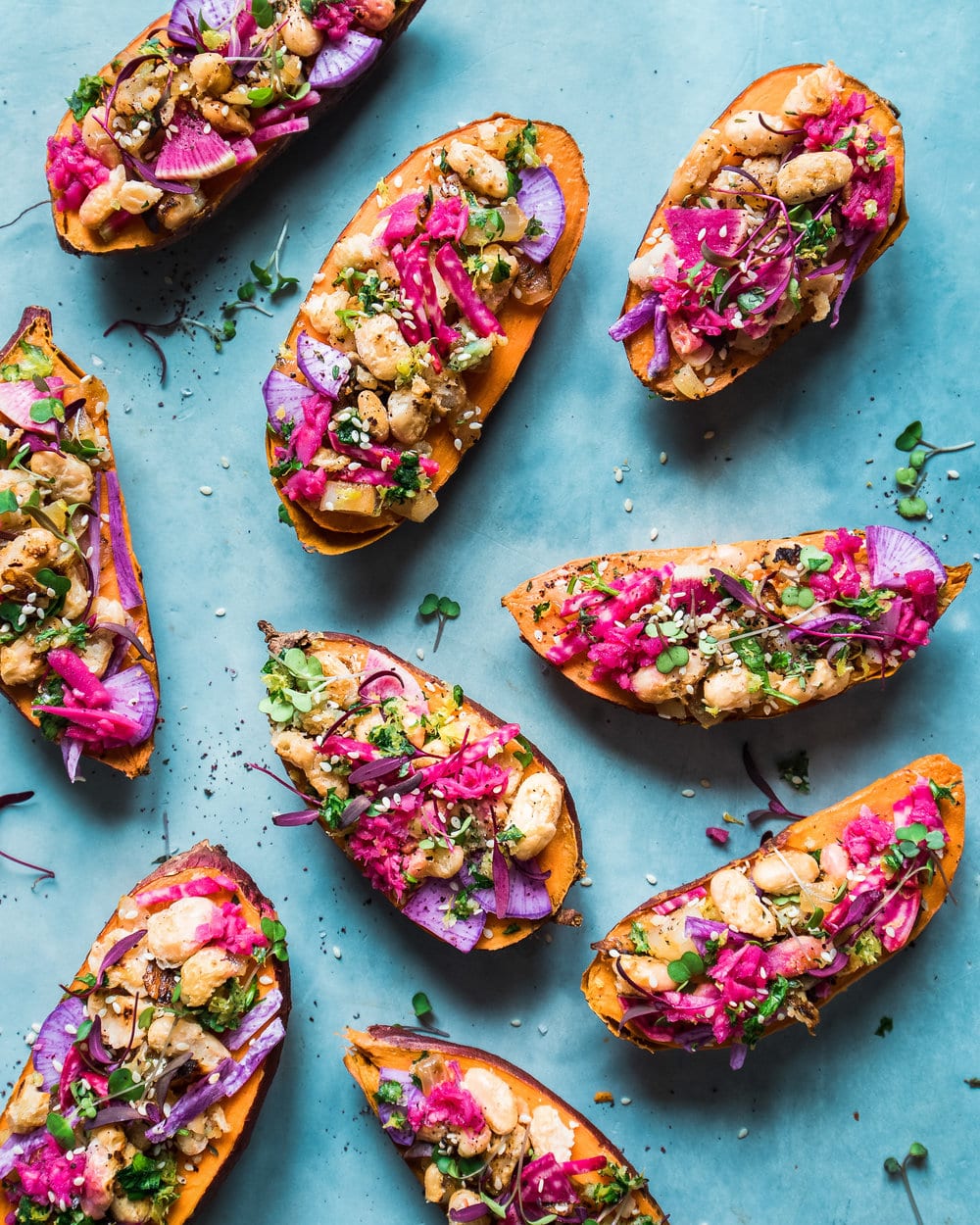 It sounds (and looks) fancy but when you break down the recipe, it's quite simple: canned beans get fried until crispy with a flavorful spiced onion mixture and are then stuffed into baked sweet potatoes. Oh, and they're also topped with an herb condiment. I often make a variation of this dish whenever I want a quick, healthy meal made with wholesome ingredients: I take a baked sweet potato and stuff it with whatever fillings I have on hand—cooked beans or lentils, hummus or other condiments, whole grains like farro or quinoa, and fresh herbs.
Yes, there are a couple of steps to making this dish, but they are very simple ones! And the result is an incredibly flavorful and nourishing meal. And those pretty colorful toppings? Those are optional (but who doesn't like pretty, colorful food?).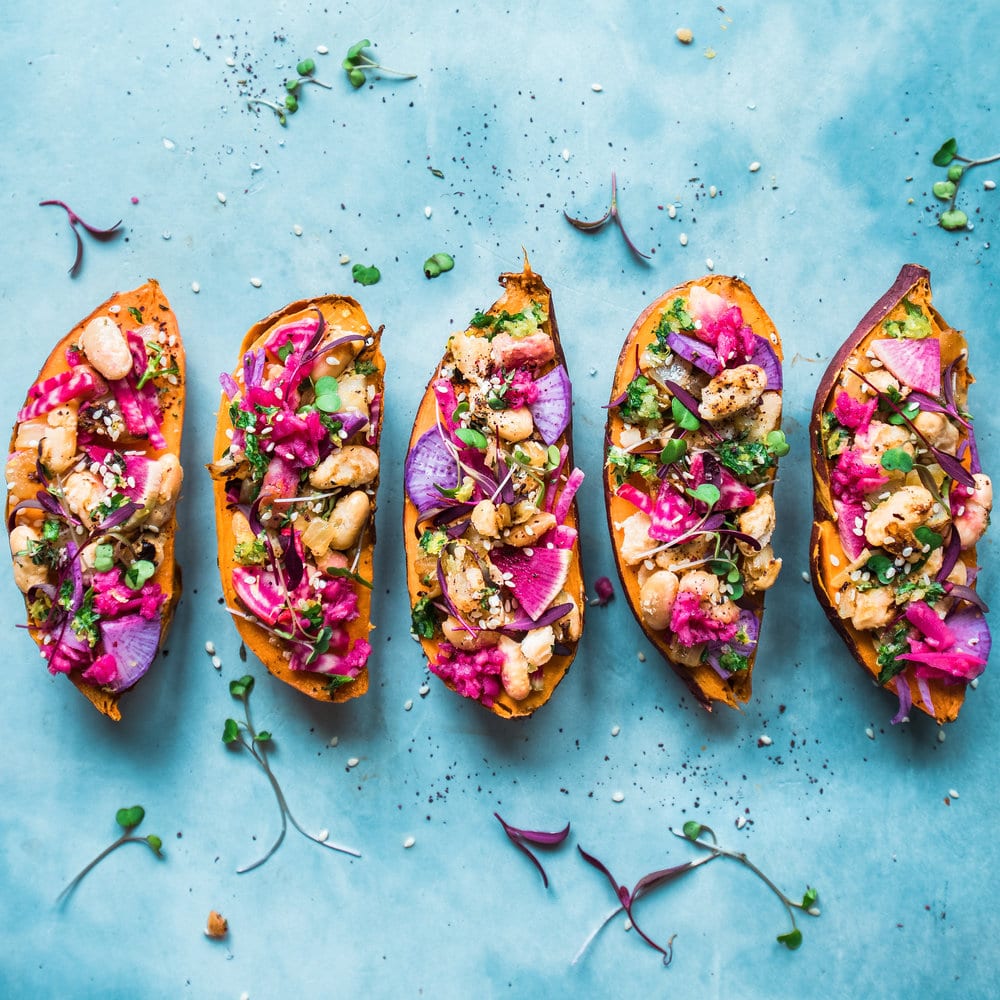 First, let's talk beans. If you've never tried pan-frying beans, you need to start immediately! I love cooking beans from scratch because they're much more flavorful and fresh-tasting than canned beans, but I also love the ease of just opening a can of beans when I haven't had time to make them from scratch. (And if you're thinking "cooking beans from scratch sounds like too much work," you really have to try making them in the Instant Pot. Dump them in, cover with water, and come back later – couldn't be simpler!)
Back to canned beans though. For me, canned beans are a bit meh unless I dress them up. And pan-frying them until they get blistered and browned is my favorite way to do that. I especially love doing this with creamy and rich cannellini beans, as I do in this recipe. You still get a little of that creaminess on the inside with a nice crispy exterior coating.
Be sure to rinse and drain your canned beans thoroughly. If the beans are still wet when they hit the skillet, they won't crisp up. Another key to crispiness: use a large skillet (I used a 12-inch one) so you can spread the beans out in a single layer.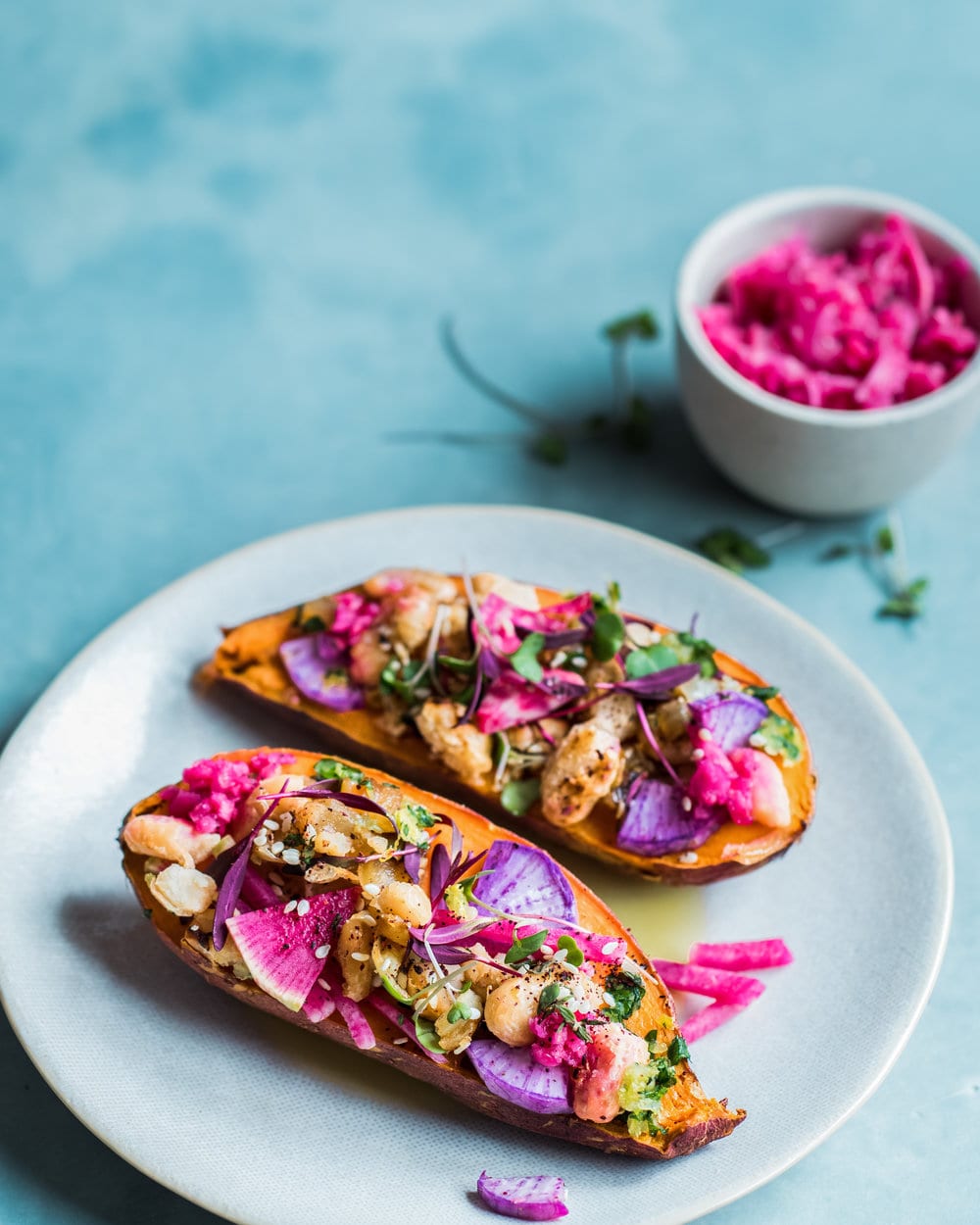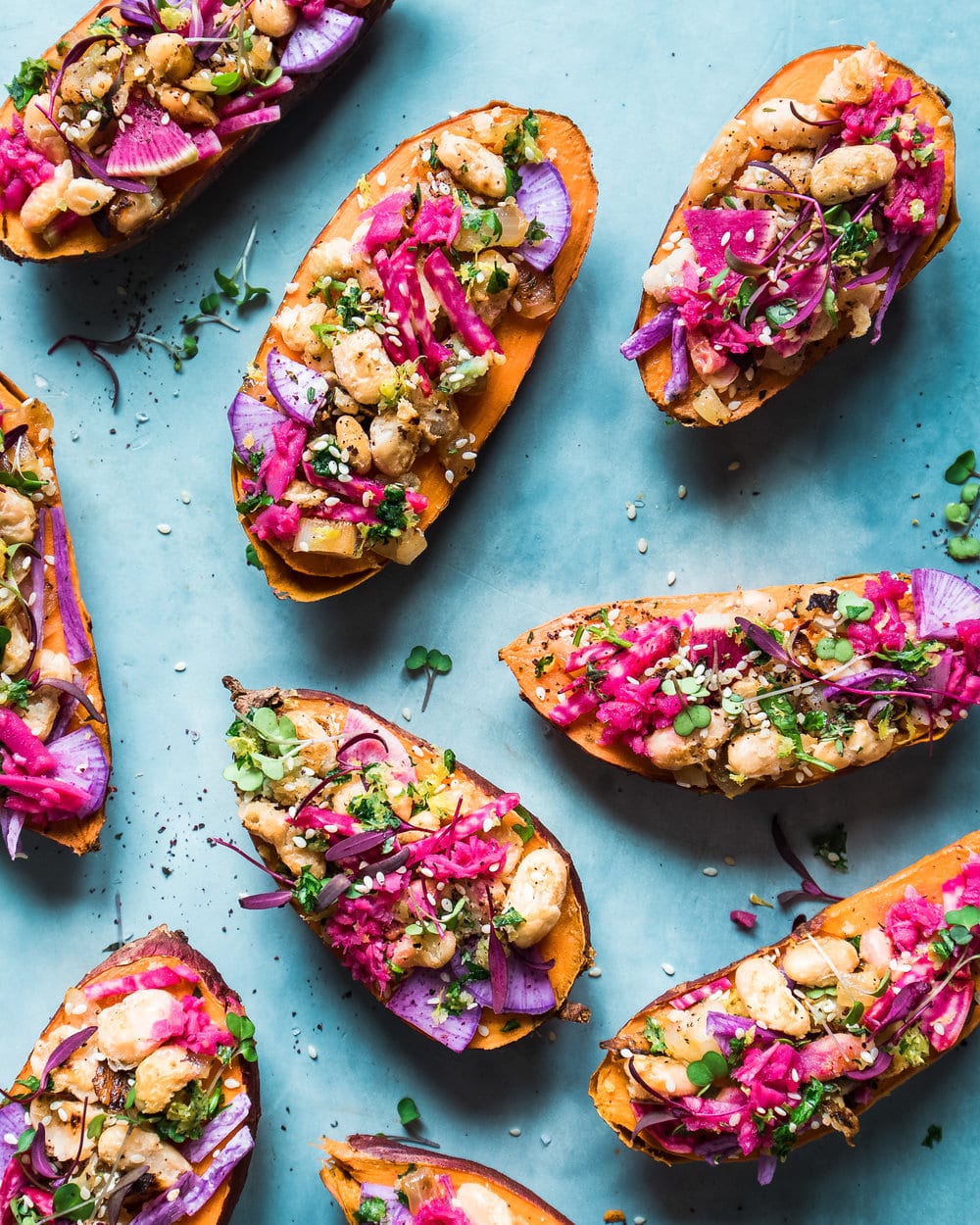 Now for flavoring the beans. First, I sauté some onion and garlic in a tiny bit of oil, which is usually the first step in most of my savory dishes. It sounds simple enough but sautéing aromatics in a bit of oil adds so much flavor! Then come's the Za'atar seasoning and a bit of fresh lemon juice for a fresh, zingy pop. If you're not familiar with Za'atar, it's a fragrant Middle Eastern seasoning that's citrusy, herbaceous, and slightly nutty. I've included a very simple recipe for Za'atar below, but you can also find this seasoning blend at Middle Eastern grocery stores, many health food stores, or online.
The other powerful flavoring agent in this dish is the gremolata. Gremolata is a chopped herb condiment made by chopping up parsley, lemon zest, and fresh garlic together. Again, it sounds simple, but the result is so fragrant and delicious, especially when combined with the lemony Za'atar blistered beans.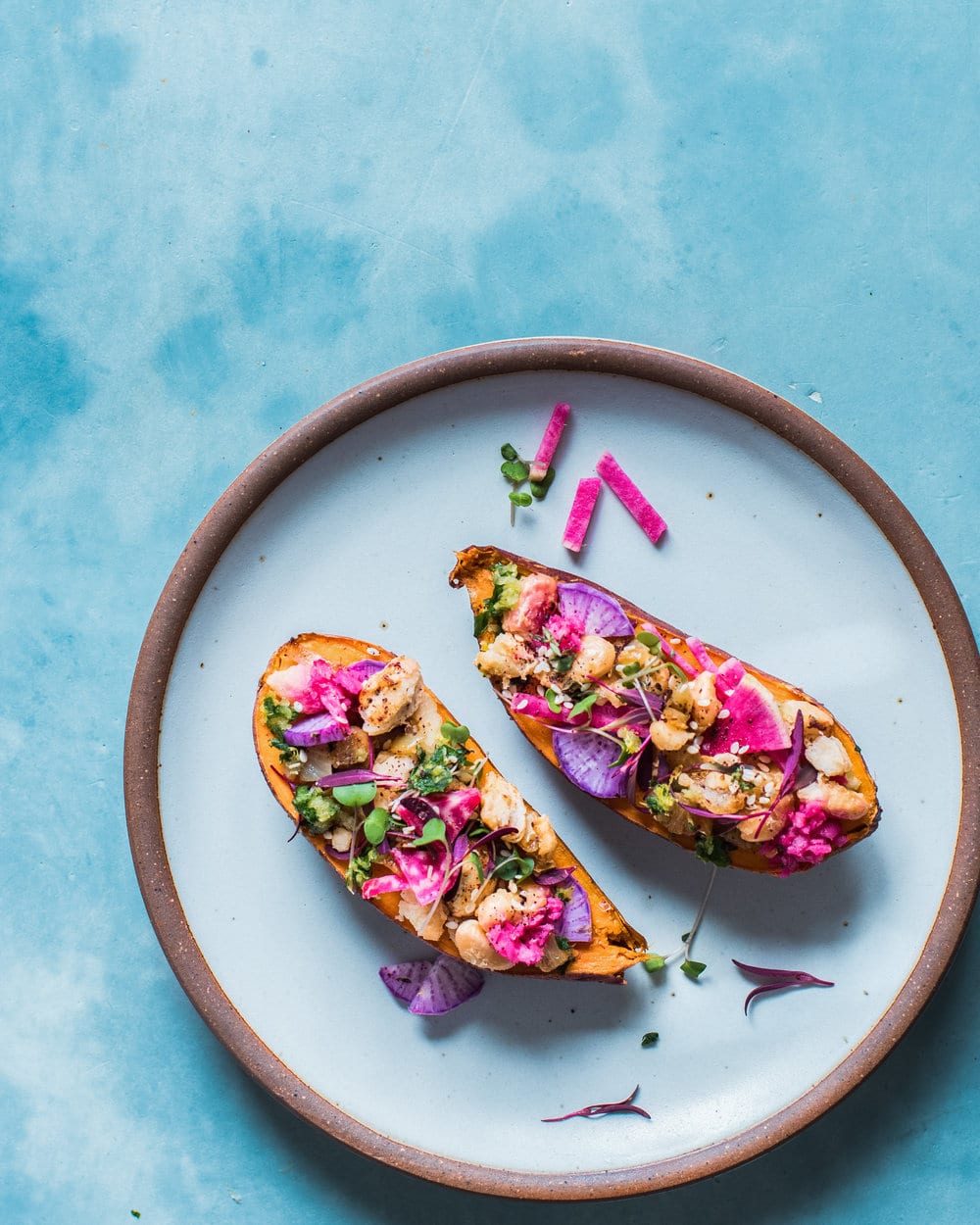 To maximize your time when making this dish, I suggest first popping your sweet potatoes in the oven to bake. While that's happening, get started on preparing the Za'atar Blistered White Beans. Chop the onion, rinse and dry the beans, and make your Za'atar seasoning (if not using store-bought). Since the onions take 7-9 minutes to cook, you can use that time to make the gremolata (but don't forget to occasionally stir the onions to prevent burning). Multitasking is the name of the game!
Are you interested in more easy but delicious recipes like this? If so, let me know in the comments below. Thanks, friends!
Cheers,
Nisha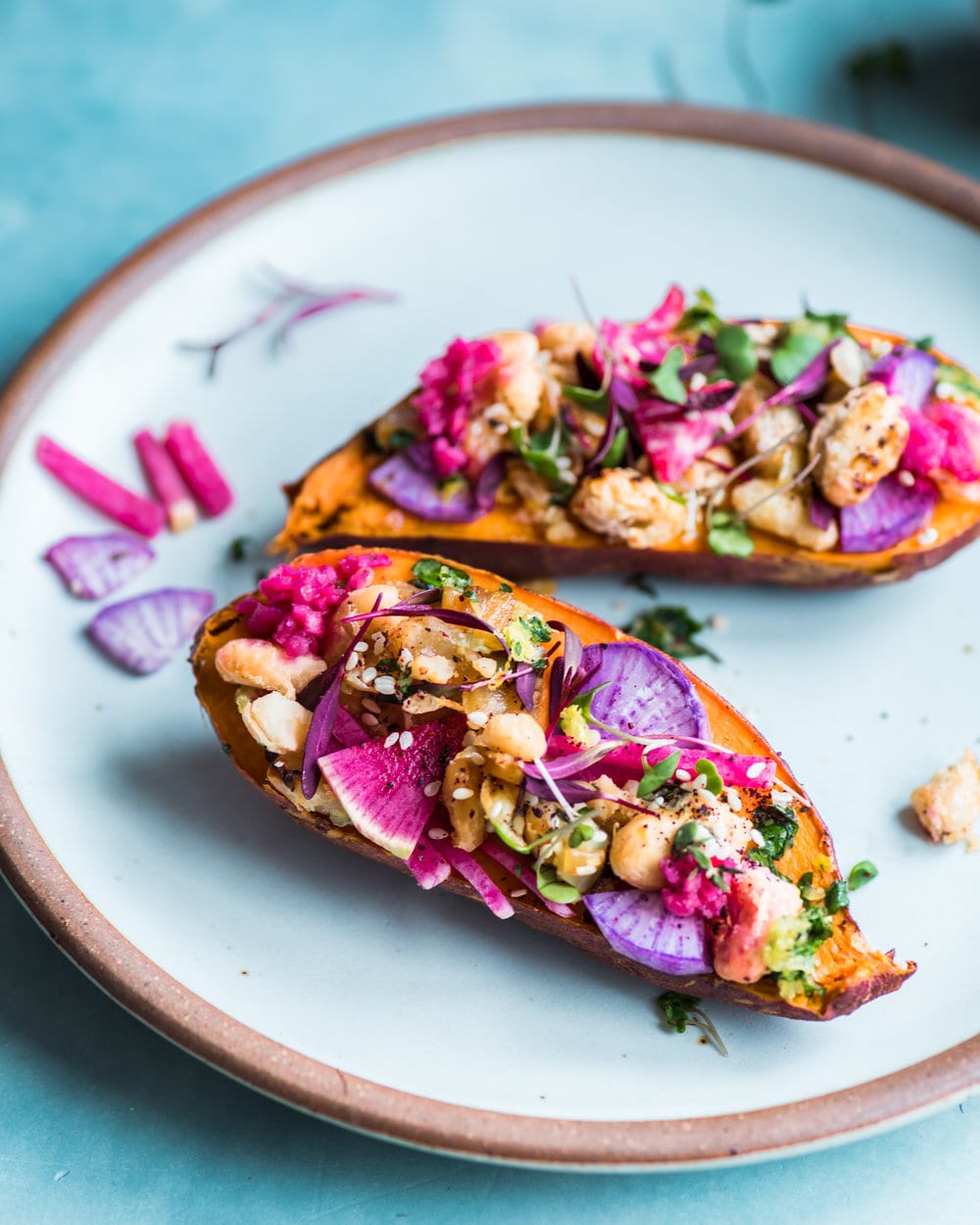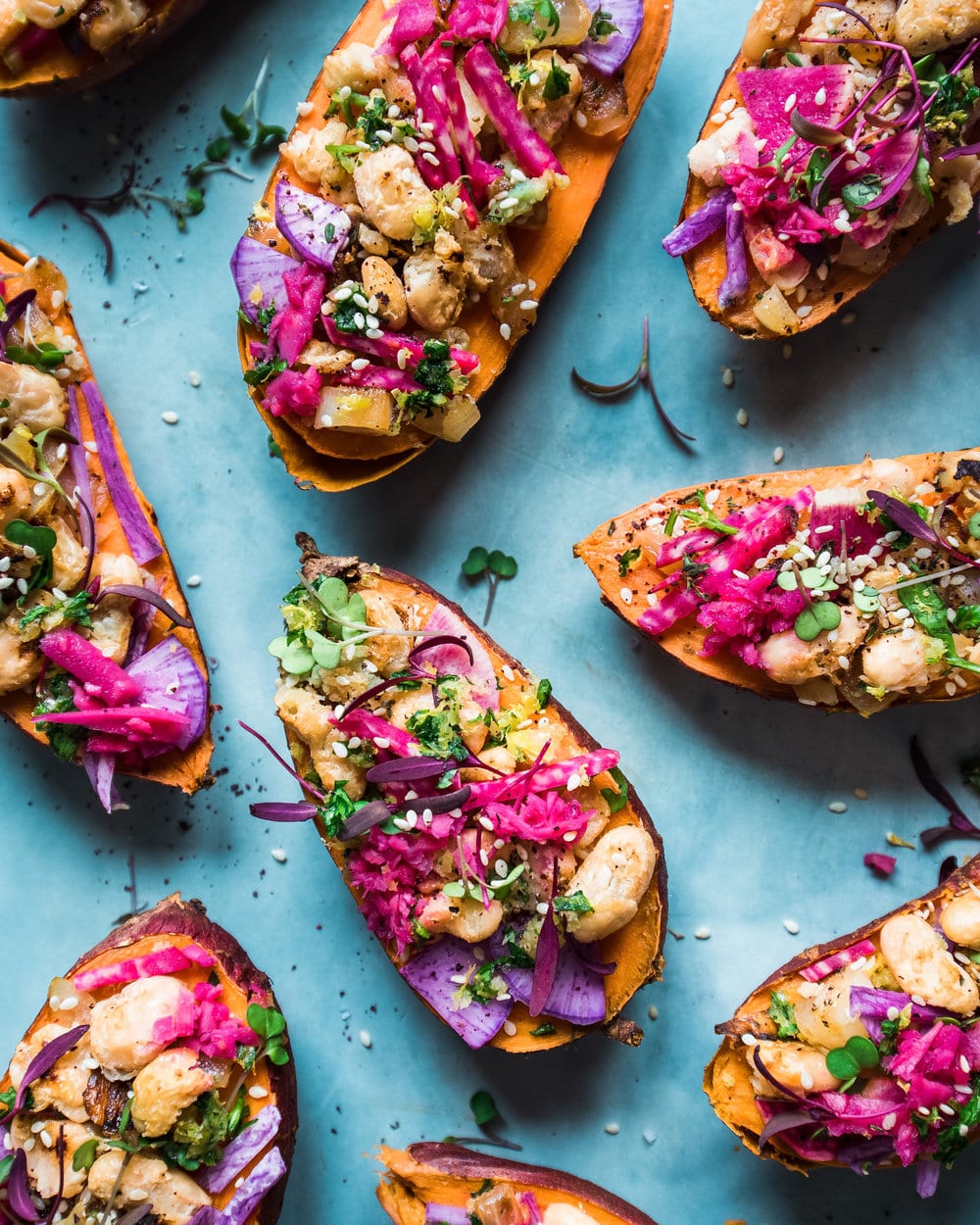 Za'atar White Bean Stuffed Sweet Potatoes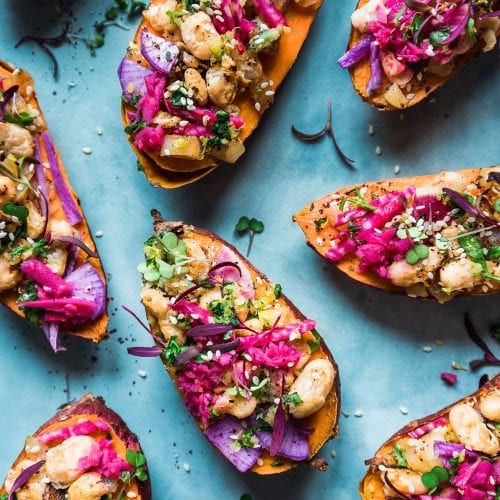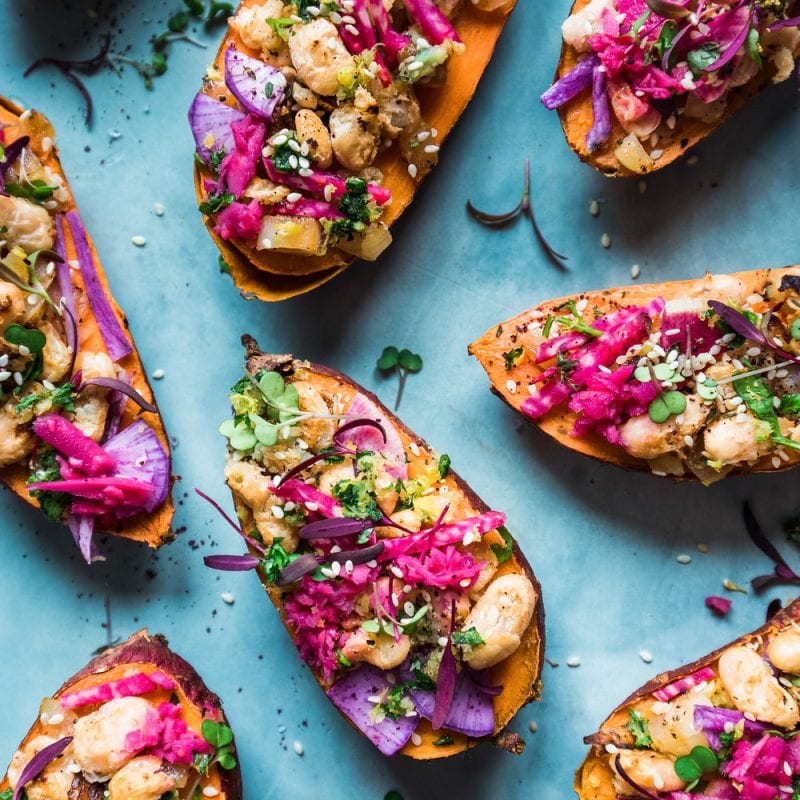 Crispy pan-fried white beans coated in a flavorful za'atar seasoning meets baked sweet potatoes. These stuffed sweet potatoes are vegan, gluten-free, healthy, and a great quick weeknight meal.
Ingredients
4

large sweet potatoes

Za'atar Blistered White Beans

(recipe below)

Gremolata

(recipe below)

1/4

cup

(~60g) tahini
Optional Toppings
Pickled red cabbage or sauerkraut

Watermelon radishes or thinly sliced raw beets

Microgreens
Za'atar Blistered White Beans
1

tablespoon

minced fresh thyme

1

tablespoon

toasted sesame seeds*

1

teaspoon

ground sumac

1/4

teaspoon

coarse salt

4

teaspoons

olive oil,

divided

1

medium yellow onion,

diced

½

teaspoon

sea salt,

divided

2

garlic cloves,

minced

1

(15-ounce) can of cannellini beans,

rinsed and dried thoroughly

Juice of 1/2 medium lemon
Gremolata
1

cup

loosely packed Italian flat-leaf parsley leaves

3

cloves

garlic

2

small

organic lemons

(or 1 extra large lemon)
Instructions
Preheat the oven to 400°F (or 204°C). Prick the sweet potatoes all over with a fork and place them on a baking sheet. Bake for 45-50 minutes, or until the potatoes are fork tender but not falling apart.

Once the potatoes are cool enough to handle, slice them in half and top with the Za'atar Blistered White Beans, Gremolata, and any optional toppings. Spoon a tablespoon tahini over each potato. If desired, you can scoop out of some the sweet potato flesh so the sweet potatoes act as cavities for the toppings.

Make the Za'atar. In a small bowl, mix together the minced fresh thyme, toasted sesame seeds, sumac, and 1/4 teaspoon coarse sea salt. Set aside 1 tablespoon of the seasoning for the beans; store any leftovers in a small container in the pantry.

Make the Za'atar White Beans. Heat 2 teaspoons of olive oil in a 12-inch nonstick skillet over medium-high heat. You will need to use more oil if you are using a stainless-steel skillet. Once the oil is shimmering, add the diced onion and ¼ teaspoon of the salt, and cook for 7-9 minutes, until the onion is golden brown and soft. Add the minced garlic and cook for 1 minute, stirring frequently to prevent burning. Remove the onion mixture from the pan.

In the same skillet, add the remaining 2 teaspoons olive oil and ensure that the entire pan is coated with the oil. Add the rinsed and dried beans in small handfuls and spread them out in a single layer. Let the beans cook undisturbed for 3 minutes. Then use a flat spatula to flip the beans and cook for another 3-5 minutes, or until the beans are browned and blistered.

Stir the reserved onion mixture back into the skillet, along with the remaining ¼ teaspoon salt, lemon juice, and 1 tablespoon of the Za'atar seasoning. Reduce the heat to medium-low and cook for 2-3 minutes to allow the flavors to blend.

Make the gremolata. Finely chop the parsley. Using a Microplane, grate the garlic directly over the parsley and then zest the lemon(s) on top. Mix the garlic and lemon zest into the parsley and chop the parsley until finely minced.
Notes
*To toast sesame seeds, add the seeds to a skillet over medium heat and toss occasionally until lightly golden, 4 to 5 minutes.
---
Calories:
590
kcal
|
Carbohydrates:
105
g
|
Protein:
18
g
|
Fat:
14
g
|
Saturated Fat:
2
g
|
Polyunsaturated Fat:
5
g
|
Monounsaturated Fat:
6
g
|
Sodium:
589
mg
|
Potassium:
1936
mg
|
Fiber:
19
g
|
Sugar:
17
g
|
Vitamin A:
49606
IU
|
Vitamin C:
66
mg
|
Calcium:
276
mg
|
Iron:
8
mg