Since my Instant Pot Chana Masala recipe is one of my most popular recipes (and one of my personal favorites), I decided to do a riff on that with this Indian Chickpea Sweet Potato Stew. But since I know a lot of you don't have an Instant Pot, I developed this recipe to be a stovetop recipe.
This stew is my favorite kind of food for many reasons. It's bold yet well-balanced in flavors, packed with aromatics and spices (like any good Indian food), and is really hearty and comforting yet wholesome and nutritious. It's vegan, gluten-free, plant-forward, and boasts a healthy dose of vitamins, minerals, antioxidants, fiber, and protein from the chickpeas, sweet potatoes, garlic, Indian spices, Swiss Chard.
But at the same time, it's also the kind of recipe that sticks to your ribs and satisfies your savory comfort food cravings. In other words, it's the perfect winter comfort food!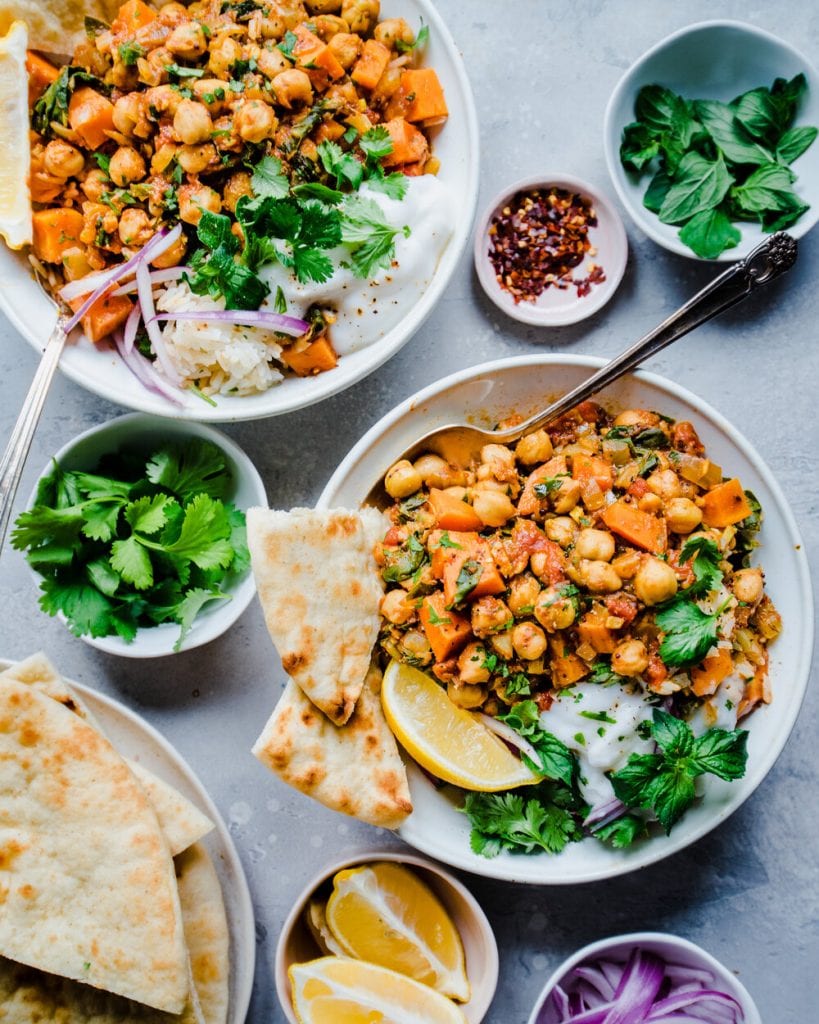 Ingredient Rundown
Chickpeas
This is a chickpea stew, after all! I prefer to use chickpeas cooked from scratch—I like the texture a bit more than canned chickpeas, and cooking beans in the Instant Pot is literally as easy as opening a can of beans. That said, I have also made this recipe with canned chickpeas and it's still very delicious, so canned chickpeas will work just fine.
I use 3 1/2 cups of cooked chickpeas, which is equivalent to two (15-ounce) cans of chickpeas.
Indian Spices
I absolutely love using Indian spices in a vegan curry or stew. Like most truly delicious Indian recipes, I use both whole and ground spices. I know, it can be a bit of a pain to use all these spices, but if you like Indian food, it's almost certainly because Indian food is so well-spiced and most good Indian dishes use both whole and ground spices!
Plus, once you stock up on some basic Indian spices, they'll last you a long time, provided you store them in a cool, dark, dry place.
In the video around the 05:12 mark, I show you the Indian spice box I use to store the Indian spices I use most commonly—garam masala, cumin, coriander, turmeric, red Indian chili powder, whole cumin seeds, and black mustard seeds.
This spice box is really convenient because then I don't have to take out seven different spice bottles and stick a measuring spoon down each bottle. For Indian spices I use less commonly—fennel seeds, cardamom, cloves, etc.—I store them in individual bags or bottles in the fridge to preserve their shelf life.
For the whole spices, I use black mustard seeds and whole cumin seeds. If you can't find black mustard seeds, you can substitute the more commonly available brown mustard seeds. You should be able to find whole cumin seeds at most grocery stores. The recipe begins by dry toasting these seeds for a minute or two until they become really aromatic and start to pop.
Later in the recipe, you'll add the ground spices, which are all essential spices in Indian cooking: garam masala, coriander, turmeric, and Indian red chili powder. You can find the first three spices in most grocery stores, but Indian red chili powder is really only available in Indian stores or online. If you can't find it, substitute it with cayenne pepper but use roughly half the amount since cayenne pepper is spicier.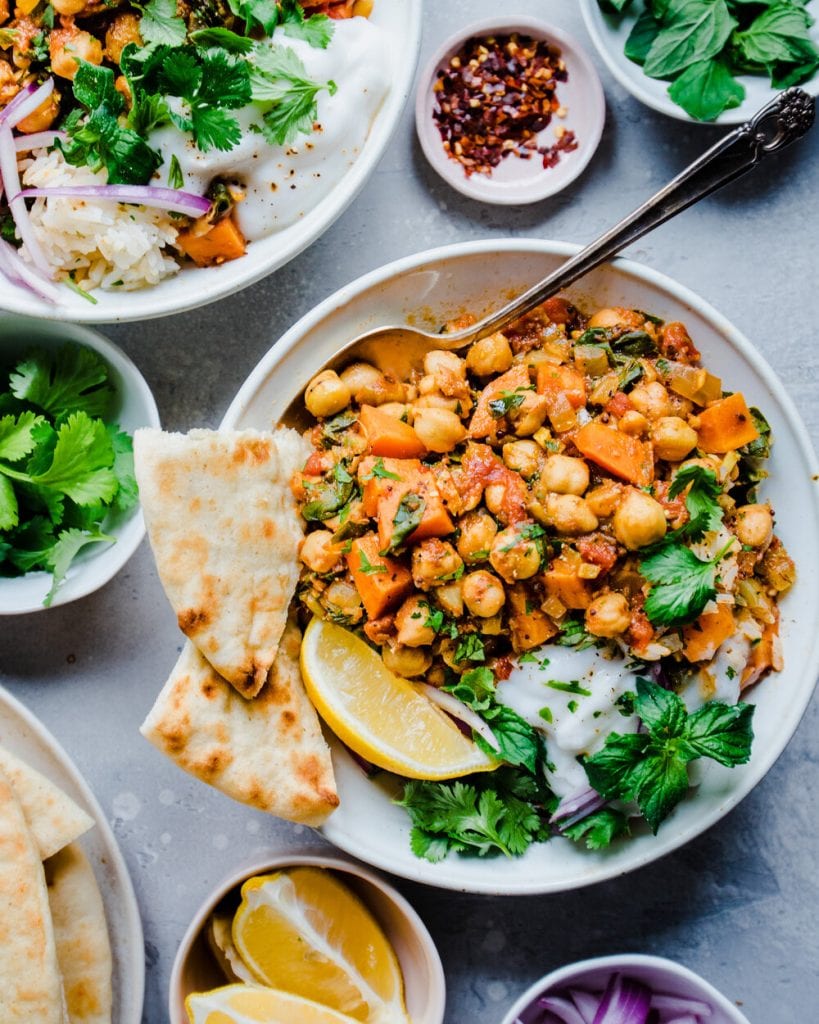 Aromatics
My mother starts most of her Indian dishes with a powerhouse of aromatics: yellow onions, fresh garlic, fresh ginger, and green chilies. And since I learned how to cook Indian food from my mother, that's how I often start my Indian recipes as well.
However, I didn't want this chickpea stew to be too spicy, so I omitted the green chiles. There is some heat in this stew from the red Indian chili powder, but I didn't want to go overboard with two types of chiles.
Regarding the other aromatics, I've been asked a few times if fresh ginger and garlic are necessary in my curry/soup/stew recipes, or if ground ginger/garlic would be fine. The answer is YES, they are NECESSARY.
I understand it takes a few extra minutes to chop garlic and ginger, but that's where so much of the flavor lives. Sauteing aromatics in oil before adding the rest of the ingredients infuses layers of flavor into the dish in a way that ground garlic or ginger will never be able to match.
Plus, ground ginger and garlic taste somewhat different than their fresh counterparts. For instance, ground ginger has a much more potent pungency than fresh ginger, and is better used in baking applications and beverages rather than in savory dishes. And ground or granulated garlic just doesn't have the same vibrant, bold flavor of fresh garlic.
Additionally, you lose some of those beneficial antioxidants found in fresh ginger and garlic when you process them into powders.
If the thought of peeling and grating/mincing garlic and ginger every time you make an Indian recipe overwhelms you, you can prep a big quantity at once and freeze what you don't need. This is exactly what my mother has done for the last 35 years and her food is delicious.
My favorite tool for grating ginger is a microplane. I recently purchased this microplane after using the same one for the last 10 years, and it has made it so much easier to grate ginger. If you don't have a microplane and don't feel like buying one, you can mince the ginger with a sharp knife, but be sure to use ginger that is fresh and not ginger that has been sitting in your fridge for weeks on end. The latter will dry out and get stringy, making it extremely difficult to slice through with a knife.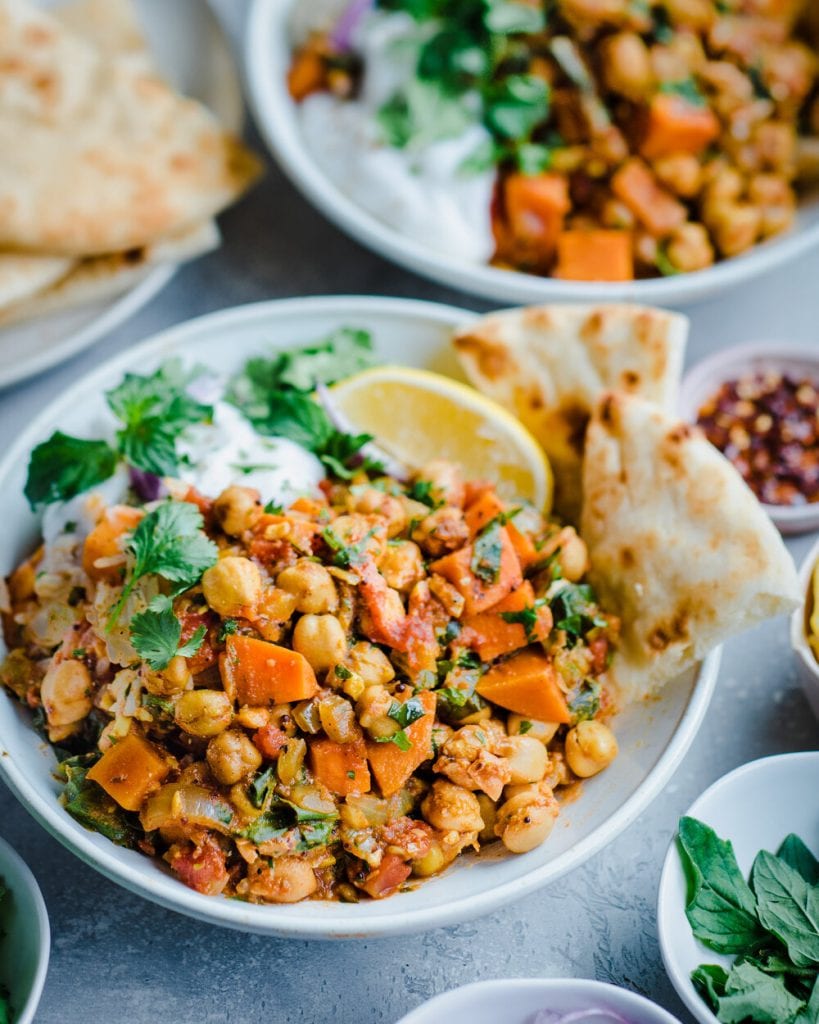 Sweet Potatoes
I absolutely love adding sweet potatoes to curries and dals. It brings a pleasant sweetness that balances the spiciness in a natural, wholesome way.
I have to admit that I do prefer using the Instant Pot over the stovetop for these kinds of recipes because the high pressure of the Instant Pot almost melts the sweet potatoes into the liquid, naturally thickening the texture. You can see this in action in my Jackfruit Sweet Potato Curry or in the Easy Sweet Potato Dal recipe from my cookbook.
Since this is a stovetop recipe, the sweet potatoes won't quite melt into the stew, but they will get nice and soft and bring a nice subtly sweet balance to the spices. But you need to make sure you dice your sweet potatoes up pretty finely. No random big chunks, please.
If your sweet potatoes aren't diced finely enough, they won't fully cook through in the time noted in the recipe, and you'll end up with some partially cooked, hard sweet potato chunks. To see what size I dice the sweet potatoes, be sure to watch the video starting around the 05:00 mark.
Swiss Chard
I love finishing hearty dishes like stews and curries with some greens. Just toss them in towards the end of cooking until they're wilted. It's an easy way to eat more greens that won't make you feel like you're eating yet another kale salad. TBH, I do like kale salad a lot, but in winter, it feels like a lot more work and my body naturally gravitates towards cooked greens instead.
Swiss chard is packed with Vitamins K, A, and C, as well as a good source of fiber, iron, calcium, magnesium, and potassium. But, you could easily use any green you like—kale, spinach, collard greens, etc. Keep in mind that collard greens might need a few extra minutes since they are tougher, whereas a delicate green like spinach will just need a minute or two to wilt.
Garnishes and Finishes
If you've been to an Indian restaurant (at least a North Indian restaurant), you've likely noticed that they bring a range of "extras" along with your main dish. Usually a lemon wedge and some yogurt, sometimes sliced red onions, tomatoes, or cucumbers. That's because these "extras" help balance the spicy flavors found in most Indian food.
A spicy biryani is much more balanced with a spoon of raita, an Indian cucumber yogurt dip. A thick, creamy curry is freshened up with a squeeze of lemon juice, and pungent onions or fresh tomatoes cleanse the palate bring a nice tart crunch to every bite.
That's why I finish this Indian Chickpea Sweet Potato Stew with lemon juice, cilantro, and mint, and why I recommend serving it with some coconut yogurt and sliced red onions. The acidity of the lemon juice and the cooling, slight sweet flavor of fresh mint balance the spiciness of the stew. Serve alongside a bit of (vegan) yogurt and you get even more cooling contrast.
And if you're looking for a starter to serve alongside this dish, I highly suggest you try this gobi manchurian (baked if you're being healthy, fried if you're being naughty).
Watch! How to make Indian Chickpea Sweet Potato Stew
The recipe for Indian Chickpea Sweet Potato Stew starts at the 4:20 mark.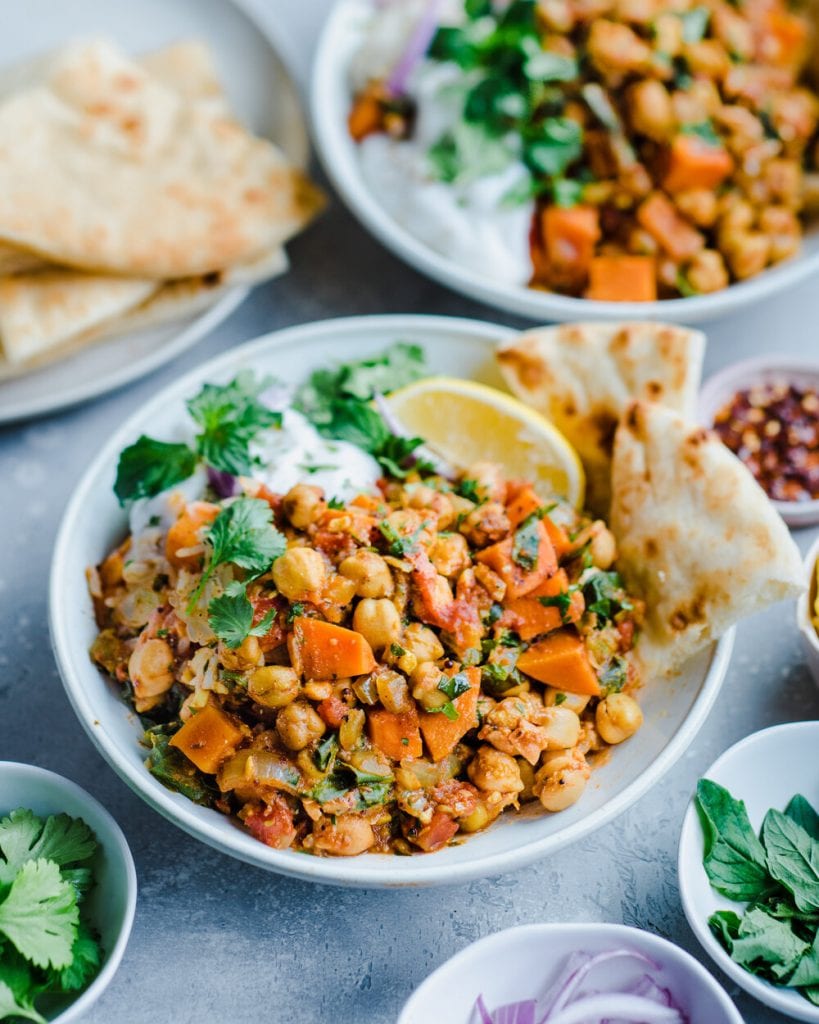 Indian Chickpea Sweet Potato Stew (Vegan, Gluten-Free)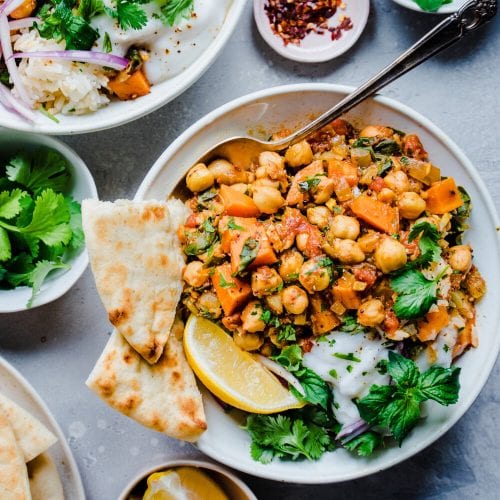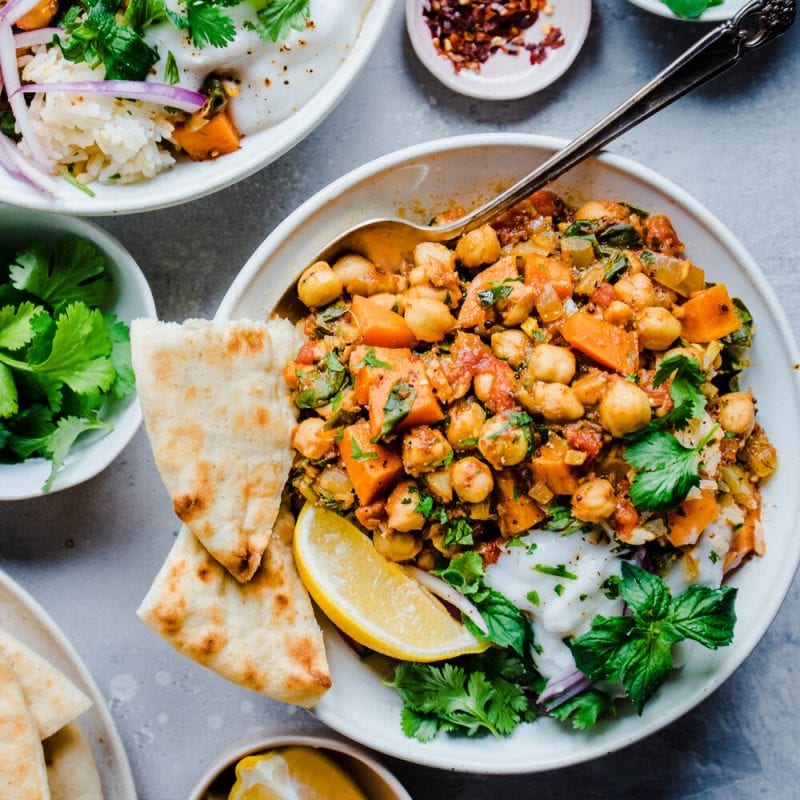 A hearty, filling meal that's 100% wholesome, this Indian Chickpea Sweet Potato Stew is the best of healthy comfort food. It's vegan, gluten-free, and made with whole foods like sweet potatoes, chickpeas, warming Indian spices, and greens, but it feels like a cozy hug in a bowl!
Ingredients
2

teaspoons

black mustard seeds*

1 1

⁄2 teaspoons whole cumin seeds

2

tablespoons

coconut oil

2

medium yellow onions

finely diced

6

garlic cloves

minced

1 1

⁄2-inch piece fresh ginger

grated or minced

3

bay leaves
Ground spices
1

tablespoon

garam masala

2

teaspoons

ground coriander

1

teaspoon

ground turmeric

½

teaspoon

Indian red chili powder or 1⁄4 teaspoon cayenne pepper**

A generous amount of freshly cracked black pepper

2

(15-ounce) cans of chickpeas, drained and rinsed (equivalent to 3 1/2 cups cooked chickpeas)

2

cups

water or vegetable broth

3

cups

peeled and finely diced sweet potatoes****

1

(14.5-ounce) can crushed tomatoes, or half of 1 (28-ounce) can crushed tomatoes

1 1/2

teaspoons kosher salt

4

ounces

Swiss chard****,

finely sliced into ribbons

1 1/2

tablespoons fresh lemon juice

1

cup

fresh cilantro,

roughly chopped

1/2

cup

fresh mint*****,

finely chopped
Garnishes (optional but recommended)
Thinly sliced red onions

Coconut yogurt
For serving
White rice or brown rice

Indian flatbread or pita bread
Instructions
Heat a large, deep nonstick frying pan or a Dutch oven over medium heat. Once hot, add the black mustard seeds and cumin seeds. Stir occasionally and toss the seeds around for 1-2 minutes, or until they start to jump in the pan and smell very aromatic but not burning.

Add the coconut oil and once it's melted, add the diced onions. Cook, stirring occasionally, until the onions are softened and start to turn golden, 5 to 7 minutes.

Add the garlic and ginger and cook for 1-2 minutes until very aromatic, stirring frequently to prevent burning and sticking.

Add the bay leaves and ground spices, and then add the chickpeas and stir them around to coat around in the spices. Allow them to cook for 5-6 minutes, turning only once after a few minutes, to allow them to get a bit browned and crispy.

Pour in the water, stirring around to scrape up any browned bits on the bottom of the pot. Pour in the crushed tomatoes, diced sweet potatoes, crushed tomatoes, and salt. Stir well and bring to a boil. Reduce the heat to medium-low and simmer, stirring occasionally, for 30 minutes, or until the sweet potatoes are tender and the stew has thickened.

Add the chard (or kale) and cover the pan. Cook for 5 more minutes until wilted. Remove bay leaves.

Stir in cilantro and lemon juice. Serve with fresh mint, sliced red onion, and coconut yogurt.
Notes
* If you can't find black mustard seeds, feel free to substitute brown mustard seeds - they're a bit less spicy.
** Omit for a mild version.
*** This is equivalent to 3 medium or 2 large sweet potatoes. Make sure to finely dice the sweet potatoes - otherwise, they won't fully cook through in the stew (or you'll need to cook the stew longer). To see what size I dice them, be sure to watch the video starting around the 05:00 mark.
**** You can use other greens, such as kale or spinach. Spinach will cook very quickly and won't need as much time.
***** The fresh mint adds a really nice cooling complement to the spiciness of the stew.
---
Calories:
431
kcal
|
Carbohydrates:
69
g
|
Protein:
16
g
|
Fat:
13
g
|
Saturated Fat:
6
g
|
Polyunsaturated Fat:
2
g
|
Monounsaturated Fat:
2
g
|
Sodium:
945
mg
|
Potassium:
1285
mg
|
Fiber:
18
g
|
Sugar:
12
g
|
Vitamin A:
16779
IU
|
Vitamin C:
32
mg
|
Calcium:
222
mg
|
Iron:
7
mg