Say hello to your new favorite hearty and flavorful winter meal, this one-pot Braised Indian Chickpea Stew!
A few weeks ago, while testing recipes for my next cookbook(!), I made an oven-braised bean stew. It felt very French, and it was delightful. There was a bouquet garni involved, a white wine deglaze, and maybe some vegan butter. After eating it, I thought: wouldn't it be fun to try this technique of cooking with an Indian dish?
Oven braising isn't too common in Indian cooking and cooking with wine certainly isn't either, but I thought I'd give this hybrid mashup a go. The result is this hearty, well-spiced Indian-inspired chickpea stew that will keep satisfied for hours. It's not a traditional Indian recipe and not quite a curry, hence the name "stew," but it has all the bold flavors you love about Indian food in a wholesome plant-based package.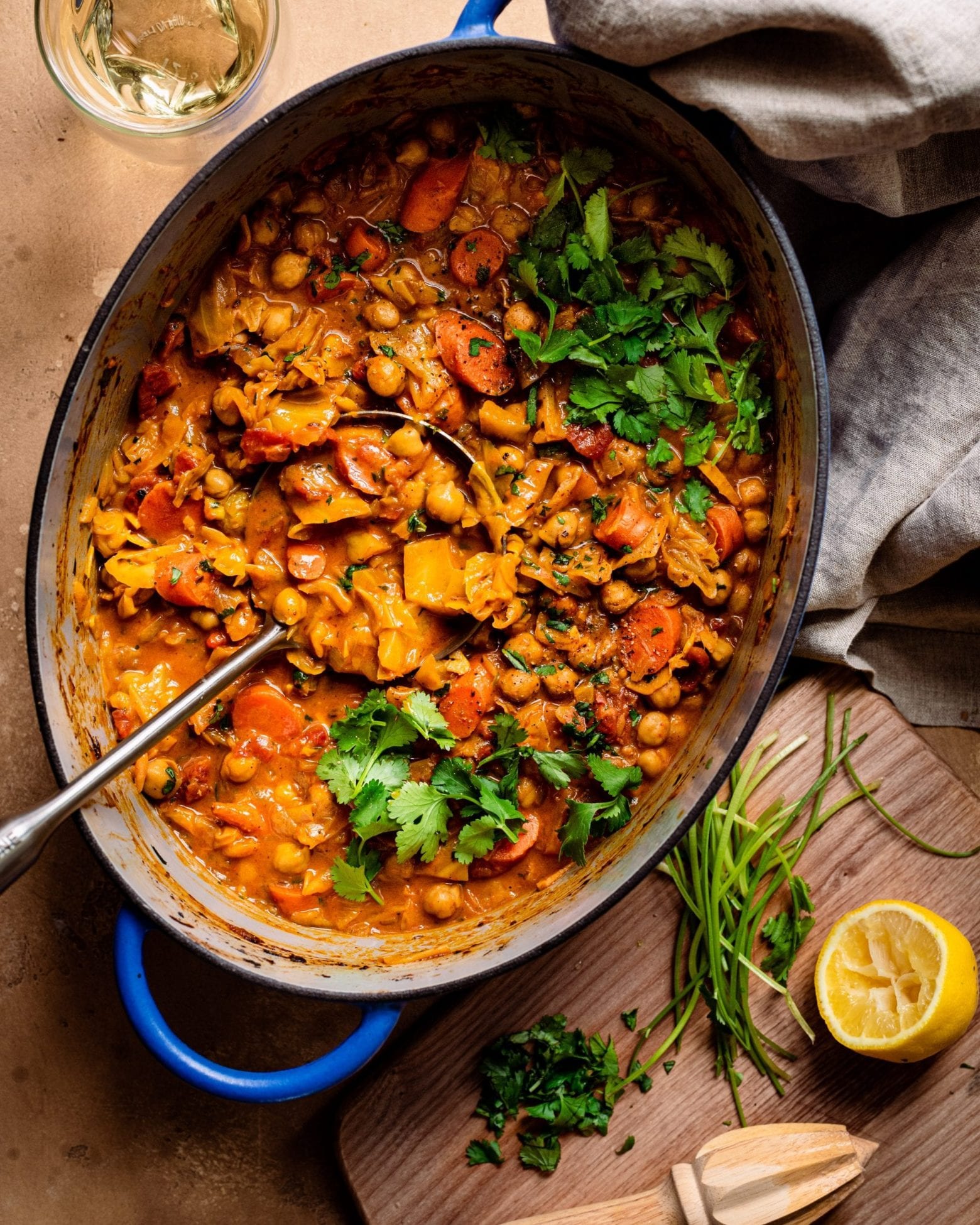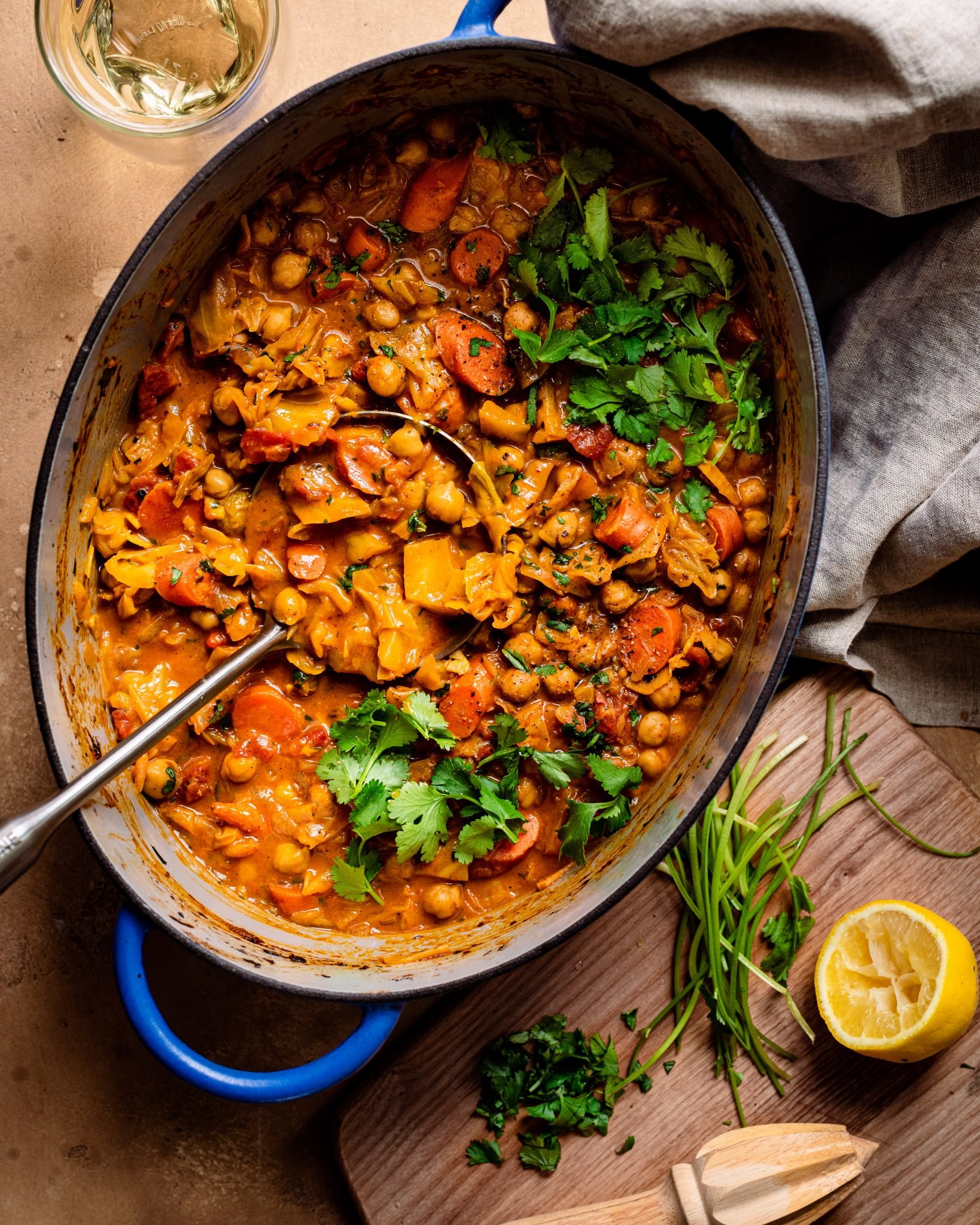 Why you'll love this recipe
Well-spiced and flavorful. Like any good Indian dish, this stew is packed with warming spices and bold flavors. The dish starts with toasting whole spices (cumin, coriander, fennel, cardamom, cinnamon, cloves) and then gets hit with some ground spices as well (turmeric, Indian red chili powder, and nutmeg).
Hearty and sticks to your ribs. Even my omnivore boyfriend called this dish "extremely hearty winter food." If there was a thing such as "vegan hunter food," this would be it. It's the kind of meal you await after a long, hard day. It warms you up from the inside and fills you up for hours.
Excellent for meal prep. As with many Indian curries, the flavors develop even more after resting. This makes this chickpea stew fantastic for meal prep. I recommend stretching the meal out by serving it over rice or with Indian flatbread. It's also freezer-friendly!
Nourishing: This chickpea stew might feel like "hunter food," but it's also nourishing. The garlic, ginger, and turmeric boast antioxidant and anti-inflammatory properties. The cabbage and carrots are nutrient-rich. And the chickpeas make this a hearty, protein-packed meal.
If you're looking for even more nourishing yet comforting Indian food, highly recommend my fan-favorite Red Lentil Curry, Chickpea Curry, Baingan Bharta, or Vegan Curry with Tofu!

And for a mouthwatering starter to serve alongside this stew, I can't recommend this Gobi Manchurian enough. It's my boyfriend's favorite Indian appetizer and it just might be mine, too!

And to scoop up all the sauce, I highly recommend making some vegan naan.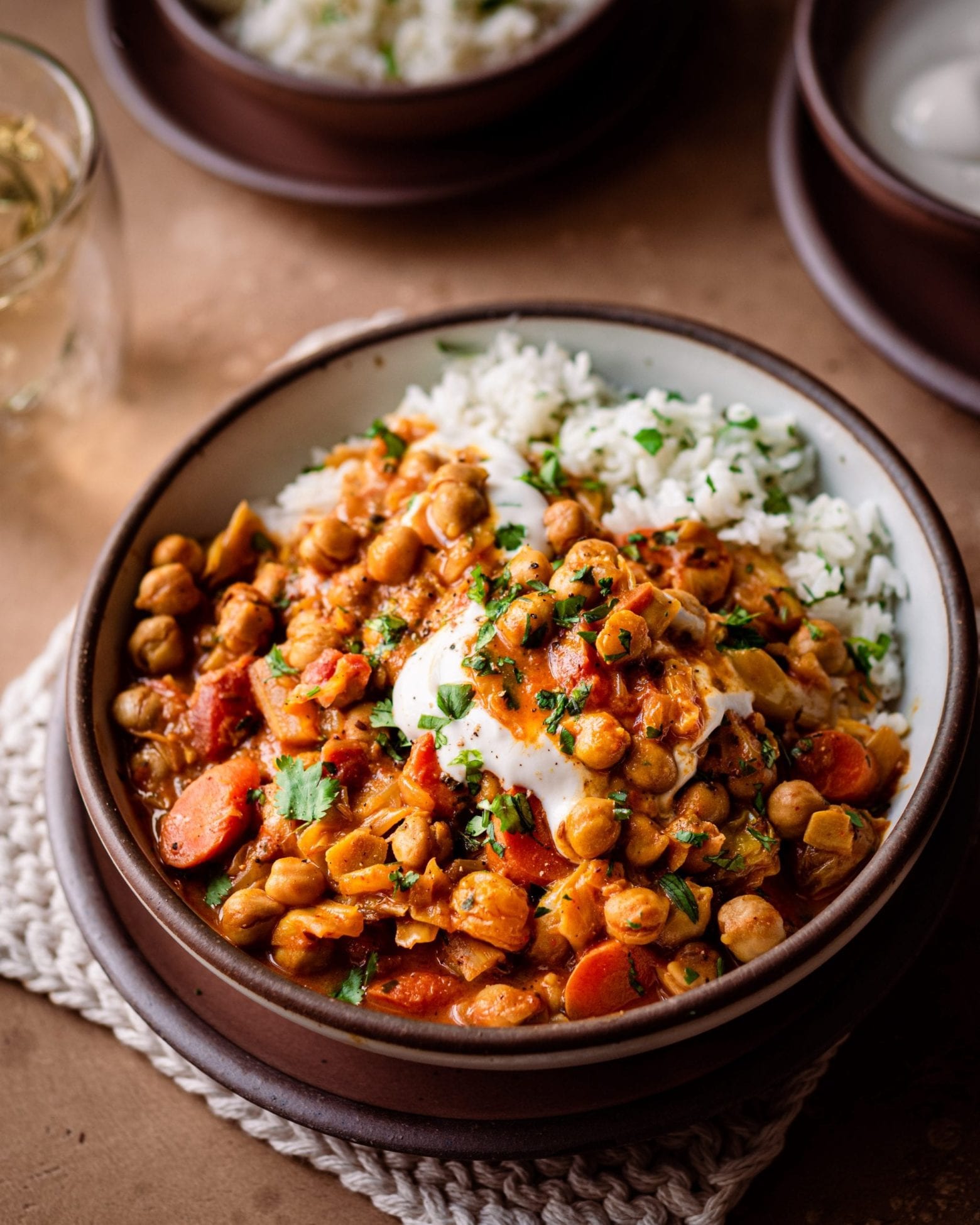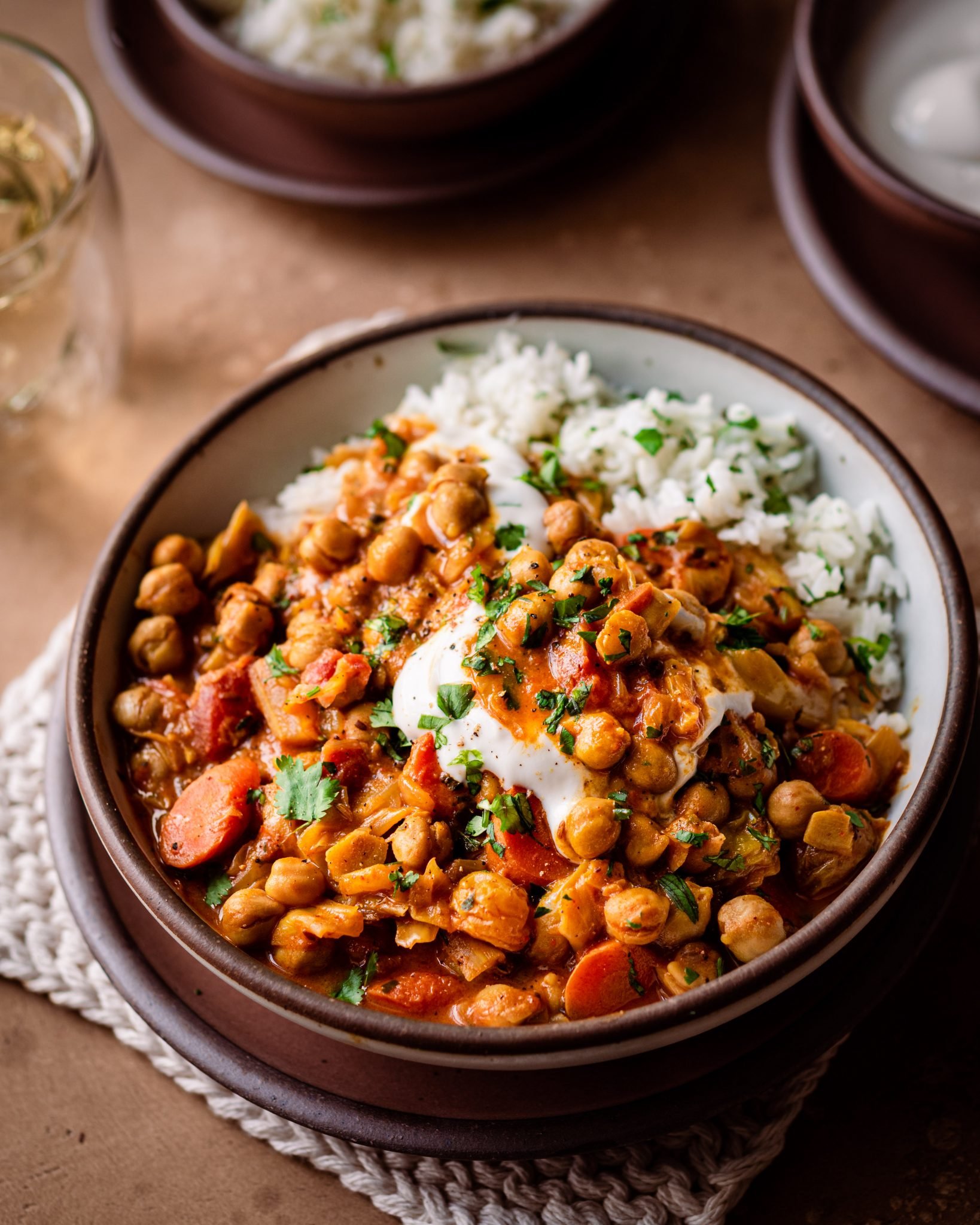 Ingredient spotlight
Chickpeas. I use canned chickpeas for convenience, but if you're in the habit of cooking chickpeas from scratch, definitely use your home-cooked chickpeas. And if you love chickpeas but are tired of just eating them straight out of the tin, be sure to check out this post on 12 fun ways to use a can of chickpeas.
Cabbage and carrots. While I love chana masala (you can find my recipe here, or in my cookbook), I often wish it had some veggies in it. Adding cabbage and carrots to this chickpea stew is my half-baked solution. If you're skeptical of cabbage, just know that once it gets cooked down (sautéed, then braised), it releases its sugars and becomes slightly sweet and almost buttery rich. It also contributes to the heartiness of the stew.
Golden raisins, aka sultanas. Raisins are fairly common in Indian cuisine, especially rice dishes and desserts. They're less traditional in curries, but they nicely balance the spiciness. Also, when cooked in liquid, they plump up beautifully, adding a slightly chewy but soft texture.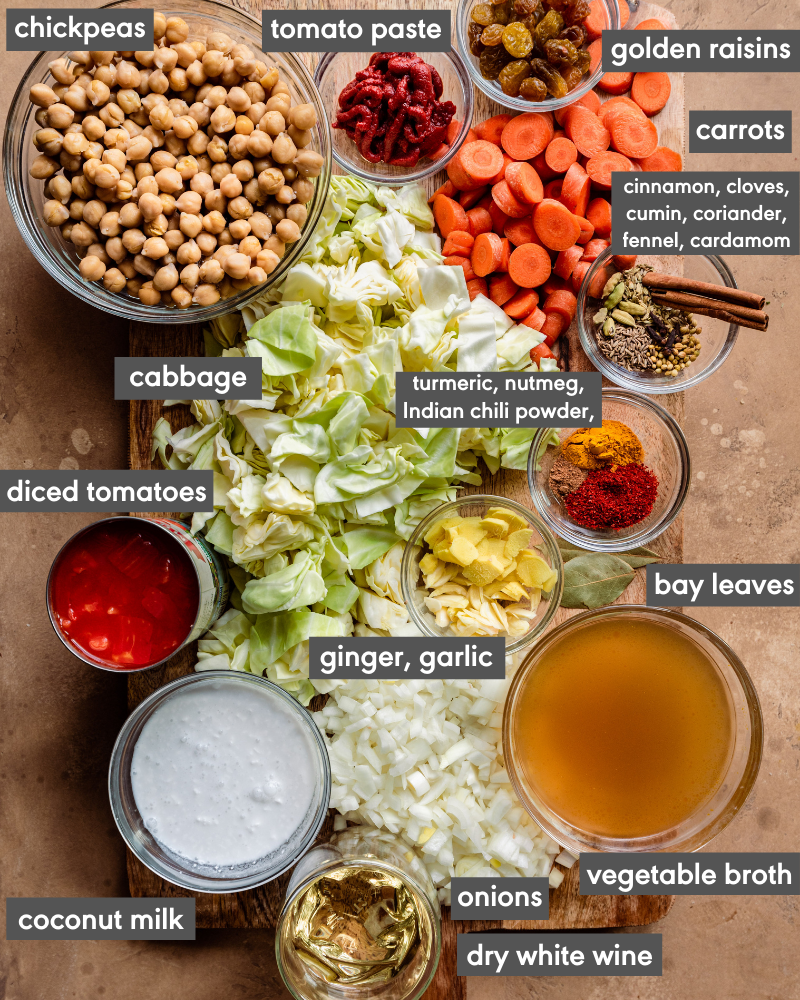 Cooking method spotlight: how to make a flavorful stew
The careful layering of flavors is one of the secrets behind really flavorful food. And Indian cuisine does a masterful job of this.
In this dish, start by grinding whole spices (cardamom, cloves, cumin, coriander, fennel). Grinding releases the delicate oils that give the spice their essence. Then, briefly fry the whole spices in a bit of oil until fragrant. The next layer comes in by shallow frying the aromatics – onions, cabbage, carrots, garlic, and ginger.
More flavor comes from cooking tomato paste down (something I love doing to boost the umami notes, but not very common in traditional Indian cuisine though). Next, briefly cook a few ground spices and stir them into the aromatics.
Once the spices and aromatics are cooked, deglaze the pan with a dry white wine. Wine is not traditional in Indian cooking, but I like this additional element, as it fortifies the flavors and releases flavors that might otherwise lie dormant. Don't drink/cook with wine? Not to worry, it can be omitted.
Once the remaining ingredients are added, braise the stew in the oven. Braising involves cooking ingredients in a small amount of liquid (moist heat) on the stovetop or in the oven. Usually, the liquid is flavored (e.g., vegetable broth, wine, juice). Braising the chickpeas fattens them up and infuses them with lots of flavor.
Finally, incorporate a fat source into the stew – the coconut milk tempers the heat of the spices and brings a welcomed creamy texture. Shortly thereafter, finish with freshness and acidity (here, in the form of cilantro and lemon juice). And balance the spiciness with a bit of sweetness (if you added the raisins earlier, and/or add a pinch of sugar at the end) and more acidity (vegan yogurt).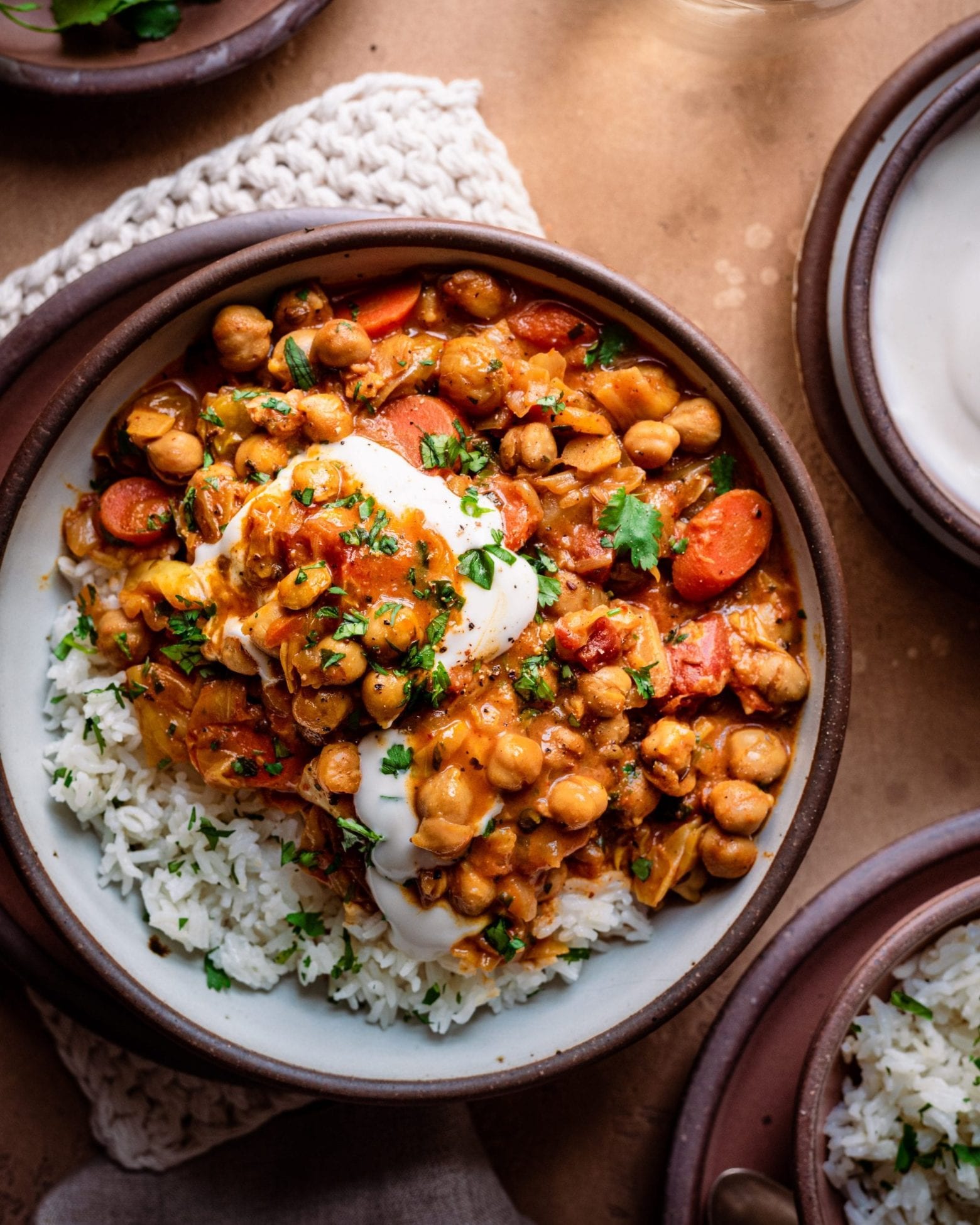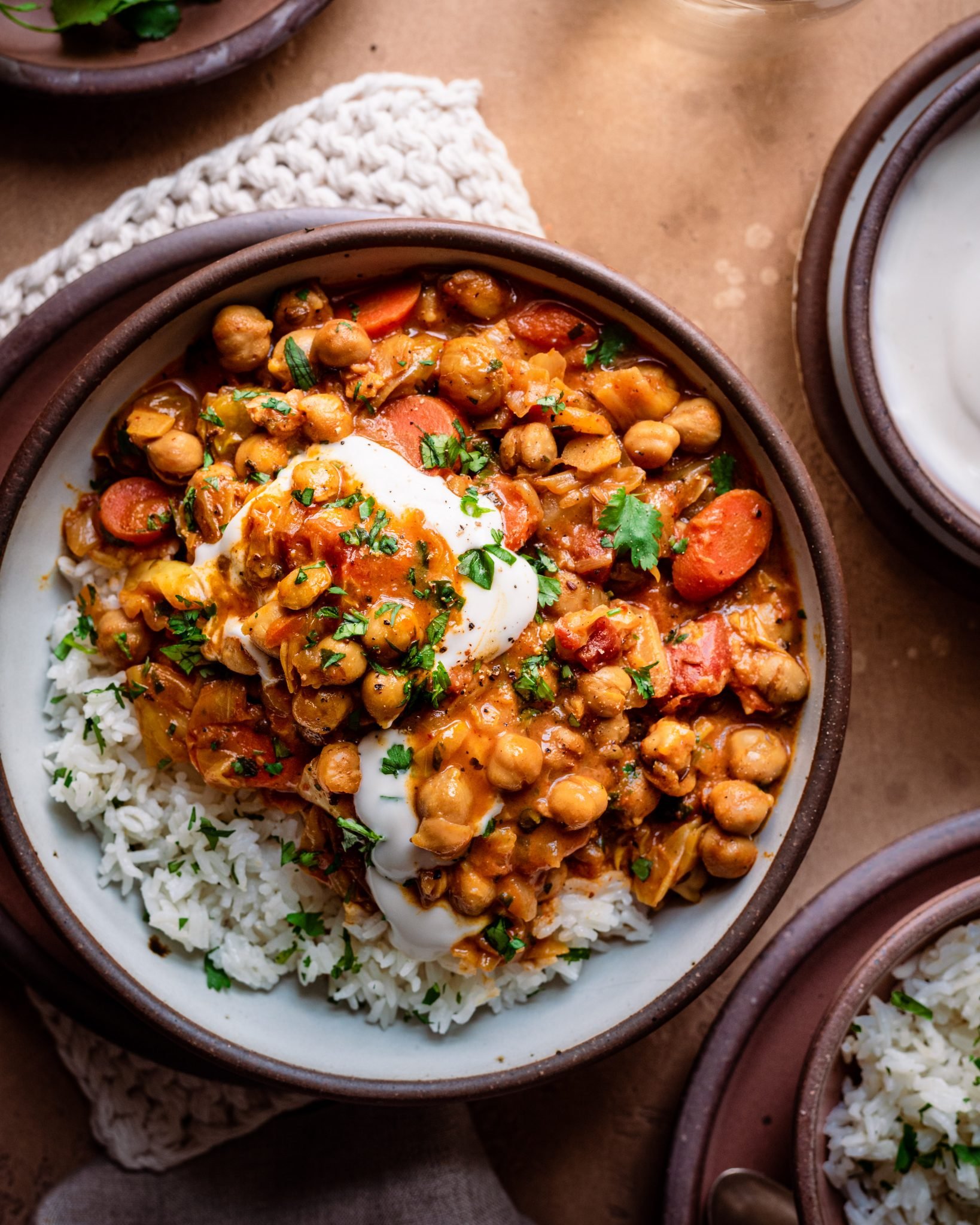 Step-by-step instructions
First, add the whole cardamom pods, cloves, cumin/coriander/fennel seeds to a mortar and pestle or spice grinder and very roughly grind to release their aroma. The texture should be quite coarse.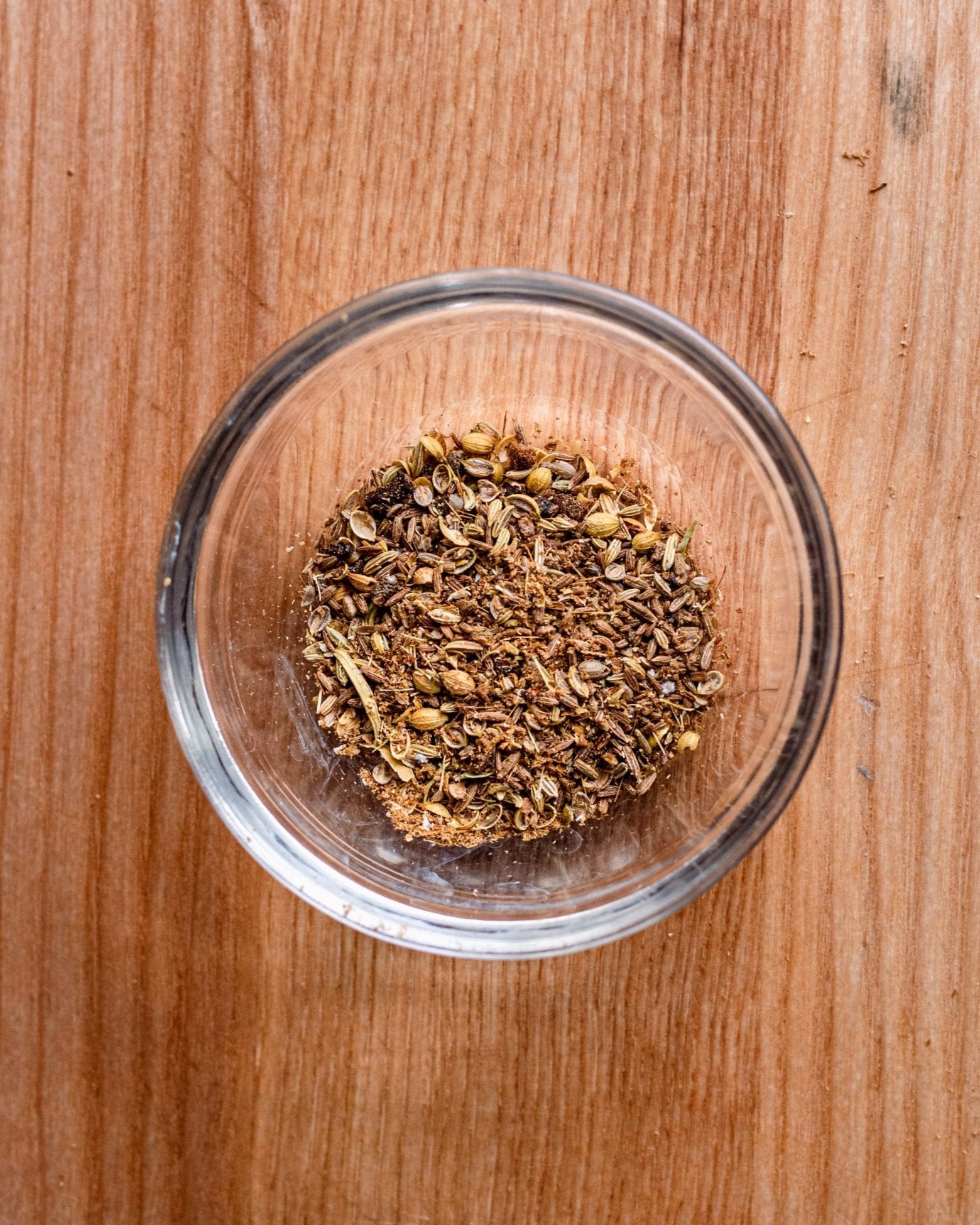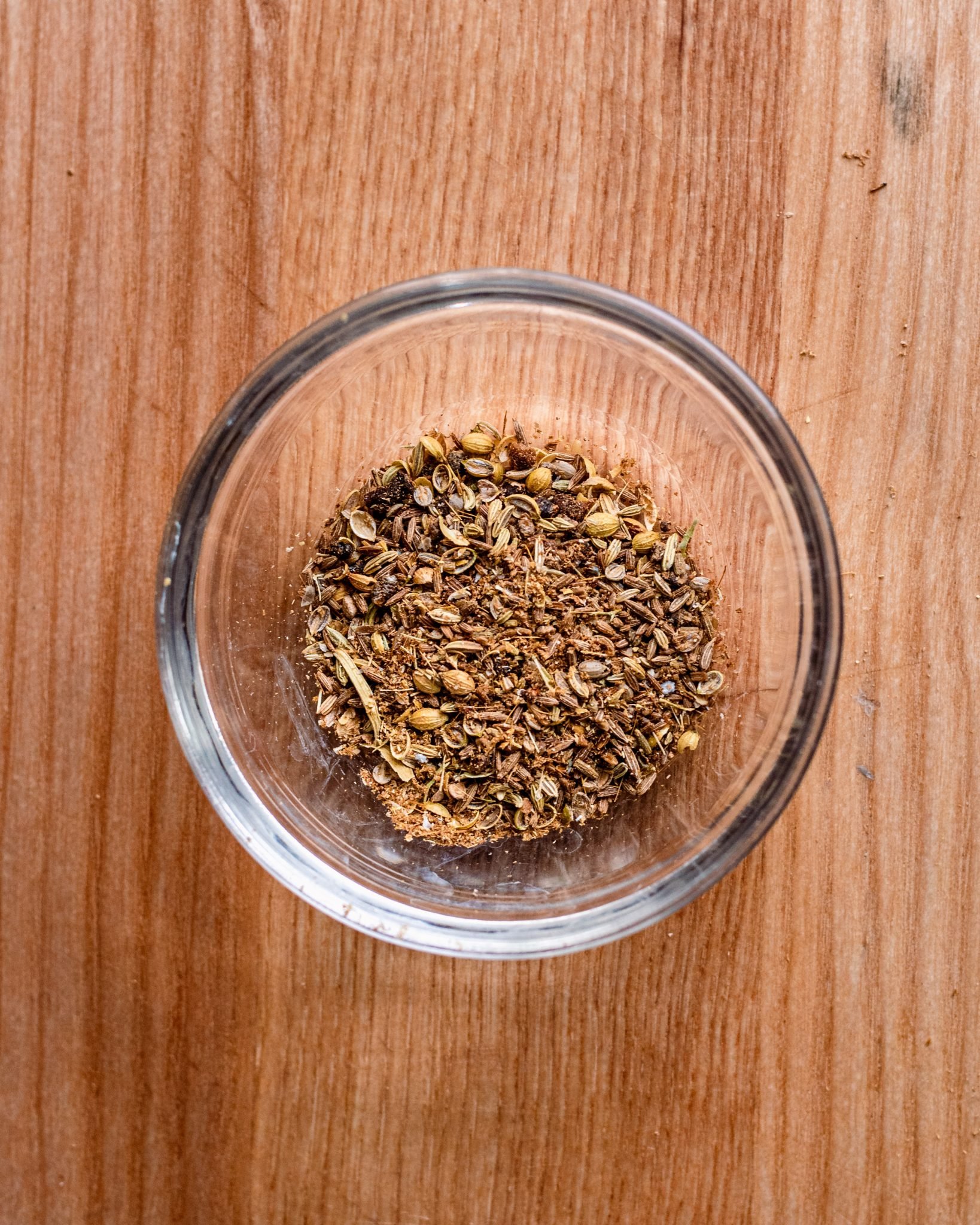 Next, heat a bit of the oil in a Dutch oven (this is the pan I use, but I've also made this in my Le Creuset Dutch oven) or a stove-to-oven braising pan like this. Add the roughly ground spices and cinnamon sticks and cook briefly until aromatic. Then add the chopped cabbage, carrots, and onion.
Cook the vegetables for about 6-8 minutes. Then add in the sliced garlic and minced ginger and cook another 2 minutes.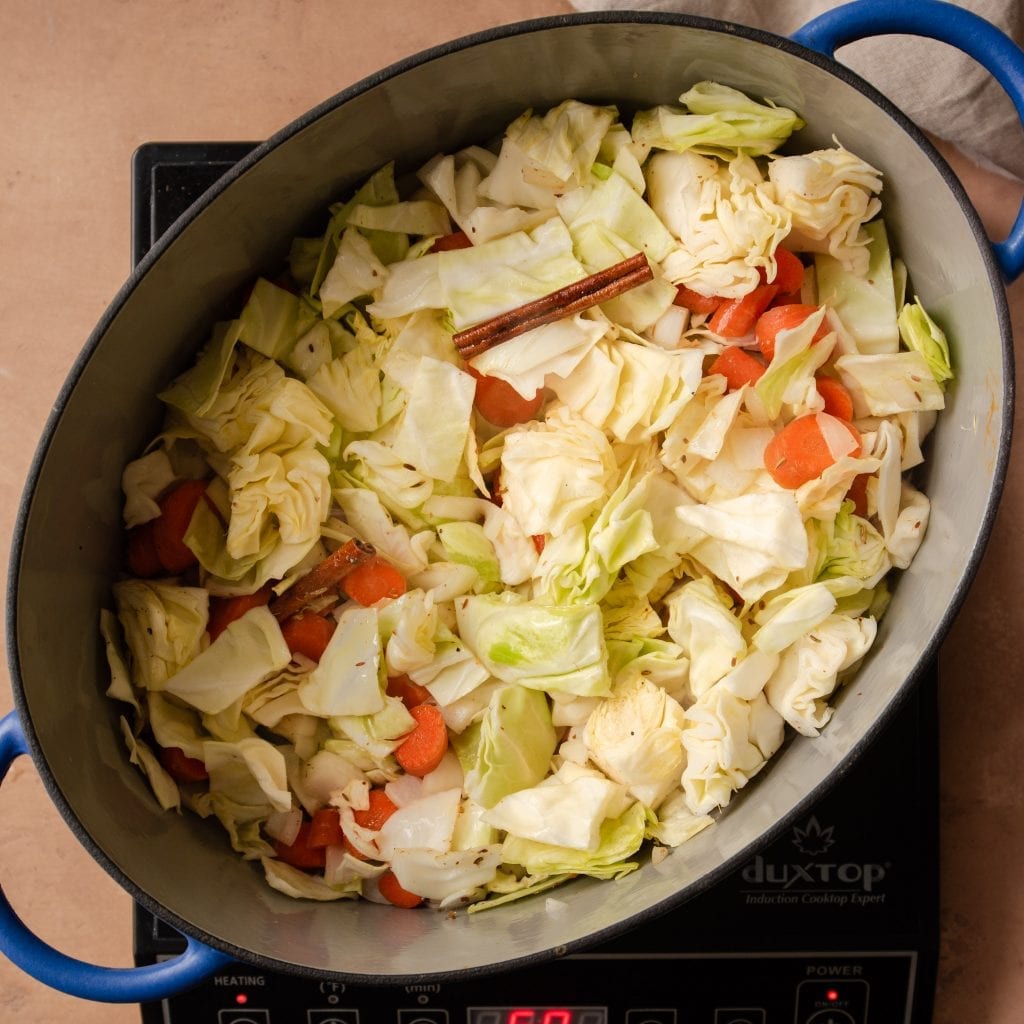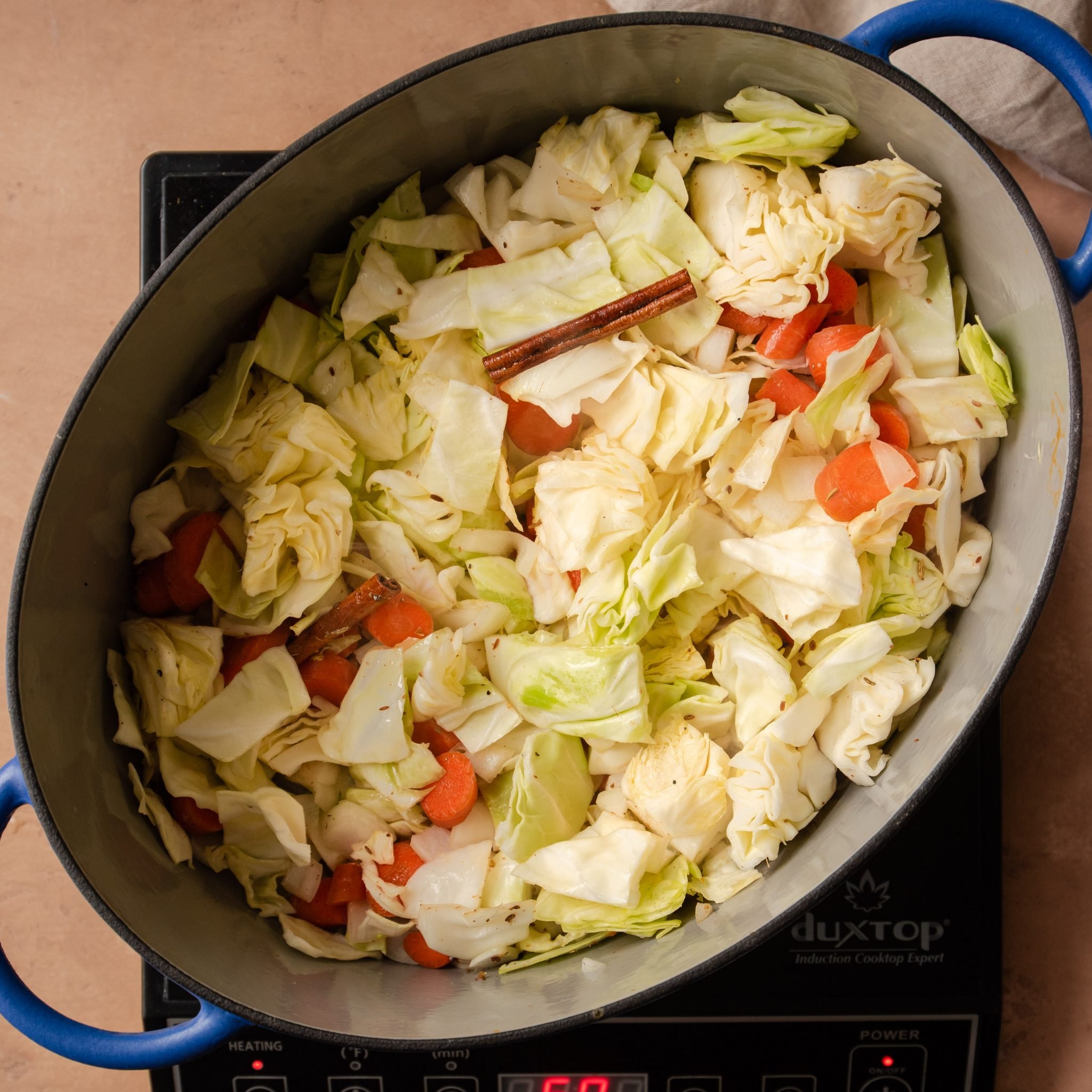 Add in the tomato paste and cook 2 minutes, stirring vigorously to coat. Add in the ground spices (turmeric, nutmeg, Indian red chili powder) and cook 1 minute.
Pour in the white wine, scraping up the browned bits and fond from bottom of the pan, and deglaze the pan.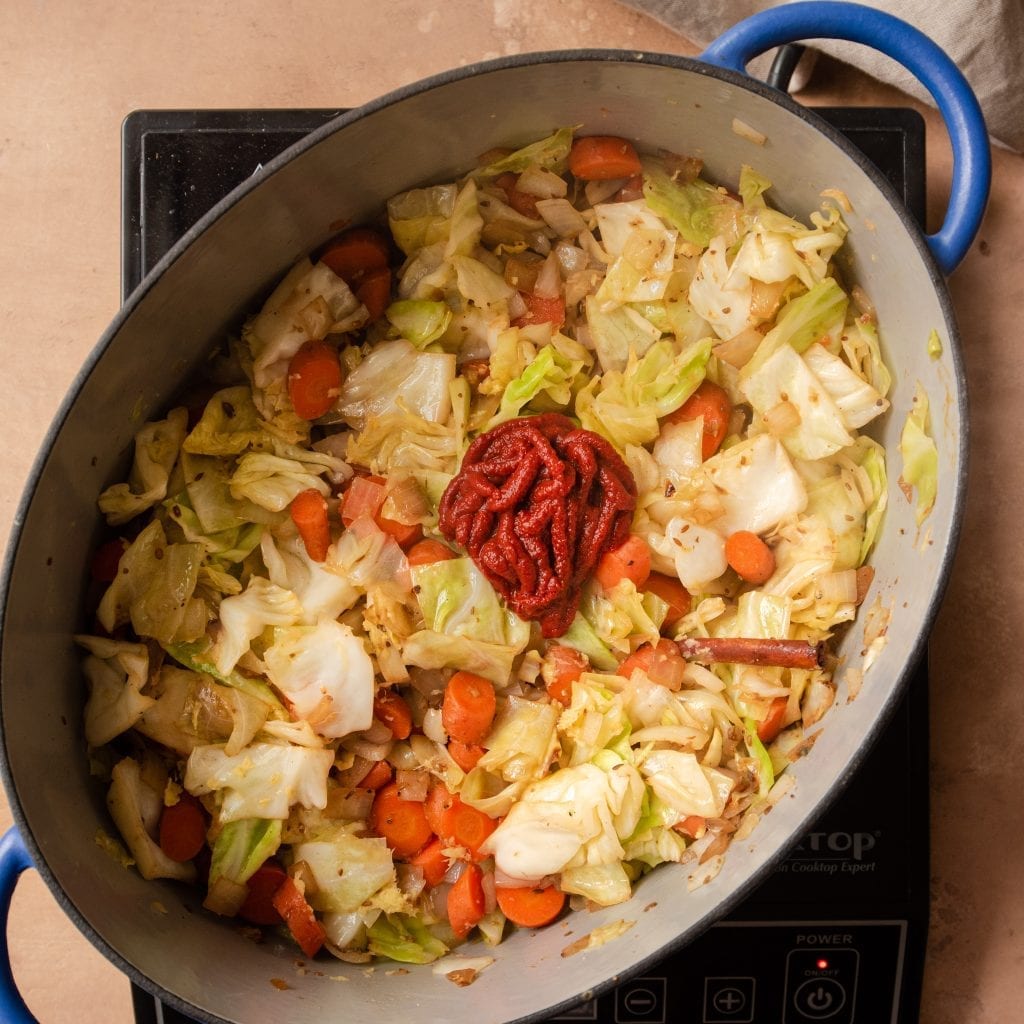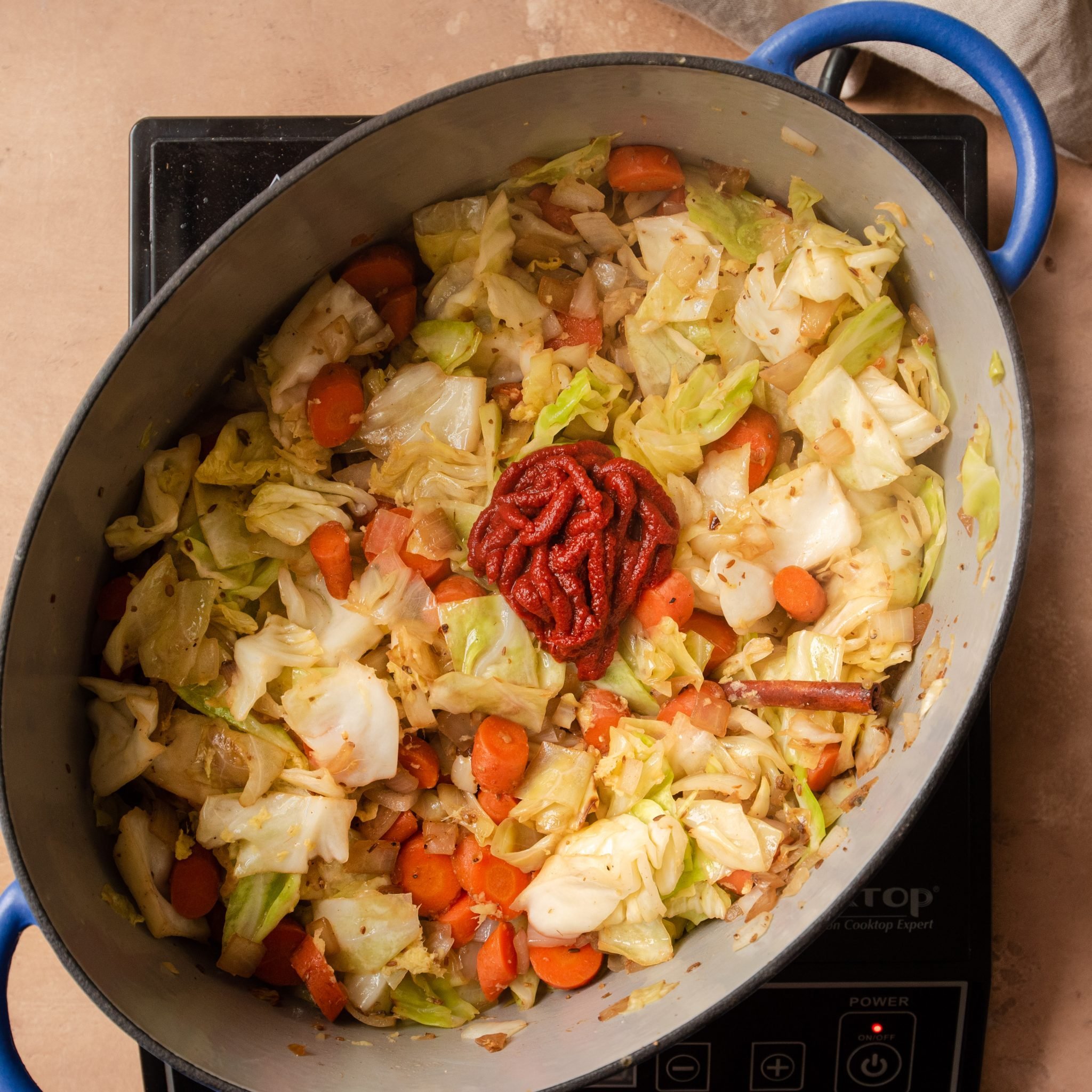 Add in the vegetable broth, canned chickpeas, diced tomatoes, bay leaves, raisins, and salt/pepper. Bring to a simmer and cook 2-3 minutes. Then turn off the heat, cover the pan with the lid, and transfer to the oven.
Braise for 1 hour until the chickpeas and vegetables are soft.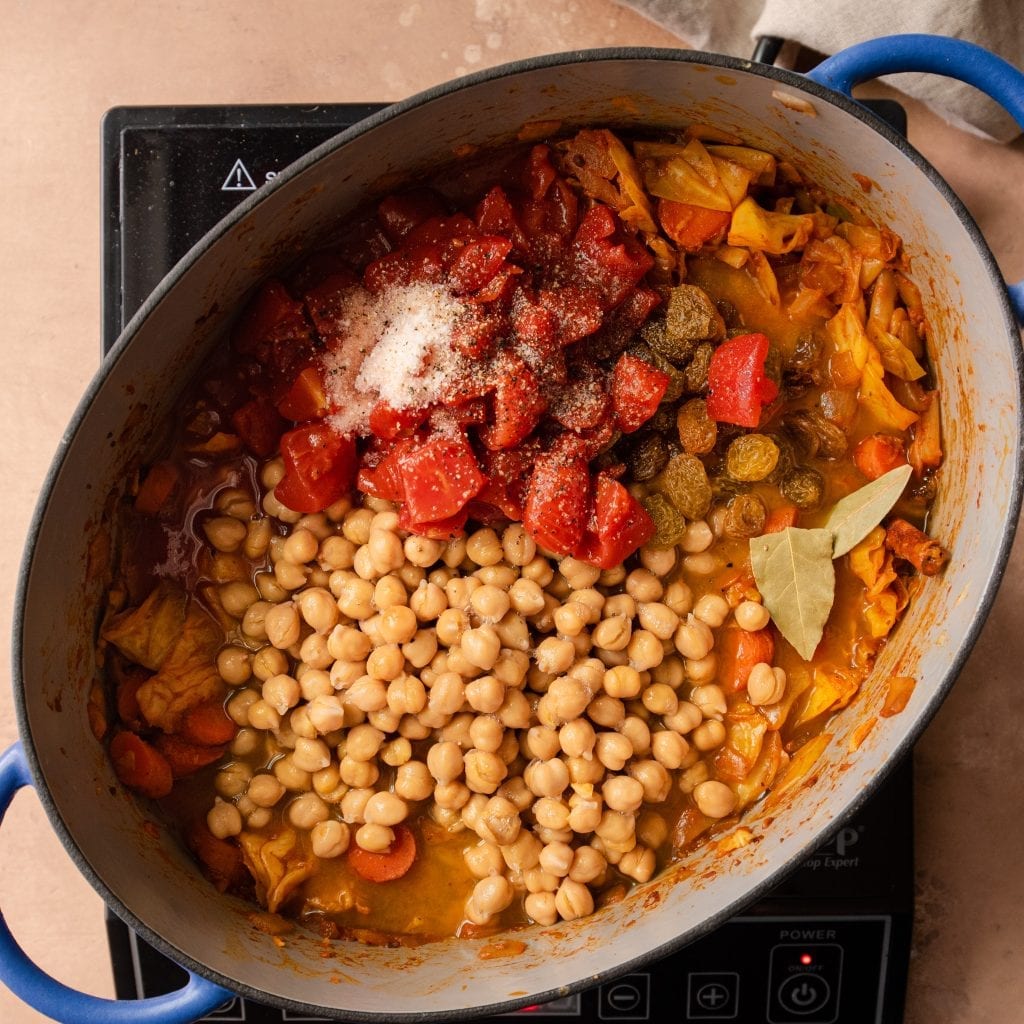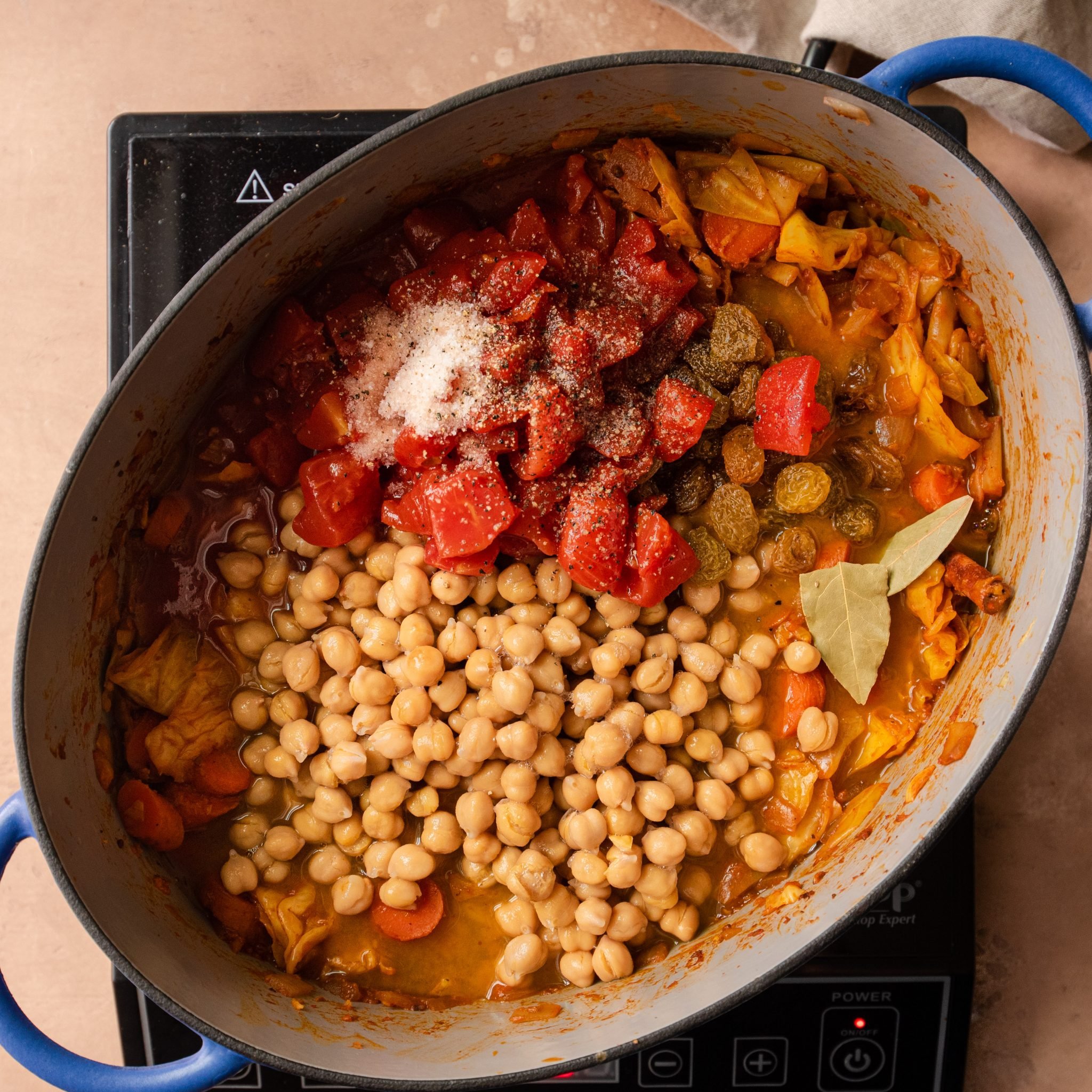 Pour the coconut milk into the pan, return to the oven, and braise for 10 minutes.
Finish the stew with lemon juice, garam masala, cilantro, and salt/pepper to taste.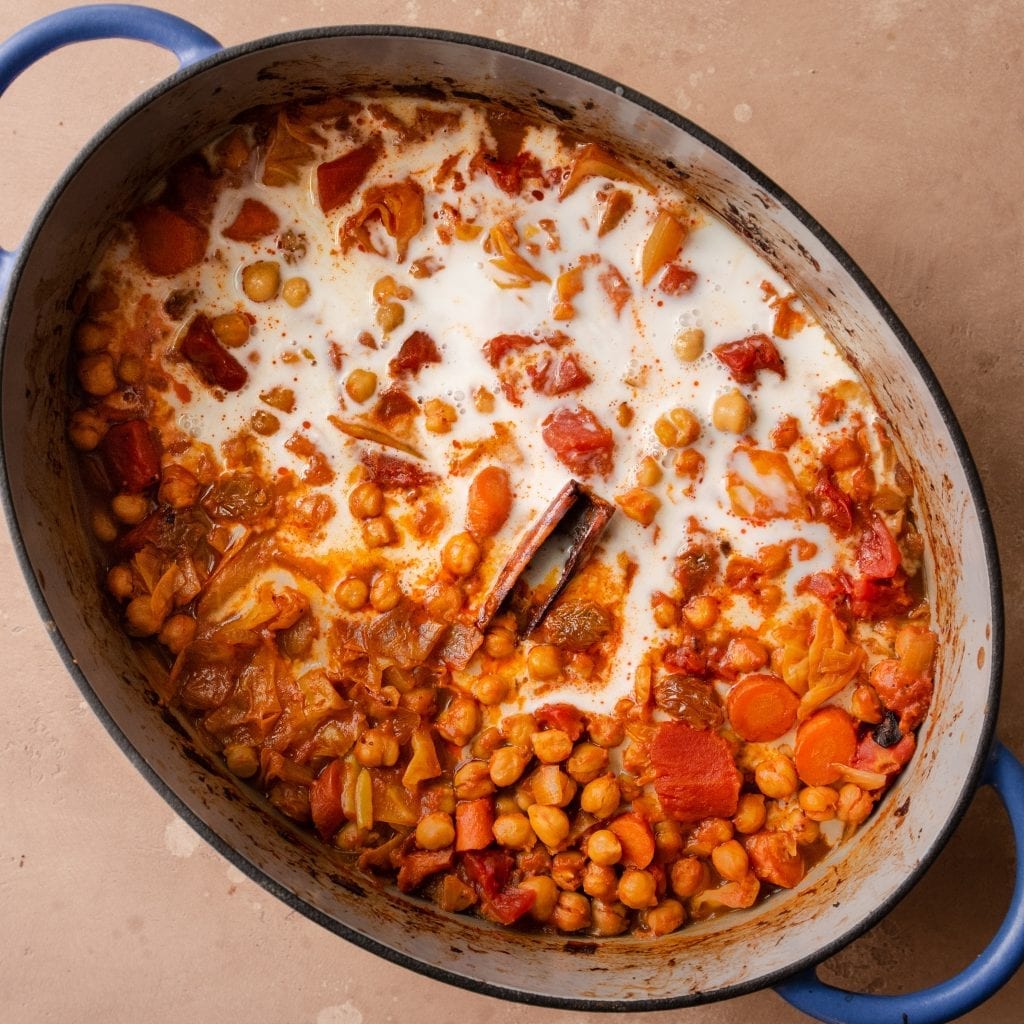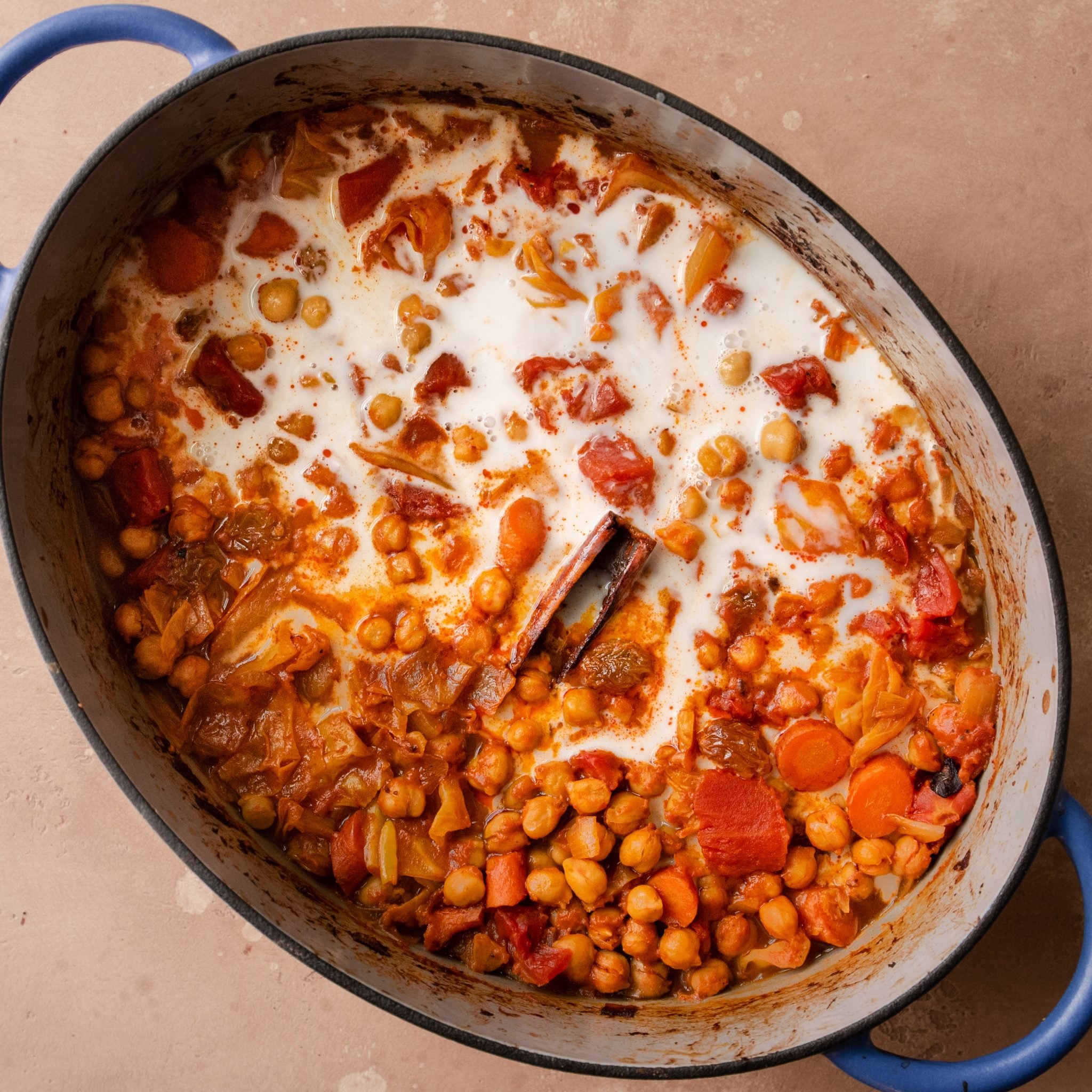 Substitutes for this chickpea stew
Don't have Indian red chili powder? Use half the amount of cayenne pepper. Or, use 2 serrano peppers (remove seeds for a moderate heat) and sauté with the garlic and ginger.
Don't cook with wine? Simply omit it and use 1/3 to 1/2 cup vegetable broth to deglaze the pot. Cook until it's mostly evaporated/reduced.
Not a fan of raisins? You can omit them, but you'll want to serve this chickpea stew with some plant-based yogurt to temper the heat of the Indian chili powder.
Can't have coconut milk? Try cashew milk (but don't add any extra broth during braising, as cashew milk is thinner than coconut milk). Or, better yet, make your own cashew cream. Soak 1/2 cup raw cashews overnight or in boiling water for 1hour. Blend with 1/2 cup – 3/4 water and a few pinches of salt until smooth.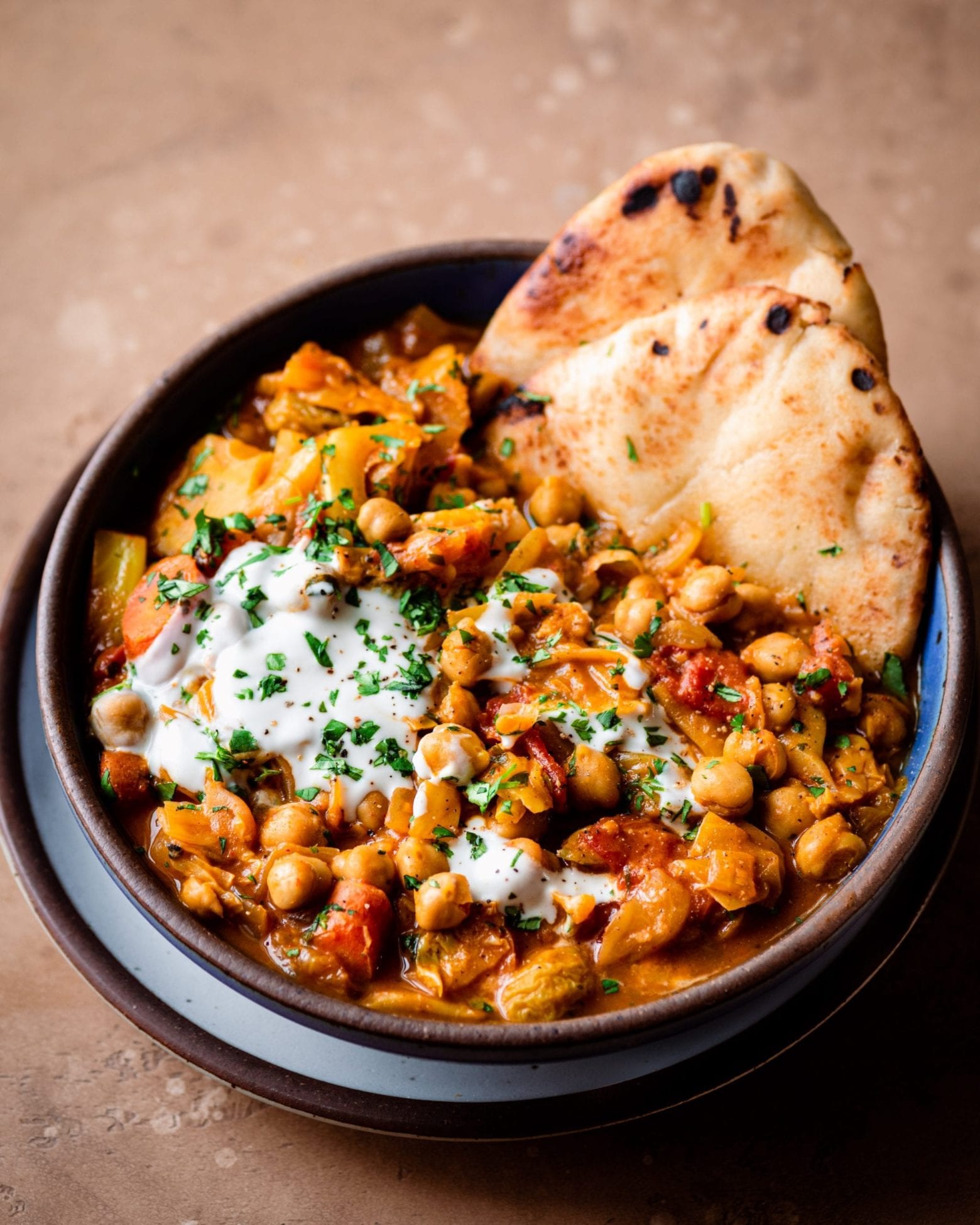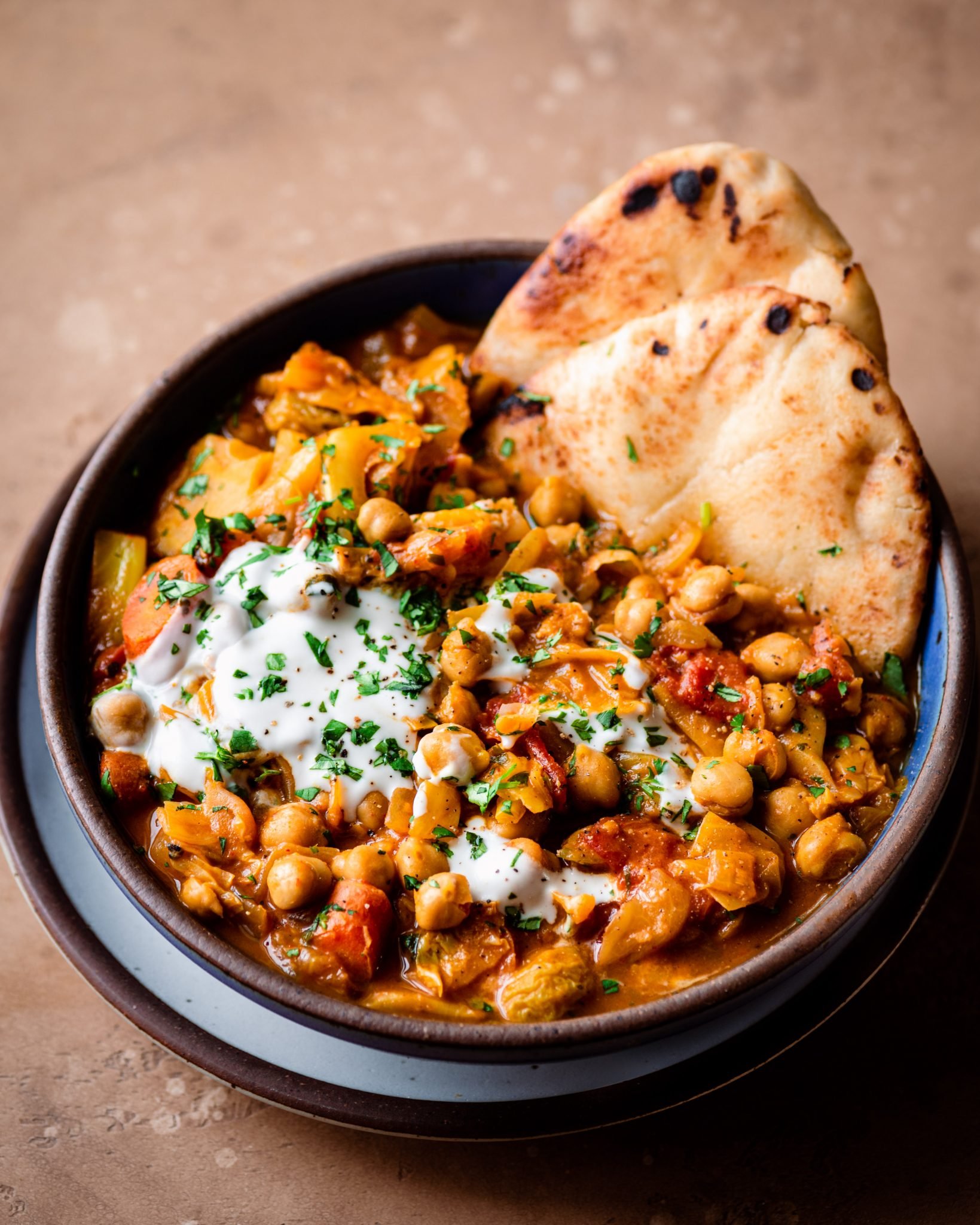 How to substitute ground spices for the whole spices
Converting whole to ground spices can be tricky because ground spices are much more concentrated, so it's easier to overdo them. Also, you're going to lose some nuance and complexity of flavor by using ground spices.
You can find all of these whole spices at South Asian grocery stores, at well-stocked grocery stores like Whole Foods or Sprouts, or online.
But if you can't get some or all of the whole spices, here are some conversions. Add these when you add the other ground spices.
6 green cardamom pods = heaping 1/4 teaspoon ground cardamom or 1/2 teaspoon cardamom seeds
4 whole cloves = scant 1/4 teaspoon ground cloves
1 teaspoon cumin seeds = scant 3/4 teaspoon ground cumin
1 teaspoon coriander seeds = scant 3/4 teaspoon ground coriander
2 cinnamon sticks = 1/2 teaspoon ground cinnamon
1 teaspoon fennel seeds = scant 3/4 teaspoon ground cumin or omit, as ground fennel is harder to find than fennel seeds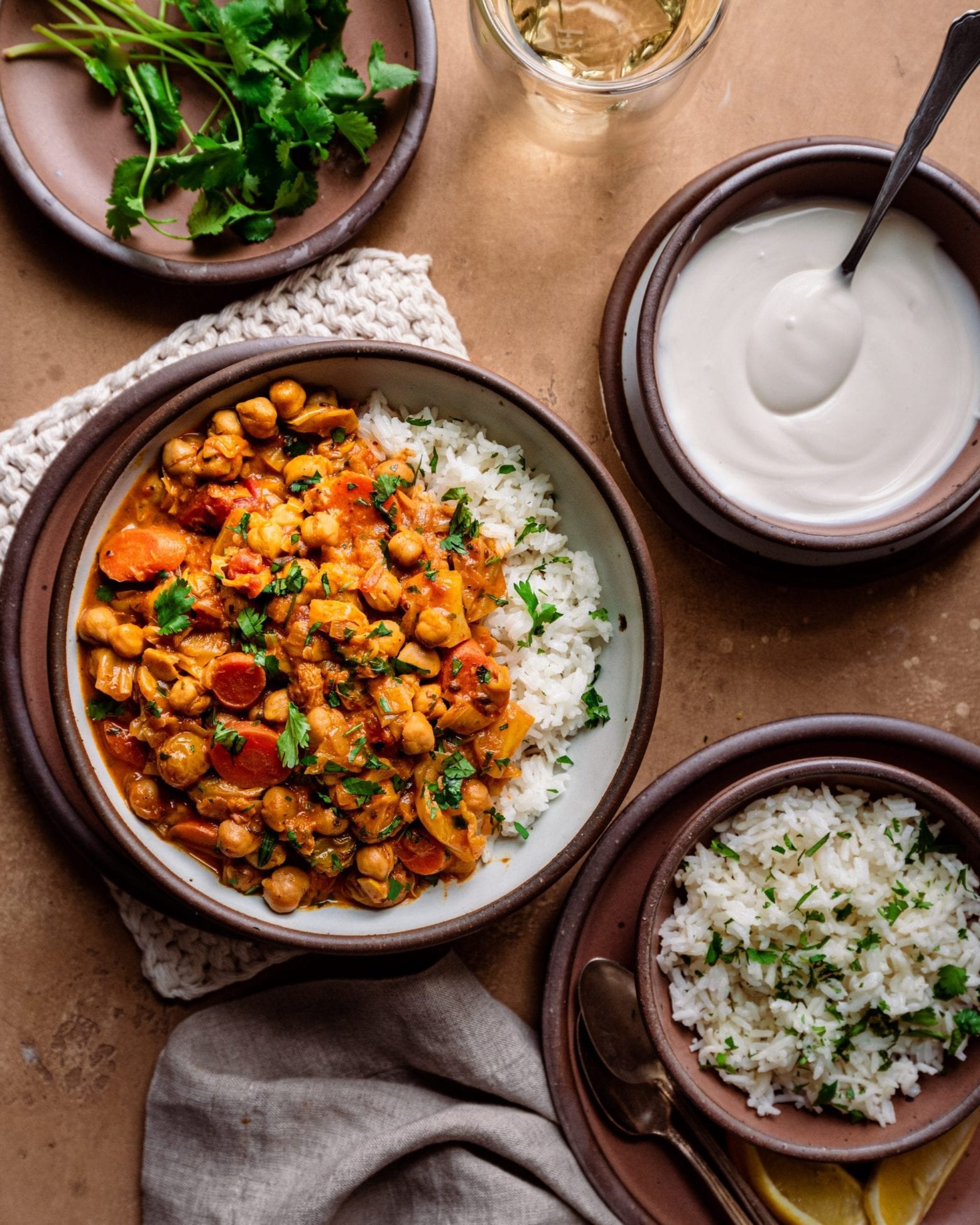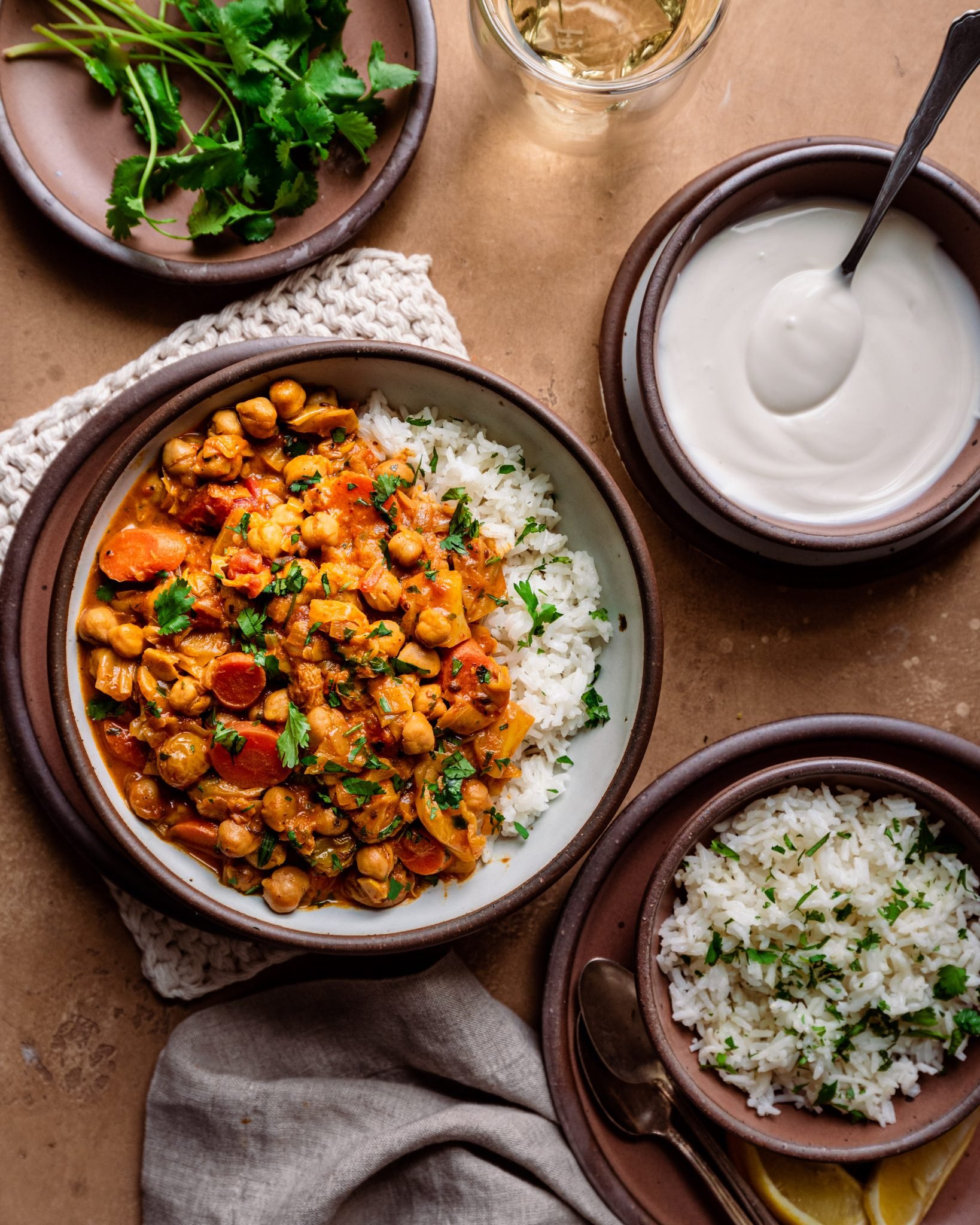 Frequently Asked Questions
What if I don't have a spice grinder or mortar and pestle to grind the whole spices?
Use the side of a cleaver, or heavy chef's knife on a cutting board. Or, place the spices in a ziploc bag and use a rolling pin or a coffee mug to smash down.
How to serve Indian chickpea stew
This stew is hearty enough to eat on its own, but to stretch it further, serve over white basmati rice or brown rice. Or pair with Indian flatbread, such as roti or vegan naan (pita bread works in a pinch too). I recommend serving with a dollop of coconut yogurt or other plant yogurt to balance the spiciness.
How do you store this stew?
To store this stew, cool completely. Store in an airtight container in the fridge for up to 5 days.
For the freezer, portion out into glass containers or freezer bags (plastic containers will likely stain due to turmeric). Portioning it out makes it easier to defrost. Freeze for 3 to 6 months. Defrost in the fridge overnight to retain the best texture. Reheat on the stovetop or in the microwave.
More Nourishing Vegan Stews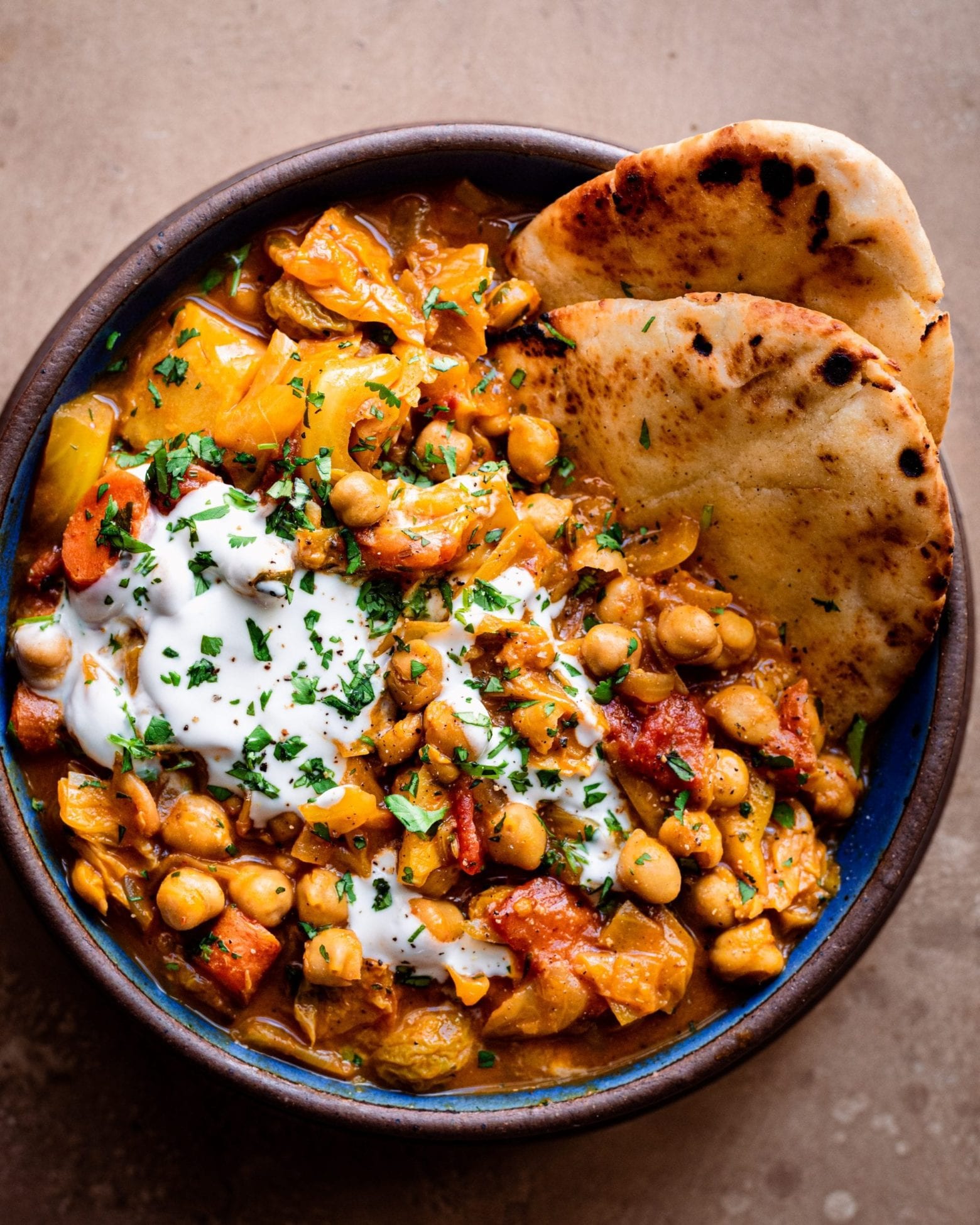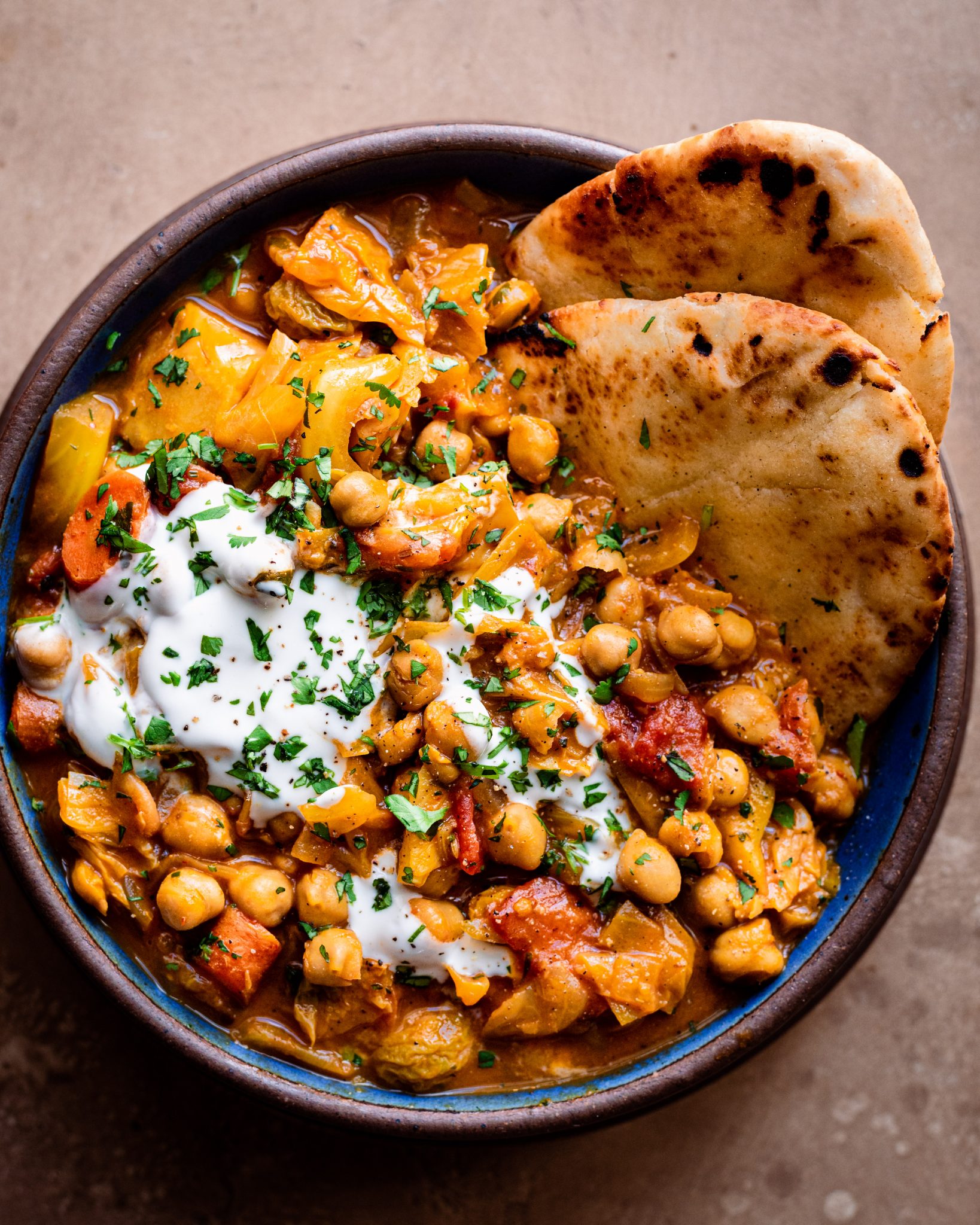 I hope you give this hearty and satisfying Braised Indian Chickpea Stew recipe a try! If you do, please leave a rating and review below with your feedback and tag me on Instagram with your remakes :)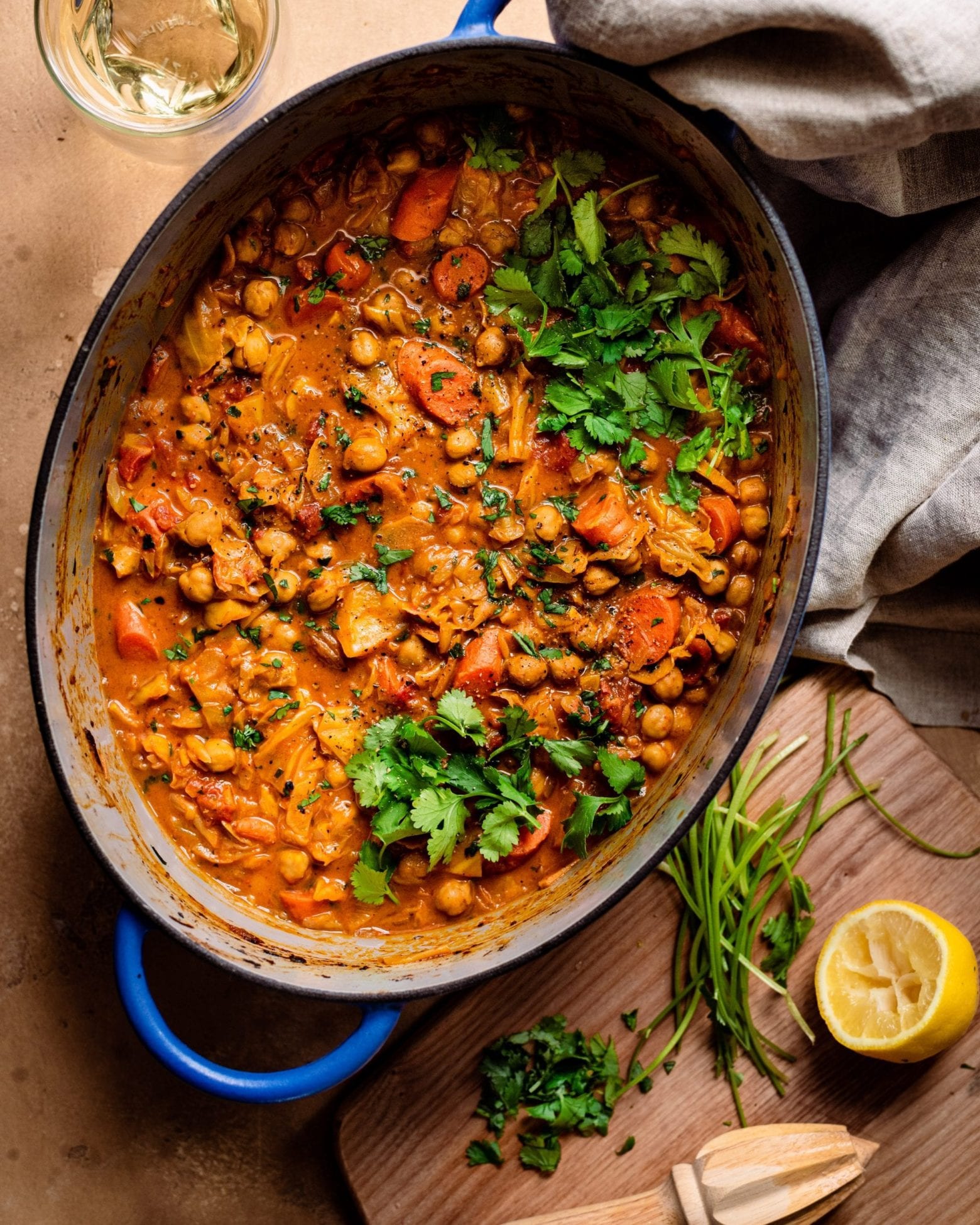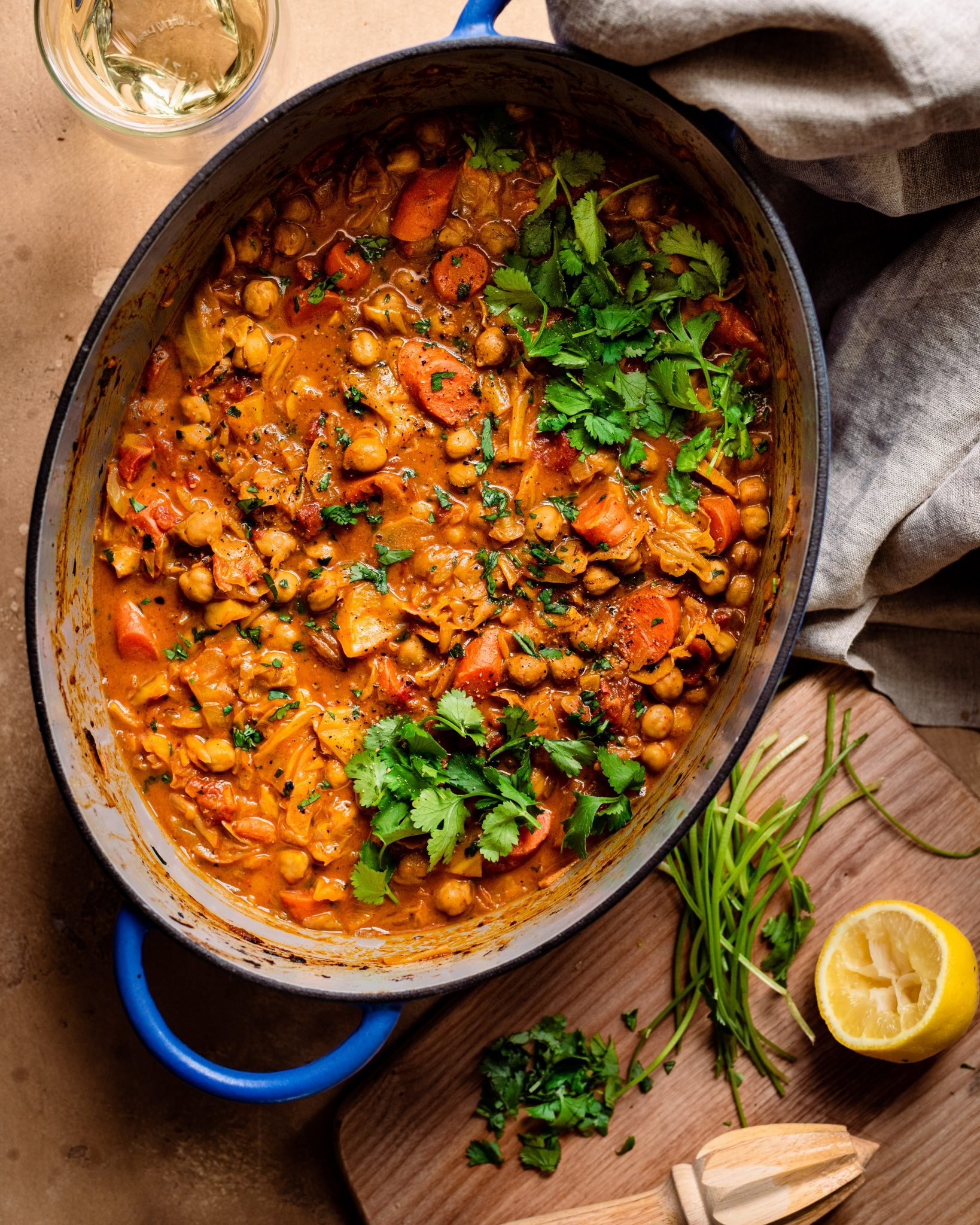 Braised Indian Chickpea Stew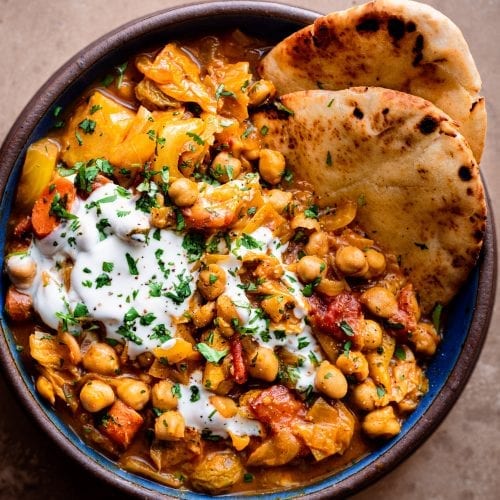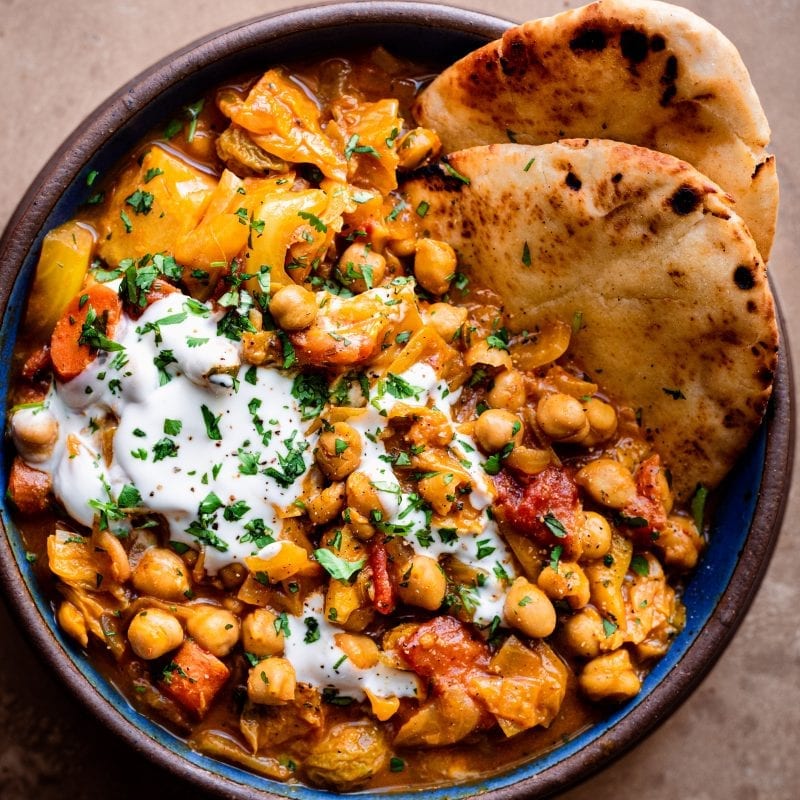 This Indian-inspired chickpea stew features lots of warming spices, chickpeas, cabbage, and carrots. Everything gets braised in the oven and the result is a rich and hearty yet wholesome stew that will satisfy the heartiest of appetites.
Ingredients
3

tablespoons

grapeseed oil

1

large yellow onion,

chopped

4

medium carrots,

sliced on the bias*

½

of a medium cabbage,

roughly chopped (16-18 ounces or 450-510g)

4

garlic cloves,

thinly sliced

2-

inch (5 cm)

piece of fresh ginger,

grated or minced

Kosher salt & freshly cracked black pepper

3

tablespoons

tomato paste

1 – 1 1/2

teaspoons

Indian red chili powder**

1

teaspoon

ground turmeric

1/4

teaspoon

ground nutmeg

¾

cup

(180 mL) dry white wine***

1 1/2

cups

(360 mL) vegetable broth

(plus a little more as needed)

2

(15-ounce/425g)

cans chickpeas,

drained and rinsed

2

bay leaves

1/3

cup

(55g) golden raisins (sultanas)

1

(14.5-ounce/410g)

can diced tomatoes

1

cup

(240 mL) full-fat canned coconut milk,

stirred well
Whole Spices
6

whole green cardamom pods

4

whole cloves

1

teaspoon

cumin seeds

1

teaspoon

coriander seeds

1

teaspoon

fennel seeds

2

cinnamon sticks

(2-3 inches long)
For finishing
1

teaspoon

garam masala

¾

cup

(9g) cilantro leaves

chopped, plus more for garnish

Lemon juice

(a few squeezes)

1-2

teaspoons

organic cane sugar,

as needed
For serving
Coconut yogurt or other vegan yogurt

White rice, brown rice, or Indian flatbread such as naan or roti
Instructions
Roughly grind the whole spices. Add the cardamom pods, cloves, cumin seeds, coriander seeds, and fennel seeds (not the cinnamon sticks) to a spice grinder or mortar or pestle. Coarsely grind (just a few pulses with an electric grinder) – you want some texture to remain. Remove the empty cardamom pod shells.

Note: If you don't have either of these tools, see the blog post section "Frequently Asked Questions"

Preheat the oven to 350°F/175°C.

Heat a Dutch oven or stove-to-oven braising pan over medium heat with 1 tablespoon of the oil. Once the oil is shimmering, add the roughly ground spices *and* the cinnamon sticks. Sauté for 60 seconds or until very fragrant, tossing frequently to prevent burning.

Add the remaining 2 tablespoons of oil to the pan. Next, add the onions, carrots, and cabbage. Season with ½ teaspoon kosher salt. Cook until the vegetables start to soften, 6 to 8 minutes. Add the garlic and ginger, and cook for another 2 minutes.

Add the tomato paste and stir frequently for 2 minutes to coat everything. If things start to dry out or seem like they might burn, add a splash or two of water and scrape up the browned bits. Add in the Indian red chili powder, turmeric, and nutmeg, and stir frequently for 1 minute.

Deglaze the pan with the white wine, scraping up the browned bits and fond from the bottom of the pan. Cook until the wine is mostly evaporated and the smell of alcohol has dissipated, about 2 minutes.

Pour in the vegetable broth, chickpeas, bay leaves, raisins, tomatoes, and 1 ½ teaspoons of kosher salt and black pepper to taste. Stir well to combine and bring to a simmer. Allow to simmer for 2-3 minutes, stir again, and then turn off the heat.

Put the lid on the pan, or if it doesn't have a lid, cover tightly with foil. Transfer the pan to the preheated oven and braise for 1 hour, until the chickpeas and vegetables are soft.

At the halfway mark, check to see if the liquid has evaporated somewhat. If so, add additional vegetable broth or water (about 1/4 cup).

Pour in the coconut milk and return the pan to the oven to braise for another 10 minutes. Take out of the oven and discard the bay leaves and cinnamon sticks.

Stir in the garam masala, cilantro, and a squeeze of lemon juice. Taste for seasonings, adding more salt or pepper as needed. If it's slightly too acidic, stir in a teaspoon or two of sugar.

Serve warm with Indian flatbread or over a bed of rice. Dollop on some vegan yogurt before serving or serve on the side.
Notes
* Don't slice too thinly or thickly (see the ingredient photo in the blog post for a visual reference). 
** U

se less Indian chili powder for a milder heat; or use up to 2 teaspoons if you like it very spicy. If the latter, highly recommend pairing with yogurt to balance the heat.
*** A dry white wine such as Pinot Grigio or Sauvignon Blanc works well. Use Barnivore.com to find vegan-friendly wines. 
---
Calories:
414
kcal
|
Carbohydrates:
50
g
|
Protein:
12
g
|
Fat:
19
g
|
Saturated Fat:
8
g
|
Polyunsaturated Fat:
7
g
|
Monounsaturated Fat:
2
g
|
Trans Fat:
1
g
|
Sodium:
884
mg
|
Potassium:
992
mg
|
Fiber:
13
g
|
Sugar:
15
g
|
Vitamin A:
7576
IU
|
Vitamin C:
43
mg
|
Calcium:
174
mg
|
Iron:
6
mg