If you want more than 90 incredible vegan Instant Pot recipes, be sure to order my cookbook, The Vegan Instant Pot Cookbook!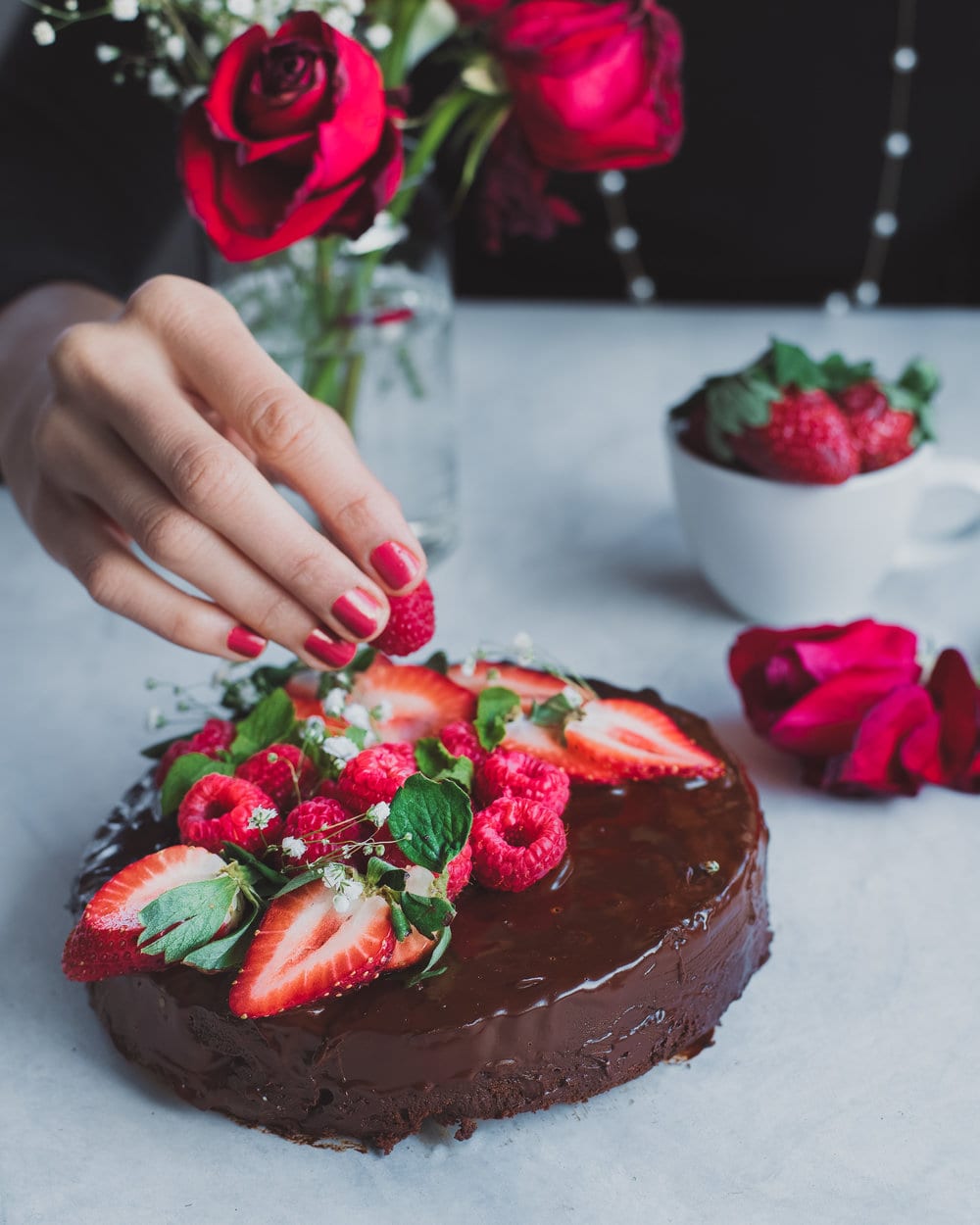 I love dessert, and I am always trying out new ways to incorporate it into my life. I decided to start with something classic and simple like a chocolate cake. I also thought about making "Instant Pot brownies," but a quick Google search for that revealed that my search market would primarily be stoners with the munchies. Not that I discriminate against my viewers – all are welcome here, pot smokers, cigarette smokers, clove smokers, cigar smokers, non-smokers…did I get them all?
Hence, I settled on a chocolate cake made in the Instant Pot.
Why I love this Instant Pot Vegan Chocolate Cake:
Baking a cake in a pressure cooker is pretty unique and cool.
The water in the bottom of the inner cooking pot creates a steaming effect that cooks the cake perfectly.
Hence, you don't have to constantly check the oven to make sure it's hot enough or that the cake hasn't over baked and is a dry, inedible disaster.
You can bake a cake even if you don't have an oven, or if it's blazing hot outside in the summer and you don't want to turn on your oven.
You can bake this cake for 25 minutes instead of 30 minutes if you want a fudgier, slightly under-baked cake (hello, gooeyness

).

This has nothing to do with the Instant Pot, but the chocolate ganache I made to go on top, couldn't be easier. All you need are two ingredients and five minutes.
If you don't have an Instant Pot, you can still apply the same basic method and bake a cake in a traditional pressure cooker.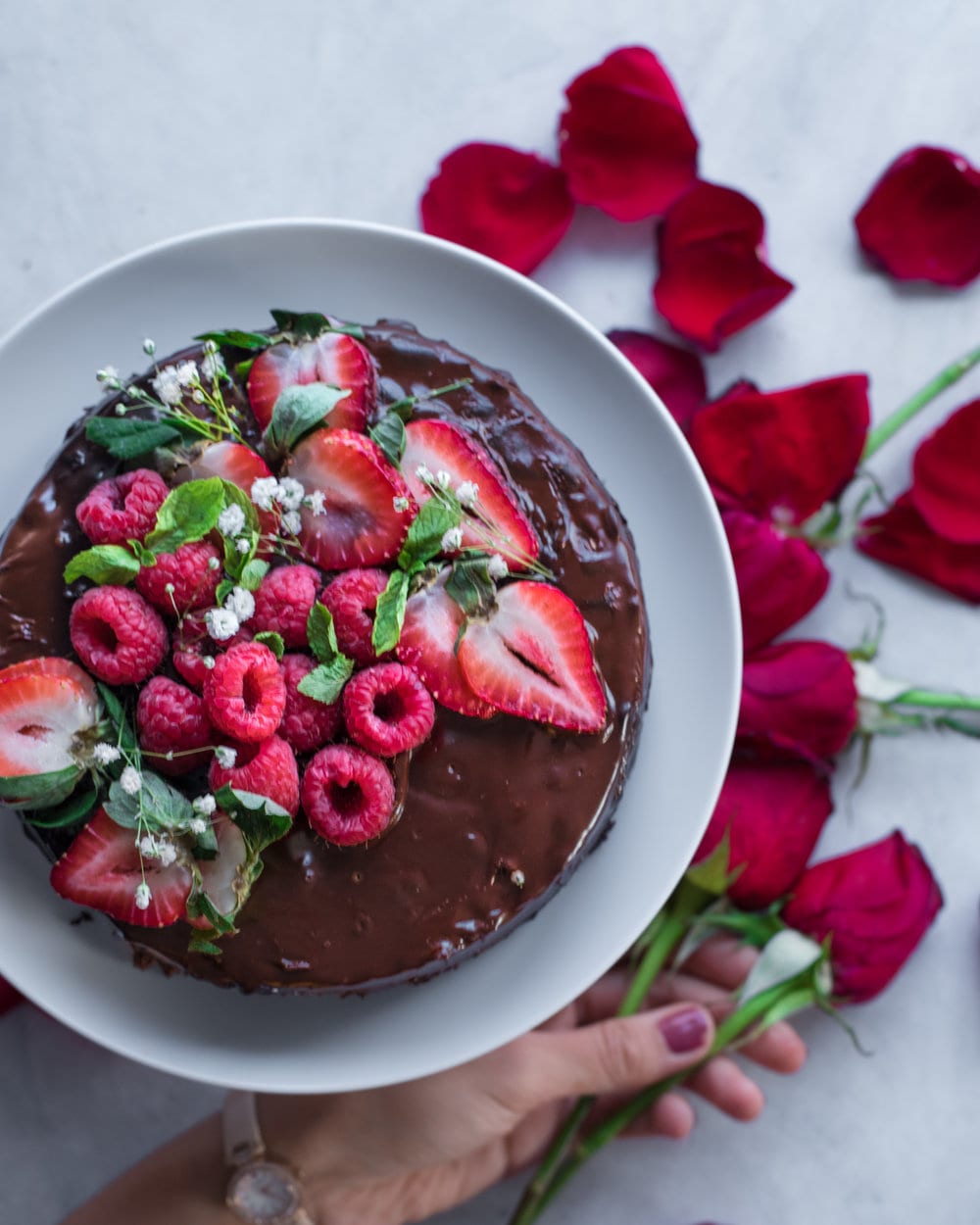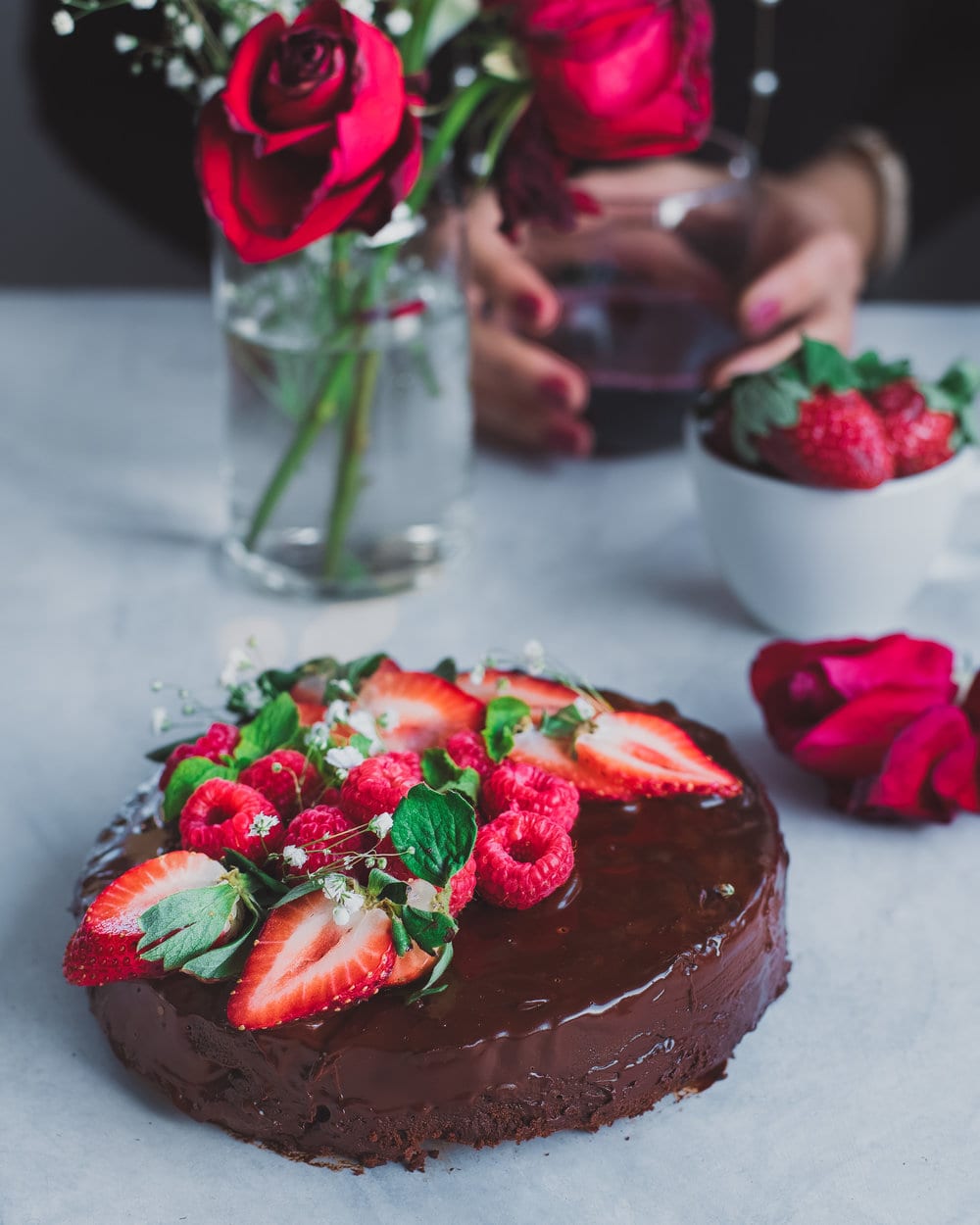 And now for tips on baking this adorable cake! If some of these terms confuse you, check out the video for a visual display.
You'll need a Steamer basket

(affiliate link) to put in the bottom of the inner cooking pot. The Instant Pot comes with one, but you can also buy it separately if needed. The video shows you how to do this.

You'll also need a 7 inch Springform Pan

– a traditional 9 inch springform pan is too big to fit inside the Instant Pot. Alternatively, you could use a

7 inch cake pan (affiliate links).
To make removal of the cake easy, I trace the outline of the bottom of the pan on a piece of parchment paper and cut out a circle. I use that to line the bottom of the pan.
When the cake is done baking, you'll want to let the pressure release naturally. Natural pressure release on the Instant Pot means you just hit the "Cancel" button after the time runs out and allow the pressure cooker to de-pressurize naturally. After 10 minutes, check to see if the Floating Valve or tiny metal pin next to the Venting Knob has gone down all the way. If so, it is safe to open the Instant Pot. Change the Venting Knob to the Venting position and then open the Instant Pot lid.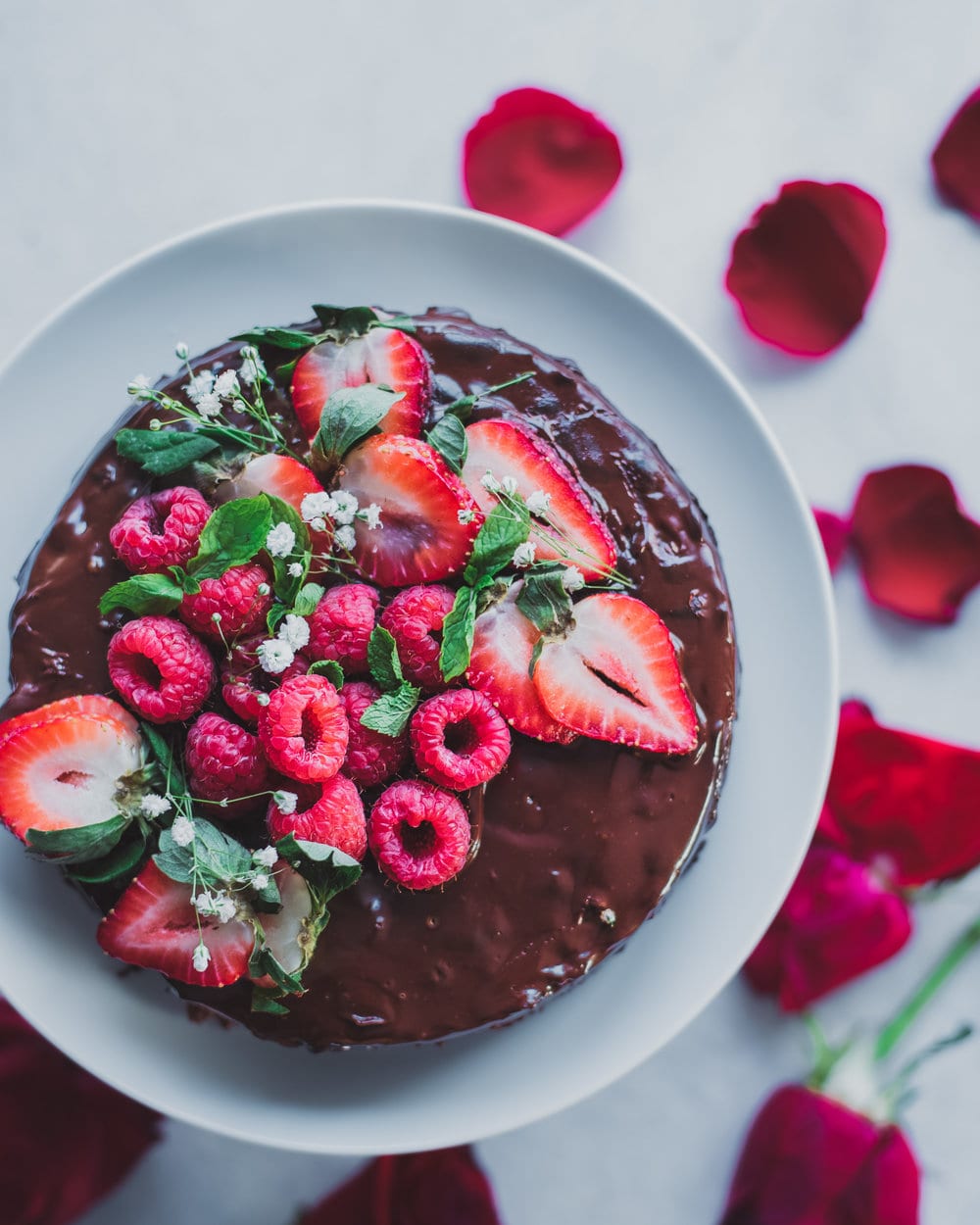 Do you have an Instant Pot? Let me know below if you'd like to see other vegan recipes made in the Instant Pot! I hope you give this easy recipe a try.
Hugs,
Nisha
Instant Pot Vegan Chocolate Cake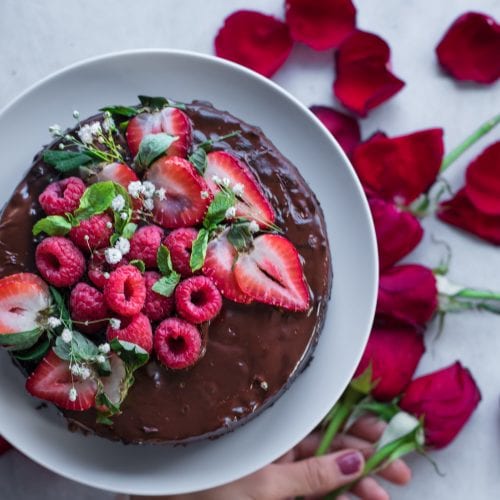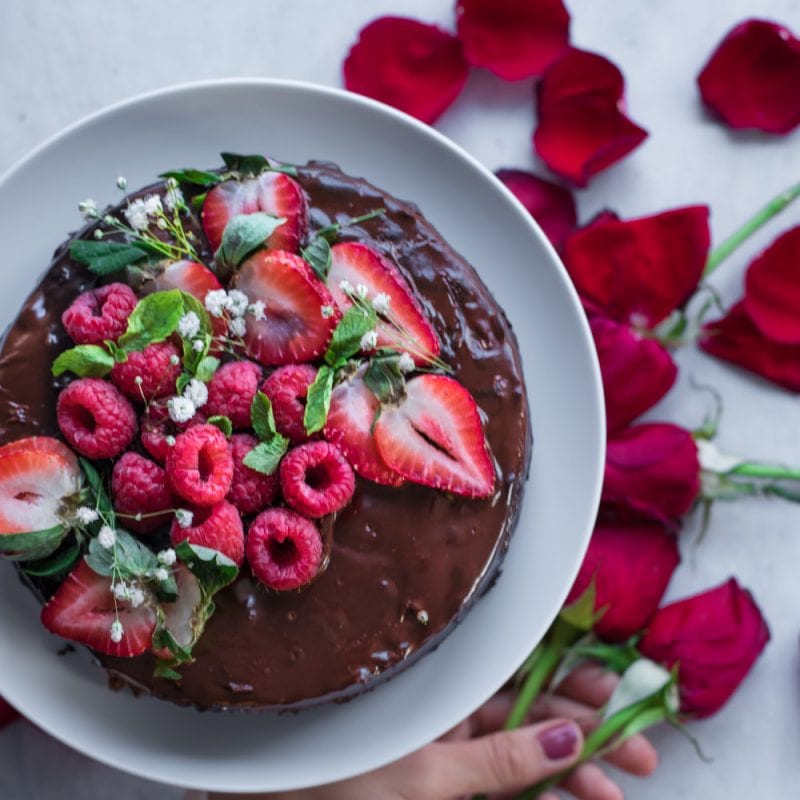 Chocolate cake but make it vegan and in the Instant Pot! Perfect for when you don't have access to an oven or it's too hot to bake!
Ingredients
Cake Ingredients
1 1/4

cups

all-purpose flour

1/2

cup

unsweetened cocoa powder

1 ½

teaspoons

baking powder

½

teaspoon

sea salt

1/2

cup

organic granulated sugar

1/4

cup

brown sugar

1/2

cup

+ 2 tablespoons coconut yogurt

1/4

cup

+ 2 tablespoons almond milk

1/4

cup

sunflower oil

(or vegetable oil or melted coconut oil)

1

teaspoon

apple cider vinegar

1

teaspoon

vanilla extract

3

tablespoons

boiling water

(measure after the water boils)

2/3

cup

chopped dark chocolate

(or vegan chocolate chips)

Vegan Chocolate Ganache

(recipe below)
Vegan Chocolate Ganache Ingredients
6

ounces

dark chocolate

(chopped or dark chocolate chips)

1

cup

coconut milk

(from a can of full-fat coconut milk)
Instructions
Chocolate Cake Directions
Use the bottom of a 7 inch springform pan to trace a circle on a piece of parchment paper. Cut the parchment paper into the circle shape and use as a liner for the springform pan. Spray the sides of the springform pan with cooking spray or lightly grease with oil.

Prepare the vegan chocolate ganache (recipe below).

In a large bowl, whisk together the granulated sugar, brown sugar, coconut yogurt, almond milk, oil and apple cider vinegar until smooth. It should take about a minute. Then mix in the vanilla and whisk to combine.

In a medium bowl, mix together the flour, cocoa powder, baking powder and salt. Gradually add half of the flour mixture to the wet mixture and use a wooden spoon to mix until almost smooth. Repeat with remaining flour and add the boiling water. Mix again until the batter is smooth and thick. Fold in the chopped chocolate or chocolate chips with a rubber spatula.

Pour the batter into the prepared springform pan.

Pour 1 cup of water in the inner pot of the Instant Pot and add the steamer basket or trivet with the legs facing up.

Carefully place the springform pan on top of the steamer basket/trivet. Seal the Instant Pot lid and hit the Manual button. Set to High Pressure and cook for 30 minutes. Make sure the Venting Knob is set to the Sealing position (as opposed to the Venting position).

When the 30 minutes is over, select the Cancel setting on the Instant Pot for a natural pressure release. After 10 minutes, switch the Pressure Release knob from Sealing to Venting to release any remaining steam.

Using oven mitts, carefully remove the springform pan by grabbing onto the steamer basket legs. Let the cake cool slightly for 10 minutes.

Carefully unclasp the springform pan and use a spatula to transfer the cake from the parchment paper onto a cutting board or cake pan. Spread with the vegan chocolate ganache.
Vegan Chocolate Ganache Directions
In a saucepan or skillet, heat the coconut milk over medium heat until just simmering.

Meanwhile, place the chopped chocolate or chocolate chips in a medium heat-proof bowl. Pour the steamed coconut milk over the chocolate and let sit for 2 minutes. Then whisk until completely smooth and chocolate has melted.

You can use the ganache now if you prefer a more traditional liquid ganache texture. Alternatively, if you want a thicker texture more like a frosting, let the ganache sit for 1-2 hours and whisk occasionally, until it thickens and slightly hardens.
---
Calories:
414
kcal
|
Carbohydrates:
47
g
|
Protein:
6
g
|
Fat:
25
g
|
Saturated Fat:
13
g
|
Polyunsaturated Fat:
1
g
|
Monounsaturated Fat:
9
g
|
Trans Fat:
1
g
|
Cholesterol:
1
mg
|
Sodium:
200
mg
|
Potassium:
262
mg
|
Fiber:
5
g
|
Sugar:
25
g
|
Vitamin A:
7
IU
|
Vitamin C:
2
mg
|
Calcium:
87
mg
|
Iron:
4
mg