Given that it was 52° when I woke up this morning, I think it's safe to say that soup season is officially upon us! While I am no fan of cold weather, I do appreciate the excuse to eat all the cozy comforting foods! Like this Instant Pot Wild Rice Mushroom Soup!
Unlike most wild rice mushroom soups, this soup also has white beans, which (a) adds to the creamy texture, and (b) makes it a heartier, well-rounded meal.
Plus, this soup couldn't be easier to make! Once you chop up some veggies, you just toss everything into the Instant Pot and walk away! The cook time is pretty similar to the standard cook time on the stove for this kind of soup, but the beauty of the Instant Pot is you can set it and forget it! No need to occasionally check on the soup, stir it, or make sure it's not bubbling over (or burning).
Table of contents:
1. Why you'll like this recipe
2. Tips for making this recipe
3. Watch! How to make this soup
4. Recipe card with notes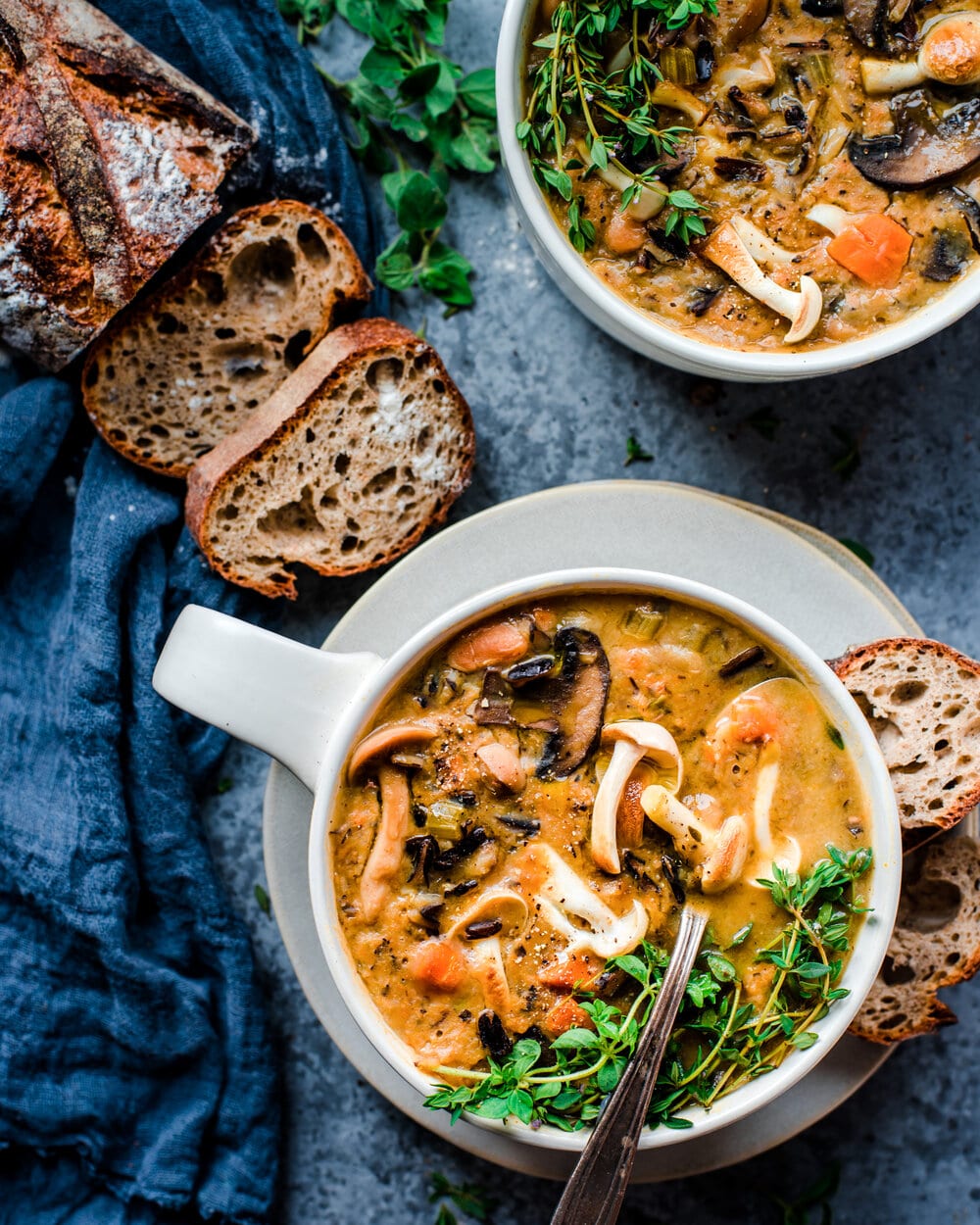 Why you'll like this recipe
Easy and Hands Off. It's made with half of the effort of a traditional wild rice soup. The only real work is chopping up the vegetables! Then you get to dump everything in the Instant Pot and let the machine do its magic! While the Instant Pot is working, spend your free hour working on your side hustle, playing with your kids, hitting the gym, or whatever you don't spend enough time doing.
The hands off nature of this recipe makes it a great choice for weeknight meals!
Hearty. This soup is protein-packed! In addition to wild rice (which has 6 grams in 1/4 cup, uncooked) and mushrooms (3 grams in 1 cup, uncooked, for just 21 calories), this soup has cannellini beans! So, unlike a traditional wild rice soup, this feels like a full, balanced meal!
These stats make it a great option for meal prep, in addition to the fact that this recipe makes a large quantity and stays good in the fridge for 4-5 days.
Surprisingly Creamy. This soup is incredibly creamy and, no I didn't use the vegan superstar ingredients cashews or canned coconut milk! Or, of course, cream or milk, which is what traditional wild rice soup recipes rely on. It's a creamy, stick-to-your-ribs kind of soup that'll satisfy your cold weather cravings.
Wholesome. Despite being creamy and hearty, this soup is 100% wholesome and made with nourishing, whole food plant-based ingredients! It's vegan, gluten-free, and oil-free!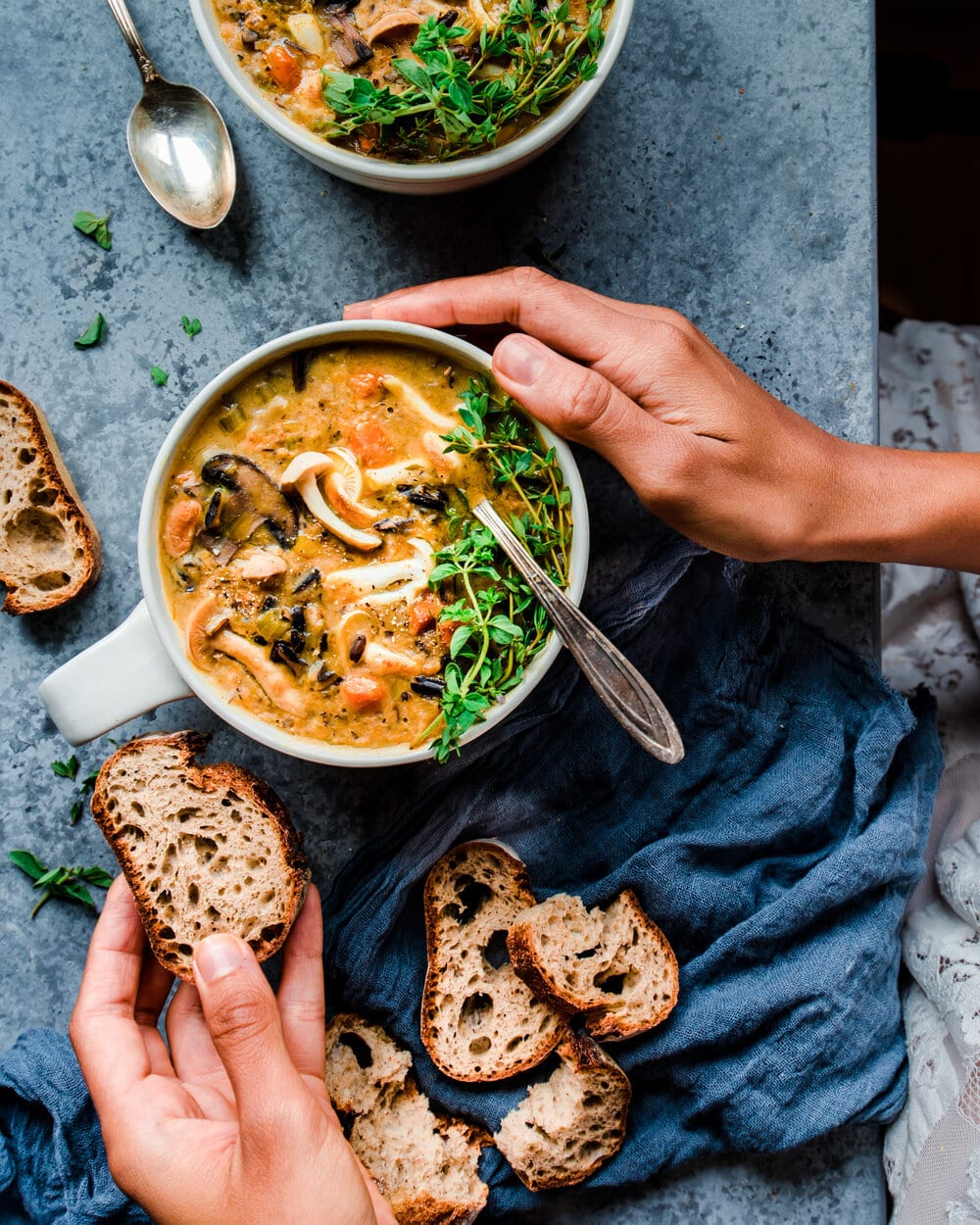 Tips for making this recipe
Give the cannellini beans a quick 15-minute soak in water while you chop up the vegetables and prep any other ingredients. This improves the texture of the beans, making it less likely that some of your beans will have split skins.
Beans with split skins look wrinkly and craggly. There will likely be a small number of beans that didn't fully cook through, but not to worry – just scoop them out with a ladle and discard them. You'll reduce the likelihood of having a few beans with split skins if you quick soak them.
Don't skip the bouquet garni! A bouquet garni is a fancy French term for a bundle of herbs tied together. It's what infuses the soup with a deep aroma of fresh herbaceousness.
If you've seen some of my Instant Pot recipes or have my cookbook The Vegan Instant Pot Cookbook, you know that I typically like to sauté a few ingredients in the Instant Pot before pressure cooking them. This is because that initial sauté helps create layers of flavors.
However, with this soup, the bouquet garni (along with flavorful mushrooms) is sufficient to bring a rich depth of flavor to the soup. If you don't have all of the specific herbs called for in the recipe, feel free to double up on another herb or use a similar herb (e.g., if you don't have rosemary, add some oregano or add double the amount of thyme).
Pick a creamy plant-based milk. I wouldn't use almond milk (or rice milk), which are on the thinner side. I used a carton coconut milk beverage from So Delicious (affiliate link), which is quite creamy. Another good option would be unsweetened oat milk. And if you want to go extra creamy, use a can of "lite" or reduced-fat coconut milk!
For the cornstarch or arrowroot powder slurry, make sure the milk is cold and hasn't been sitting out. When making a slurry, you want want to make sure that your mixing liquid is cold. If you try adding cornstarch or arrowroot powder directly to the soup, you'll get lots of clumps (eww).
Be sure to re-stir or re-whisk the slurry just before adding it to the soup, as it will congeal while it sits. If you use arrowroot powder, it will take less time for the soup to thicken.
Watch! How to make this soup
And for full instructions, check out my Youtube video, which contains even more cozy vegan soups!
That's about all for this creamy vegan Instant Pot Wild Rice Mushroom Soup! If you make the soup, be sure to leave a comment below!
Instant Pot Wild Rice Mushroom Soup (Vegan)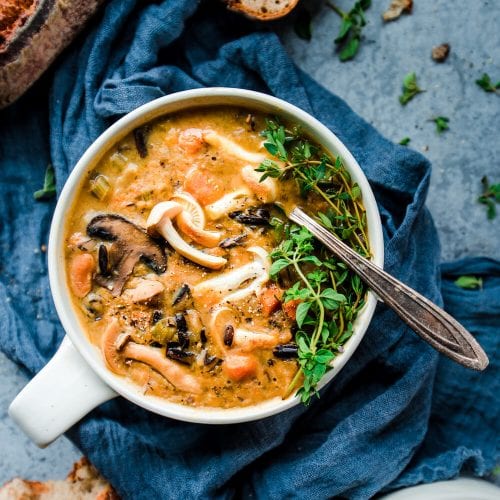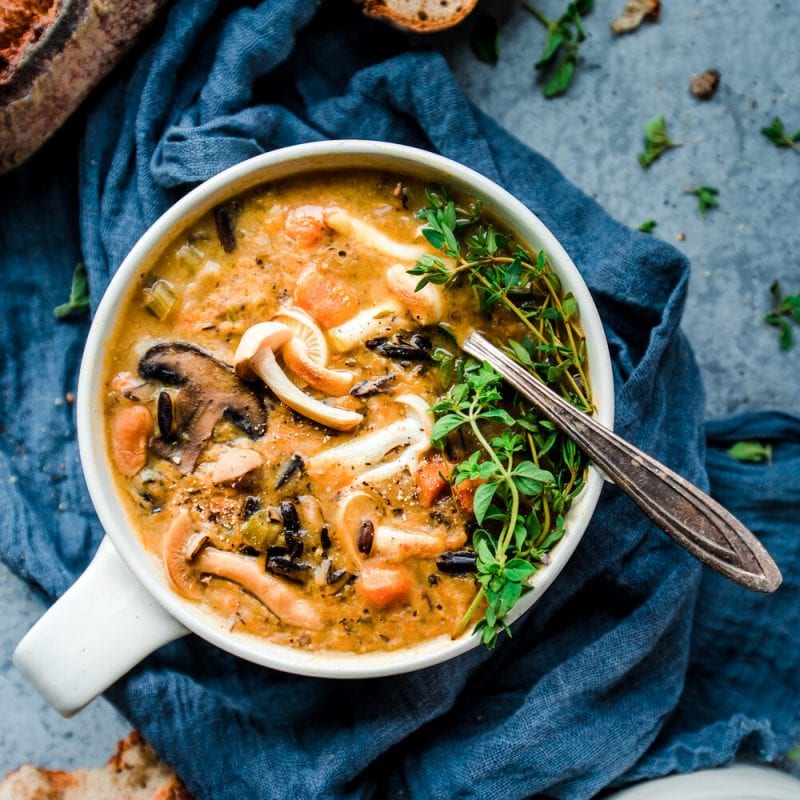 A creamy, protein-packed Vegan Wild Rice Mushroom Soup made in the Instant Pot! It's made with a fraction of the effort as traditional wild rice soup, gets a protein helping hand from white beans, and is 100% creamy yet 100% dairy-free.
Ingredients
1

medium yellow onion,

chopped

3

carrots,

chopped

3

ribs celery,

chopped

6

cloves

garlic,

chopped

10

ounces

mixed mushrooms,

sliced

8

ounces

dried cannellini beans,

soaked for 15 minutes

1

cup

uncooked wild rice

(not a "wild rice blend")

4

cups

vegetable broth

2 1/2

cups

water

(or more vegetable broth)

2

teaspoons

kosher salt,

plus more to taste

Freshly cracked black pepper to taste

Bouquet Garni: 2 dried bay leaves + a few sprigs each of fresh thyme,

sage and rosemary, tied together in a bundle with kitchen twine (see the video for instructions)

2

cups

cold creamy plant-based milk

(I used carton/drinking coconut milk; you could also use oat milk)

1/4

cup

cornstarch or arrowroot powder
Instructions
Soak the cannellini beans for 15 minutes in cool water while you prep the rest of the ingredients.

Lightly grease the inner pot of the Instant Pot. This is optional but helps prevent the rice from sticking to the bottom and makes cleanup easier. If you are oil-free, skip this step.

Place the onions, carrots, celery, garlic, mushrooms, soaked cannellini beans, wild rice, vegetable broth, water, 2 teaspoons kosher salt, black pepper to taste, and bouquet garni in the Instant Pot. Stir to combine.

Secure the lid and set the Pressure Release to Sealing. Select the Pressure Cook (or Manual) setting at high pressure and set the cook time to 45 minutes.

Once the 45-minute timer has completed and beeps, perform a quick pressure release by carefully switching the Pressure Release knob from Sealing to Venting. Open the pot and remove the bouquet garni.

While the pressure is releasing, make the slurry: whisk together the plant-based milk and cornstarch or arrowroot powder, whisking well until no clumps remain.

Select the Sauté setting. Once the soup is starting to boil, add the cornstarch or arrowroot slurry to the Instant Pot, along with a few pinches of kosher salt and stir well to incorporate. Heat for approximately 5 minutes, or until the soup has thickened (arrowroot powder takes less time to thicken). The soup will also thicken as it rests.

If you want the soup to be extra creamy, run an immersion blender through about half of the soup (or transfer half of it to a stand blender) and roughly purée. Stir well so the unblended soup is incorporated into the blended soup.

Store leftovers in an airtight container in the fridge for up to 5 days.
---
Calories:
352
kcal
|
Carbohydrates:
70
g
|
Protein:
14
g
|
Fat:
3
g
|
Saturated Fat:
2
g
|
Polyunsaturated Fat:
1
g
|
Monounsaturated Fat:
1
g
|
Sodium:
628
mg
|
Potassium:
927
mg
|
Fiber:
11
g
|
Sugar:
11
g
|
Vitamin A:
7786
IU
|
Vitamin C:
7
mg
|
Calcium:
147
mg
|
Iron:
3
mg